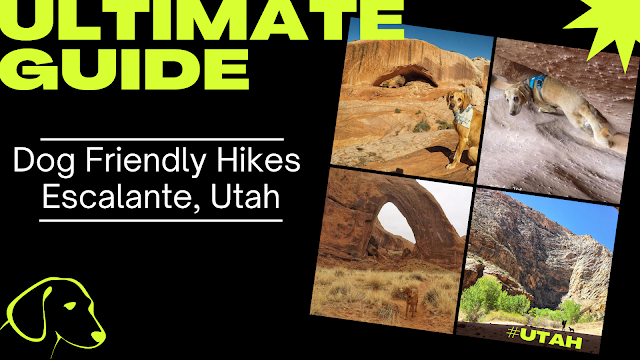 The Ultimate Guide – Dog Friendly Hikes in Escalante, Utah!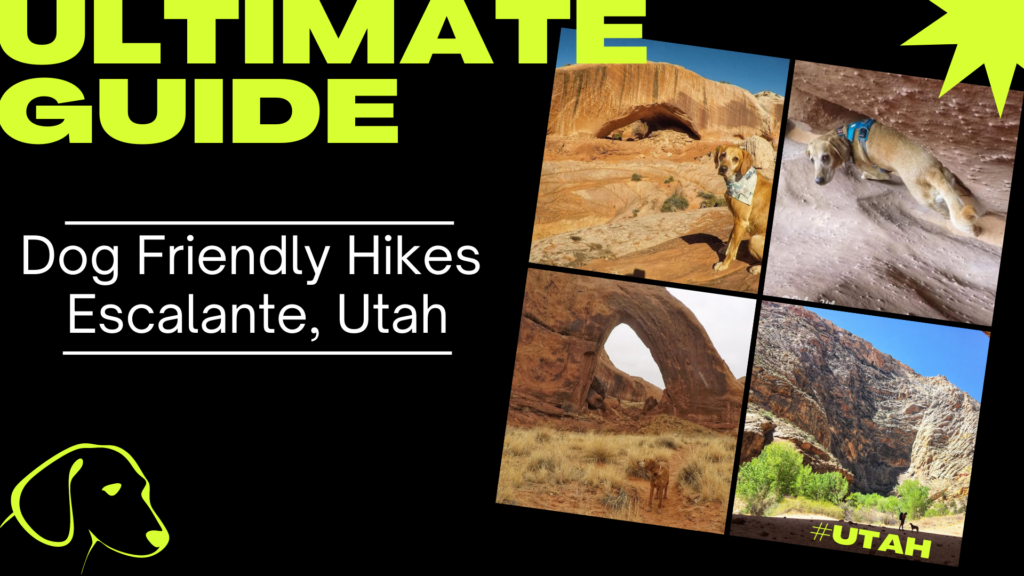 It's here – the Ultimate Guide for dog friendly hikes in Escalante, Utah! 
About
These are the questions I get ALL the time, "Where can I take my dog in the Escalante area? What's a good place to camp, or get a hotel?" "When is the best time of year to visit?" So I decided to compile all the information in one place!
Escalante is one of the most dog friendly areas in Utah – dogs are allowed off leash and the trails are all on BLM land or within Grand Staircase Escalante National Monument (GSENM). The only trail in the area dogs are banned from is Coyote Gulch, hence it isn't listed here.
Best time of year to hike here? Spring and late Fall. Summer is incredibly hot and the sand and slick rock has the potential to burn your dogs paws, and there is a risk dehydration and overheating. Winter can be doable if we have a low-precipitation year. I have hiked here in January with no snow, but the winter winds and cold temps make it not as enjoyable. If there is recent snow/rain you will not be able to access most of these trail because the roads will be extremely muddy. Always call the Escalante Interagency Visitor Station before your trip to check road and trail conditions.
As for camping, again, this is all BML/GSENM land so camping is free and allowed along any dirt road or near trail heads, but try to camp at a spot that has been previously used. Don't camp on cryptobiotic soil that has been untouched. It's extremely fragile soil. If you plan to backpack in this area, you do need a permit, which is FREE, from the Escalante Interagency Visitor Station. There are no services once you leave Escalante, UT so be prepared with plenty of gas, water, and food. Having a satellite communicator like a ZOLEO is highly recommended due to cell signal mostly being non-existant in case of an emergency, as well as a tracking app like Gaia GPS. I have used this app for over 5 years and have never gotten lost thanks to it! You just have to pre-download the maps.

The Ultimate Guide – Dog Friendly Hikes in Escalante, Utah!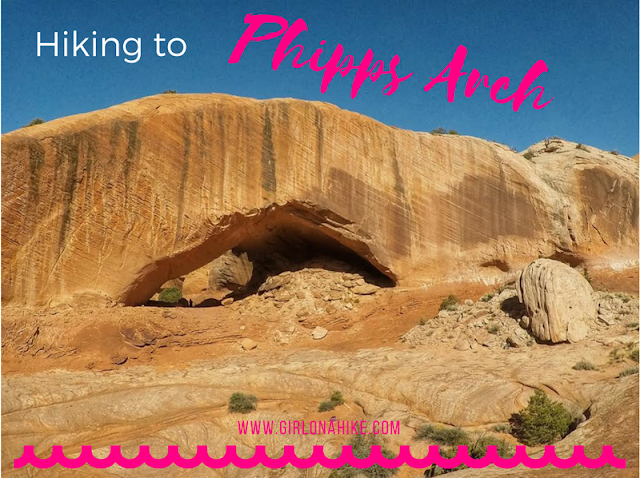 Phipps Arch swoops through Grand Staircase Escalante National Monument affording constant view of bizarre and beautiful land, as hikers search for this hidden arch. There is no official trail – getting to the arch requires a little research and planning. This is a hike you definitely want to have a GPS for. Because this is a trail-less approach, you will rarely see many people hiking here because it's not nearly as popular as its neighbor trail, Lower Calf Creek Falls.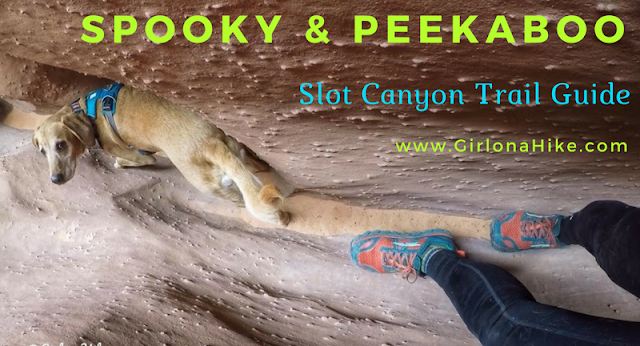 Spooky & Peekaboo are the most popular slot canyons in the Escalante area. The access is easy, you can easily do both as a loop in a few hours, and hikers without technical canyoneering equipment or skills can enjoy both. Spooky slot canyon is one of the narrowest canyons in the world that hikers can safely navigate. It's much longer and slimmer than Peekaboo, forcing hikers to carry daypacks to the side as you shuffle through. Add in a few short obstacles and one 5 ft scramble to make it that much more fun.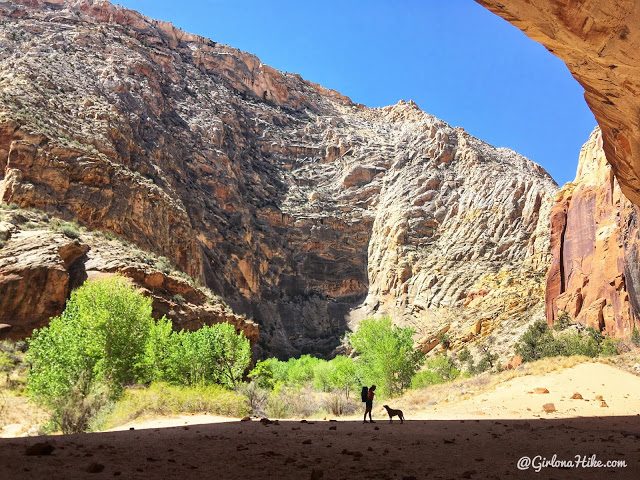 The Escalante River Trail is a popular backpacking point-to-point route near the town of Escalante, Utah and within Grand Staircase Escalante National Monument (GSENM). The entire length of the Escalante River is 87 miles, but this route allows you to see 15 miles of it overnight one night of backpacking or a long day hike. Much of the way, your path will be the river itself. On a blue sky, warm & sunny day, splashing through the stream along tall Navajo sandstone walls feels amazing. Around every corner is something new and exciting to look at. The Escalante Natural Bridge. An arch. Petroglyphs & pictographs. Ruins. You name it, it has it.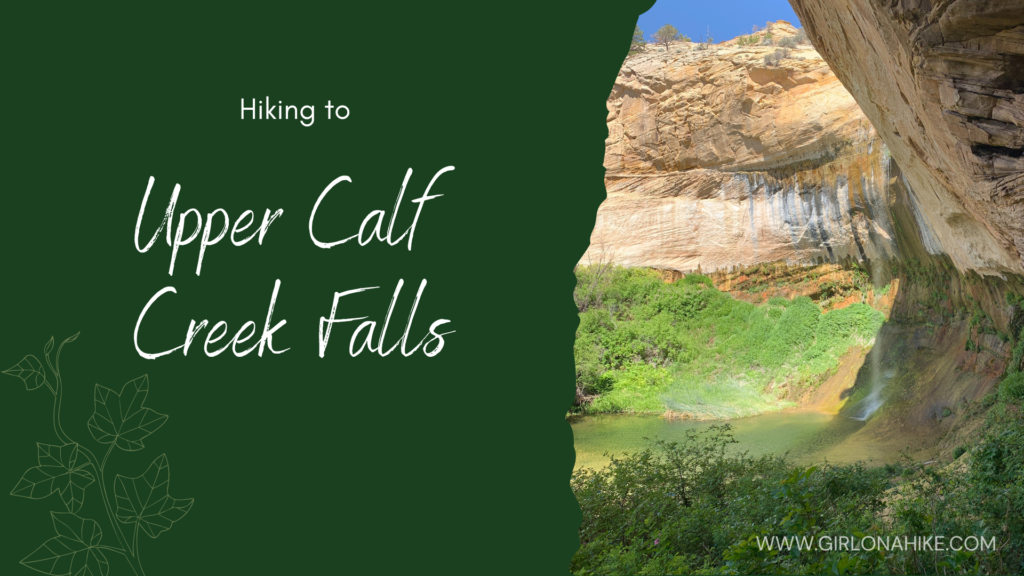 Upper Calf Creek Falls is neighbor to Lower Calf Creek Falls yet sees less than half the visitors. This hike is only 1.2 miles to a beautiful waterfall, and deep pools above the falls that make for a great swim. The terrain is quite different from Lower Calf Creek Falls. The lower trail follows the bottom of a canyon, with tall red sandstone walls, and a lush green creek. The upper trail is more exposed, following a trail of old volcanic rock and is on top of the canyon. The rock at the pools above the falls is smoothed out over time, but be careful at the base of the falls – poison ivy lines the alcove.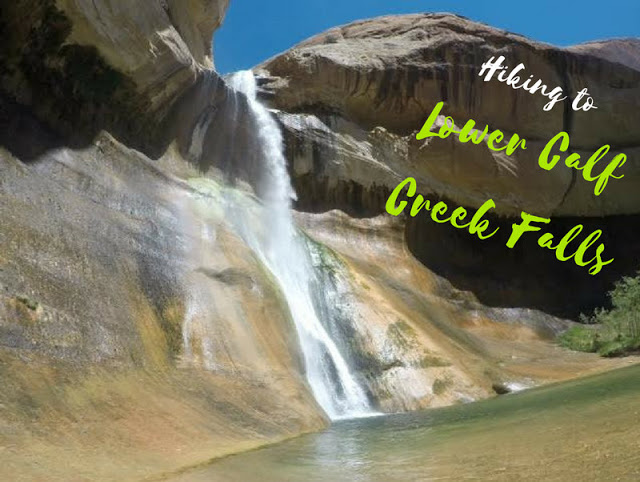 Lower Calf Creek Falls is one of the most popular trails near Escalante, UT and in Grand Staircase-Escalante National Monument. This easy 3 mile hike leads to a beautiful oasis with a 214 ft waterfall. Because this hike is so easy and low in elevation, it's a great family hike for visitors with older folks, kids, and even the dogs! All of the green trees and creek will make you forget your are in the desert, and as you approach the waterfalls the mist will cool you off. Feeling adventurous? Bring your swimsuit and swim in the pool of clear water at the base of the falls. You'll want to start hiking early to beat the heat and the crowds.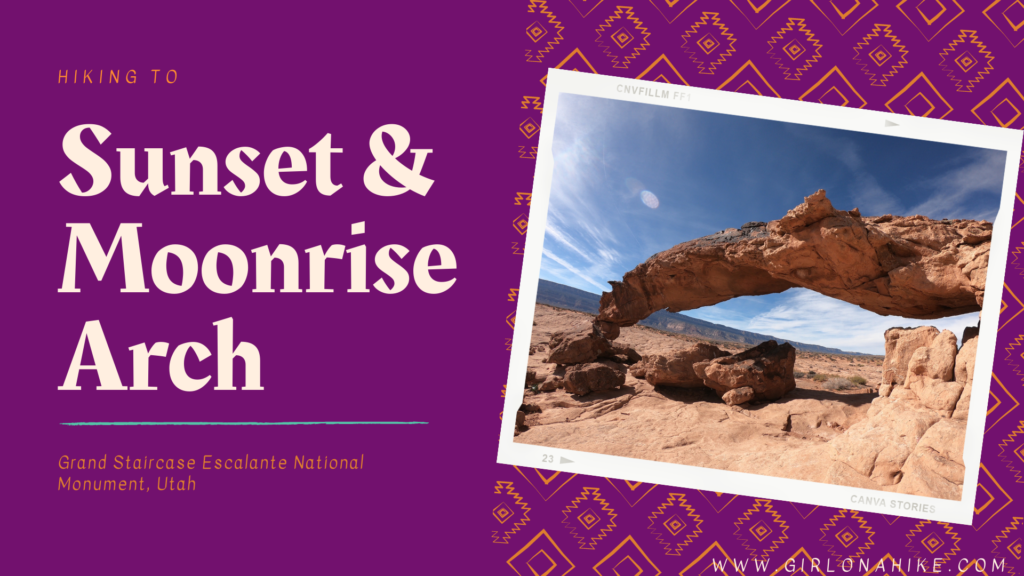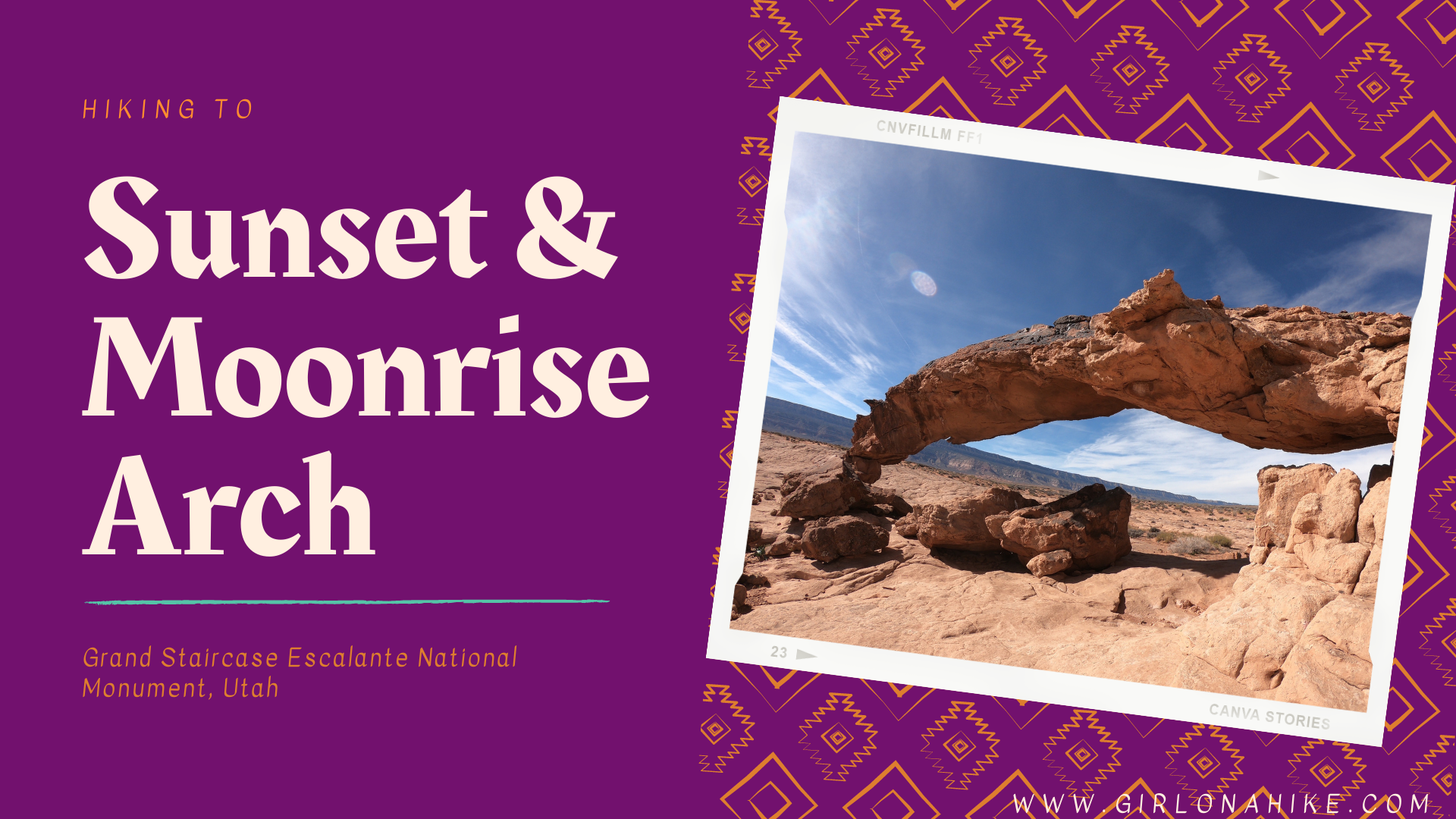 Sunset Arch & Moonrise Arch are two arches located within Grand Staircase Escalante National Monument (GSENM) off Hole in the Rock Road. They are both located in an area that does NOT have an official trail so being able to navigate a GPS is necessary. That being said it is pretty straight forward, and this easy hike is great for small children, dogs off leash, and those wanting to see something cool without the hard effort most hikes in this area require.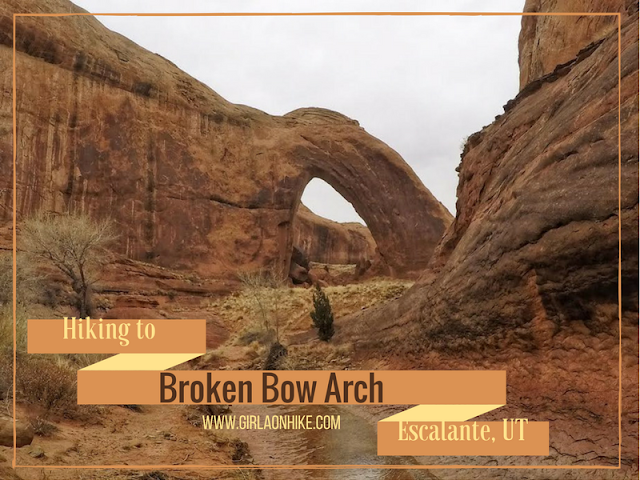 Broken Bow Arch is located off Hole in the Rock Road (HITR), 41 miles south of Escalante, UT. This arch spans nearly 100 ft, and sits in the middle of Willow Gulch. This trail is more popular among backpackers looking to reach Fortymile Gulch as well. This hike can be done in a loop, but is just as good as an out-and-back hike at 4 miles RT. A little route finding is needed.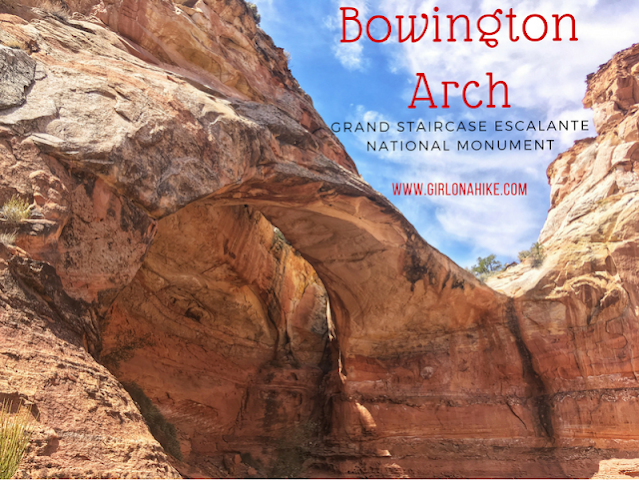 Bowington Arch is located in Grand Staircase Escalante National Monument (GSENM) near the town of Escalante, UT. It's an easy hike that crosses the Escalante River several times, and therefore it's important to wear water shoes. You will also hike through sandy sections with sage brush and cottonwood trees. Bowington Arch is dog-friendly and (possibly) kid friendly. There are no obstacles of any kind except for one small scramble the the dogs can easily do, and some younger kids might need help with.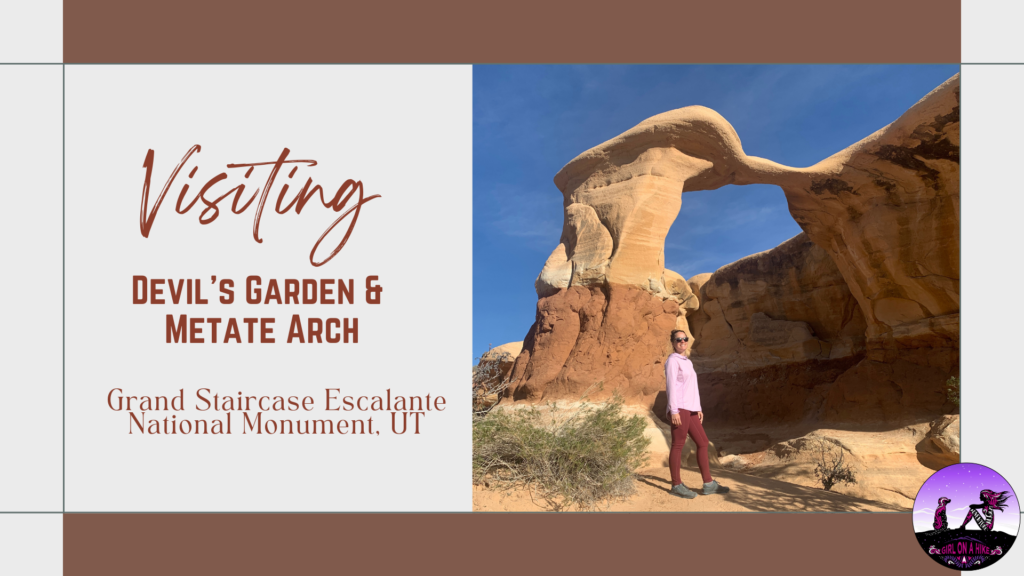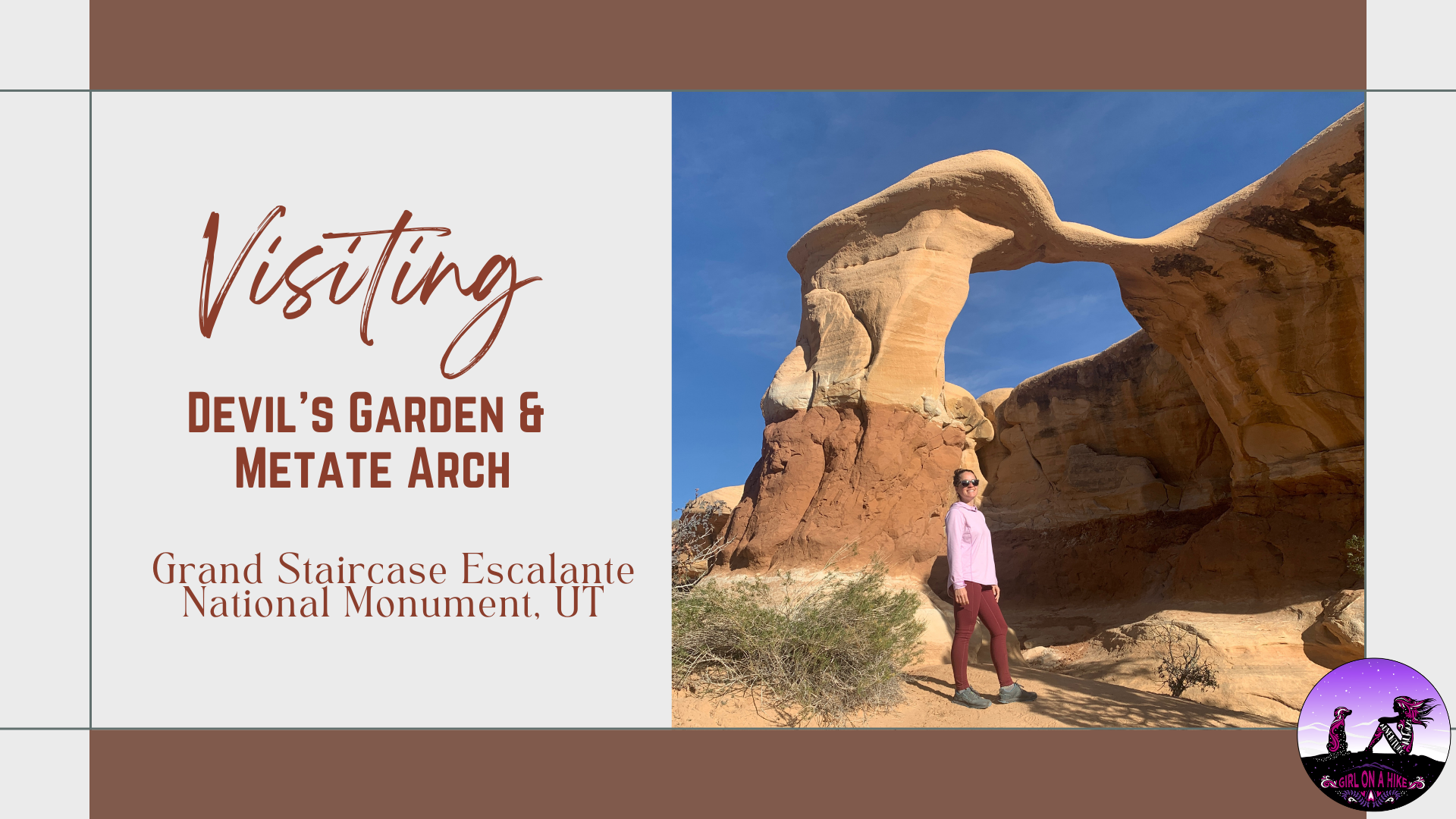 Devil's Garden is apart of Grand Staircase-Escalante National Monument, and is home to Metate Arch as well as hoodoos. This is a fun little area for the whole family. We saw several toddlers exploring this area, and even older adults or non-hikers will enjoying climbing on the hoodoos. Walk time from car to Metate Arch was under 5 minutes, but you could take up to an hour or more to explore more.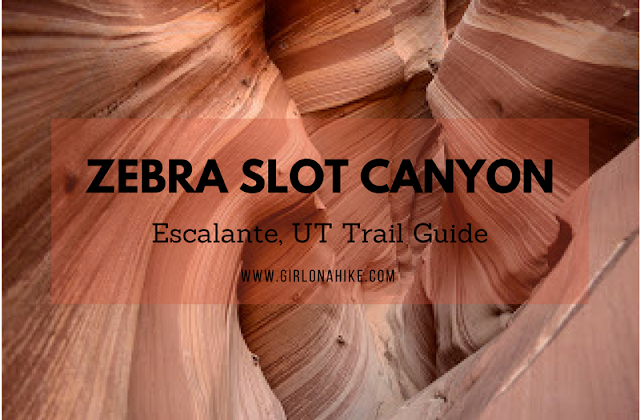 Zebra Slot Canyon is located off of Hole in the Rock Road, near Escalante, UT. The hike is only 2 miles in, and the best section of the striped walls only lasts for about 100 ft. Getting to the slot is quite easy, as it meanders through Juniper & Sage brush, cuts through a beautiful red rock canyon, then open up as you walk through the sandy dry wash, and eventually leads to the iconic striped walls resembling zebra stripes.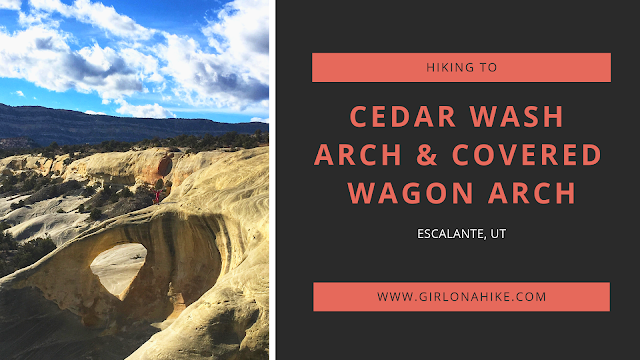 Cedar Wash Arch & Covered Wagon Arch are in Escalante, Utah, off Hole in the Rock Road. Each are very short in distance making this perfect for little kids, families, and dogs. Combine these arches with other hikes in the area to make a day of it. This isn't really a "hike", but rather a quick walk. Visiting both will only take about 30 minutes combined, plus the drive.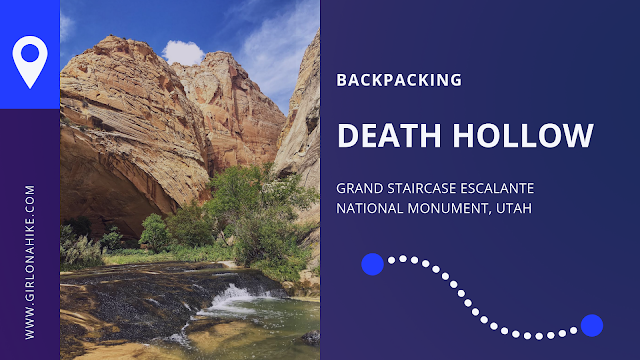 Death Hollow is located in Grand Staircase Escalante National Monument, just outside of Escalante, Utah. The first 6 miles of the trail follows the Boulder Mail Trail – the old route, that even up until 1924, the mules would carry mail on from the residents of Boulder, UT to Escalante, UT. Boulder, UT is right along Highway 12, which wasn't even paved until the 1970's, was the last area in the US to gain automobile access! No matter how much this area has changed due to technology, you'll immediately find yourself in the backcountry and won't see people for days. Over our 3 day adventure, my friend and I only saw two other people the entire time.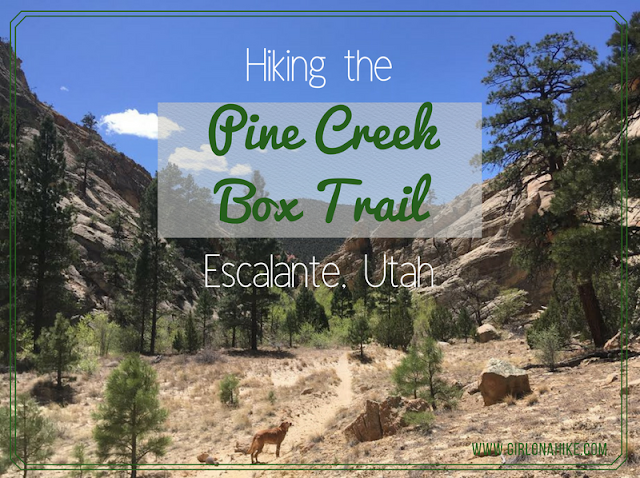 Pine Creek Canyon is a hidden gem in the Escalante area – a pristine creek, tall canyon walls, half mountain-half desert, no cows, all downhill, plenty of shade, and towering Ponderosa trees. Located in the Box-Death Hollow Wilderness, this canyon is also known as "The Box", which is funny since it's not really a box canyon but steep-walled, open-ended drainage carved by Pine Creek millions of years ago.
As I keep finding new trails, I will continue to add them to this list!
Green = Easy
Yellow = Moderate
Red = Hard
Purple = Lodging
Lodging Recommendation
Check out this pet-friendly hotel in Escalante!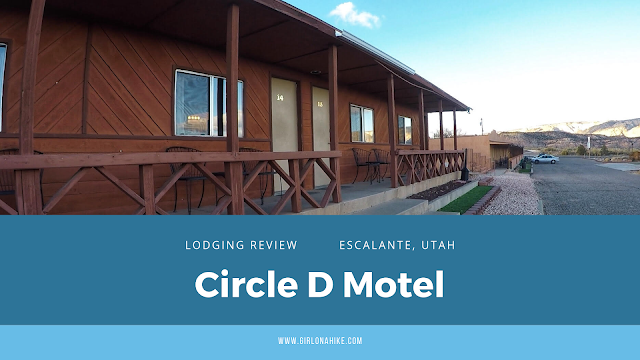 Save me on Pinterest!