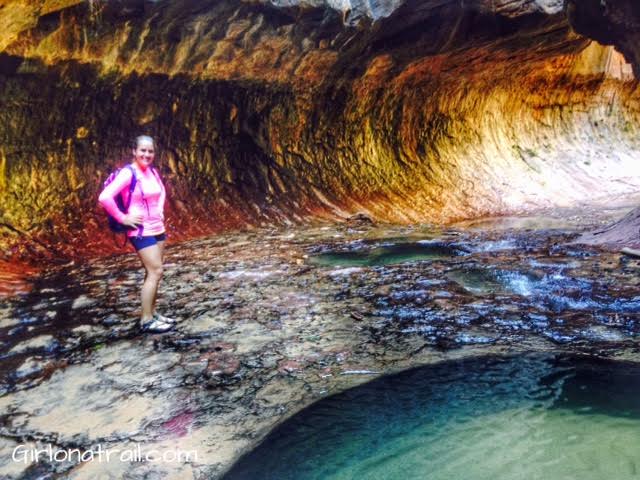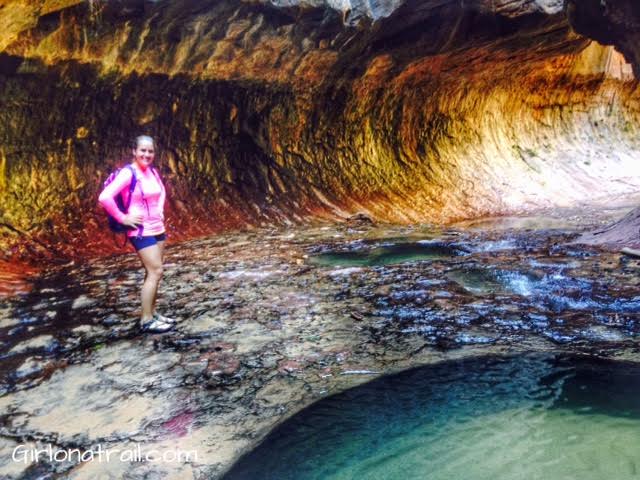 The Subway in Zion National Park is a hiker and photographers dream destination! The Subway follows the Left Fork Canyon in Zion NP, and along the way you'll have a vast view of the canyon, you'll walk along the river and hike by several deep pools, and hike where only 80 people are allowed in each day. After living in Utah for 2 years, I finally got the opportunity to go by applying (and winning) a permit.
About
There are two ways you can get to the Subway:
"Bottom Up" or the non-technical/hikers route. This is an easy 9 mi (round trip) hike that follows the Left Fork river at the "bottom" of the canyon. Plan on 5-8 hours of hiking this route.
"Top Town" is the technical/climbers route. This route requires rappelling knowledge and gear, wet suits, and swimming.
The Subway and Left Fork Canyon area requires a back country permit, even for the non-technical "bottom up" route. This canyon has gained a ton of popularity due to social media, photographers showcasing the Subway, and bloggers (like me) posting about it. Because of this increase in attraction, Zion NP has an advanced lottery permit reservation system in place, which allows only 80 people per day to enter the canyon. Camping is not allowed in any section of this canyon. To apply for a permit, click here. Notice that you need to apply 3 months prior to your requested date. For instance, when I started looking in to hiking here, I applied in July, found out August 5th that I won a permit, and actually hiked it on October 4th.
There is a "Last Minute Drawing" which takes place 2-7 days in advance of a specific date, if more calendar reservations are available. In the unlikely event that spaces remain unfilled after the Last Minute Drawing, walk-in permits become available the day before your trip. Click here to apply for a last minute drawing.
Directions
Directions to the "Bottom Up/Hikers" Route: From SLC, head south on I-15 past Cedar City. Take exit 27 towards Toquerville, UT on Hwy 17. Once in LaVerkin, UT, turn left onto Hwy 9 with all the signs pointing you to Zion. Drive 13 miles to the turn off in Virgin, UT for Kolob Terrace Road. Drive this road until you see the sign for "Left Fork Canyon" and park here. This is where you start hiking. There is one restroom at the TH.
Trail Info
Distance: 9 mi round trip
Elevation gain: 400 ft descent from the TH to bottom of canyon, then a 600 ft gain to the Subway
Time: 5-8 hours
Dog friendly? No
Kid friendly? No.
Permits: Yes, see info above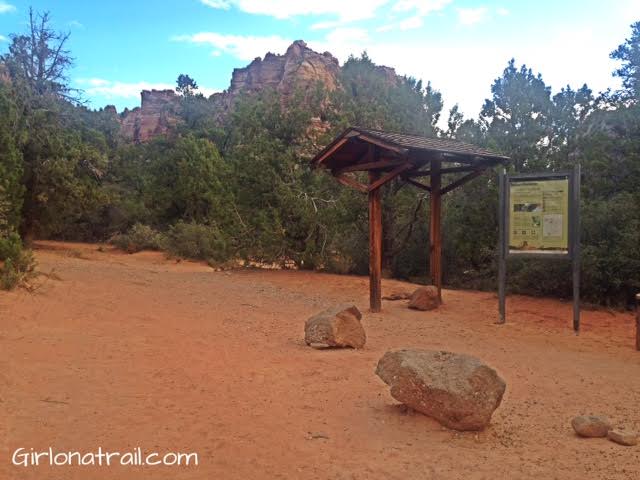 This is the start of the trail. The restroom is off to the left of this photo. Make sure to carry your Subway permit with you in case a park ranger needs to check it.
 Entering Zion Wilderness!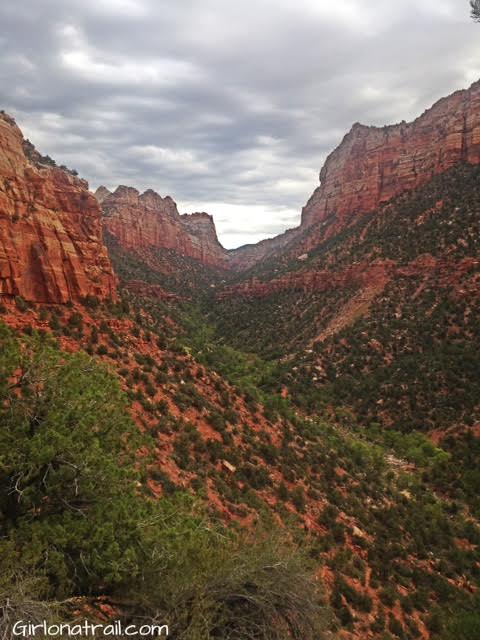 The view of the Left Fork Canyon.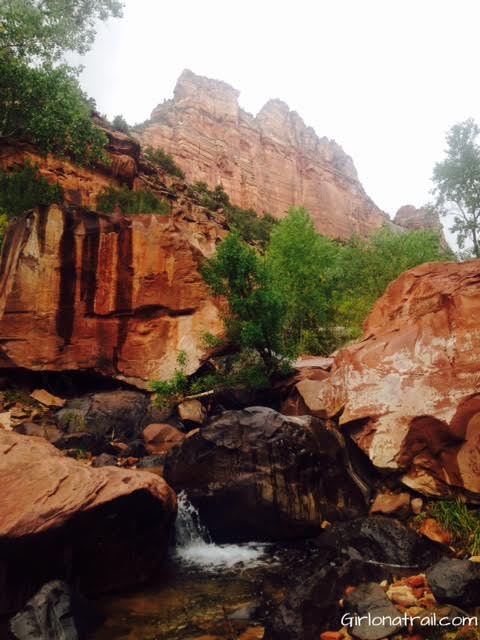 Along the way, you'll pass several pools.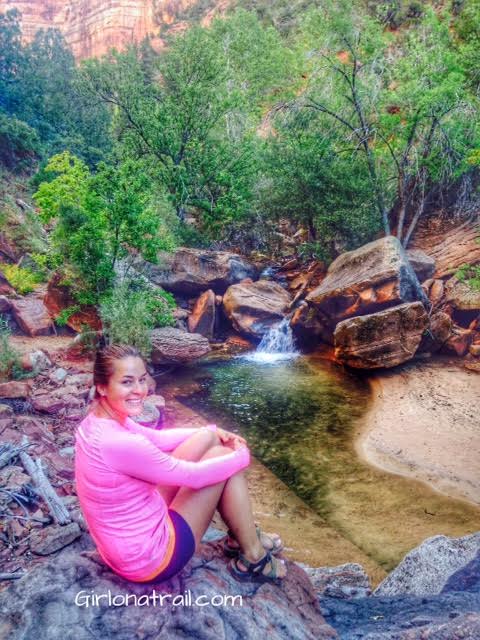 Don't let these pools fool you – some of them are 8+ ft deep! Perfect for swimming on a hot day.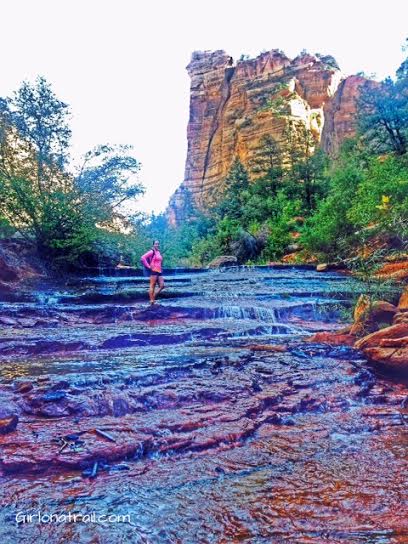 After about 3 miles of hiking, you'll reach an area where the geology starts to look slightly different. One of the biggest changes, are these cascading waterfalls.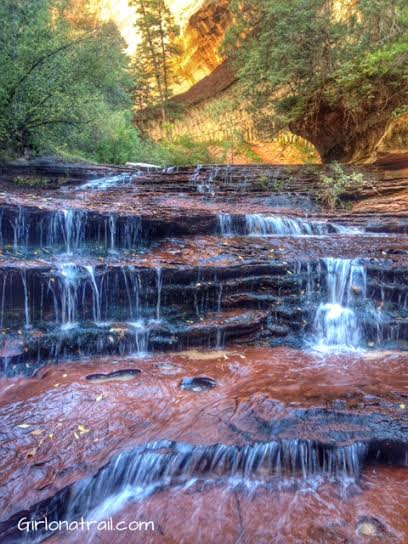 This is one of my favorite photos on my hike. I just loved how beautiful these cascading waterfalls were with the fall leaves strewn about.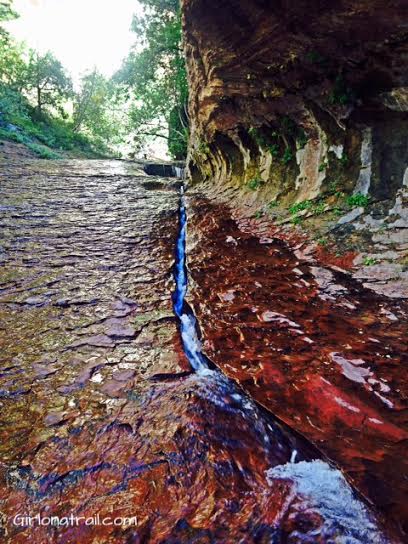 Above the cascading waterfalls, you'll see this crack in the rock with water flowing through. Right around the corner is The Subway! Just imagine – one day this crack will be a 2nd Subway!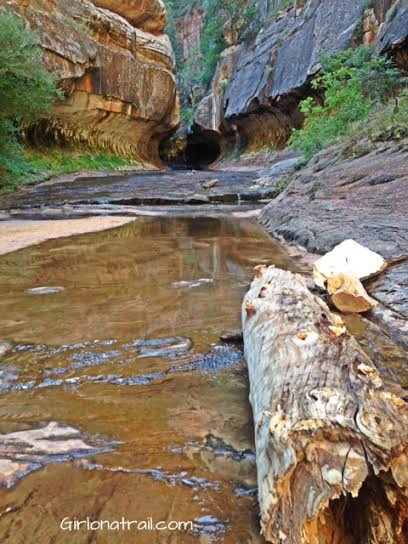 Finally – the entrance to The Subway!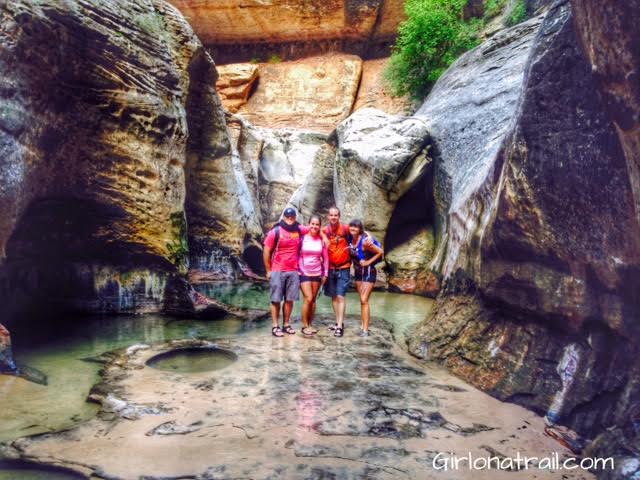 Walk to the end of the Subway. From here, if you are brave enough, you can swim further and reach a 20 ft waterfall. I was too cold to do it, but the boys were able to check it out and said it was pretty cool – literally! Their skin was icy cold when they got out of the water.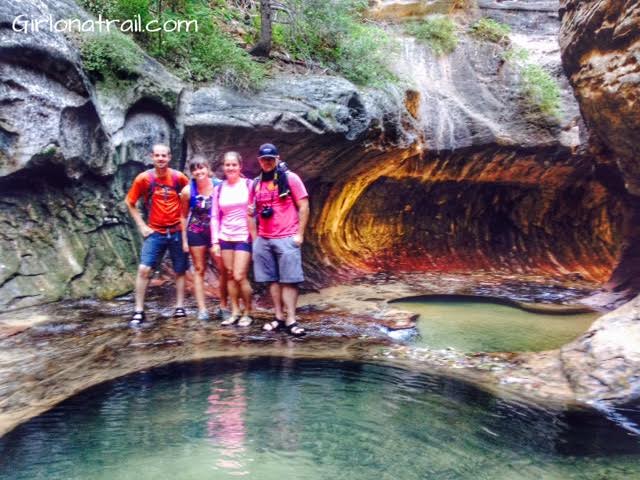 Once you turn around from that same spot, you'll see the iconic Subway view. The light really does come through in that color, because of the way the canyon is situated and the way the sunlight reflects through this area.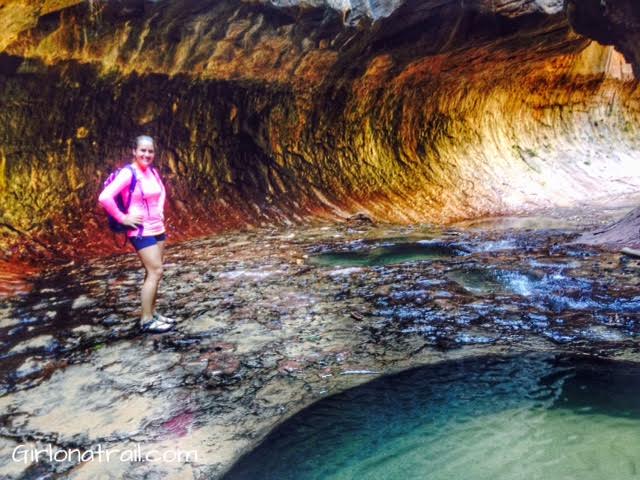 This was definitely one of my favorite destination hikes I've been to! If you ever have the chance to go, I highly recommend it!
Trail Maps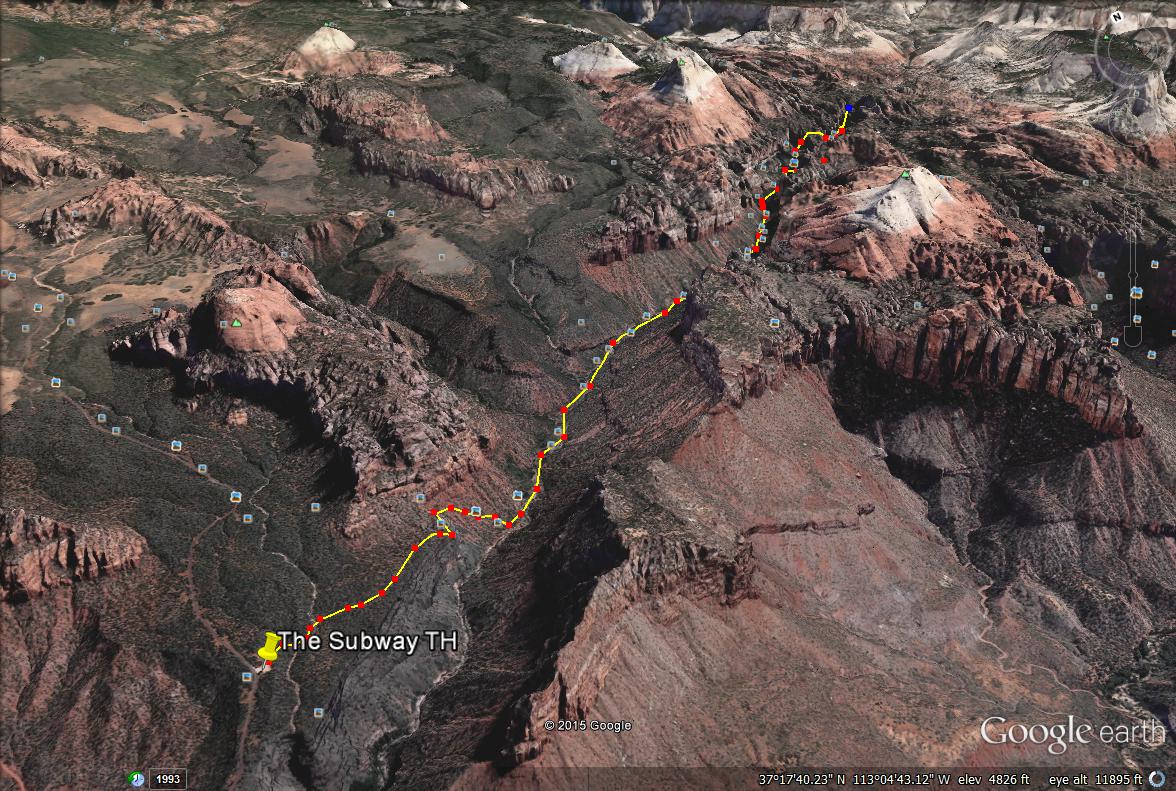 Here are two angles of the map to help guide you.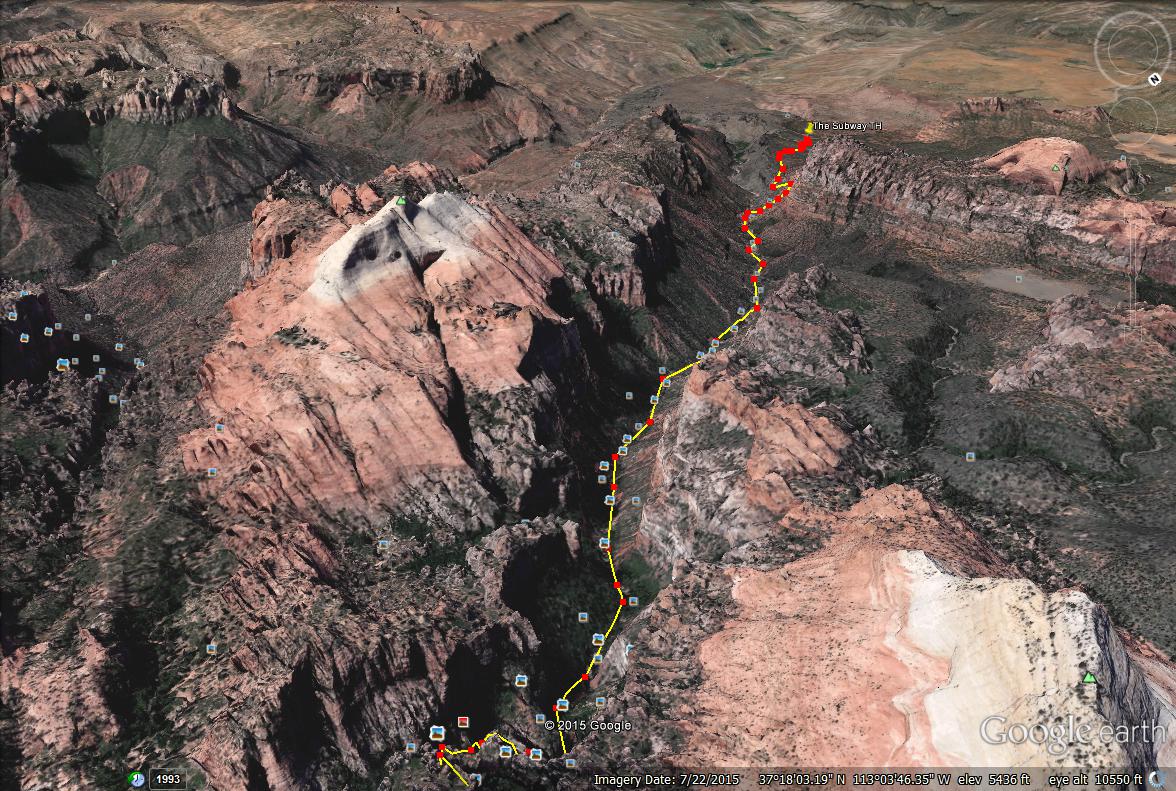 Nearby Hike
Hiking the West Rim Trail, Zion National Park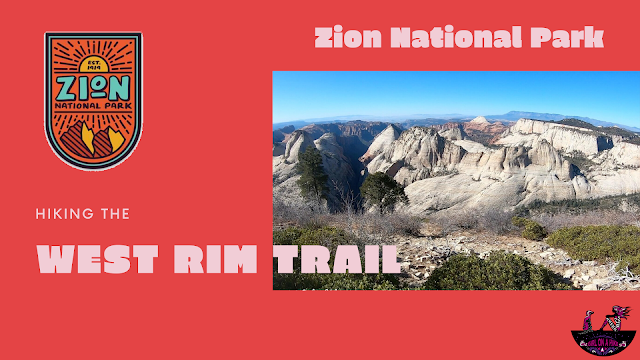 Save me on Pinterest!