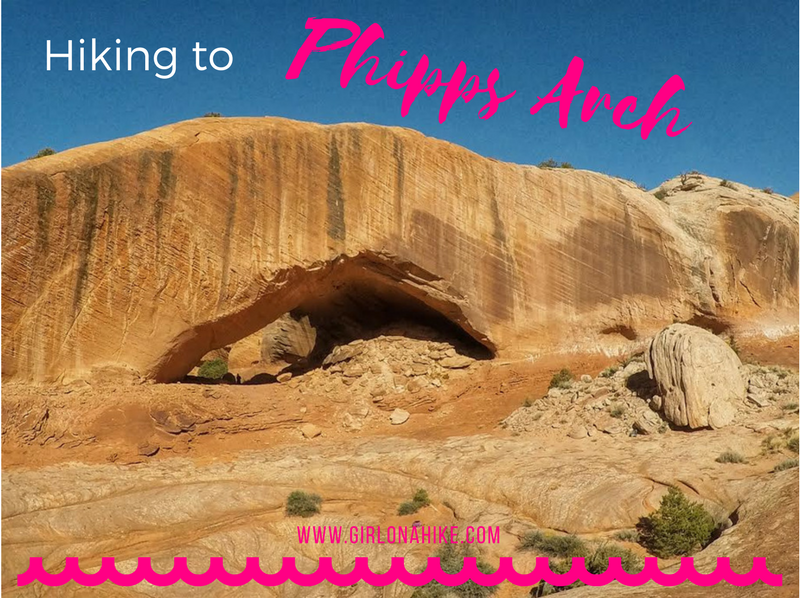 Hiking to Phipps Arch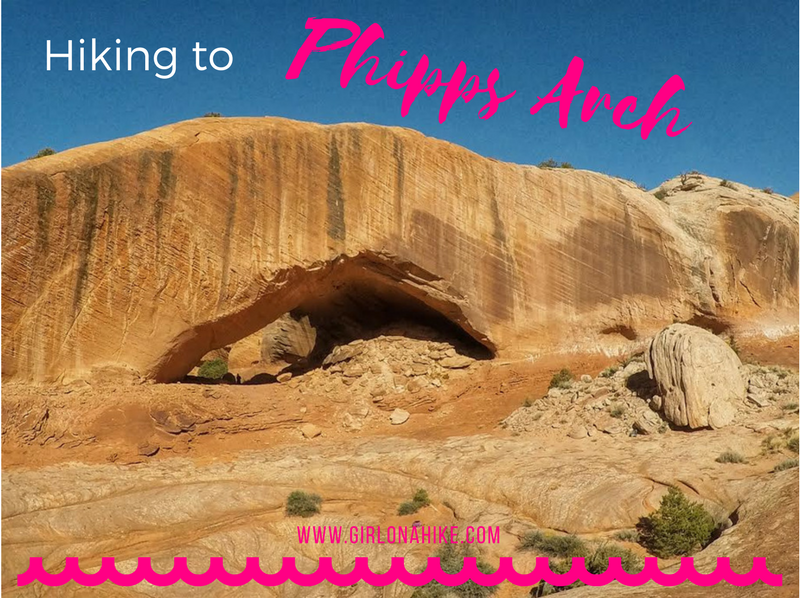 Phipps Arch swoops through Grand Staircase Escalante National Monument affording constant view of bizarre and beautiful land, as hikers search for this hidden arch. There is no official trail – getting to the arch requires a little research and planning. This is a hike you definitely want to have a GPS for. Because this is a trail-less approach, you will rarely see many people hiking here because it's not nearly as popular as its neighbor trail,

Lower Calf Creek Falls

.
About
There are two routes to approach Phipps Arch.
1) The confluence of Calf Creek and the Escalante River. This is the shorter route but requires you to ford the river and cut through riparian vegetation.

2) Off mile marker 71 on HWY 12. This route is longer but much more scenic.
We opted for the longer route mainly because we didn't want to cross the Escalante River in January (too cold!). We also had all day to explore and were up for a little route finding. If you are feeling adventurous, you can continue another .8 miles to Maverik Bridge. However, Maverik is small, and more of a natural bridge. We didn't do it because we heard it wasn't that great compared to Phipps and that we'd be a little disappointed with it.

Plan to hike 4-6 hours RT in a very sandy trail with little shade. Be prepared with plenty of water, even in Winter. Keep in mind that cattle graze this area, so have a leash handy if you bring your dogs. Avoid hiking this trail between May-October when daytime temps are extremely hot – dogs can easily burn their paws on the sand and slickrock.
Directions
Here's a driving map, if coming from Escalante, UT.
From Escalante, UT drive east on HWY 12 for 11.7 miles. The trail starts immediately east of mile marker 71, on the right side of the road where there is a small pull out (enough to fit 2 cars). There's a bunch of yellow arrows for the sharp turn. It's an unsigned, unpaved pullout. If you pass the "slow vehicles must pull over" green sign, you went too far. However, we had to park further up the road so our Sprinter Van would fit, then walk back to the TH.
Trail Info
Distance: 9.2 miles RT
Elevation gain: 206 ft (-503 ft descent)
Time: 4-6 hours
Dog friendly? Yes, off leash
Kid friendly? No, due to length and scramble
Fees/Permits? None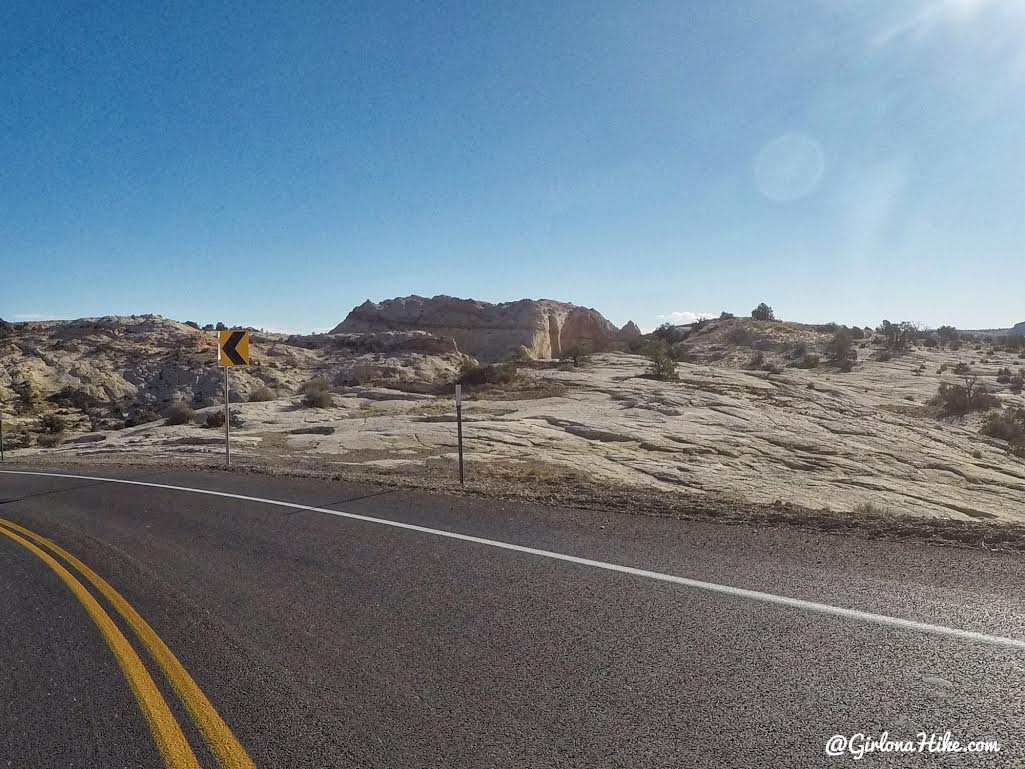 What the "parking" area looks like – it's just passed mile marker 71 in between the yellow arrows and white road markers. Only 1-2 cars can fit here.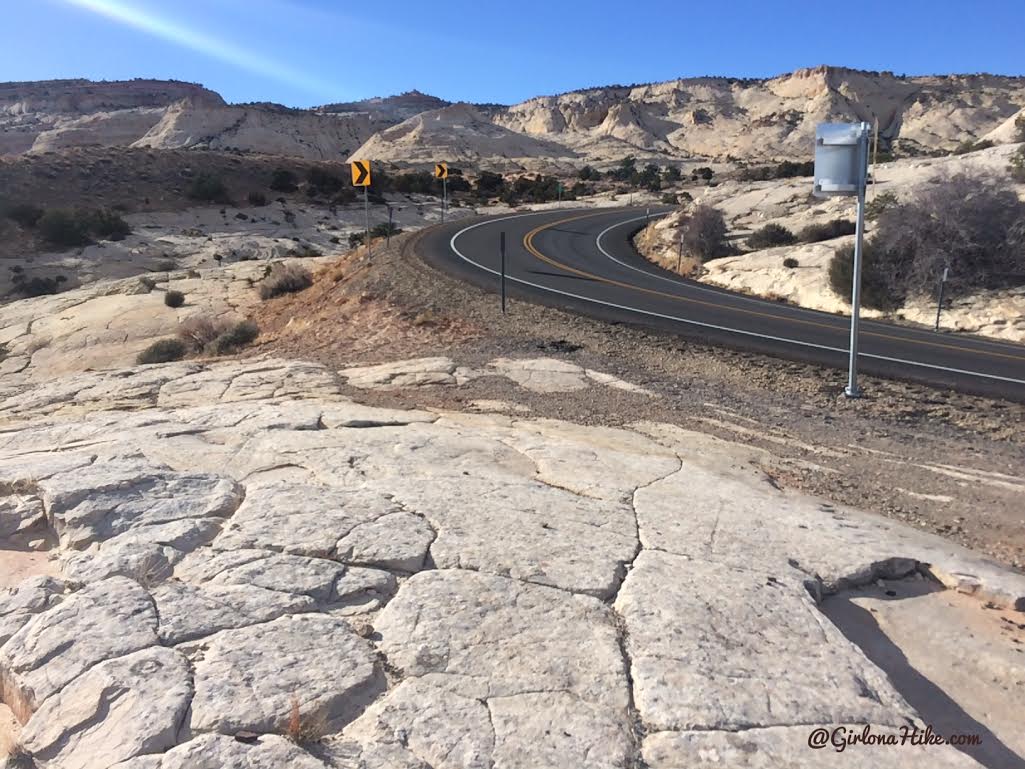 Here's another angle of where you should park for the trail.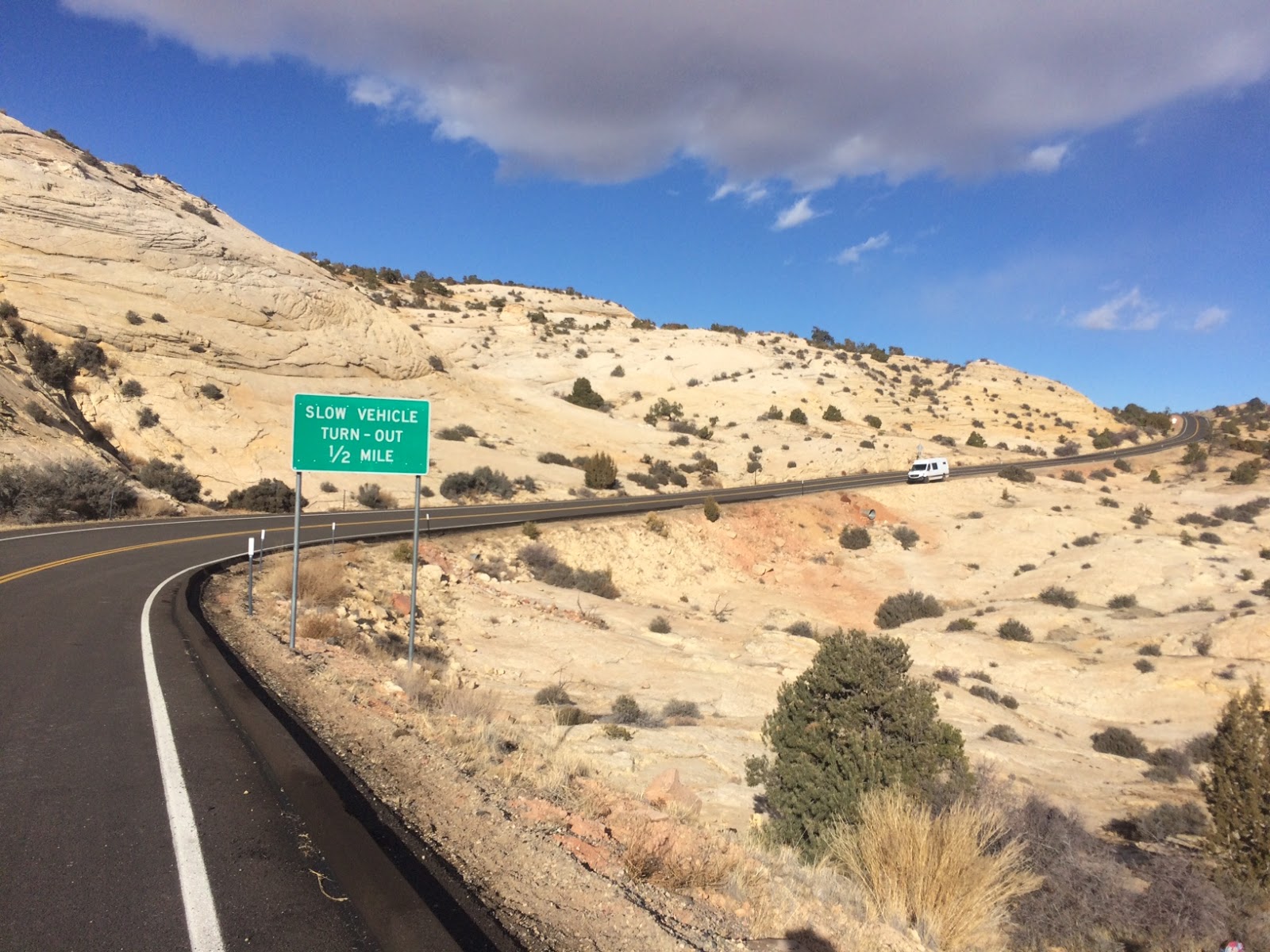 You can see there's not much room to park at the actual TH, so we had to drive further up the road to where we could safely park our Sprinter Van.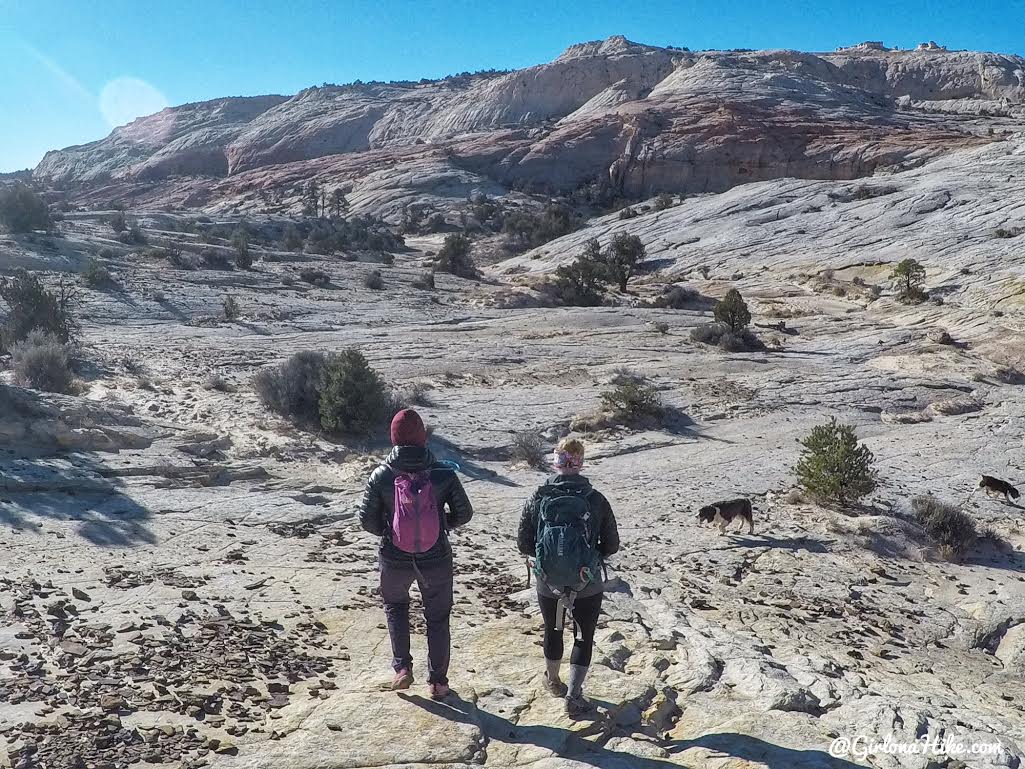 Descend South from where you parked, hiking over slickrock and sand. Make your way down to the wash. You'll hike past tenajas (depressions holding water).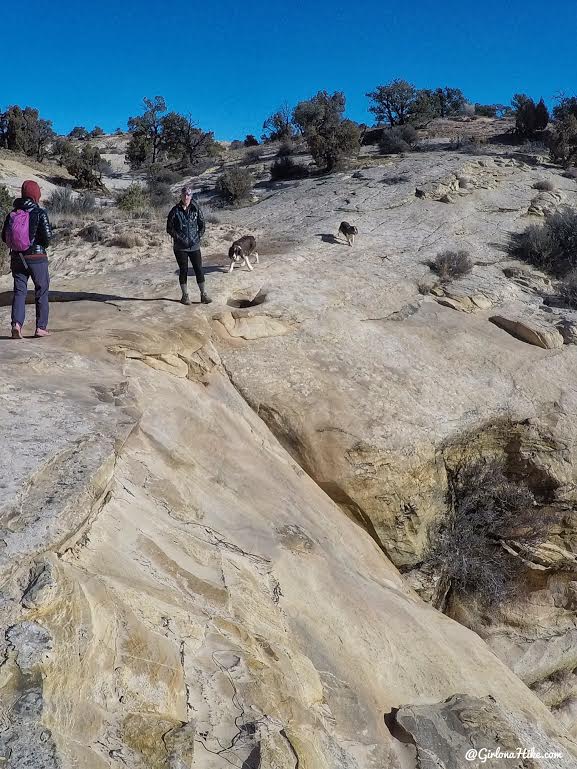 Within 10 minutes you'll reach the first of 5 dryfalls. Its easiest to get down by hiking right of the dryfall, then back down to the wash.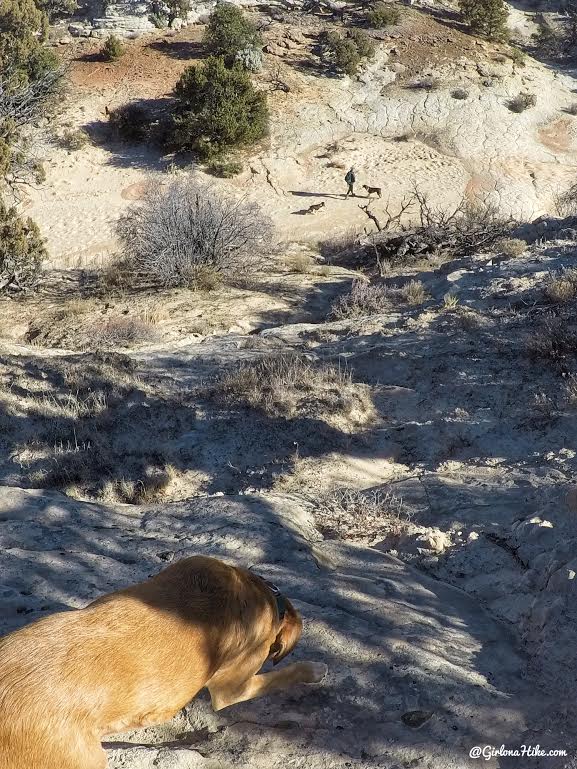 Scoping out a spot to hike down. There's no "right" way to get down – whatever you feel is comfortable and avoids hiking over the cryptobiotic soil.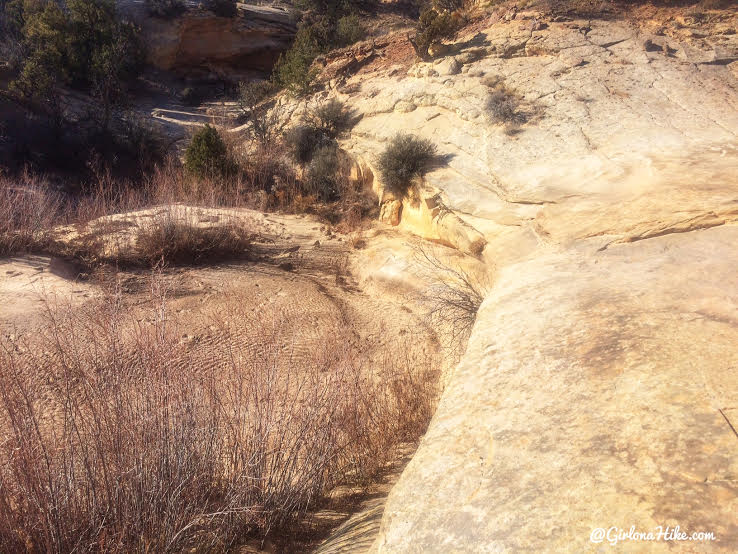 Reach the 2nd dryfall quickly after the first. It's easy to get around on the left side this time.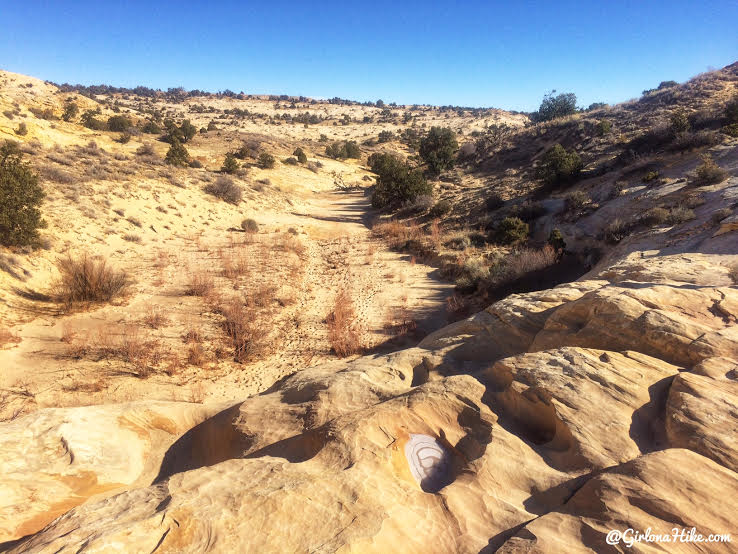 Continue East along the dry wash, and you'll reach the 3rd dryfall.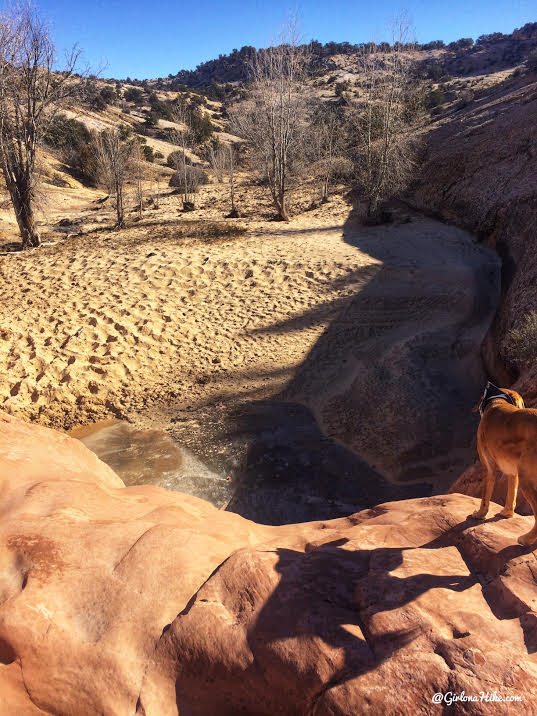 And once again, after hiking about 20 minutes in the dry wash reach the 4th dryfall which leads into a group of Cottonwoods. After this dryfall, the trail abruptly veers right.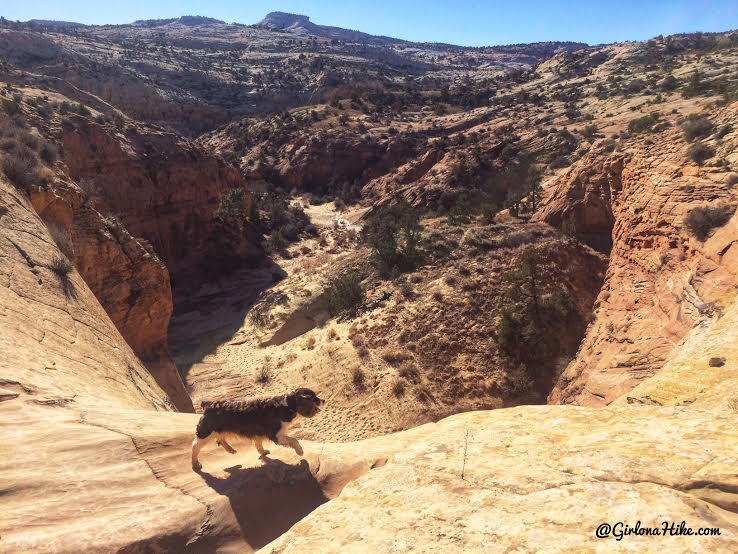 Then reach the last, 5th dryfall. This is the biggest at roughly 150 ft. To get around it, stay right along the rim for about .25 miles, following cairns.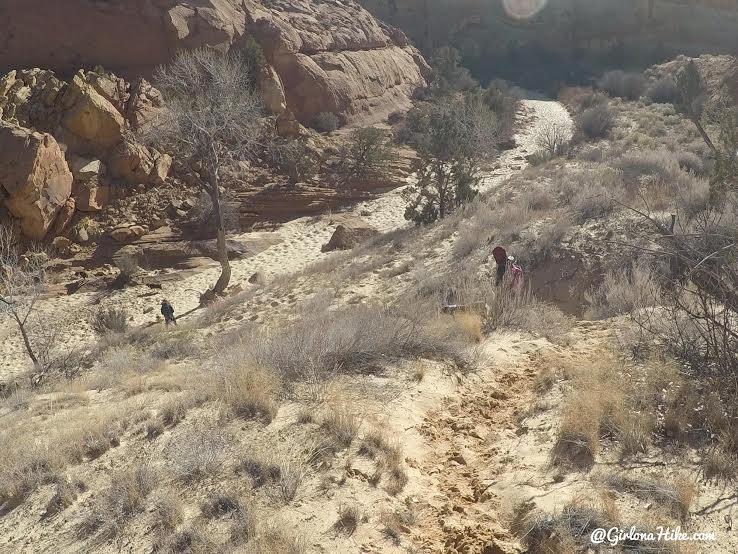 Keep an eye out for the white sand dune on your left, which is the easiest way to get down to the wash again.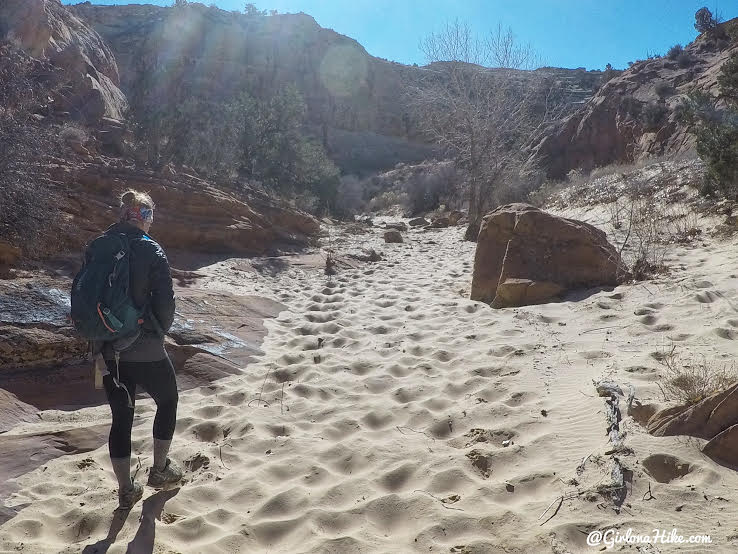 Once in the bottom of the wash, head straight until you see the other wash come in from the right, then turn left.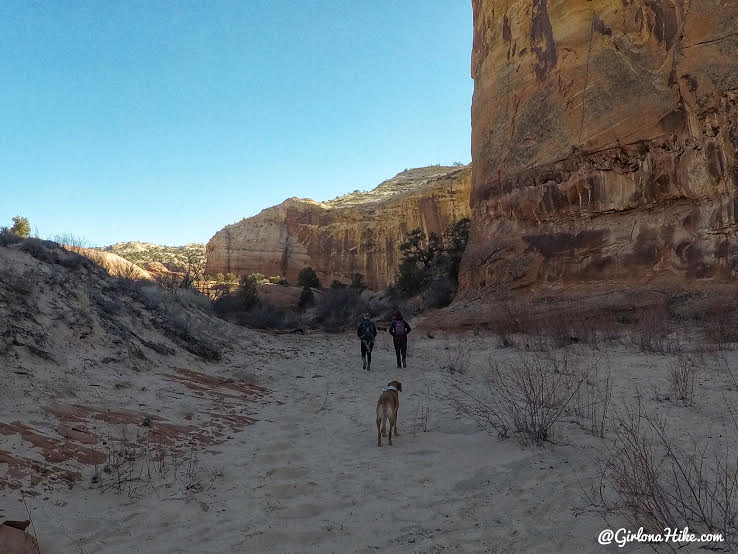 As you turn left, you should now be hiking below tall rock walls.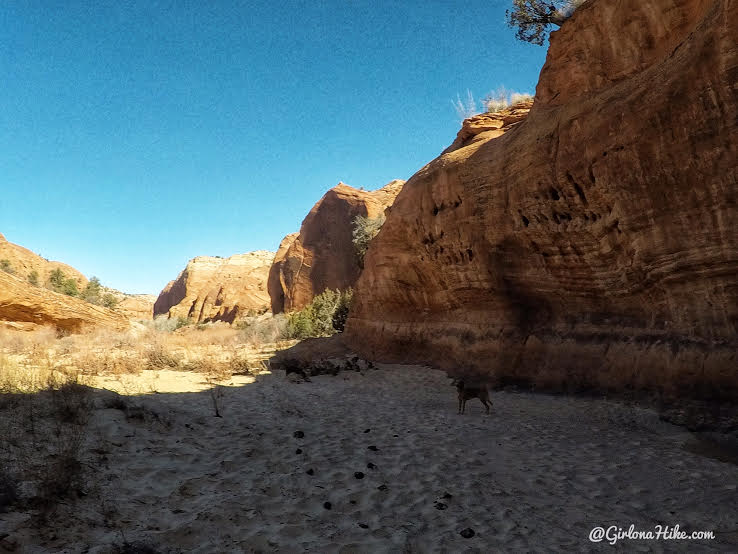 The trail eventually curves north.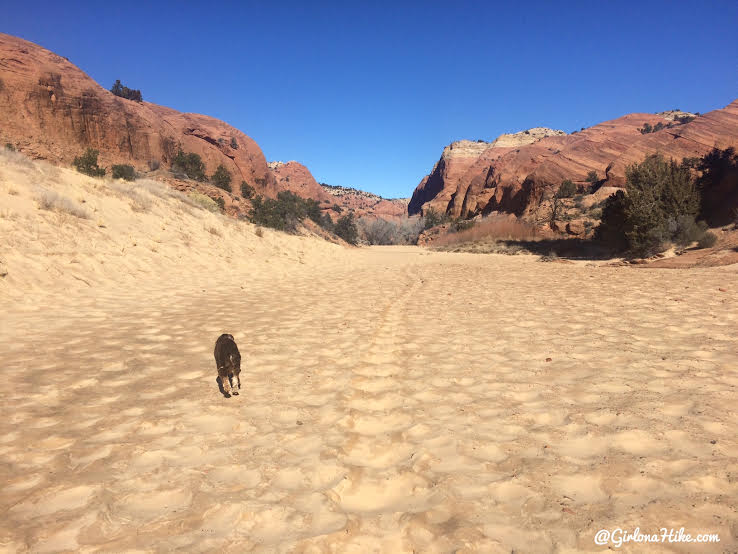 You can see there's actually a faint trail that we were able to follow. Don't rely on this being here, as the wind and rain can change what the wash looks like.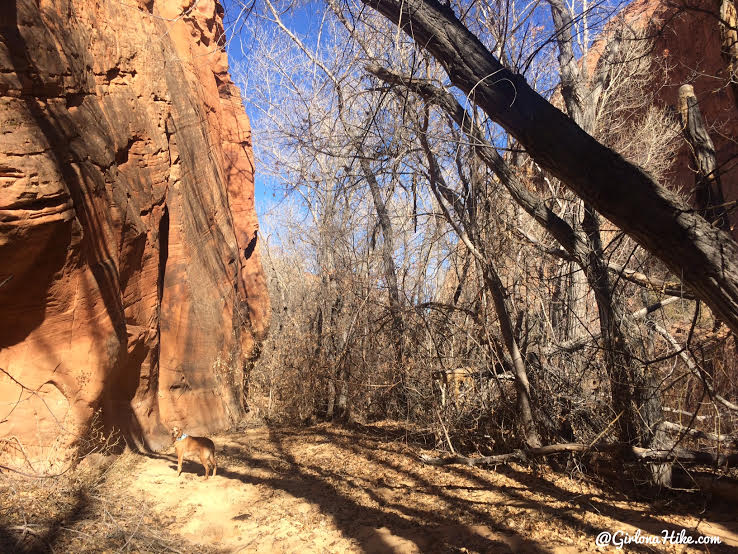 The Cottonwoods become more profuse, and this is where the trail gets a little tricky. You have to have to navigate through cow poop, fallen trees and branches, ducking quickly so as not to hit your face with tree limbs. This section is often laden with mucky, muddy water as well, and lasts for about a mile.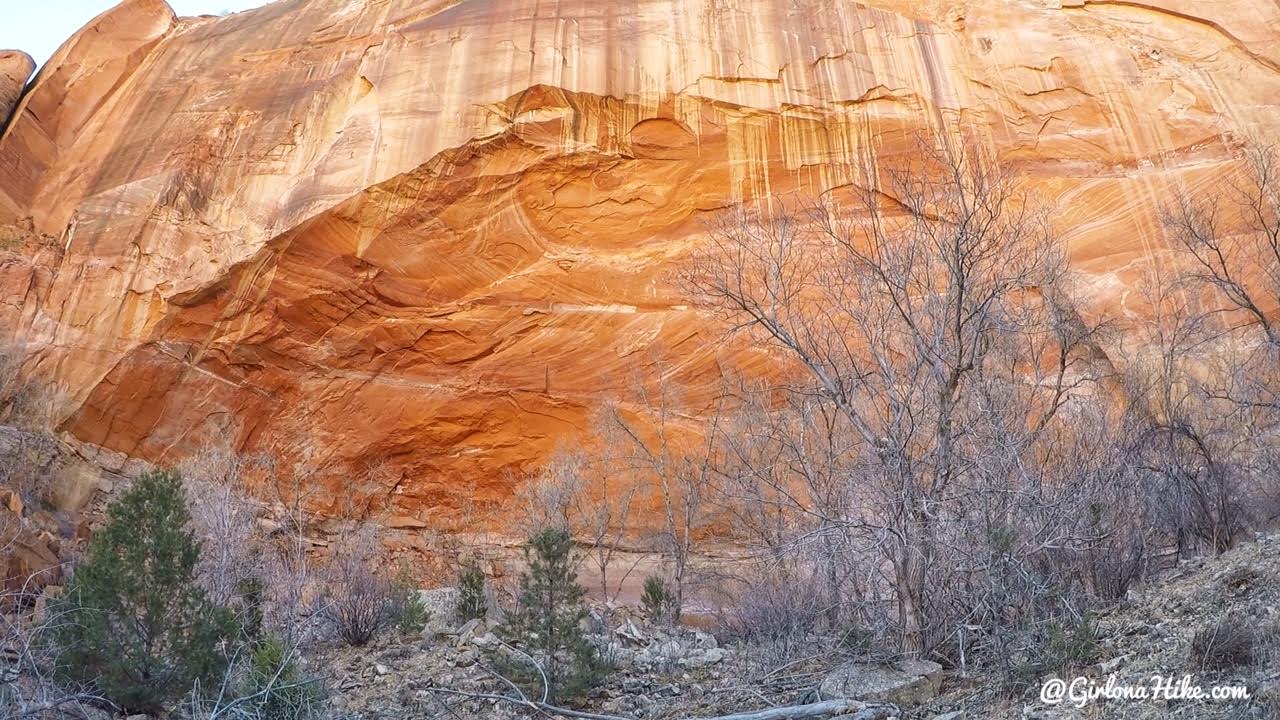 Pass this broad, shallow, 300ft high alcove on your right. This would be a good place to camp if you had to, since it would protect you from rain and wind, however, there is a lot of cow poop everywhere.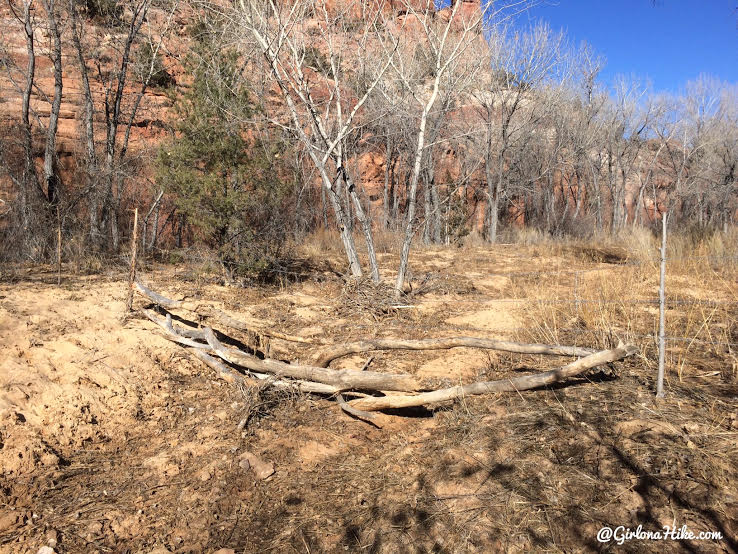 Cross through the log & barbed wire fence.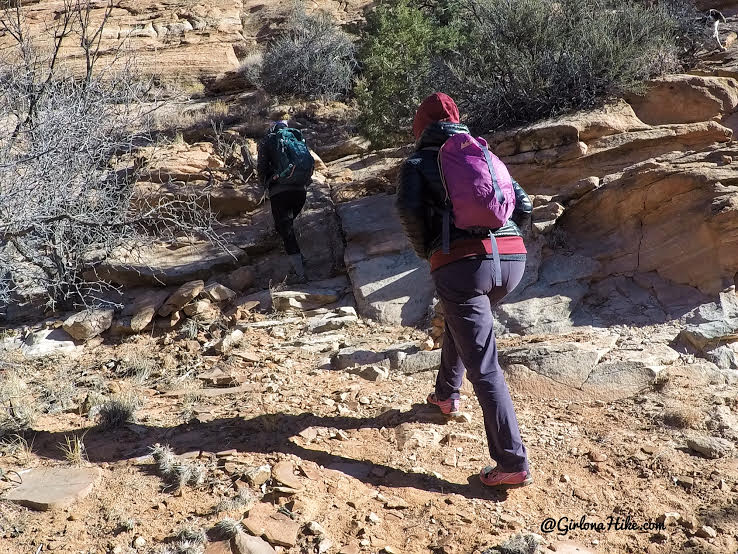 The canyon begins to open up and the path is easier to follow, making faster progress. After the alcove, when you see the first drainage open to your right, turn right. There should be a few cairns pointing you in the right direction, but again, this is where a GPS comes in handy.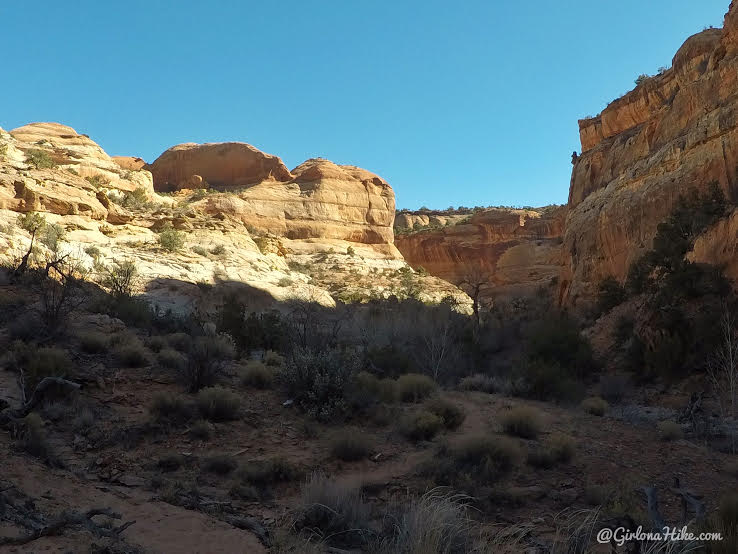 Follow the cairns as you make your way higher on the Northern ledge. Phipps Arch is up to the left in this photo, but you won't be able to see it until you reach the base of it.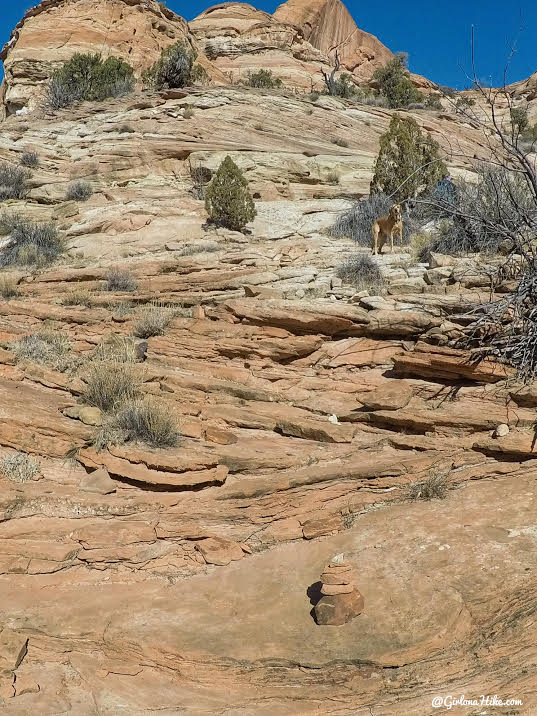 The cairns were super helpful in hiking up the ledges.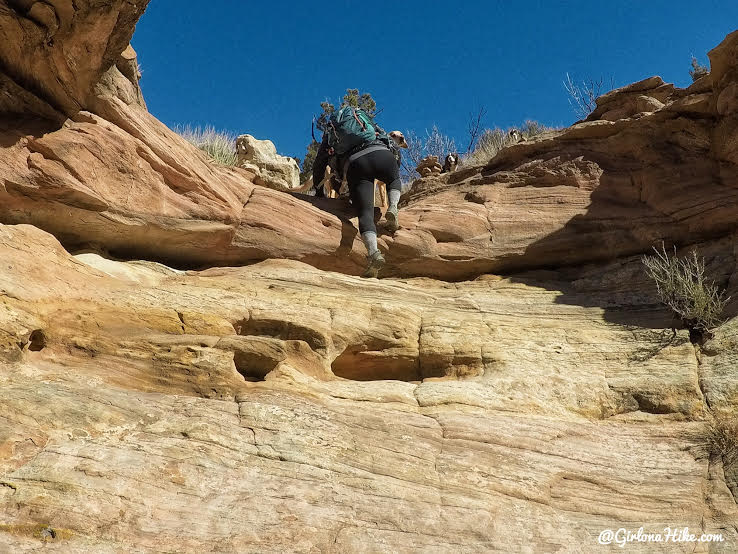 Keep an eye out for cairns leading you up steep ledges. All are very easy scrambling.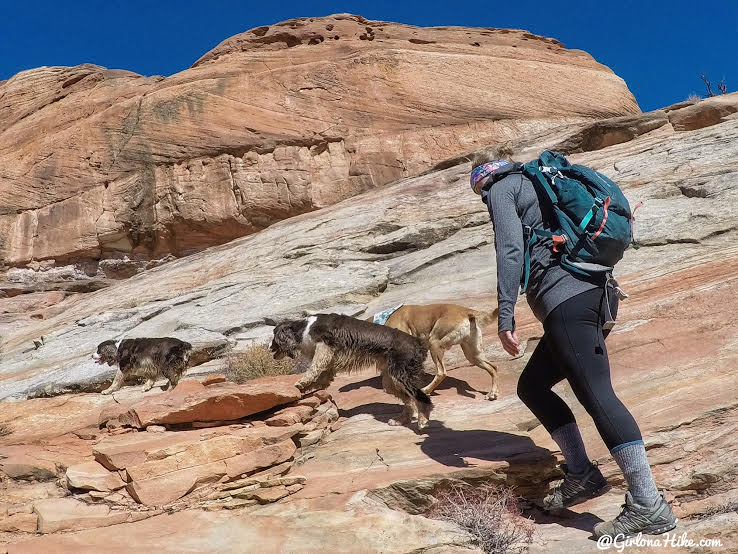 The pups lead the way.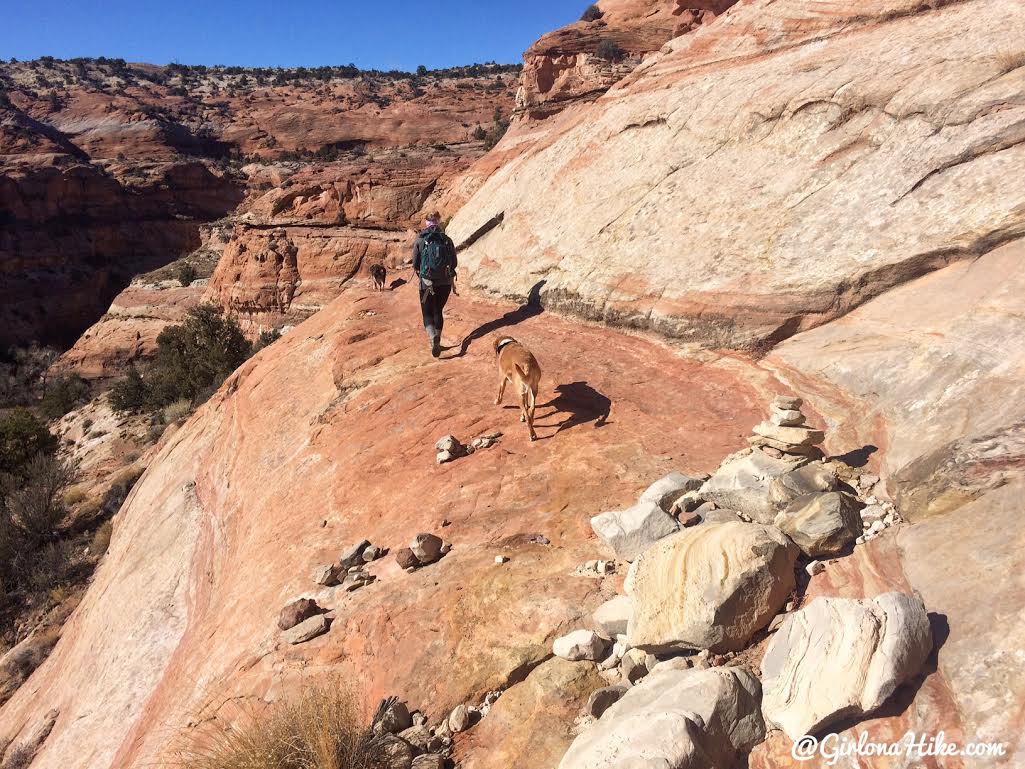 Follow this prominent ledge for a few feet, then scramble up another steep section on the right. Keep wrapping around the edges following cairns.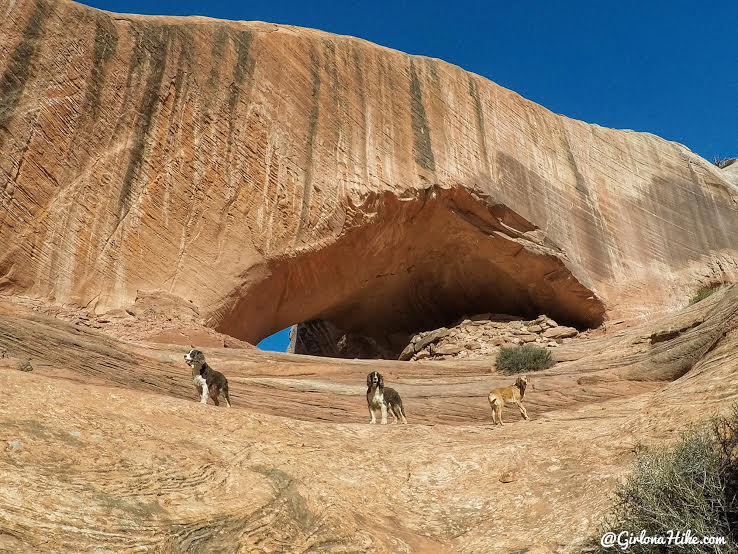 As soon as you turn left up a small draw, you will see Phipps Arch!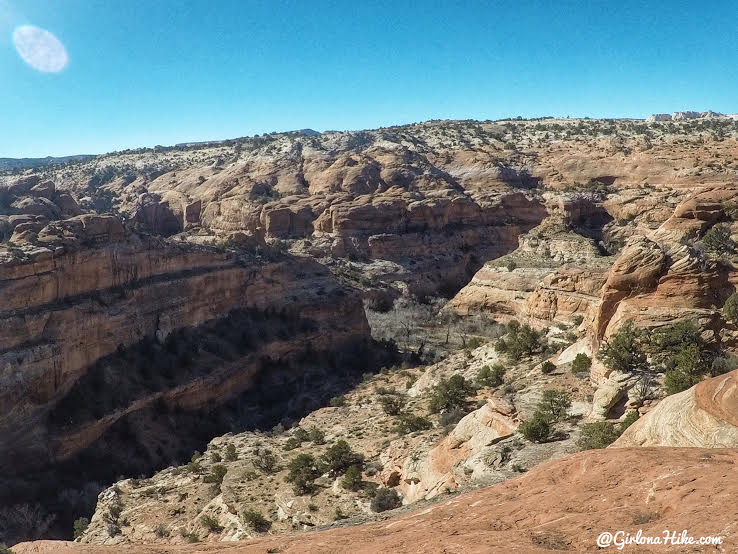 View from the top, near the arch looking down into the canyon you just hiked from.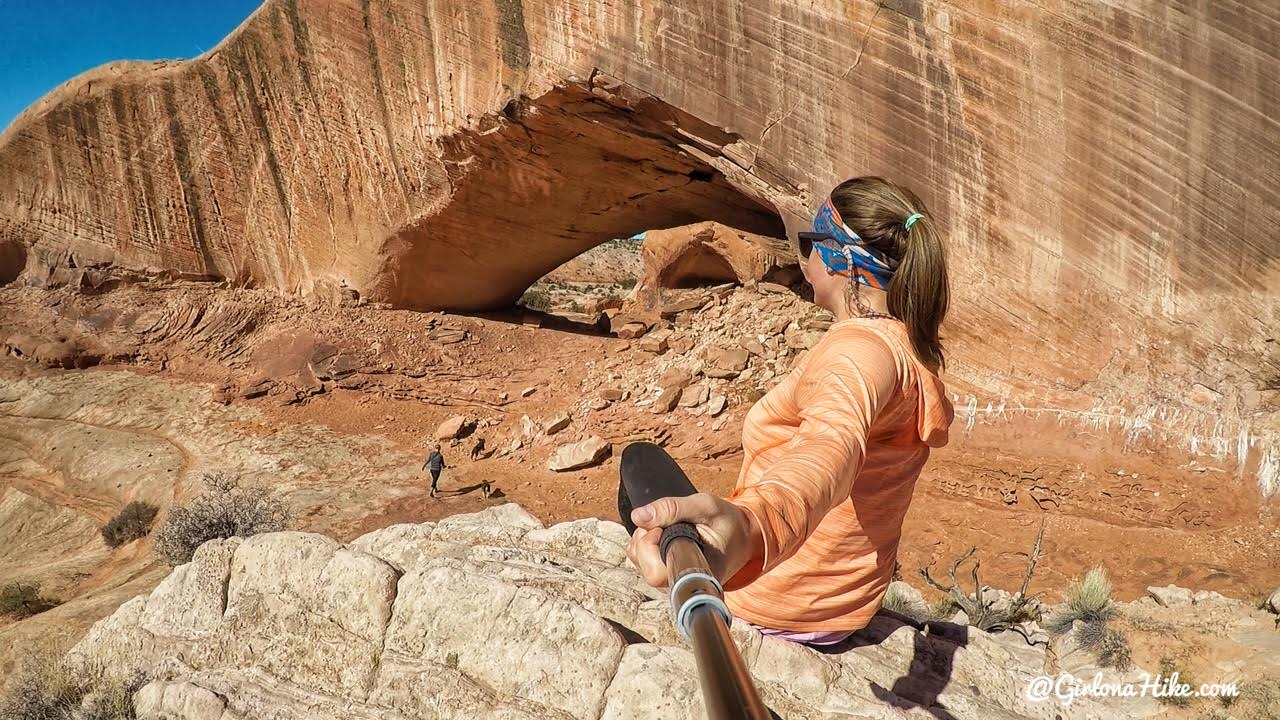 This arch is so cool! I don't think I've seen an arch with as much thickness before.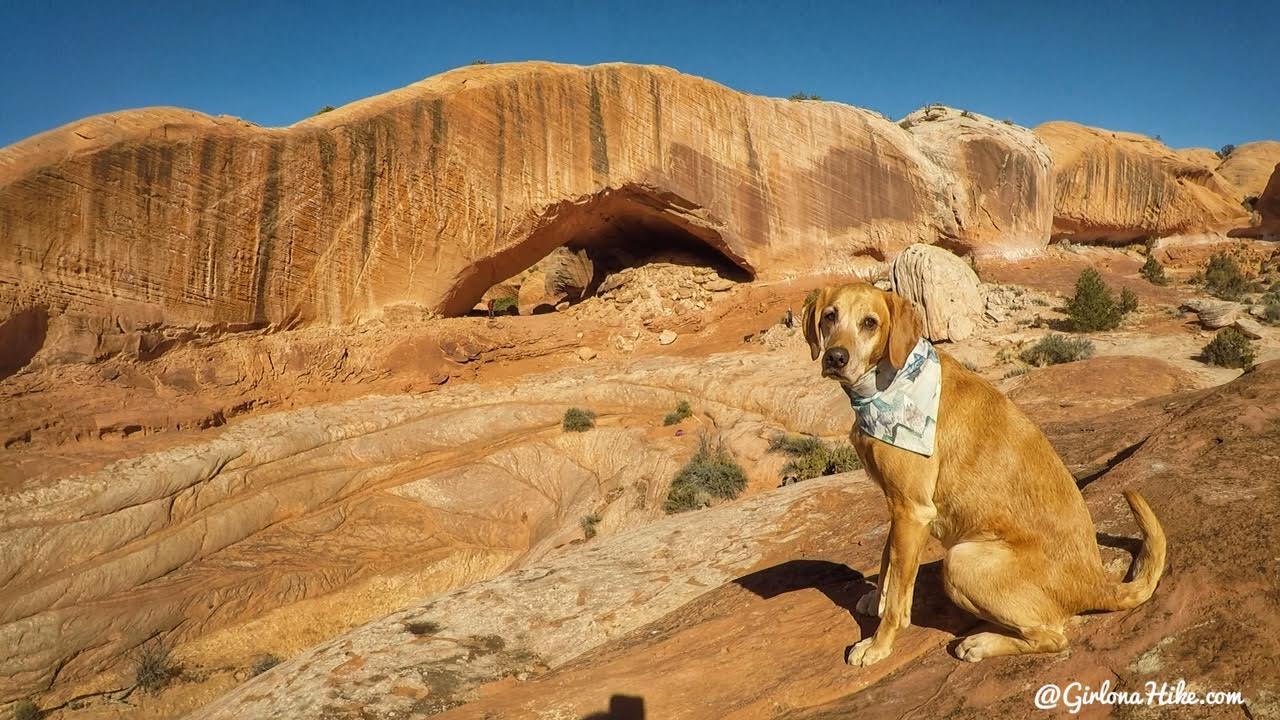 The best view is further away upon some rocks, looking north.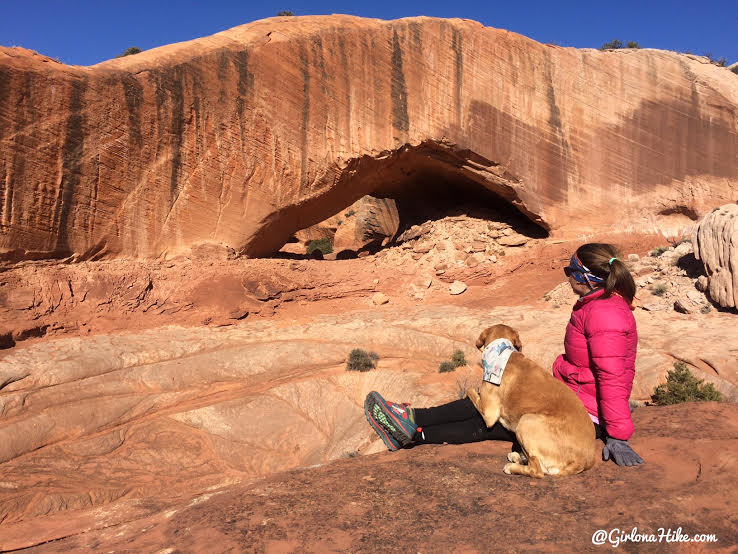 The previous day a storm passed through, so the temperatures dropped quite a bit making it cold on top of the rocks, but it sure gave way to clear blue skies.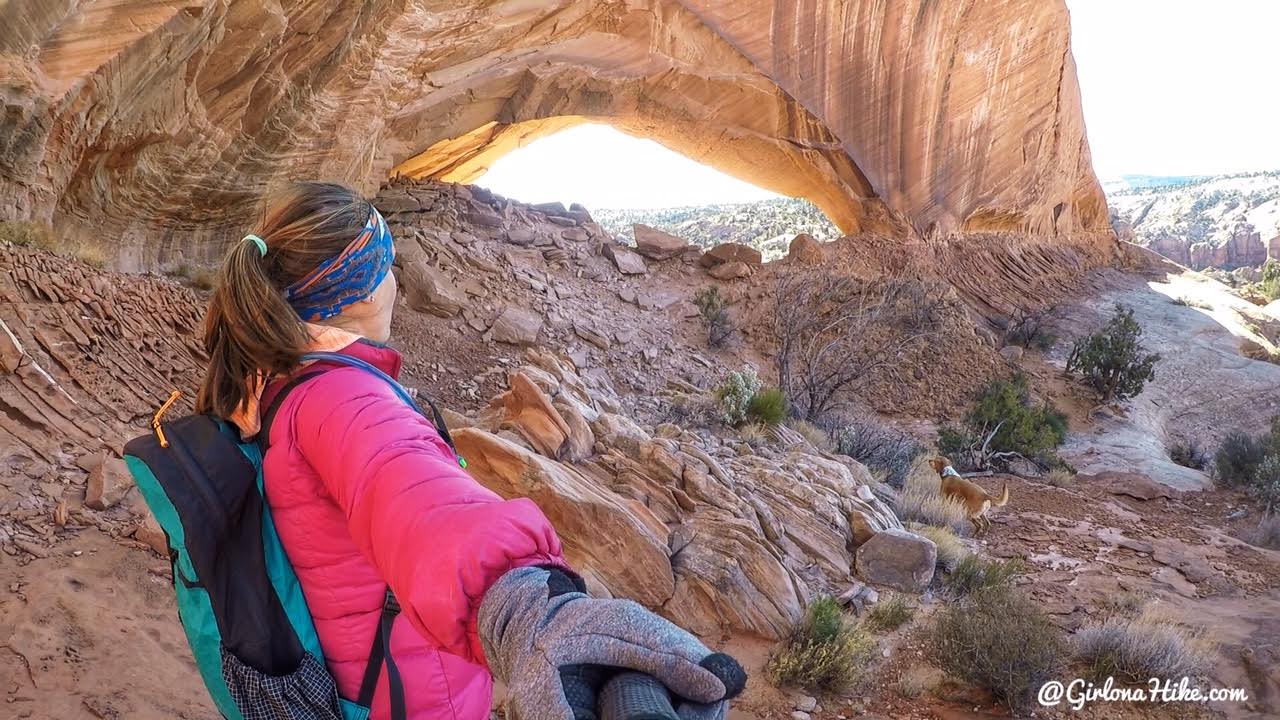 Phipps Arch looking south.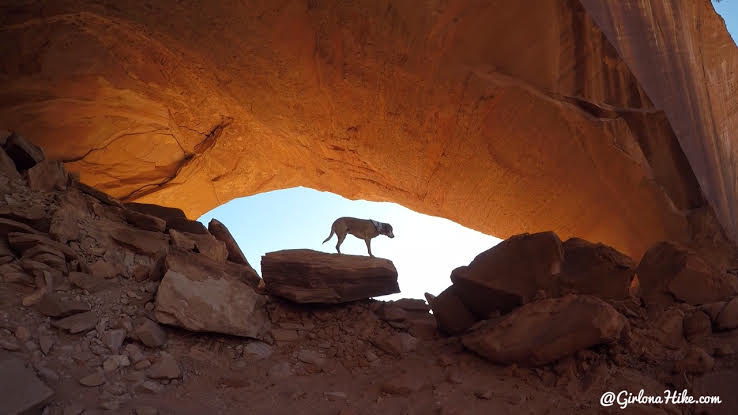 Charlie is lit up by the afternoon glow inside the arch.
After viewing the arch either make your way over to Maverik natural bridge, or return the way you come. Another cool option would be to do this hike as a point-to-point. Start at mile marker 71, see the arch, then end at the Escalante TH. It would be about 8 miles one way. You would need to have at least two cars to be able to do this.
Trail Map
The yellow dots are the dryfalls and significant points along the trail. You can click on each to see what they are. My track via Gaia GPS – the best tracking app! Get your app here for a discount.
Recommended Gear
Nearby Hike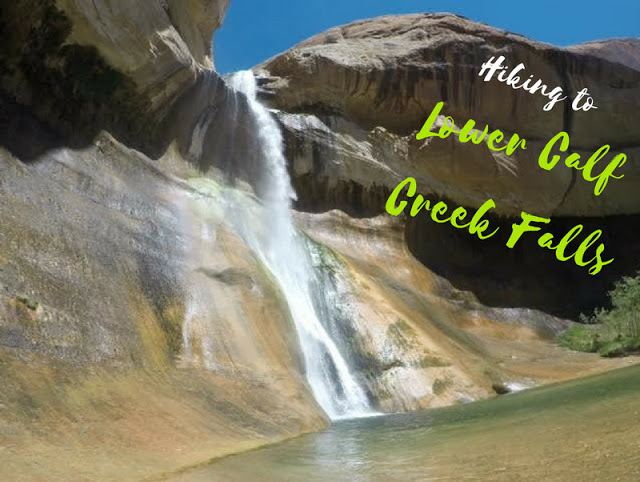 Save me on Pinterest!