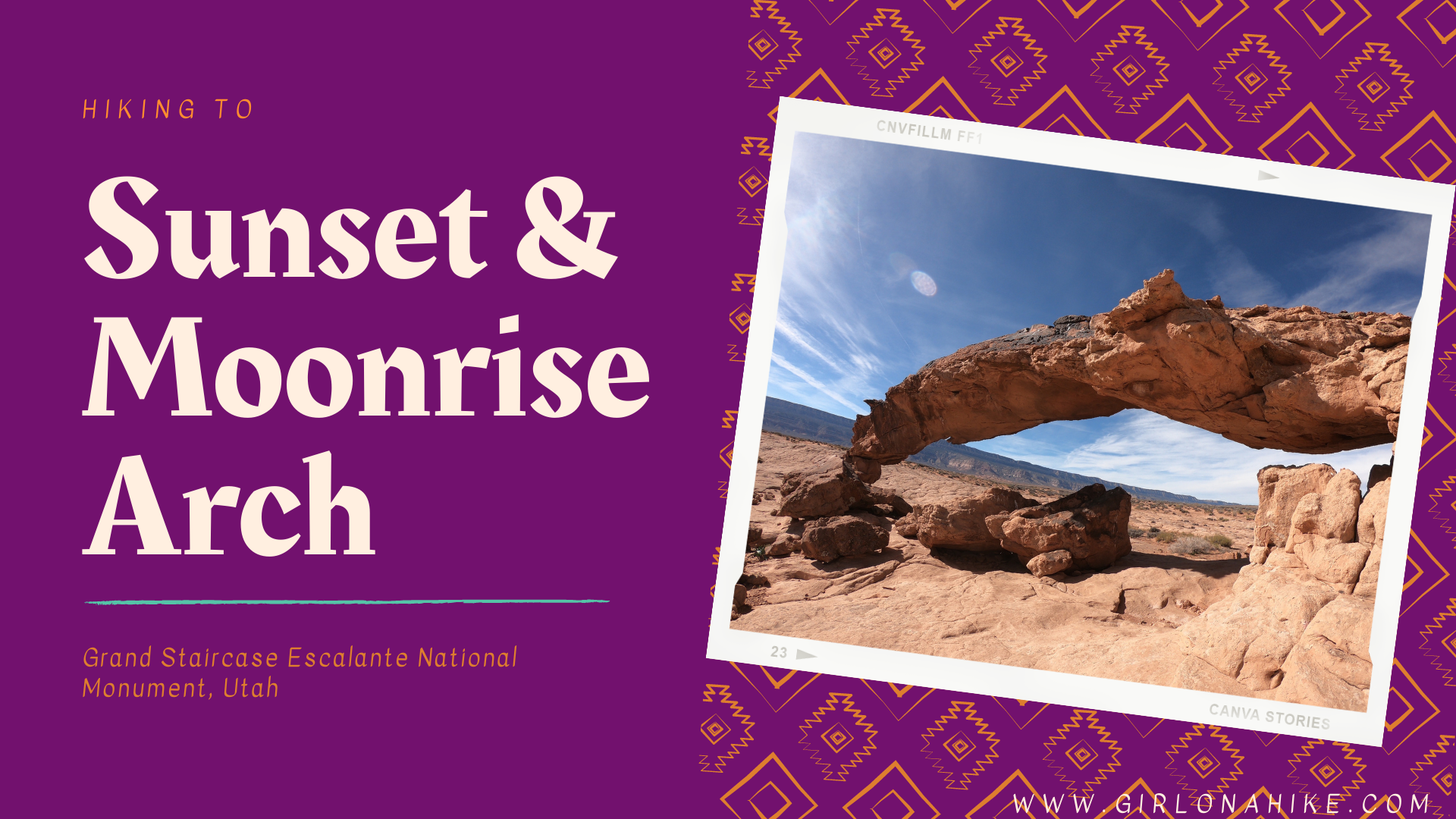 Hiking to Sunset Arch & Moonrise Arch, Grand Staircase Escalante National Monument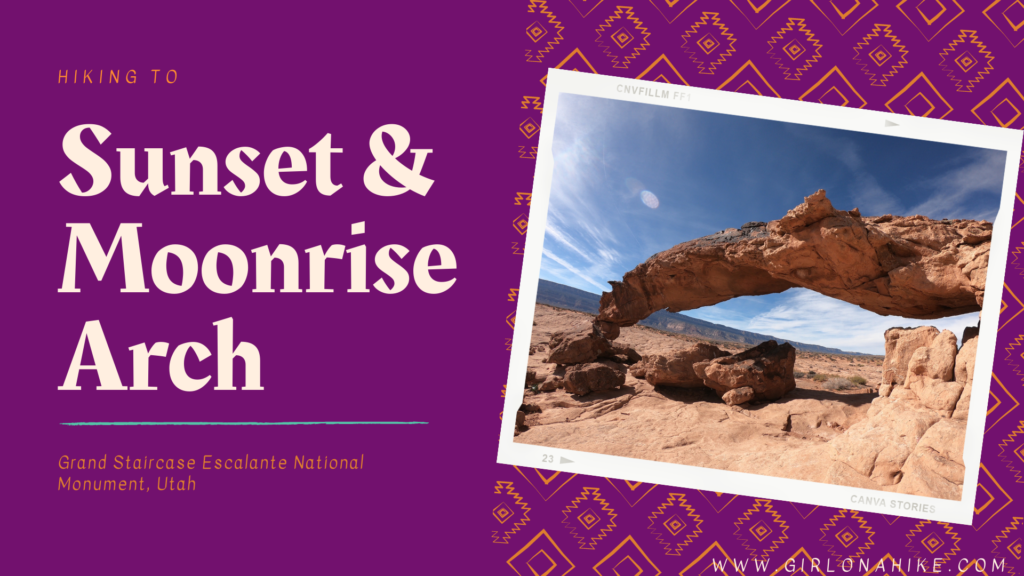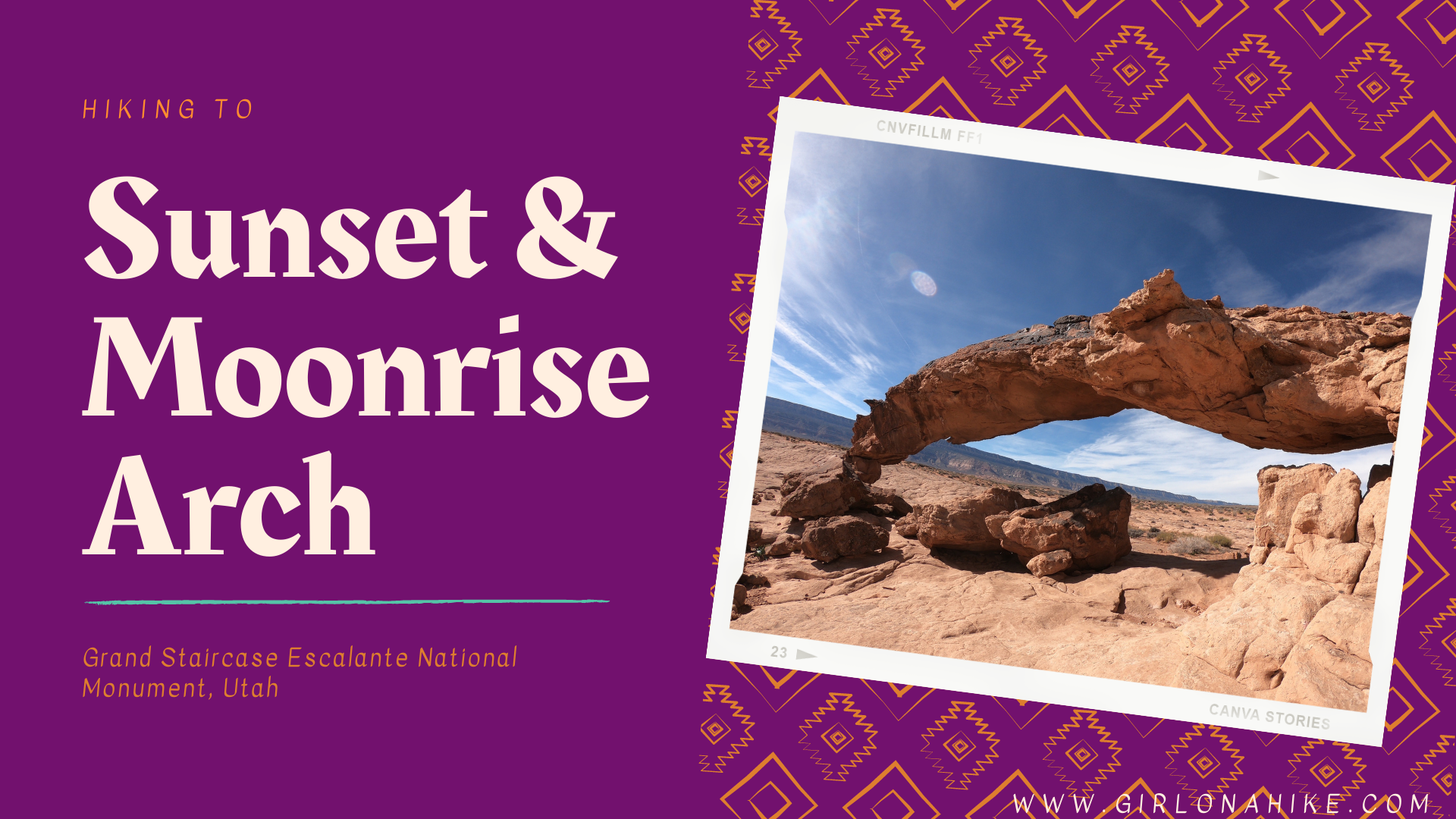 Sunset Arch & Moonrise Arch are two arches located within Grand Staircase Escalante National Monument (GSENM) off Hole in the Rock Road. They are both located in an area that does NOT have an official trail so being able to navigate a GPS is necessary. That being said it is pretty straight forward, and this easy hike is great for small children, dogs off leash, and those wanting to see something cool without the hard effort most hikes in this area require.
Sunset Arch is about 40 feet long and 12 ft hight. It's not the largest arch in the area, but the twisted rocked and location are what makes this one interesting. It's in the middle of nowhere, making your wonder how this was even created! As with all rock formations, a combination of wind, sun, time, and water have craved out this cool sculpture.
Moonrise Arch is just south of Sunset Arch, and is about 30 ft long but only 6 ft tall (standing under it). Moonrise Arch is visible from Sunset Arch and an extra 0.3 miles south, so its worth it to make the small hike over to explore it as well.
The best time of year to explore any part of GSENM is in Fall or Spring when the temperatures are cooler. Even in mid-November when we hiked this it was 61F which felt very warm. We were both sweating because the sun is so strong, and my face got a little sunburned. I drank 1 liter of water – just for 3 miles of hiking!
Spring is also a nice time to visit, but make sure the roads are dry before making the long drive down to the "trailhead". In winter many trails are not accessible due to wet/muddy roads. Check in with the Escalante Ranger station before your trip to make sure Hole in the Rock road is accessible.
Directions
From Escalante, UT head East on HWY 6 for about 6 miles. Turn right and head south on Hole in the Rock Road. Reset your odometer to 0, and drive 36 miles to the "Forty Mile Ridge" sign and turn left. Drive another 4.3 miles until you see the water tank on the left, up a small hill. Even though it's only a total of 40 miles this drive will take 2 HOURS! This is because Hole in the Rock Road is heavily used, which creates a washboard road, and forces cars to drive 15-20 MPH.
If you are able to deflate your tires to a low PSI, it will make the drive much easier. Keep in mind that during or after a rainstorm, Hole in the Rock Road and the trailhead turn off may be impassable. Here is a driving map.
Trail Info
Distance: 3 miles RT
Elevation gain: 278 ft (on the way back)
Time: 1-3 hours
Dog friendly? Yes, off leash
Kid friendly? Yes, all ages
Fees/Permits? None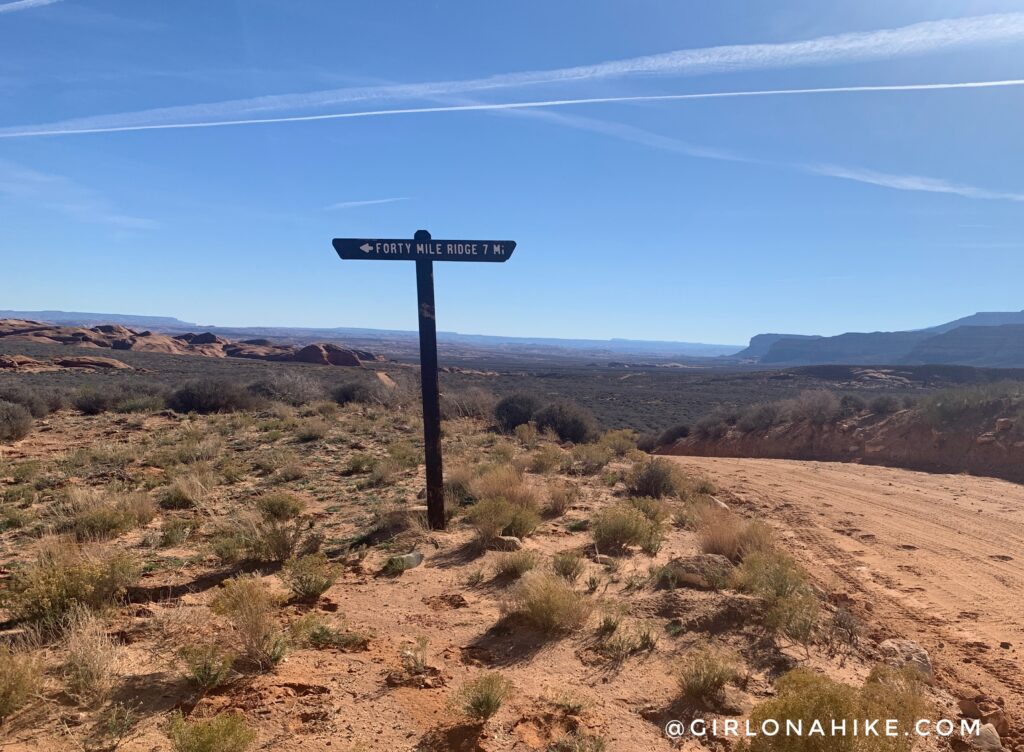 As you drive down Hole in the Rock Road, keep an eye on your odometer and the sign for Forty Mile Ridge. Turn left.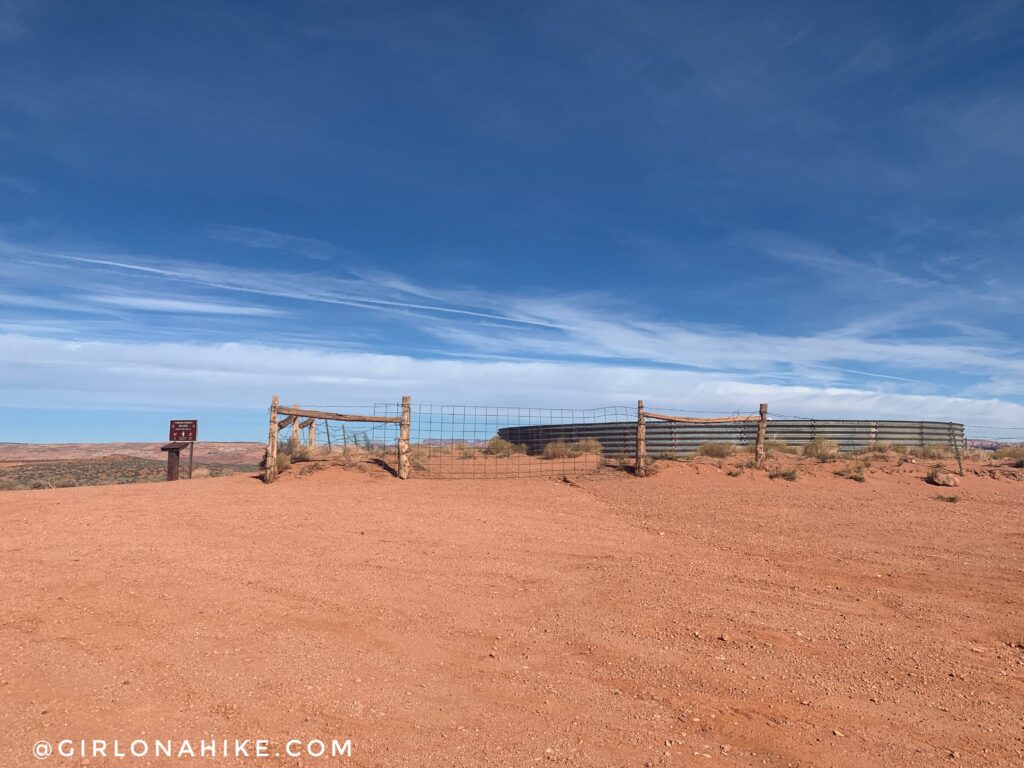 Park at the water tank on the hill to the left. This is the same trailhead for hiking to Coyote Gulch via the Short Cut Route, and you would go North for that past this water tank. For Sunset Arch, walk back down the road South.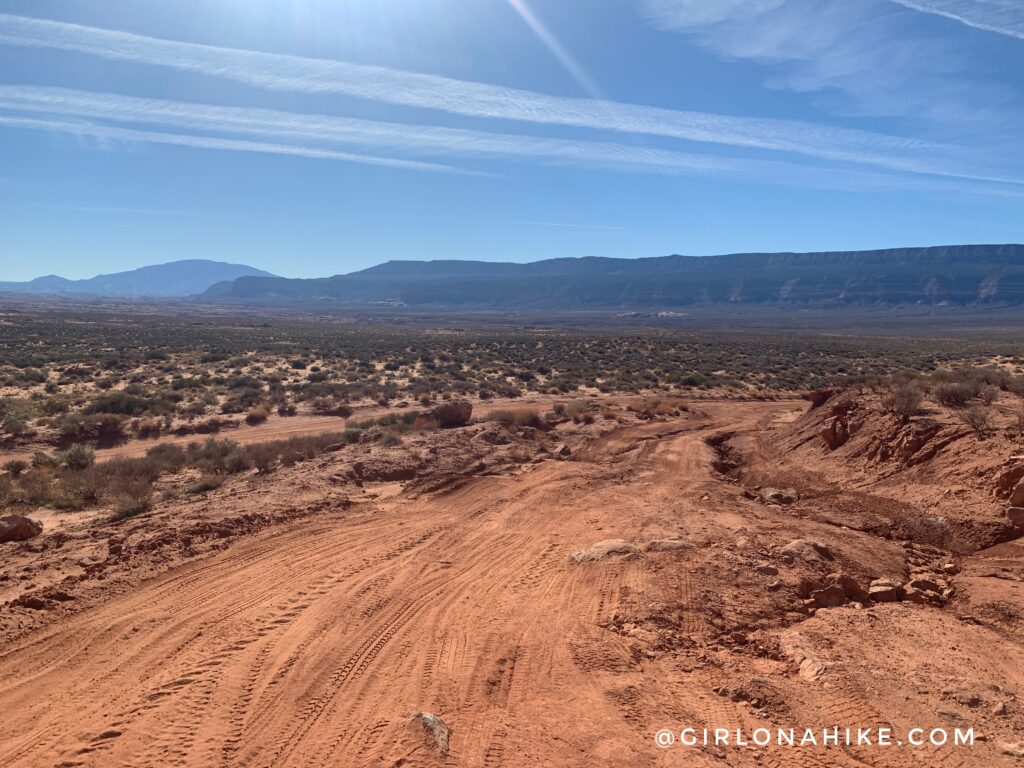 Walk back down the turn off road, then cross the main road. It's too hard to see on this photo, but you can actually see Sunset Arch from this spot.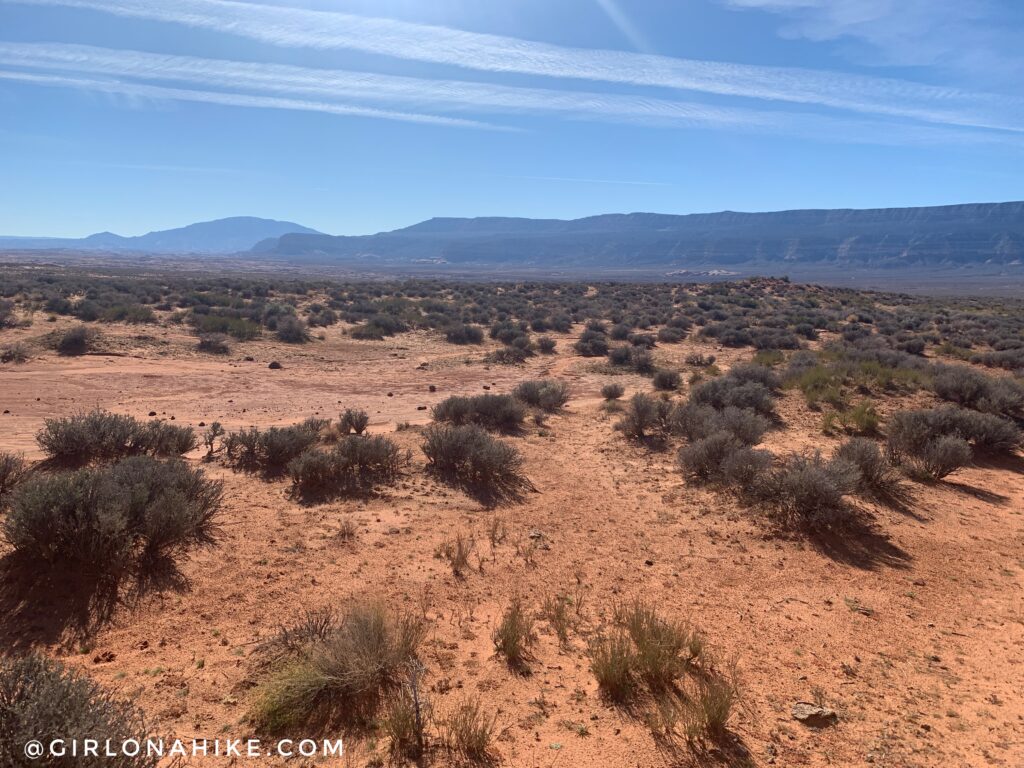 Now the fun begins! There seemed to be a light path when we started but it eventually disappears. Don't rely on foot prints or cairns to lead the way – make sure you have the area map downloaded prior to your trip so you can follow the GPS. Get your Gaia GPS app here for a discount.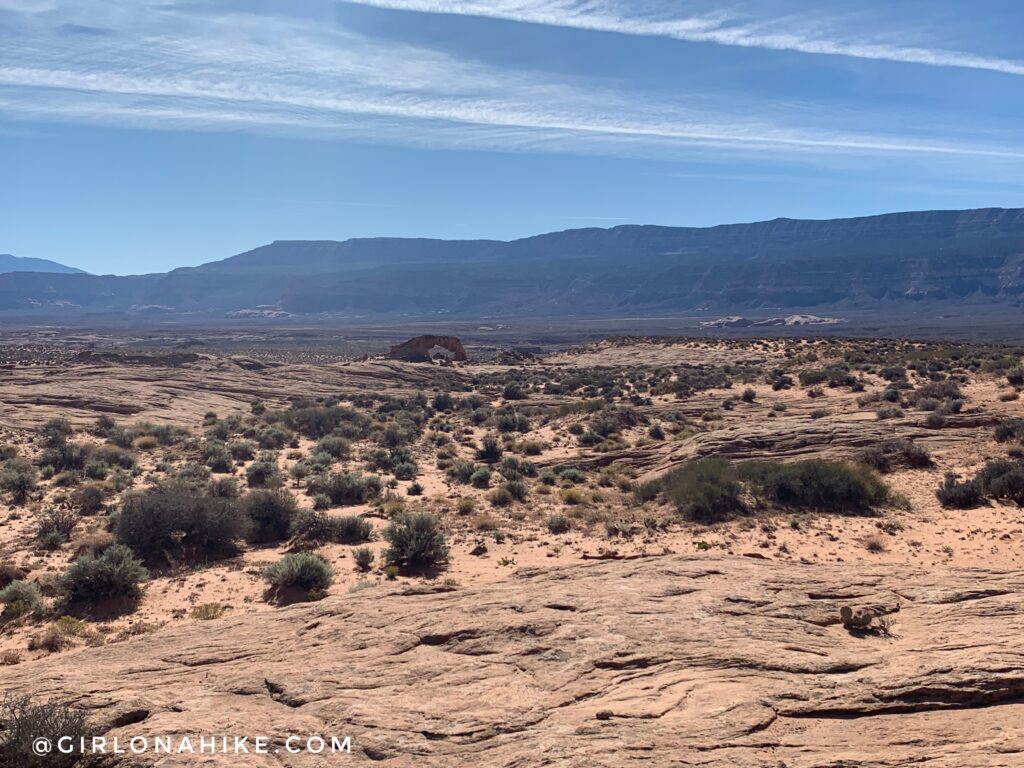 About 3/4 of the way you can now really see Sunset Arch.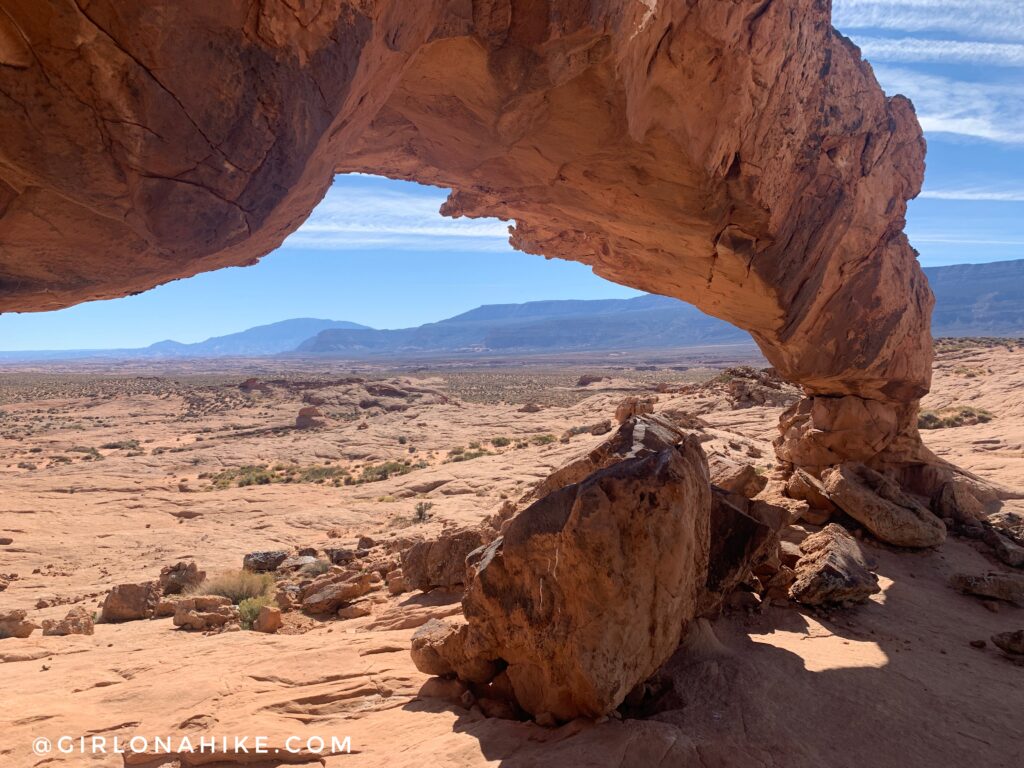 Boom! Made it in about 30 minutes at a fast pace.
It's really fun to explore all around the arch. We took a break here to have a snack, soak up some sun, and take pics.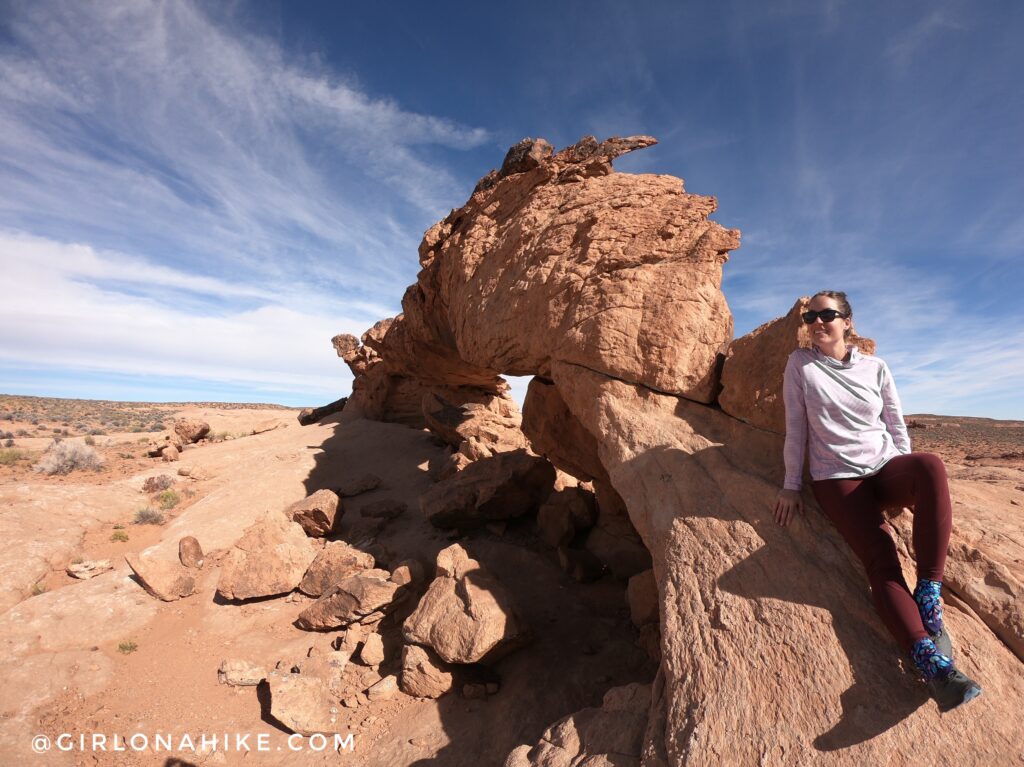 Because the "trail" is extremely sandy with low brush I highly recommended wearing pants to prevent your legs from getting scratched and gaiters to keep sand out of your shoes. I get mine from Dirty Girl Gaiters since she has tons of patterns to choose from, are unisex, and actually stay on.
Selfie! Sunset Arch was much more impressive in person that I thought it would be.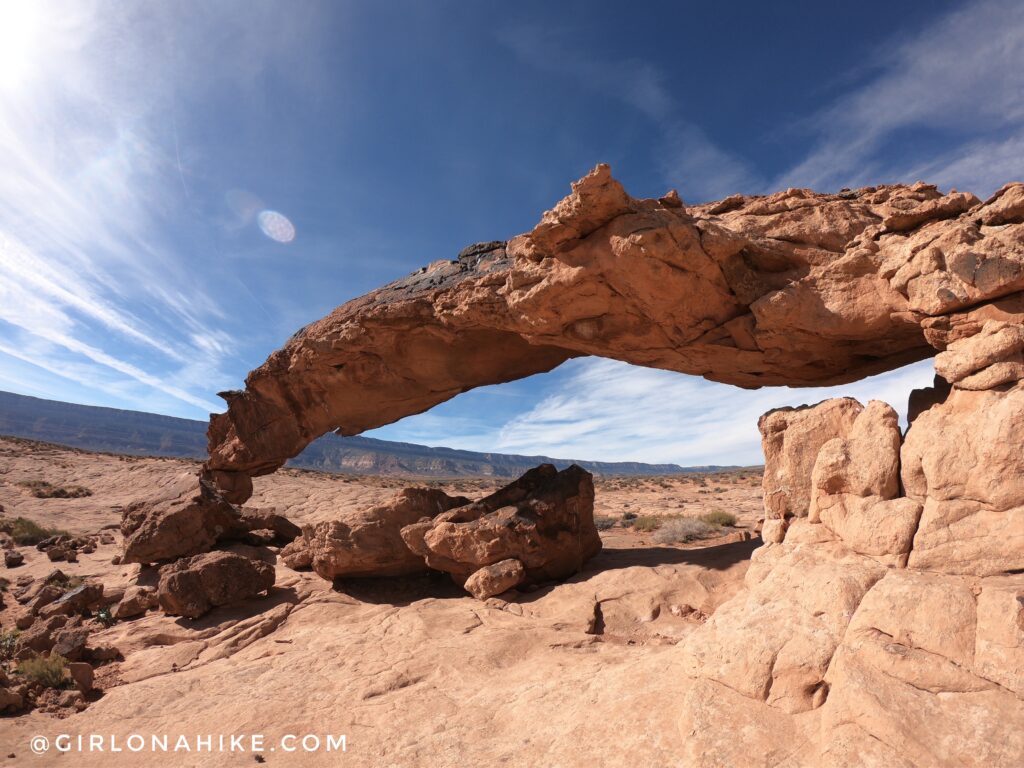 The lighting should be great in both the morning and evening, since the arch is situated perfectly to light up on either direction depending on the sun.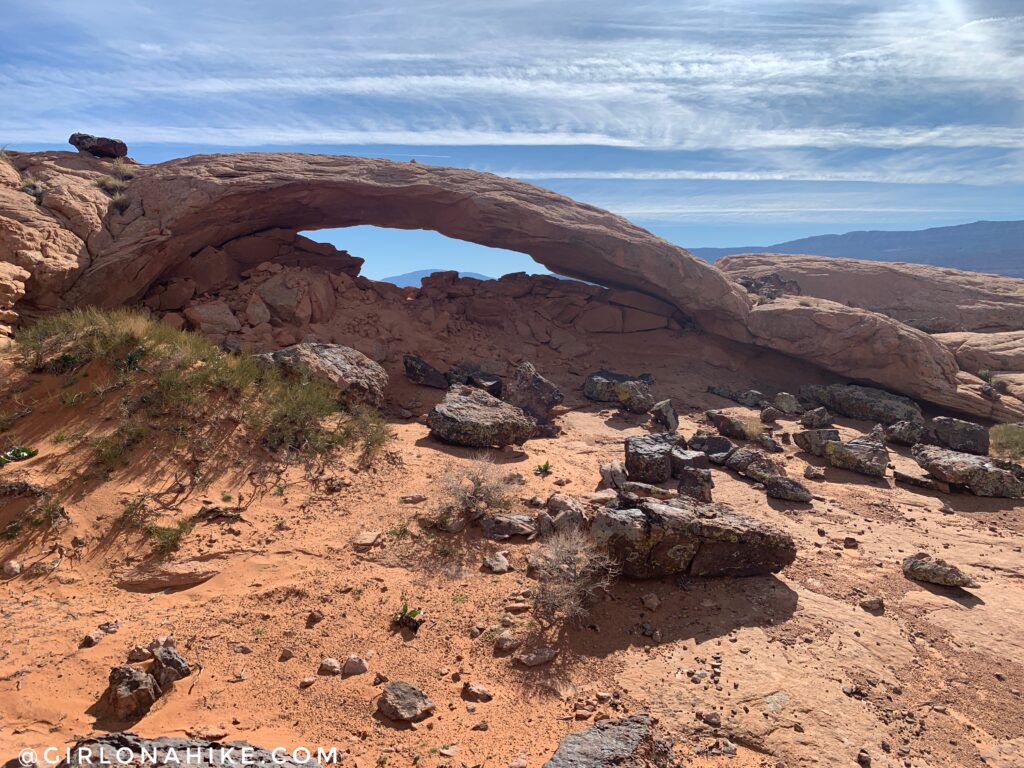 Just 0.3 miles south we could see another arch, Moonrise Arch, so we hiked over to that as well.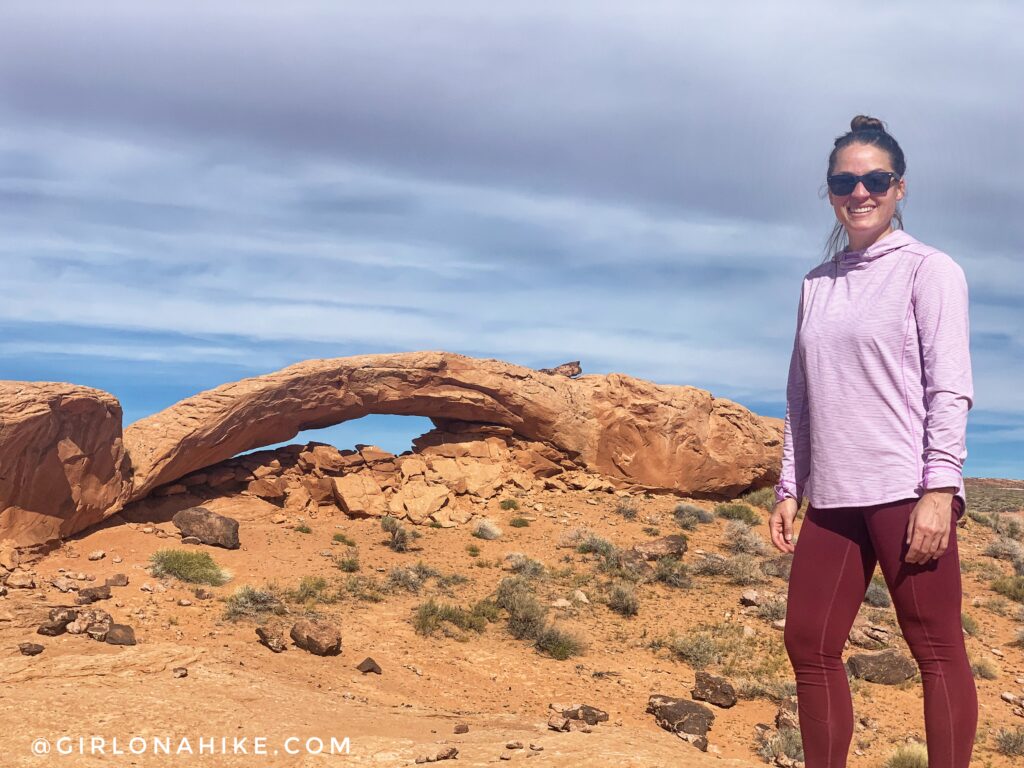 I would say this one is less impressive only because it's not as lifted off the ground as Sunset Arch, but still worth the extra hike over.
PS I love these leggings from Lapasa on Amazon! So comfy and affordable.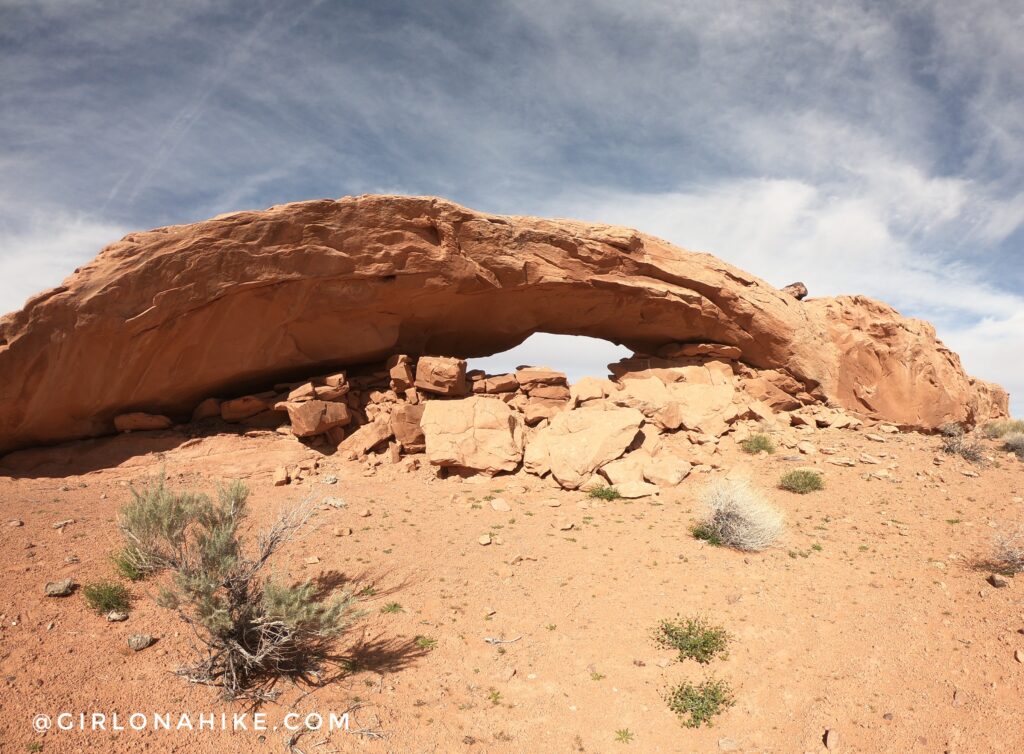 You can walk through it – in fact it was only a few inches above my head as I walked through standing up, so maybe 5'9 high.
What a cool spot with a view of both Sunset & Moonrise Arches!
Check out my YouTube video!
Trail Map
My track via Gaia GPS – the best tracking app! Get your app here for a discount.
Recommended Gear
Nearby Hike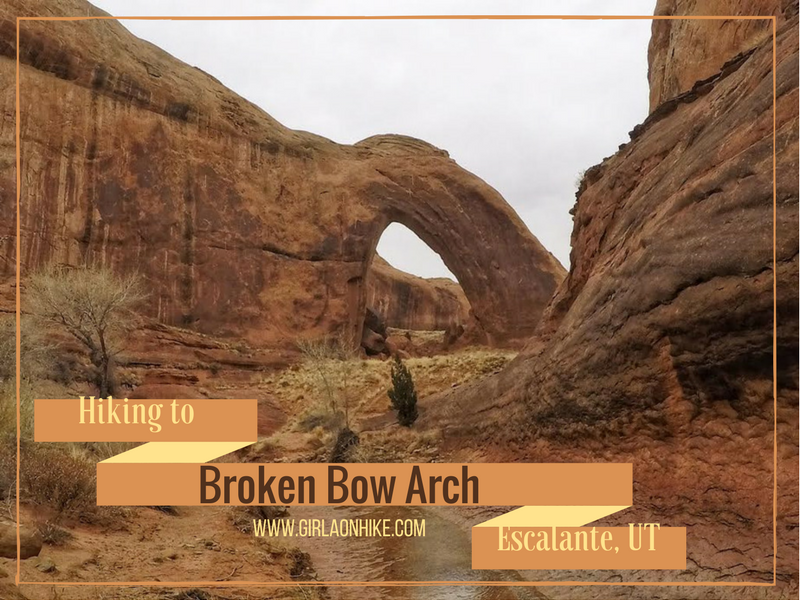 Save me on Pinterest!