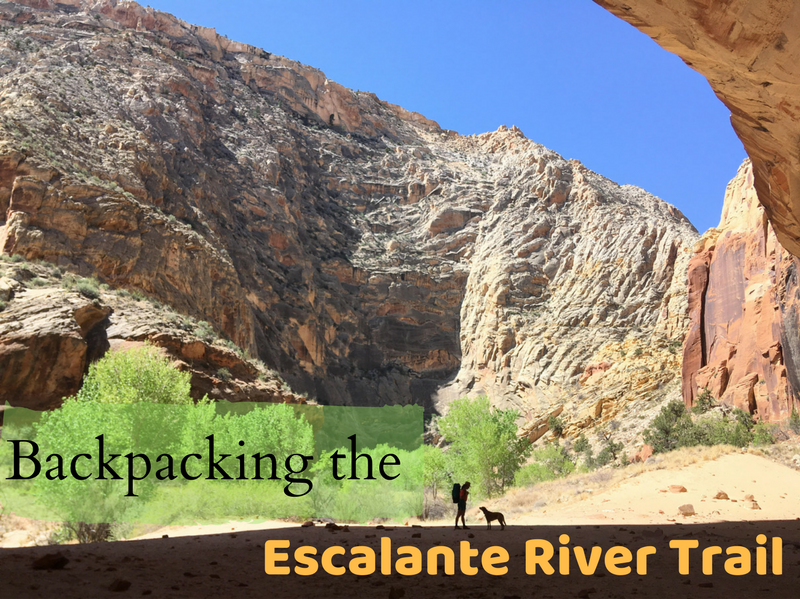 Backpacking the Escalante River Trail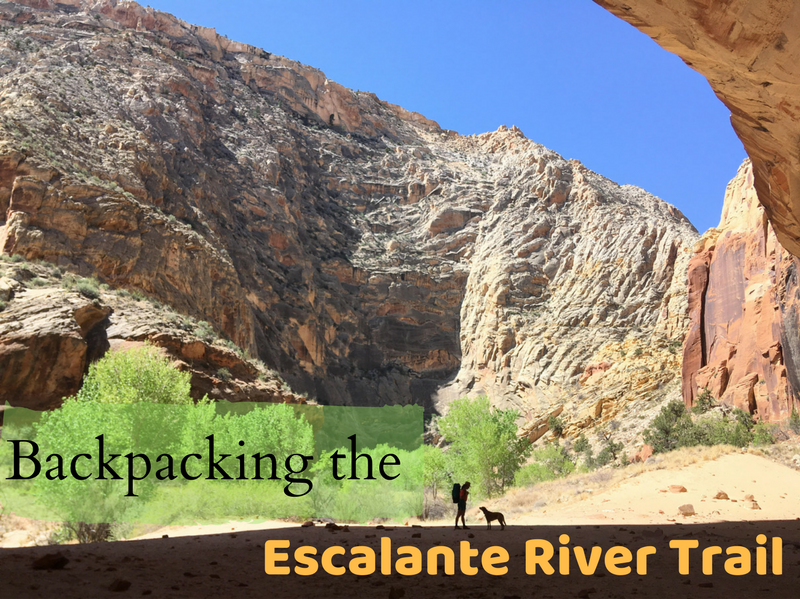 The Escalante River Trail is a popular backpacking point-to-point route near the town of Escalante, Utah and within Grand Staircase Escalante National Monument (GSENM). The entire length of the Escalante River is 87 miles, but this route allows you to see 15 miles of it overnight one night of backpacking. Much of the way, your path will be the river itself.
About
On a blue sky, warm & sunny day, splashing through the stream along tall Navajo sandstone walls feels amazing. Around every corner is something new and exciting to look at. The Escalante Natural Bridge. An arch. Petroglyphs & pictographs. Ruins. You name it, it has it.
For this route I recommend backpacking East to West. Start at the Escalante River TH off HWY 12, and end at the Escalante River TH near town (I will refer to this as the "town TH" to make the distinctions since they have the same name). Though this is upstream and uphill, negotiating the current is easy and the elevation gain barely noticeable. The advantage to this is that the canyon builds to a climax this direction, and leaves the best for last. Here the canyon walls tower more than 1,000 ft!
Be advised that you will be in and out of the water all day, both days, so wearing sturdy, closed-toe water shoes are key. I combine my water shoes with neoprene socks – I find that I don't get blisters that way after walking in an out of the water for hours on end. Closed–toe shoes will also keep the silk and pebbles out of your shoes, making for a much more comfortable hike. You guys know I love my Chacos & Tevas, but for this route, I used my Merrell Capra Rapid hiking shoes.
Directions
Here's your starting point, off HWY 12.
GPS: 37.775962, -111.419556
Here's your end point, at the town TH.
GPS: 37.7713728,-111.5815228
Trail Info
Distance: 15 miles point to point
Elevation gain: 760 ft
Time: 1 night minimum
Dog friendly? Yes, off leash!
Kid friendly? No due to distance, see notes below
Fees/Permits? Yes, you do need a free backcountry camping permit which you can pick up at the visitor center or at the TH.
FAQs
When is the best time to backpack here?
April & October seem to be the best months – the temperatures aren't too hot, and in Spring the desert flowers are in bloom. Summer months are extremely hot and dry, along with monsoon season; winter is cold along with high winds. Due to the quick changes in weather, be aware of flash flood danger.
Do I need a permit?
Yes, you do need a free backcountry camping permit which you can pick up at the Escalante Interagency Visitor Center or at the TH. However, in my experience, the TH's tend to be out of the permit so it's a safer bet to stop by the visitor center to pick one up – there, you can also ask about current conditions and water levels. Call before going on your trip to make sure they will be open. The address of the visitor center is:
755 W. Main St. Escalante, UT 84726
435-826-5499
Can I bring my dog here? Is this a good trail for them?
Yes, dogs are allowed off leash. It is a good idea to always have a leash handy, in case you come near wildlife. Dogs should be able to hike for long distances and over sandy terrain. Dog poop is not required to be packed out. The sand can get really hot on paws, so I recommend bring dog booties just in case.
Is this kid friendly?
Not for younger kids, but teenagers who have backpacking experience and can carry their own weight & water should be fine.
How deep is the water? Is there a good water source to filter from?
Water levels will vary each year due to snow pack levels in higher elevations, but typically this section ranges from ankle to knee deep. The water is very clear after spring run off, and can be filtered right from the Escalante River.
Can I hike this in either direction?
Yes, definitely! In fact, the more popular route is to go backwards from what we did – start at the town TH, and end on HWY 12, so West to East. The reason we chose to hike East to West was that I knew the better section of canyon would be at the end, or closer, to town since I had done part of this as a day hike a few years ago. I like to end my routes with the prettier sections just because it makes the whole trip feel worthwhile. But you really can't go wrong with either direction. The plus side to hiking West to East would be that you do hike downstream. Make sure you download a map of the area onto your phone, or have a paper map available.
How hard is the trail?
This depends on your experience, fitness level, pack weight and weather. There are no technical areas of the route, but hiking through sand, brush, and slickrock are required. You should have a few backpacking trips under your belt, and be comfortable carrying up to 30-40 lbs for hours on end. As always, the lighter your pack, the easier your hike will be. More weight = harder hike.
Will I need a shuttle?
If you only have one car, you will need to hire a shuttle or try and hitchhike (though personally I wouldn't want to stand on the super hot road for hours waiting for a ride). We used Escape Goats in Escalante. We parked our car at our end destination, the town TH for the Escalante River, they picked us up there, and drove us to our starting point, the HWY 12 Escalante River TH. We highly recommend them because the rate is fair for the area ($60 total), they will take dogs, and they have 4-wheel drive if you need it. Plus they are locally owned. Make sure you call at least a week ahead to reservation your pickup time – you will pay after you take the shuttle and it's cash only.

Let's get to to the hike!
Day 1
Distance: 6.5 miles
Elevation gain: 272 ft
Time: 3.5 hours
The shuttle dropped us off at the Escalante River TH off HWY 12. The parking lot is kind of small, only a handful of cars can fit, but there's street parking as well along the highway.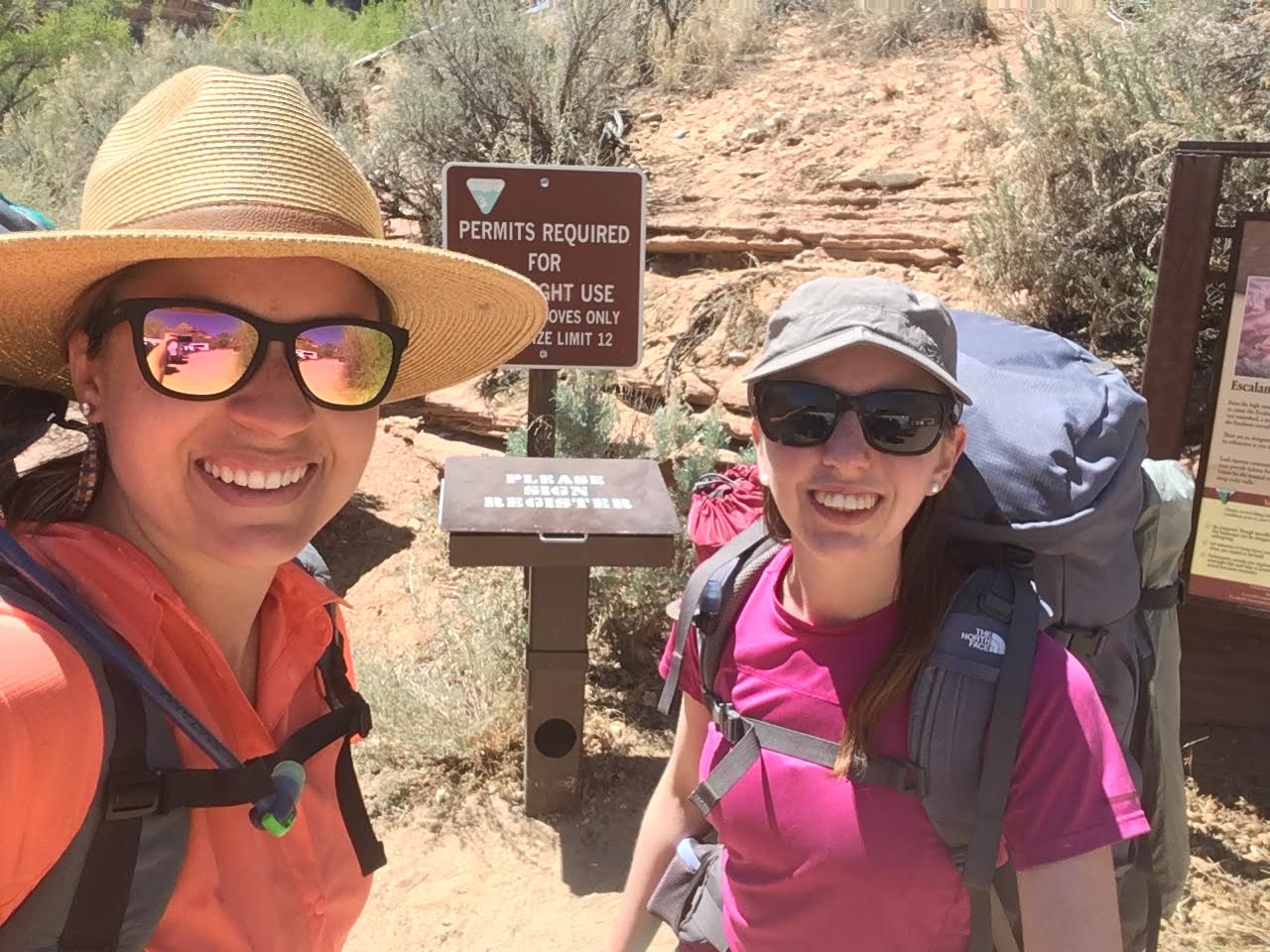 Ready to go with @explore.with.heather! Girls trip woot woot!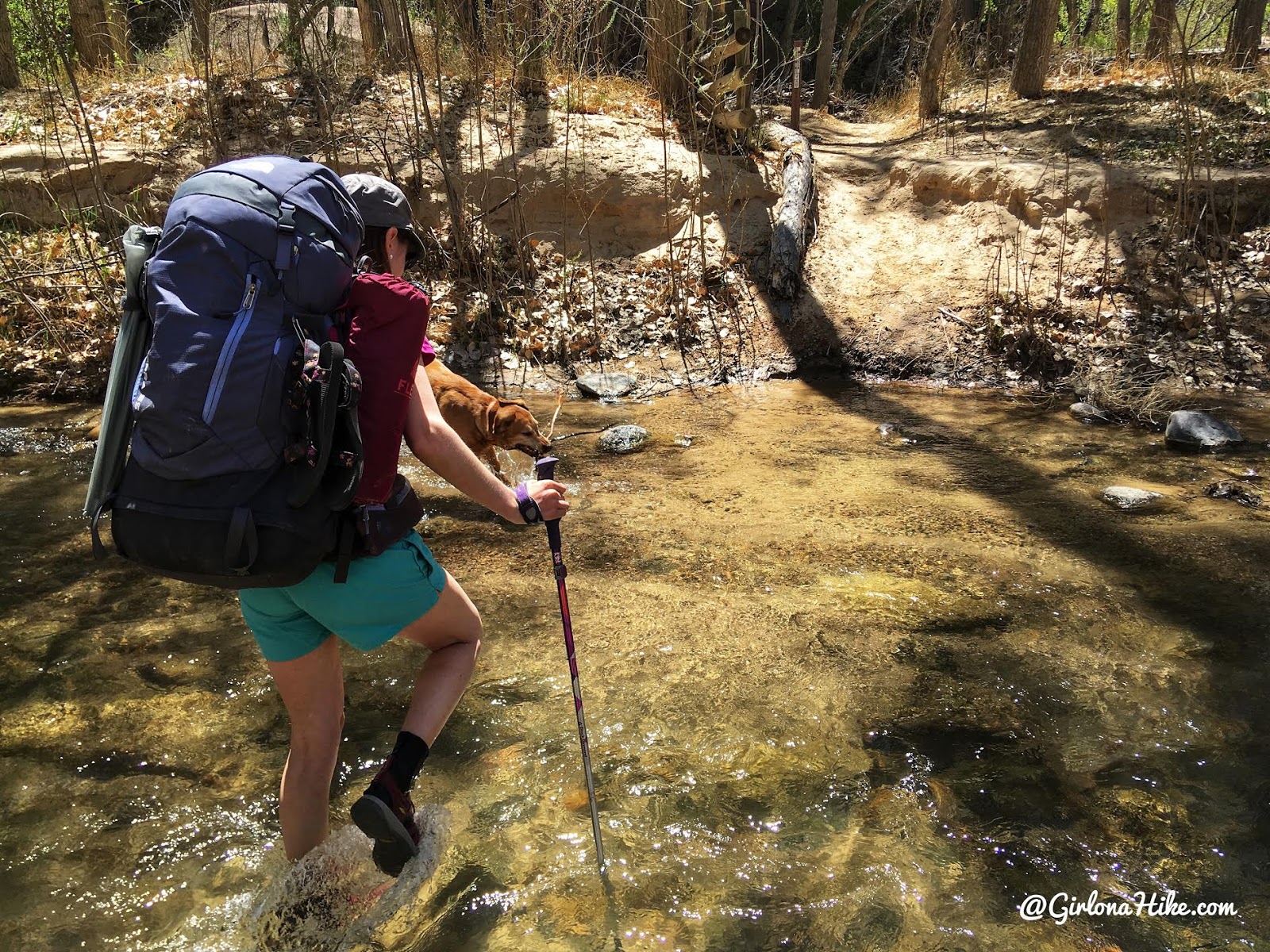 Better have your water shoes on – you'll immediately cross the Escalante River.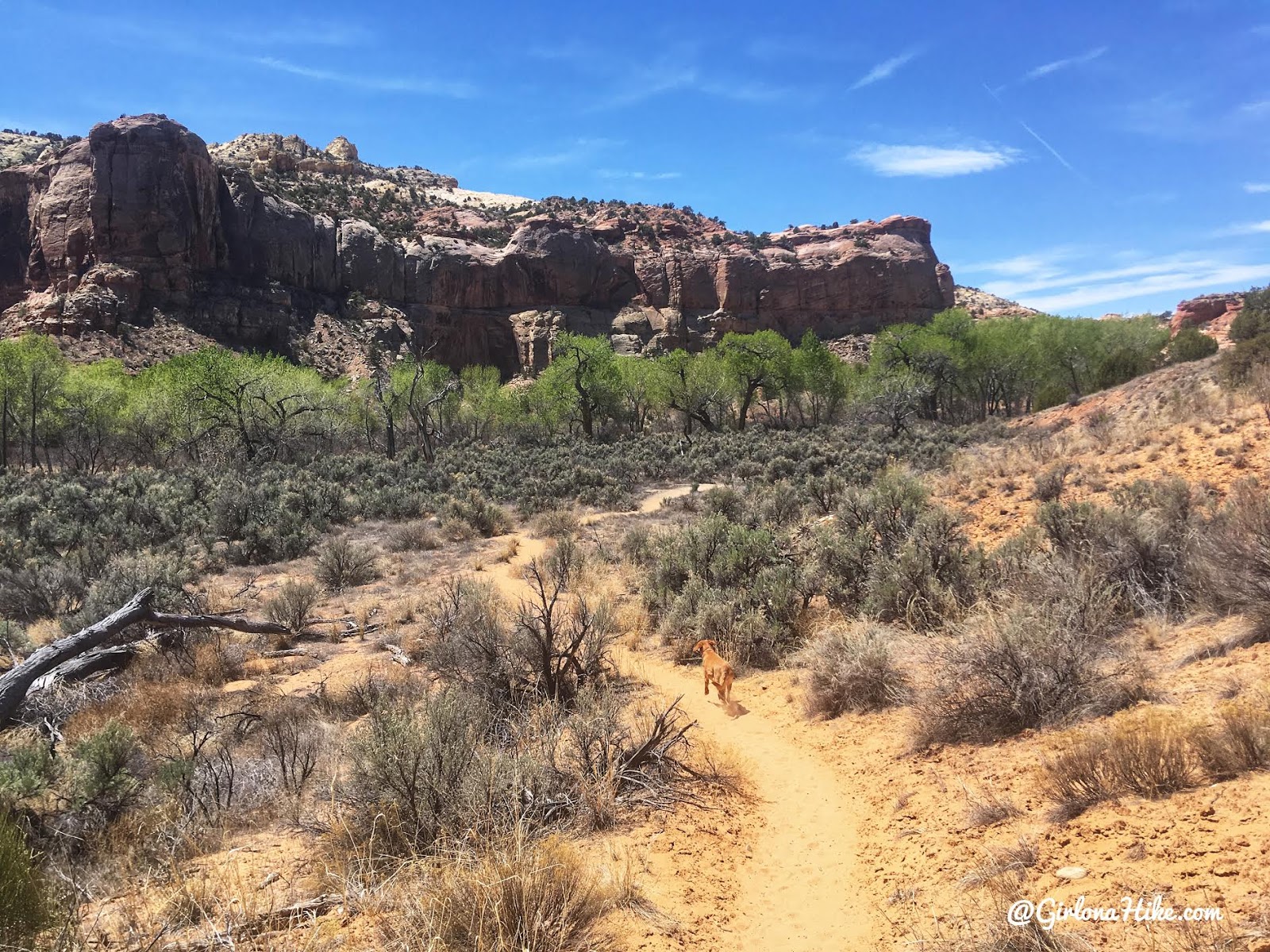 After the initial water crossing, you'll hike a very dry, sandy stretch of trail for about a mile. There's a few river crossings, but most of the first section is quite dry.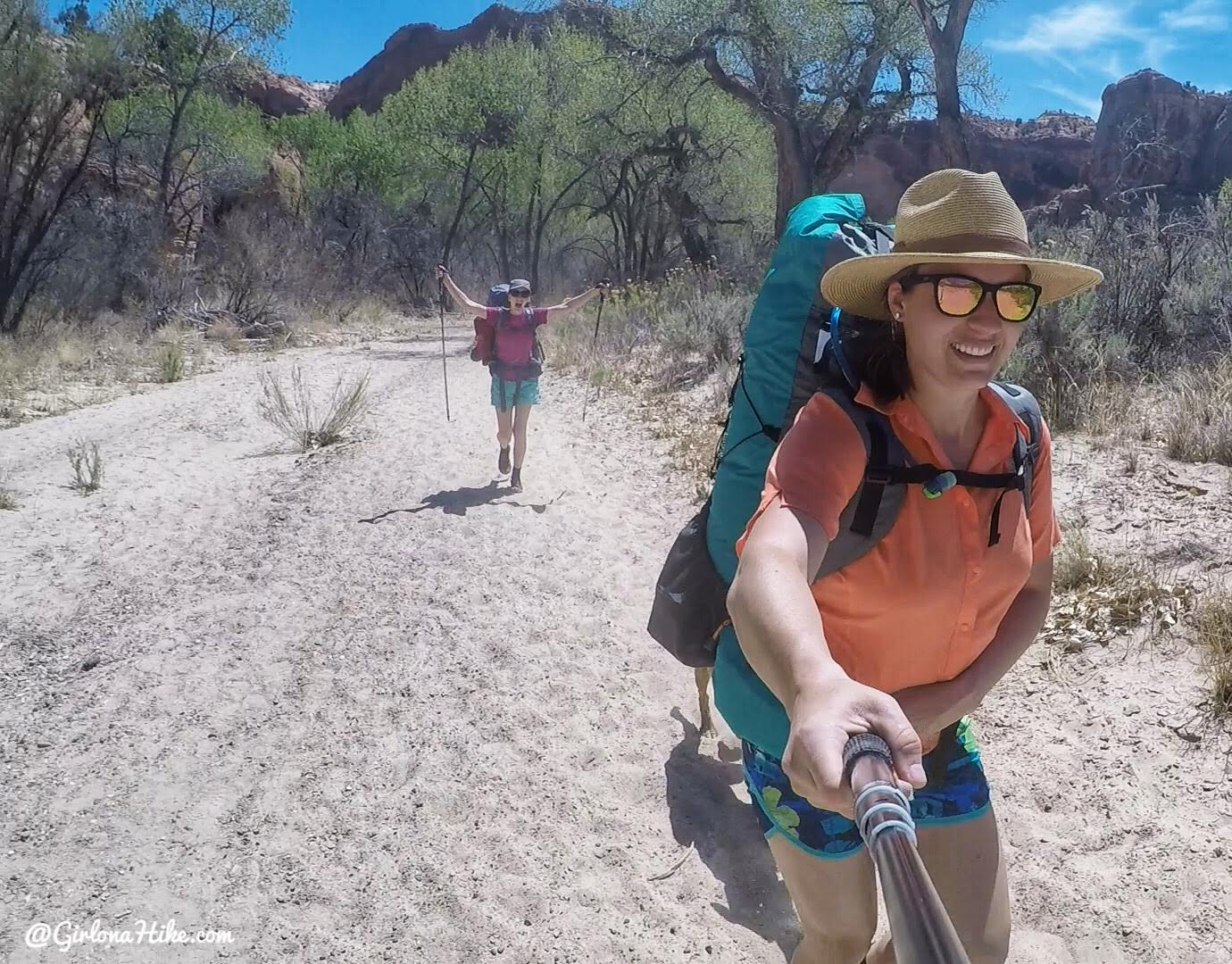 Yahoo! Backpacking time, our favorite! Make sure you have plenty of sunblock, hat, and water. It was already so hot for this time of year!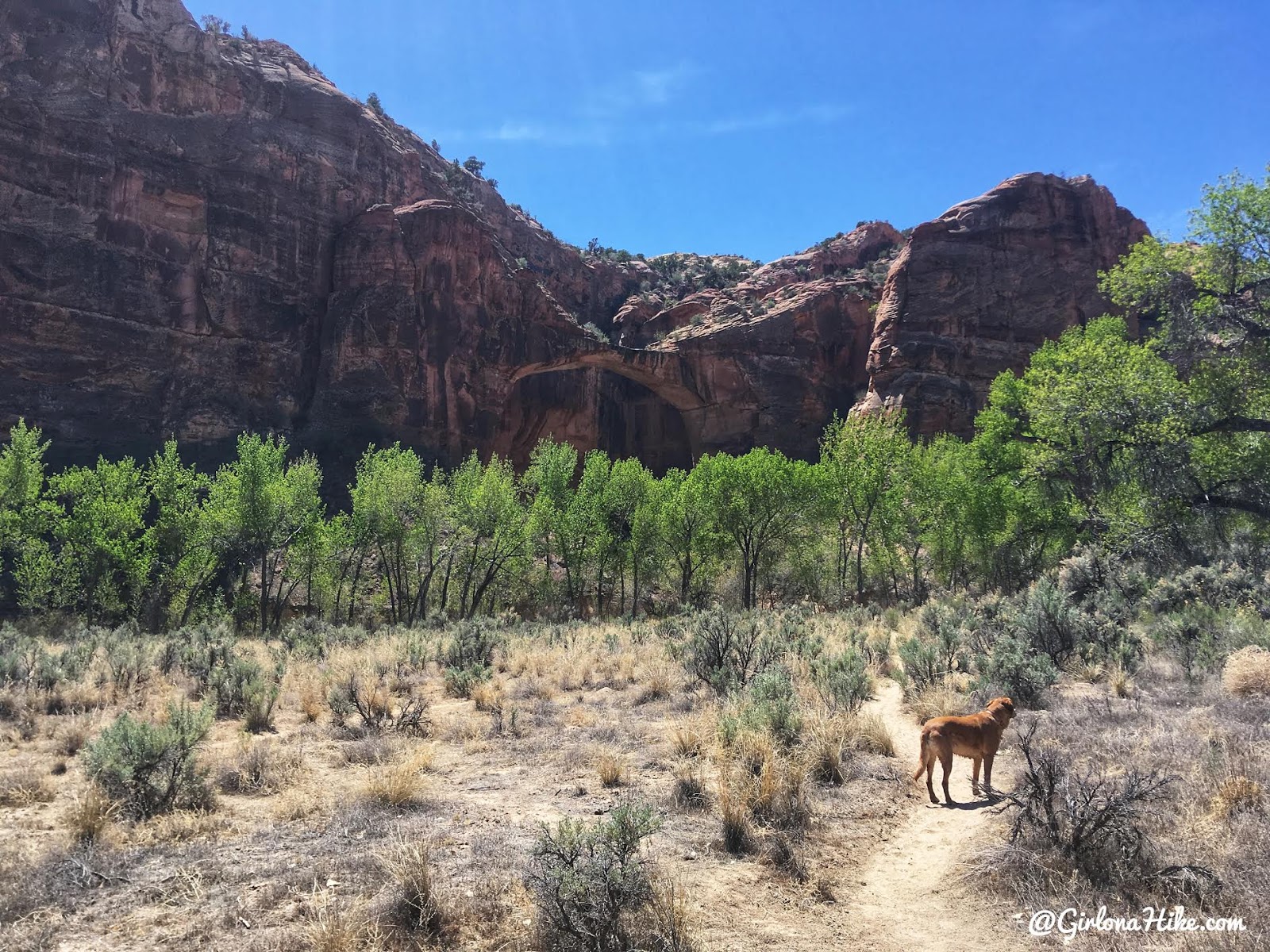 Around 1.5 miles you'll see the Escalante Natural Bridge.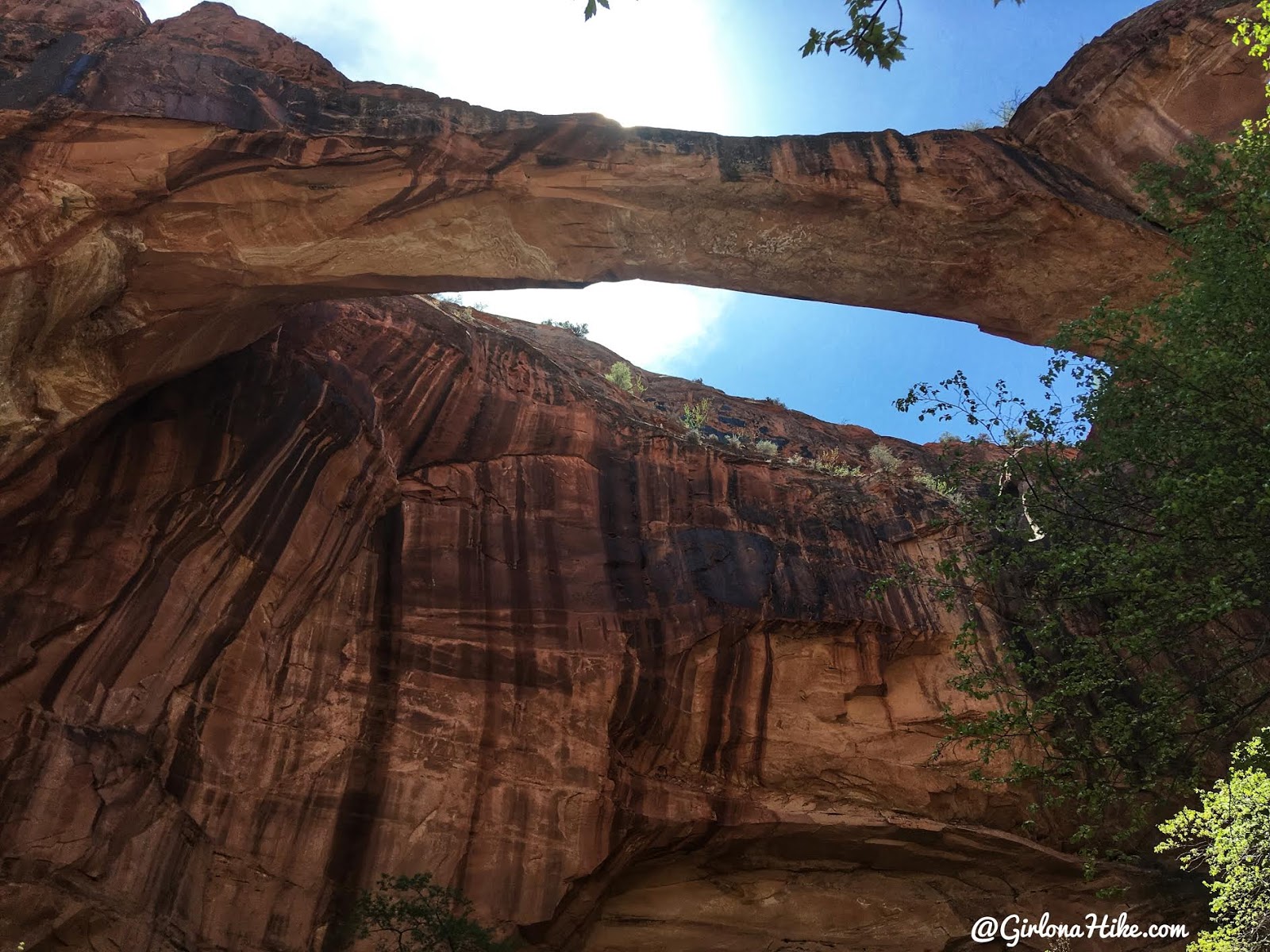 It's worth a quick stop to hike right underneath it, but hard to get a good photo.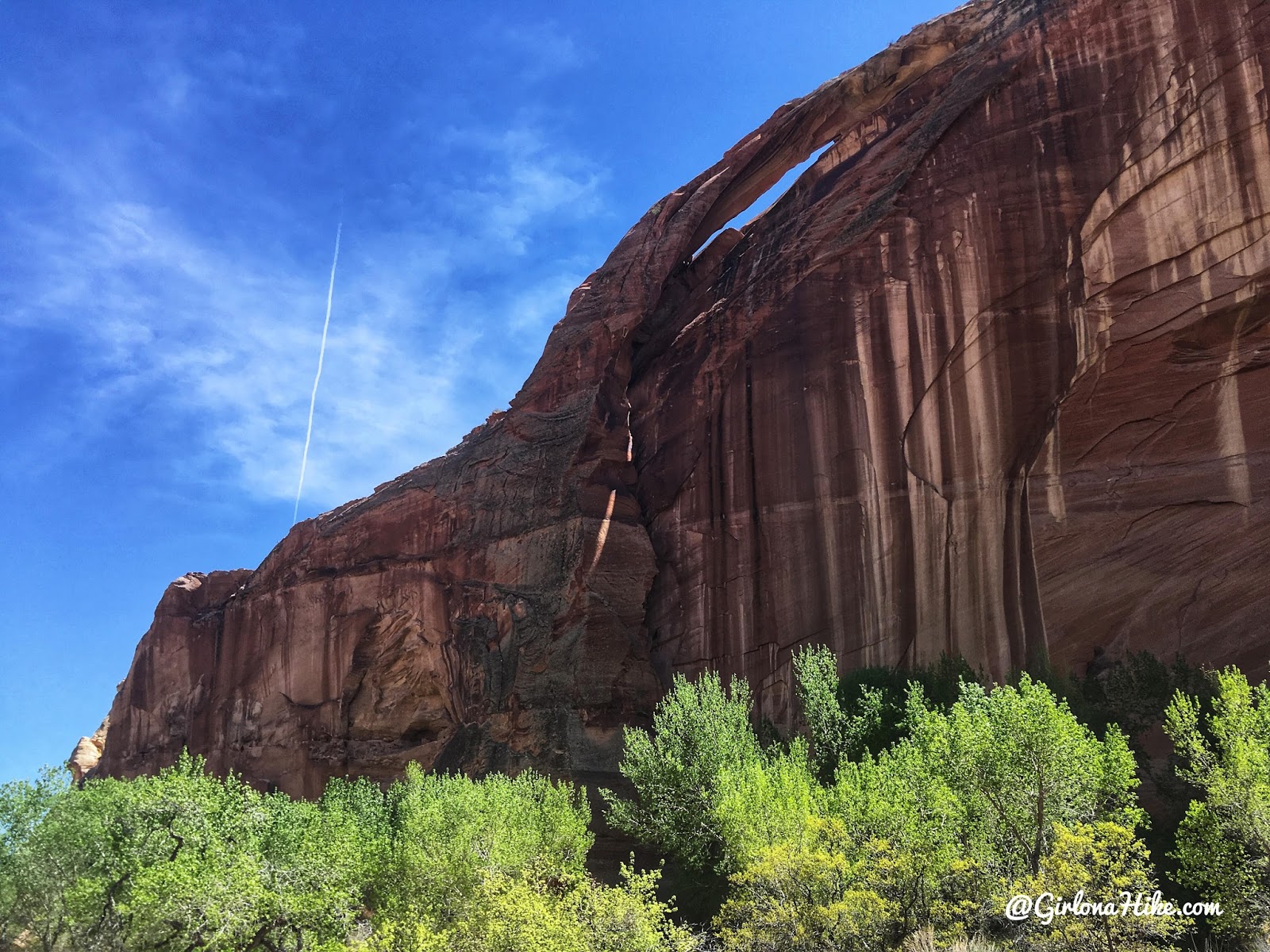 About 0.3 miles past the natural bridge, you'll see a natural arch. The best view is about 0.5 miles past the bride, when you look back.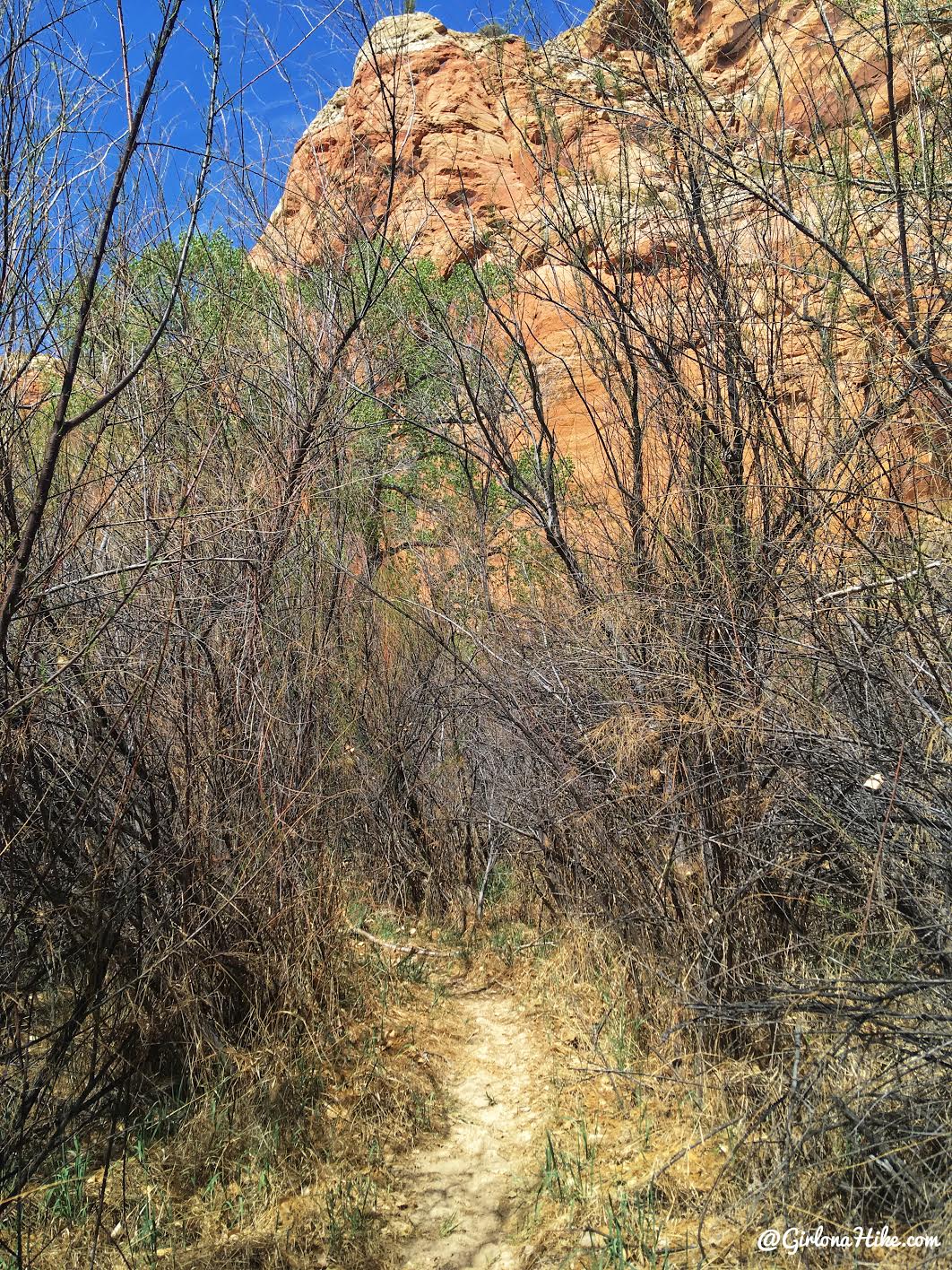 Often times the trail was thick with brush and tall grass.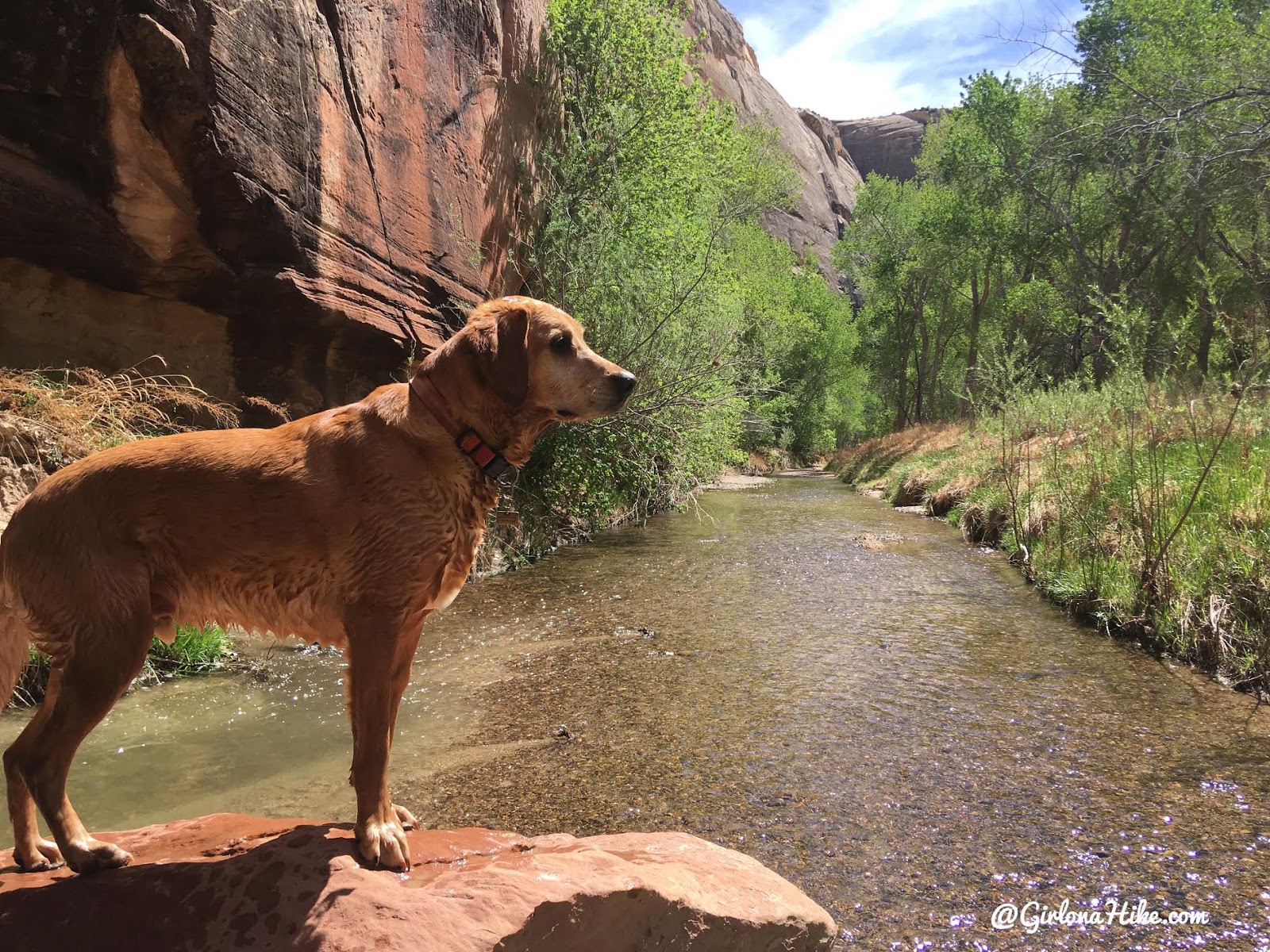 It ended up being easier and more enjoyable to just walk in the river. If you really wanted to, you could hike the entire route in the water however, it's much slower going. It was sometimes necessary for us to walk in the river though, because the dogs would get too hot and thirsty.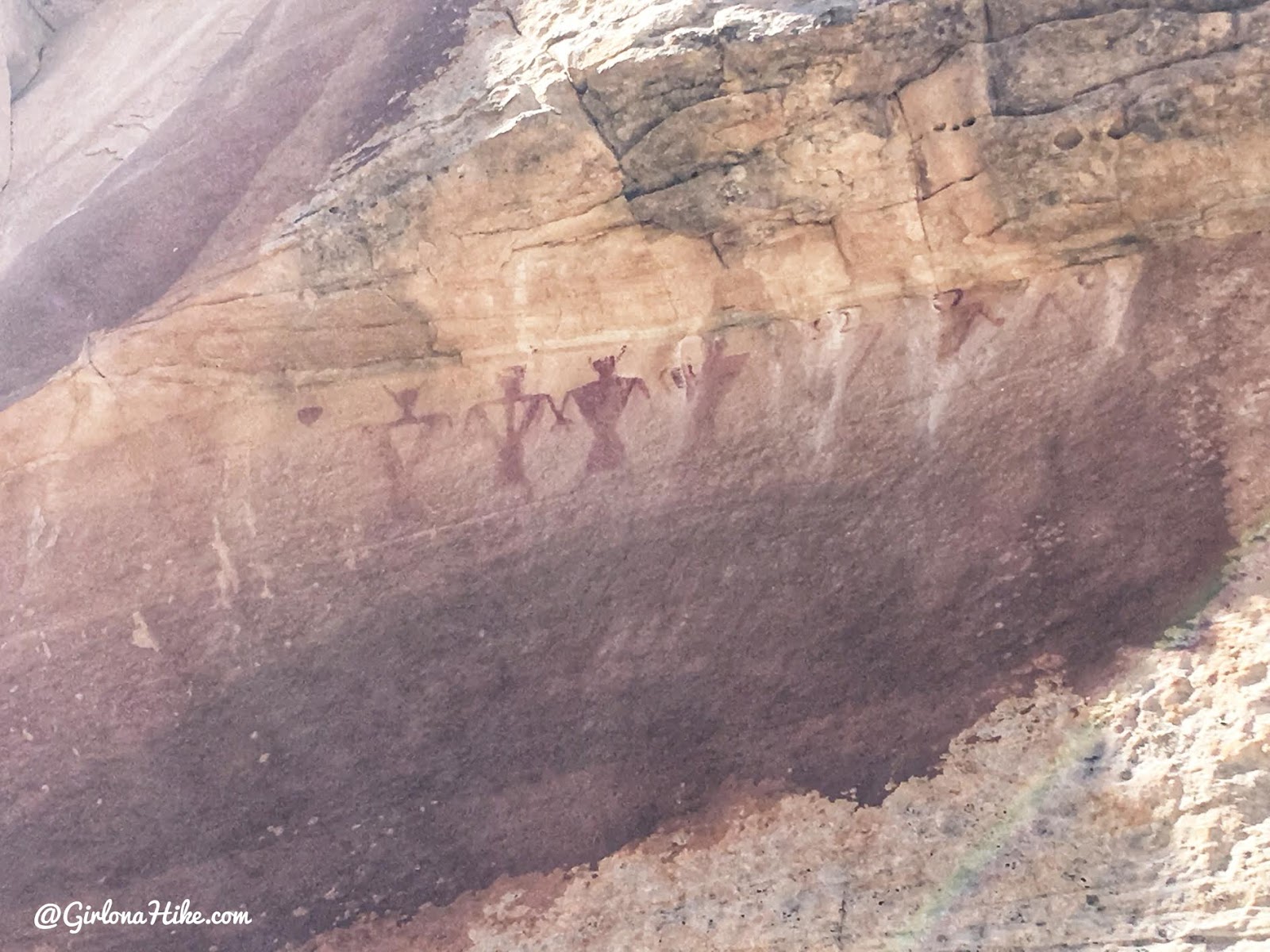 On the North side of the canyon wall, you may see these petroglyphs. They are somewhat higher up on the wall and can easily be missed.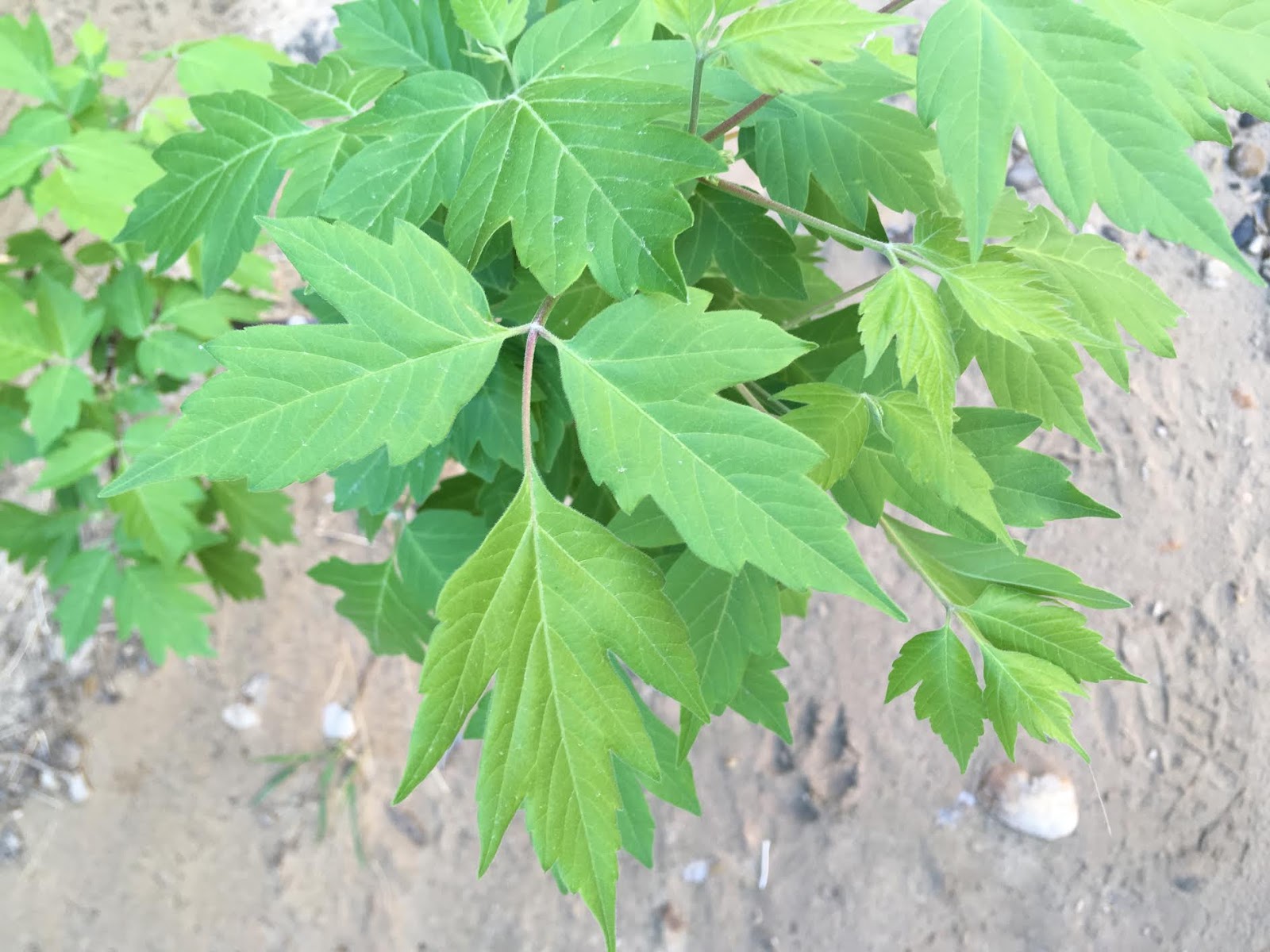 Poison oak is very prevalent along this route. It's not so bad that you need to wear pants, but definitely keep an eye out for it. Remember "when in three, leave them be". If you or the dogs rub up against it, rinse yourself with water as soon as you can. Splash the dogs off too – you don't want them to cuddle you then get it on you.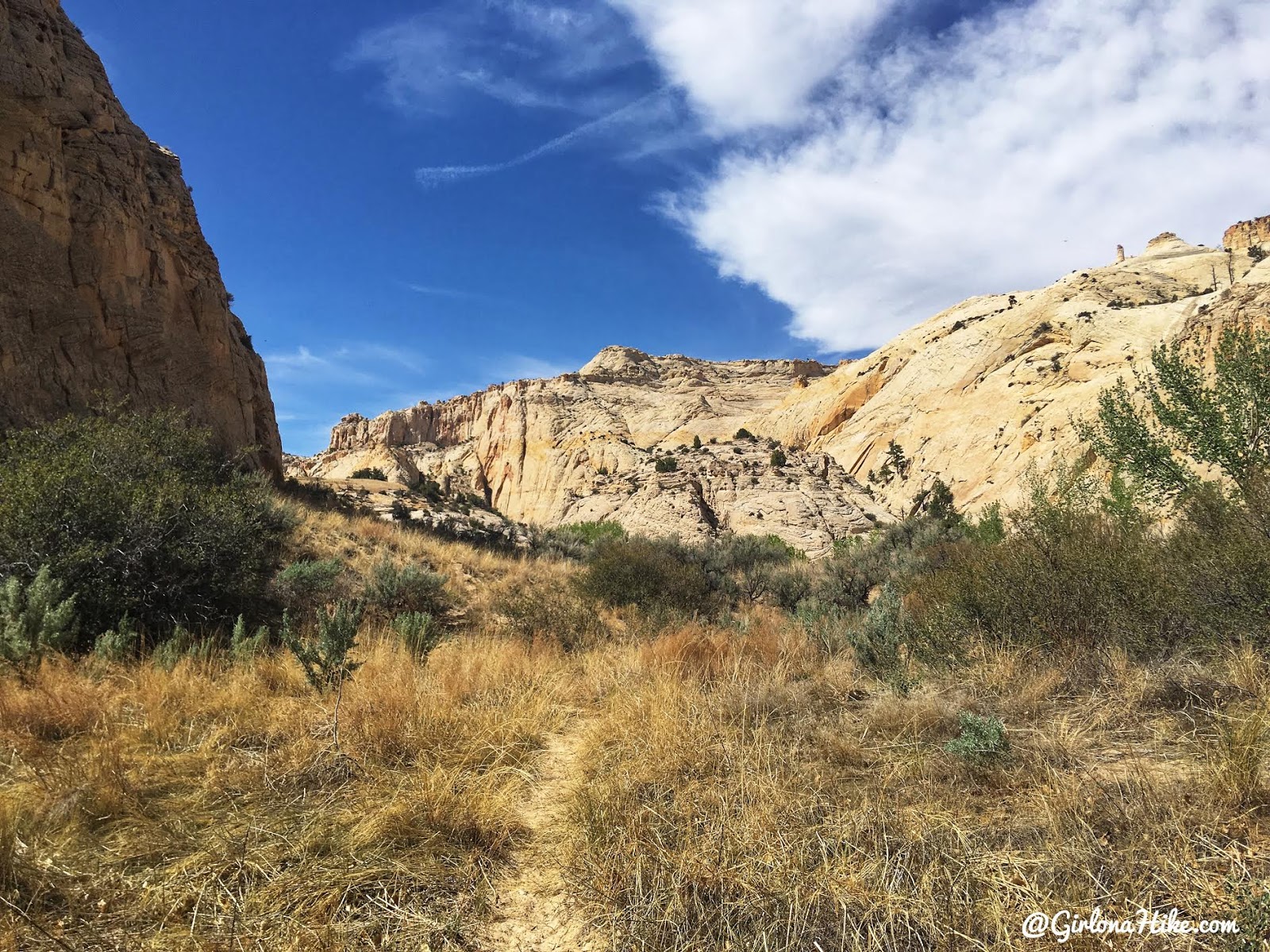 More grassy sections – these parts also have quite a bit of cactus right on the sides of the trail. This is why I always suggest wearing closed-toe water shoes.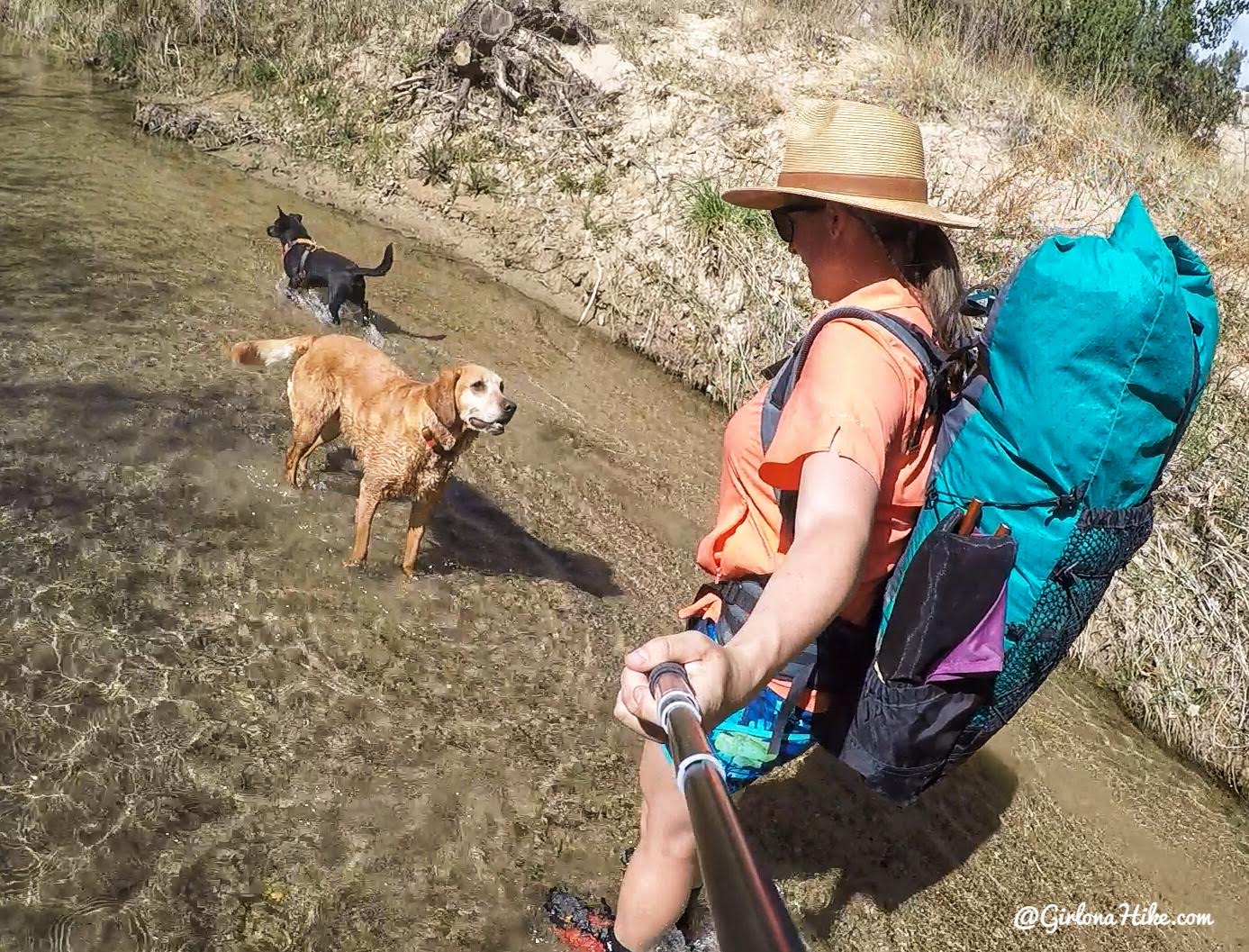 Ahh, back in water…the Death Hollow Confluence is right around the corner.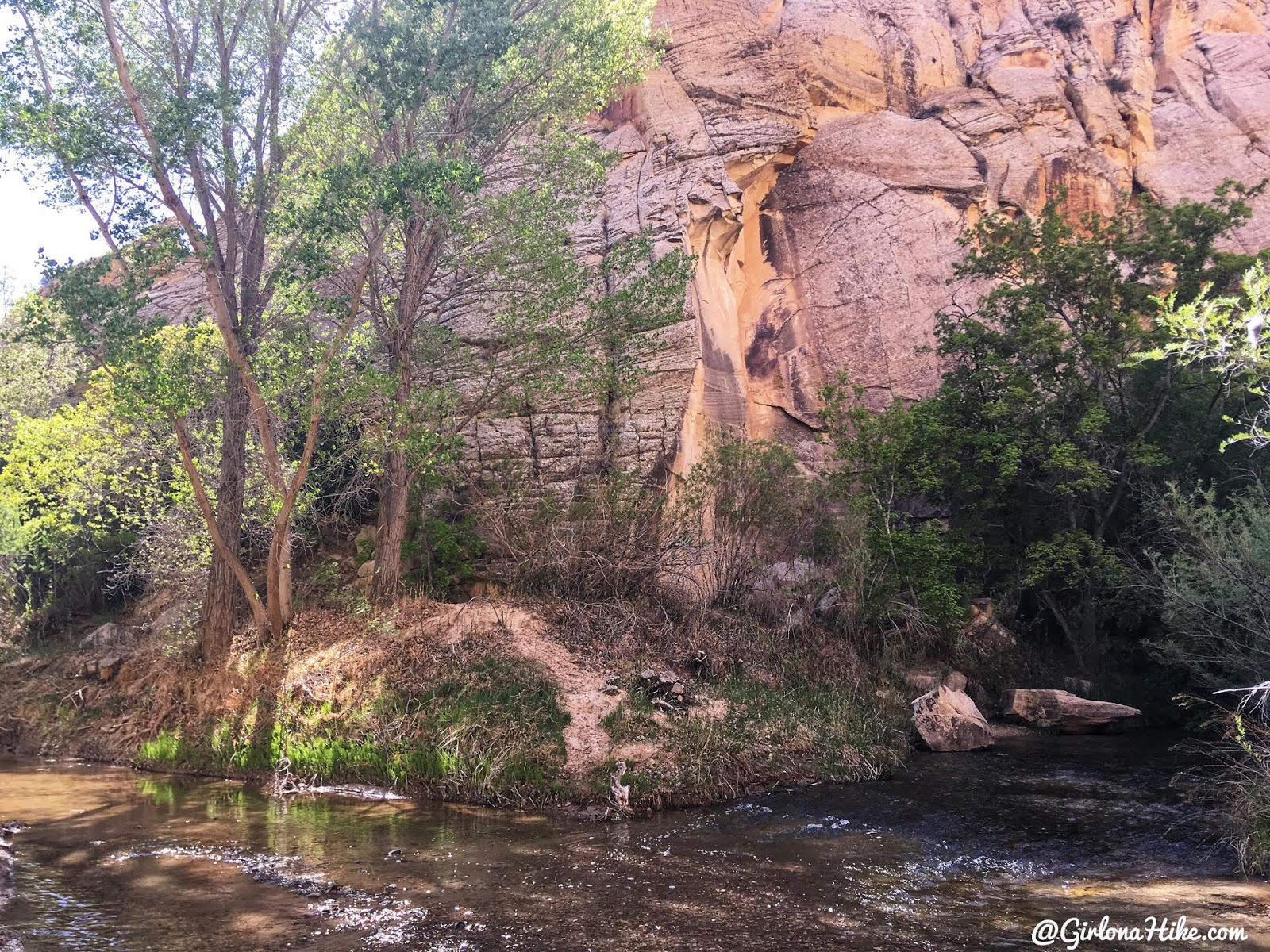 The Death Hollow Confluence comes in from the right (North). On the left, there is a large, flat opening to camp. You should be here in 6.5 miles from HWY 12.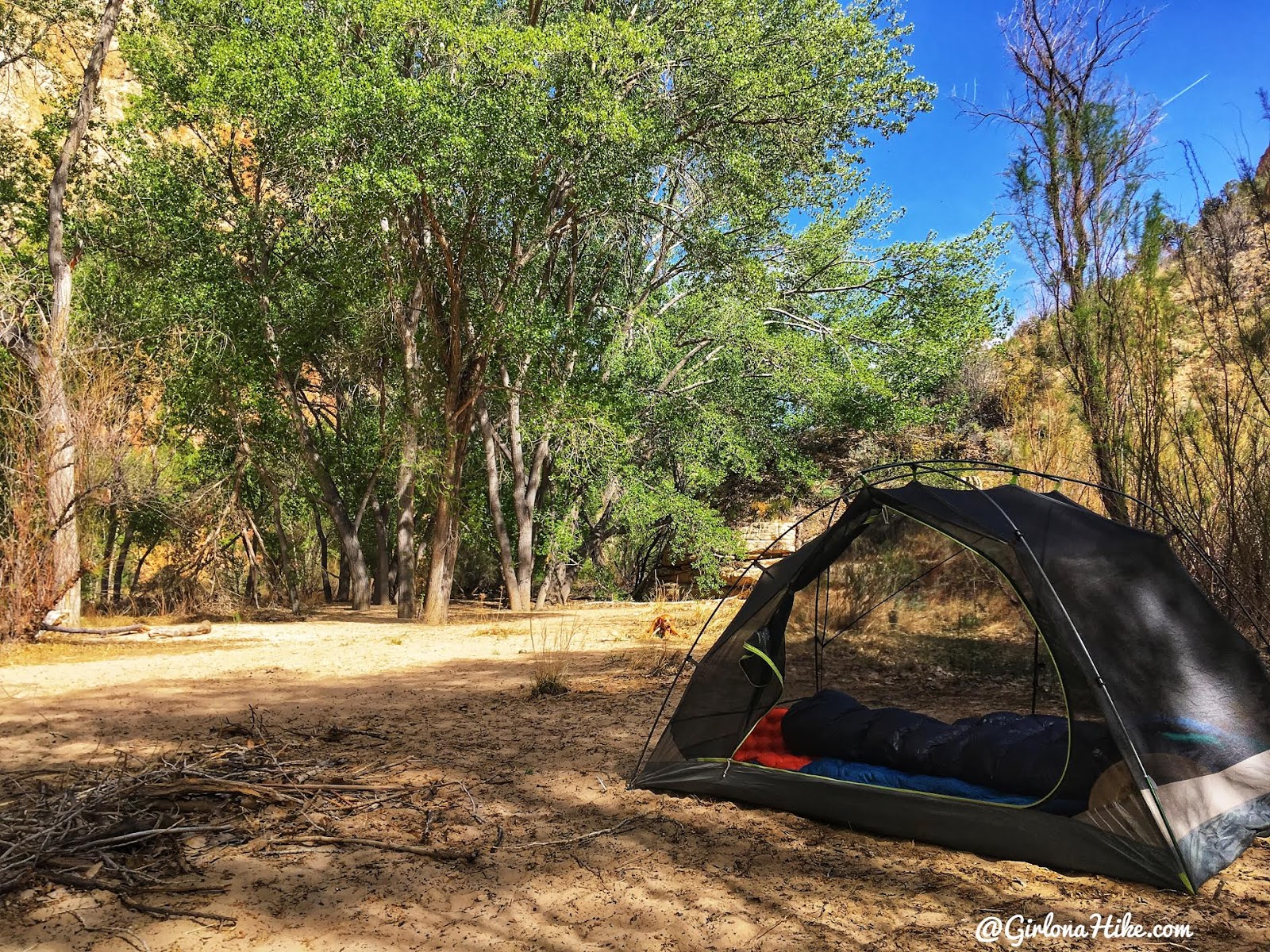 Home for the night! On weekends this campsite could be very popular. We backpacking on a Wednesday to Thursday and only saw a few day hikers, and then didn't see anyone else for a total of 8 miles. Had the place to ourselves! There's plenty of shade and trees to set up a hammock. Remember that no fires are allowed in GSENM.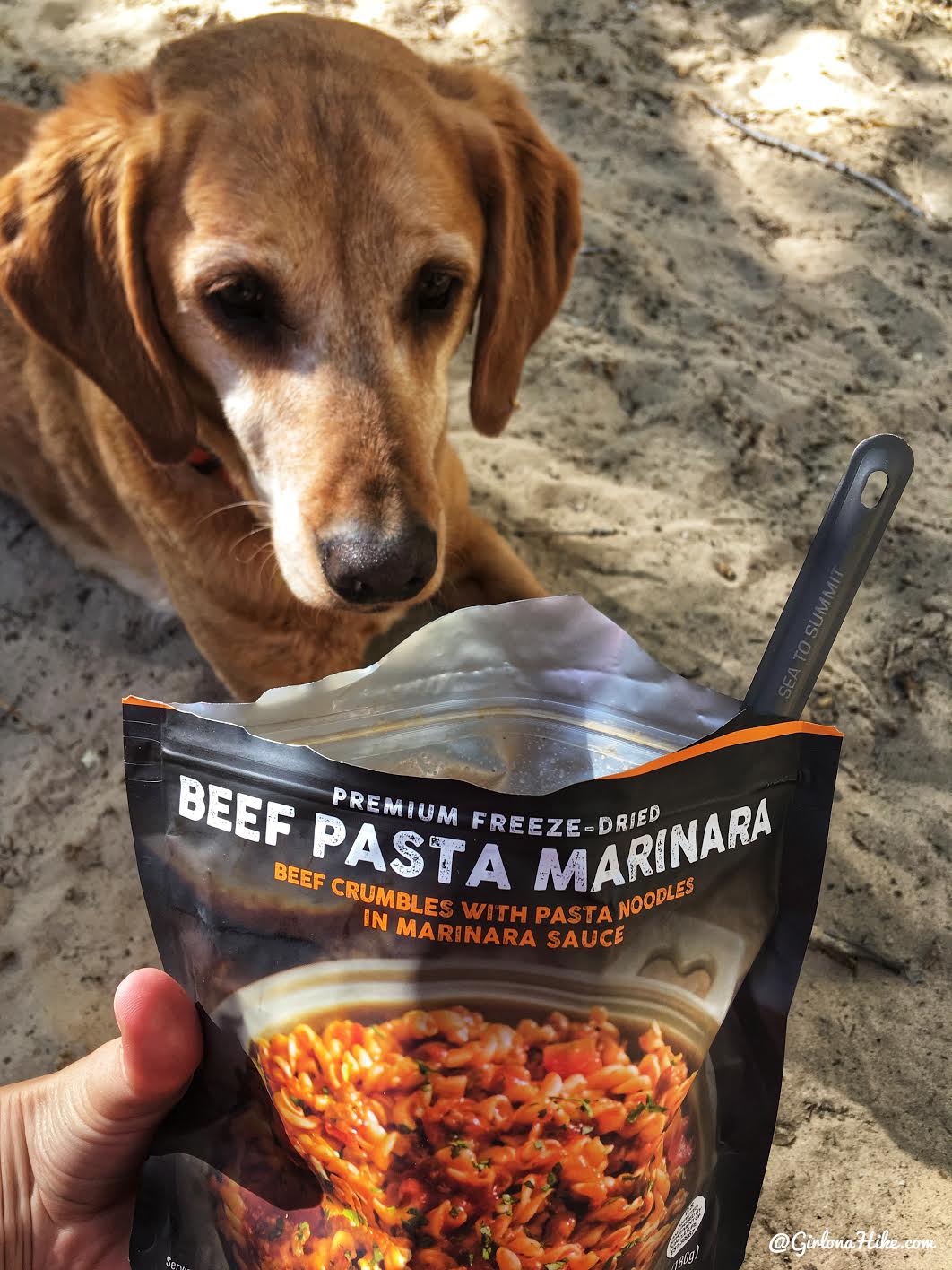 For dinner, I tested out a new brand of dehydrated meal from Peak Refuel. You can buy them on Amazon. I ate this beef pasta then granola for breakfast and I thought both were pretty good. To be honest, all of the dehydrated meals (Mountain House & Backpackers Pantry) pretty much taste the same to me.
Day 2
Distance: 8.2 miles
Elevation gain: 488 ft
Time: 4 hours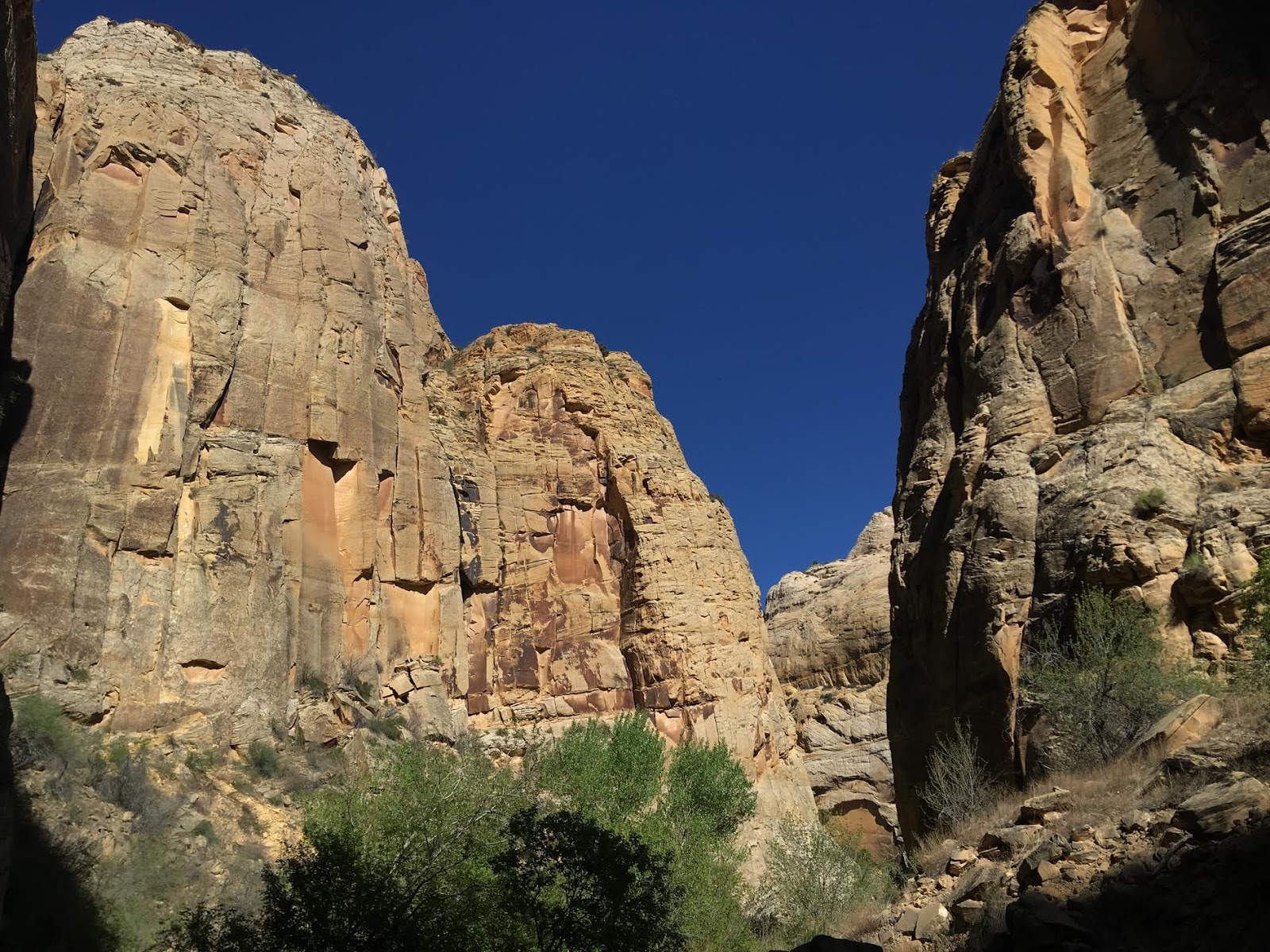 Day 2 started out, and we were immediately in much larger and taller canyon walls. Very different than the first day.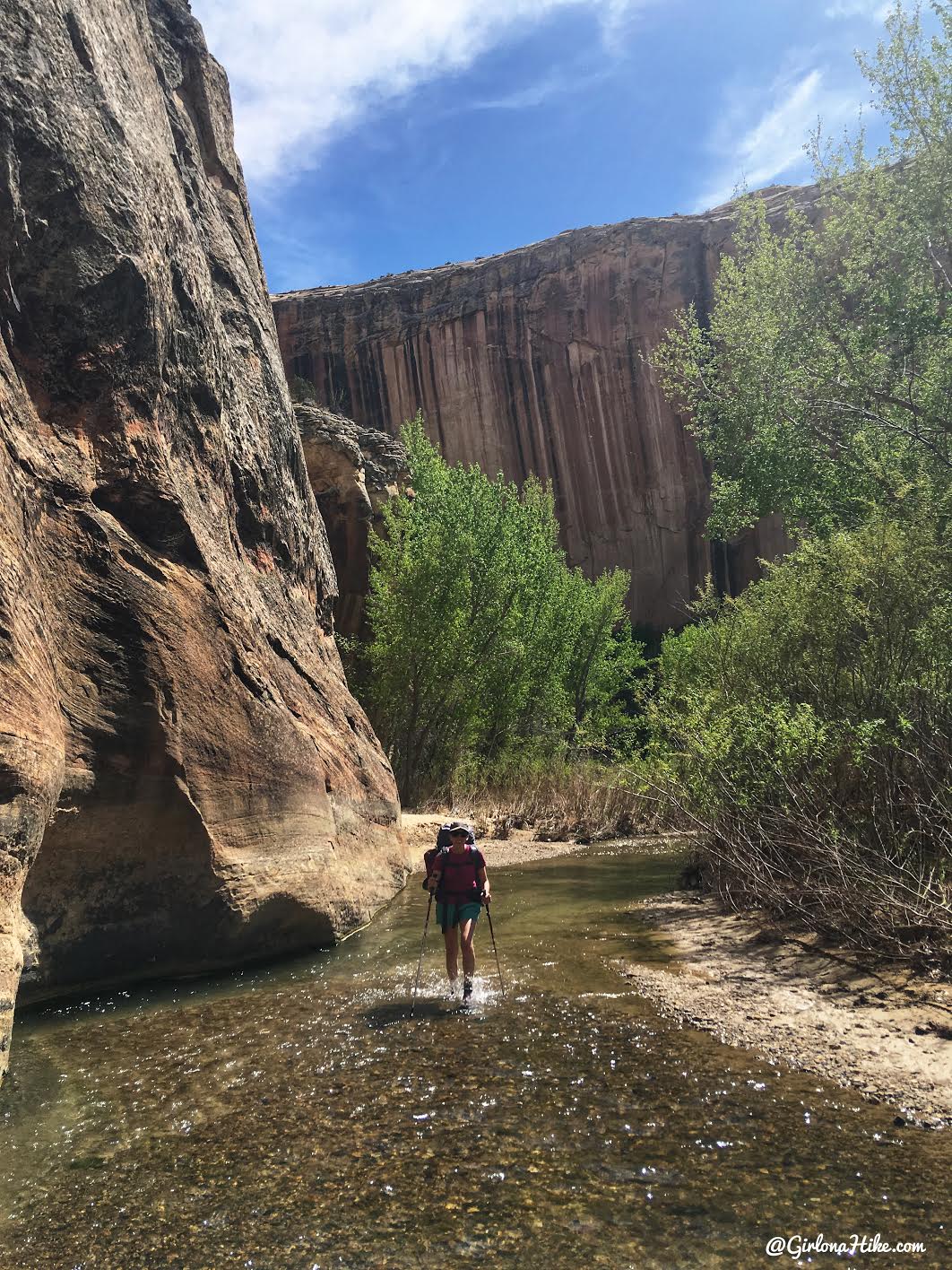 Heather enjoyed walking through the river more on Day 2 as well. We both agreed this was the prettier section.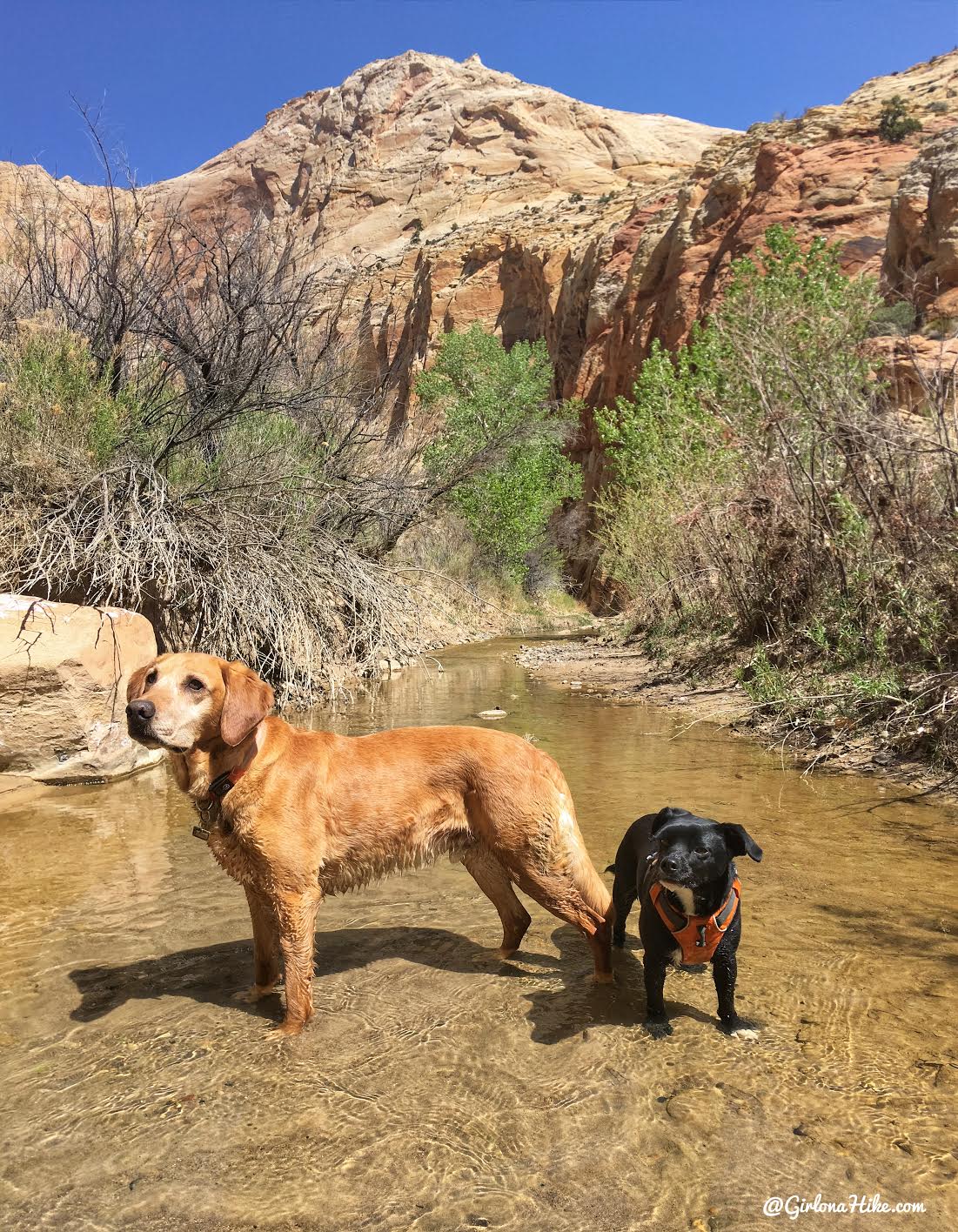 Charlie and our pal, Watson, pose for their mamas.
Halfway out you will see a huge alcove on your right. This would be another great place to camp, be out of the shade, or just take a snack break.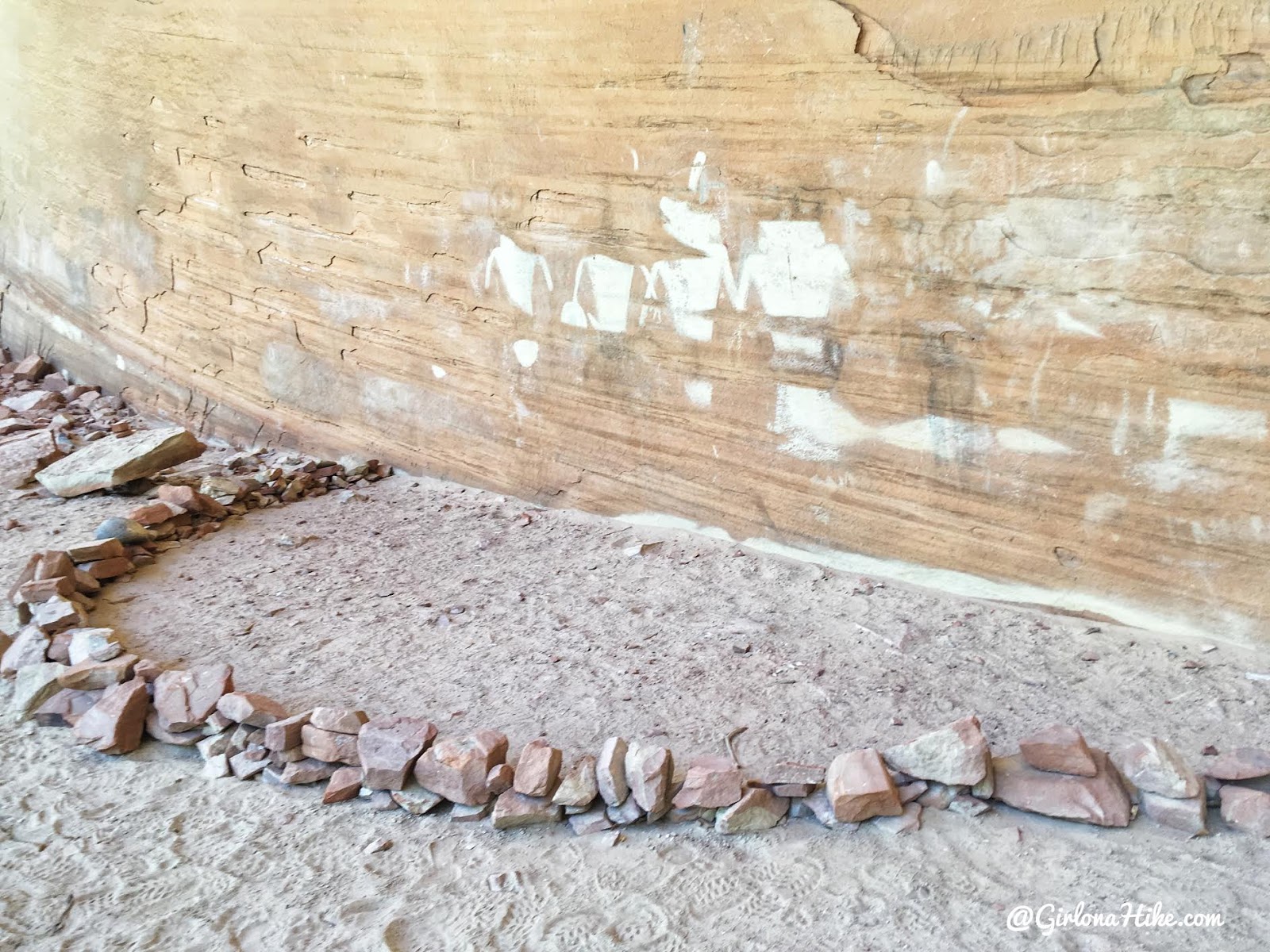 In that same alcove are pictographs.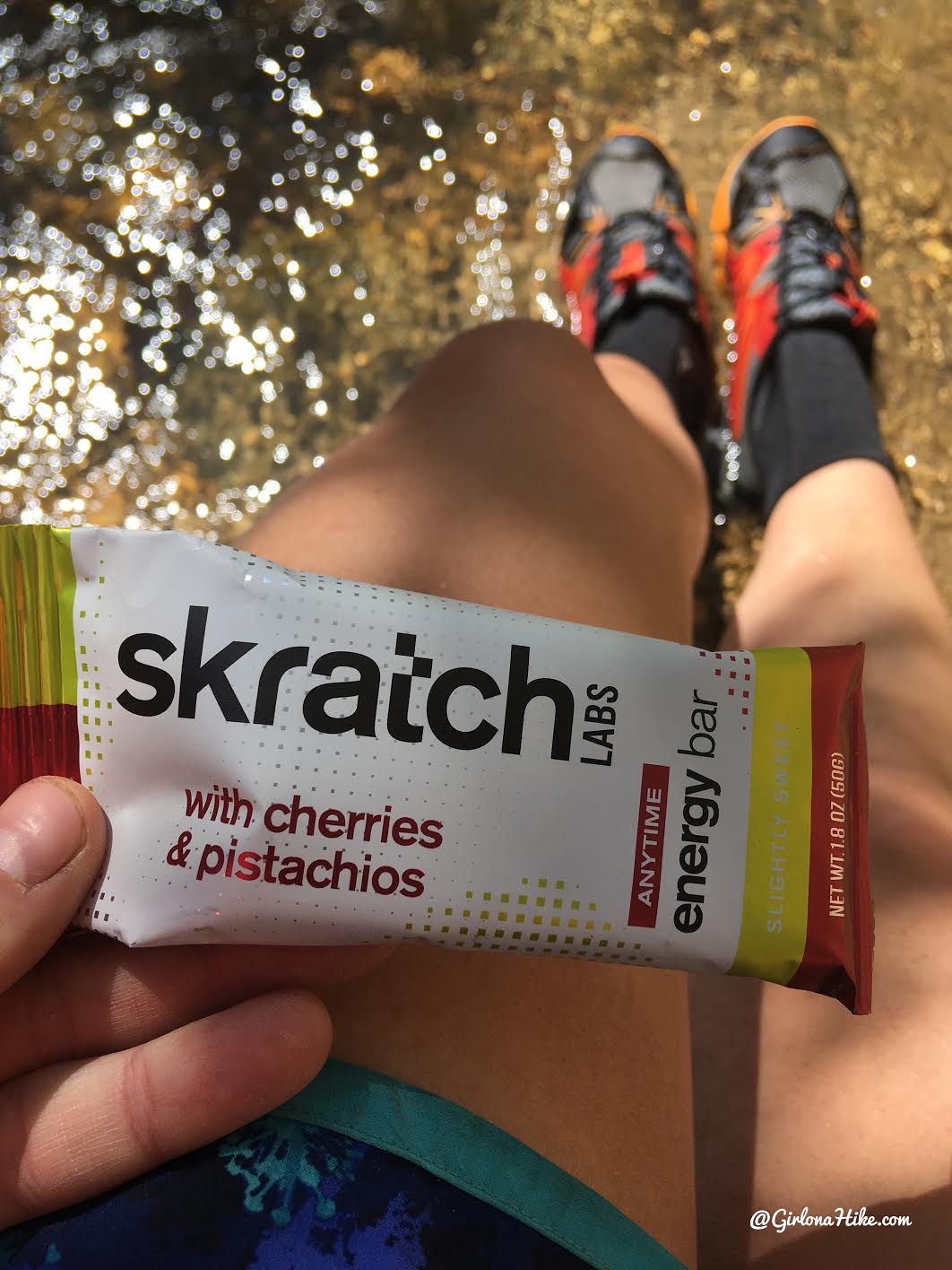 Tried out another new snack from Skratch Labs. I get sick of bars easily, but this one was pretty good. I liked how chewy it was and not overly sweet.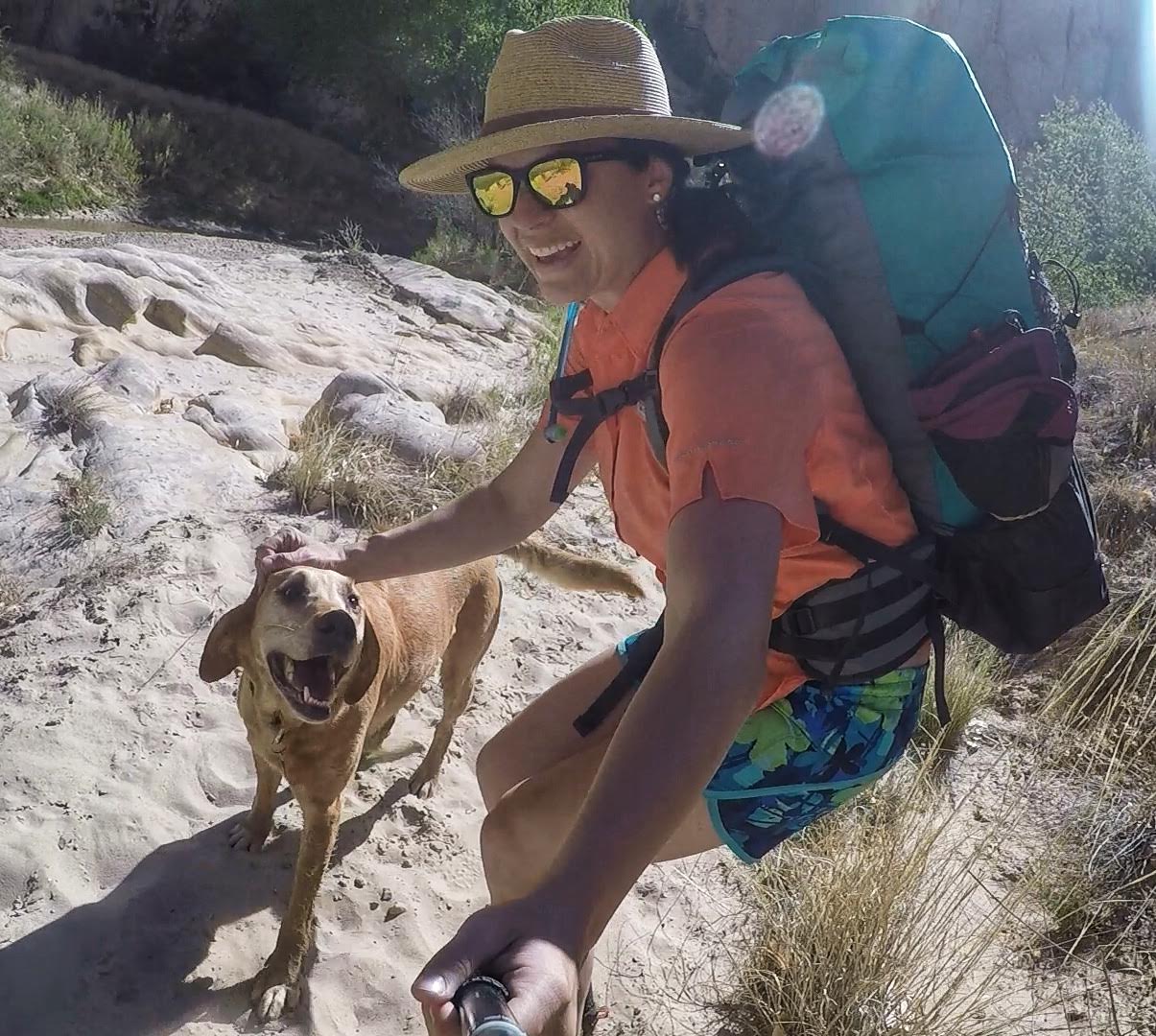 I love how happy Charlie gets when we hike and backpack! Dogs are the best!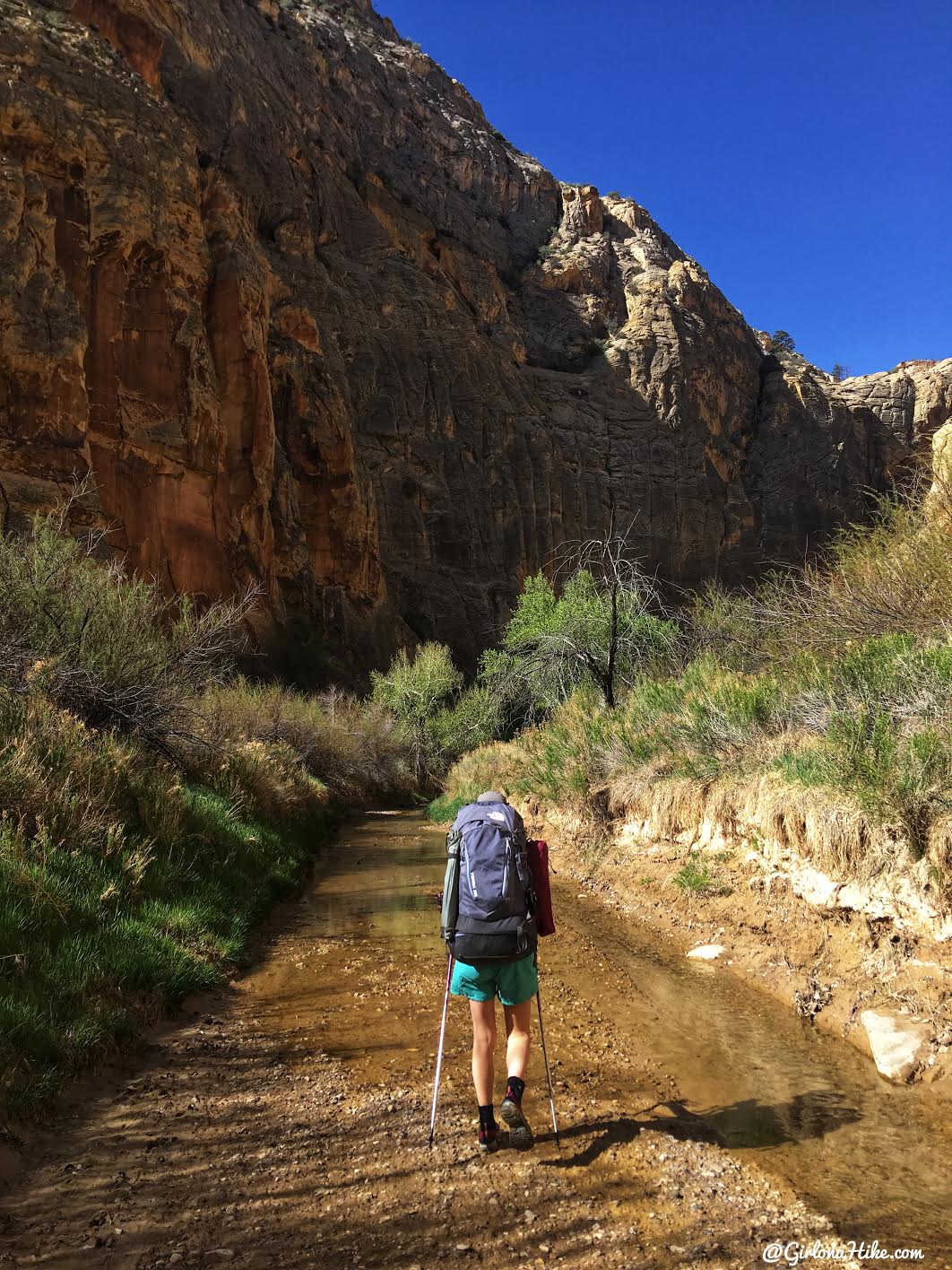 The views never got old!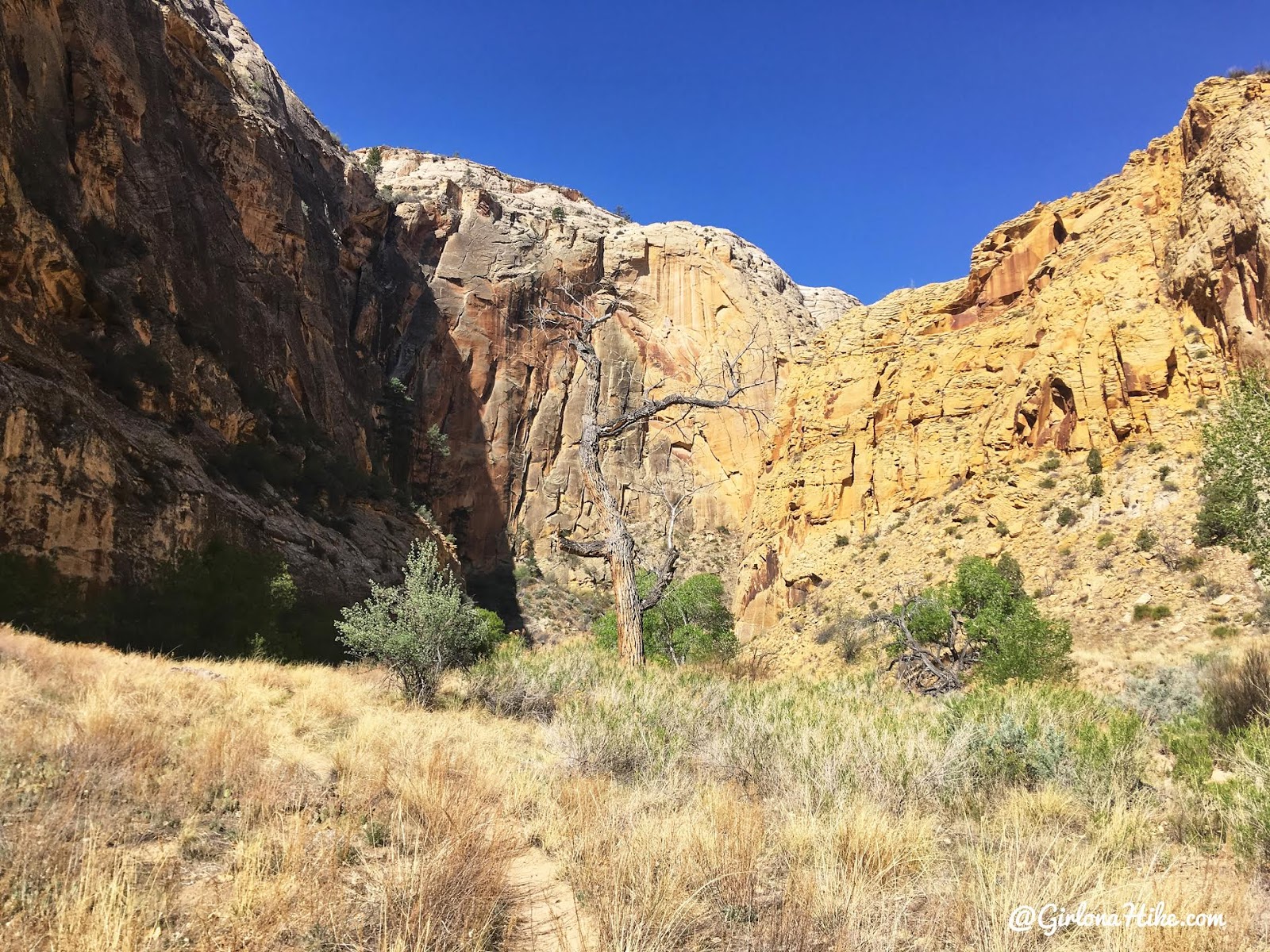 Some dry sections, but not as bad as Day 1. We also saw several desert flowers in bloom.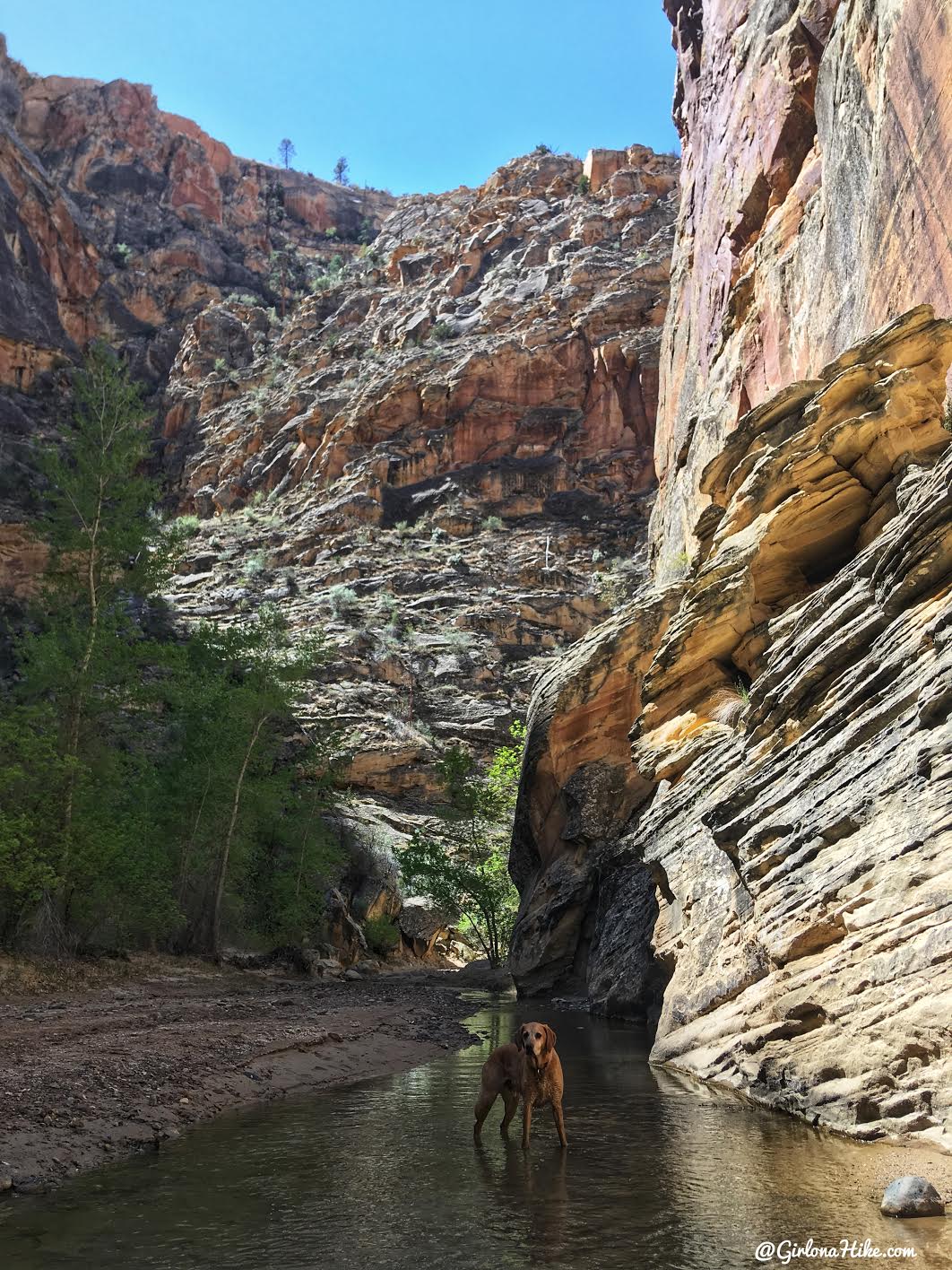 I can't get over these canyon walls! They must have been close to 1,000 ft high!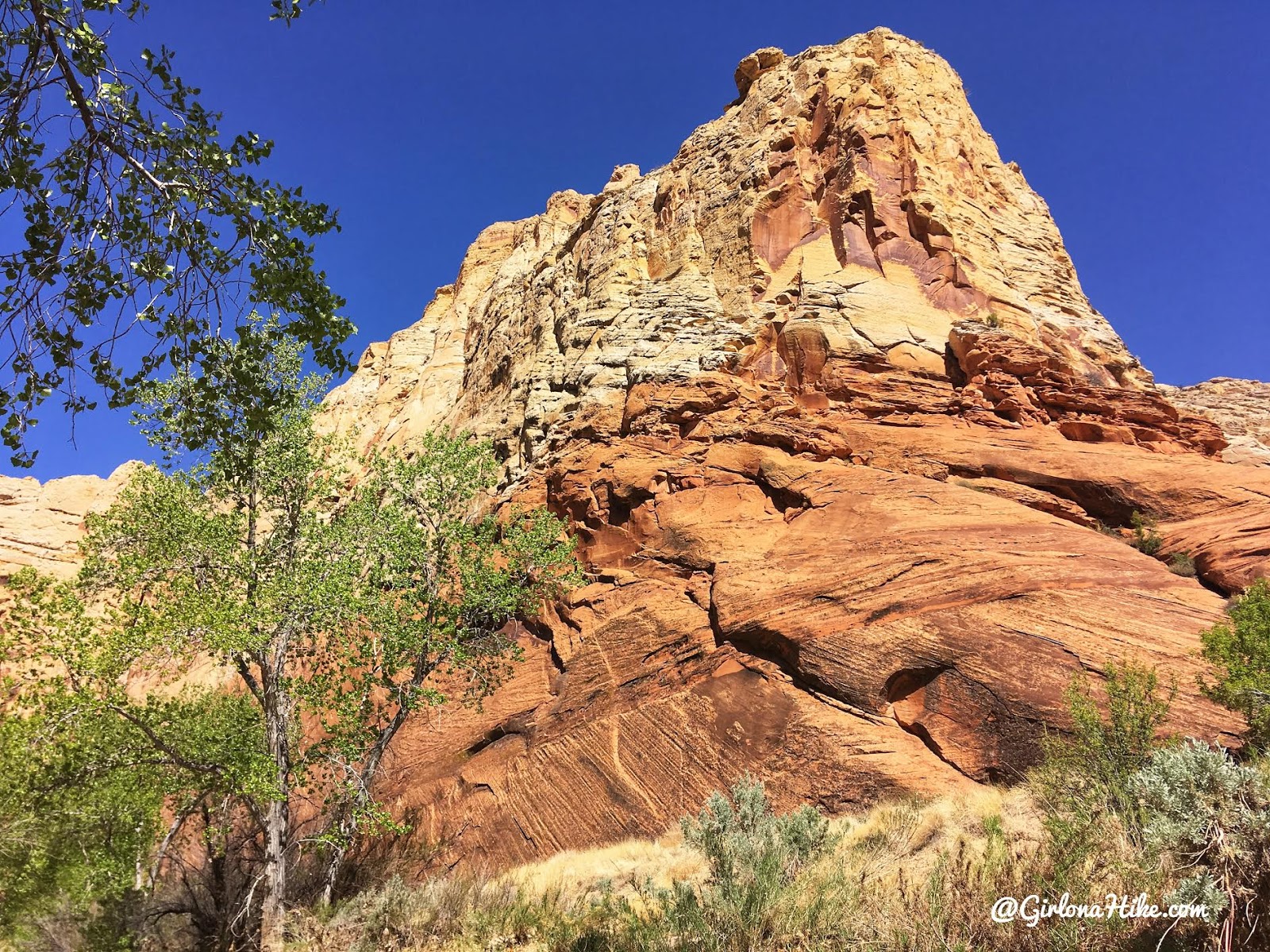 This section of the river has a variety of canyon colored walls – everything from this bright red and yellow to black.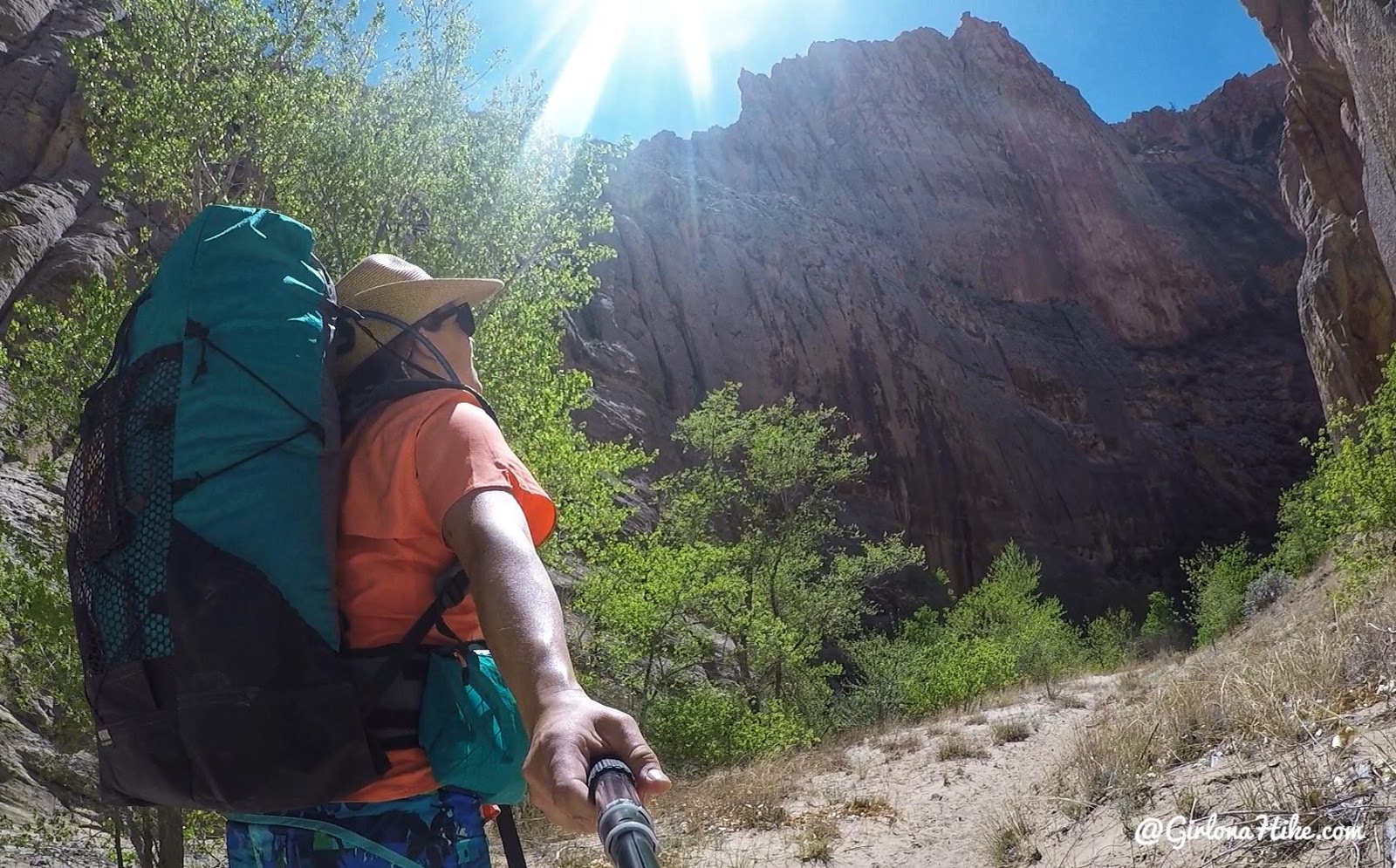 Soaking up the sun – I knew we were getting close to our exit. PS, if you've been wondering what pack I use, check out my post on Waymark Gear Co!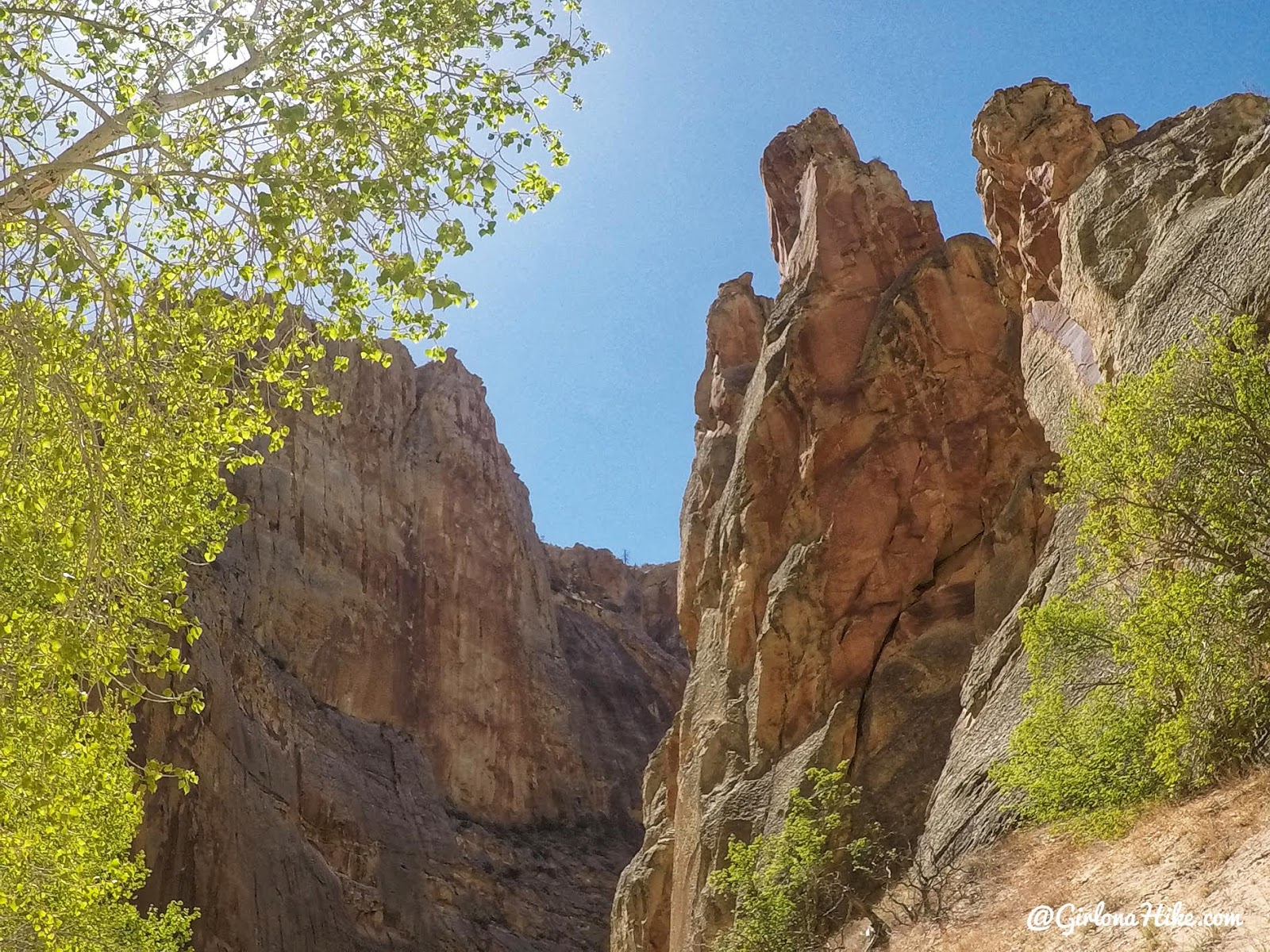 Beautiful! This route would be gorgeous in the Fall too, around late October.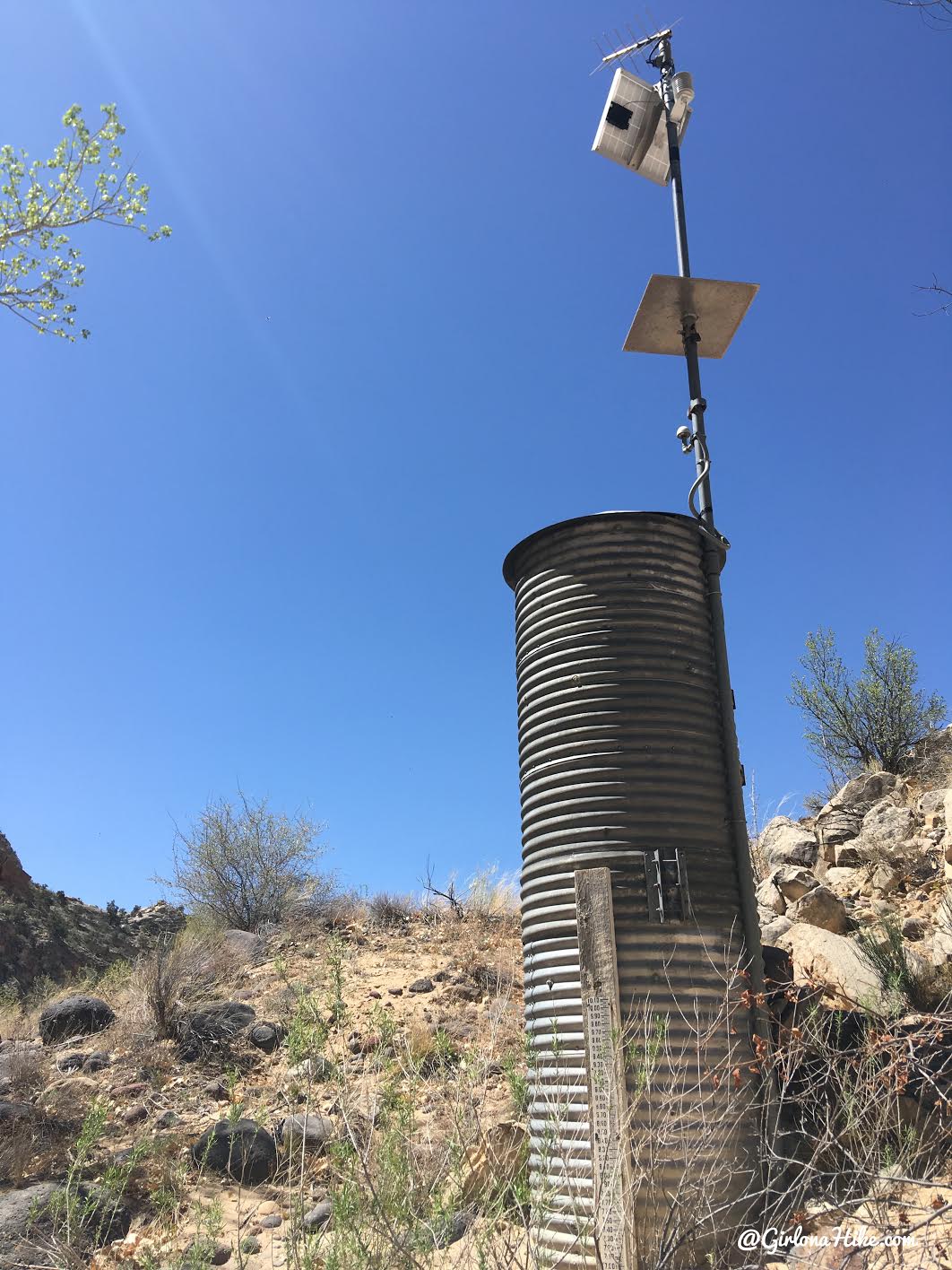 You know you are close to your exit when you pass the water gauging station.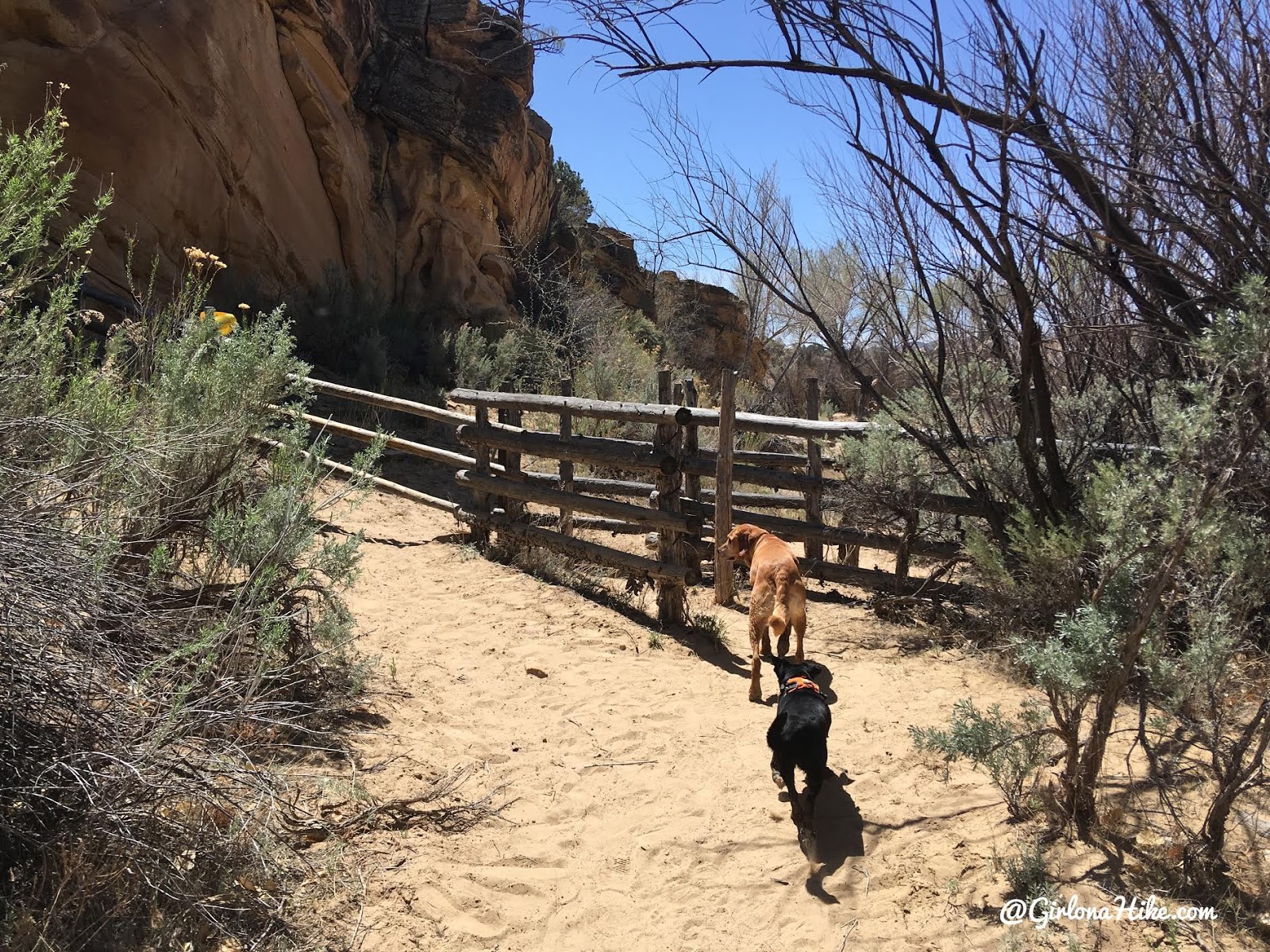 Continue following the trail, and it will lead you to pass through the cattle gate.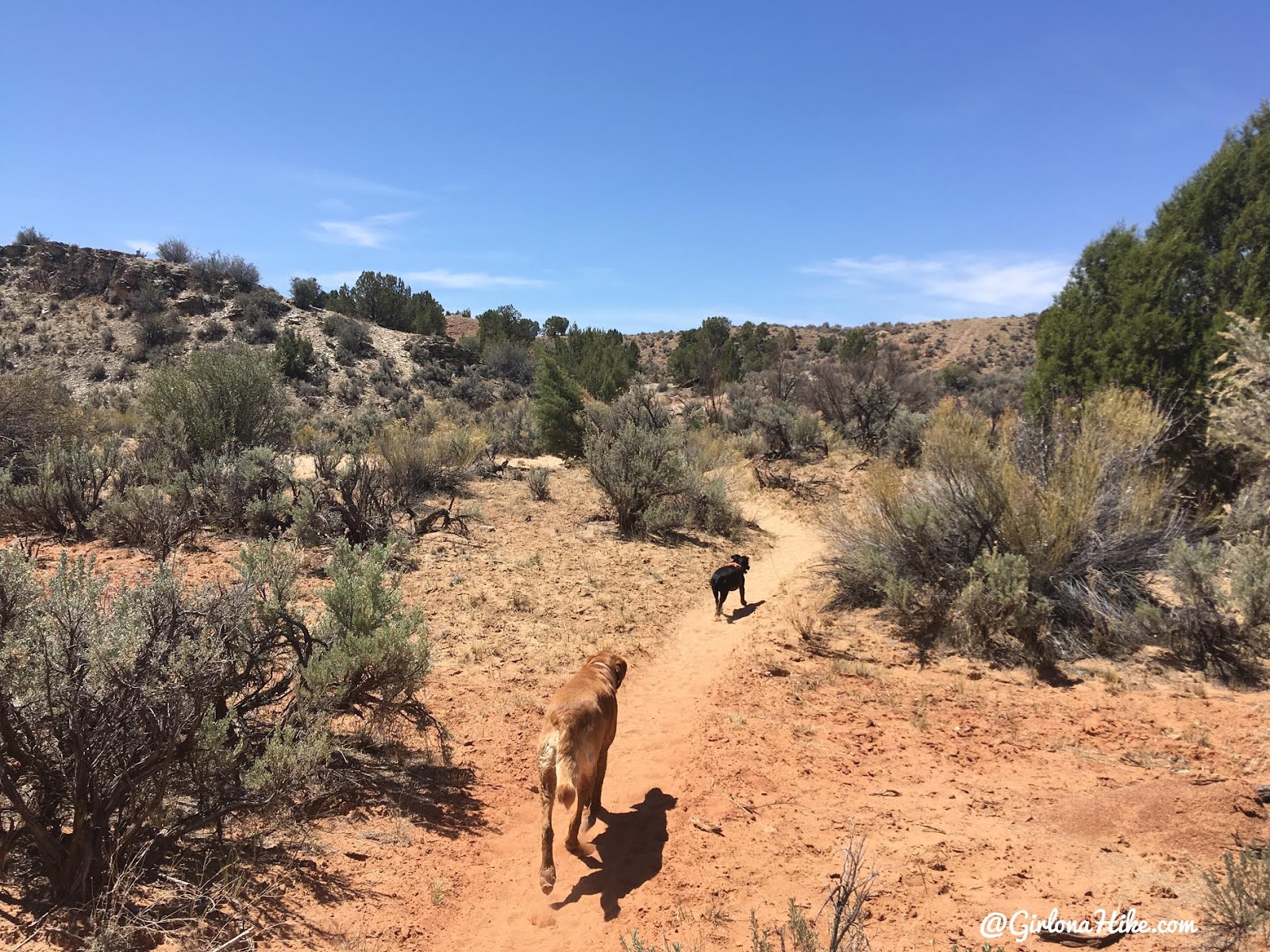 This will be the hottest section of the day – the last 3/4 mile stretch to where your car should be parked. No more shade or water.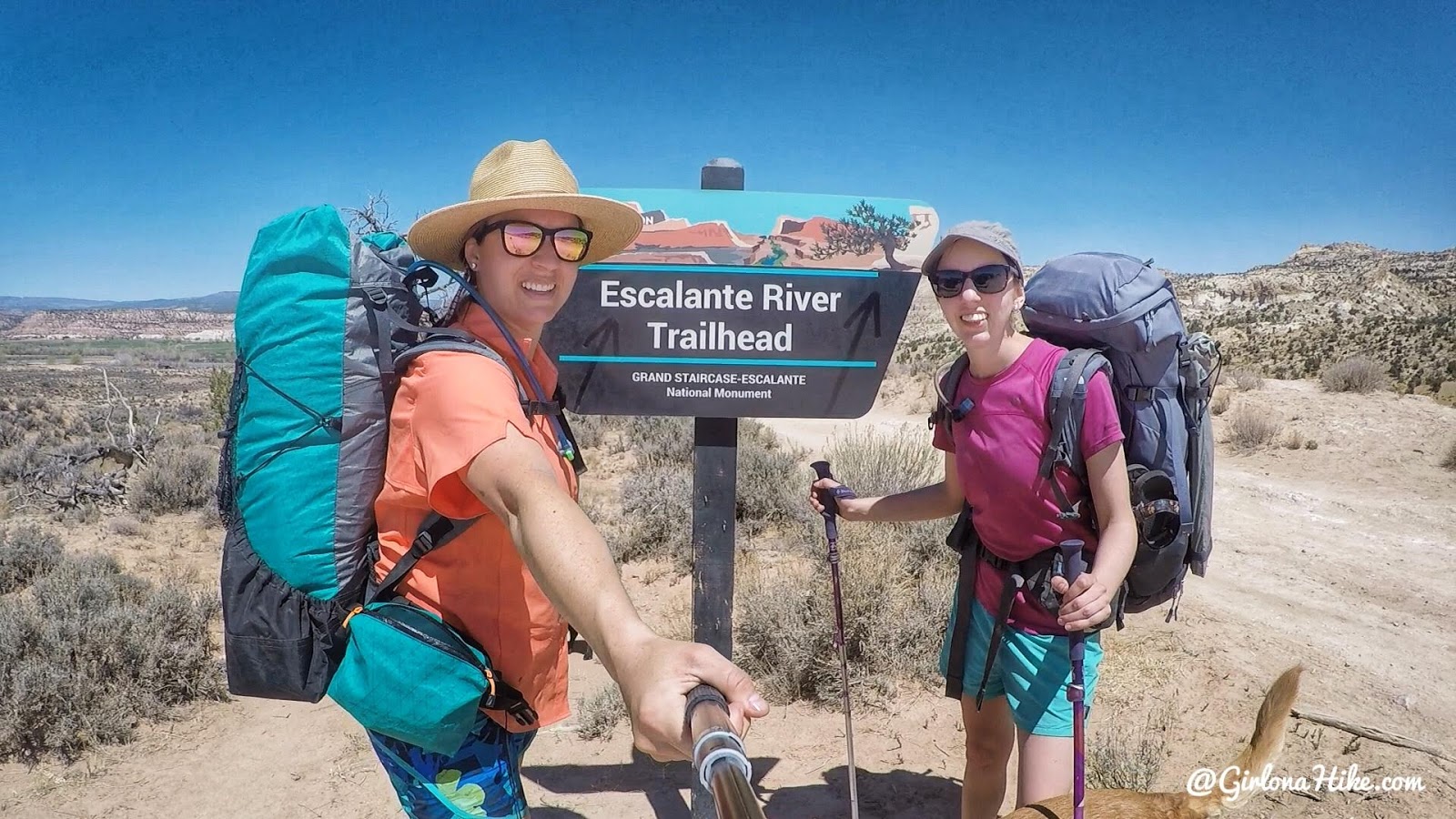 Yay, we made it!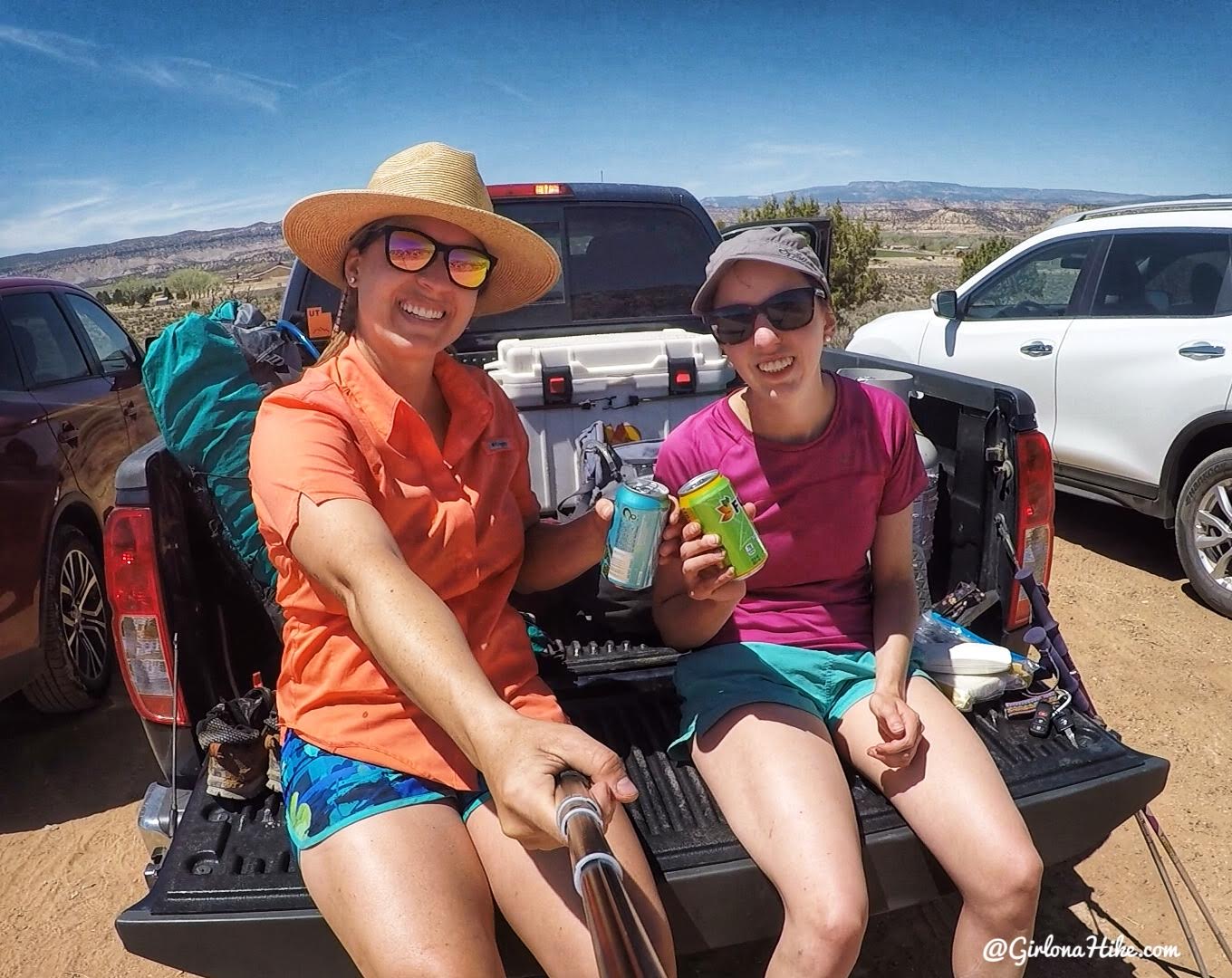 First things first – we put our chacos on and had an ice cold beer!
Trail Map
Trail map with marked campsites & petroglyphs. Get your app here for a discount.
Recommended Gear
Nearby Hike
The Ultimate Guide – Dog Friendly Hikes in Escalante, Utah!

Backpacking Death Hollow, Escalante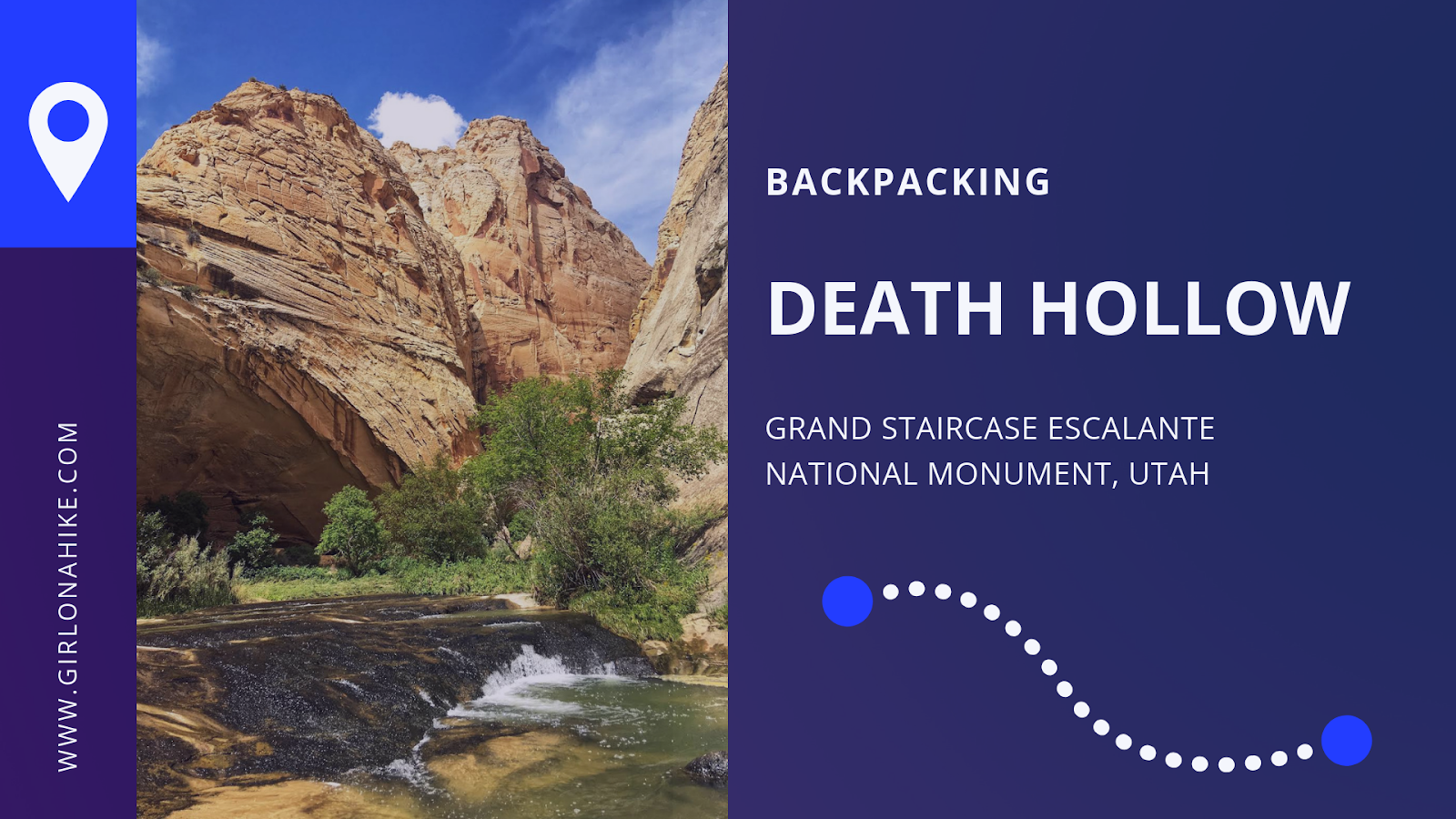 Save me on Pinterest!