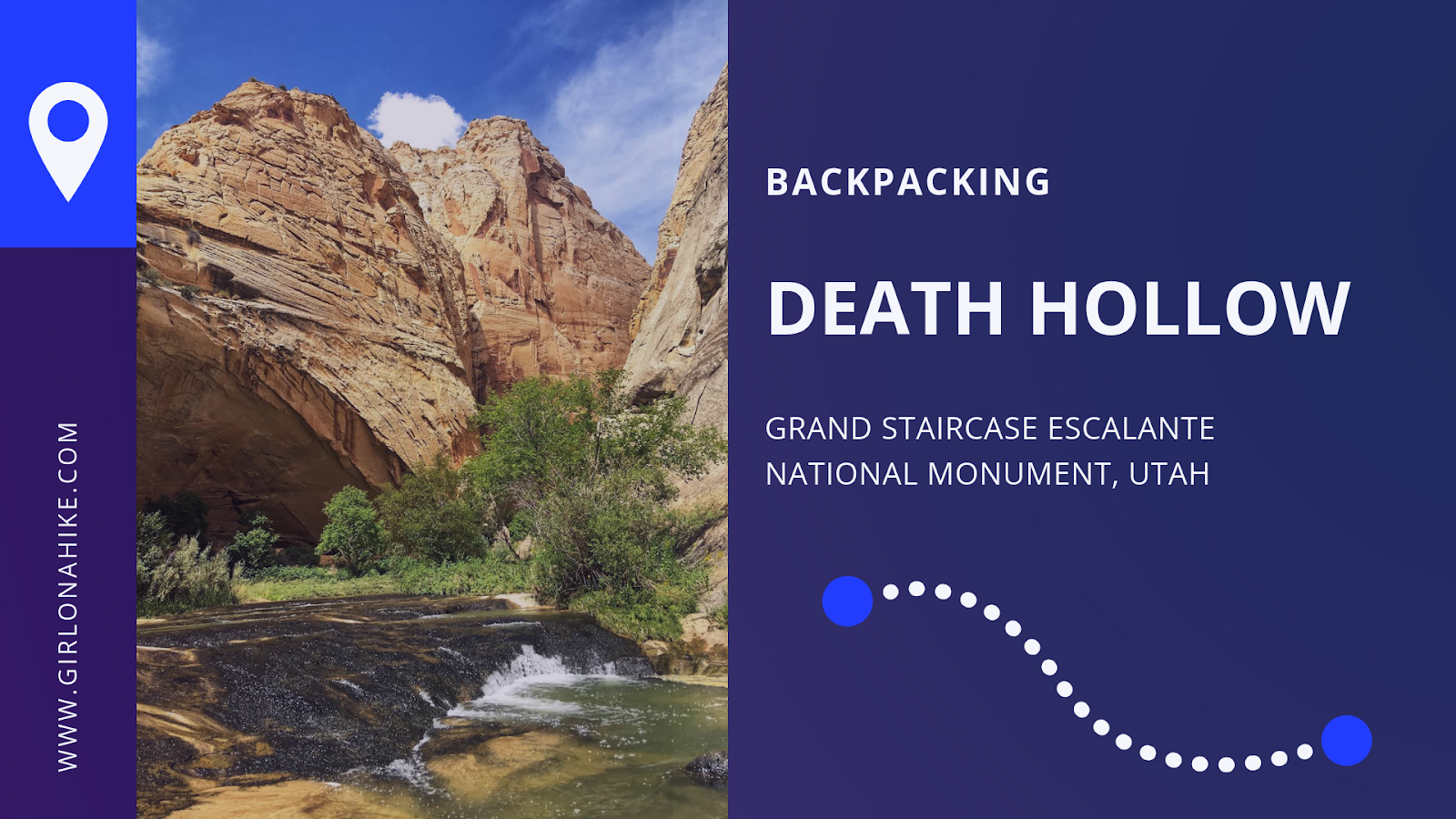 Backpacking Death Hollow, Escalante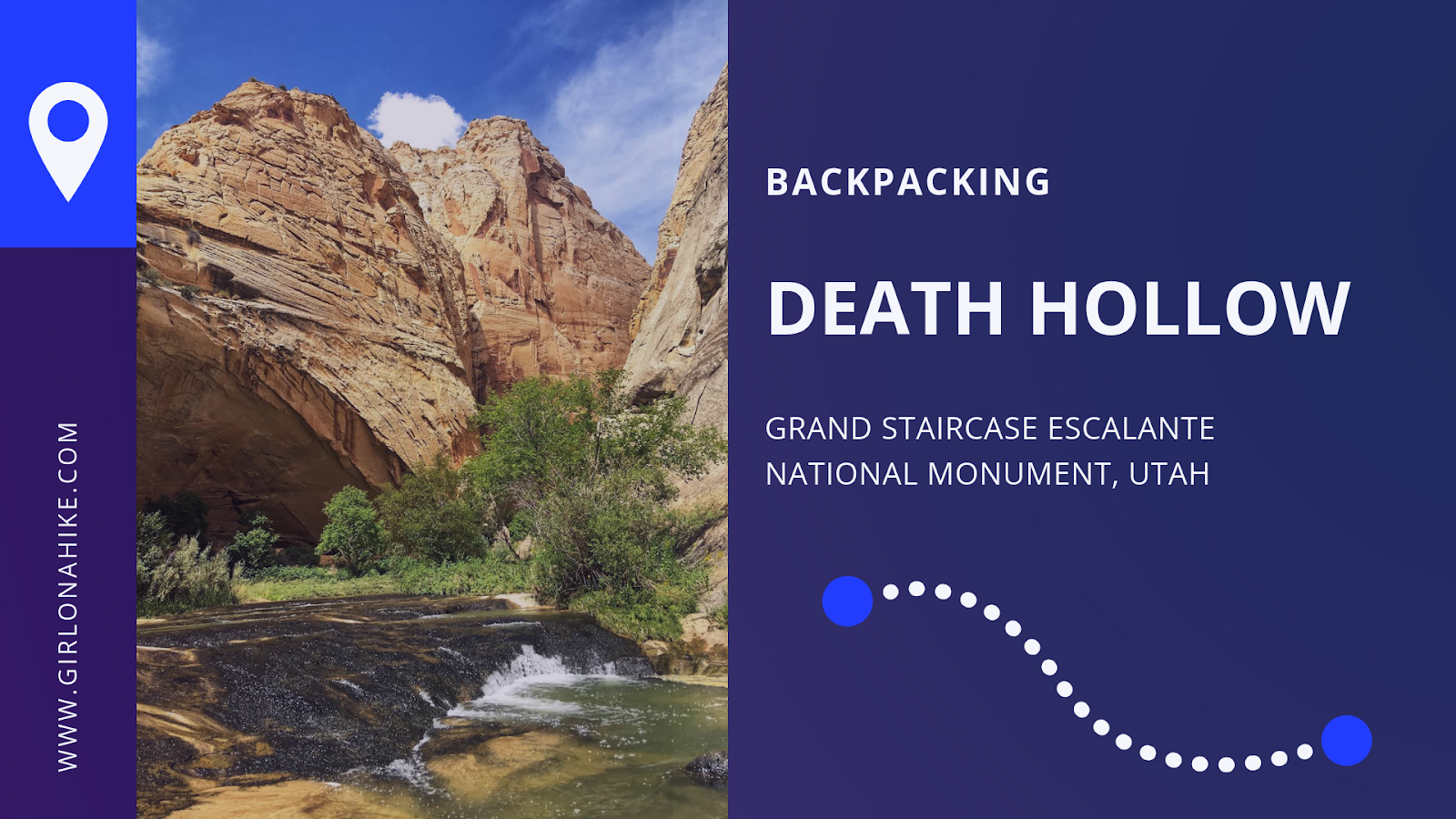 Death Hollow is located in Grand Staircase Escalante National Monument, just outside of Escalante, Utah. The first 6 miles of the trail follows the Boulder Mail Trail – the old route, that even up until 1924, the mules would carry mail on from the residents of Boulder, UT to Escalante, UT. Boulder, UT is right along Highway 12, which wasn't even paved until the 1970's, was the last area in the US to gain automobile access! No matter how much this area has changed due to technology, you'll immediately find yourself in the backcountry and won't see people for days. Over our 3 day adventure, my friend and I only saw two other people the entire time.
About
If solitude is of interest to you, how about swimming in deep canyon pools? Bushwhacking? Cutting through fields of poison ivy that extend above your head? Route finding? Slick rock? Quicksand? If all of these challenges appeal to you, Death Hollow is the trip for you. This is obviously not a backpacking trip for a beginner – you should be comfortable (or at least be able to tolerate) all of those things listed above. Still not enough challenge? How about 25 miles one way where only a section of the route cuts through a canyon as wide as 10 feet across? If you're still nodding your head yes, then get prepared. You will love every aspect of this route.
Directions
Escalante River TH ("Town TH")
GPS location: 37.767873,-111.5789513
From the town of Escalante, UT drive East on HWY 12, and turn left at the Escalante Cemetery. You will now be on a dirt road. Drive about 2 minutes and you will see a brown sign for Escalante Trail. Turn left again, and drive down another 2 minutes and park at the signed TH "Escalante River Trail".
Boulder Mail Trail TH
GPS location: 37.8836266,-111.4661382
From Escalante and your car drop at the Town TH, continue driving East on HWY 12 for 23 miles. Turn left at the signed "Hells Backbone Road", then another immediate left on FR 1431. Drive down this dirt road for about 5 minutes, cross the old air strip, and the TH will be on your right with a sign for "Boulder Mail Trail".
Here's a driving map connecting the two THs. However, Google doesn't quite understand where the Town TH is, so you'll need to use the GPS/directions I provided.
Trail Info
Distance: 25 miles point-to-point
Elevation gain: Overall descent of 1500 ft
Time: 1 night minimum, 2 nights preferred
Dog friendly? Yes, off leash
Kid friendly? No
Fees/Permits? A free backcountry permit is required and can be picked up at either TH or the Escalante Ranger Station.
FAQs
Do I need a permit?
Yes, you do need a free backcountry camping permit which you can pick up at the Escalante Interagency Visitor Center or at the TH. However, in my experience, the TH's tend to be out of the permit so it's a safer bet to stop by the visitor center to pick one up – there, you can also ask about current conditions and water levels. Call before going on your trip to make sure they will be open. The address of the visitor center is:
755 W. Main St. Escalante, UT 84726
435-826-5499
Can I bring my dog?
Yes, this is a great trail for dogs! Beware that you will be hiking across slick rock and sand, and in hot temperatures they can burn their paws. Always carry a dog first aid kit and dog booties to protect their paws. They should also be comfortable carrying a dog pack and can hike up to 8-10 miles a day.
Is this a good trail for kids?
Not for younger kids, but those who have backpacking experience and can carry their own weight & water, and are comfortable with deep water should be fine.
Is there a water source along the trail?
Yes – you will cross Sand Creek at mile 2.5, and then you will be in water the entire hike once you enter the canyon. The Escalante River can be dry in late summer, so it's a good idea to fill up before hiking back to your car on the last day.
Where can I camp?
There are several campsites in the canyon to choose from.
When is the best time to hike Death Hollow?
Typically August and September are the best because the water levels are usually ankle to knee deep. However, even in those months there is one section you will have to swim and afternoon storms can be a concern. Spring presents the biggest problem with snow melt, making water levels high and freezing cold. Fall can also be a good time, but depends on how early Winter arrives.
How can I find out current trail conditions?
Always call the ranger to check on water and trail conditions at least a few days before going to make sure it's safe.
The address of the visitor center is:
755 W. Main St. Escalante, UT 84726
435-826-5499
I have a long drive to get to the trail heads – what are some good audio books?
All of these are super interesting but my two favorite are Desert Solitaire and Travels with Charley. I've listened to Desert Solitaire probably five times. I absolutely love Edward Abbey's descriptions of everything he encounters and his take on National Parks.
How hard is the trail?
This depends on your experience, fitness level, pack weight, and weather. There are no technical areas of the route, but climbing up and down lots of slick rock and sand are required. You should have a few backpacking trips under your belt, and be comfortable carrying up to 30-40 lbs for hours on end. As always, the lighter your pack, the easier your hike will be. More weight = harder hike.
What guidebook or map do you recommend?
I only used Gaia GPS to track my route. With Gaia you can also download maps, create routes, mark waypoints, etc. However, if you are one of those people who loves carrying paper maps, then I would get this one:
Will I need a shuttle?
If you only have one car, you will need to hire a shuttle or try and hitchhike (though personally I wouldn't want to stand on the super hot road for hours waiting for a ride). We used Escape Goats in Escalante. We parked our car at our end destination, the town TH for the Escalante River, they picked us up there, and drove us to our starting point, the HWY 12 Boulder Mail Trail TH. I highly recommend them because the rate is fair for the area (this trip was $100 total), they will take dogs, and they have 4-wheel drive if you need it. Plus they are locally owned. Make sure you call at least a week ahead to reservation your pickup time – you will pay after you take the shuttle and it's cash only.

Day 1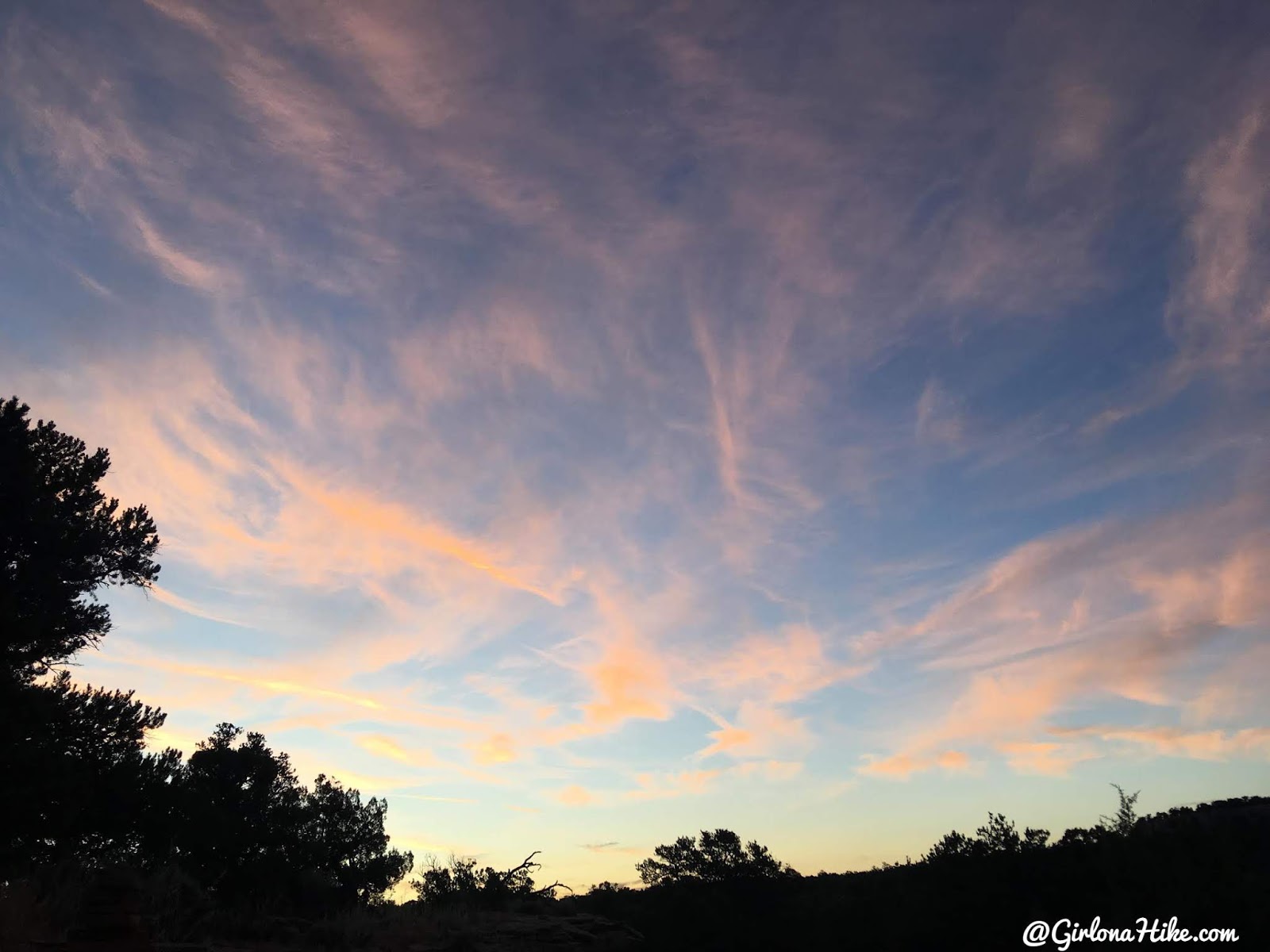 We were hiking by 6am, so it was too dark to get a photo of the TH sign. But we sure had a pretty sunrise!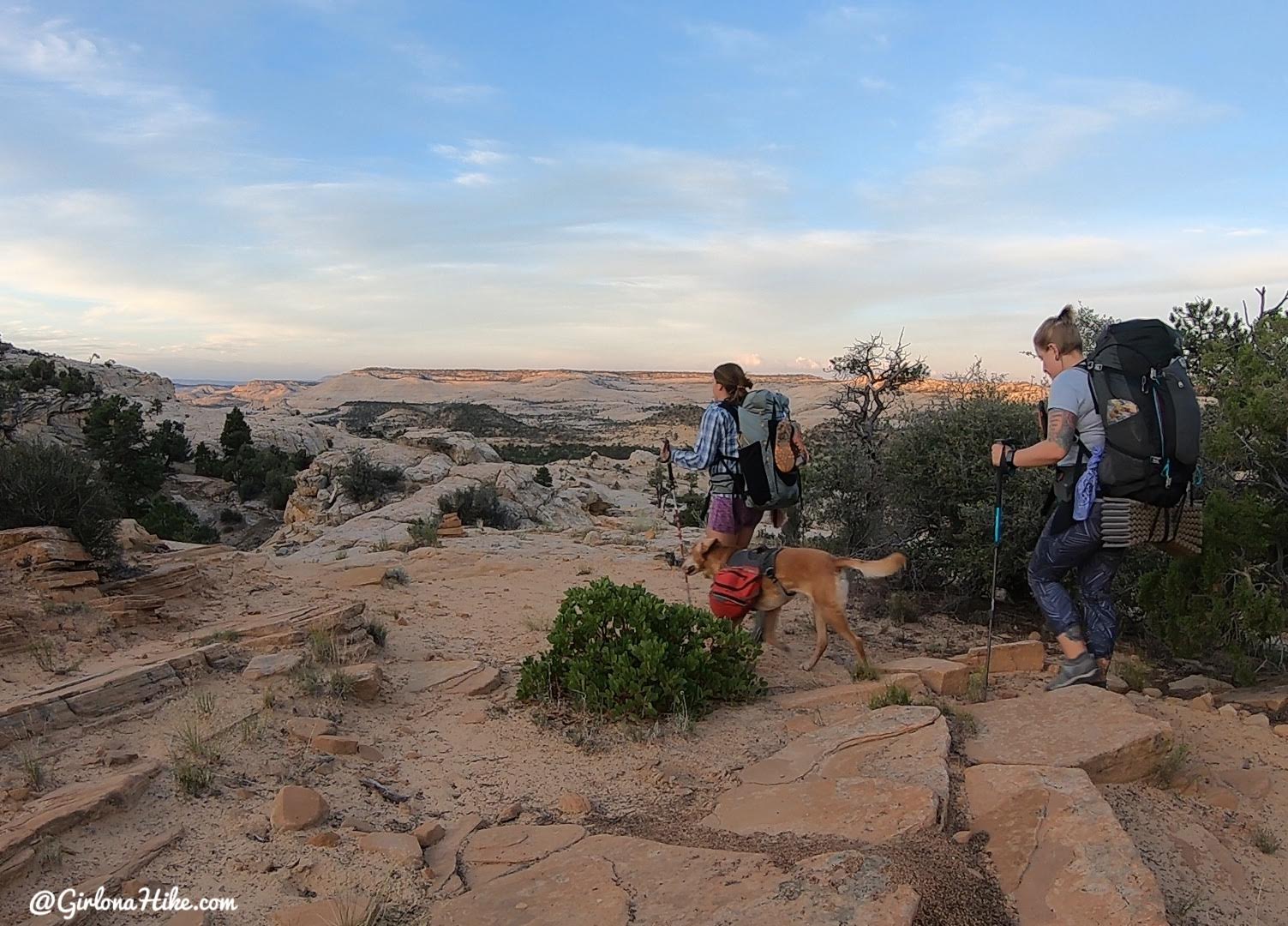 Working our way over slick rock to start.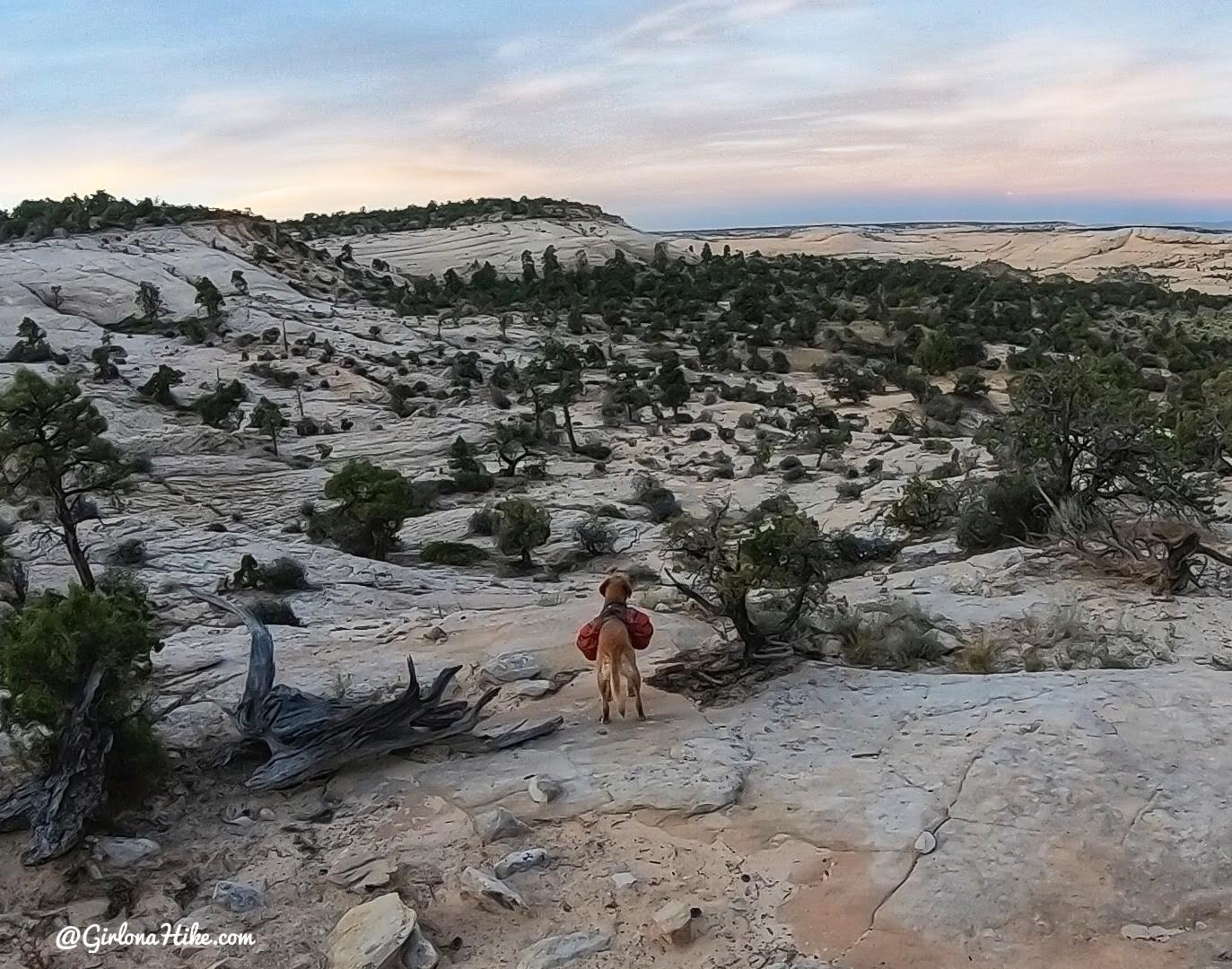 Charlie leads us down, through Juniper trees.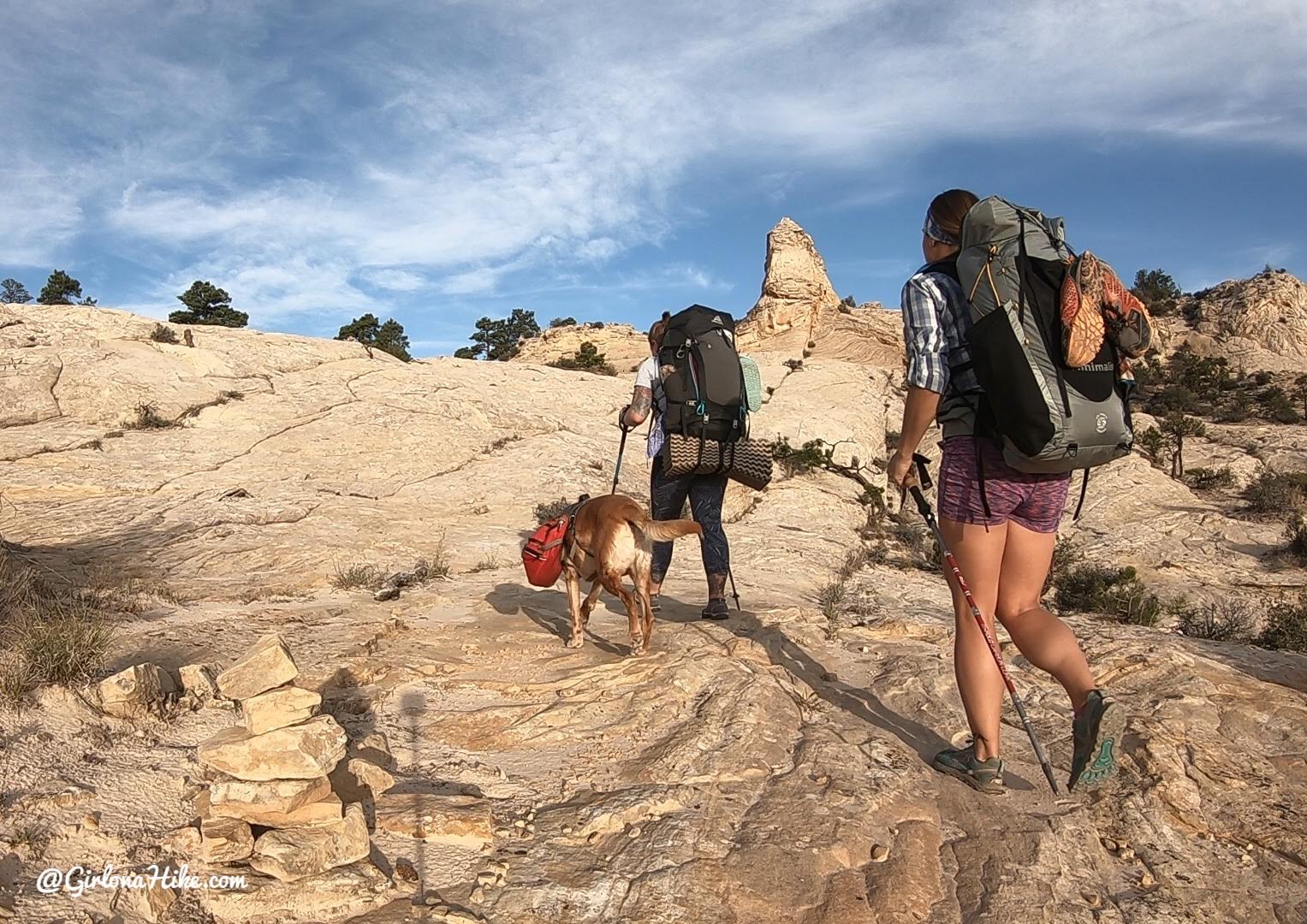 Even though we were hiking early in the morning we were sweating from the small uphill sections!
At mile 2.5 you will cross over Sand Creek. It's a pretty small creek, but if you had to you could filter water here.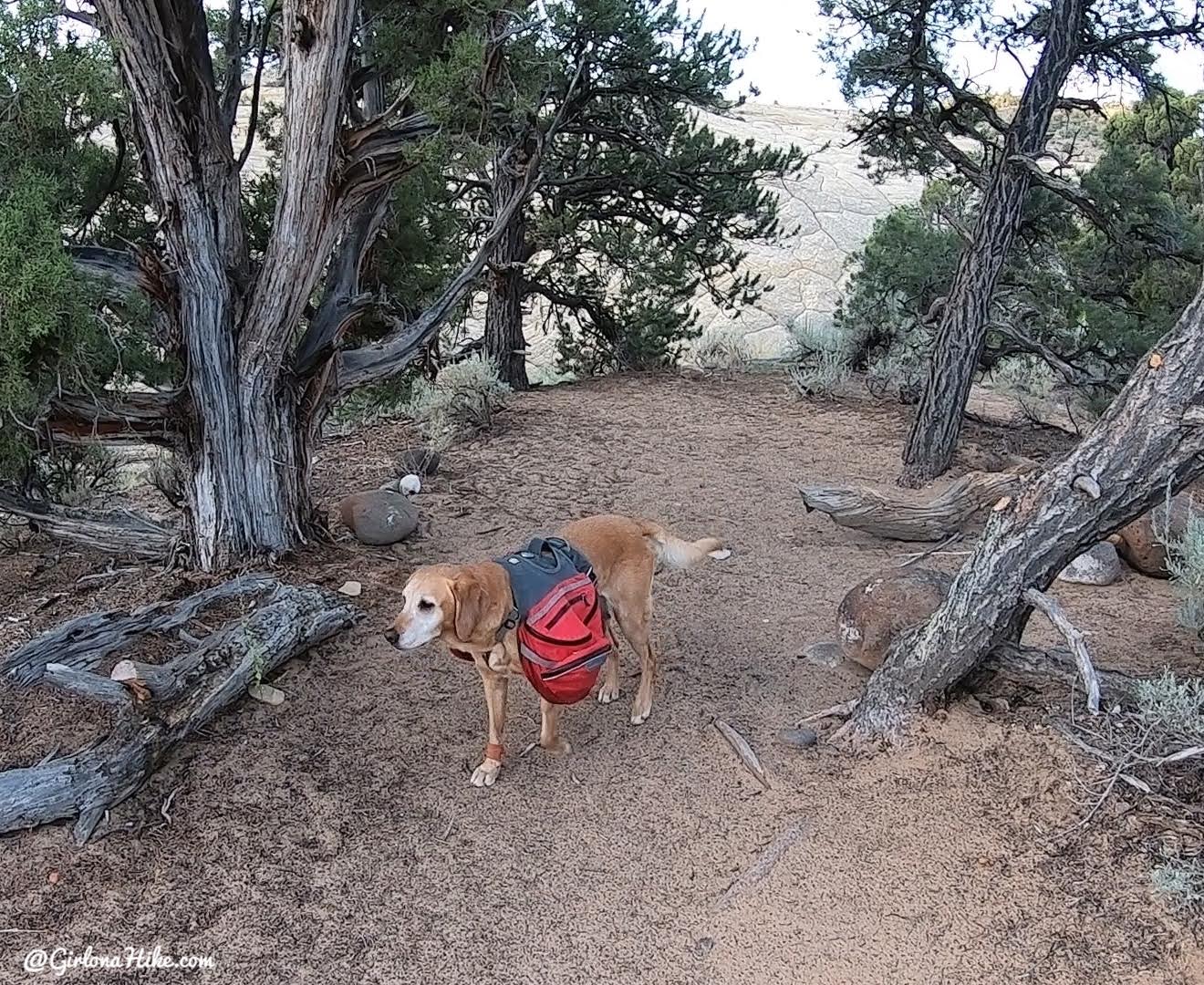 There's also one nice campsite right above Sand Creek. This campsite would fit one tent, but on the other side of the trail about 2-3 tents could fit. This would make for a very short day, but it's an option.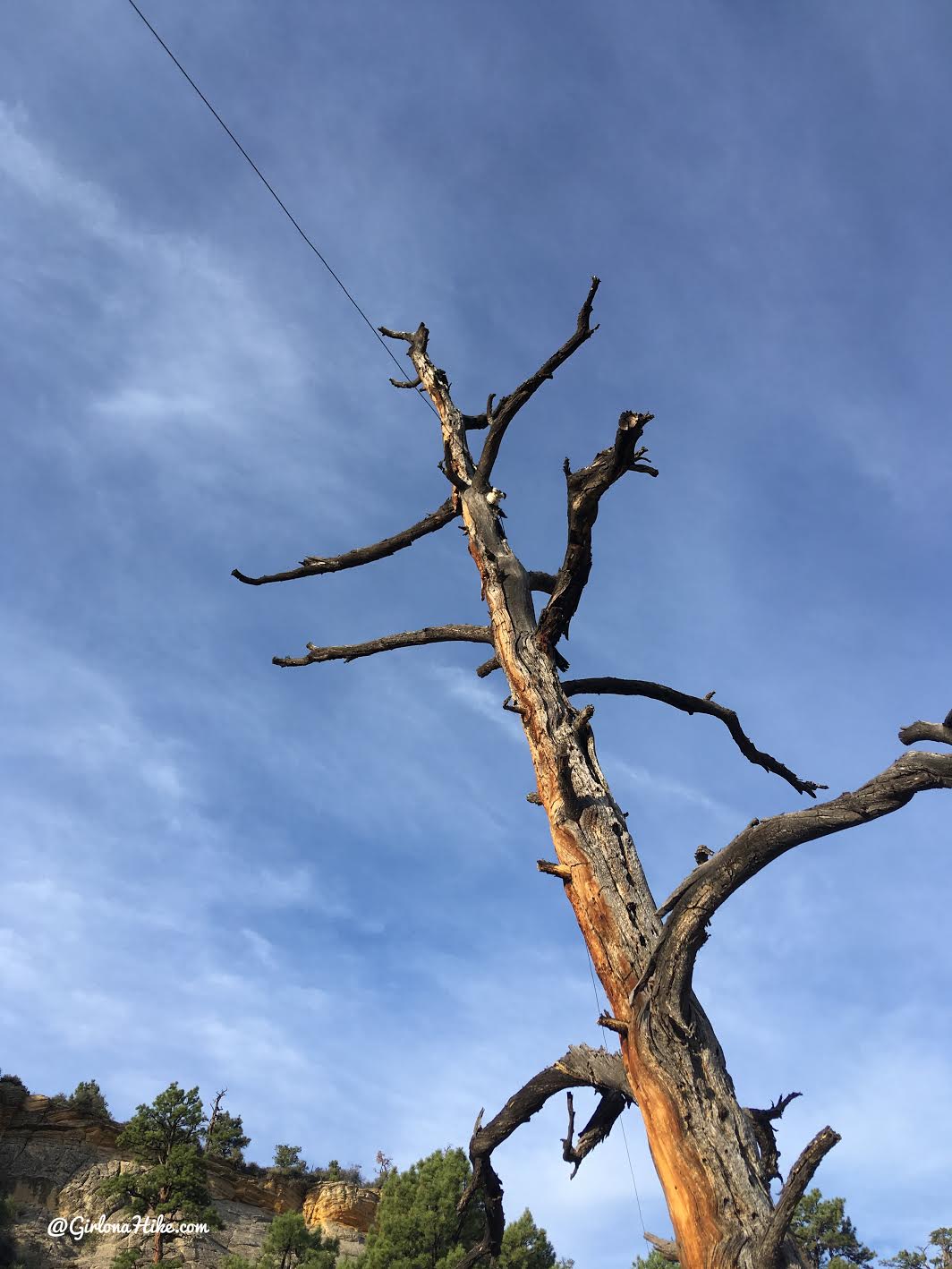 At mile 3.25 you will see the old Telegraph. You will be following the Telegraph for the next mile. This also once linked Boulder to Escalante, and was connected by hanging the wire across trees for miles.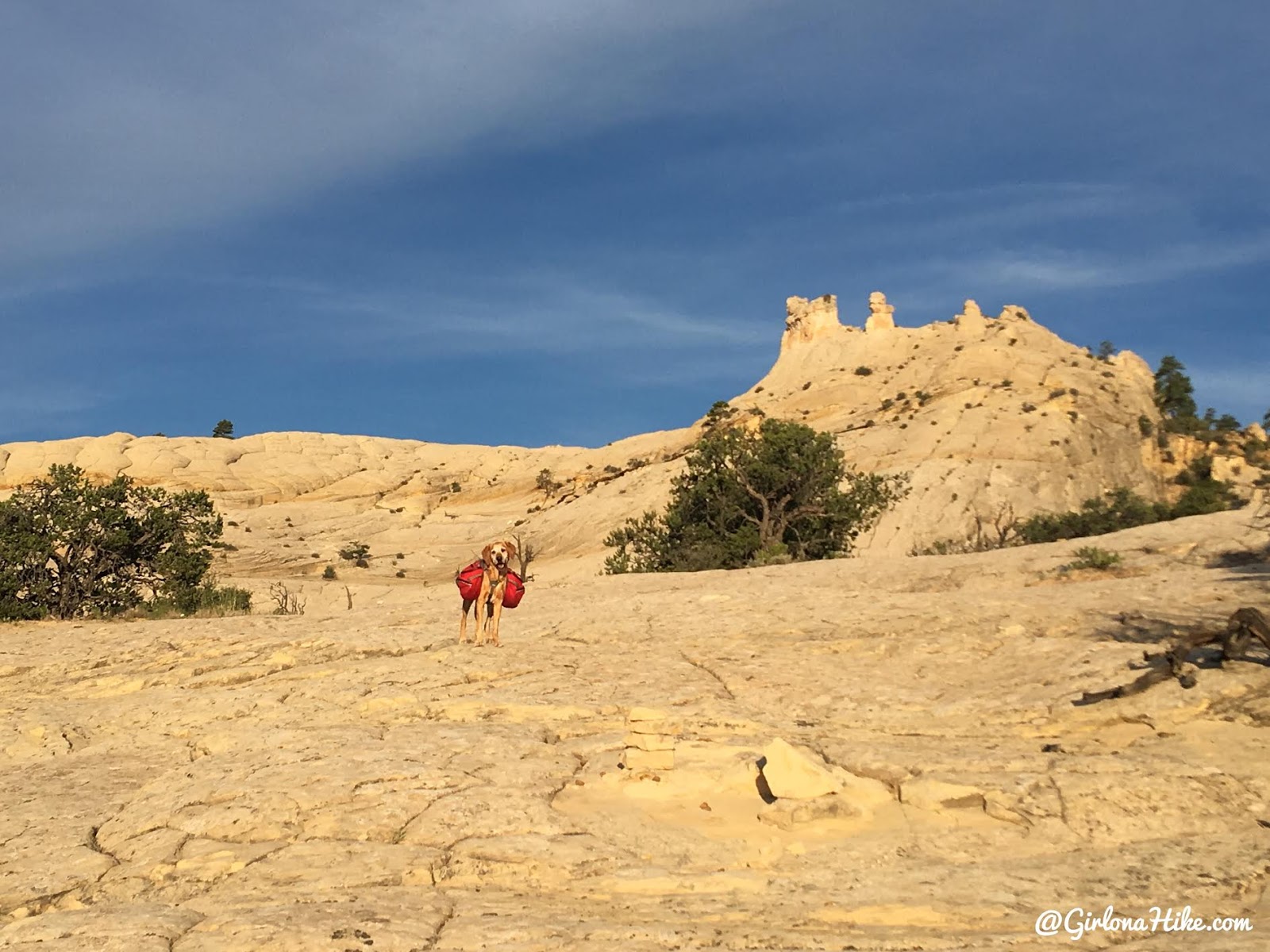 Cairns were everywhere – you shouldn't have a problem losing the trail.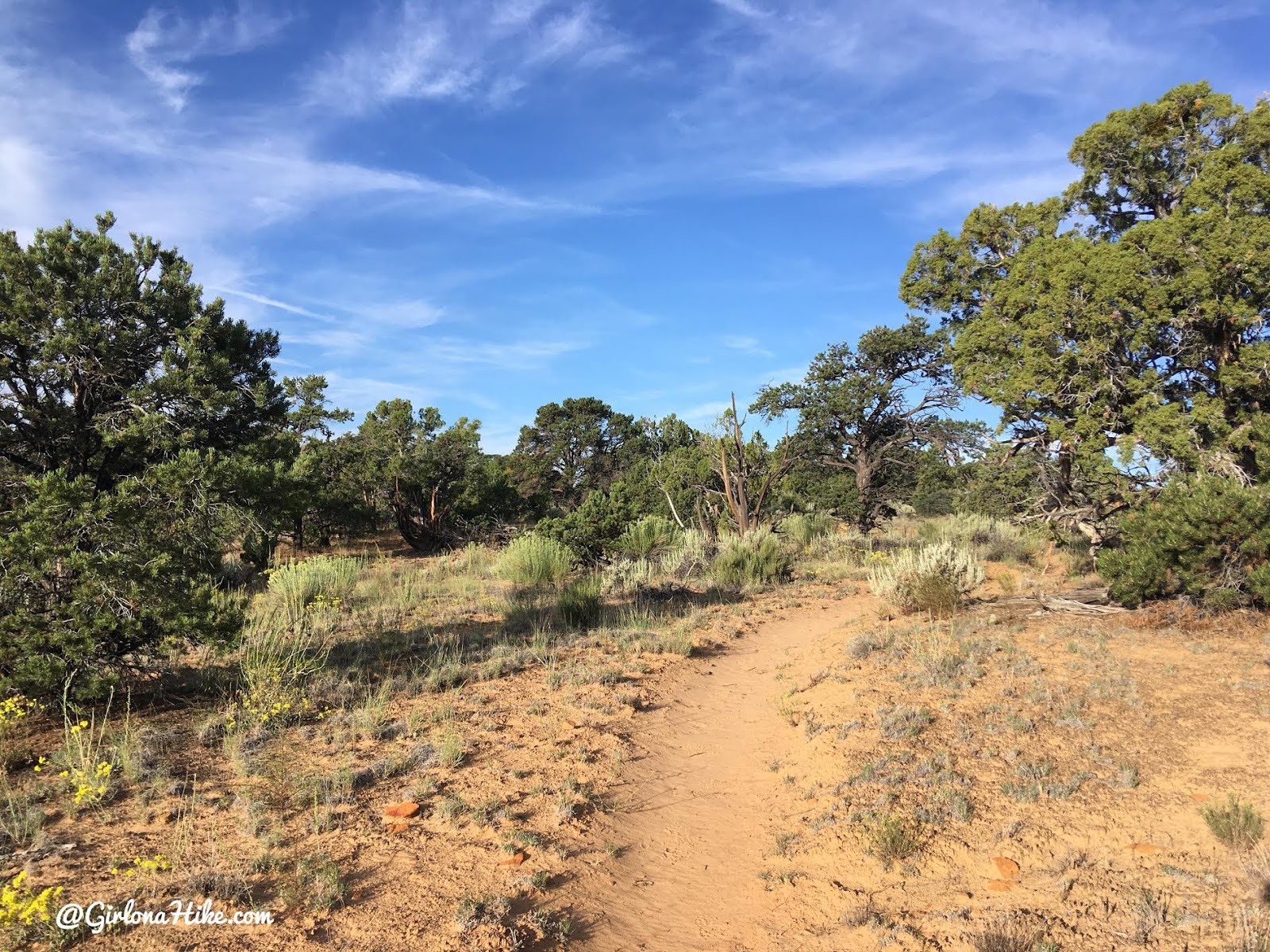 The last section before you reach the Death Hollow canyon rim is very sandy.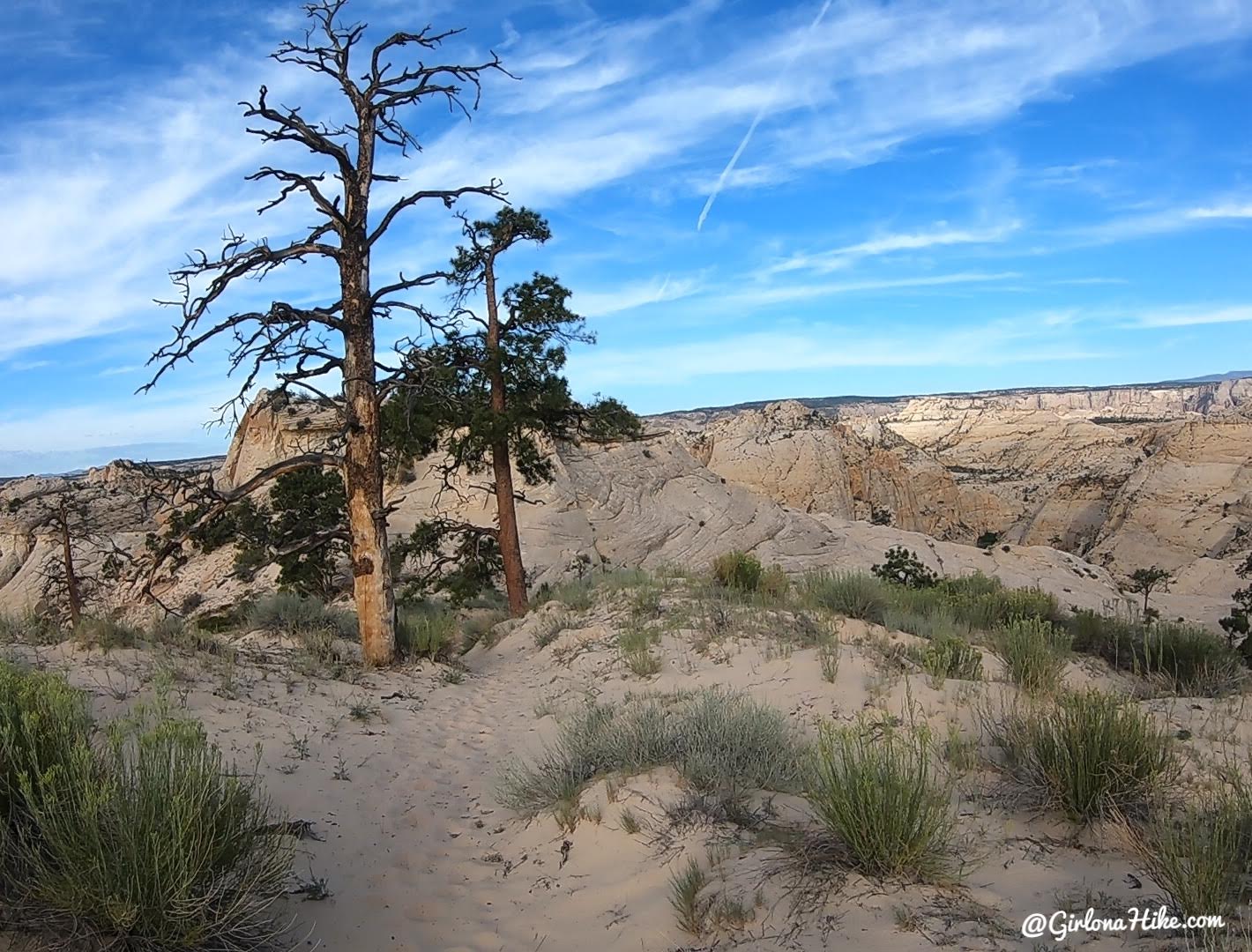 As you reach the canyon rim and begin to descend, you will see these two prominent Ponderosa trees.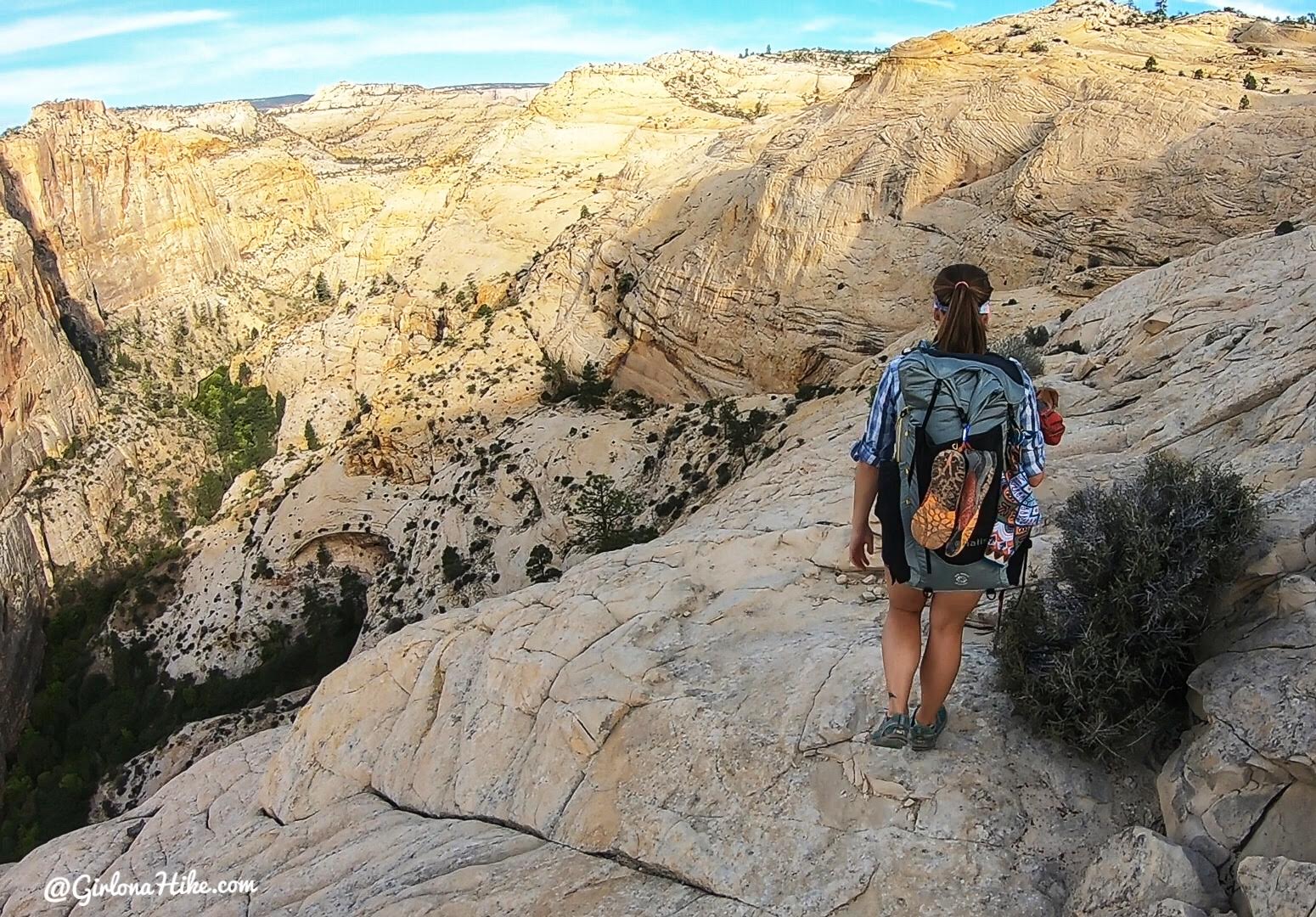 Continue following cairns as the trail begins to drop close to 700 ft to the canyon bottom. Just imagine – mules used to take this route down as well! You can actually still see scrape marks from shod hooves.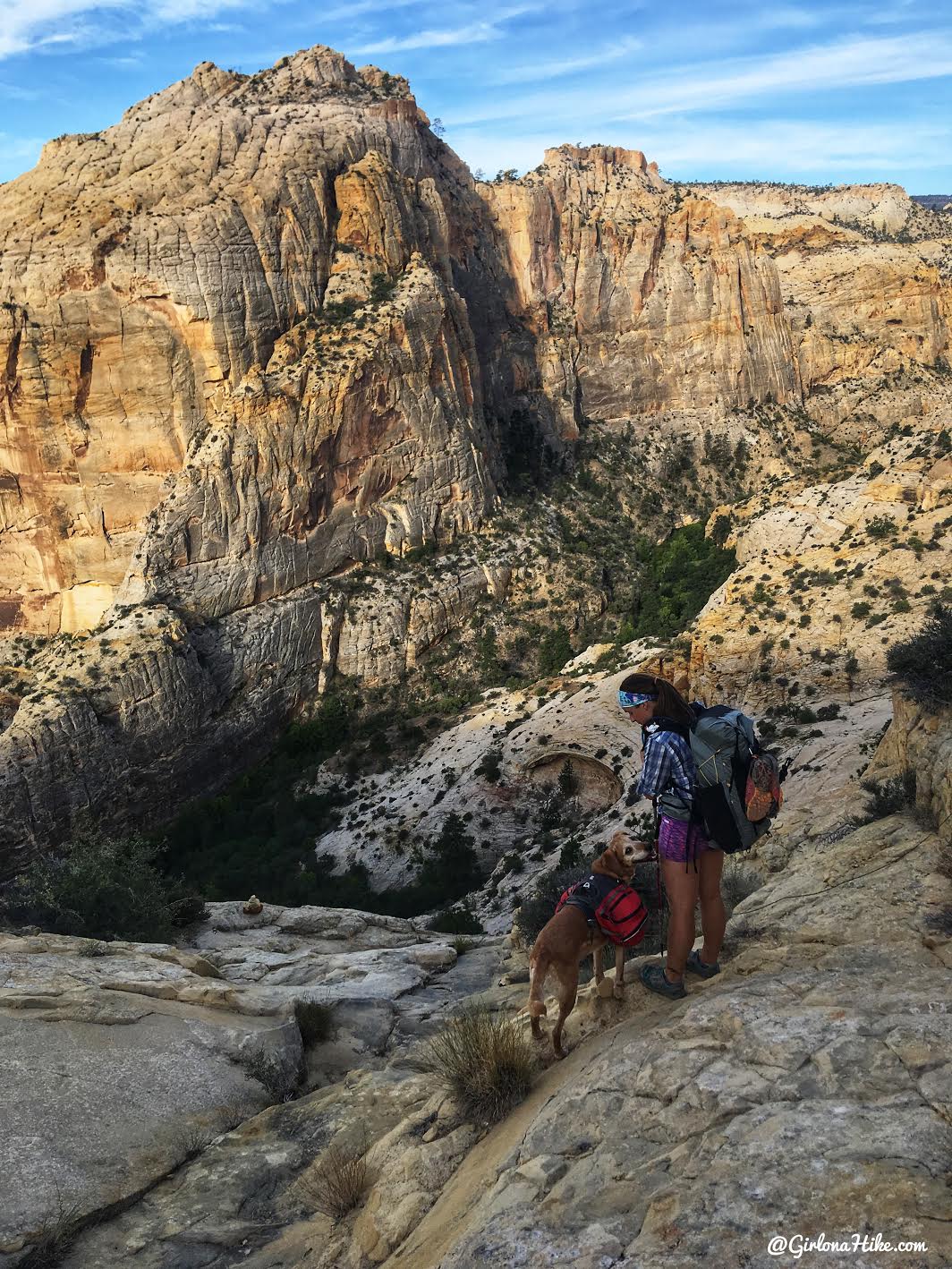 A good look into Death Hollow, looking NW. Beautiful morning light!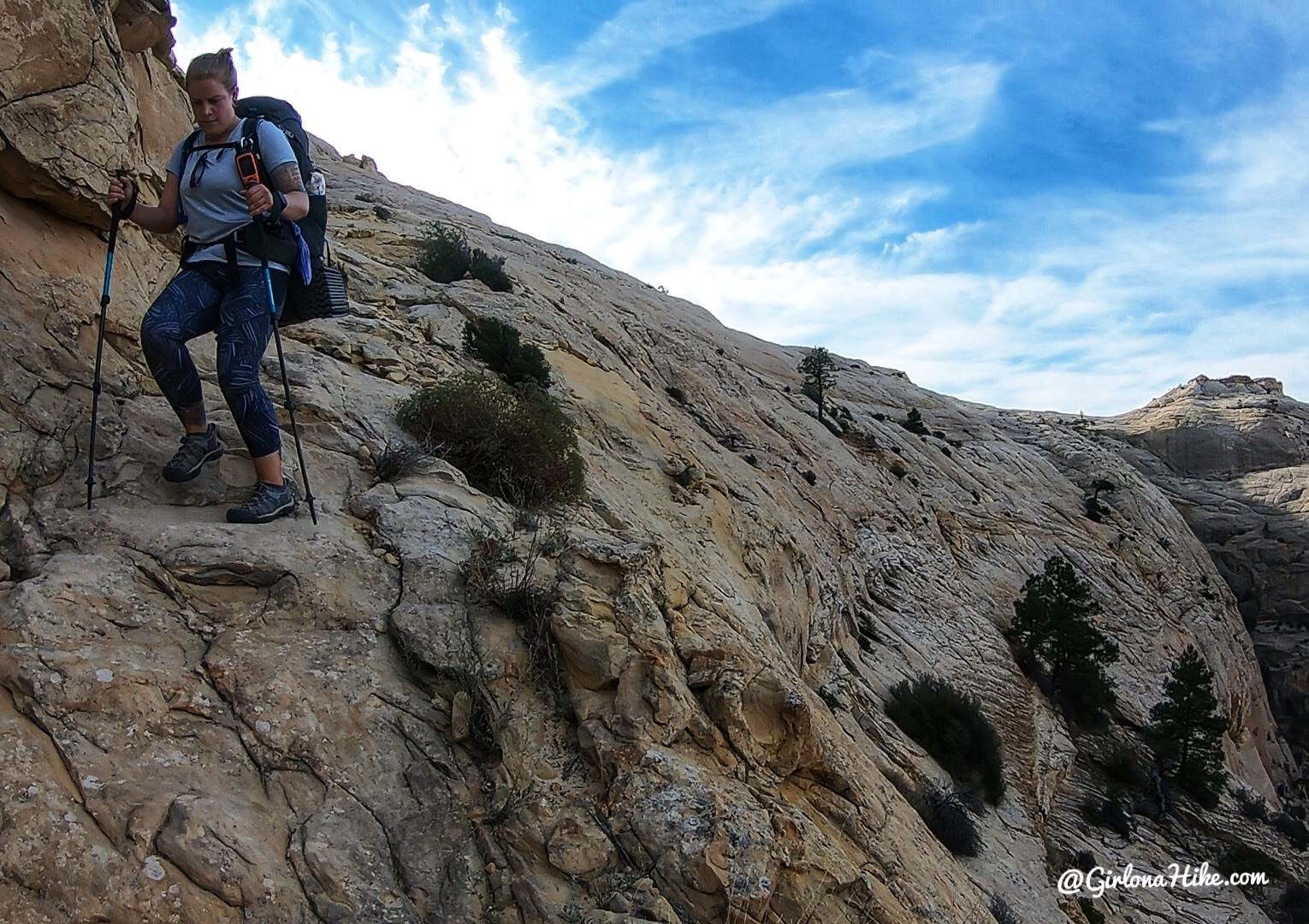 Sections of the ledge were carved out to be level enough for the mules to walk down as the route descended steeply. This shows off much of a drop off there is on the side.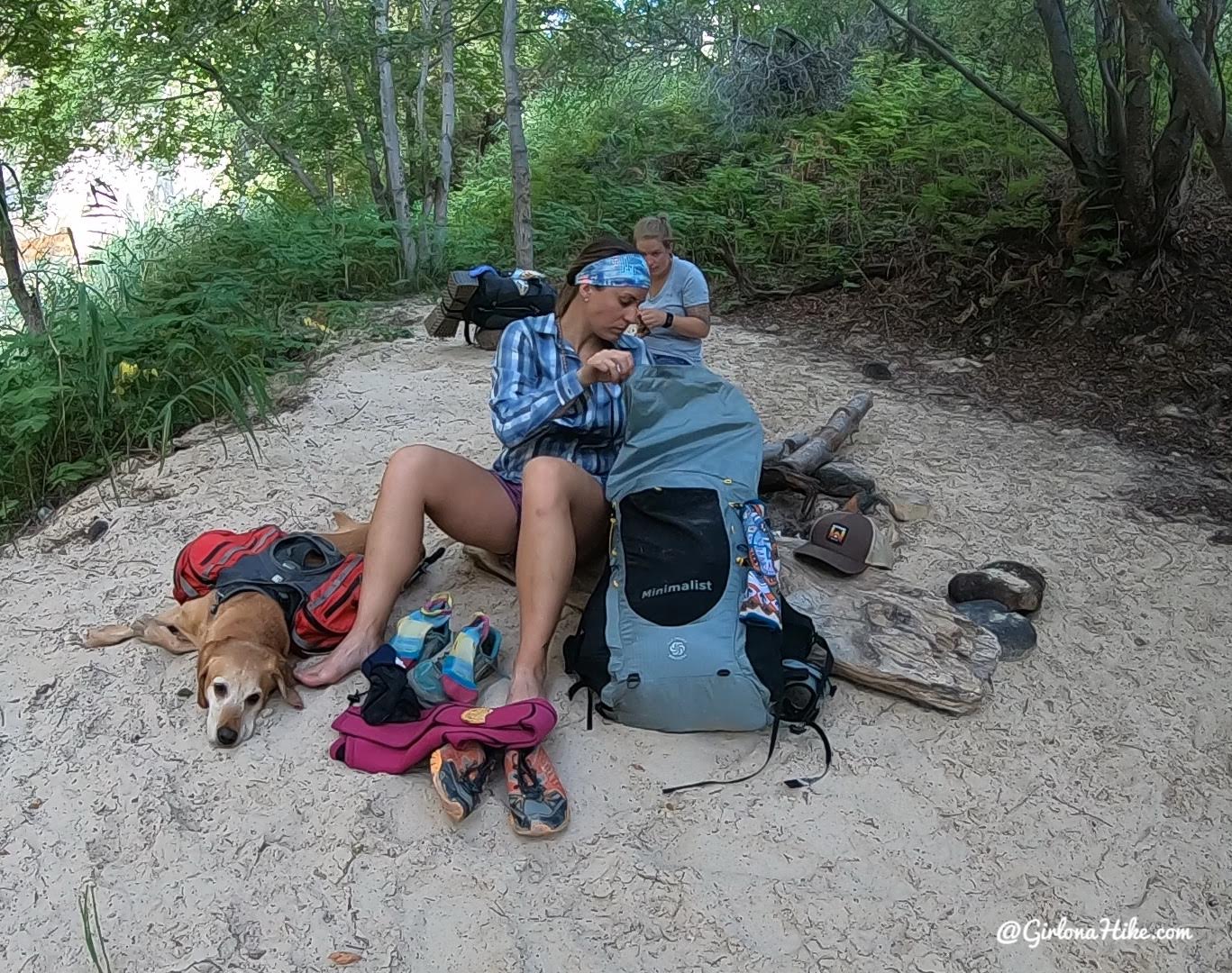 At 5.9 miles we reached the bottom of the canyon. We switched our to our neoprene pants and socks to prepare for the water crossings. Charlie took a quick break! By this point we had dropped a total of about 1400 ft from the TH. The backpack I'm using is my Six Moon Designs Minimalist pack!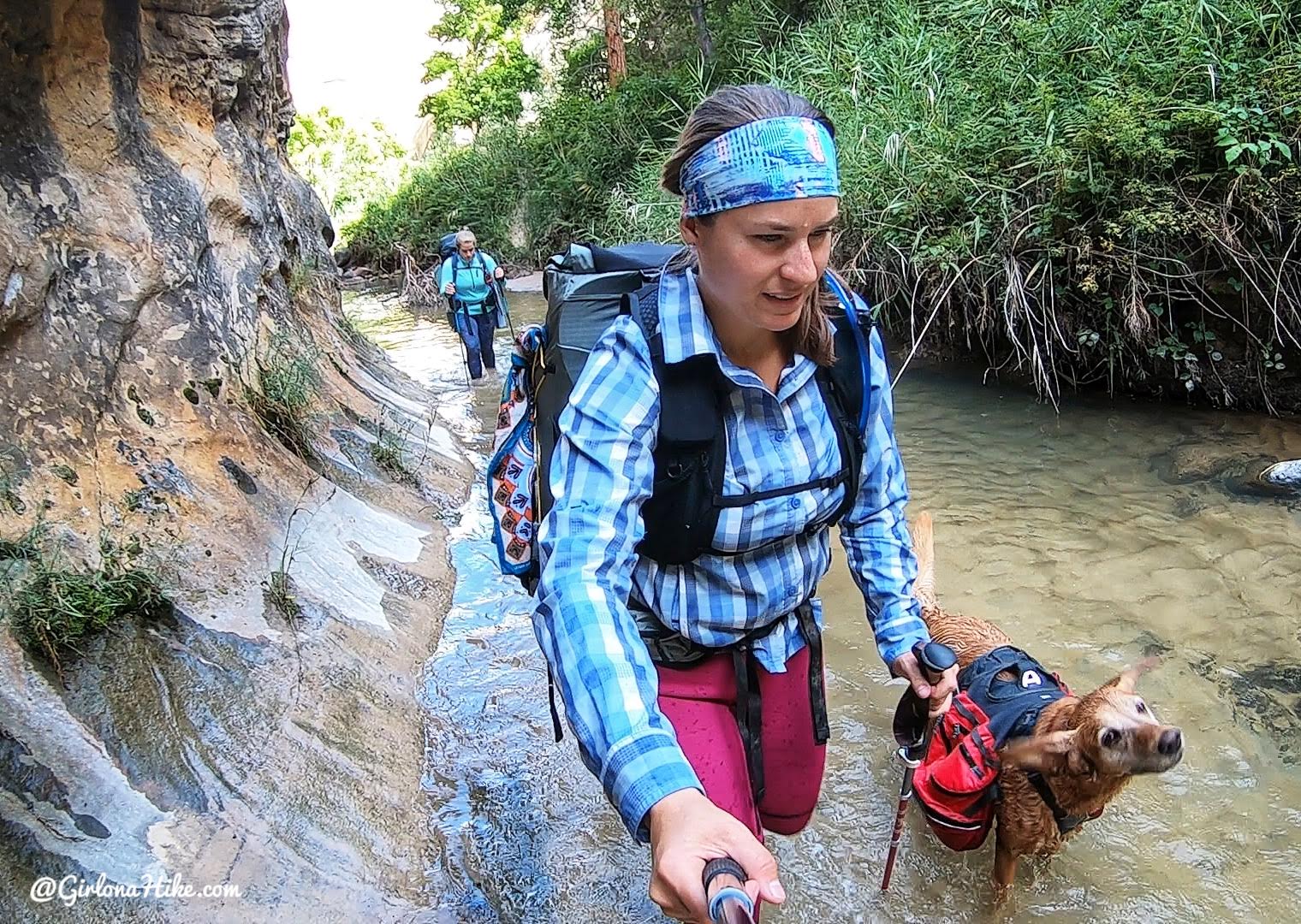 You'll immediately be in Mamie Creek, and will be in and out of water the rest of your trip!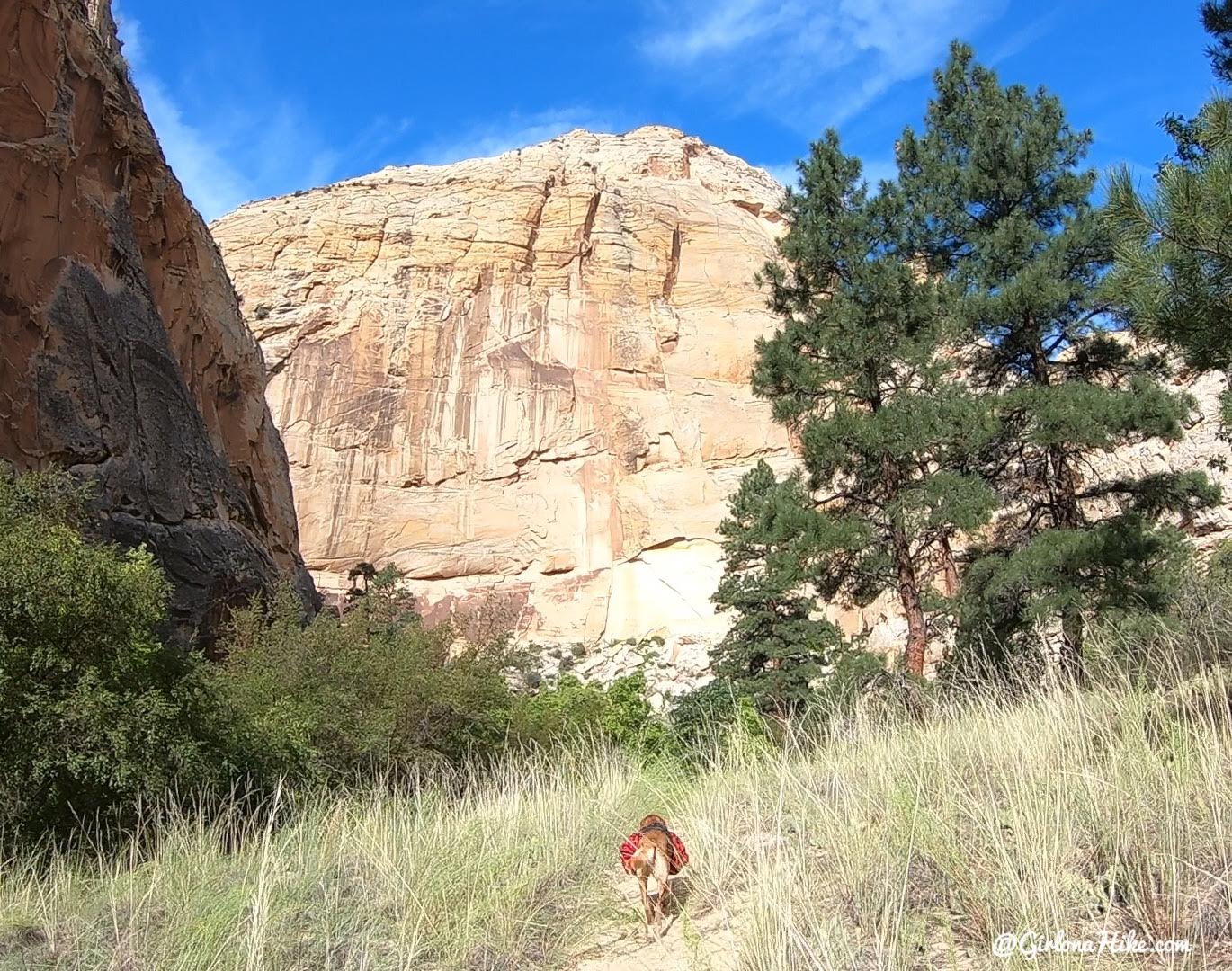 Back out of the creek, passing by Ponderosas.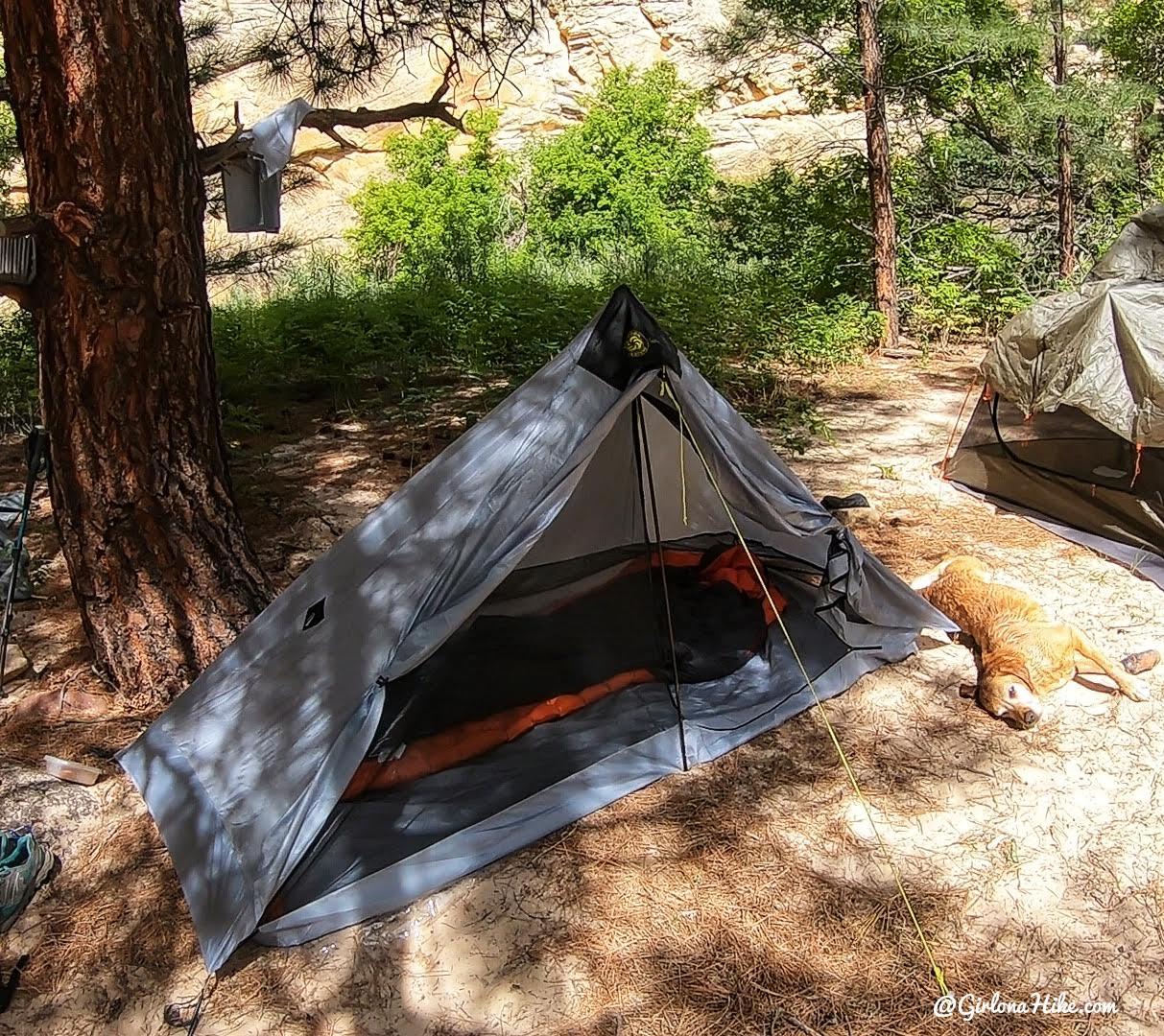 We only hiked about 2 miles down canyon before we found a campsite we liked, under Ponderosas and high enough up from the creek in case of it rained. The first day we hiked a total of 8 miles. The tent I'm using is my Six Moon Designs Lunar Solo!
Day 2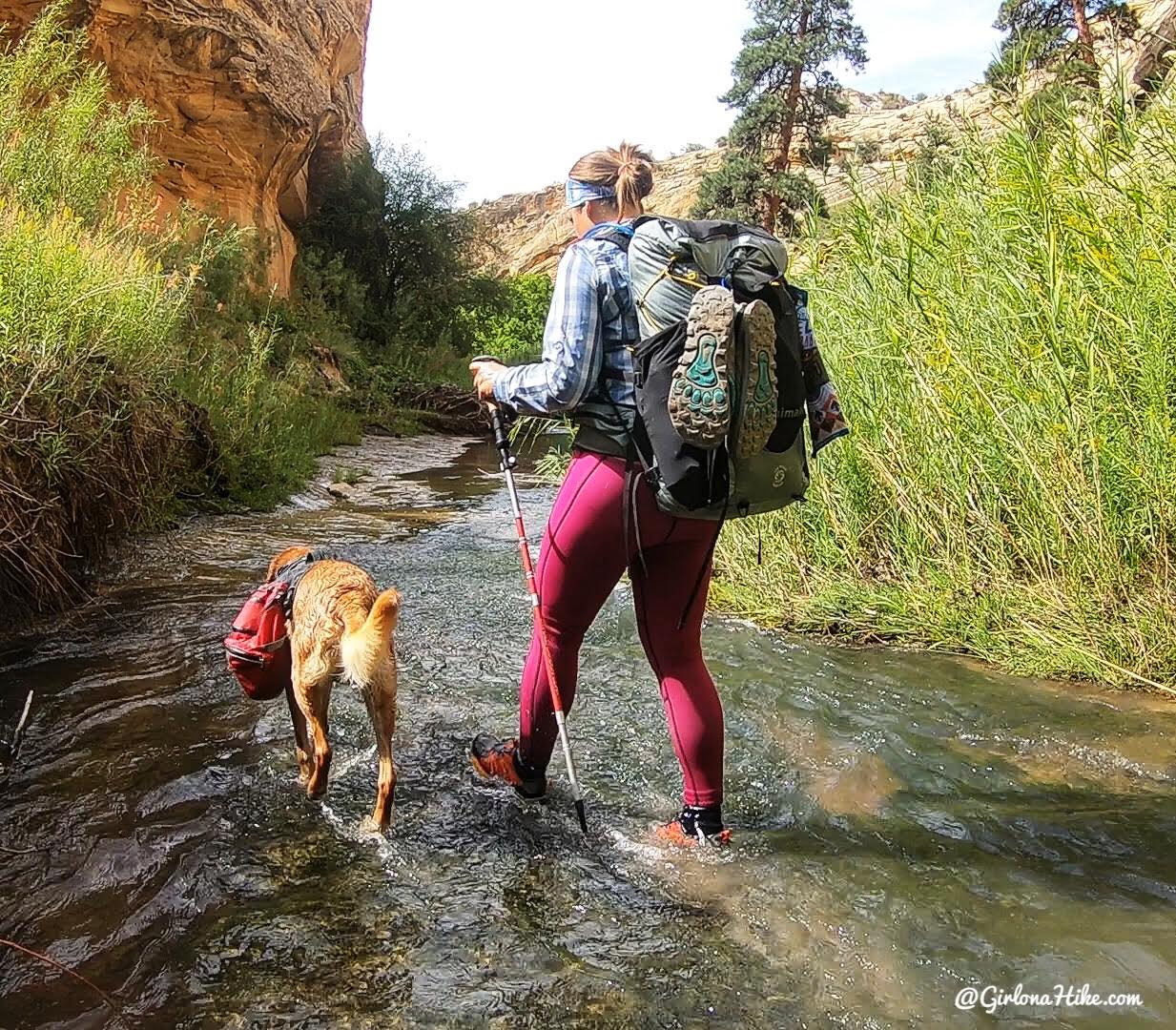 We were back in the water for another long day! Most of the time the water was ankle to knee deep.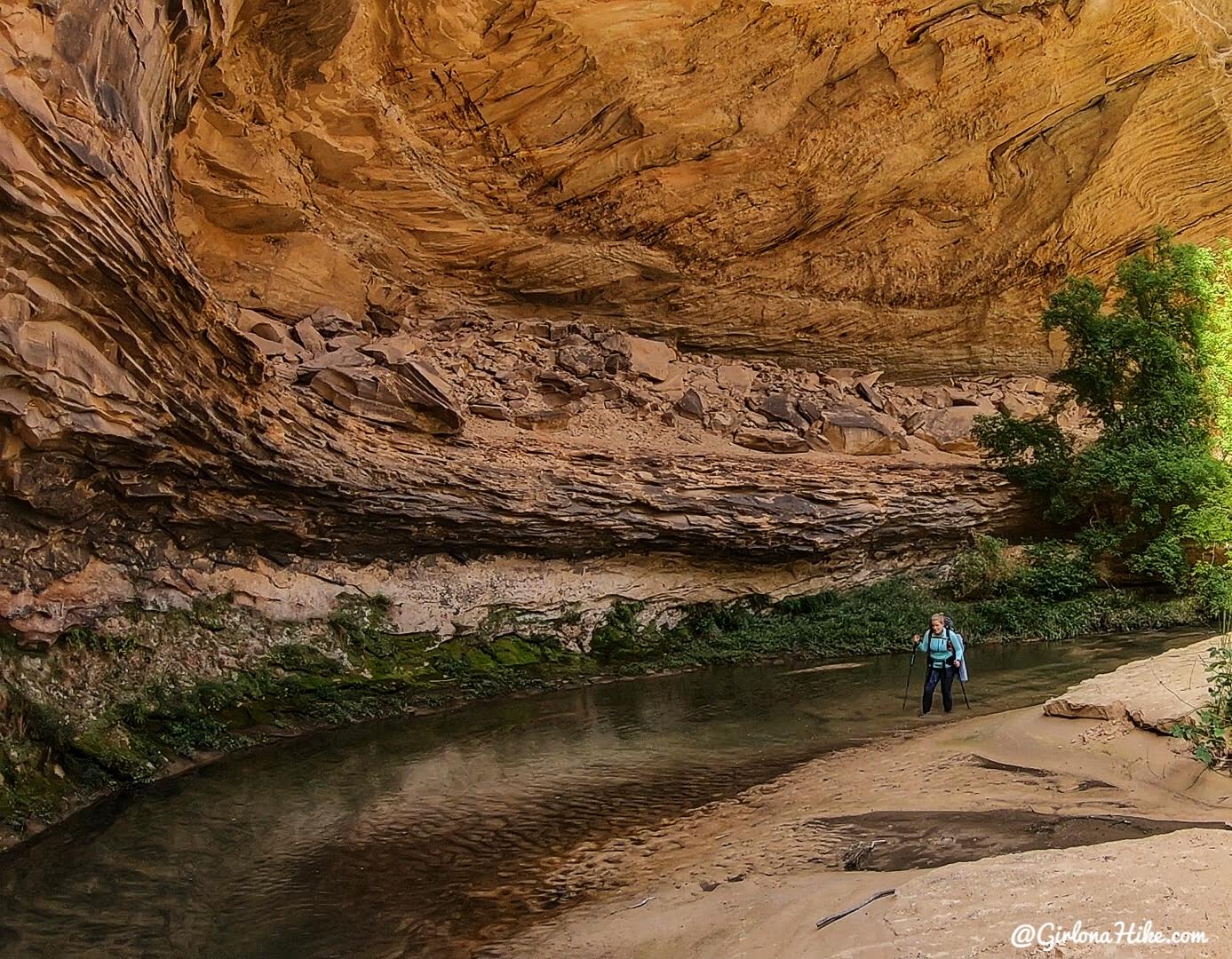 Ashley rounds a corner in a large alcove and tries to avoid the quicksand. The most we each sunk in was up to our knees, but I've heard of people sinking hip deep!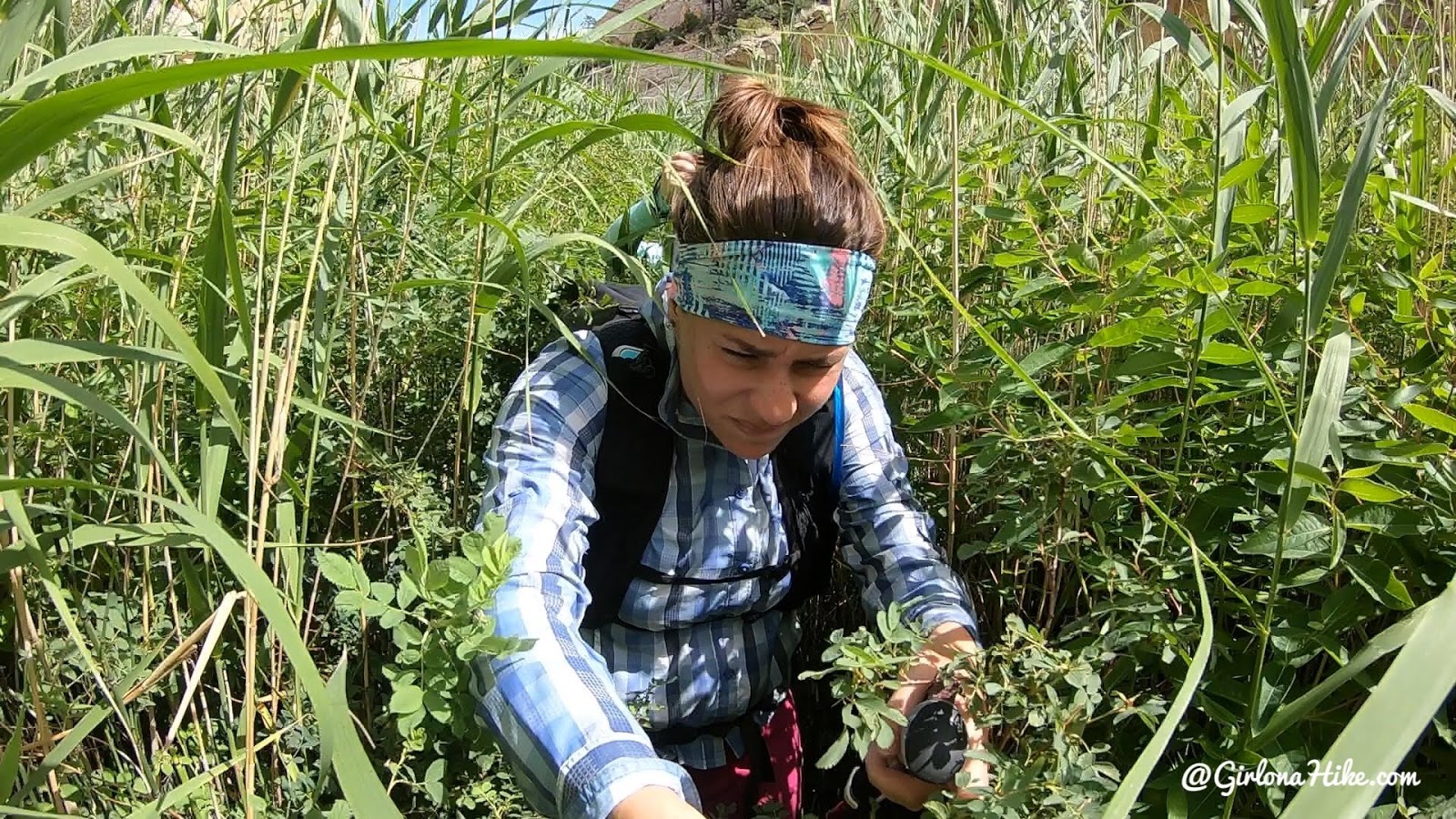 Here's the "what it really looked like" photo. Bushwhacking occurred about 70% of this hike! It got sooo tiring. You'll be doing this a LOT of the time on this route.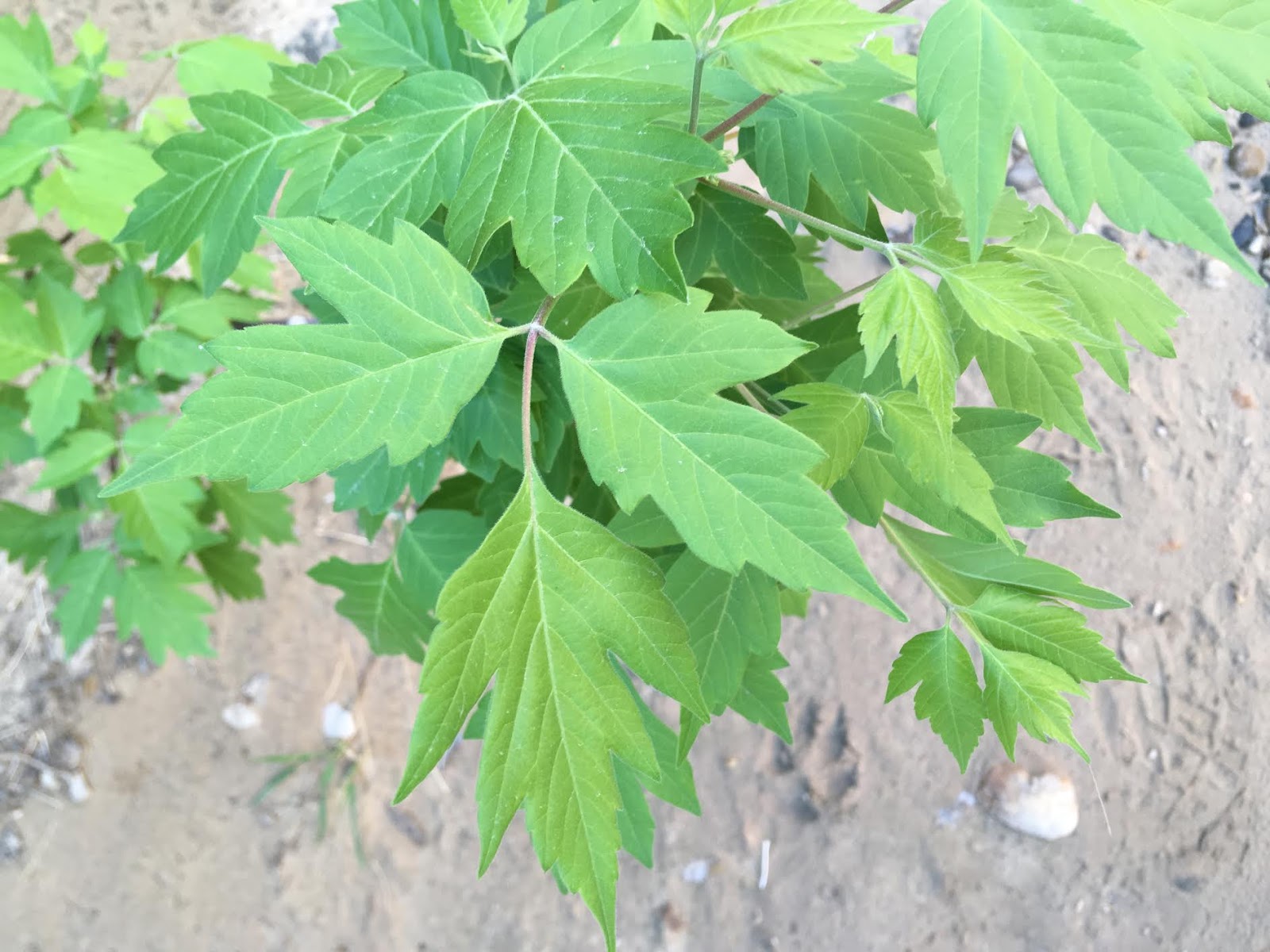 Poison ivy is very prevalent along this route. It's so bad that you need to wear pants, long sleeves, and cover your face as you walk through it, so definitely keep an eye out for it. Remember "when in three, leave them be". If you or the dogs rub up against it, rinse yourself with water as soon as you can. Splash the dogs off too – you don't want them to cuddle you then get it on you.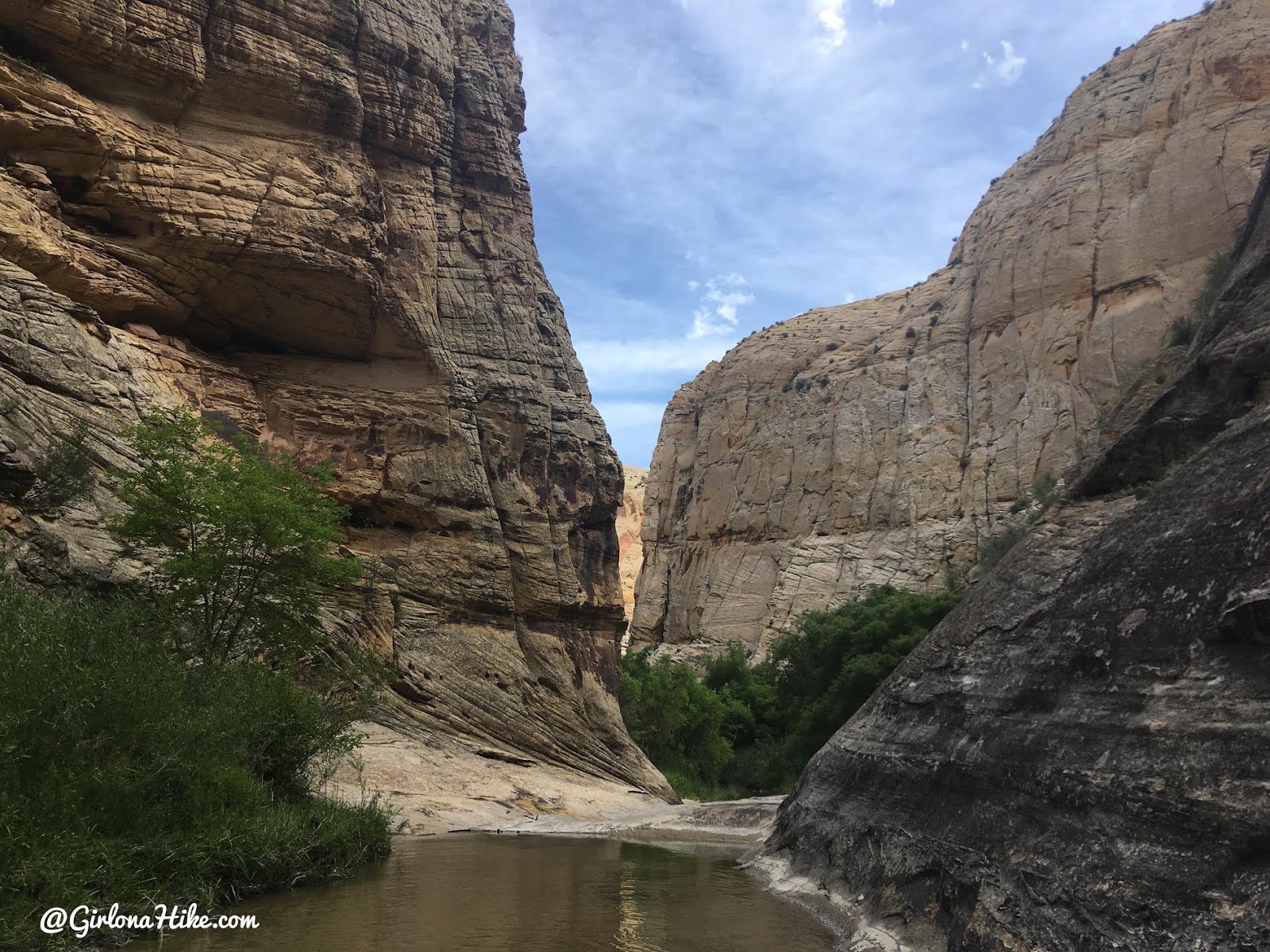 A few miles past our camp we came to the first "v" shaped section of canyon, and could hear water rushing.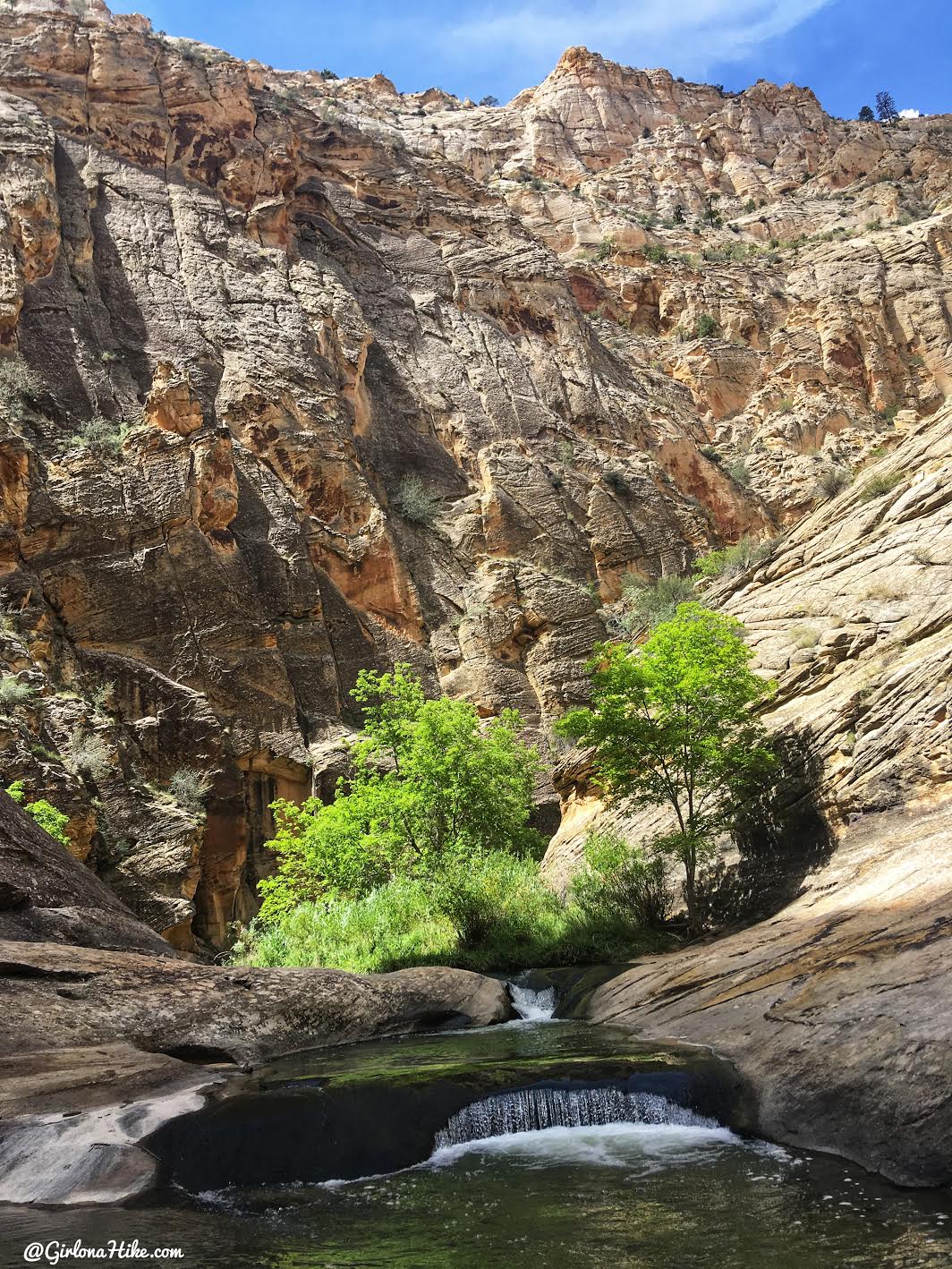 It was actually one of two pools perfect for swimming. I've heard that people need to carry their packs above their heads or float them across this section, however, there was the deep pool section and a section about knee deep for us to walk through so we didn't have to do that. We stopped for a snack break here and let Charlie swim without his pack for a bit.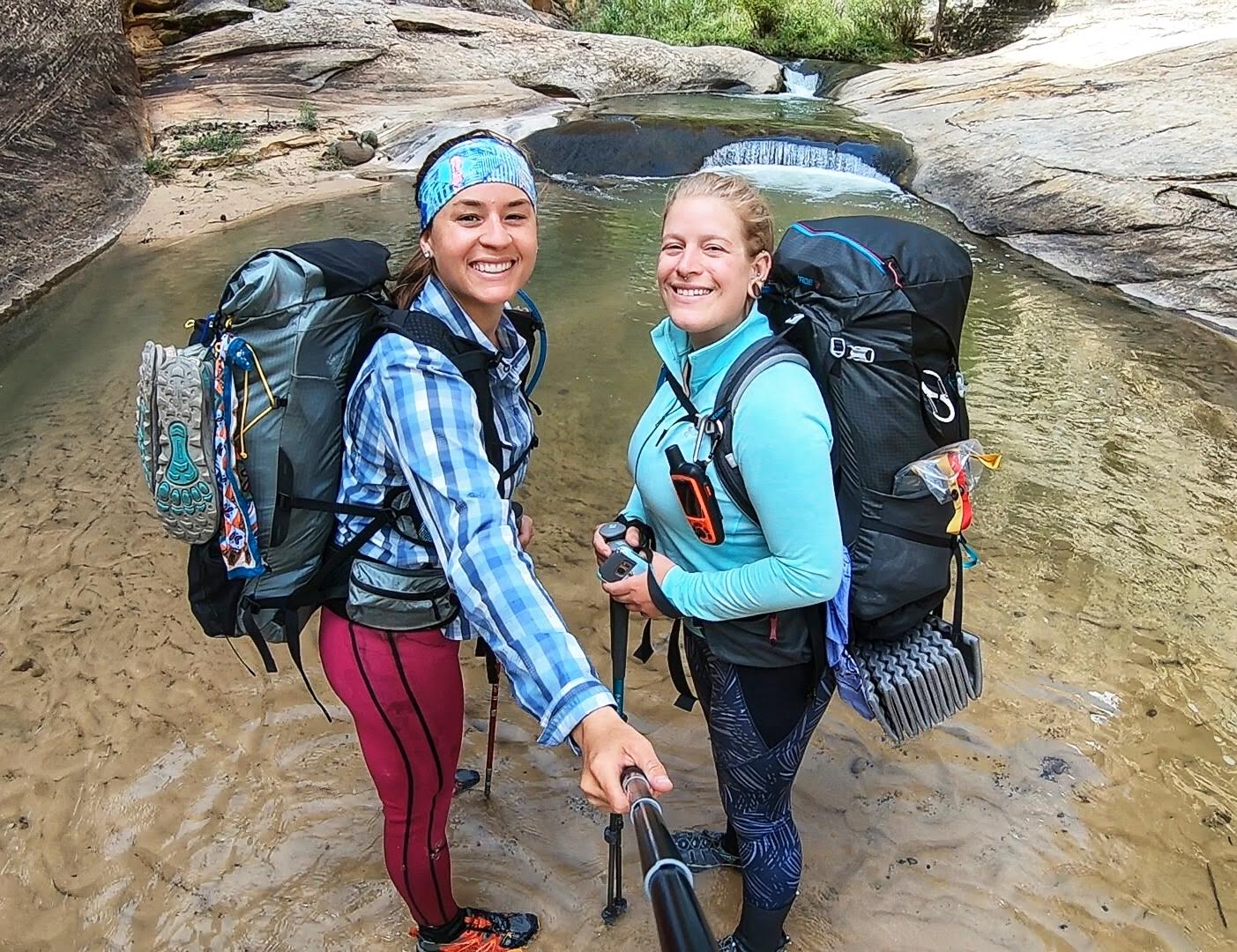 It was also a great spot for a #selfie!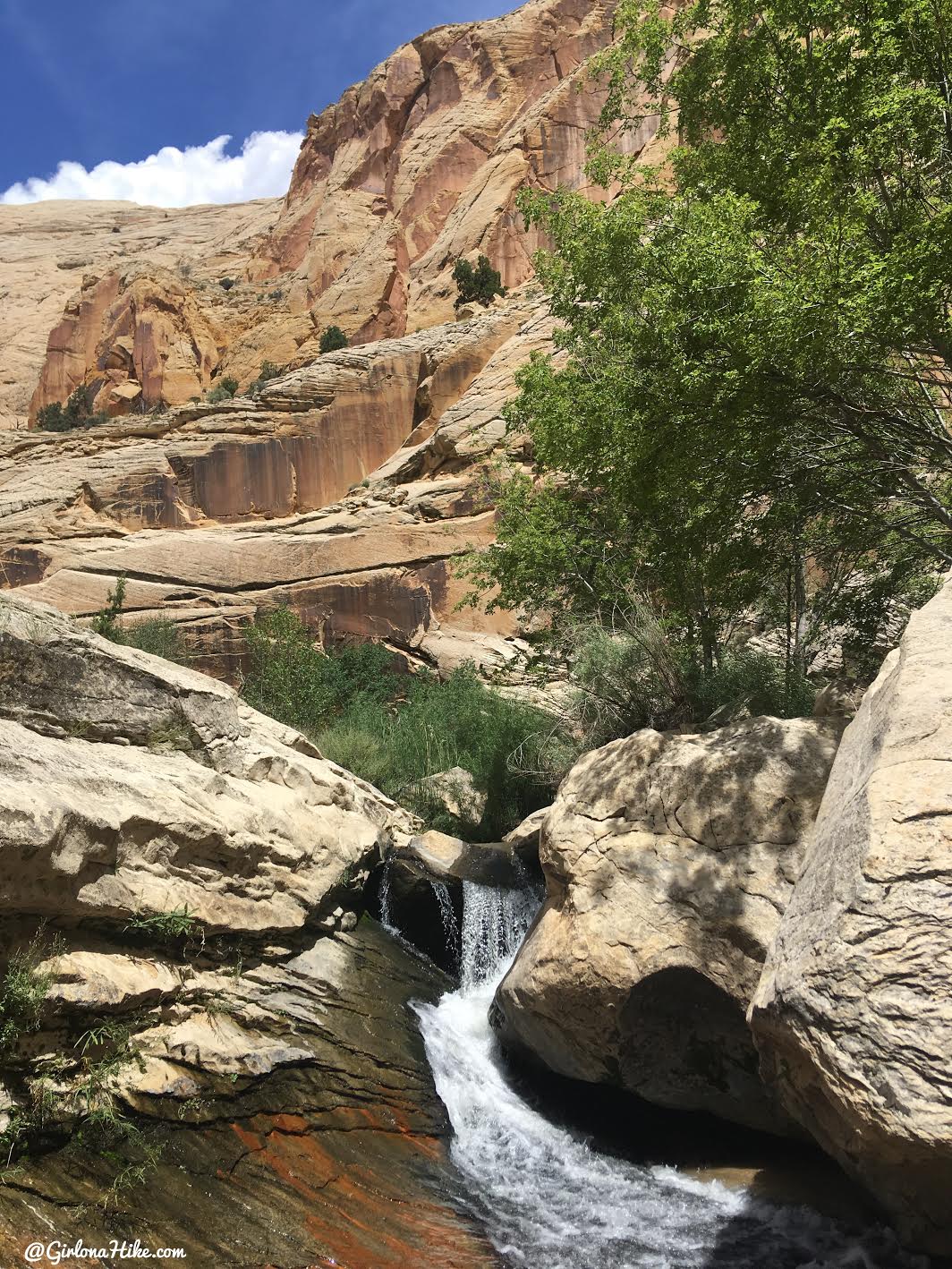 We heard more water rushing nearby and just around the corner from the pools was a small waterfall!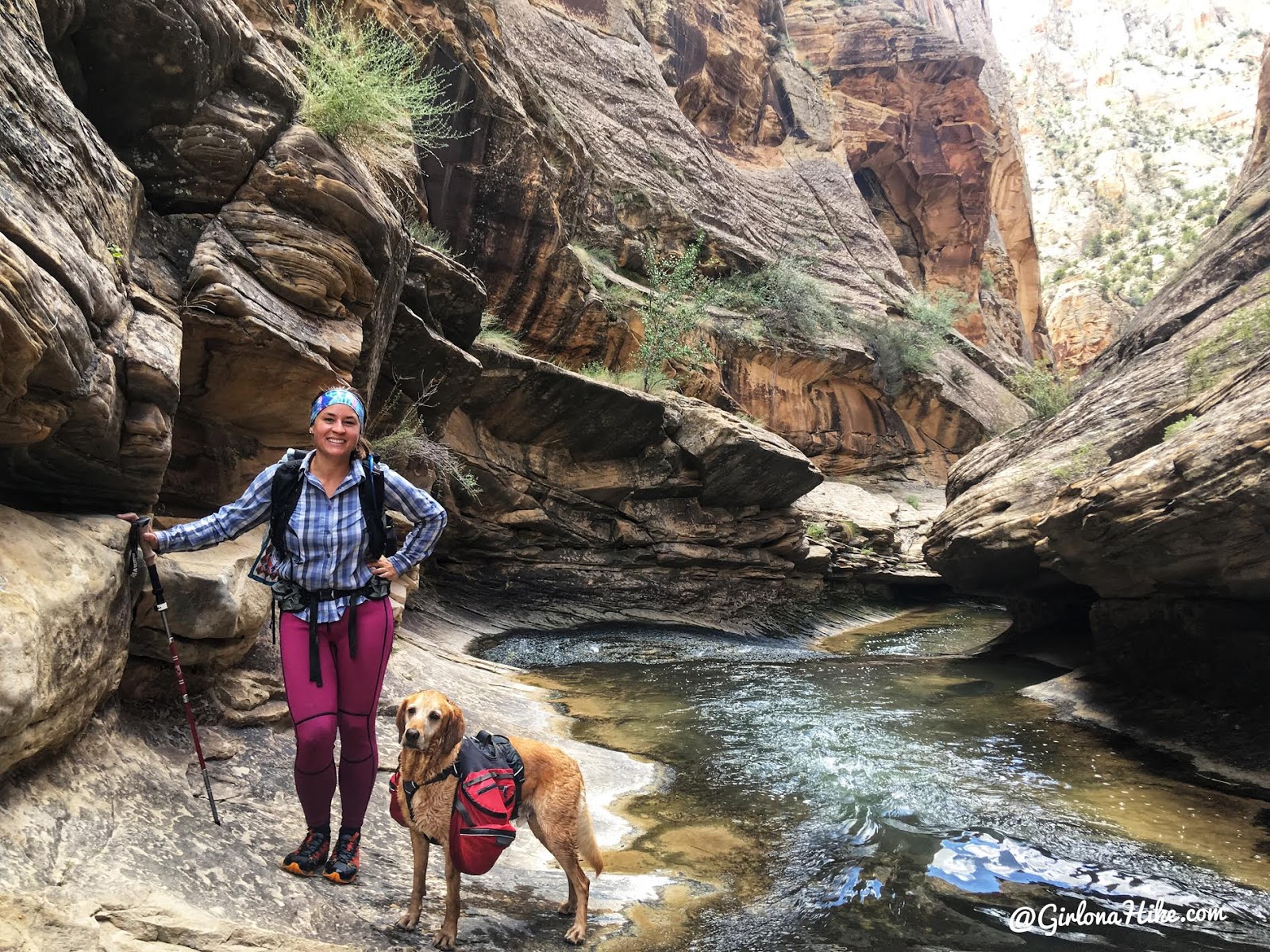 And finally we started to see the Narrows section of Death Hollow. Just what we were here for!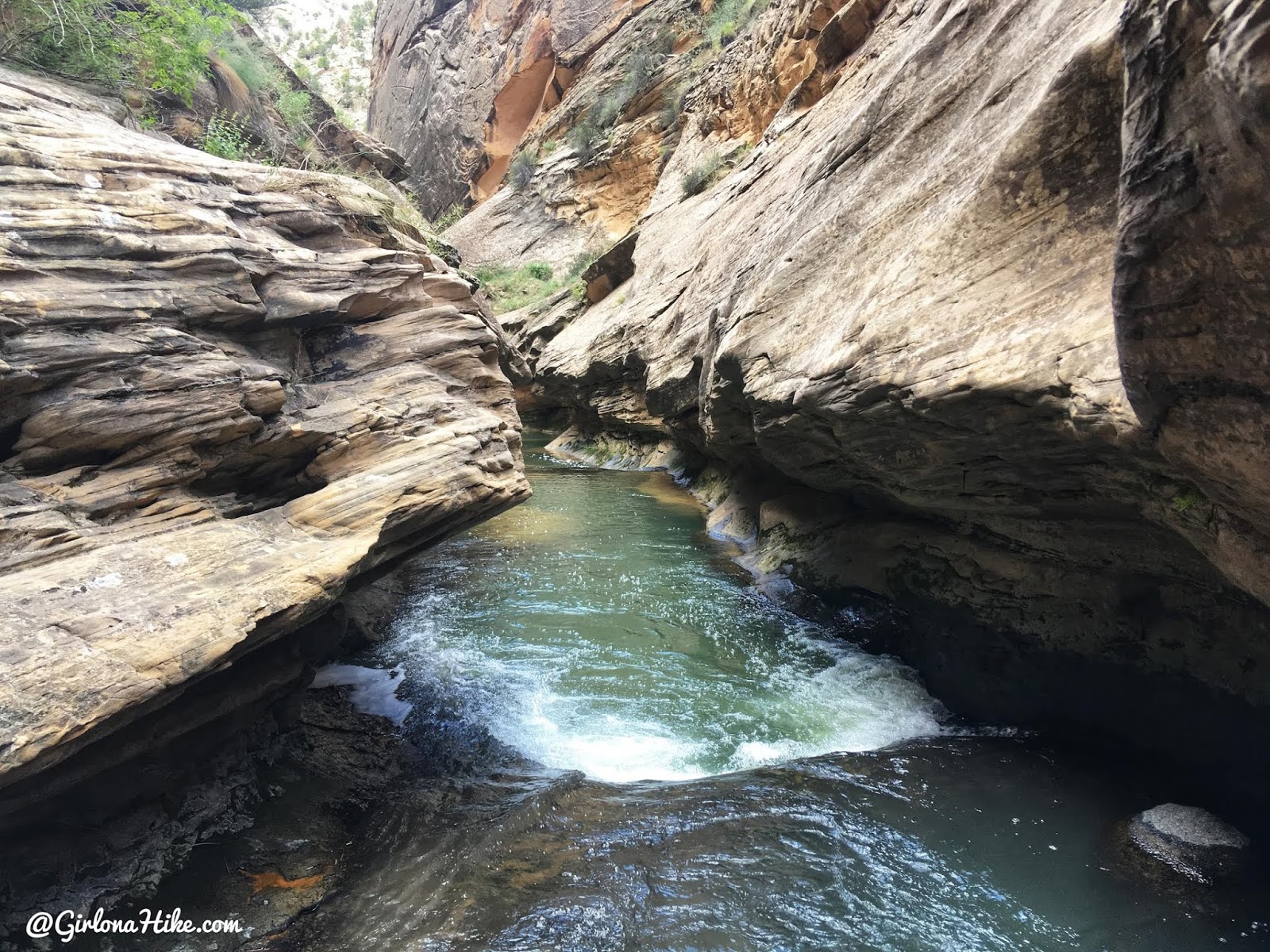 The canyon was only about 10 ft wide here. This section we actually got on our knees and crawled underneath the ledge to the left.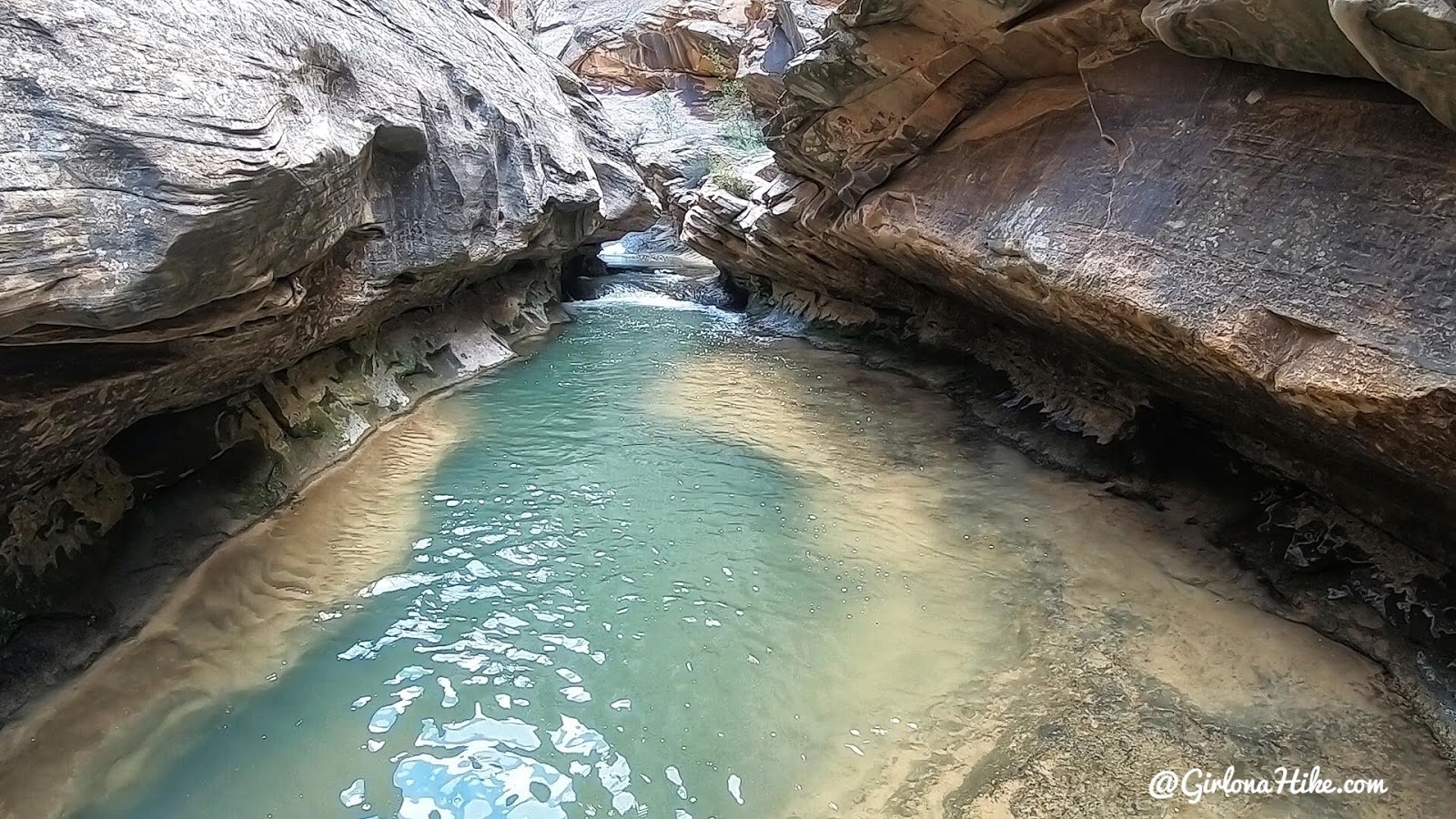 These pools were really deep. We're not sure of an exact measurement but out trekking poles couldn't touch. That was too deep for me. You all know I'm not a fan of water (unless I can see the bottom), so this was freaking both of us out a bit. The lighter color is the ledge you can actually walk on, so we tried to stay close to that. However, the next section didn't have a ledge…I wasn't able to get any photos of that next part because I had to put everything in my pack to make sure it didn't fall into the water and sink. There wasn't a ledge so we couldn't even butt-scoot our way across like earlier. The only other option we had was to use a small pool floatie I packed.

So here's what we did. We each took turns floating across on our stomachs with our packs on our backs still. Let me just say, this was the most stressful part of the hike for both of us. I really wish I wasn't such a baby with deep water, but it really freaks me out. Our fear with trying to scoot across was that because the walls were so slimy we would slid in with our packs on and keep us from being able to swim. We thought we'd sink down. Our way worked, and if you are nervous around water like us, definitely pack a cheap pool floatie. If nothing else, you can swim and at least get your packs across dry! This is the

pool floatie

I bought, then carried just one along. Saved our life!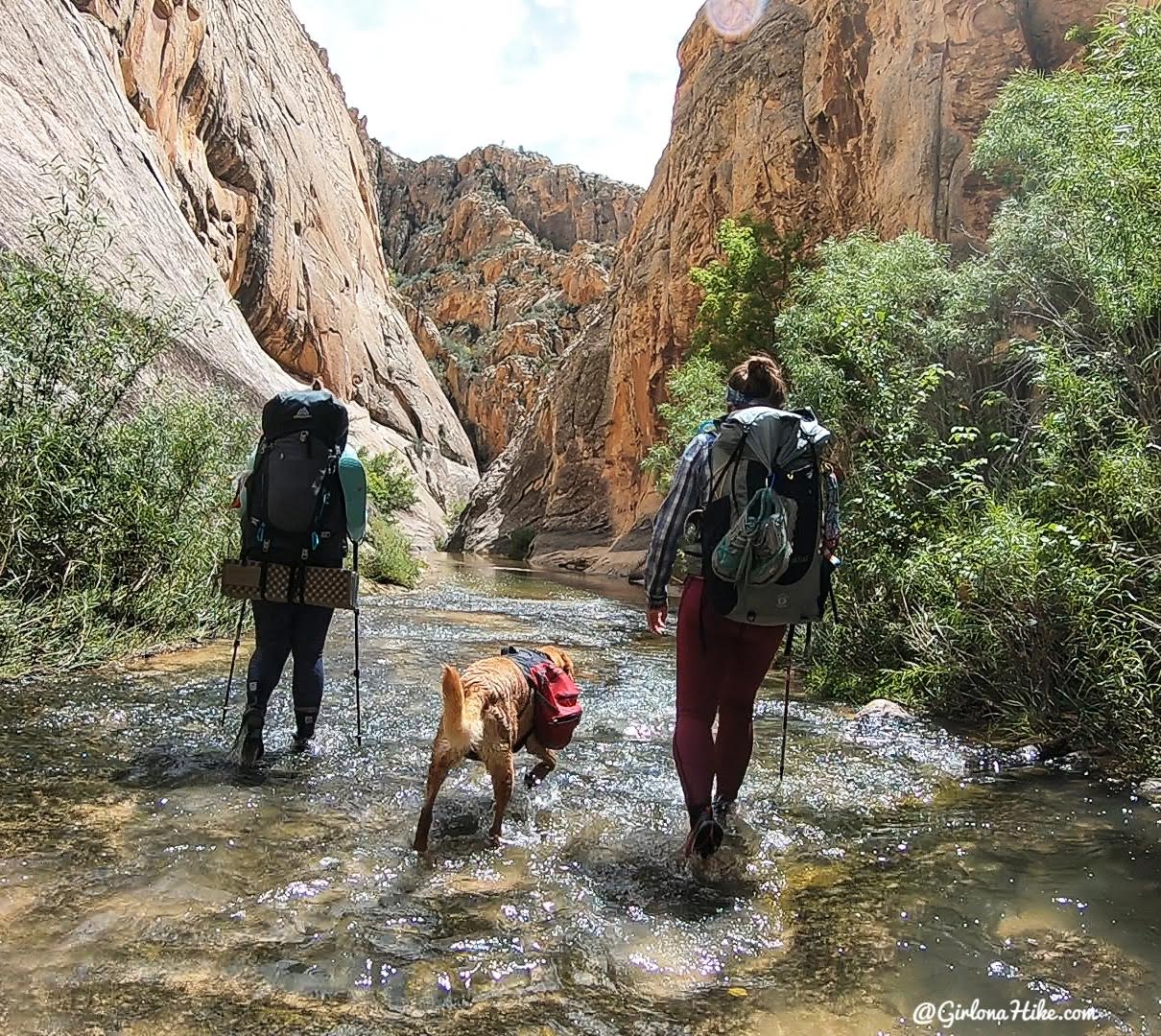 Past the Narrows and back on our feet, walking on sturdy rock now.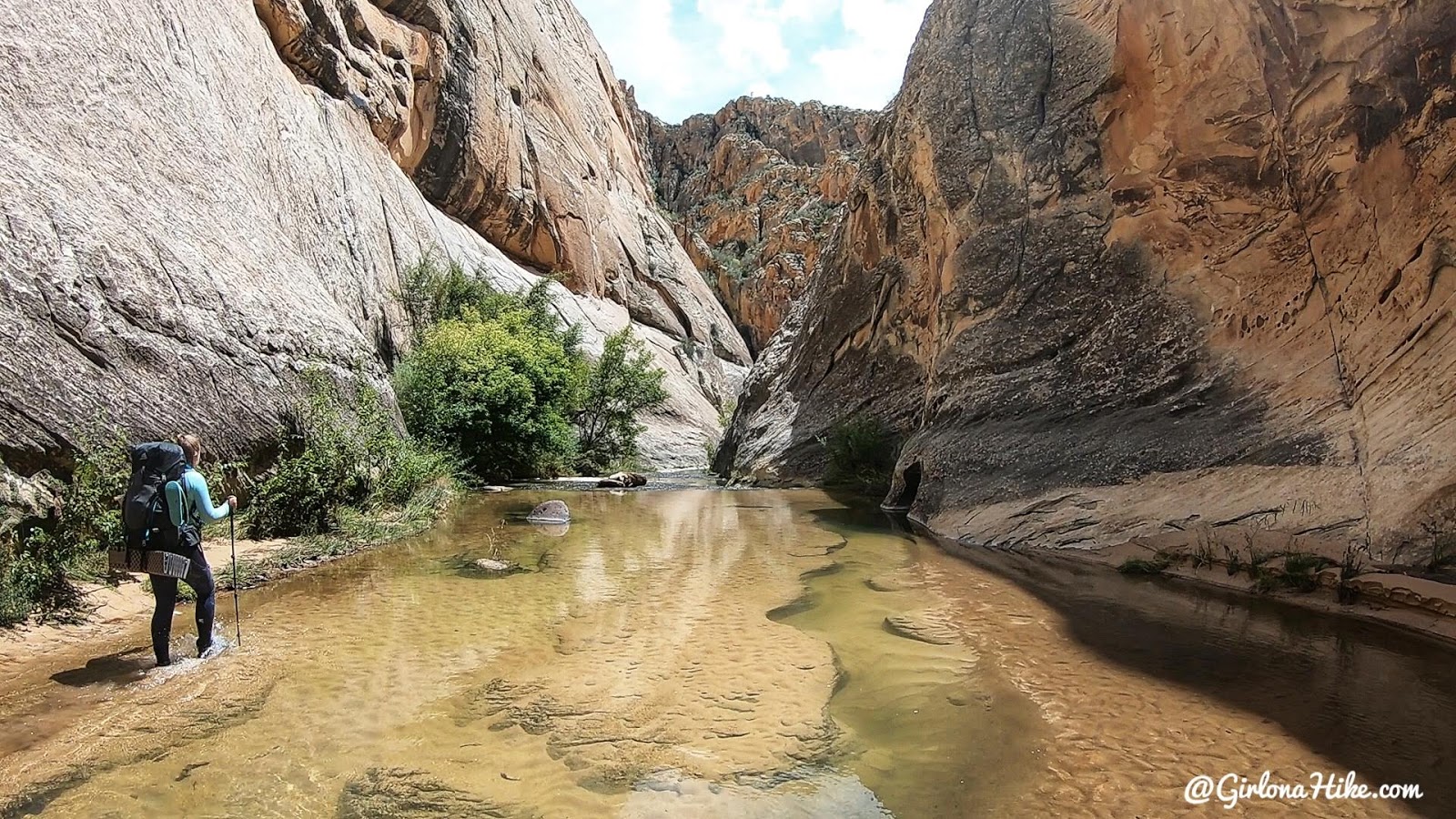 The canyon continued to be prettier than the upper half of Death Hollow. This was definitely the better section.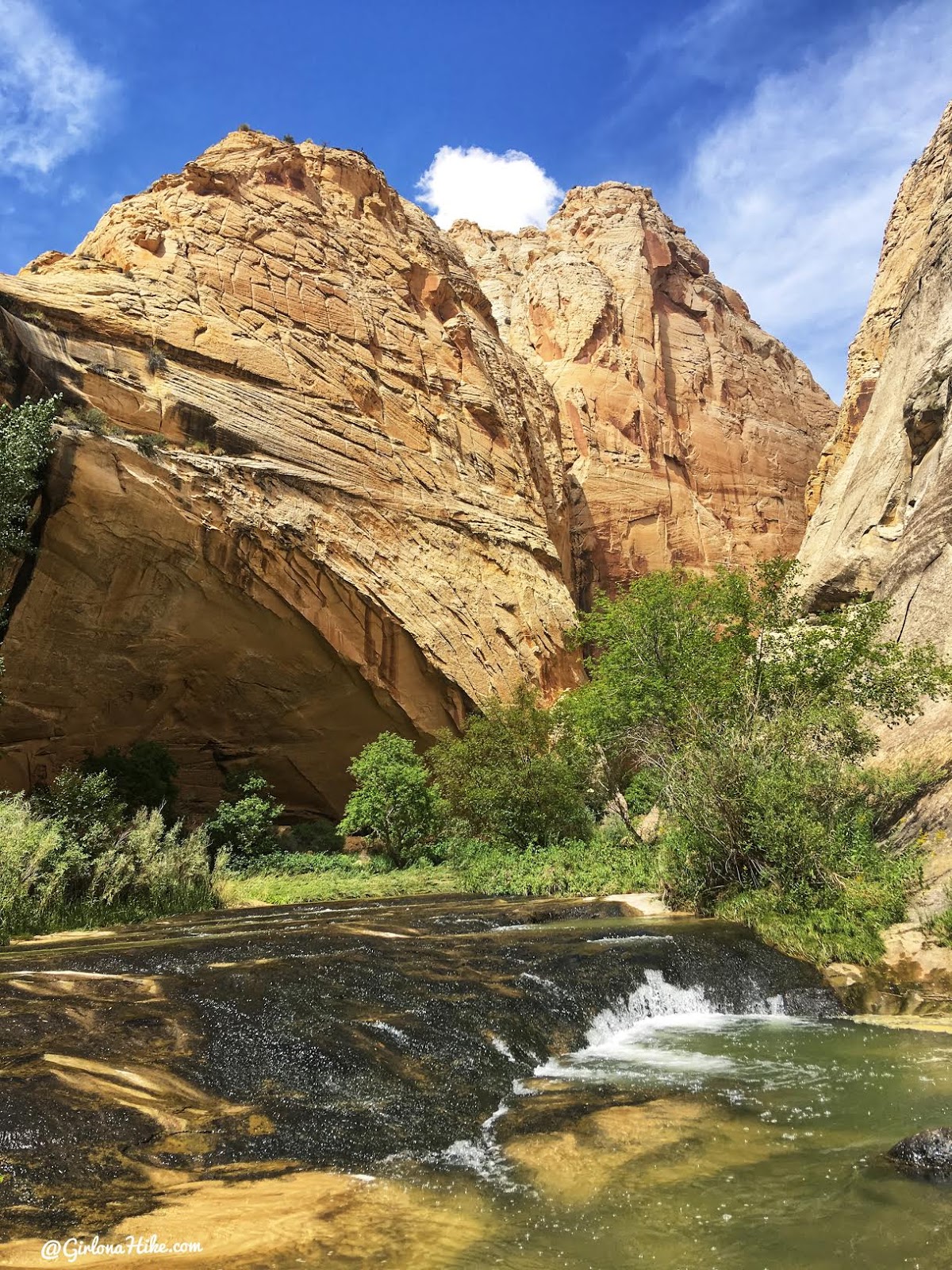 We passed one more large pool under an alcove, with these cascades just after. This was another great section!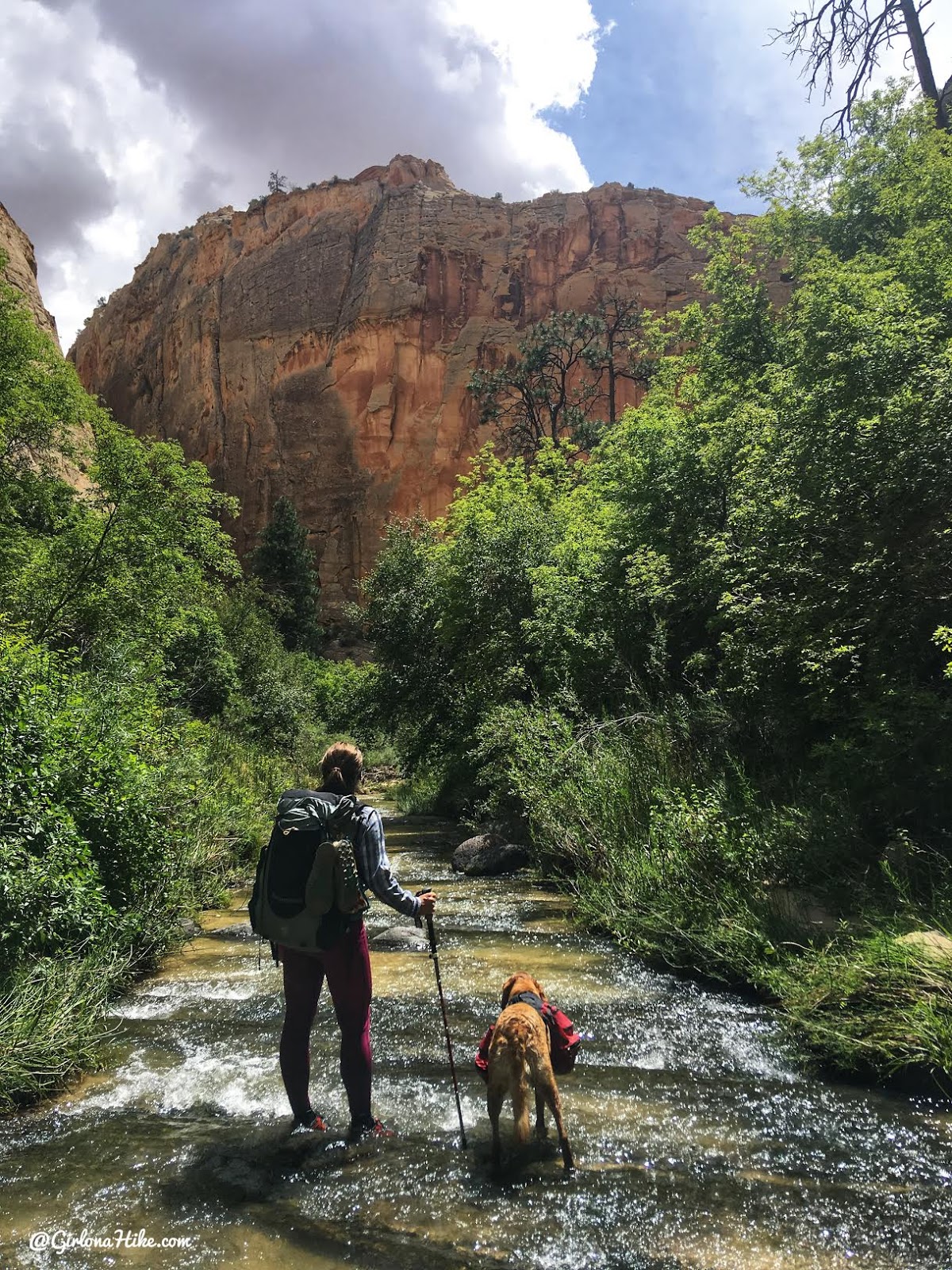 My favorite part of Death Hollow was when we would walk in the water on the smooth rock. No quicksand, no poison ivy or bushwhacking, just happily walking along the creek.
After another 8 mile day we reached the Mamie Creek/Escalante River confluence and set up camp.
Day 3
On day 3 we set out from camp, and had another 8 miles up stream along the Escalante River until we reached our car.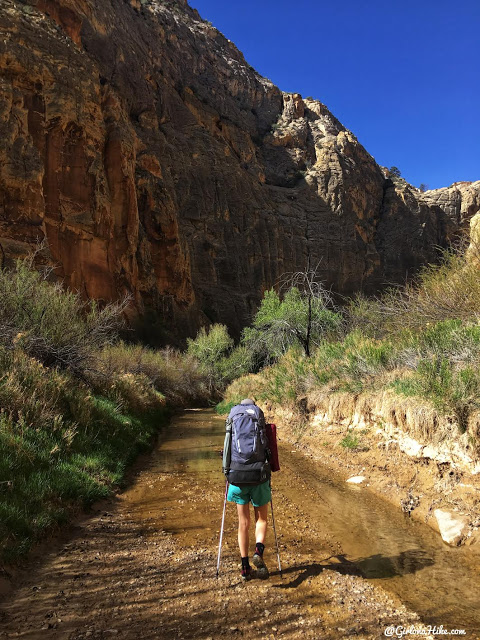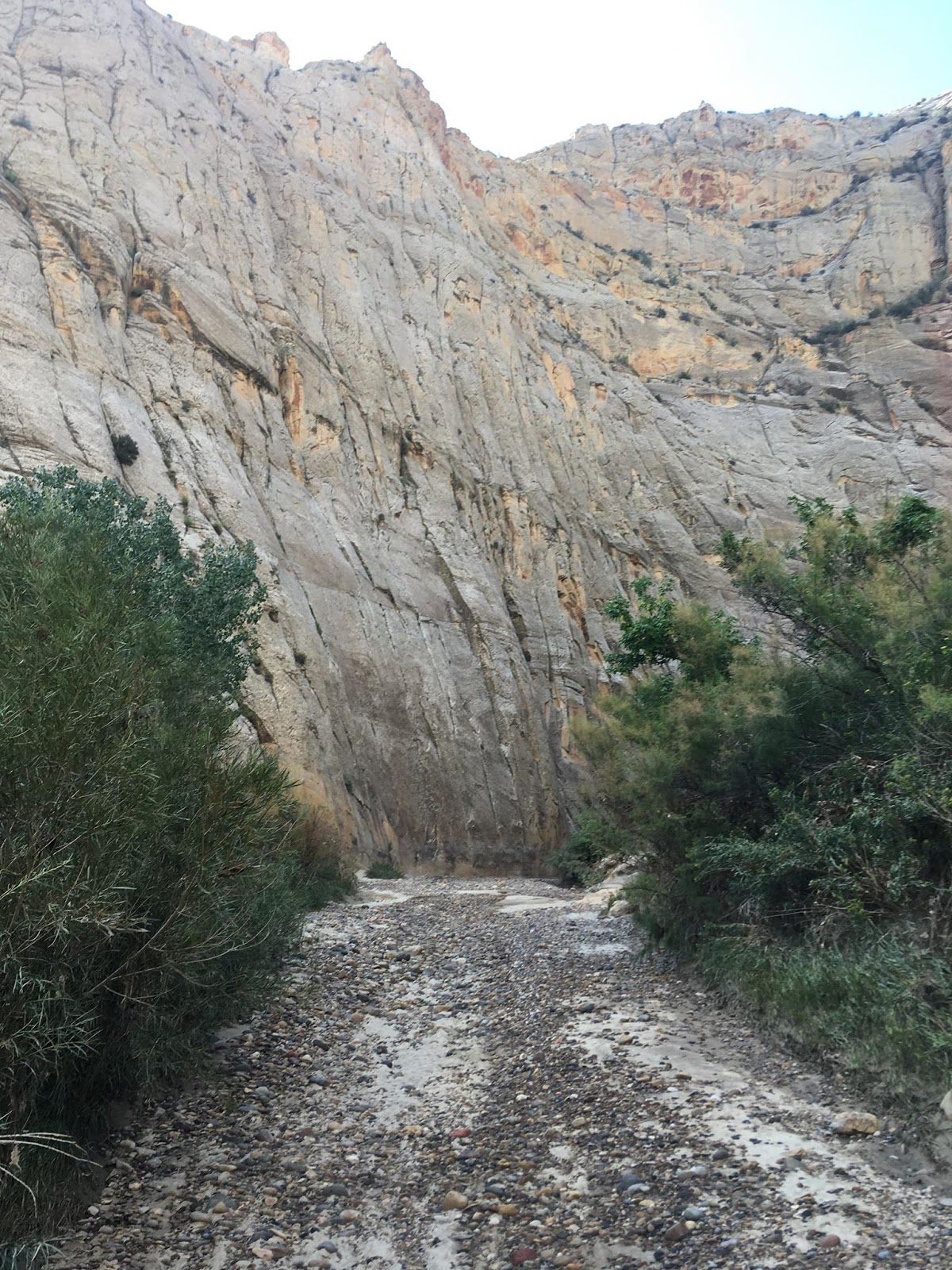 April 2018 vs August 2019
This exact same spot was bone dry from when I had backpacked this in April 2018. I was expecting the Escalante River to be flowing just as it was in April, but this year was not the case. Later we learned that in August/late Fall the Escalante is dry. We grabbed burgers at the Circle D, and our waitress was telling us that the river is usually like this. We ended up see water further up the trail, but it was not to the extent that we had in April.
So lesson learned – make sure you fill up on water at the confluence before hiking out the last section in case it's dry. Thankfully we had done this, but if I had known it was totally dry I would have started hiking much earlier in the day.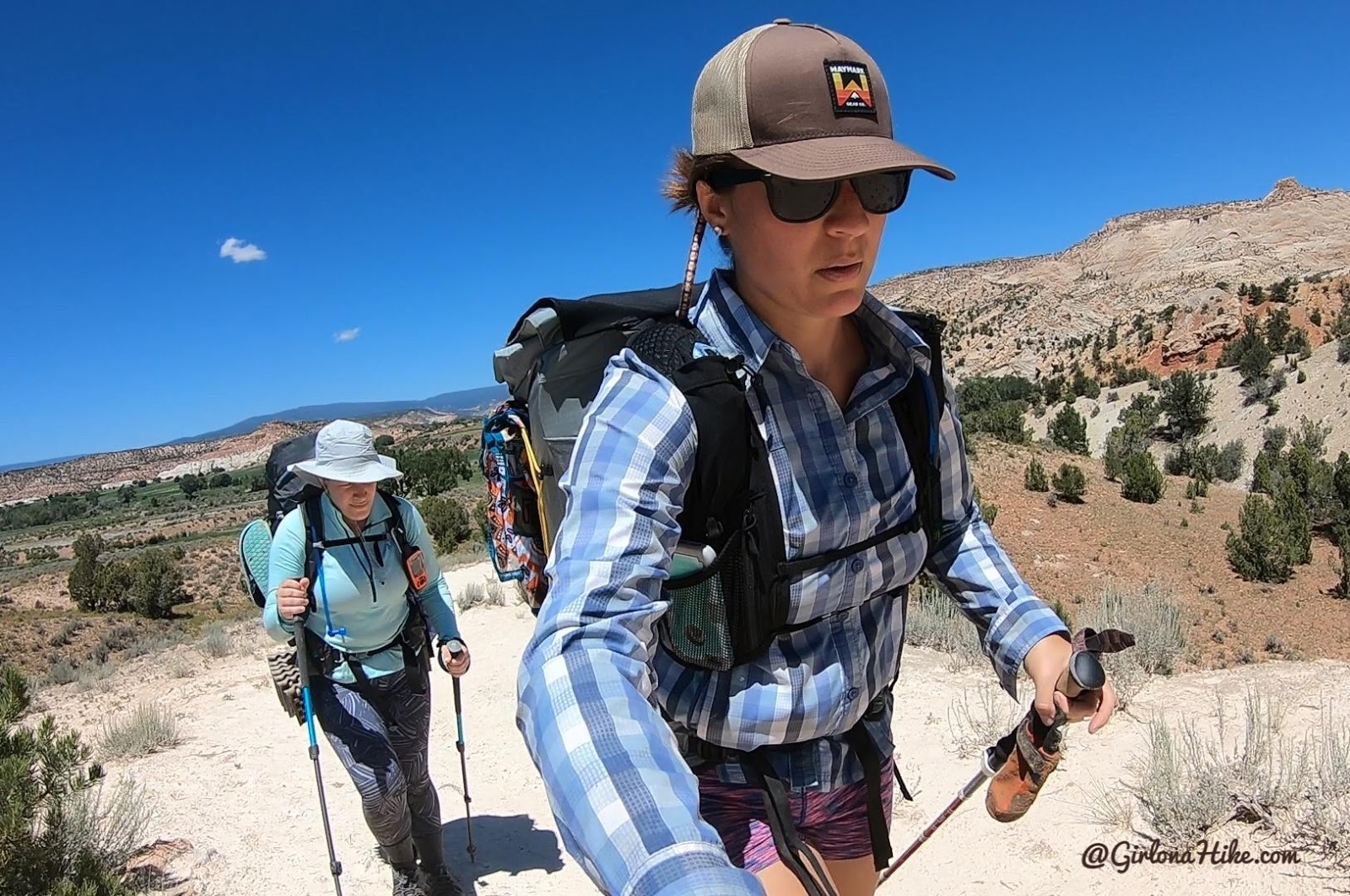 Whew, it was hot! Charlie started to burn his paws a little the last section so I had to put his booties on him and then he was much better, but even Ashley and I were dripping sweat.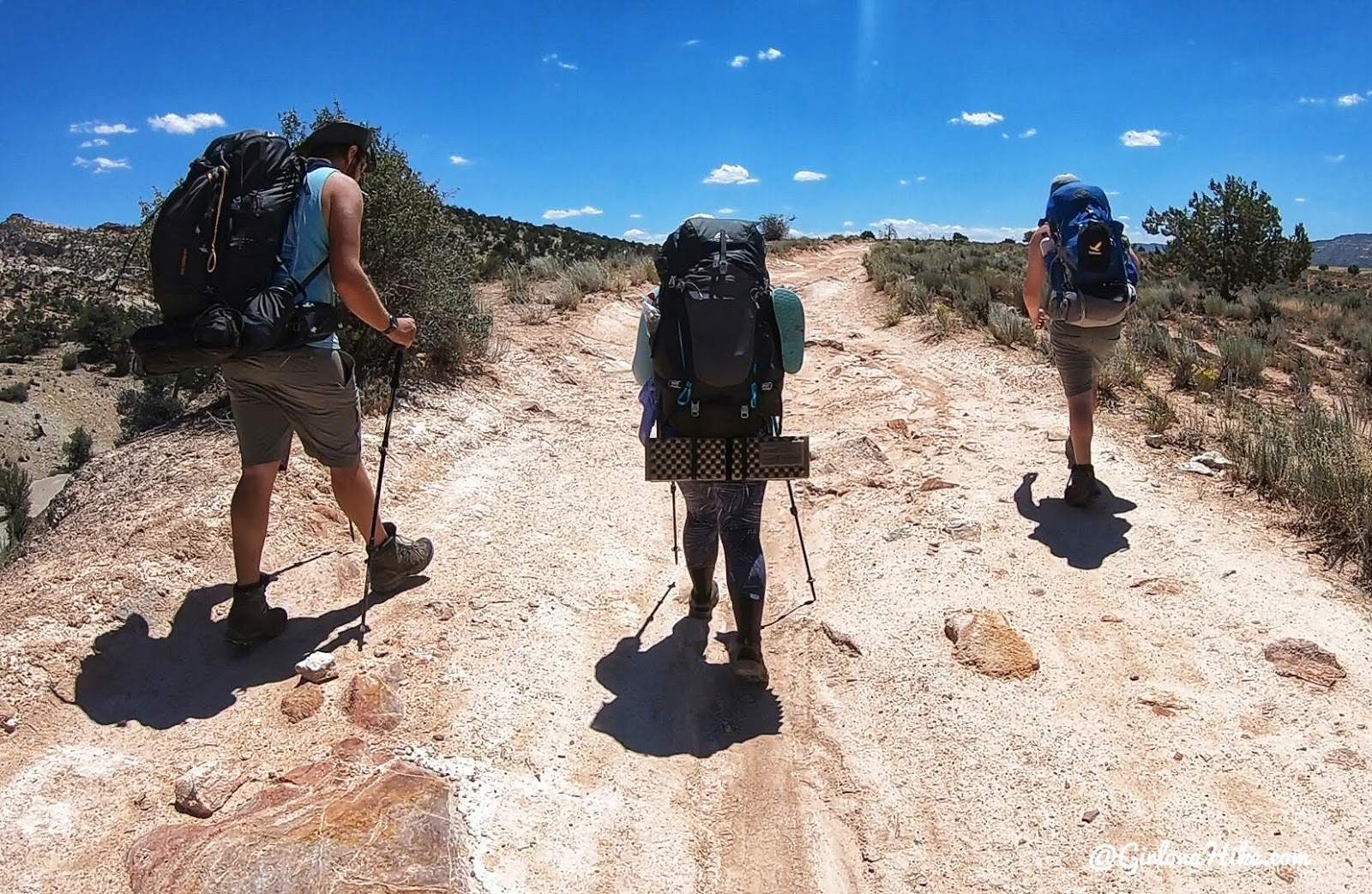 Two of our friends met us for the last 3 mile hike out, which was much needed since we were getting tired and worn down, so the having friends to talk to helped us a bunch!
Here's what I would do differently if I went back to Death Hollow
Skip the upper portion of the canyon (Boulder Mail Trail to the Narrows) – you're not missing out on much just a ton of poison ivy and bushwhacking. Instead, hike in from the Escalante River Town TH and camp at the confluence. The next day hike upstream in Death Hollow until you reach the narrows to just explore that but bring someone along who actually likes swimming and would get in to show me how deep it is and bring a pool floatie to have fun (not for carrying packs). Then turn around and camp at the confluence again. So basically, camp two nights at the confluence and day hike to the Narrows. That would have been much more enjoyable because the prettiest section of Death Hollow is the 4-5 miles up from that camp anyway.
Another shorter option would be to hike in from the Escalante River Highway 12 TH. You would still camp at the confluence, but instead of 8 miles its only 6.5 miles in. However, this section is not nearly as pretty as the Escalante River Town TH. So you'd trade off pretty scenery for a shorter hike.
Check out my post on Backpacking the Escalante River Trail to see what the entire route looks like, including both of the trailheads mentioned above. We did the whole 15 mile length April 2018 as an overnighter.
Check out my Youtube video!
Trail Map
Our 25 mile route. My track via Gaia GPS – the best tracking app! Get your app here for a discount.
Recommended Gear
Nearby Hike
Backpacking the Escalante River Trail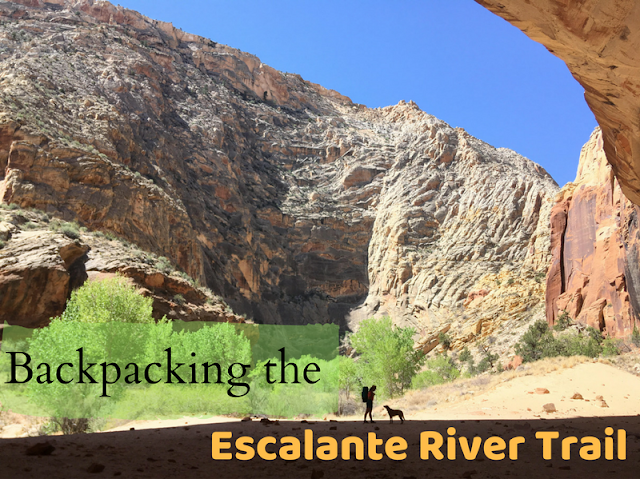 Save me on Pinterest!