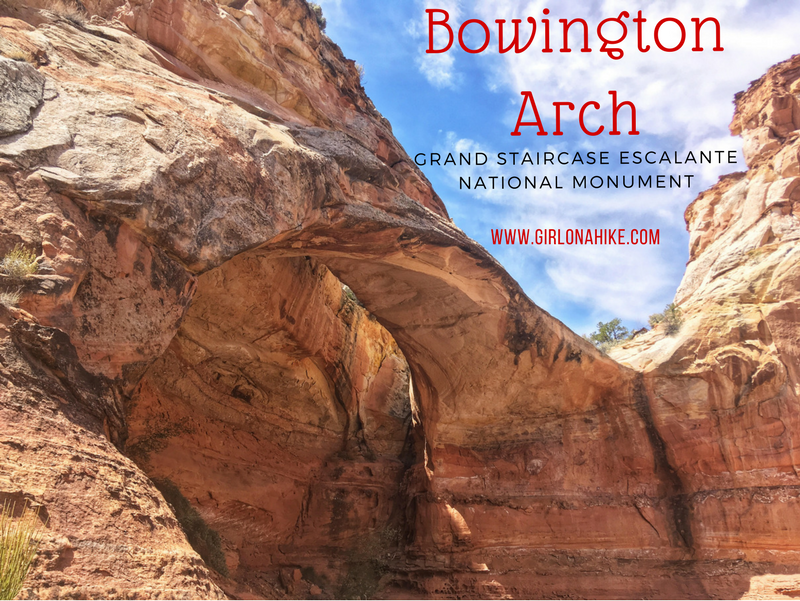 Hiking to Bowington Arch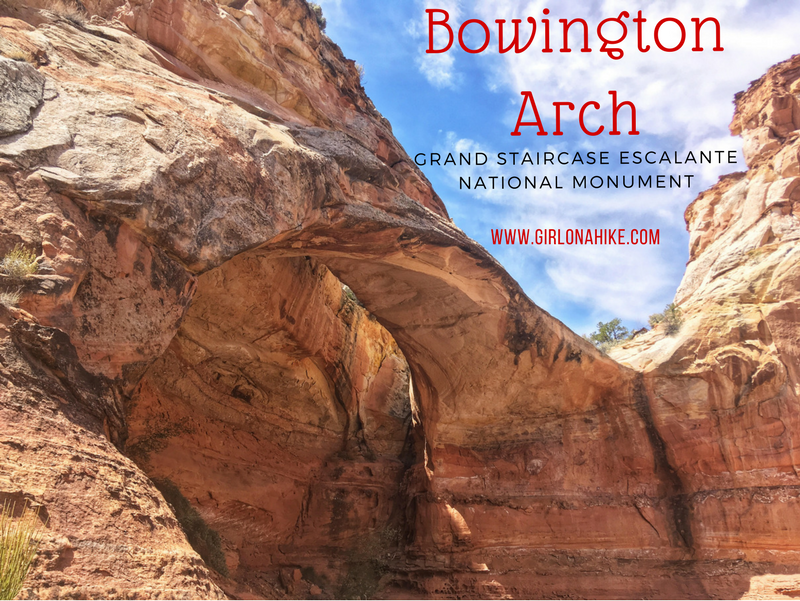 Bowington Arch is located in Grand Staircase Escalante National Monument (GSENM) near the town of Escalante, UT. It's an easy hike that crosses the Escalante River several times, and therefore it's important to wear water shoes. You will also hike through sandy sections with sage brush and cottonwood trees. Bowington Arch is dog-friendly and (possibly) kid friendly. There are no obstacles of any kind except for one small scramble the the dogs can easily do, and some younger kids might need help with. I say possibly kid friendly since this trail is close to 8 miles round trip, but is completely flat the whole way. Make sure you have a map of the area downloaded on your phone or GPS, as there is no sign for where to turn off for the arch. I highly recommend the Gaia GPS app.
Directions
From Escalante, UT head East on HWY 12 until you reach the Escalante River Trail on the right (west) side of the road. Park here. Here is a driving map.
Trail Info
Distance: 7.8 miles RT
Elevation gain: 186 ft
Time: 3-5 hours
Dog friendly? Yes, off leash
Kid friendly? Yes, but may be too long for younger kids
Fees/Permits? None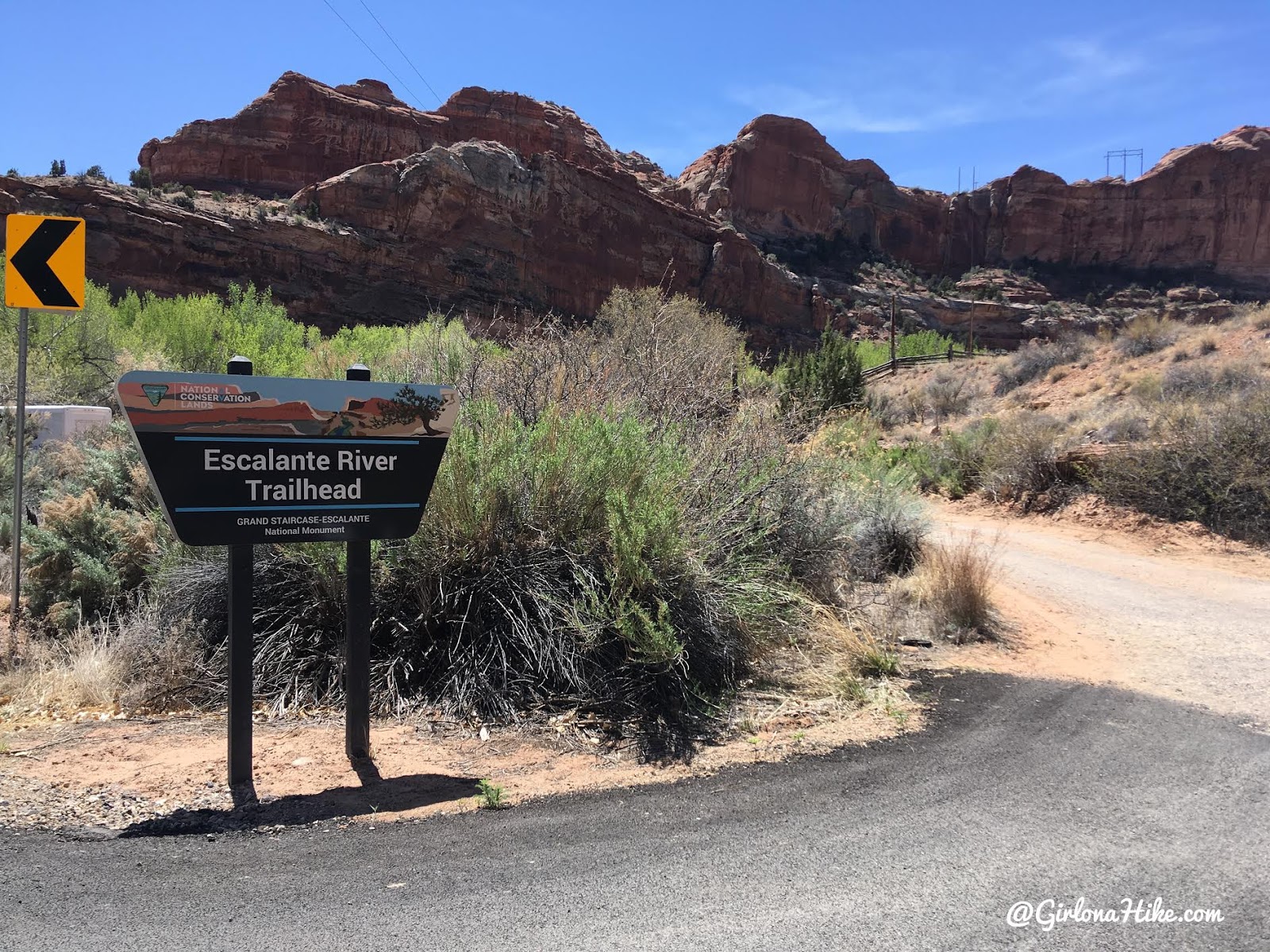 The trailhead for Bowington Arch is the same for the Escalante River Trail. Just two days ago we had backpacked this 15 mile route!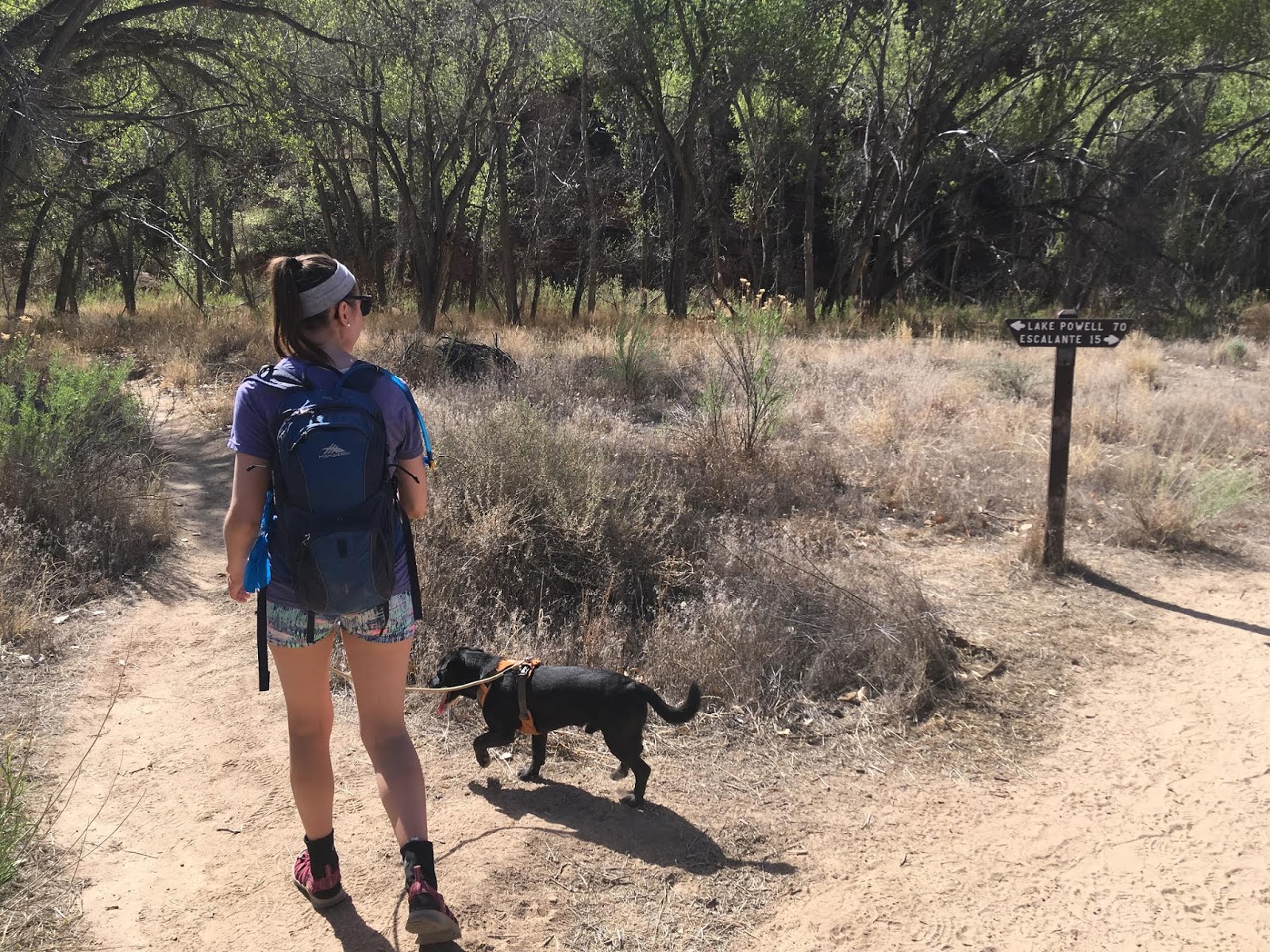 At the split just past the trail register, turn left. Only 90 miles to Lake Powell!
 Walk under the bridge.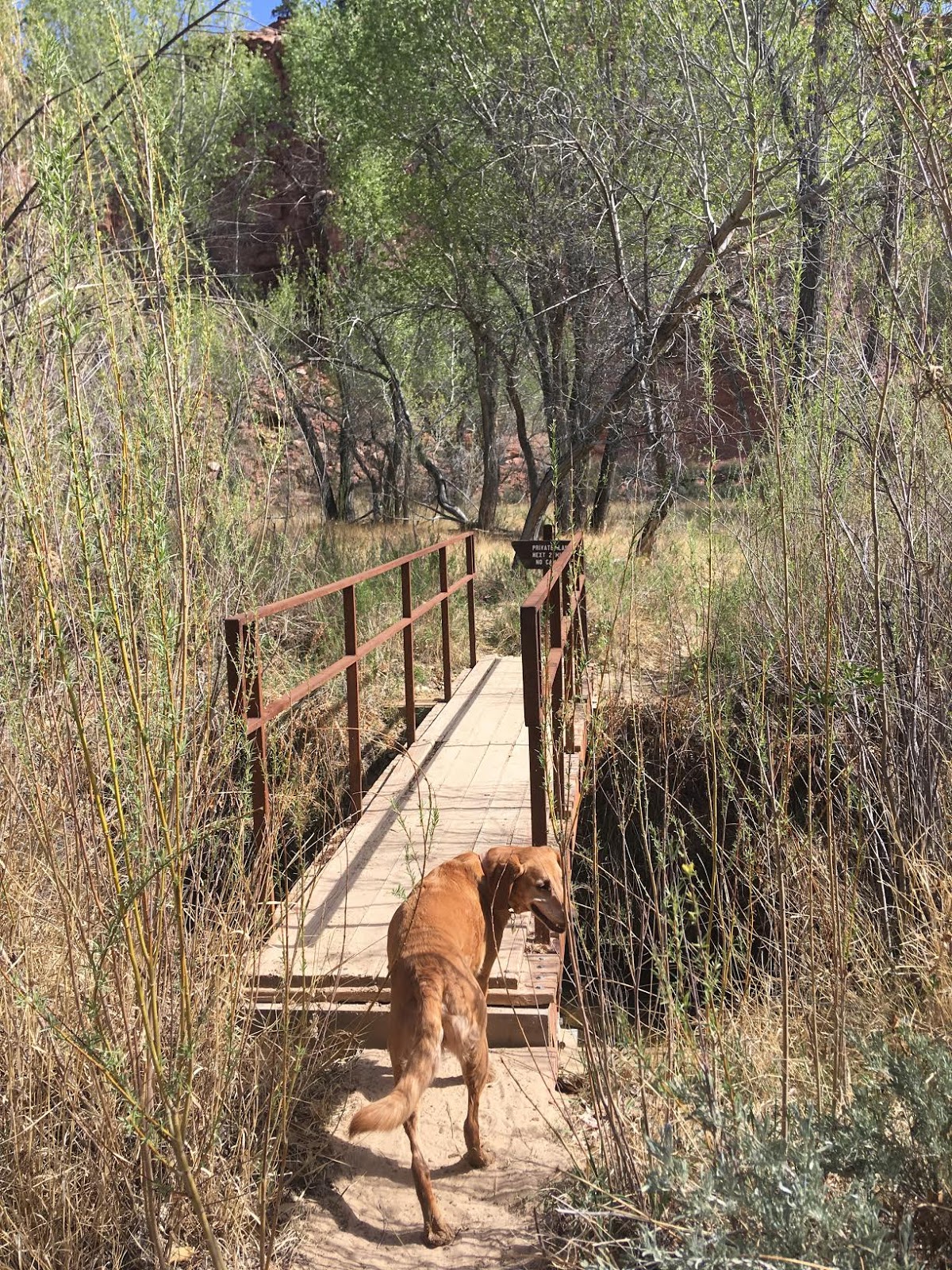 The cross the one and only bridge. Calf Creek flows under the bridge here and the water temps are much colder.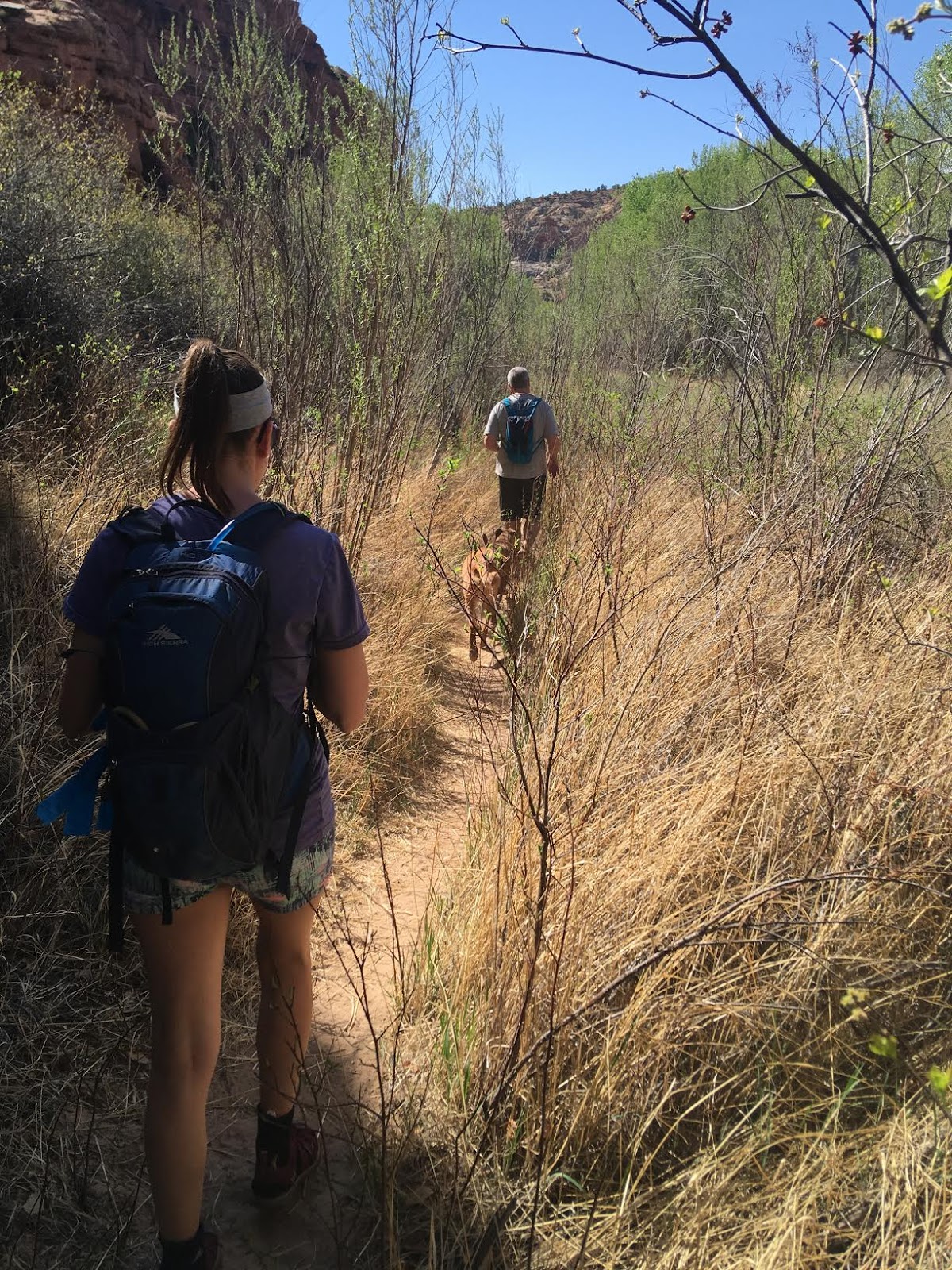 The first mile is pretty grassy and sandy. Keep an eye out for trailside cactus.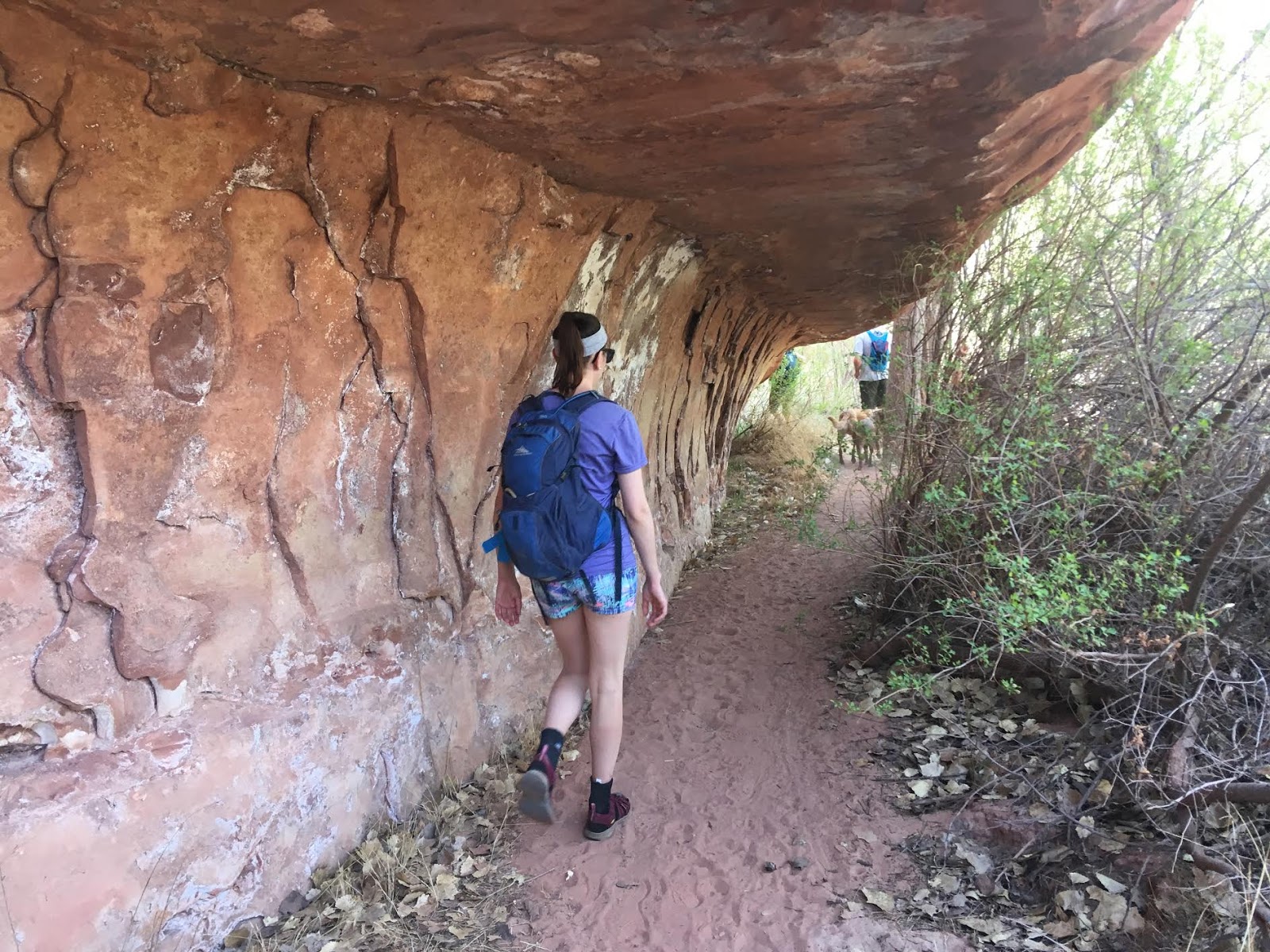 Hike under this tunnel-like rock.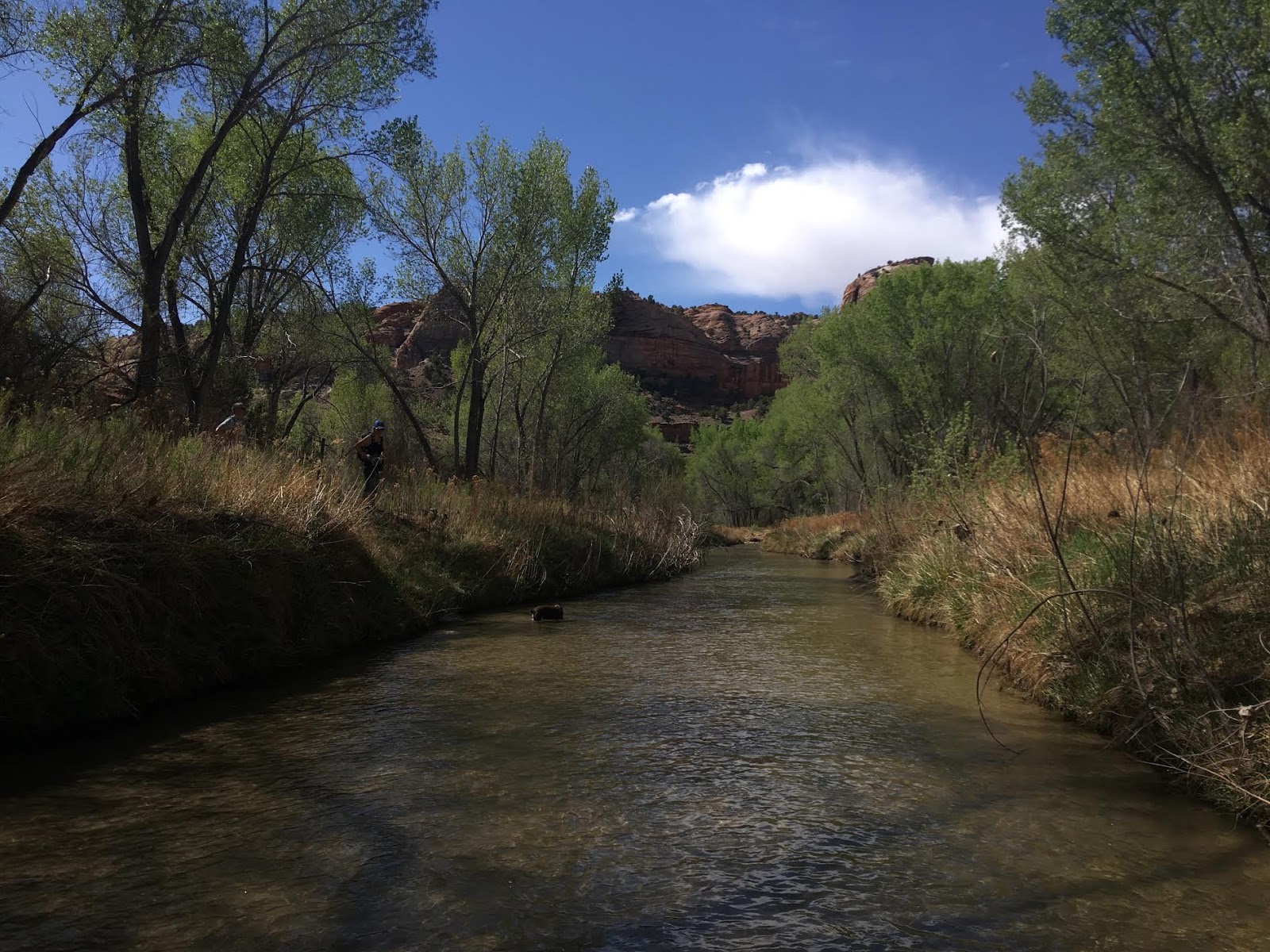 There are plenty of trail signs (as you walk past private property), but we just had to cool our feet off!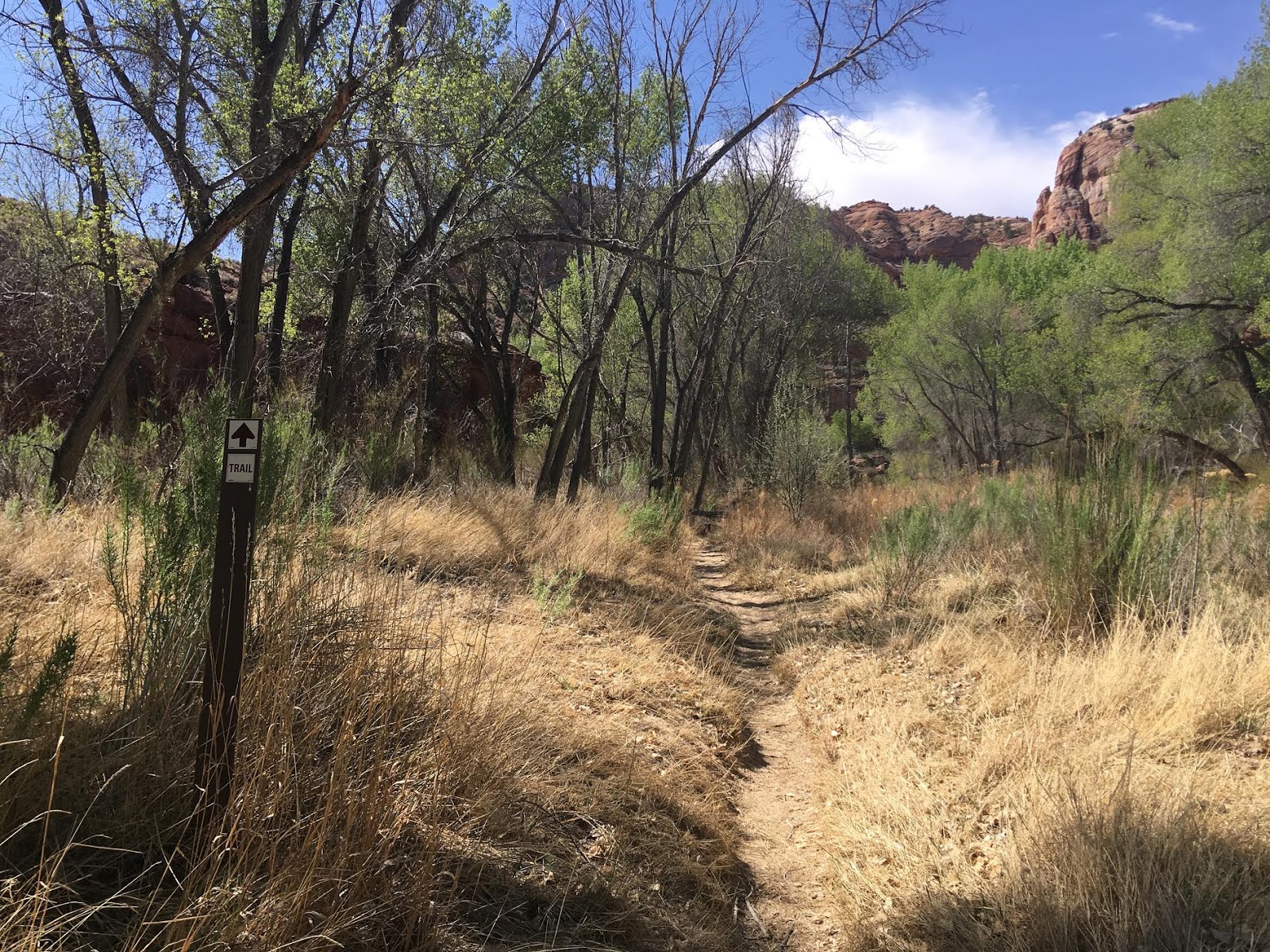 Back on the trail. Everything for the first half of this hike is well marked.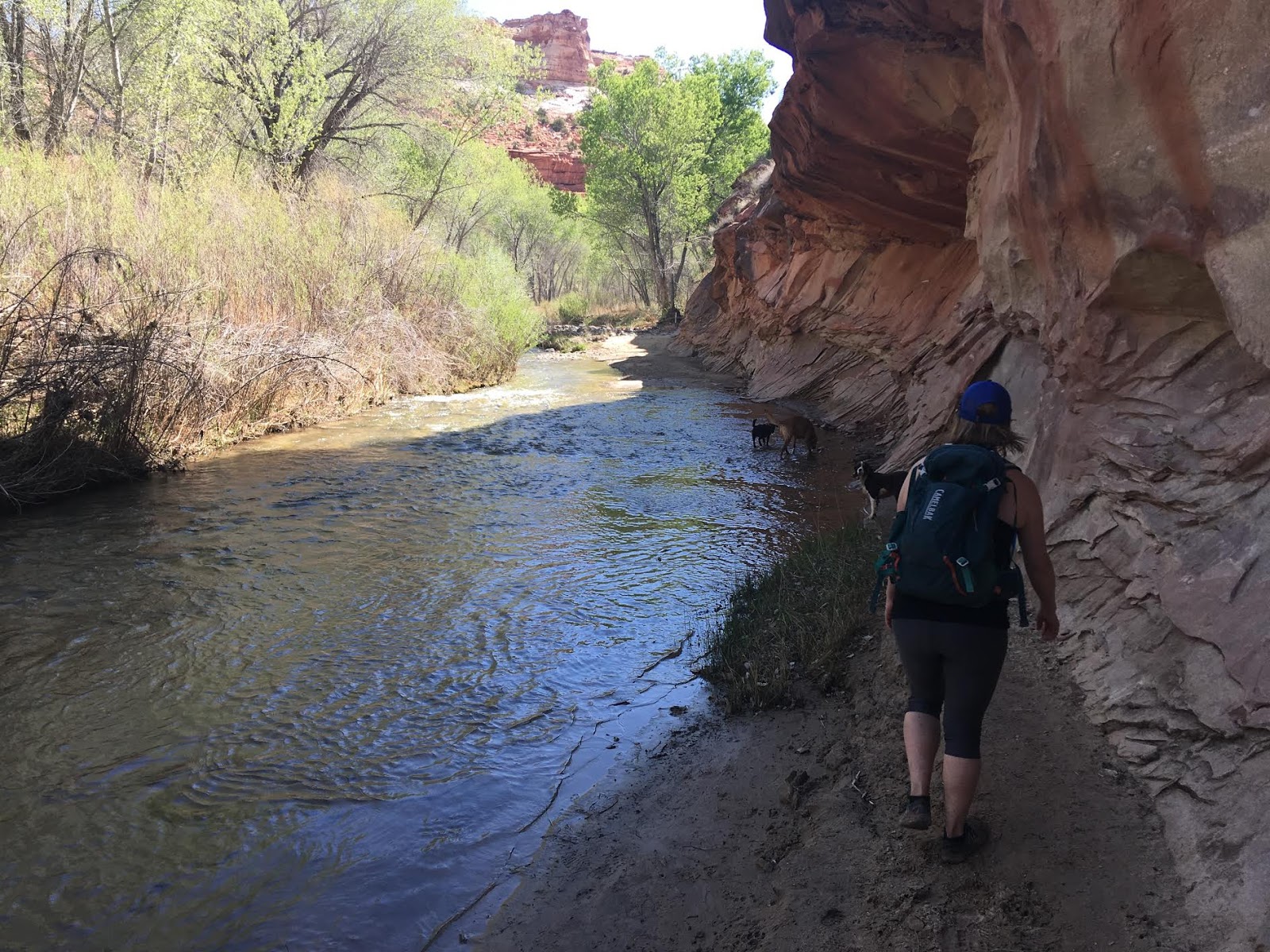 Several creek crossings. Perfect for the dogs!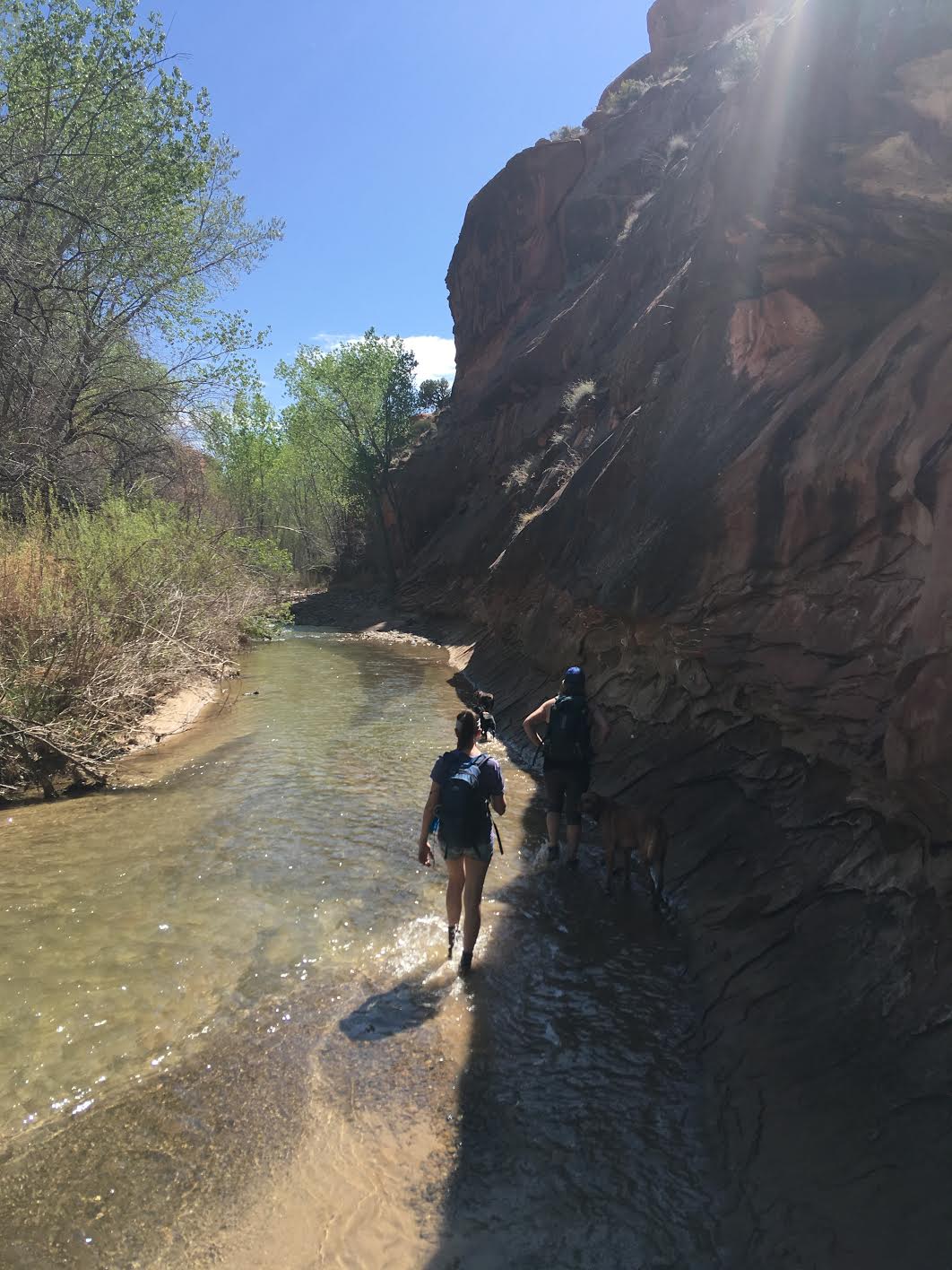 The water is so clear!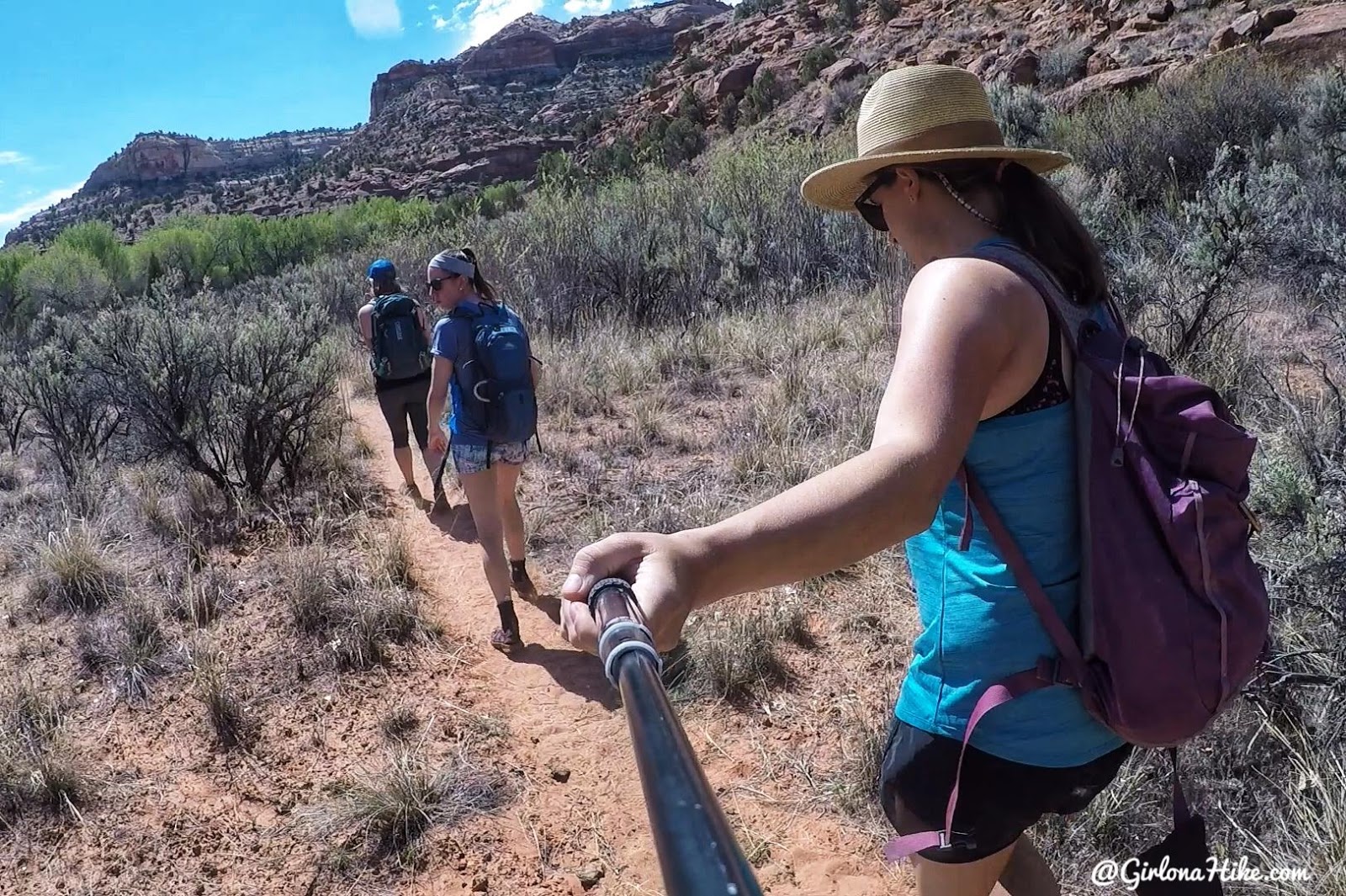 Around mile 1.5 you'll see a trail split – one heading in a more southerly direction and one that veers to the left (North). It's also in a large field of sagebrush. Make sure you take the left trail split. We accidentally took the right split, and had to hike off trail to get back on the trail route (so my map is a little off. It works, but is out of the way maybe 10 minutes).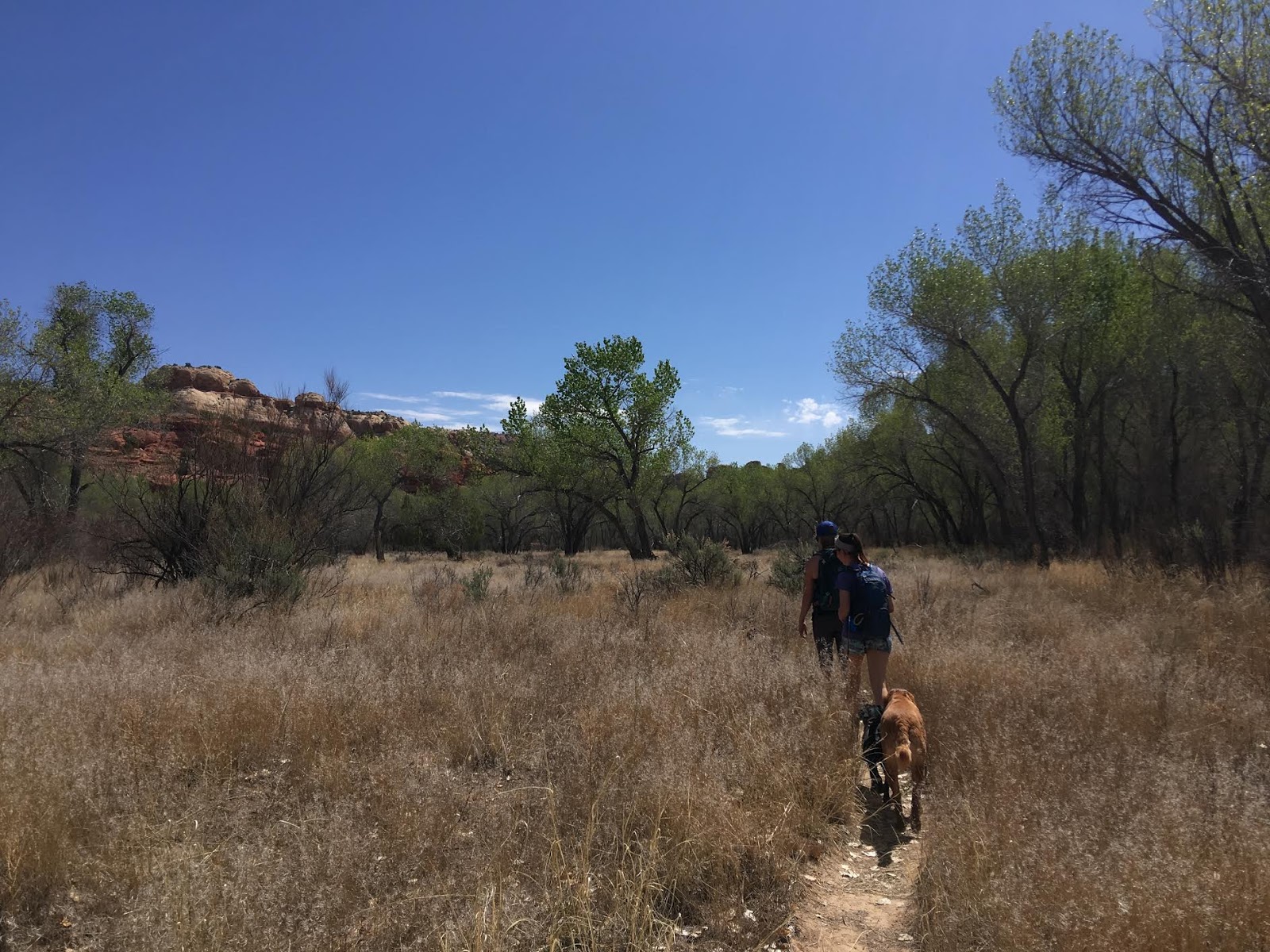 You'll hike a long dry stretch of trail with a lot of cottonwood trees.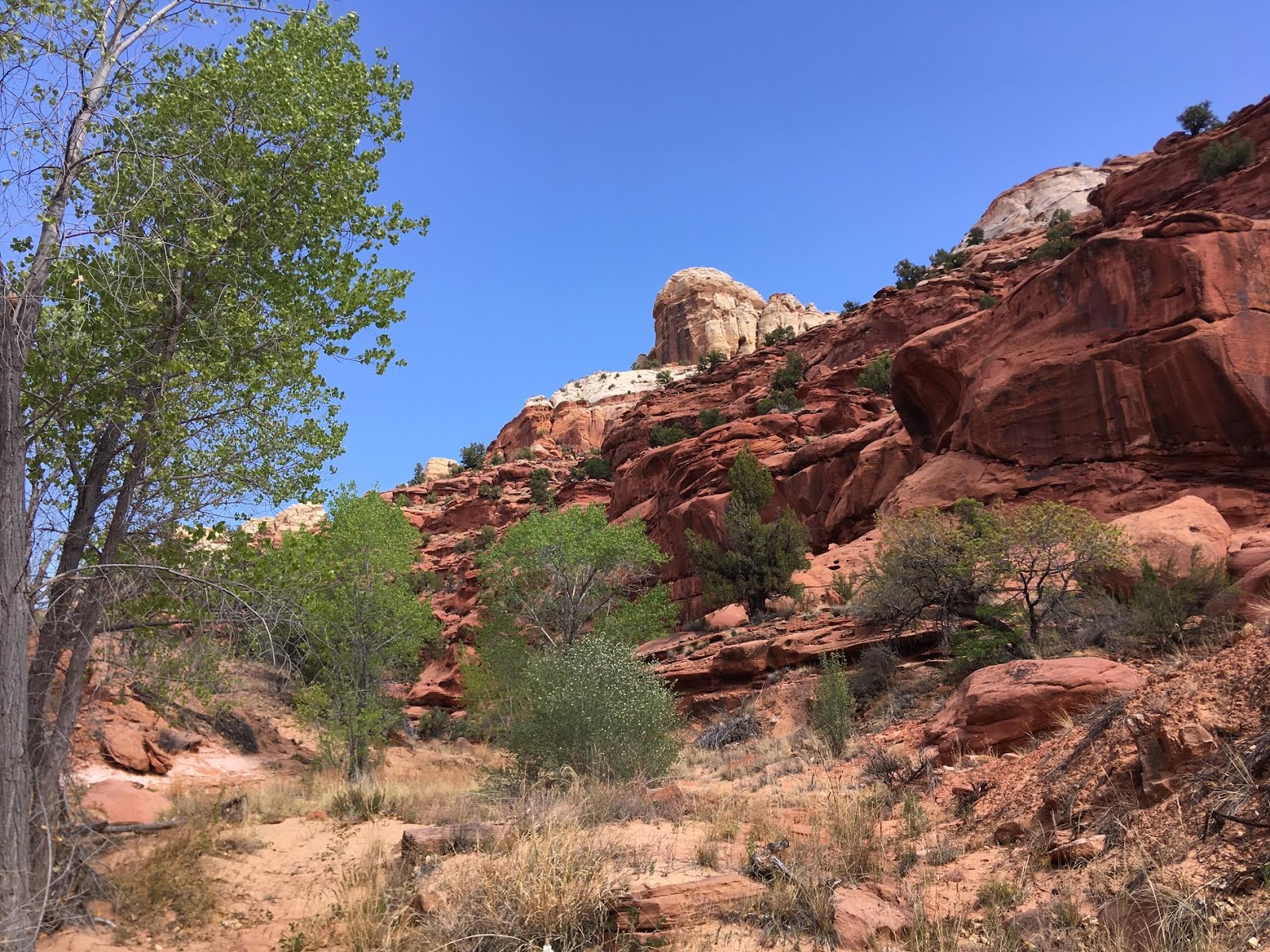 Around mile 2.7 is where you will want to turn to enter the correct canyon to reach Bowington Arch. There's no sign, and no obvious turn. The best way to know when to turn is to have a map downloaded of the area (I use Gaia GPS), and turn left at the dry creek along more cottonwood trees. There really isn't a trail at the turn either. It will seem as if you are just hiking through a really dry stream bed. But eventually the trees fade and you're left with this pretty red canyon.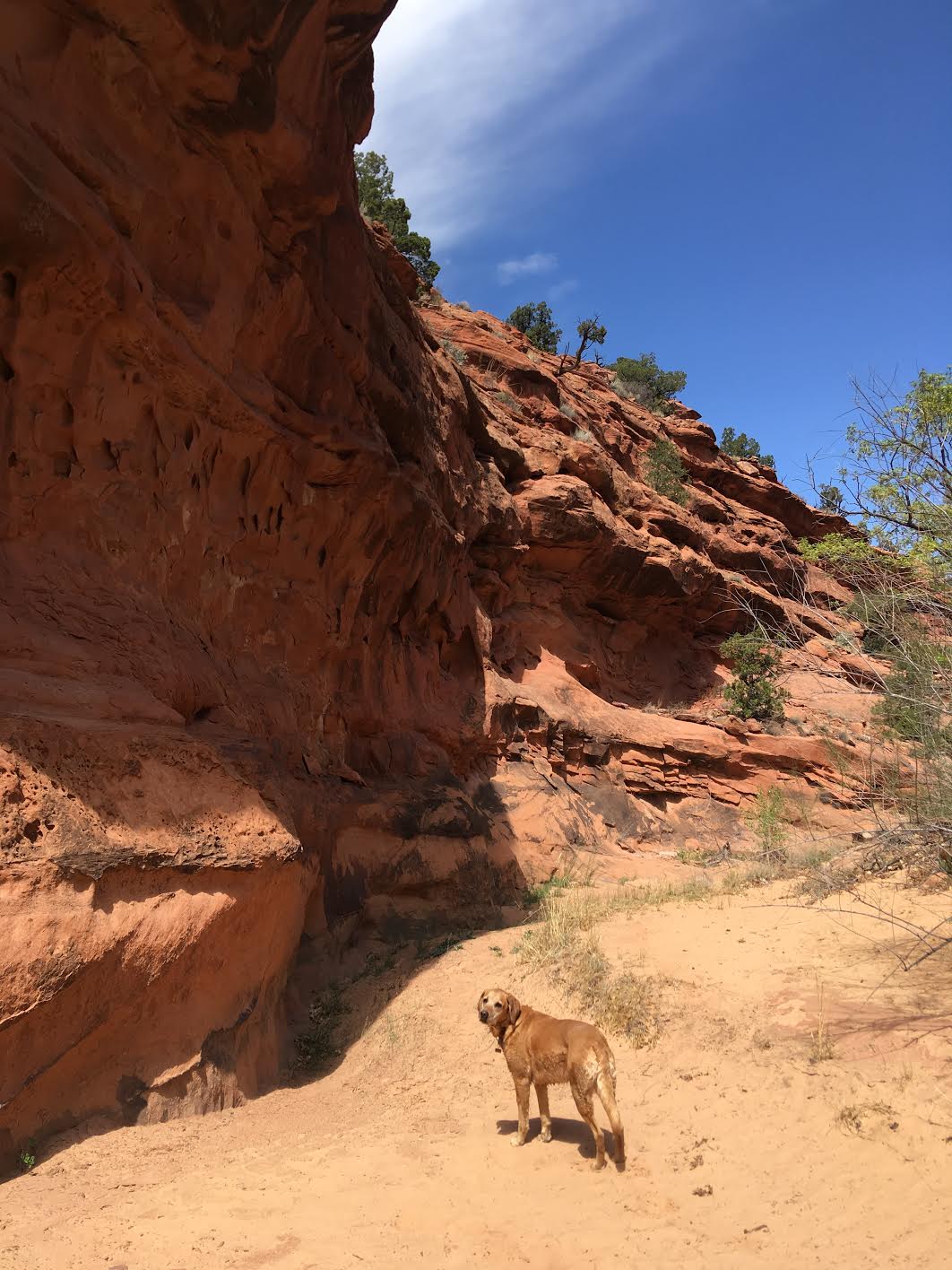 From here, simply stay at the bottom of the canyon for the next mile. You will sometimes see other footprints and a faint trail. But don't rely on those – just stay at the bottom of the canyon. There's hardly any shade in this section, and definitely no water.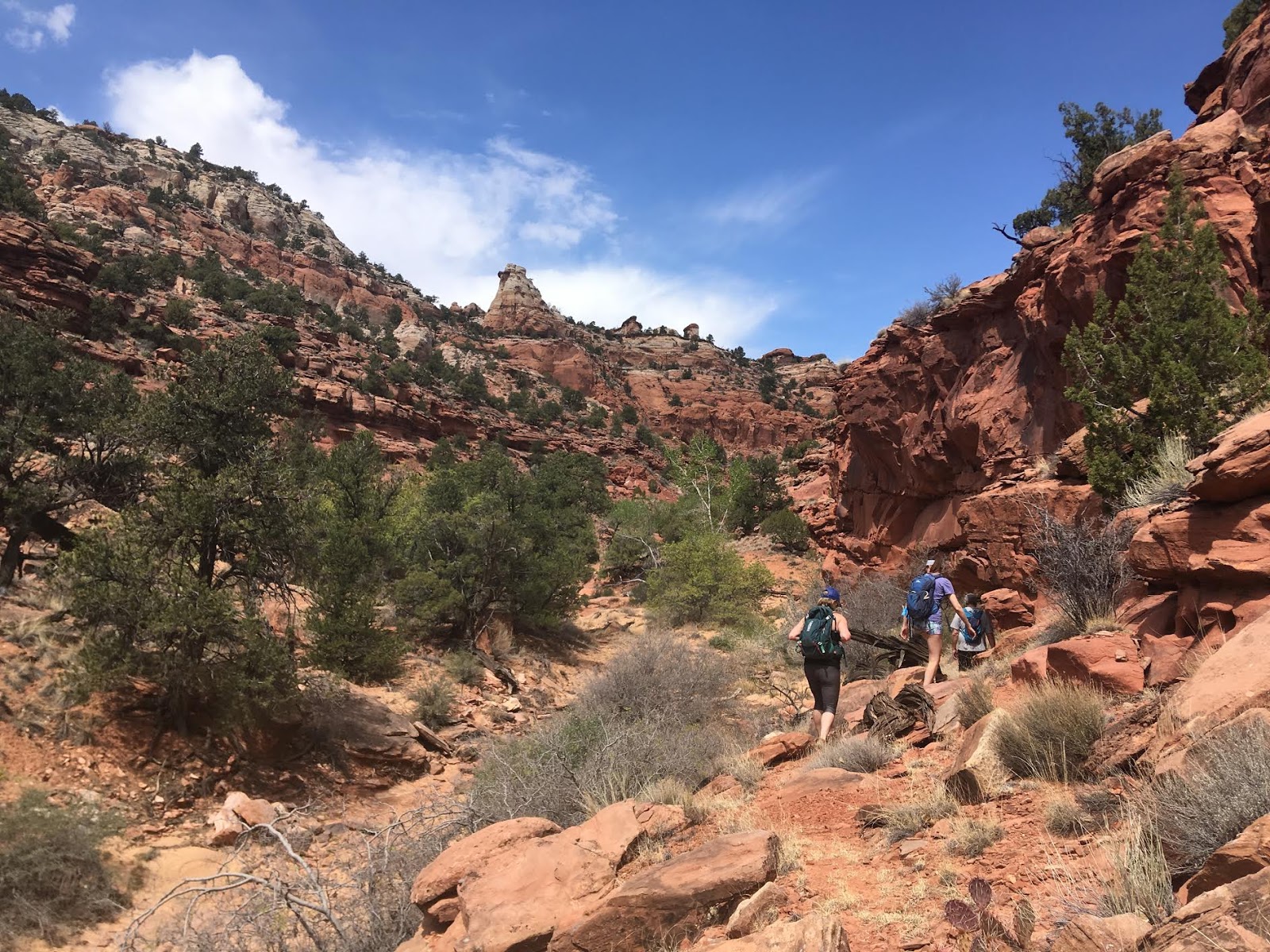 Continue hiking up the small canyon.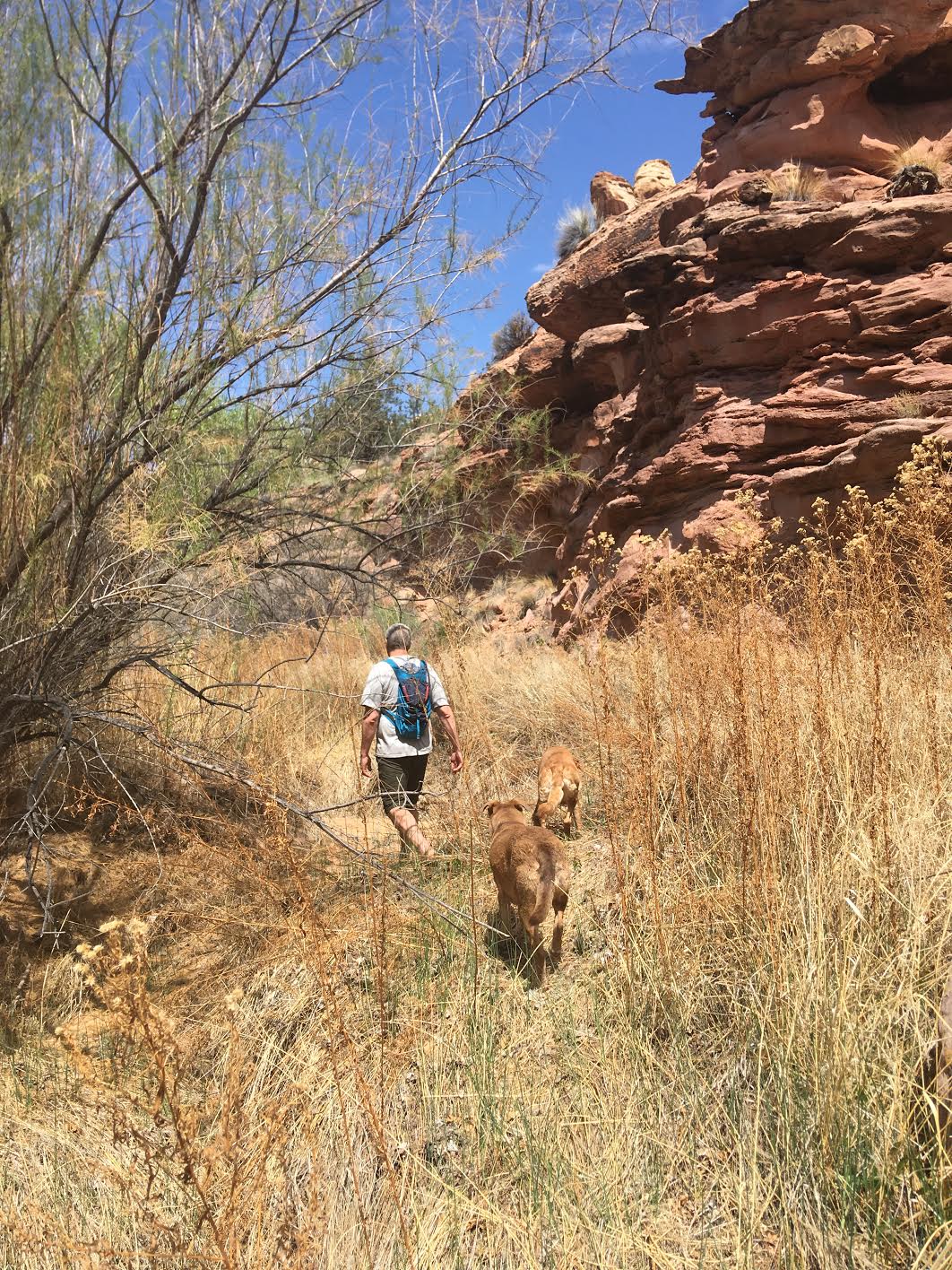 Sometimes the "trail" here is quite grassy. There's also quite a bit of cactus.
You will encounter two dry falls – you can get around both on the right (East) side.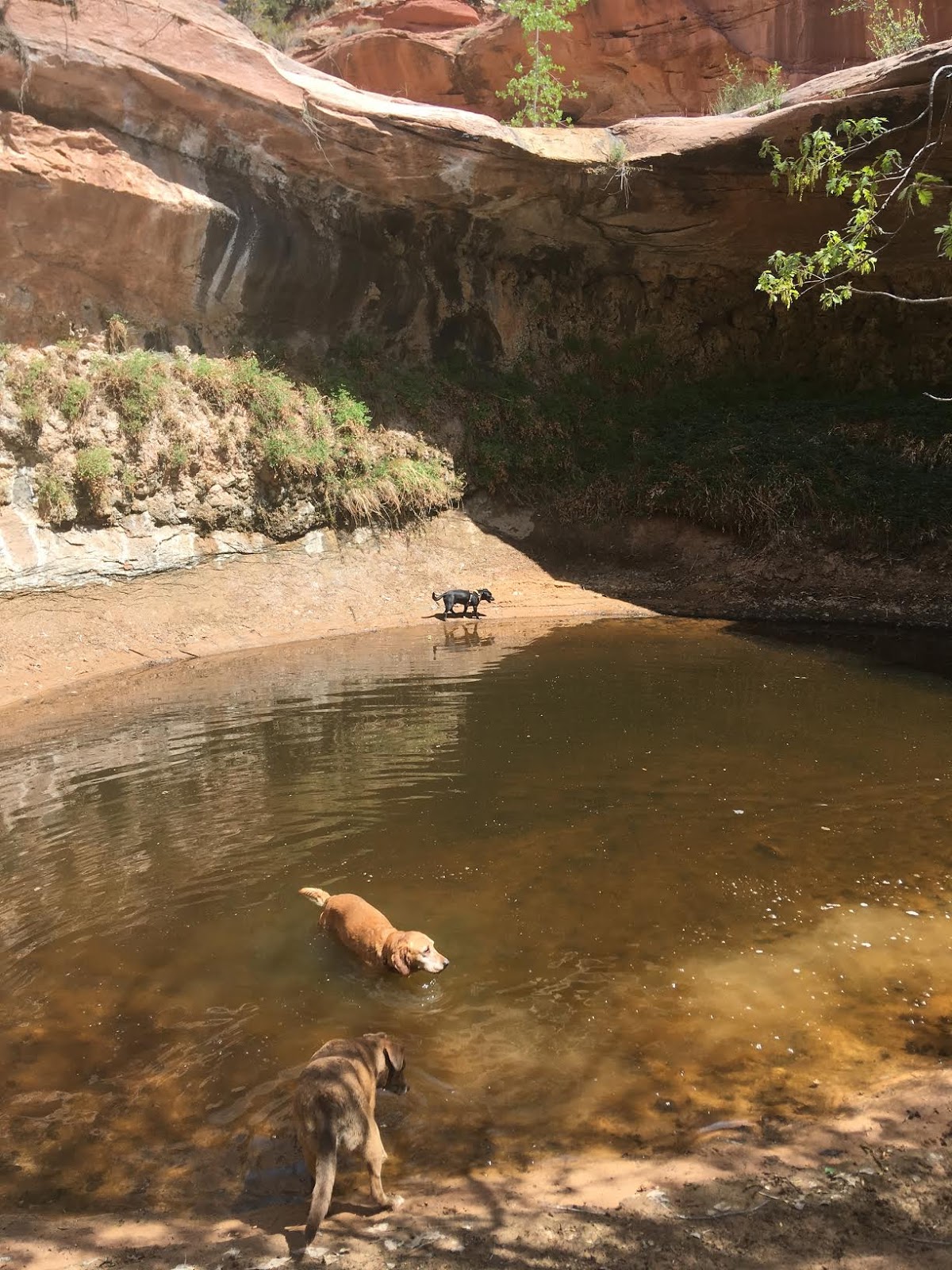 The last dry fall you will encounter is the largest and will have this disgusting water pond. The dogs didn't seem to mind! Just be careful that this mucky water in the desert can sometimes be a home to many organisms and mold. I tried to get Charlie out by calling him, but he insisted on drinking nasty water.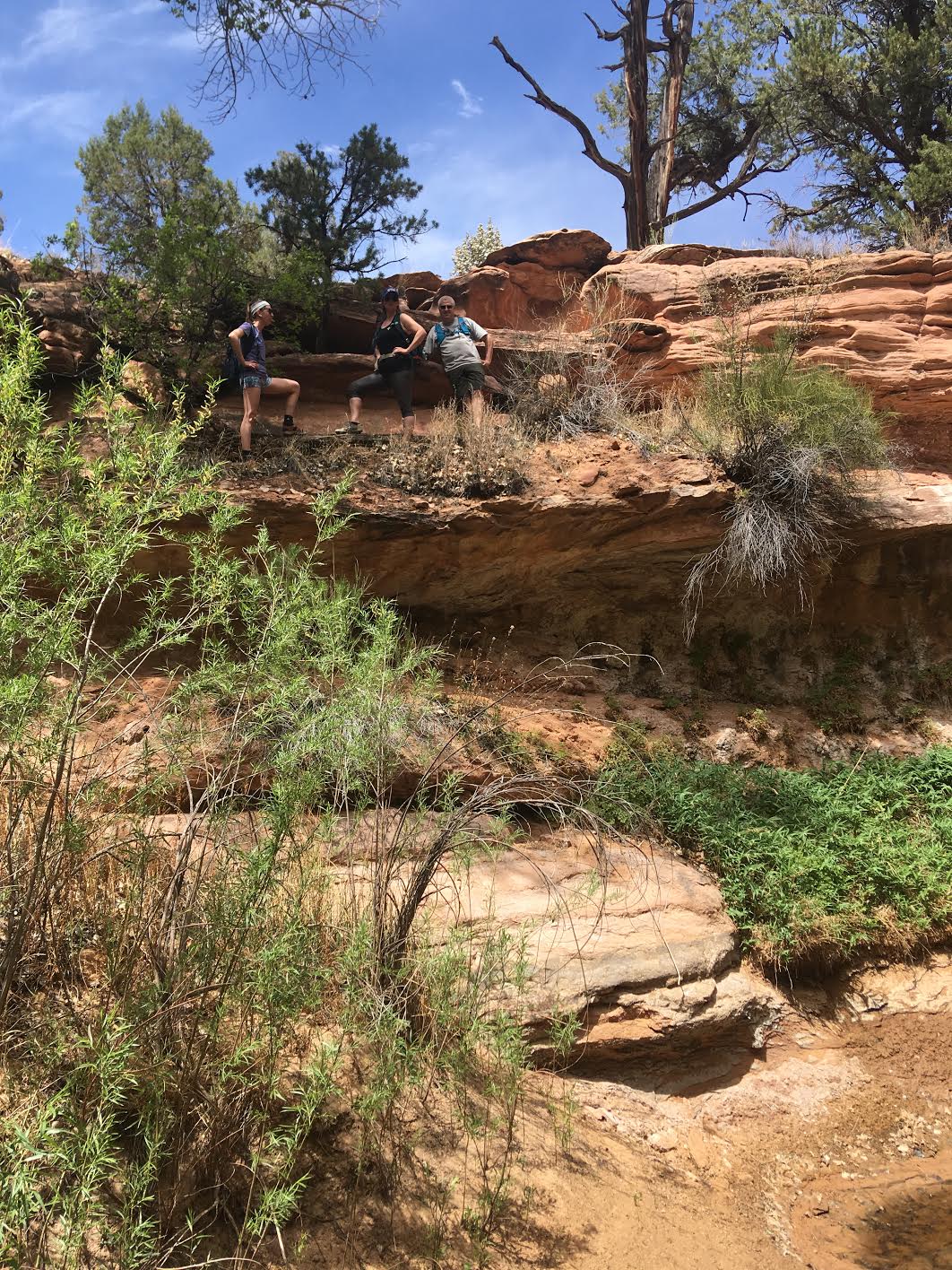 To get around this drywall, hike up on the left (West) side. It's a very short scramble.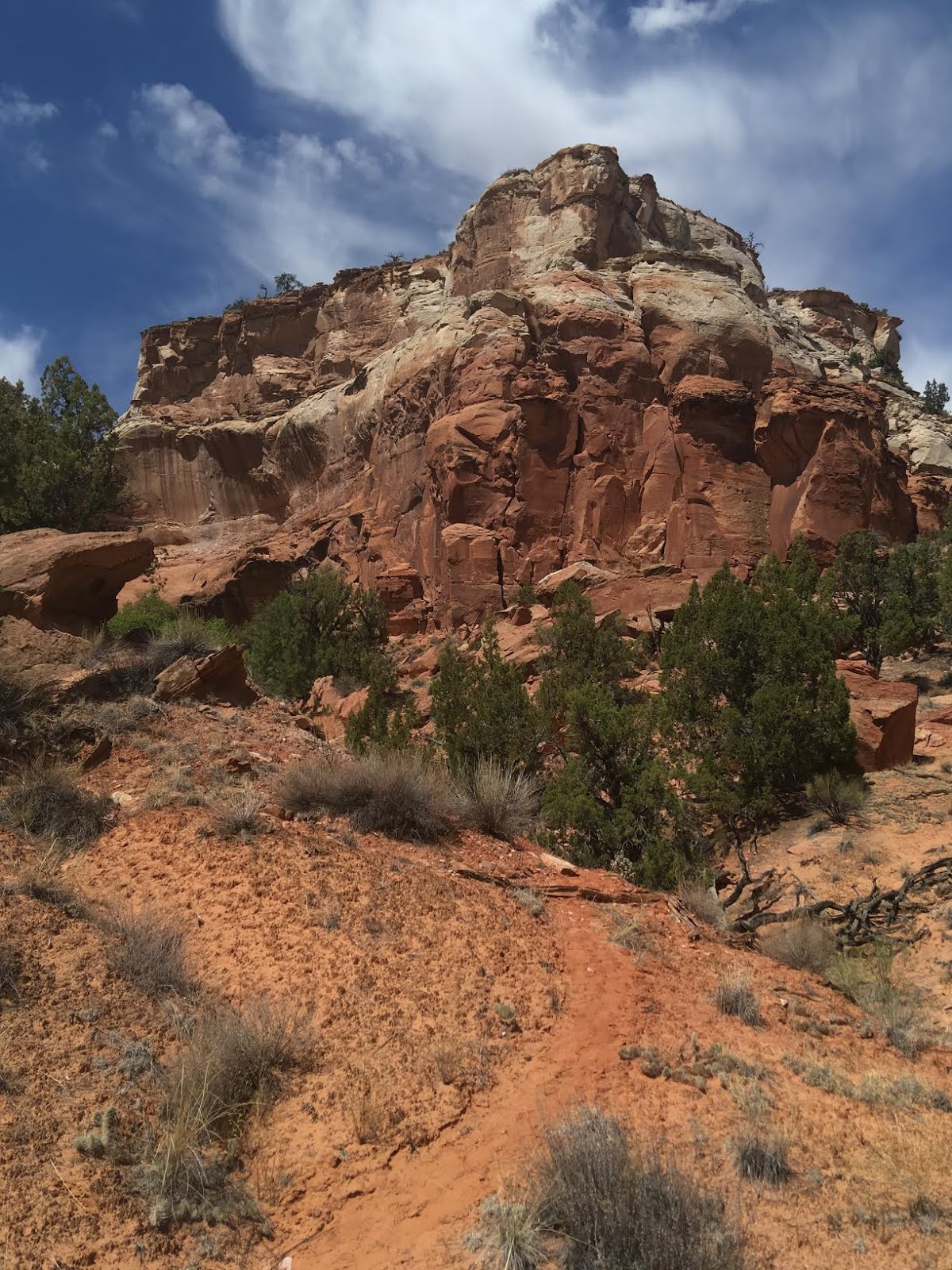 Once you climb up the last drywall, you should see the canyon split. The trail veers left. There is more of a trail now.
At mile 3.8 you should see Bowington Arch!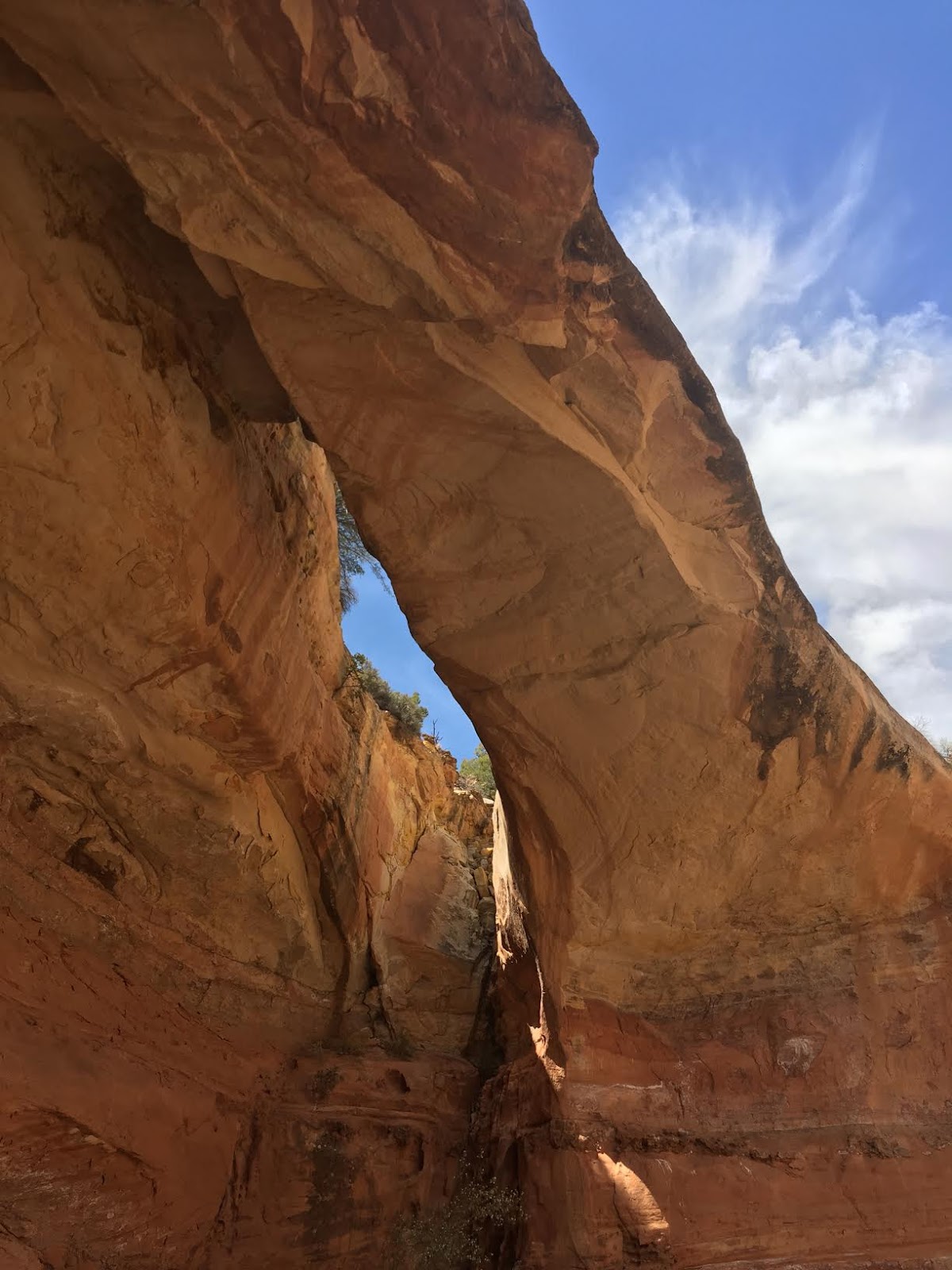 Underneath the arch. I was surprised how big it was!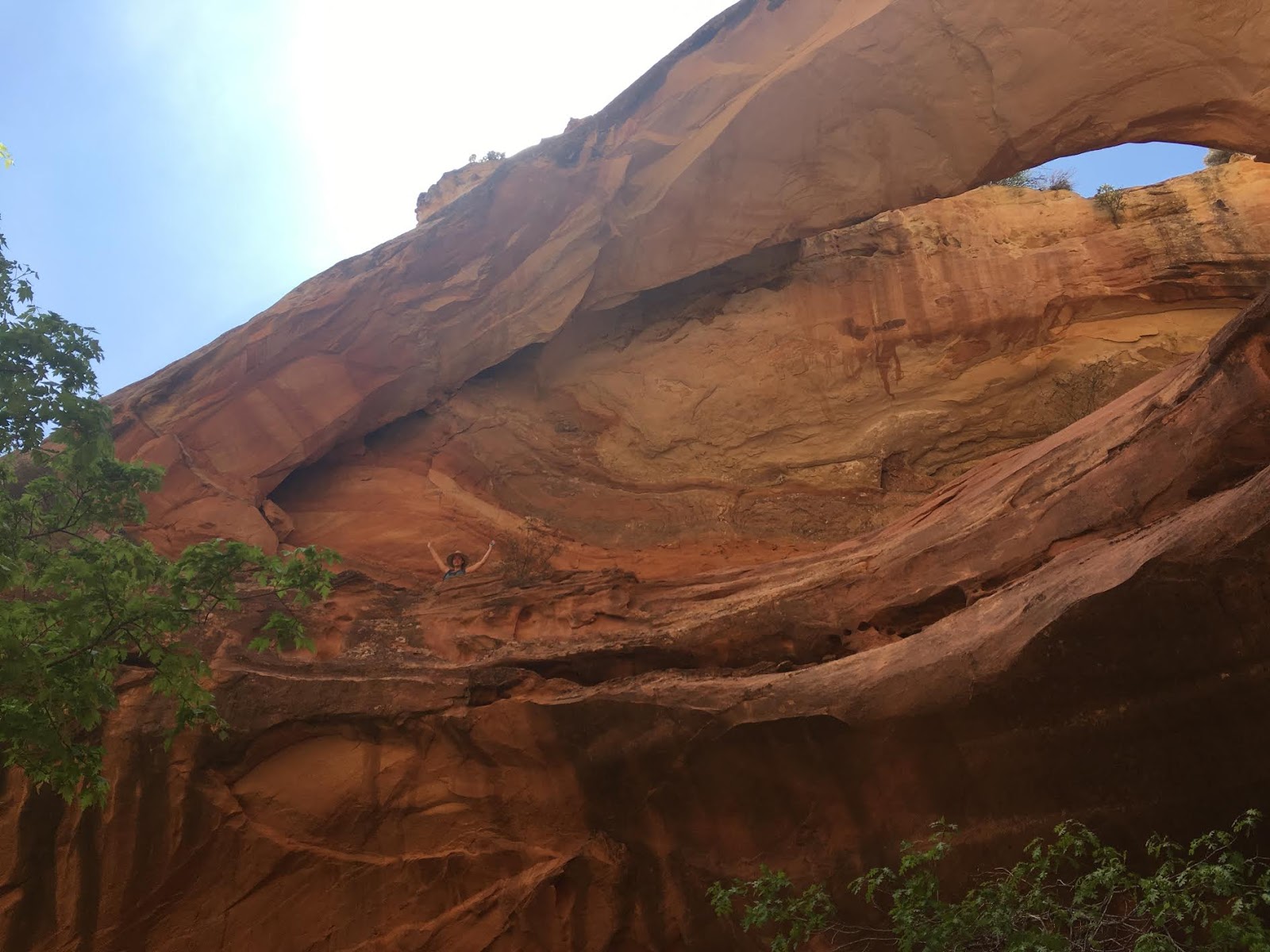 My friend walk to the bottom of the canyon below the arch – can you see me up top? Be advised that the bottom of the canyon is filled with poison oak!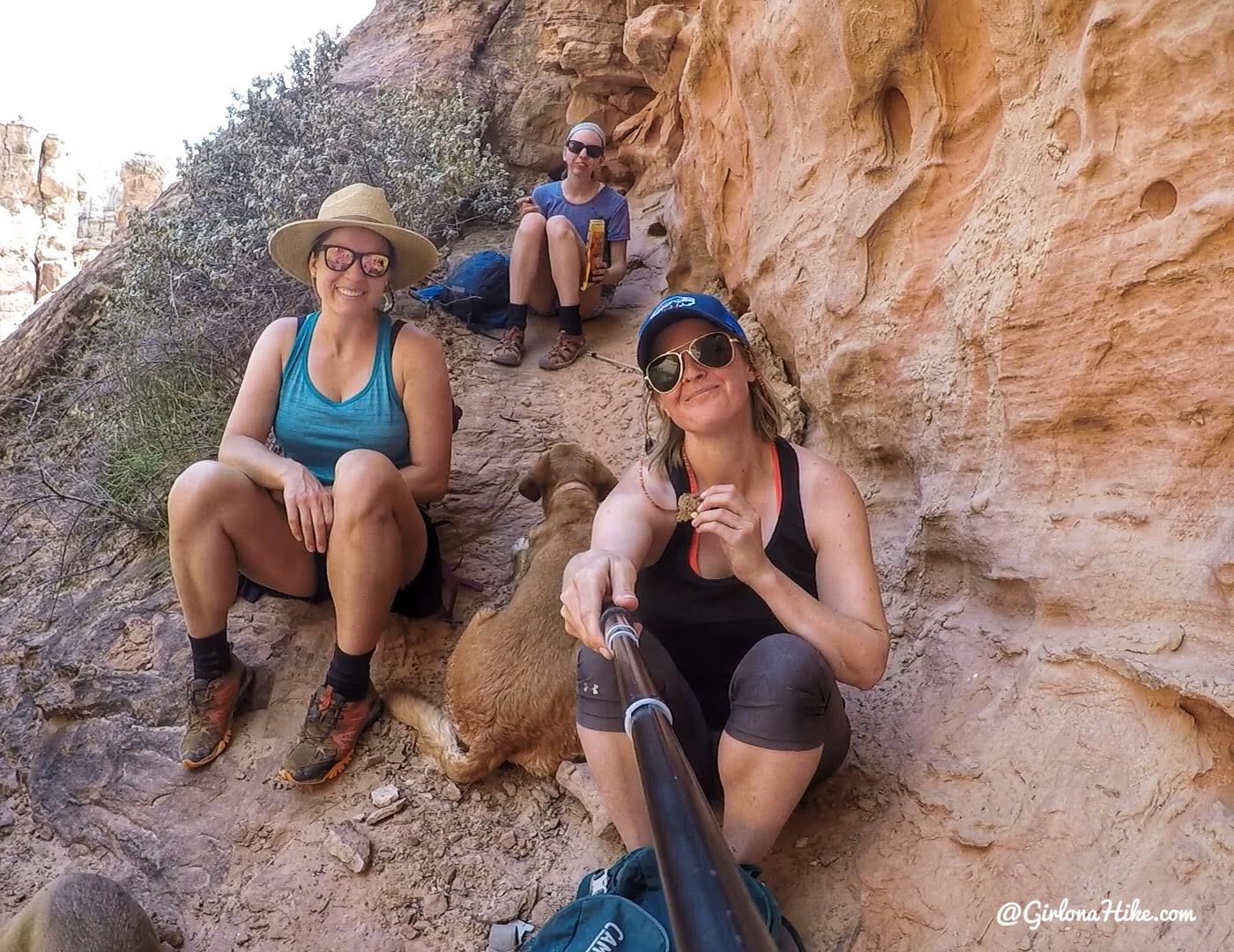 Hanging out in the only shady spot in the canyon with my gal pals.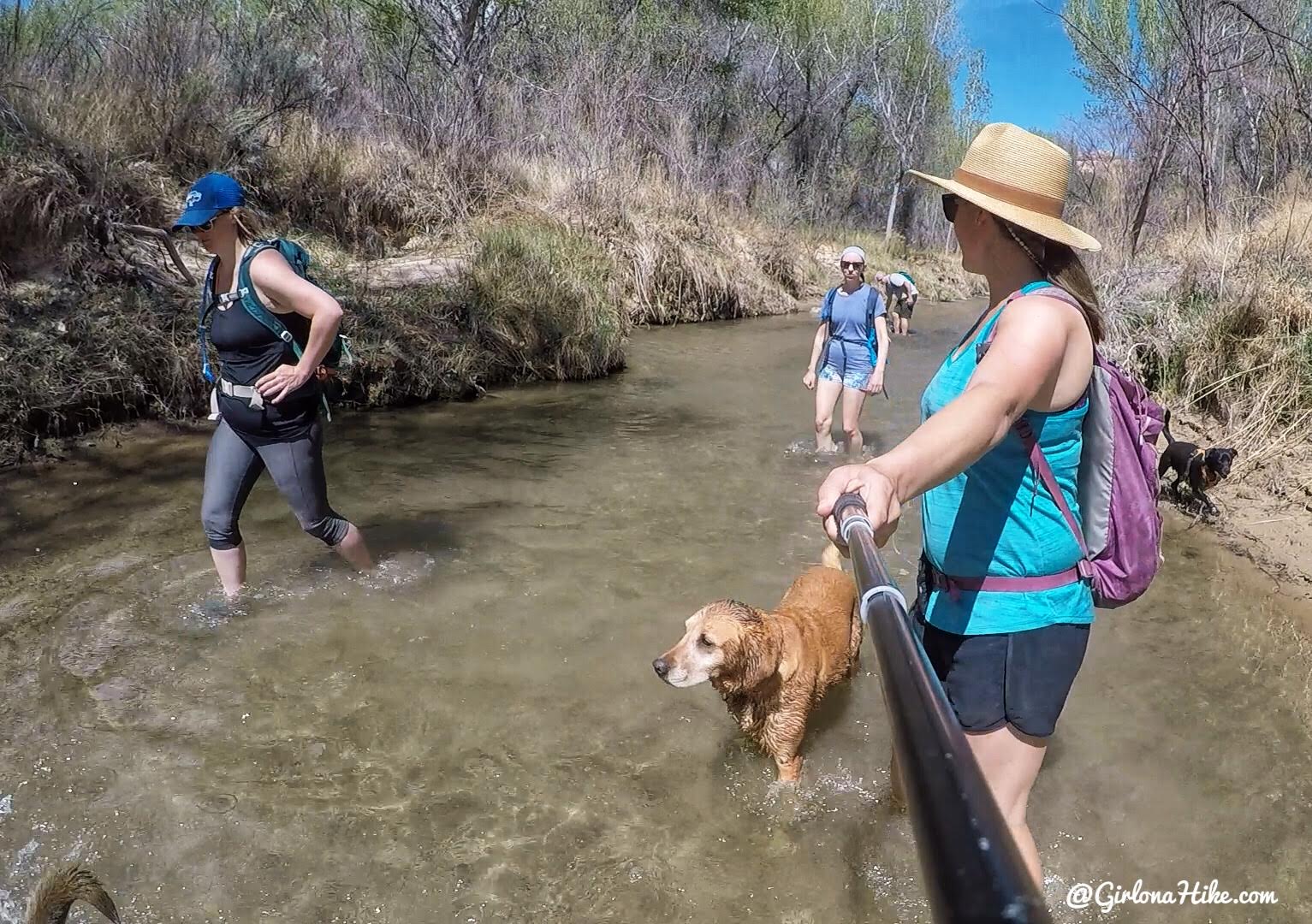 When we hiked back, we mostly stayed in the river. We were all too hot to hike another dry stretch of trail. Though we hiked upstream by this point, it wasn't too bad compared to the alternative. A great hike overall!
Trail Map
My track via Gaia GPS – the best tracking app! Get your app here for a discount.
Recommended Gear
Nearby Hike
The Ultimate Guide – Dog Friendly Hikes in Escalante, Utah!


Save me on Pinterest!