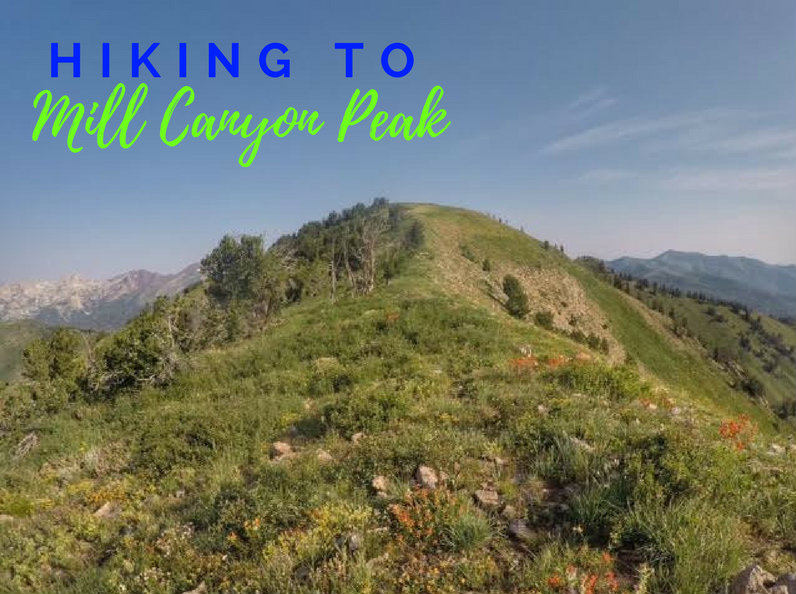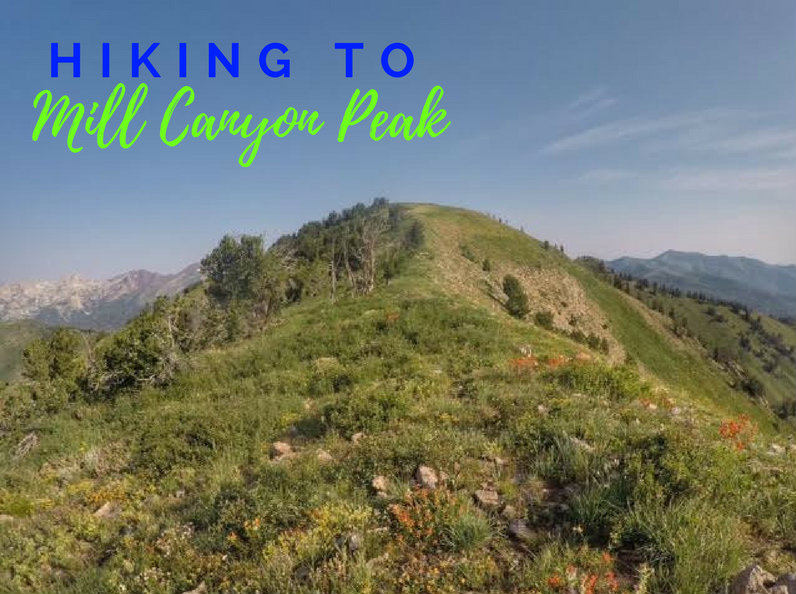 Mill Canyon Peak (10,349 ft) sits on the backside of the Wasatch Mountains and offers amazing 360 degree views. For a 10,000 ft peak this is a relatively easy summit – there's a trail most of the way and no scrambling.
You will likely not see another hiker which is great, but the biggest downside to this route is the amount of dirt bikes. We passed seven of them by 9am, and the noise and dirt they kicked up wasn't the best, and I had to make sure I moved Charlie far enough off the trail. However, if you can get past that you will get a huge reward in scenery and views on Mill Canyon Peak.
This trail is only half shaded so you'll want to start early to beat the heat. Bring plenty of water for you and the dogs. I found my

Paria Outdoor Trekking Poles

to be really helpful, especially along the ridge.
Directions
I tried using Google Maps to get to the trail head, but it didn't work very well (it told me to turn where there was no road). I will post it here, but I recommend having a good paper map with you and printing off the directions. You can access the TH either from American Fork Canyon OR from Heber, UT. My directions are coming from Heber since that was closer for me.
Start by following the signs for Soldier Hollow from Midway/Heber. When you reach the "T", turn right onto Stringtown Rd. It will immediately cross a cattle guard and become a well-graded dirt road. Follow this for 7 miles until you reach Cascade Springs TH. Turn Right when you reach the second "T" at Cascade Springs. You should now be on a well paved road, HWY 114. Drive 3.4 miles past Cascade Springs and look for the dirt road heading right (there's only one) with a sign for Mill Canyon Road. Drive to the very end of the dirt road where the TH starts on the right.
If you are coming from the Alpine Loop Road in AF Canyon, just follow the signs for Cascade Springs, then the Mill Canyon Road will be a left turn.
Trail Info
Distance: 7 miles RT
Elevation gain: 1,954 ft
Time: 3-5 hours
Dog friendly? Yes, off leash
Kid friendly? No
Fees/Permits? None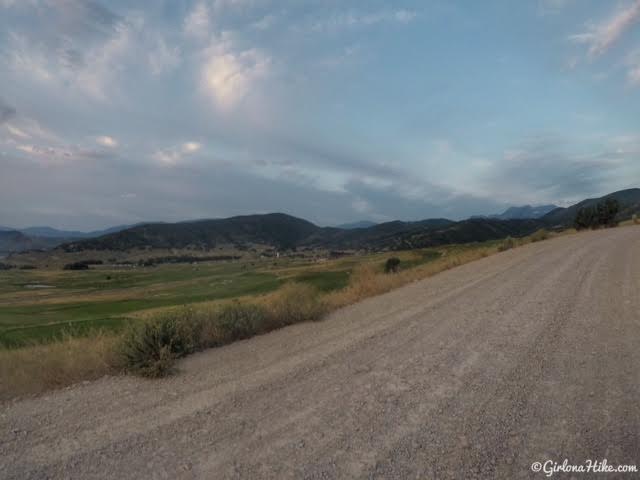 Sunrise over Soldier Hollow. I drove up from the Heber side since it's closer to my house, however, you can also get to the trailhead from American Fork Canyon. Near Soldier Hollow the road turns to a well-graded dirt road for 6 miles.
 After driving for 6 miles you'll reach a small pass, and the road turns into a roughly patched paved road. Once you reach Cascade Springs, turn right following a now, well-paved road.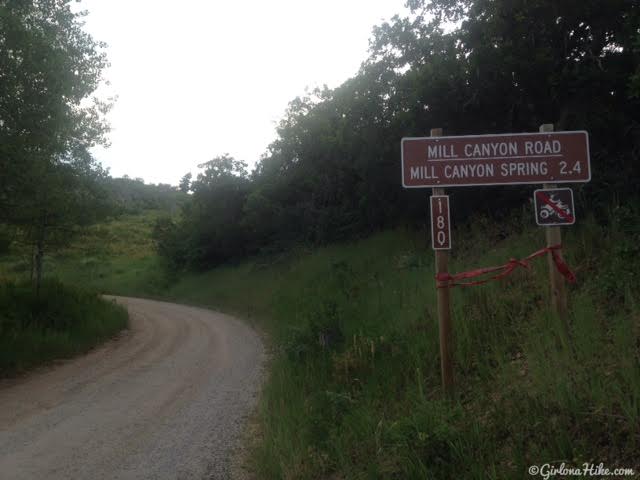 From Cascade Springs, coming from Heber, drive roughly 3.4 miles until you see the dirt road turn off for Mill Canyon Road. From the AF Canyon side its about the same distance from the Alpine Loop Road. Drive to the very end of this dirt road to reach the Mill Canyon Peak/Ridge Trail 157 TH.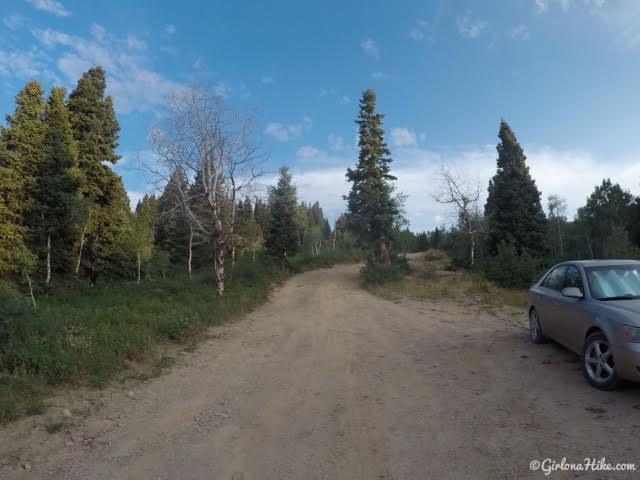 The map shows this being a 4×4 road, however, as you can see my little Sonata made it 90% of the way. I literally had to walk less than 5 minutes to reach the official TH. Keep in mind that after a big rain or in Spring this road may be very wet and muddy, and you would need a 4×4 car. Most cars can make it most of the way, depending on how rutted out the road is. I found a pull out on the side of the road that would be able to fit 2 cars. Just past this point the road turned extremely bumpy and I could see deep holes that I knew my car wouldn't be able to get over without bottoming out.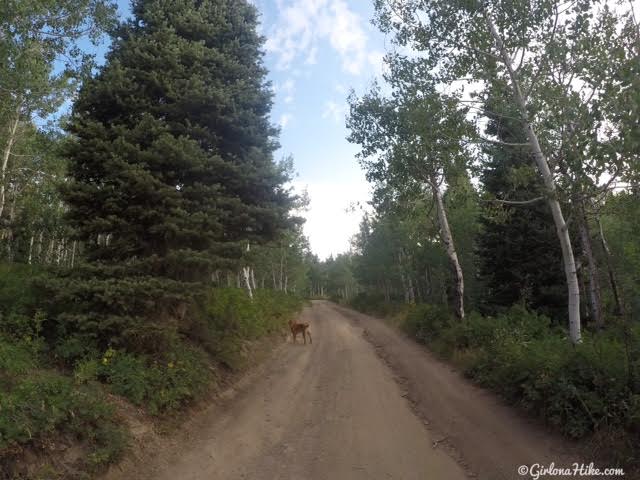 Walking up the rest of the road to the TH.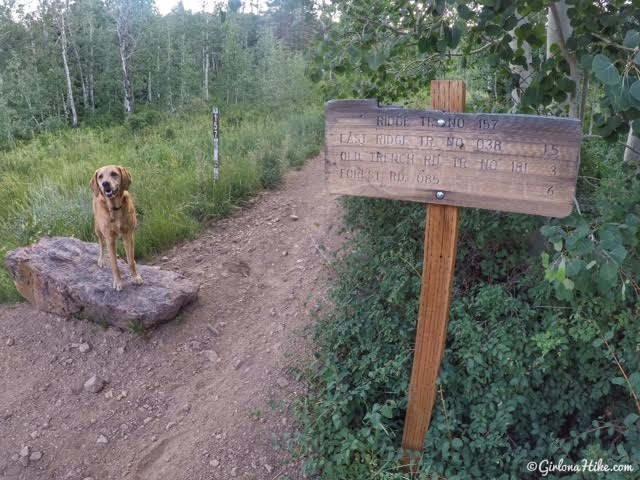 When you reach the end of the road, the trail starts to the right. You won't see any sings for Mill Canyon Peak – you will be following Ridge Trail 157.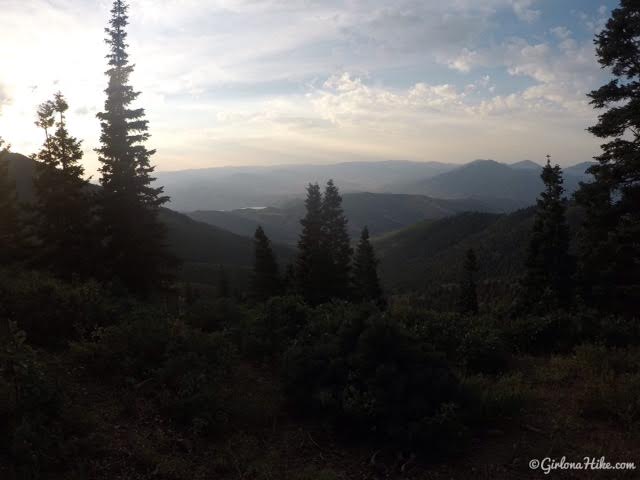 I started hiking by 7:30am, and the temperatures were so refreshing! I knew it would be hot, so the earlier the better with Charlie to beat the heat. You can barely see Deer Creek Reservoir in the distance.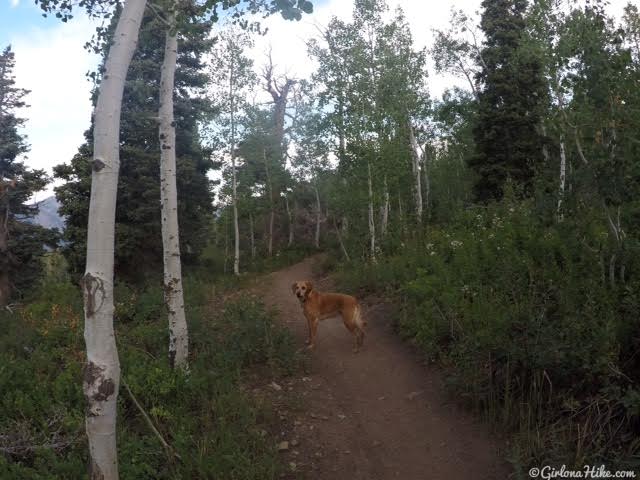 The trail is very dusty, but gradually gains elevation for the first 2 miles. Lots of wildflowers!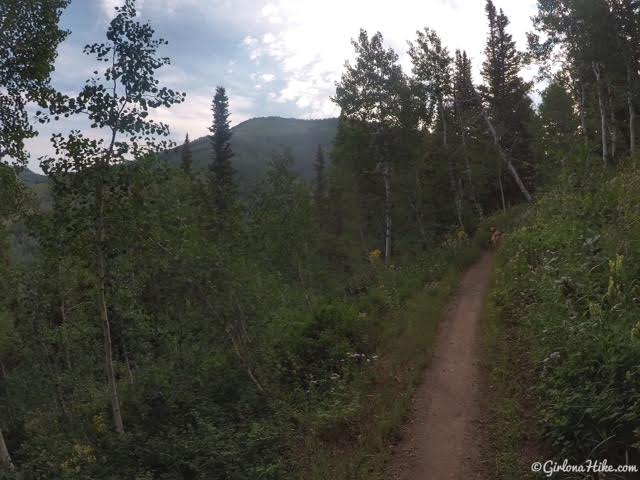 As you turn to head in a more East direction, you'll have your first view of Mill Canyon Peak.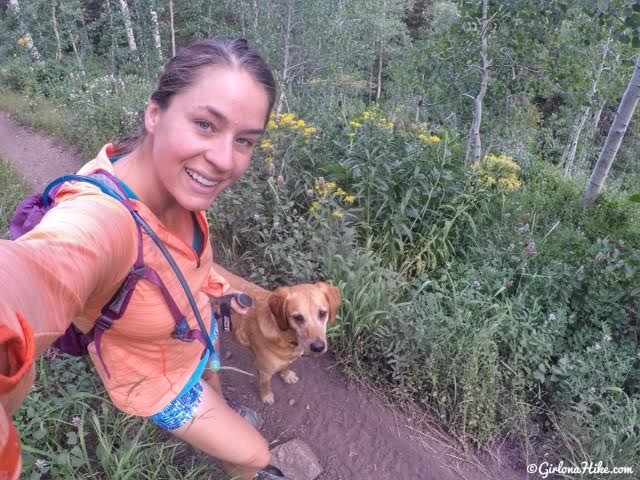 It was chilly enough in the morning to need a long sleeve shirt.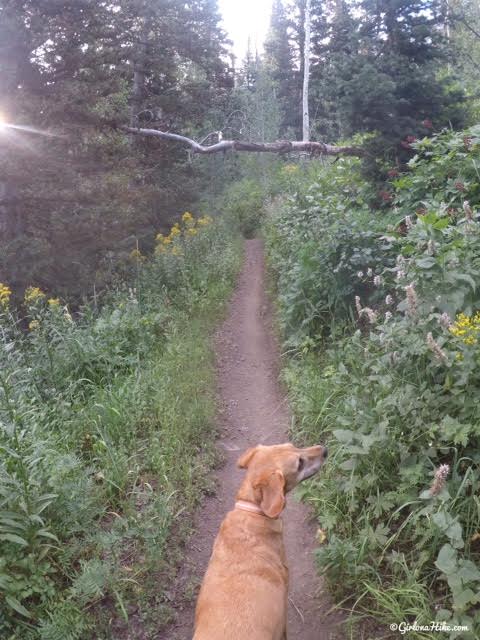 You will hike underneath this hanging log.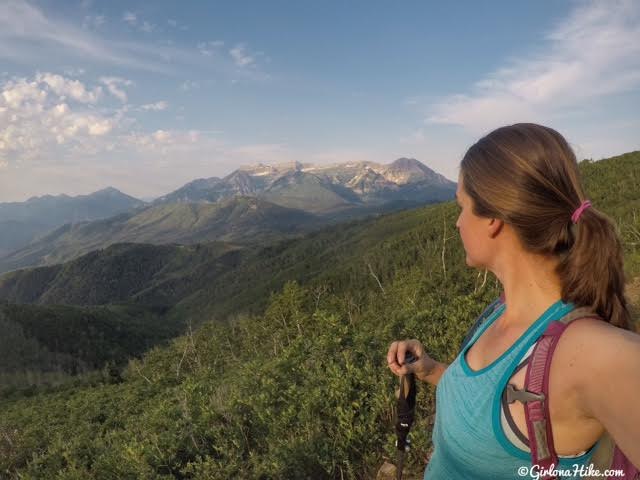 As you start to get higher in elevation, the trees disappear and you should have an amazing view of Mt.Timpanogos! Down to a tank top now. Provo Peak is the summit to the far left.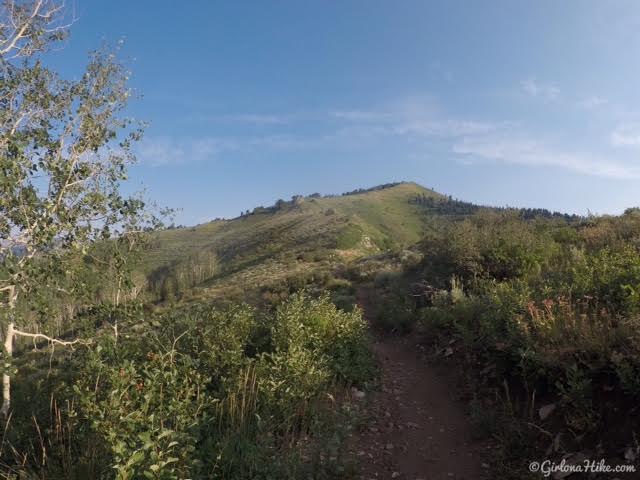 You can see exactly where you need to hike from here – follow the ridge all the way up. The peak you see here is a false summit.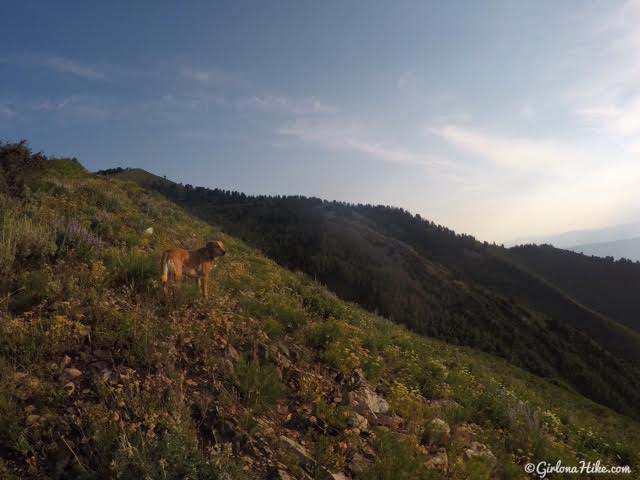 Working our way up the ridge – the trail is either very faint or non-existent at times. However, as long as you stay on the ridge you'll make it.
 The views up here are SO pretty! I caught Charlie licking his nose.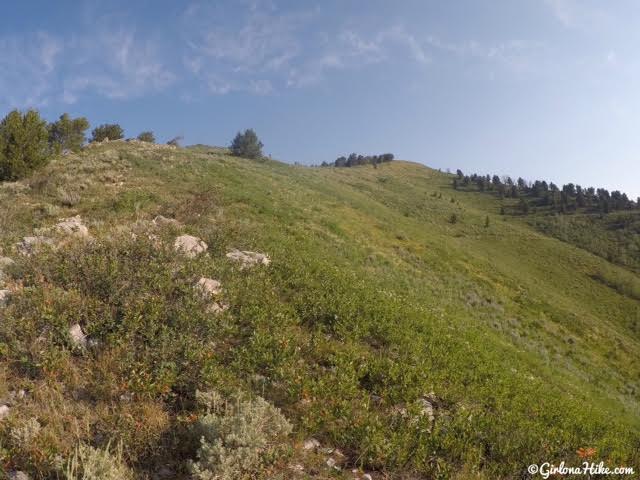 Still hiking up.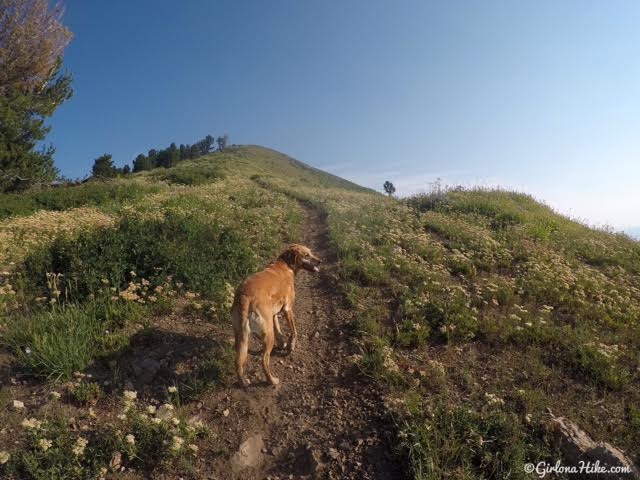 You'll pick up a good trail again half way up the ridge. This is also where I found the hike to be hardest since it's pretty steep. A good calf-burner! Compression socks would be very helpful.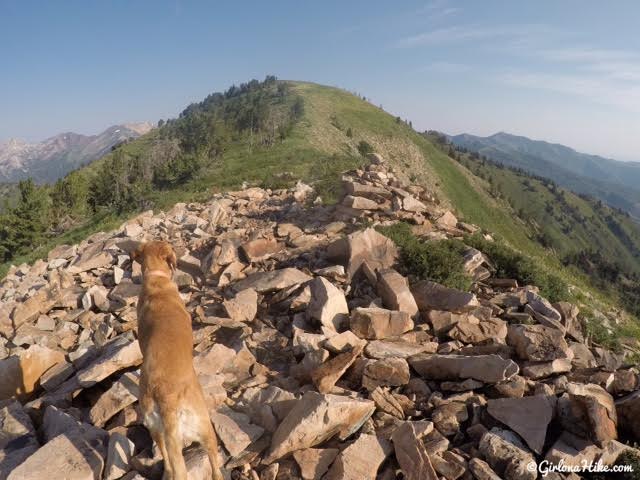 When you reach the false summit you'll hike through a small area of boulders. There was also a huge cairn built here – this isn't the true summit so I'm not sure why people would build that here. Peak Baggers, continue following the ridge.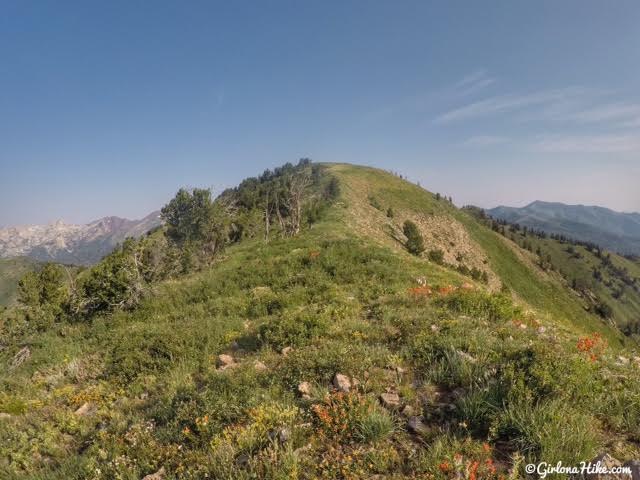 The final stretch. Again, the trail becomes faint/non-existent but it's easy to see your destination.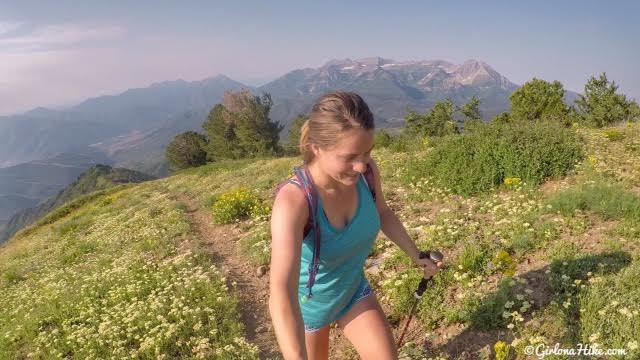 Almost there!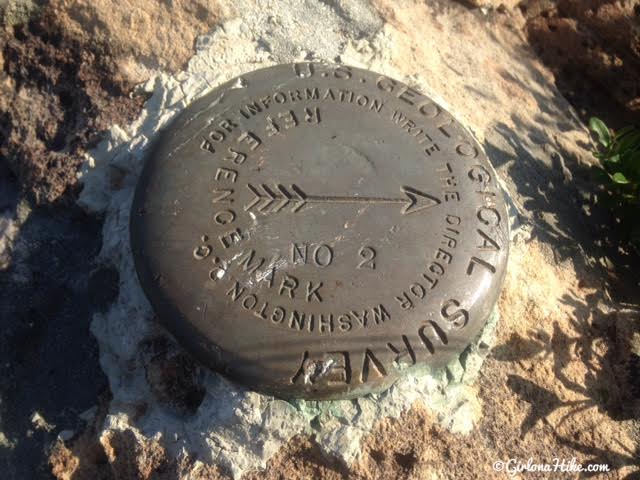 YAY, we made it to the summit in 1 hour 45 minutes!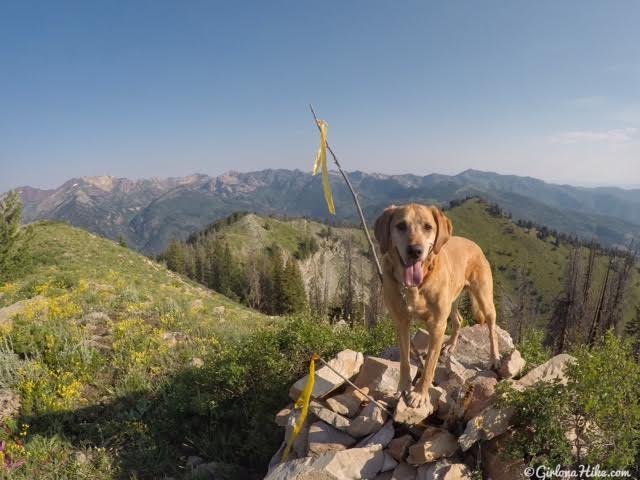 Summit dog!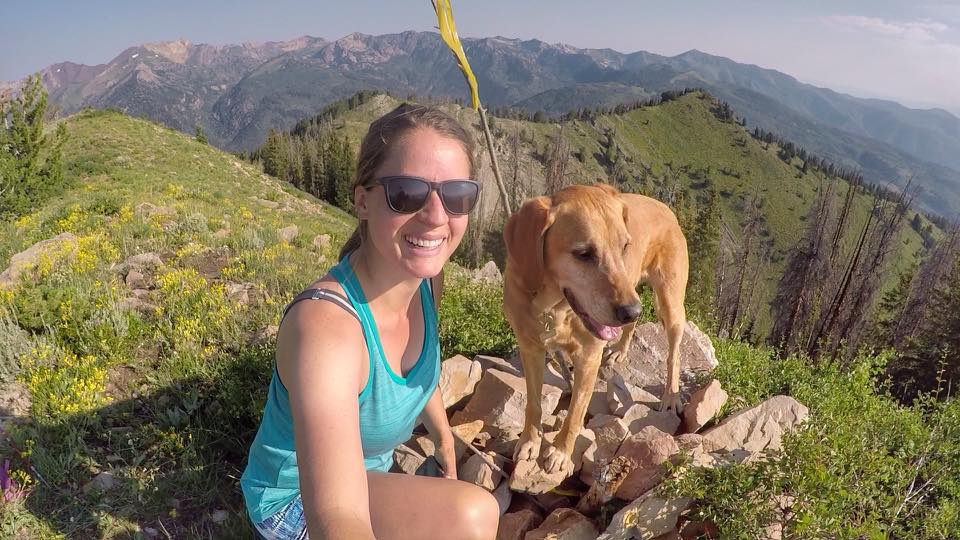 Summit Selfie with Charlie! We made it to the summit by 9:15am.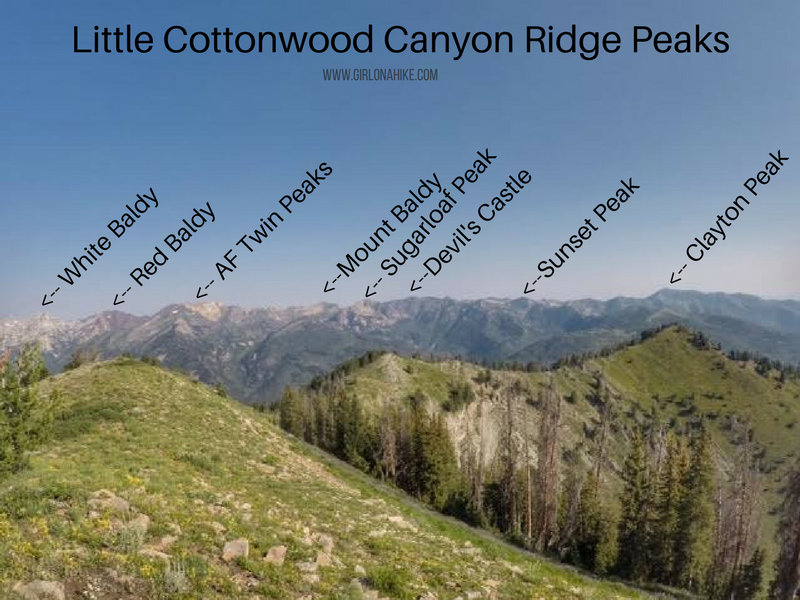 Did I mention how awesome the views are on Mill Canyon Peak? Look at all the peaks you can see from here. I've got AF Twin Peaks, Sugarloaf Peak, Sunset Peak, and Clayton Peak on my blog.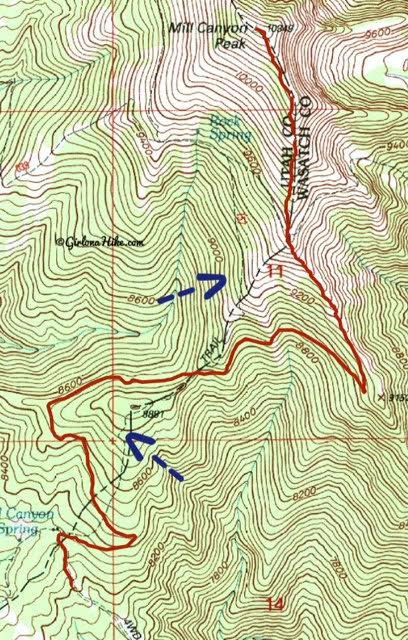 Quick note about older maps/trail guides. The original route was following the blue arrows, which I anticipated hiking but never saw the trail splits. There has been a lot of trail reconstruction, and the correct route is now shown in red. The two blue arrows are for the old trail, which has been blocked off and no longer exists.
Trail Map
My track via Gaia GPS – the best tracking app! Get your app here for a discount.
Recommended Gear

Save me on Pinterest!