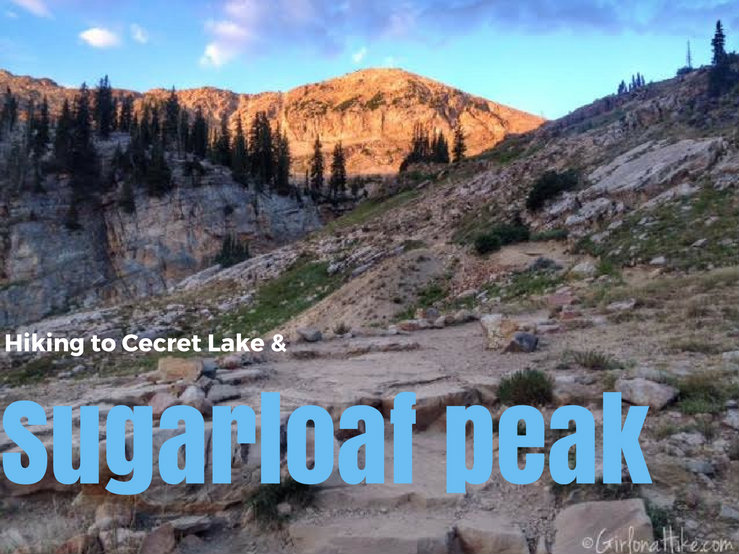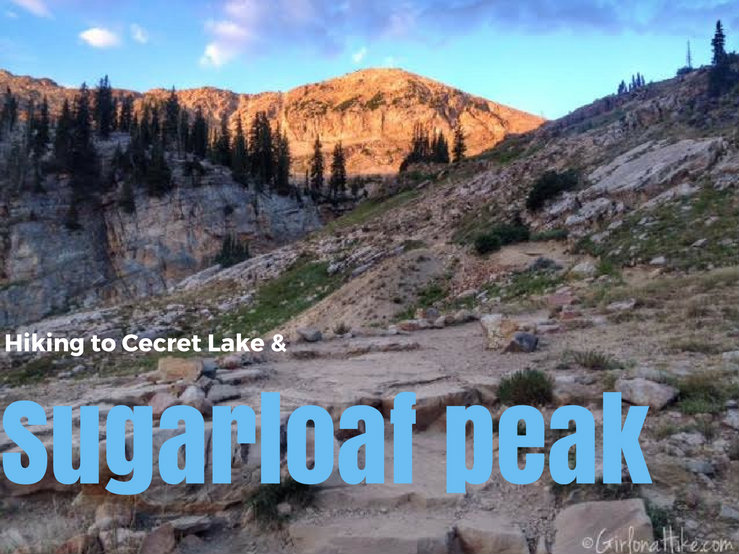 Cecret Lake (yes, that is the correct spelling) is a beautiful alpine lake that sits in the heart of Alta Ski Resort. This easy 1 mile walk is great for kids, taking photos of the amazing wildflowers in July, and possibly sighting a moose. But why stop at the lake, when you can continue just one more mile and summit Sugarloaf Peak? The elevation of Sugarloaf Peak is 11,051 ft, and can be summited in under an hour and half. Bring a light jacket though – it gets really windy and can be quite cold at the top. Keep in mind that the Albion Basin Road is only open from July 4th until the last week of September (or whenever the first snow hits).
Directions
From SLC head south on I-215 and take the exit 4 for 6200 S/Wasatch Blvd. Follow Wasatch Blvd, as it passes Big Cottonwood Canyon, and eventually turns into Little Cottonwood Canyon. Drive all the way up the canyon, and once you reach the Alta area stay straight for the Albion Basin Road, which turns into a dirt road. Follow this dirt road for another few miles until you see the large dirt parking lot on your left, just before the Albion Basin Campground. A small, compact can easily drive up this dirt road. There is one restroom near the TH.
Trail Info
Distance: 2 miles RT to Cecret Lake; 4 miles RT to Sugarloaf Peak
Elevation gain: 1,600 ft to Sugarloaf Peak
Time: 2-3 hours
Dog friendly? No, dogs are not allowed in BCC due to the watershed
Kid friendly? Yes for both the lake and peak
Fees/Permits? None
We reached the parking lot at 6:20am. It was nice and cool, about 60F. As of 2022, you need pay to park here.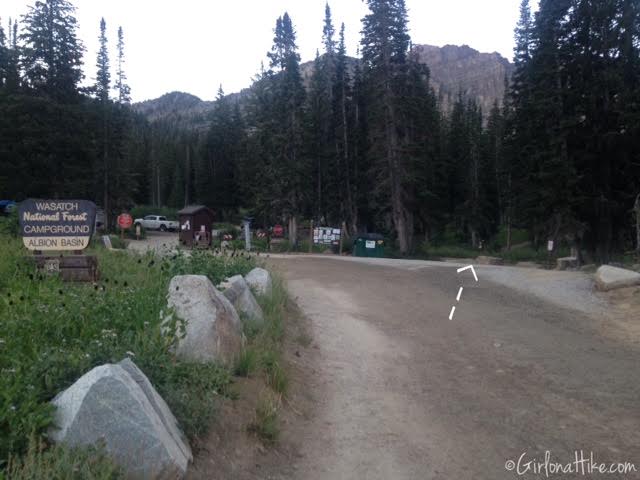 The trail starts just to the right of the campground entrance.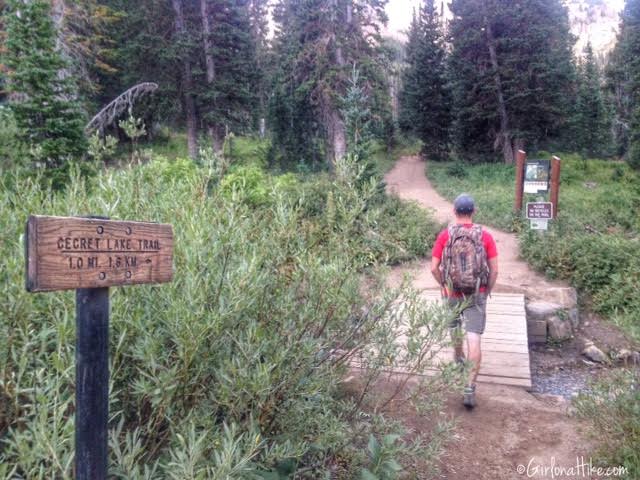 Follow the sign and cross the creek.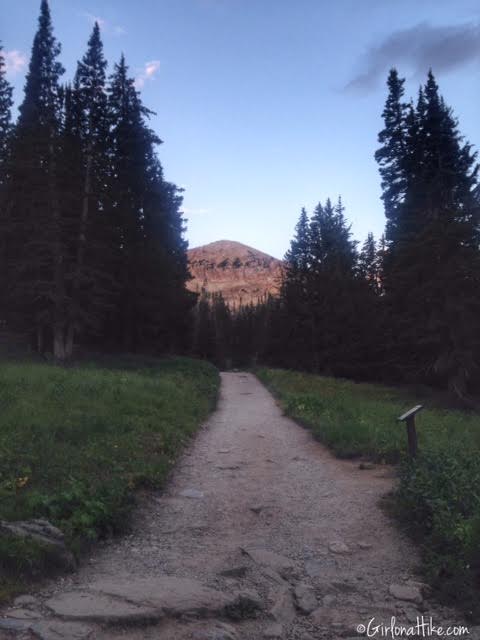 The path is really wide. We now have our first view of Sugarloaf Peak!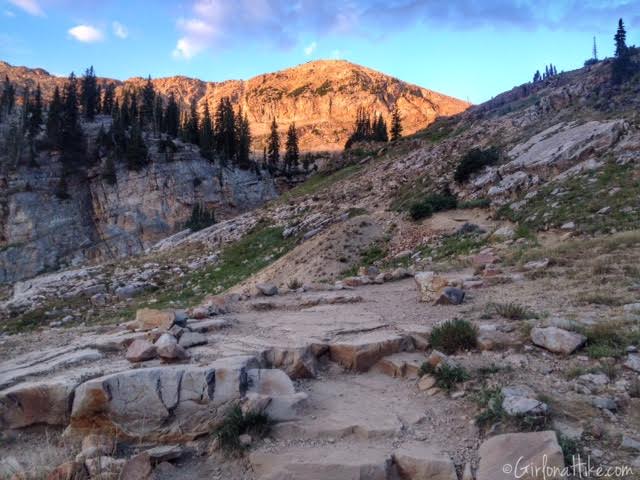 Work your way up the one switchback to Cecret Lake.

It only took us 20 minutes to reach Cecret Lake. The early morning light on Sugarloaf Peak was amazing!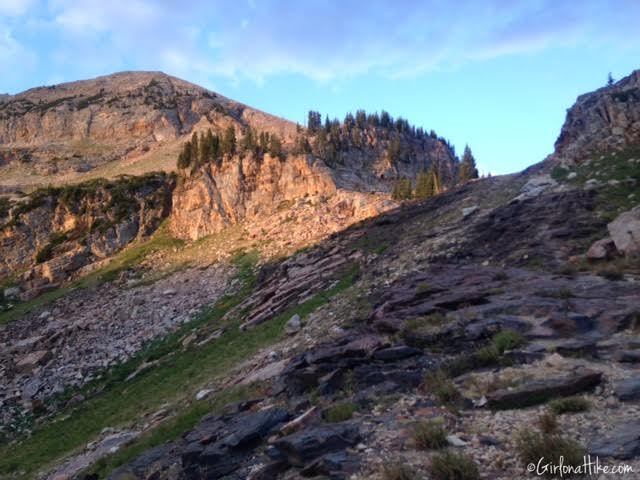 Continue your way around the lake to the West side, and follow the trail up the East facing side of the hill.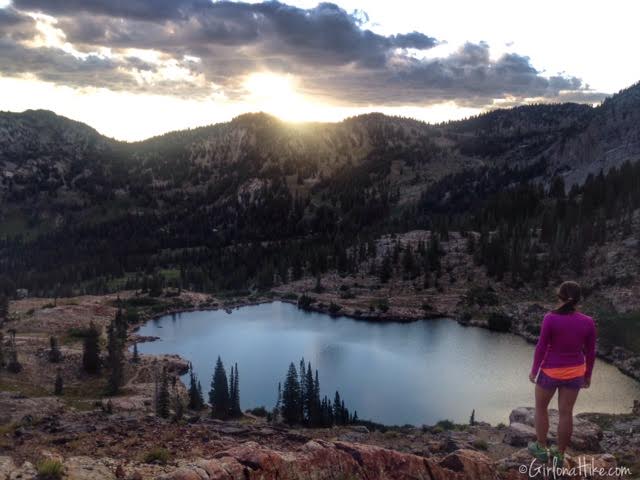 Sunrise over Cecret Lake!
No swimming is allowed in the lake, since it's part of the watershed.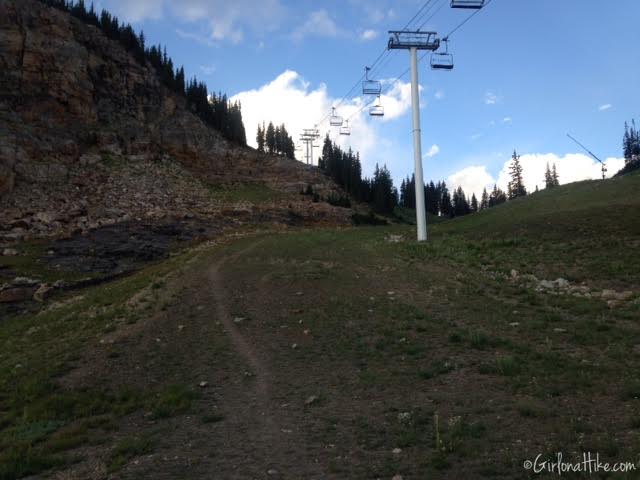 You'll walk under the Sugarloaf ski Lift.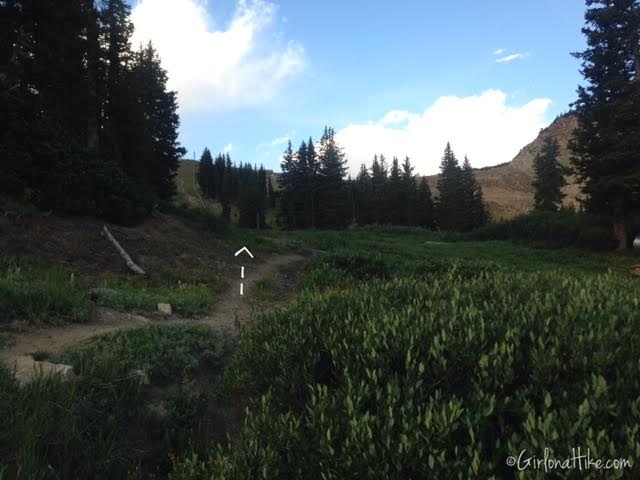 At the next trail you see, turn left, and follow it up to the ridge. Keep an eye out for moose in this area – around 7am we saw 3 large moose.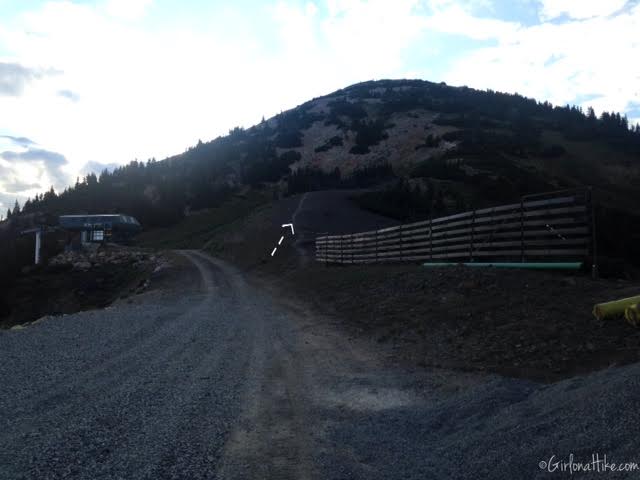 Once on the ridge, head East, and follow the trail that goes in front of the snow fence.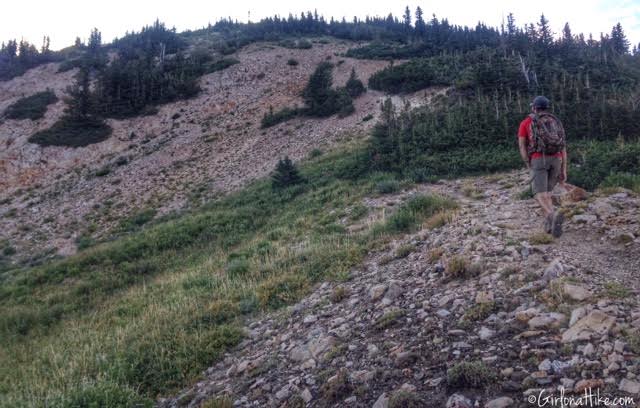 The trail begins to get really steep. Parts of it have loose rock as well, so watch your step.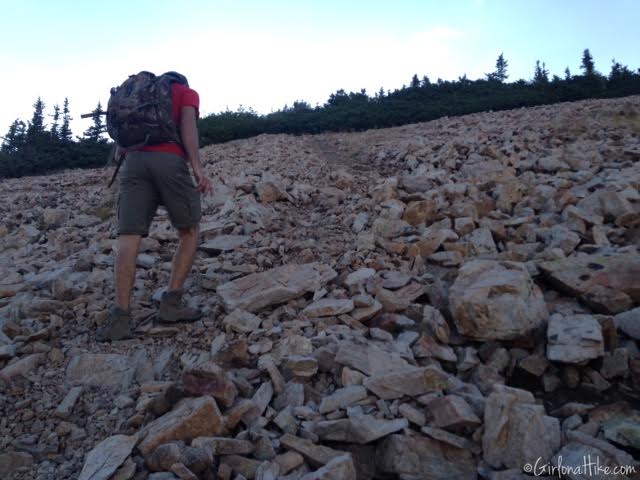 The trail is pretty easy to follow. Can you see the trail through the rock field?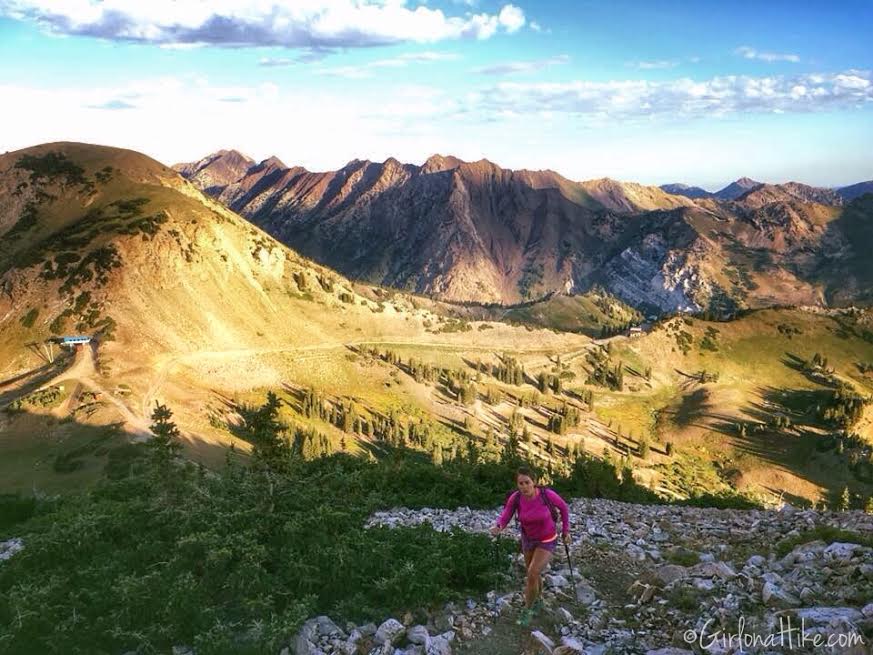 Looking down from where we headed up. A nice view of Mt. Superior & Monte Cristo Peak behind me – another great trail to do!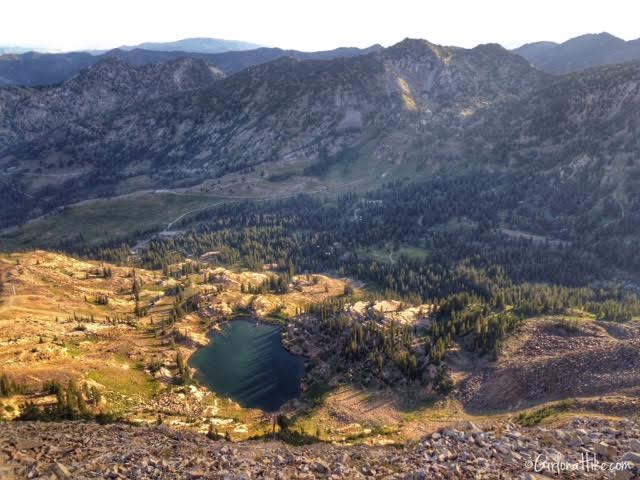 We reached the Sugarloaf Peak summit in 1:10. Looking down to Cecret Lake, you have amazing views of Albion Basin.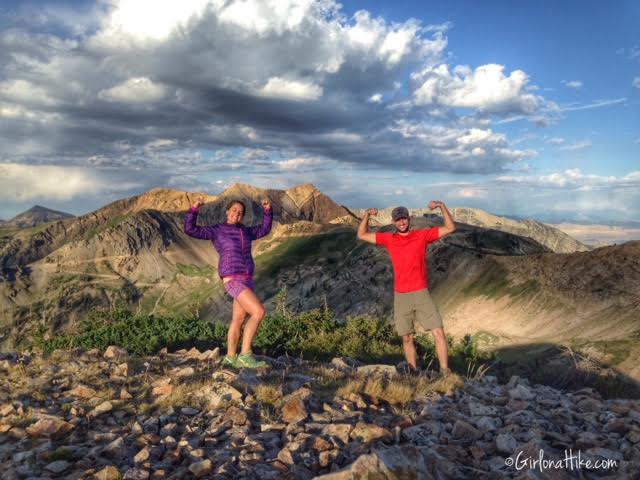 This peak can be very cold, even in summer. It's a good idea to bring either a long sleeve shirt or light puffy coat. I had on my tank top, long sleeve, AND puffy and was still cold. I wished I had even brought gloves! If you do this during the day time, it won't be as cold, but evening hours will be chilly as well. We had a great view of American Fork Twin Peaks behind us.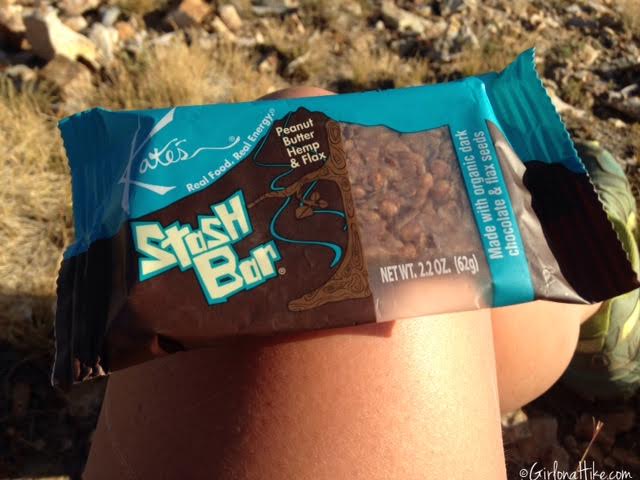 My breakfast for this hike was the Stash Bar by Kate's Real Food. These bars are sooo tasty – peanut butter, chocolate, seeds, nuts, etc. I love the sweet and salt taste, and with only 270 calories, it doesn't make you feel super stuffed for the hike down.
Yummy Stash Bar!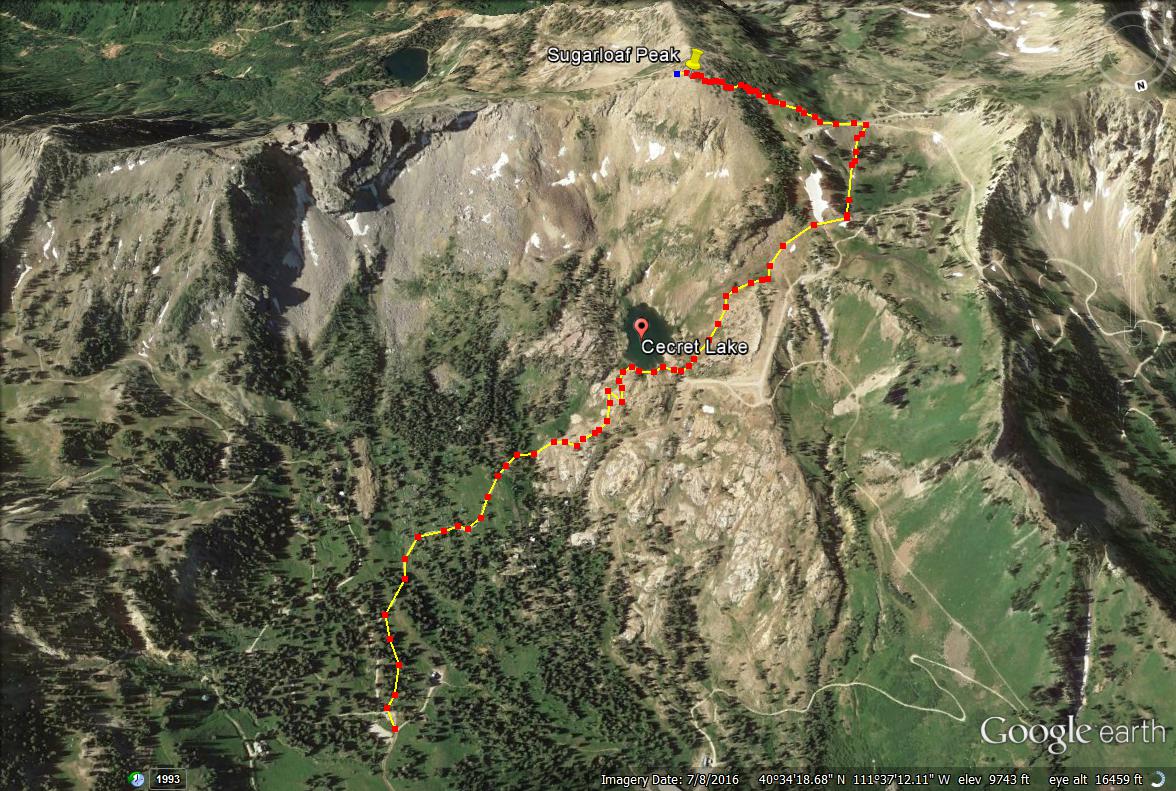 Here is the trail map looking South.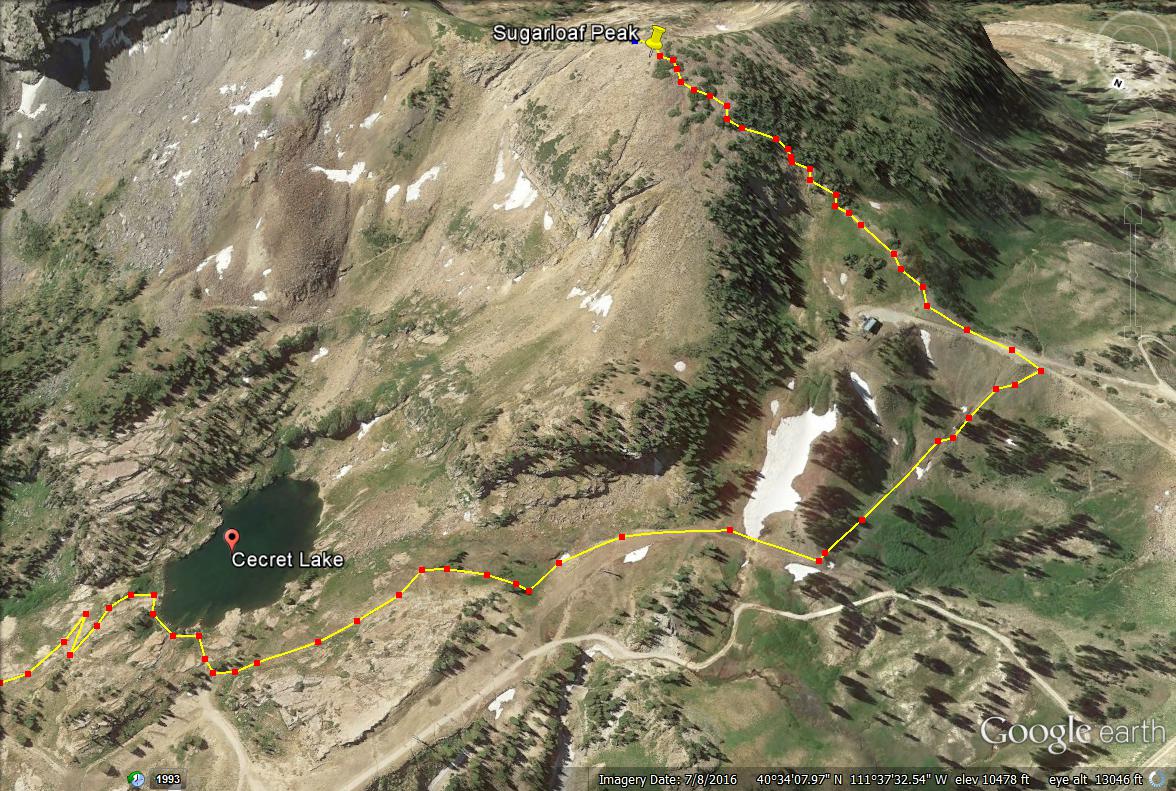 Close up of the trail map from Cecret Lake to Sugarloaf Peak.

Save me on Pinterest!