Hayden Peak (12,479 ft) stands out for anyone who's driven along the Mirror Lake Highway in the Uintas. This rugged peak is quite intimidating from the road, but for Peak Baggers that's nothing to prevent us from climbing it. Hiking to the summit of Hayden Peak is NOT for the beginner hiker nor the beginner peak bagger. You should be comfortable hiking across narrow ridges, class 3 scrambles, and route finding. There is either a very faint, or non-existent trail. Though this route is only 2 miles one way, you'll gain a total of just over 2,000 ft. 
About
Because the Uintas are known for daily afternoon thunderstorms you'll want to start hiking early in the morning. Even in summer the temperatures can be chilly, so be prepared with the right gear.
Dogs
Though the Uintas are all dog friendly and off leash, I highly discourage you from bringing a dog to Hayden Peak. Charlie is a total mountain dog, but I was glad we left him this day. Dogs can easily step on the wrong boulder, creating a slide, and/or easily tear their paws on the rough terrain. They will also not be able to get up the class 3 scramble. There's also no shade and no water for them.
Kids
Kids – though I also wouldn't recommend kids, thats not to say that some have made it to the summit. It really depends on their experience with ridges and boulders, their fitness level, and what they can handle.

I had been wanting to bag Hayden Peak for the last few years, and to be honest I was intimidated even though I have done some crazy peaks and knife ridges. I wanted to either go with someone who knew the way, or someone I could fully trust. No way I would do this one solo. Thankfully the timing worked out that my partner could hike it with me! Having been a climbing/mountain guide for over 10 years I knew he would be the perfect person to come along. 
Directions
Use this map if you are driving from SLC.
Use this map if you are driving from Provo.
The road is paved the entire way along the Mirror Lake Highway. Restrooms are available at the TH.
Trail Info
Distance: 4 miles RT
Elevation gain: 2,041 ft
Time: 
2.5 hours to summit
1.5 hours back to car
4-6 hours total, depending on your fitness level and experience
Dog friendly? No (see notes above)
Kid friendly? No
Fees/Permits? There is no permit, but there is a $6 fee (good for 3 days) for accessing the Mirror Lake Highway and trails. You can purchase the pass at the ranger station in Kamas, UT, or any of the self-serve stations along the highway. If you have an annual National Park Pass or annual American Fork Canyon Pass you can use either to park free.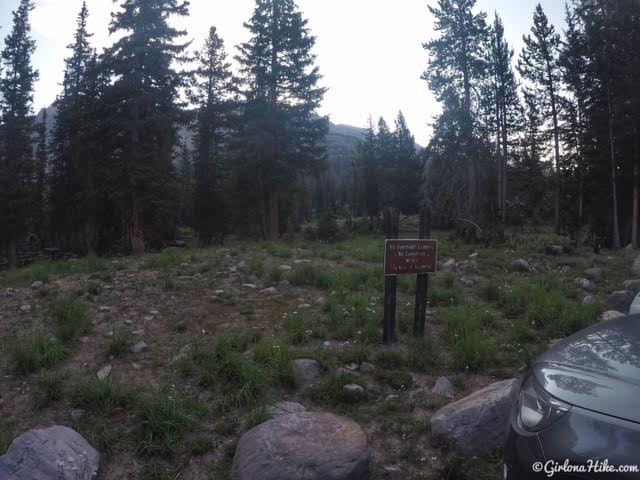 We started hiking at 7:30am, so it was still a little dark. We wanted to make sure to beat the heat and afternoon thunderstorms. It was also chilly – a brisk 45F in August! By the time we got back down it warmed up to 73F.
Pick up the trail by hiking past this sign in the parking lot, until you reach the Highline Trail (About 50 yards away).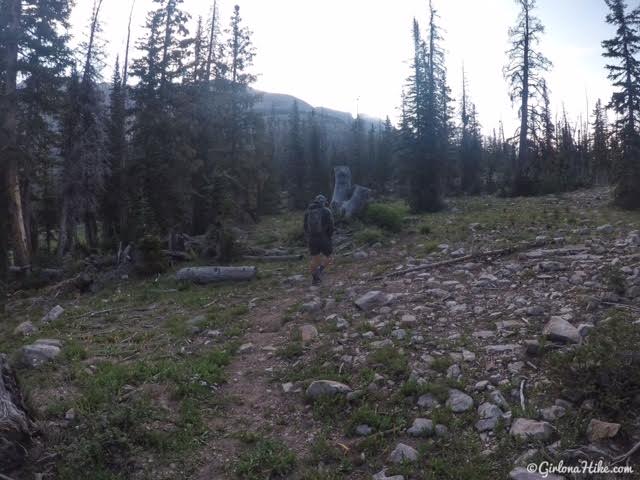 You should immediately see a faint trail branching off of the Highline Trail. You should be hiking directly East. It's a well traveled trail, marked with cairns. (You know you went too far/wrong direction if you hike past the Highline Trailhead to the south).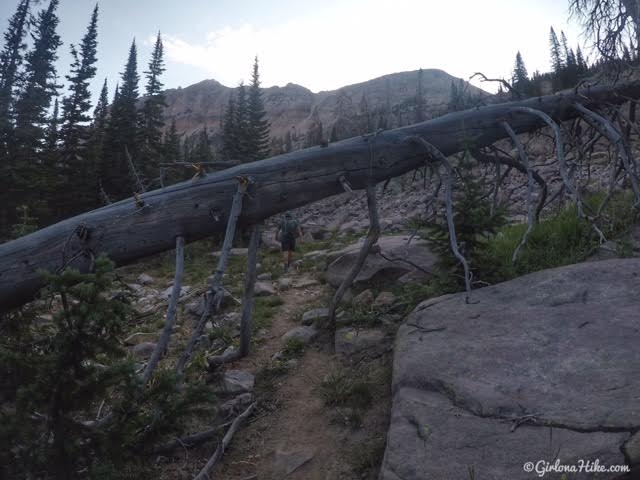 Follow the trail as you duck under this large fallen tree.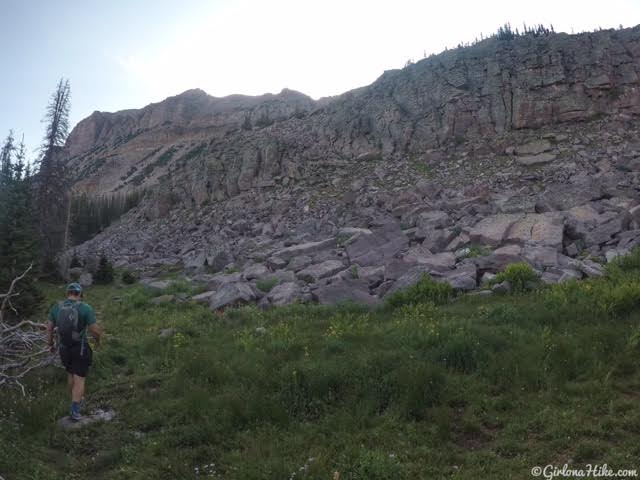 The trail follows the base of this cliff band for a bit, as you hike through a more grassy area. Eventually the trail fades and you need to find your own way. Just aim East towards the ridge.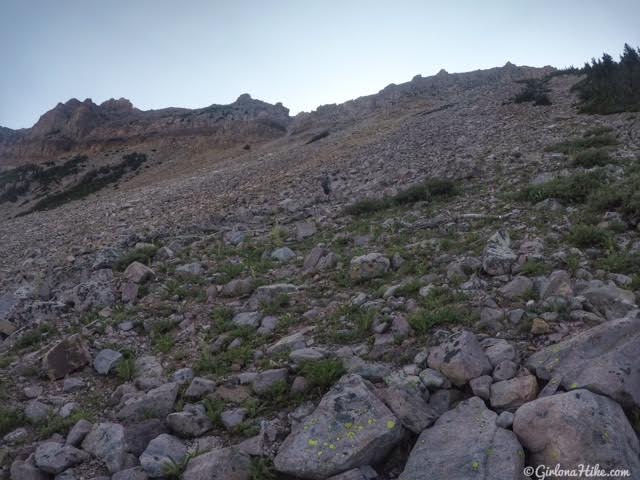 Now the "fun" begins. Our goal was to aim for that small notch in the ridge. My partner is already way ahead of me.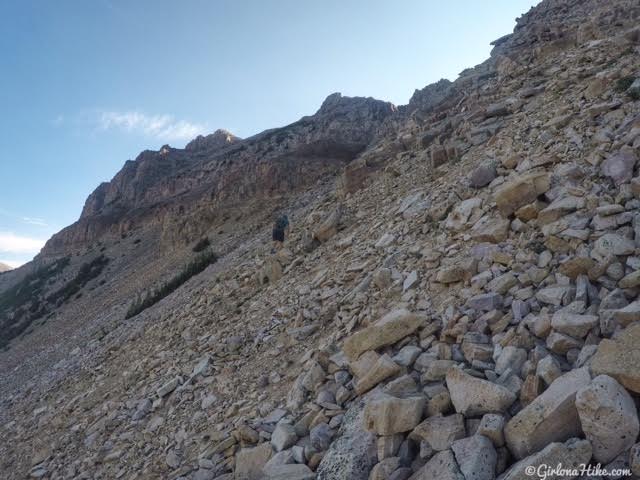 Hiking up higher and higher. Honestly, getting to the ridge is the hardest part about this hike. The boulders are all very loose, and there's loose scree everywhere.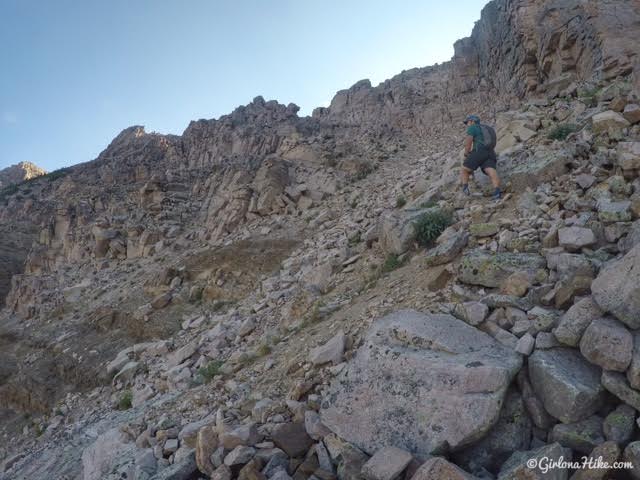 Still aiming for the small notch in the ridge. We actually picked up a faint trail near here – lots of recent boot prints.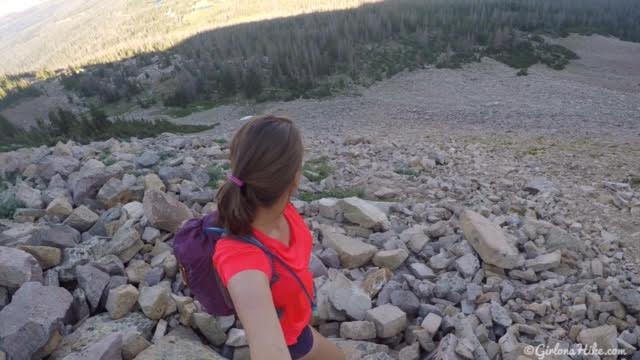 Whew! Looking back down where we came from. Make sure you look back to see where to aim down when hiking back. There was a small snow patch, so that would be our landmark for getting back.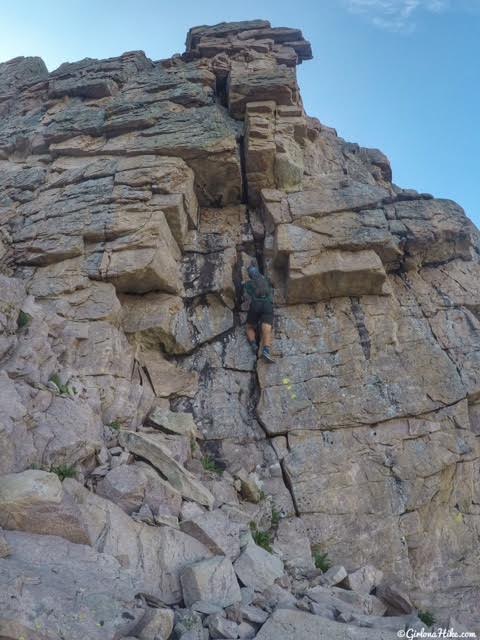 My partner wanted to climb this crack, you know, "just for fun". That's what happens when you've been a climber for over 20 years!
 Almost to the notch, looking back down.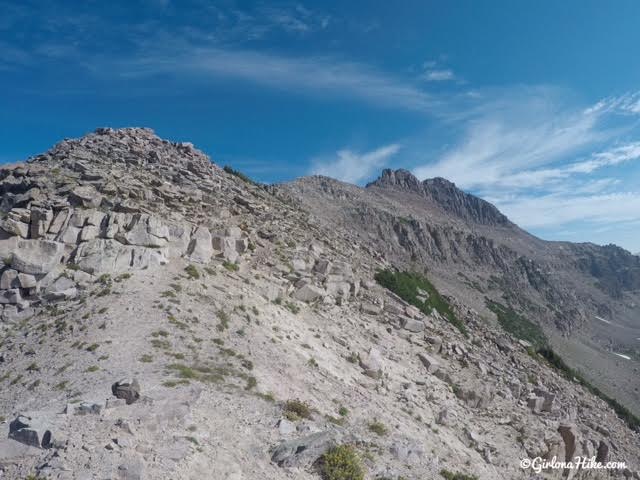 Finally on the ridge! It took us 1.5 hours just to reach this part.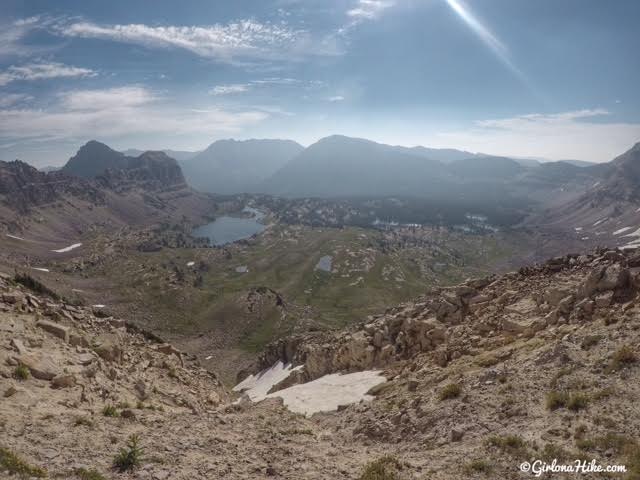 Looking down to Middle Basin, which is 9 miles up Christmas Meadows. The large lake is McPheters Lake, Ryder Lake is the smaller lake to the right.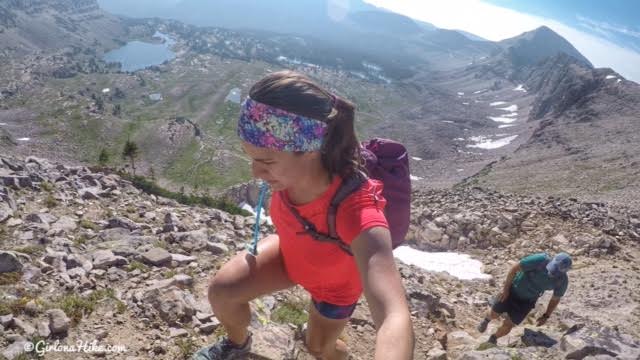 Once you are on the ridge its easy ridge walking.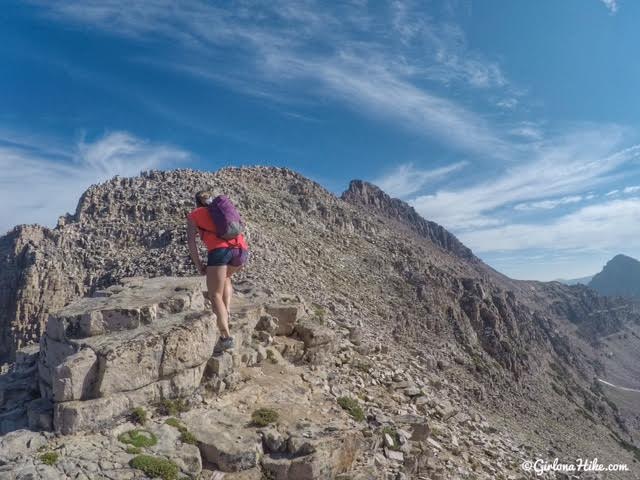 Stay on the ridge for about 1/4 mile. You will see cairns on the West side of the ridge, and those work too. I'd just rather stay high to avoid all the up and down.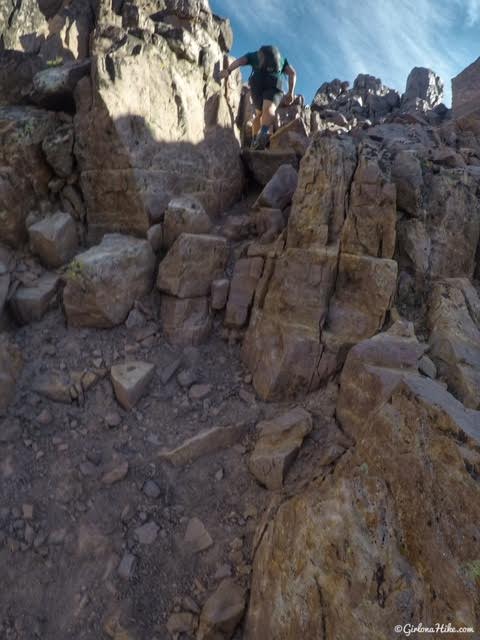 Hiking up this narrow rocky section. On the way back we somehow bypassed it.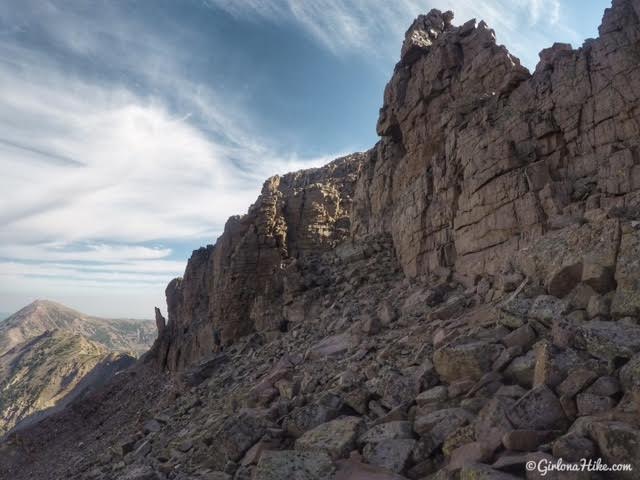 When you get to this spot, aim for that spire leaning out. Stay high on the boulders.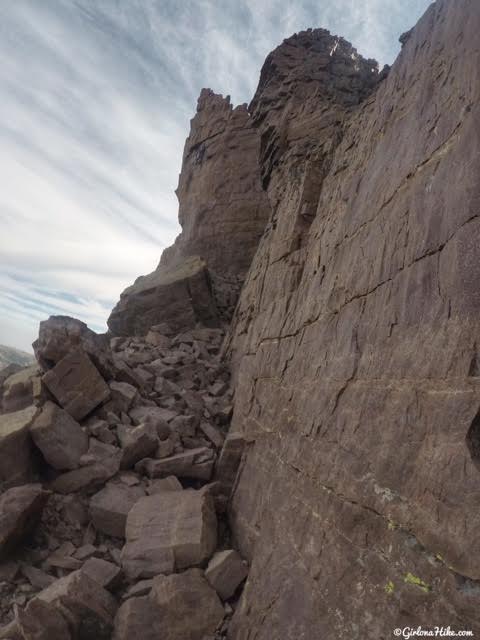 If you hug the cliff wall leading to the leaning spire, it is much easier, again, than having to hike up and down all the time. You'll see cairns everywhere, so hike where you feel comfortable.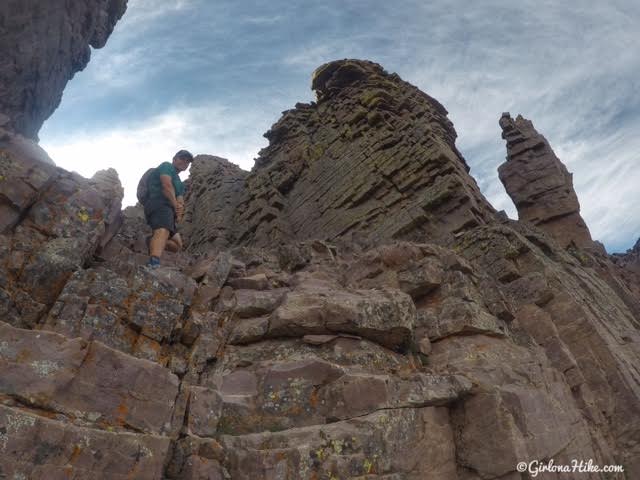 Just around the corner from the leaning spire is your first class 3 climb. There are really good handholds and steps to get up.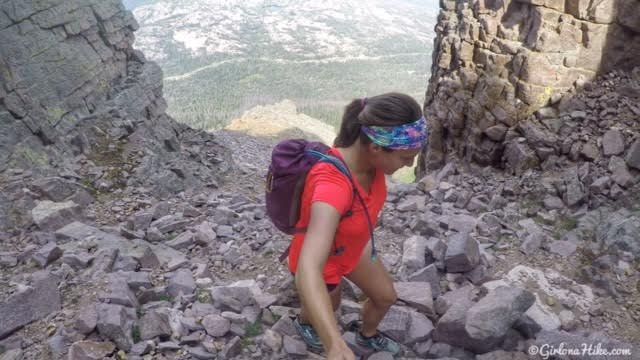 Follow this gully up. This part is just like hiking up a huge staircase past the initial climb. Nothing is really slick or loose here.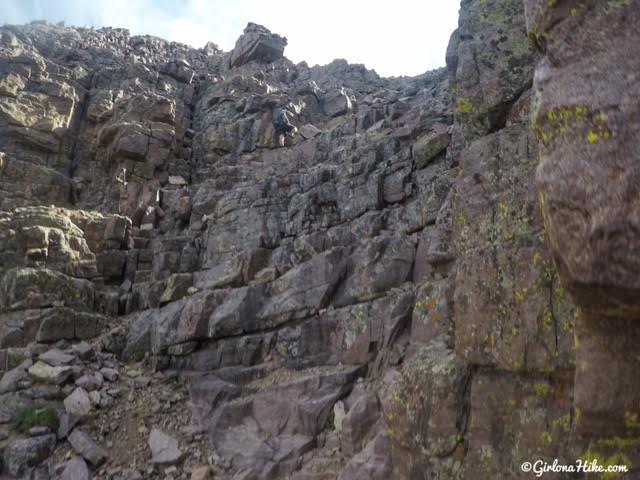 Can you see my partner ahead? This is how big this gully actually is, and it shows how the "staircase" looks.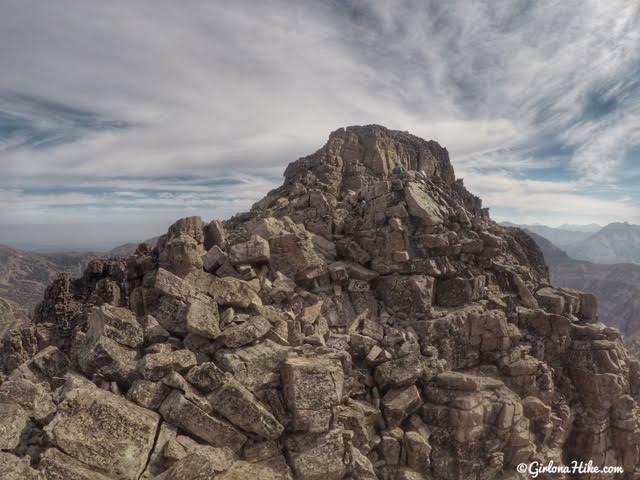 When you hike up the gully you think you will be at the summit. Not quite true as you can see. There's one more section where you have to do a class 3 climb, but again, it has good handholds. If you are not comfortable with climbing, a friend can help assist you on it. I needed help getting back down.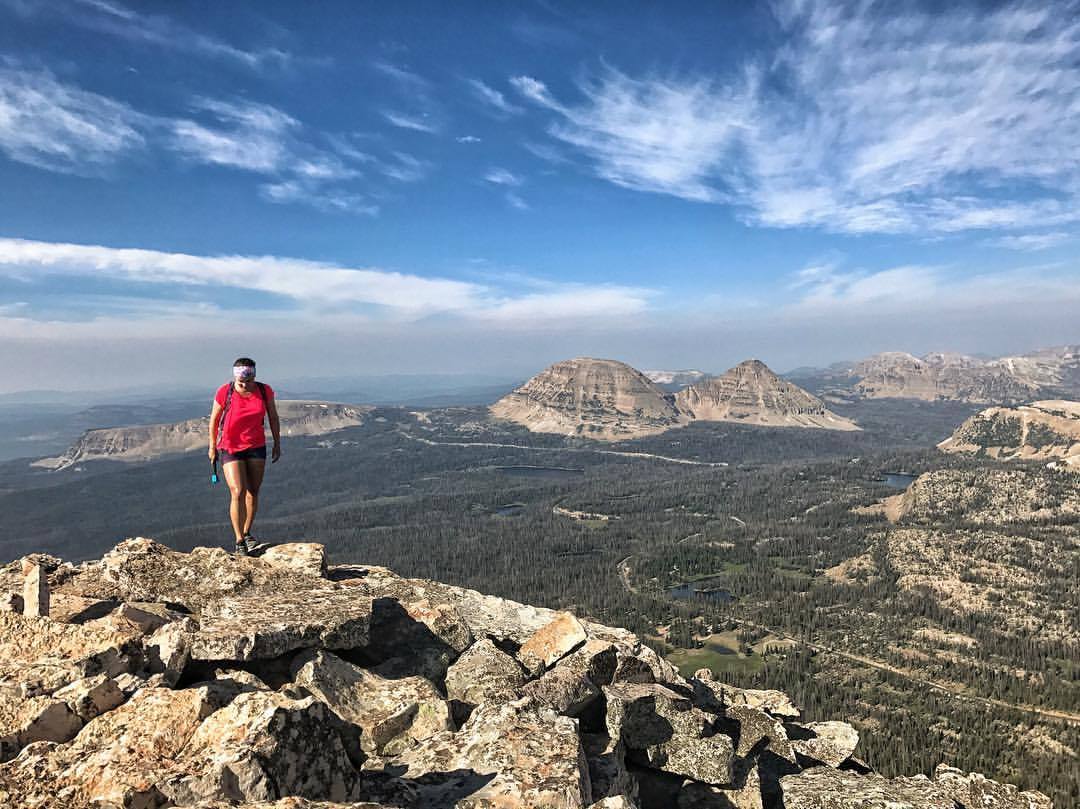 Nearing the summit. Photo by @iBoyer.
Awesome view of Bald Mountain & Reids Peak in the distance!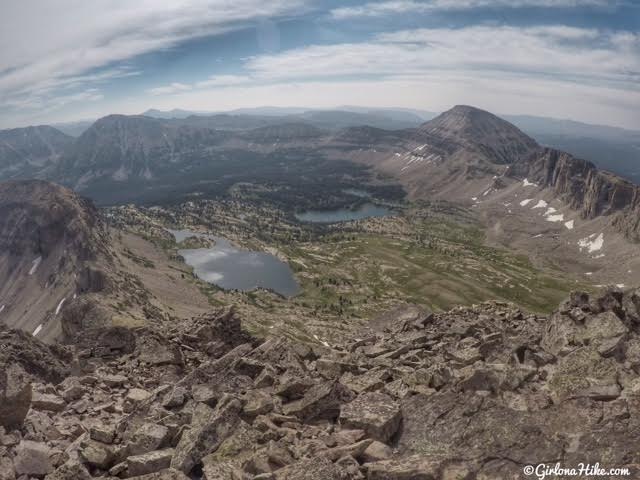 On Hayden Peak looking down to Ryder and McPheters Lake (a great backpacking destination! We backpacked to Ryder Lake the very first month we moved to Utah in 2014, and it was gorgeous. At that time, I never even thought about hiking up to Hayden!).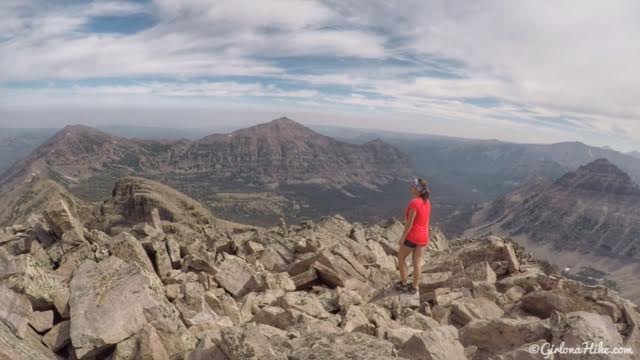 On Hayden Peak looking North. The three peaks left to right are: Keltting, A-1, and on maps the unnamed peak 12,284 aka East Hayden Peak as known by locals. Kermsuh Lake is down there as well (not in photo).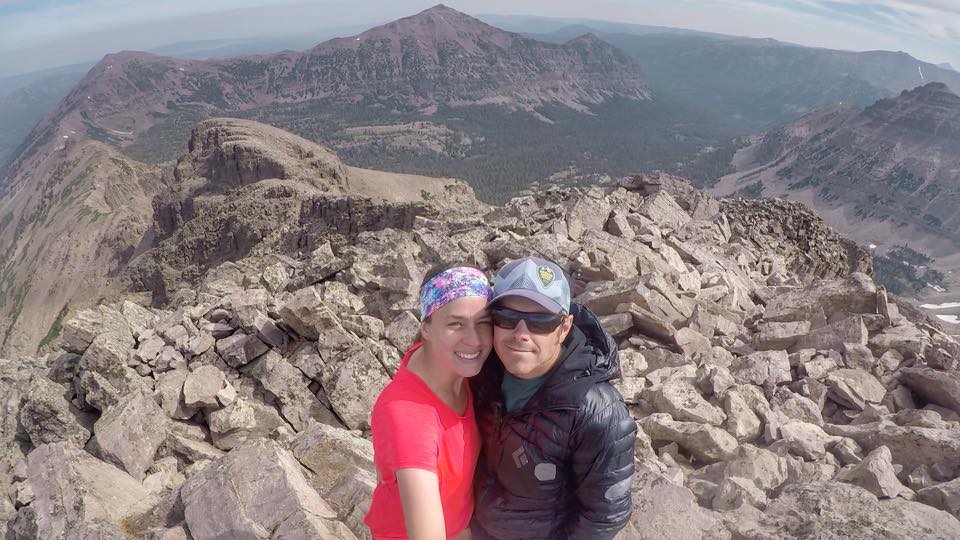 Couples who hike together stay together 🙂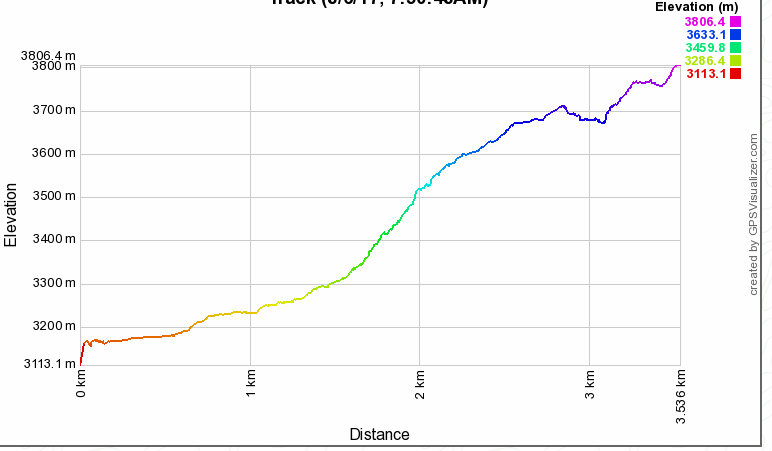 Cool visual of the elevation gain – note that this is in meters, not feet.
Trail Map
The route we took. Keep in mind that there's no "right" way once you are on the ridge, although you should generally follow this path. There are cairns all over the place, so you'll need to have a general sense of what to look for. Worse case scenario, if you get cliffed out, go back the way you came and find a different way up.
Recommended Gear
Nearby Hike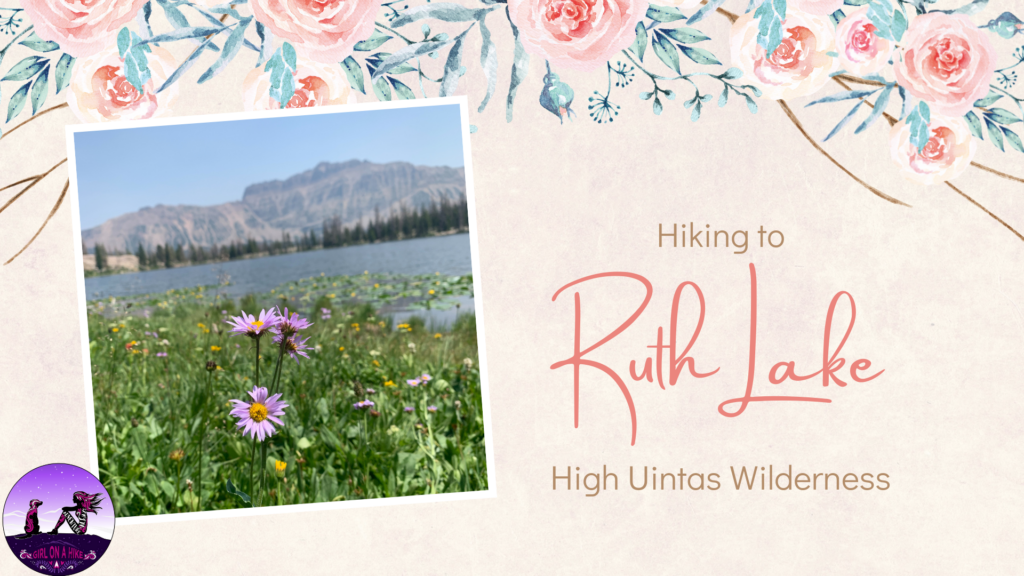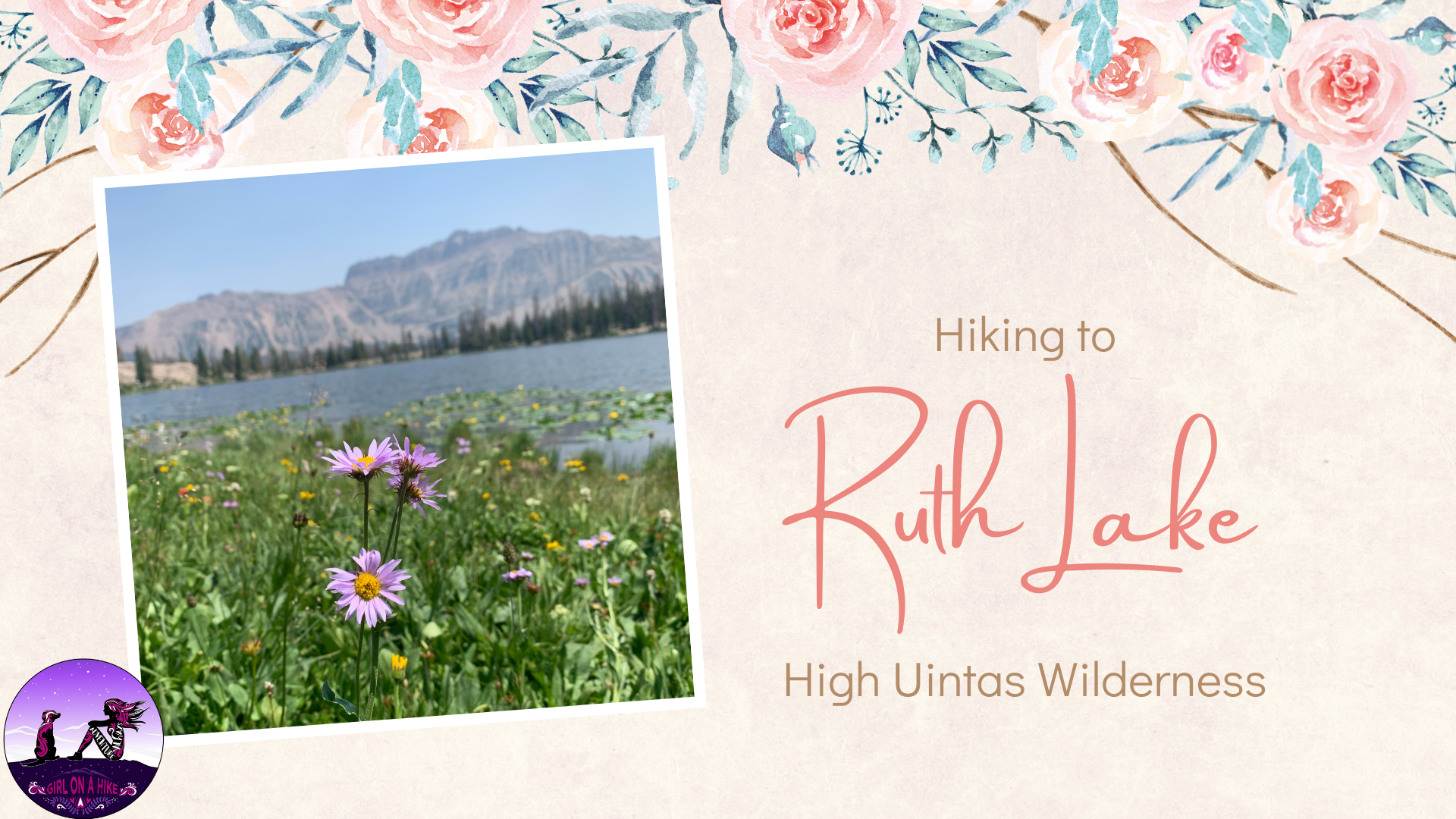 Save me on Pinterest!