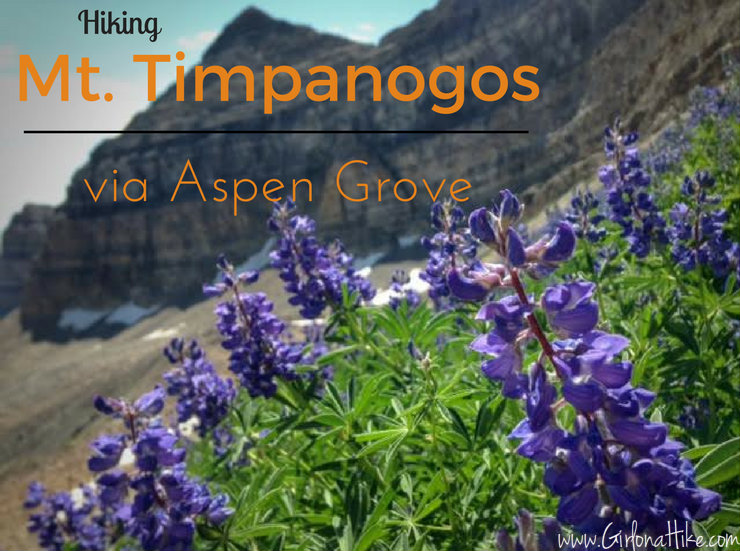 Hiking Mt. Timpanogos via Aspen Grove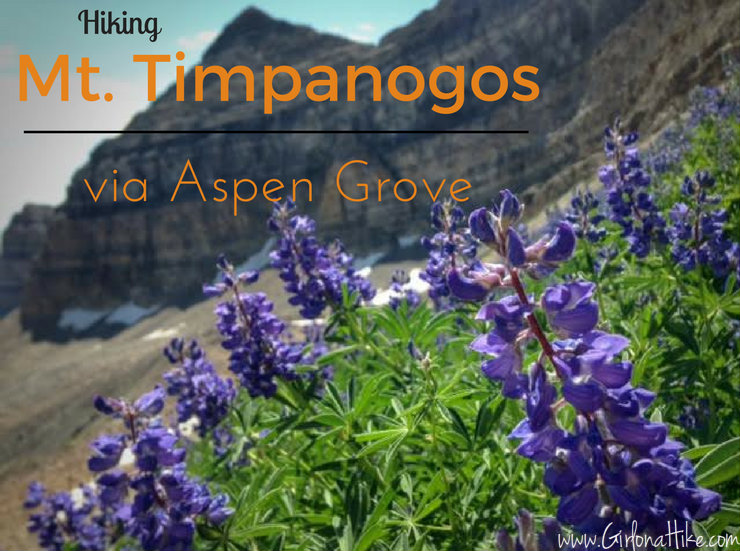 Hiking Mt. Timpanogos (11, 752 ft) is one of the higher peaks in the Wasatch Front, coming in 2nd behind Mt. Nebo. Though Mt. Nebo is the tallest peak in the Wasatch Mountains, it sees less than half the amount of hikers than "Timp" (as us locals call it) does. Hiking Mt. Timpanogos is almost a rite of passage for many Utahans – once completed, many will openly offer up their experience, advice, and how many times they've summited.
About
For many hikers, Timp is done at least once a year – for others, over hundreds of times. Ben Woosley, one of the most famous and oldest Timp hikers, had signed the summit register for his 812th time on my visit! Many people like to hike up super early (think midnight or 1am) to watch the sunrise over the Eastern ridgeline, or camp in one of the many meadows, then wake up early and hike the rest of the way up to the peak. No matter what time of day you hike it, or no matter how many times you've done it, always be prepared with plenty of water, food, sunblock, hat, etc. Hiking Timp typically takes hikers 6-8 hours round trip, and there's not much shade. In summer months, I definitely recommend bringing a water filter, such as the Sawyer Mini, in case you or anyone in your group runs out.
There are two routes to summit Mt. Timpanogos: via Aspen Grove Trail or the Timpooneke Trail. The more popular route is via Timpooneke. I had hiked that route about 2 years ago on a Saturday, starting at 7:30am. Hiking this on a Saturday and that late of a start were the two big issues for me. What those things meant were – 1) literally hundreds of hikers 2) too late of a start meant a hotter hike, and making it super difficult to find parking (we ended up parking 1 mile away). Hiking this route is about 16 miles RT, with 4,200 ft elevation gain. You'll pass Scout Falls, pass a few meadows, and also get the iconic view of Timp from looking South. The Timpooneke Trail heads south for most of the route.
This year, my friends and I hiked up the Aspen Grove side, which is the same trailhead for Stewart Falls and First Falls. This route gains 500 ft more elevation compared to the Timpooneke side at 4,800 ft elevation, and is slightly shorter at 15 miles RT. I think because of more elevation gain, this side is a less popular route for summiting. We also hiked this on a Sunday, which if you live in Utah, you'll understand why it's way less crowded. Hiking this route, we saw may a total of 40 people on Sunday. MUCH better than the hundreds of people I came across two years ago on the other side/trail. Hiking up the Aspen Grove side offers fantastic views of the Primrose Cirque, and will take you right by Emerald Lake.
Both routes are good, and offer different views. Which ever way you decide on, you are likely to see many mountain goats on your hike up. Many people will hike to Timp, simply to get a good photo of the goats. This is their home, not yours, so please leave them alone and stay back at least 100 ft. Some FAQs are answered below.
Directions
To get to the Aspen Grove trailhead from SLC, head south on I-15. Take exit 272 for 800 South in Orem, and head East. Drive straight on 800 S for 3.7 miles, then turn into Provo Canyon. Then drive another 7 miles, until you see the sign for Sundance Ski Resort, and turn left. Drive up this road for 2.6 miles, and drive past the fee station for the Alpine Loop Road. Immediately after the fee station, turn left into the large parking lot. There are restrooms available.
Trail Info
Distance: 15 miles RT
Elevation gain: 4,800 ft
Time: 6-8 hours
Dog friendly? Yes, off leash
Kid friendly? Yes, older kids
Fees/Permits? There is a $6 fee for entering the Alpine Loop Road, or FREE if you have the annual National Park Pass or the annual American Fork Canyon pass. No permit is required.
FAQS
Can I bring my dog?
Yes, dogs are allowed off leash. However, only bring your dog if they hike frequently, and are use to that high of mileage and elevation gain. Dogs also need at least 2 Liters of water, so if you have a backpack for them, they can carry their own water. If they don't have a backpack, plan on carrying 4-5 liters for water for you and your dog.
Is this a good trail for kids?
Yes for older kids. I have seen babies in backpacks and some younger kids too. Just like with dogs, kids should have plenty of hiking experience under their belt, and be able to carry their own water and snacks.
What time of year is best to summit Timp? How early should I start? 
The best time of year is Mid-July through the first week of August, when most of the snow is gone and the wildflowers are in full bloom. If you are doing this as a day hike, I recommend starting no later than 5am to beat the heat and the crowds.
Can I camp/backpack on the way to the summit?
Taking your time to camp in one of the meadows, then summit the next day is a great way to spend your time on this mountain. Not only will you get to experience the beauty of Mt. Timpanogos in various ways, but you won't feel in a rush to summit. Camping on these trails are free and follow backcountry camping Forest Service rules:
– campsites must be at least 200 yards from any water source
– campsites must be a least 100 yards off any trail
– no creating new campsites (use previously used sites)
– fires must be contained in a previously used fire ring, and put out with water when done.
– all Leave No Trace principles apply
Let's get to the trail!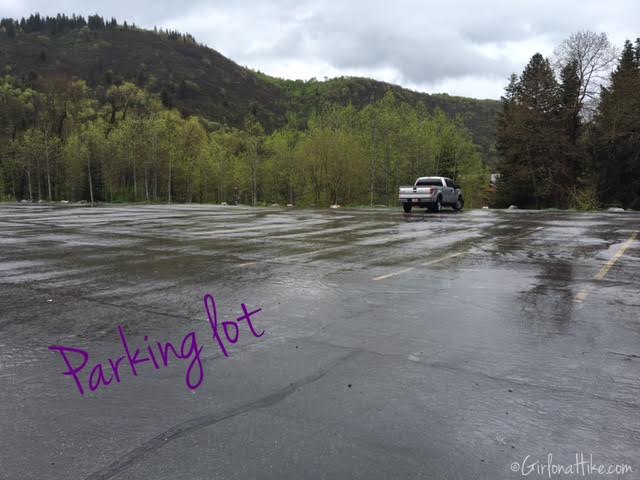 Since I started hiking at 5am (and my phone died by the time I got back to the car), I am using the photos from when I hiked Stewart Falls and First Falls, which happened to be a rainy day. This parking lot is huge, and in summer, can be full by 10am.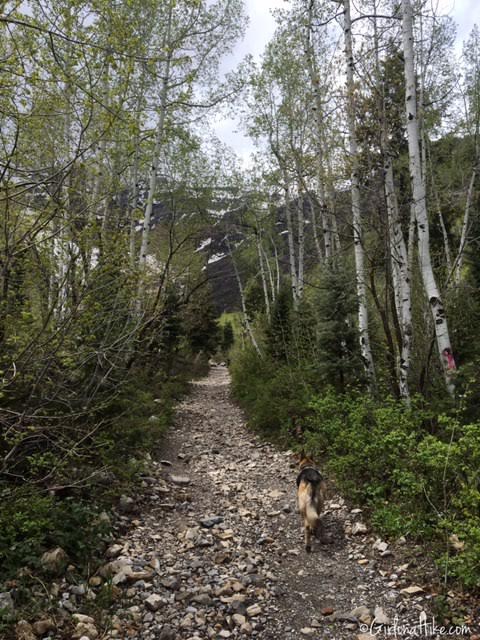 The Aspen Grove trail to Timp starts in the NW corner of the parking lot, and heads in a Westerly direction the whole route. 5 minutes after hiking, you'll pass the TERT Station (Timpanogos Emergency Response Team), with the trail register.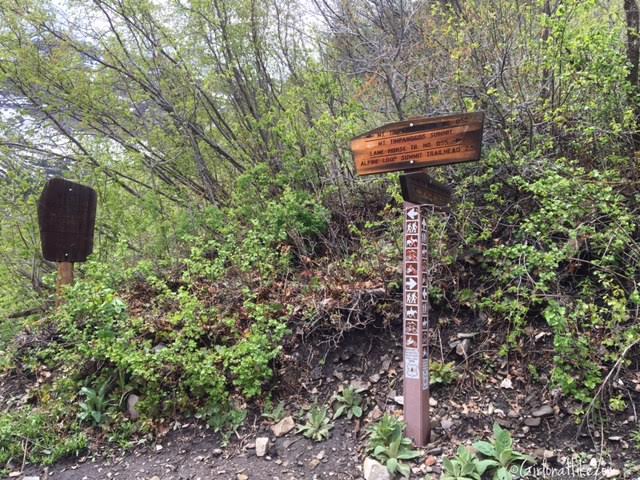 At the first trail split, turn left.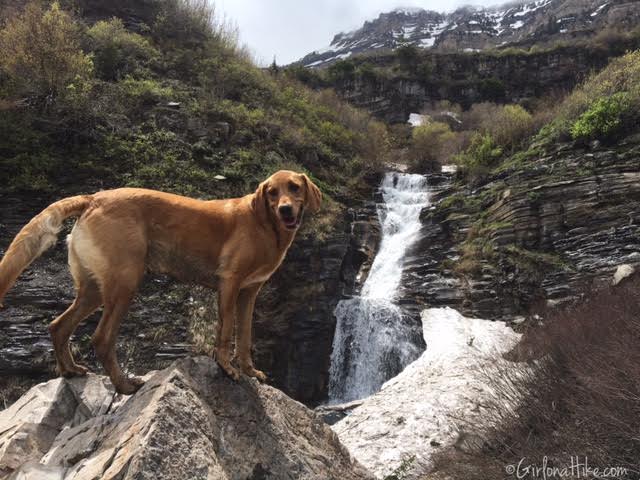 Taking a little stop to check out First Falls. Again, we were still in the dark at this point – this photo was taken in Spring when snow still existed on this trail.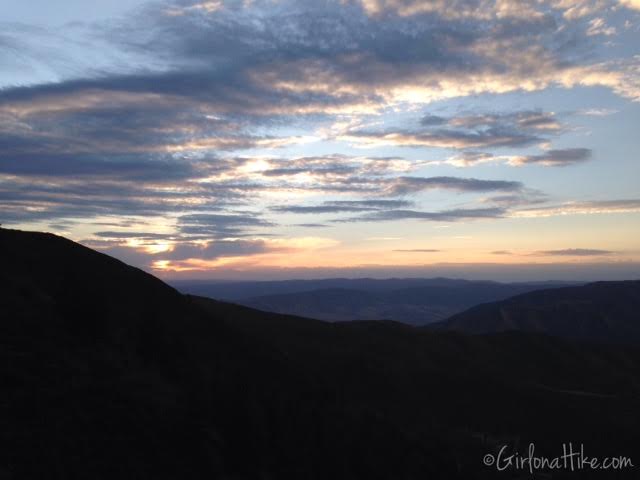 Sunrise!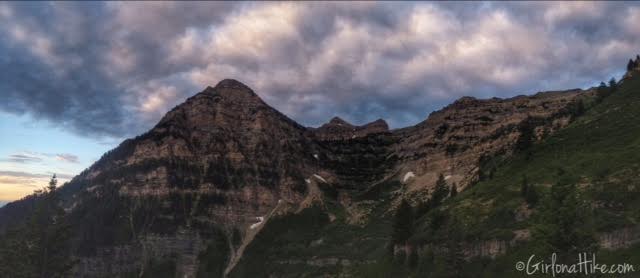 Around 6:30am, the sun finally started to appear, and lit up the Primrose Cirque.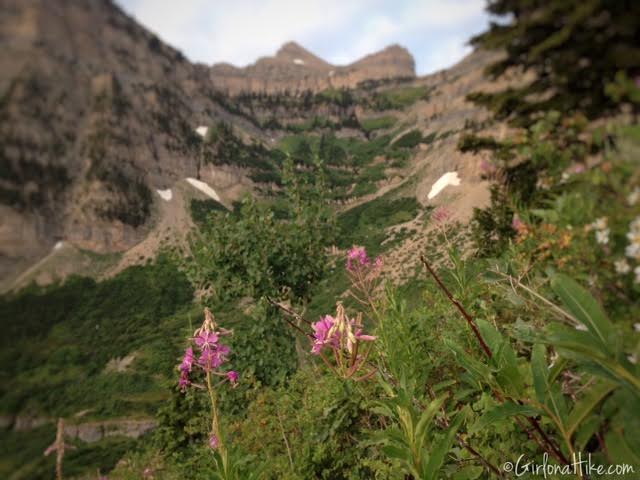 The trail makes several switchbacks up the Primrose Cirque. These pretty flowers were only a sample of what we would find on the trail.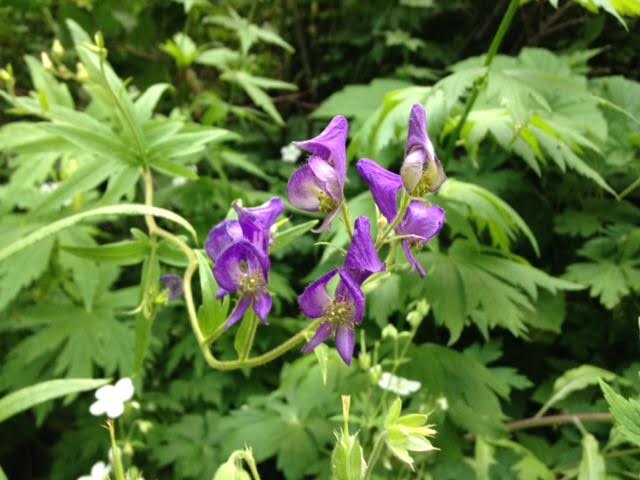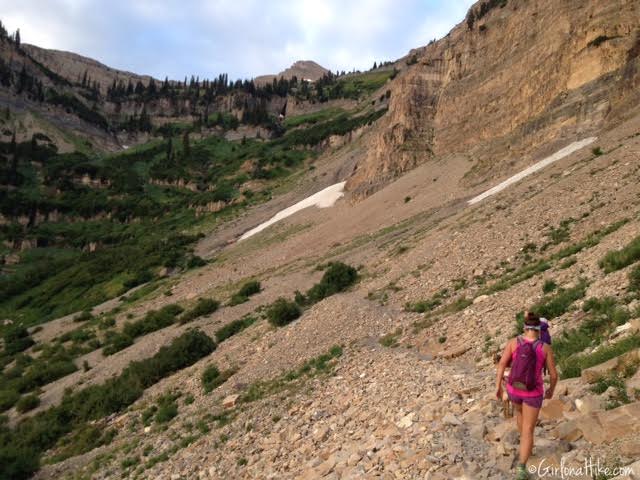 Crossing the rock side area. The trail is very well defined and solid – no need to worrying about sliding off the edge.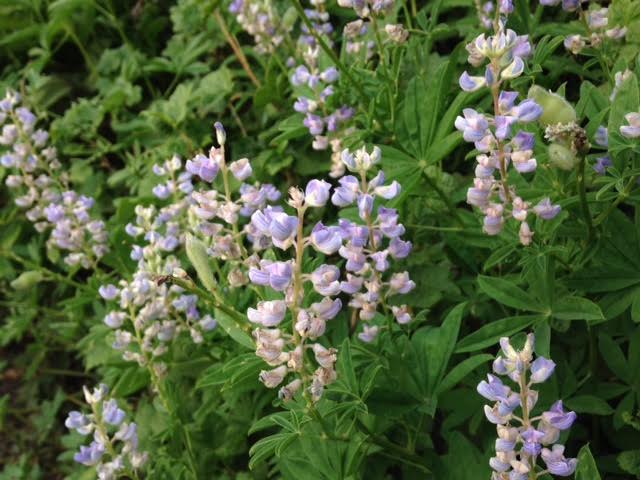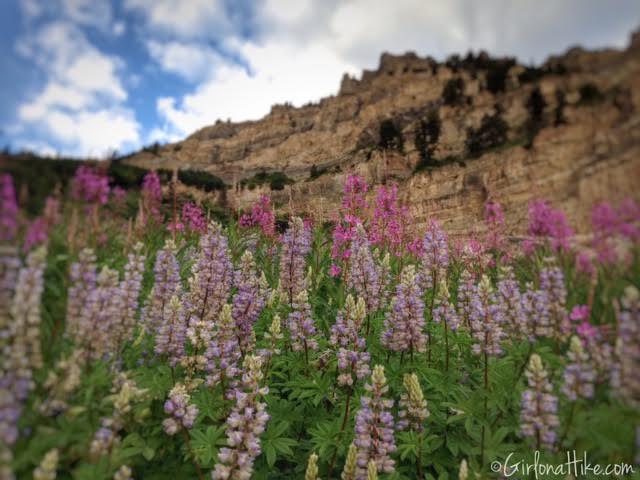 So many wildflowers at the end of July!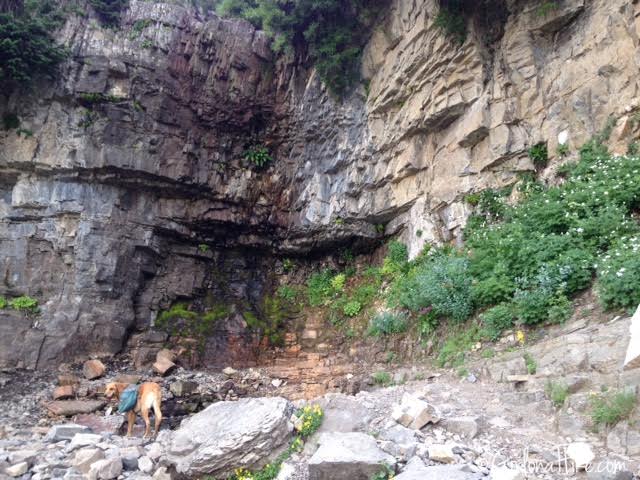 Along the trail, you can find small trickles of water and shady spots in late July. This was great for the dogs.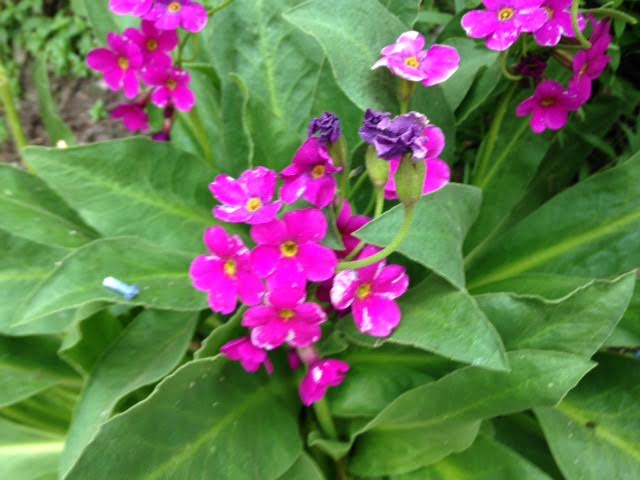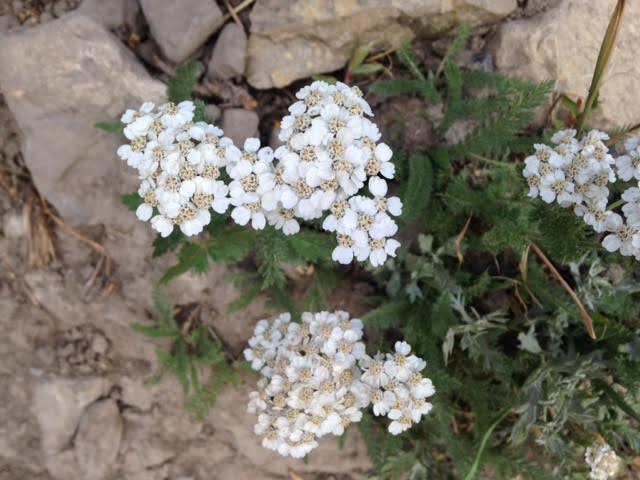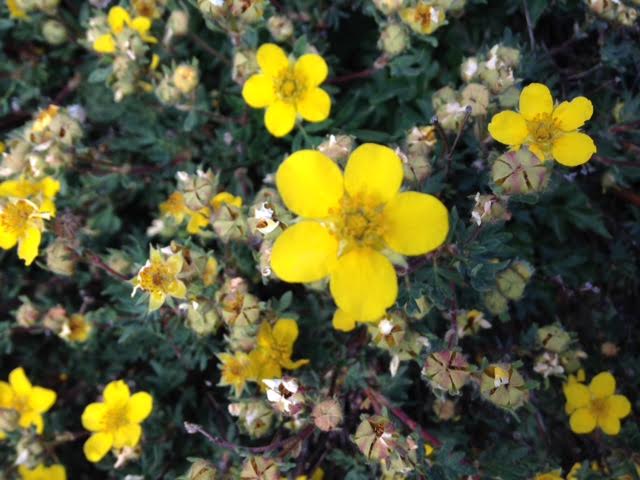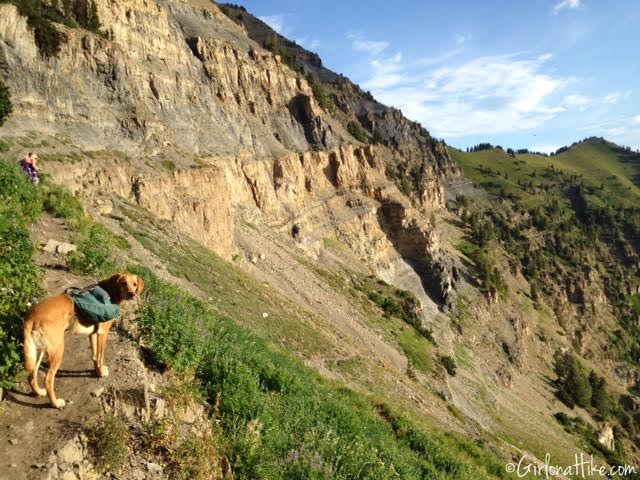 Working our way up the switchbacks in the Primrose Cirque.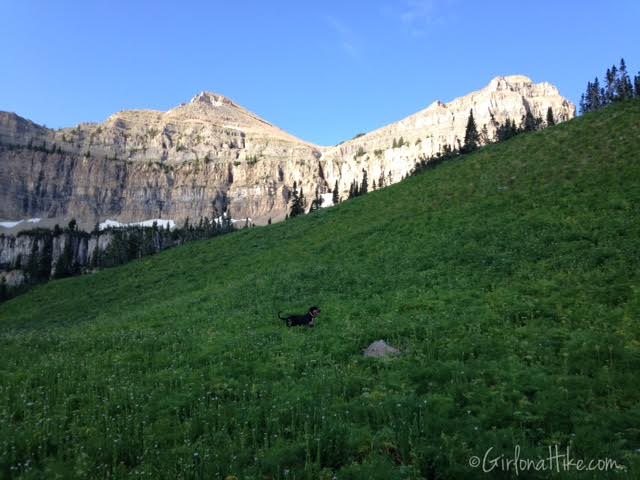 At about 4 miles the trail reaches the next ledge on the mountain, and flattens out a bit.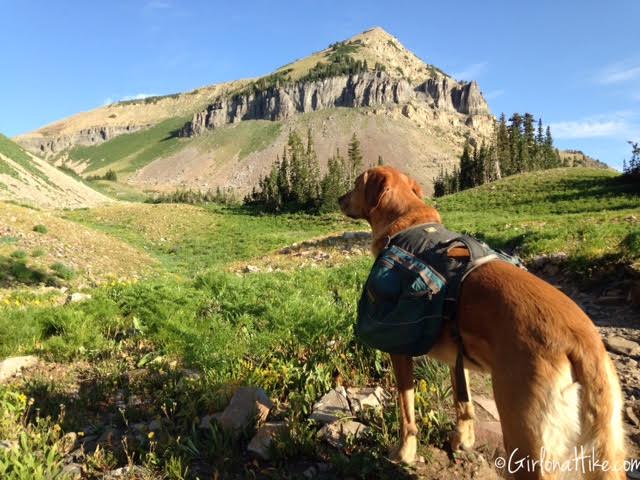 Getting a nice view, looking NW, to where the trail continues. Charlie stopped because he saw about 20 mountains goats, up to the left on the side of the hill. If you bring your dog, bring a leash as well in case mountain goats are on the trail. Thankfully, Charlie will just sit and stare or sometimes bark when he sees wildlife – he's not a chaser. If you have a chaser, bring a leash!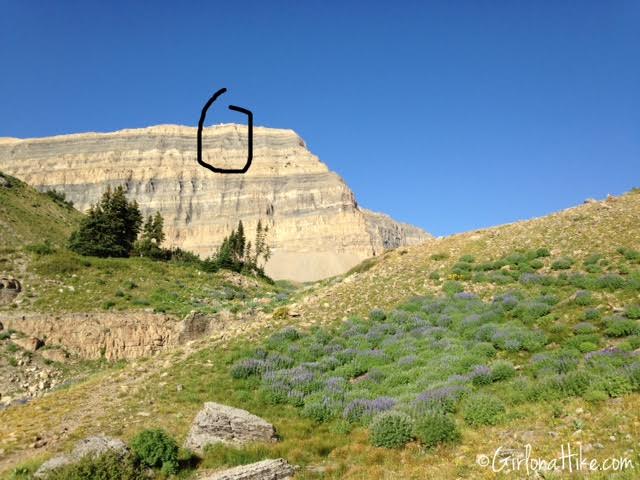 Rounding the corner, we could finally see our destination – the white shelter on the peak!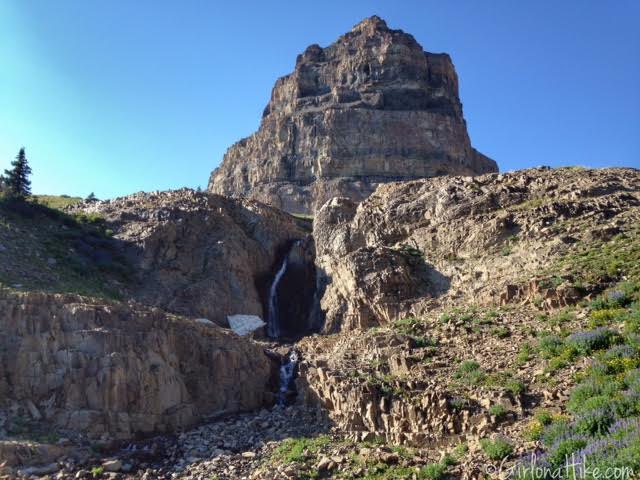 Passing by a small waterfall on the left. One patch of snow remains.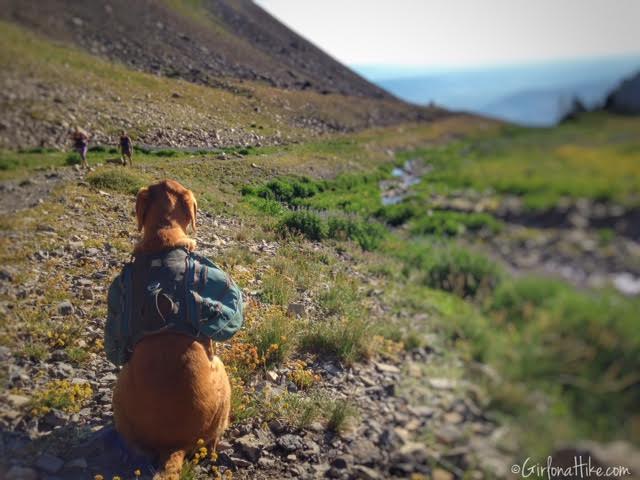 Charlie waits for our friends to catch up. What a good boy!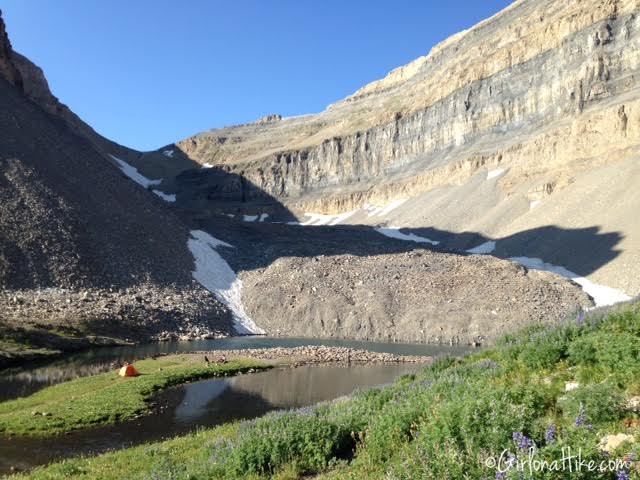 Passing by Emerald Lake. Apparently these campers aren't aware of backcountry camping rules. They are about 2 yards from water, not the 200 yards as required by the National Forest Service, and right on the trail. Big two no no's!
The upper snow patch is what some people refer to as the "glacier" on Timp. So if you hear of this, this is what they are talking about. It's not really a glacier, simply a snow patch that never melts during summer. Technically, a glacier is a "slowly moving mass or river of ice formed by the accumulation and compaction of snow on mountains or near the poles."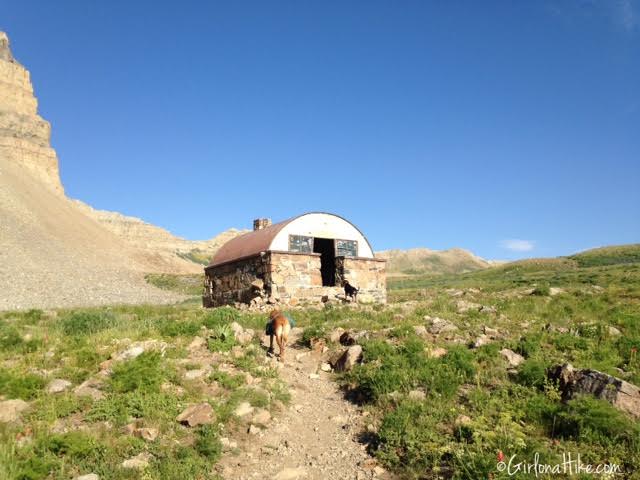 At mile 5.5 you'll reach the shelter.
Inside the shelter is an old fireplace and room to sleep or sit up to 20 people. There was a lot of food, packs left there, graffiti, and trash. Many people will leave heavy packs there, to make for a lighter summit, then grab the pack on the way down. I hope those people brought water along with them to reach the top!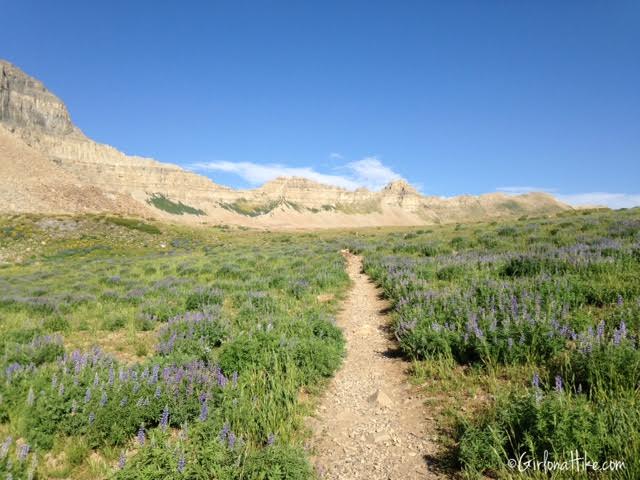 After taking a snack break, we continued on. We could finally see the saddle we'd be hiking towards. It's the smallest dip on the ridge, just above that yellow patch of flowers.

Looking over the large meadow, where many campers set up their tents. You can't tell from this photo, but you can also see where the Timpooneke Trail comes in to this meadow.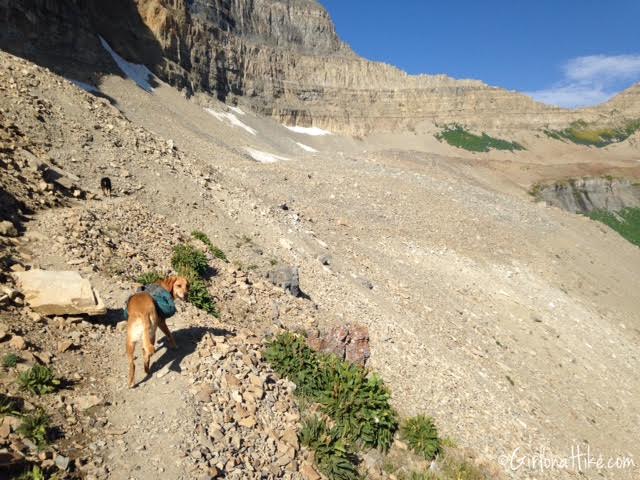 The trail will not cross over this boulder field. As long as you follow the cairns you'll reach the saddle.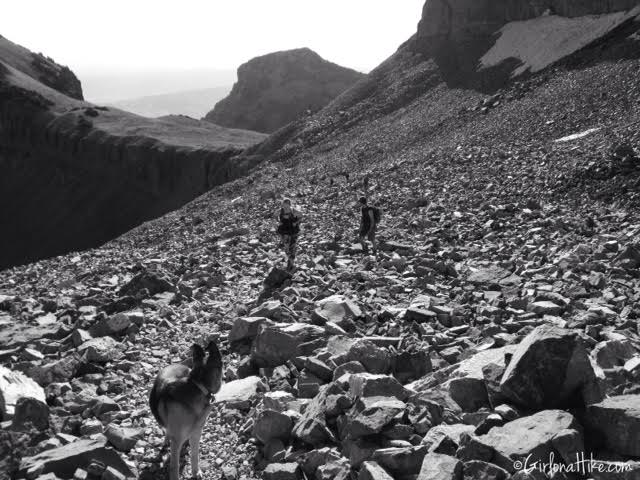 Looking back from where we hiked from.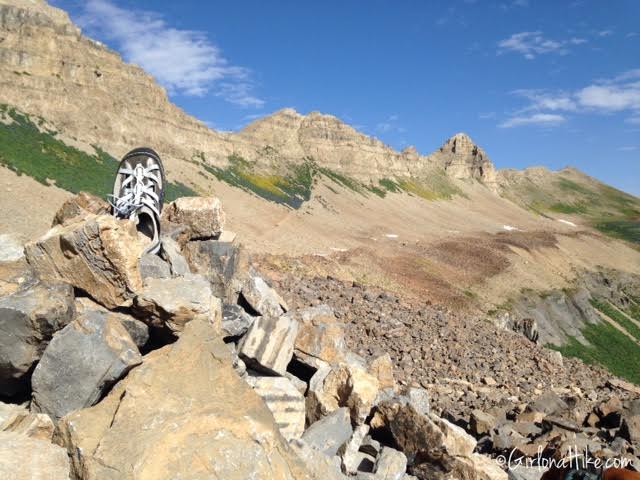 A shoe marks the carin. Nice looking water shoe!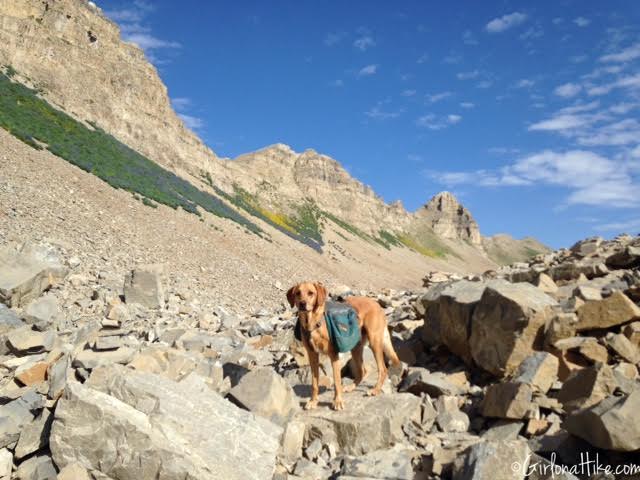 Charlie leads the way through the boulders. To get to the saddle, you'll follow the trail up past the yellow patch ahead, then turn left to get to the ridge.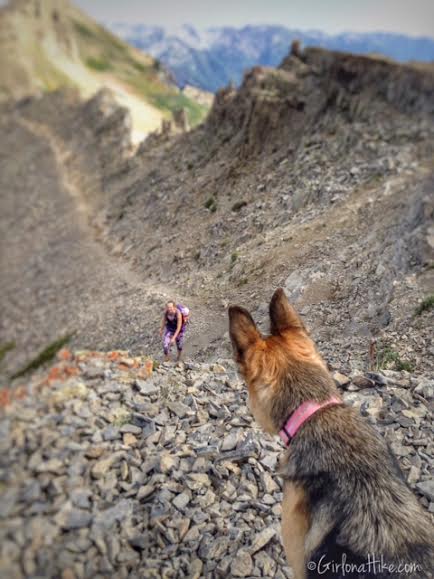 Tallie looks back at her mama, past the saddle. What a good girl!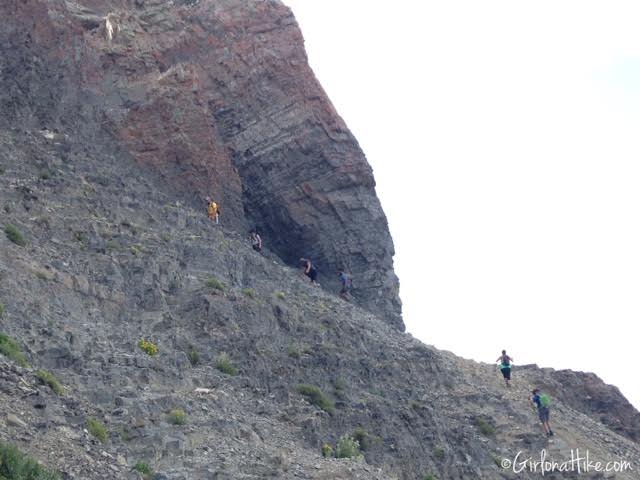 Work your way up the rocky ledge, following cairns. You'll hike up several more, mini switchbacks.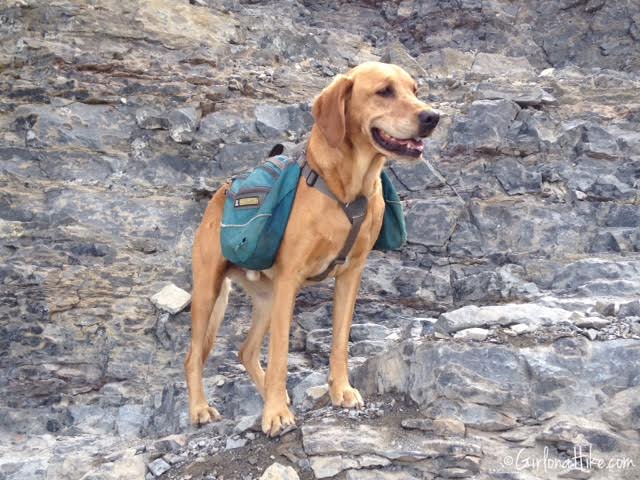 Charlie is all smiles! In his pack, he carries his own water bottles, a bowl, his leash, and poop bags. Check out my article on Backpacking with Dogs! We both love the Ruffwear Approach Pack.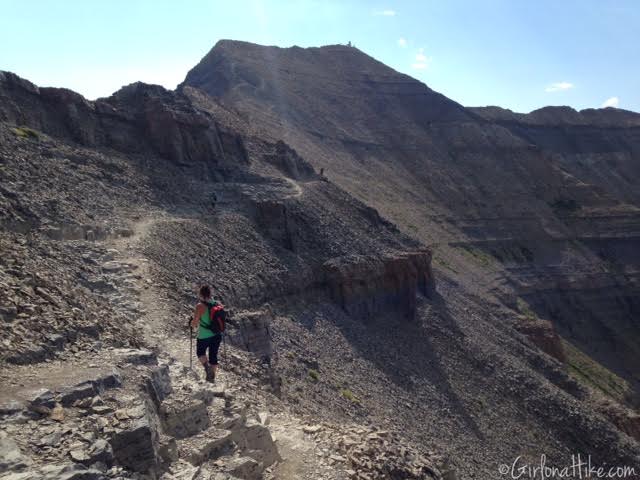 You can clearly see where the summit is now. It looks far, but as I always say, "It looks worse than it actually is." And its true – from this point, you are only about 15-20 minutes from the top.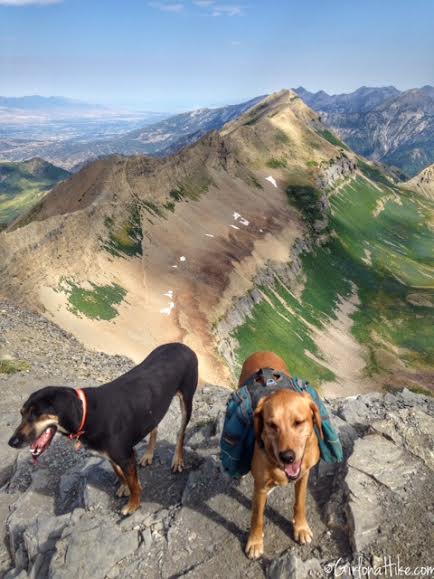 Looking North you can see the meadow, rock field and trails merging below. Lone Peak is in the far distance (another amazing full day hike!)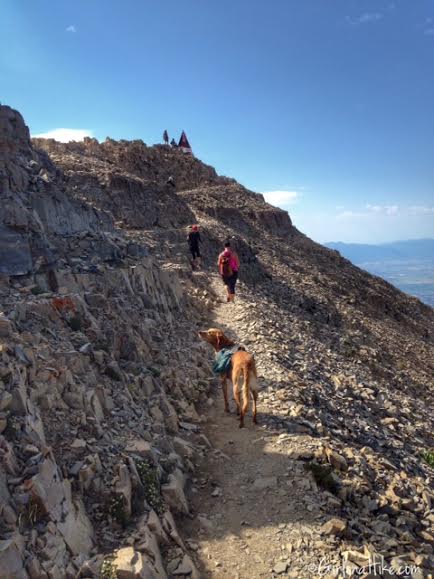 Last push to the summit.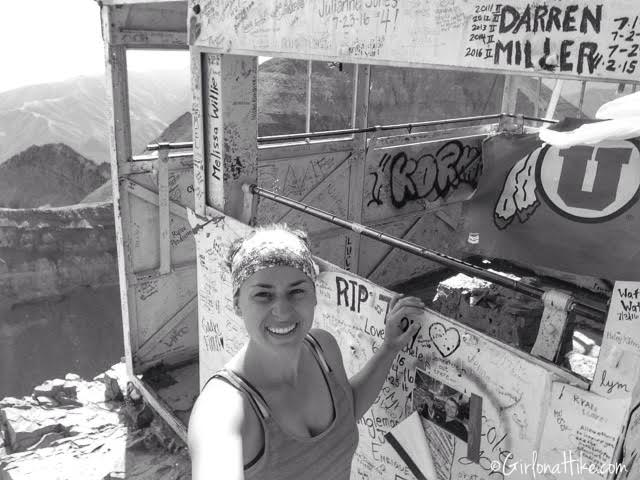 On the Mt. Timpanogos summit! Whoo-hoo!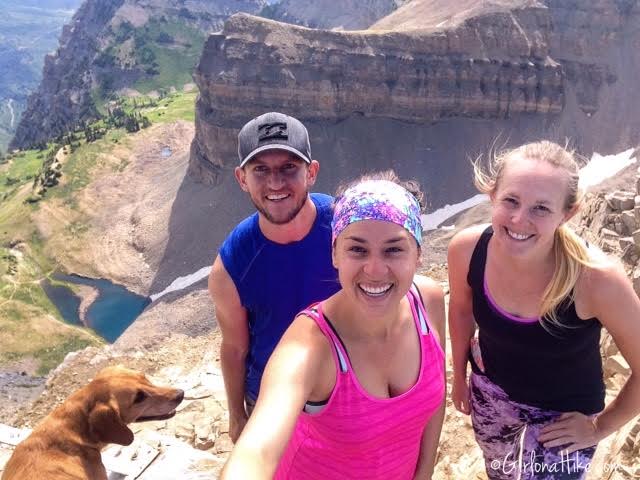 Emerald Lake is below, which you should have passed on the way up.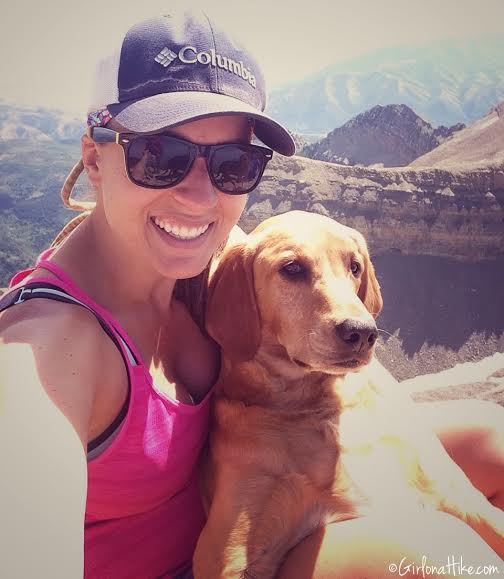 Summit Snuggles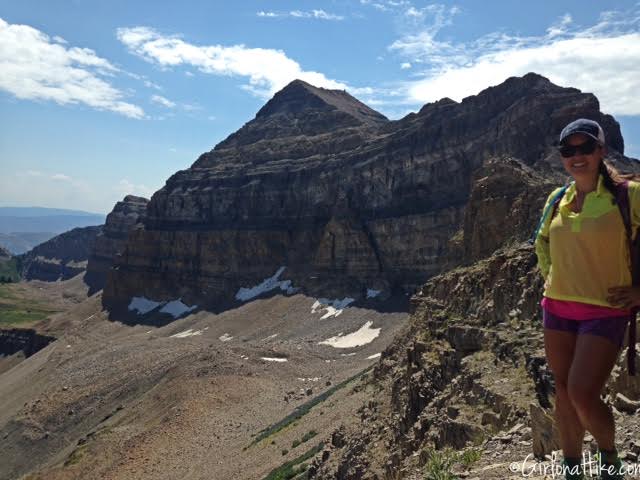 Even in the middle of summer I recommend bringing a light jacket. The summit can get very windy and cold. If you've been sweating a lot from the hike you will cool off very fast.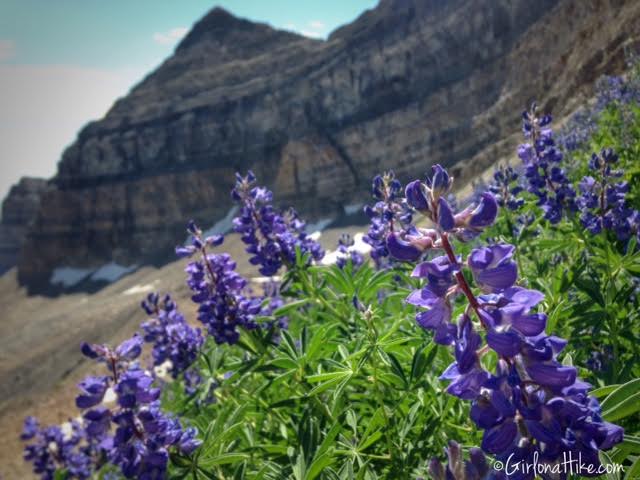 To get back to your car, simply hike back down the same way you came. If you want to turn this hike into a point-to-point hike, you can start by hiking up the Aspen Grove side, summit, then hike down the Timpooneke Trail or vice versa, using your cars to shuttle friends and gear.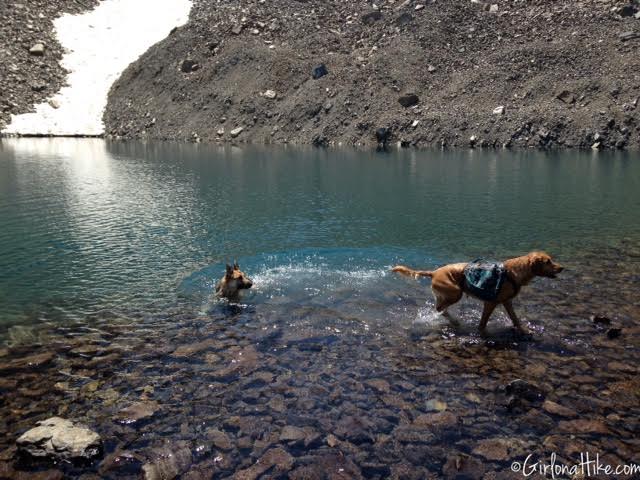 As we made our way back down, we stopped at Emerald Lake once again to let the dogs cool off and take a swim. Some people were swimming in it, but because it's all from snow the water was super cold.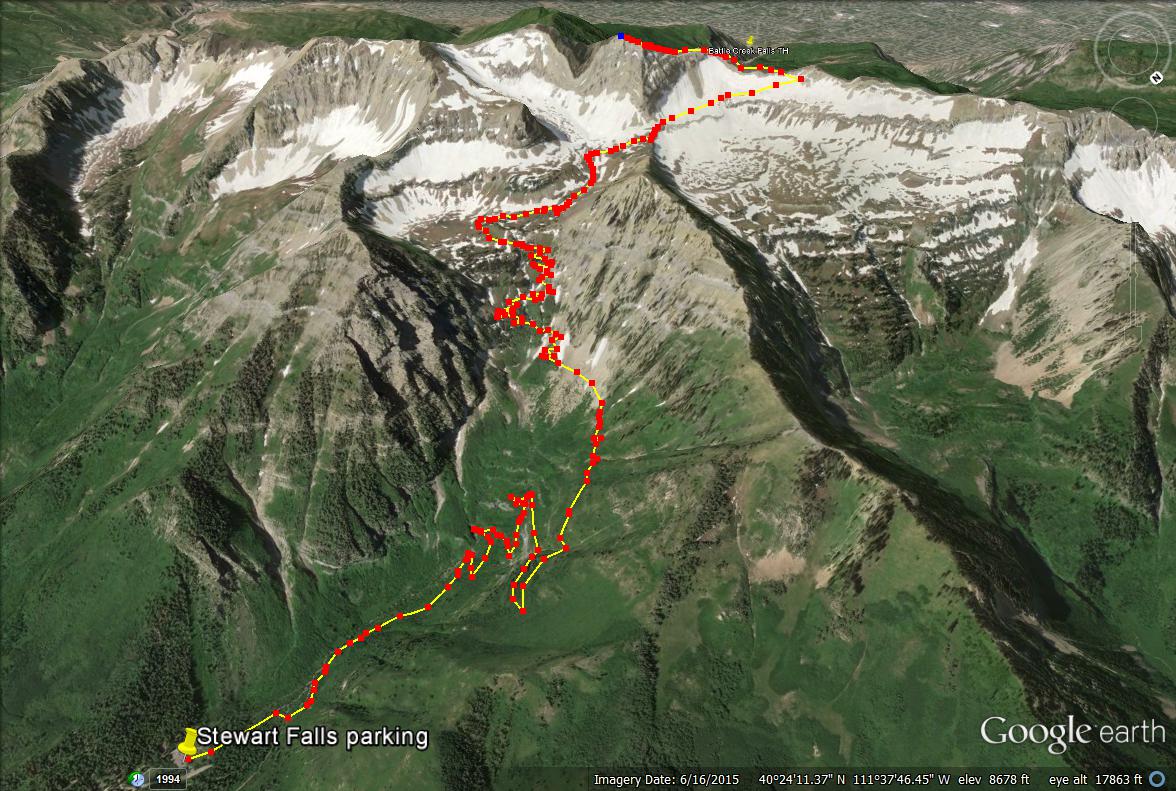 Mt. Timpanogos via Aspen Grove trail map looking West.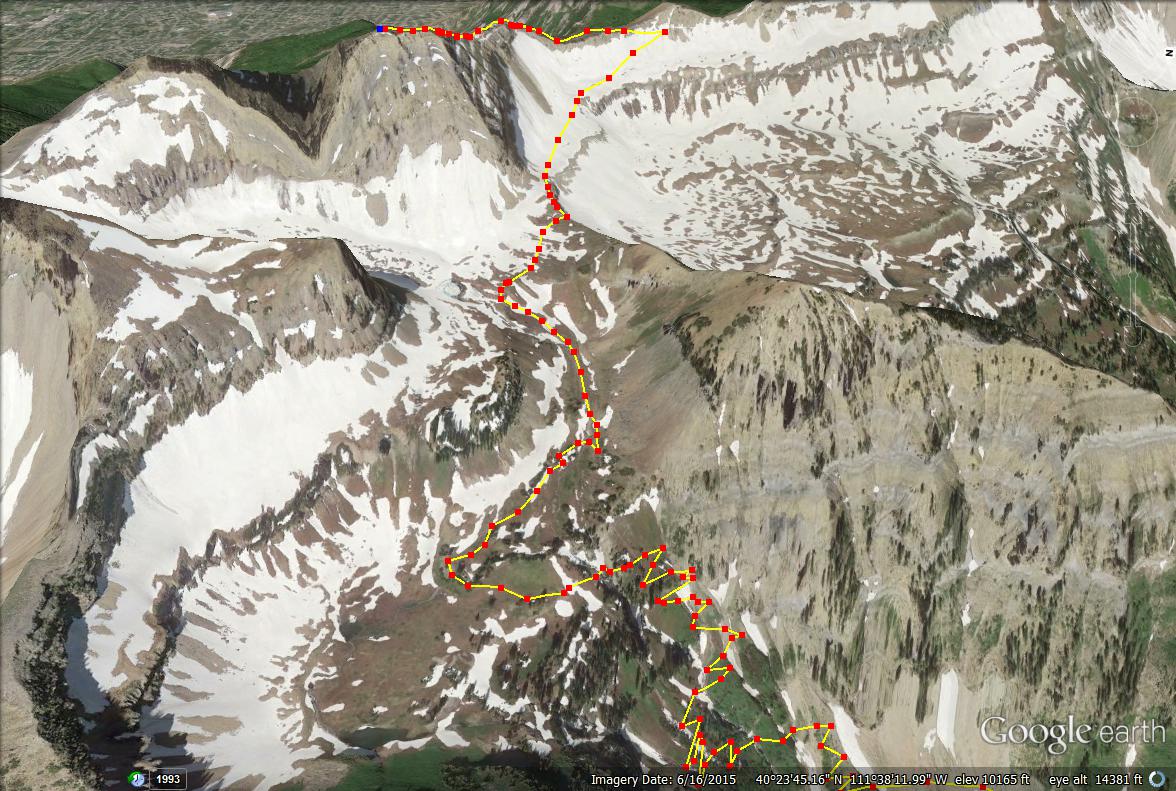 A close up of the trail map, from the Primrose Cirque to the summit.
Also Read
The BEST 8 Trails in Salt Lake City for Visitors!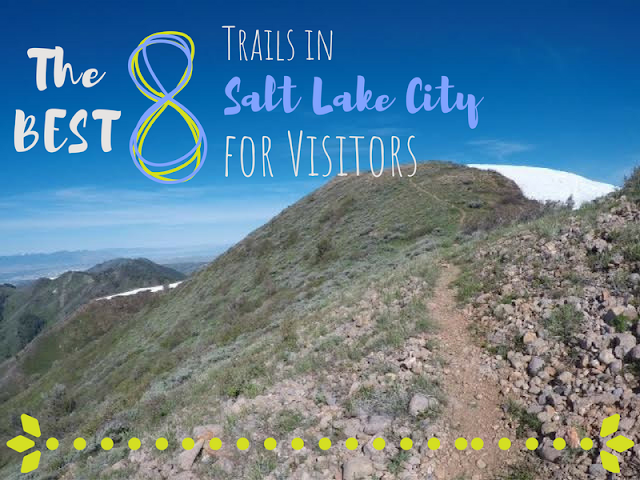 Save me on Pinterest!