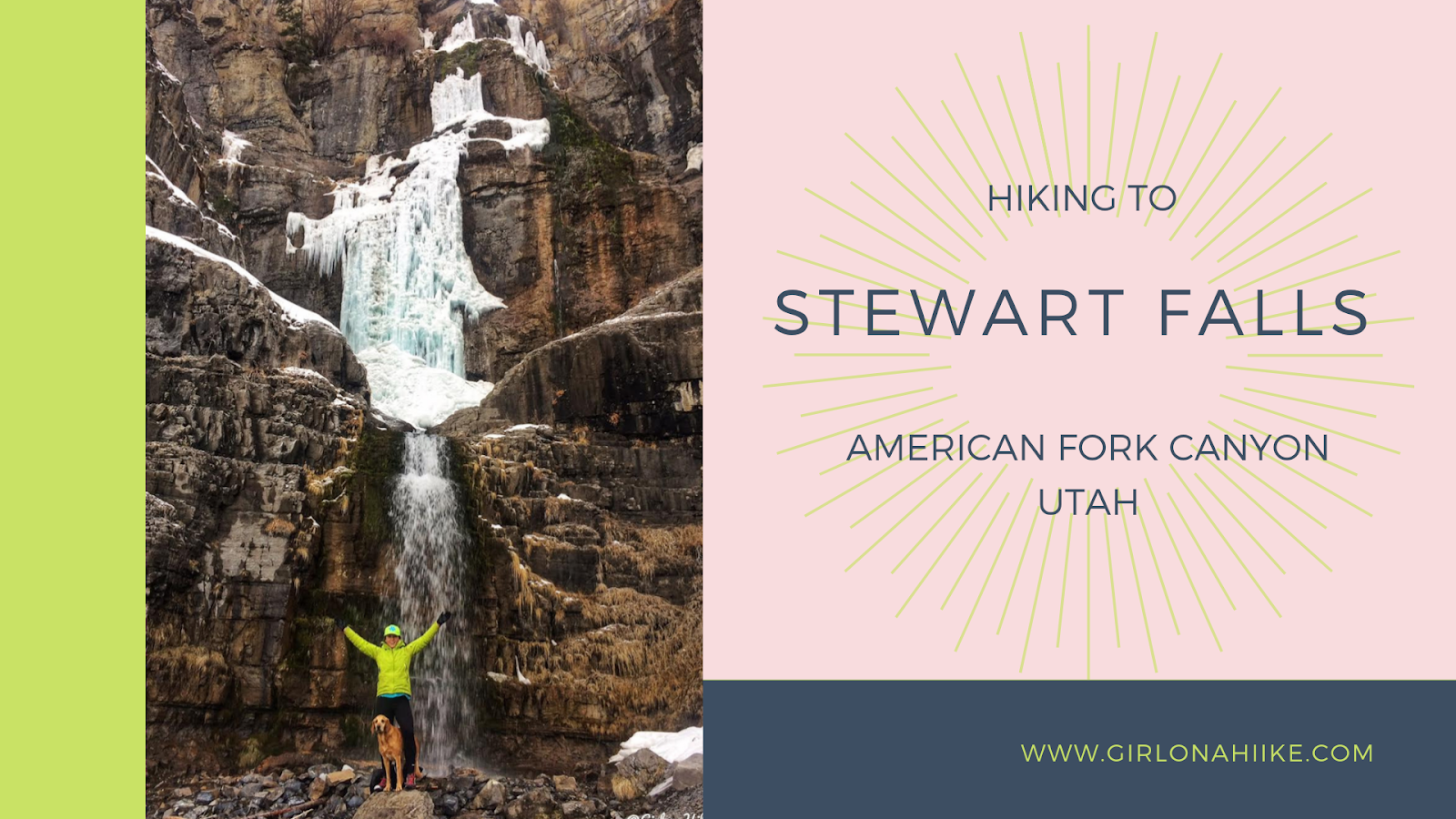 Hiking to Stewart Falls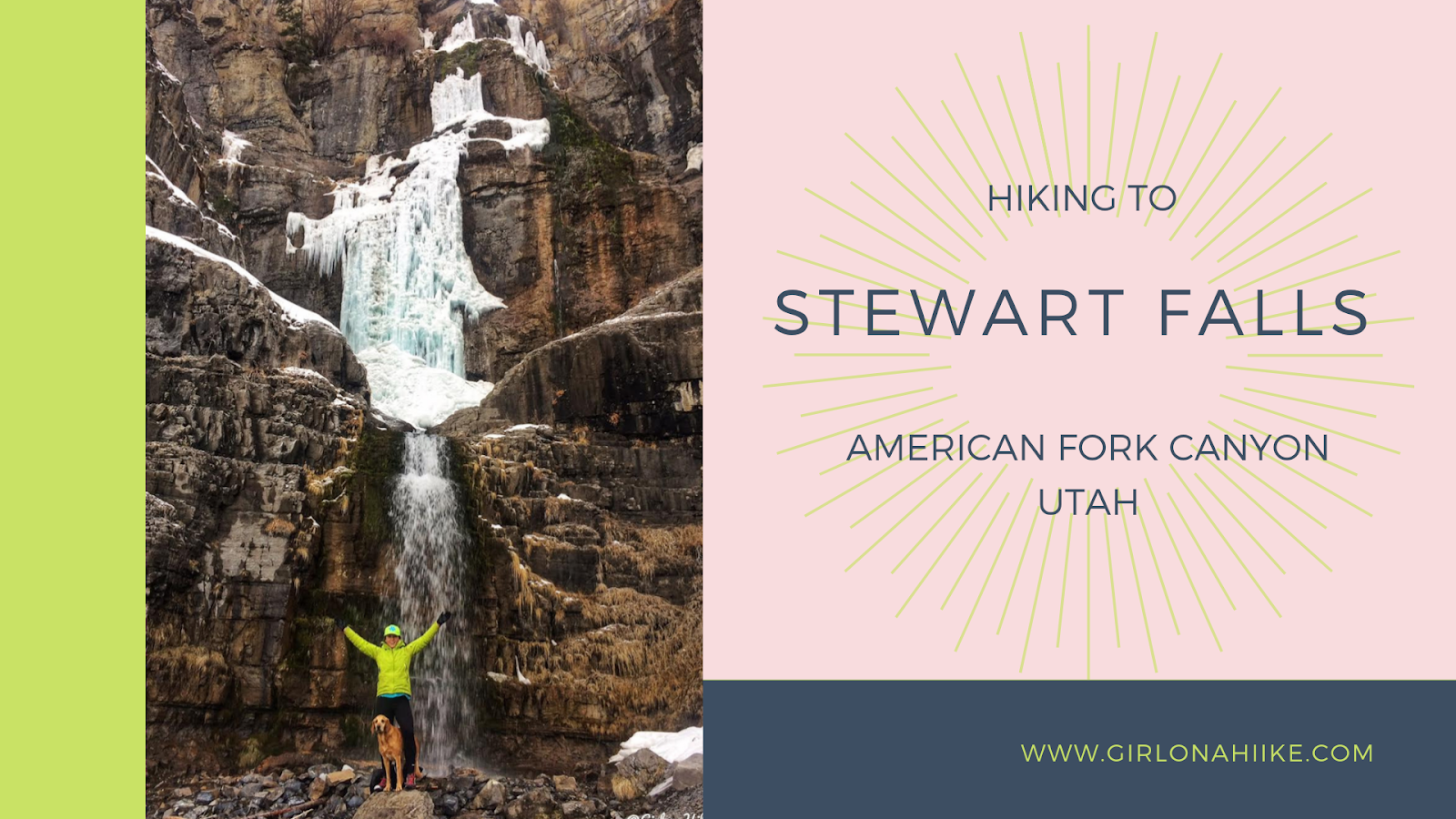 Stewart Falls is a two-tier waterfall located near Sundance Ski Resort in Provo Canyon. 
About
The Stewart Falls Trail is on private property (owned by Sundance Development Corporation), but Sundance has graciously allowed access to it for the community for hiking as an "unspoken easement for the Forest Service.
They are in the process of deciding if they want to continue access in winter due to the liability involved concerning avalanche danger since so many hikers are not avy-aware.
The best time to hike here is in late Spring through Fall when the snow has melted from the trail and the waterfall is raging. This is a great hike for all levels of hikers since it's not too long, not too steep, and mostly shaded. Because of this, the trail gets very crowded on weekends.
Arrive early to beat the crowds. This 200 ft waterfall is surrounded by a large rock face, and if you look closely, in Spring you'll see other small waterfalls near it.
Directions
From SLC head south on I-15 for roughly 30 miles (depending on where you start from). Take exit 272 in Orem, heading East. Drive for 3.7 miles on this road, then veer left for Provo Canyon. Next drive another 6.7 miles, drive through the tunnel, then turn left at the brown sign for Sundance. Go past Sundance for 5 miles, until you reach the fee booth for the Alpine Loop Road.
Just after the fee booth, turn left into the large parking lot. From October to Memorial Day, the fee station is closed, but there is a self-serve fee station in the parking lot. If you are there only to hike, there is only one fee option – the 3-day pass which costs $6. There are restrooms in the parking lot.
Here's a driving map.
Trail Info
Distance: 4 miles RT
Elevation gain: 400 ft
Time: 1-3 hours
Dog friendly? Yes, off leash
Kid friendly? Yes
 The trail starts right by the restrooms.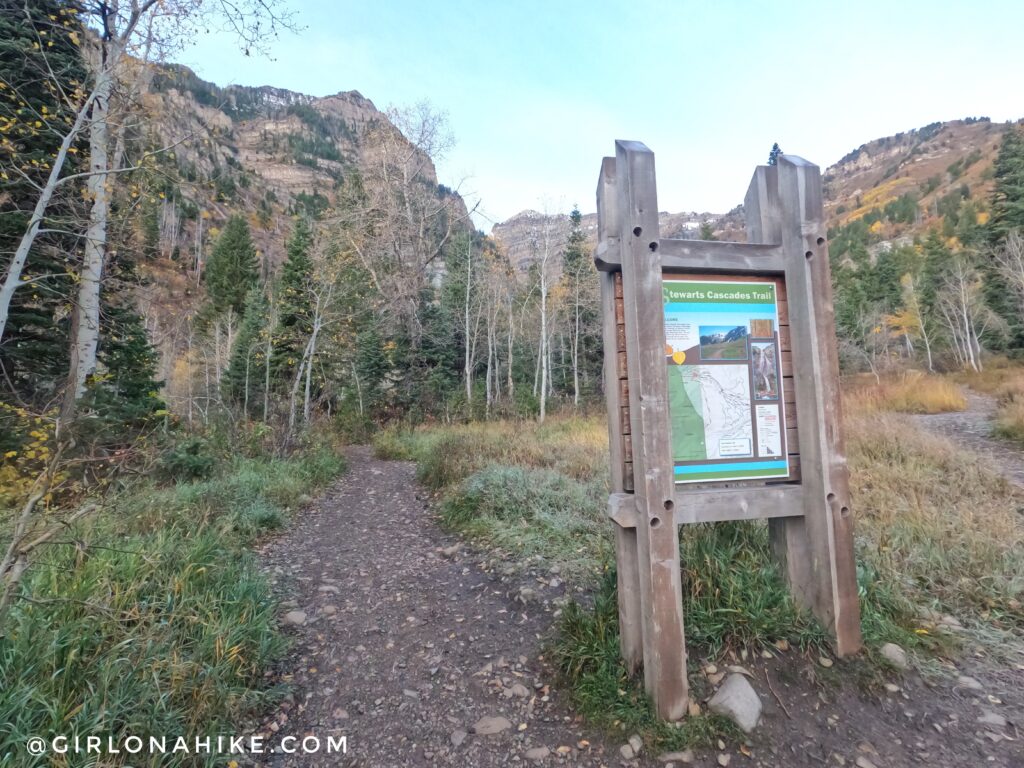 Immediately take a left at the next sign.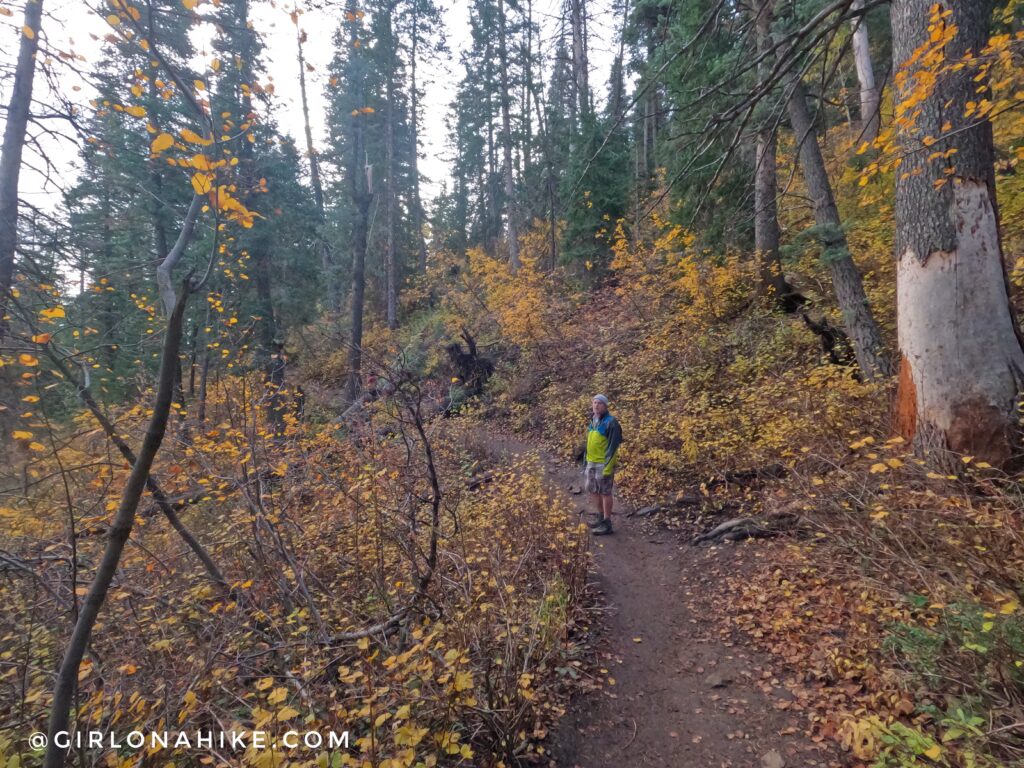 The trail is very well-shaded, especially for the first half of the hike.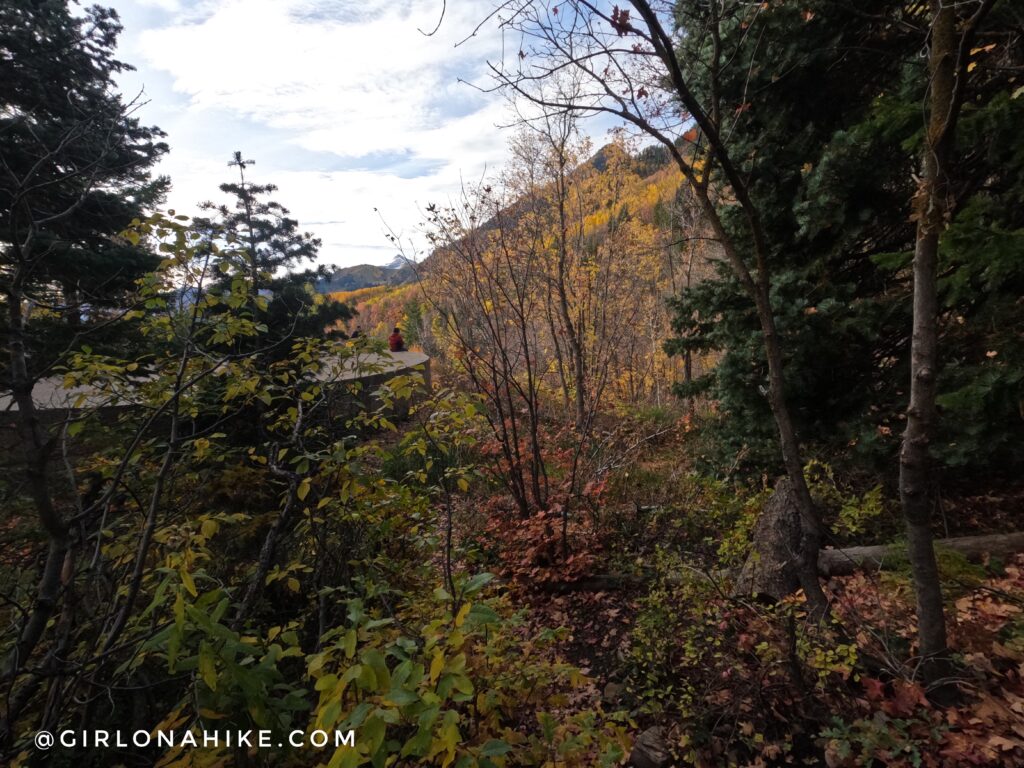 Pass a water tank on your left.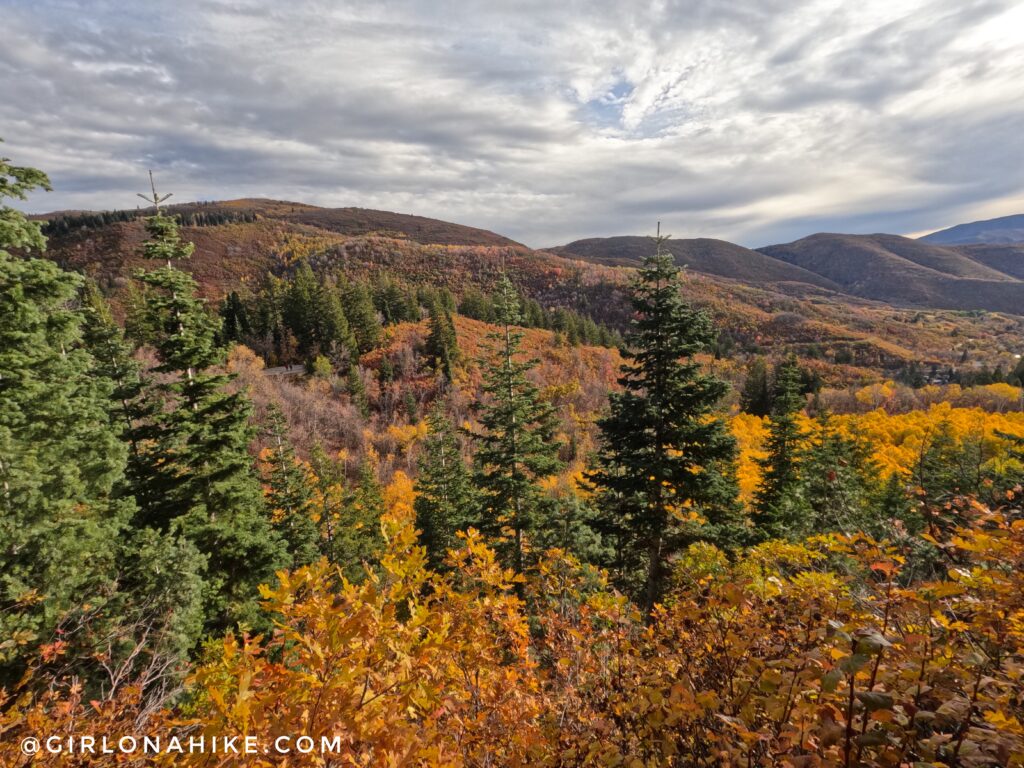 Fall offers amazing views and colors!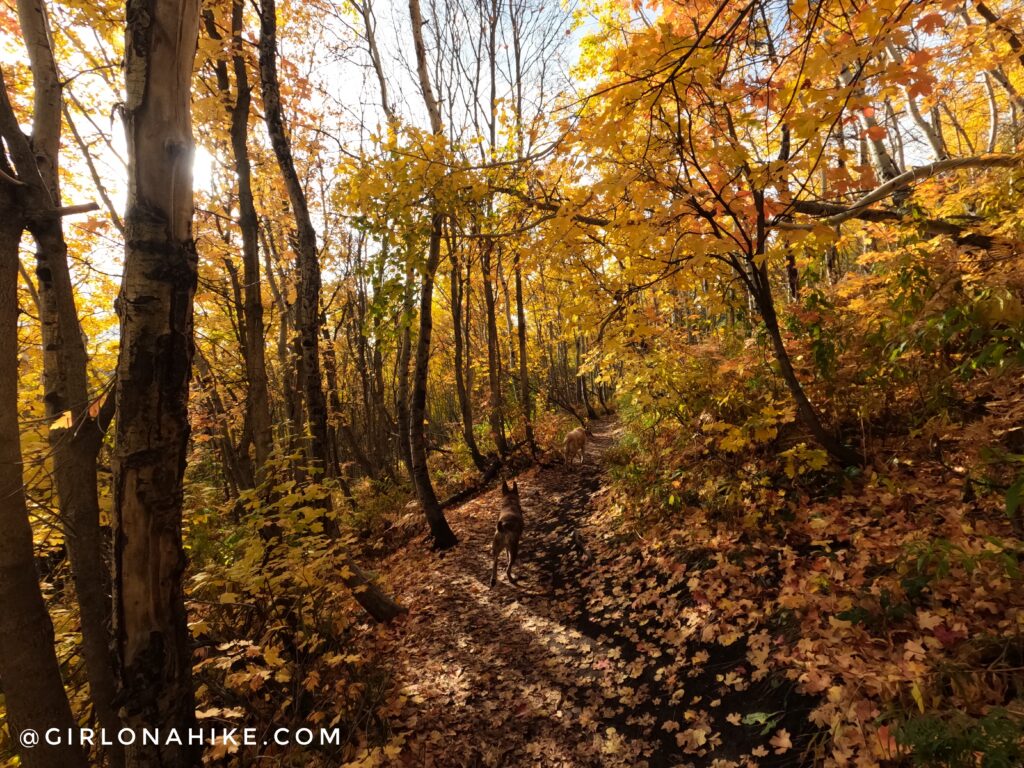 Ahh can't get over these yellow Aspen trees! October is such a beautiful time to hike here.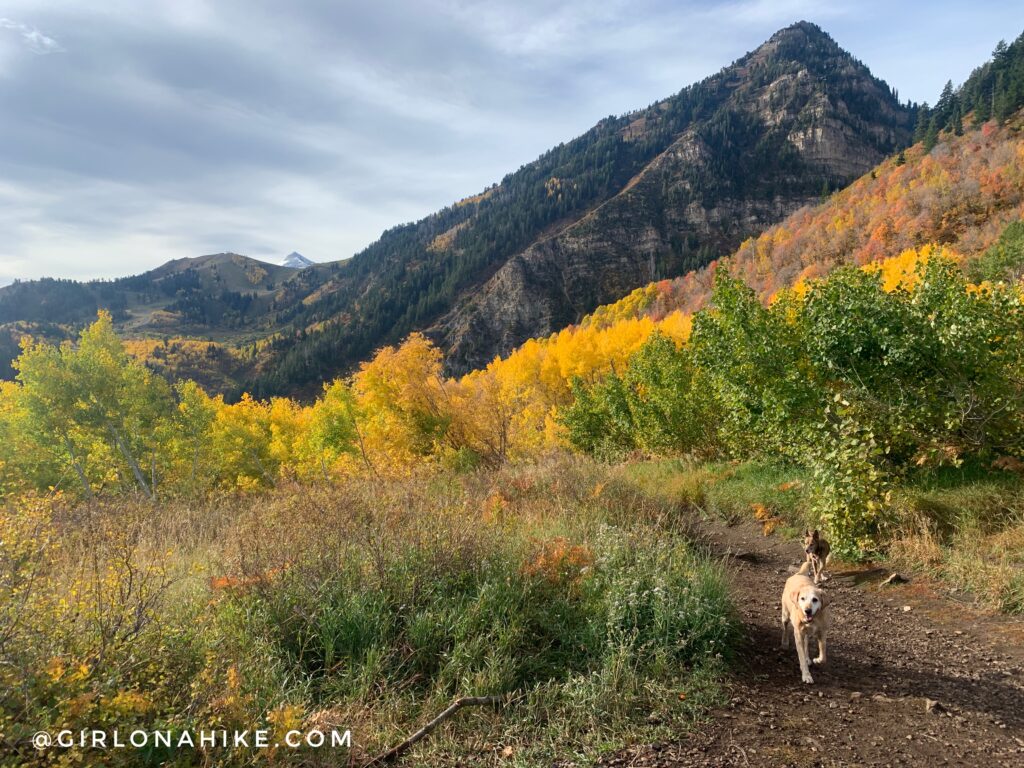 The halfway point is this very nice opening with more great views. You still can't quite see Stewart Falls yet though. Keep going!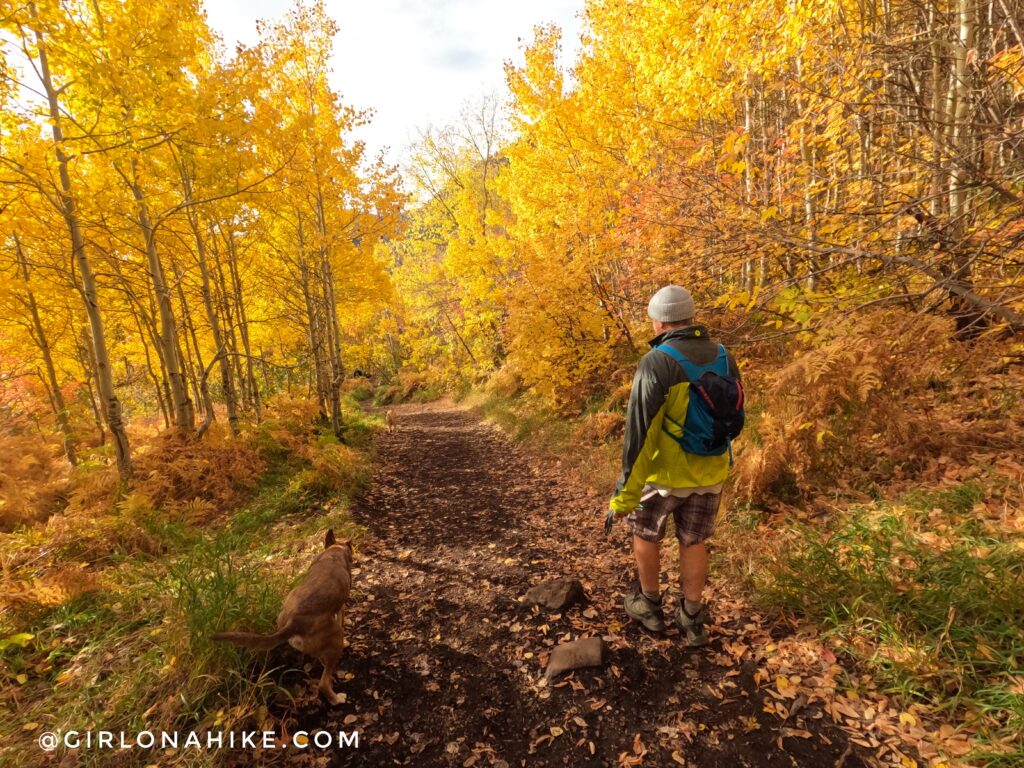 You will then hike downhill for the rest of the hike.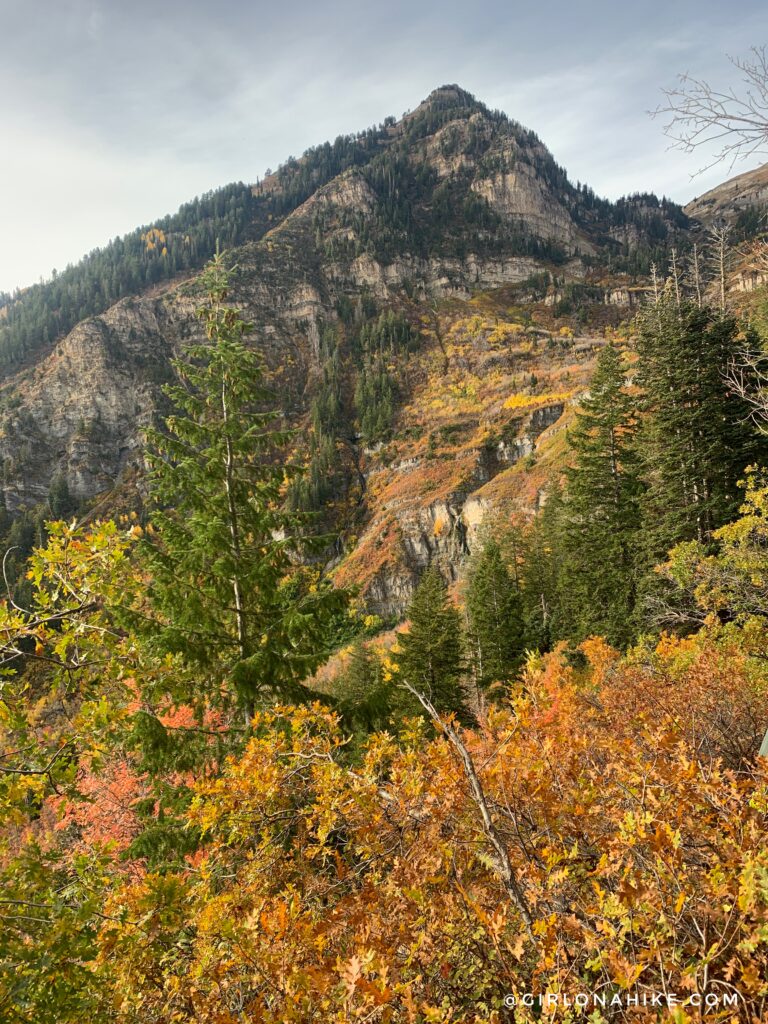 After turning a corner you can see and hear Stewart Falls – can you spot it?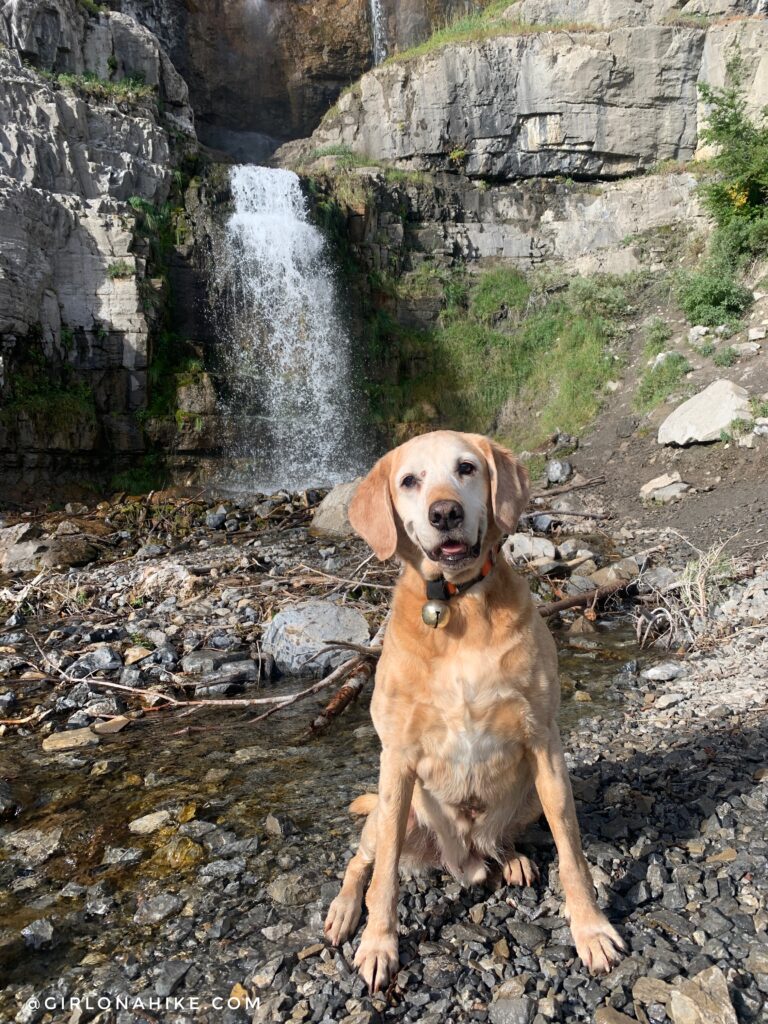 Continue walking down the trail to the base of the falls. 
Charlie is a happy boy! He loves playing in the water and under the Falls.
Winter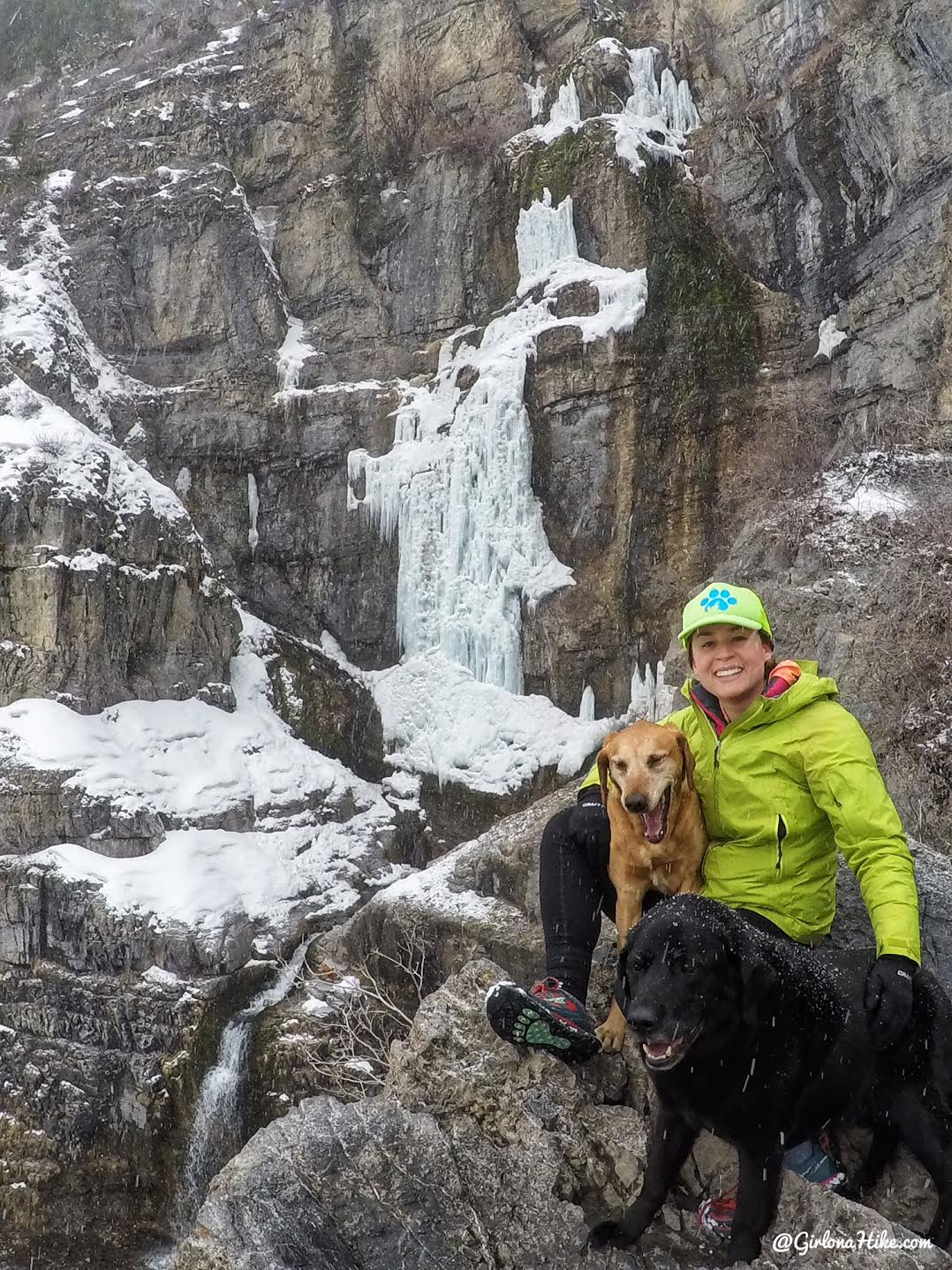 This is a fun winter hike as long as Avalanche Danger is "safe".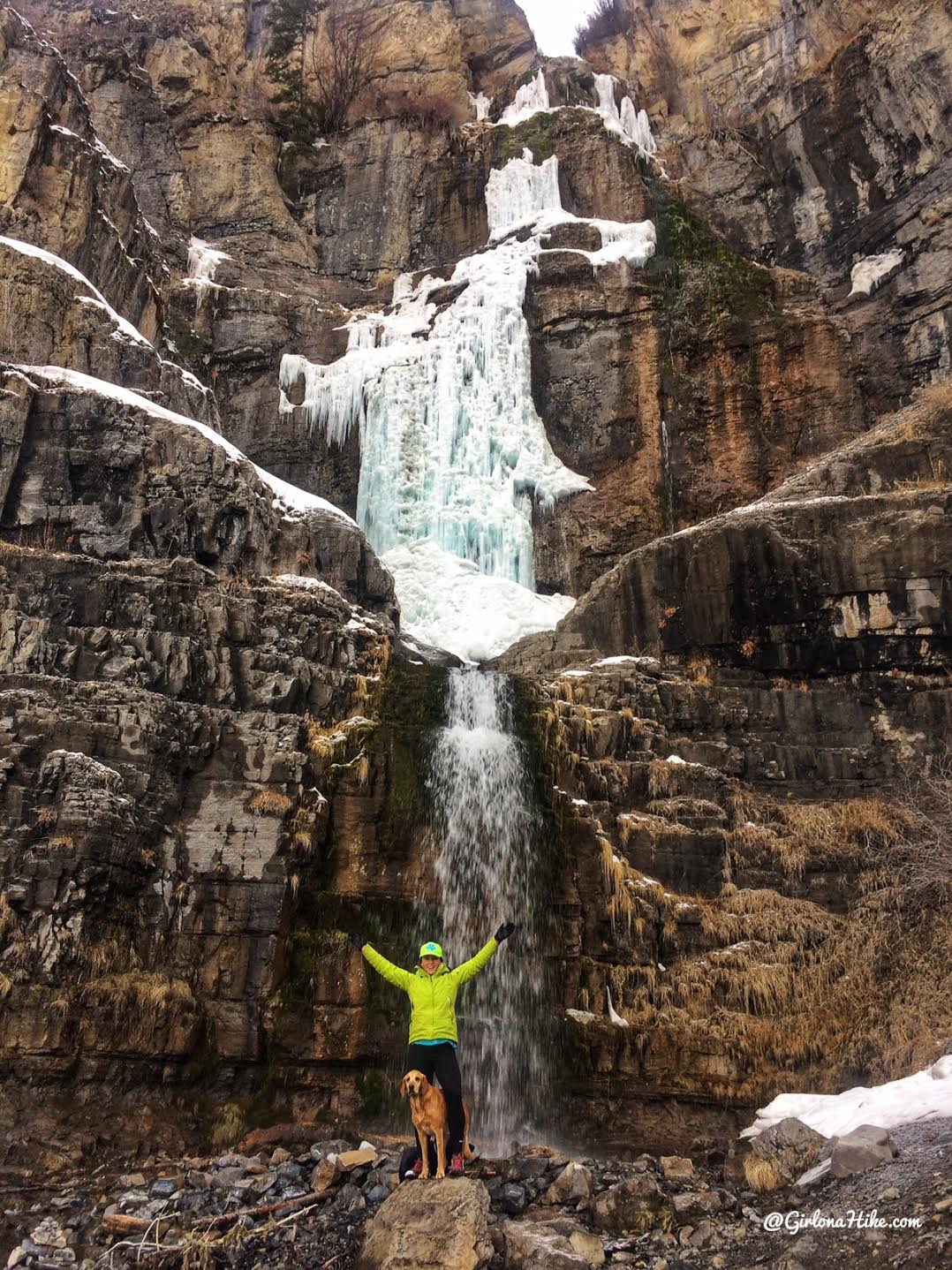 This was in 2018, a very low snow year so Stewart Falls wasn't as impressive with snow this time.
Trail Map
My track via Gaia GPS – the best tracking app! Get your app here for a discount.
Nearby Hike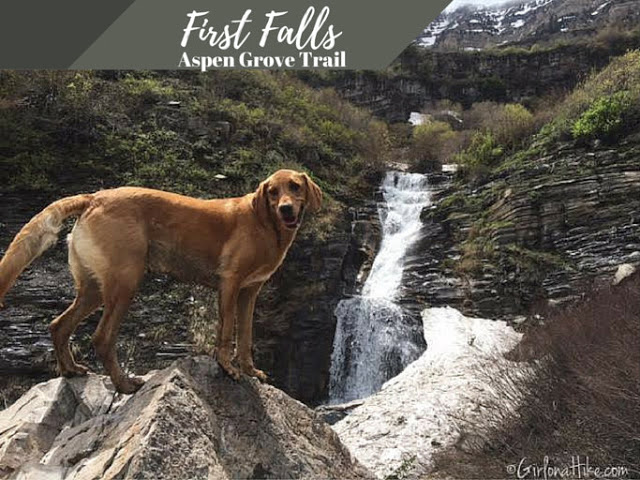 Save me on Pinterest!