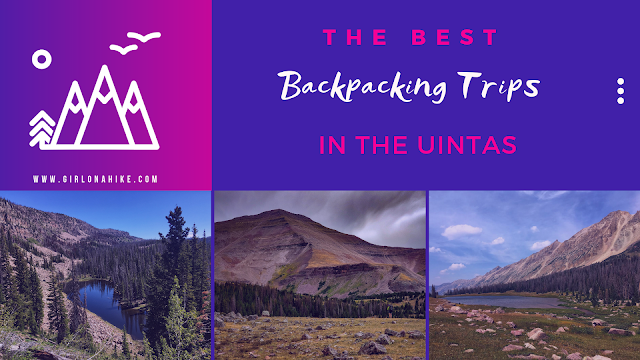 The Best Backpacking Trips in the Uintas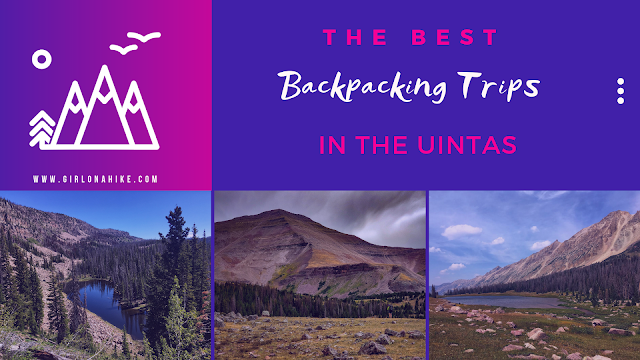 The Best Backpacking Trips in the Uintas are just around the corner from Salt Lake City, not more than a few hours drive! The best parts about backpacking in the Uintas are that there is plenty of shade, water, a mix of level and steep trails, plus dogs are allowed off leash! There's something for everyone, so check out these trips below! Not ranked in any order, click the title of each trip to learn more. Be sure to use a tracking app such as

Gaia GPS

(my personal fav!) and/or a paper map so you don't get lost.

The Best Backpacking Trips in the Uintas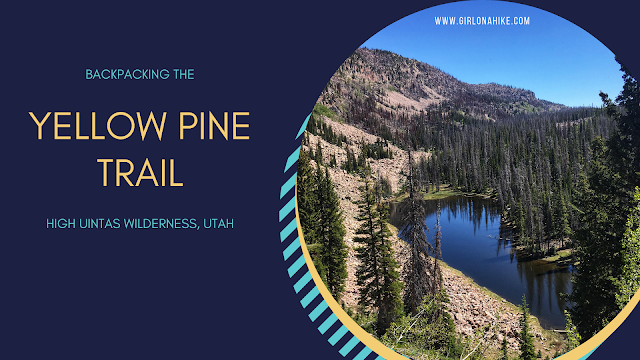 The Yellow Pine Trail is one of the first trailheads you will pass after entering the Mirror Lake Highway, coming from Kamas, UT. The trail leads to three lakes – lower & upper Yellow Pine Lakes, as well as Castle Lake. You can also day hike to Duke & Castle Peak, both over 10,000 ft. This is a great early-season backpacking route when the higher Uintas is covered in snow. The trail is mostly well shaded and offers plenty of water along the way for your pup to drink from or to filter from.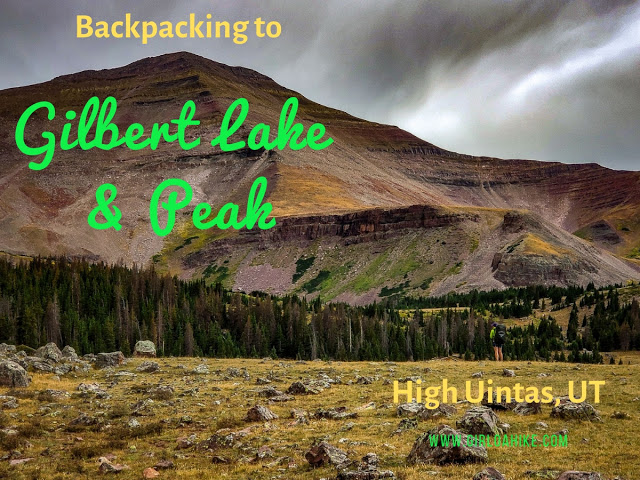 Gilbert Lake is located in the High Uintas Wilderness on the East end of the range, with Gilbert Peak (13,442 ft) being one of Utah's "13ers" (a peak above 13,000 ft). Gilbert Peak is the 3rd highest peak in the state, and the second highest county high point. It can be access by several drainages, with Henry's Fork being the most popular, however we accessed it from Gilbert Lake. The trail to Gilbert Lake follows the West Beaver Creek trail for 9.2 miles before reaching the basin which has four lakes total, great campsites, lots of wildlife, and of course, access to the peak.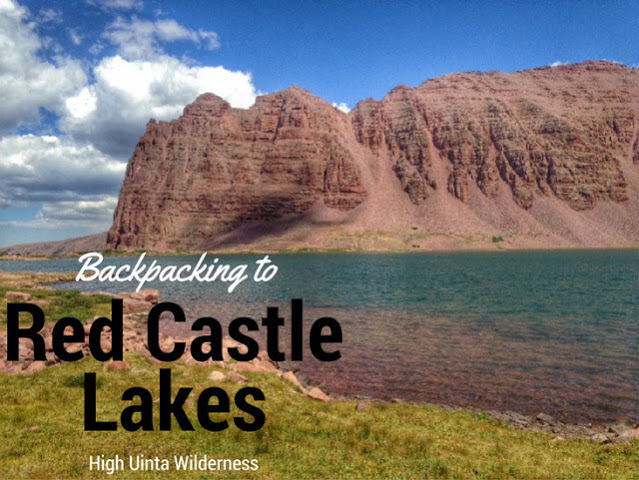 Red Castle Lakes is sure to be on everyone's Uintas "to-do" list, especially if you are a backpacker. Not only does the Red Castle area offer four high alpine lakes to chose from, pristine meadows, and great backcountry camping, it also offers a stark contrast of red peaks and a ridgeline to clear blue water that make for great photography.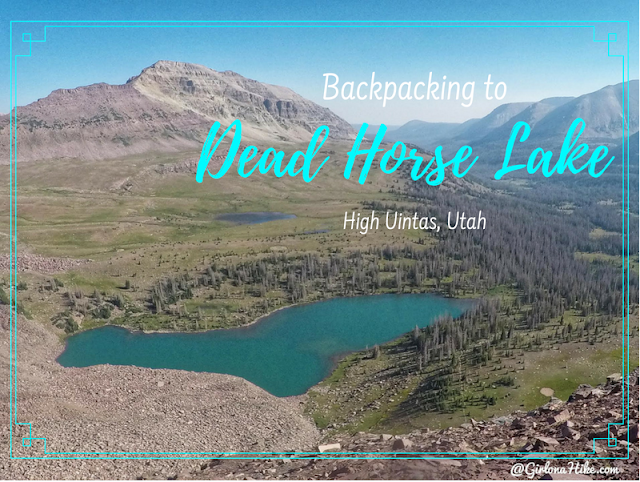 Dead Horse Lake is in the High Uintas Wilderness, and offers an 11 mile hike through large, open meadows, stunning vistas, and of course, leads you to a turquoise lake. This lake offers a great spot for fishing and day hiking. People hiking the Uinta Highline Trail also pass right by Dead Horse Lake. It's a dog friendly trail, though you'll want to give the sheep herds passing by in the meadows plenty of space. Bring your hammock or tent – there are several nice campsites around the lake and plenty of trees for shade. Be sure to check fire restrictions before heading out.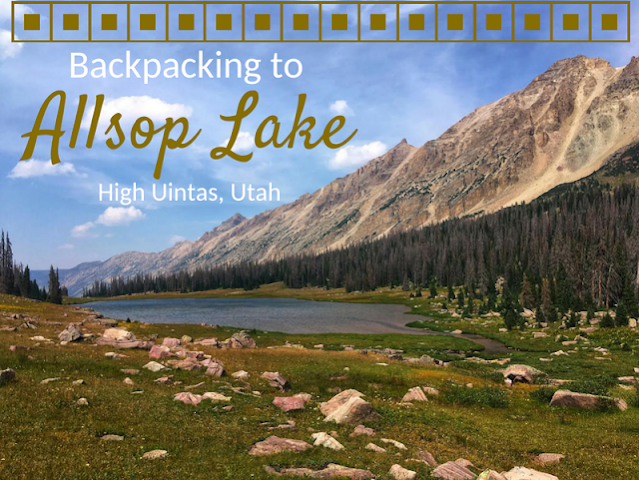 Allsop Lake sits on the Northern slope of the High Uintas Wilderness at an elevation of 10, 600 ft. It's 9 miles to the lake, so it makes for a perfect 1 or 2-night backpacking trip. The trail is fairly mellow, only gaining 1,600 ft and has one switchback. Allsop Lake is full of brook and tiger trout, and there are a few day hiking options from the lake as well including Cathedral Peak, Allsop Peak, and Yard Peak. This trail is dog friendly, however be aware that free-range livestock graze along the entire route.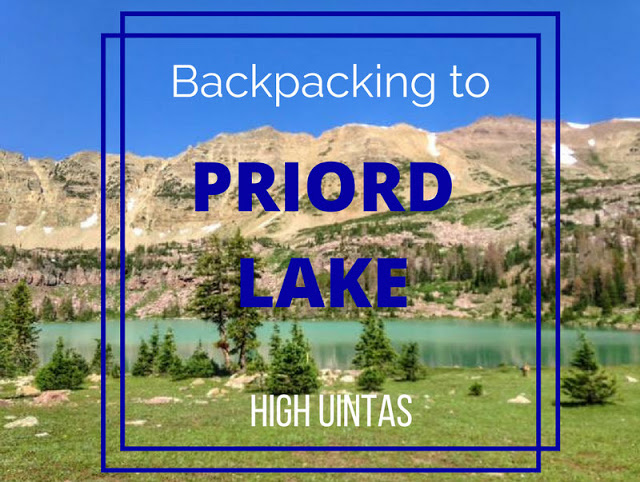 Priord Lake sits high in the Uintas in Ashley National Forest at roughly 11,000 ft. The water is an incredible turquoise color, with the Prior Cirque, Priord Peak, and Yard Peak as a beautiful backdrop. The scenery here is unreal, however it takes some advanced navigation skills to get there. The trail has the three bad "M's" – marshy, mucky, and moist. Horse and cow poops also lines the trail. The trail is also either very faint, or non-existent at times, therefore, this is not a good trail for beginner backpackers.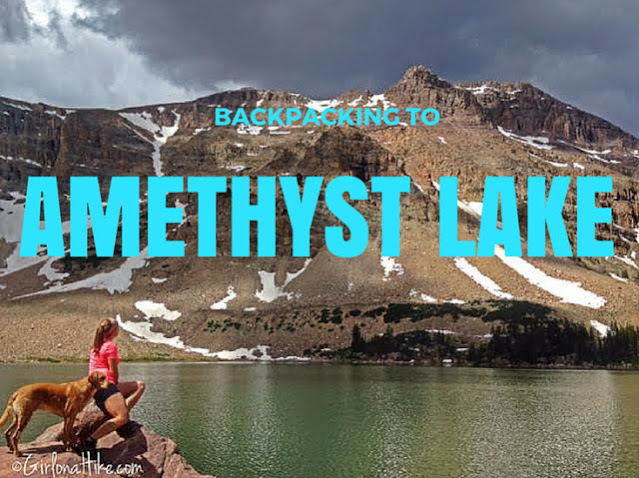 Backpacking to Amethyst Lake in the High Uinta Wilderness is a backpackers dream – a high alpine lake, lots of hiking and fishing, great campsites, and cooler temperatures. Although the hike in is somewhat tough (especially if you are carrying a 30-40 lb pack), the reward and view is well worth the hard effort. Amethyst Lake is located in the Christmas Meadows area of the Uintas, with a wide open meadow strewn with trees, resembling, well, Christmas trees. Amethyst Lake can be hiked to and from in a day, but to really relax and explore the area, plan on spending at least one night at the lake.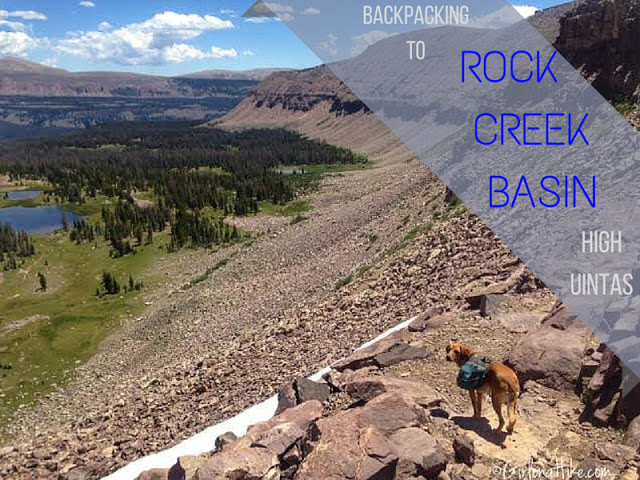 Rock Creek Basin is located in the High Uinta Wilderness, in between Rocky Sea Pass and Dead Horse Pass. Getting into the basin requires a minimum 9 mile hike; I highly recommend that you spend at least two nights in Rock Creek Basin to fully explore the area. Some people can backpack it in one night, but doing so won't allow enough time to see everything. There are three ways you can reach Rock Creek Basin: 1) via the Highline Trail from Hayden Pass 2) From West Black's Fork or 3) Rock Creek TH from the Stillwater Reservoir.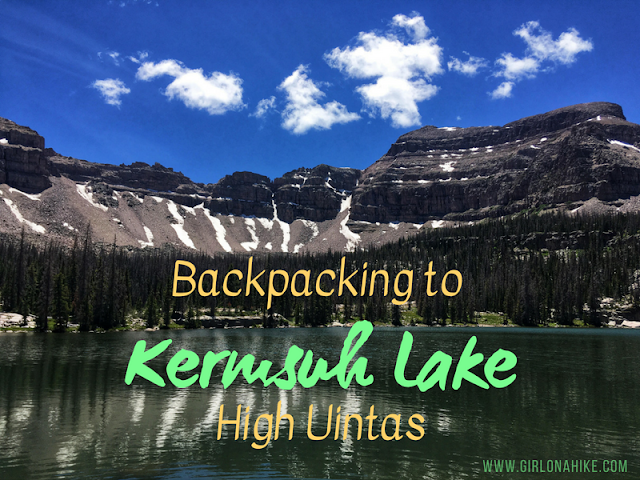 Kermsuh Lake is an alpine lake in the High Uintas Wilderness. It sits at an elevation of 10,200 ft, making it the perfect cooler destination while the SLC valley is baking in heat. Kermsuh Lake sits in one of the three basins in Christmas Meadows – Ryder and Amethyst Lake are the other two, more popular lakes. The trail is very mellow and "easy" for a backpacking trip at only 7 miles and 1,500 ft elevation gain. This trail is also very dog friendly, and can be good for fishing.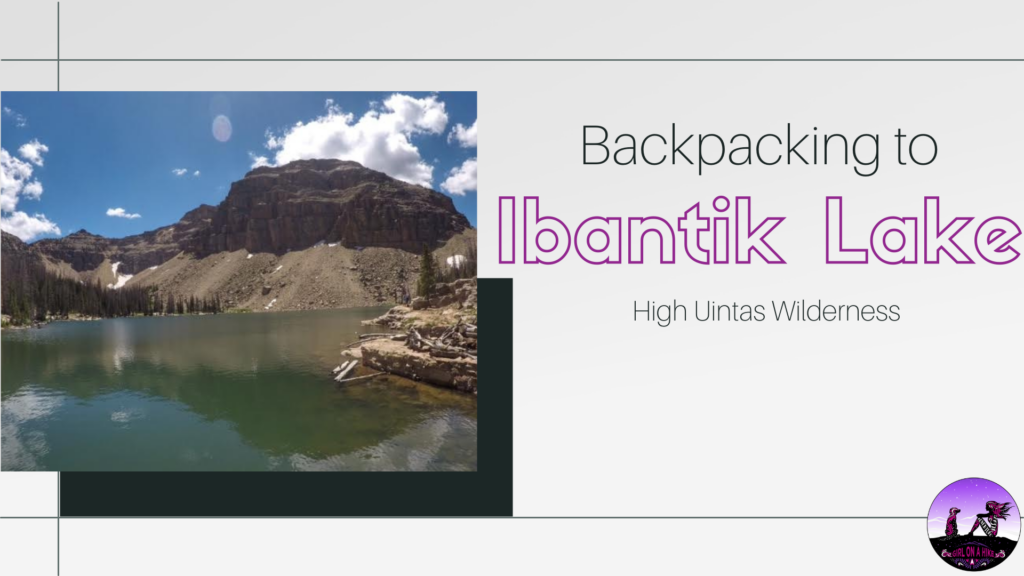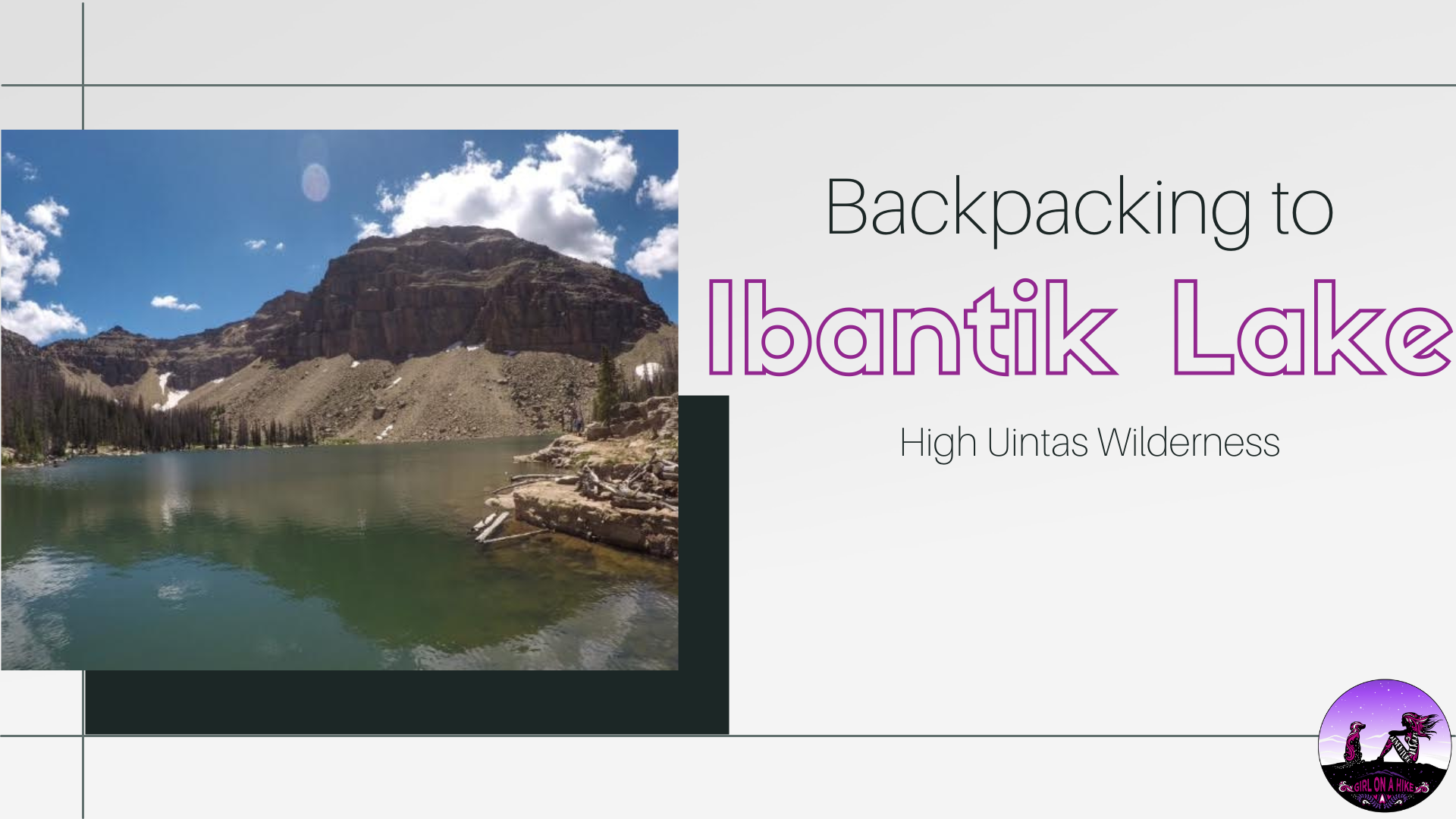 Ibantik Lake ("eye-ban-tick")  is located conveniently close to the Mirror Lake Highway in the High Uintas, and backpacking this route is perfect for beginner backpackers since it's a fairly short yet rewarding trail. It is a very popular lake to camp at, and therefore you won't have much solitude. The best things about this lake is how clear the water is, and you'll see plenty of mountain goats as Notch Mountain looms above you. The trail is really easy to follow, and is best done as a point-to-point route.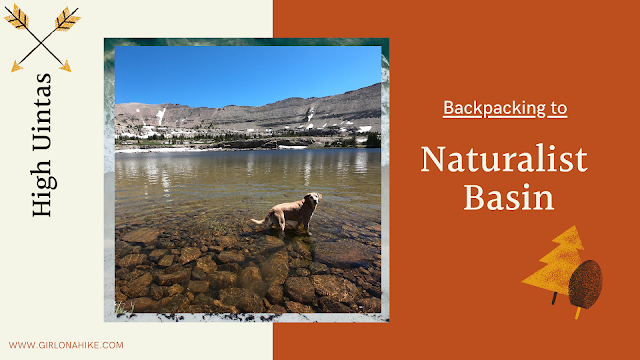 Naturalist Basin is located in the High Uintas Wilderness, and home to several lakes including the popular Blue Lake and Jordan Lake. Because Jordan Lake is only 6.5 miles one way, this makes for a great backpacking destination or a bigger day hike! There are plenty of campsites to choose from and plenty of day hiking options if you decide to camp in this area. You could also explore some of the other lakes like LeConte, Walcot, and Everman lakes, or bag Spread Eagle Peak (12,540 ft)!
Recommended Gear
Nearby Hike
The Best Day Hikes in the Uintas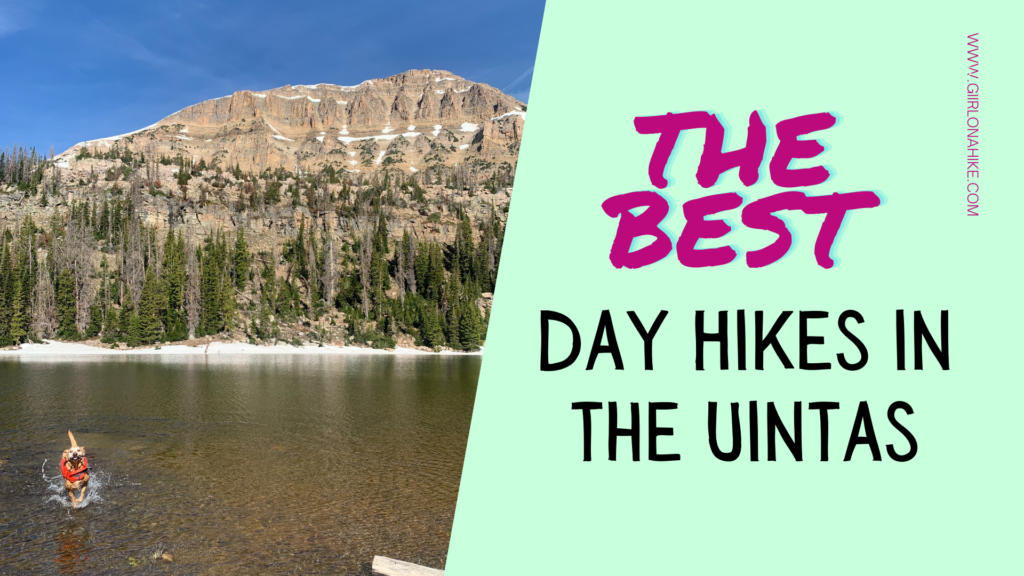 Save me on Pinterest!