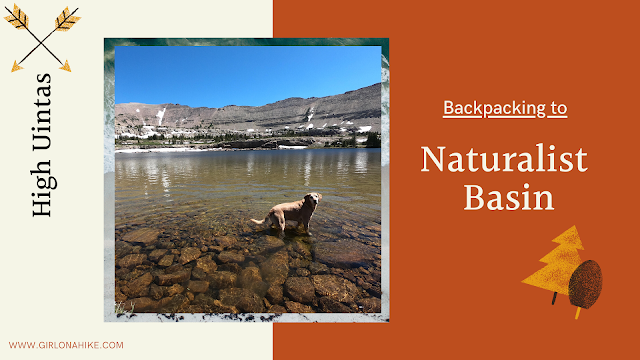 Backpacking to Naturalist Basin, Uintas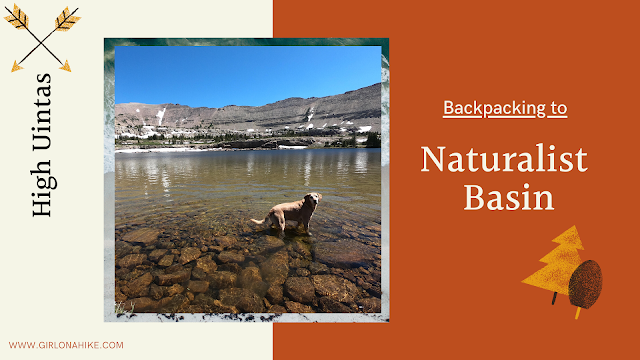 Naturalist Basin is located in the High Uintas Wilderness, and home to several lakes including the popular Blue Lake and Jordan Lake. Because Jordan Lake is only 6.5 miles one way, this makes for a great backpacking destination or a bigger day hike!
About
There are plenty of campsites to choose from, from all lakes in the area and plenty of day hiking options if you decide to camp in this area. For this trip I did two shorter day hikes since I camped 3 nights – a day hike to Shaler Lake and another to Spread Eagle Peak (12,540 ft). You could also explore some of the other lakes like LeConte, Walcot, and Everman lakes.
This is a great area to take your dogs since it is off-leash, there is plenty of water and shade, and not too far of a hike. The best time to backpack/hike here is July through September, when Mirror Lake Highway is open and free of snow. The mosquitos are the worst in early Summer, but typically die out mid-July, depending on the snow year.
Directions
From Kamas, drive up the Mirror Lake Highway until you reach the Highline Trailhead on the right (East) side of the road. Here is a driving map.
Trail Info
Distance: 6.5 miles to Jordan Lake
Elevation gain: 765 ft
Time: 2-3 hours
Dog friendly? Yes, off leash
Kid friendly? Yes, for older kids
Fees/Permits? The Mirror Lake Highway charges a $6 fee for a 3 day pass. It's free if you have an annual Mirror Lake Hwy or American Fork Canyon pass, or free if you have an annual National Park Pass. No permit is required.
Day 1 
Time to start backpacking!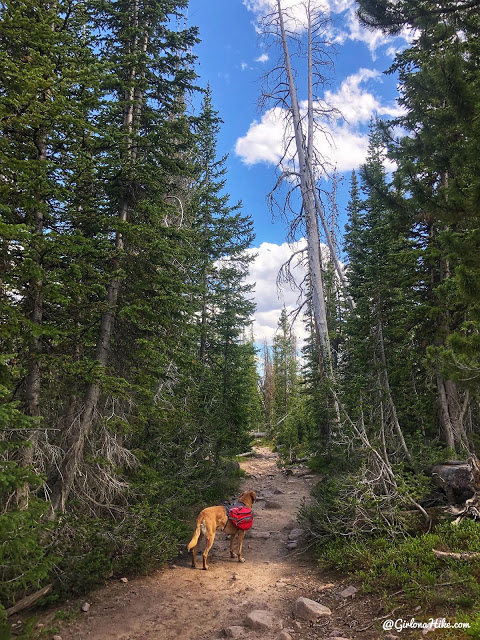 Charlie leads the way, as the trail gradually drops in elevation.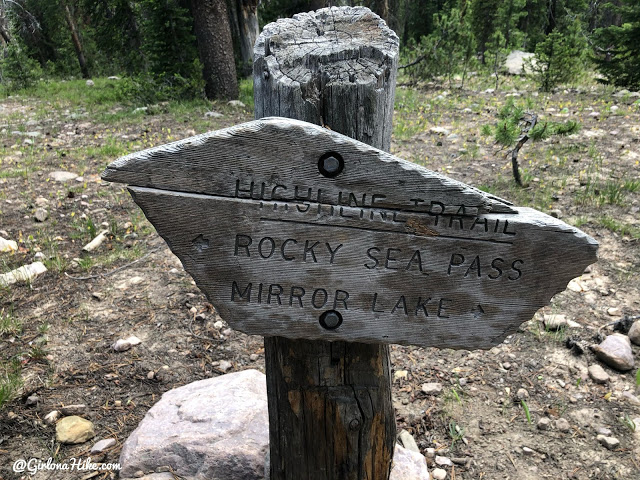 At 0.8 miles, the first trail split, stay left. Going right will take you over to Mirror Lake.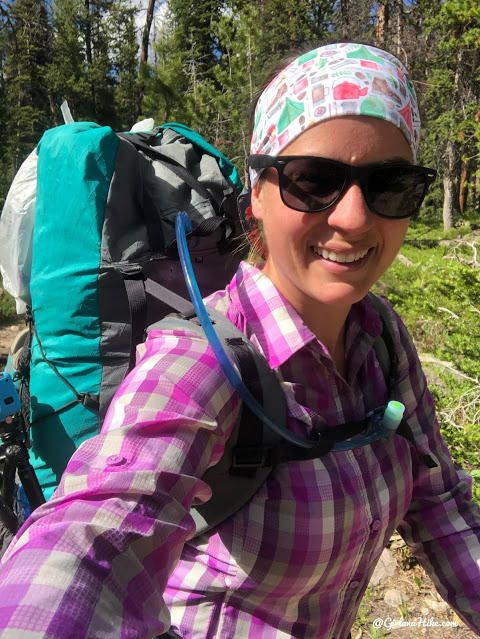 Whoo hoo so excited for my first backpacking trip of 2020! I had several other trips planned, but alas, COVID decided to cancel everything. The pack I used for this 3 day trip was my 50 liter Waymark Gear Co ultralight pack. 3 days is the max I will use this pack for, beyond that I switch to my Osprey 65 liter which I will use for my 7-9 day trips. Get 10% off your entire backpack order, use the code "GIRLONAHIKE" at checkout!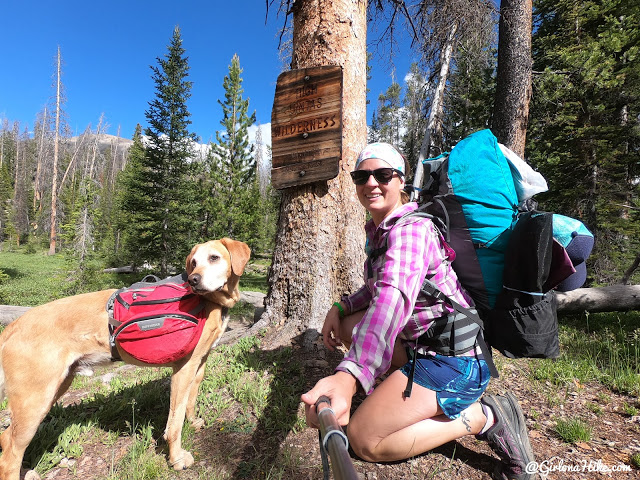 Passing by the official Hih Uintas Wilderness sign.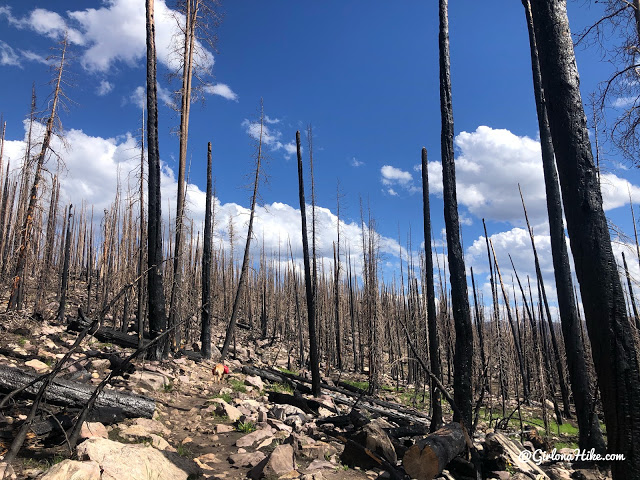 In between Scuder Lake, and the Packard Lake trail split, was completely burned from the fire of Fall in 2018. It was so crazy and sad to see!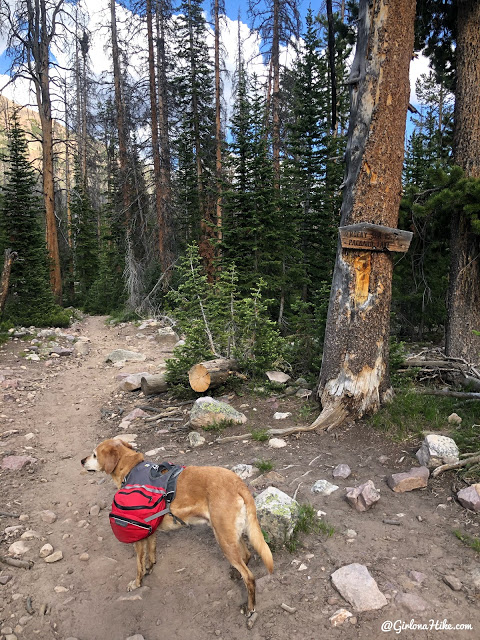 At 3 miles, stay left. Right will take you to Packard Lake.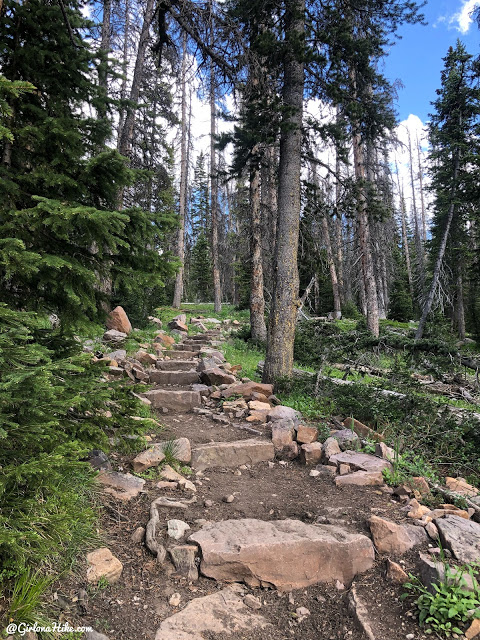 Some nicely built steps along the way! You'll also cross many boardwalks and drinking holes for the dogs to sip from.
At 4.3 miles stay left for Naturalist Basin. Years ago there used to be a sign here, but now it's just this square, brown blank sign. Make sure you're keeping track of your surroundings so you don't miss this split.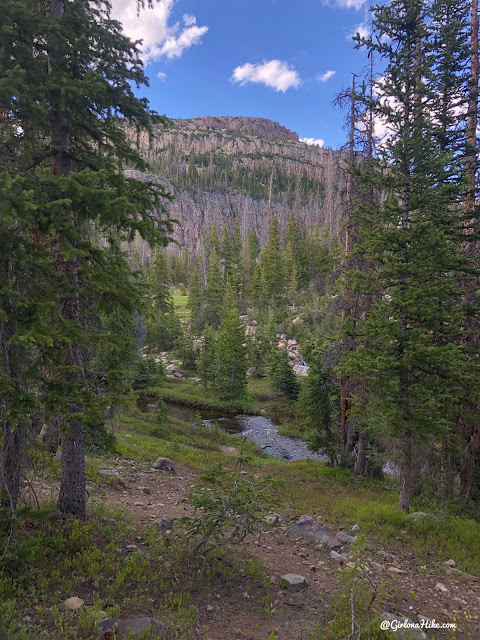 The trail gradually gains elevation, and then drops when you see the stream.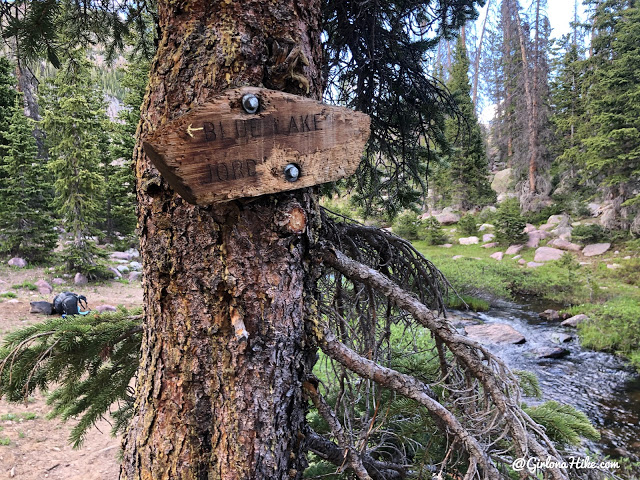 At 5.5 miles stay right for Jordan Lake.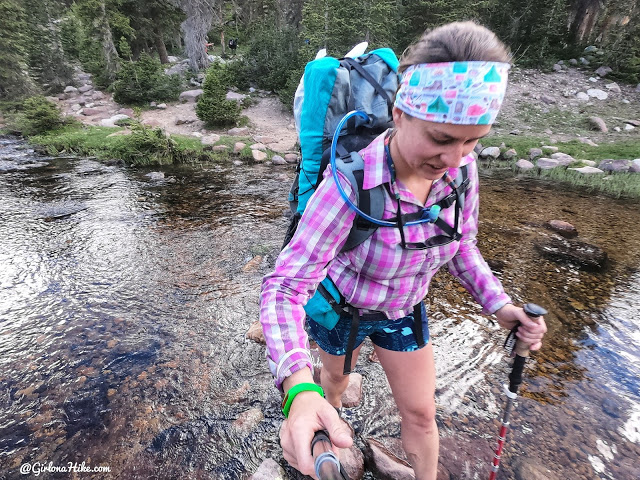 Cross the stream using the boulders. Later in the year this stream crossing may be very low.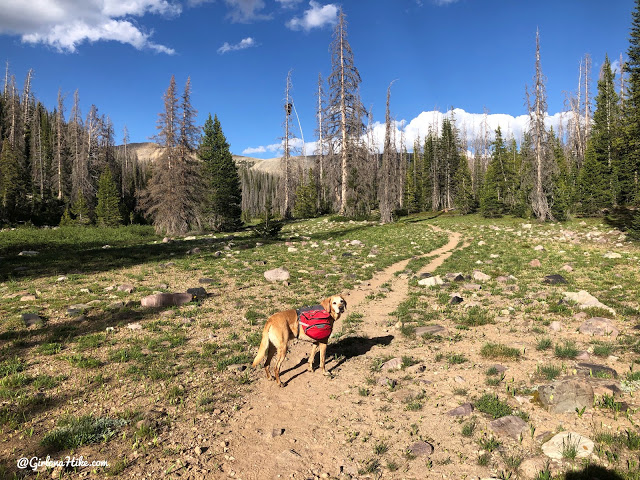 The evening light was so pretty! We were almost there!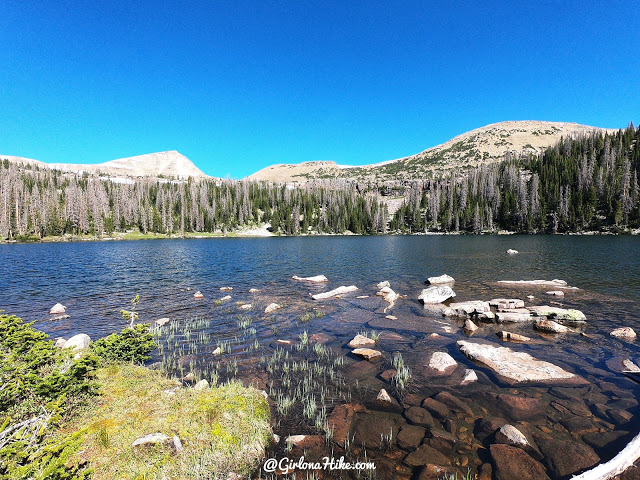 Ah, Jordan Lake! Only 6.5 miles to reach this pretty lake, with plenty of campsites to choose from. There are several sites along the East side of the lake.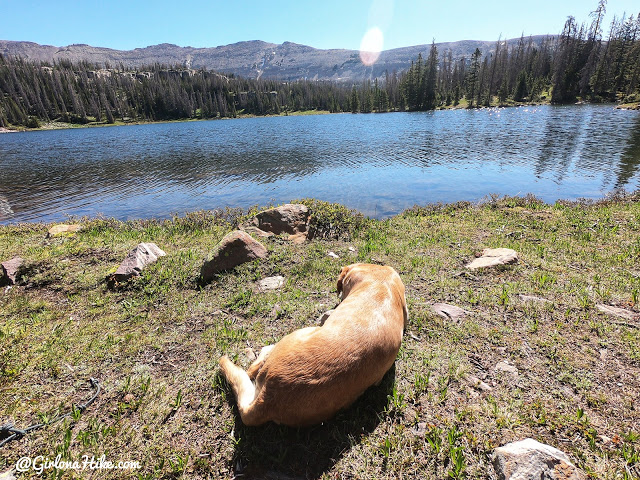 Charlie soaks up the sun and takes a break from our hike in.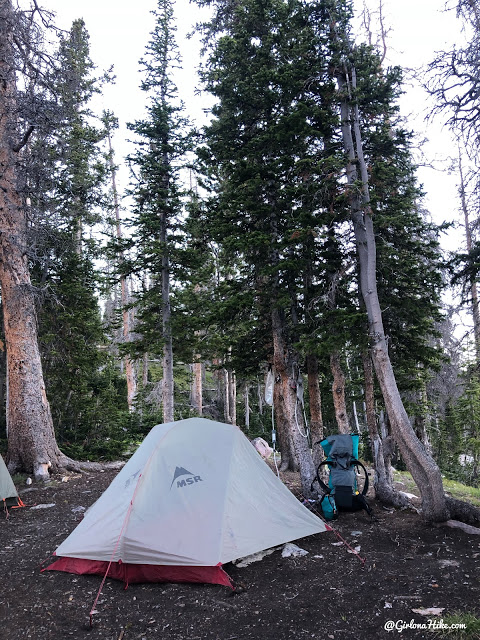 Our cozy home for the next 3 nights!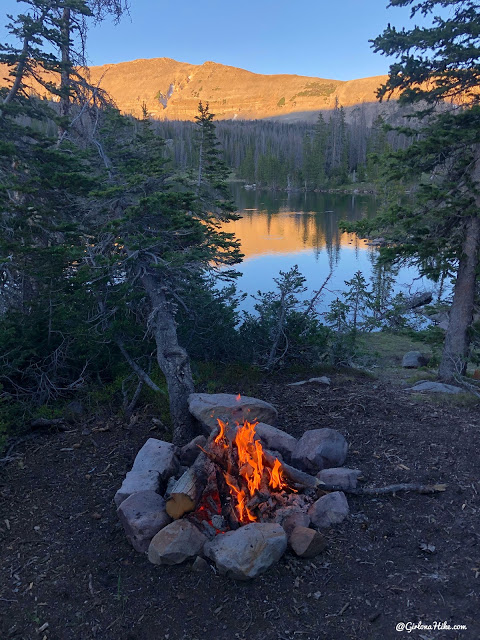 Perfect evening for a fire and a view in Naturalist Basin!
Day 2 – Day hike to Shaler Lake
From Jordan Lake
Miles: 3 miles RT
Elevation gain: 400 ft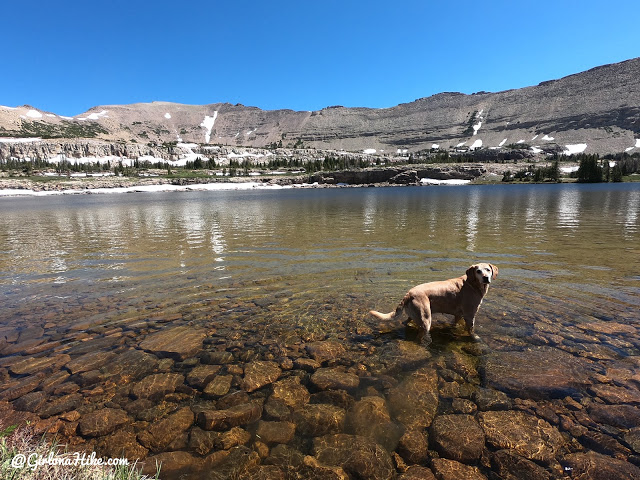 The next day we did a day hike up to Shaler Lake. This lake had 2-3 decent campsites but is also very exposed. I wouldn't want to be camping up here in a thunderstorm. Charlie took advantage of the ice cold lake by swimming for sticks! Shaler lake is only 1 mile beyond Jordan Lake so it was an easy day.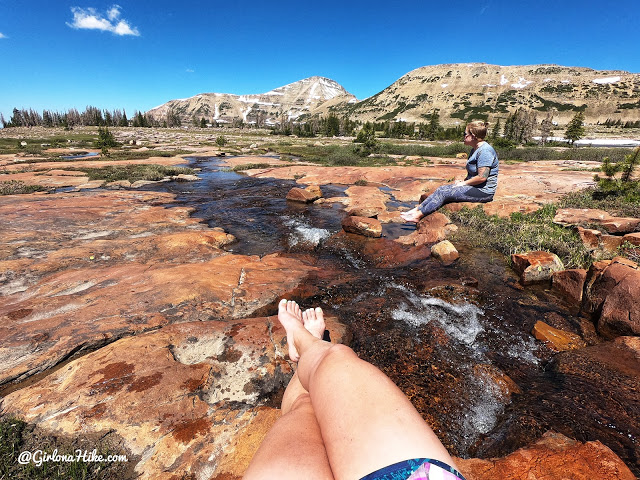 I forgot to mention – the first night I actually met up with Ashely who hiked in early that morning to secure us a campsite for the July 4th weekend. She was only able to spend one night with us, but we made the best of her time there!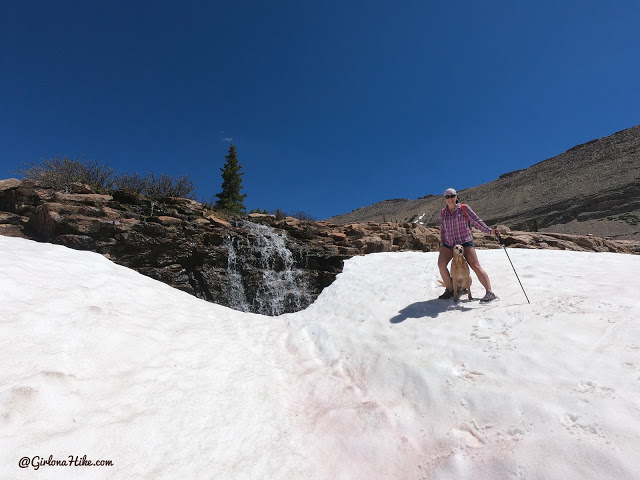 I spotted a waterfall from a distance and just had to hike over to it!
Panorama of Shaler Lake – just gorgeous!
Day 3 – Day hike to Spread Eagle Peak (12,540 ft)
From Jordan Lake
Miles: 5.2 miles RT
Elevation gain: 1900 ft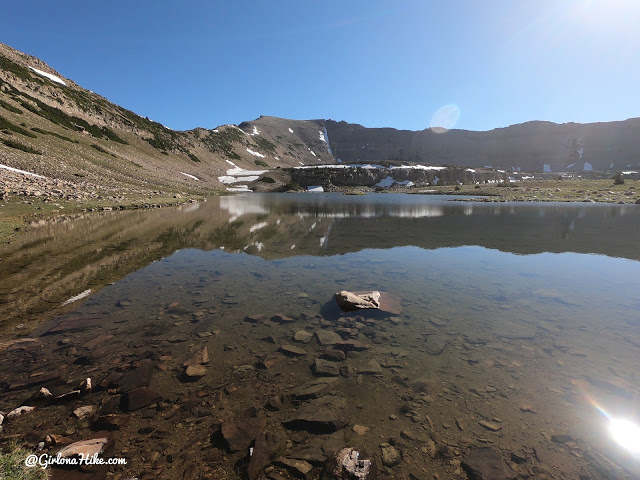 On my last full day, my goal was to get to Spread Eagle Peak – the highest point you can see from here (Faxon Lake). I followed the faint fishing trail around the lake, and aimed for the low saddle below the peak (see route below).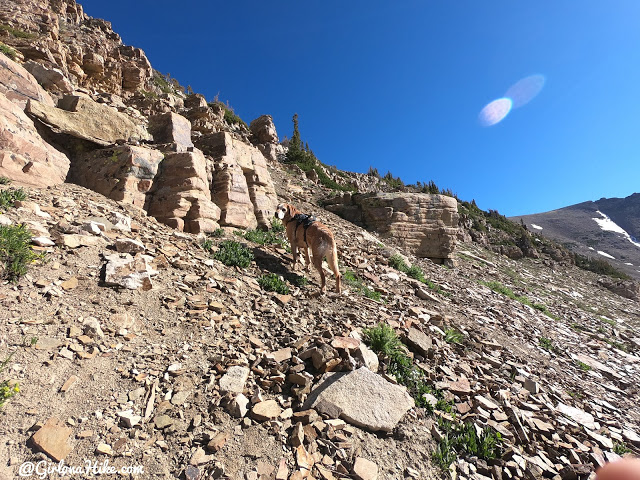 We aimed for the saddle, and just picked what looked like the best/easiest route. In reality it's all the same – just go where you feel comfortable.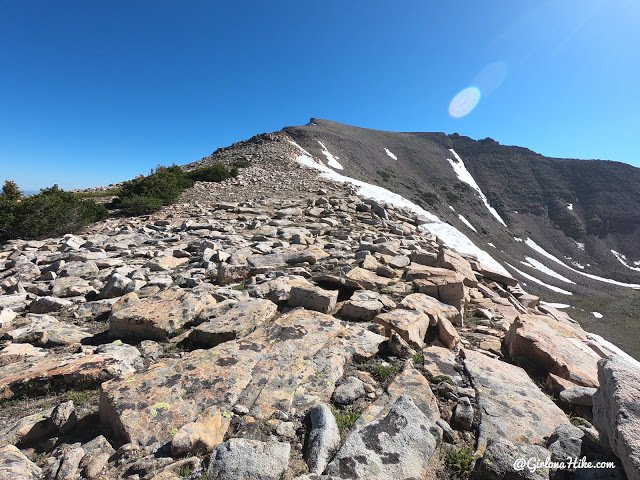 Whew! Finally on the saddle. That was a steep slope to hike up with two spots that I had to climb up rocks, but not horrible. Now my destination was in view! From here, just stay on the ridge the rest of the way.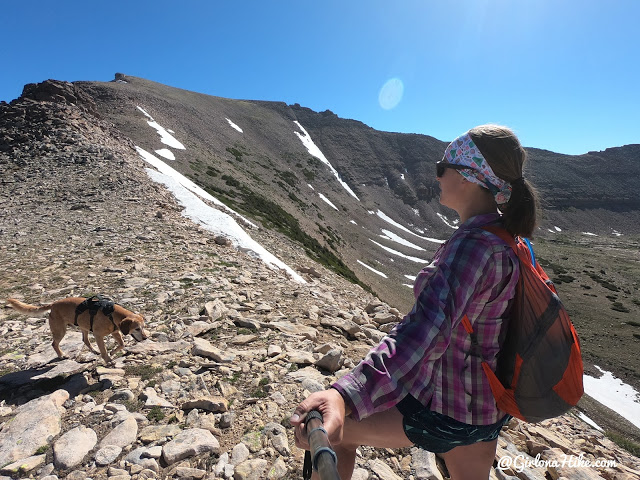 There were never any scramble sections, just normal Uinta boulders to hike over. I kept Charlie's harness on him just in case, but I never needed to assist him. What a good boy! PS I absolutely love my Sea to Summit Ultrasil day pack – it's so tiny and compact. Perfect for day hikes when backpacking.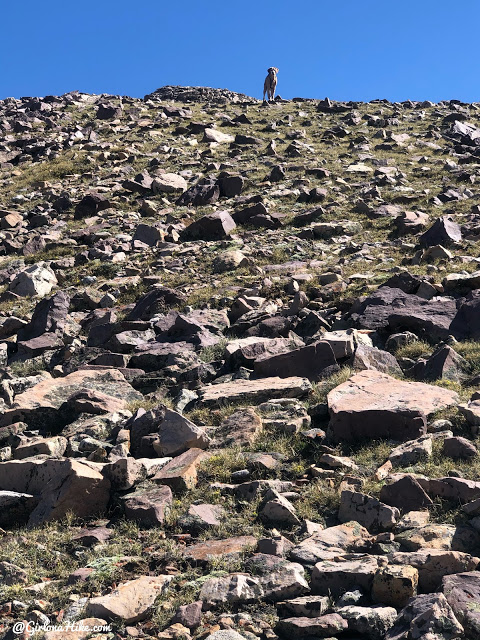 Charlie was killin' it on this hike – he was always ahead of me roaming around and waiting for me to catch up.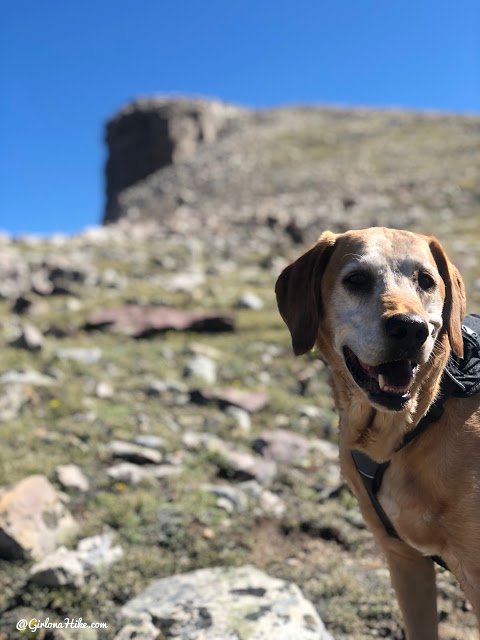 Getting closer – everyone thinks this cliff is the peak but it's actually 100 yards past this.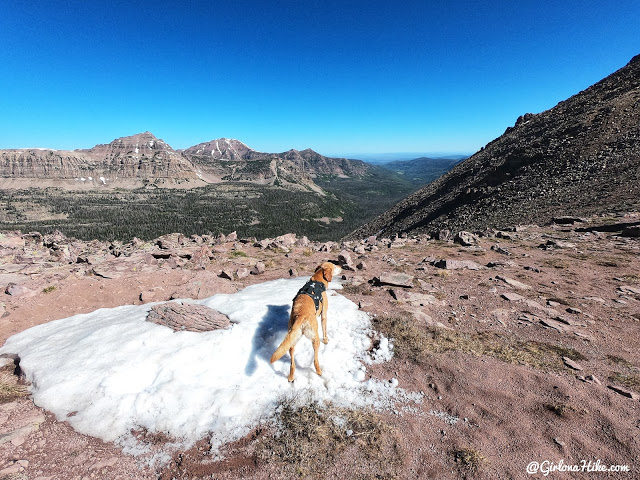 Looking down into Christmas Meadows.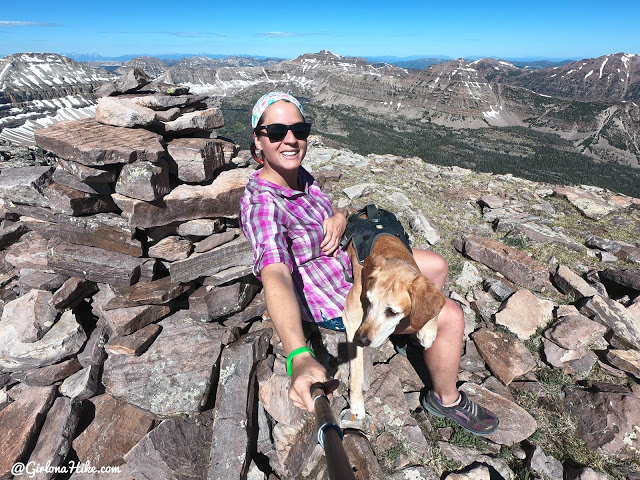 Yay we made it to the summit! 12,540 ft! Spread Eagle Peak was marked by this giant cairn but not summit register. Just above my head to the right is Hayden Peak.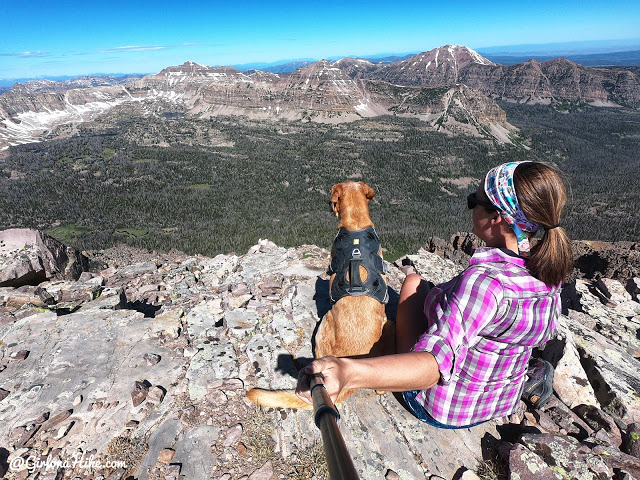 Enjoying our view of the Middle Basin, which includes Ryder Lake & McPheters Lake.
What a trip! I am so glad I was able to spend 3 nights in Naturalist Basin so I could really explore the whole area plus bag a peak!
Check out my video!
Trail Map
My track via Gaia GPS – the best tracking app! Get your app here for a discount.
Recommended Gear
Nearby Hike
Backpacking to Rock Creek Basin, Uintas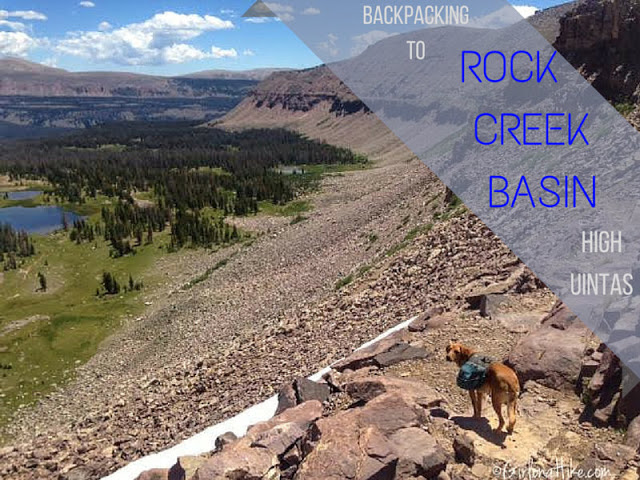 Save me on Pinterest!