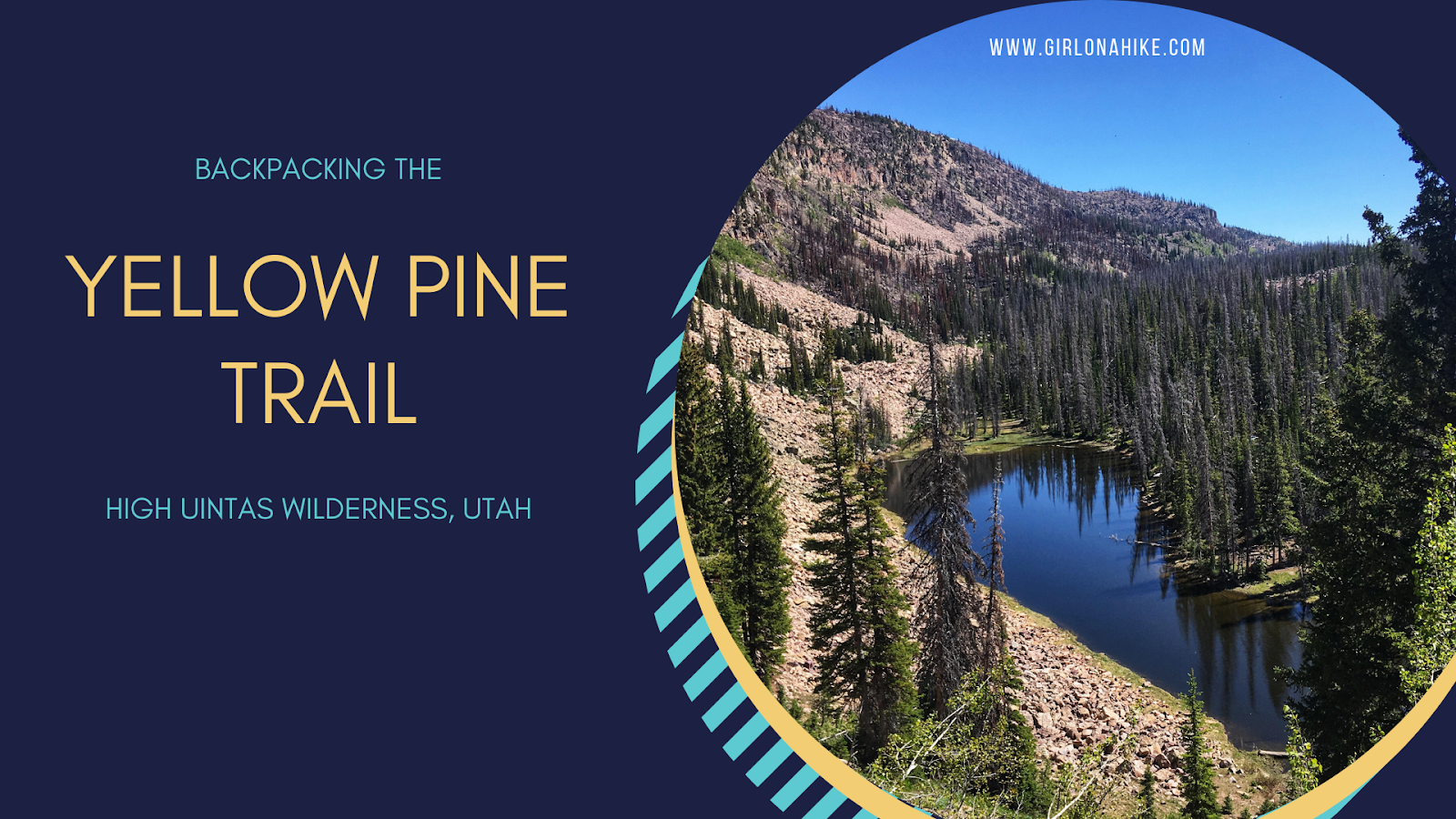 Backpacking the Yellow Pine Trail, Uintas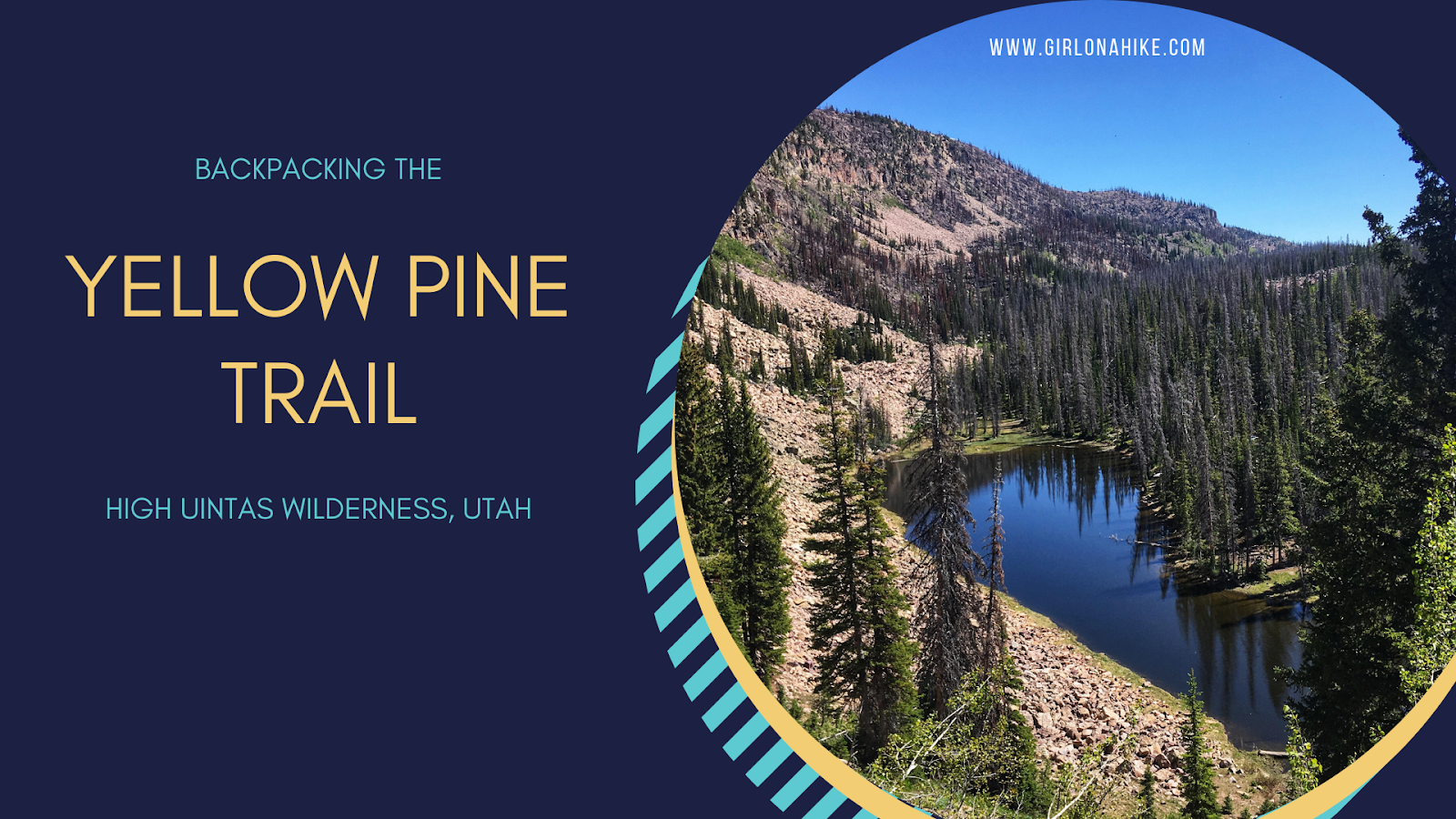 The Yellow Pine Trail is one of the first trailheads you will pass after entering the Mirror Lake Highway, coming from Kamas, UT. The trail leads to three lakes – lower & upper Yellow Pine Lakes, as well as Castle Lake. You can also day hike to Duke & Castle Peak, both over 10,000 ft. This is a great early-season backpacking route when the higher Uintas is covered in snow. The trail is mostly well shaded and offers plenty of water along the way for your pup to drink from or to filter from. It is slightly steep and rocky in sections, so this trail took longer to reach the lakes than anticipated. The best time to hike here is late June though October, or when the first snow flies.
Directions
From Kamas, Utah drive East along the Mirror Lake Highway for 6.2 miles, and turn left at the brown sign for the Yellow Pine TH.  The trail starts in the NE corner of the dirt parking lot. There is one port-a-potty.
Here's a driving map.
Trail Info
Distance: 
4.5 miles to Lower Yellow Pine Lake
4.75 miles to Upper Yellow Pine Lake
Elevation gain: 2,500 ft
Time: 3-5 hours one way, or 1 night minimum
Dog friendly? Yes, off leash
Kid friendly? Yes, ages 10+ with backpacking experience
Fees/Permits? The Mirror Lake Highway charges a $6 fee for a 3 day pass. It's free if you have an annual Mirror Lake Hwy, American Fork Canyon pass, or annual National Park Pass. No permit is required.
Day 1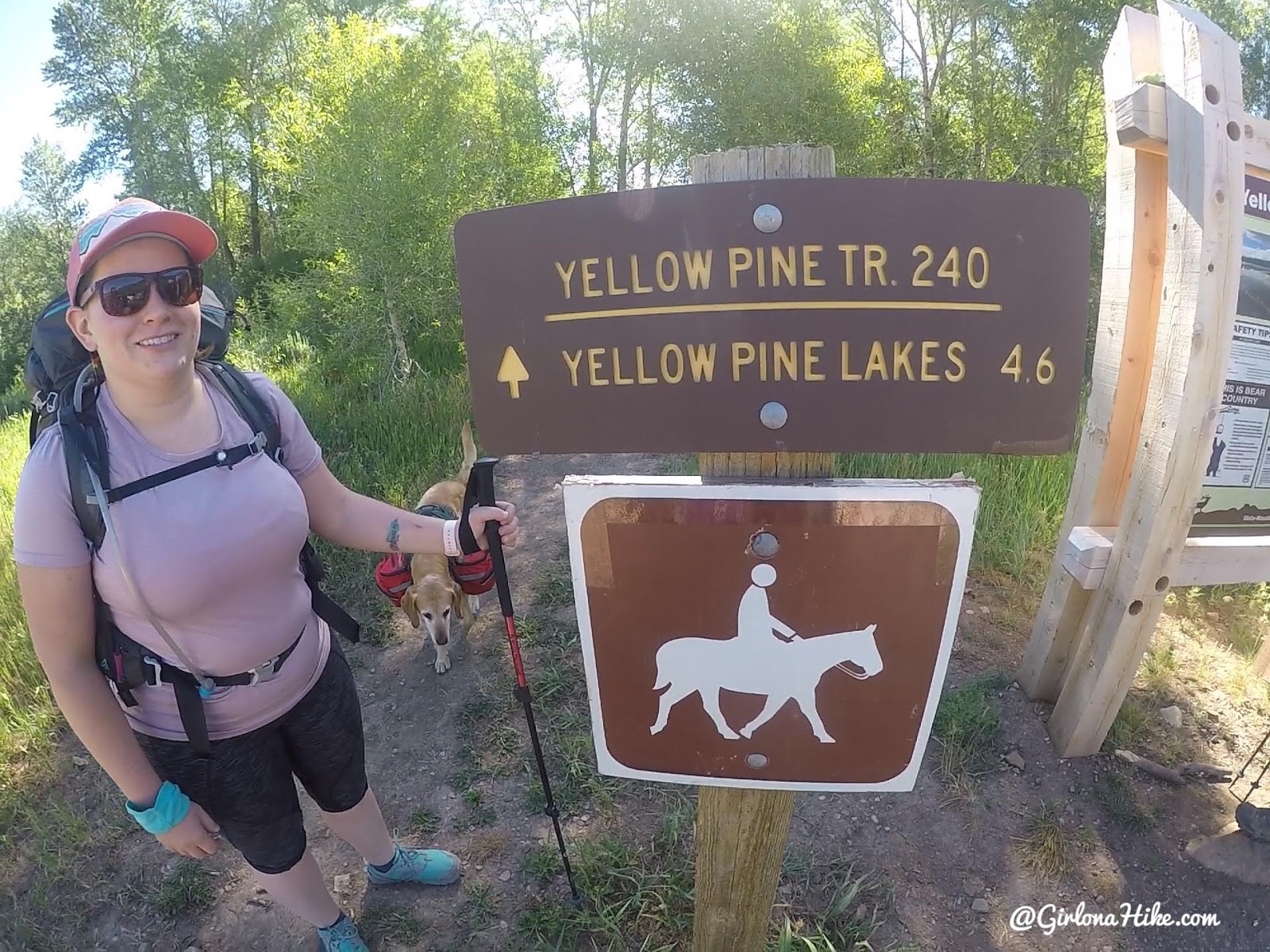 Ready for an adventure!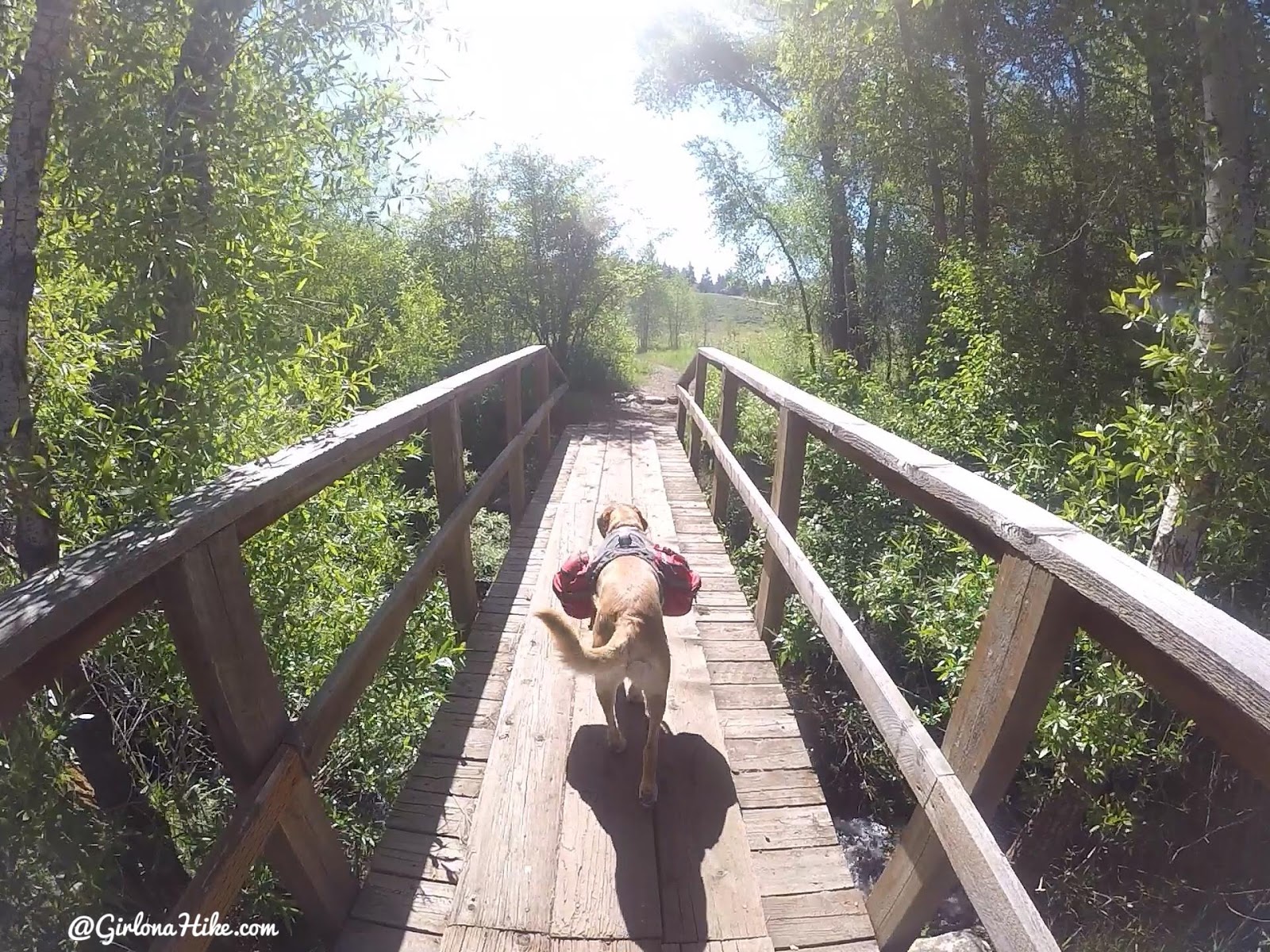 Cross the first bridge immediately.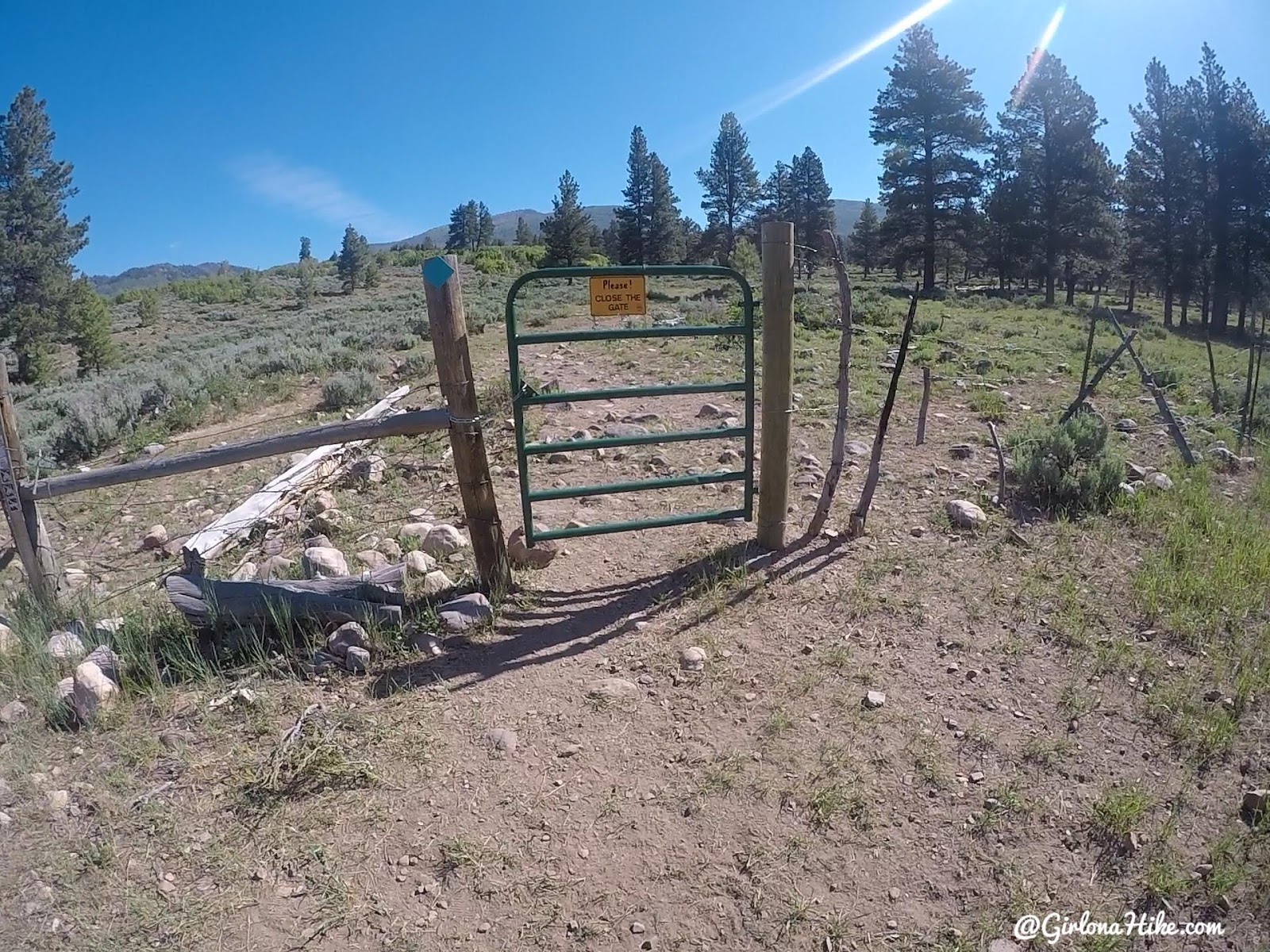 Cut through the gate. You will hike through tall Yellow Pine trees as the trail name suggests.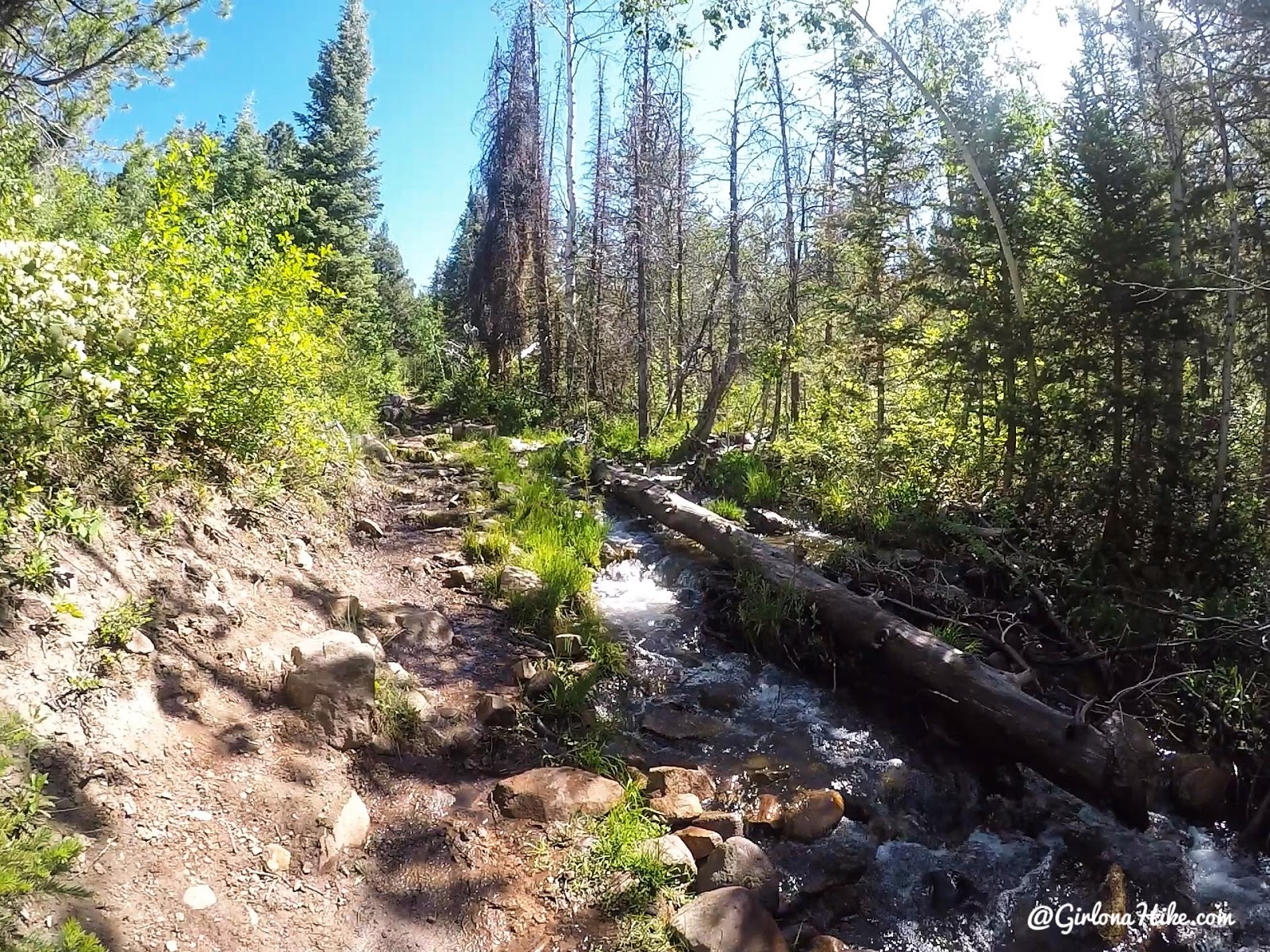 Around 1 mile you will find yourself along the Yellow Pine Creek.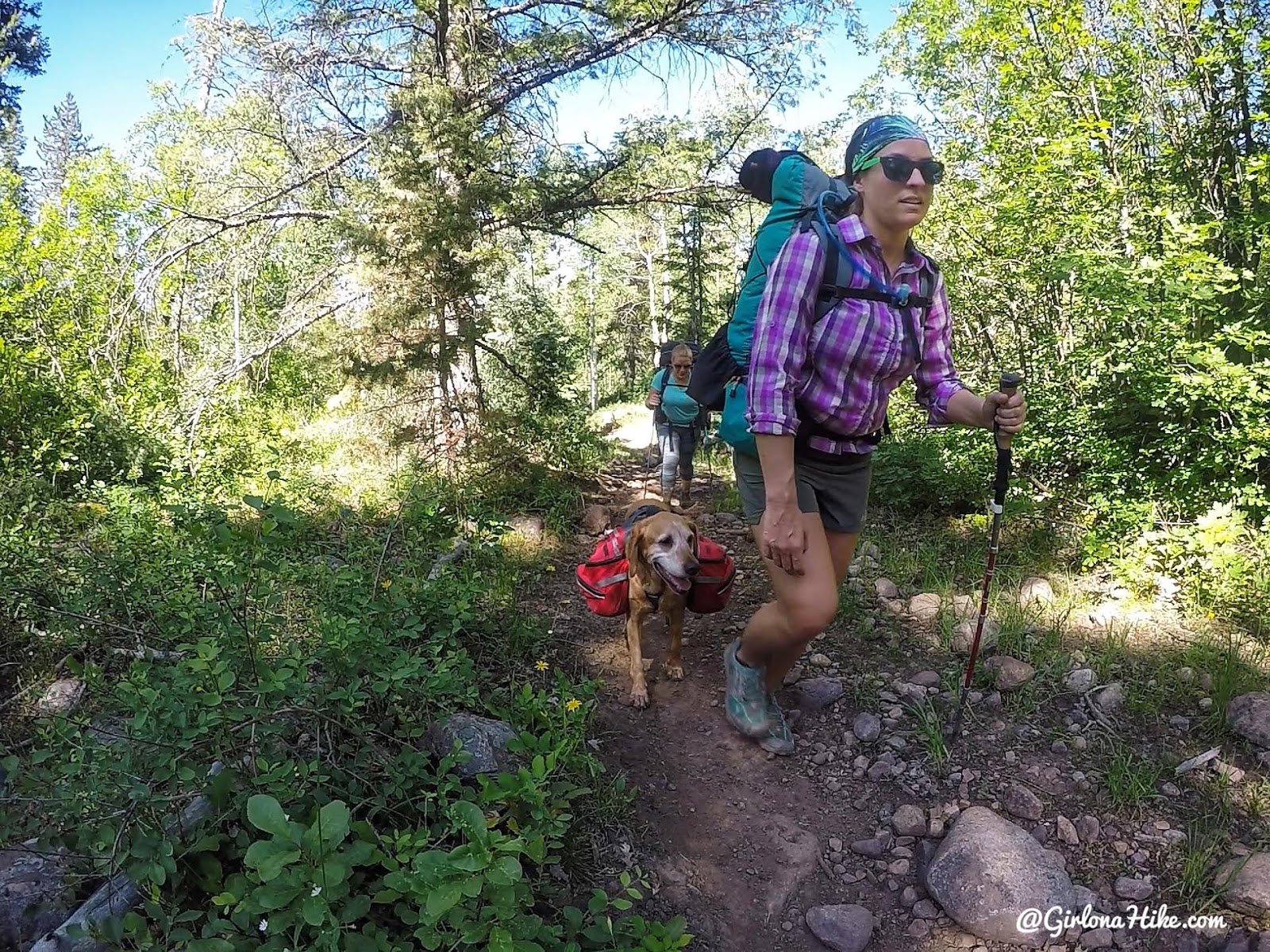 Time to start working uphill! Hiking poles are super helpful for this hike since it is steep and rocky in parts.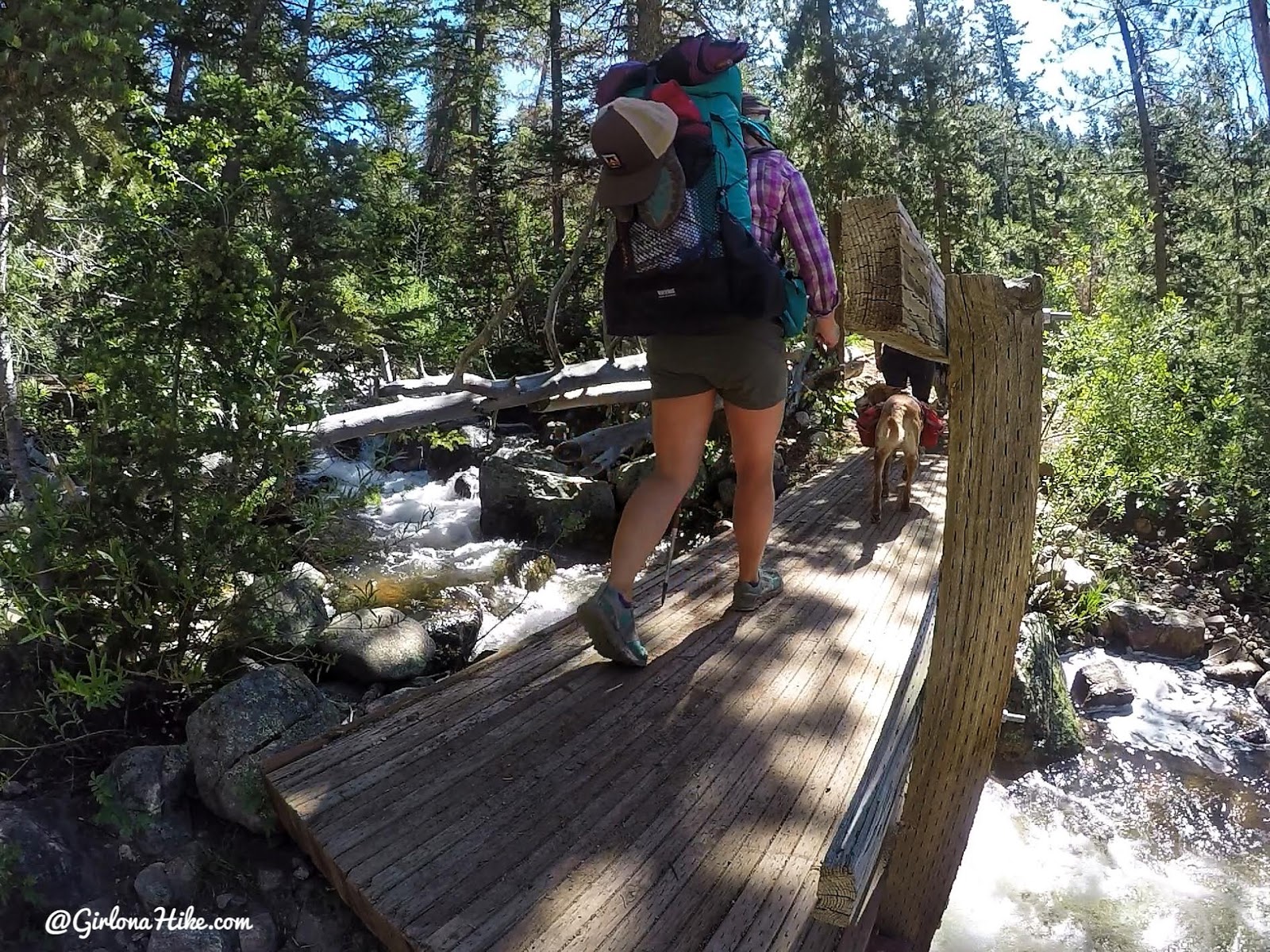 At mile 1.5 cross bridge #2. This trip I used my 50 L Waymark Gear Co pack. Get 10% off all packs just use the code "GOAH19" at checkout!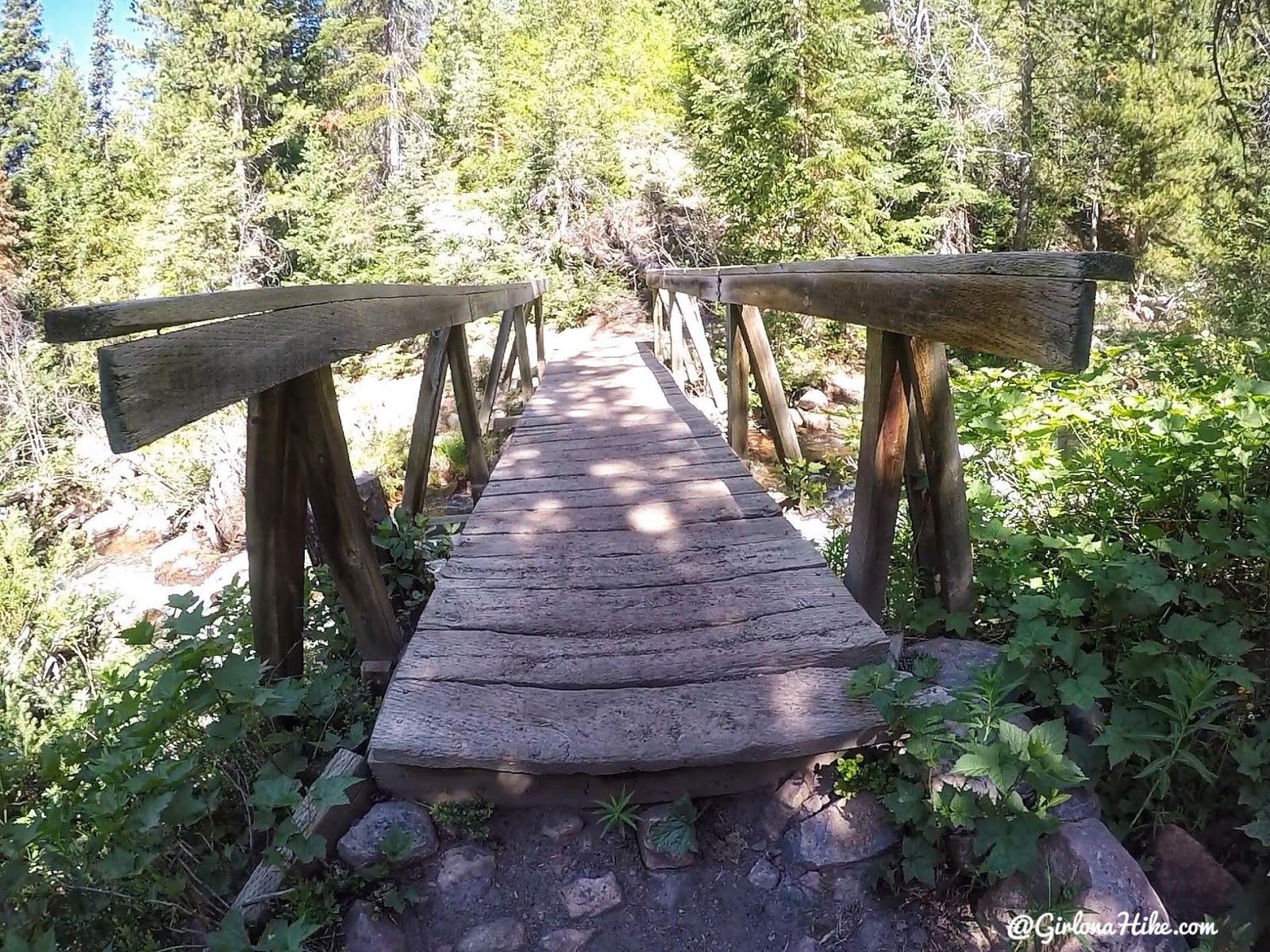 And at mile 1.8, cross bridge #3.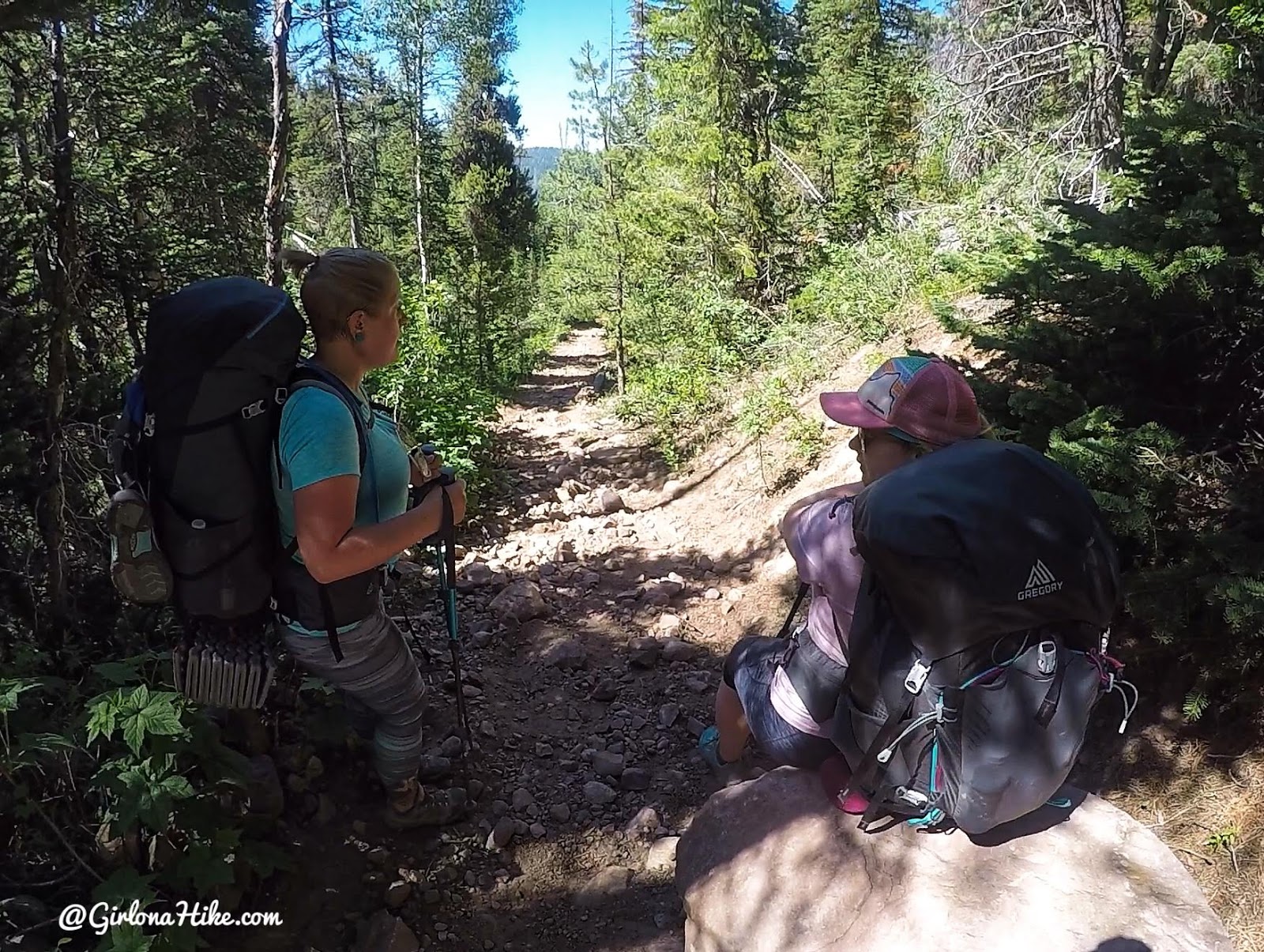 Taking a break on the first really steep section.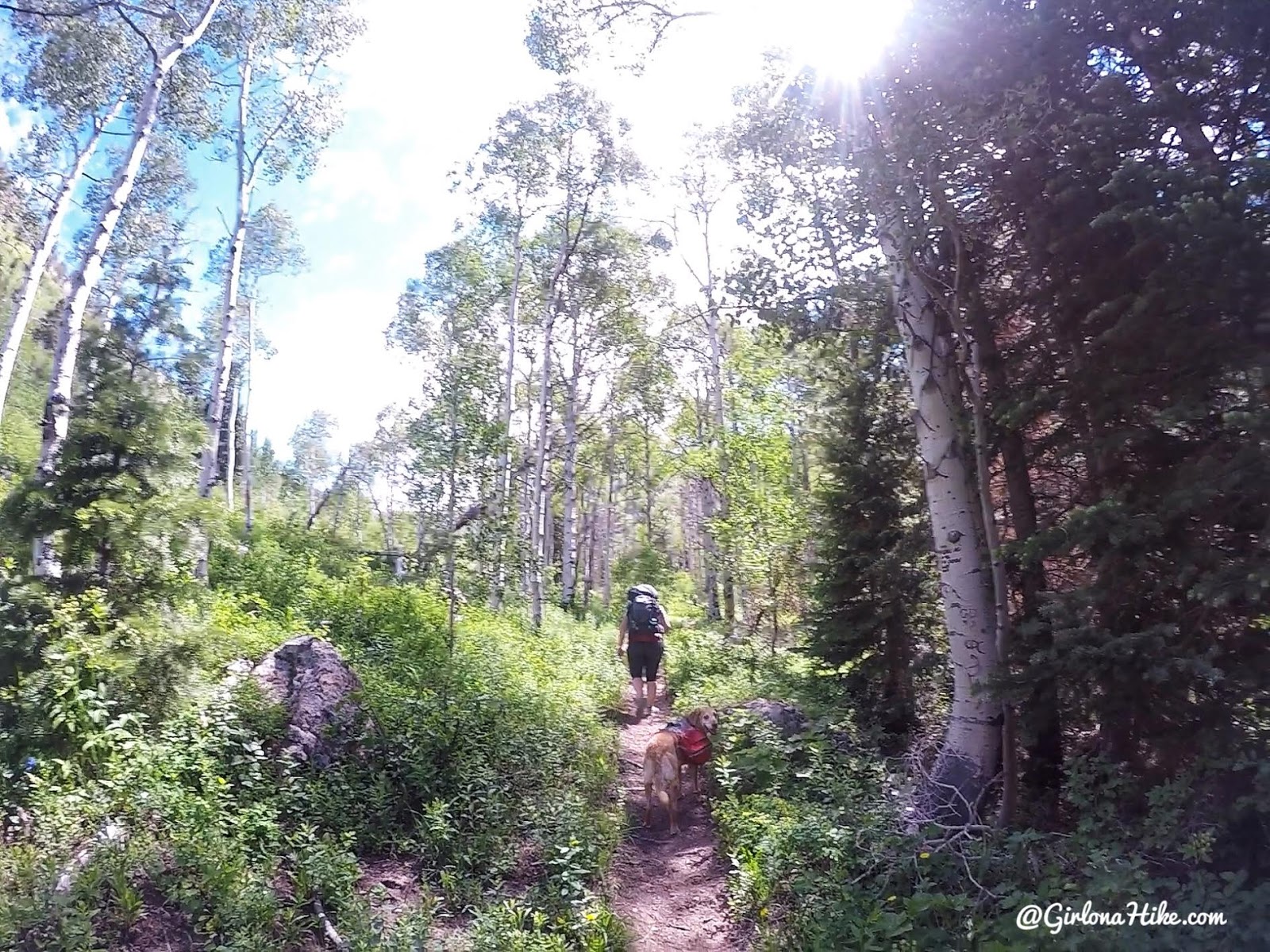 As you hike further up, you'll see tons of Aspen trees.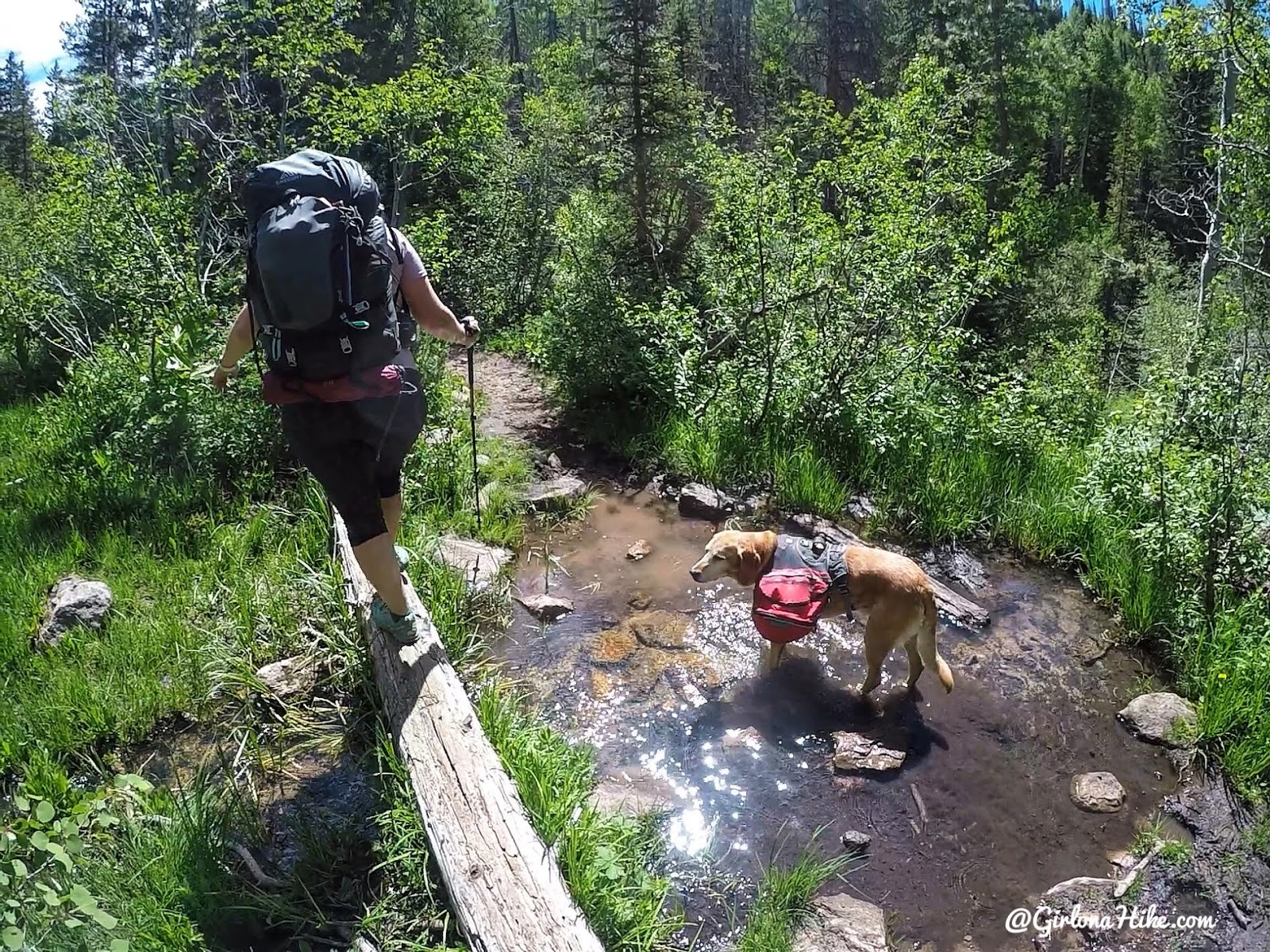 Crossing a water-logged area. Charlie sure appreciated all the water along the way to drink from and cool his paws off.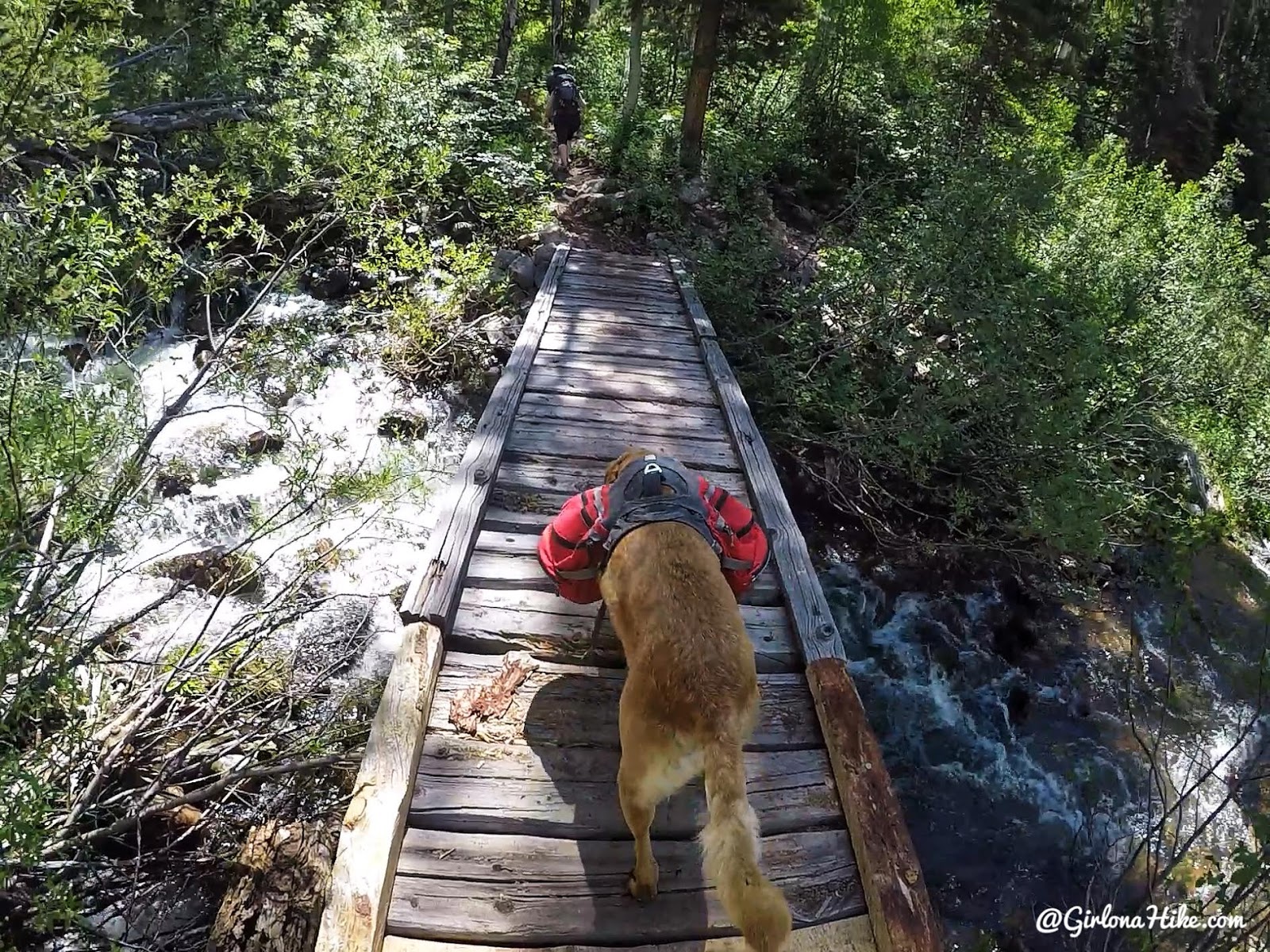 At mile 2.5, cross bridge #4.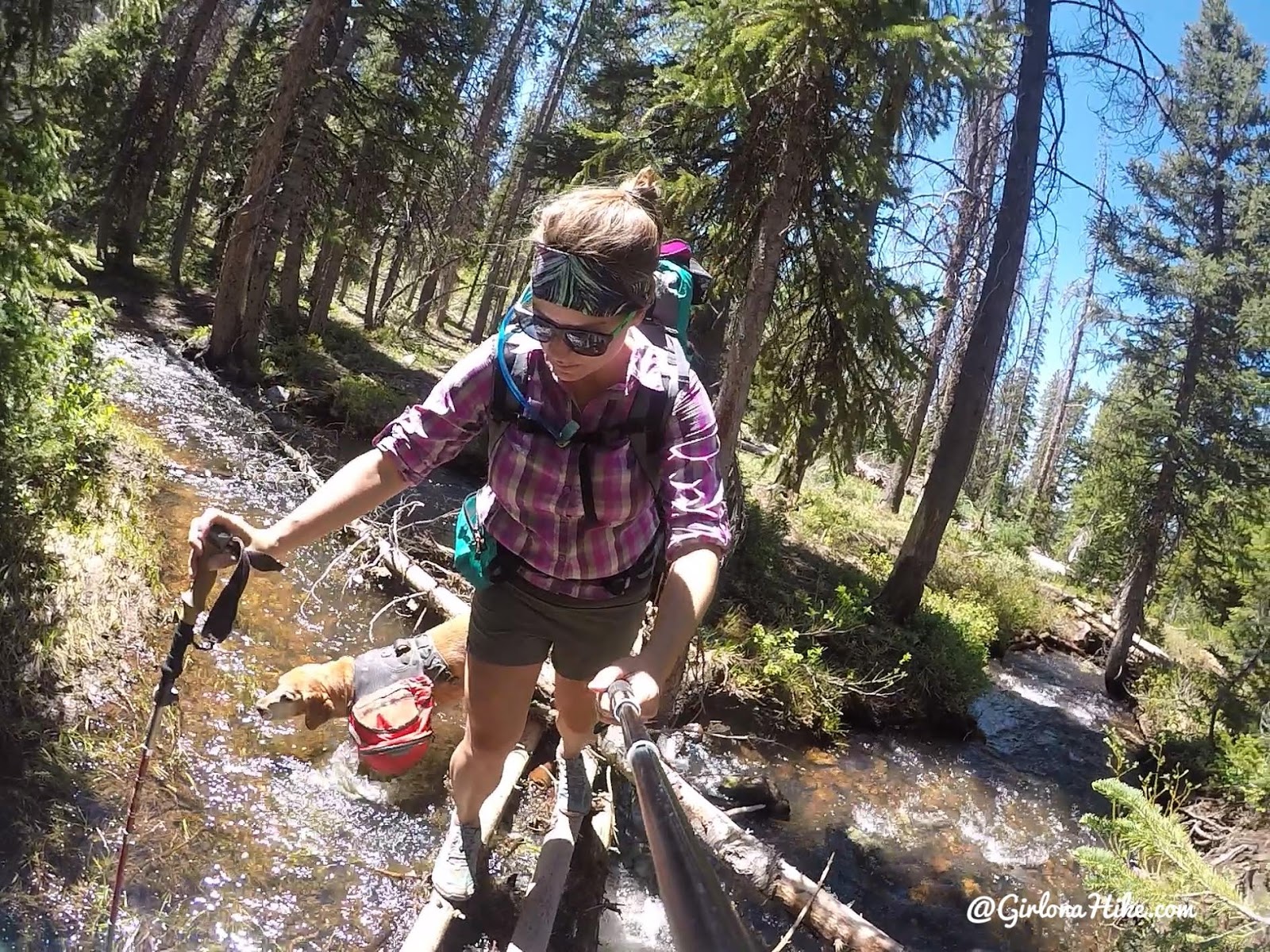 More water crossings, yay! We were able to keep our shoes dry the entire hike.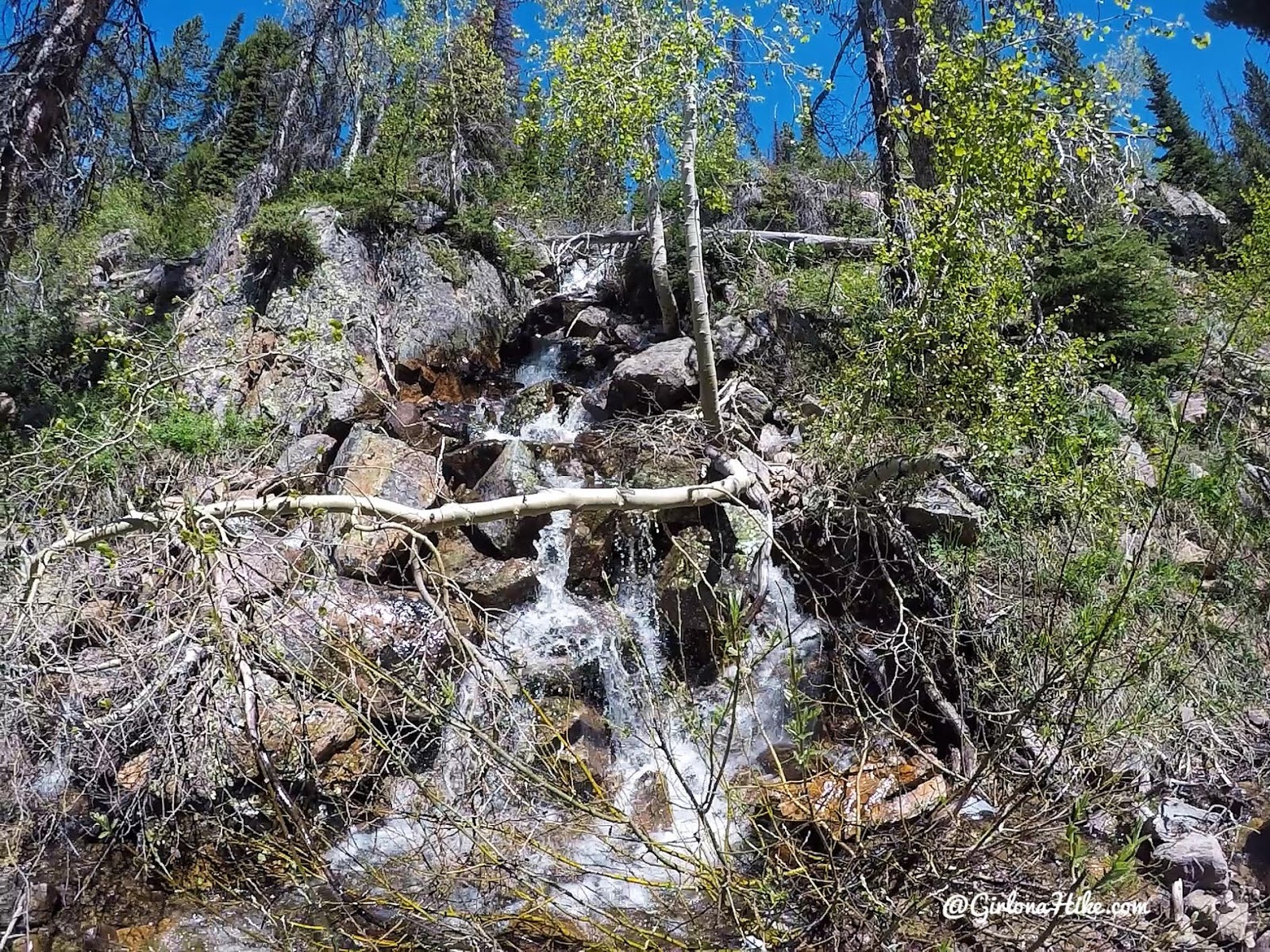 Passing by a waterfall on the trail.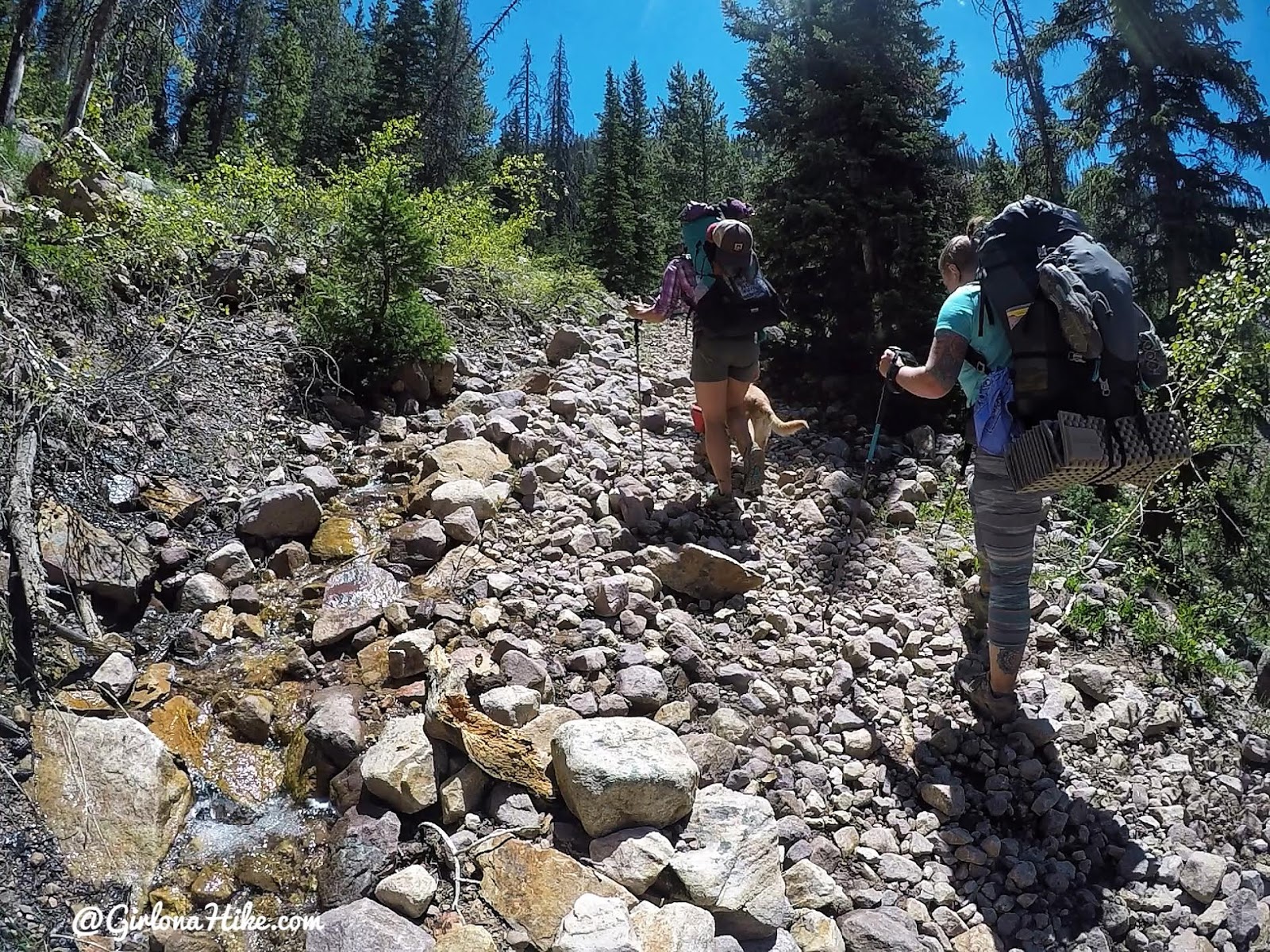 At mile 3.0 you will work up your first switchback.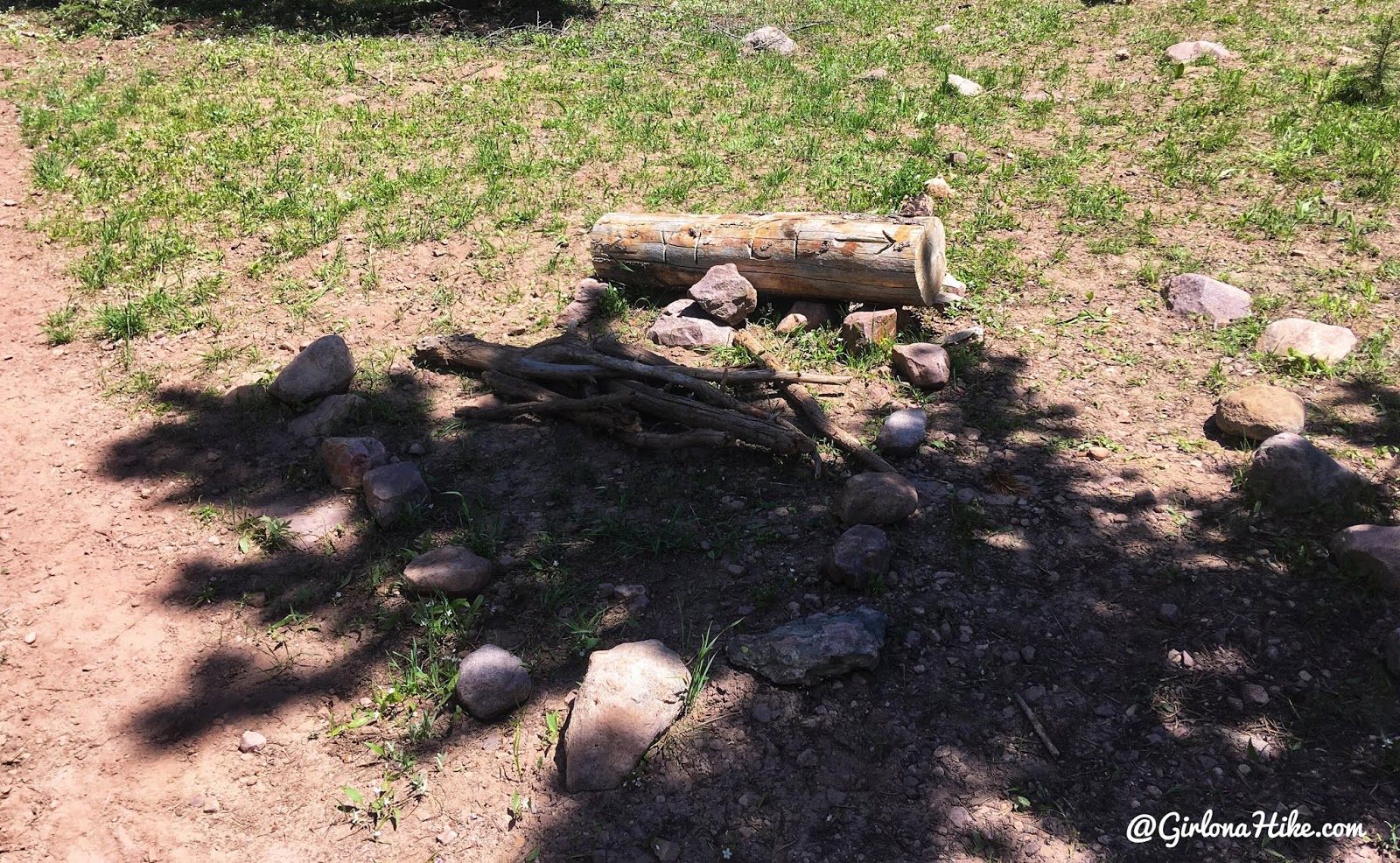 Mile 3.8 you will now see the trail split. On the log is carved "YL – CL" – Yellow Lake is to the left, Castle Lake to the right.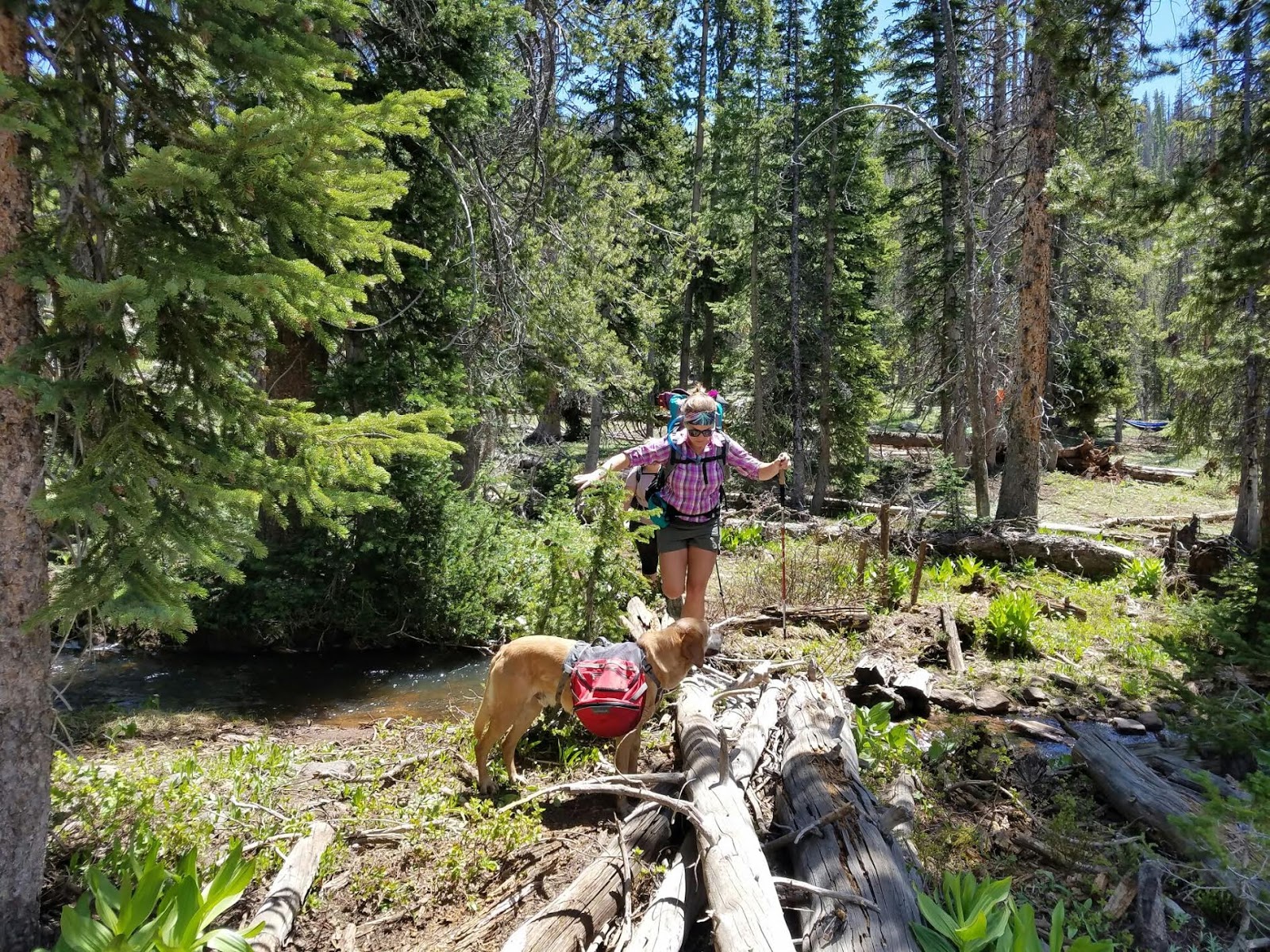 There was so much water from our amazing Winter that the trail was fully covered by water. We found a little log to cross to keep dry.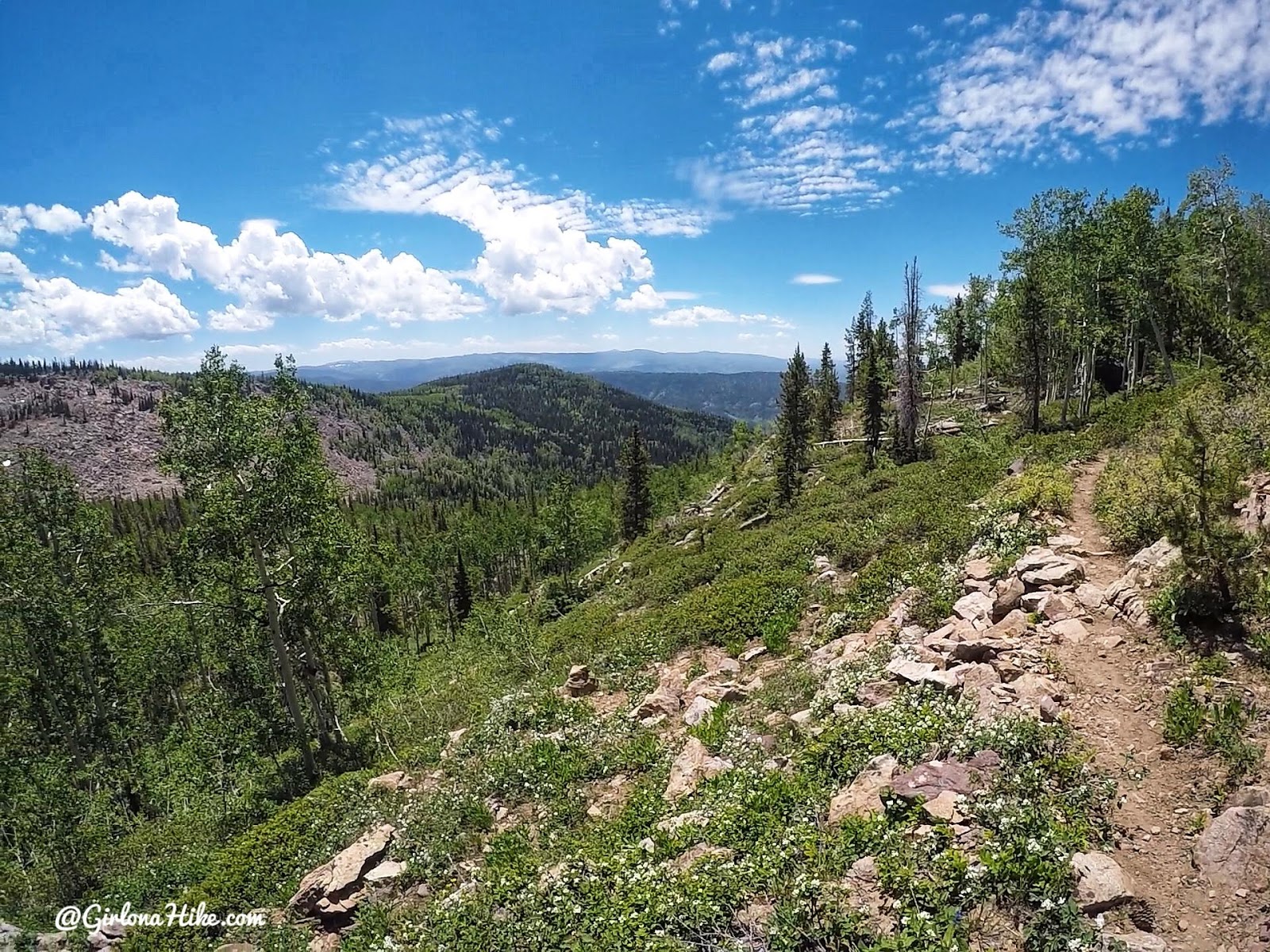 Finally the views open up and you can see pretty far South.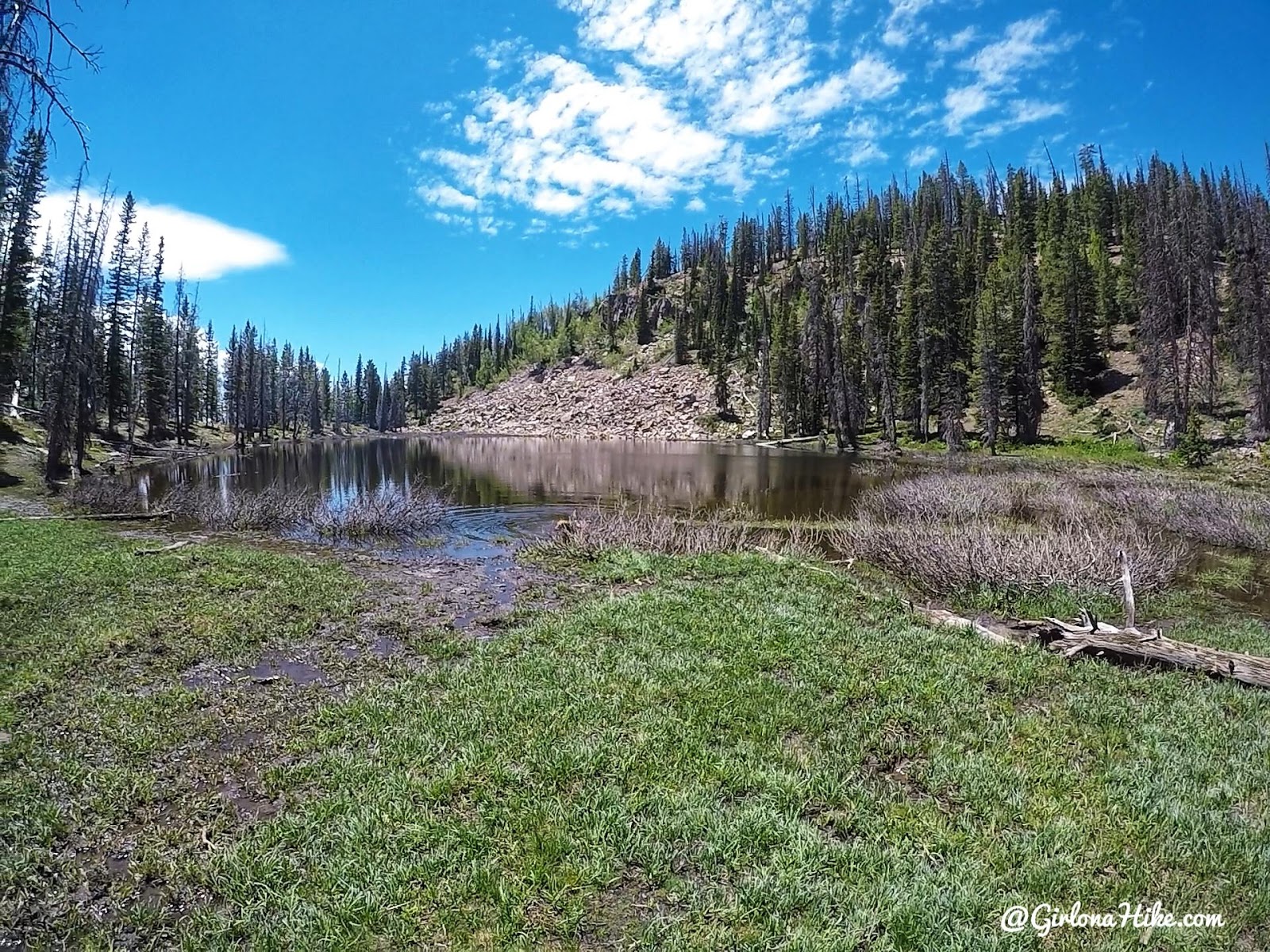 Finally you will first reach Lower Yellow Pine Lake – a great fishing spot!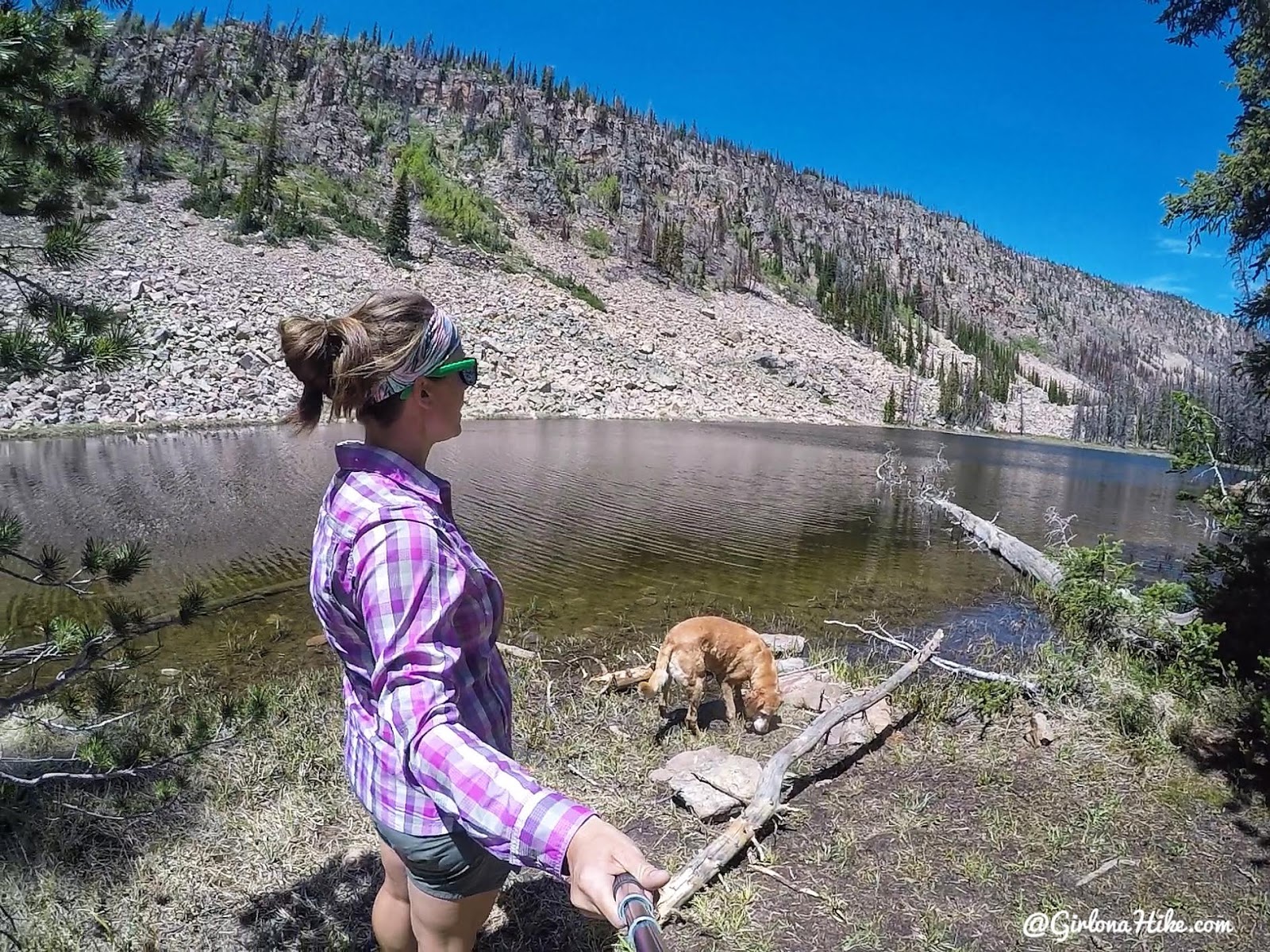 Find the small trail split marked by a cairn to hike up another 5 minutes to Upper Yellow Pine Lake. Ahh, home for the next 3 nights!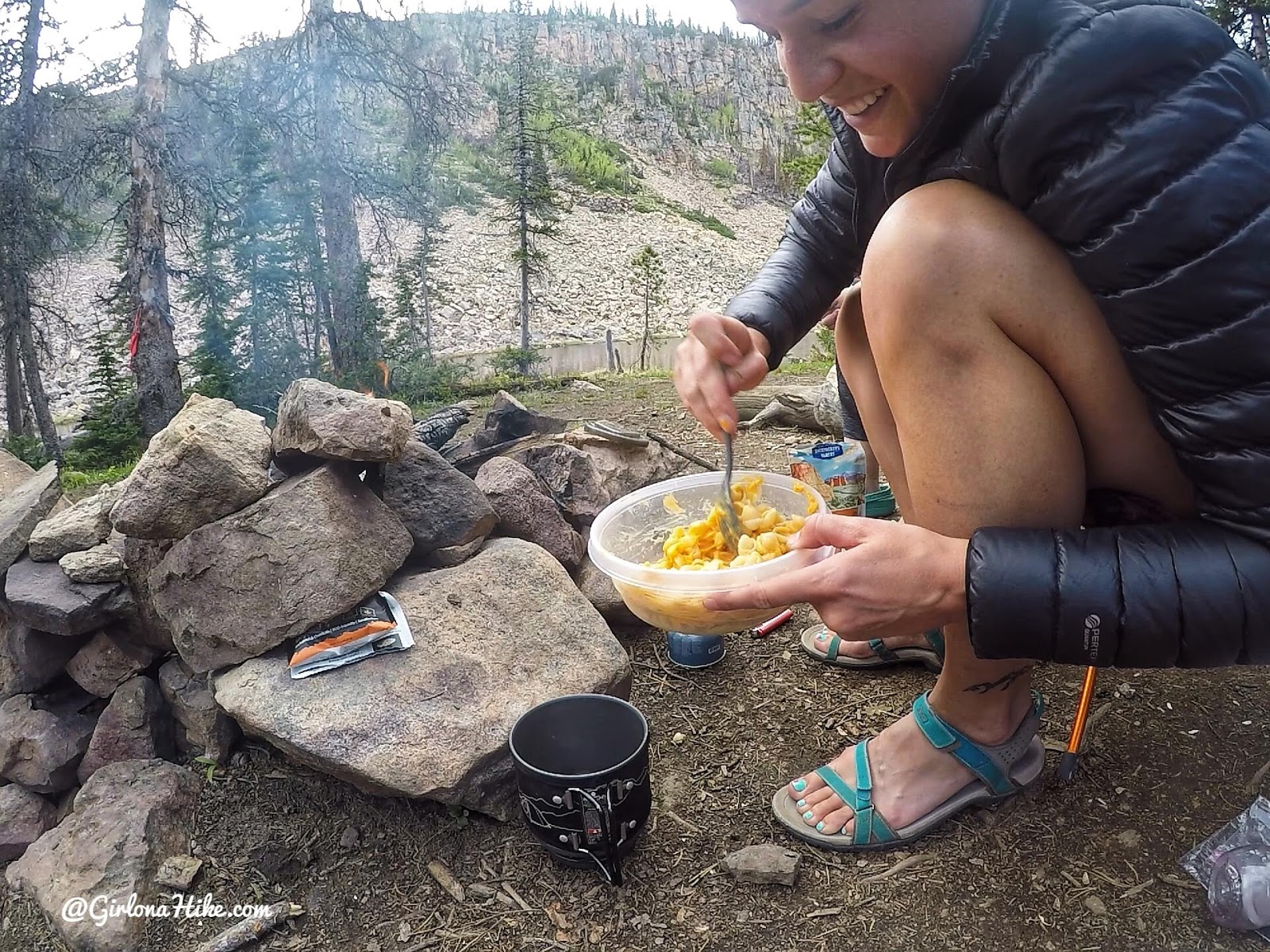 For dinner, I've gotten away from always eating Mountain House meals, and now buy $2 boxed Mac & cheese (I've even found them on sale for $0.99 before at Smiths!). It saves me about $8 from the normal $10 dehydrated Mac & cheese, plus tastes just as good and takes way less time to cook. This was my dinner 2 out of the 3 nights while backpacking this trip. I bring my own Tupperware to mix the noodles and cheese and as well, and the Tupperware weighs almost nothing. Then I clean it and use for my oatmeal in the mornings.
Day 2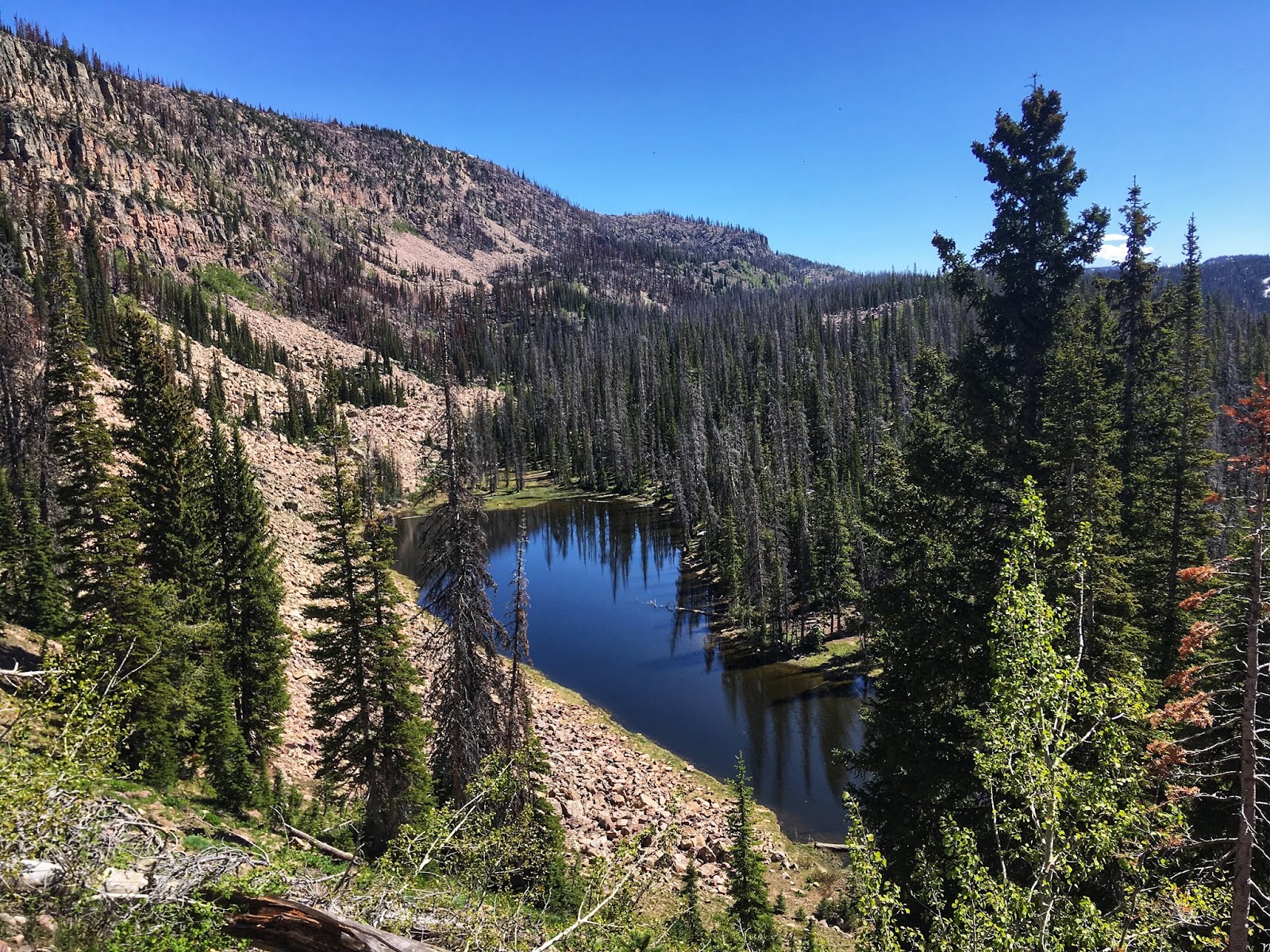 Day 2 we decided to take a short hike and bag Duke Peak (10,605 ft). We hiked over to the small saddle, then just followed the ridge up. This is looking down to Upper Yellow Pine Lake.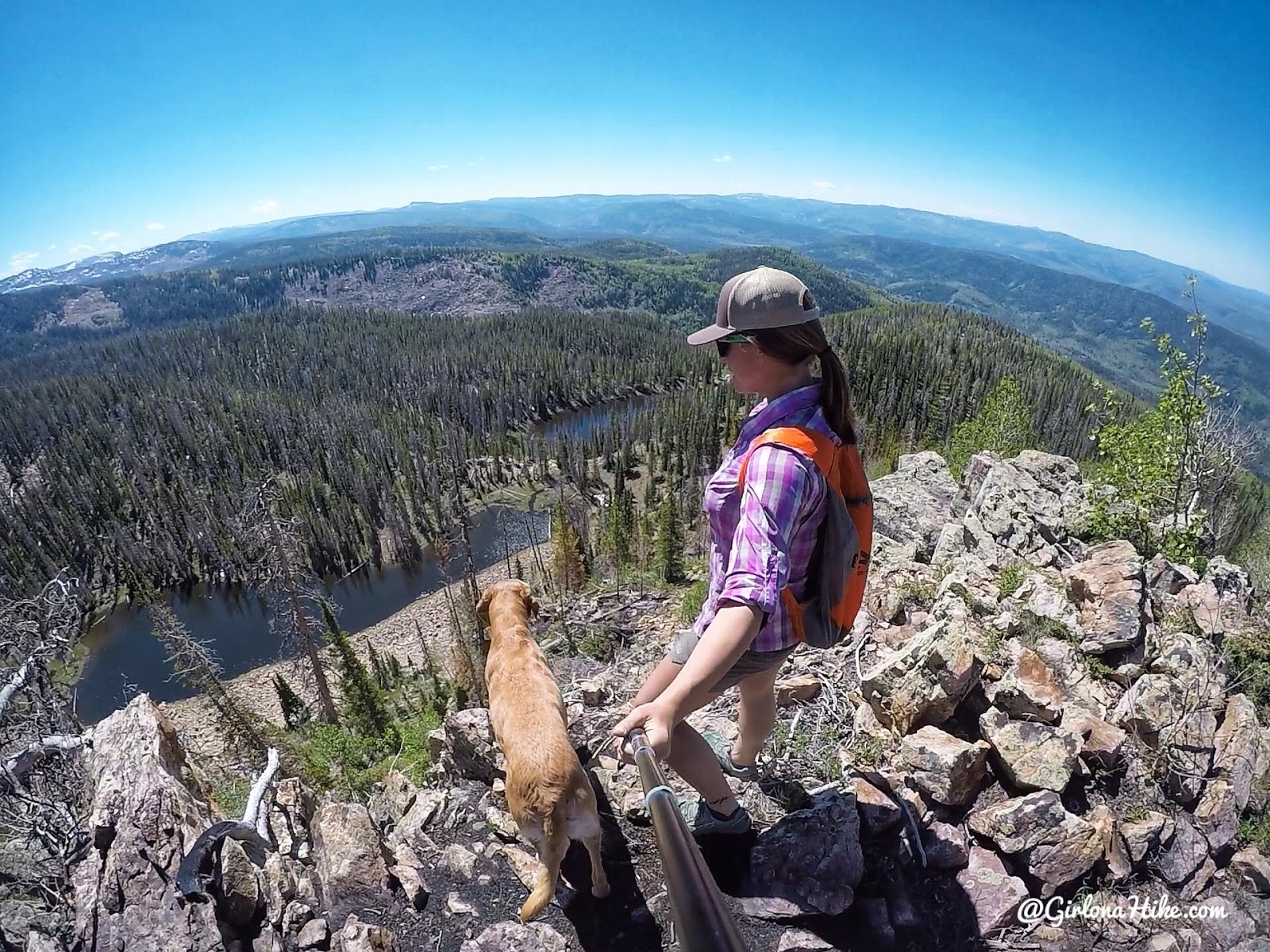 Working our way along the ridge – Upper & Lower Yellow Pine Lakes are below us.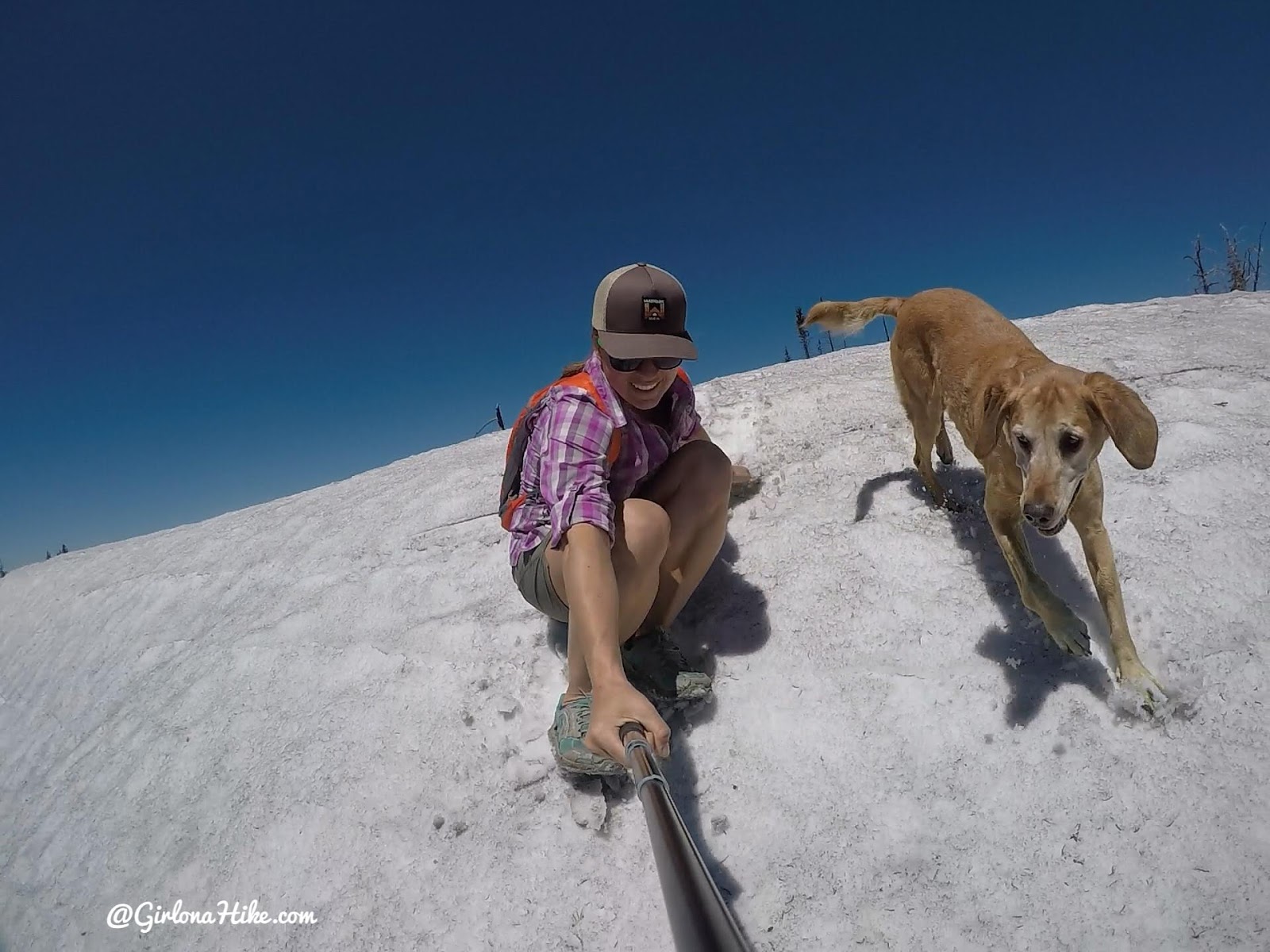 We found a lot of snow at the top, but nothing that slowed us down. In fact it was pretty fun to boot ski!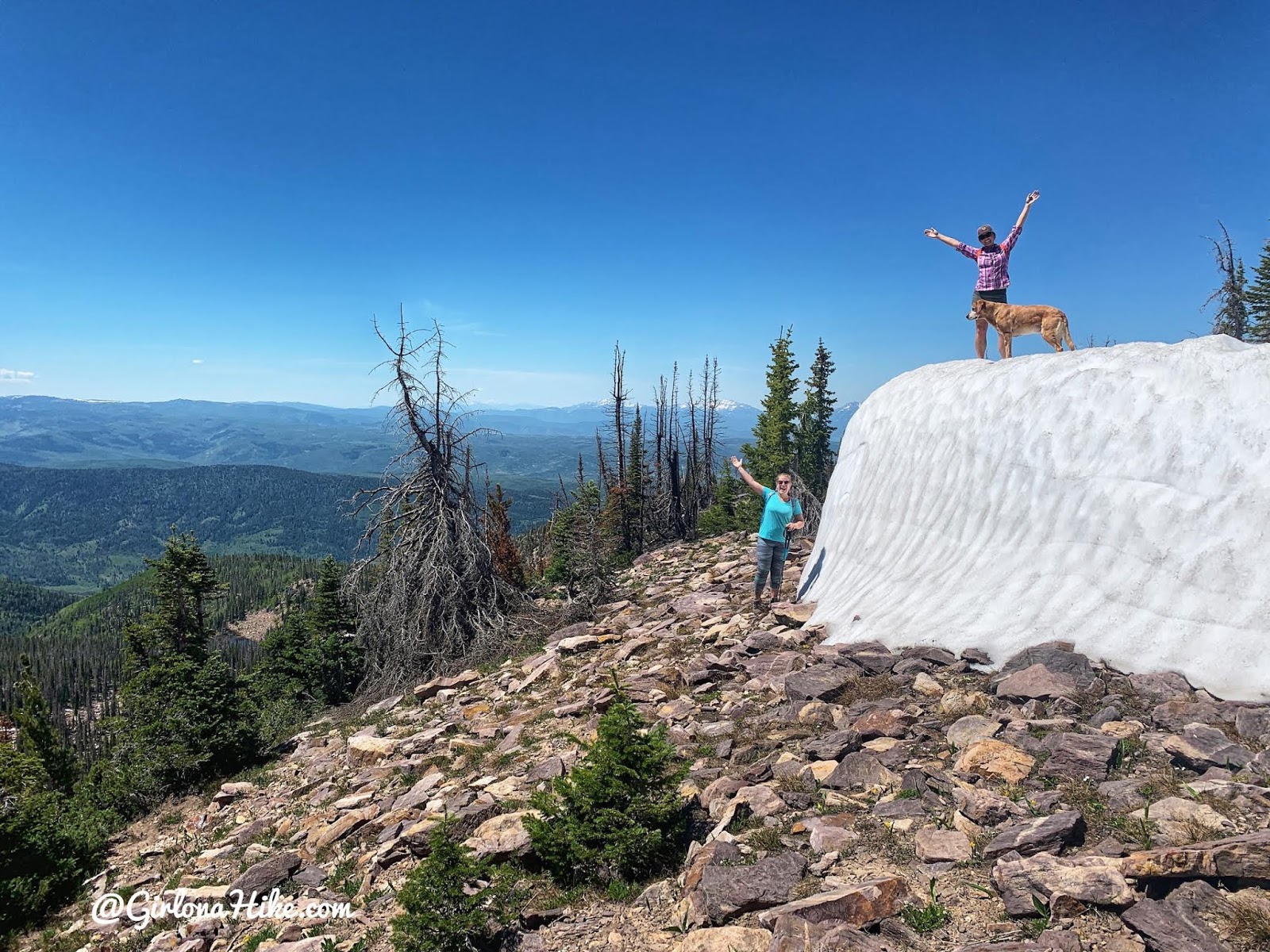 One of the 12 ft walls of snow we found along the ridge. What an amazing winter we had!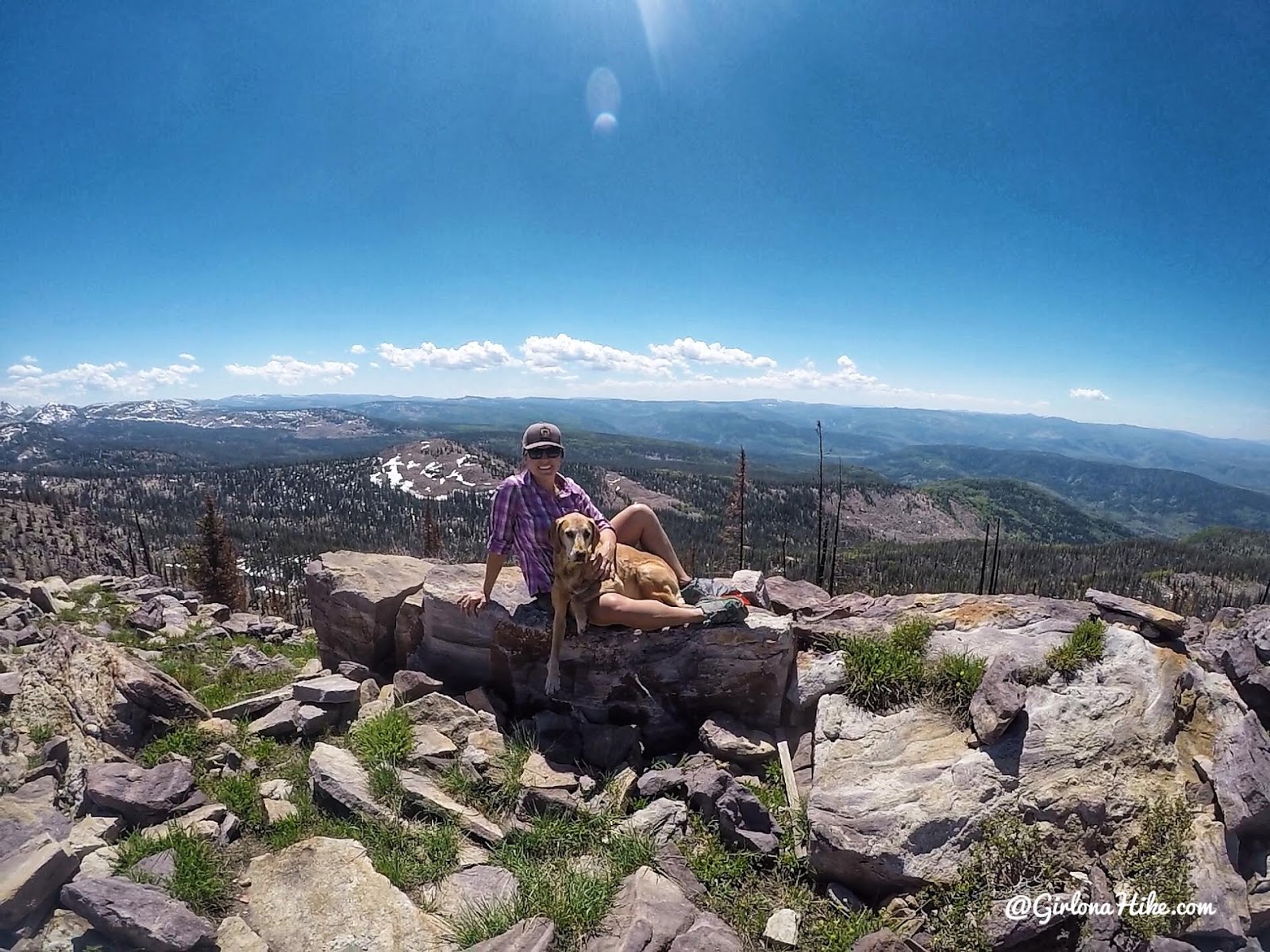 On the summit of Duke Peak!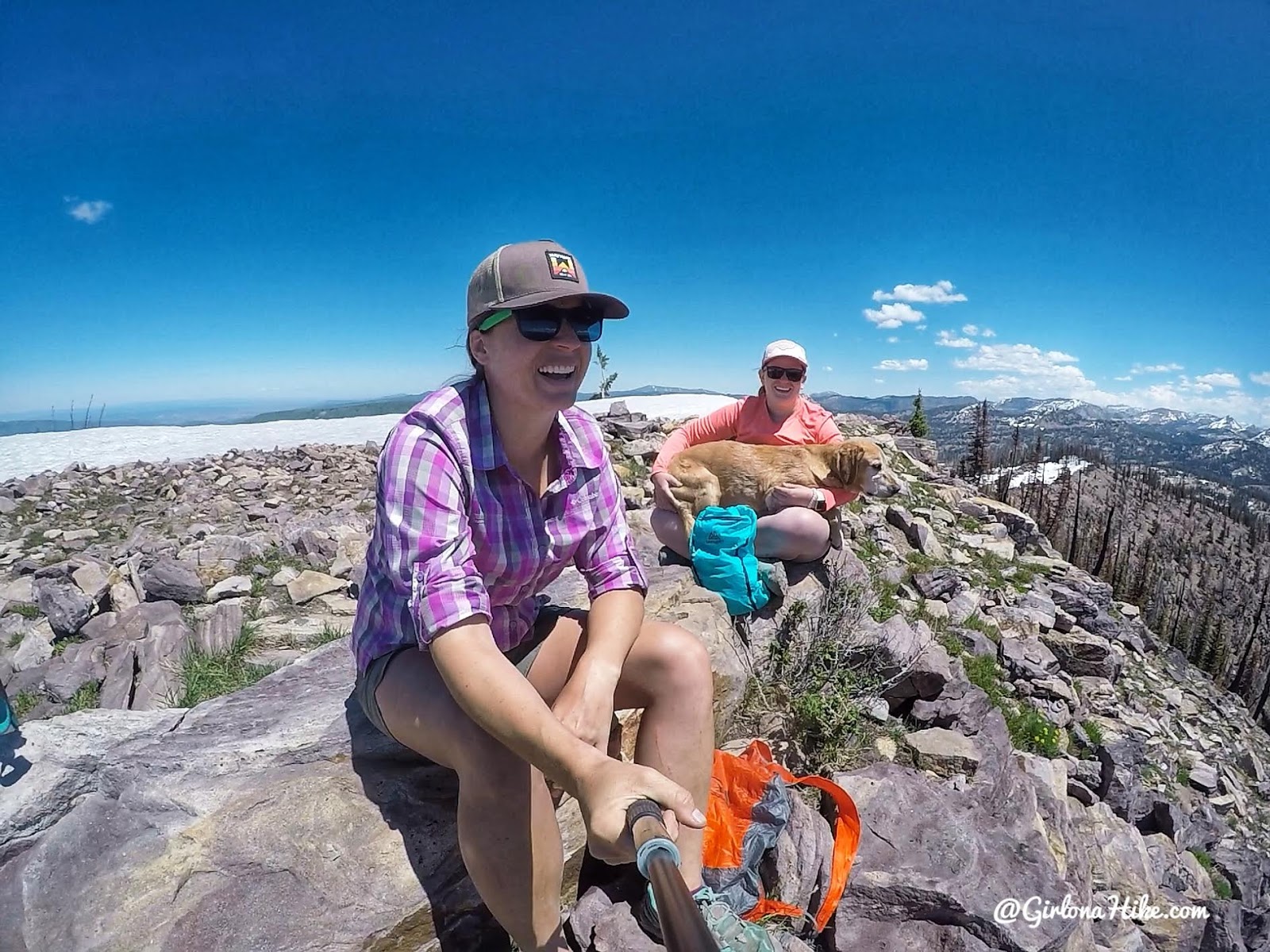 Taking a break to snack, before heading back down to camp. Doing this peak from camp was only 3 miles RT. Easy!
Day 3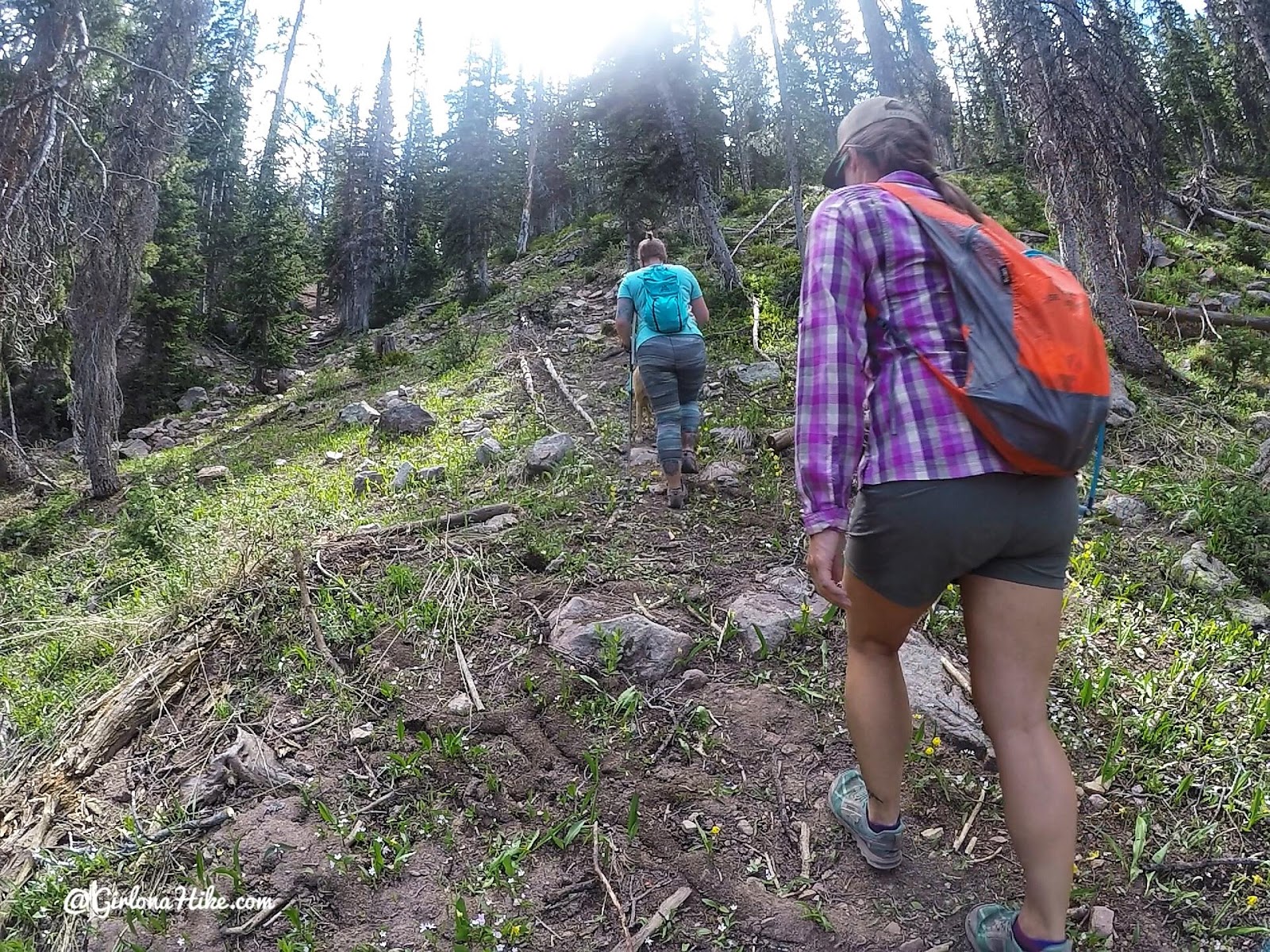 On Day 3 we wanted to hike over to Castle Lake & Peak. We hiked back to the trail split, then up towards the lake. The trail gets really steep for about 1/4 mile.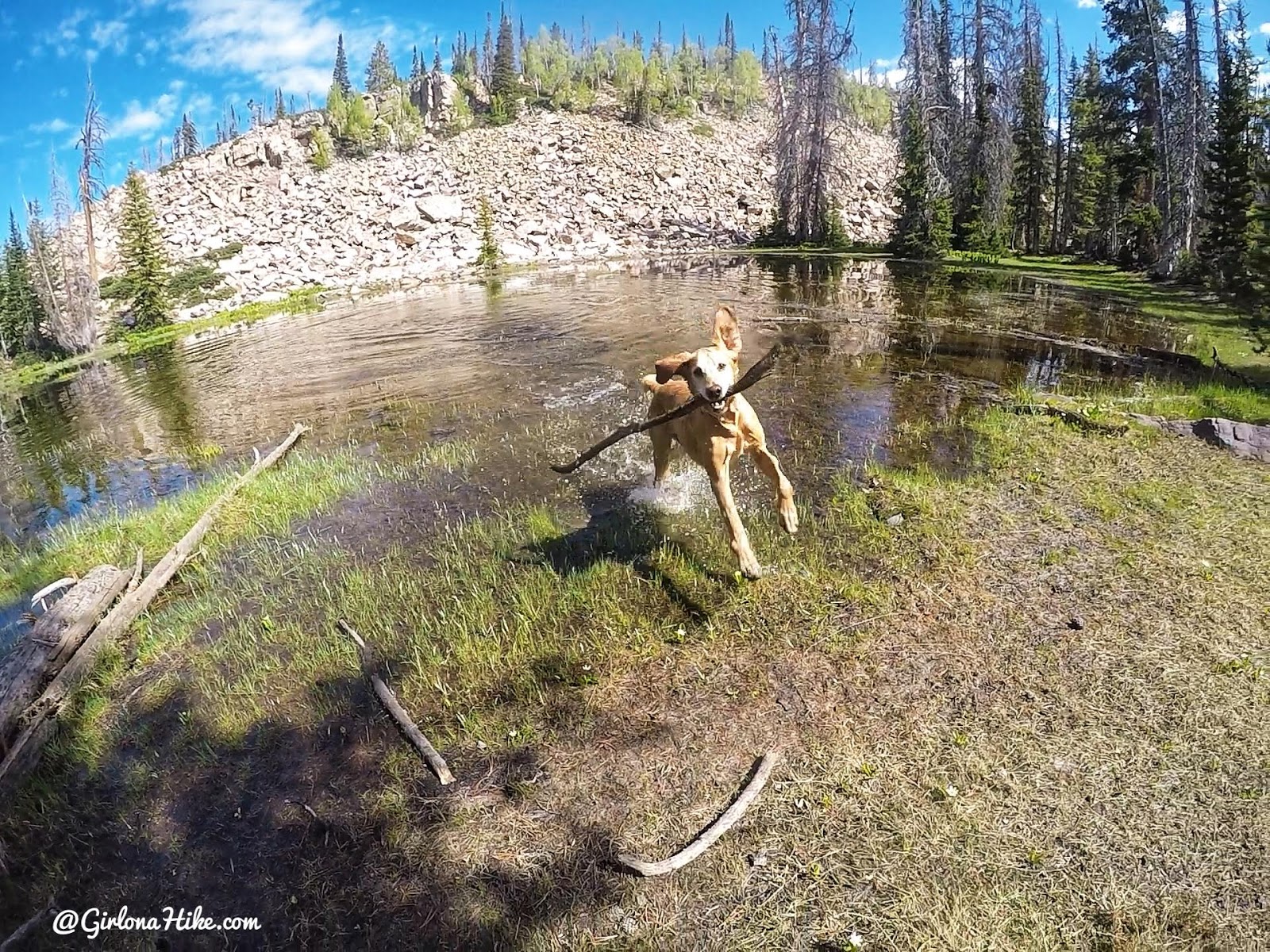 Passing by a pond on the way to Castle Lake.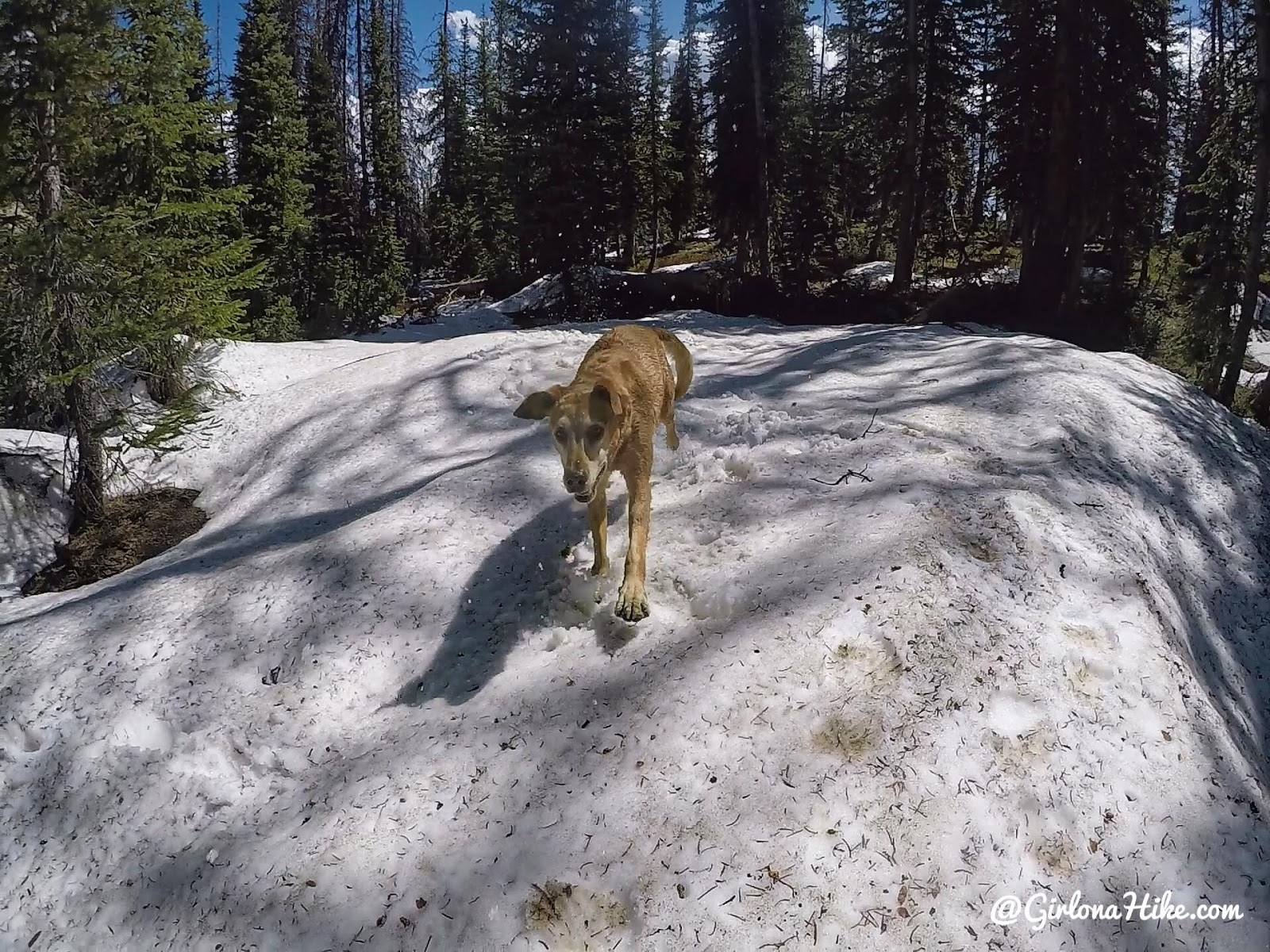 Charlie was stoked to find snow near the lake to run through! It was pretty easy to hike to the lake even with the snow, I just kept track on my Gaia GPS app.
Finally, we made it to Castle Lake. Charlie loves swimming after sticks – the bigger the stick or log, the better.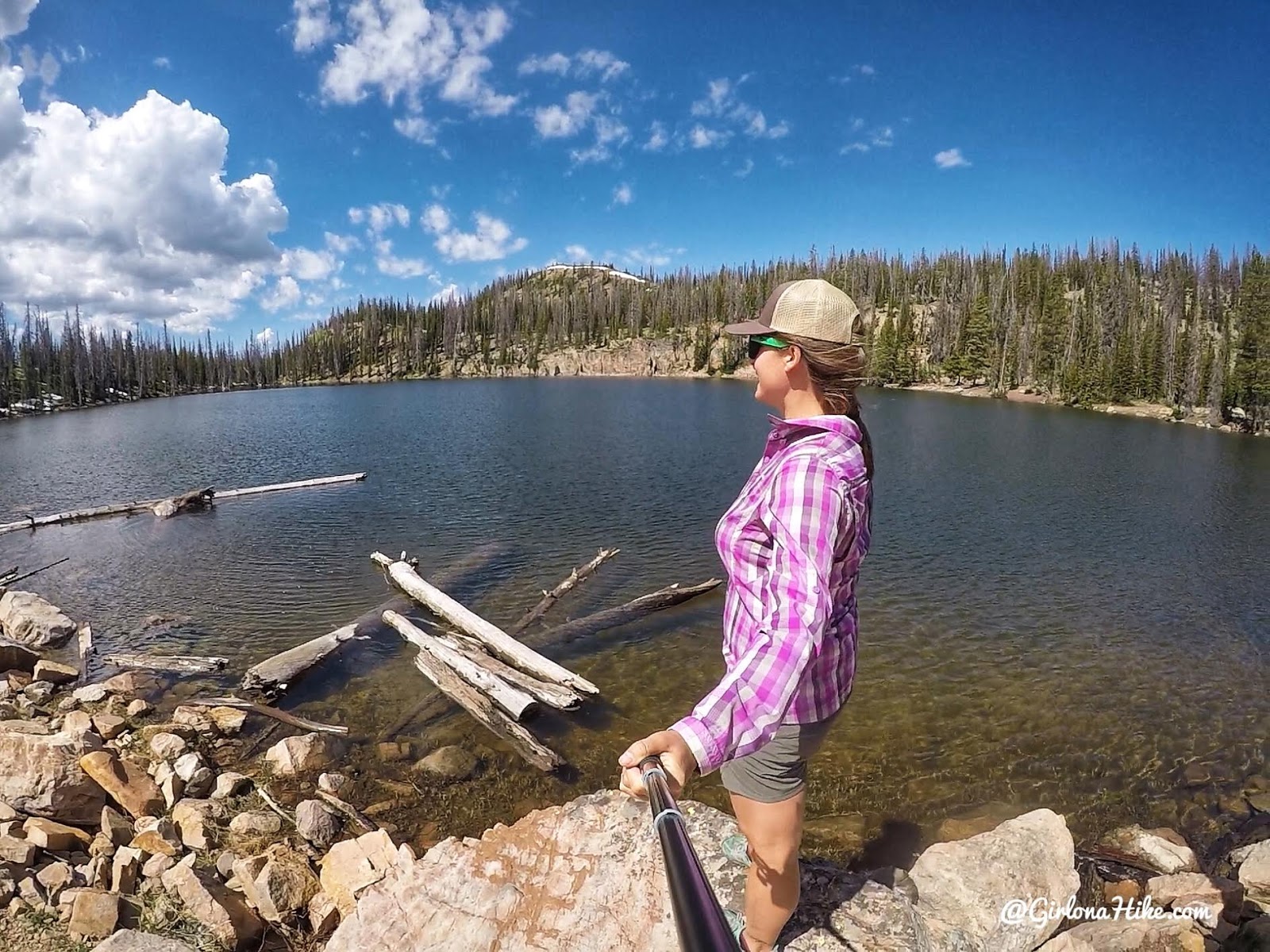 The water was so clear! This would be a great fishing spot. If you wanted a much shorter hike to get here, you can actually drive up the Upper Setting dirt road (not suitable for small cars), then hike about 1/2 mile to here. From here, we eyed Castle Peak (just above my head to the left), took a quick break, then continued on.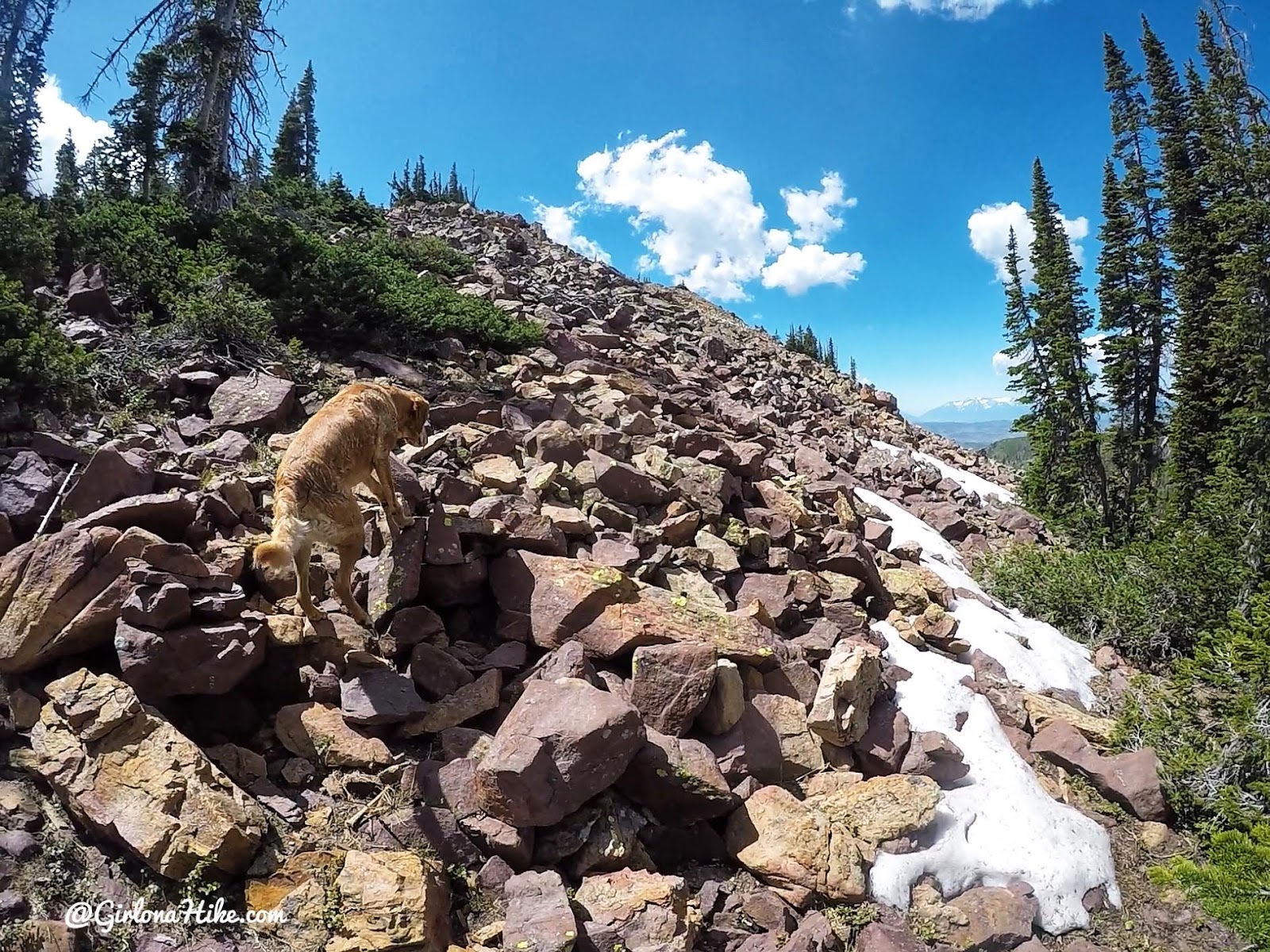 We aimed for the small saddle below Castle Peak, then found ourselves at the base of the peak with a boulder field.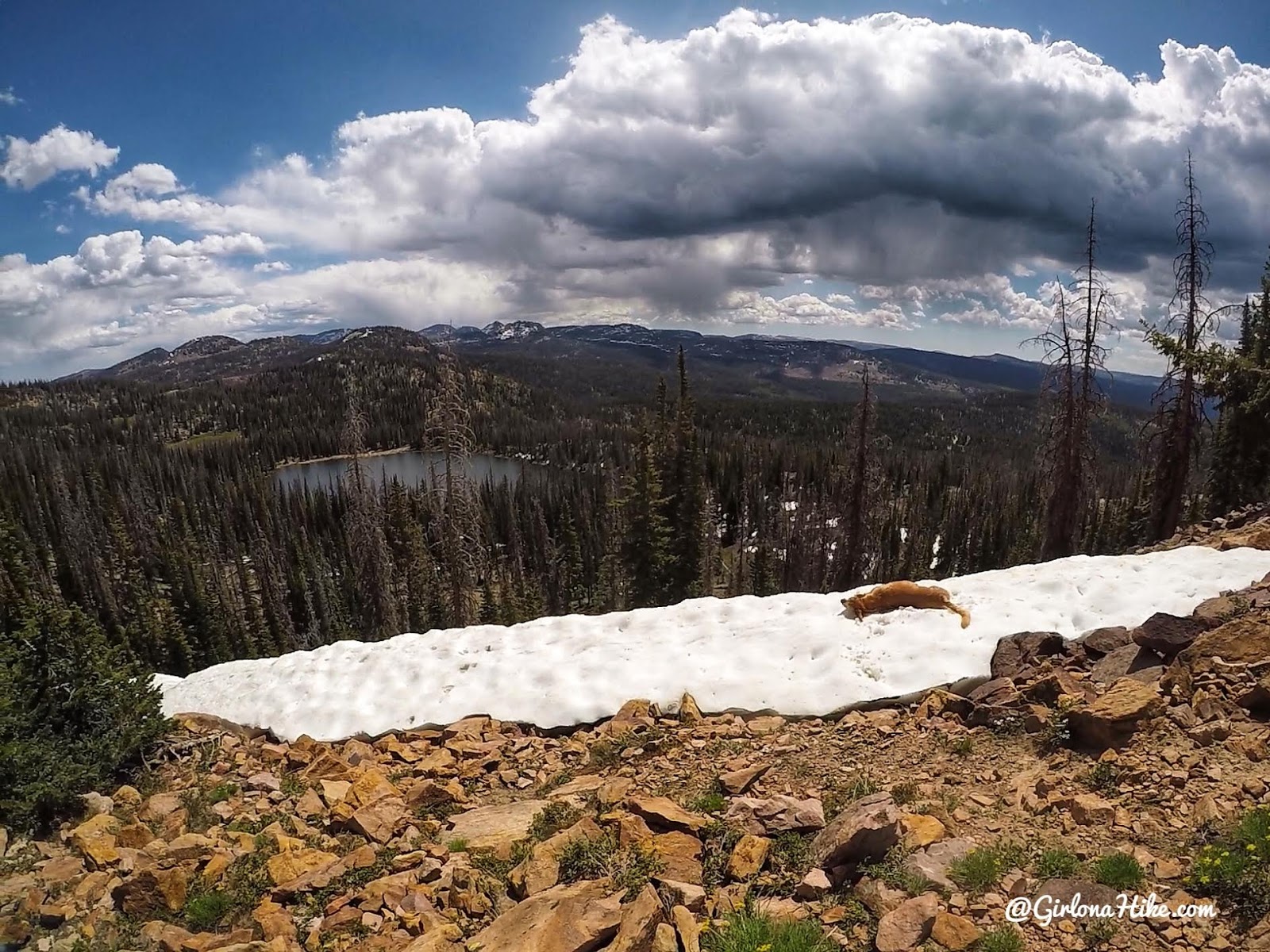 Looking East and down to Castle Lake, along the Castle Peak ridge.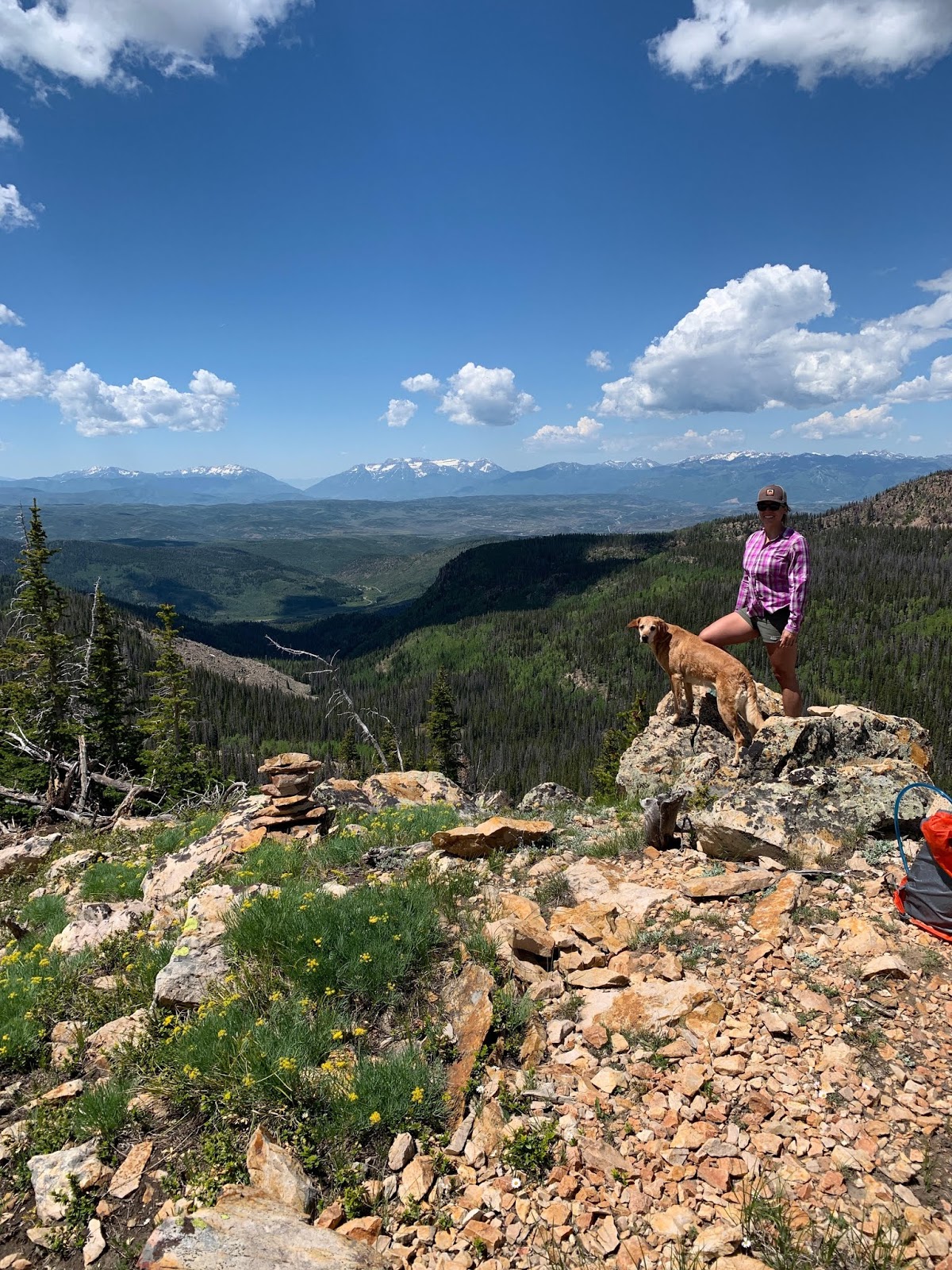 The bouldering was super easy and fun – we made it! Castle Peak is a little lower than Duke Peak at 10,234 ft. The mountains in the distance are the backside of the Wasatch, and that canyon is Provo Canyon. What a great view!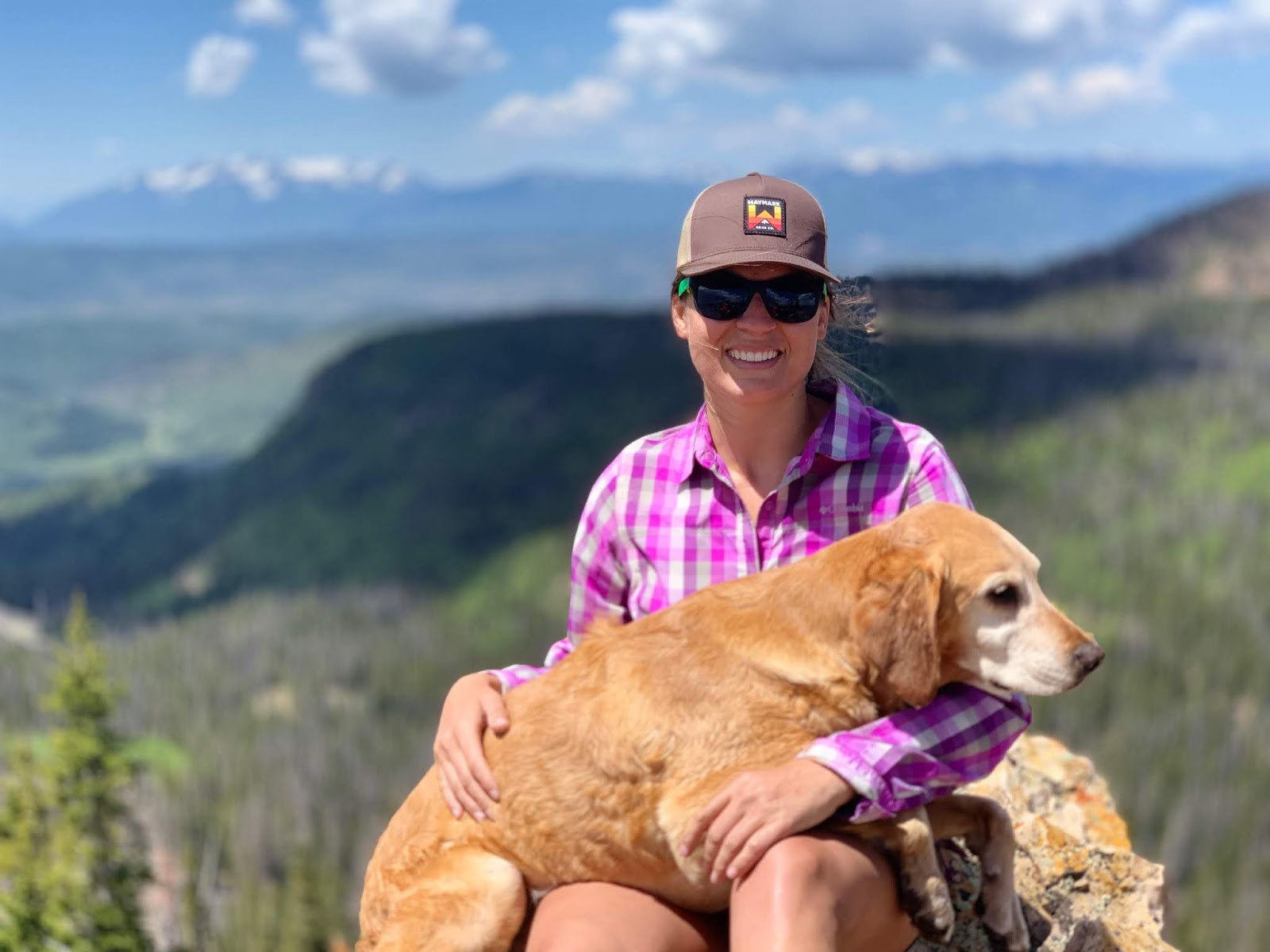 Photo by Christa! Gotta love Portrait Mode.
Hat made my Waymark Gear Co – get 10% off all items just use the code "GIRLONAHIKE" at checkout!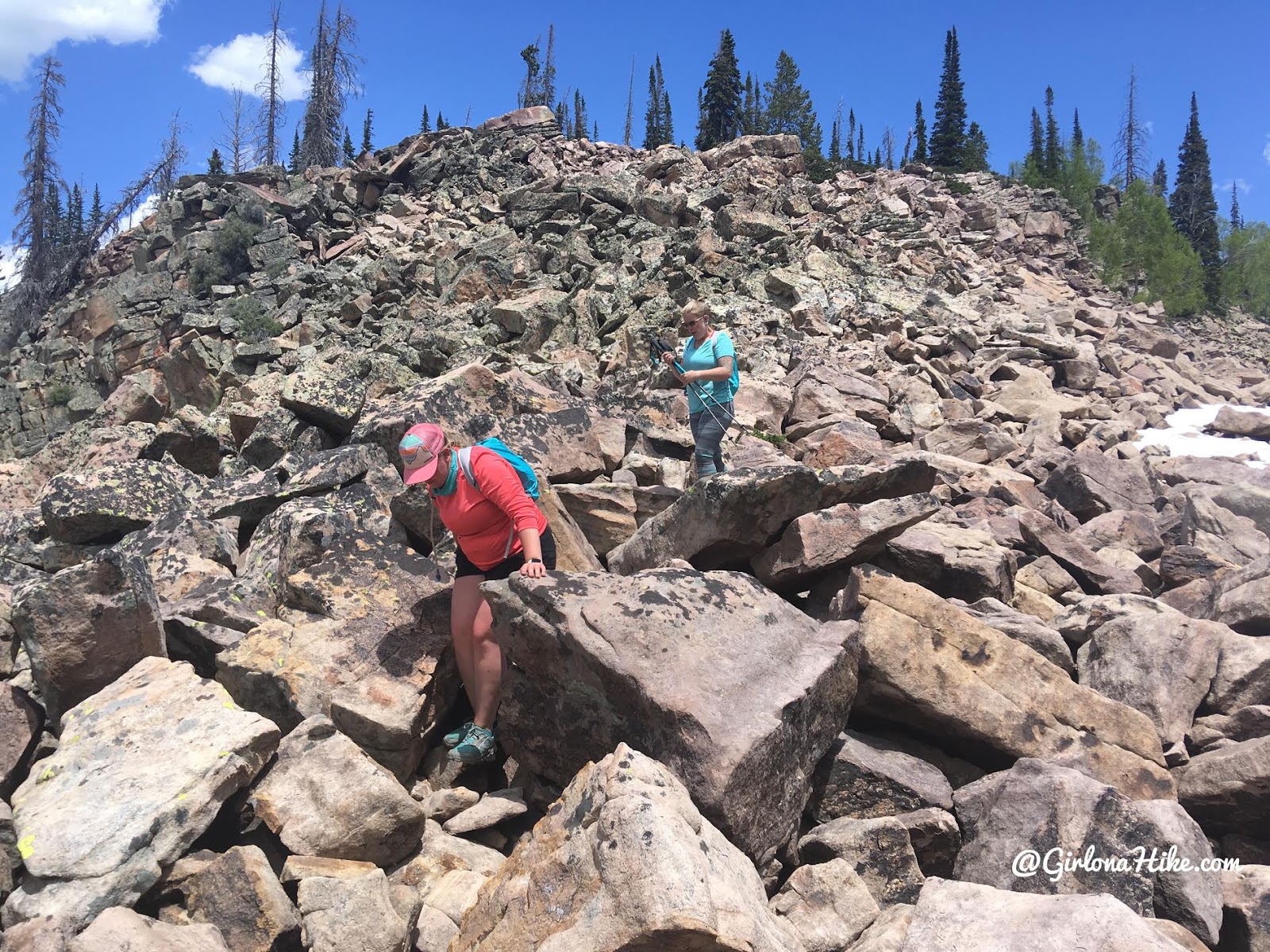 From Castle Peak, we went back to the small saddle, then worked our way back towards the main trail, cutting through another boulder field. We then hiked back to camp. Total mileage from camp was about 5.5 miles RT. Perfect for a half day!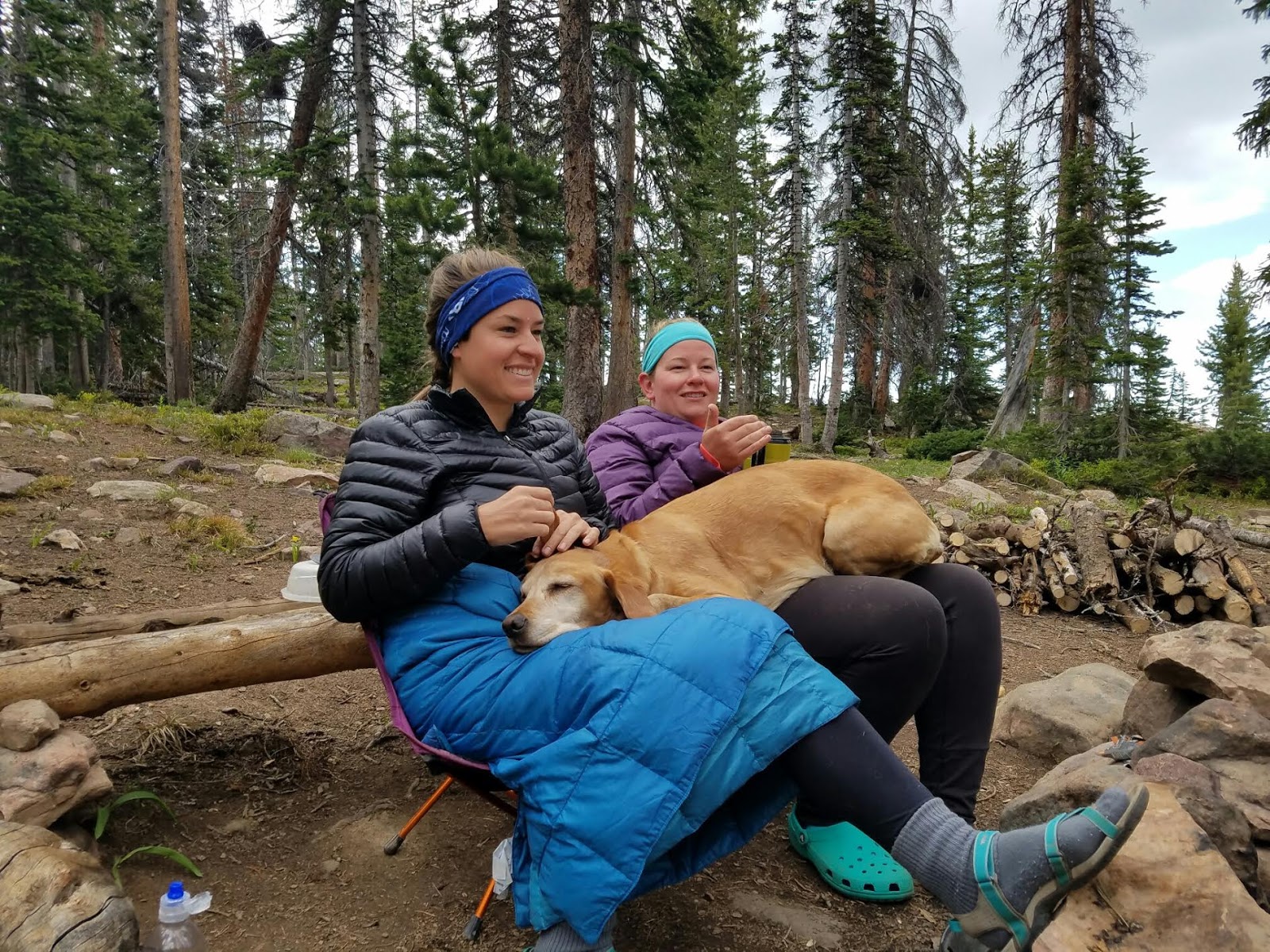 The "what happens at camp after a day of hiking" photo. Charlie is 70 lbs but that doesn't stop him from being a lap dog! He just needs two laps.
Day 4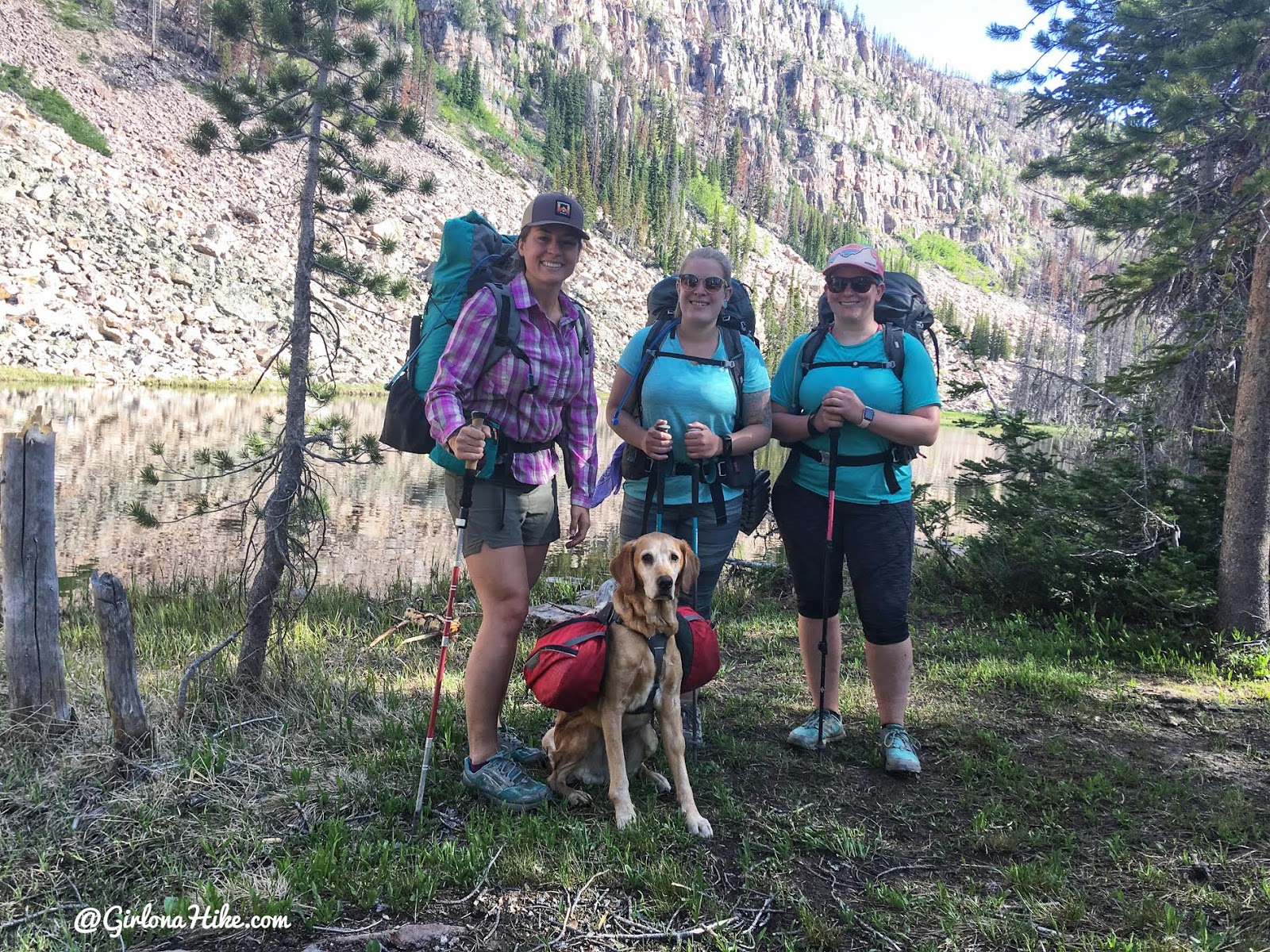 Time to head home! What a great trip – I was worried I would be bored at this lake since the day hikes were so short. But I was totally wrong – there is so much to explore in just this small area and we had a great time by the campfire at night. I would definitely go here again!
Check out my video!
Trail Map
Trail map for the Yellow Pine Trail (blue), Duke Peak (yellow), and Castle Lake & Peak (purple).
My track via Gaia GPS – the best tracking app! Get your app here for a discount.
Recommended Gear
Nearby Hike
Backpacking the Shingle Creek Trail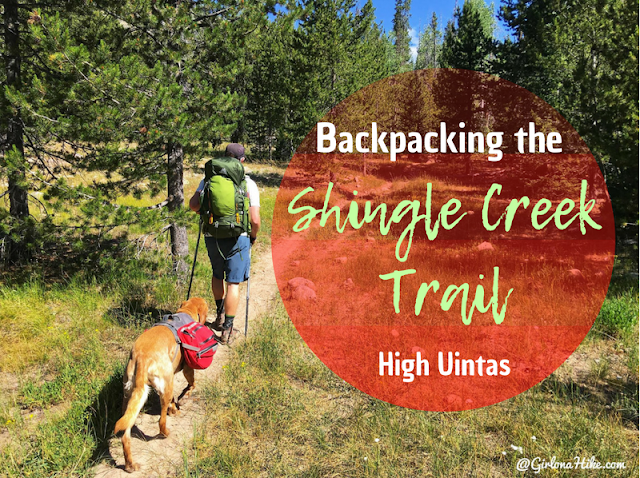 The best day hikes in the Uintas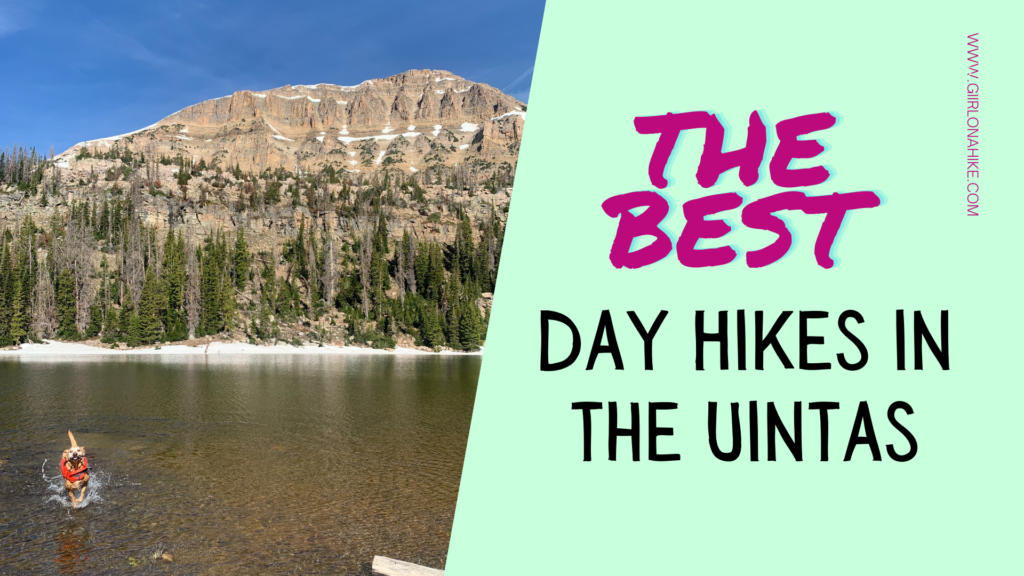 Save me on Pinterest!