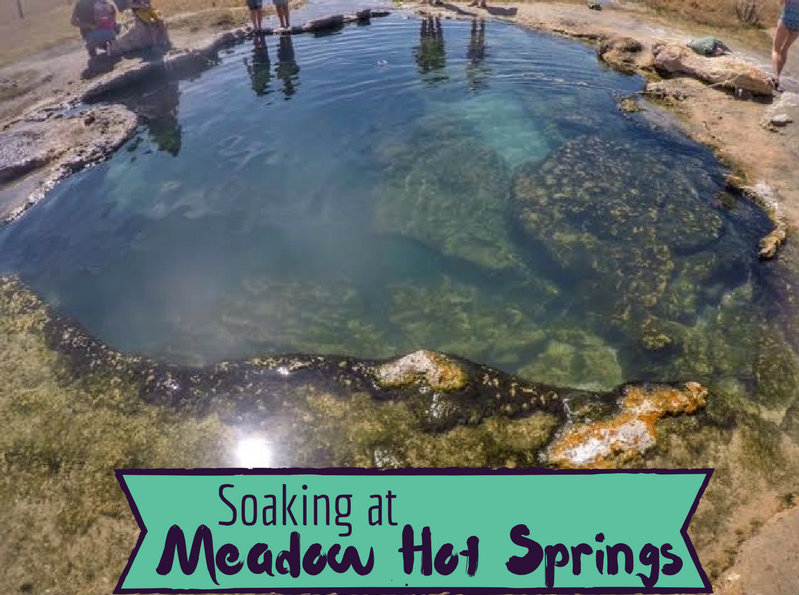 Soaking at Meadow Hot Springs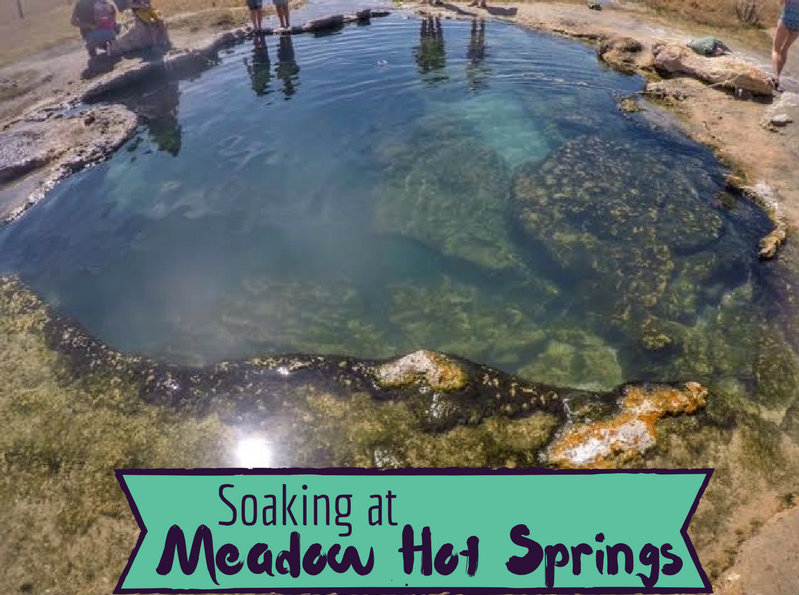 Meadow Hot Springs in Central Utah is a great family-friendly spot to hang out and soak in warm water. It's conveniently located right of I-15 and there's no hiking involved, so it makes for a great, quick soak when you are on a road trip. Meadow Hot Springs is located on private property in the middle of a cow pasture, but they do allow public access. There are a total of three pools to soak in, all around 100F degrees. The most popular pool is one of the smallest and closest to the parking area, and it is also the warmest. Each of the pools have algae in them, so it is wise to wear water shoes to keep from slipping on the rocks under water.
About
In 2017, land ownership changed. There used to be a large white sign at the entrance stating all the rules of the pools, but that has since been removed. Whether the new owner removed it or it was taken down by vandalism is unknown. The old sign said that no nude swimming was allowed, no shampoos or soaps were allowed, and at the time, no dogs. The rule of dogs being allowed is up for discussion with the new owner.
When our group went, we had 7 dogs with us, and other families brought their dogs along as well, and they swam with us. Not everyone enjoys having dogs at hot springs, so I highly recommend bringing a long line to tie them up outside if you come across nay-sayers or if people are uncomfortable around dogs. Be advised that not all dogs do well in water temperatures above 100F. Please be courteous of other swimmers and make sure your dog doesn't shake off or step on other people's stuff. You also need to bring along your own dog poop bags – none are provided.
This is a great place for kids – the water isn't too hot, so even children will enjoy swimming. There is a rope in the middle of the first pool that they can hang on to, and small floaties or tubes can fit in the pool.
Currently, there is no fee to enter, however donations are accepted.
Directions
Head South on I-15 until you reach Meadow, UT and take exit 258. Turn left at the bottom of the ramp. Stay on HWY 133 for 1.6 miles, then turn right on – this will take you over I-15. Stay on this road for 4.6 miles, until you reach the large parking area for the hot springs.
If you are driving from SLC, use this map.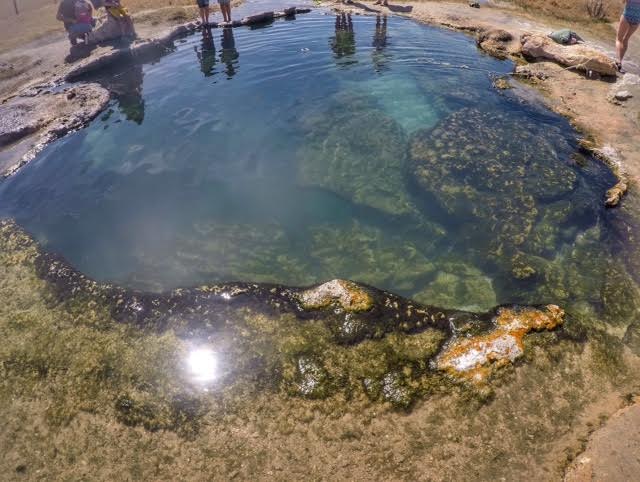 The first pool is the best – it's large enough to hold roughly 20 people comfortably, the water is the warmest and also the cleanest. Most adults can stand about chest deep around the edges of the pool, and the center of the pool is pretty deep. The water stays clear due to the fact that the water runs off at a fairly quick rate, and down to a small stream. You can sit along the edges of the pool as well, on a few small boulders.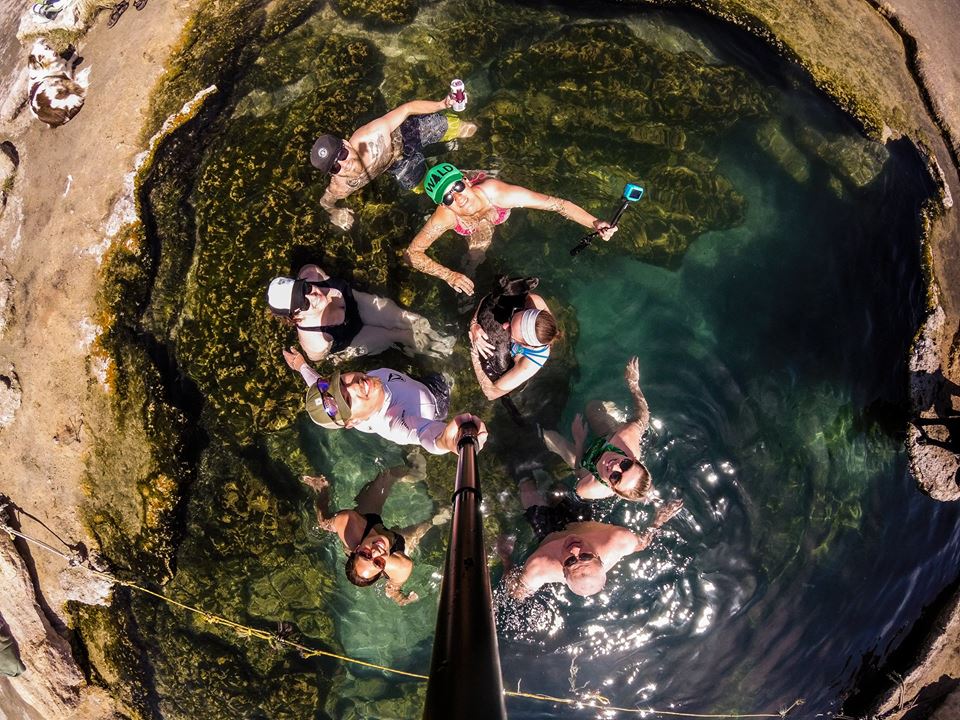 Birds eye view, group photo! We only had the first pool to ourselves for a few minutes, so we quickly snapped a photo. Weekends get crazy busy here, so if you want to see less people coming mid-week is the best.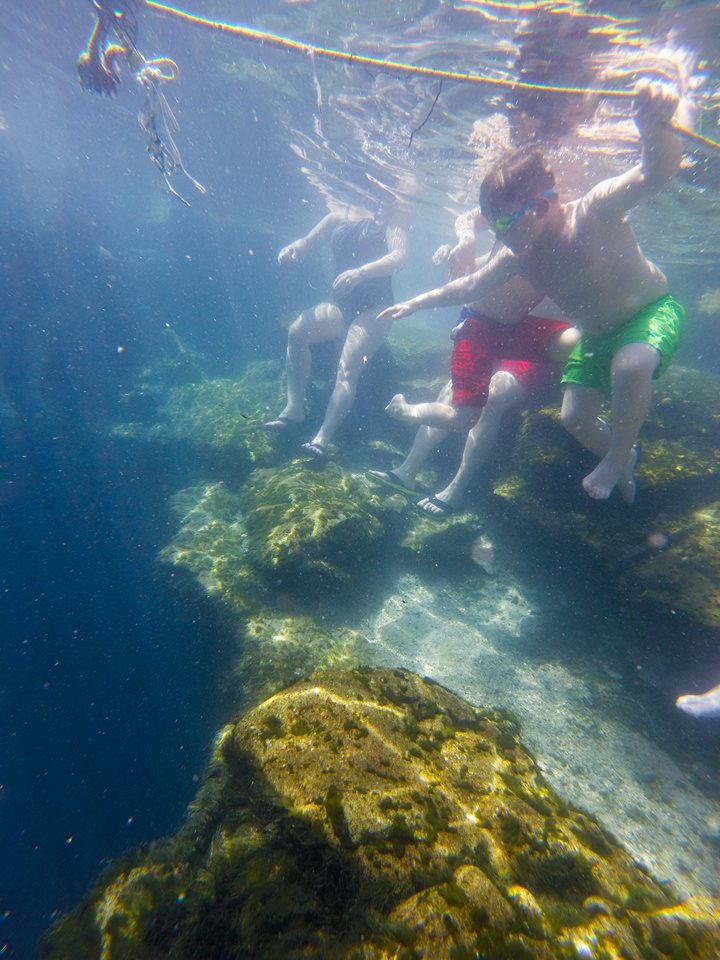 Under water!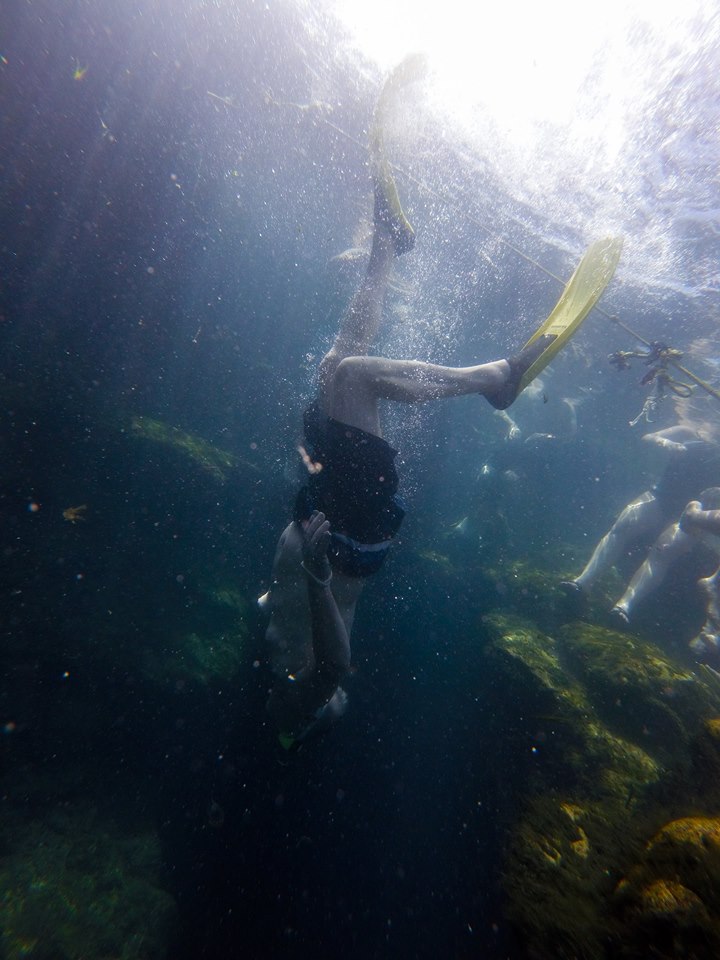 You can actually dive down pretty deep – if you are brave enough!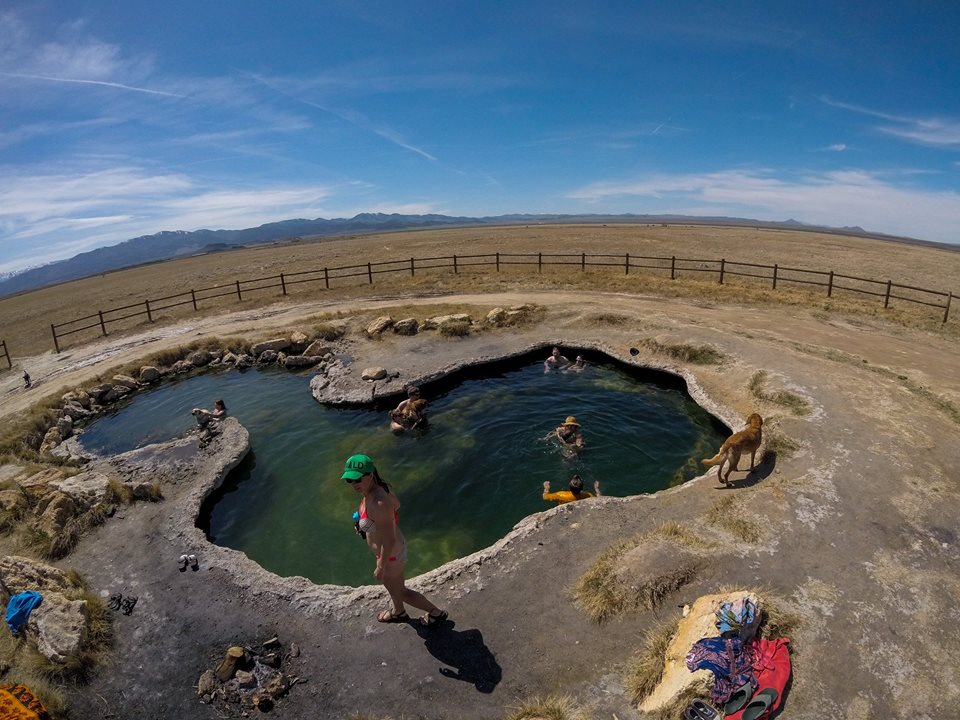 The 2nd pool was less crowded, but medium-size, and less warm. I liked sitting on the edge of this pool better, but bring a towel to sit on. The rocks kind of hurt your butt, if you sit too long. Somebody made a campfire right on the edge of the pool! Please don't do that – all the ash was in the pool in the morning, making the water mucky. Why would somebody do that?!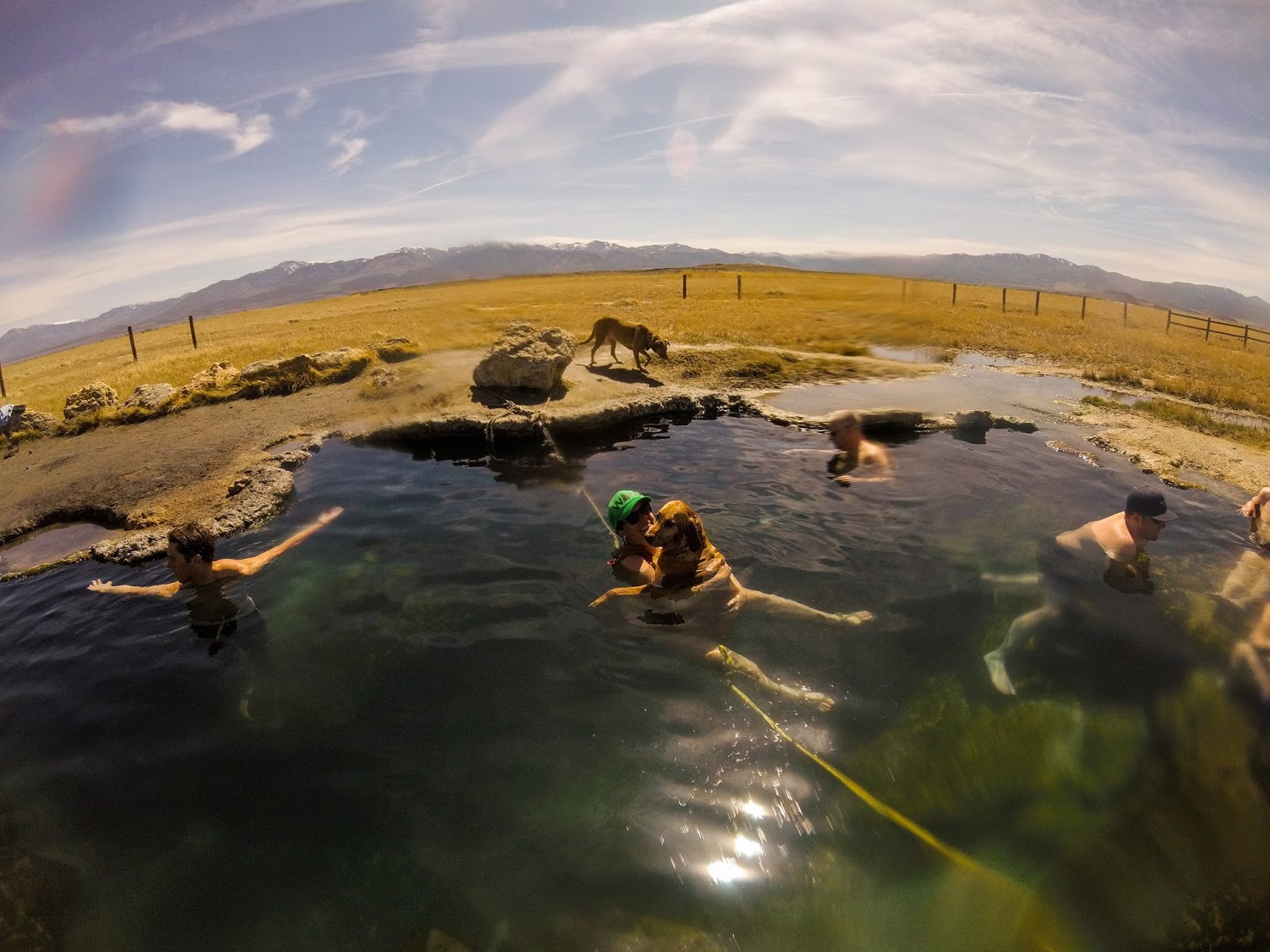 You guys know that Charlie will sit on my lap anywhere! Just the day before he was sitting on my lap on a 2,200 ft cliff on Notch Peak!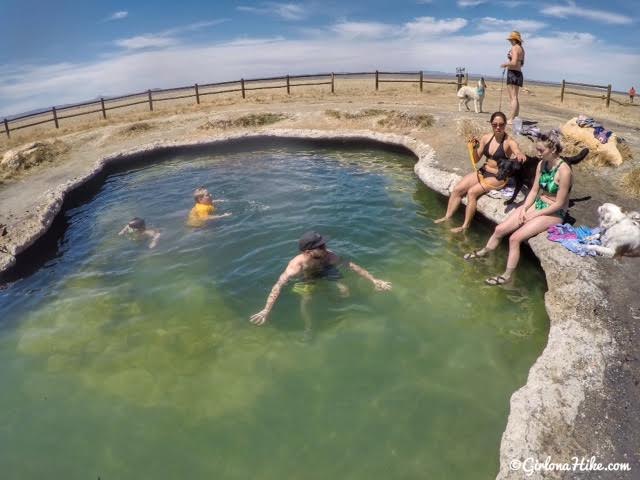 Make sure you bring sunblock – the reflection of the water combined with zero shade can easily burn you.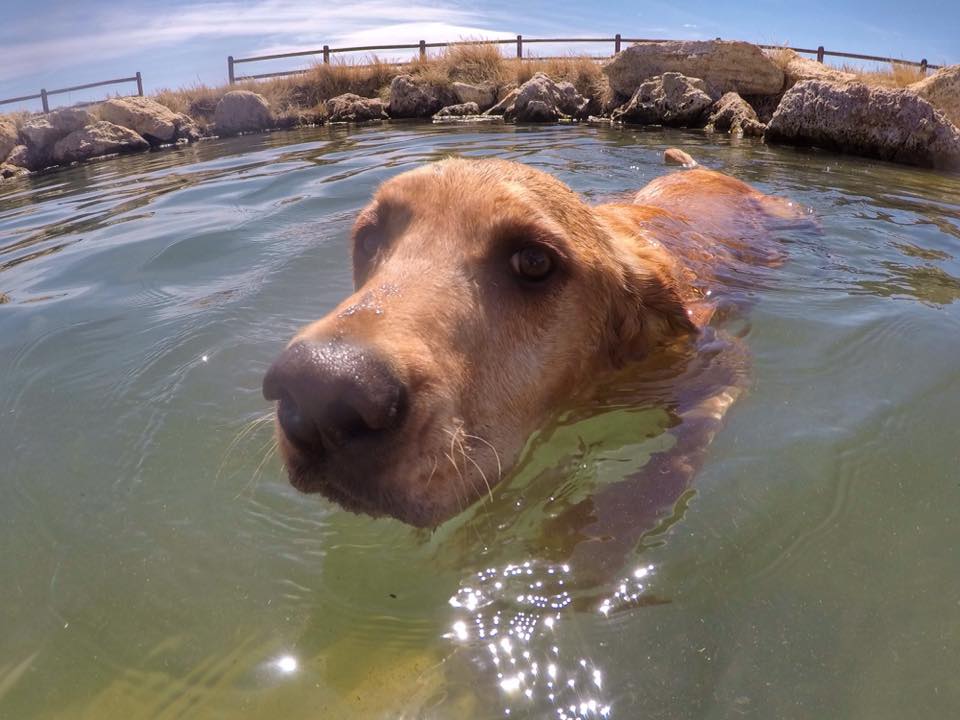 Every hot springs we go to, Charlie loves to swim with me. He says his two favorites are Diamond Fork & 12 Mile (Bishop Creek) Hot Springs! I just give him a bath at home afterwards to wash off the smell and algae.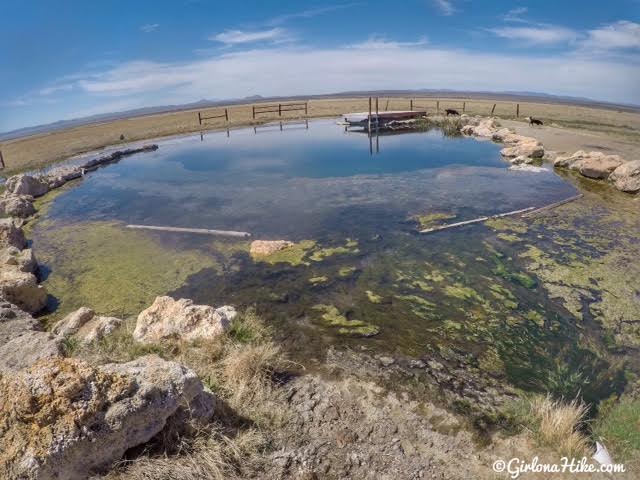 This is the "gross" pool as I call it. It's the largest and has a dock, but also has the most algae and actually has fish in it. It's not very deep, so I'm not sure why you'd want to jump off the dock. The water temp is also the coolest in this one. You will hardly ever see people swimming in this one because…well, it's just gross.
PLEASE take all of your trash out with you. My friend picked up 25 lbs (2.5 trash bags) FULL of garbage plus an old, thin rug. Some of the trash was questionable and gross.
March 2019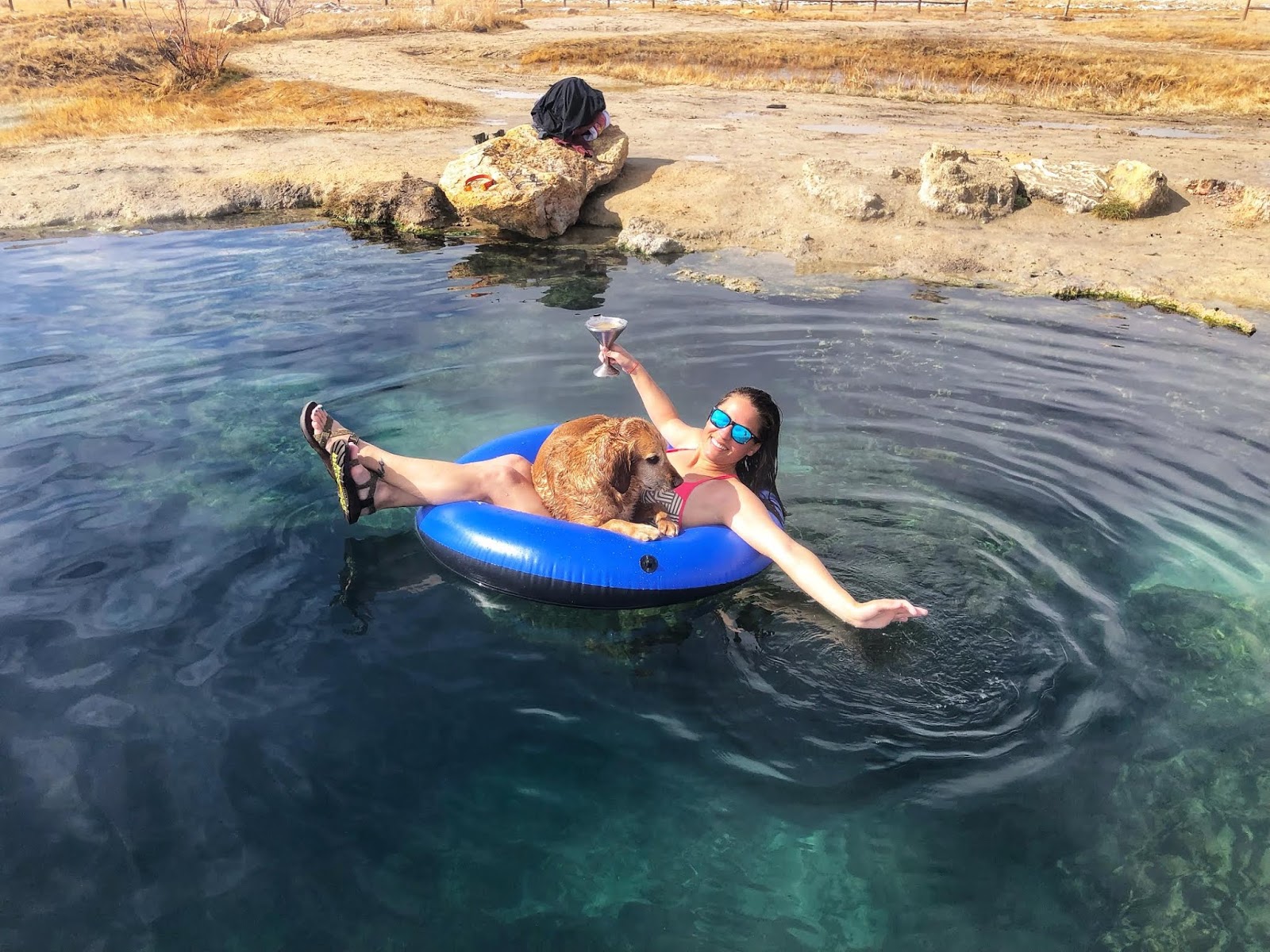 This time we went on a Monday and had it to ourselves for only an hour in the morning. The rest of the day we saw 8 other people.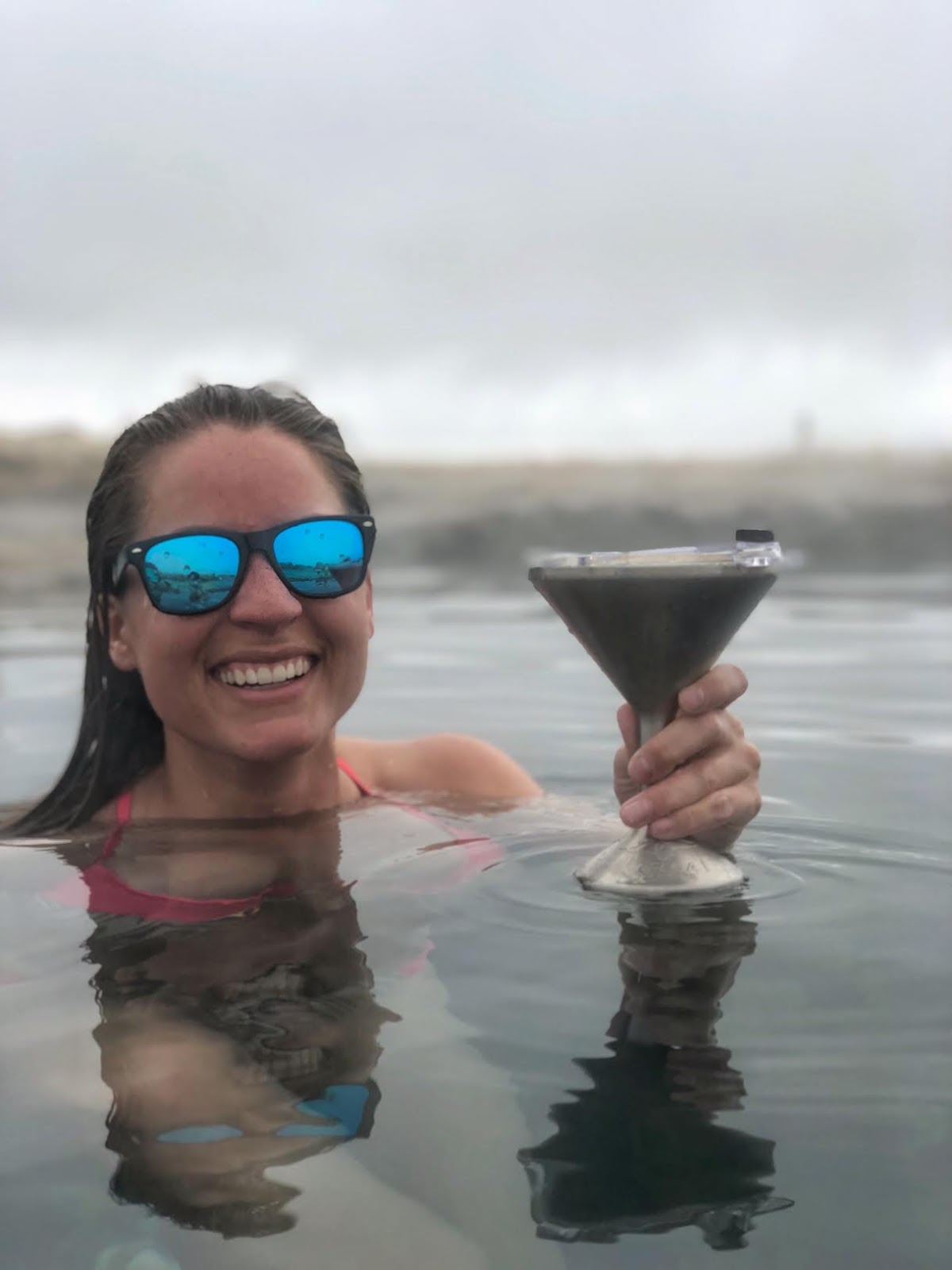 Loving my ORCA Chasertini cup – check out my full gear review on ORCA!
Recommended Gear
Recommended Hot Springs
Check out Utah's Ultimate Hot Springs Guide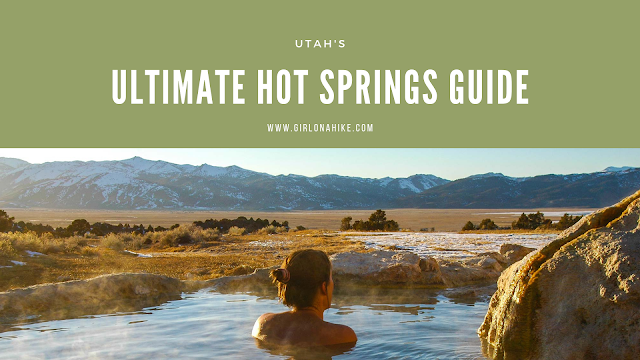 Save me on Pinterest!