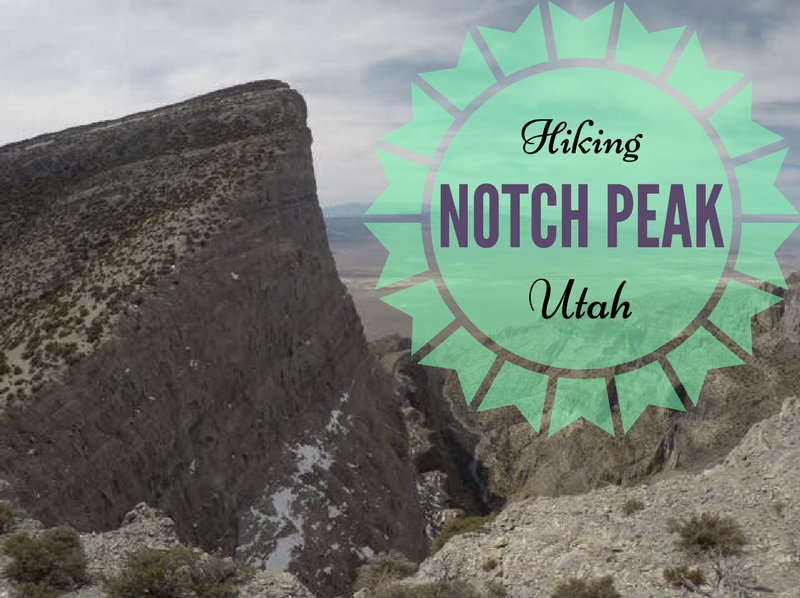 Hiking Notch Peak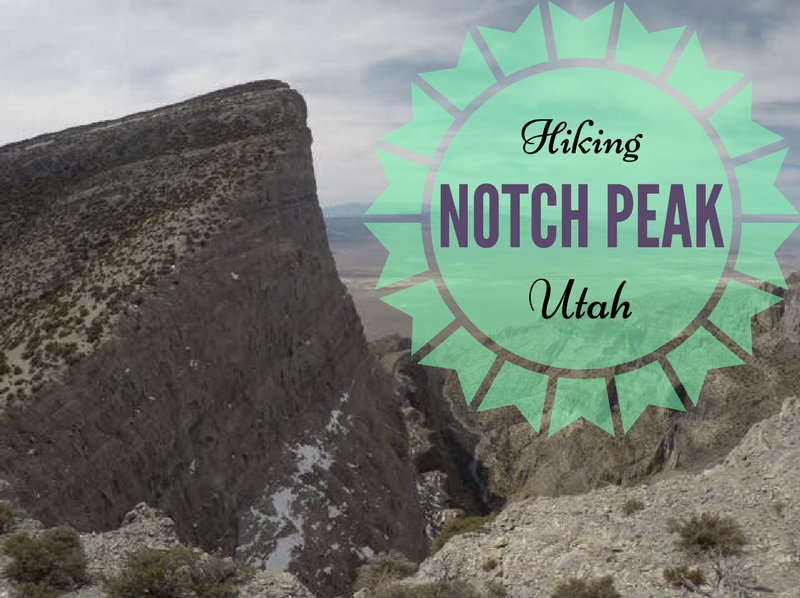 Notch Peak (9,658 ft) is in Utah's West Desert near the town of Delta, Utah. Notch Peak is part of the House Range mountains and Notch Peak Wilderness Study Area.
About
The northwest face of Notch Peak is also well known for having the 2nd tallest cliff face in North America with 2,200 ft of vertical rise, making it a popular spot for BASE Jumpers and climbers. The tallest cliff face is of course, El Capitan, in Yosemite National Park. Overall, the summit of Notch Peak rises roughly 4,500 ft above the Tule Valley. Because of this, Notch Peak has been called the "desert equivalent" of El Capitan.
Hiking Notch Peak is often a "to-do" hike in many peak baggers' books. This relatively easy hike follows Sawtooth Canyon as it meanders though a gorge-like canyon, past sage brush, 4,000-5,000 year old Bristlecone Pine trees, and a mini natural arch. The views at the top can't be beat – on a clear day you can see Wheeler Peak to the West, Ibapah Peak to the NW, and even Mt. Nebo to the Northeast.
The best time to hike here is in Spring or late Fall when temperatures are still cool. There is zero water on this trail, so be prepared to carry at least 3 L of water for you and your dogs. Dogs that have hiking experience over rough terrain should be fine, however, one of our dogs did tear his paw. As always, you should carry a human and dog first aid kit.
Camping is available at the pavilion just before you turn down the last 2 miles of the dirt road to the trailhead. Camping is free, and there are two picnic tables and two fire rings, plus a restroom. Leave no Trace principles apply, so please don't leave trash behind.
Directions
If you are driving from SLC, use this map. For some reason Maps won't let me place the end location to the trailhead, so just keep in mind that you do not turn off the last 1/4 mile that it tells you to. Once you turn left at the pavilion, drive to the end of the dirt road, past an old cabin on your right, to the end of the road. Do not turn off this road. You do need 4×4 just after you turn at the pavilion. We had a Toyota FJ, a Subaru Forester, and Toyota Tacoma and all made it. The road is not maintained, so it could be washed or rutted out from recent storms.
Trail Info
Distance: 7.6 miles RT
Elevation gain: 2,700 ft
Time: 4-6 hours
Dog friendly? Yes, off leash
Kid friendly? No
Fees/Permits? None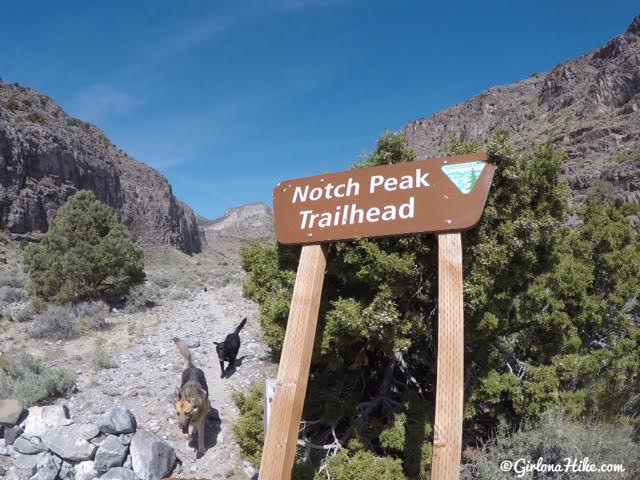 The trail is marked with an official sign.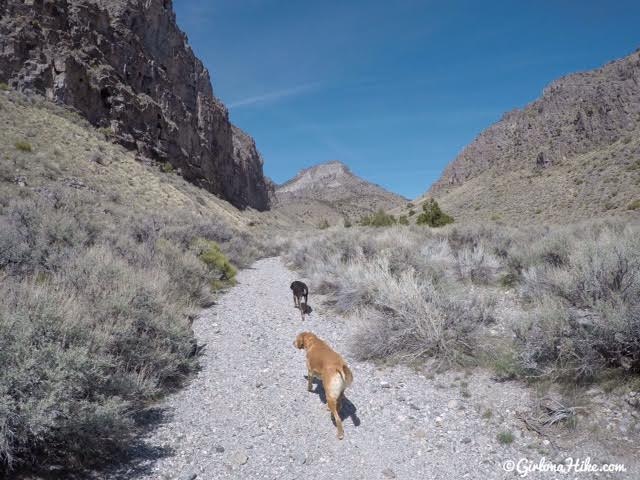 Follow the trail straight for 0.8 miles, then turn left into Sawtooth Canyon.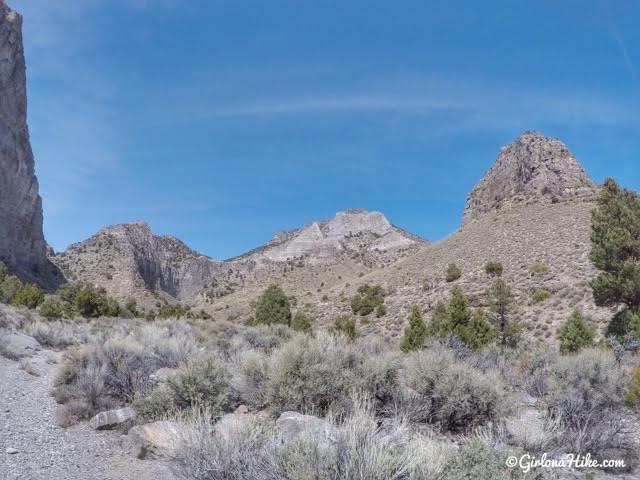 Though you see many cliff faces and ridges, you can't see Notch Peak yet. You won't be able to see the peak until you reach the last 3/4 mile.
Mile 2-3 have the most brush and trees you have to skirt around. The trail is always easy to follow though.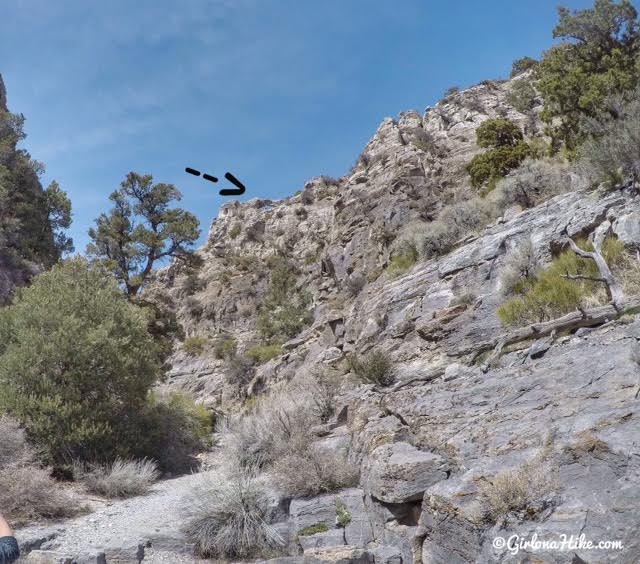 Keep your eyes up to the right, and you should see the mini natural arch.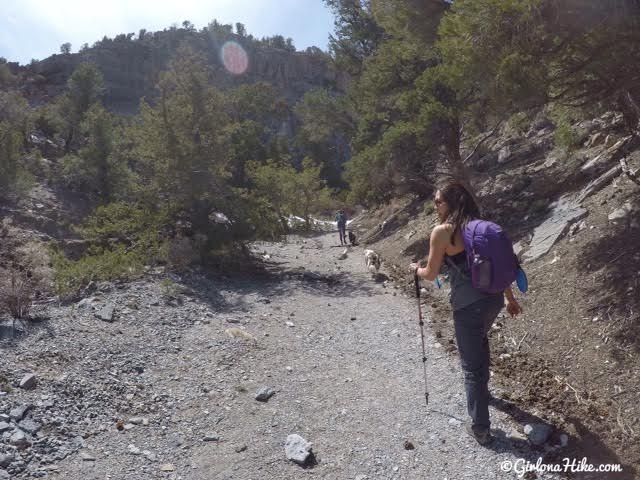 Eventually the trail opens up a little more and you don't have to worry about ducking beneath brush.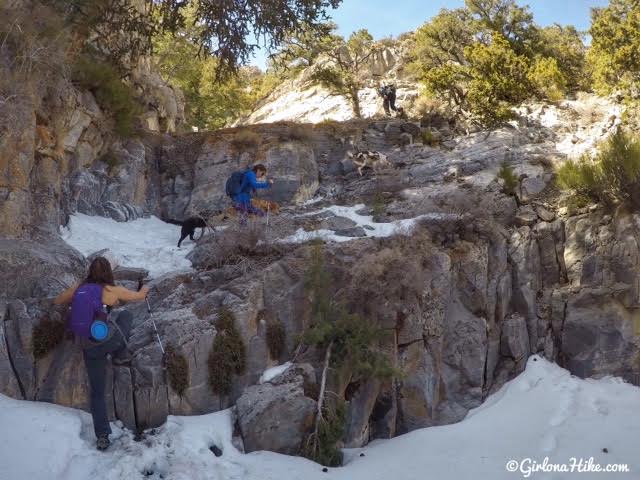 As soon as you see a very large, fallen down Bristlecone Pine tree, you will encounter the first mini scramble. It's really easy to climb up.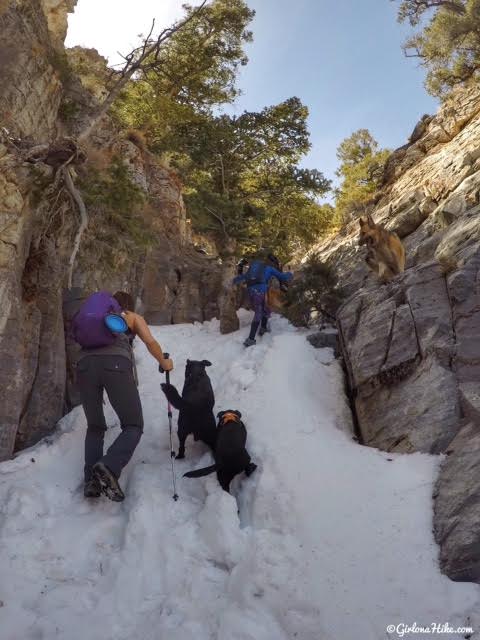 Still some snow in mid-April! This is the 2nd mini scramble.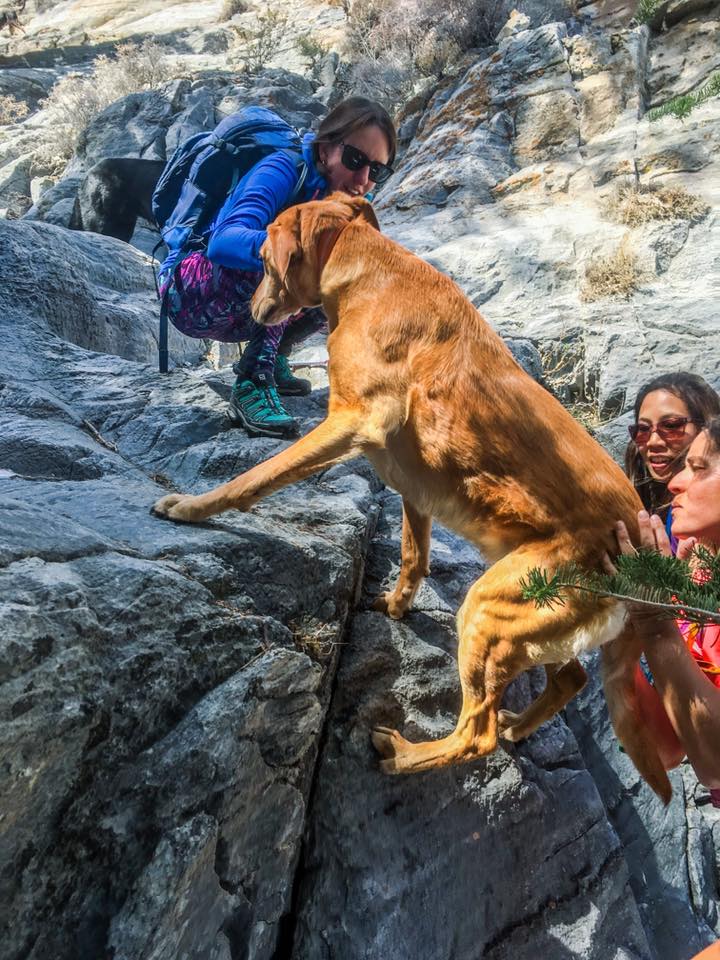 Some dogs may need a boost here – yay teamwork!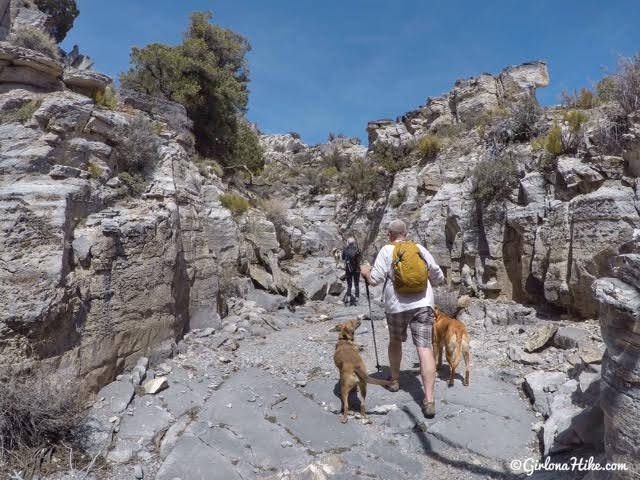 After the scrambling, you will hike through the gorge-like canyon for a few minutes. It starts to open up as you continue hiking, so keep an eye out for cairns to lead the way.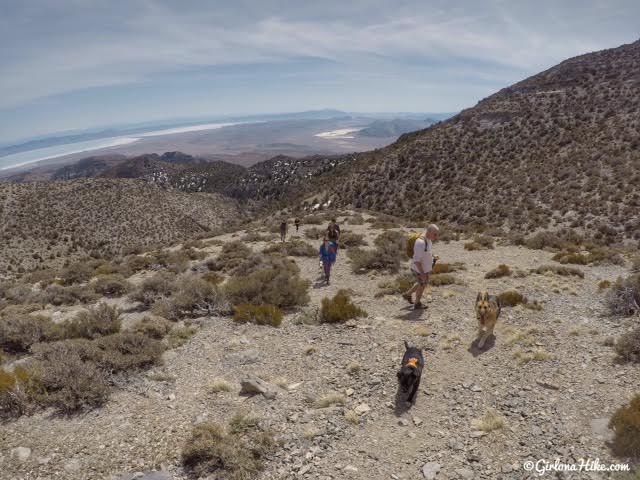 Looking back at the group hiking up. What looks like salt flats in the distance is actually Sevier Lake, though not much water is left.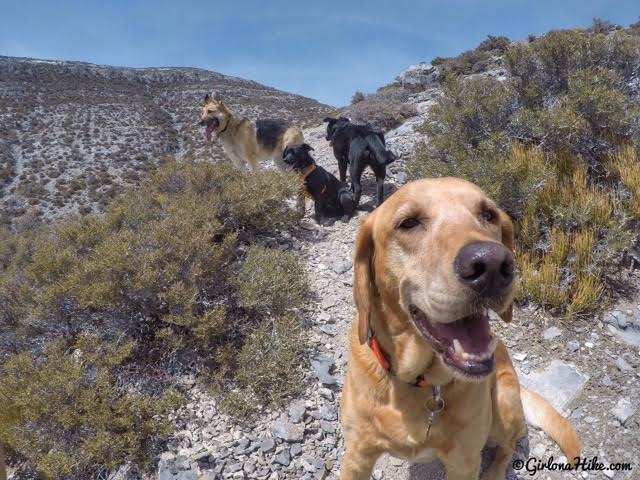 Charlie and his buddies take a quick break.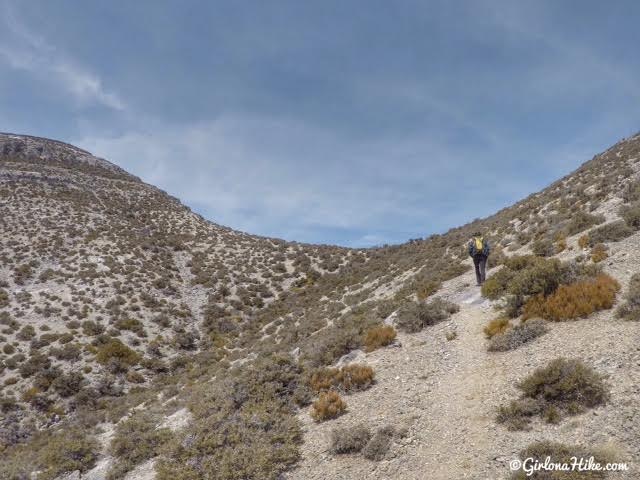 Heading towards the saddle. Notch Peak is to the left.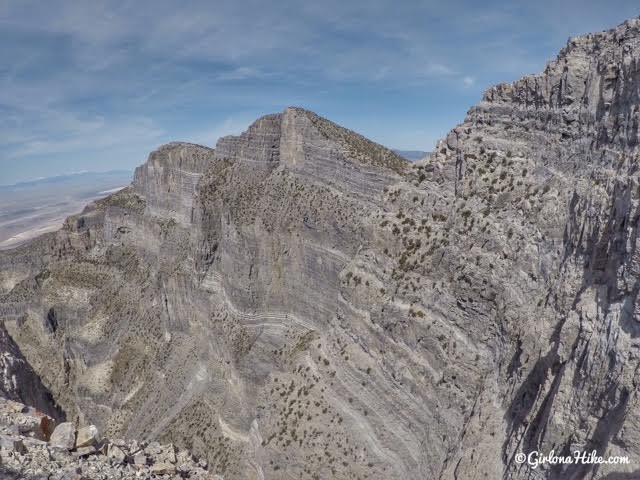 Whoa…your first look into the deep canyon! The first time I get to the ledge it always makes me feel dizzy!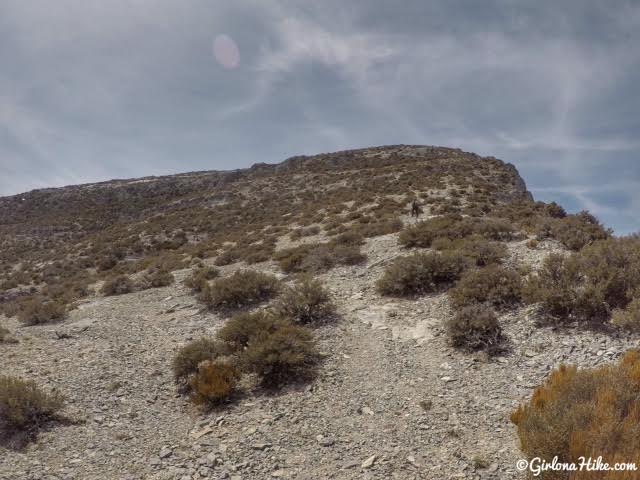 Work your way up the steep hill. Make sure you stay close to the ridge. If you hike too far left it will increase your distance getting to the peak and take longer.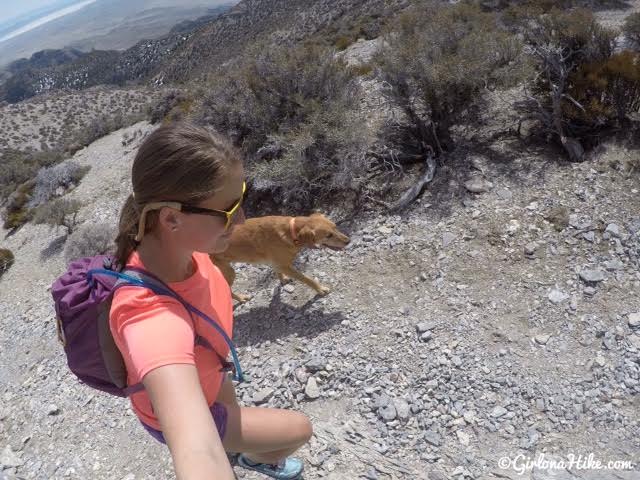 Charlie and I keep the same pace uphill.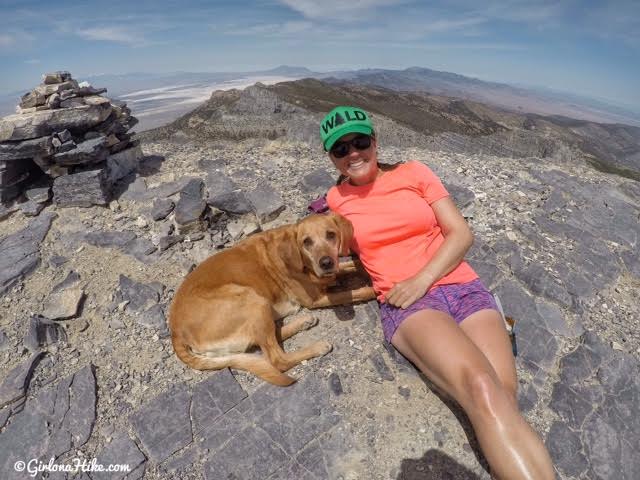 2nd time on the Notch Peak Summit! Woot woot! The summit cairn open up like a box where the register is placed inside.
The first time we came here was in September 2014. Since it had been a few years (and it wasn't on my blog) I just had to come back! I don't remember liking the trail that much the first time, but this time I think I had better company and the weather was nice. I also have grown to love the west desert since then.
Well that's a long way down!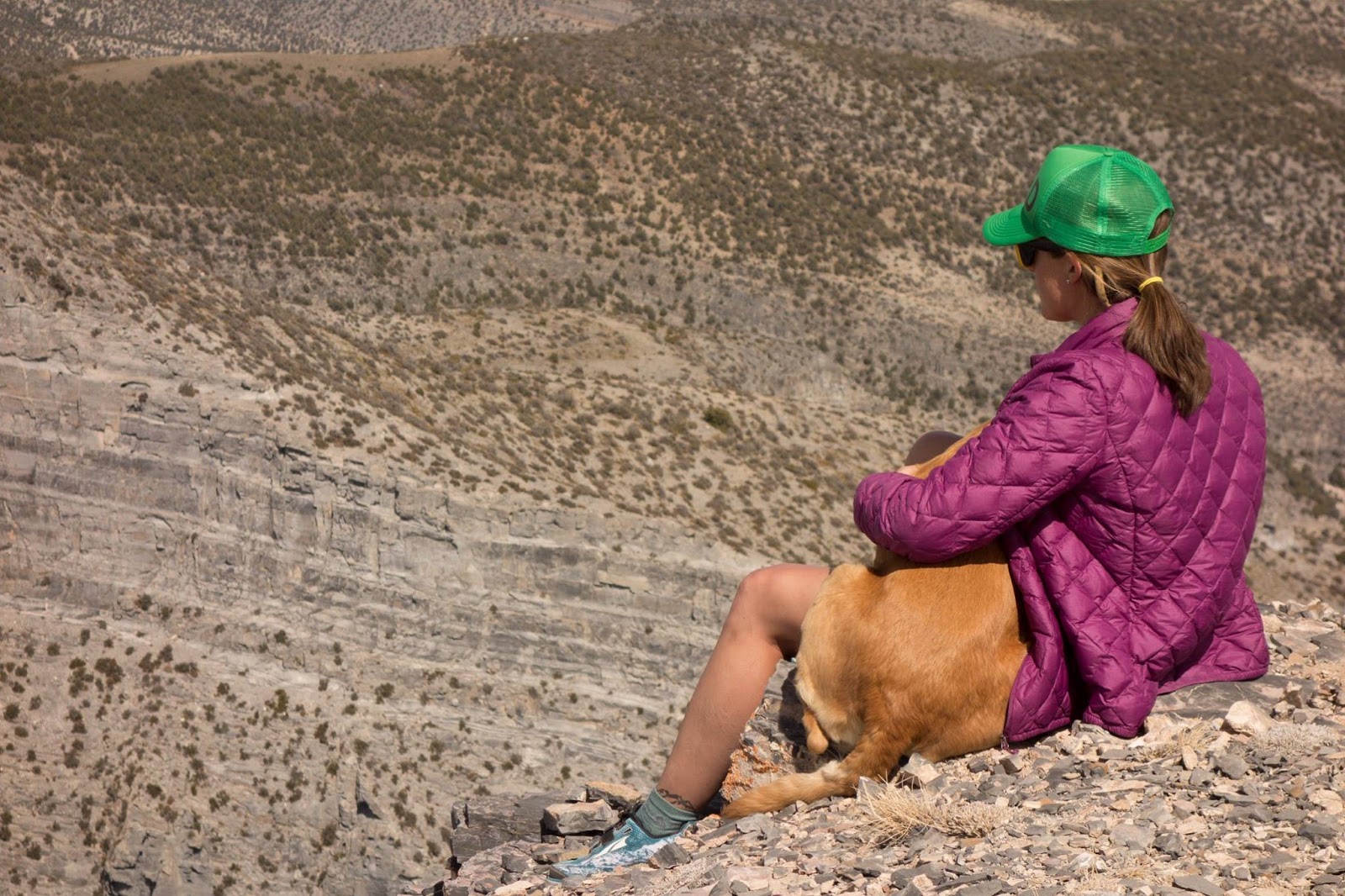 It doesn't matter if I'm sitting on the edge of a 2,200 ft cliff or on the couch, Charlie always climbs into my lap even though he's 70 lbs! He's such a snuggler.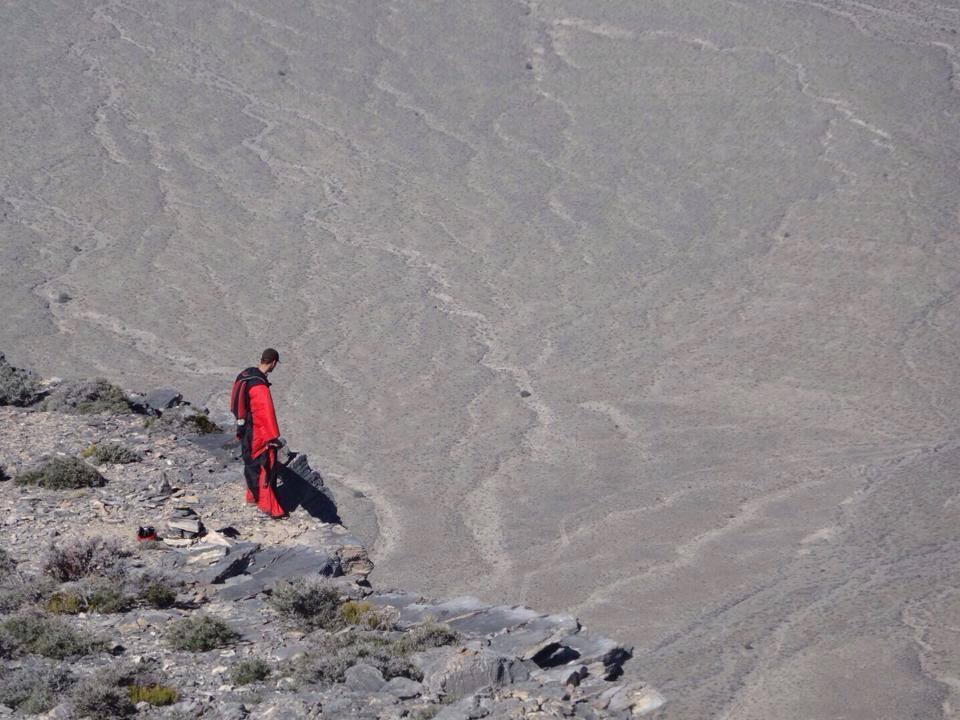 When I summited back in 2014, we saw two base jumpers dive off the summit! This guy in red was watching his buddy fly down before him. I was amazed at how LOUD the sound of the wind was when they jumped off. Pretty cool to see!
Check out this amazing video of the BASE jumpers at Notch Peak!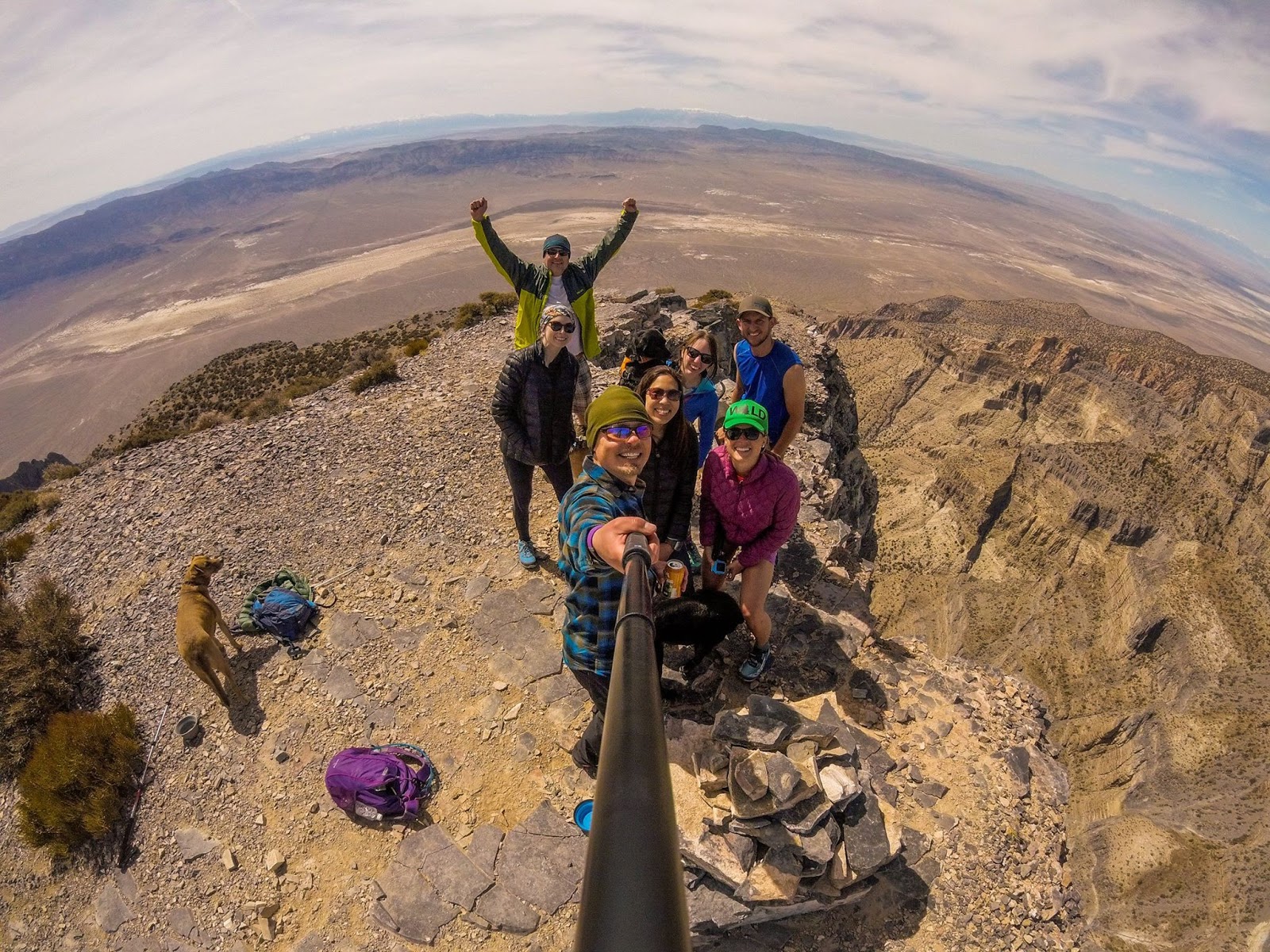 Group photo!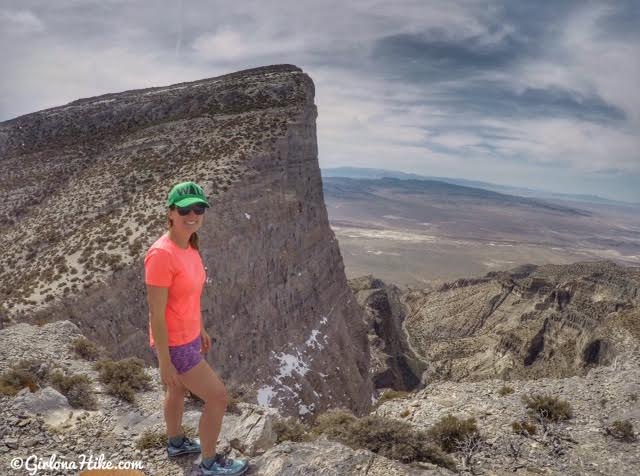 After summiting, we hiked back down to the saddle, then up the middle hill. That's where you really get a great view of the cliff face.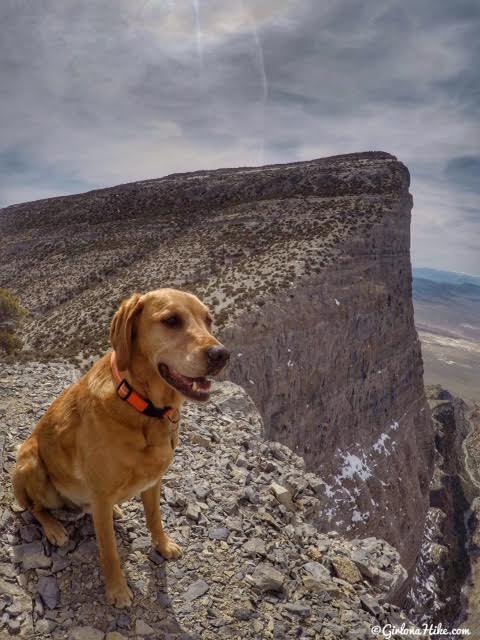 Charlie loves peak bagging!
Trail Map
I tracked out stats one way, and it only took us 2.5 hours to reach the summit.
My track via Gaia GPS – the best tracking app! Get your app here for a discount.
Recommended Gear
Nearby Hike
 Soak at Baker Hot Springs after hiking to Notch Peak to relax those muscles!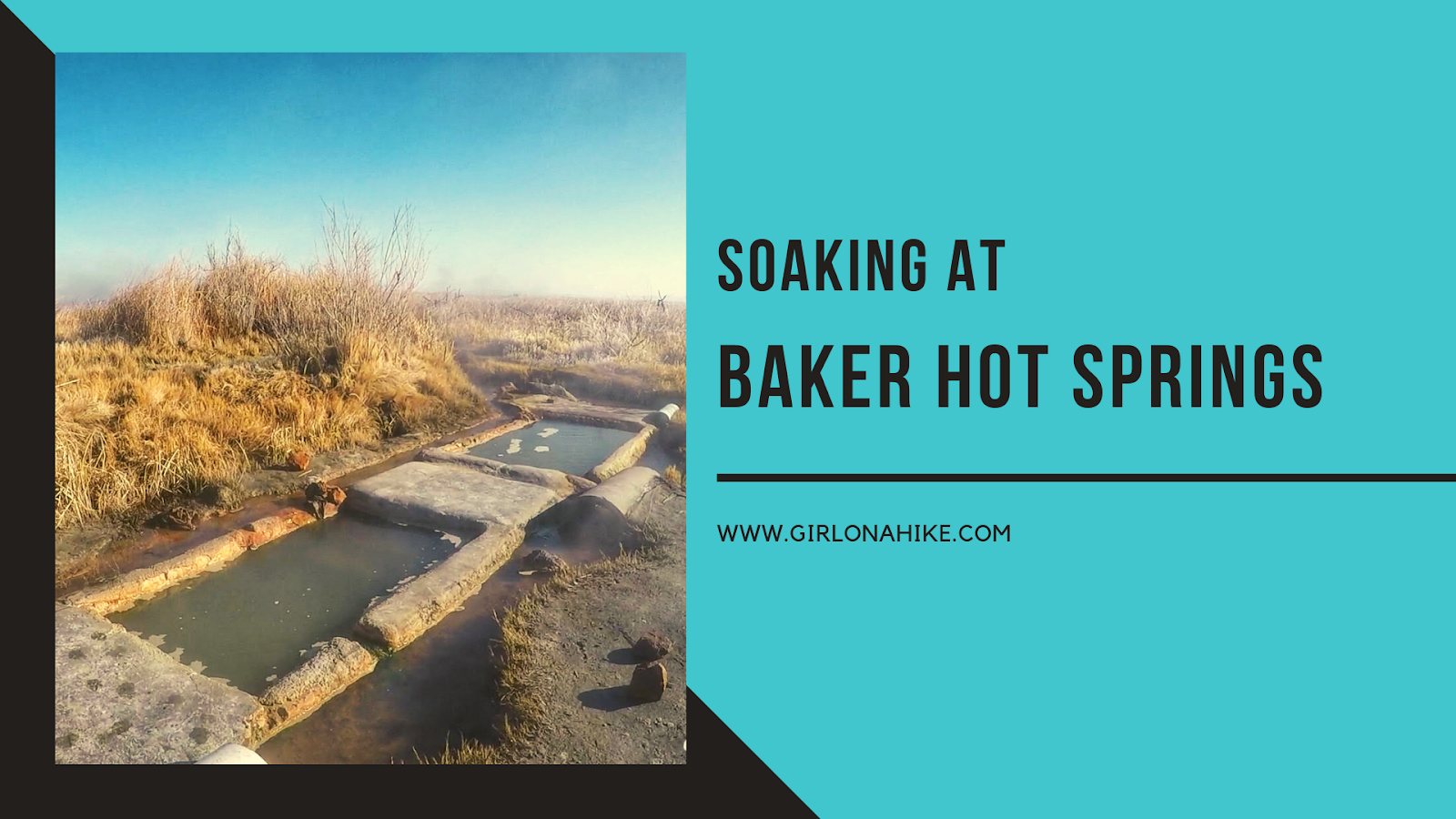 Save me on Pinterest!