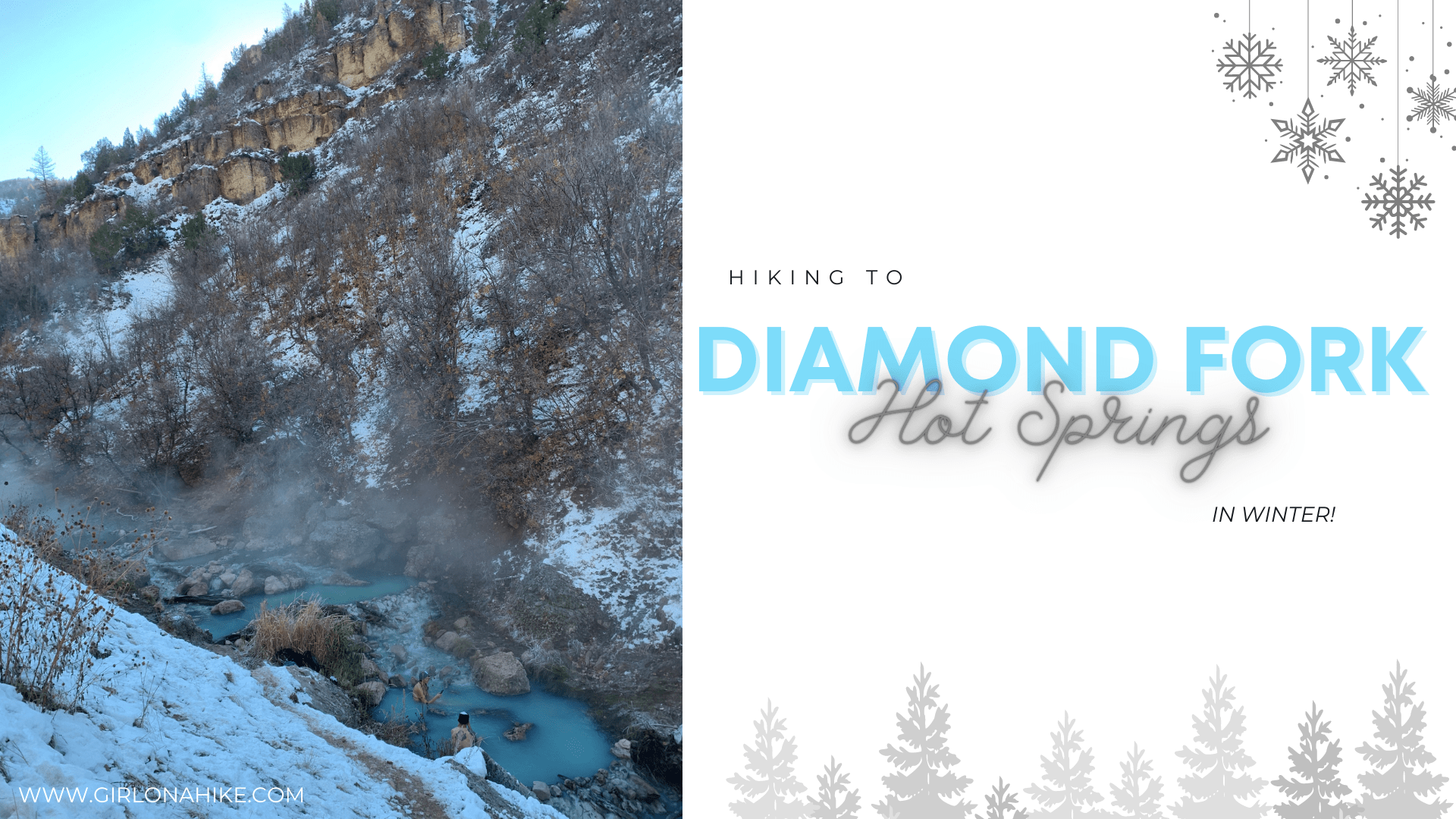 Hiking to Diamond Fork Hot Springs in Winter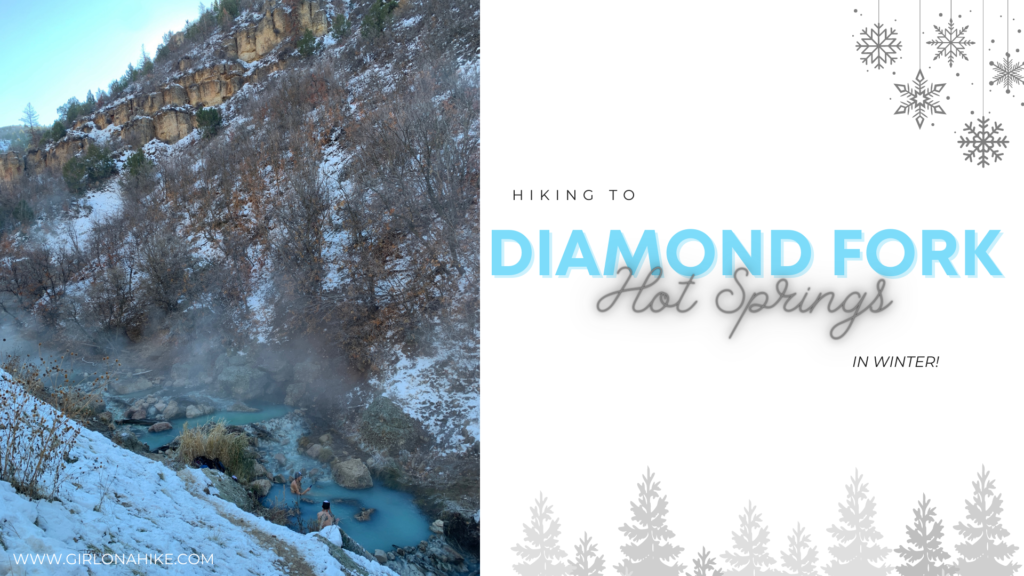 Diamond Fork Hot Springs is one of Utah's must-see places! Offering several pools ranging in hot temperatures, it's a great place to soak away your worries, take in nature, and relax.
About
Hiking to Diamond Fork requires a 2 mile hike in Summer, and in Winter it can be as much 6 miles one way (it depends what gate is closed). These hot springs are extremely popular so don't count on getting any alone time. However, the hike in and soak is well worth it – you might even make some new friends depending which pool you sit in! Hiking to Diamond Fork Hot Springs in Winter does require more effort and planning, but in my opinion it's much more enjoyable in Winter and you get to see the canyon covered in snow. Pack your swimsuit, a thermos of hot tea or cocoa, and get ready to soak!
While nudity does happen here it's actually against the law and there have been reports of this being enforced (more so in summer months). Strip at your own risk!
UPDATE: Please be aware that as of late December 2022, there are toxigenic cyanobacteria present in its pools. View the full article here. It is no longer recommended that people soak at Diamond Fork Hot Springs. Enter at your own risk.
Directions
From SLC, head south on I-15 and take exit 257 B-A for Highway 6 heading East. Drive about 11 miles and look for the brown sign for Diamond Fork and turn left. Drive another 6.5 miles until you reach the winter gate. Here is a driving map.
Trail Info
Distance: 4-8 miles RT
Elevation gain: 835 ft
Time: 6-8 hours (including a 2 hour soak)
Dog friendly? Yes, off leash
Kid friendly? Yes
Fees/Permits? None
FAQs
Can my dog hike with me off leash? Can dogs swim in the pools?
Yes to both. However, be advised that not all dogs do well in water temperatures above 100F. Please be courteous of other swimmers and make sure your dog doesn't shake off or step on other people's stuff. Bring a long line just in case you need to tie your dog up to a tree if others aren't comfortable with dogs in the area. You also need to bring along your own dog poop bags – none are provided.
Should I bring microspikes, snowshoes, or both?
It really depends on the snow pack. If you are hiking here right after a big snowstorm, then you will need snowshoes. If you hike after a few days after a storm, then road will be packed down from other hikers and you can hike without microspikes. I brought my microspikes just in case and only used them on the actual trail (not the road).
Can I ride my fat tire bike here?
Yes, definitely! If I were to come here in Winter again I would do a fat tire bike to get to the hot springs faster. You can rent fat tire bikes from a few outdoor stores such as Hyland Cyclery for $50/day.

Is it as crowded like it is in Summer?
Yes. To avoid the crowds hike during the week, and not around the holidays. We started hiking around 9:30am, and didn't pass anyone else hiking in. When we left the hot springs at 2pm, we passed probably 30 hikers coming in.
Shuttle Service from Diamond Fork Group Site #4 to Diamond Fork TH.  If you are planning to hike here in summer months, park here to avoid the crowded parking areas.
Note: Dogs are not allowed on the shuttle. However, you can still hike/drive to the TH on your own without a shuttle – it's not required.
For hours of operation and info, call 385.273.1100
Do I need to bring anything special with me?
Aside from dressing appropriately and layering, make sure to bring a towel to dry off. I also carry my Chacos with me so I don't have to walk around on the snow, and I bring 2-3 plastic grocery bags (per person) to put my wet swimsuit and towel in before hiking back out. I also brought some beer and a hot thermos of tea. Something fun would be to bring along a Jet Boil to make hot chocolate on the spot!
 When does the gate open/close?
The gate usually opens up around Memorial Day weekend, and closes at the first big snowfall of the season (typically October).
Just a word about trash – there are no trashcans on the road nor the trail, so please Leave No Trace and carry out what you pack in! Let's keep it clean. The restrooms at the actual trailhead were open, but don't count on it every time.
Can I take a shuttle? 
Yes, but only in summer months. Read below for more info.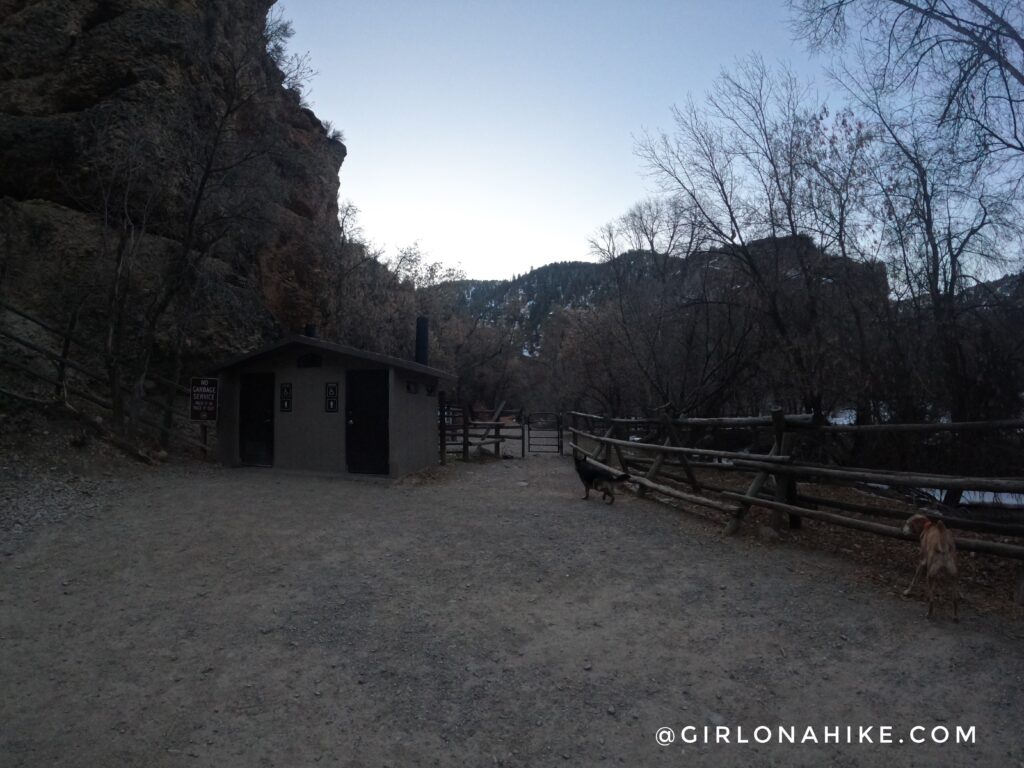 The trail begins to the right on the restrooms, passing the gate. Do NOT turn right after this gate – keep hiking straight.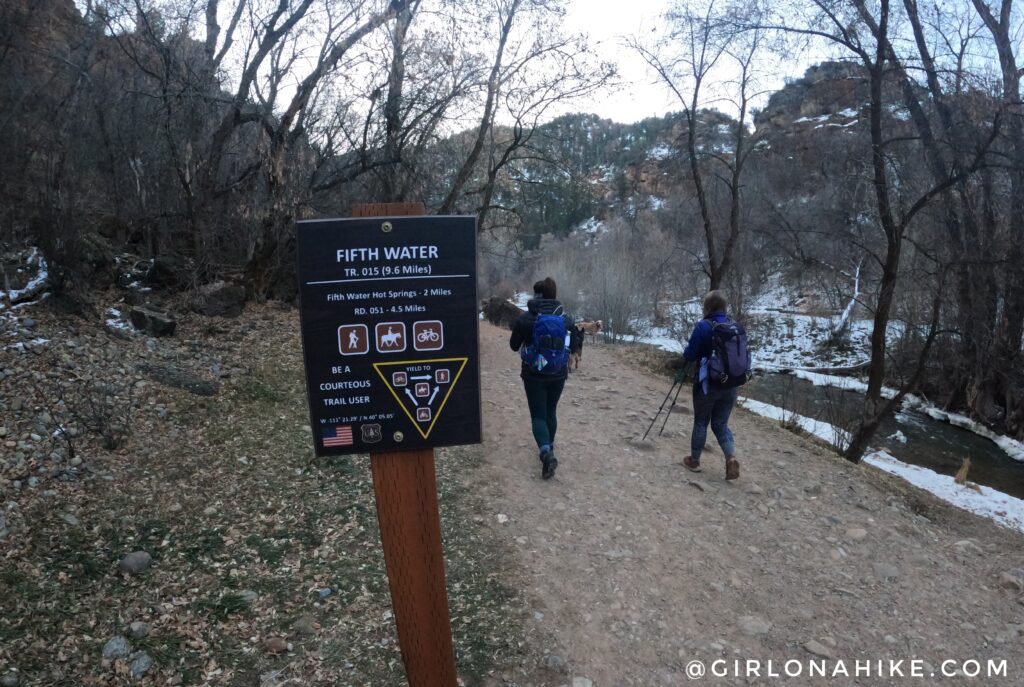 It was a winter wonderland on the trail! We were now in the smaller canyon and in the shade, so it became even colder.
Hike along a wooden fence.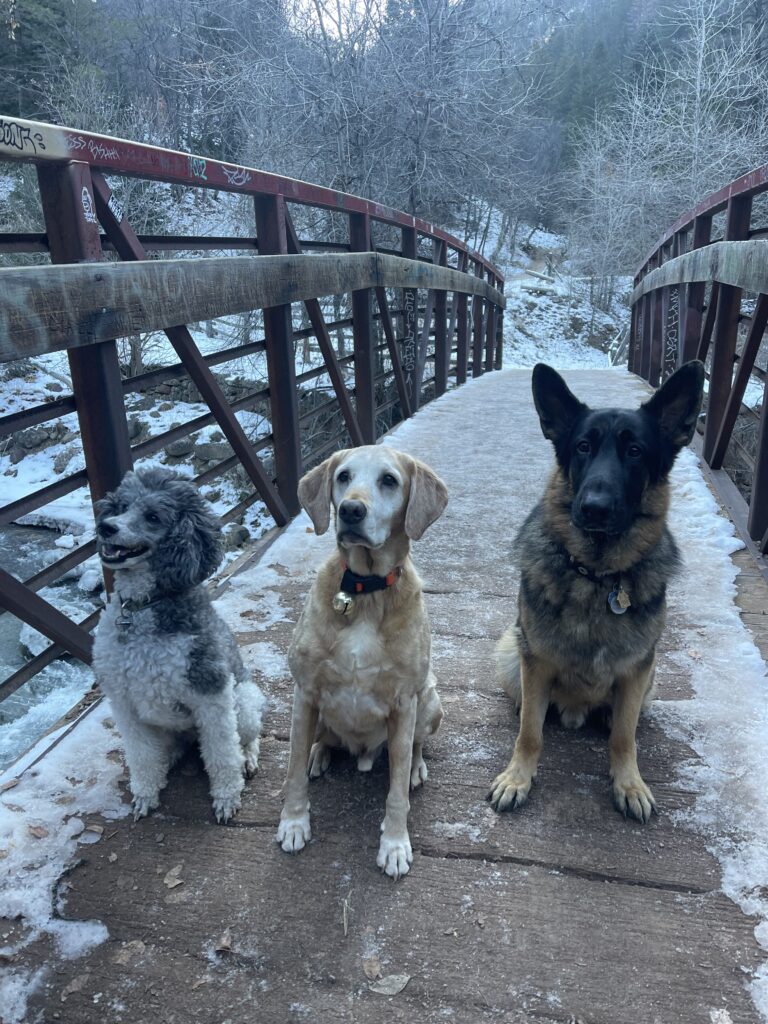 Around 1 mile, you will cross the bridge. After the bridge you will turn East, and will now be following Fifth Water Creek. Many people call Diamond Fork Hot Springs, Fifth Water Hot Springs. They are the same thing, it's just that calling it Fifth Water Hot Springs is now considered "out of date" to the new name. You will know you are close to the hot springs when you smell sulfur, or a rotten egg smell.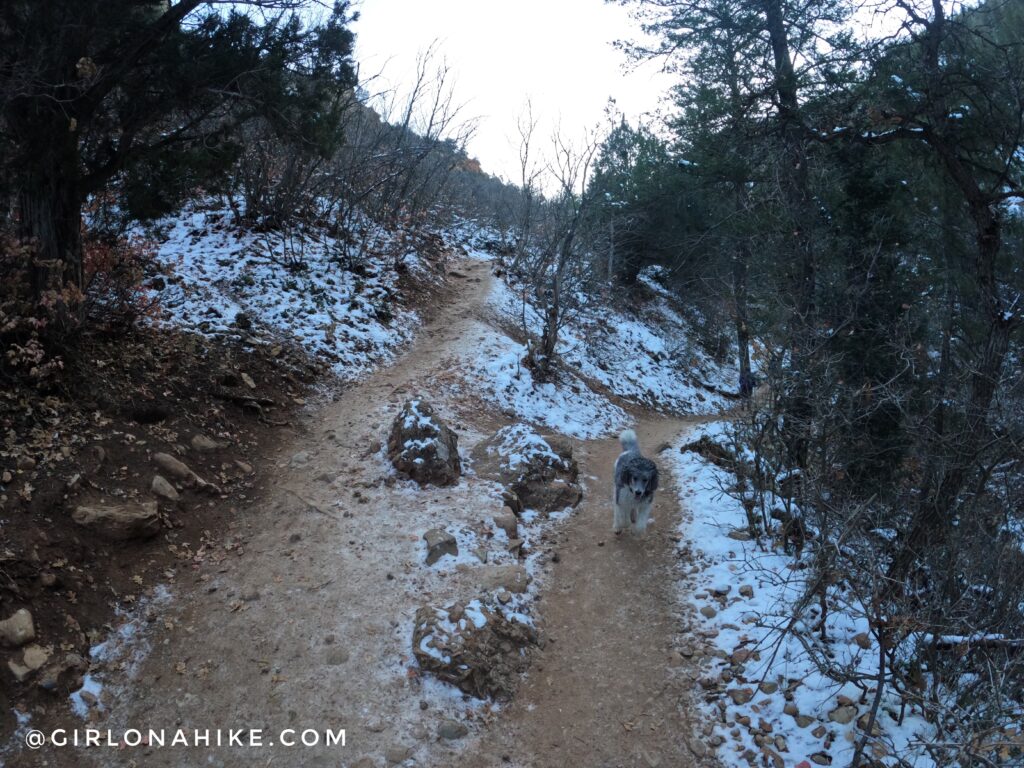 You will come to what looks like a trail split, but they both meet up in the same place.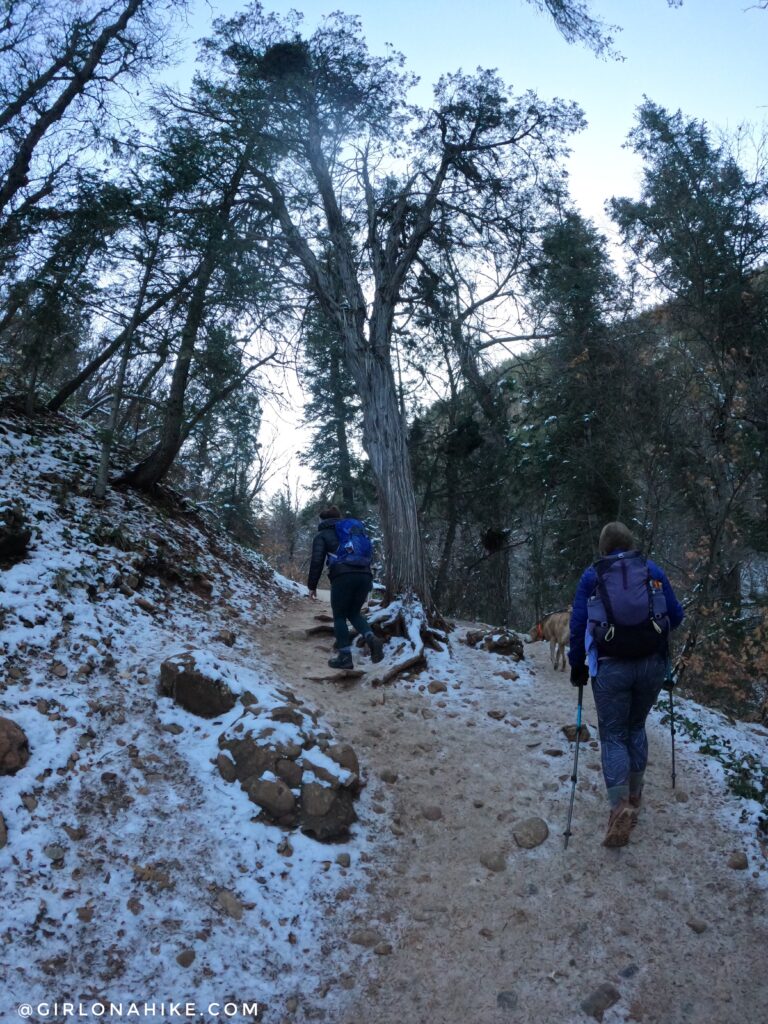 Some sections were icy, but we could walk around it.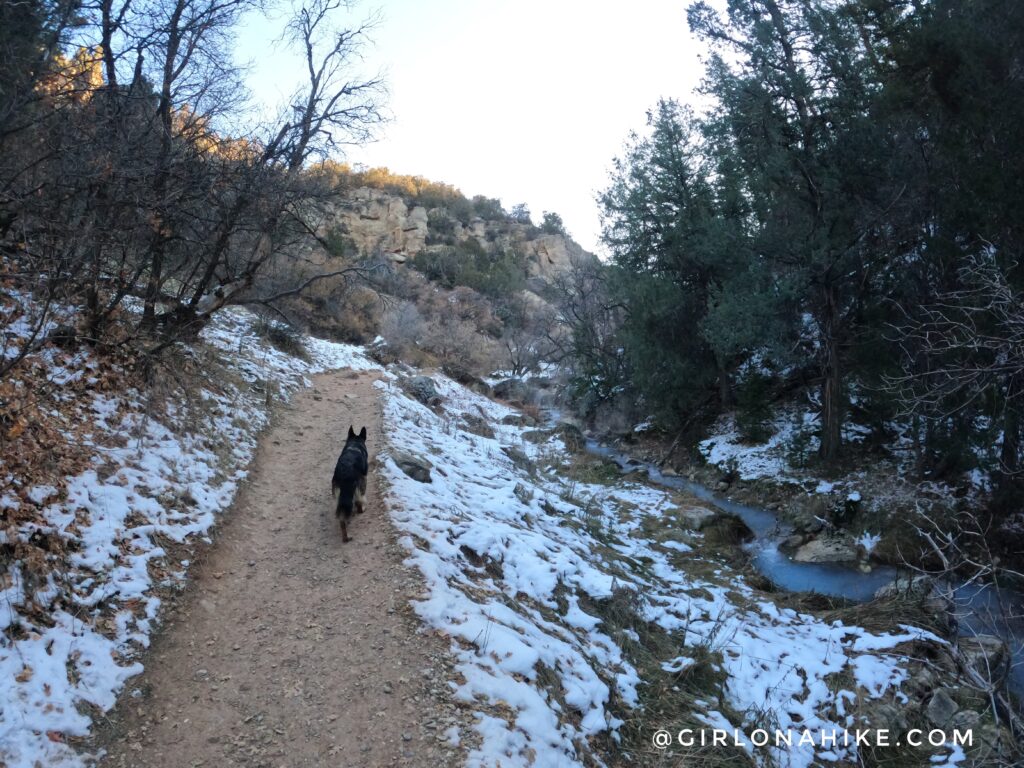 You know you are getting close when you smell "sulphur" along the creek.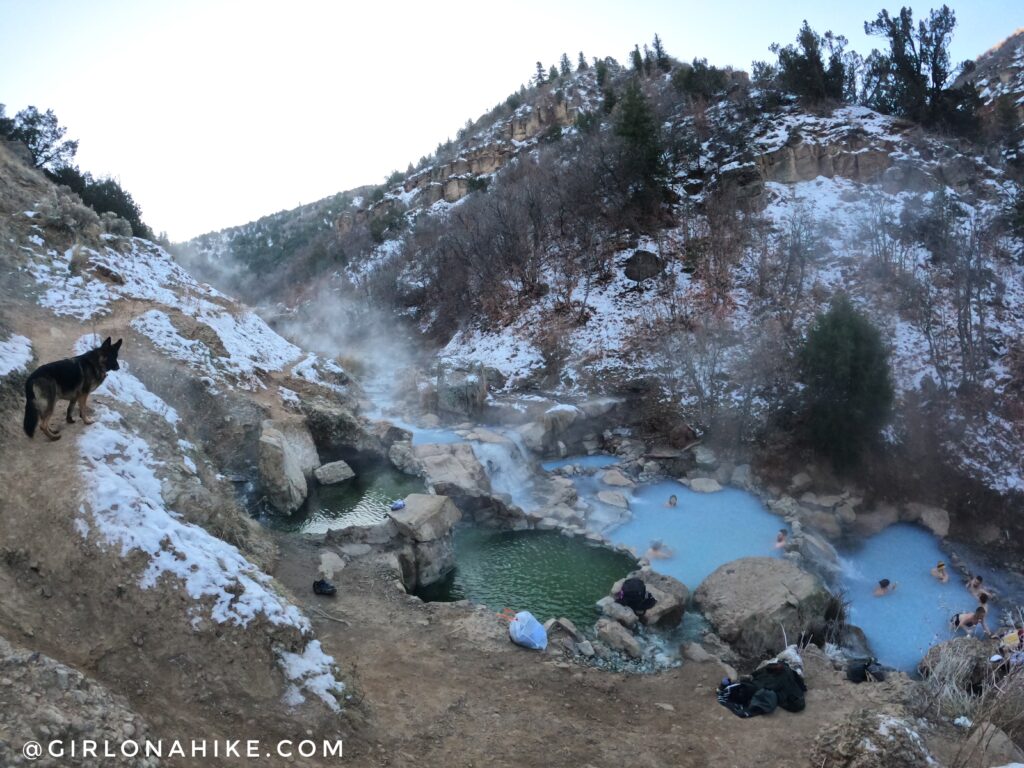 One mile past the bridge and you will finally reach Diamond Fork Hot Springs. Find a spot to change into your swimsuit and get ready to soak!
When you first arrive to the hot springs you'll see two pools, about the size of two pool tables. About 6-8 people can fit comfortably. The upper pool is warmer, since it's closer to the hot spring source. The cooler pool is with these three people below. The further away from the hot water source, the cooler the water will be.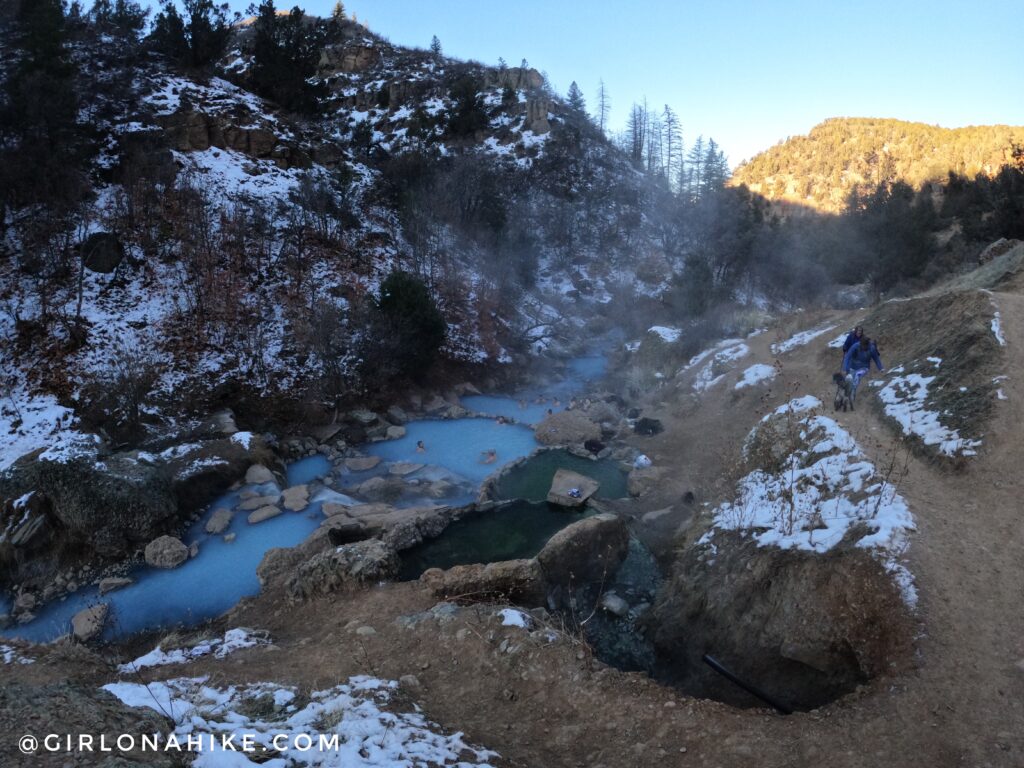 Looking back at the main area.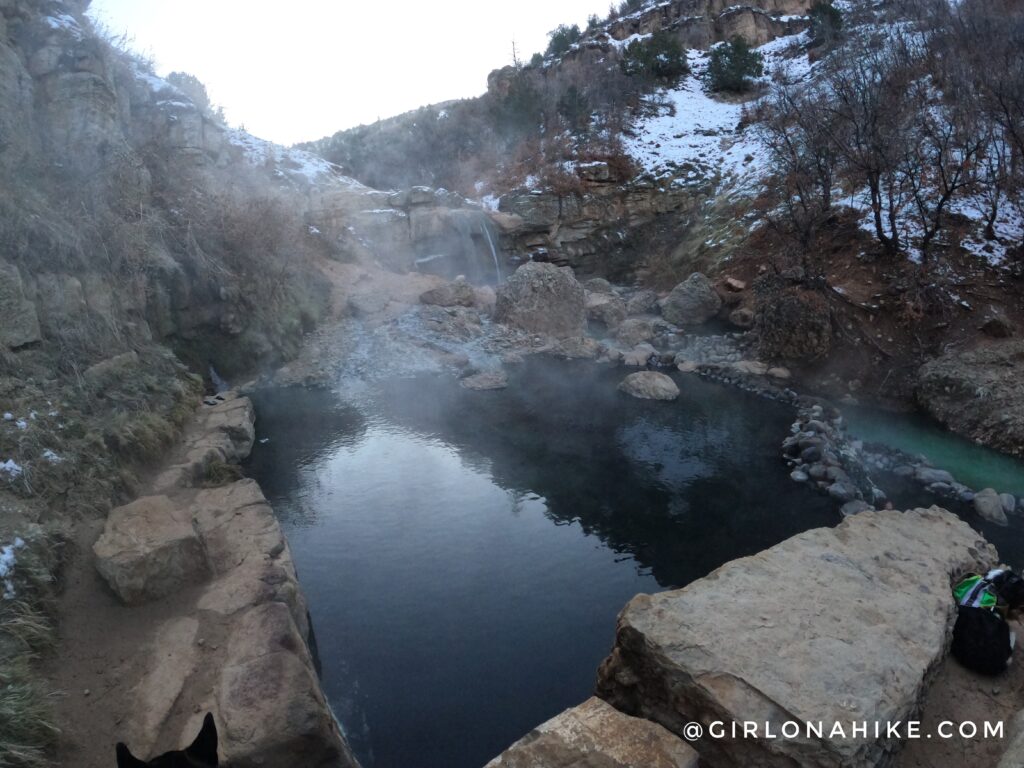 This is one of the biggest pools, but its quite hot.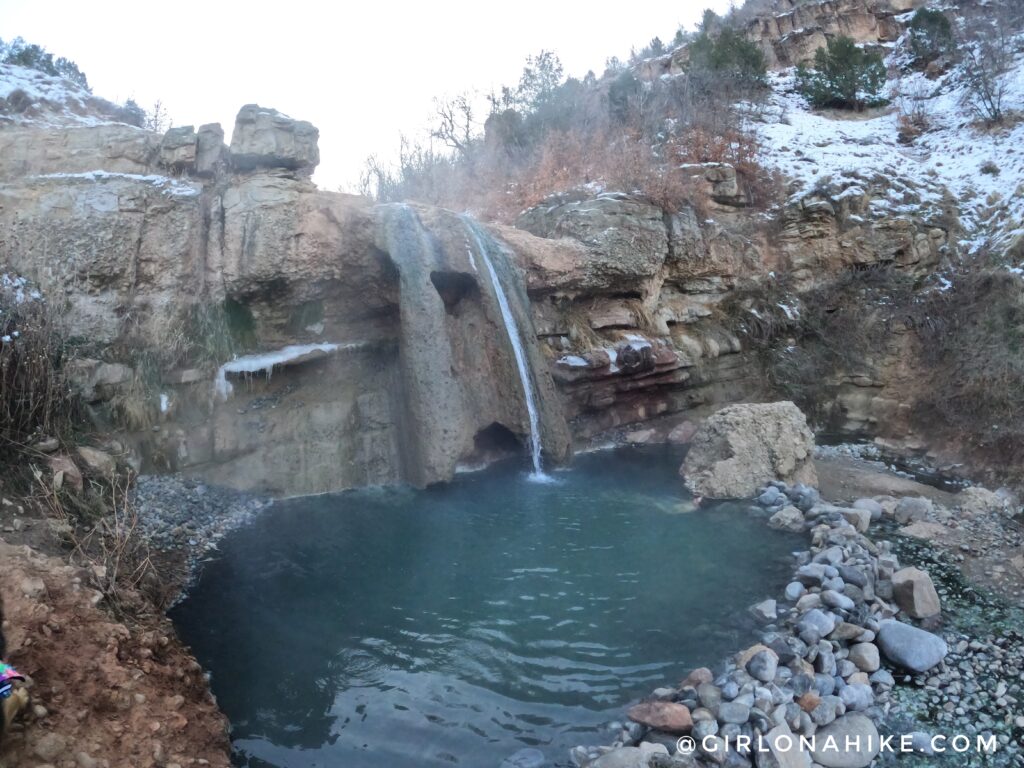 The waterfall!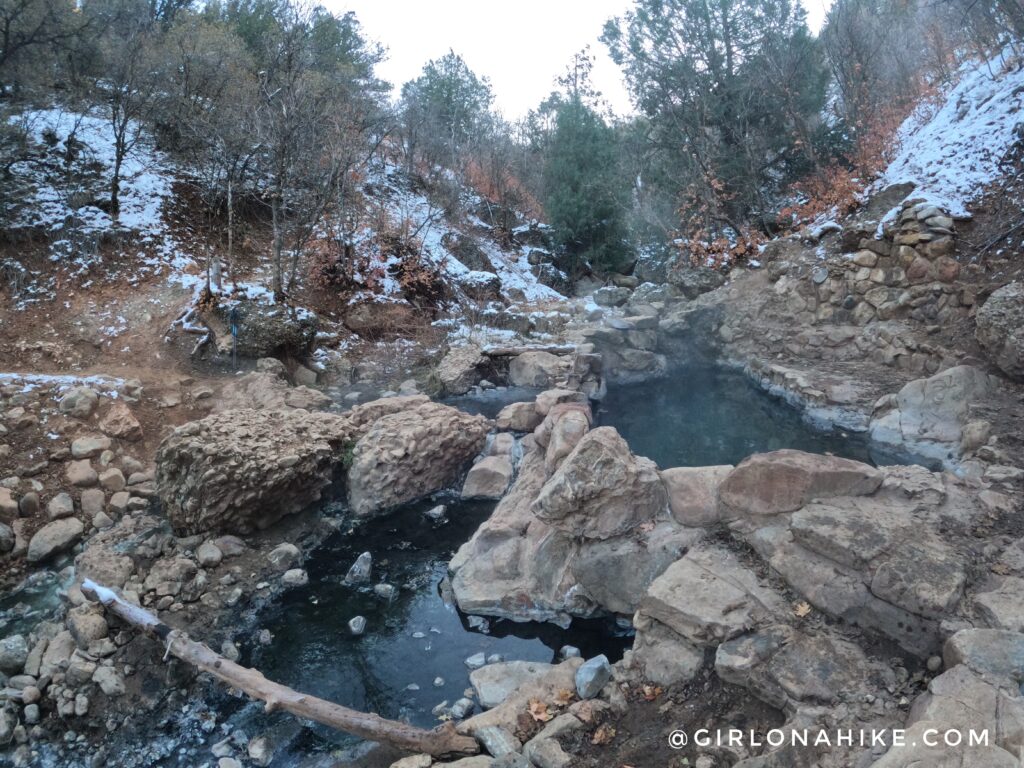 There are a few more pools above the waterfall but they're even hotter! It was so hot I could barely dip my feet in it.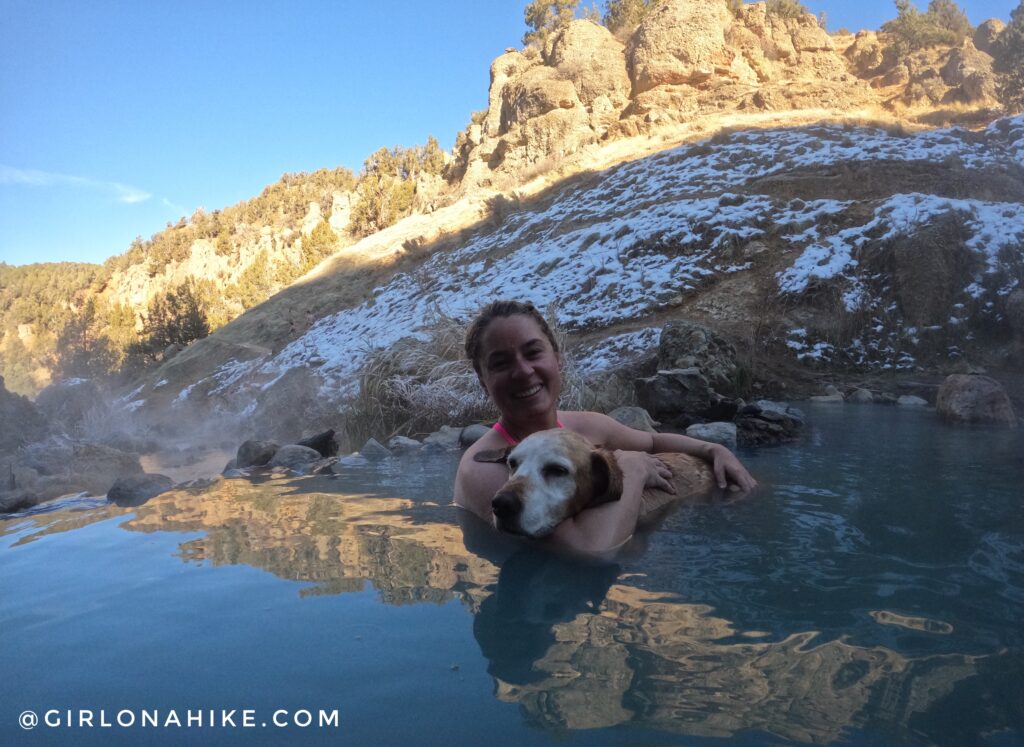 Charlie looooves sitting in hot springs as long as they're not too hot. He relaxes so much that he will fall asleep in my arms. Dogs can safely swim and drink the water here – he has never had a problem from either. It actually really relaxes him, and as usual, loves to sit in my lap.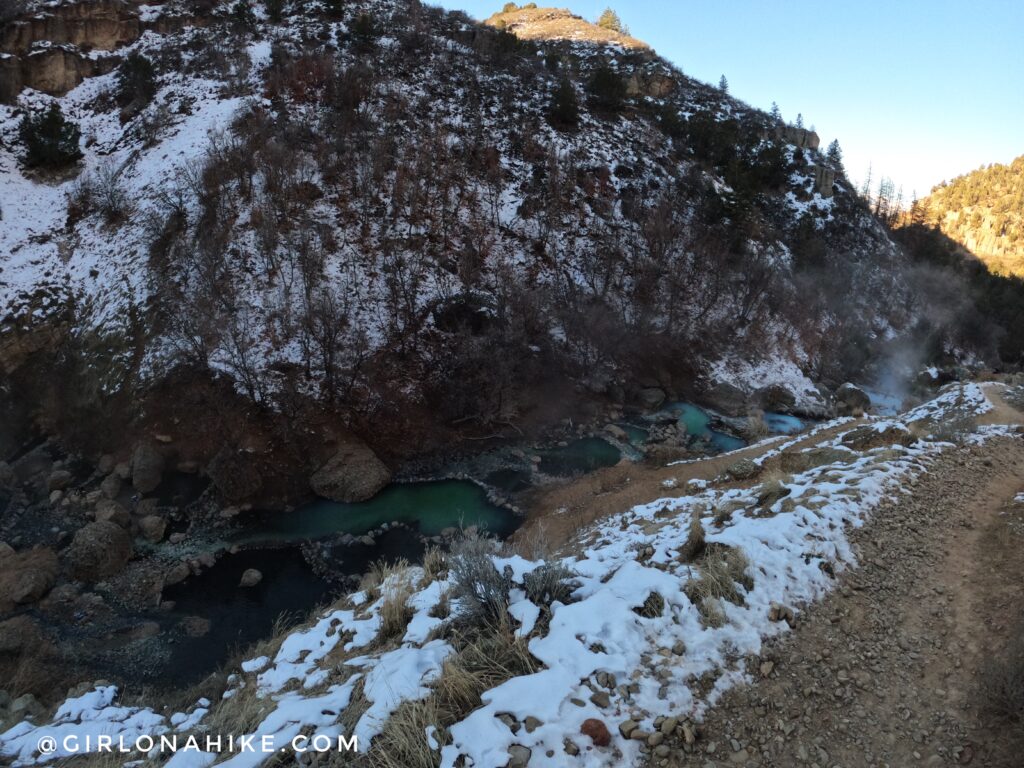 Time to head back! By 10am it was super crowded.
2015 – Our First Time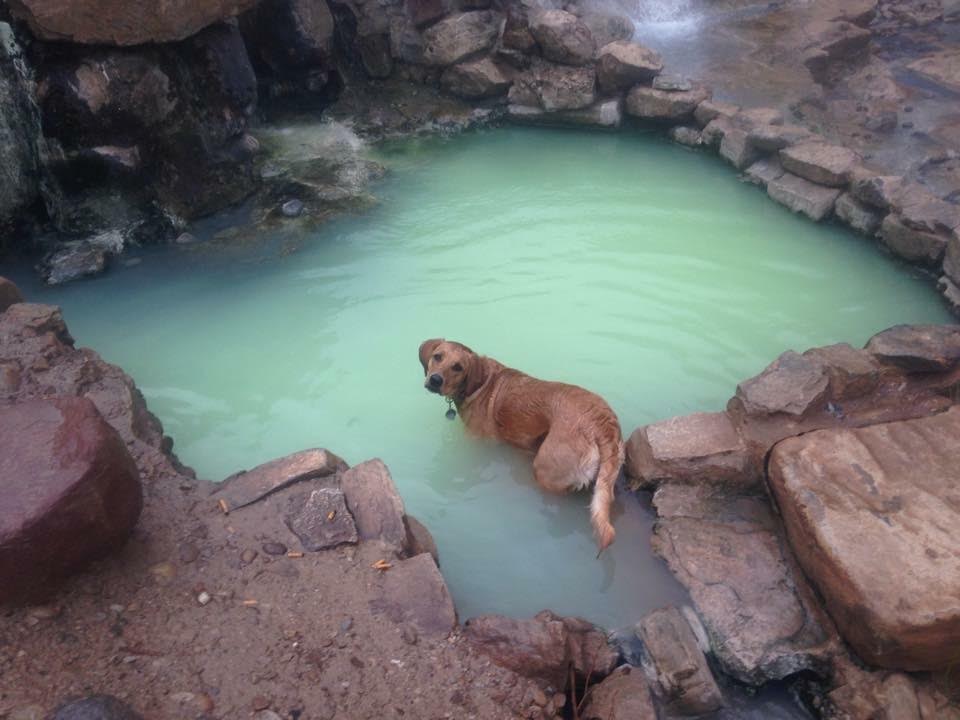 He had zero white hair – crazy! Charlie wades his way in to the first pool.
UPDATE: Please be aware that as of late December 2022, there are toxigenic cyanobacteria present in its pools. View the full article here. It is no longer recommended that people soak at Diamond Fork Hot Springs. Enter at your own risk.
Trail Map
My track via Gaia GPS – the best tracking app! Get your app here for a discount.
Also Read
7 Reasons why Winter is the Best Season to go Hiking in Utah!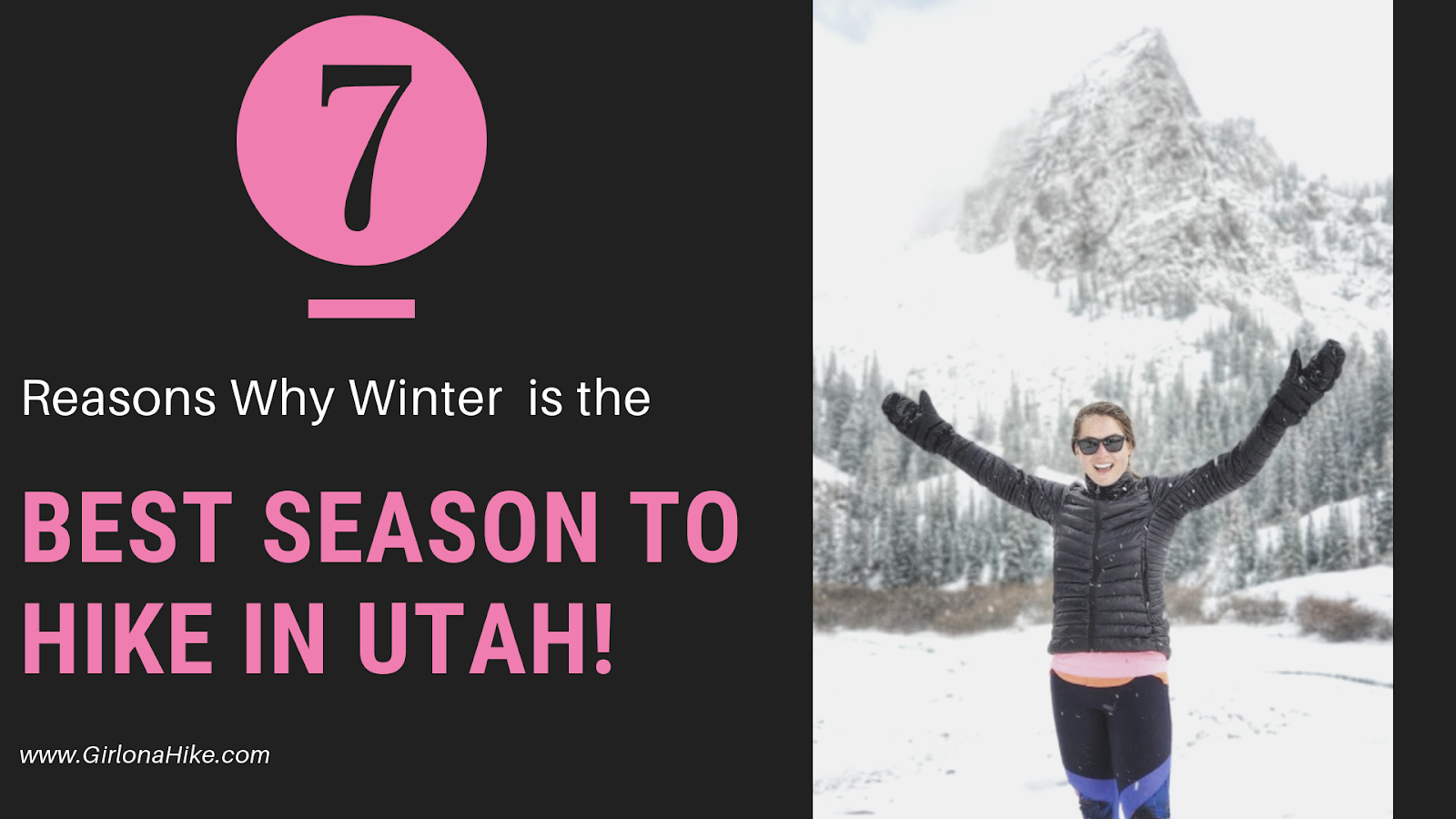 Save me on Pinterest!