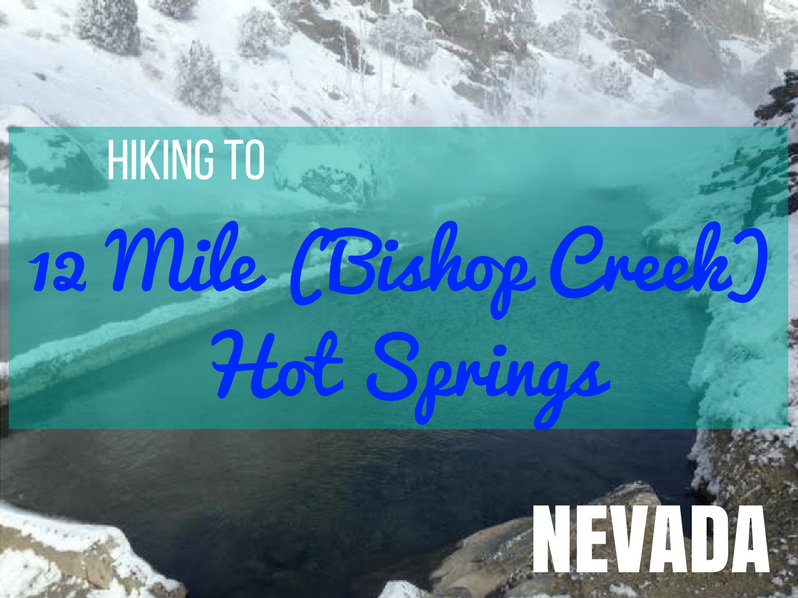 Hiking to 12 Mile (Bishop Creek) Hot Springs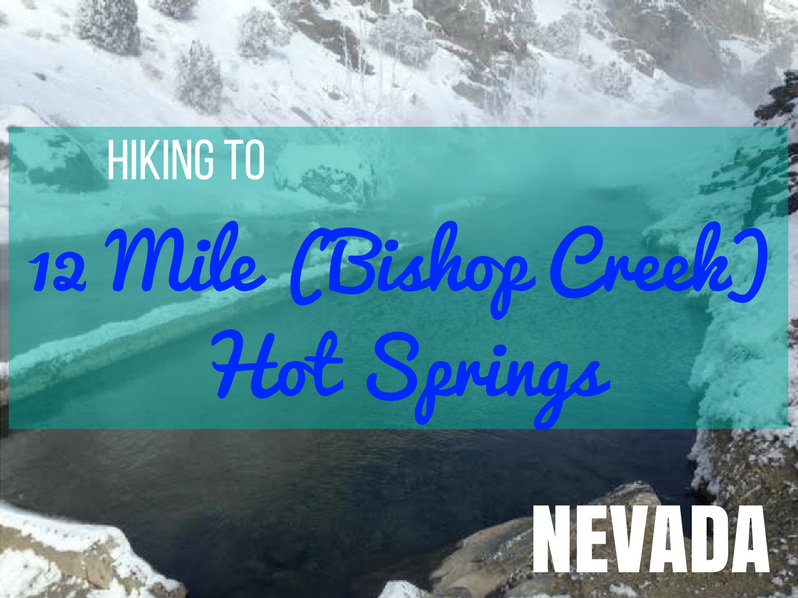 12 Mile (Bishop Creek) Hot Springs is one of Nevada's hidden gems that is oh, so relaxing. Nevada has more hot springs than any other state in the U.S., with more than 300 occurring naturally; most are found in Northern Nevada.
About
With only a 2 mile hike, the whole family can get in on this one. The trail, which follows an old dirt road, is flat and quite scenic. How did it get its name? That's easy – it's roughly 12 miles north of Wells, Nevada along Bishop Creek. Getting to these hot springs is accessible year-round, but the 102F water temperature feels amazing in Winter. Worried about crowds? Don't be – most people haven't even heard of this place which makes it even more unique! Grab your swimsuit and snowshoes, and let's get soaking!
Directions
From SLC, head West on I-80 towards Wendover. Take exit 351 for Wells, Nevada. At the stop sign turn right, then right again on 7th St. Turn left at the next road, to cross the railroad. Turn left after the railroad and you should now be on 8th St. This road turns into N Metropolis Rd. Follow this road as it curves North and passes two areas of farmhouses. You'll come to a "T" in the road. Turning left, the road stays paved; Right turns into a dirt road. This is where you will want to park (at the "T"). This dirt road is extremely rough so it's best if you just start hiking from the "T". Here is a driving map.
A small, compact car can make it to the parking area you don't need 4×4 or high clearance. If you drive during or after a snowstorm you won't be able to make it in a small car, but as long as it has been plowed you will be fine. My Hyundai Sonata made it just fine (with snow tires) to the parking area. The road is paved, but it's still a rough pavement with lots of potholes. There are no sign for the parking area or hot springs at any point.
Trail Info
Distance: 4 miles RT
Elevation gain: 150 ft
Time: Hiking to the actual hot springs only takes about 1 hour, but with the drive plus soaking time plan for an all day trip.
Dog friendly? Yes, off leash
Kid friendly? I would say yes for older kids, not babies. They need to be able to snowshoe on their own (or you being ok to carry them in a pack).
Fees/Permits? None.
FAQs
Keep in mind that Bishop Creek Hot Springs is located on private property – the owners have been nice enough to let hikers use the dirt road to access the hot springs. At any time they could easily close off access so PLEASE keep it clean and Leave No Trace!
Can my dog hike with me off leash? Can dogs swim in the pools?
Yes to both. However, be advised that not all dogs do well in water temperatures above 100F. Please be courteous of other swimmers and make sure your dog doesn't shake off or step on other people's stuff. Bring a long line just in case you need to tie your dog up to a tree if others aren't comfortable with dogs in the area. You also need to bring along your own dog poop bags – none are provided.
Should I bring microspikes, snowshoes, or both in winter?
It really depends on the snow pack. If you are hiking here right after (or even 2-4 days after) a big snowstorm, then you will need snowshoes. This road is rarely packed down from other hikers since it's not as well known. However, there may be days when snow level is low and you could get by without any gear or just microspikes. I brought both, but used my snowshoes the entire time since I had to break trail in 1-2 ft of snow.
Can I ride my fat tire bike here?
Yes, definitely! You can rent fat tire bikes from a few outdoor stores such as Hyland Cyclery for $50/day.
Is it as crowded like it is in Summer?
Bishop Creek Hot Springs is rarely "crowded". We hiked here on a Saturday and didn't see a single person the entire day!
Do I need to bring anything special with me?
Aside from dressing appropriately and layering, make sure to bring a towel to dry off. I also carry my Chacos with me so I don't have to walk around on the snow, and I bring 2-3 plastic grocery bags (per person) to put my wet swimsuit and towel in before hiking back out. Chacos, or any water shoe, are helpful for wearing in the pool so you don't slip. I also brought some beer and a hot thermos of tea. Something fun would be to bring along a Jet Boil to make hot chocolate on the spot!
How hot is the water at Bishop Creek hot springs?
Right near the water source the temperature is about 102-103F, and is hottest at the Eastern (furthest) end of the pool. The cooler end is on the West (right when you walk up to the pool) and is around 98F. The pool itself is about 30 feet long by 8 feet wide. The depth ranges from 2-3 feet.
Tips for Hiking to Bishop Creek Hot Springs
– The town of Wells, NV only has 3 restaurants: McDonald's, Bella's (a diner), & Quiznos. If you are healthy eater like me, its best to bring your own food/snacks and drinks. There is a gas station, but because it's in a remote area of NV, prices are higher.
– Make sure you fill up on gas in Wendover or Wells, NV. If you hike here in Winter and get stranded or stuck in snow, you'll want to be prepared with the necessary winter survival gear.
– Bring sunblock, a hat, and sunglasses even in Winter!
– Make sure you have a good, detailed map. Not just a map on your phone in case you run out of power.
– Because of the slippery surface (and the occasional broken beer bottle glass), wearing good water shoes will protect your feet. I love my Chacos!
– While becoming ill from swimming in hot springs is extremely rare, there is still a possibility that it can happen. A good idea is to always keep your head above the water.
January 2017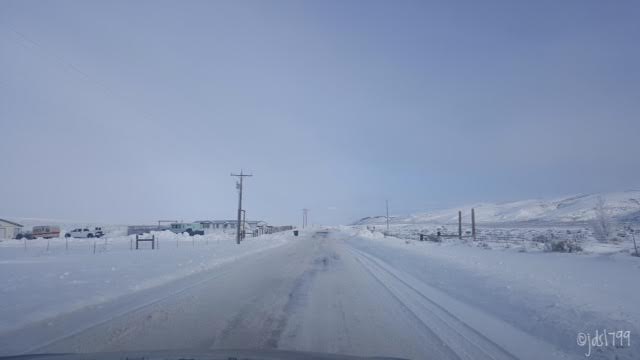 Driving on N Metropolis Rd – it had been plowed but still snow-covered. Even though a small car could make it, I was still glad I had my snow tires on.
At the "T", there was only one other car (this photo is taken looking East). We later passed the truck owner and he was out to hunt chukar birds, not to swim. Park in front of the cattle guard or along the side of the road. Usually you can see a "Private Property" sign, but it was buried under all the snow.  Ready to hike!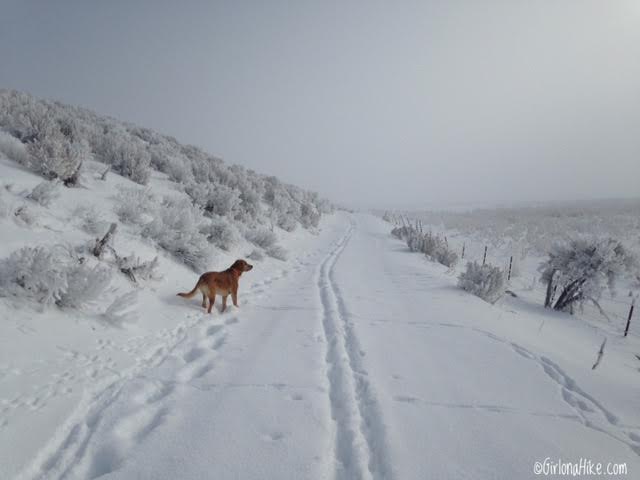 The "trail" isn't really a trail, just an old road. You can't get lost – just stay on the wide road the whole way. Judging by the old ski tracks, nobody had been out here in 2-3 days.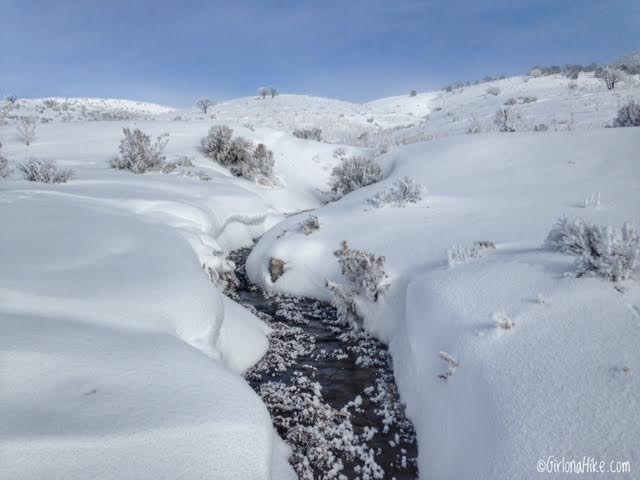 Along the hike you'll pass by rolling hills and cross this small stream. At 1.1 miles (halfway) you'll cross the one and only cattle guard.
Charlie loves running in snow! I was really glad I brought my snowshoes – the depth ranged from 1-3 feet. My friend forget his snowshoes so I broke trail the entire way and he post-holed behind me. Snowshoeing is fun but hard work!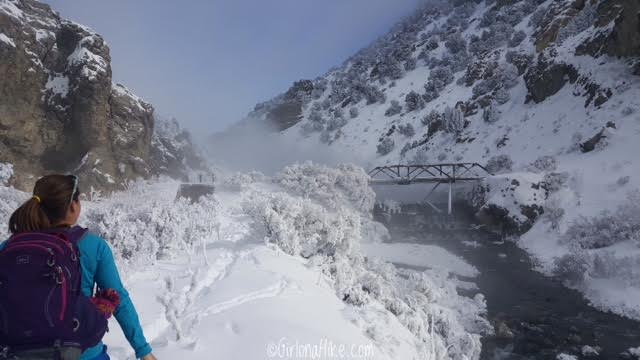 About 0.2 miles from the hot springs you'll see this bridge. I thought, "Well, this should be easy to cross the bridge…"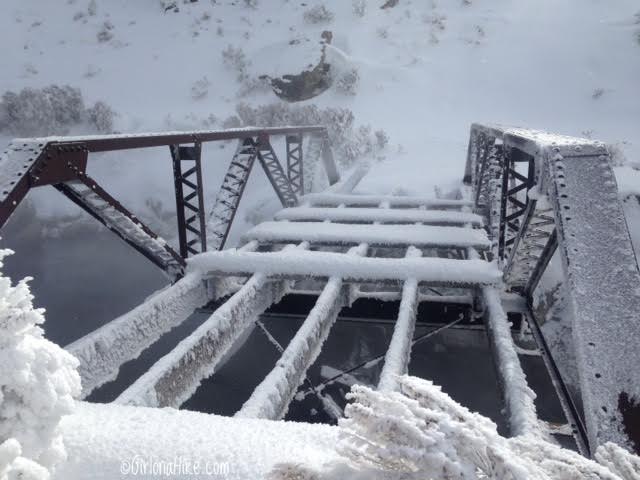 Umm, NOPE! The bridge is definitely not cross-able. You'll have to find a place to cross the creek below the bridge.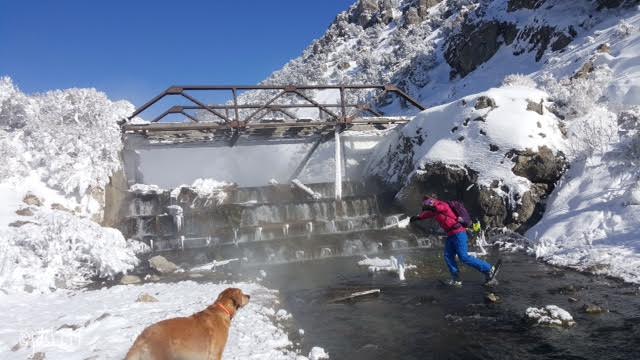 This was on the way back, but we were able to cross just below the bridge. This was a first for me – crossing a river in snowshoes!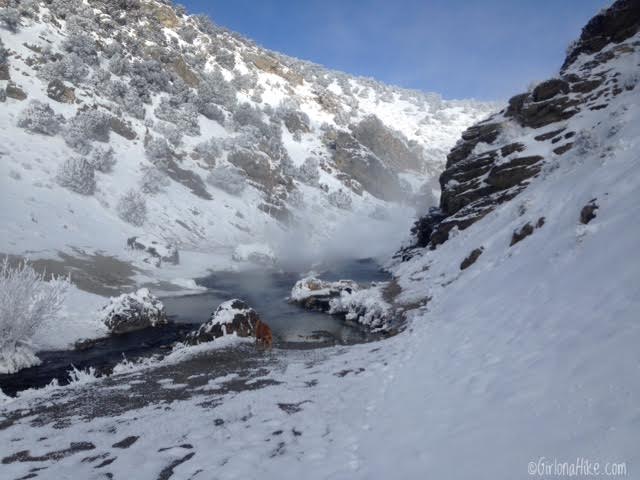 We arrived at Bishop Creek Hot Springs in 1 hour 15 minutes. I imagine without deep snow it would take less time to hike here.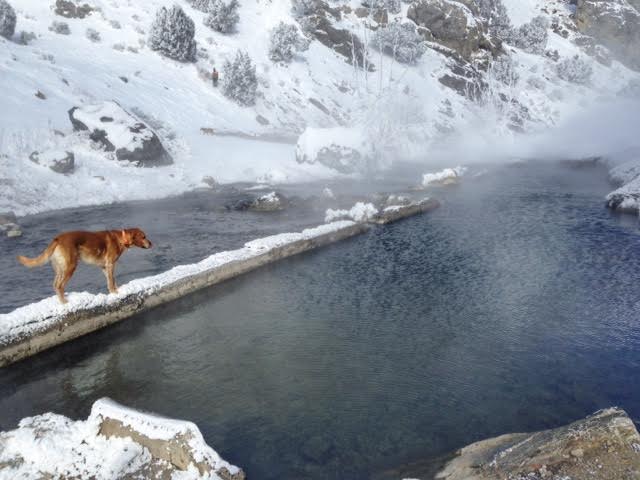 The hot springs has been formed into a sort of "pool" – a wall has been built to separate the hot water from the cold river water. The pool size measures approximately 30 feet long, 8 feet wide, and 2-3 feet deep.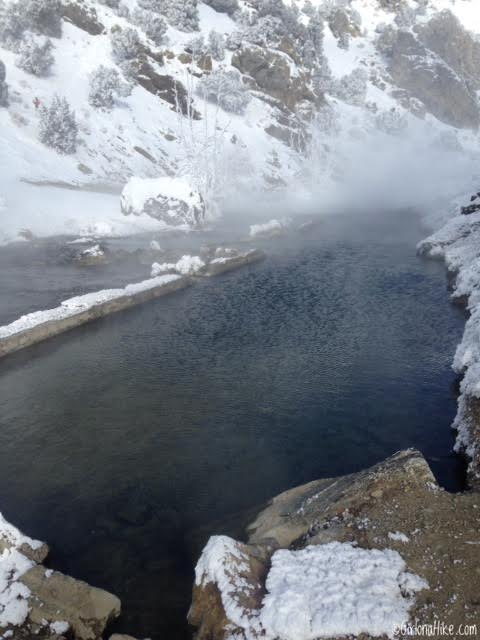 Another view of the hot springs.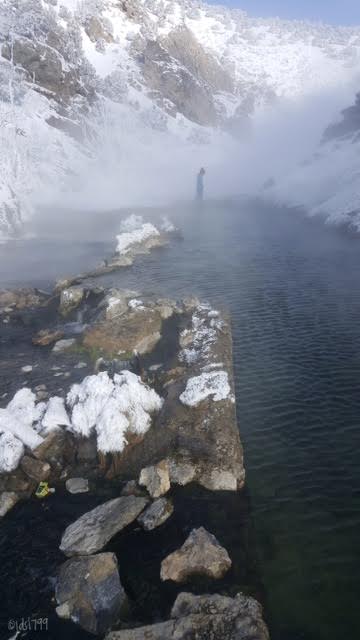 One of the most challenging things to figure out when we arrived here was where to change into out swimsuits. The hot springs are located right where the canyon narrows, so the wind was whipping right through the canyon extremely fast. Even after standing around for just a few minutes I started to get really cold. It was so cold we even debated on not getting in because we couldn't bear stripping down. However, we were able to find one large rock across the river that we could stand behind, which protected us from the wind. This is where we also kept our packs and towels.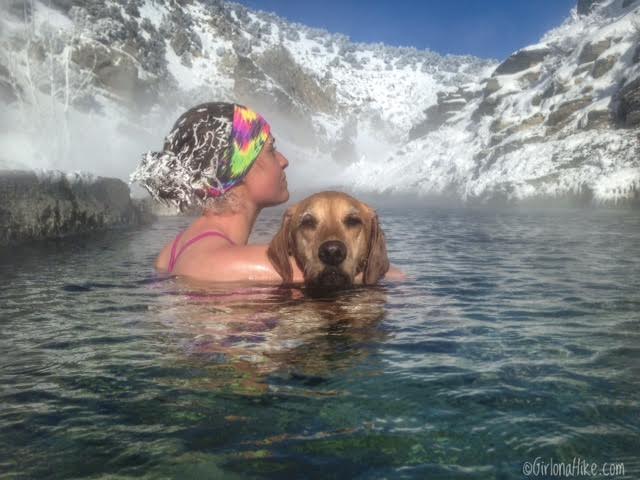 The best part of the day! Finally soaking and it felt so relaxing. Nobody else hiked in the entire day, even on a Saturday! We had the whole pool to ourselves. Charlie loves swimming in hot springs too. Be advised that not all dogs do well or even enjoy swimming in hot springs. Dogs can safely swim and drink the water here – he has never had a problem from either. It actually really relaxes him, and as usual, loves to sit in my lap. When I bring Charlie with me, I towel dry him off before hiking back to the car, and I have another towel and blanket waiting for him just in case. You can see that both his eyebrows and my hair literally froze over from the wind and moisture. 
Another tip – bring sunblock. I didn't even think to bring some and my shoulders and face ended up getting burnt from all the reflection of the snow and water. And we only soaked for about 2 hours!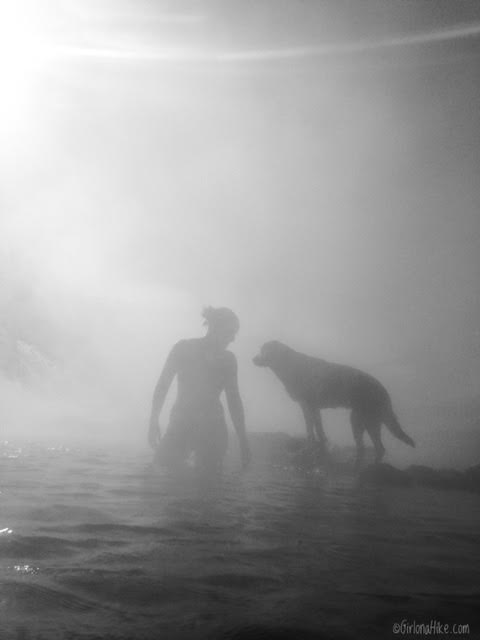 Sometimes the hot springs were too hot and I had to walk around to cool off a bit.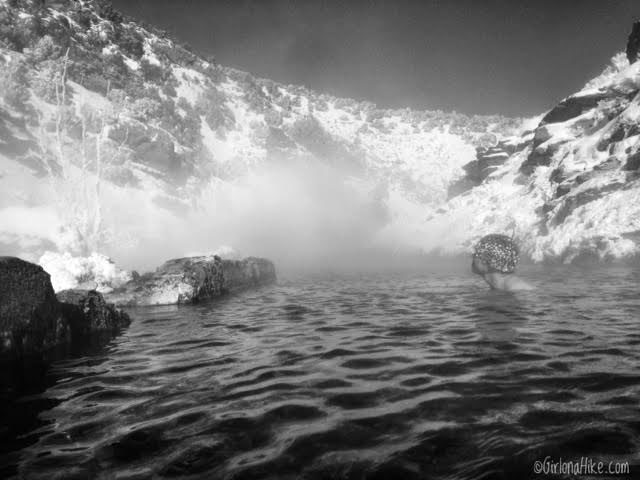 My friend takes in the beautiful canyon views. While the water looks dark from photos, when you are swimming in it, the water is incredibly clear! There is the usual algae floating around but you can always see the bottom of the pool.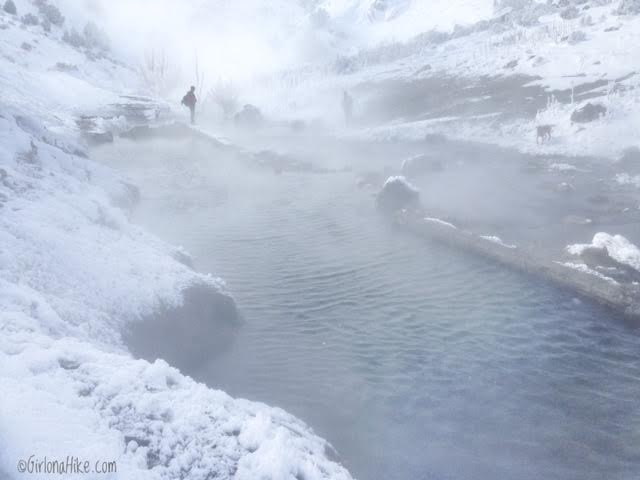 After soaking for roughly 2-3 hours, it was time to head back.
November 2019
This time I went back in November, and there was zero snow and it reached about 64F during the day. I definitely prefer coming here in the middle of winter after a snow storm! My 2nd time here and still no one else was there!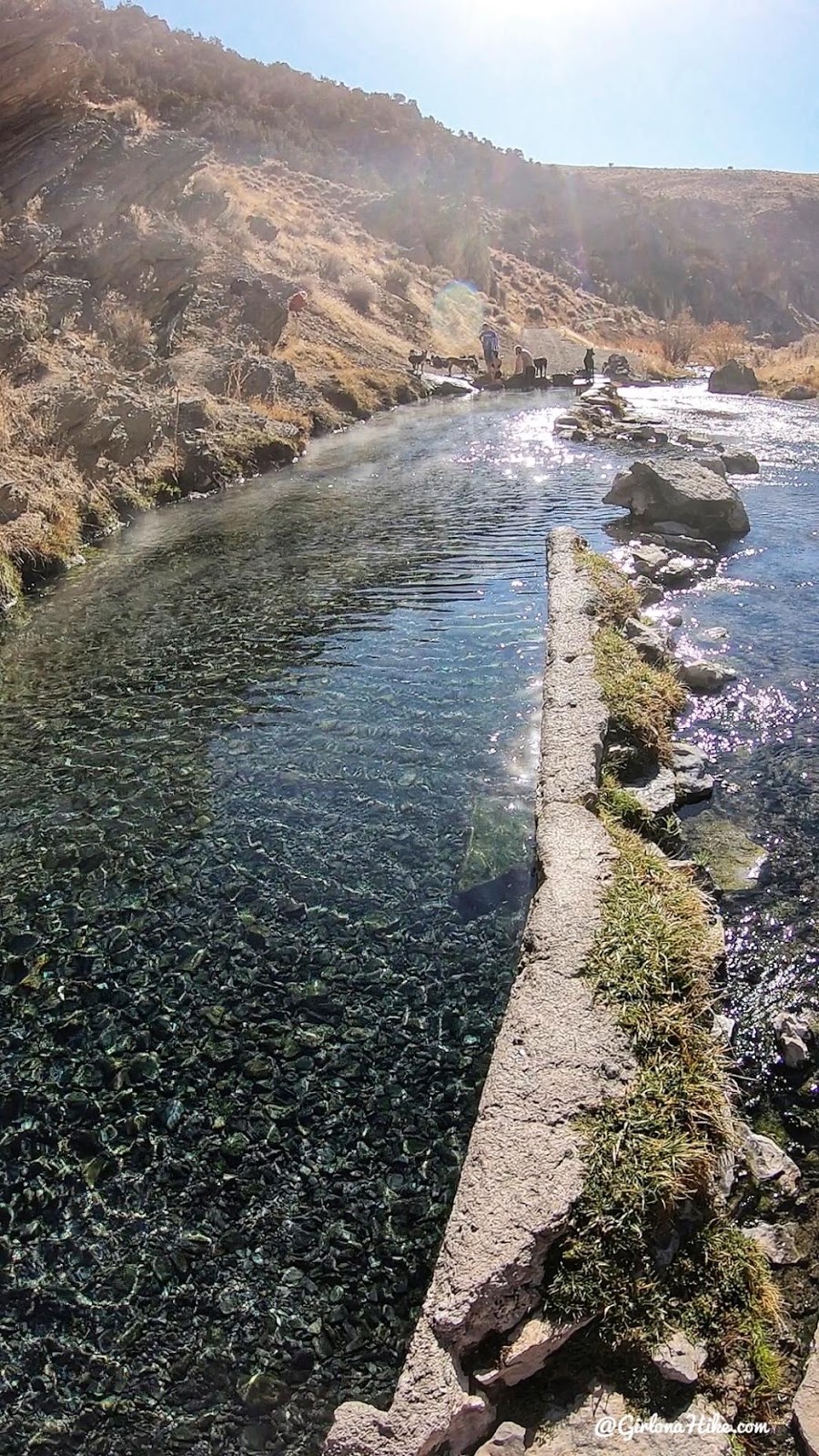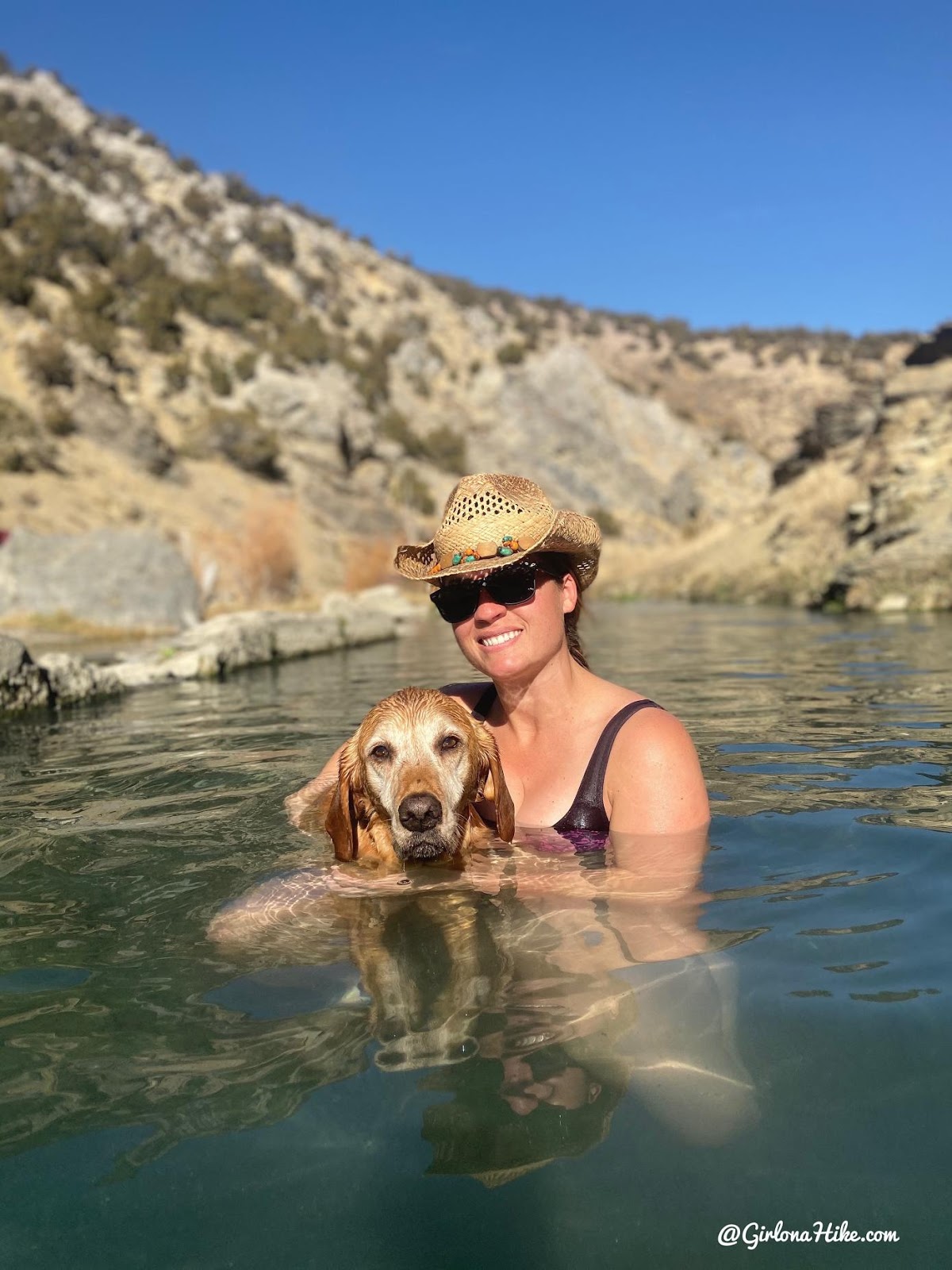 Soaking with my baby once again!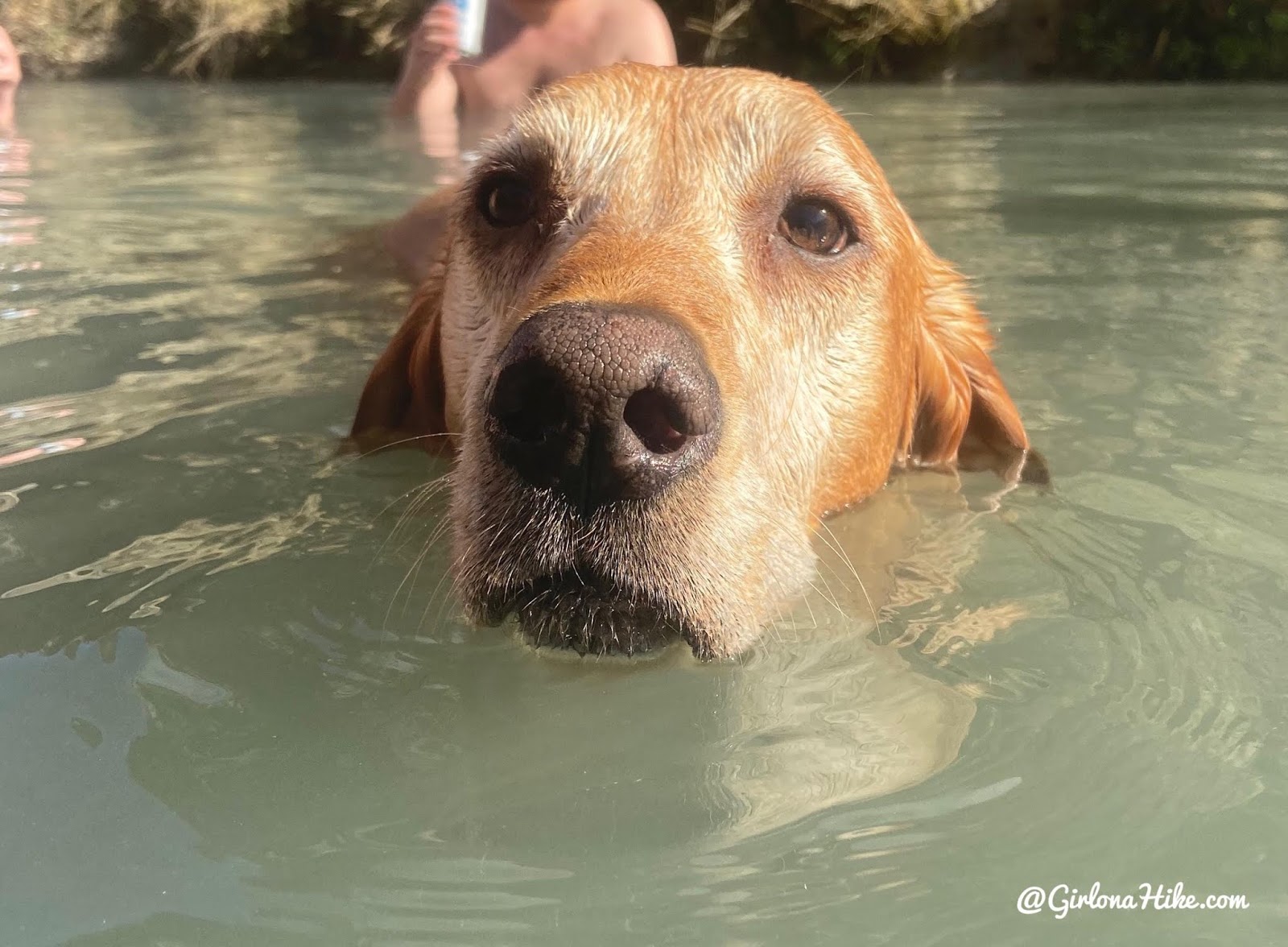 He loves swimming so much!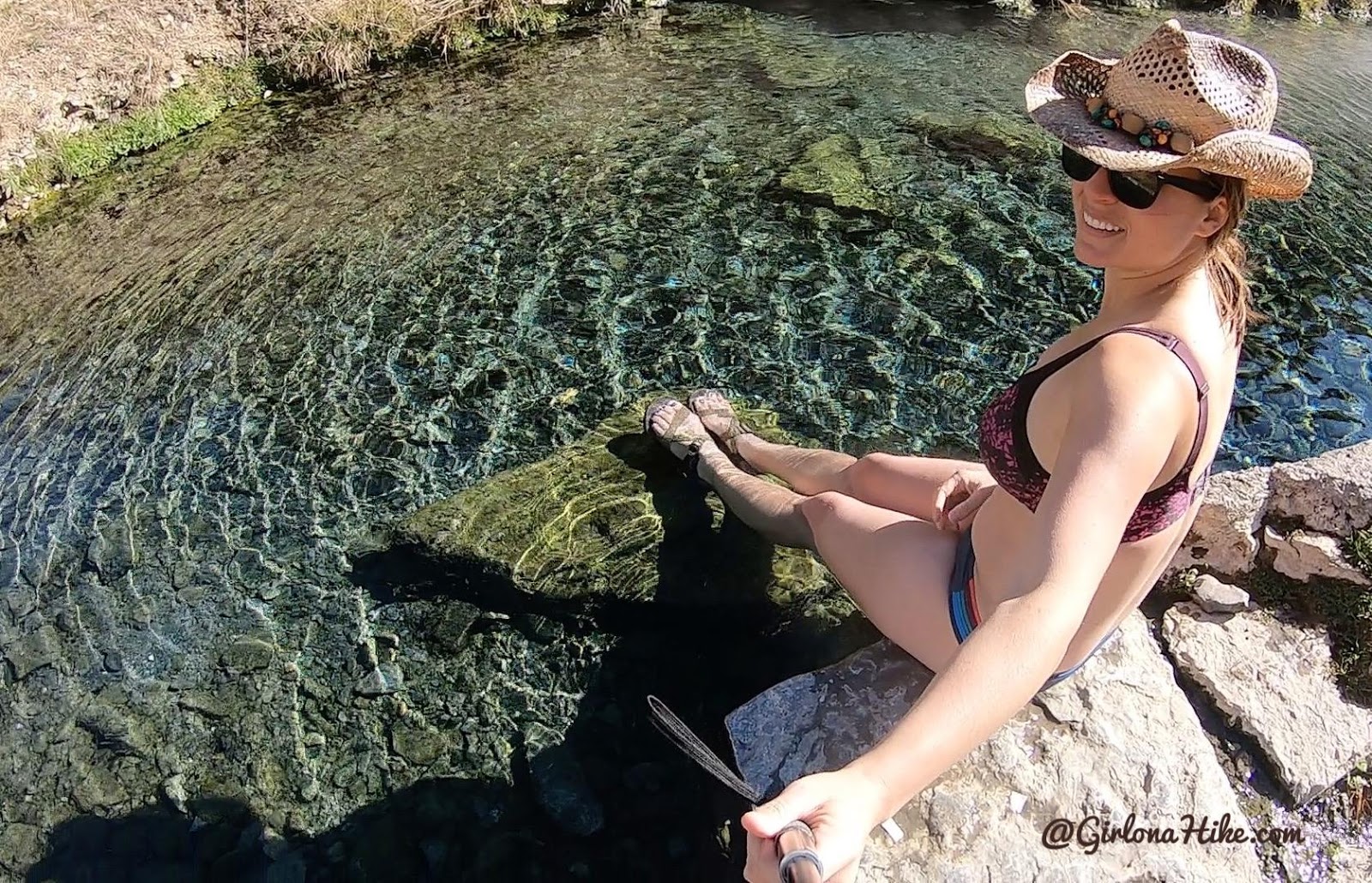 That water color is just amazing. So clear! Can't wait to come back again!
Trail Map
You can see from the trail that it is a pretty straight shot to the hot springs. My track via Gaia GPS – the best tracking app! Get your app here for a discount.
Recommended Gear
Nearby Hike
Exploring Utah's Sun Tunnels & Salt Falts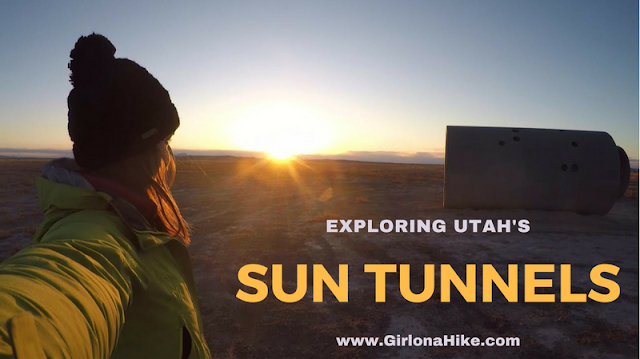 Hiking to Smith Lake via the Angel Lake Trail, Nevada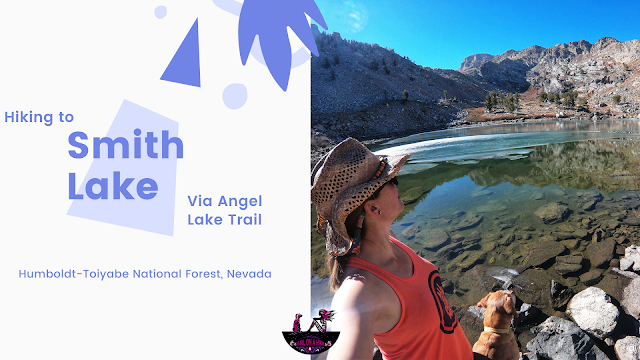 Save me on Pinterest!