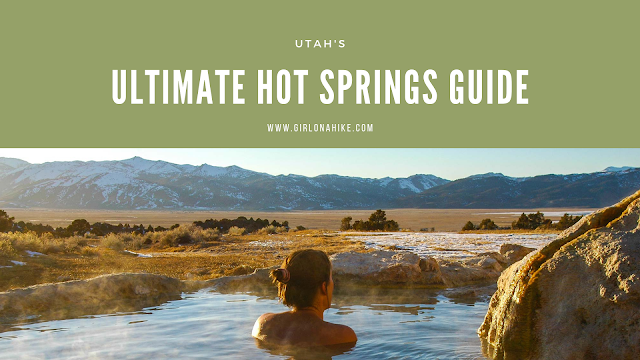 Utah's Ultimate Hot Springs Guide is here – everything you need to know in one spot! Winter is my favorite time to visit these locations listed, and you'll feel so relaxed after!
Be aware of the common courtesies and responsibilities of soakers:
1. Keep them clean!
Natural hot springs can't support soaps or shampoos (even biodegradable)  – don't add anything or apply things to your skin before getting in. If you need to apply sunblock, get out, apply it and let dry for around 30 minutes then get back in so it soaks into your skin, not the water. 
2. Leave No Trace
Always bring a trash bag to clean up around the area. Keep it clean for yourselves and other visitors! 
3. Be respectful of other soakers
Everyone comes to hot springs for their own reasons. Be respectful of those who want a silent/calm soak.
4. Not all dogs enjoy hot springs and neither do other soakers
While I typically bring Charlie to hot springs with me when allowed, keep in mind that not all dogs should or can get into hot springs. Always test the water yourself before letting your dog get in with you to make sure the temperature is safe. Not everyone also loves having dogs around hot springs, especially if your dog shakes off on their clothing and gear. Always being a long line to tie them up if needed, and bring your own poop bags.
5. Be aware of hot springs capacity
Some locations can only fit so many people, and especially with COVID, you don't want to be too close to others soaking. Do a little research beforehand about the size, capacity, and popular times can help you determine the best days/times to visit.
6. Always be prepared with food, water, a map, and extra batteries
Many hot springs are in the middle of nowhere, with little to no cell service. Pack like you are going camping for at least one night – bring plenty of food, water, a paper road map & trail map, extra batteries, a blanket, extra towels, layers of clothes, and any other winter gear you might need in case you get stuck in snow/mud or really do have an emergency and need to sleep in your car overnight. Have at least one water bottle with you at the hot springs to prevent dehydration (yes, it happens even while sitting in water).
While many believe that Blue Lake (Wendover, UT), Gandy Warm Springs, and The Crater Homestead (Midway, UT) are hot springs, they are only lukewarm and temperatures vary, and hence, why they are not listed here. The hot springs listed below are "true" hot springs with temperatures generally above 100F.
Let's start soaking!
Crystal Hot Springs is a natural hot springs in Northern Utah that ranges from 120-134 degrees F. The swimming pools are regulated so that you can soak in a range of temperatures from 98-105F. Crystal Hot Springs also contains the highest mineral content found in the world! It has roughly 46,000 mg/L – the average hot spring has closer to 1,000 mg/L. You'll notice this mineral content, as you lick your lips or wipe your hands over your face – it's very salty tasting. Get ready to soak in a 22,000 year old hot spring!
Meadow Hot Springs in Central Utah is a great family-friendly spot to hang out and soak in warm water. It's conveniently located right of I-15 and there's no hiking involved, so it makes for a great, quick soak when you are on a road trip. Meadow Hot Springs is located on private property in the middle of a cow pasture, but they do allow public access. There are a total of three pools to soak in, all around 100F degrees. The most popular pool is one of the smallest and closest to the parking area, and it is also the warmest. Each of the pools have algae in them, so its wise to wear water shoes to keep from slipping on the rocks under water.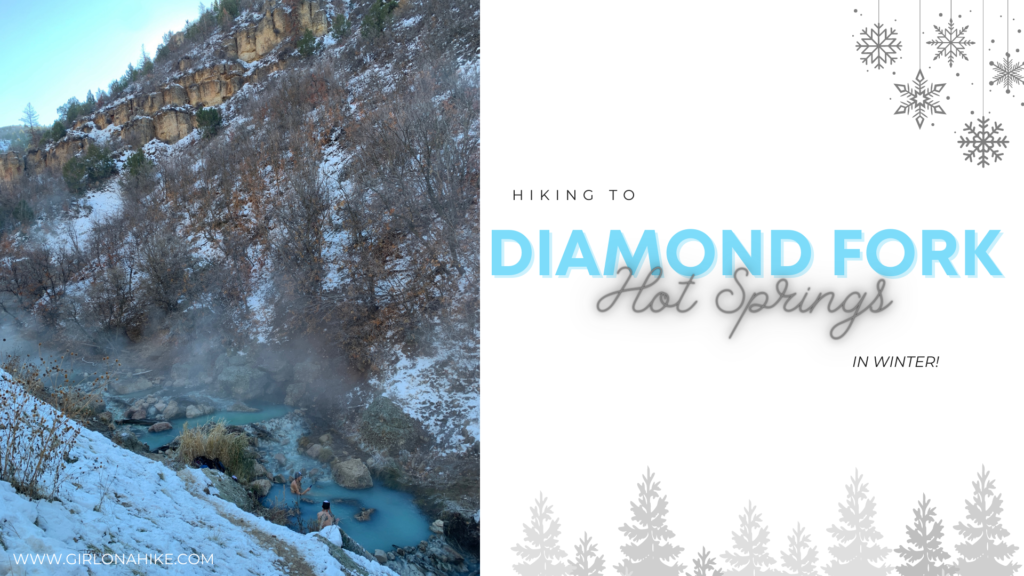 Diamond Fork Hot Springs is one of Utah's must-see places! Offering several pools ranging in hot temperatures, it's a great place to soak away your worries, take in nature, and relax. Hiking to Diamond Fork requires a 2 mile hike in Summer, and in Winter it's 6 miles one way. These hot springs are extremely popular so don't count on getting any alone time. However, the hike in and soak is well worth it – you might even make some new friends depending which pool you sit in!
Mystic Hot Springs is located in Monroe, Utah, about a 2.5 hour drive south of SLC. Among all of the hot springs in Utah, this is by far the most unique, but also the most expensive. The natural hot springs flow into 6 large bathtubs, and two smaller, shallow pools. The closer you soak to where the water flows from, the hotter the water is
Red Hill Hot Springs is a popular soaking destination in central Utah, in Monroe. It consists of four pools, all fed by one very hot water source on top of the mound above the pools. Because this hot springs is free (and also on private property), it gets very crowded especially on weekends. The owners allow people to visit as long as the place is cleaned up after and not destroyed. This is a great place for families looking for a really nice hot springs that you don't have to hike to.
Baker Hot Springs is a small, natural hot springs located in Central Utah, not too far from Delta, Utah. The source of the hot springs is around 180F, but a trench helps the water flow down to three large tubs.  The further you are away from the source, the cooler. This natural hot springs is great for kids and families, dogs, and is free!
Saratoga Hot Springs is a local warm spring, located in Saratoga Springs, Utah right on the NW edge of Utah Lake. It's is about 20 x 30 ft in size, and very shallow around 1-2 feet deep, surrounding by tall lakeside grass. This spring is on the lukewarm side.
=