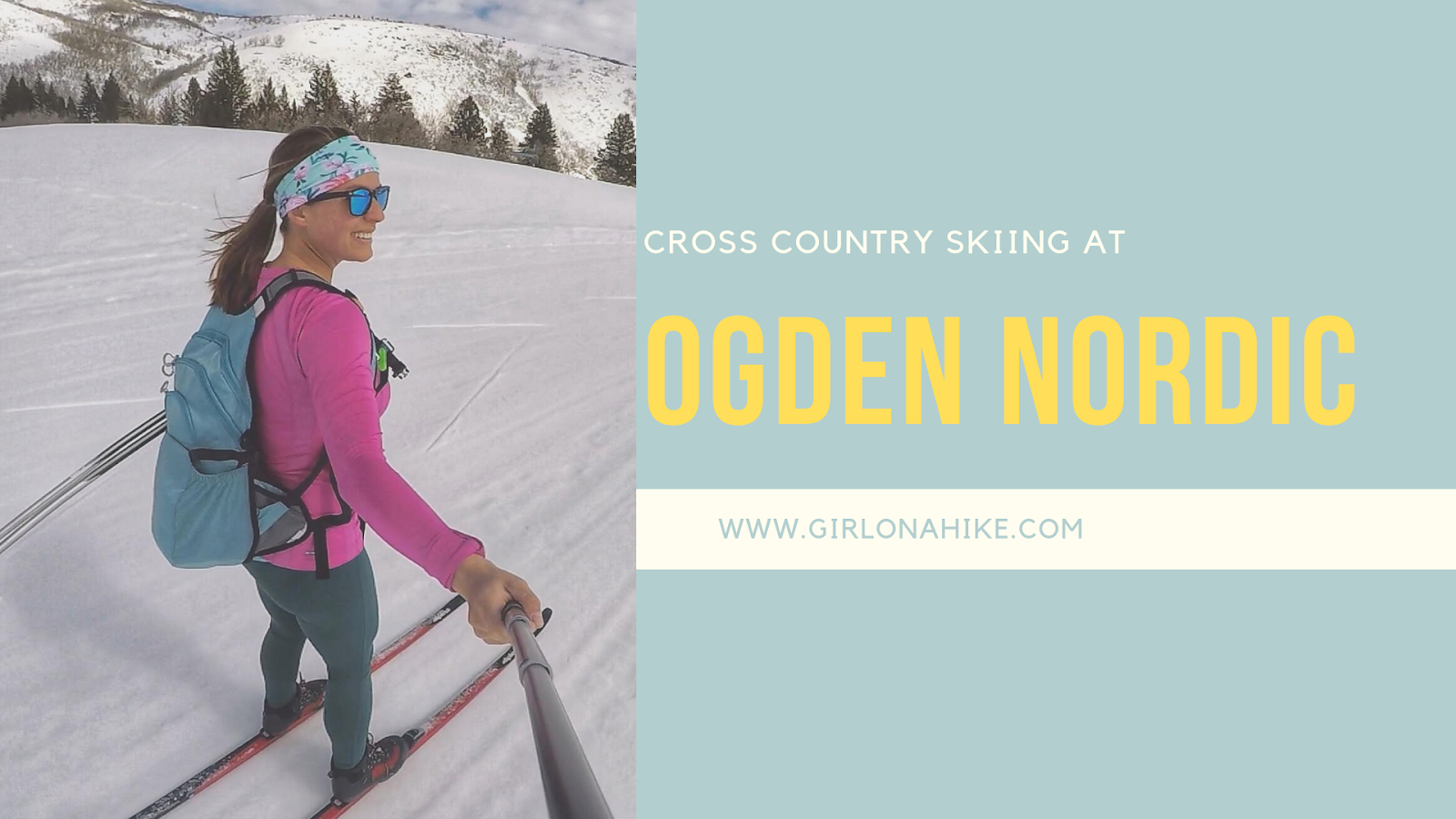 Cross Country Skiing at Ogden Nordic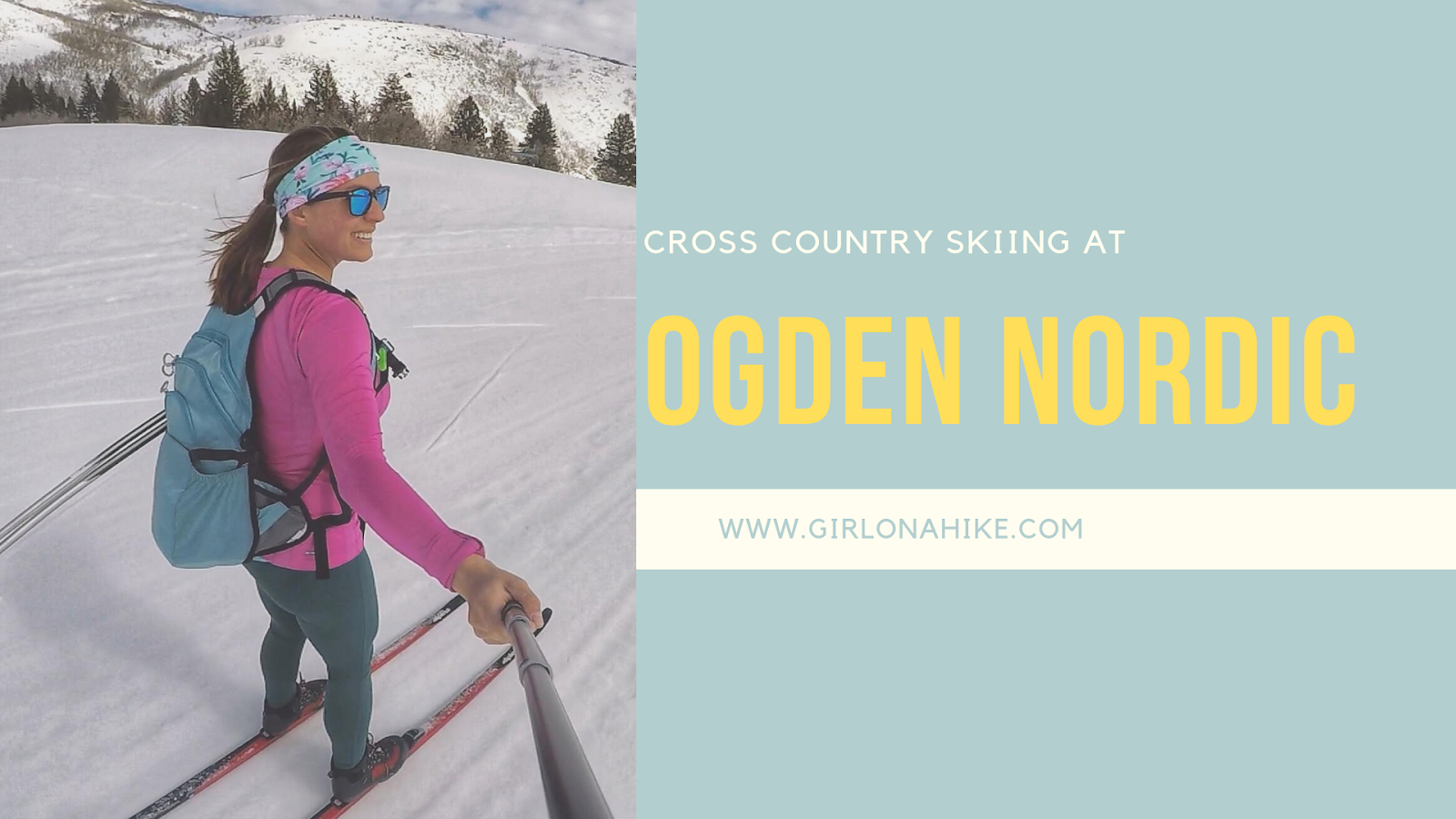 Ogden Nordic

is located in Eden, Utah, northeast of North Ogden. Ogden Nordic began in 1997, as a non-profit organization including several community outreach programs such as Utah Special Olympics, ski school, hosting Winter Trail Days, Junior after school ski program, races, and moonlight glides. They have roughly 30k (18.6 miles) of groomed trails, with mostly beginner and intermediate skill levels. A handful of experienced trails are available as well. Rentals are available, and the daily trail fees are noted below.
While Ogden Nordic is dog friendly, it is required that they remain on-leash for your entire ski. This area gets busy on weekends, with both humans and wildlife. Moose are known to frequent this area, so please keep a safe distance from them. In addition to cross country skiing, Ogden Nordic also has fat tire bike and snowshoe-only trails to offer something for everyone.
Directions
From SLC head north on I-15 and take exit 349. Drive 2.7 miles then turn left on N 1050 E. Right on E 3100 N. This will put you on North Ogden Canyon Road. Drive the very narrow and windy road over the divide, then turn left on E 4100 N. Drive 1.3 miles then veer left onto N 3300 E. Turn left again at 5950 North, following the signs for Ogden Nordic. Drive to the very end of the road, where Ogden Nordic is located.
Here's a driving map.
Trail Info
Dog friendly? Yes, on-leash only
Kid friendly? Yes, plenty of beginner terrain
Day Use Fees: 
13 & up – $6
12 & under – free
Fatbikes – $6
Snowshoes – $3/person, $6/family
Punch pass for 5 visits (ski & bike) – $25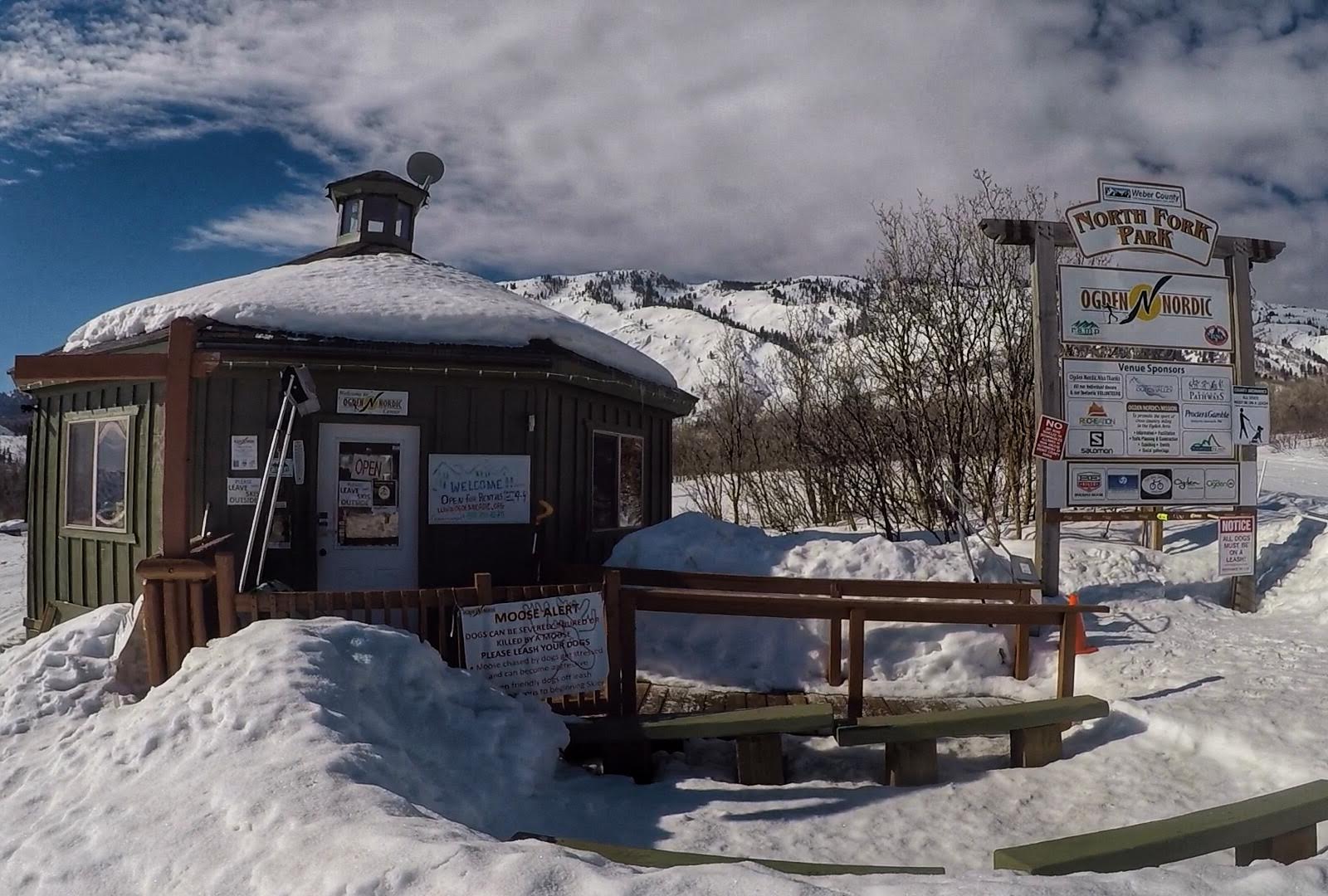 Inside the yurt is where you'll find the rentals. Be sure to check in so you can also get trail updates, change shoes, etc. The restrooms are two port-a-potty's located on the North side of the parking lot. The fee booth is just to the right of the large white sign.
Rental Fees
Adult/Teen/Child
Classic XC skis: $10/8/5
Skate XC skis: $15/8/8
Snowshoes: $10/7/5
Fat Tire Bikes: not available for rent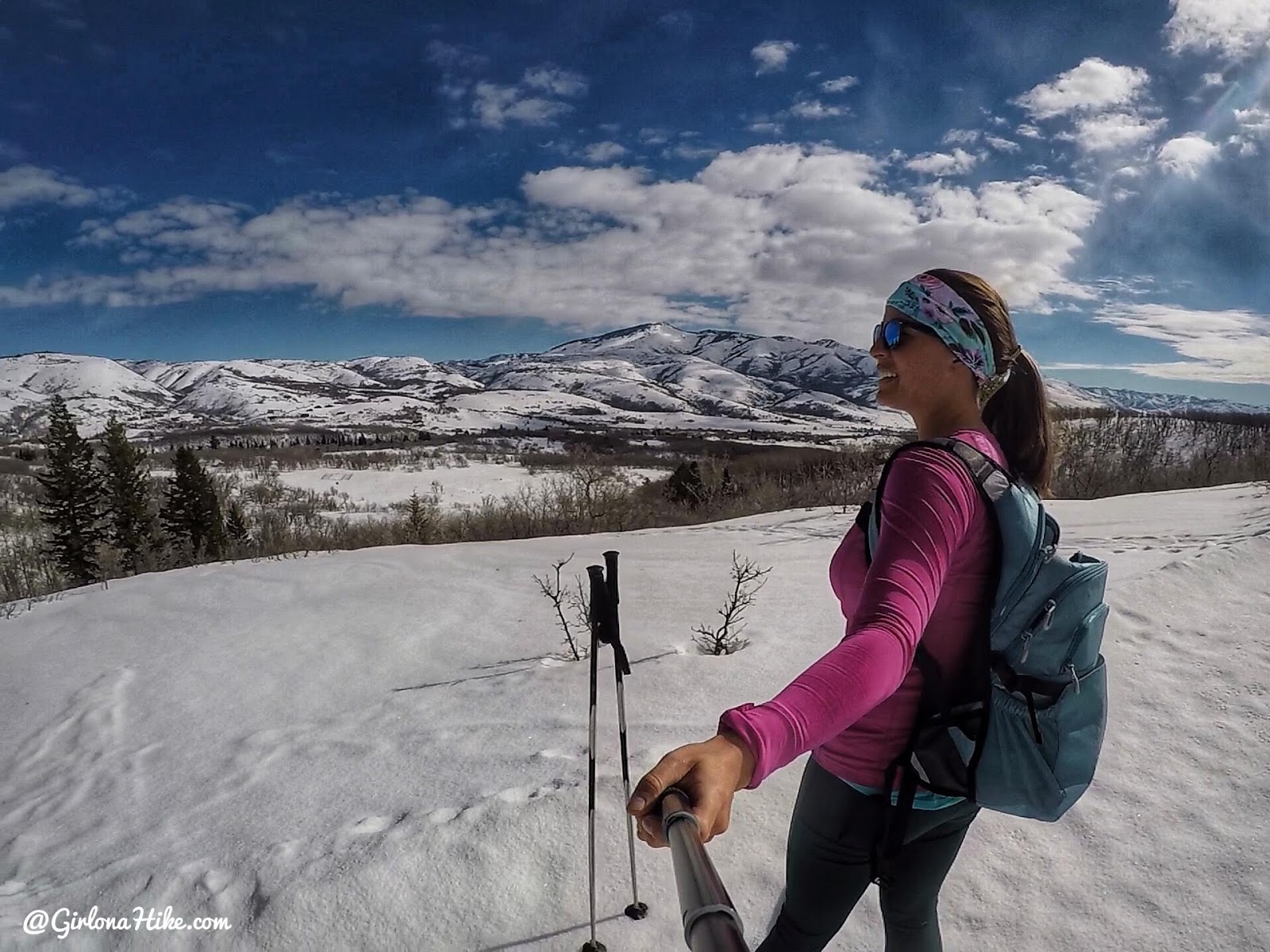 Less than a mile in, and the views are amazing! That mountain in the distance is Powder Mountain, the downhill ski resort.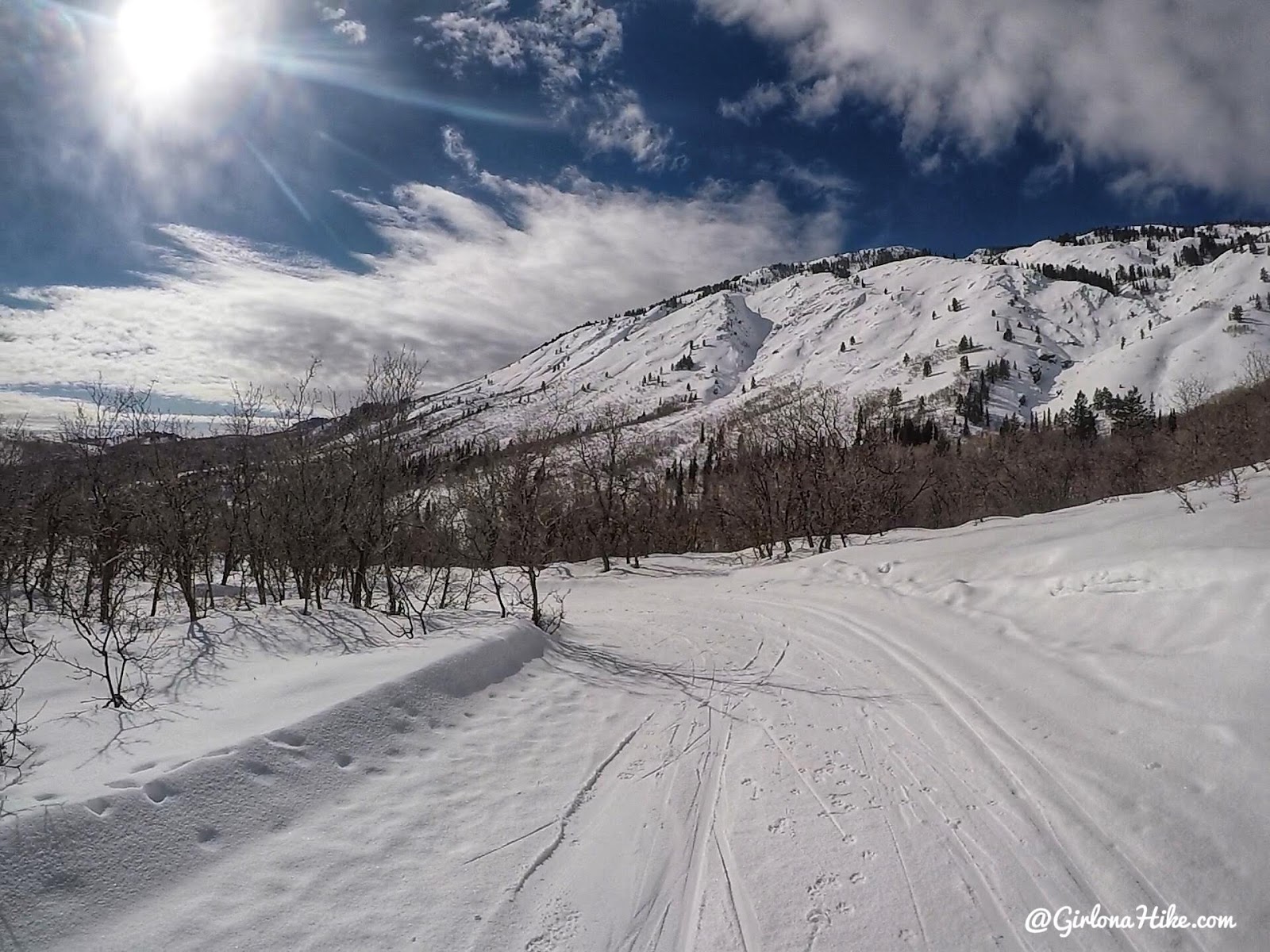 This views is the East facing slope of Ben Lomond Peak.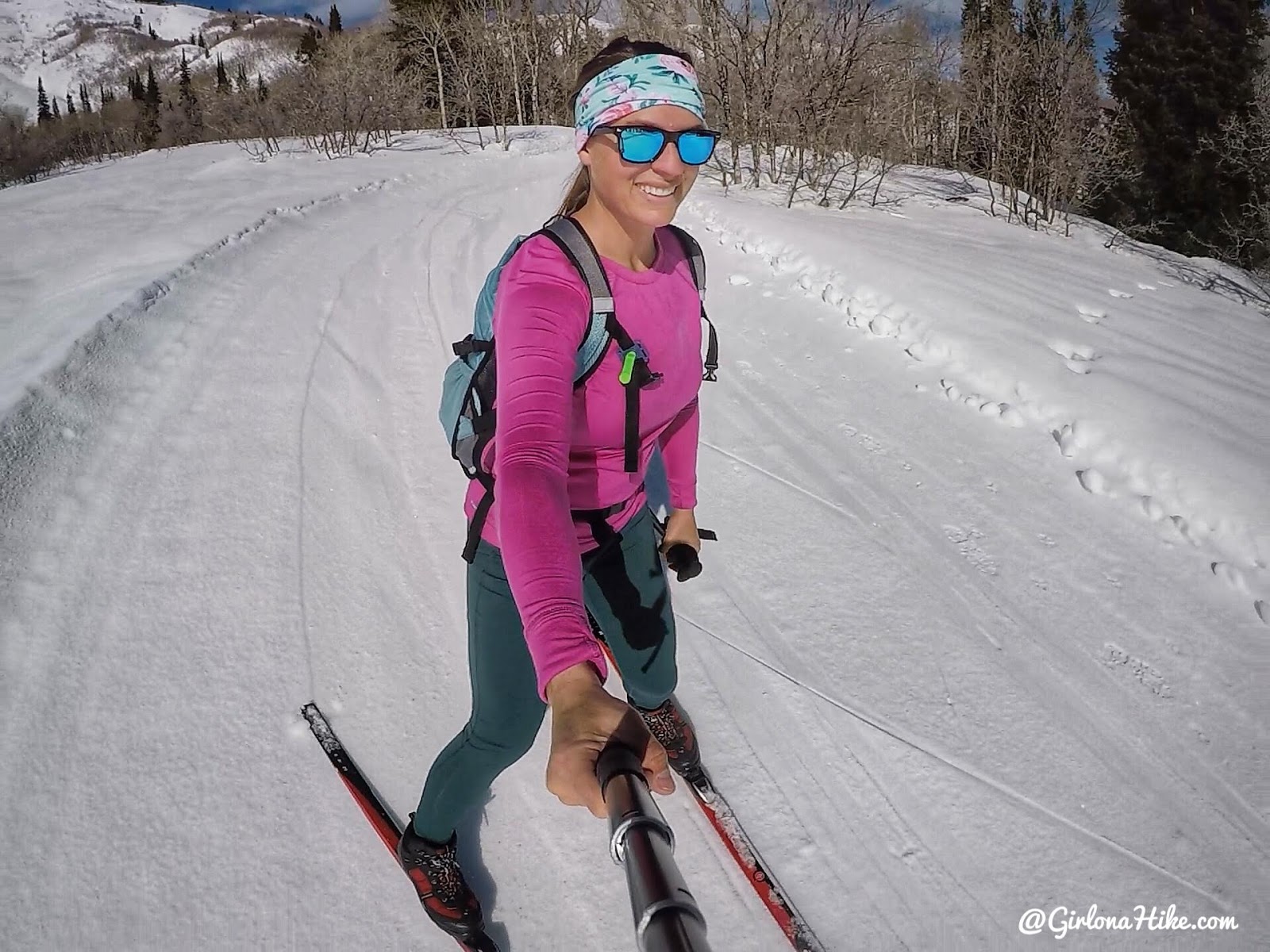 Finally, ready for some downhill!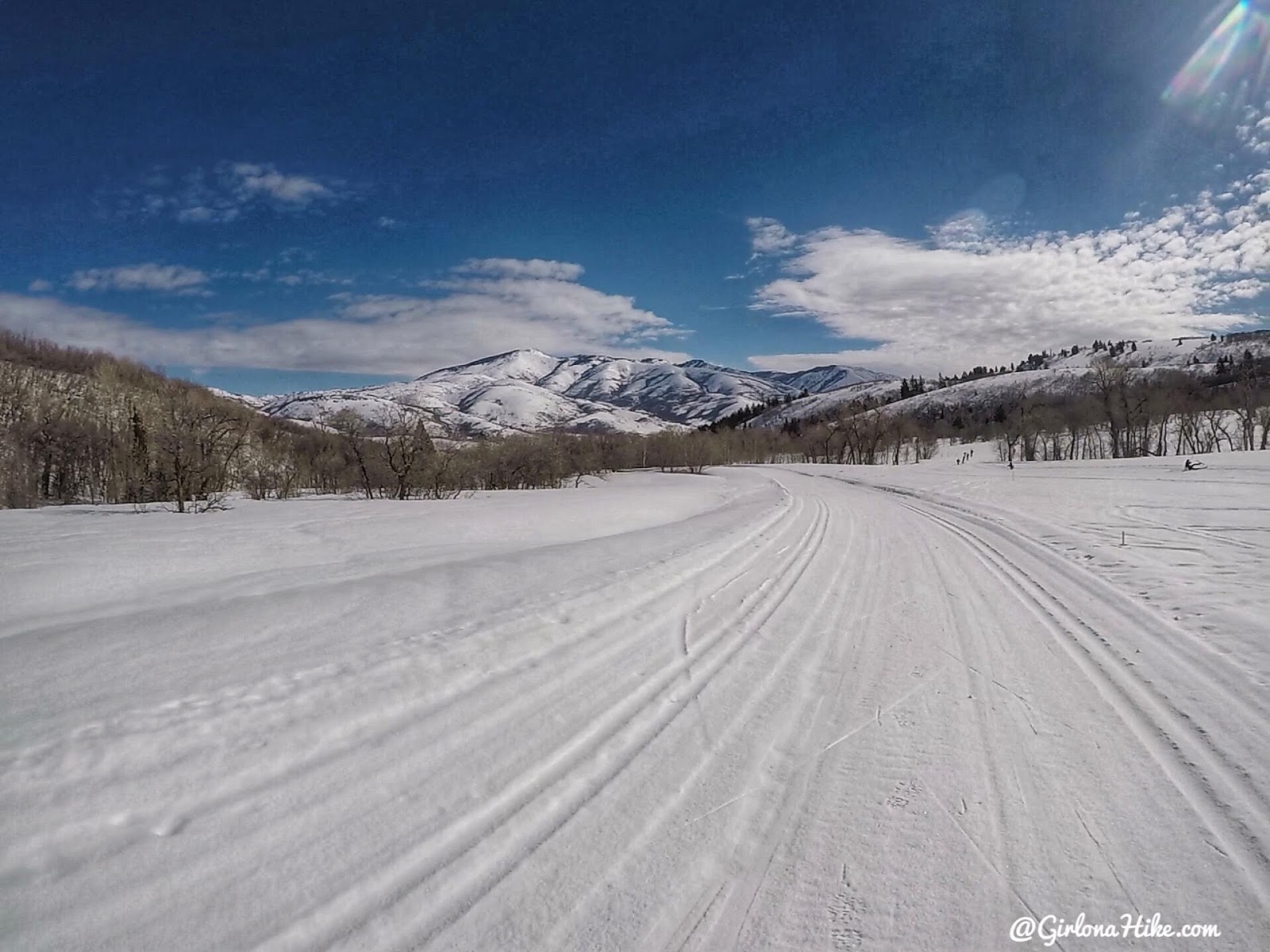 Loving these groomed trails! A team of 26 volunteers keeps these tracks nice and groomed 6 days a week.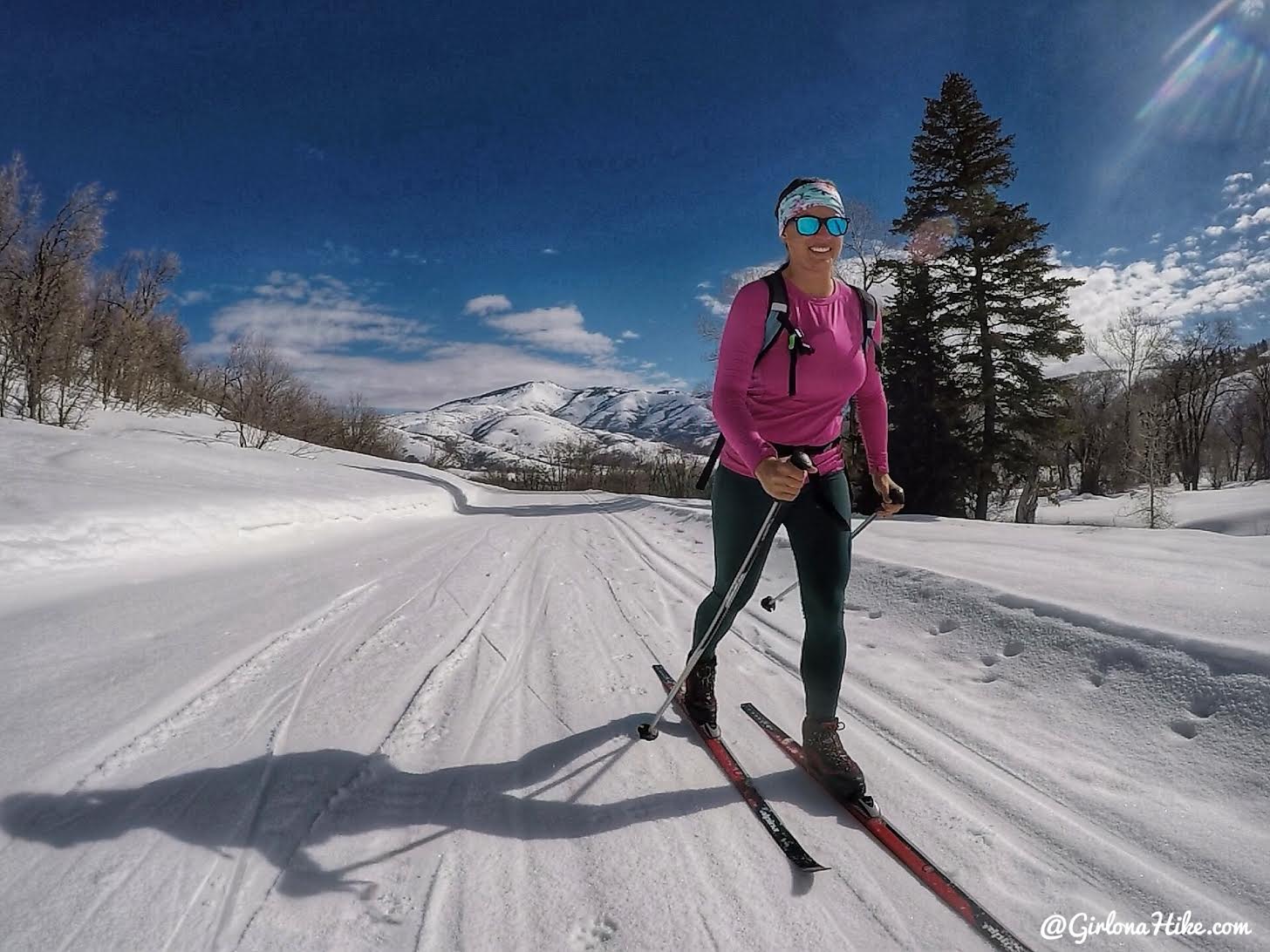 The temperatures were hanging around 40-45F, so the snow was staring to get nice and soft.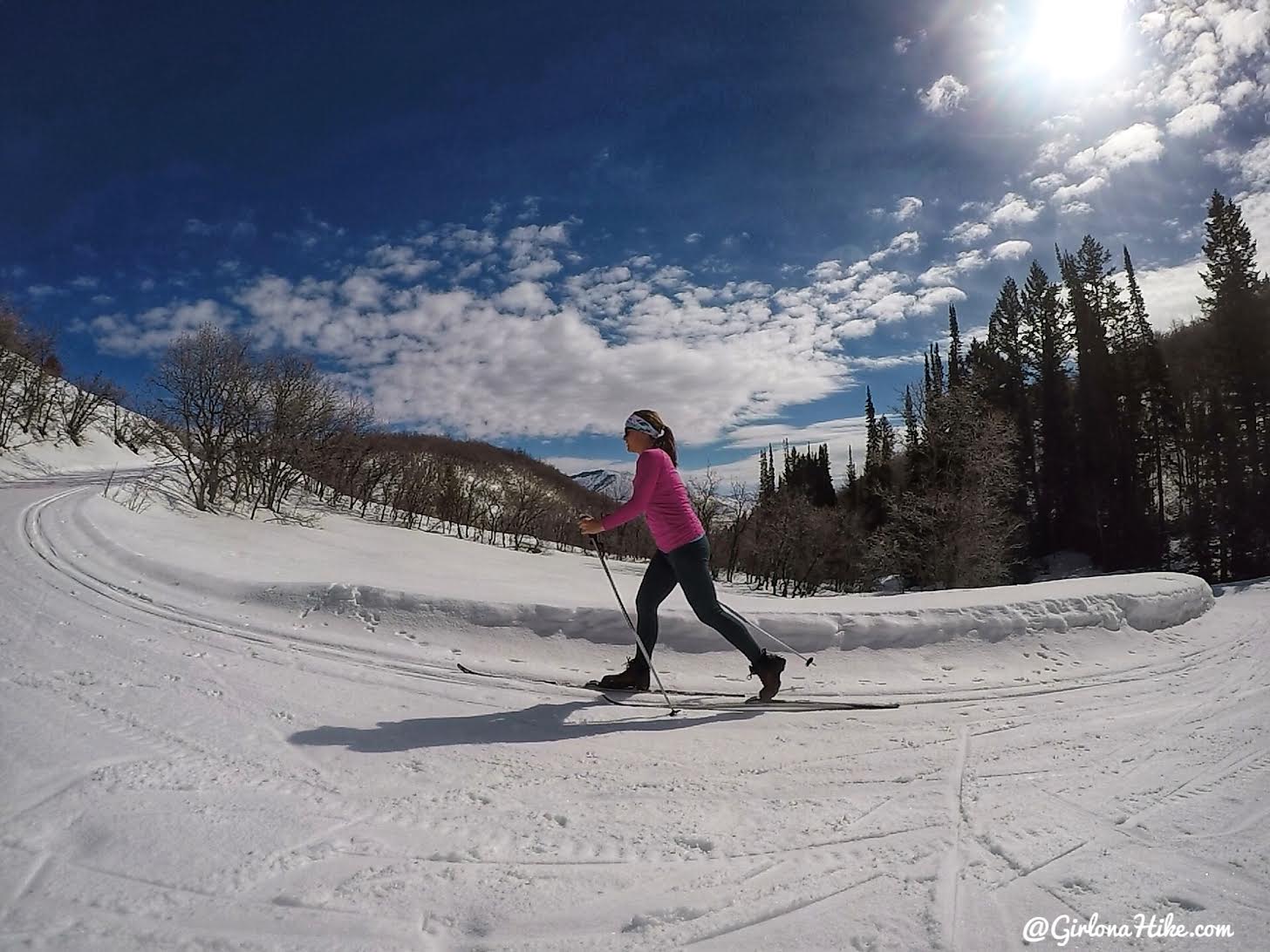 Just around this bend, however, there was a shaded section of trail that was really icy. I didn't feel super comfortable skiing down it so I took my skis off – check out my YouTube video below for how that turned out.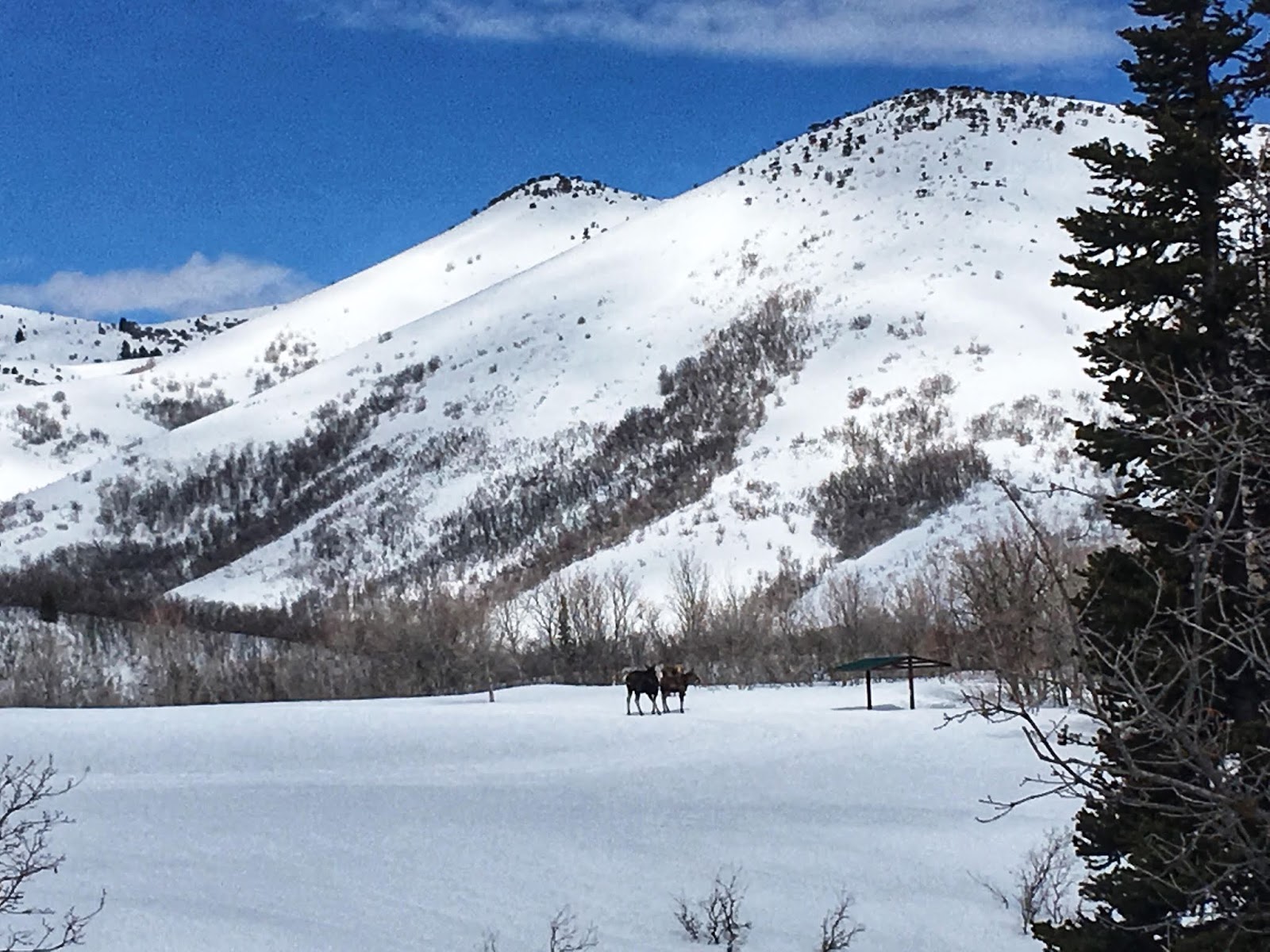 Ogden Nordic is well known for having a lot of moose in the area. It's a very wet area with several meadows, so they like to hang out here. This is another reason why dogs need to be leashed, for in case you come across the active wildlife here.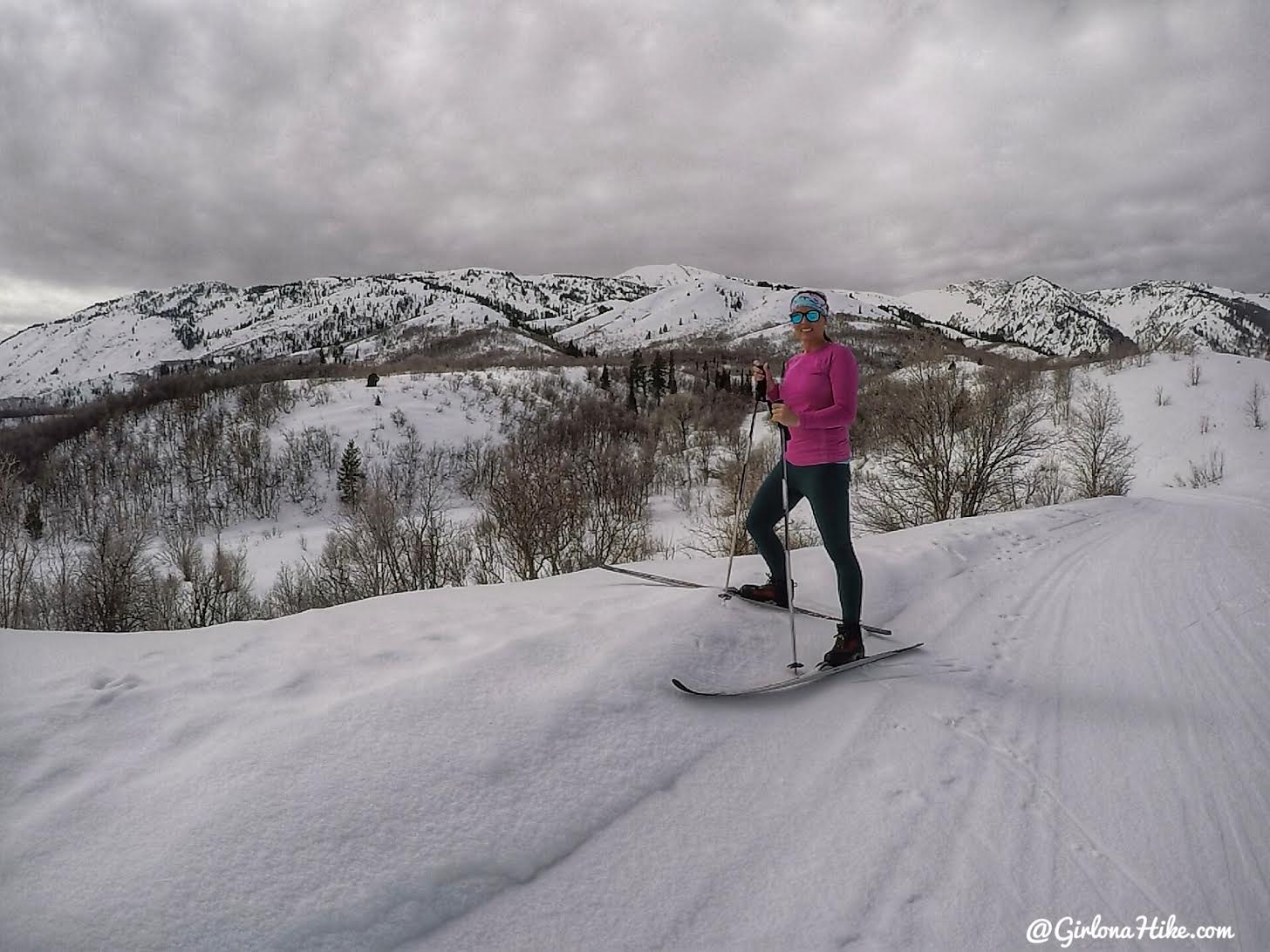 Amazing view of both Ben Lomond & Willard Peak!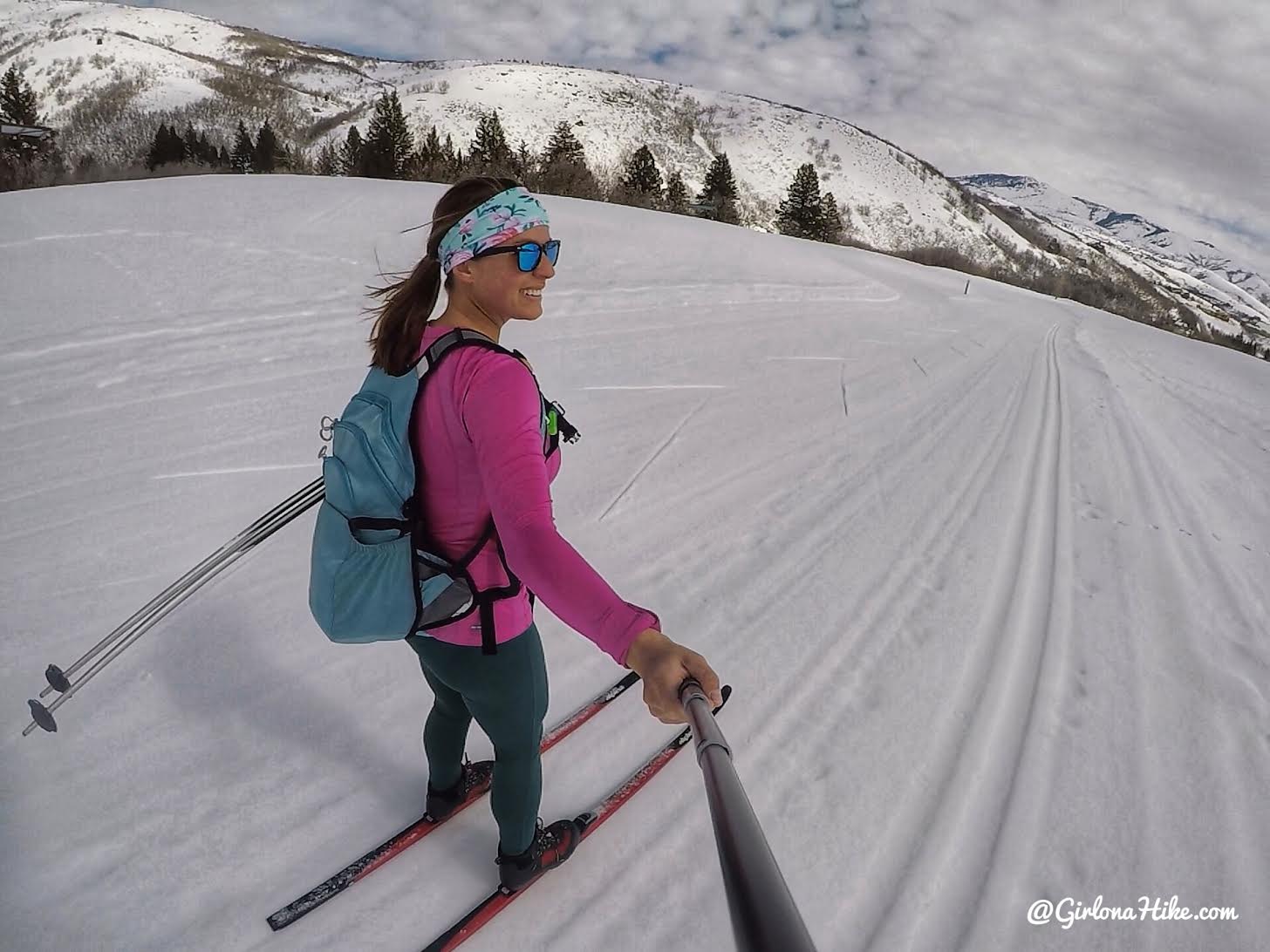 Weeeeee!
 I ended up skiing 7.6 miles! I also got a bad face and neck sunburn – I didn't carry or event think about putting sunblock on because it's still winter, but now it's in my pack! No more red face for me haha!
Check out my video
Trail Map
My track – only 7.6 miles completed (12km out of 30km).
 Get your Gaia GPS app here for a discount.
Recommended Gear

Save me on Pinterest!