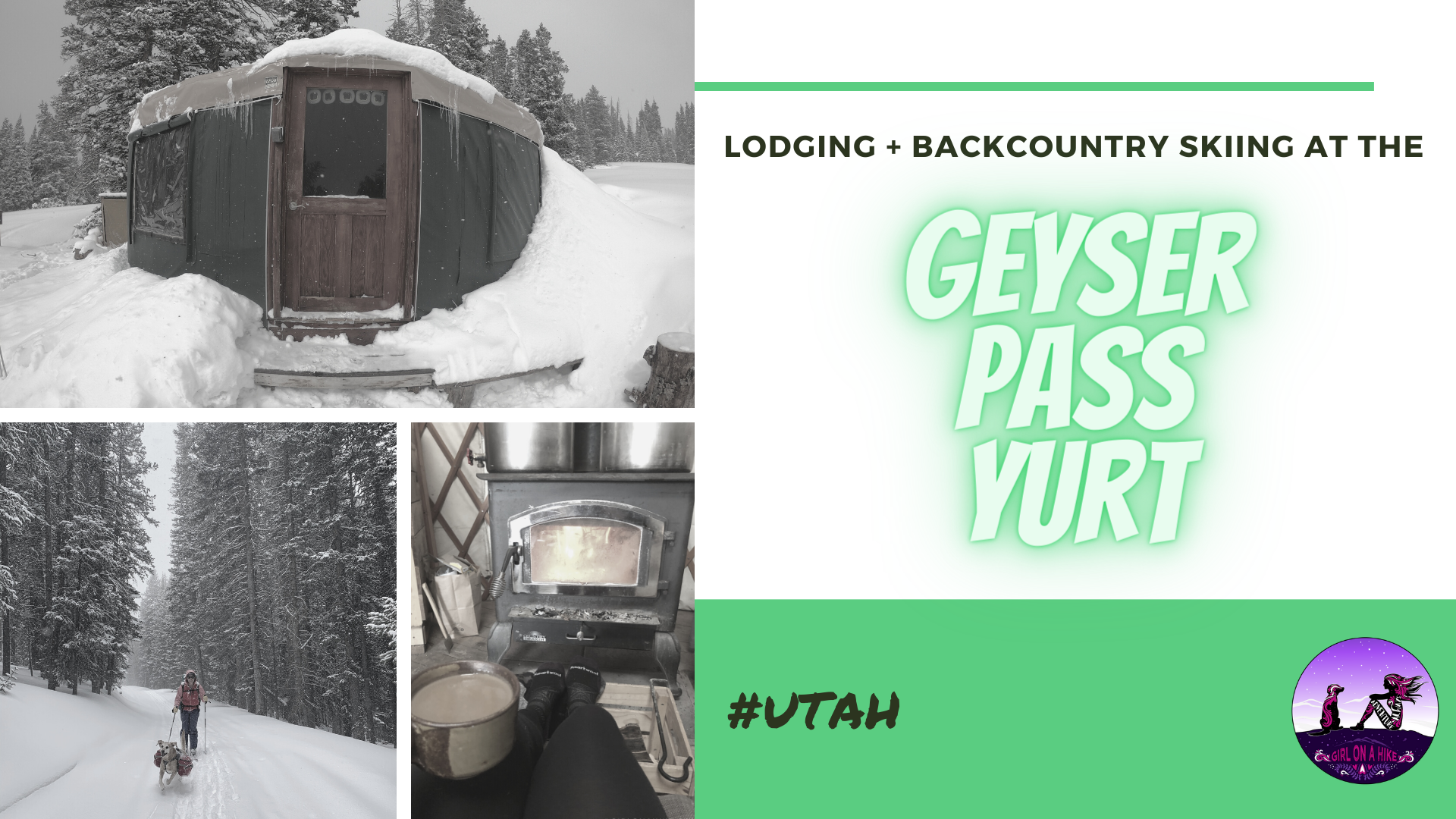 The Geyser Pass Yurt is located in the LaSal Mountains, just outside of Moab, Utah. To reach this yurt requires a 4 mile ski or snowshoe in, following the forest road that is usually drive-able in summer months. It's located right in the pass, just to the SE of Haystack Mountain and to the south of Mt.Tomasaki at 10,500 ft!  While on the Manti-LaSal National Forest land, this is a privately owned yurt by Talking Mountain Yurts (TMY). They have a special permit for their yurt to be on National Forest land.
About
Since we had plans to backcountry ski, we skied in the road which is very gradual. The summer forest road gains a mere 1,000 ft over 4 miles, or roughly 250 ft/mile from where the winter trailhead is located. You'll ski under tall aspen trees with views of all the surrounding peaks – if it's a clear day! On the days we went, it snowed the entire time, and we got about 2 feet of snow over two days. The Geyser Pass yurt is equipped with everything you need except for bedding and food, mostly. Read my FAQs section for a full list.
The yurt is dog friendly, plus kids will also enjoy hanging out here. If you plan to do activities in winter outside of the yurt (touring, snowshoeing, etc), make sure you read the Utah Avalanche forecast for the LaSals/Moab here or on their Instagram page (though it's not updated as frequently on there). This yurt is also available in summer months.
Directions
From Moab, head south on HWY 191, and turn left on Old Airport Road. At the "T" turn right. Follow signs for LaSal Scenic Loop Road. Turn right for Geyser Pass and drive about 4 miles until you see the restroom on the left in a giant parking area that ends where the road is no longer plowed. I would suggest that only 4WD cars or SUVs or larger drive this road in winter. I had it in 4WD the entire drive up due to fresh snow and sliding around a little. Make sure you have your winter box in your car – chains, gloves, extra water, snack bars, etc. Even though it's only 4 miles, if you get stuck, you will be waiting awhile for help. This is another reason why I carry my ZOLEO everywhere!
Here's a driving map.
Trail Info
Distance: 3.8 miles one way
Elevation gain: 1,000 ft
Time: 2-3 hours one way
Dog friendly? Yes off leash
Kid friendly? Yes, all ages
Fees/Permits? Yes, see reservation fee info below
FAQs
How can I make a reservation?
Reservations can be made on here on their website. Scroll down to the bottom to view the calendar for openings, and click on the date you want.
How much does it cost to stay at the yurt?
The yurt cost $275 for 1 night, however the longer you stay you will get a discount. It's an extra $50 per dog (2 max). I got a great deal for much cheaper around Black Friday/Cyber Monday so you can always check out deals around that time as well. Be sure to follow their Instagram page for last minute deals!
How many people can stay in the yurt?
It can sleep 8 people and 2 dogs max. However, I wouldn't sleep more than 6 people just so you have at least one bunk bed area to put all the gear.
What does the yurt provide?
For a full list of amenities, check out this list.
Is there water access?
No. You either need to carry it all in, or melt snow, boil, or filter.
What should I bring?
-Your own sleeping bag and pillow
– food & alcohol
– games or cards
– crocs or down booties for inside the yurt
– firewood is provided but you need fire starter & a lighter
– any other entertainment you want!
For a full list of what TMY suggests brining, check out their list.

Since this yurt is a 3-4 hour drive from my house, we got a hotel in Moab the night before so that we didn't have to make that drive and do a 4 mile ski in. We got to spend more time in the yurt this way, plus didn't feel rushed. I would definitely recommend doing the same if you have a longer drive. Red Rock Bakery has the best scones and coffee drinks for your morning departure to the yurt!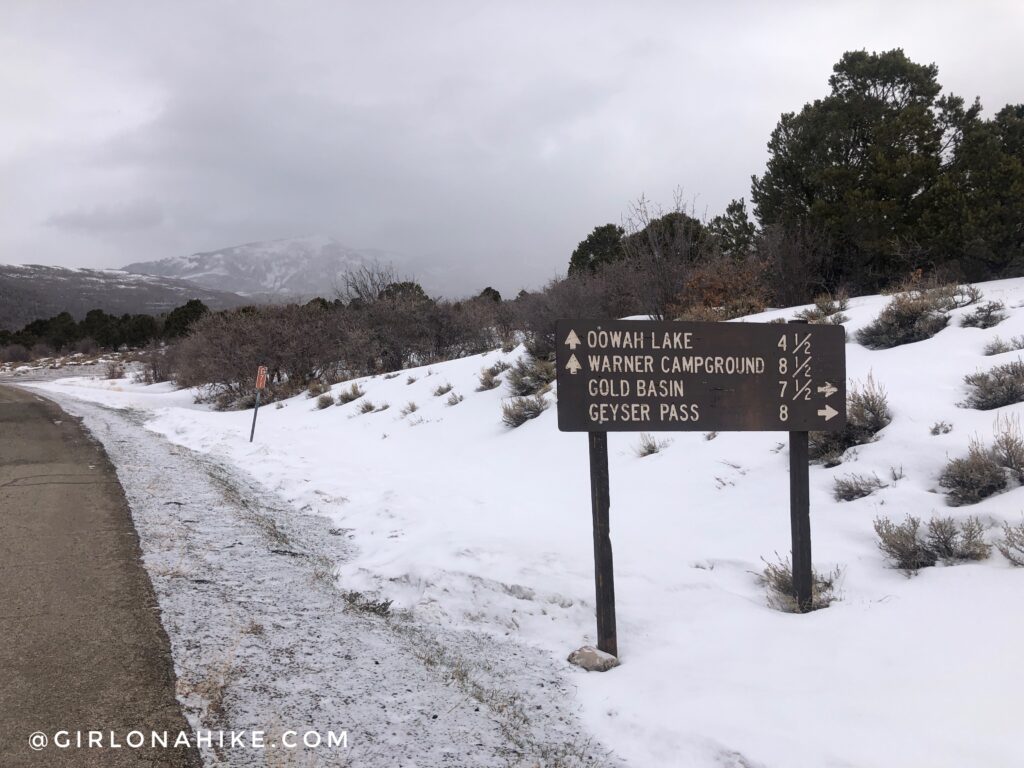 From the LaSal Scenic Road, you'll see the brown sign for Geyser Pass (on either direction you come from). Turn here, then drive up to the end of the plowed road, about 4 miles up.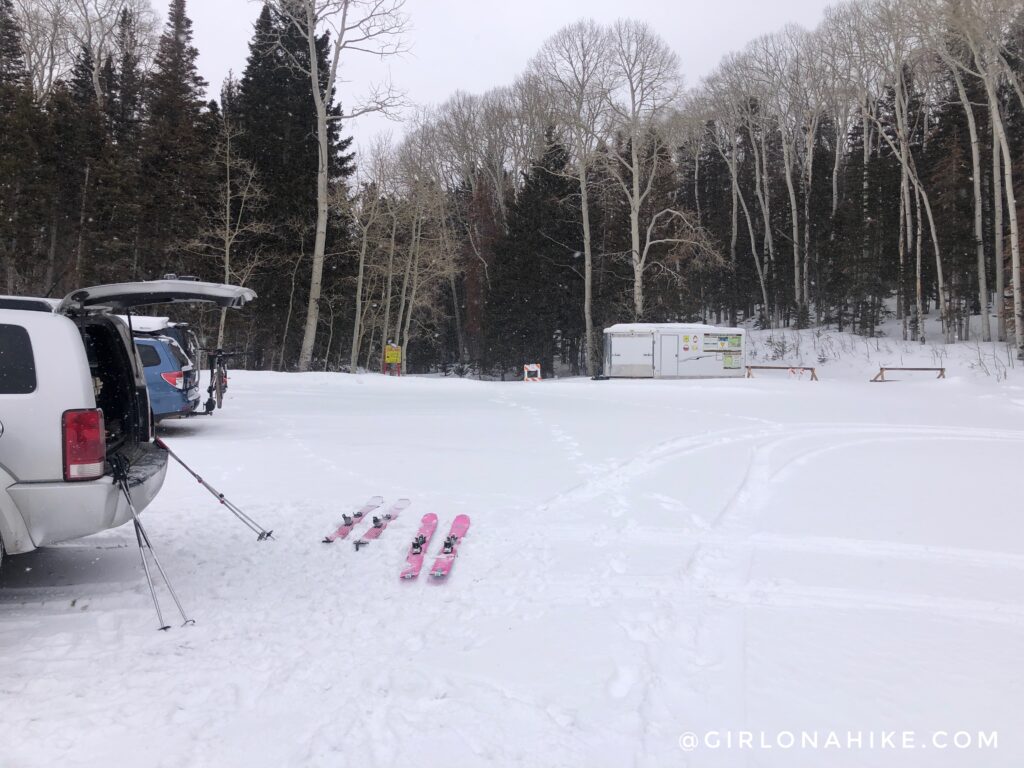 The end of the road in winter is marked by a port-a-potty on the left, and the trailer and fence where you will begin your ski in.
Ready to go! The road is very flat most of the time.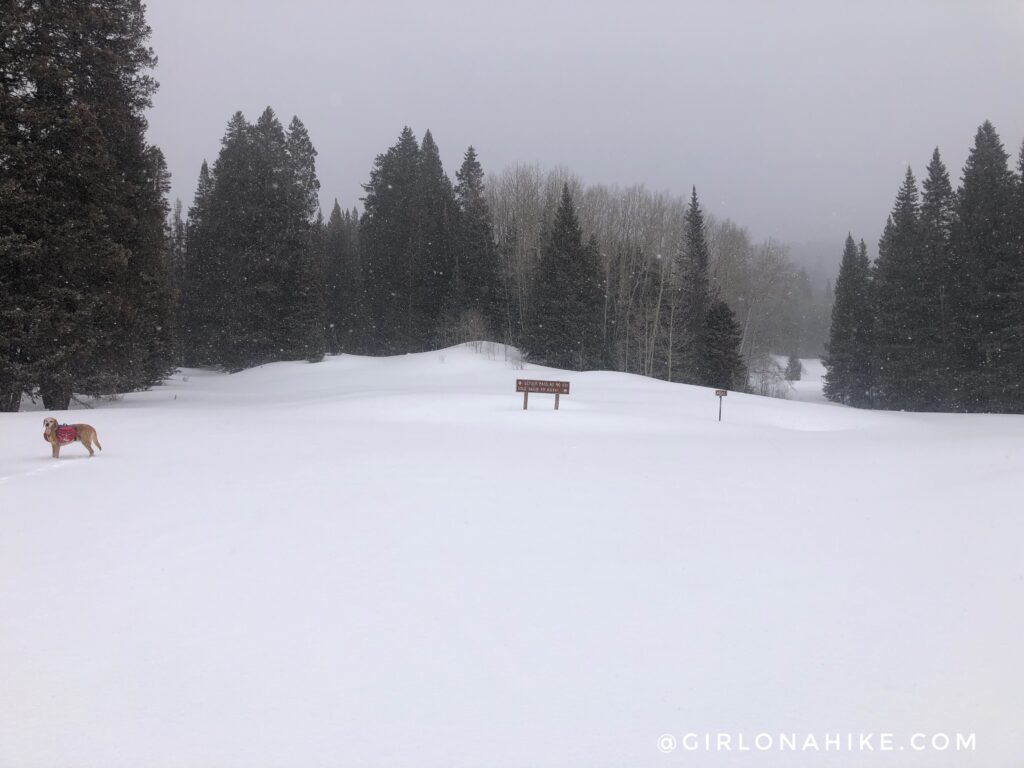 At 1.0 mile you will see the split for the other TMY, the Gold Basin Yurt, which is only a 1.5 mile ski in vs the 4 miles for Geyser Pass Yurt. This would be a better option if you have small children.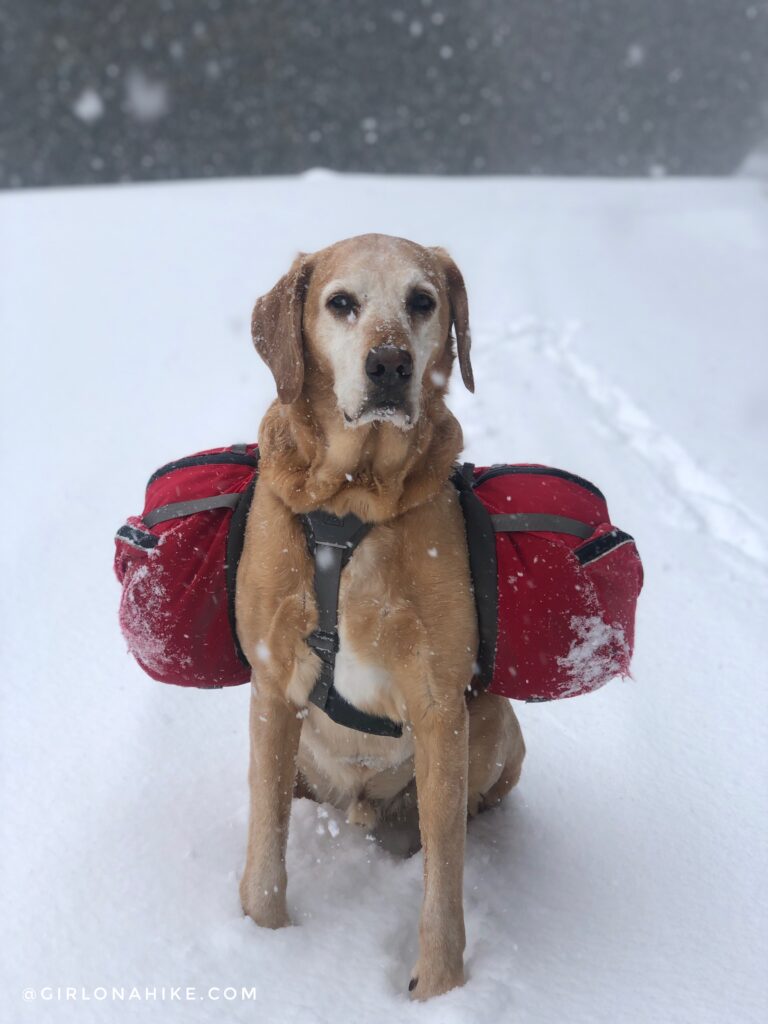 Charlie loves wearing his backpack! For this trip he used his Ruffwear Palisades pack, and carried his own food, Ruffwear Powder Hound jacket, packable bowls, and a small down blanket. He didn't need to carry his backpacking bed since there are bunks to sleep on.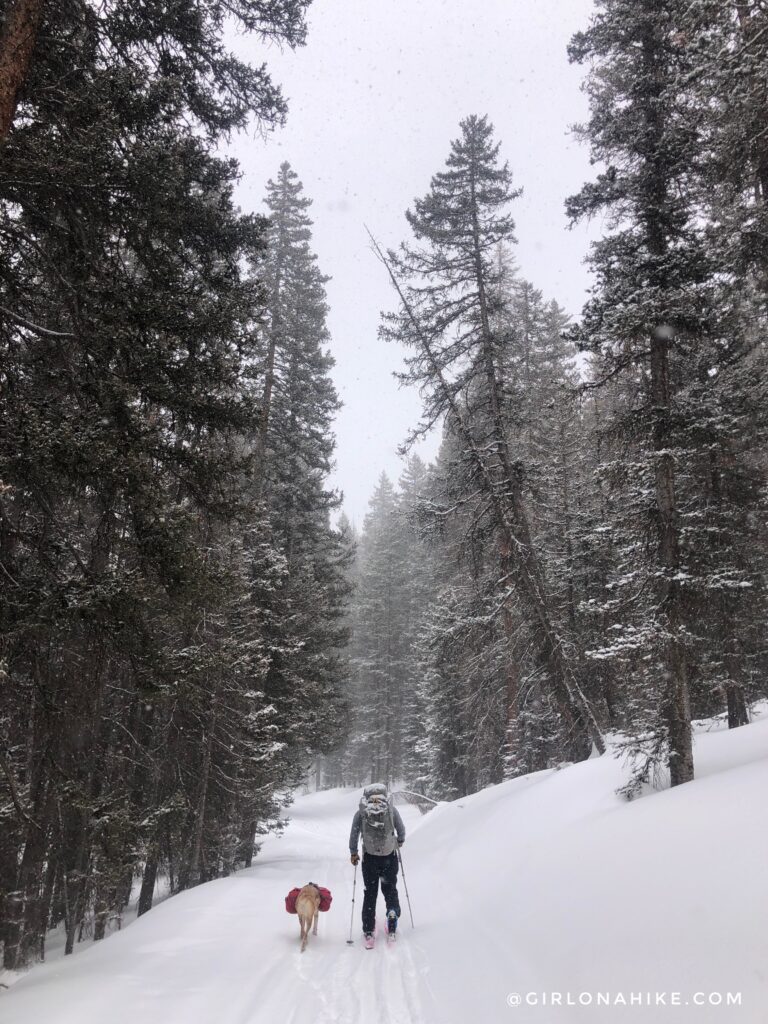 The boys were always ahead of me. I'm really slow to skin up anything, especially with a pack on.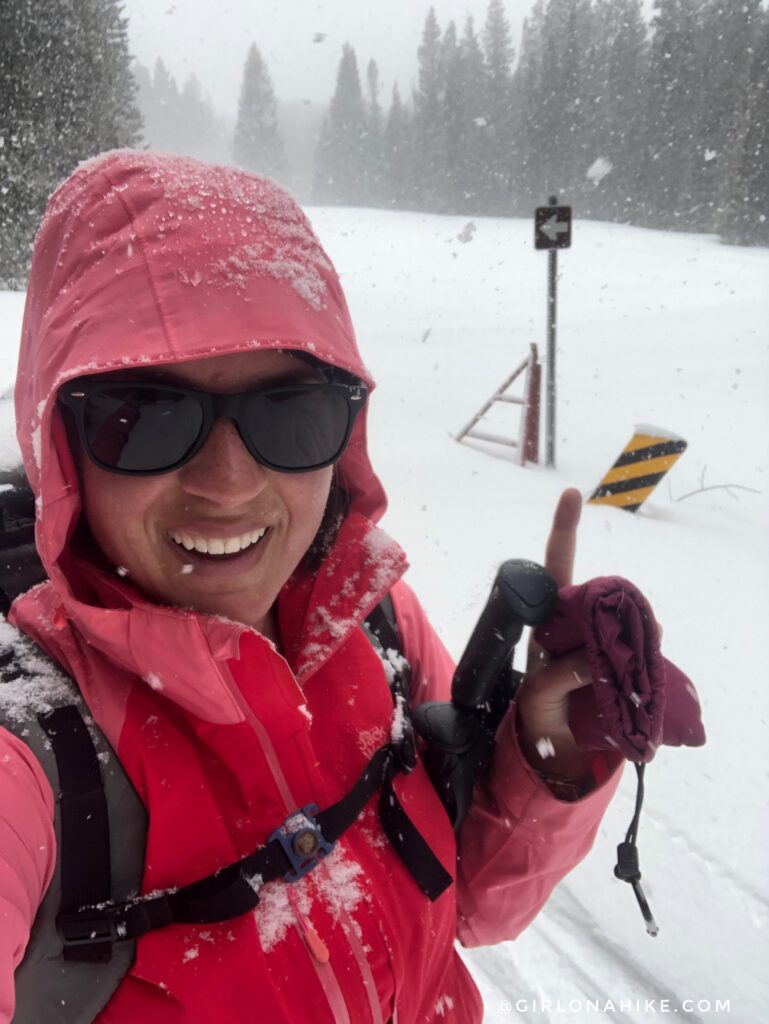 At 1.5 miles cross the cattle guard.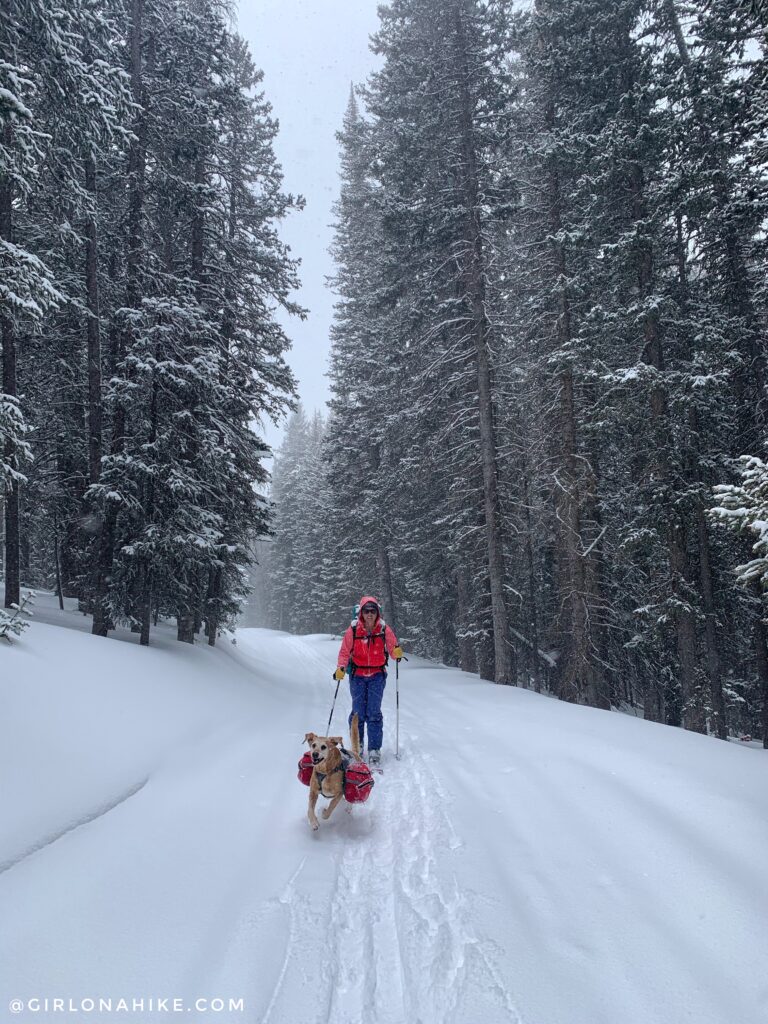 Charlie was SO excited to be backpacking in the snow! Not going to lie – I was struggling. I hadn't been at that high of elevation since last Fall with some of my peak bagging hikes, nor had carried a hike since probably our week long backpacking trip in the Sawtooths in the middle of September.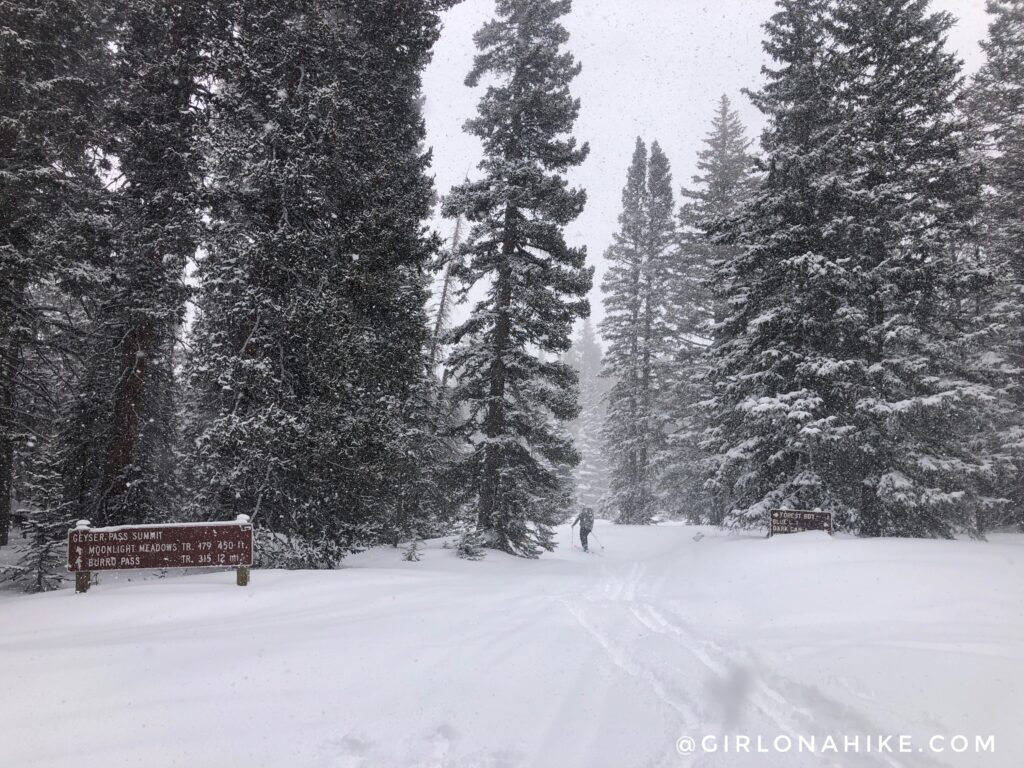 At 3.5 miles you'll see another sign, and another port-a-potty on the left. Veer left here, and follow the signs for Moonlight Meadows.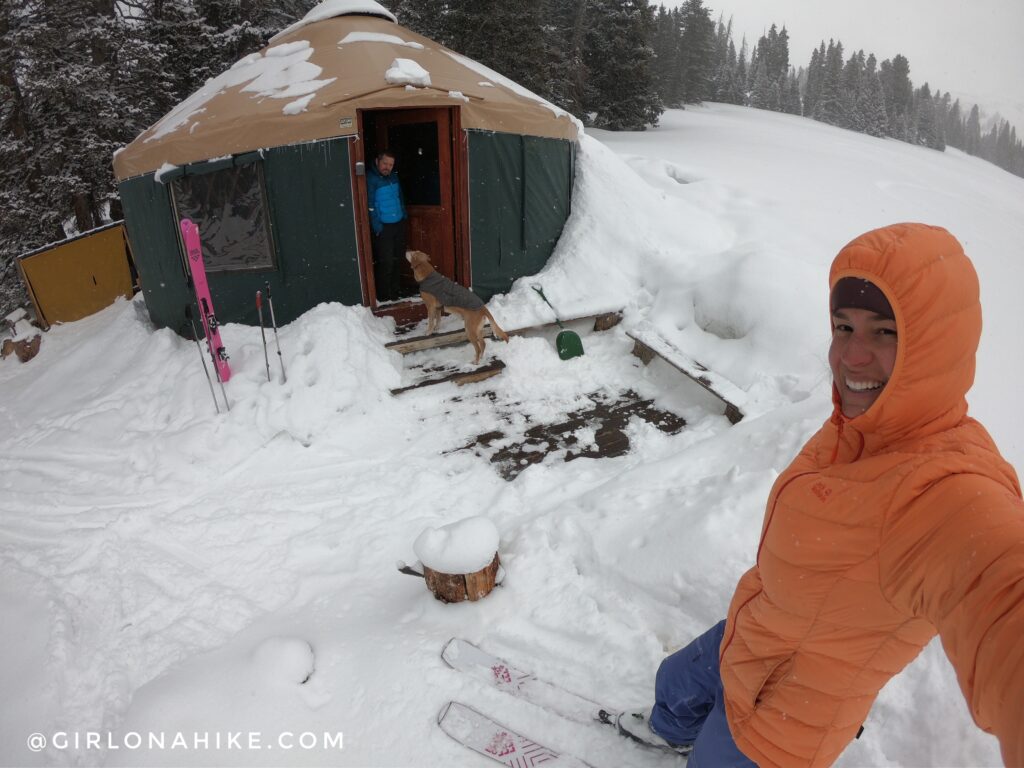 We reached the Geyser Pass Yurt in 2 hours 15 minutes. Since it was dumping snow, we quickly got a fire going to warm up the yurt, melted snow to drink water, and shoveled off the deck area. The pre-cut firewood is located to the left of the yurt in this picture, covered by the brown curtain.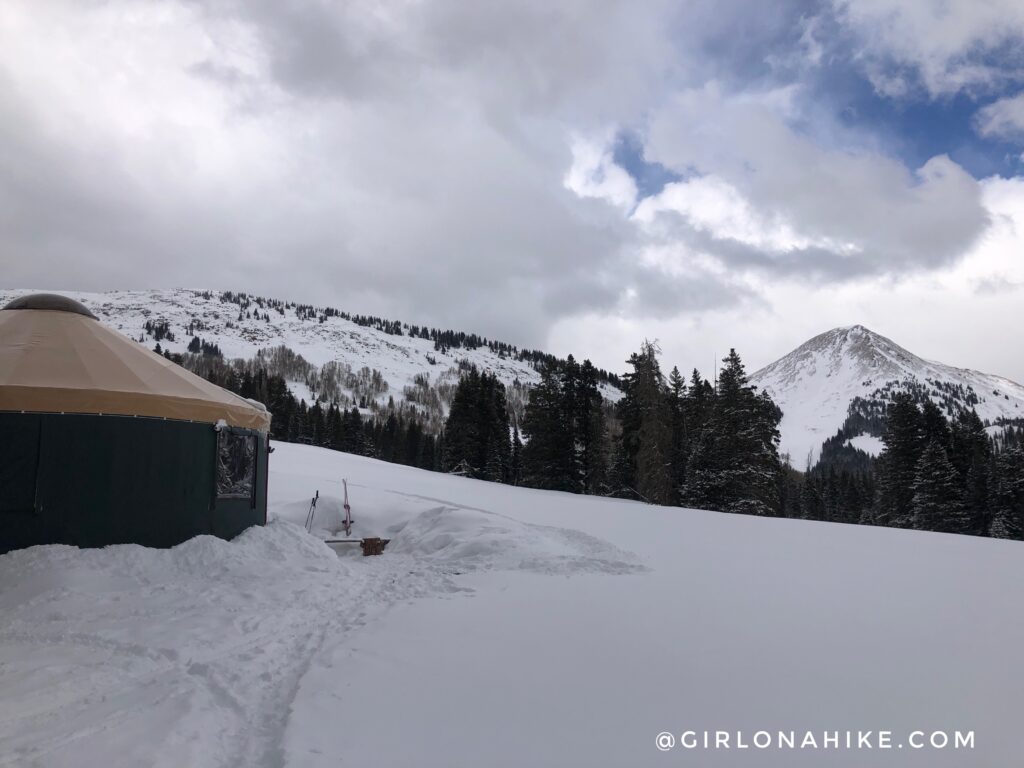 WOW! What an amazing view of the Geyser Pass Yurt & Mt.Tomasaki! This was the only time it stopped snowing, so I quickly grabbed a pic while it was semi-clear. So fun to think I was just on that peak a few months ago!
Inside the Geyser Pass Yurt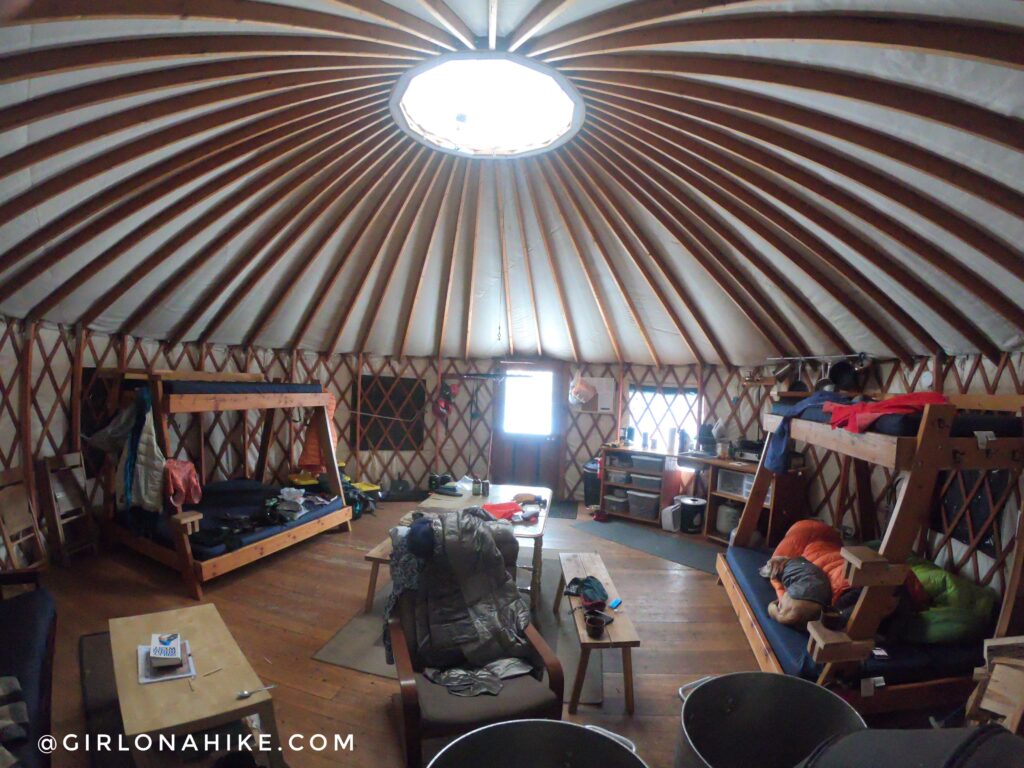 This yurt is 24 ft in diameter – pretty big! Which is great because it can sleep up to 8 people. However, again, I don't recommend more than 6 people because as you can see with two people and all our gear, we spread out quite a bit.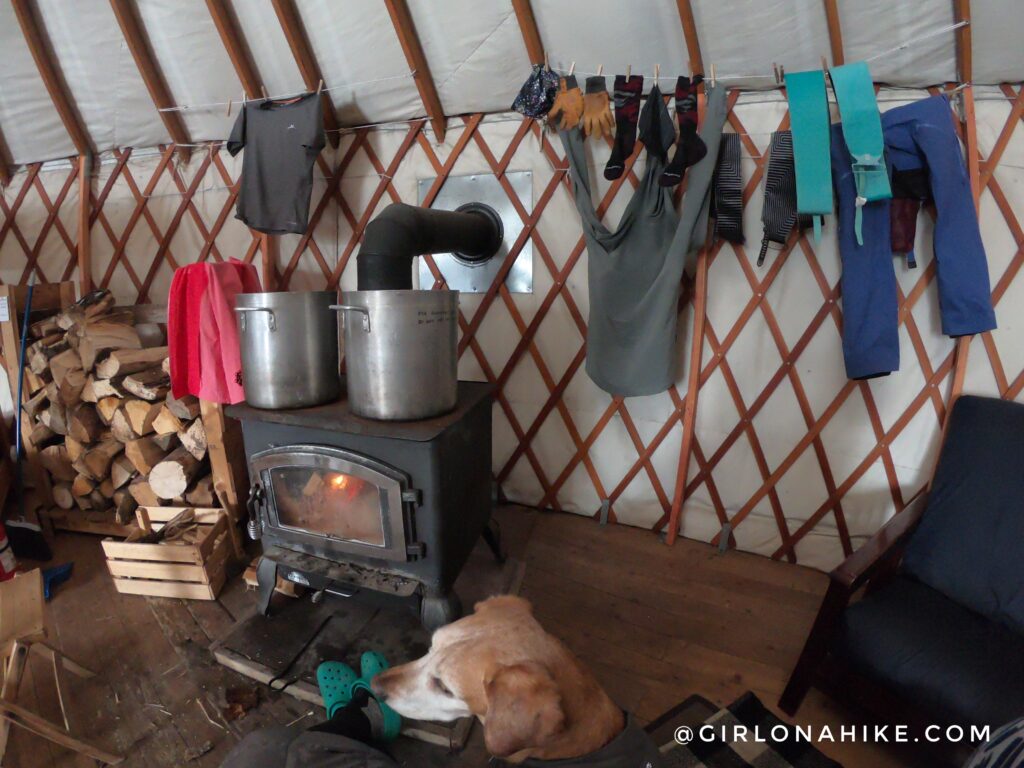 The stove area has plenty of space to hang stuff to dry after skiing, and has two large pots for melting snow to drink water.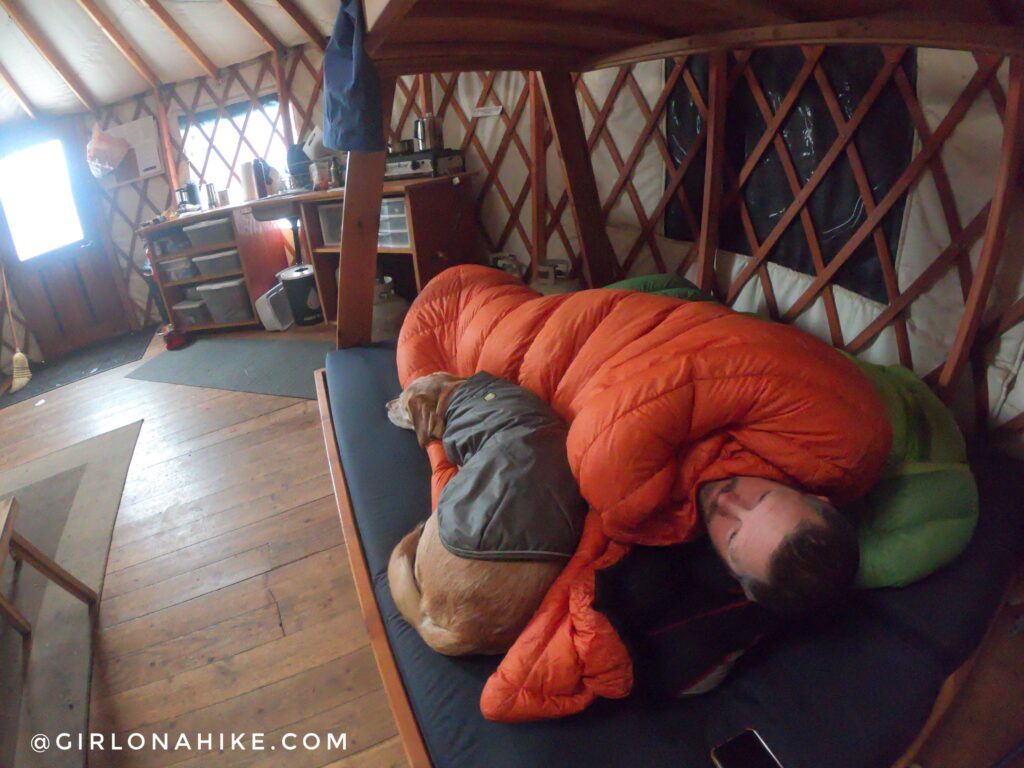 Snuggle time early in the morning. At night we would put Charlie's coat on him to make sure he stayed warm, while the temperatures inside the yurt dropped. I highly recommend brining a 0F down sleeping bag. We were both toasty while sleeping. The yurt does get cold overnight, unless someone continually keeps the stove hot.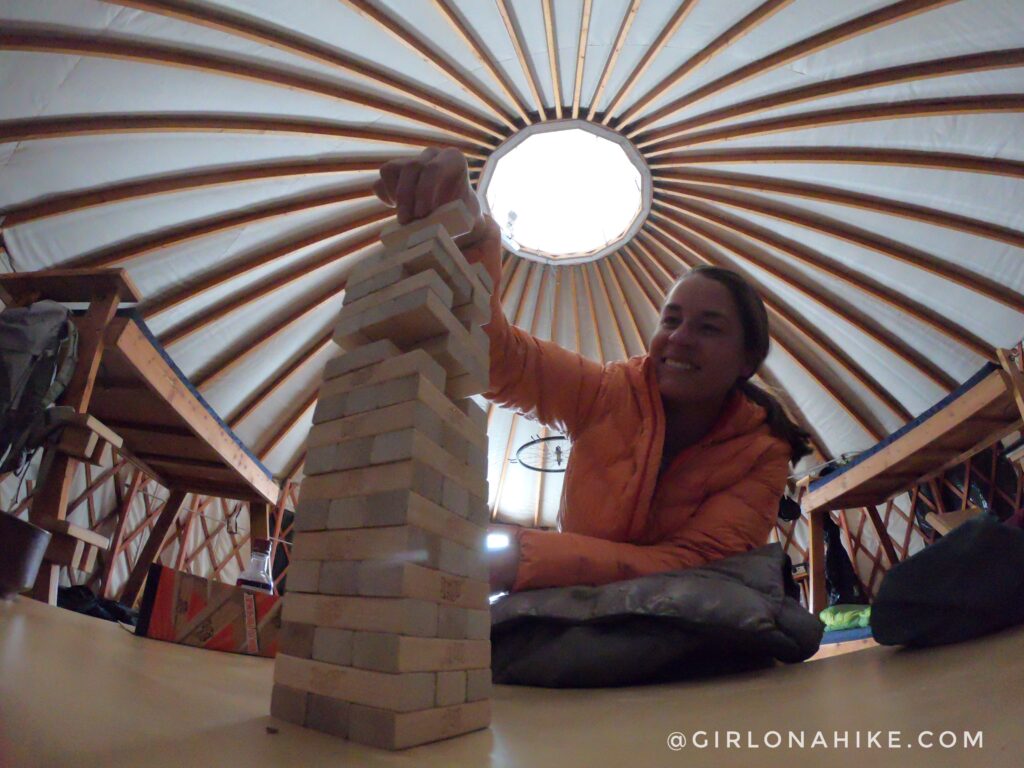 TMY provides a few games. We broke out Jenga, and played a handful of times. While I'm smiling here, this game is sooo stressful ha! You can bring your own games too, if you want to carry them in. We opted not to bring our own.
To see the awesome kitchen, be sure to watch my video below!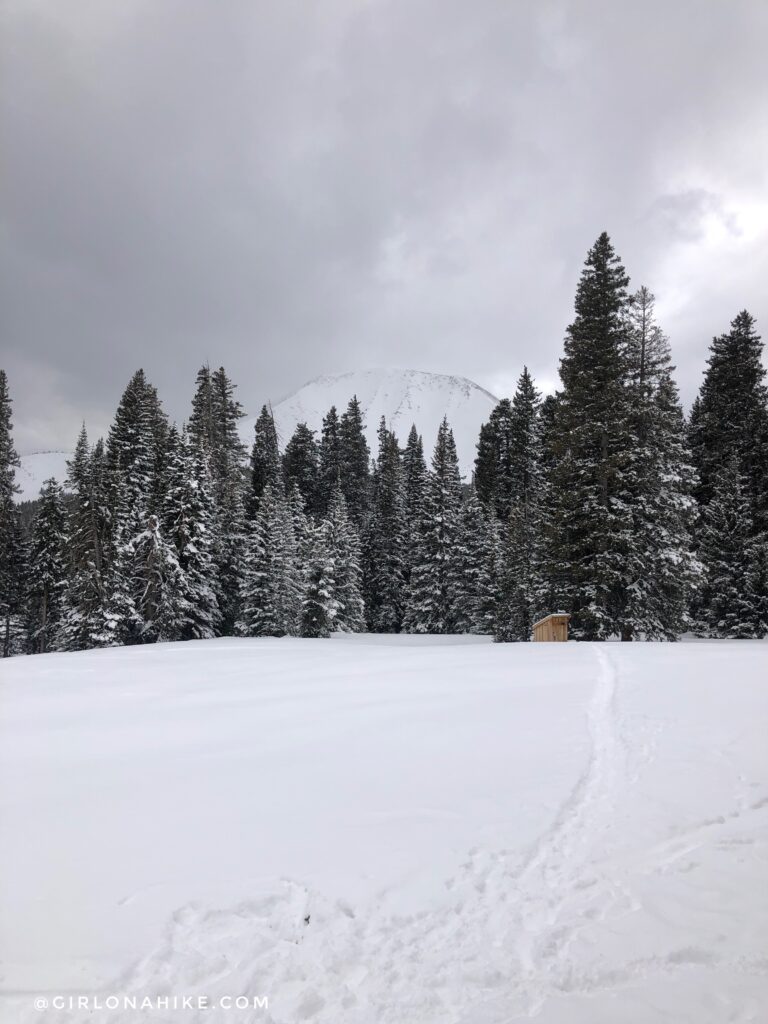 The yurt does have a port-a-potty as well. There are instructions inside it for how to use the sawdust-style toilet. Great view of Mt.Mellenthin too (also on my peak bagging list!). The snow was so deep that it was easier to put skis on each time to get to the potty, then take them off for doing business. I tried walking out in just my ski boots, but it was quite difficult.
Backcountry Skiing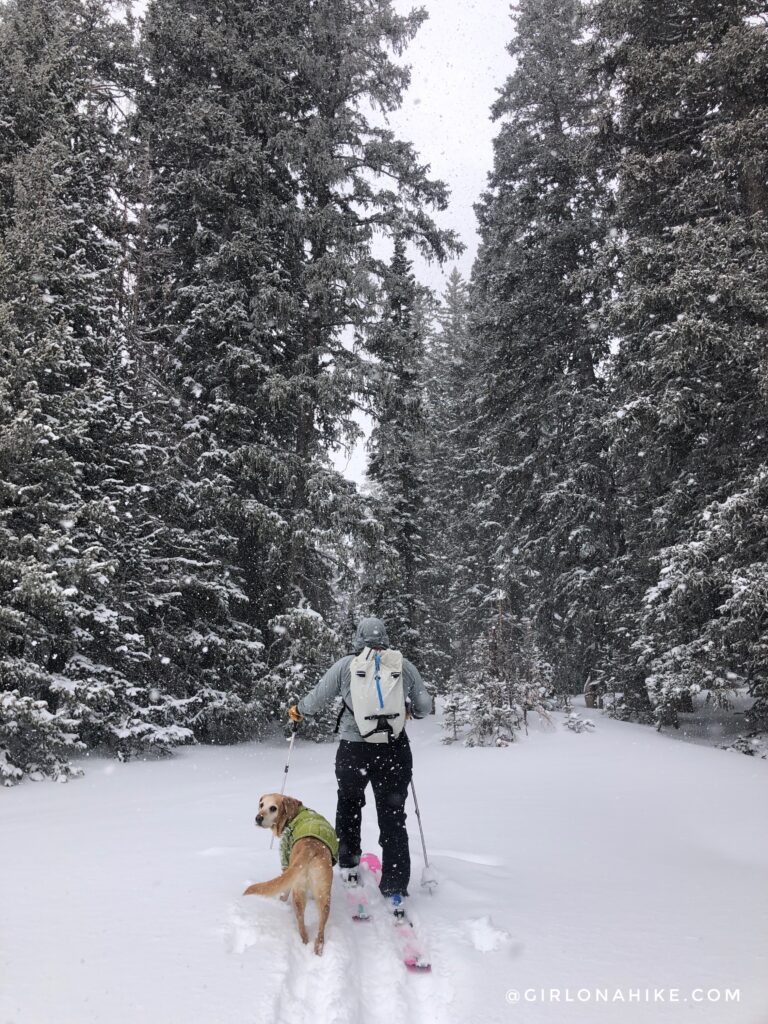 There are tons of options for touring – it just depends on the forecast for the time of year you go. I still wasn't feeling great from the elevation, so we did a super short ski together, then Ian went back out for another lap by himself.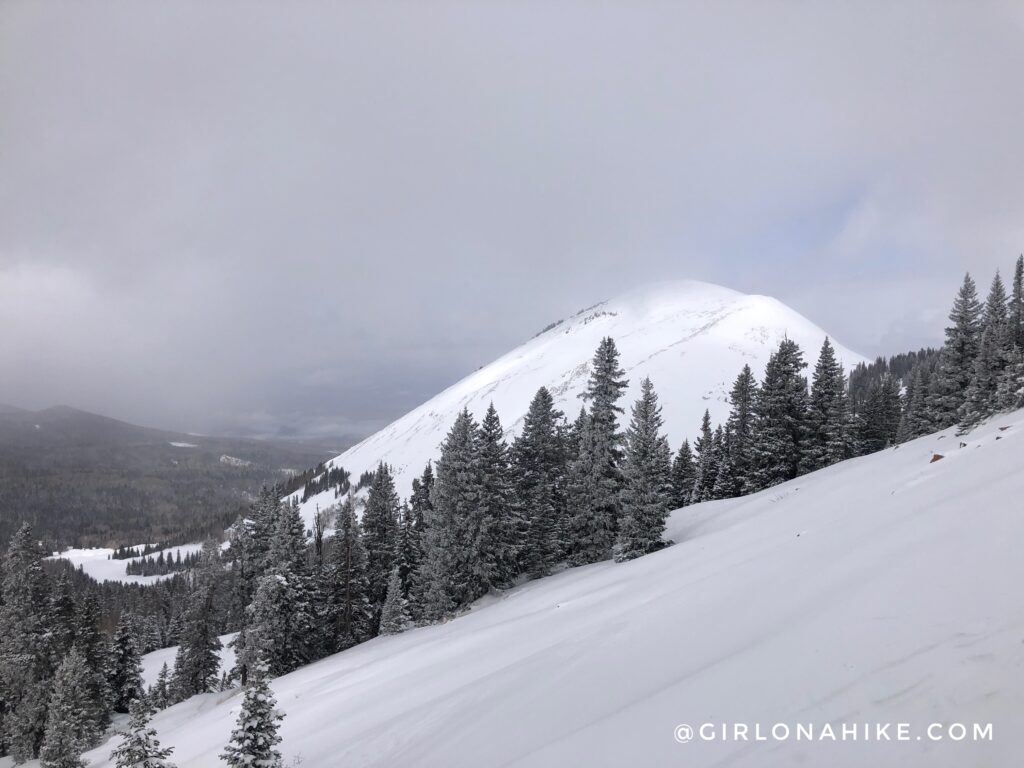 Amazing view of Haystack Mountain. Another great summer peak to do!
Time to head home!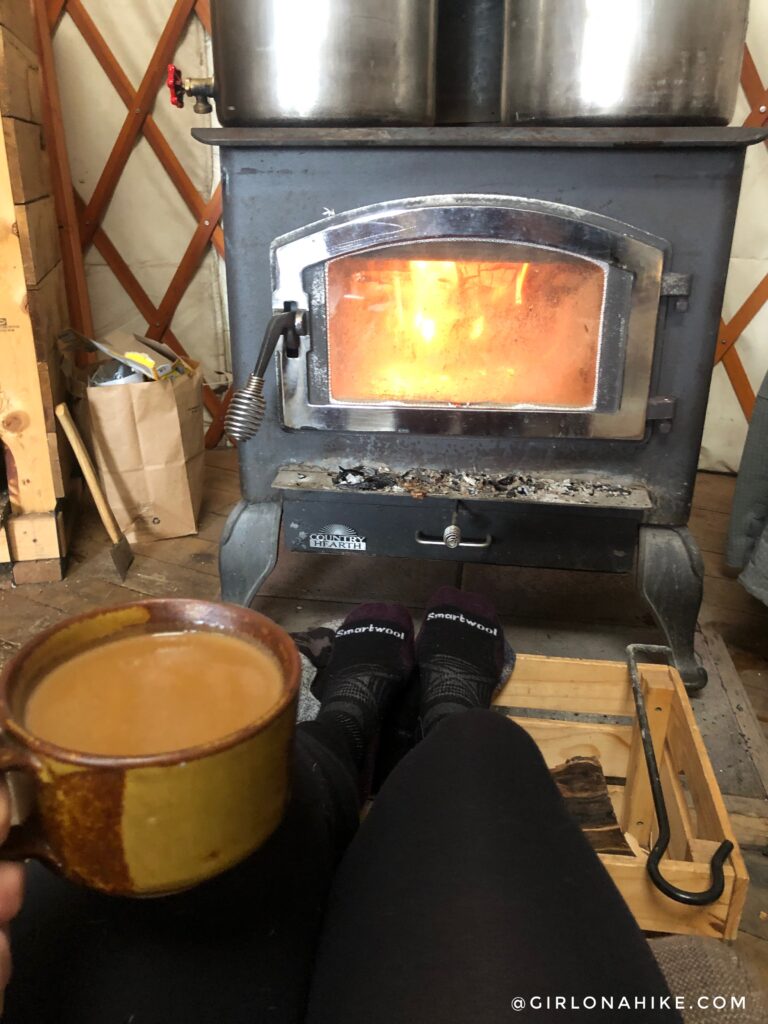 We normally don't make a fire or warm up the stove on our last day, but with a slower start, plus a checkout time of 11am we decided to do it. It was pretty nice to heat up and dry out my feet one last time before putting the ski boots back on.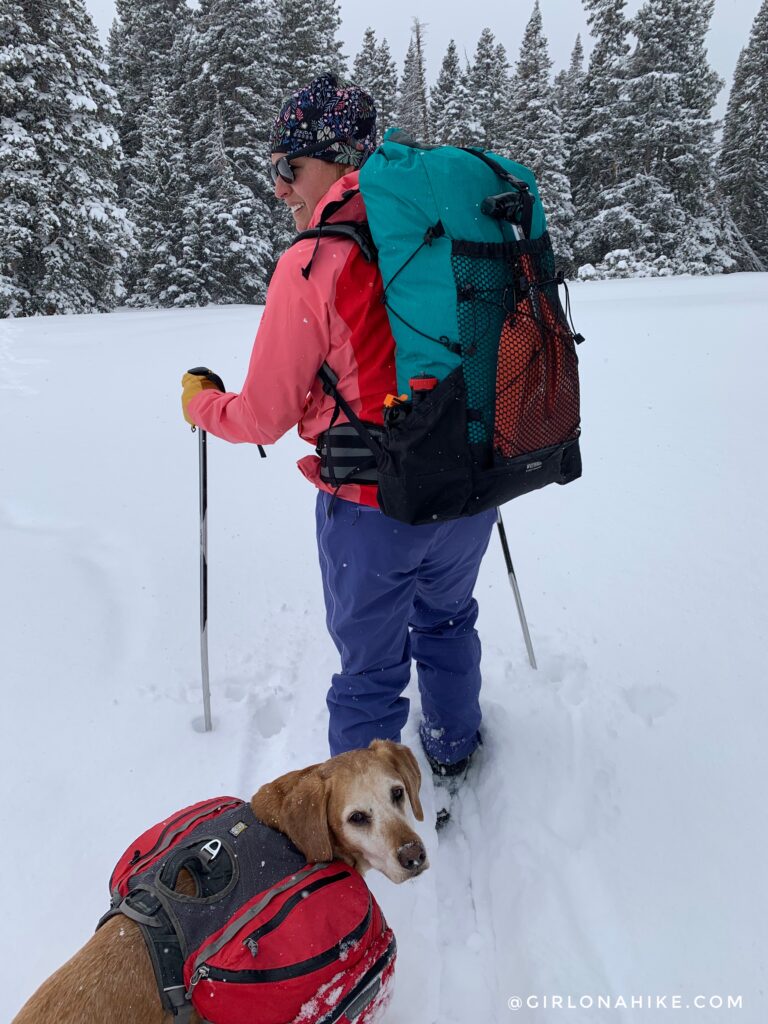 For this trip I used my 50 liter Waymark Gear THRU pack. It worked great to double as my backpack for all my gear in the yurt, plus my avalanche pack while out touring.
Get 10% off your entire backpack order here, use the code "GIRLONAHIKE" at checkout!
What I would do different next time, if we stayed here again
1. Bring my own thermos for hot chocolate & tea. The mugs they provide are TINY, so you have to constantly refill them
2. Bring more people! This yurt is pricey, even with the discount I got. If we brought friends along we could have split the price, plus Ian could have done a bigger ski day
Other than those two things I really enjoyed our trip!
Check out my video of our trip!

Trail Map
My track via Gaia GPS – the best tracking app! Get your app here for a discount.
Recommended Gear

Save me on Pinterest!