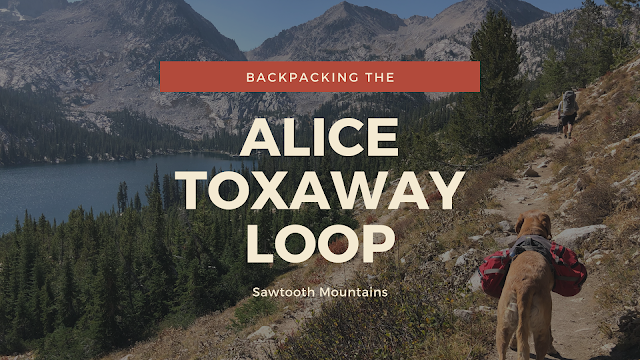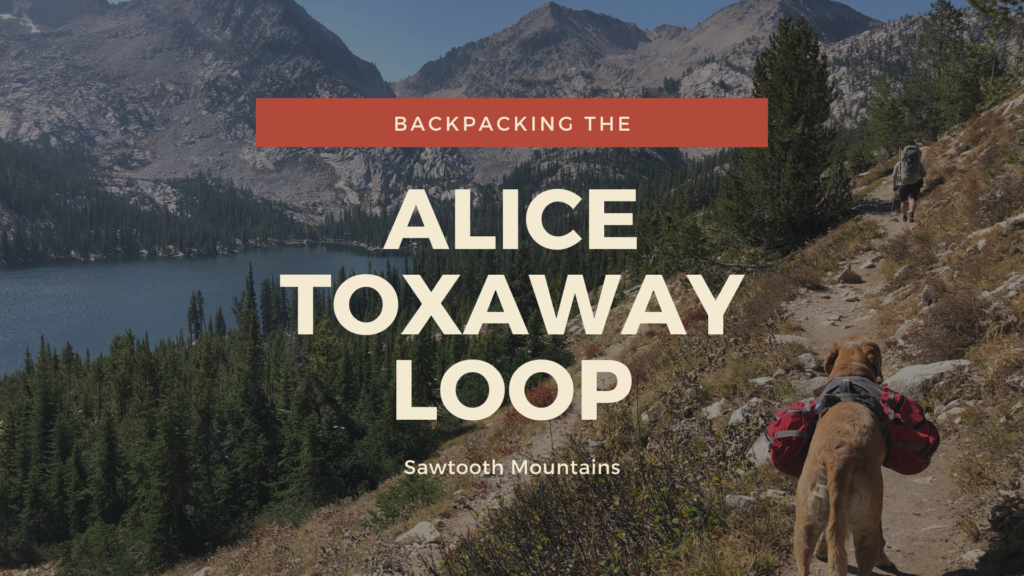 Backpacking the Alice Toxaway Loop is one of the most popular routes in the Sawtooth Mountains in Idaho. The main loop can be done in either direction and is 18 miles RT. Many people choose to do this in one day, others 2 nights, 3 days, or what we did – 5 nights, 6 days! There really are endless possibilities for however long you want to stay. This route passes through giant forests, tall, sharp peaks, steams, and of course, several lakes with the two most popular being Alice Lake and Toxaway Lake. Because we had a whole week, we not only did the main loop but also ventured over to Edna Lake and Imogene Lake plus bagged a small, unnamed peak.
About
Normally we do our annual week long trip over late August to Labor Day, but with COVID and my partners schedule at the hospital, we couldn't go until late September, and it ended up being a perfect time of year to backpack here. Fall is the perfect time to go for several reasons: dogs can be off leash (after Labor Day), there were zero mosquitos, the Fall colors were insanely beautiful, temperatures were nice and cool (our hottest day was probably 65F, high 30s at night), and there were way less people compared to summer months!
If you want a mountain paradise full of alpine lakes surrounded by rugged peaks, this is the trip for you!
Directions
The Tin Cup Hiker Trailhead is located about 30 minutes south of Stanley, ID and an hour north of Ketchum, ID.
Trail Info
Distance: Our total mileage was 38 miles. The main loop is only 18 miles.
Elevation gain: Varied each day, but the most was 2,000 ft.
Time: You can do the main loop in a day. Most people do 2 nights 3 days, we had 5 nights 6 days. Just depends on how much time you have and how fast you want to do it.
Dog friendly? Yes, read below for details
Kid friendly? Yes, read below for details
Fees/Permits? There is no fee, but a permit is required and is picked up at the self-serve station about 1.2 miles into the hike on either side of the loop.
FAQs
When is the best time to visit?
Typically the best months to visit are late July, August, and September, but it all depends on snowpack. Some years when snowpack is high, you may not be able to access the trails until August. In low snow seasons, you can access the trails as early as June. Call the Sawtooth National Forest Service to check on snowpack levels and fire restrictions when planning your trip. Thunderstorms and afternoon showers are common during summer months. There is also a year round possibility of snow at this elevation, so pay close attention to weather and be prepared for any change in conditions.
How difficult is it to backpack in the Sawtooths? Is this good for kids?
This depends on your experience, fitness level, pack weight and weather. There are no technical areas, but hiking over passes are required, depending on your route. You should have a few backpacking trips under your belt, and be comfortable carrying up to 30-40 lbs for hours on end. As always, the lighter your pack, the easier your hike will be.  More weight = harder hike. We saw only a handful of kids under 12.
Can I bring my dog?
Yes, dogs are allowed. They have to be ON-leash July 1 through Labor Day; the rest of the year they are allowed OFF leash. It is a good idea to always have a leash handy, in case you come near wildlife. Dogs should be able to hike for long distances and over rocky terrain. Dog poop is not required to be packed out. Note that this is designated Black Bear habitat and food storage regulations apply for backcountry users, including dog food. Learn how to Get Your Dog Ready for their First Backpacking trip and make sure they have their own Doggie first aid kit.
What's the elevation gain like?
It depends on your route and how many miles per day you backpack. The low point is at the Tin Cup TH, which is at 7,000 ft, and our high point was roughly at 9,600 ft. Elevation sickness is a possibility, so know and understand the symptoms.
Can I have a campfire?
No campfires are allowed in the entire Alice/Toxaway basins at all times. Once you drop over the ridge to Edna or Imogene Lakes, you can have a campfire.
Are there requirements for food storage?
Yes, there is a Bear Safety and Food Storage Order in place. You must either hang your food properly or use a bear canister. It is also wise to carry Bear Spray with you at all times. Black Bears are present, however, we did not see any on our trip.
What about water?
There is plenty of water along the entire route from lakes and streams. You will need to carry a water filter such as the Sawyer Mini or Platypus Gravity Filter. I only carried my 1.5 liter bladder to keep the water weight down.
How bad are the mosquitoes?
Mosquitoes will be the worst until Mid-August; after that, they tend to die out, but it all depends on water level each year. Be prepared to carry 100% deet. I also recommend using Permethrin by Sawyer on your clothing as an extra precaution from getting bites. Permethrin should not be applied while wearing the clothing – apply outside, while clothes are hanging. I applied two coats – let each coat dry before the next application.
What guidebook or map do you recommend?
We used the "Sawtooth National Rec Area (Nat Geo Map 870)", which is a great, detailed map but we found the mileage to be off by 1 mile. I also use this in combination with my Gaia GPS app.
Day 1
7.6 miles to Twin Lakes
1,926 ft gain
3.5 hours
The previous night we found a spot along a nearby dirt road to car camp. While there is the Pettit Lake Campground right at the TH ($16/night) we opted for free. Ian makes sure there are no last minute restrictions to this area. Annnnd we're off!
Within the first 5 minutes of hiking you'll reach the first trail split. This is where you'll choose which direction you are doing the loop. We stayed straight for Alice/Twin Lakes to do the loop clockwise. Later, we would come back to this same spot on our last day from the right side.
Passing Pettit Lake (pronounced like pet-it). That basin all the way back there is where we are headed.
At 1.3 miles reach the Sawtooth Wilderness sign. I highly recommend wearing trail gaiters to keep all the dirt and rocks out of your shoes. I buy mine from Dirty Girl Gaiters online (they're the best out of a few brands I've tried).
And also the self-serve permit registration box. Every day hiker and/or backpacker (groups 7 or less) is required to have one. They are free. If you have more than 8 people you need to contact the forest ranger for a special permit.
The first 2 miles are very mellow and shaded. There are a handful of downed trees to climb over. At 2.5 miles cross the stream for the first time.
Soon you'll cross it once more. Thankfully going in September the water levels are low enough you won't get wet, and there are plenty of rocks to walk across. I imagine earlier in summer you'll need to just walk through it.
Ahh I love backpacking when the Aspens are yellow!
At 3.5 miles reach a set of switchbacks. This was the hottest section of the trail this day, as there is no shade.
Working our way up higher. The day before a storm came through and cleared out the smoke for us for the next two days. You can see the White Cloud Peaks in the distance. By mid-week you couldn't see them at all.
At mile 5.3 cross a high bridge.
At 5.9 miles you'll have your first good look at the basin and hike past the Sawtooth's version of, "El Capitan" (elevation 9,901 ft). We passed a hiker earlier in the day who recommended camping at Twin Lakes over Alice Lake, so we took his advice and kept going. Twin Lakes is about 1 mile past Alice Lake.
The turn off to Twin Lakes was at 7.5 miles. Many of the signs were low to the ground and could easily be missed.
We reached Twin Lakes and had plenty of campsites to choose from on a Sunday night. We didn't attempt to fish here because we saw nothing jumping or moving in the water. This year my big gear upgrade was getting a 3-person tent for our longer trips to have more room for me, Ian, and Charlie plus our gear. I got the Big Agnes Copper Spur HV UL3 and its soooo nice. We used to use my 2 person MSR tent, but for 5 nights it was just too cramped and the 3 person weighs the same!
Ian insists on cooking real food while backpacking so the first 3 nights we made fajitas with ground beef, the last 2 nights were sausage and peppers on tortillas. I think he calculated that the "real" food alone weighed about 10 lbs.
Here's our list of the food we brought just for dinners:
3 lbs ground beef
8 jalapeno sausages
1 big brick of cheddar cheese
16 tortillas (two packages from Rico's brand)
4 bell peppers
1 onion
3 avocados
3 chocolate bars & 12 pieces York patties for dessert
salt, cumin, & olive oil (all in tiny containers)
Yes, it was a lot of weight. But eating real food did taste amazing! The pan I use is the Jetboil 10-inch fry pan, and then we have the MSR Reactor underneath for our flame (since no campfires are allowed), and then put this grill grate on top (balanced by rocks) for a flat surface to cook. I bought these ultralight, reusable plates from Dollar Tree for .50 cents a few years ago and they've still held up! It works out really well
.
Days 2 & 3
8.3 miles to Edna Lake
1,489 ft gain, 1,885 ft descent, 2 passes
4 hours
Good Morning from Twin Lakes and this pretty unnamed peak! Time to pack up camp and move on to Edna Lake. We really wanted to get to Edna since it's on the backside of this basin, where campfires are allowed.
Working our way up past Twin Lakes to the first pass. It seemed smokier on this day.
Getting closer to the pass, with a view of Snowyside Peak ahead. This could also be done as a side hike along your route. Drop your packs at the saddle then hit the summit. Since I knew we'd have to hike about 8-9 miles, we opted to skip this.
Charlie checks in on me, to make sure my slow feet were still coming. To see what Charlie carries check out my post on Backpacking with Dogs for some tips on shopping for a pack and what to put in there.
We reached the first pass.
And wow, what a view! Look at the line of smoky haze in the distance, gross.
Ohh I love lakes this color.
At 4.2 miles reach the trail split for Edna Lake. We took a quick 5 minute snack break here before working up over 2 miles of switchbacks.
Looking back down to Toxaway Lake.
Another view of Toxaway Lake. Hiking up to Sand Mountain Pass was tough for me. Not only is it endless switchbacks for 2 miles, but this was also our hottest day so I was just so hot and thirsty. I wore my tank top because it was probably 65-70F, and I got a really bad sunburn. I didn't think it was hot enough to burn! So FYI bring sunblock year-round.
Finally we got a good view of the area, and we could still see the White Cloud Peaks in the distance.
Made it to the pass! Time to drop down to the left for Edna Lake. From Twin Lakes to here was 6.4 miles.
Hiking down into the next basin.
More switchbacks, but at least this time it would all be downhill for the next 2 miles. Pretty view of an unnamed lake and what I think is Payette Peak.
Once we dropped into the basin we crossed a small stream and it was so warm Charlie took a little belly bath and drink. The water was so clear you can't even really see it! You can see where we came from here as well – the small pass ahead.
At 8.1 mile reach the trail split at Edna Lake. There were great campsites at both the north and south end of the lake, so go either way.
First things first – take off the packs, grab a snack, and test the fishing.
We liked this area so much we decided to spend two nights here. We found another sweet campsite.
His and her's. Can you guess which is mine? The big one of hot chocolate of course haha! While Ian's titanium 8 oz mug is extremely light, I prefer having 16 oz of liquid at a time. I use the GSI Outdoors Mug, and he has this mug.
Tent snuggle time!
On our day of relaxing, we walked all around Edna Lake while fishing. This was my favorite view, looking north. I got 2 or 3 bites here, but didn't catch anything.
Next we hiked up to Vernon Lake to fish. It was windy the whole time so no bites here. I found a really nice campsite here too if you wanted to go a little further than Edna. Didn't see a single person at this lake.
Just can't get enough snuggles with dad!
Days 4 & 5
5.5 miles to Imogene Lake
1,170 ft gain, 1,236 ft descent, 2 passes
2.5 hours
On our 4th day it was time to head over to Imogene for the next two nights. We hiked back up to Sand Mtn Pass, then dropped over to the Edith basin area. The low point straight ahead was our next pass.
I loved this basin so much! The next day we would hike to this peak.
Charlie spies a small pond ahead to grab a drink from and cool off his paws.
3.2 miles from Edna Lake reach the trail split for Imogene & Edith Lakes. Stay straight/left.
Now it was time to hike up more switchbacks.
At 4.0 miles from Edna Lake we reached the pass (unnamed). This was probably the smokiest day for us – look at that brown layer, yuck.
Whoaaaa, that's a lot of switchbacks. From the pass down to Imogene Lake you will hike down roughly 25 switchbacks.
Made it down to the lake! Time for a weather check with my ZOLEO (check out my gear review).
Once again we found a really nice campsite. That is one of the perks of backpacking during the week – your choice of campsites! This sight quickly became a favorite and we decided to stay two nights here as well. The original plan was to stay one night at Imogene, and our last night at Toxaway, but again, the ability to have a campfire and see less people kept us here.
Time for some fishing! However, no bites, here either. Either the wind/weather kept the fish low, or we had the wrong fly – we just didn't catch hardly any fish the entire trip. I just bought my Orvis Encounter Fly Rod earlier this year (thanks, COVID check!) and am loving it. It's a 4-piece fly rod so it packs up well for backpacking.
You're not really reading, are you mom? This is how he asks to get on my lap LOL!
The next day, our relax day, we hiked up to the unnamed peak I pointed out earlier. You can do it from the pass (drop your packs first), or what we did was hike back up all those switchbacks from Imogene Lake. From the lake to the peak was only 2 miles one way and about 1300 ft gain.
The boys lead the way. There was actually a trail most of the way.
Looking down one of the shoots at Imogene Lake.
Lots of boulders, but very similar terrain to the Uintas so Charlie's paws were used to it.
Summit selfie! It was super windy and looked like a storm was coming in, so we literally took this photo, then turned around.
From the peak looking down to Farley and Toxaway Lakes (where we would hike the next day).
Turning around, you can see how dark the skies were! My ZOLEO weather app said there was only a 17% chance of rain that day, yet we did get rained on for about 15 minutes right when we got back to the tent.
Back in the tent, out of the rain, and time for a mid-day nap for all of us. The blanket he is sleeping on the down blanket you can get from CostCo in winter for about $20. They're super light and synthetic down – great for backpacking.
Last night of camping, time to grill up the last of the sausages and peppers!
Day 6
10 miles back to car, Imogene to Tin Cup TH
1,134 ft gain, 2,556 ft descent, 1 pass
4 hours
The storm from the day before helped clear out the smoke again, and you could finally see everything!
Passing by Edith Lake. This lake was super pretty but there's only two campsites available here. If you can't snag one of those you're kind of out of luck – you'll have to continue to Imogene or elsewhere. I wouldn't personally recommend attempting to camp here.
From Imogene to the trail split along the Yellow Belly Trail was only 3.3 miles. Again, the sign is on the ground so it could easily be missed. I imagine the reason for this is the harsh winters constantly knocking them down each winter.
Back to the Fall colors! So pretty.
Around 5 miles pass Farley Lake. This lake was gorgeous as well and looked like there could be a few nice campsites here if you wanted a shorter day.
I really liked this section of trail, about 5 miles from the car. A nice meadow, a waterfall to the right (not pictured), and the skies cleared up again to highlight the Fall leaves.
Charlie's pack rubbed is armpit raw on the 3rd day, so on the very last day since he had eaten all his food, Ian carried Charlie's pack, inside his pack to let his armpit heal. We do carry a dog first aid kit, and tried wrapping the strap on his pack with some gauze to help prevent more rub, but eventually we decided to just carry it for him. Charlie was extra bouncy that day he didn't have to carry his pack!
At 6.7 miles cross the stream.
At 7.7 miles reach the Sawtooth Wilderness sign along the Yellow Belly Trail. Almost there! The last 3.5 miles of this side of the route were super boring for me. No views, little shade, and an uphill section for the last mile. I was dying to get back to the car!
And finally, Pettit Lake was back in view and we made it back to the car! Whew, that was a long 10 miles.
What a trip! I really loved this area and the route we ended up doing. If I were to do this again, and only had a few nights, I would do the main loop counter clockwise over 2 nights, 3 days and stick to the 18 miles. If I only had one day to explore, I would totally do this in a day. There really are several options for this loop and you can do it as short as you want, or turn it into a longer like like we did.
My track via Gaia GPS – the best tracking app! Get your app here for a discount.
Recommended Gear
Save me on Pinterest!