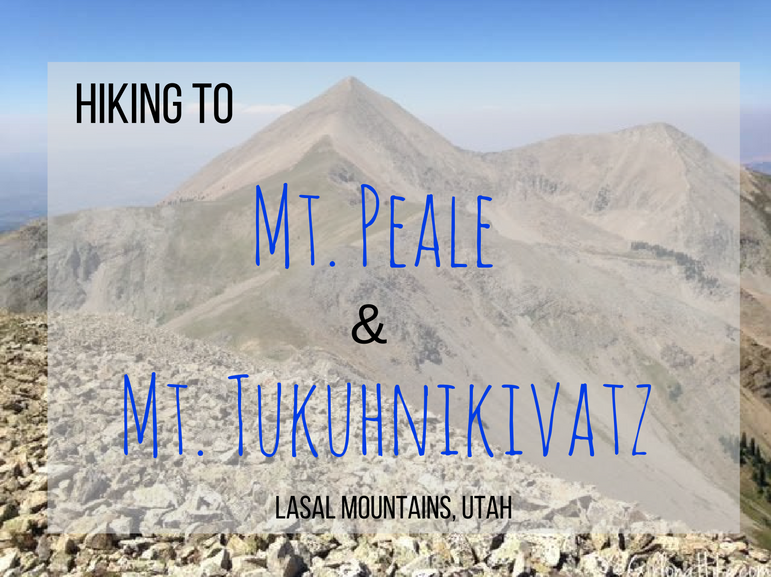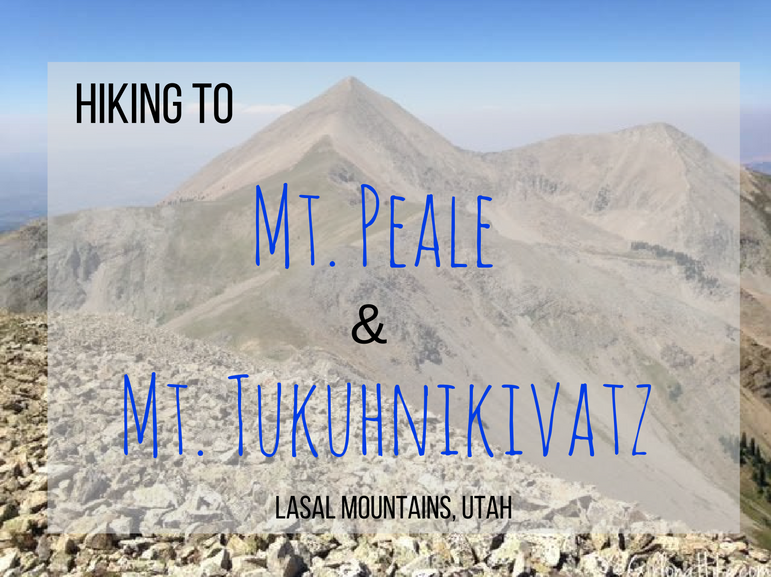 Mt. Peale (12,721 ft) and Mt. Tukuhnikivatz (12, 482 ft) are two prominent peaks in the LaSal Mountains right outside of Moab, UT. Mt. Peale is the highest point in the range, and 2nd tallest prominent mountain in Utah; Mt. Tukuhnikivatz (pronounced tuk-oon-ik-ah-vatz) is the peak you mainly see from the valley floor from Moab, and is a mountain well known in Edward Abbey's, Desert Solitaire. If you have ever lived in Utah, have passed through, or want to have some sense of what Moab and Arches National Park was like back in the day, reading Desert Solitaire is a must. 
About
In addition to Moab's fine desert scenery it is also to home to the LaSal mountain range, which contains one of Utah's 8 Ultra Prominence Peaks, Mt. Peale. Prominence allows mountains to be measured on a level playing field – it measures how far a mountain rises above the lowest contour that it encircles, and no higher peak. The lowest contour defines the peaks key saddle. Prominence is the elevation difference between a peaks key saddle and the summit. The highest prominent peak in the US is Mount Rainer, with a prominence of 13, 210 ft! Now, remember that that is not the elevation at the summit, that is the difference gained by hiking from the lowest point to the peak. In comparison, Mt. Peale has a prominence of 6,161 ft. Kings Peak, the highest point in Utah, also has the most prominence in Utah at 6,348 ft

Hiking to Mt. Peale and Mt. Tukuhnikivatz are not for the average hiker – it requires hiking off trail, a little route finding, gaining a lot of elevation in a short distance, and requires crossing over the infamous Razor Fang (aka knife edge). The Razor Fang is about a 300 ft long section of crumbling rock pinnacles and narrow class 3 ridgeline rock climbing. Most people (including me) say this is the most difficult part about the entire hike. While Charlie was able to cross this section, he needed a lot of help, and I don't recommend taking your dog over this. Because the Razor Fang contains loose, crumbling rock and you can't really escape once you are in the midst of it, it is rated as one of the hardest ridge lines in Utah. Only very experience hikers with prior knife edge exposure should attempt this section. As a comparison, if you've hiked the

American Fork Twin Peaks

knife edge in the Wasatch, its about three times worse than that.
You
can
summit Mt. Peale and Mt. Tukuhnikivatz without doing the Razor Fang, but it would require that you hike up to one of the peaks, get back down to the meadow, then regain all the same elevation for the 2nd peak. Many people choose to only summit Mt. Peale, since it's the highest peak in the LaSals, and skip trekking over to Mt. Tuk (for short). A third peak some people will summit is
Mt. Mellerthin
, which is the 2nd highest peak in the LaSals, but again, requires hiking over a very exposed ridgeline with no water source.
Mt. Waas
is another great summit in the La Sals, and is the highest peak on the northern end of the range, and is the Grand County high point at 12,331 ft.
Directions
The best and easiest way to get to LaSal Pass is by heading south from Moab, UT on HWY 191 for about 22 miles. Turn left onto HWY 46, and drive another 13.7 miles. Turn left onto HWY 154, then another left onto HWY 124. This road will curve around to the right, then cross a fairly big stream. Turn left at the sign for LaSal Pass (FR 0073). Stay on this road for another 7-8 miles, until you see the sign for Medicine and Beaver Lakes. At this point, if you are camping, you'll want to find a spot somewhere in this area for the night. There are plenty of meadows to camp in, or you can camp at the lakes. Stay on the dirt road until you reach LaSal Pass and the official TH. There are no restrooms. Here is a map link. You will need a high clearance car to drive on the dirt road. We had a Jeep Cherokee and Jeep Wrangler and both did great. A small car would have issues and not be able to cross the stream.
FYI, do not take the LaSal Scenic Loop Road by Ken's Lake, then follow the dirt road up and East to the LaSal Pass. We ended up driving down this on our way out, and the road is BAD. It's super rocky, very narrow, steep, and will take 2-3x longer to reach the TH. We were in two Jeeps that could handle this road, but it's more suitable for a Razor, ATV, or dirt bike. While this route may pop up on Google Maps, do not take it!
Trail Info
This is based on summiting both Mt. Peale and Mt. Tuk.
Distance: 6.3 miles RT
Elevation gain: 3,400 ft
Time: 6-8 hours
Dog friendly? 
While Charlie was able to complete the hike and dogs are allowed off leash, I don't recommend dogs for this trail.
Kid friendly? No
Fees/Permits? None
Because we had camped along a dirt road nearby, we figured we would just start hiking from that spot since we could see our destination. We didn't start at the official TH because of this, however it still worked out for us. Viewing the Razor Fang section from here doesn't look bad from this meadow, but just wait to you get to the ridge.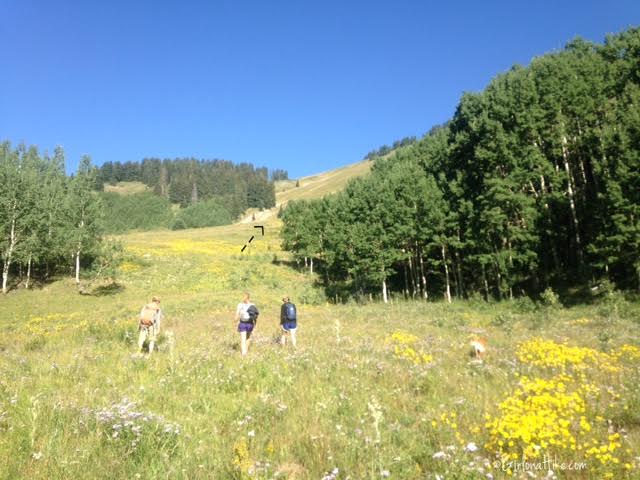 We saw an area that looked like a good option for reaching the main ridgeline, and aimed for that.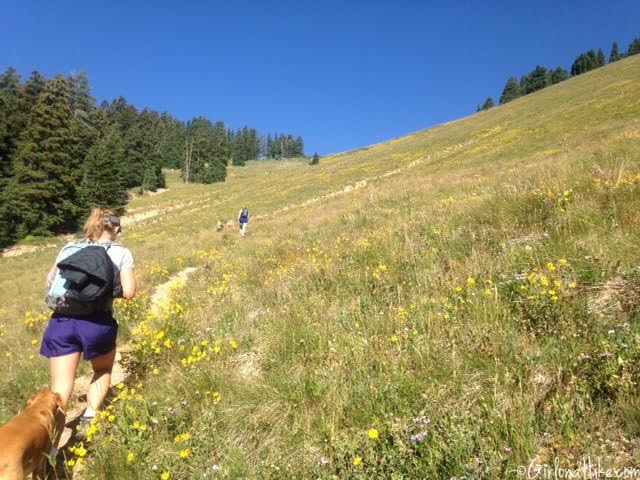 Surprisingly, we connected with the main trail, and followed the switchbacks up to the main ridge.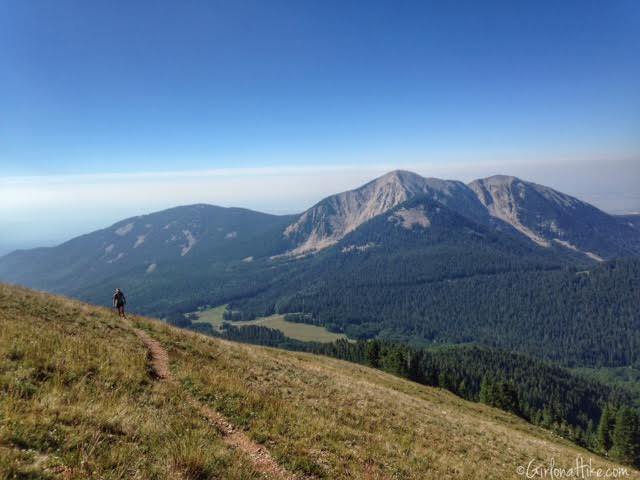 "A man on foot, on horseback or on a bicycle will see more, feel more, enjoy more in one mile than the motorized tourists can in a hundred miles."
-Edward Abbey, Desert Solitaire
Looking back to the meadow below where we started, and South Mountain just to the South of us.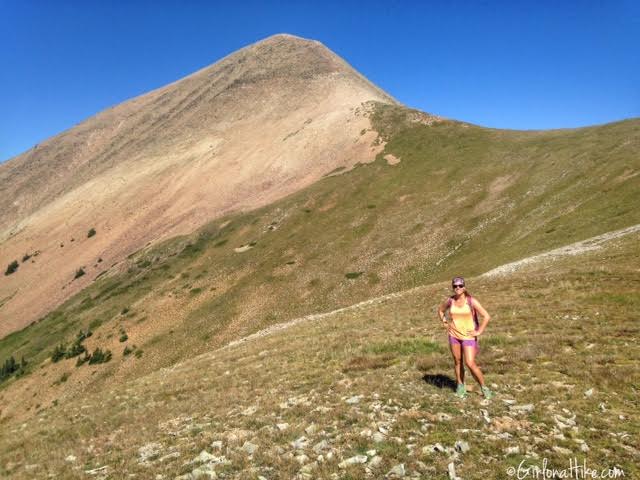 Almost to the main ridge, leading up to Mt. Tuk. Once you reach the ridge, the trail basically fades away and you are left on your own to find your way to the summit. Part of that is what makes this a fun hike!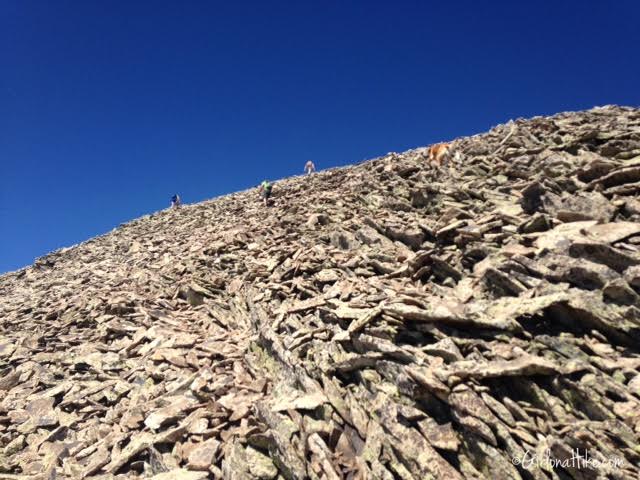 Working our way up the talus field to Mt. Tuk. While the talus field is steep and contains loose rock, it's not dangerous.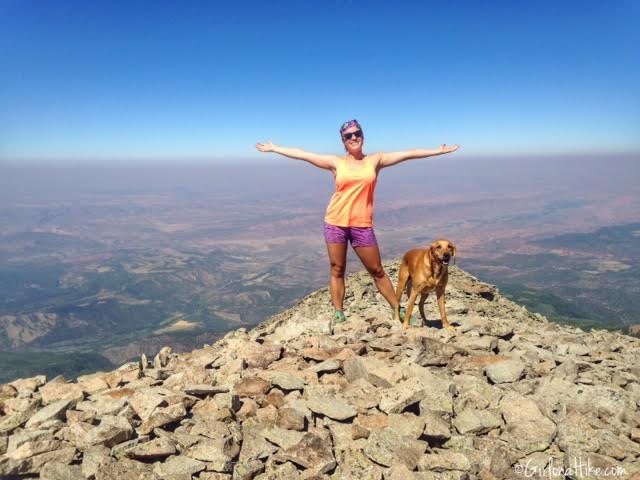 "Late in August the lure of the mountains becomes irresistible. Seared by the everlasting sunfire, I want to see running water again, embrace a pine tree, cut my initials into the bark of an aspen, get bit by a mosquitoes, see a mountain bluebird, find a big blue columbine, get lost in the first, hike above timberline, sunbathe on snow and eat some ice, climb the rocks and stand in the wind at the top of the world on a peak of Tukuhnikivatz."
-Edward Abbey, Desert Solitaire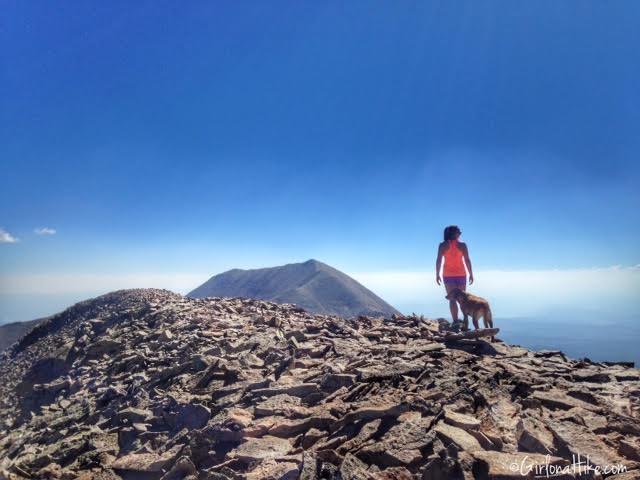 Charlie and I explore Mt. Tuk for a few minutes. Mt. Peale is ahead of us. No summit register was available for either peak, so whoever hikes up there next, please bring a mason jar and notepad so the next hikers can sign a register 🙂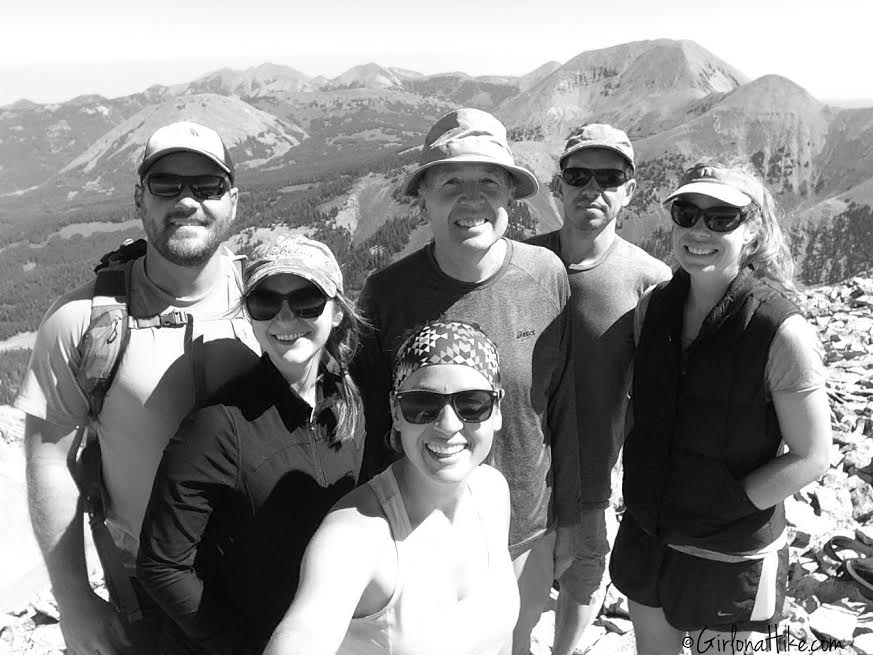 Group photo on Mt. Tuk. Mt. Ellenthin is the tallest peak behind us to the right.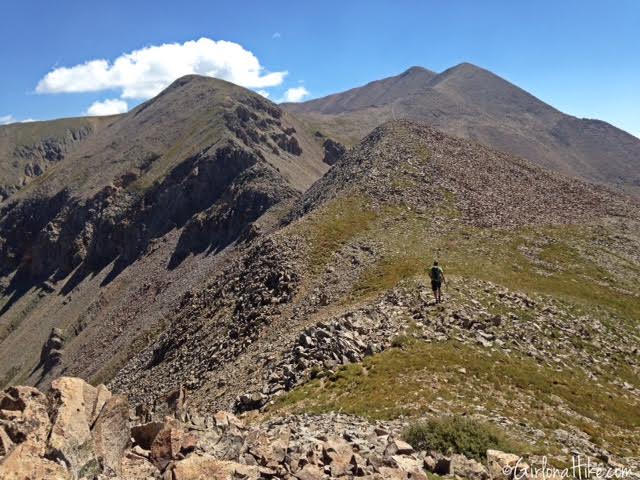 After we took a break on Mt. Tuk and enjoyed the view, it was time to head back down the ridge towards Mt. Peale.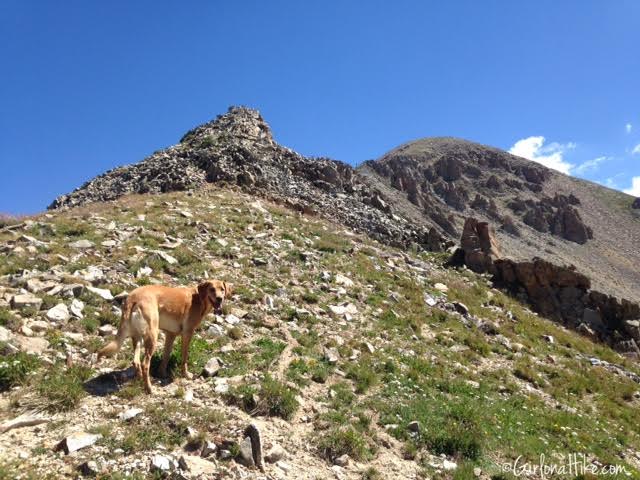 The Razor Fang begins…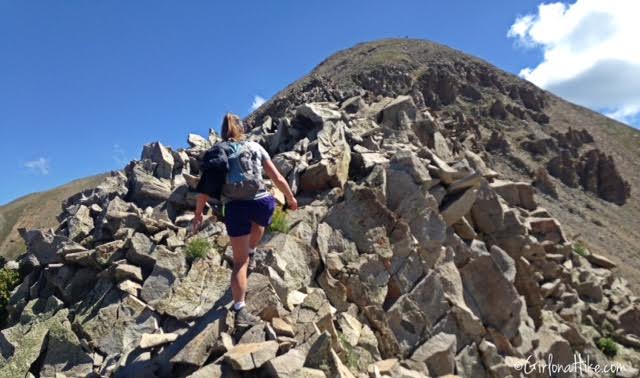 The first section of the Razor Fang. You can see how loose everything is.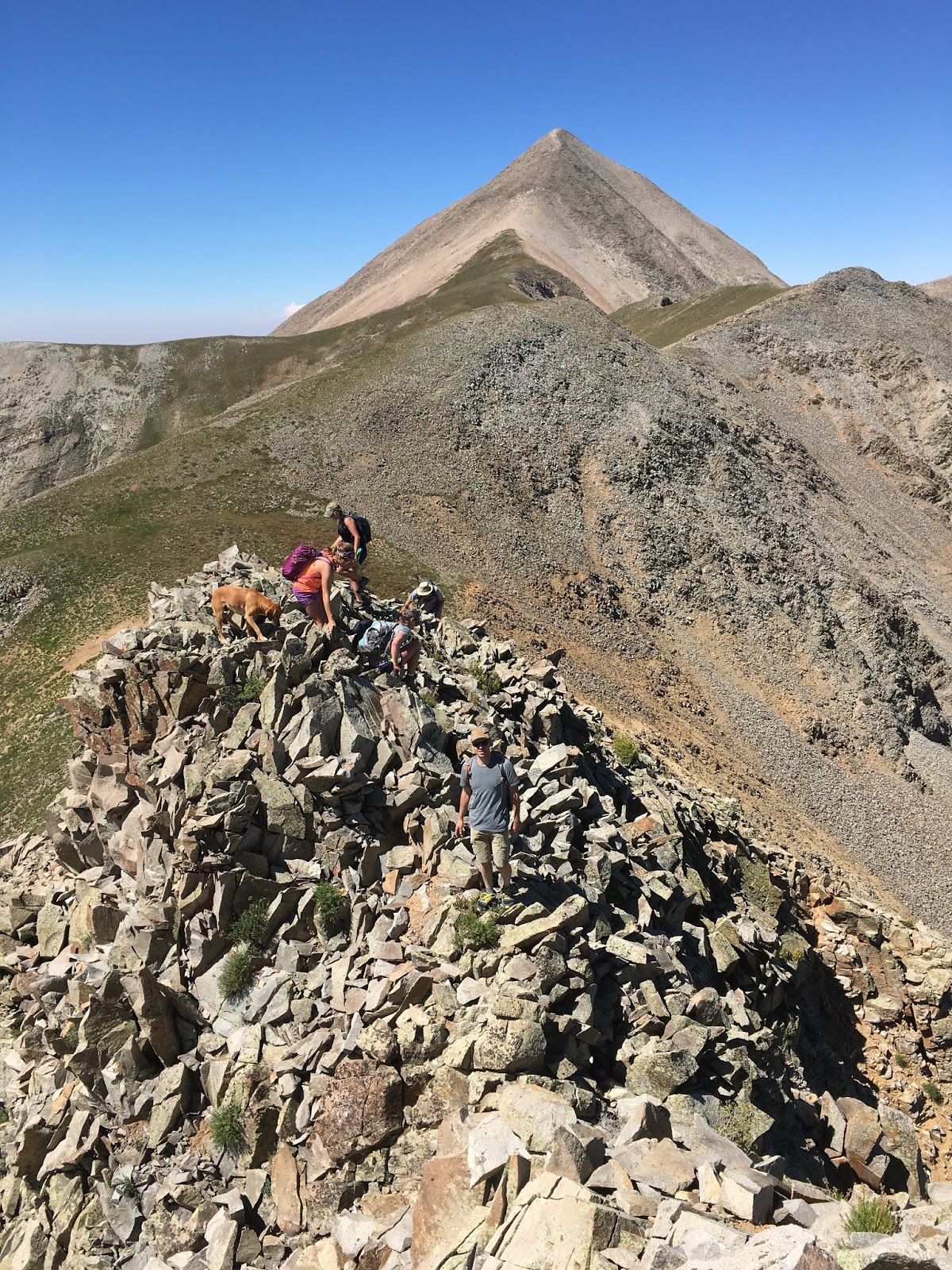 Looking back to the rest of the group on the Razor Fang, with Mt. Tuk in the distance.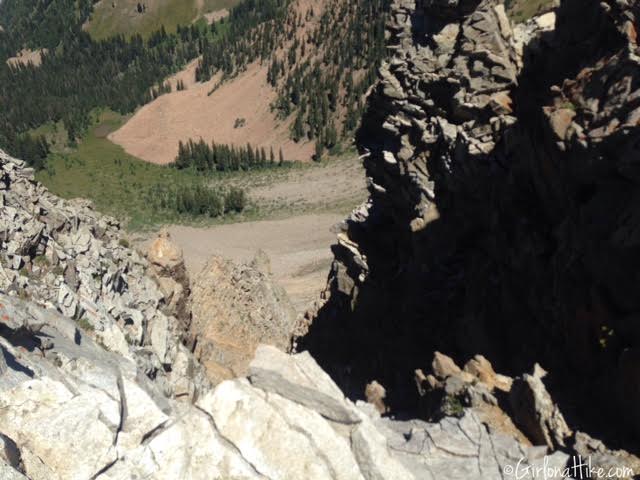 This shows how steep of a drop off it is on either side of the Razor Fang.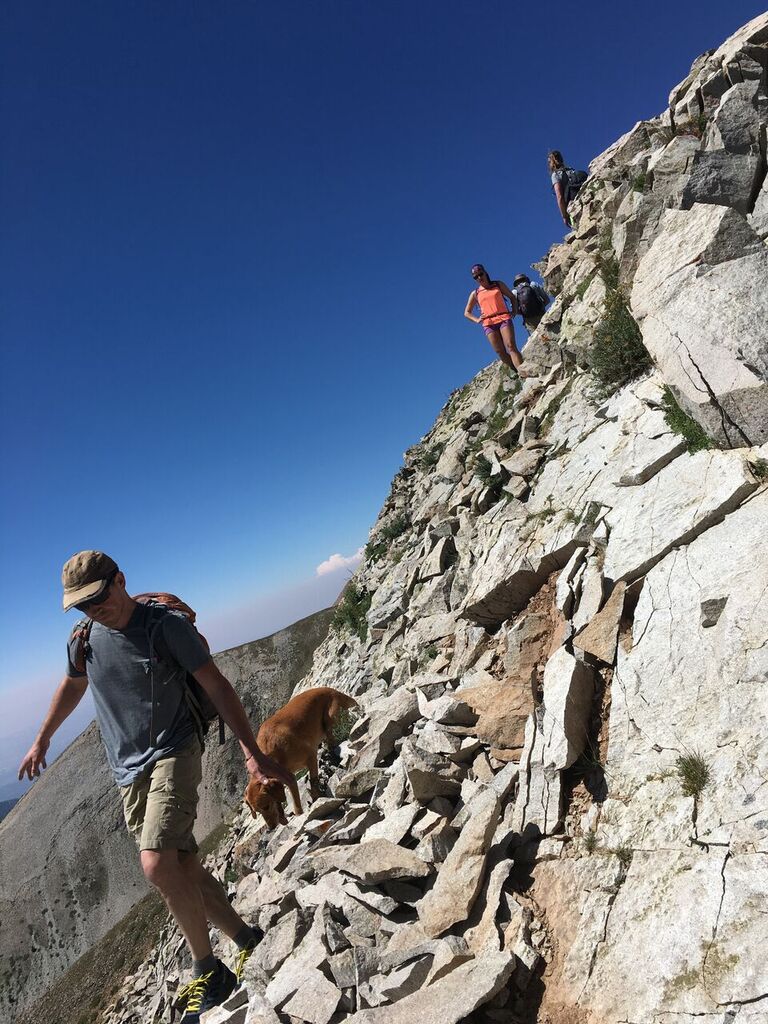 Continuing along the Razor Fang…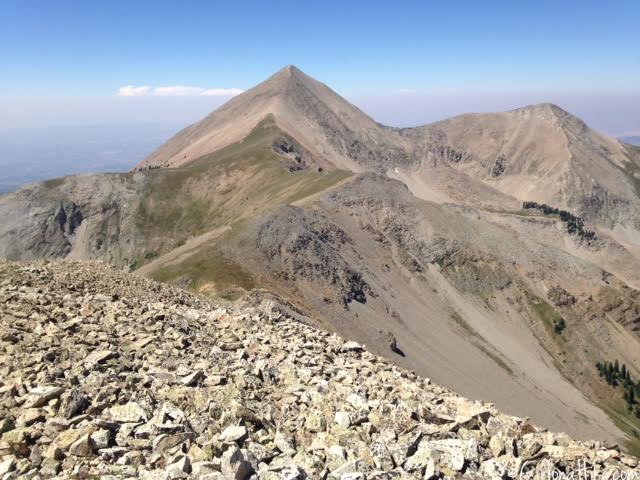 Finally past the Razor Fang, which took us roughly 30-45 minutes just for that section.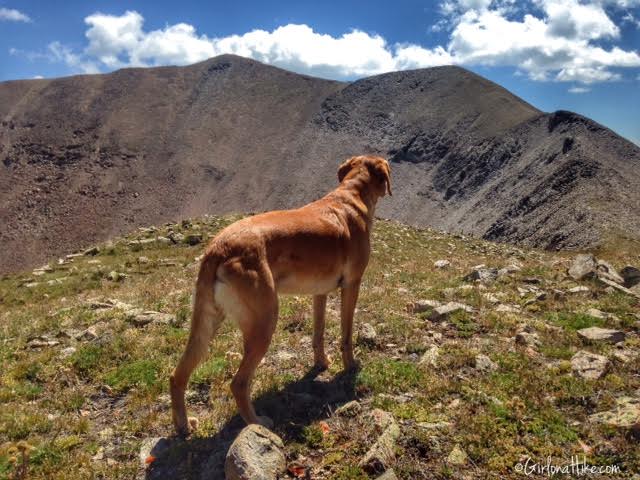 Charlie leads the way on the ridge towards the Mt. Peale summit.
 Taking a break before we start to work hard again.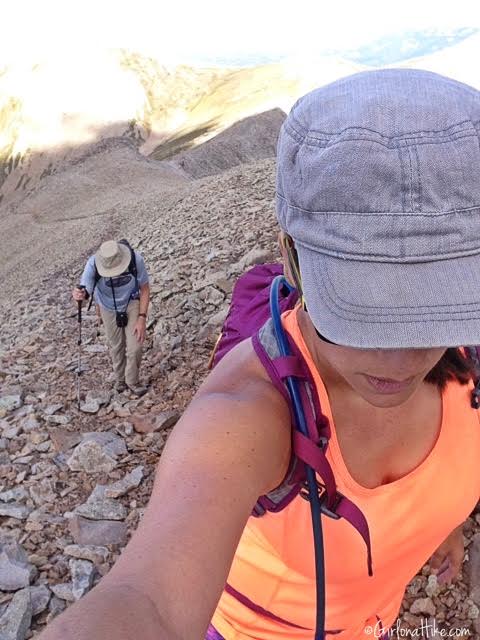 The trail up to Mt. Peale is easy to follow – you can see the trail below us hollowed out in the rock.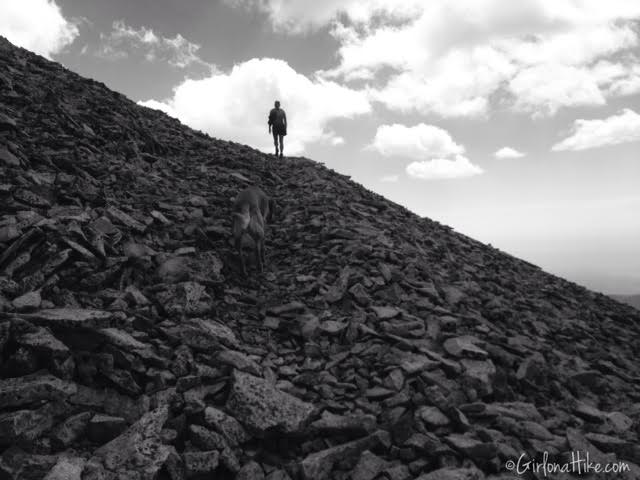 Still hiking up to Mt. Peale.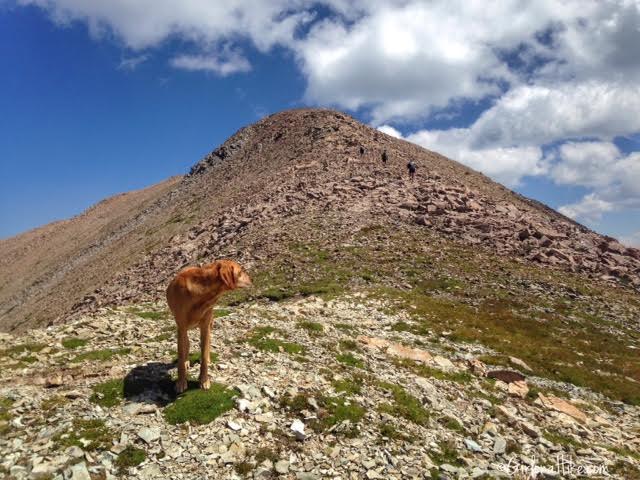 Charlie looks on to his Aunts & Uncles at the small saddle just before Mt. Peale. Almost there!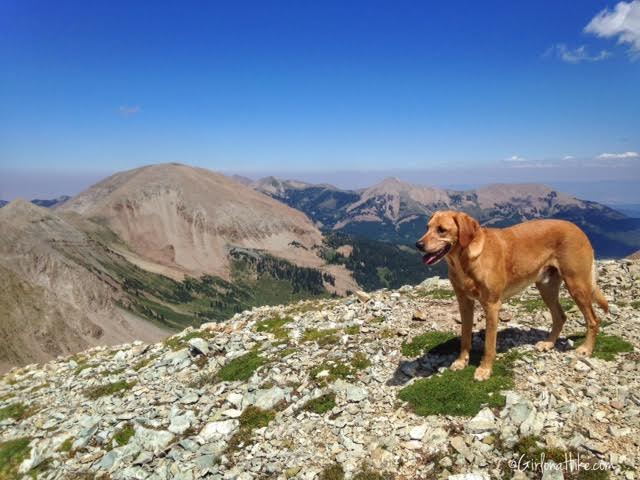 All smiles for this furry boy!
 Finally on the summit of Mt. Peale woot woot!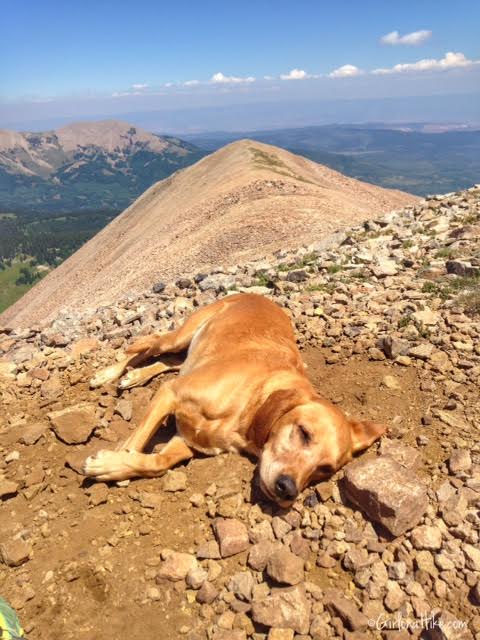 Charlie takes his usual summit nap in the sun.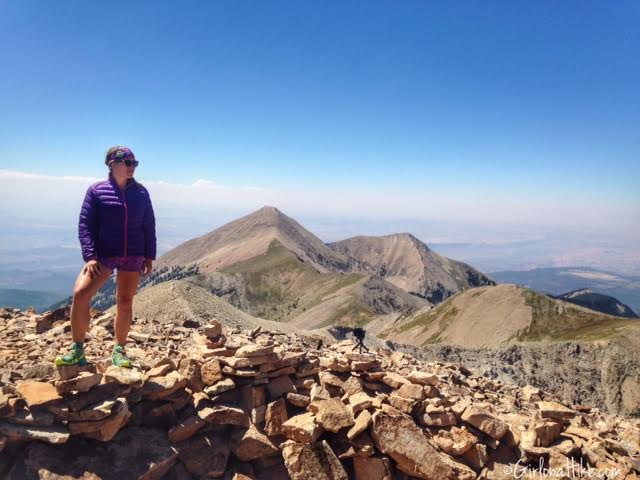 I was super excited to be on this peak – I had been wanting to do it for the past 2-3 years but it seemed weather always held us back from going. This year I told myself I would go earlier (before September) to beat the Fall weather and finally summit. We couldn't have timed it better.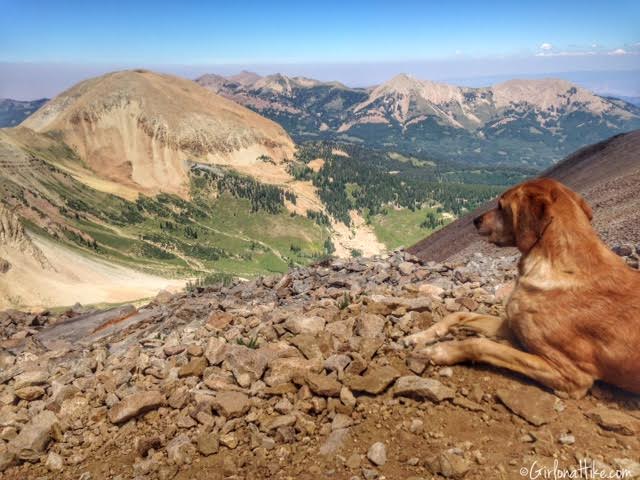 Charlie looks into the massive basin below and across to Mt. Ellerthin. Mt.Tomaskai is the other high pointy peak to the right in the distance.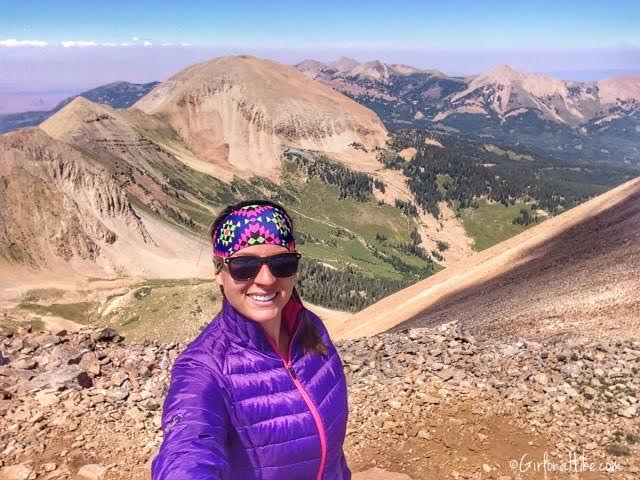 What a cool view!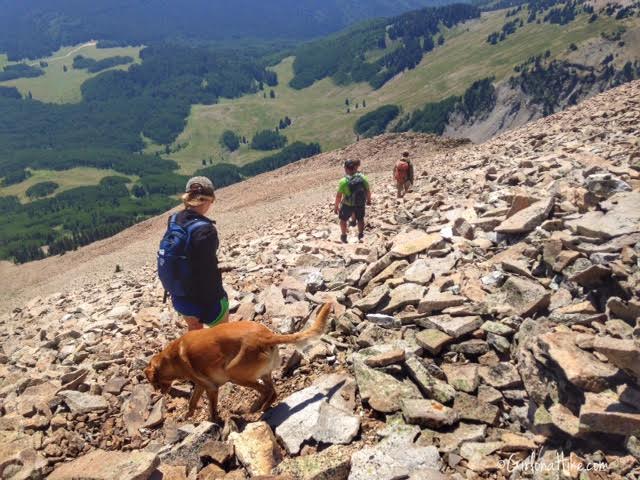 Instead of hiking back to the main ridgeline then back down to our camp, we decided to hike down about 100 yards from the summit and simply follow the talus spine all the way down, heading South. It was very steep. I was afraid going this way would lead me into my hiking nemesis – steep, loose scree. Thankfully, the talus was this medium sized rock the whole way down. It was doable, but not my favorite. I don't think going down any other way would have been any better though, and we were definitely not going back across the Razor Fang. A lot of this mountain range is "choose your own way" route. Do what feels comfortable for you and your experience.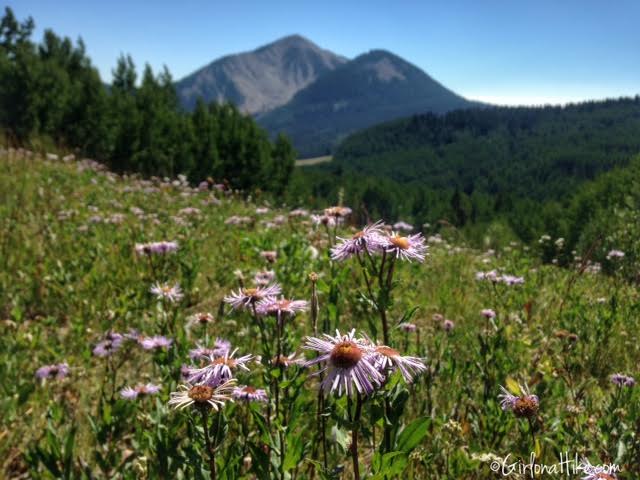 "A world without open country would be universal jail."
-Edward Abbey
Almost back to our car and camp, we crossed this pretty meadow with wildflowers still in bloom.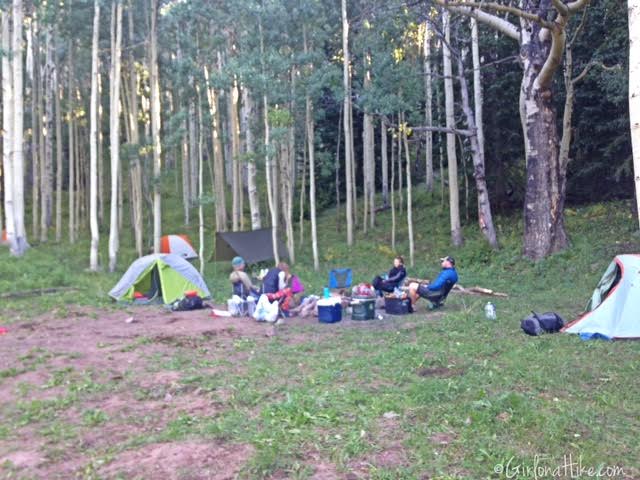 6.5 hours later, we were back to camp making a dutch oven meal for dinner over the fire.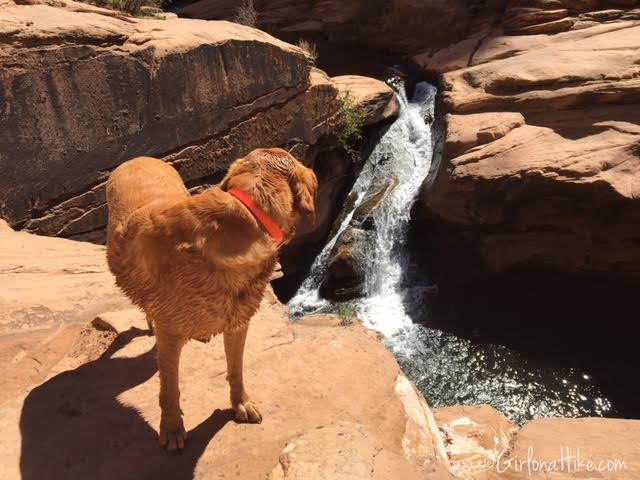 After climbing the peaks and heading back into Moab, UT, we decided we needed to cool off and chose to swim at the North Fork of Mill Creek!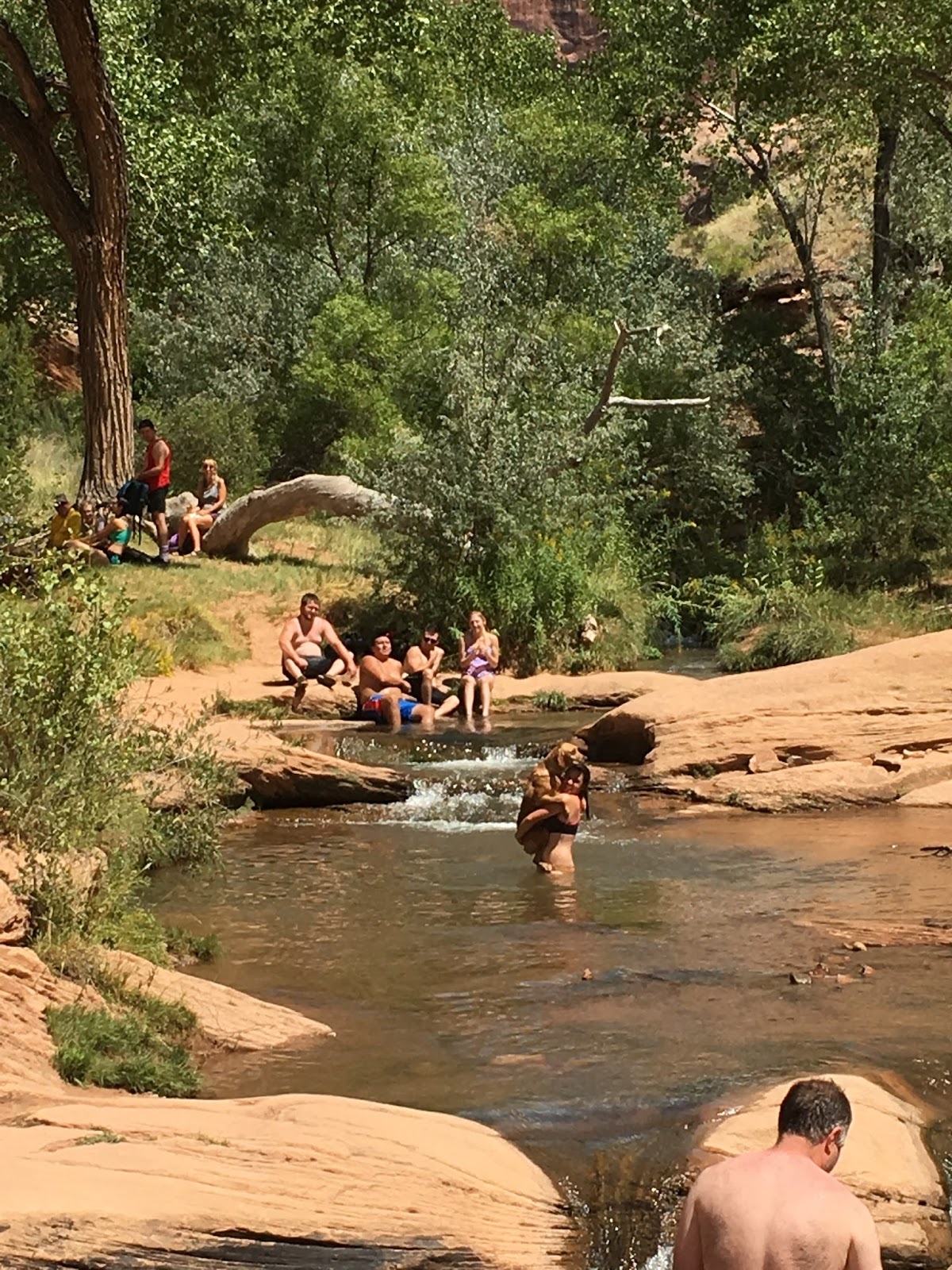 Swimming with Charlie in the creek…sometimes he likes to be held lol!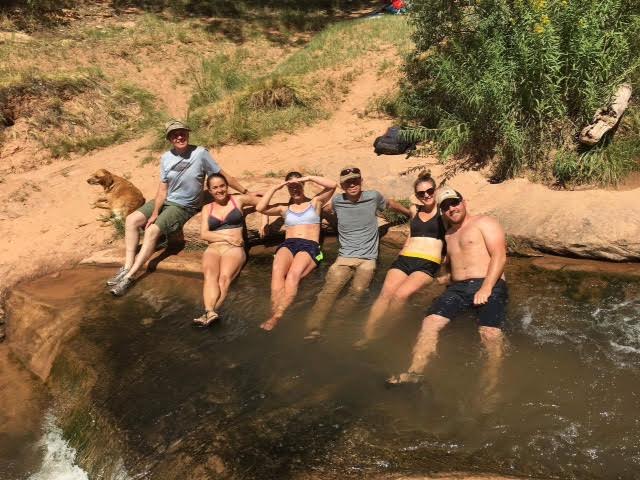 Relaxing in the swimming pools in Mill Creek, Moab.
"So I live alone. The first thing I did was take off my pants. Naturally."
-Edward Abbey, Desert Solitaire
Trail Map
My track via Gaia GPS – the best tracking app! Get your app here for a discount.
Also Read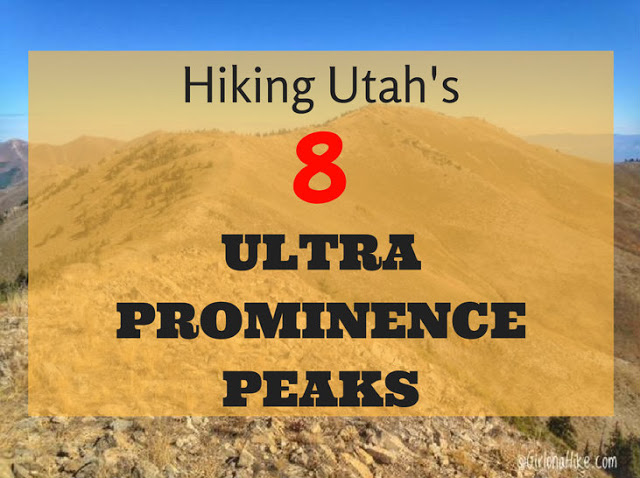 Hiking to Mt.Tomasaki, LaSal Mountains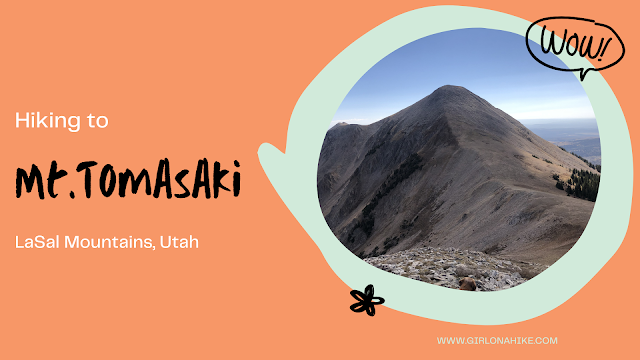 Save me on Pinterest!