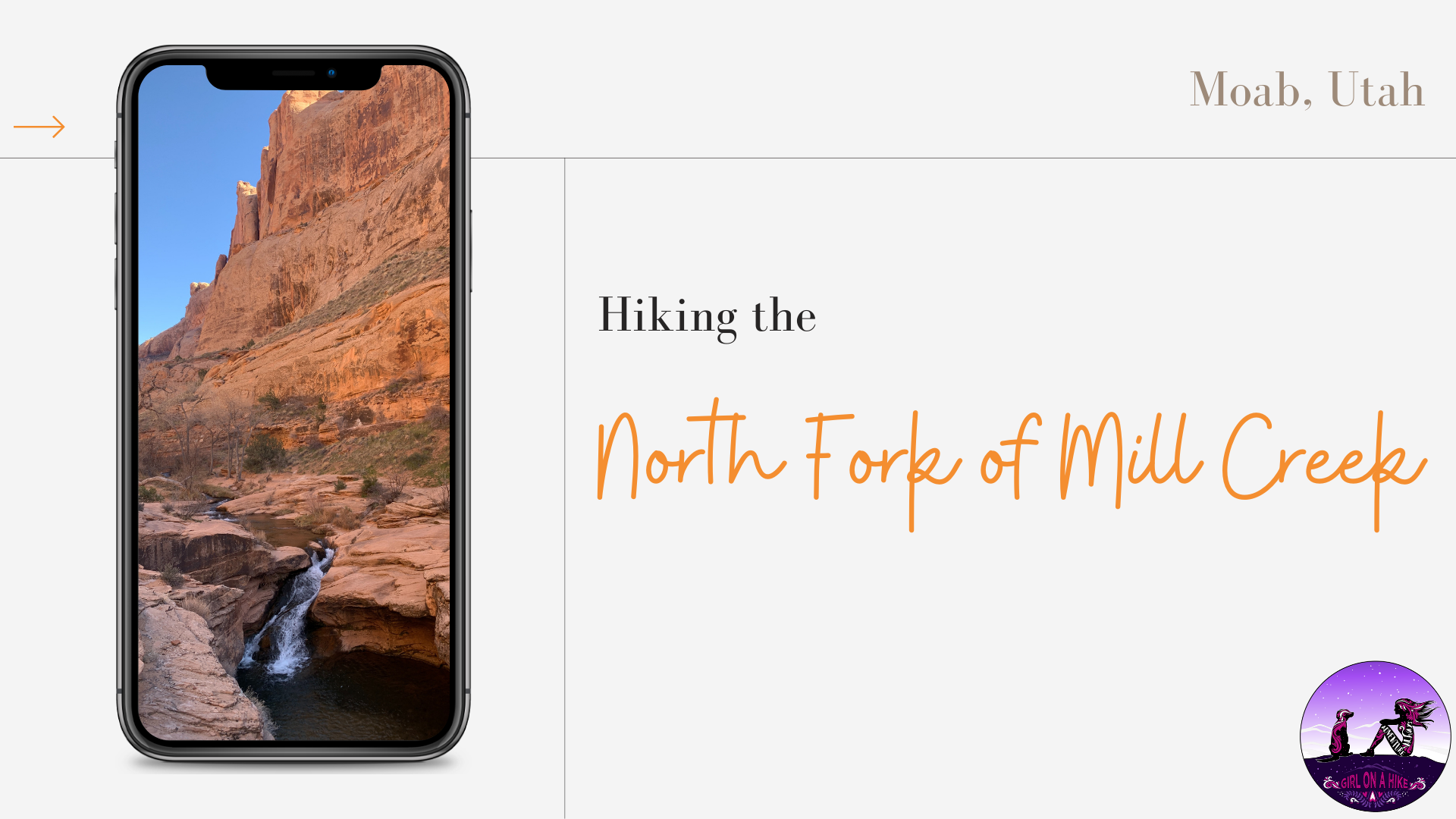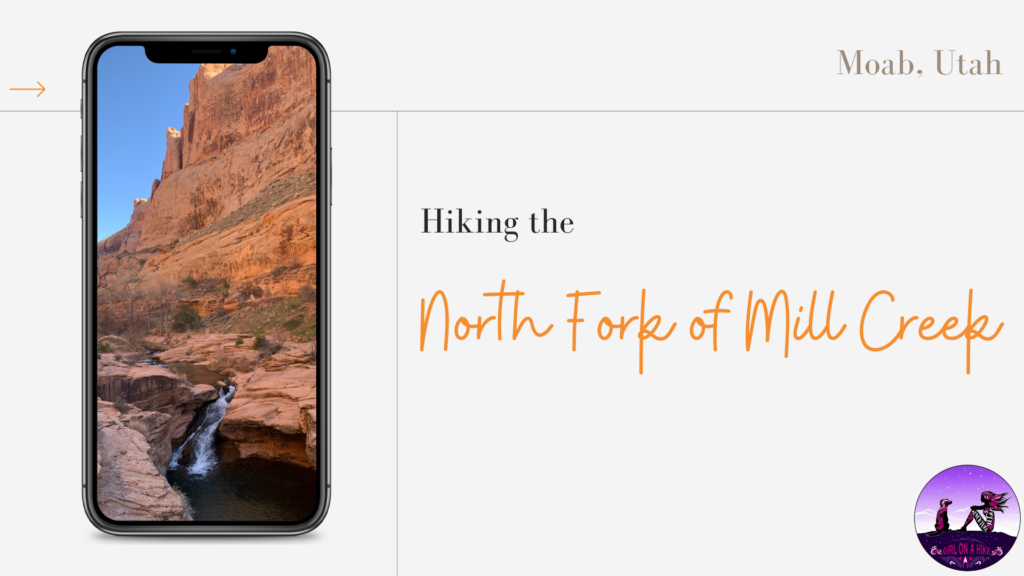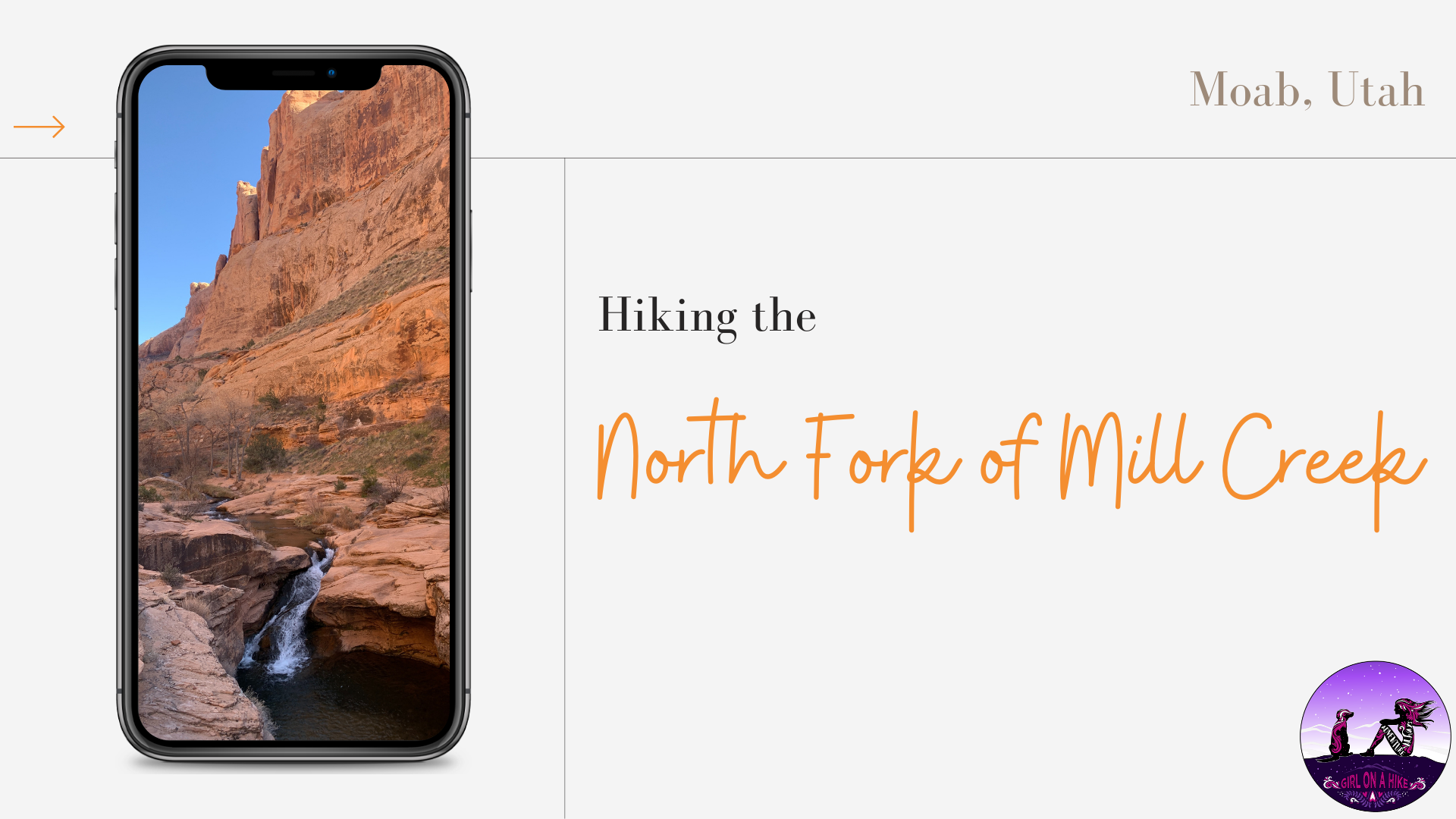 Hiking the North Fork of Mill Creek Canyon is perfect for kids, since it is only 1 mile to the first natural waterfall, and is considered the "locals swimming hole".
About
In Summer, be prepared to see possibly hundreds of people here on the weekends. Since it's so accessible, it gets crowded quick – start early in the morning to have a quiet hike and enjoy the sounds of the stream. You may even see people jumping from the cliff side, but it's not recommended. You can continue past the waterfall another 3/4 mile to a quieter area with another deep pool, which would also be good for swimming and few people will be there.
Directions
In Moab head south on HWY 191, and turn Left on E 300 S. Turn right on Fourth St., then left on Mill Creek Dr. At the first stop sign you can continue straight to Sand Flats Recreation Area, but you'll want to turn Right to continue on Mill Creek Rd. Drive 0.5 mile, then turn left onto Powerhouse Lane, which will turn into a dirt road. Drive to the very end to the parking lot and TH.
Here's a driving map from Moab.
Trail Info
Distance: 1 mile to waterfall, 1 3/4 miles to the end of the trail
Elevation gain: 150 ft
Time: 1-3 hours, depending how long you spend swimming
Dog friendly? Yes, off leash
Kid friendly? Yes!
Fees/Permits? None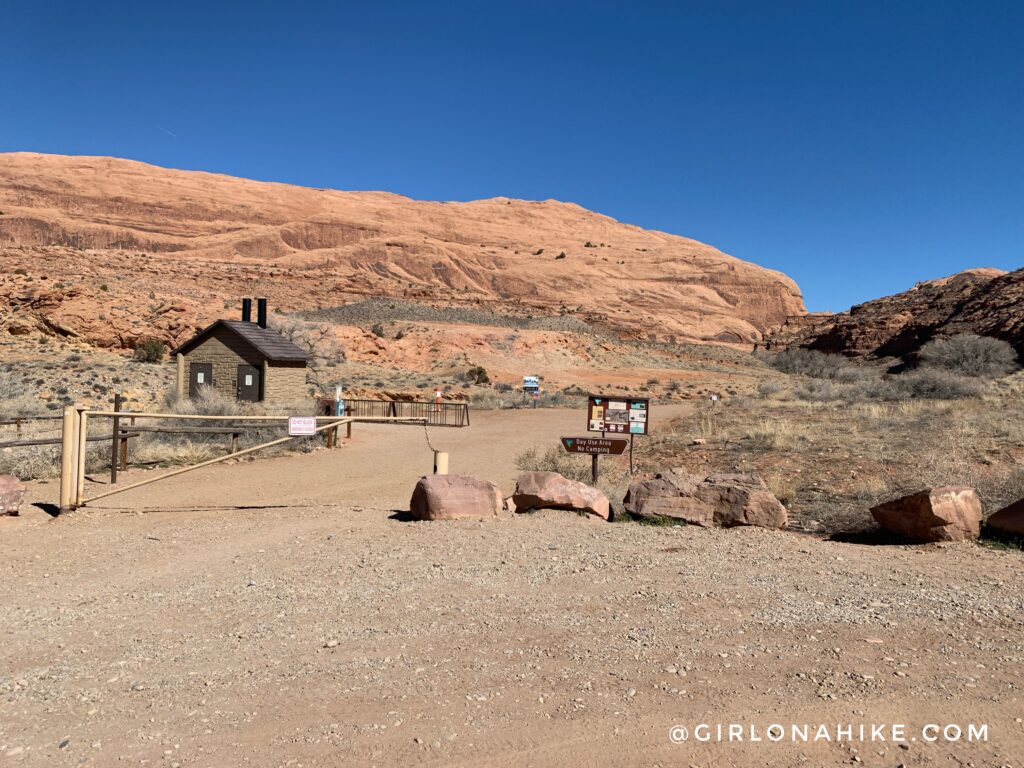 Sunday morning we drove over to our next hike, The North Fork of Mill Creek just outside of town in Moab, UT. The drive time from our camp in Kane Creek was about 20-30 minutes. We arrived around 10:30am, and there were still a few parking spaces left. There is one restroom available, and doggie poop bags at the start of the trail.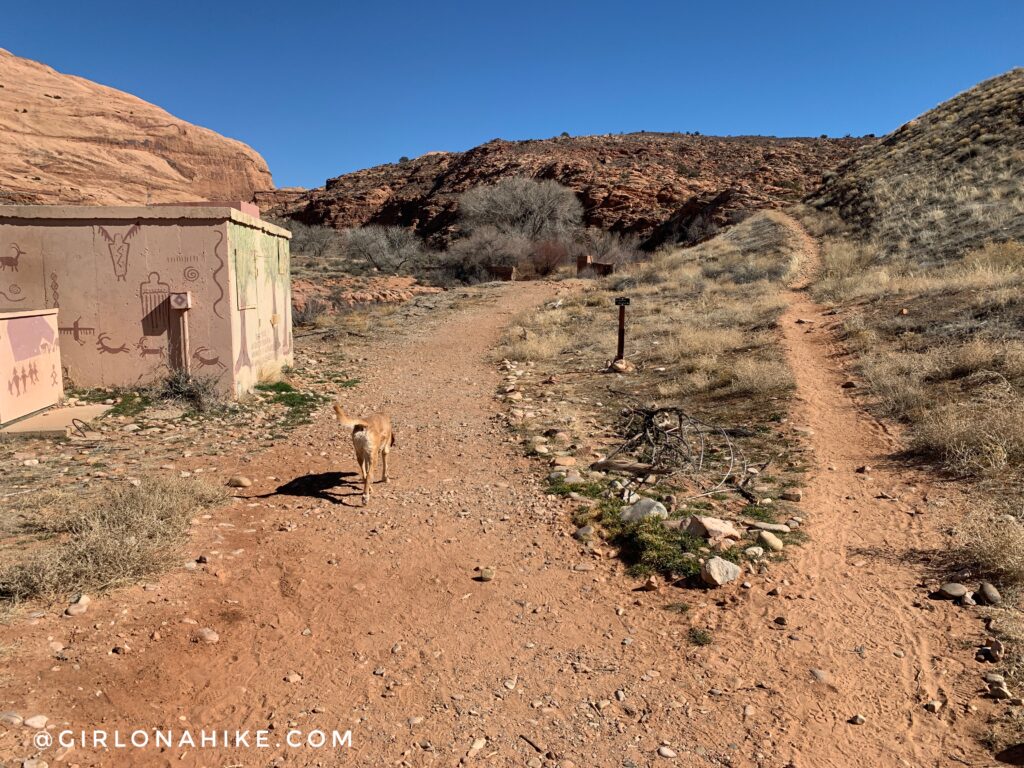 To reach the falls head straight (East) past this small brown building. The trail veering to the right in this photo is a bike trail. Bikes are not allowed on the main trail after this building.
For an interesting article on the area, the overcrowded-ness, & massive trash piles, check out this article from the Utah Public Radio. Please be responsible and "Leave No Trace" – pick up your own trash (and other's trash if you see it, and doggie poop bags). This is another area that is in danger of being closed off due to irresponsible hikers/tourists leaving a mess.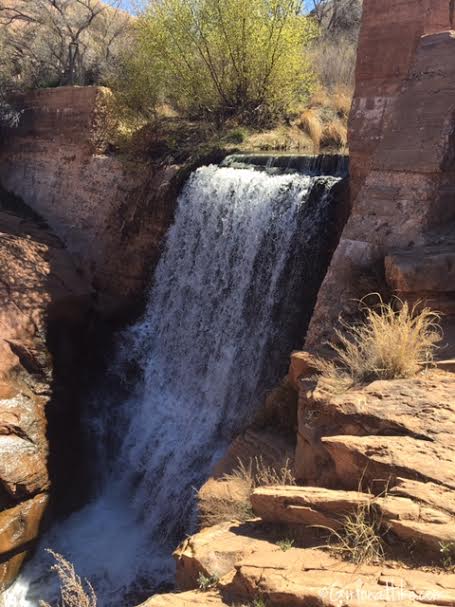 Pass the old dam.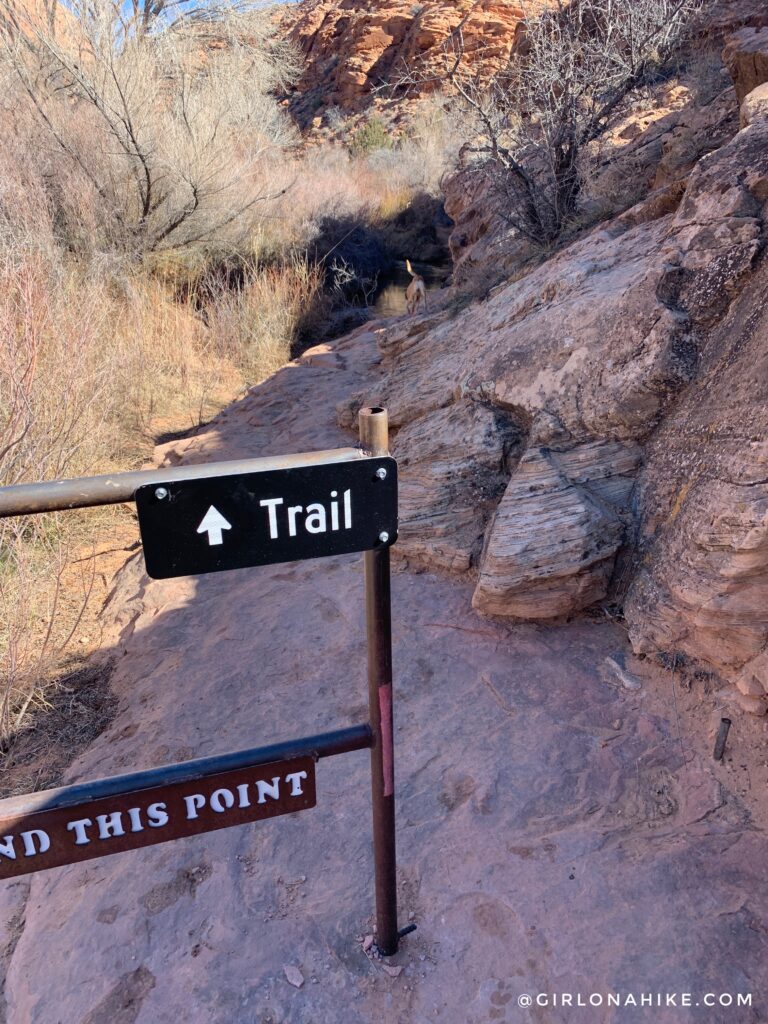 You can cut across the rocks, or just walk in the stream to get to the trail. You will end up crossing the stream about 3-4 times anyway, so be sure to wear water shoes.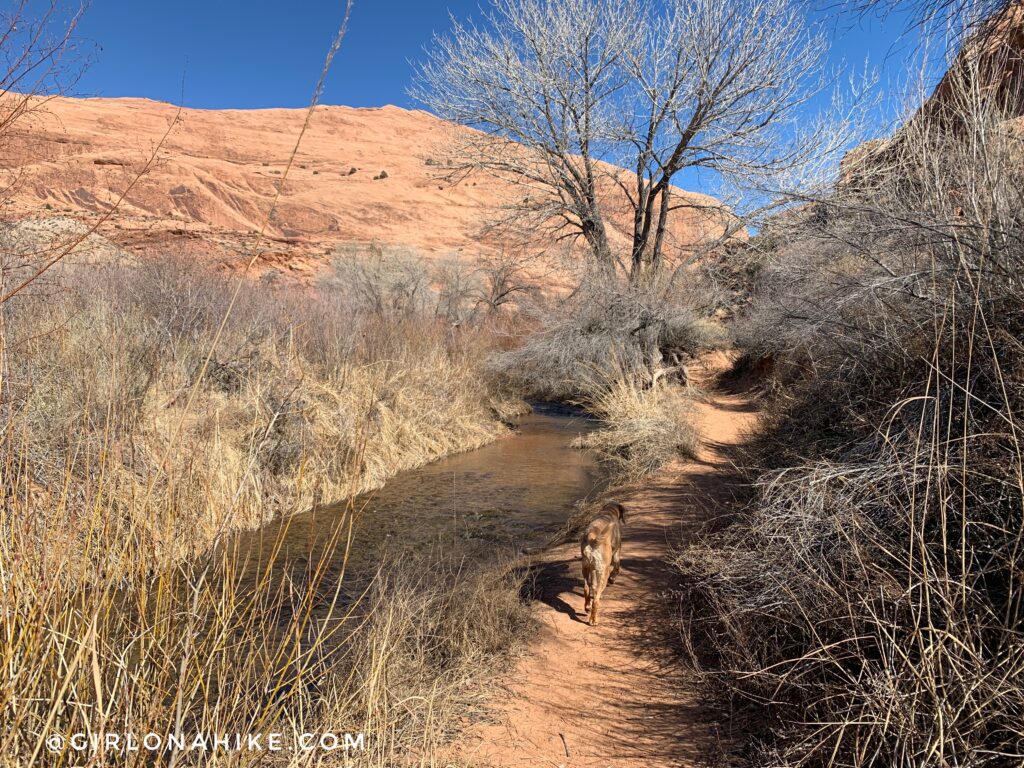 The trail goes right next to the stream a few times which is great for the dogs to cool off.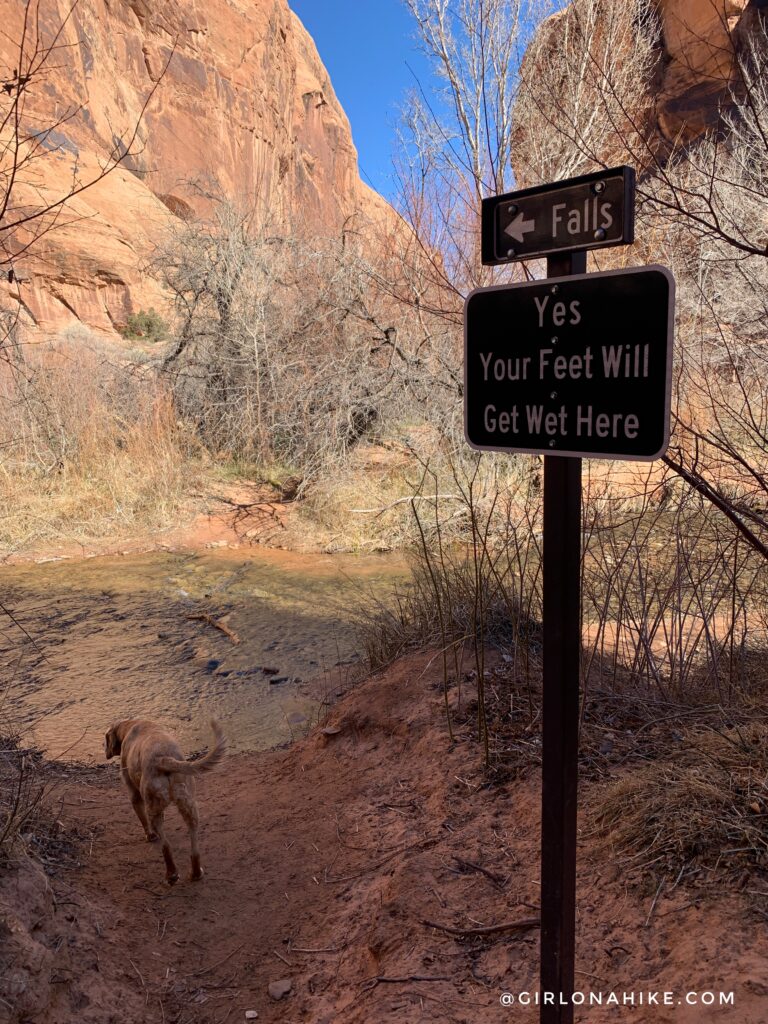 When the two canyons merge, you will see this hilarious trail sign pointing left. Turn and cross the stream.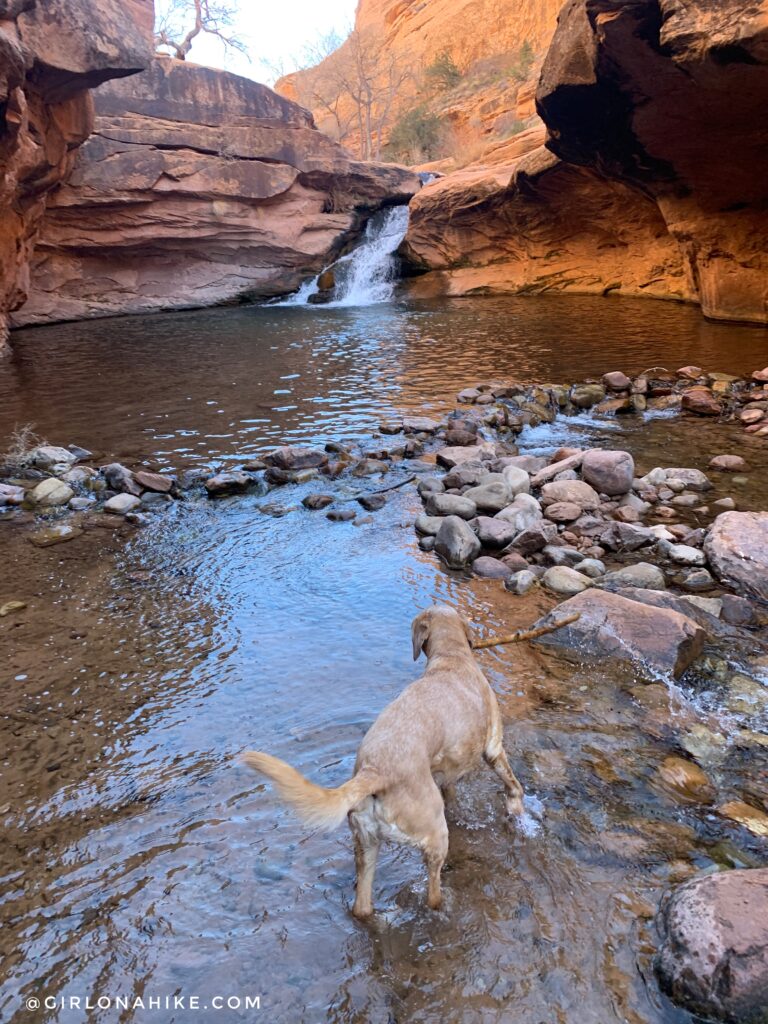 At 1 mile, you will see the main waterfall.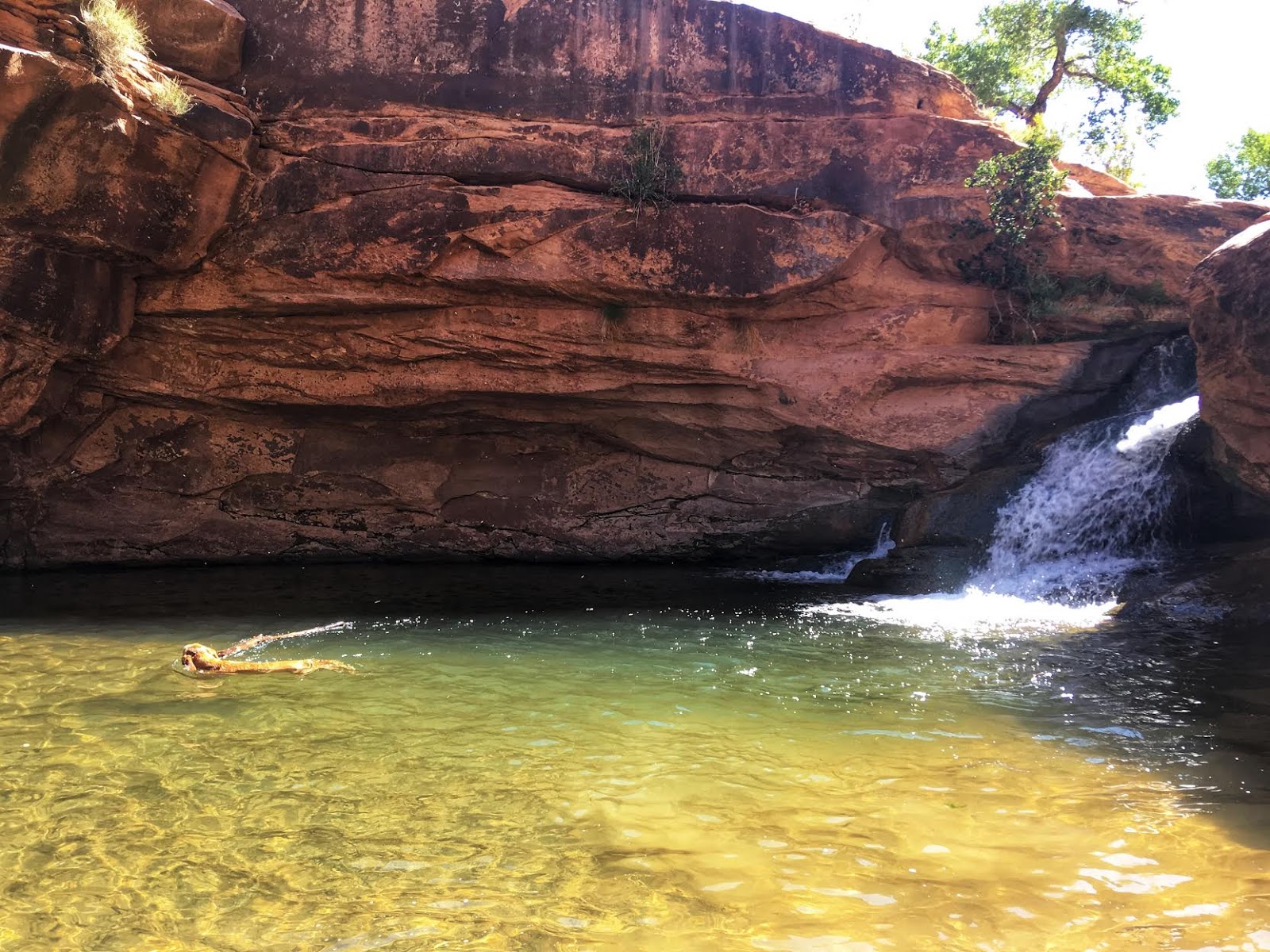 Charlie swims for a stick, as usual!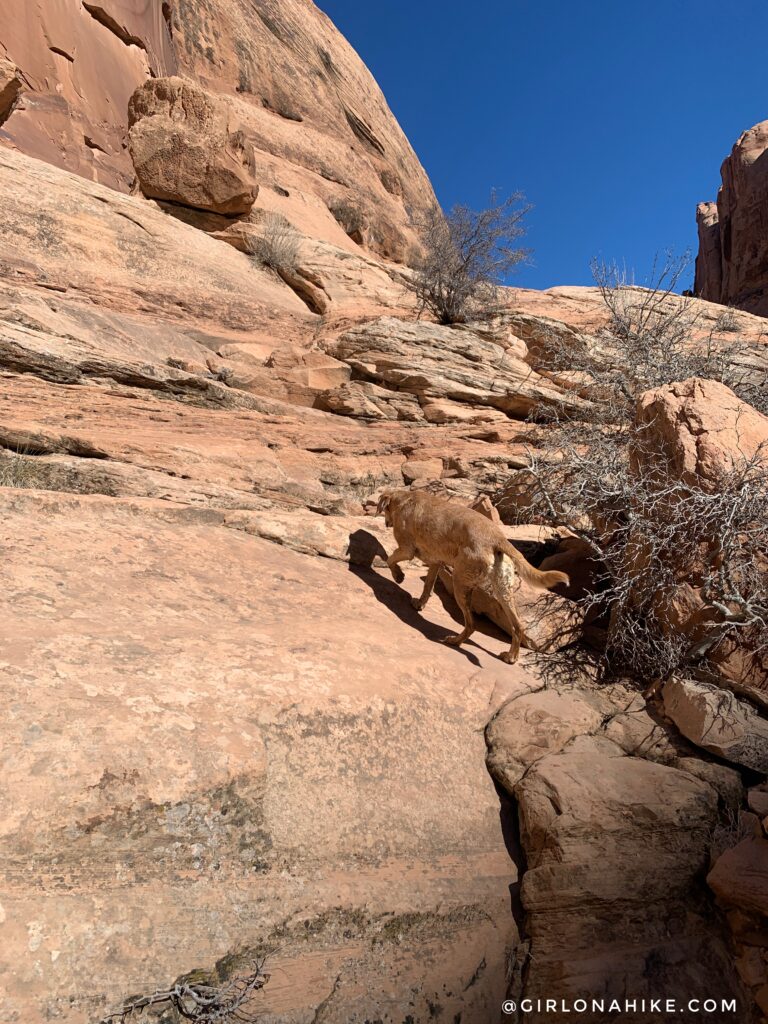 We wanted to get above the waterfall, and continue past the crowds. To do that, retrace your steps. About 50 yards before the falls, there will be a small game trail head left (north) up rocks. Take this to get above everything.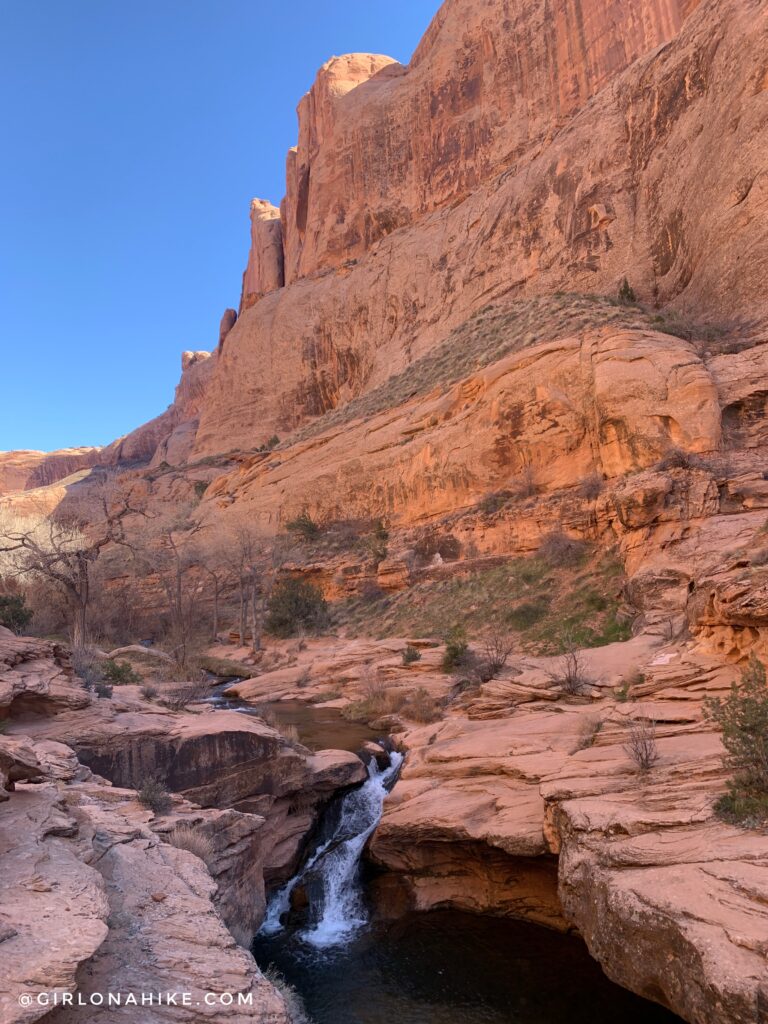 On top of the waterfall.
 The trail follows the canyon for another 3/4 mile. It's really pretty, and the canyon is very wide, with close to 100 ft walls. Keep an eye out for petroglpyhs. As you continue, the cactus get very dense – keep an eye out!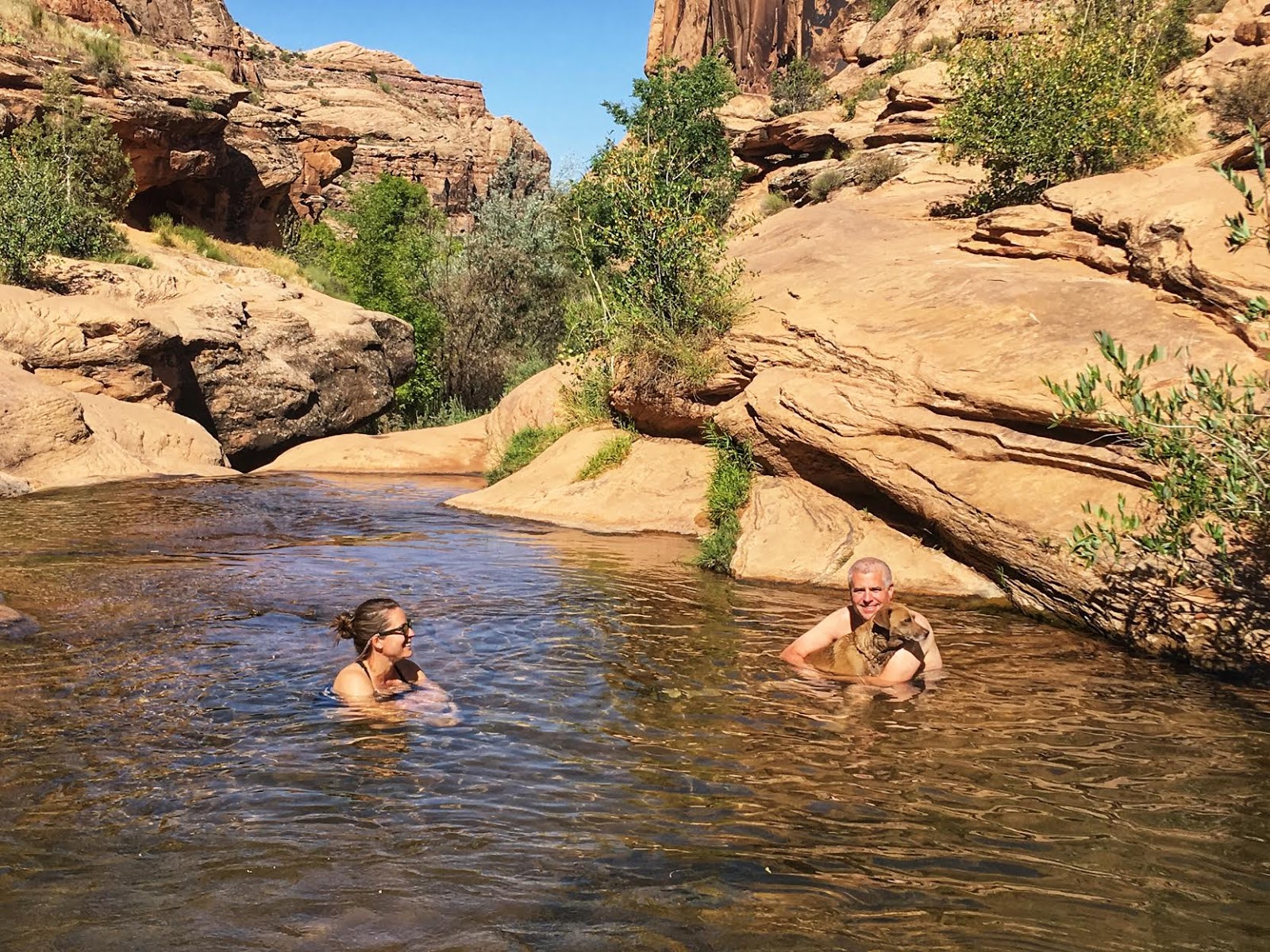 Enjoying the upper falls area with no people! Moab is HOT in summer, but thankfully this swimming hole is available to cool off! We hiked here after summiting a peak close by, and it was the perfect refresher!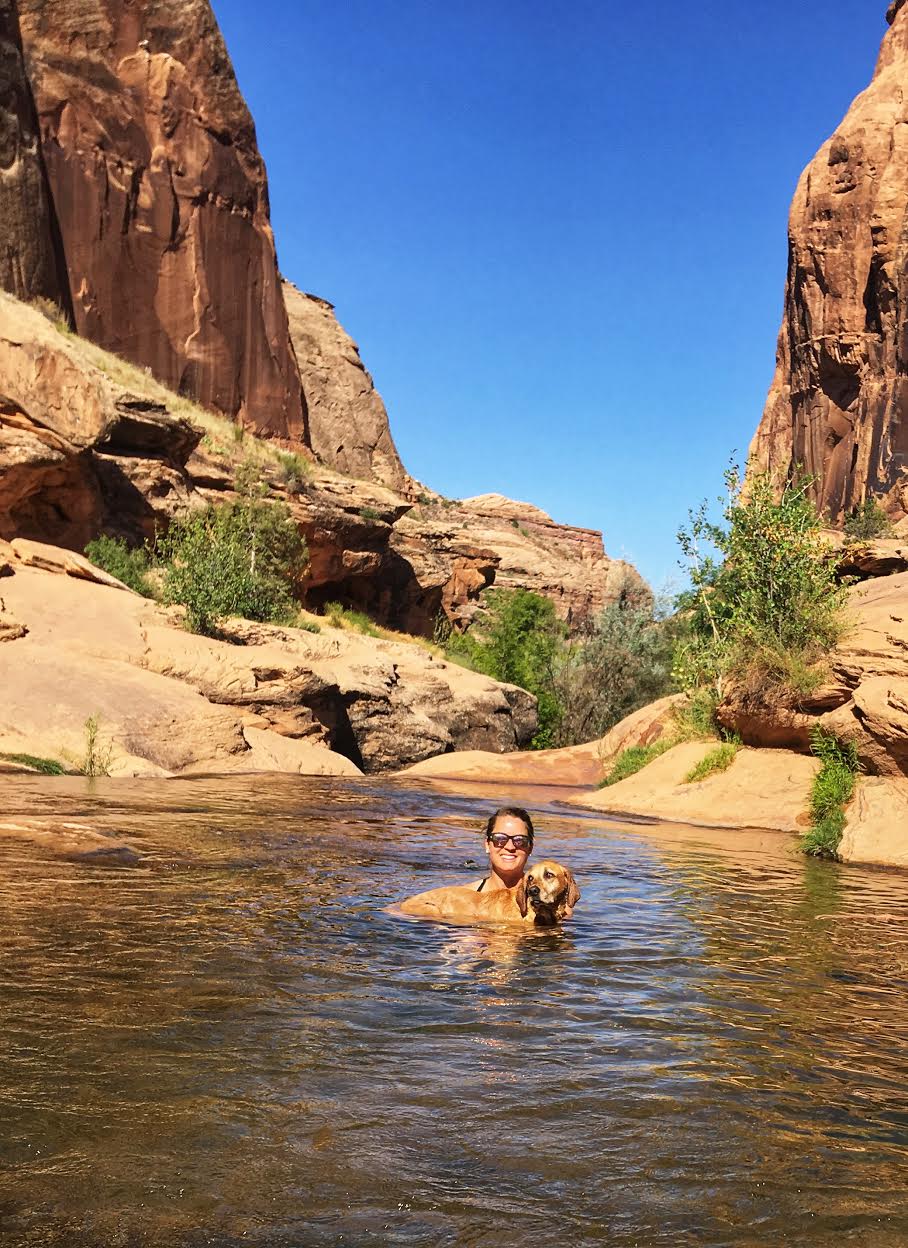 Always gotta sit in mom's lap!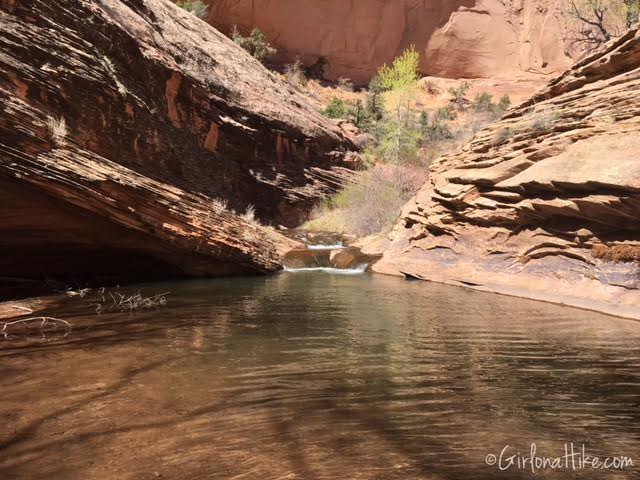 We ended our hike at the 3rd set of "falls", though they were really small. This is another great swimming hole, if the main waterfalls are too crowded. We hung out here to let the dogs swim and had a snack. This was our turnaround spot for the day. Dogs can make it here, but again, the cactus become quite dense and we had to pull a few spikes out of the dogs.
Trail Map
My track via Gaia GPS – the best tracking app! Get your app here for a discount.
Nearby Hike
Hiking the Stair Master Trail, Moab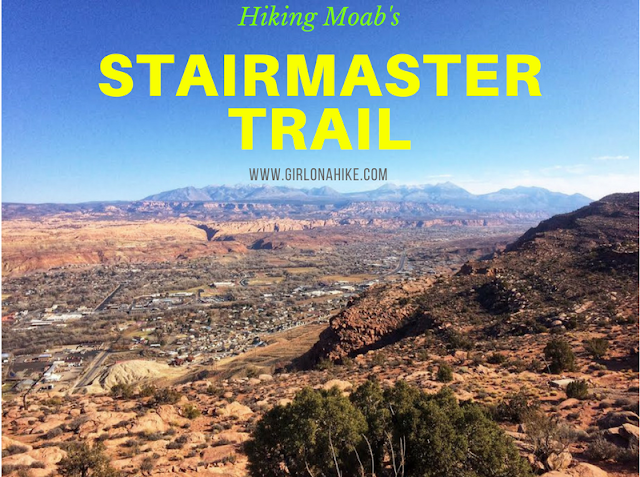 Recommended Lodging
Need a place to stay in Moab? Check out Moab Flats!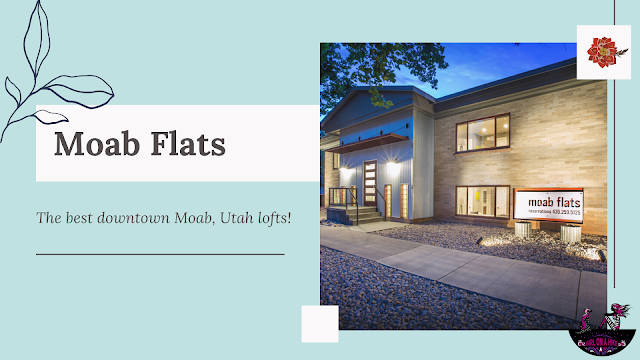 Save me on Pinterest!