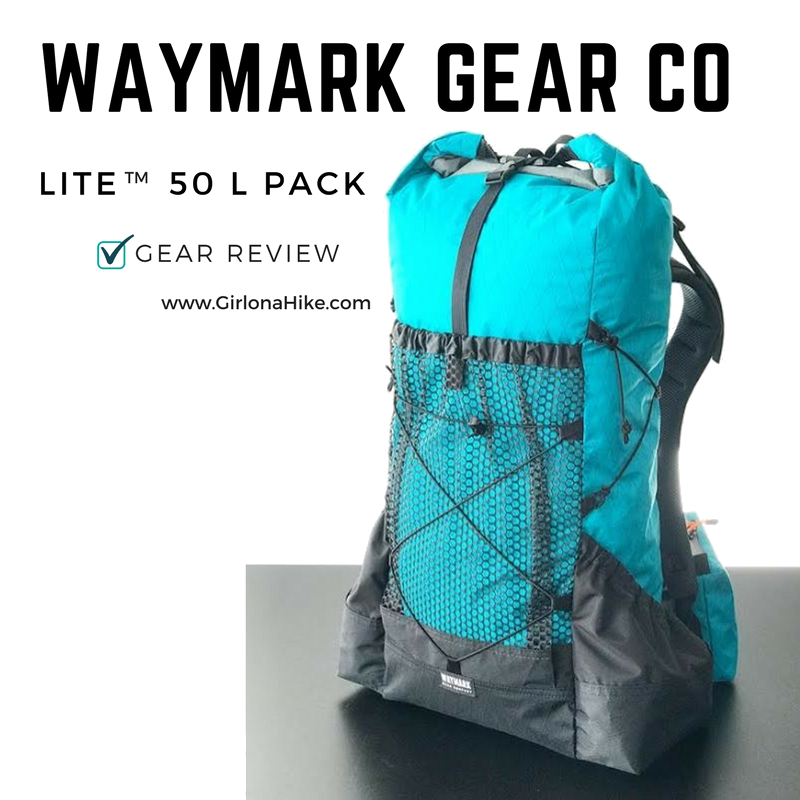 Waymark Gear Co. LITE 50 Liter Pack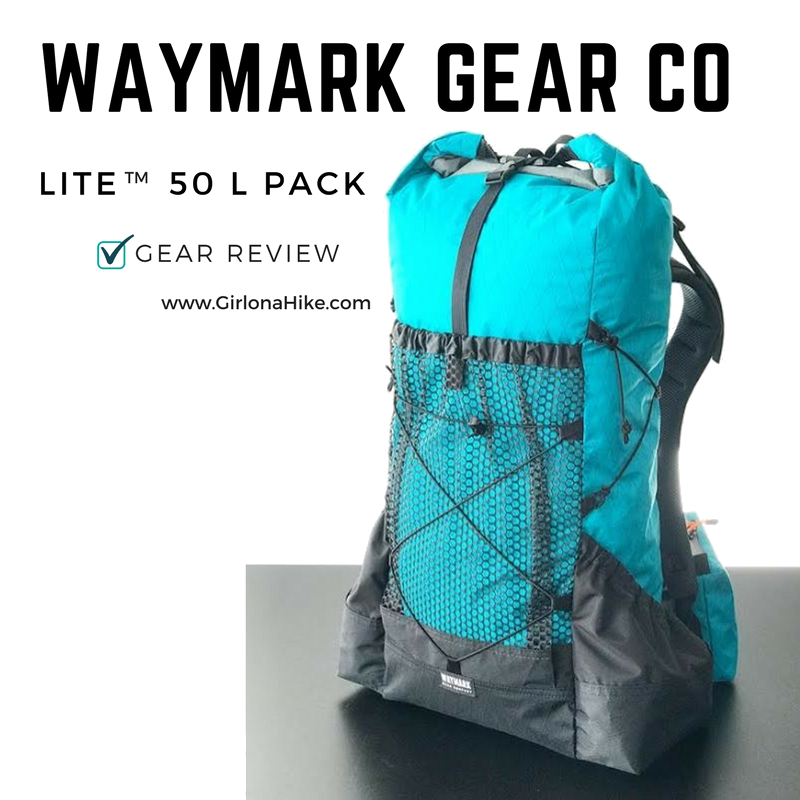 Waymark Gear Company

, founded and made in SLC, is an Ultralight (UL) backpacking company aimed to offer affordable, custom-made packs for thru-hikers, weekend warriors, or the week-day hiker. Mark Benson, owner, designer, and self-taught sewing extraordinaire, makes packs that are designed to go the extra mile (literally). Waymark Gear Co is a cottage company with a vision of creating frameless packs that allow more freedom, going from bulky and heavy, to comfy and light. Most backpacks with frames weigh in the 4-7 pound range, while going frameless can cut your weight to 1-2 pound per pack. 
Frameless packs are best suited for a total weight of 30 pounds or less, and allow for extended range of movement allowing your body to sway to a more natural gait and hike more distance per day. Framed packs are rigid and restrict movement, and can eventually lead to back (or other) pain. This I know too well – for years I have been carrying a frame pack weighing 5.2 pounds. Yikes! Slowly over the years I have developed lower back pain. Nothing seemed to really help. I bought a

UL backpacking chair

(it helps temporarily), lighted some of my other gear (mainly my

sleeping pad

and

bag

), used

hiking poles

, but still nothing quite worked. I just figured it was apart of being a Backpacker.
My only other option was to find a new pack to shave off roughly 3 pounds. That's when I started to research UL packs, and found Waymark Gear Co and connected with Mark. I had never used a frameless pack before, and to be honest, I was nervous it would be uncomfortable and too heavy. I was totally wrong! Keep reading to learn how these packs work and how you can create your perfect pack!
3 Ways to choose your perfect pack
1) Full Custom
Choose a model, colors, materials, features, & add-ons
2) Semi Custom
Choose a pack model, then colors for the side panels and front pocket bottom
3) Ready Made
Choose from affordable, pre-made packs

After 8-9 years of backpacking, I knew exactly what I wanted in a pack. I wanted it to be sleek and simple, yet wanted everything to have a purpose. My partner of 5 years taught me that everything goes inside your pack. I learned that the hard way – I used to keep random things on the outside of my pack and have lost those things (I'm still dreaming of those CostCo croissants I put in a ziplock bag on the outside of my pack!). I've also lost rain pants, chargers, gloves, etc. You would think after the first time losing gear I would learn but I didn't for a few years. My partner always encouraged me to put stuff IN my pack, so when I thought about what features I wanted, I really wanted to keep it simple on the outside. 

Not everyone operates that way, and you can get all kinds of exterior features put on if you want. Two things I did want were the heavy duty mesh pocket, and exterior bungee cord. I do like to put maps on the outside of my pack for easy access, and space for my puffy. I've even put my microspikes in the front mesh pocket – I was worried the 1/4 inch metal would tear through the mesh pocket but it held up perfectly! Other options for the mesh pocket are the fine, stretchy mesh (lycra) or solid fabric.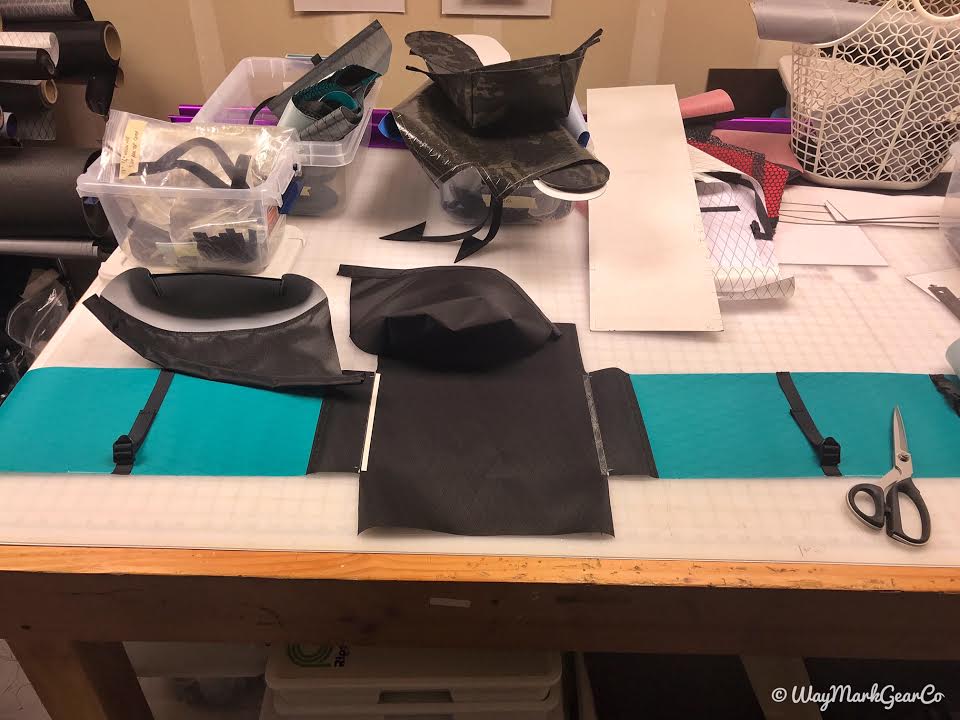 My WayMark Gear Co pack at the beginning stage! From zero to amazing craftsmanship in a matter of days.
Packs are made from Xpac material which is UL, yet heavy duty. You can literally scrape the pack on canyon walls or trees, and this fabric won't rip.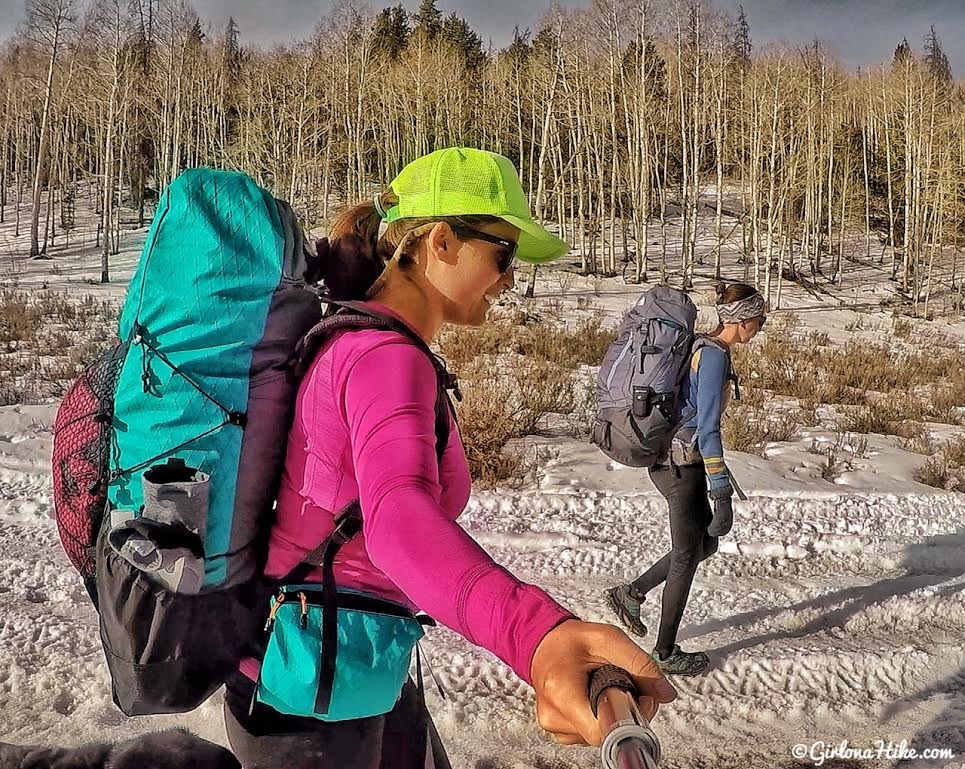 The extra large hip pocket actually holds things! I've had backpacks where the pocket barely fit my cell phone, but this one holds my phone, plus those items you want to grab quickly like kleenex, a small snack, or in winter, gloves.
The side pockets are very deep and hold quite a bit. In this photo, I have my gloves and a 1 liter platypus. You can ask Mark to make these pockets lower or taller, depending on what you want to put in there. Some backpackers have requested to make them really tall, so they can easily slide their tent & poles into it. I like keeping my tent inside the main compartment, but again, it just shows how much you can really design your pack.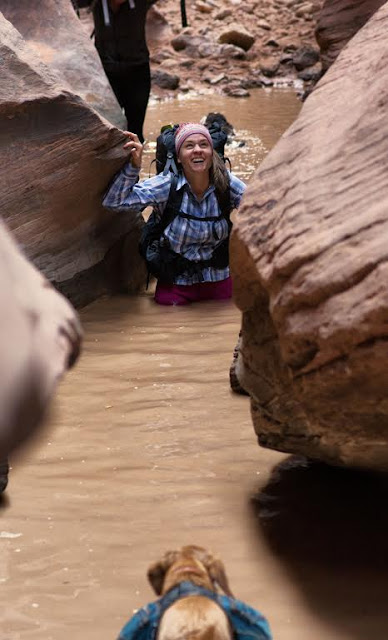 Testing the toughness factor – this pack survived 21 miles in Buckskin Gulch! It scraped canyon walls, sat in sand, kept dry, and held all my gear for 2 nights in Buckskin Gulch!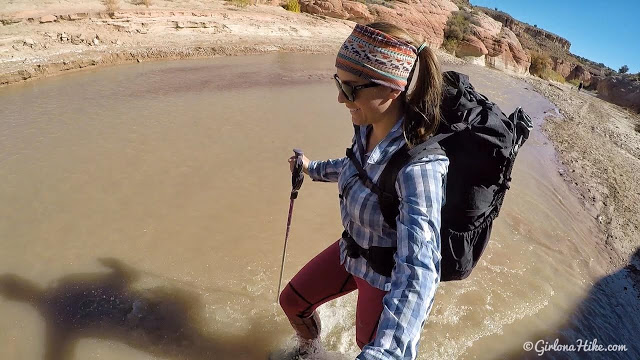 This pack is a prototype pack that I was able to borrow before ordering my pack. I was really glad I tested it out first to see how the pack felt over long distances. My friends on this trip were going gaga over the new pack – they wanted to try it on and were amazed at how light it was. I made my personalized adjustments from learning experiences, and I couldn't be happier!
One of the features I added on the inside is the hydration bladder kit. The kit includes the inner hanging sleever (1-3 liters), a hydration port for your hose to exit the pack, and a should strap elastice to route the hose. I highly recommend adding this on if you use a CamelBak or Platypus bladder. If you ever decide you no longer want to use it, you can easily remove the hanging sleeve.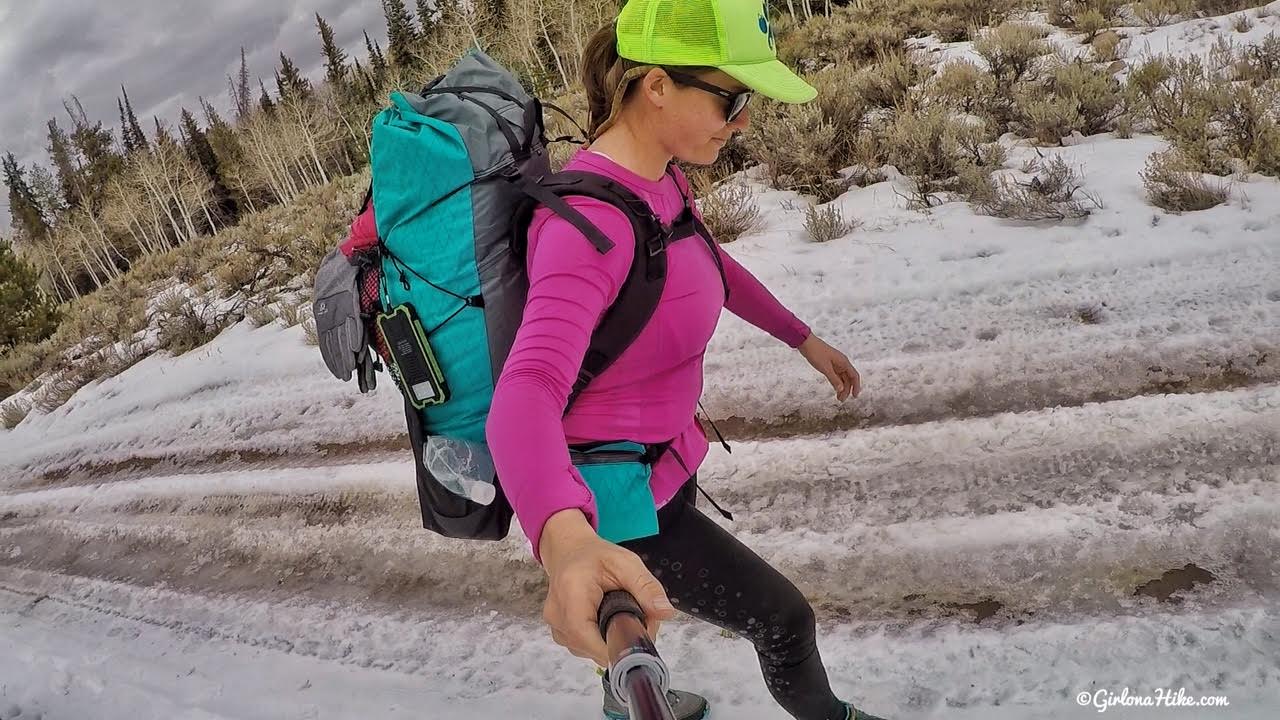 One of my concerns with any pack are the shoulder straps. Let's just say most companies don't take into consideration… a larger chest on women. So finding straps that contour just right and get out of my way are hard to come by. Mark and I discussed this issue, and we ultimately found a way to curve the strap more, so that it contours around the chest deeper, and doesn't rub your arms as you use a hiking pole or anything else. So to my fellow backpacking ladies out there – I highly recommend the "slim 2.5 inch" strap if you are looking to fit your pack to a larger chest. You can pick the colors of the strap as well. I wanted the entire back side of my pack to blend together, but if color-pops are your thing, you can definitely do that.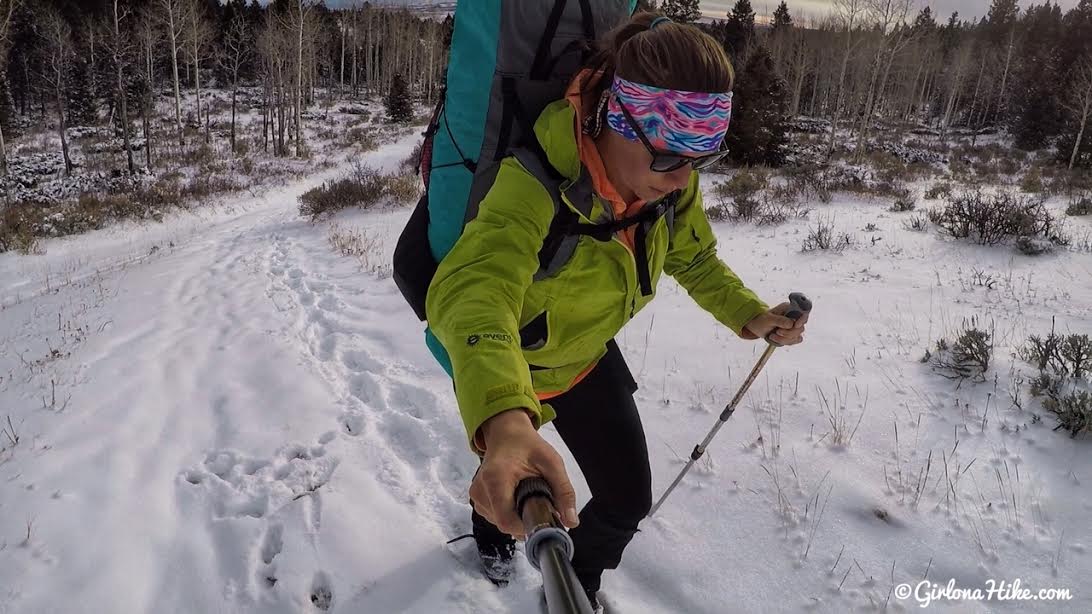 My other favorite feature is the simple side compression straps, made of 1/8 in nylon braided cord. Most packs have thick straps with buckles, but this version will slightly lighten you load by using nylon cord, and uses a tighten & release system. It's so simple and does the exact same thing as the thick straps and buckles, yet gives the pack a simple look.
Another feature I really like – the single, over the top compression (instead of the standard two straps). This option simplifies the look, and reduces the weight slightly. You can still fit one item on the top of your pack, if you had to (such as a backpacking chair or sleeping pad).
This photo also shows what the backside of the pack looks like. Again, you can choose your color here. The back panel velcro can be moved up or down based on your torso length to create a perfect fit. Plus, if you had a shorter trip or a lighter load, you can fully remove the hip belt and hip pocket.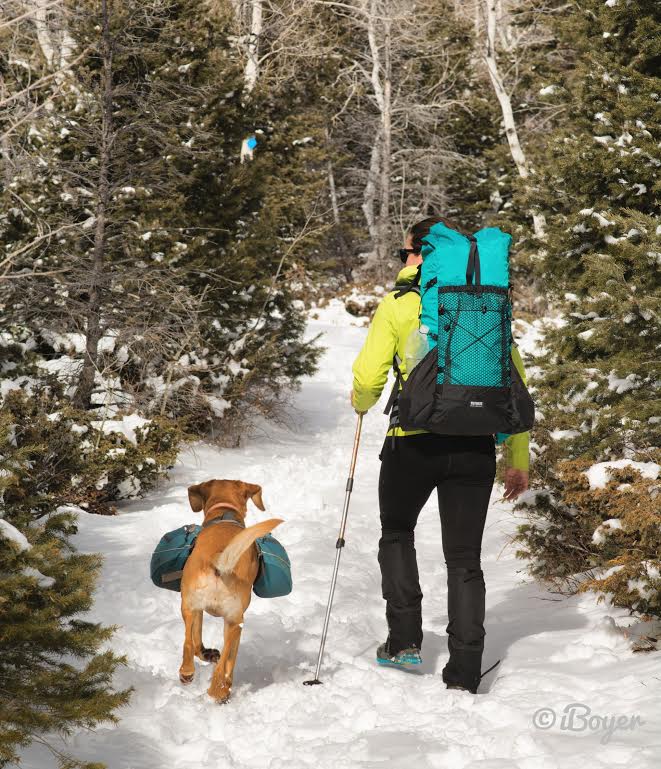 So happy with this pack! I highly recommend Waymark Gear Co backpacks if you are ready to go UL & frameless. Using this pack, plus combined with a few other gear changes, I was able to shave off 3.4 lbs off my base weight!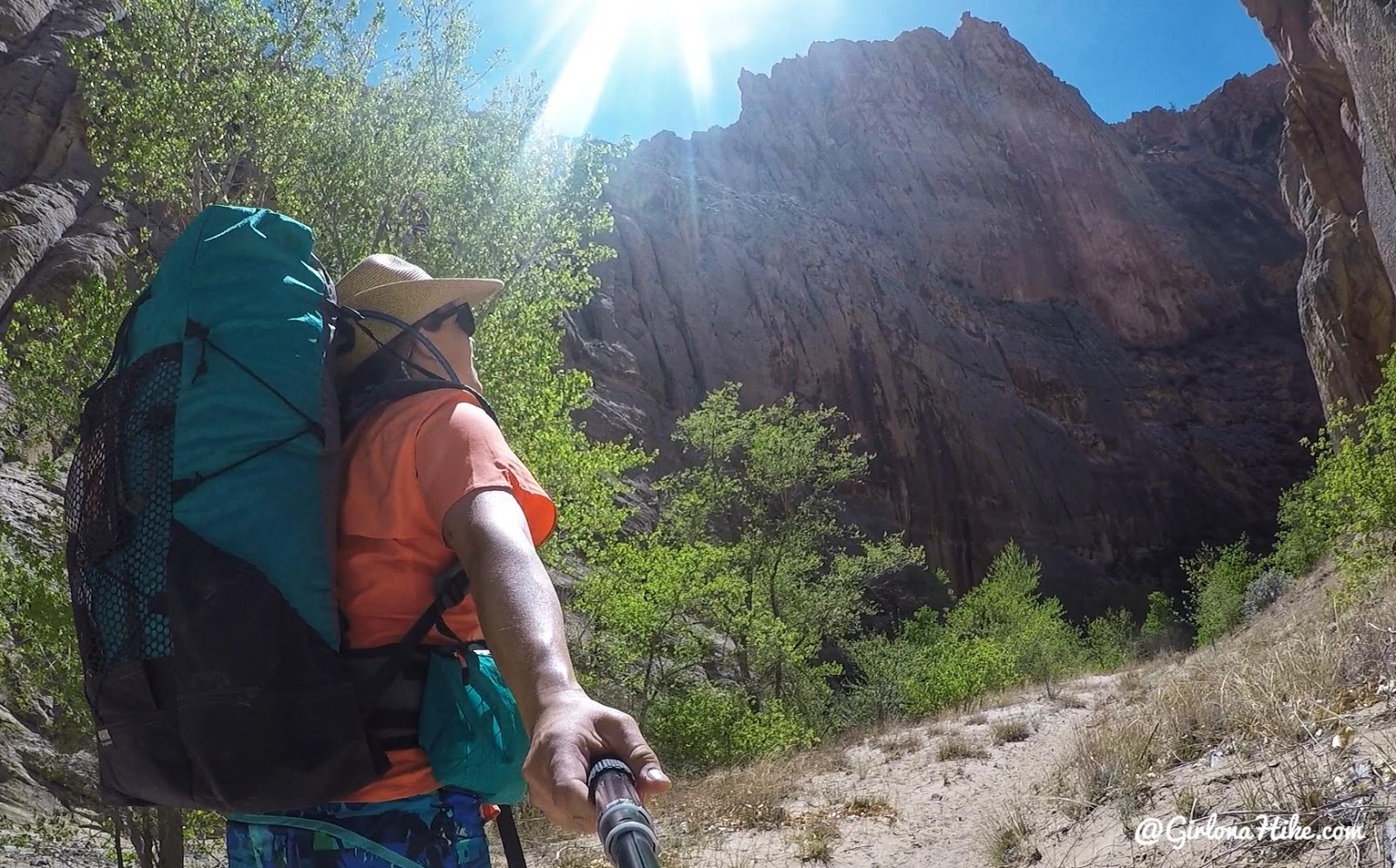 These packs work great for desert adventures too! Check out my post on Backpacking the Escalante River!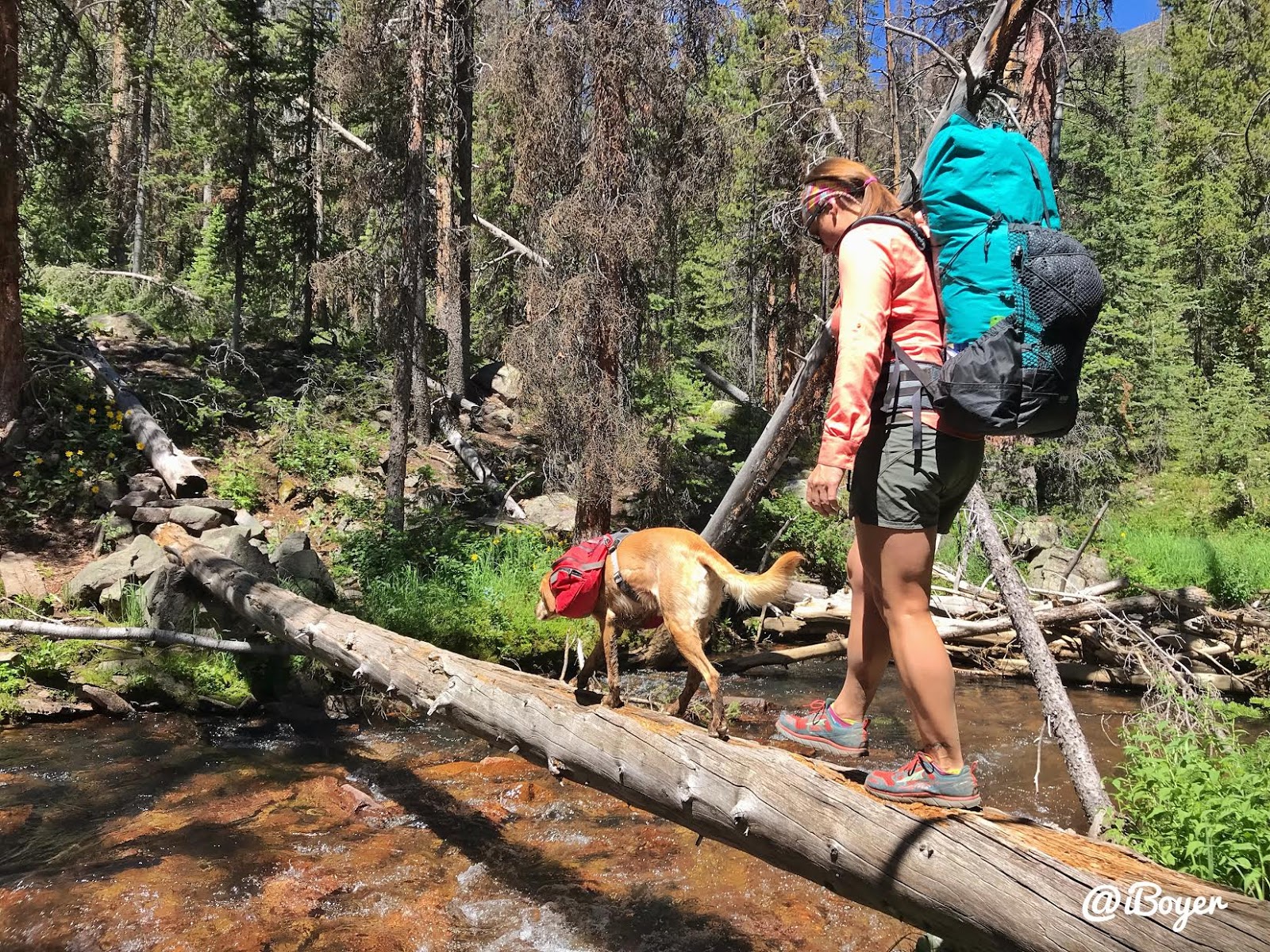 Backpacking in the High Uintas!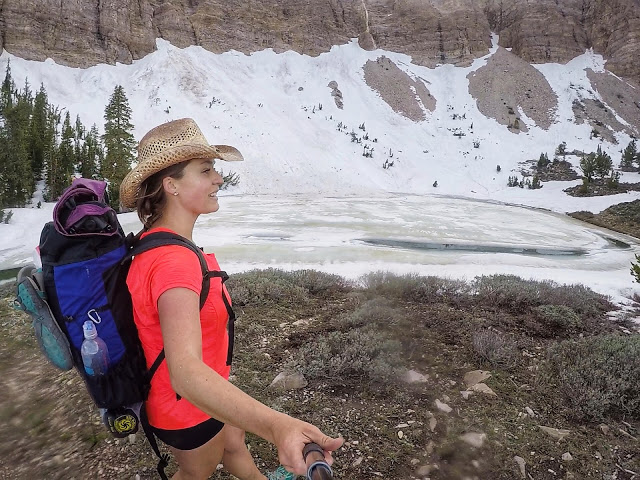 Also check out the 30L packs!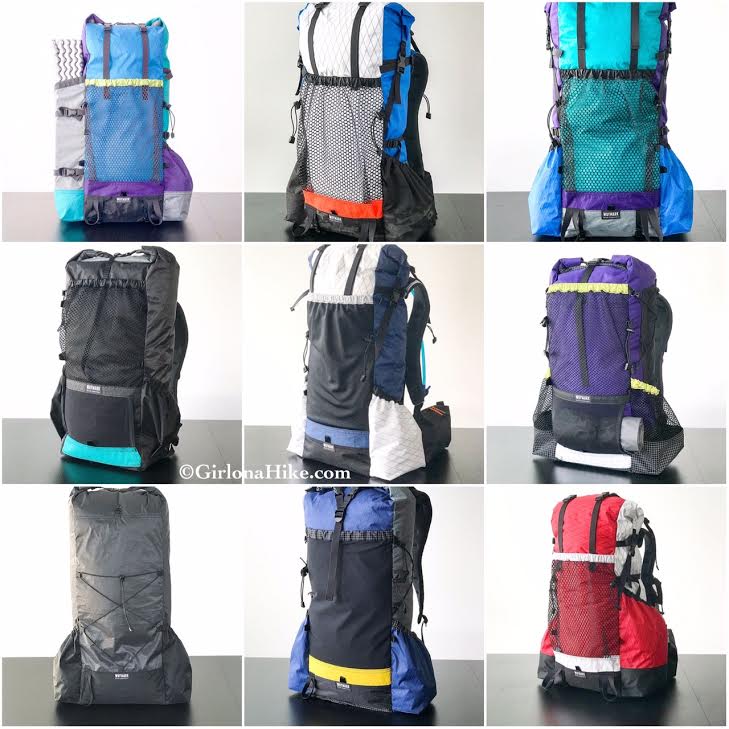 These are real packs made for real hikers and backpackers – you can see how everyone made theirs a little different whether it was with colors, pockets, design, or style.
Check out this awesome mini Documentary made by "Darwin On The Trail"
Special Deal!
Save 10% off all Waymark Gear Co packs using the code "GIRLONAHIKE" at checkout here!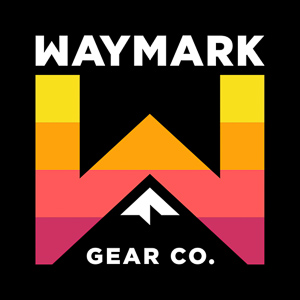 Be sure to follow WayMark Gear Co on Facebook and Instagram!

Save me on Pinterest!