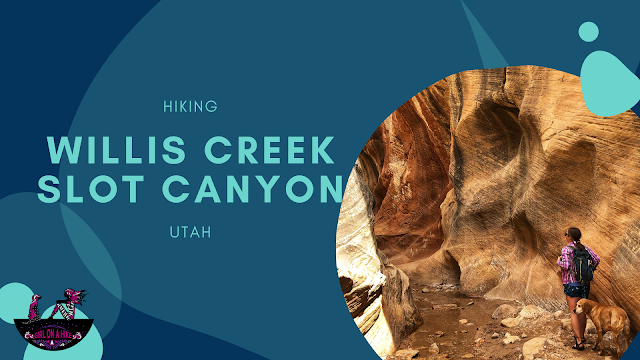 Willis Creek Slot Canyon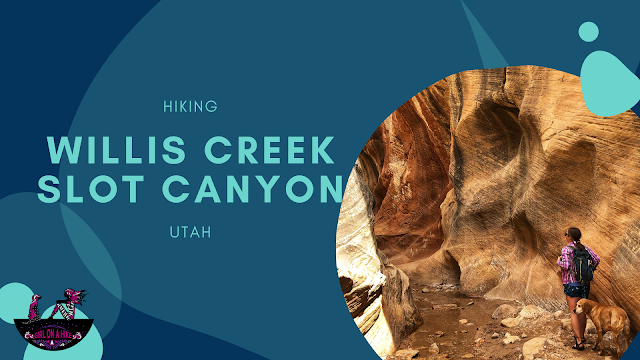 Willis Creek Slot Canyon is located only 45 minutes from

Bryce Canyon National Park

, yet tourists hardly ever make the drive to the trailhead. Willis Creek slot canyon offers not only marbled, narrow canyon walls, but it is also entirely flat, has a small waterfall, beautiful scenery in between the sections of the narrows, and it is suitable for any age or hiking ability.
About
You will need water hiking shoes for this hike, such as

what I wear

, but the water level of the creek is never more than ankle deep. In Spring, the snow melt may create a higher level of water, so late Spring or Fall is the best time to hike here. Willis Creek has no mud or potholes, just clean sand and small pebbles so hiking here is quite easy. Another great thing about Willis Creek, is no technical gear is required. Just grab some water, snacks, your water shoes and hit the trail!

As you wind through Willis Creek, the curving passageways are nicely illuminated depending on what angle the sun shines through, and is always very photogenic. Most people only hike down about 2 miles or so, until they reach the Averett Canyon intersection from the North. We hiked 3 miles until the Sheep Creek intersection. However, you could turn this hike into a longer day by completing a 14 mile loop with

Bull Valley Gorge

.
Directions
From the town of Cannonville, UT drive south on Kodachrome Rd/Main Street for 2.8 miles. Turn right onto Skutumpah Rd/BLM 500. Stay on this road for about 6 miles, until you see the large parking lot on the right hand side. Do not take any of the spur roads – stay on BLM 500. There are no restrooms available and no fees/permits are required to hike here. BLM 500 is a dirt road, but 4×4 is not required. I would not recommend small cars. Do not attempt to drive this road during or after a rainstorm, as the road could be washed out. You will need to cross two small streams in your car, but it's not deep.
Trail Info
Distance: 4 miles RT to the Averett Canyon intersection
6 miles RT to the Sheep Creek intersection
Elevation gain: 150 ft
Time: 1-3 hours
Dog friendly? Yes, off leash
Kid friendly? Yes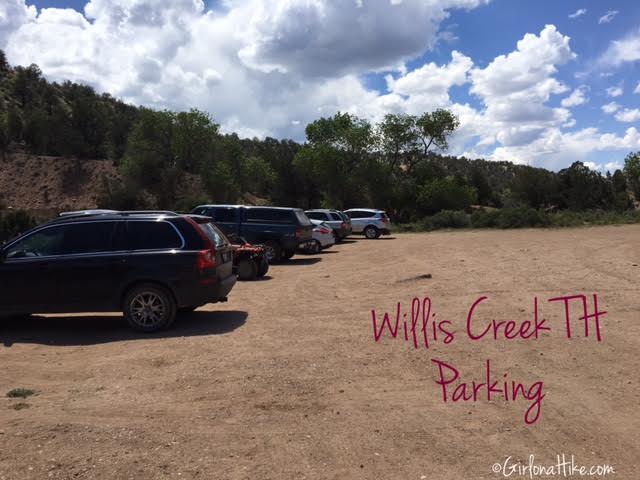 After we backpacked Coyote Gulch and Metate Arch, we drove over to Willis Creek and arrived to the parking lot at 3pm. There were already 10-15 cars there.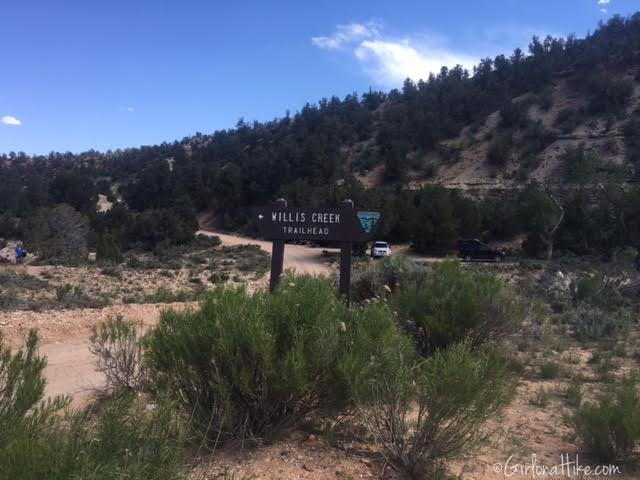 The trail starts across the parking lot, and only takes about 2-3 minutes before reaching the stream.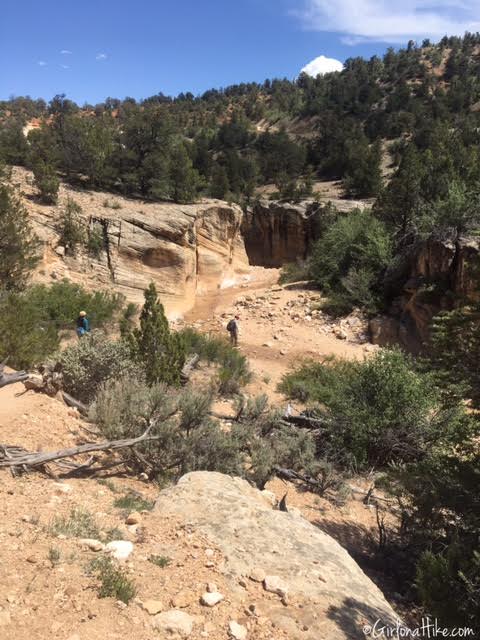 Dropping into the stream – you can already see the smaller canyon walls and narrow forming.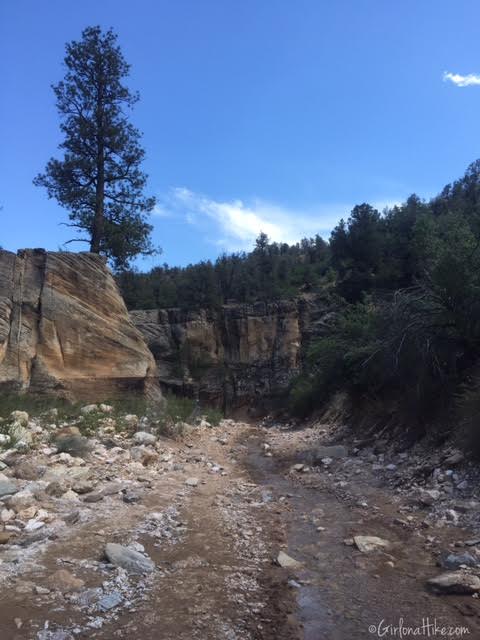 In the creek.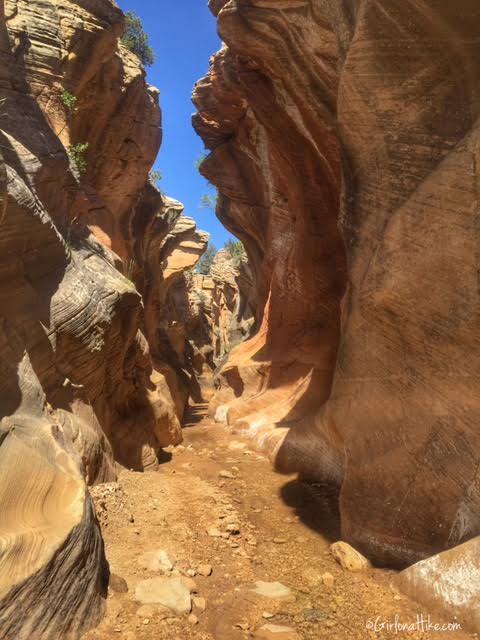 The first section of the slot canyon – the canyon walls and height are smaller at the beginning of the trail.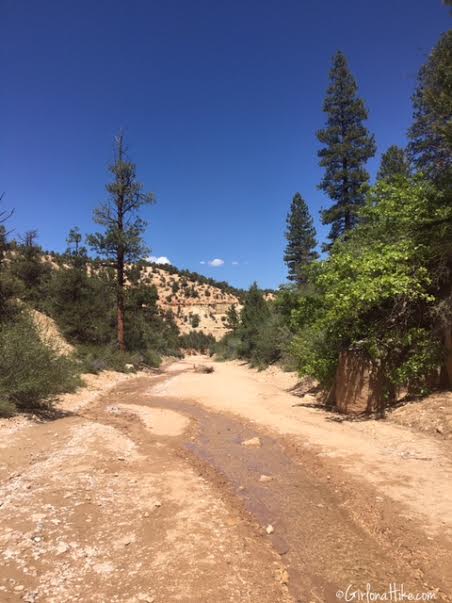 As you hike along, you will have stretches where the trail opens up and there are really pretty pine trees surrounding you along the banks of the stream.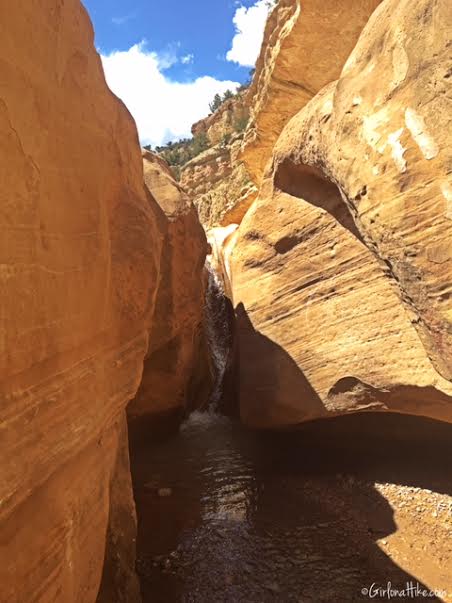 You will come into contact with this mini waterfall from above. You can simply follow the trail down and around it, to get to the base of it. I was hoping it would be big enough to stand under to cool off (I even brought my swimsuit along), but it wasn't flowing that much, and it only about 5-6 ft tall.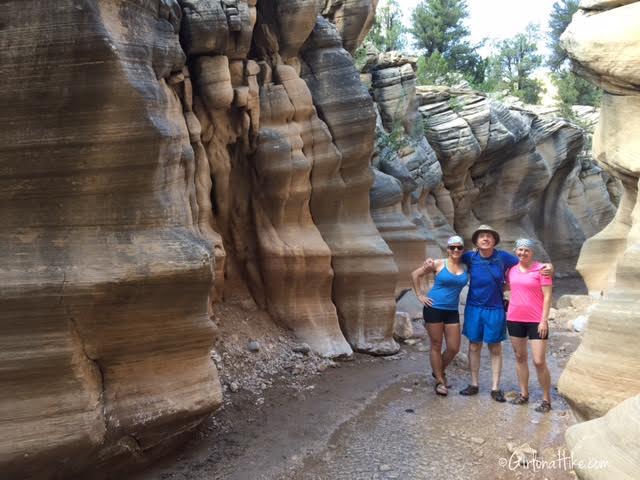 By this point, our large group of 12 from Coyote Gulch dropped down to just 3 of us. On the last day of our long weekend, we all decided to see something different. Willis Creek was our choice!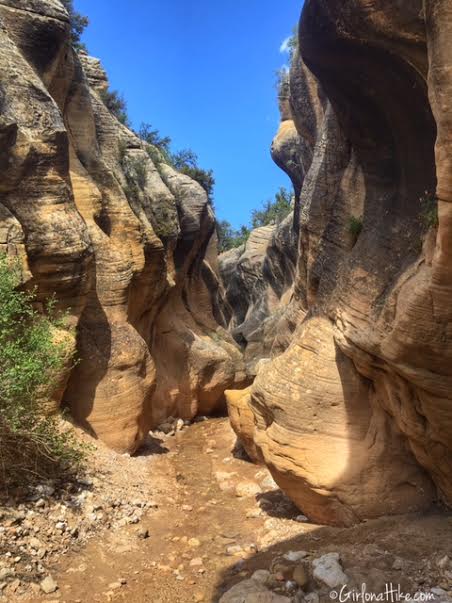 Hiking further into the canyon, the canyon walls get taller, and the walls become even more marbled and rounded. The canyons narrowest section is about 5 feet wide – just big enough to stretch your arms out and touch both canyon walls.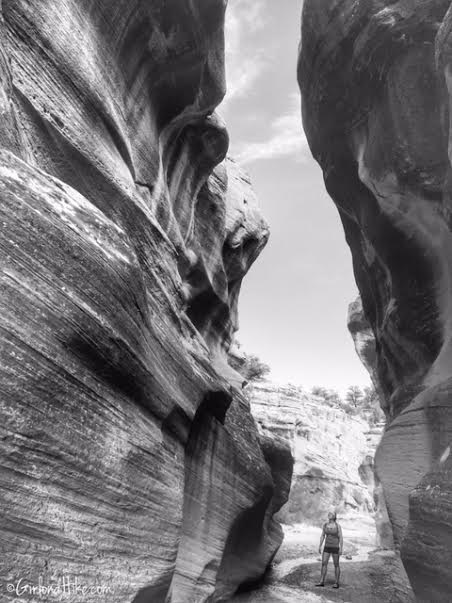 At the end of the best section of the slot canyon. You can see how tall the walls are now.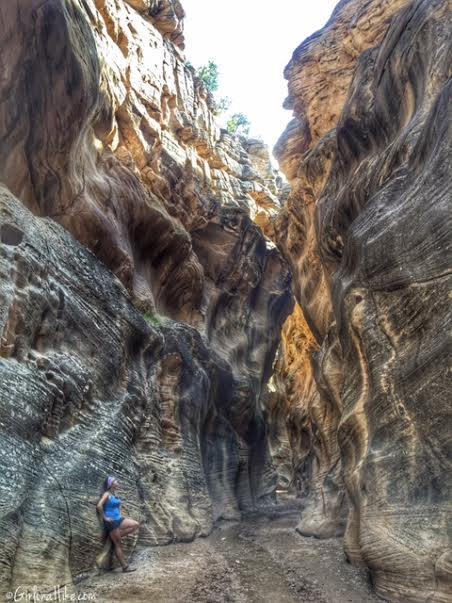 A different view at the end of the coolest section of the canyon.
Memorial Day Weekend 2020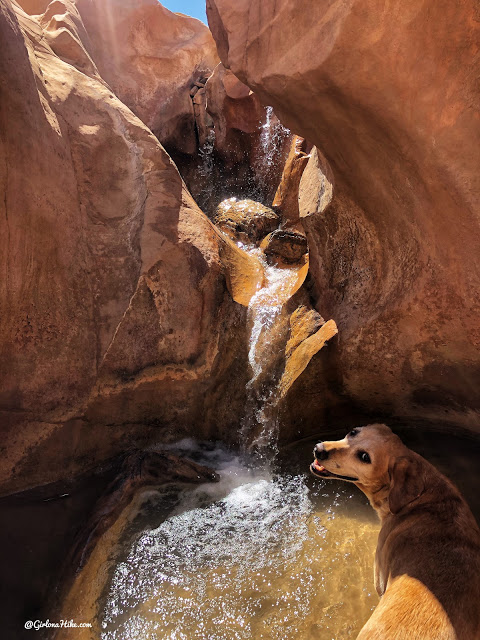 Charlie loves the water, so we had to come back!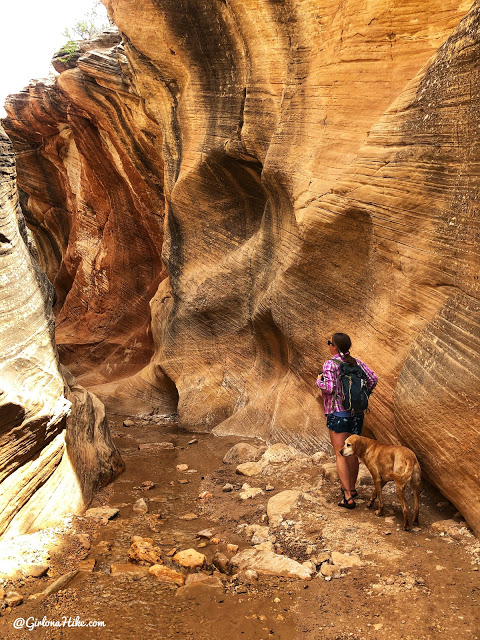 One of my favorites!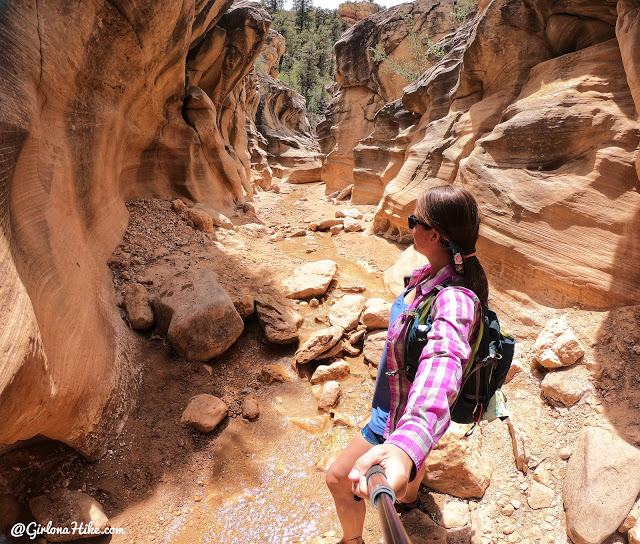 A little selfie action in the slot. So nice to not have so many people the day we went.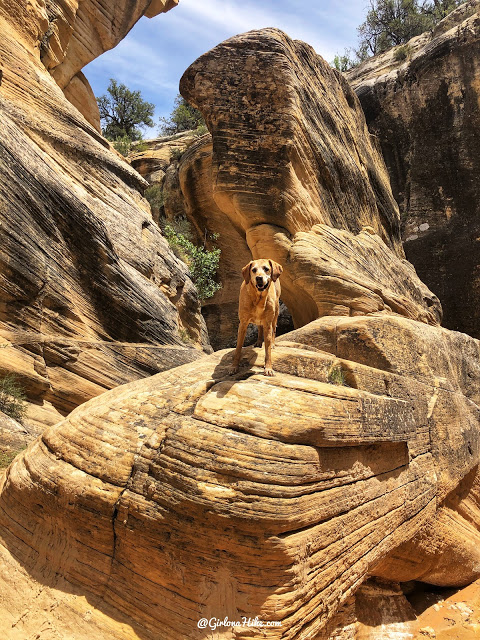 Gotta climb a rock or two while we were there.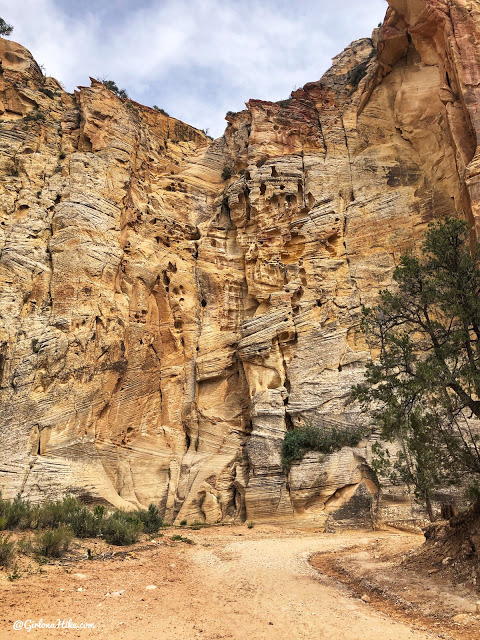 End of Willis Creek, and at the intersection of Sheep Creek.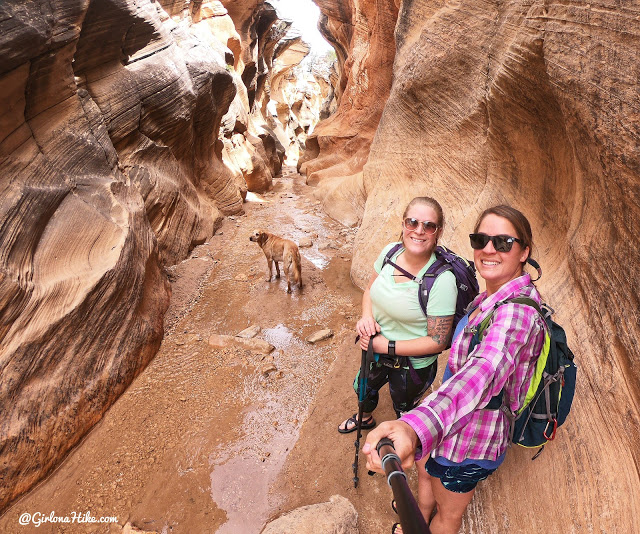 It was Ashley's first time and she loved this hike too!
Check out my Memorial Day video!
Trail Map
My track via Gaia GPS – the best tracking app! Get your app here for a discount.
Recommended Gear
Nearby Hike
Hiking the Panorama Trail, Kodachrome Basin State Park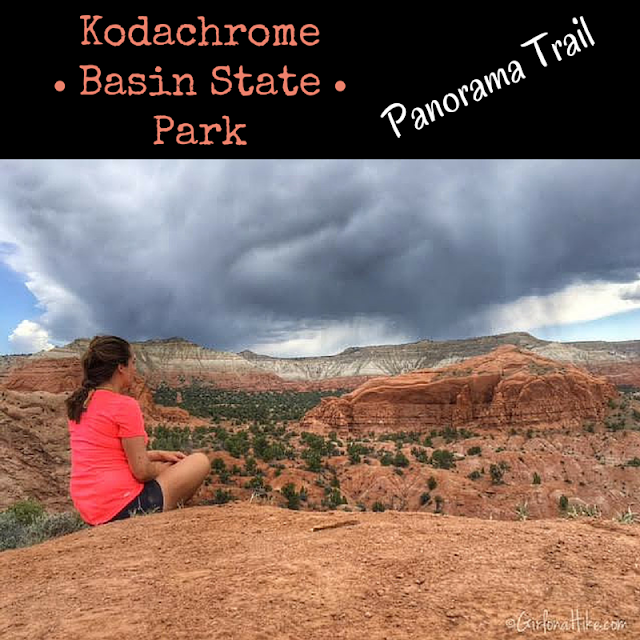 Save me on Pinterest!