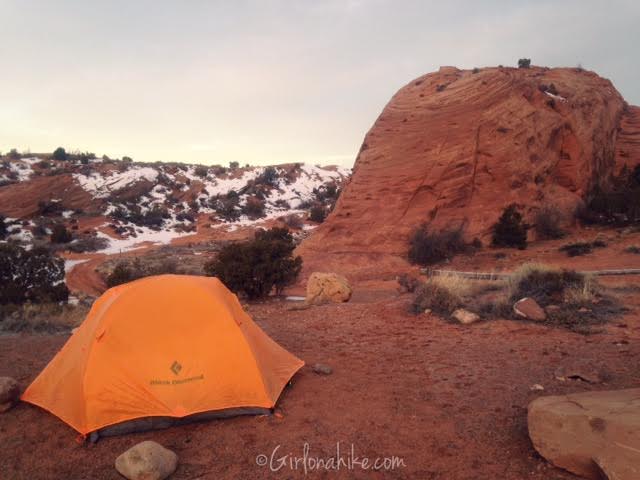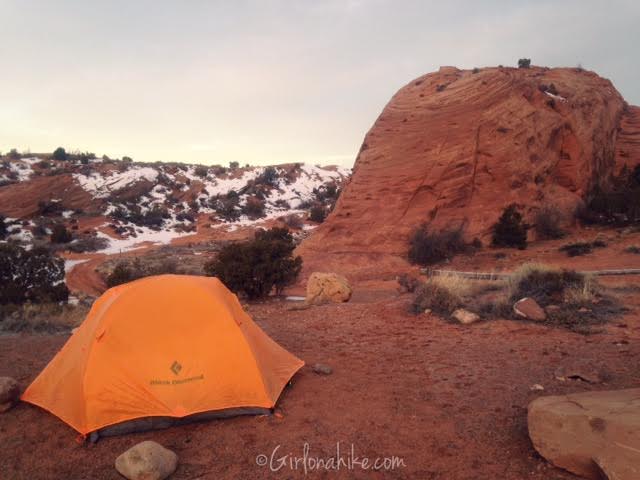 The Sand Flats Recreation Area is located just outside of Moab, UT, about 5-10 minutes to the East. Sand Flats is a nationally significant public land area at the heart of the Colorado Plateau. With high slickrock domes, bowls, and fins, it meets the colorful mesas with views of the La Sal Mountains to the East. Just to the North lies Arches National Park, and to the West, Canyonlands National Park. Sand Flats is home to one of the most famous mountain biking and hiking trails, Slickrock Trail and the nearby Grandstaff Canyon. Sand Flats is managed through Grand County and the BLM.
Directions
 From SLC head south on I-15, and take exit 257 for Spanish Fork Canyon. Drive past Price, UT, then take I-70 East towards Green River. Take exit 182 for Moab. Drive south on HWY 191 for 31 miles. Once you are in Moab, turn left onto 100 North, then right at the stop sign for 400 East. Turn left on Mill Creek Drive, where Dave's Corner Market is. Drive straight past the first stop sign, and weave your way to the entrance of Sand Flats Rec Area.
FAQs
Camping Fees: 
$15/night per car up to 5 people
Daily Use Fees:
Car – 1 day pass is $5, 7 day pass is $10.
Bike, motorcycle or Shuttle – $2/day or $5 for 7 days.
Trailers – $2 extra
Annual Pass – $20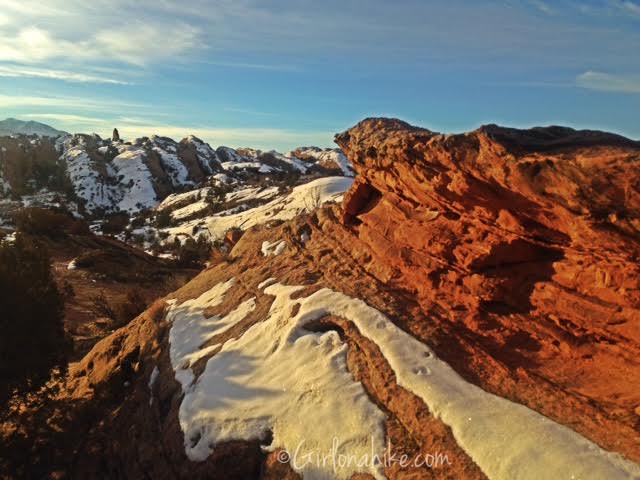 Is this a good place to bring my kids? 
Yes! There is tons of exploring to do here, and you can hike as far or short as the little ones can make it. Just keep an eye out for cactus.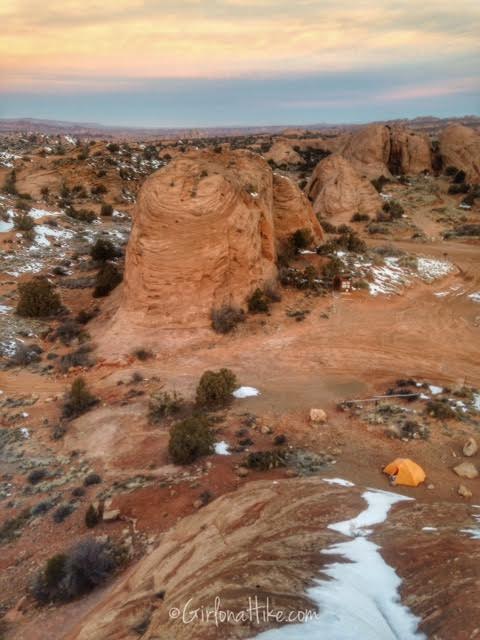 Where should I camp at Sand Flats?
There are 120 campsites to chose from, all are open year-round, and are available on a 1st come, 1st serve basis. Camping is limited to designated sites spread over 9 camping "clusters" letters A-H. Campsites include picnic tables, metal fire rings, and nearby vault toilets. You MUST bring in your own drinking water, and pack out what you bring in. Many campsites can accommodate RVs, however there are no hook-ups.
Can I bring my dog?
Yes! The official rules say that dogs must leashed to a secured or fixed object or under the control of a person at all times. In the back-country, dogs need to be under verbal restraint and not chase or harass people. That being said, we were able to have Charlie off leash the whole time since we were far enough away from people, and he always comes when we call him back. During the more popular times of the year, it may be better to keep them leashed.
Tips for dog owners at Sand Flats
Two really good trails to take your dog on a hike is the Fins & Things 4×4 trail, and the

Slickrock Trail

If you do hike Slickrock Trail, give bikers the right of way and make sure your dog doesn't block a biker
Most dogs are not used to running on sandstone, which acts like sandpaper on their paws. Bring

Mushers Secret

to help protect their paws.
Never leave your dogs in a parked car; temperatures rise dangerously high and quick in the desert
Have your dog carry it's own backpack with water
If your dog has an emergency contact the Moab Vet Clinic at 435.259.8710
If there is a trail you want to do but don't want to bring the dogs, you can take them to

Karen's Canine Campground

 for a play date with other pups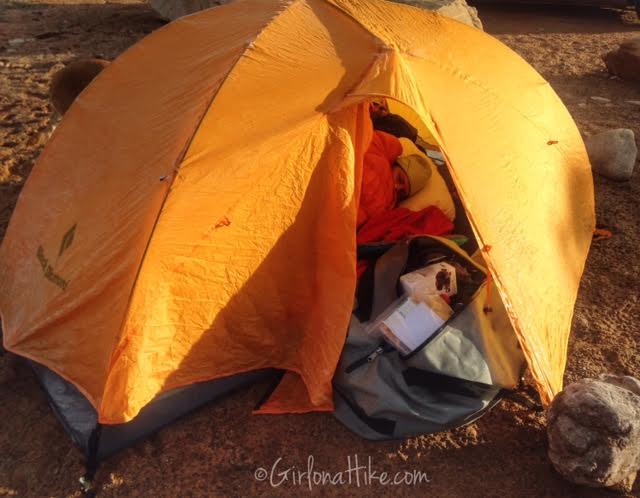 Waking up with the sun warming our tent.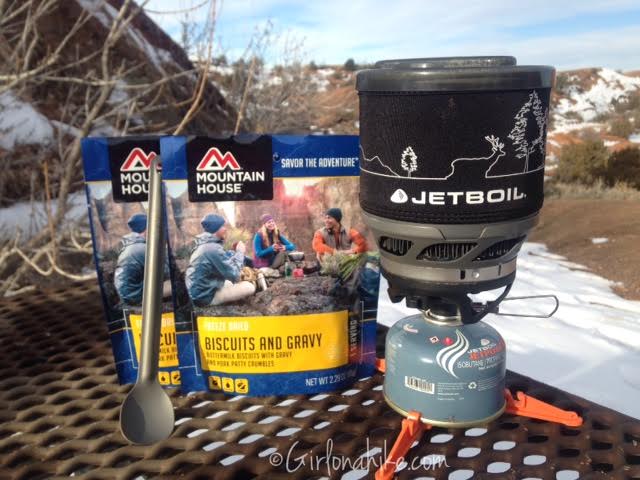 For breakfast, I like to make a quick, hot meal so I usually just make oatmeal, but since it was Valentine's Day weekend, I went fancy and made us Biscuits & Gravy. The single serving didn't fill me up and I was wishing I brought the double serving packet. We also make coffee and hot chocolate for breakfast. For lunch we brought bagels, cheese, and apples.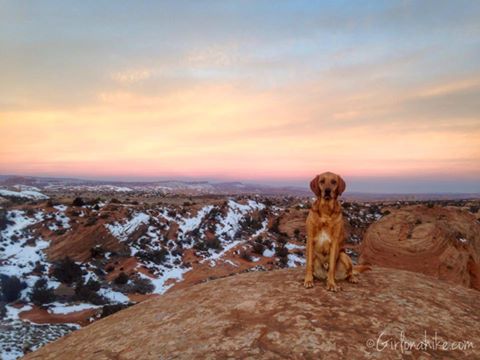 What's great about Sand Flats is you don't really need to hike on a trail if you are feeling adventurous. The first morning there Charlie and I went exploring around our campsite and climbed on top of some of the sandstone knobs, and caught a beautiful sunrise.