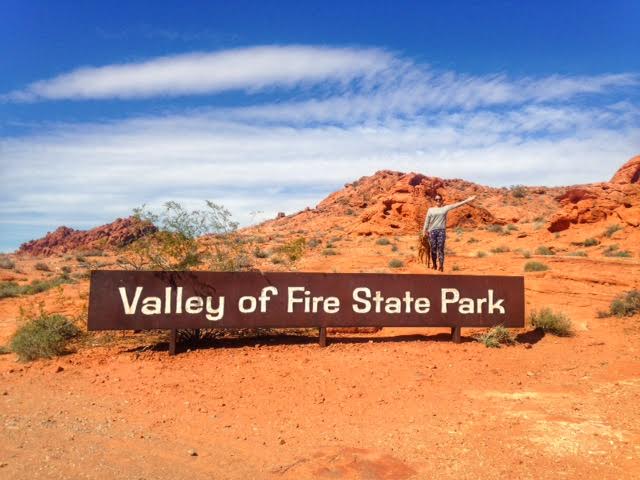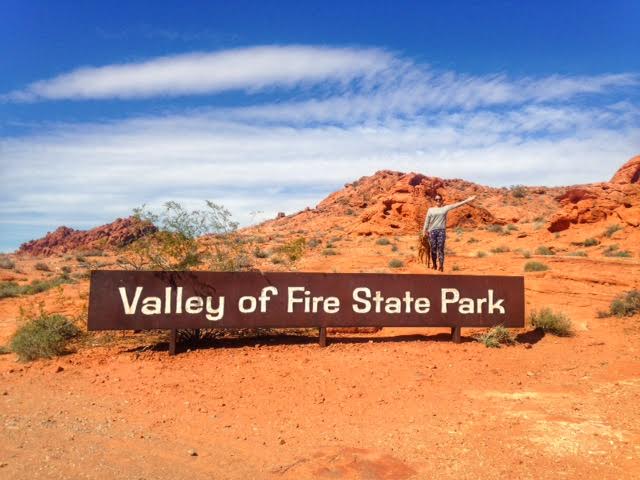 Valley of Fire State Park is the oldest Nevada State Park, which was dedicated in 1935. It covers approximately 35,000 acres, and was named appropriately for the magnificent red sandstone formations that resemble a realm of flames. These formations resulted from the shifting sand dunes more than 150 million years ago in the Mesozoic Era. Surrounding rock includes limestone, shale, and conglomerates.

About
Valley of Fire has several plants & flowers including creosote bush, burro bush, and brittlebush. Cactus and cholla are also abundant, so watch where you step on the trails. In springtime, desert marigold, indigo bush, and desert mallow make appearances, but only for a short time.
Valley of Fire can be seen in one full day (if you only want to see the popular spots), but to hike all the trails and fully enjoy the desert scenery, I recommend camping at least one night. We camped two nights, and it was a perfect amount. Temperatures in summer can reach 120F, so it's best to visit the park from December-March.
Is this a good park for kids? Yes! Most of the popular trails are very short in distance and are flat. Just be careful of cactus.
Is this a good park for dogs? Yes! Park rules state that dogs must be leashed at all times. Be sure to carry PLENTY of water for your dog. Charlie used his own backpack to carry his water bottles.
Day 1
Elephant Rock
Named "the highlight of Valley of Fire" this rock formation is an arch formed in the shape of an elephant. The rock is right next to the road, but parking is limited on the road, so it's best to park in the entrance parking lot and walk the short trail to reach the formation. As of February 2016, you are still allowed to climb on top of the elephant.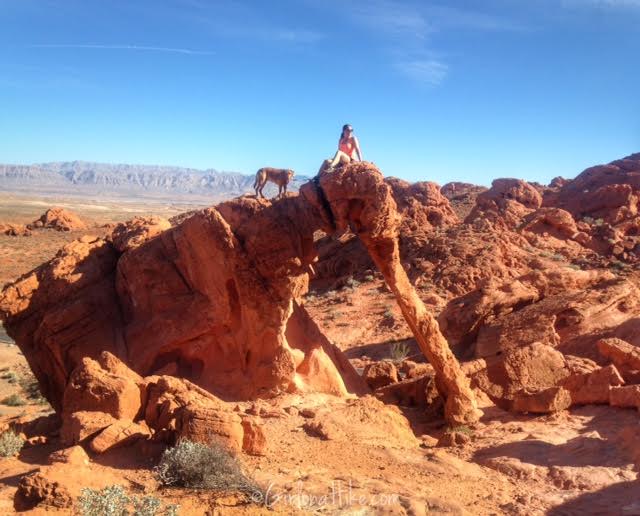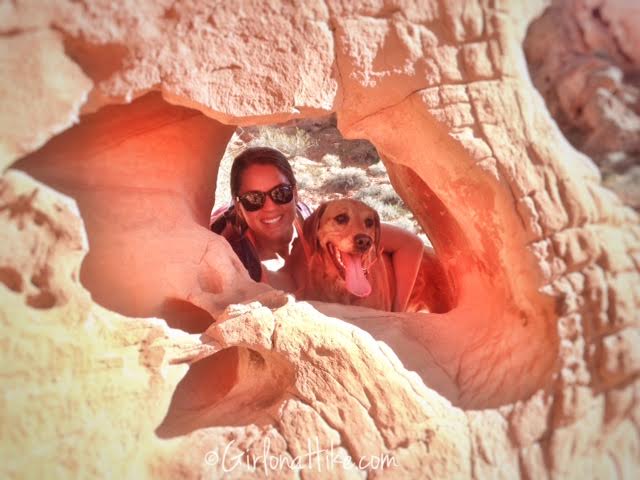 On the Elephant Loop Trail, we found several arches to poke our heads through. One of Charlie's commands to stand on his hind legs is "Paws Up". I wanted him to do this so he could also poke his head through to get this photo, however, the first time I said "Paws Up!" he actually jumped through this hole!
The Elephant Rock loop is only 1.2 miles RT.
Natural Arches Trail
This 5 mile RT hike follows a sand wash for most of the way, but about 3/4 of the way you will encounter this small slot canyon, which is only about 15 ft in length. It was a little wider than me, and required a little scrambling. Along the trail there are several arches as well. The trail itself was somewhat hard just because you walk in sand the whole way. Otherwise it is flat.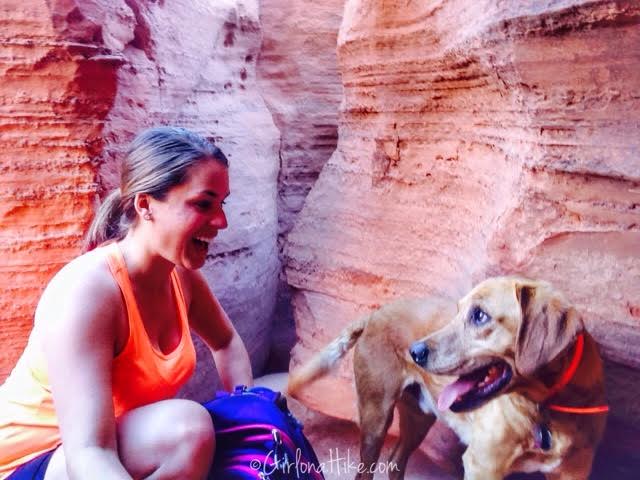 Atatl Rock
Pronounced At-lat-l, this is actually a device used for launching a spear, usually a short cord would wrap around the spear, so that when thrown into the air, the spear would rotate. Indians depicted their use of these at the famous "Atatl Rock" with petroglyphs. This isn't a trail, just a stair climb about 80 ft high to see the drawings.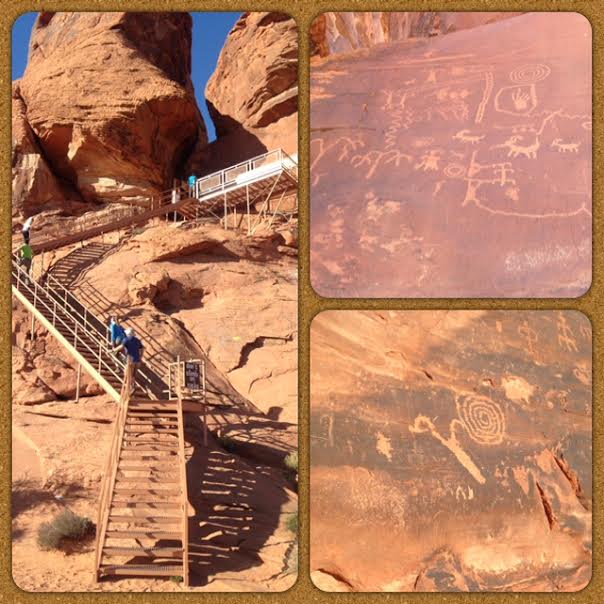 The Fire Wave
The Fire Wave is another iconic spot in Valley of Fire. Not to be confused with The Wave in Page, AZ, this wave is a swirl of colors, creating a wave-like feature that is popular among photographers around the world. The best time to view this area, in my opinion, is at sunset. The way the sun lights up the varying colors is amazing, and photos just don't seem to capture it's beauty. Take time to explore the surrounding area, as every direction you turn, another beautiful spot captures your eye.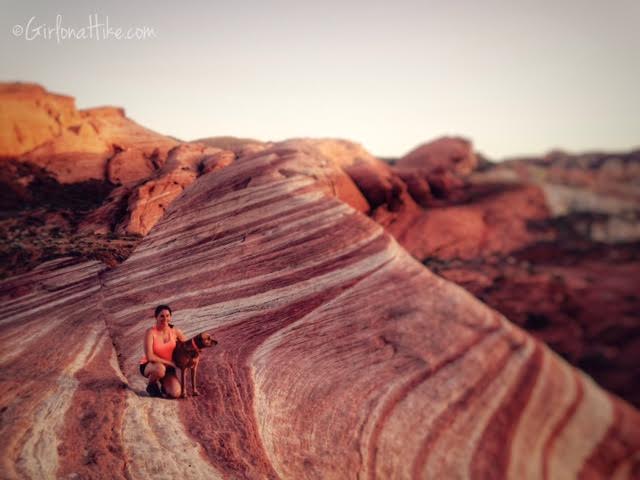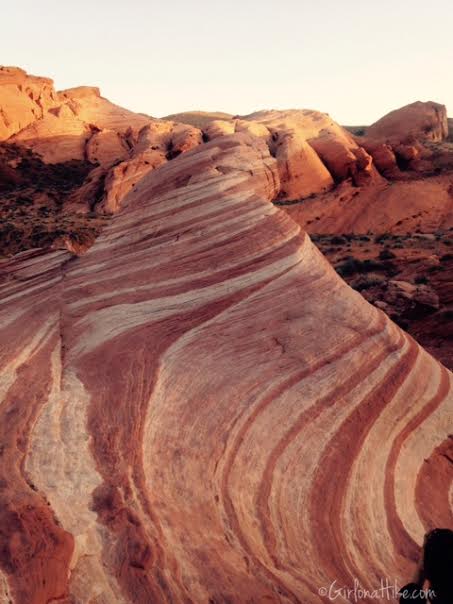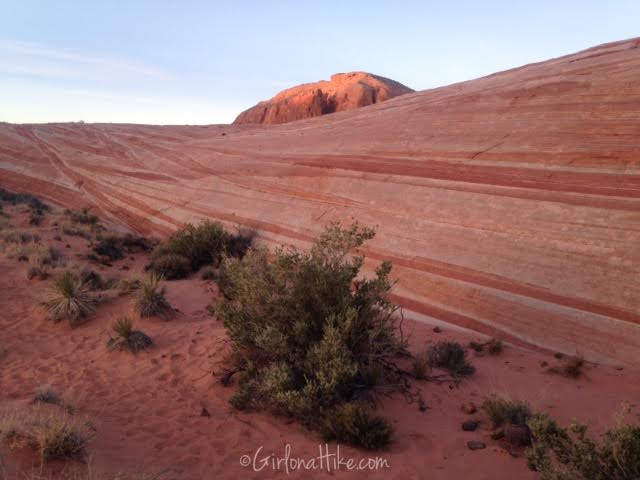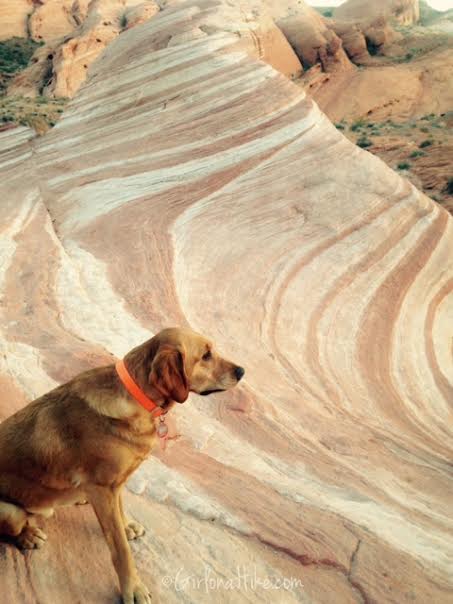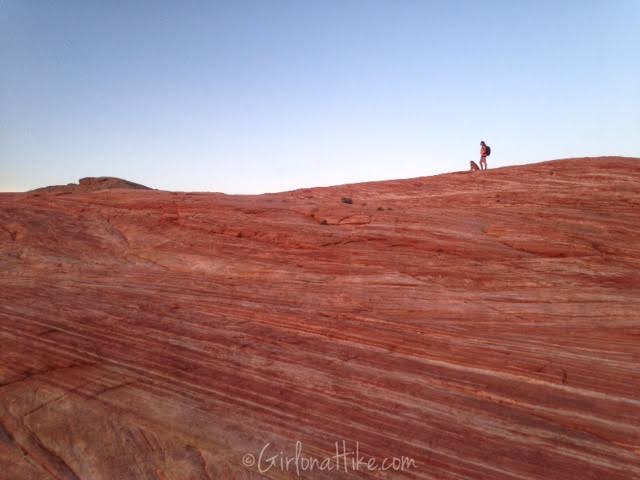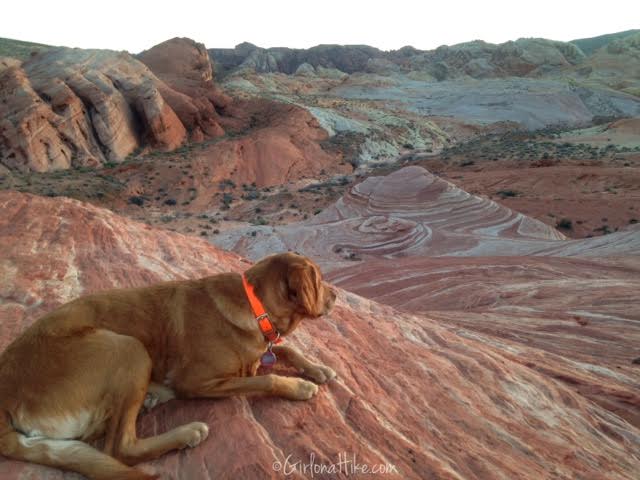 Charlie overlooks The Fire Wave.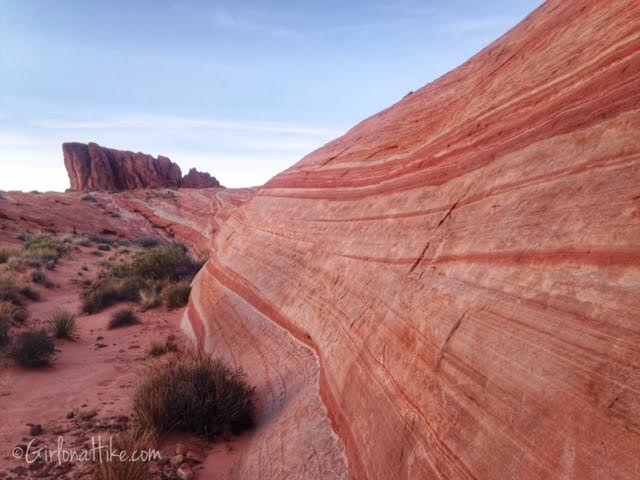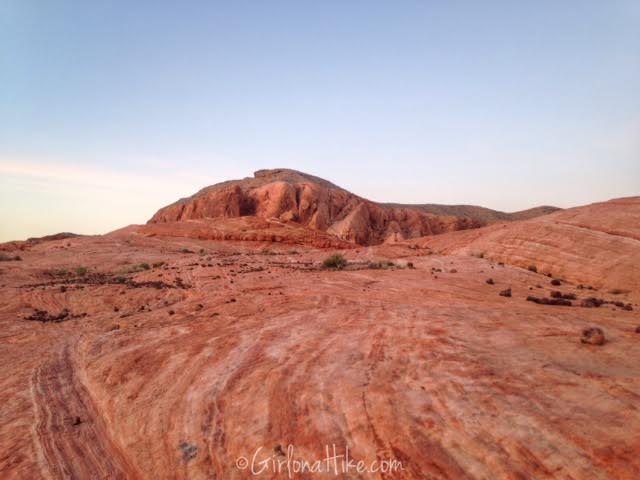 Day 2
Natural Arch Rock
Our second day began with an easy "hop out of your car and take a photo" moment at Natural Arch Rock. This is located right off the road by Arch Rock Campground. This arch is perched on top of a short, rounded fin rock. As with any arch, they can be fragile so climbing is not allowed on any part of this rock.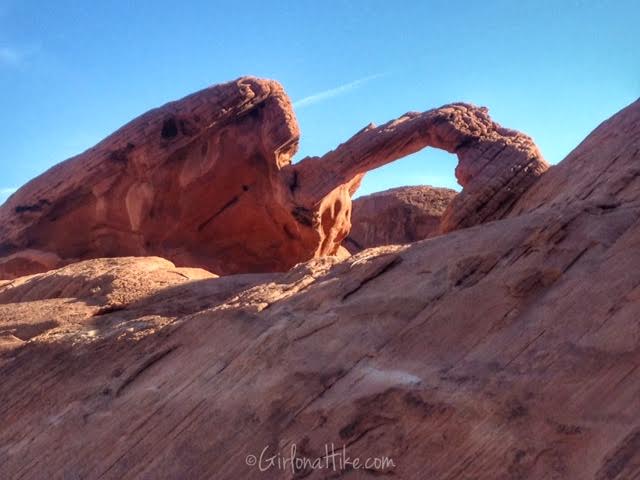 Prospect Trail
This 5.5 mile one way hike starts at a gated road, and ends at the White Domes Trail. Since 11 miles RT would be a long day in the sun and sand, this trail is best done as a point to point, with a car dropped off at each end. Elevation gain is 748 ft, and will take about 3-4 hours one way. I liked this trail because we got to see "behind the scenes" at Valley of Fire, and by that I mean where hardly anyone hikes or explores. It starts out in the open with an open view of the Valley of Fire Wash, but about 2 miles in the canyon walls get higher and narrower, and the colors of rock are more drastic, ranging from yellows to reds. Though dogs are supposed to be leashed at all times in the park, this was a good trail for Charlie to be off leash since it's not popular. Once we reached the White Domes area, I put him back on leash.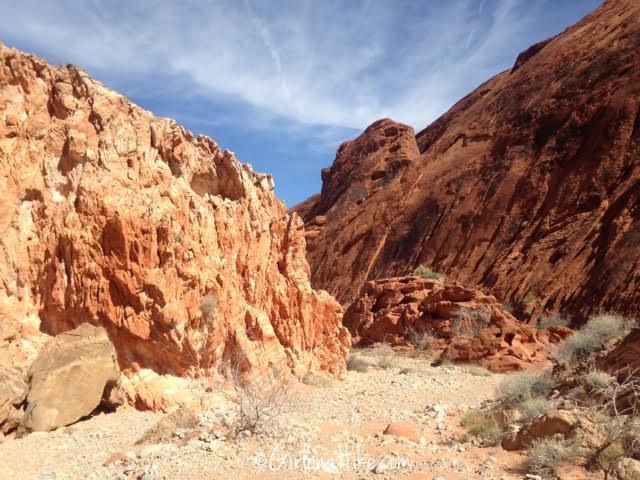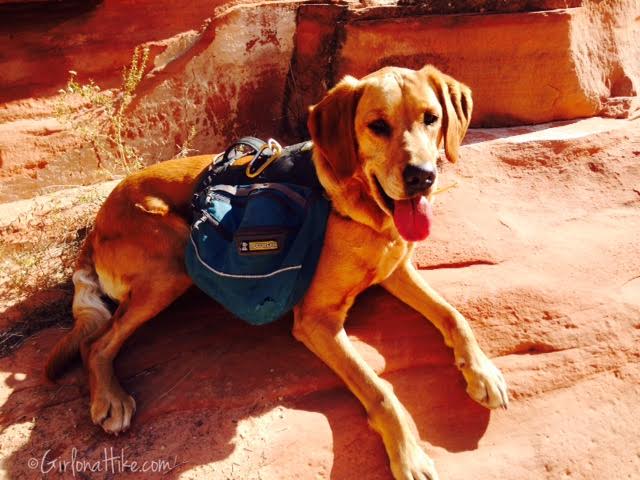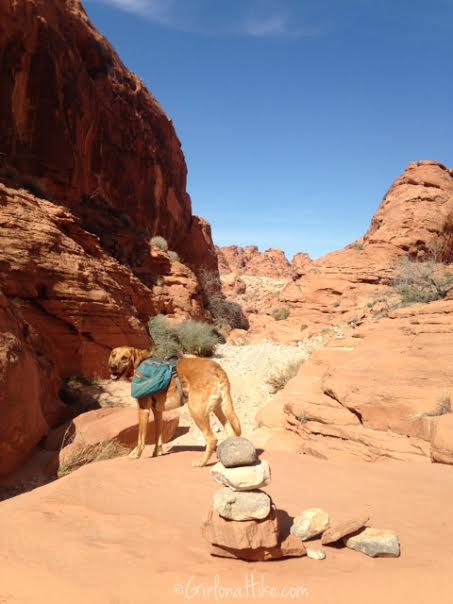 The trail is well marked with signs and cairns.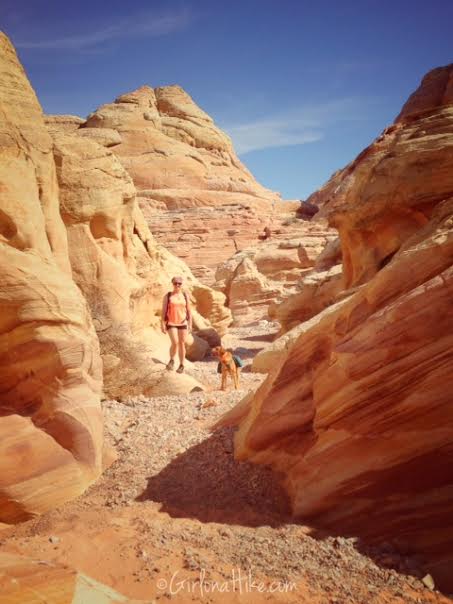 After 4.6 miles you will want to look for this open slot canyon to the East (right), which leads you into the White Domes area, where you should have one car parked.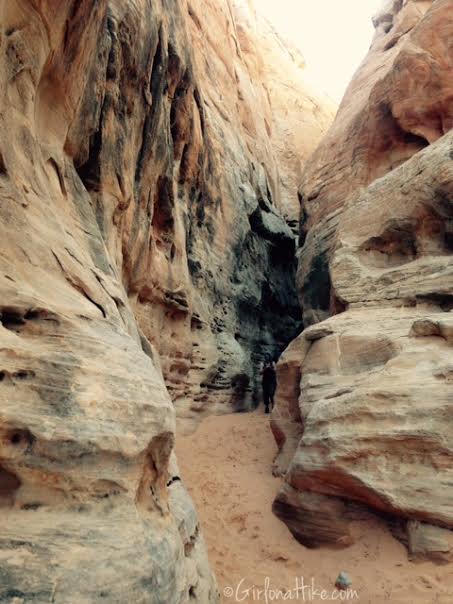 Make your way through the White Domes slot canyon.
Silica Dome
Forces from faults and plates in the earth have been powerful enough to cause thousands of feet of surface rock to fold, break, and push areas miles away from their original location. Erosion has worn away the top of Silica Dome, exposing sharp angles and layers of rock, also creating several canyons. Silica Dome is an example of pure silica, which creates a beautiful contrast to the surrounding red rock containing iron and the rust-like stain.
Fire Canyon/Rainbow Vista Trail
Rainbow Vista refers to not only the panoramic view from the trailhead, but also a short hike that leads to the Fire Canyon Overlook. The trail is 1.4 miles RT, is flat, and you'll be walking though sand.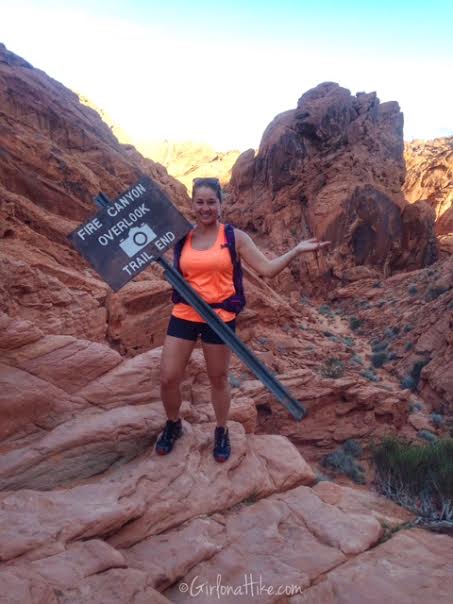 Somehow the trail sign became portable!
Mouse's Tank
The Mouse Tank Trail is a mere 0.7 miles RT, which leads you through Petroglyph Canyon to a small pothole filled with water, also referred to as a "tank".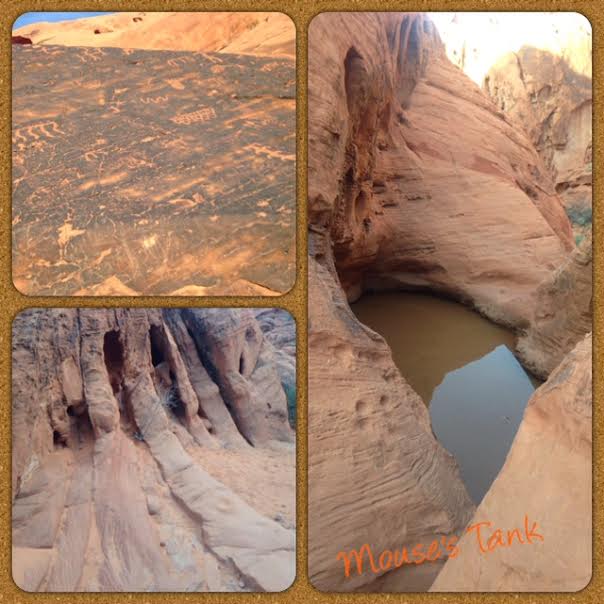 Day 3
 The Pinnacles
This remote trail can be done as an out and back (4 miles RT) or loop (7 miles RT loop). We elected to do this as an out and back since we were heading home in the afternoon, but still wanted to do some exploring. Hardly anyone hikes to this remote spot since there is no shade and no water, and follows a dry wash. However once you hike here, you'll find solitude, quietness, and another beautiful landscape of red rock against the surrounding limestone mountains. This trail was only shown on the store bought map ($8), not the free map. The TH starts from the Atatl Rock area. Cross the road, then follow the trail signs, each about 1/10th of a mile apart heading in a generally West direction, past White Rock. Once you reach The Pinnacles the exploring is endless!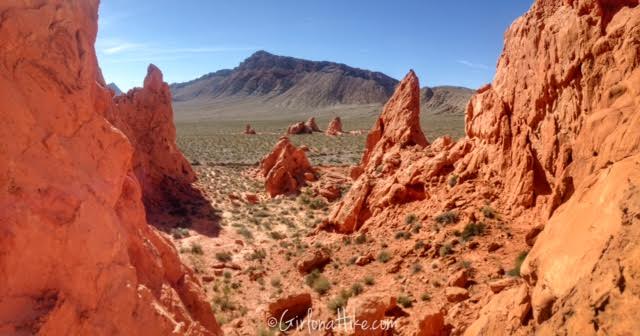 The Cabins
Now a picnic area, these historic cabins were build by the CCC (Civilian Conservation Corps) in the 1930s for travelers. Each cabin had one fireplace and could fit one small bed and a desk.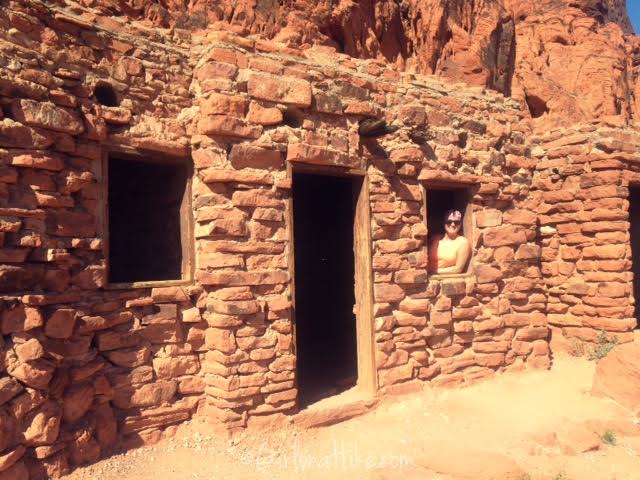 Camping at Valley of Fire State Park
There are two campgrounds – Arch Rock and Atatl Campground. Arch Rock is geared towards those with tents and who don't need hookups. The cost per night is $20. Atatl Campground is more for RVs and those who do need hookups. If you need hookups the cost per night is $10 extra, so $30/night. Both campgrounds offer a covered picnic table, fire ring, grill, restrooms, and water spout. No reservations can be made, every campsite is first-come, first-serve. Arrive early on a Friday to get a spot for the weekend. Max time allowed to camp is 14 days. Showers are located in the middle of Atatl Campground and are free to campers.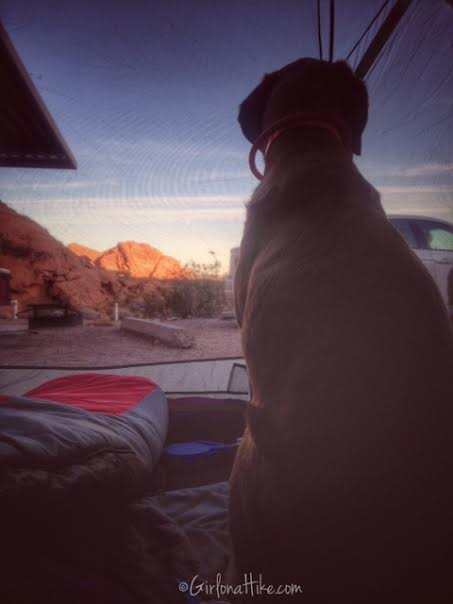 Charlie watches the sunrise from our tent.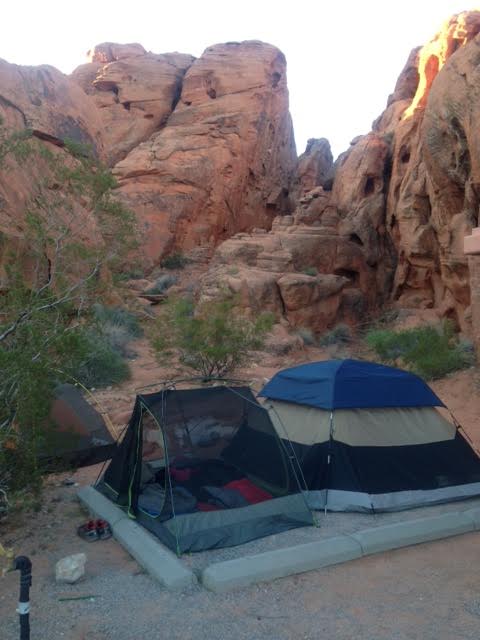 We camped is site #25 in Arch Rock Campground. So pretty! We were able to fit 4 tents here (the 4th is to the left, you can't see it on this photo).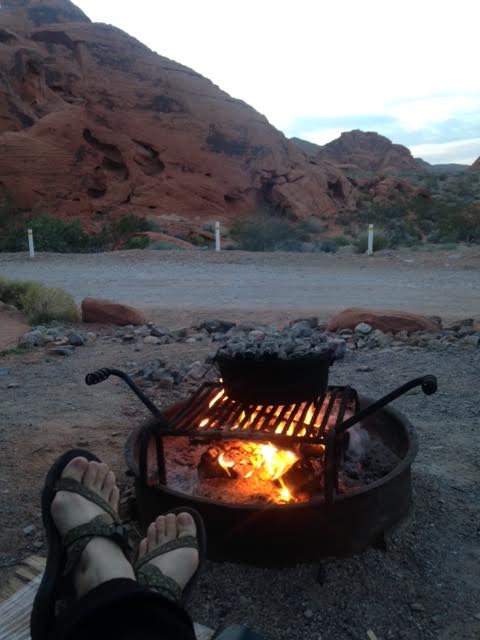 For dinner we made Dutch Oven Potatoes.

Save me on Pinterest!