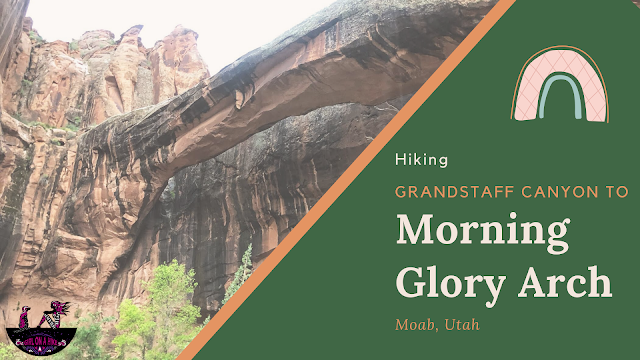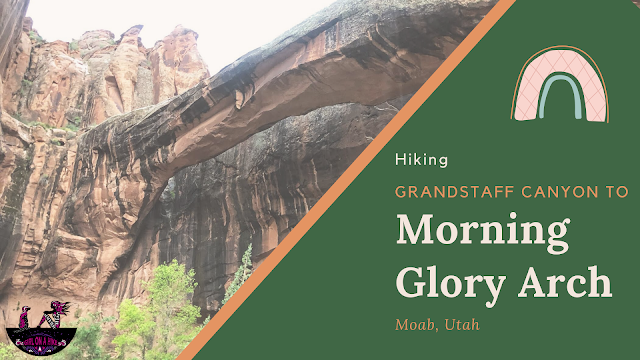 Grandstaff Canyon (previously known at Negro Bill Canyon prior to 2016) follows a perennial stream, along tall Navajo Sandstone, through an oasis of cottonwood and willow trees.
About
Most people say it's not about the destination, it's the journey getting there that is more rewarding. I beg to differ with this trail. The payoff at the end is the spectacular Morning Glory Arch, which spans 243ft, and is the 6th largest natural bridge in the U.S.! This is one trail the whole family will enjoy. In Summer, bring your water shoes as crossing in the stream will feel refreshing. In Winter, you may want to bring microspikes, since most of the trail is shaded by canyon walls. Beware of monsoon season, as you may just catch a waterfall at the right time (photos below).
Directions
From SLC head south on I-15, and take exit 257 for Spanish Fork Canyon. Drive past Price, UT, then take I-70 East towards Green River. Take exit 182 for Moab. Drive south on HWY 191 for 29 miles. Turn left onto UT 128, and drive just past the 3 mile marker, and you will see the black BLM sign for "Grandstaff Trailhead" and parking lot on the right side of the road. Overflow parking is available on the left side of the road. I highly recommend getting here before 10am to get a spot and to see less people. There is one restroom at the TH. Here's a driving map if coming from Moab town center.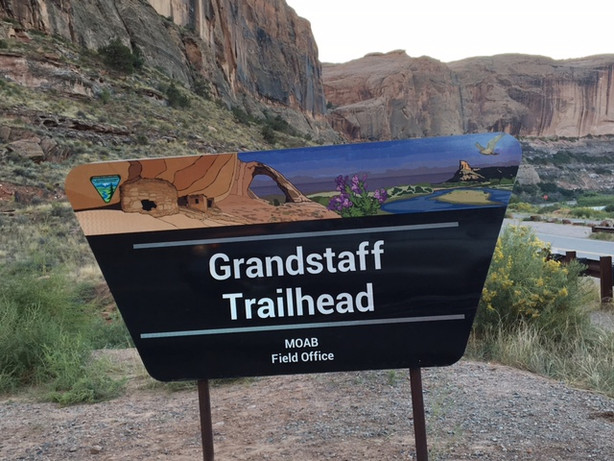 Trail Info
Distance: 4 miles RT
Elevation gain: 300 ft
Time: 2-4 hours
Dog friendly? Yes, off leash!
Kid friendly? Yes
**Be aware of poison ivy along trail**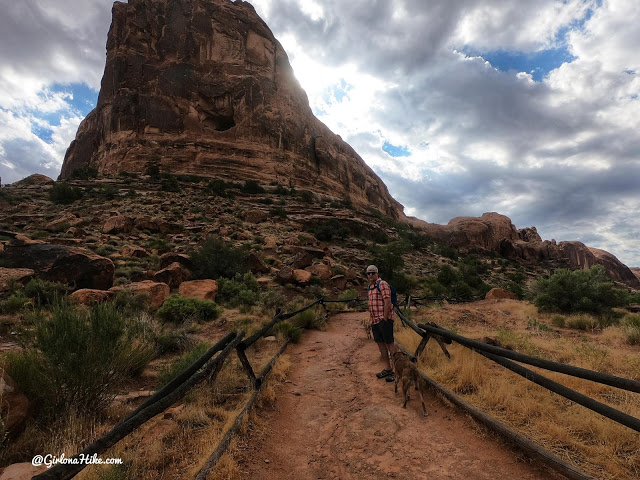 Ready to go!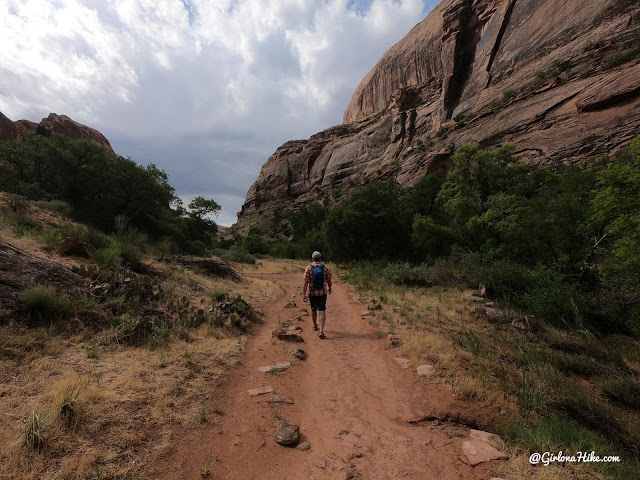 Entering Negro Bill Canyon.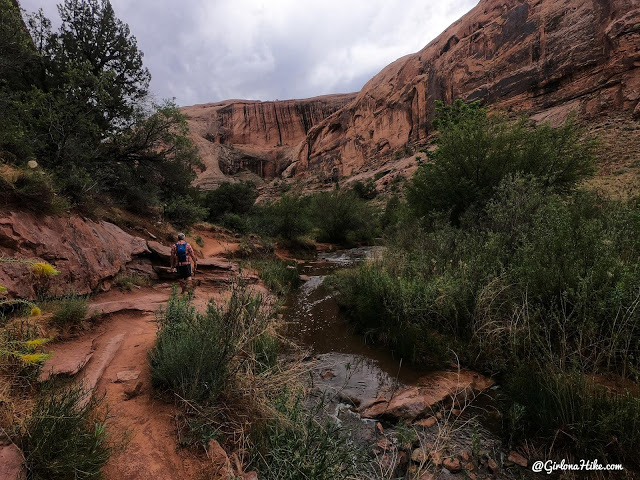 The canyon opens up a little and you can see more.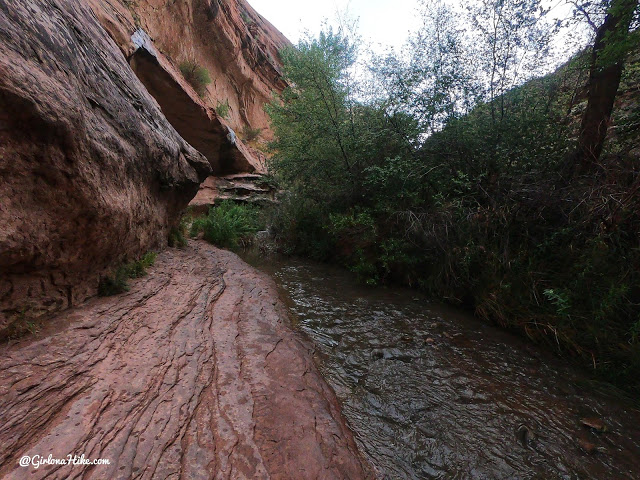 Lots of stream crossings and water for the dogs to drink from.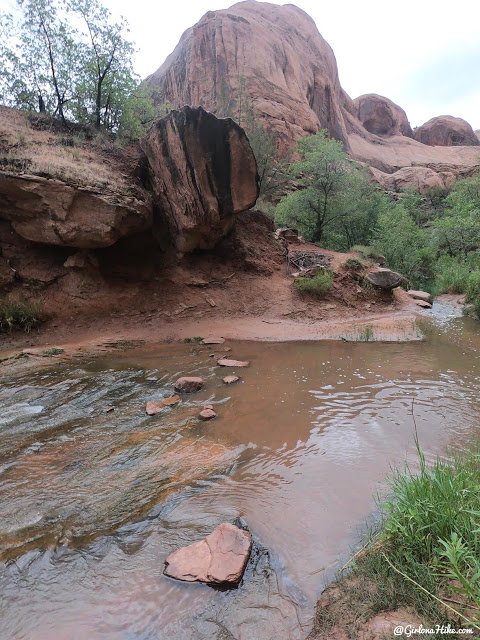 More water crossings – this is why it is best to wear water sandals..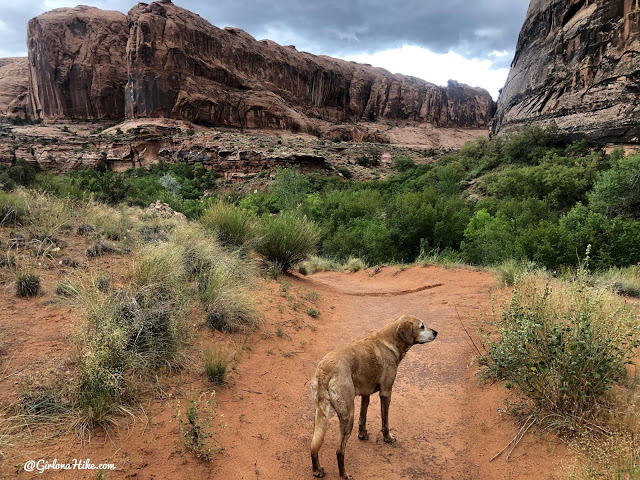 Along the hike you'll see tall canyon walls made from Navajo Sandstone.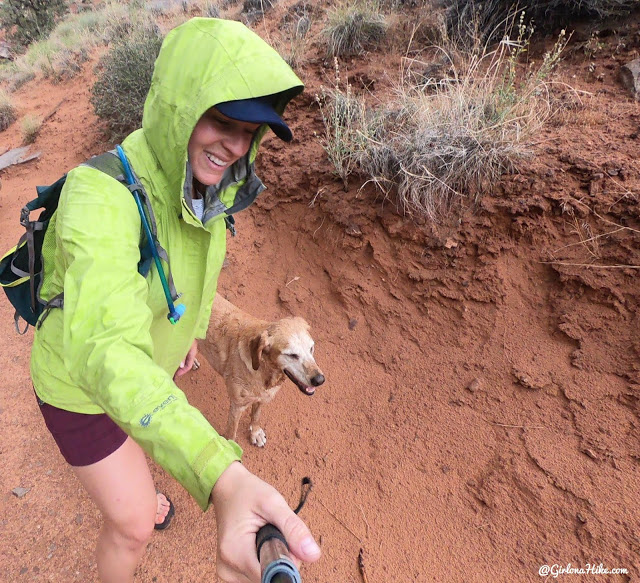 Right after the last stream crossing it started to rain so we put on our rain gear.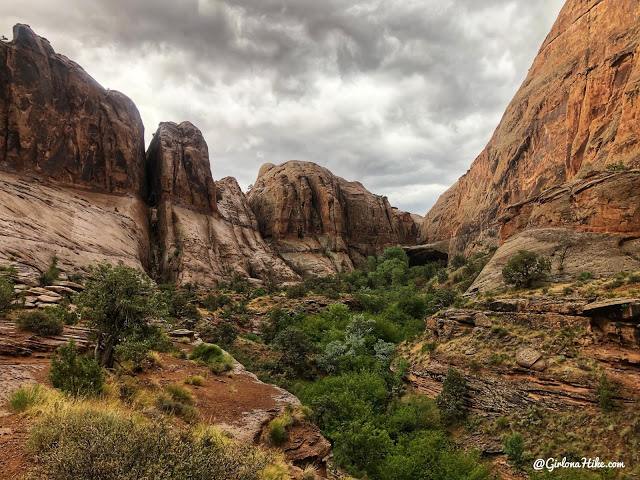 The last 1/2 mile is the prettiest in my opinion – just wow!  Nice view of the canyon, with a glimpse of Morning Glory Arch at the end.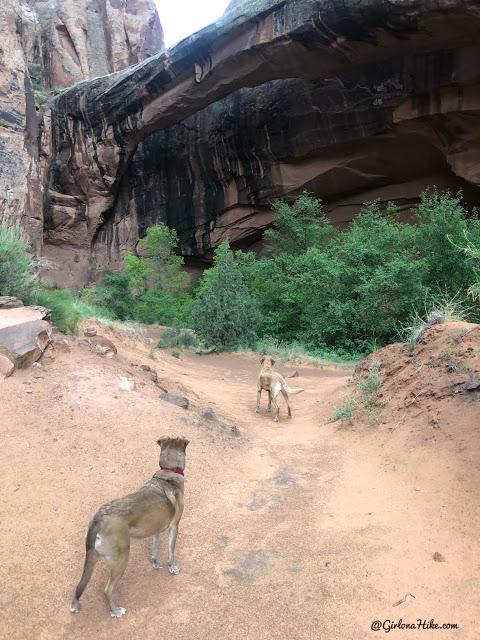 In around 1 hour from the Grandstaff Canyon trailhead we reached the arch!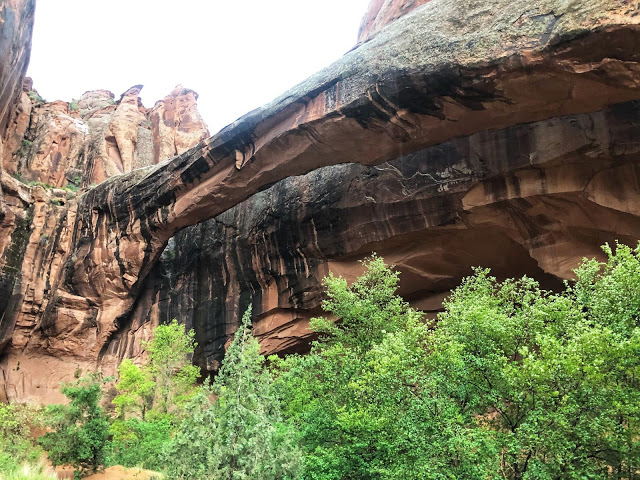 Think it looks cool now? Keep reading to take a look at what happened after the rainstorm got really intense…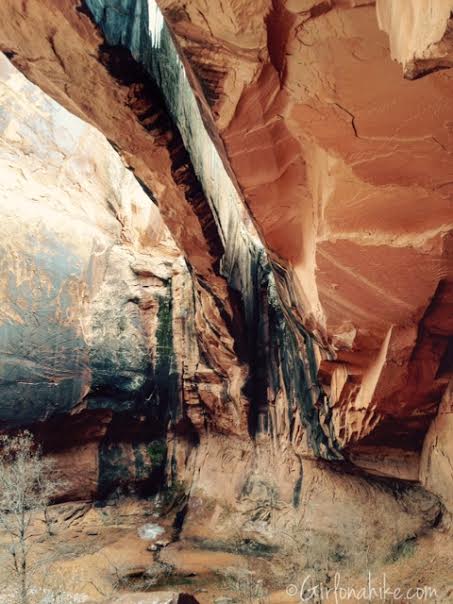 Before the storm, high up in the cove.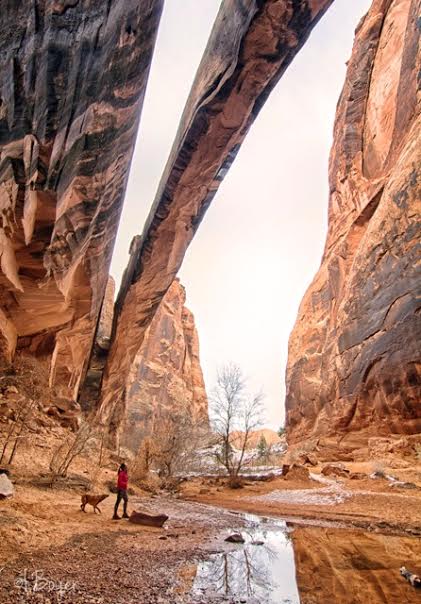 My favorite photo of the day, Febraury 2016, taken by @iboyer. This is what the arch and area normally looks like. However….
June 2020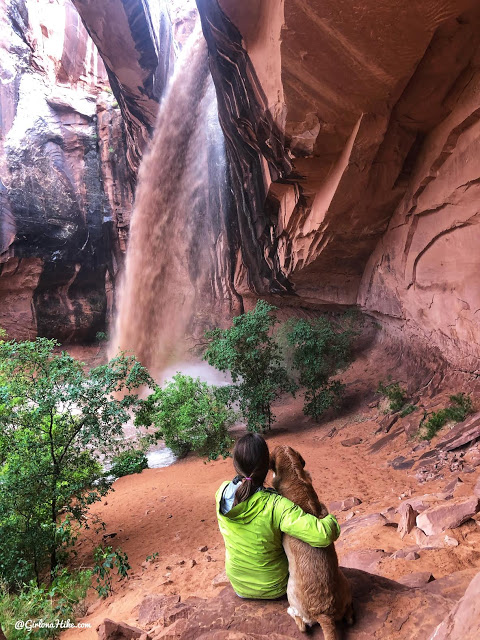 June 6, 2020 we got caught in a big rainstorm creating a flash flood waterfall here. There were three of us hikers plus two of our dogs stuck here for several hours. We had to wait for the water levels to drop because we knew we wouldn't be able to cross the creek on the way back.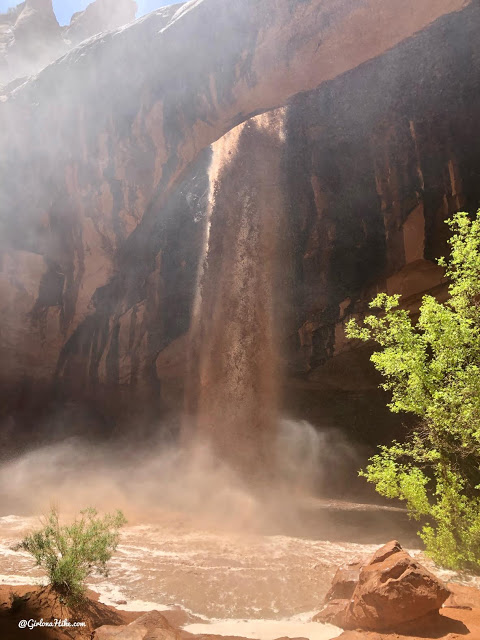 Thankfully we were all safe, yet still able to witness this rare desert waterfall.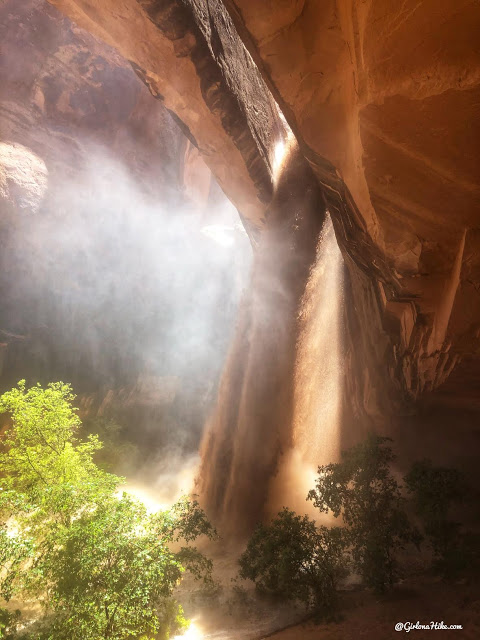 At its biggest size – just insane. The amount and power of the water was extremely forceful.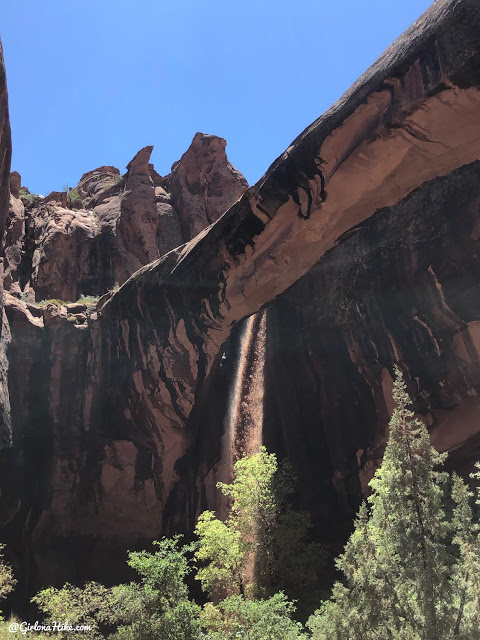 Leaving the arch, and finally the water levels started to drop. However, that was only the beginning. We weren't able to cross the stream for a few hours because it had risen from ankle deep to about 4 feet deep in only 1-2 hours of rain. We found a branch to stick in the water to test the depth and force, and it was just too scary to cross. So we found shade under a rock, hung out for a bit, waiting for the water to drop. When it was about crotch deep, we made a go for it. Holding hands, and then latching onto the dogs as best we could, we crossed together. At its deepest, the creek was hip deep on me in one spot. Thankfully, I was able to hold my balance, all while make sure Charlie was right in front of my legs as I shuffled across. It was pretty scary, and I'm glad we were able to exit ok. All in all, for a 4 mile hike we were out for close to 8 hours. I still get stressed thinking about it!
Check out my video!
Trail Map
My track via Gaia GPS – the best tracking app! Get your app here for a discount.
Recommended Gear
Nearby Hike
7 Best Dog Friendly Trails in Moab, Utah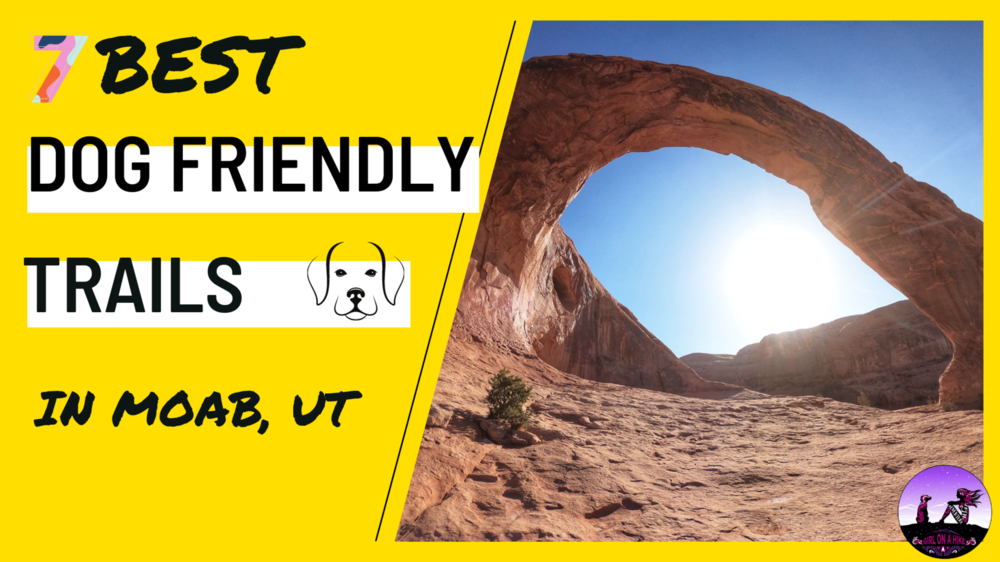 Lodging Recommendation
Moab Flats – Moab's Best Pet Friendly lofts!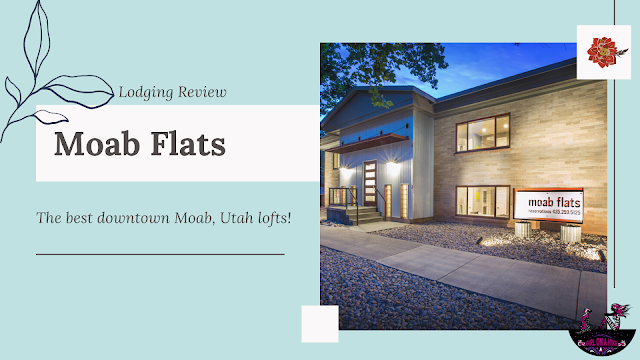 Save me on Pinterest!