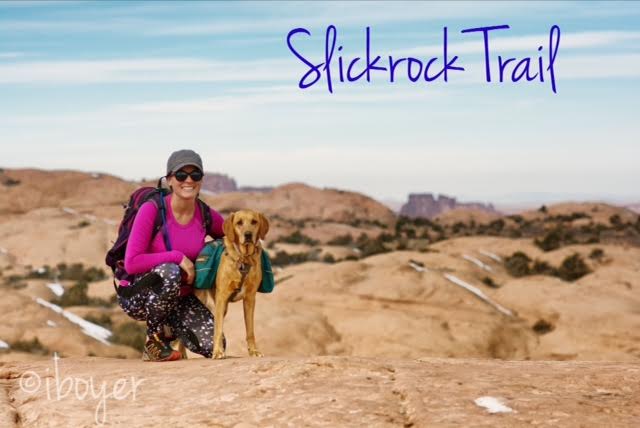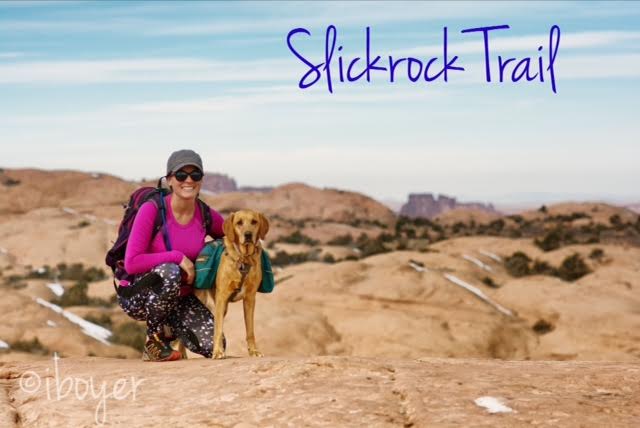 Slickrock Trail, the world famous mountain biking trail, is located in Moab, Utah. Most people bike this 10.5 mile loop, but we hiked it! Slickrock Trail is located at the Sand Flats Recreation Area, about 10 minutes outside of Moab, where we also camped for two nights. This trail is popular for its scenic, rugged expanse of Navajo Sandstone, the remnant of wind blown sand dunes. Slickrock Trail was established in 1969 for motorcycles, but the trail is now popular for both mountain bikes and motorcycles – it is closed to all four-wheeled vehicles.
About
The best times to ride or hike here are Spring and Fall, when daytime temperatures aren't as hot. We hiked here in February, and found several patches of snow and ice, especially on the north facing slopes. This weekend the weather was perfect in Moab, with daytime highs around 50-55F degrees, and the trail wasn't super popular as it normally is a month from now in March/April.
The inversion in SLC has been so bad the past few weeks, we just had to get out of the nasty air. The state had even declared the air quality as extremely poor. It just also happened to be Valentine's Day weekend, so Charlie, my boyfriend, and I make a quick trip down to Moab in search of clean air and warm sun.
Directions
 From SLC head south on I-15, and take exit 257 for Spanish Fork Canyon. Drive past Price, UT, then take I-70 East towards Green River. Take exit 182 for Moab. Drive south on HWY 191 for 31 miles. Once you are in Moab, turn left onto 100 North, then right at the stop sign for 400 East. Turn left on Mill Creek Drive, where Dave's Corner Market is. Drive straight past the first stop sign, and weave your way to the entrance of Sand Flats Rec Area. Drive 2.3 miles and look for the Slickrock Trail on the left. The parking lot is huge, has several restrooms, and two picnic tables.
Trail Info
Distance: 10.5 miles (loop)
Elevation gain: roughly 750 ft
Time: 2-4 hours for bikers, 4-8 hours for hikers
Dog friendly? Yes, off leash. Be courteous and always lets bikers have the right of way.
Kid friendly? Yes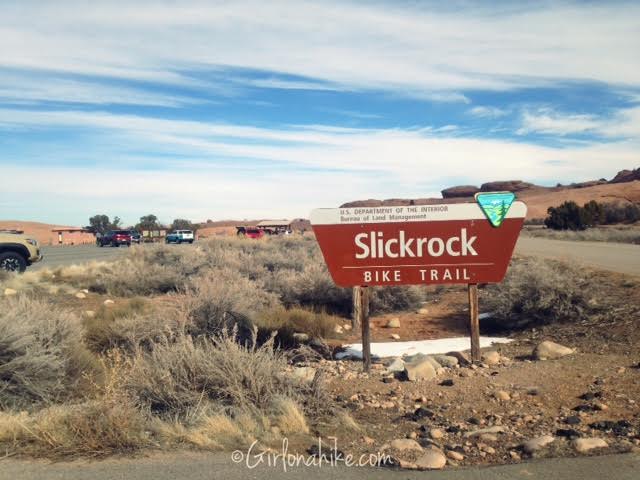 Entrance to the parking area.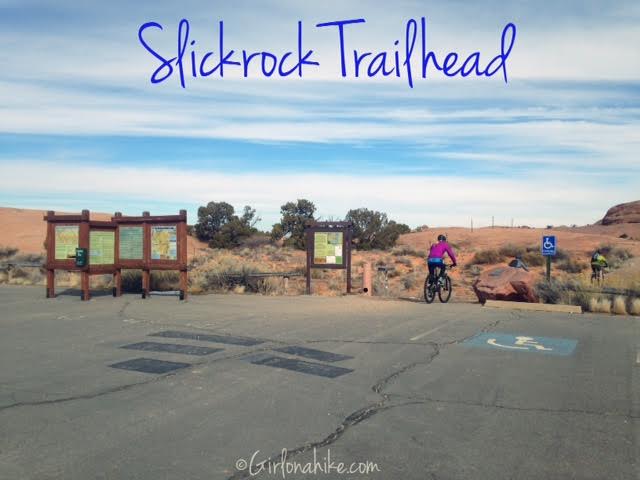 Official trailhead!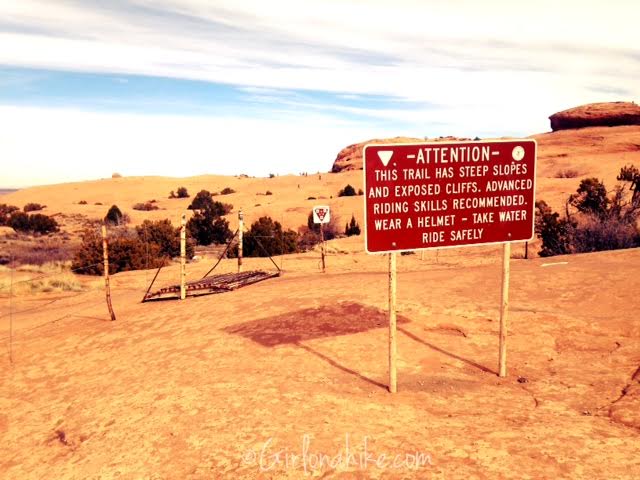 Start by walking about 5 minutes, then cross over the small cattle guard.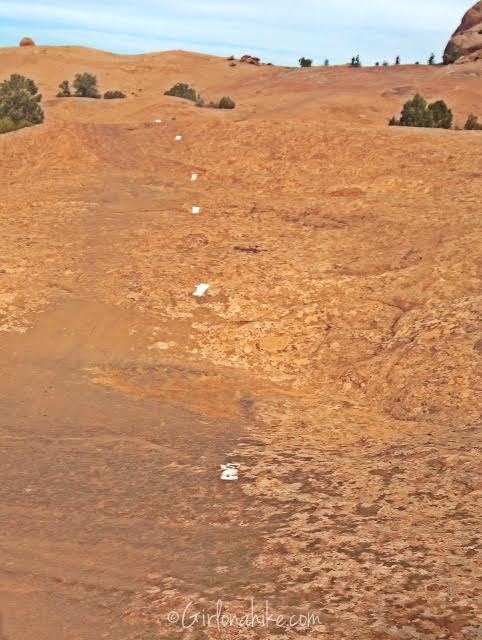 The entire trail is well marked with white rectangles.

(Photo by @iboyer)
 Abyss Point – a nice overlook of all the slickrock.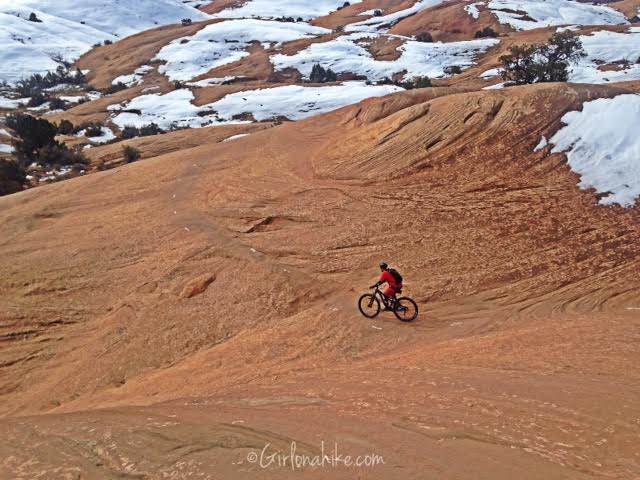 If you hike this trail, always let bikers have right of way.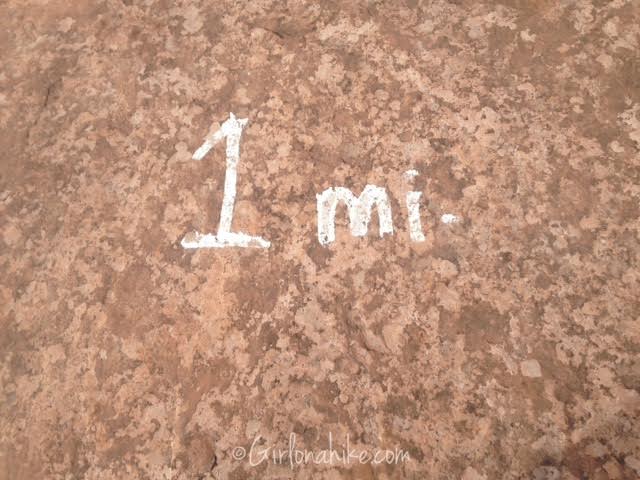 The trail also marks mileage! How nice of them 🙂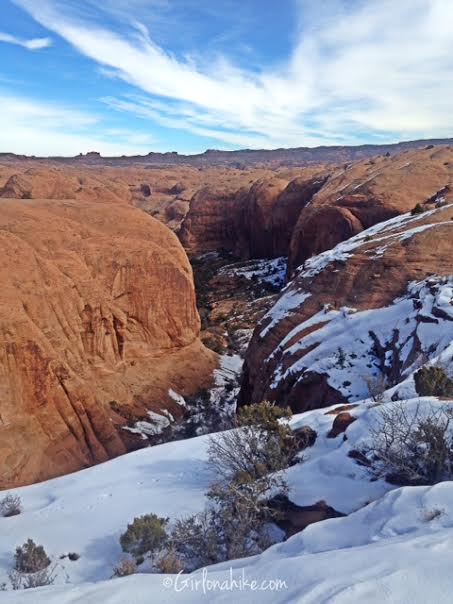 Looking into one of the small canyons.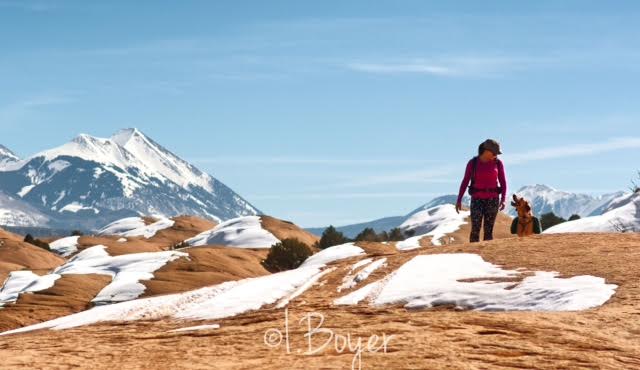 (Photo by @iboyer)
The LaSal Mountains looked amazing with snow and the red rock below. The contrast was very beautiful!
The peaks in the distance to the left are Mt. Tukuhnikivatz & Mt. Peale.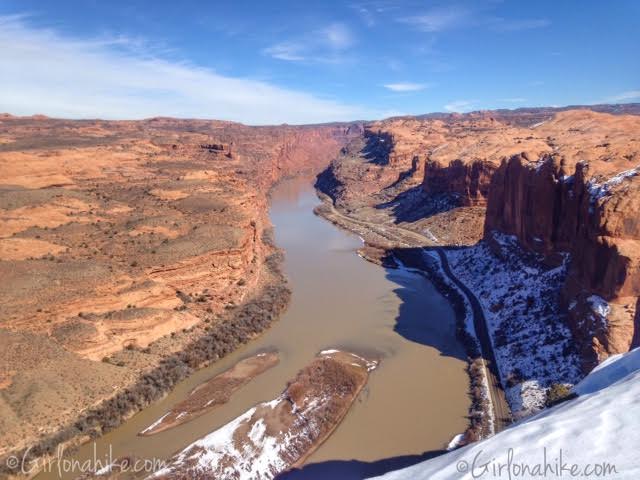 When we got to the main loop split, we accidentally went right, instead of the recommended left. It doesn't matter which way you go if you go, it still makes a loop, but for bikers it's recommended to travel in a clockwise way. We ended up reaching Shrimp Rock and the Colorado Overlook much quicker than we expected due to our quick turn.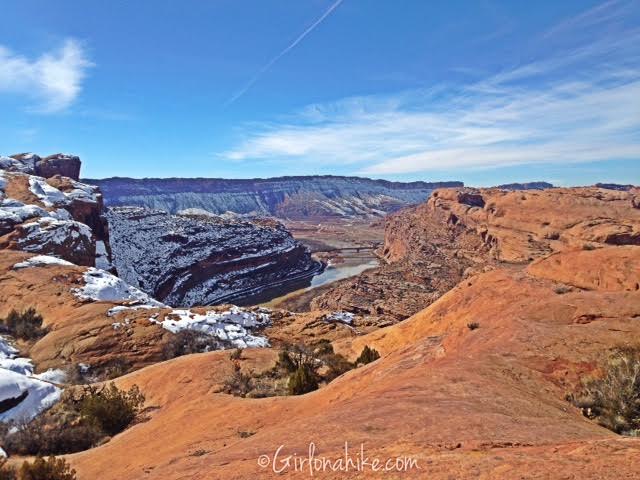 We took our only real break after hiking about 5 miles. For lunch we had bagels with apples and cheese. The bridge you see is the bridge that crosses into Moab on HWY 191. Hard to believe we were so close to town!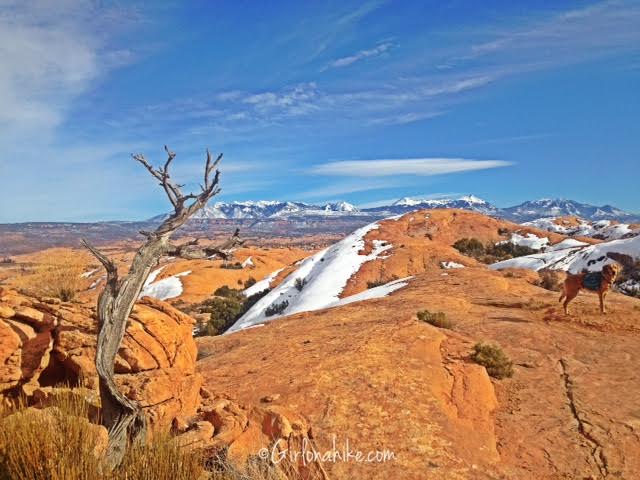 Beautiful old tree with the LaSals in the distance.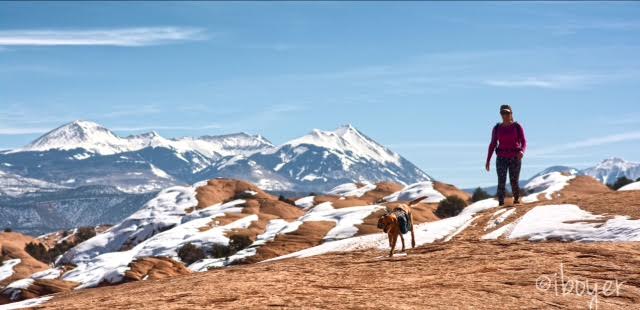 (Photo by @iboyer)
Charlie leads the way.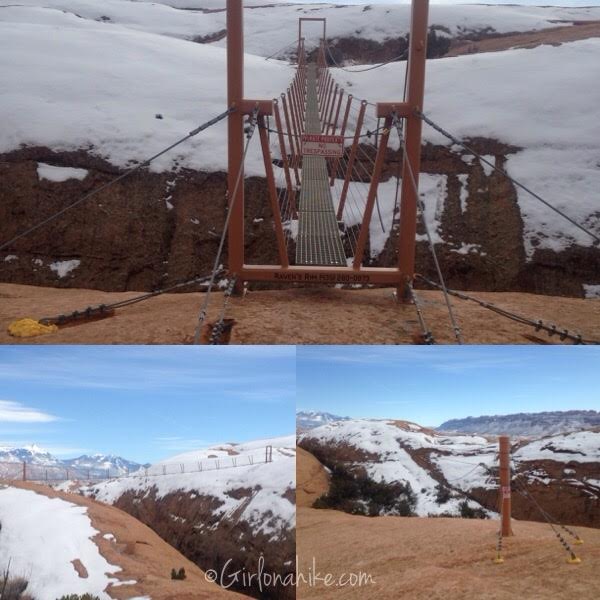 As we worked our way back, we came across the zipline obstacle course by Raven's Rim Zipline Tours. They are closed during Winter, so we didn't see anyone flying by.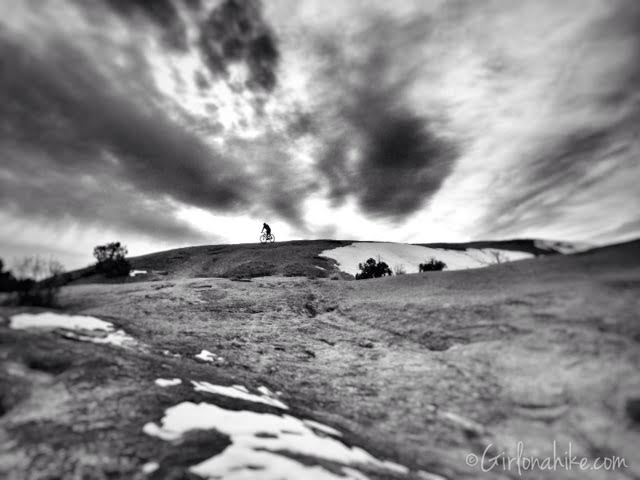 Lone rider in the clouds.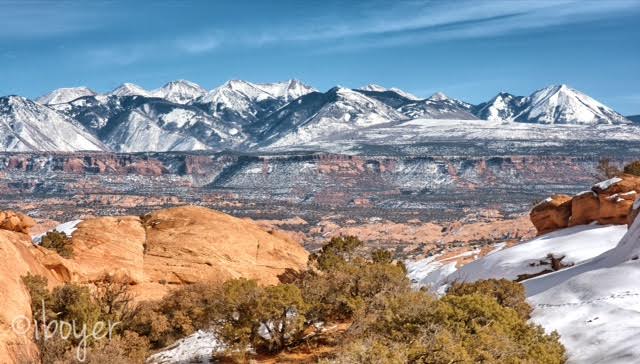 The beautiful LaSal Mountains. Mt. Waas is the peak to the far left.
Trail Map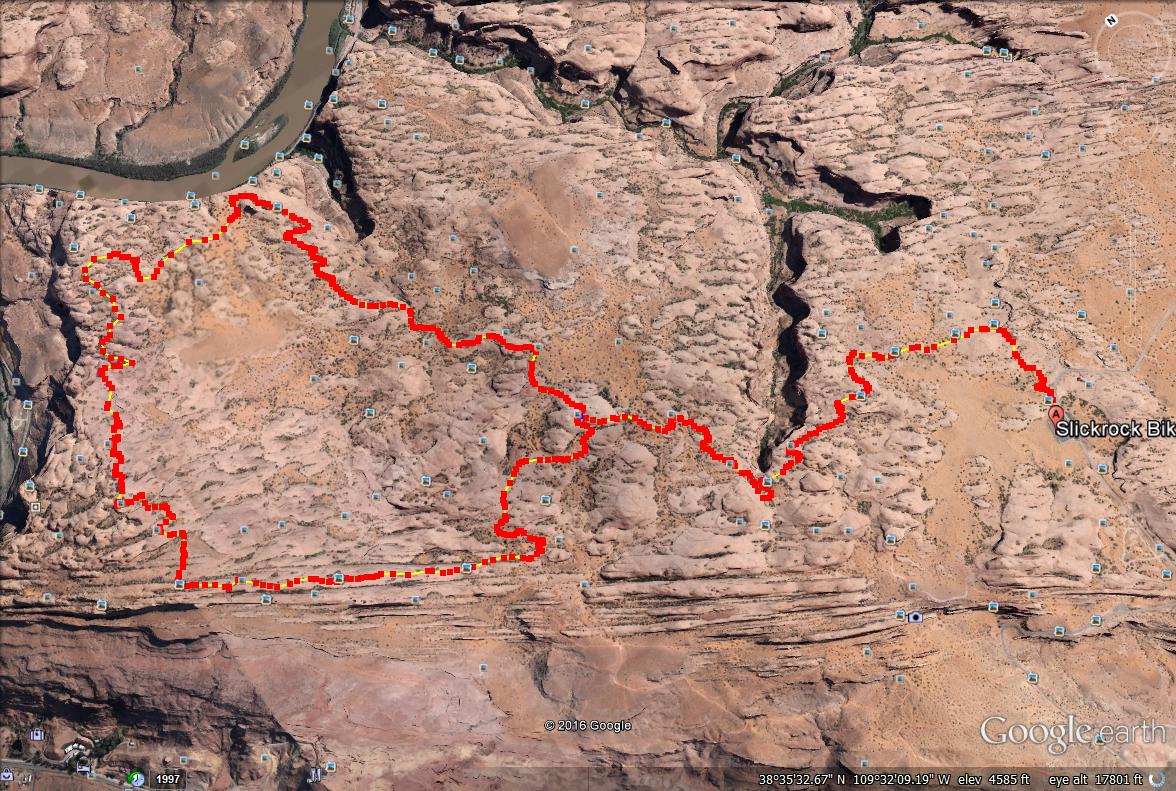 Route looking Northeast.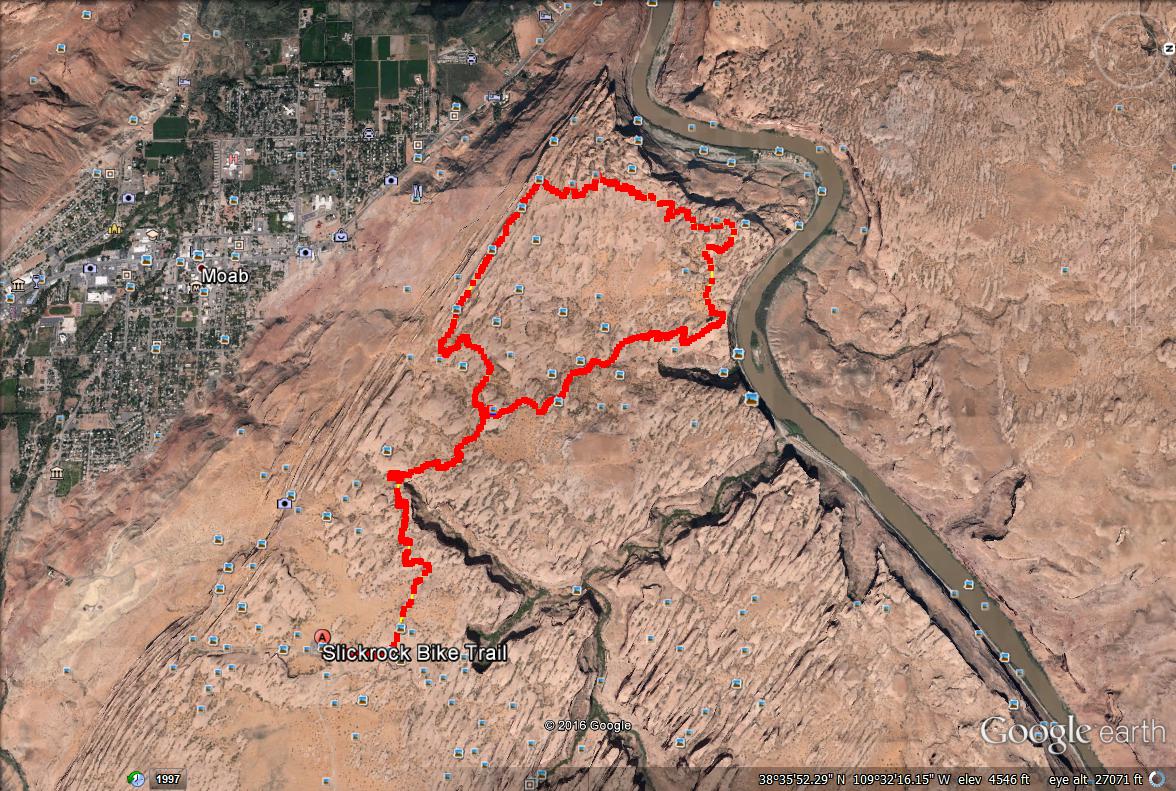 Route looking Northwest.

Hiking Grandstaff Canyon, Moab