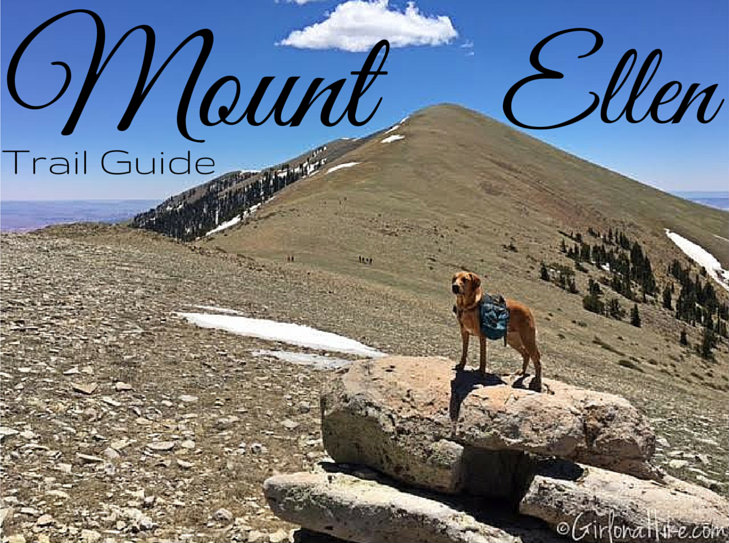 Mount Ellen & Mt.Ellen Peak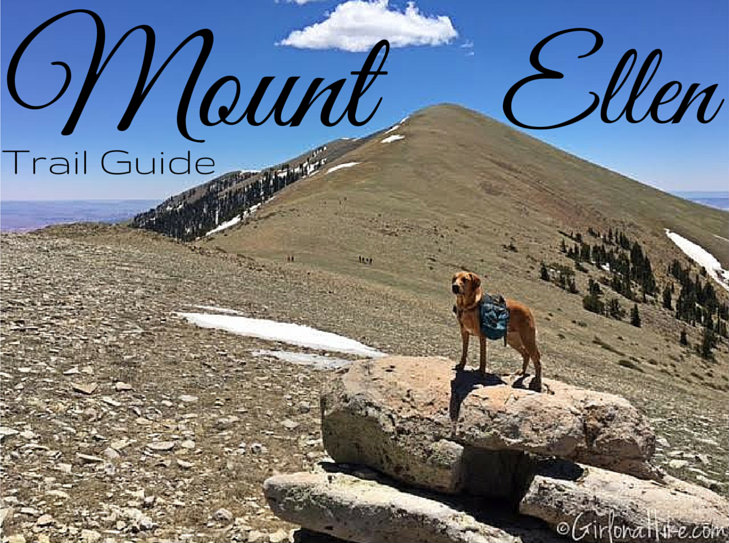 Mount Ellen (11,522 ft) & Mt. Ellen Peak (11,506 ft) are in the Henry Mountains, about 45 minutes – 1 hour south of Hanksville, UT. The Henry Mountains are an island of sort, as they are surrounded by three of Utah's National Parks – Capital Reef, Arches, and Canyonlands. Mount Ellen is a hulk of a mountain, composed of two distinct parts. The first is the North Ridge, which has the 3 highest summits in the Henry's.
About
 At the far northern end of the ridge is the pyramid-shaped peak which goes by the name Mt.Ellen Peak. At times in the past and during early mapping expeditions, it was used as a campsite where geologists took triangulation measurements by & for the USGS. On top are several old tent platforms. The highest peak, however, is the peak just before Mt. Ellen Peak, called Mount Ellen. The second distinct part is the South Ridge, which includes the mining area known as Bromide Basin. The highest point is what I refer to as South Ridge Peak, and has  an old and now-unused solar powered radio tower on top.
The trailhead for Mount Ellen & Mt. Ellen Peak start from Bull Creek Pass – driving up this dirt road is best suited for a high clearance car. We did have one Outback Subaru drive it, but got a flat tire. Our Jeep Wrangler and Toyota Tacoma made it just fine. The road is randomly grated, and requires crossing a few creeks.
Since the drive from SLC is about 5 hours, we camped at Wickiup Pass, which is only 2.5 miles from Bull Creek Pass, and has one large camp area with two fire rings. However, there is a campground further down BLM0095 called Lonesome Beaver. Both camping areas are primitive, so you will need to bring your own water. There are no restrooms or fees. Leave no Trace principles apply.
Directions
From Hanksville, drive south on HWY 95 for 10.4 miles. Turn right onto the dirt road, BLM0095. Stay on this as it turns into Granite Road. Once you reach Sawmill Basin Road (at the "T) turn left. Follow this road as it again turns into BLM0095, and follow the signs for Bull Creek Pass or to wherever you are going to camp.
Trail Info
Bull Creek Pass to Mount Ellen & Mt. Ellen Peak
Distance: 5.8 miles RT
Elevation gain: 1,024 ft
Time: 3-5 hours
Dog friendly? Yes, off leash
Kid friendly? Yes, older kids with hiking experience
Bull Creek Pass to South Ridge Peak
Distance: 2 miles RT
Elevation gain: 2,086 ft
Time: 2-3 hours
Dog friendly? Yes, off leash
Kid friendly? Yes, older kids with hiking experience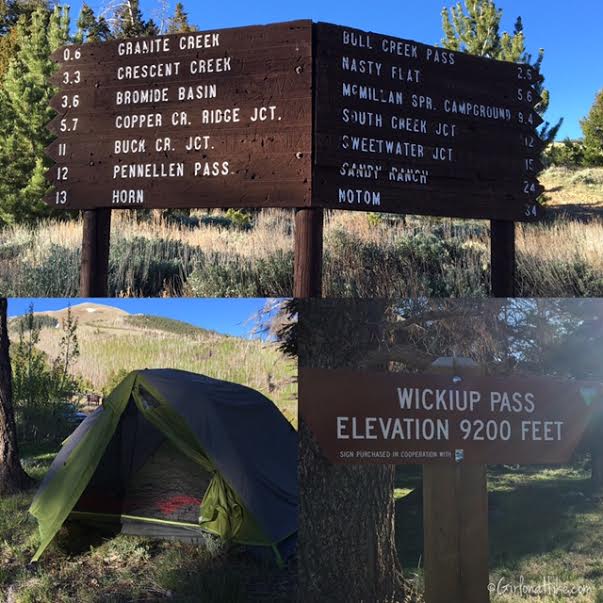 Camping at Wickiup Pass, you will be at a 4-way intersection. To get to Bull Creek Pass, turn Right. As a side not, you could get to Bull Creek Pass from the West side of the Henry's but driving time is much longer.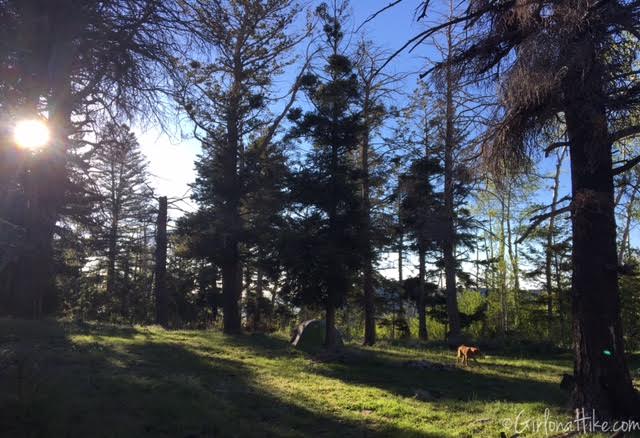 Lots of space for camping under shade.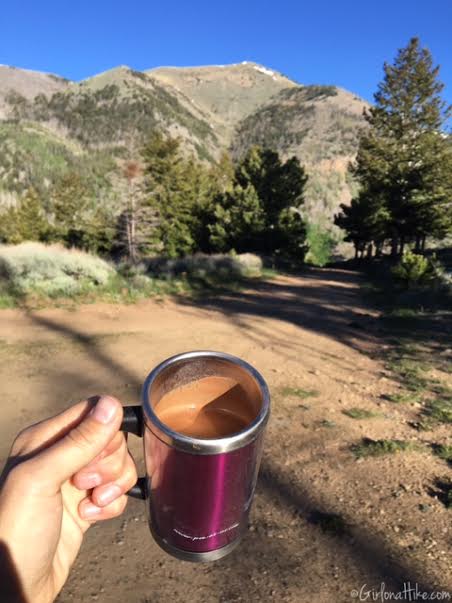 Good morning from Wickiup Pass camping area! I knew I was going to be hiking with super fast hikers in our group, so I needed some caffeine to get me going. I ended up creating my new favorite morning camp concoction – 1 packed of Instant Coffee, and 1 packet of hot chocolate = instant mocha!

 When we drove into the Henry's is was totally dark, so we had no idea what we would be waking up to. Little did I know, it would be a glorious morning! I walked up the small hill from camp, and was able to get a panorama of the Henry's looking North.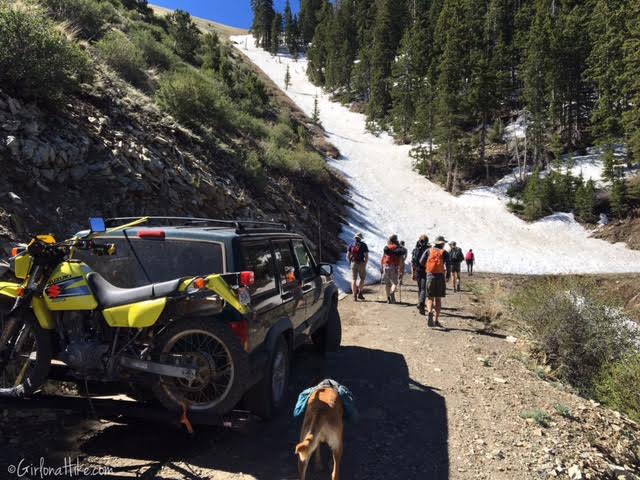 We were hoping that we could drive all the way to Bull Creek Pass, but too much snow was blocking the road. We stopped where we could, and walked the extra 1/2 mile to the trailhead.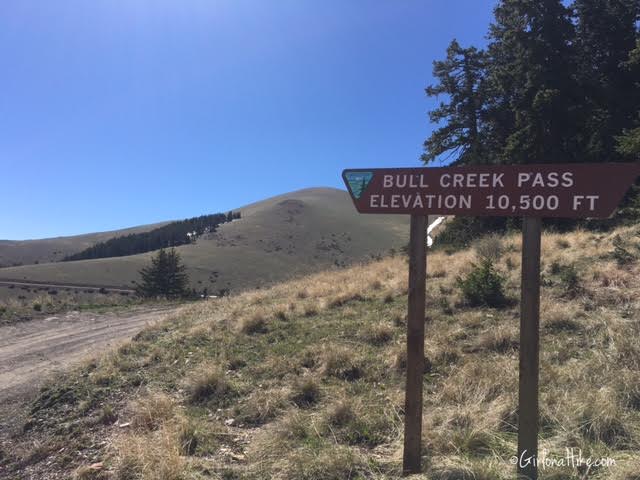 At Bull Creek Pass, looking East. The trail starts to the left (North) of this sign.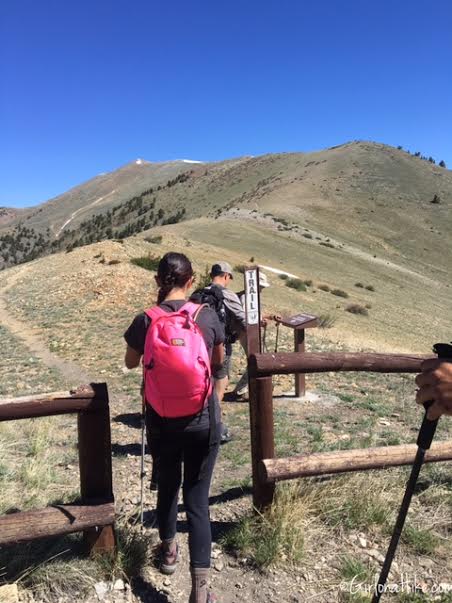 We started hiking later than we wanted to, around 10:30am. The sun was already beating down on us.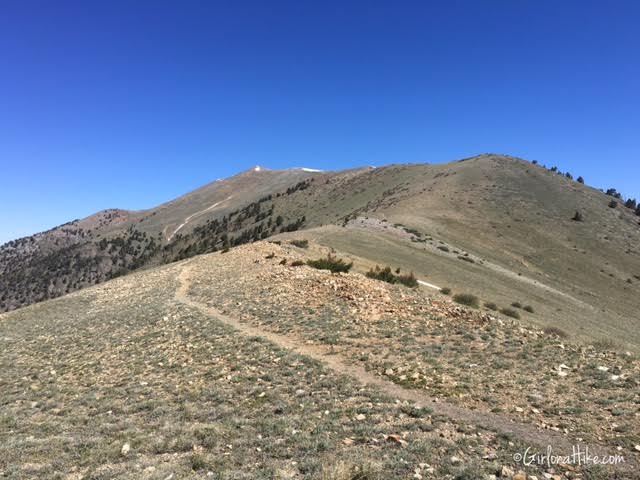 The trail to Mount Ellen is well defined, and you can clearly see your first destination.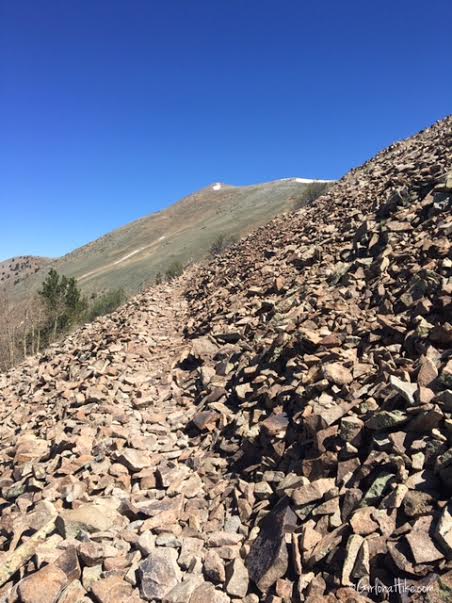 Sometimes the trail cuts over a rocky path.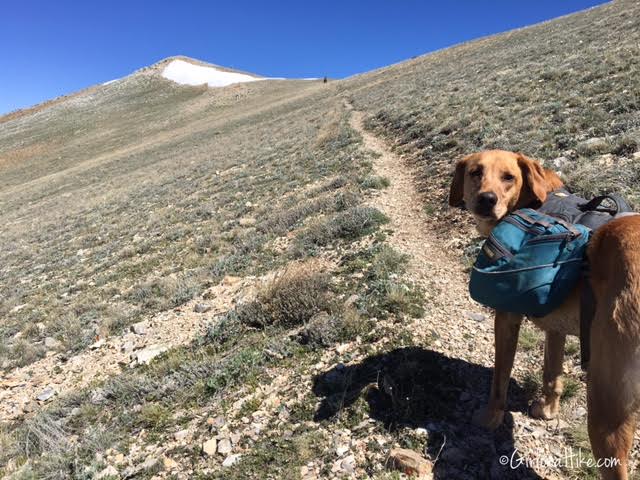 Charlie always looks back to see if I am coming – what a good boy!
 Because it was around 80F, even at 11,000 ft, I make Charlie carry his own Ruffwear Approach Pack. In it, he has two 16 oz water bottles, doggie poop bags, and a bowl. To cool off, he likes to hike through the remaining snow patches.
 Near the ridgeline, you will lose the trail. Just continue following the ridge, up and over the small boulder fields. The rocks aren't big enough that you have to jump or wear scrambling gloves, but be weary of where you step – most rocks are unstable.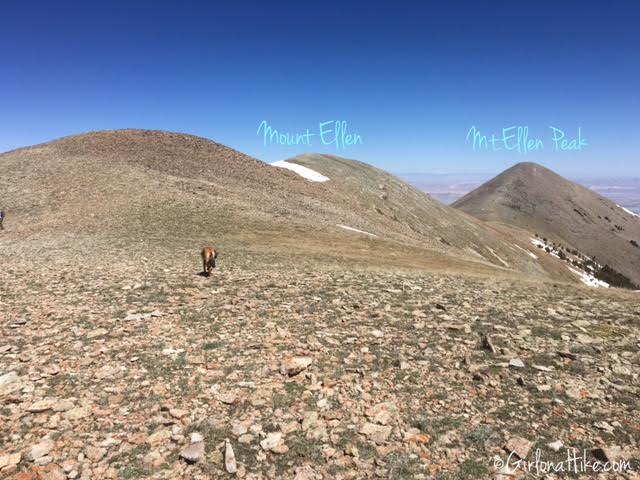 Getting closer to the summit.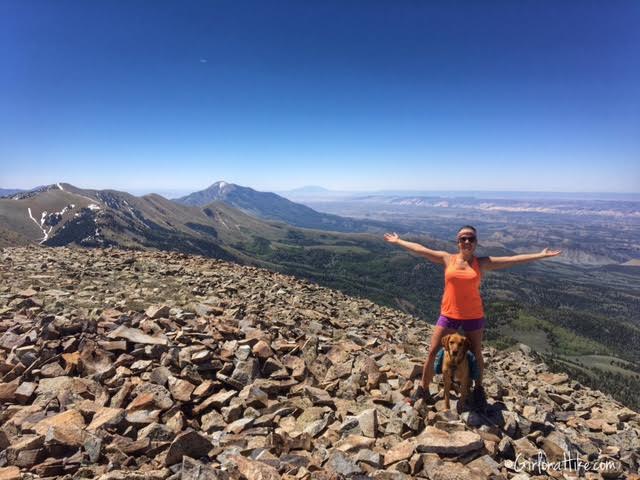 Summit of Mount Ellen! Mt. Pennell and Capital Reef in the distance.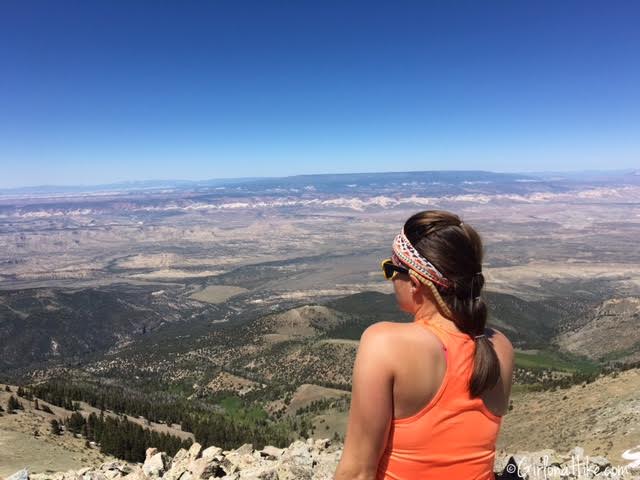 See the white line in the distance? That is Capital Reef National Park and Boulder, UT is almost directly West 37 miles as the crow flies.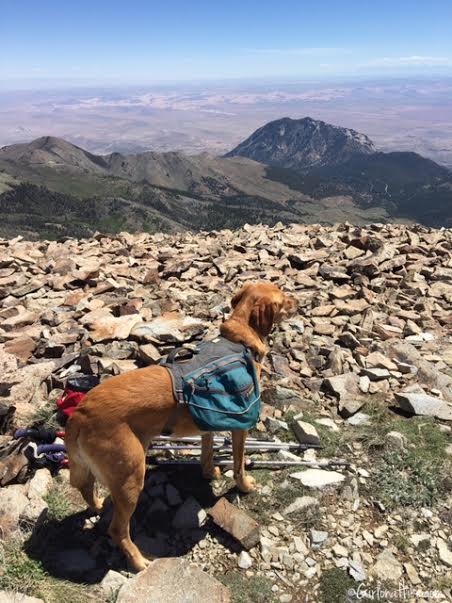 Charlie takes in his view. Bull Mountain is the peak directly above Charlie's head.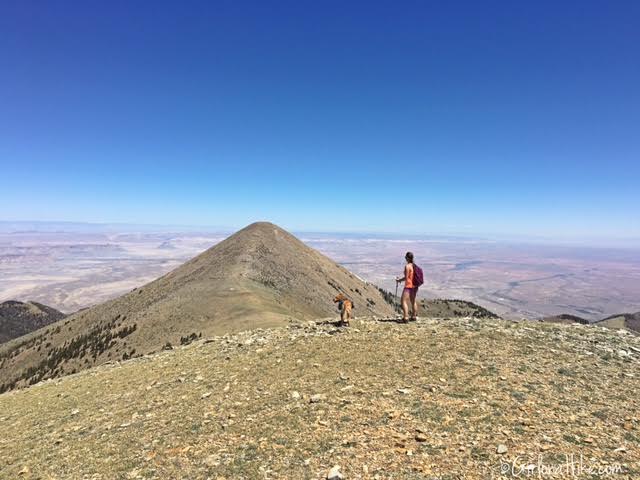 To get to Mt. Ellen Peak, continue along the ridge for another 3/4 mile. The trail drops about 400 ft, then you have to hike back up to the peak. Mt. Ellen Peak is only 14 ft lower in elevation compared to Mount Ellen. It looks close, but it's deceiving!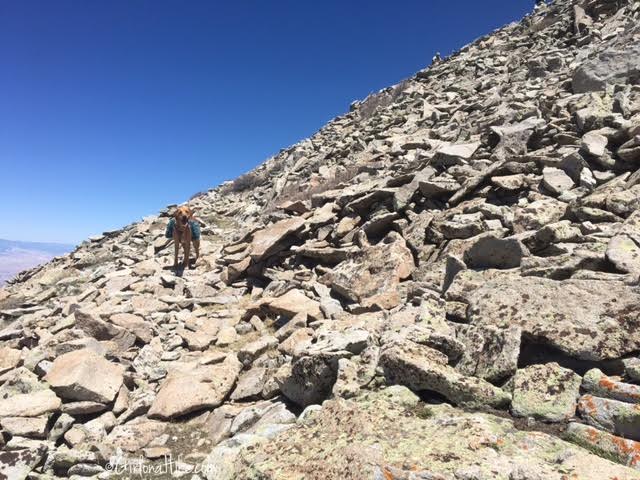 Charlie and I make our way up the small switchbacks.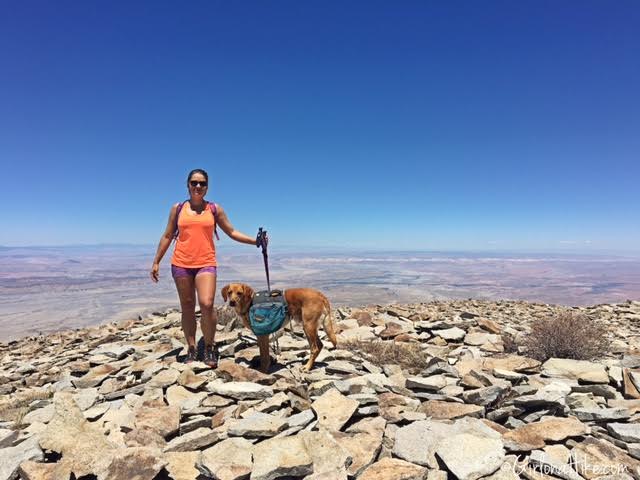 Mt. Ellen Peak!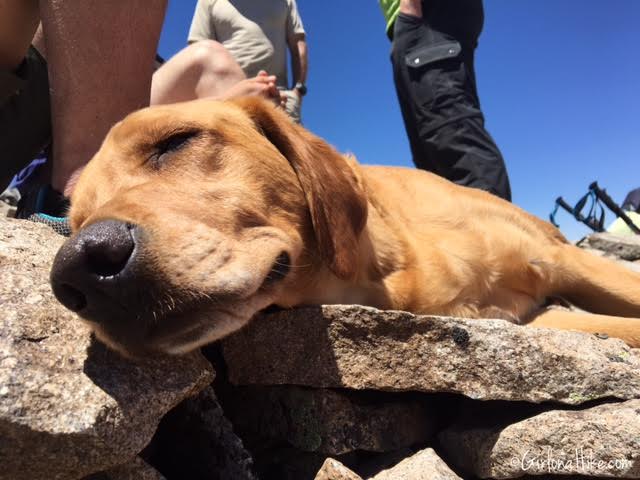 We took a snack and water break on the summit, and Charlie decided to take a nap.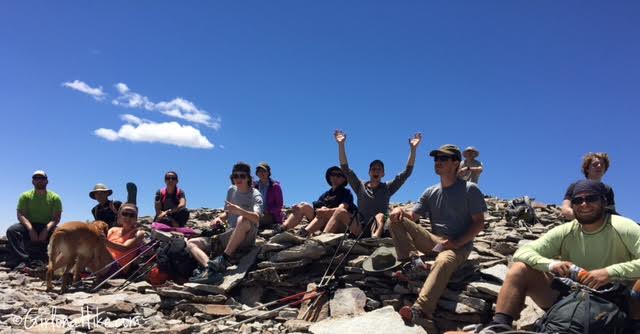 Group photo!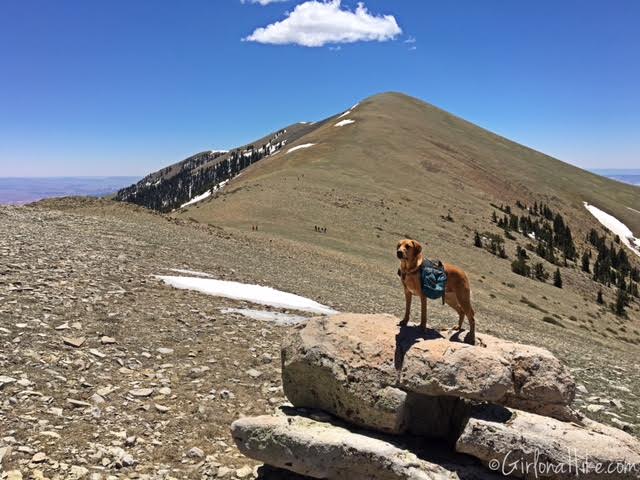 Working our way down and back over to Mount Ellen. To get back to the TH simply retrace your steps to Bull Creek Pass.
Bonus Peak – South Ridge Peak!
If you have the time and/or energy, I recommend hitting the South Ridge Summit. We walked back down the road, to this gully, and picked what looked like the best route to the ridge. The snow was too soft, and I was afraid I would be post holing this route. Three of us hiked straight up, just to the left of the snow, and the rest of the group hiked up and to the right. Both ways work and are super steep gaining 2,000 ft in just 1 mile to the summit.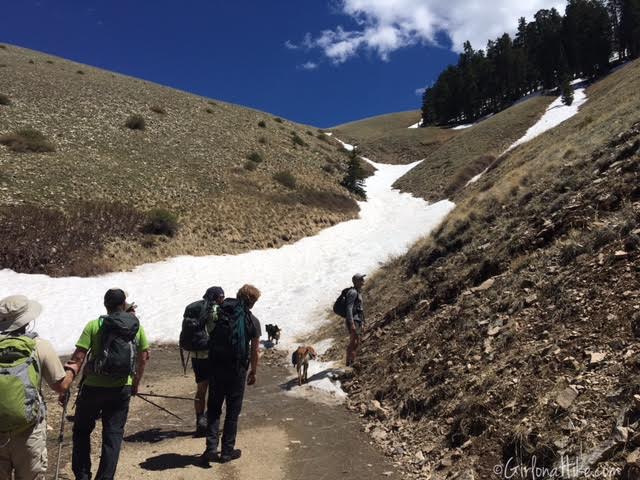 Deciding on the best route.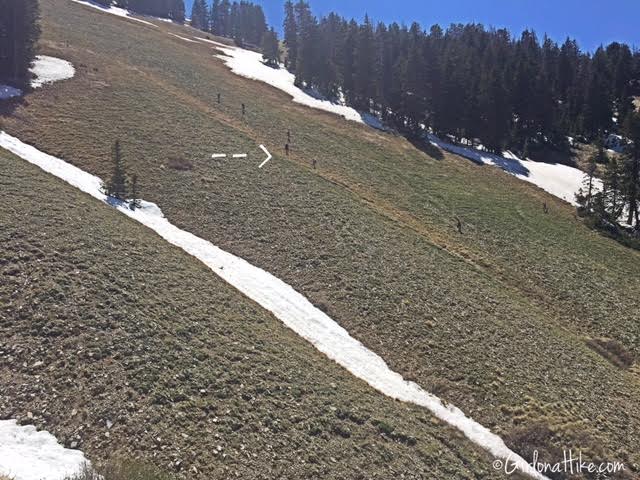 I hiked to the left of the gully, and you can see how small the rest of the group looks across the field.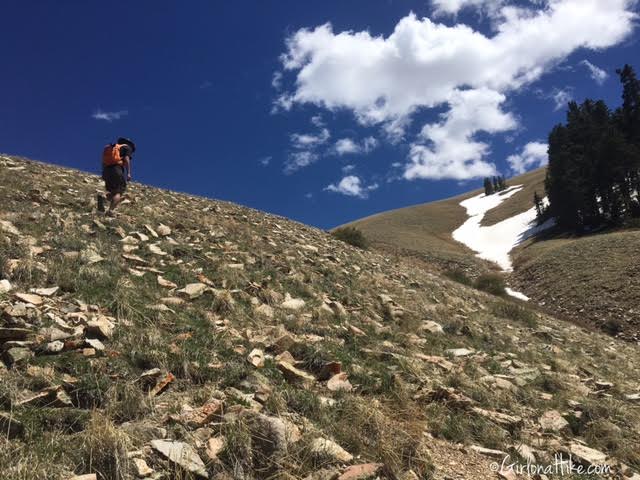 Hiking to the ridge. Super steep!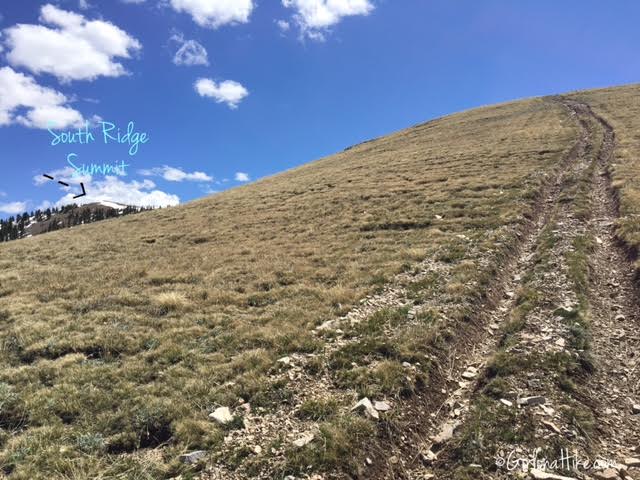 Once on the ridge, you can follow the old ATV road to the summit, which you can see off to the left.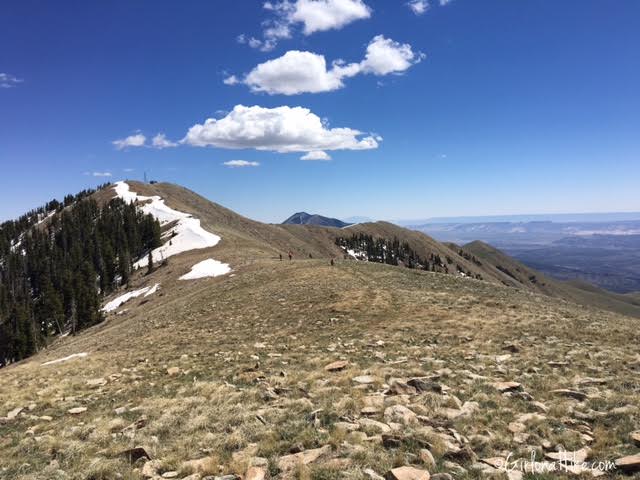 Finally the trail evens out a little.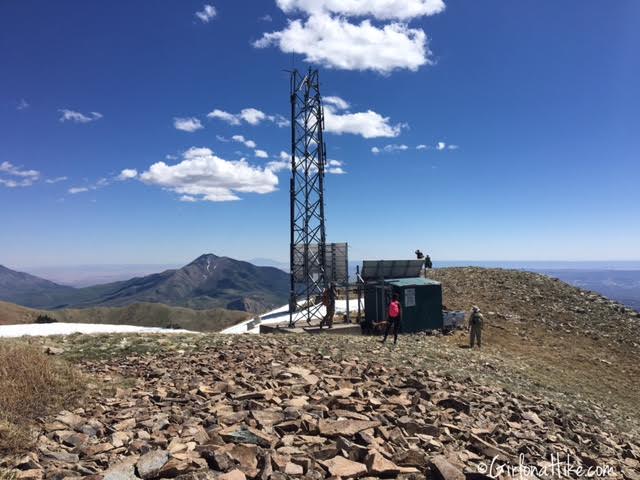 Once on the South Ridge Peak, you will see the old solar-powered radio tower. There were all these little flies or bugs that kept attacking us, so we didn't stay long.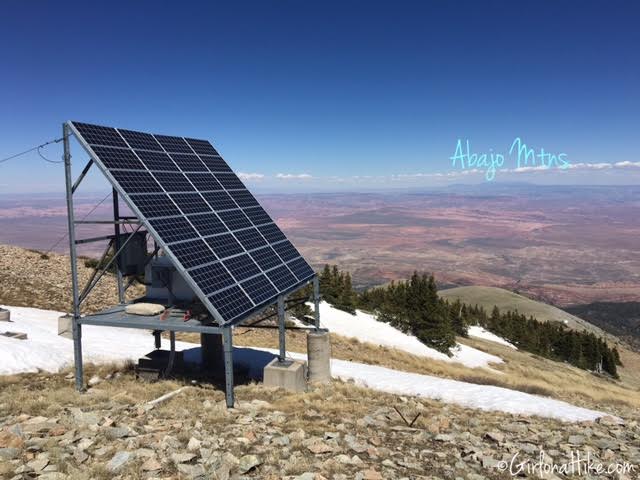 The solar panel with the Abajo Mountains in the distance. The LaSals are off to the left, but hard to see in this photo.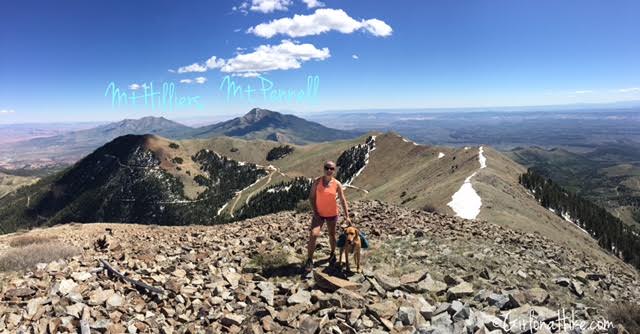 On the South Ridge Summit! Mt. Pennell (which we would be hiking the next day) and Mt. Hilliers off in the distance.

 Heading back down, I took a slightly different route since I knew the cars were parked further down the road from where we started hiking. However, I wish I would have went down the way I came up.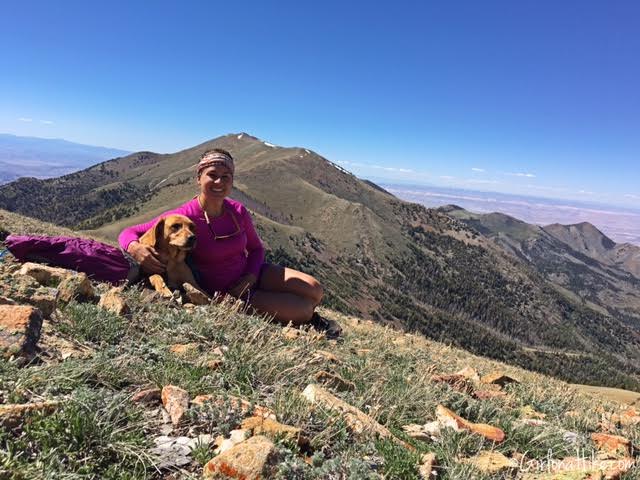 Mount Ellen ridge behind us.

 Back at camp after a long day of hiking, making dinner.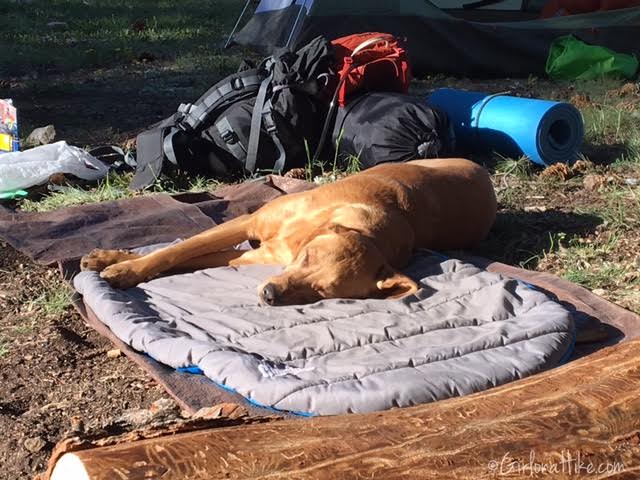 Charlie fell asleep as soon as we got to camp. He did a great job!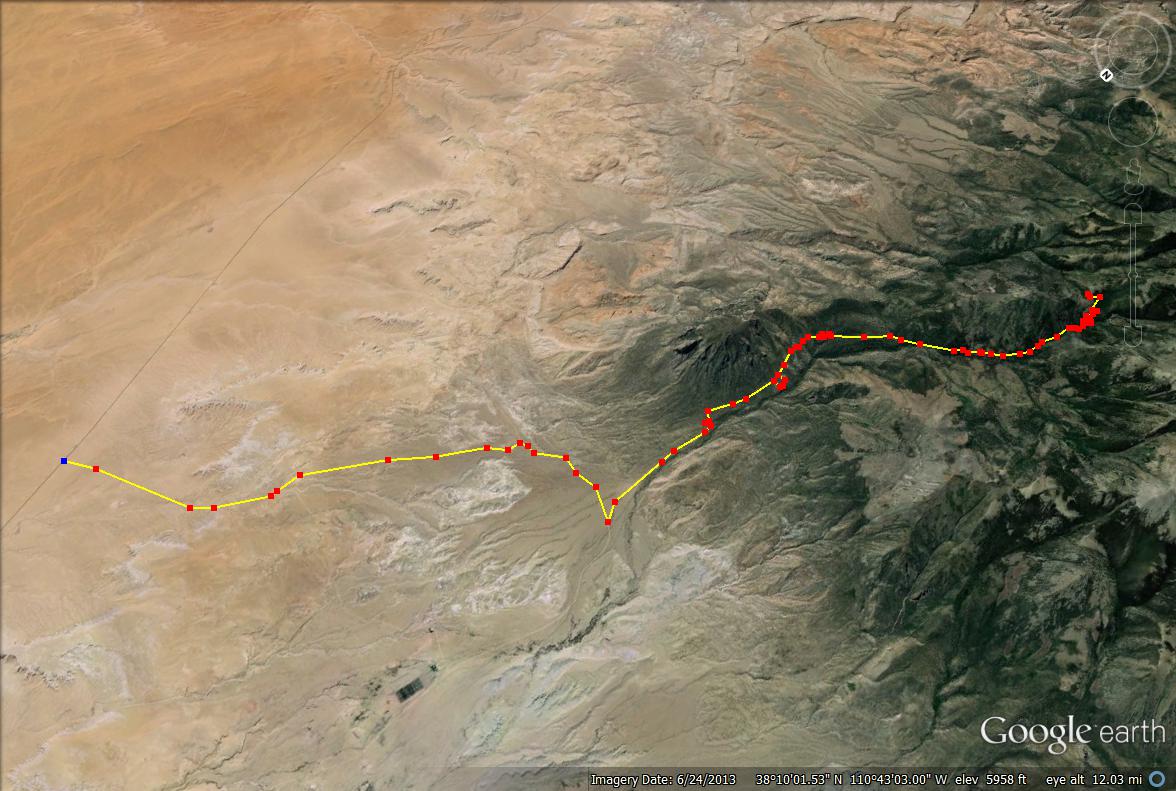 Driving Map from the turnoff on Hwy 95 looking Southeast. Here's a link to the Google Map.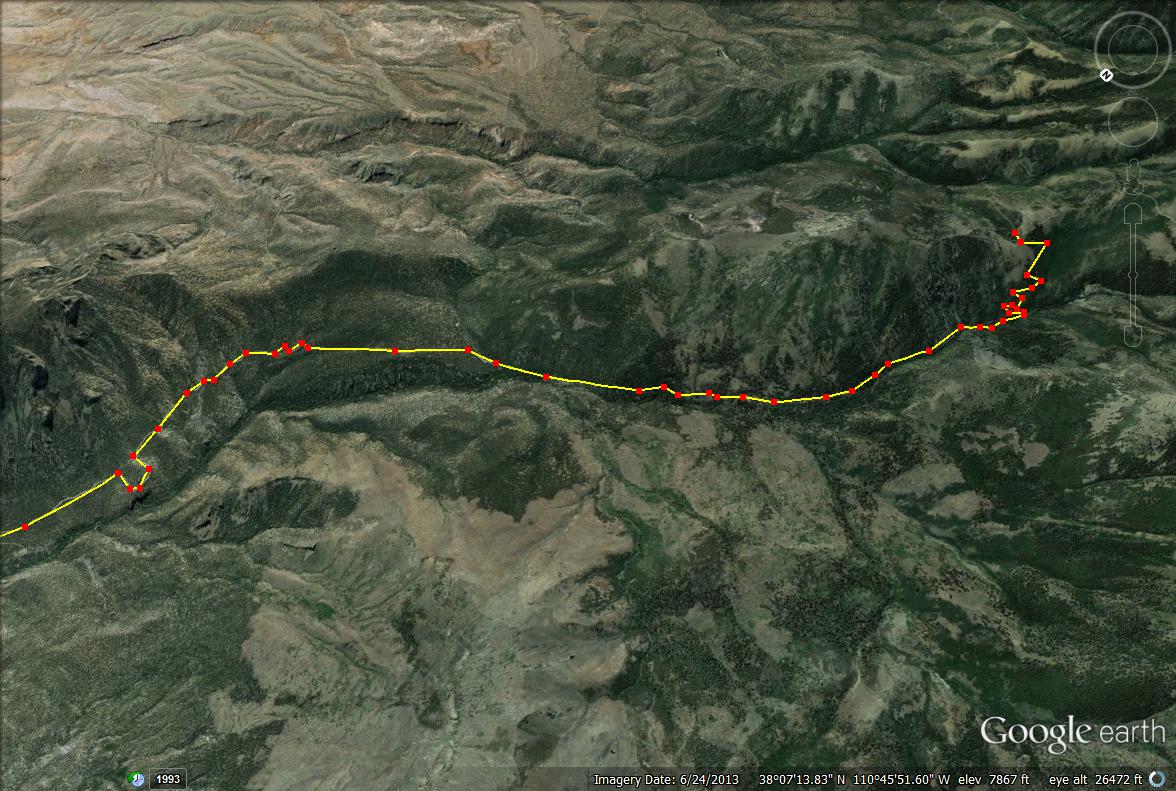 A close up of the driving map to Wickiup Pass & campsite.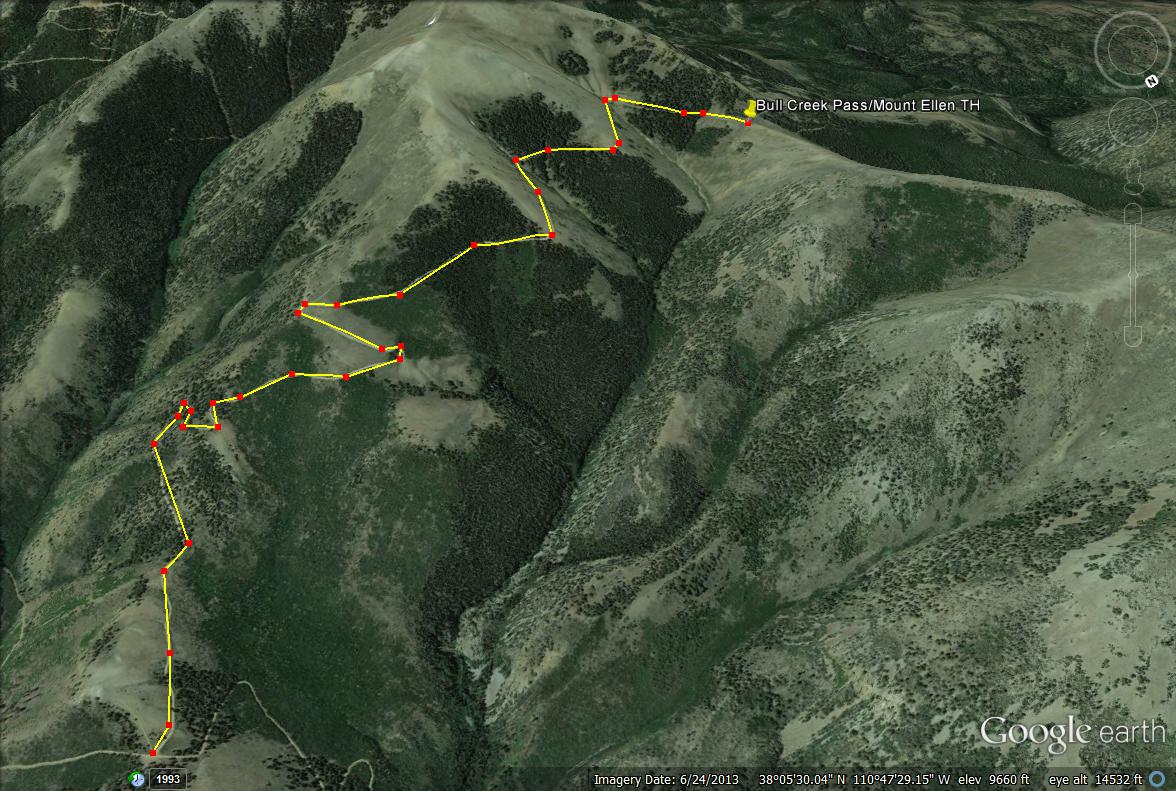 Wickiup Pass/campsite to Bull Creek Pass and the Mount Ellen TH.
Trail Map

My track via Gaia GPS – the best tracking app! Get your app here for a discount.
Also Read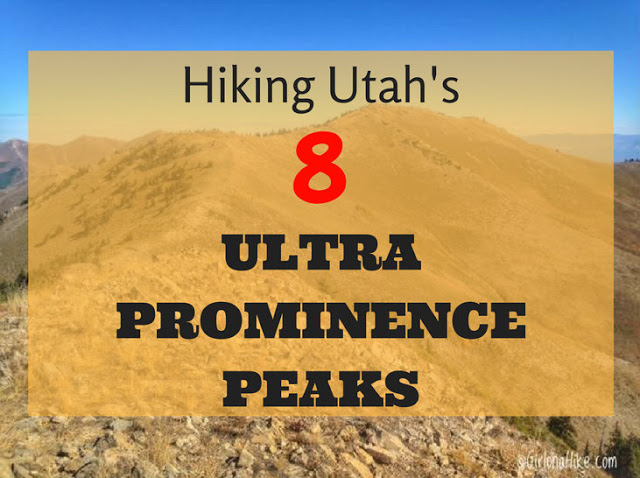 Save me on Pinterest!