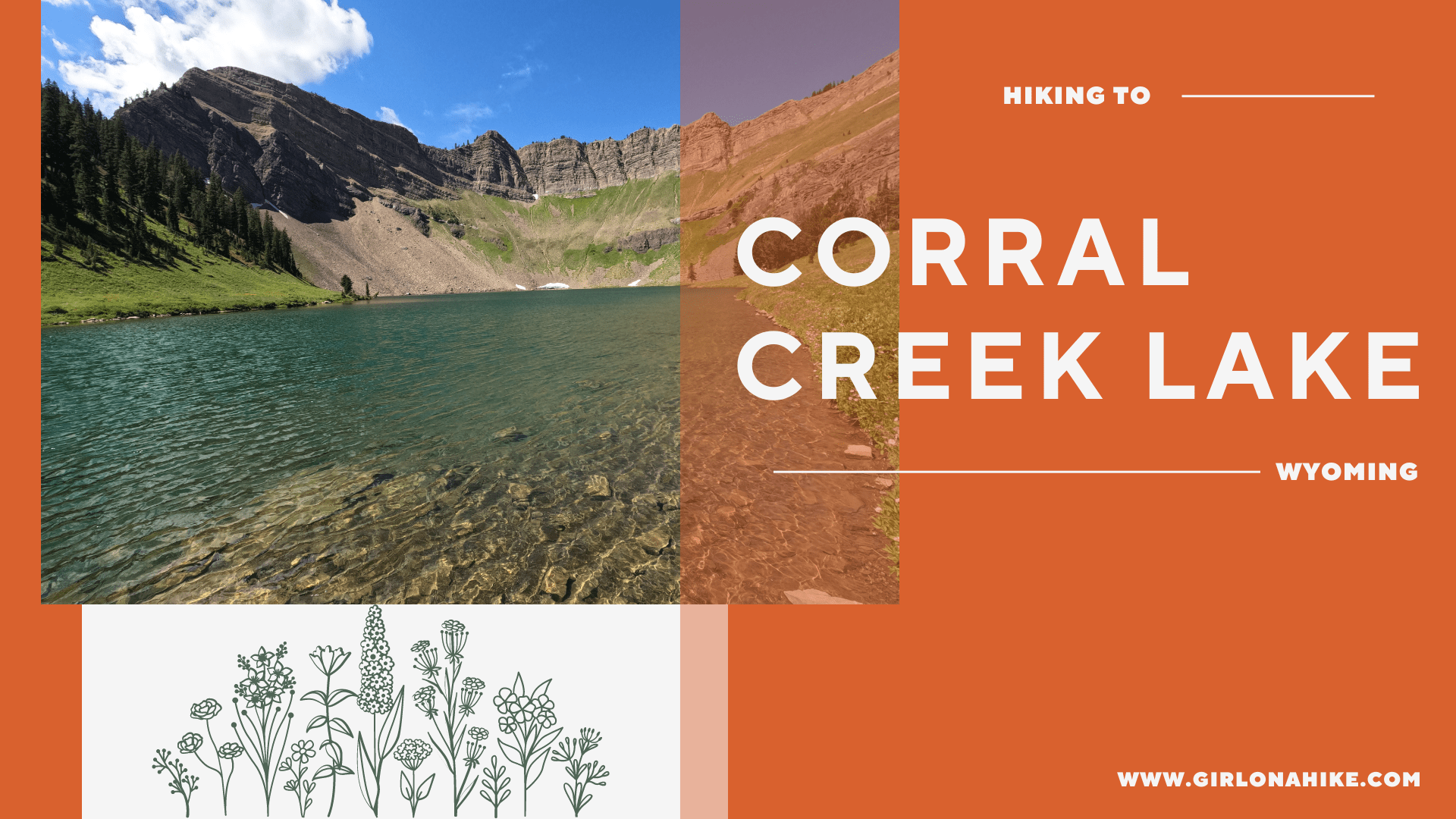 Hiking to Corral Creek Lake – Afton, Wyoming

Corral Creek Lake is just East of Afton, Wyoming, and sits at an elevation of 9,500 ft in the Salt River Range.
About
Corral Creek Lake can be accessed via two different trailheads – the Periodic Spring TH on the north slope (Swift Creek Trail), and the Cottonwood Lake TH on the south slope. This trail guide is for the North side, at 8 miles one way and roughly 4,000 ft elevation gain. You could actually turn this into a point-to-point route, and many trail runners and backpackers do this, as long as you have a second vehicle.
On this particular day my friend and I needed to hit a certain mileage, so it made sense for us to do this as an out-and-back. We camped at the Periodic Spring TH in my Tacoma, and then started early the next morning. There is zero cell service once you enter the canyon, so make sure you have a satellite communicator like a ZOLEO with you at all times,
This route is long, on the rocky side, and steep! The best time to hike/trail run here is typically July – October when the trail is free from snow and dry. August is particularly beautiful when the wildflowers are in bloom. While dogs are allowed, I wouldn't recommend bringing them for this long of a hike. It gets pretty hot, especially on the run back. There are a few stream crossings, however, which was perfect for us to filter water from with my mini filter bottle.
Depending on your speed, plan on a full day exploring the Swift Creek Trail and Corral Creek Lake!
Directions
From Afton, WY head East on 2nd East Ave (Road 138). Drive until the very end at Periodic Spring Parking area.
Here is a driving map.
Trail Info
Distance: 16 miles RT
Elevation gain: 4,000 ft
Time: 4-8 hours
Dog friendly? Yes, off leash
Kid friendly? No, due to distance
Fees/Permits? None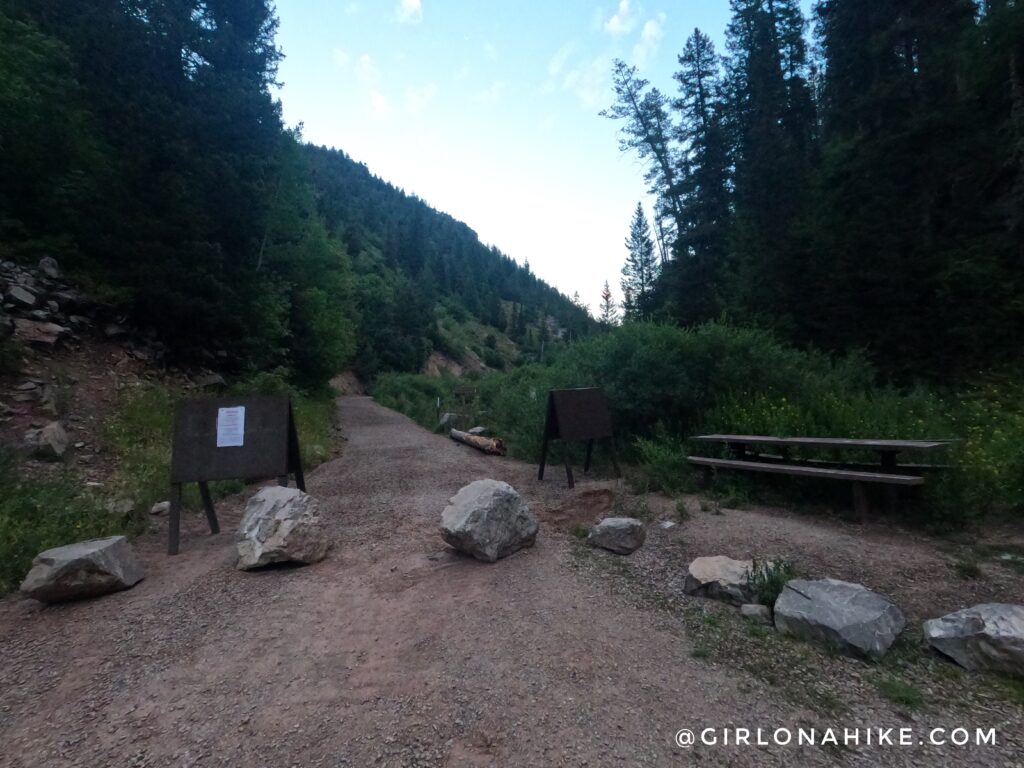 This is the very end of the Periodic Spring Parking area. Prior to 2023, you could drive further up this road. However, a landslide occurred and this is where the road now ends. The parking area is large enough to fit probably 10 cars.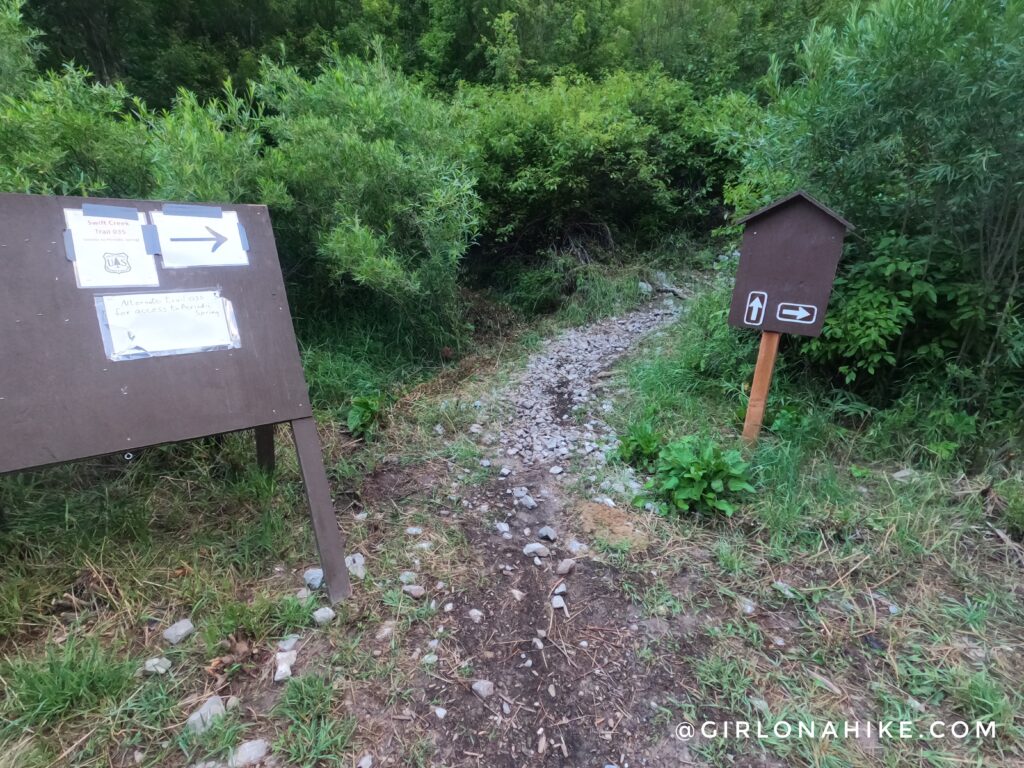 The actual trail begins by the port-a-potty, with these two brown posts/signs.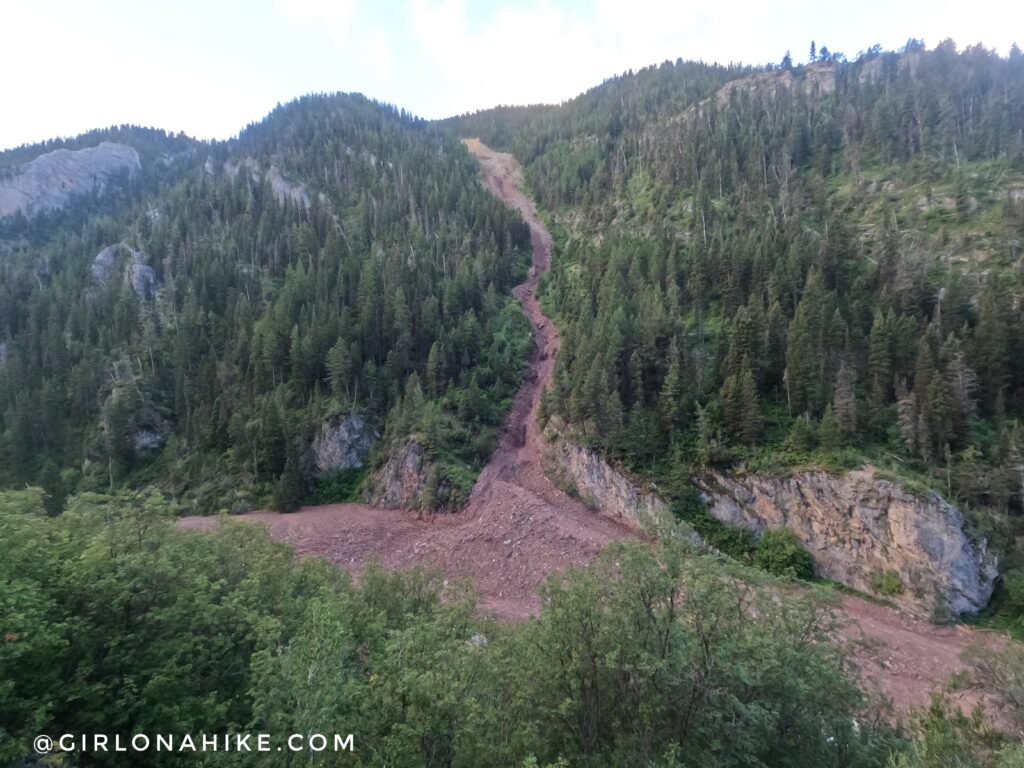 The first mile is very rocky, but it offers a great view of the 2023 landslide. This thing was huge! It's hard to believe the weight of snow was so heavy that the debris took out the road and even reroute Swift Creek slightly. Insane! The next 2 miles are a roller coaster of slight ups and downs, but your legs will start to feel it.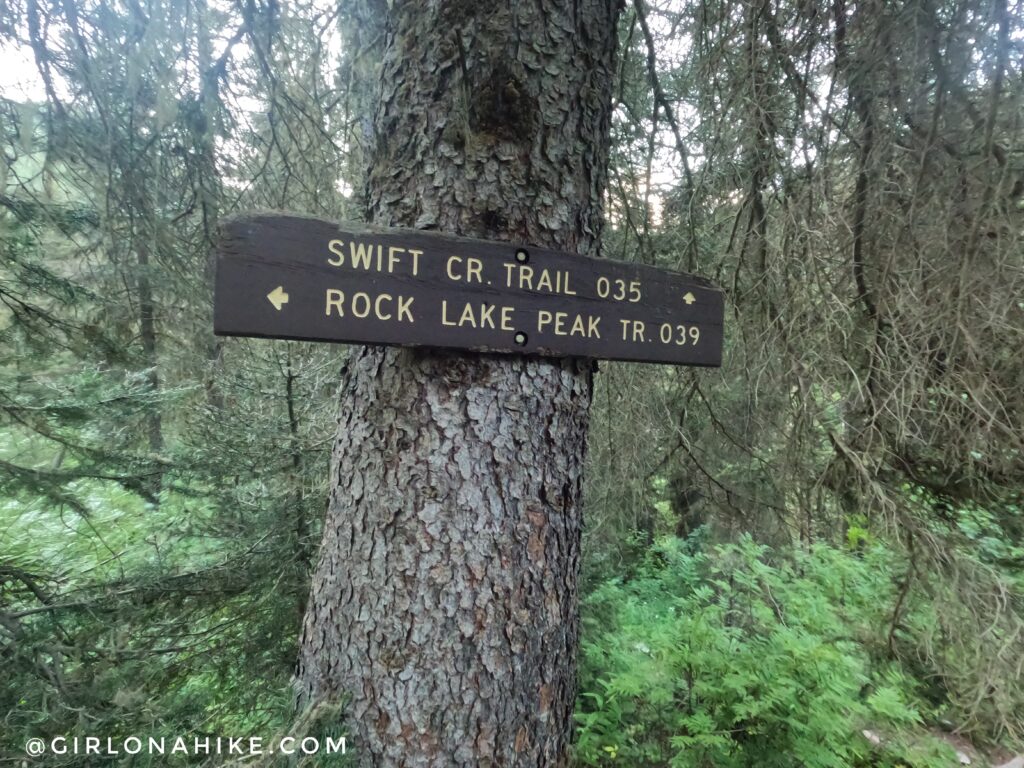 At mile 2.5 keep right at the trail split. The sign is kind of hidden behind bushes, so make sure you are tracking your route to know when to turn.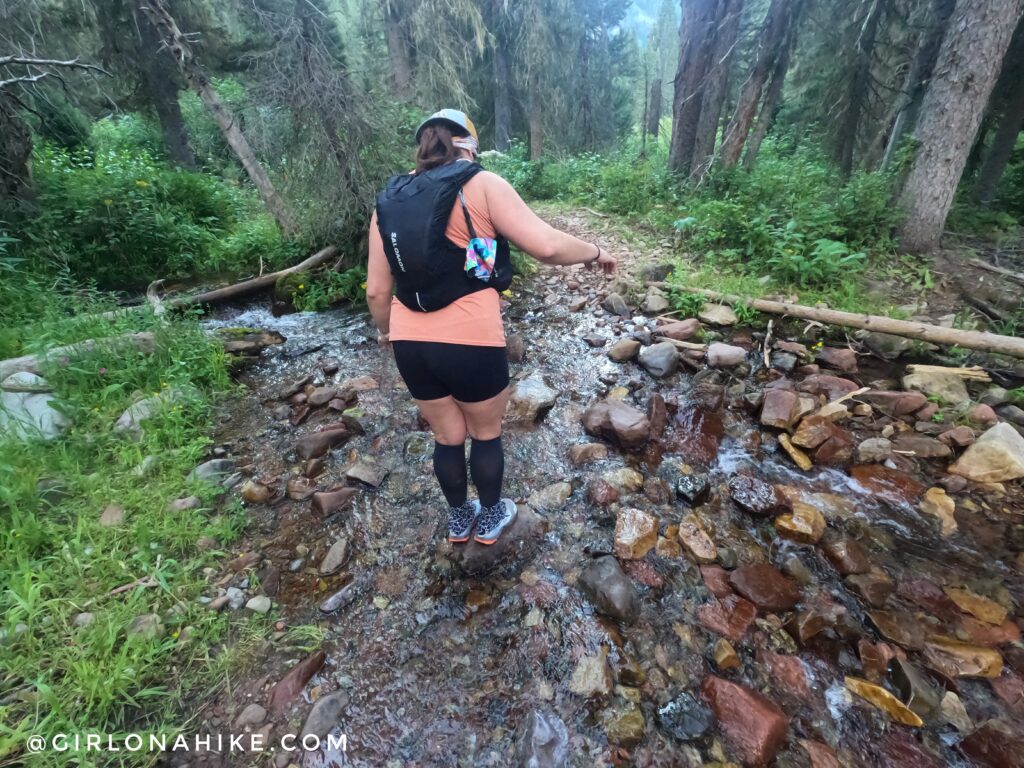 The first of many creek crossings.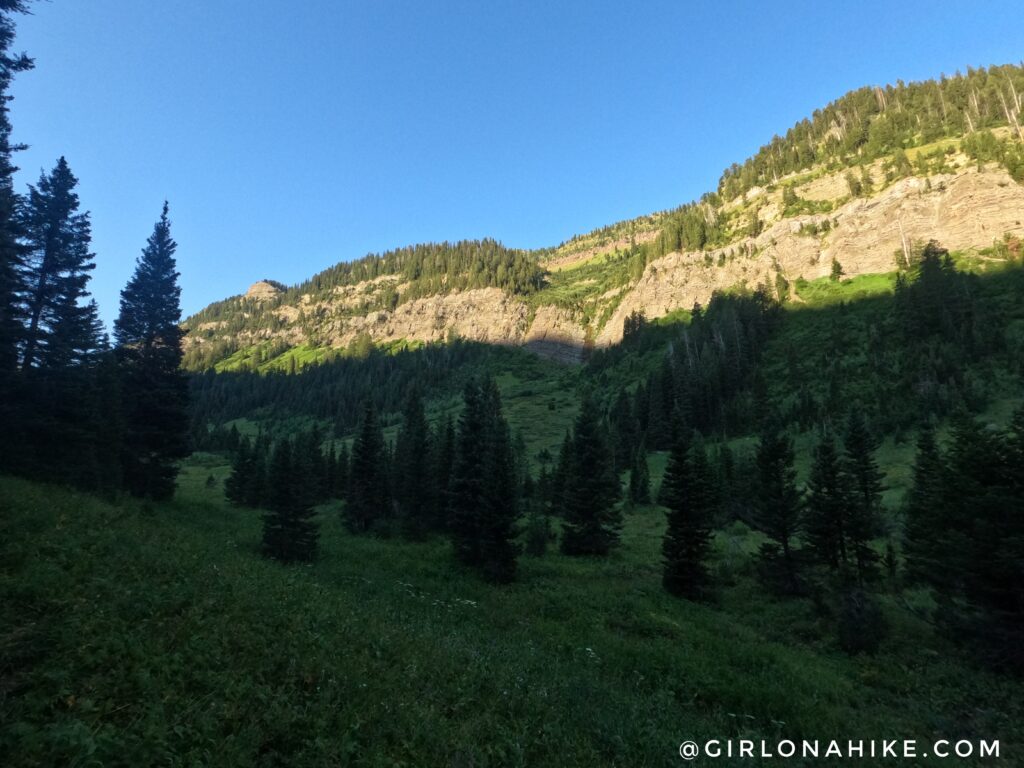 Eventually, the Swift Creek Trail turns south around a big bend in the canyon. From here, the trail really starts to gain elevation.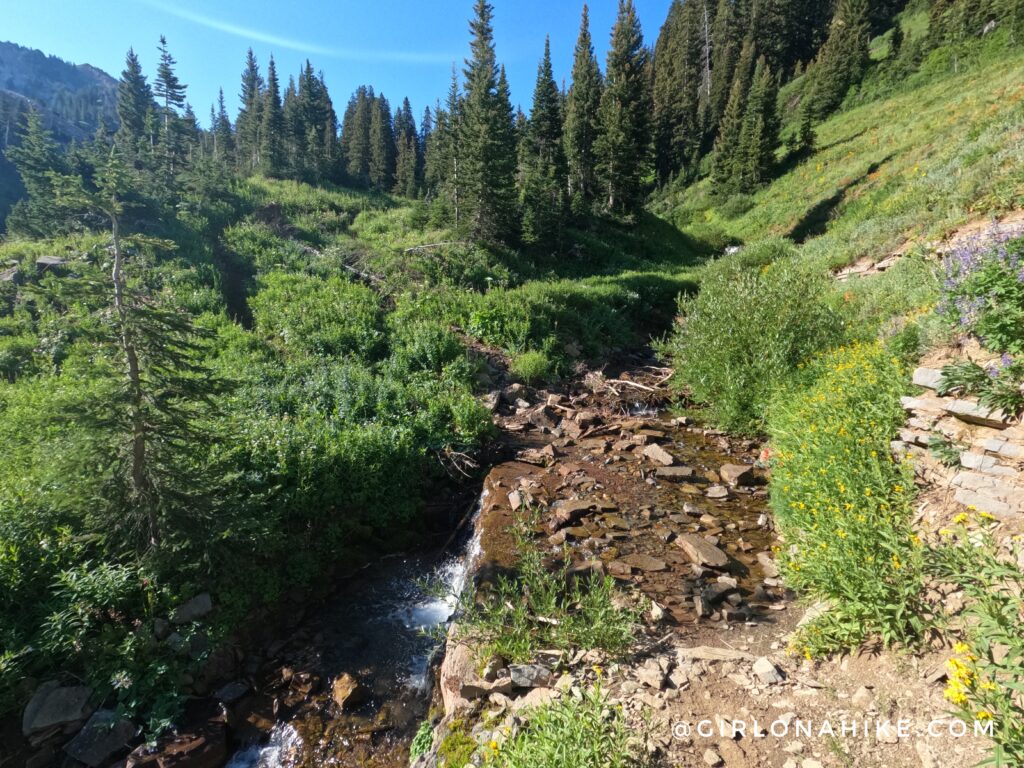 The sun touched us at 9am – we had 3 hours in the shade. Time for another creek crossing.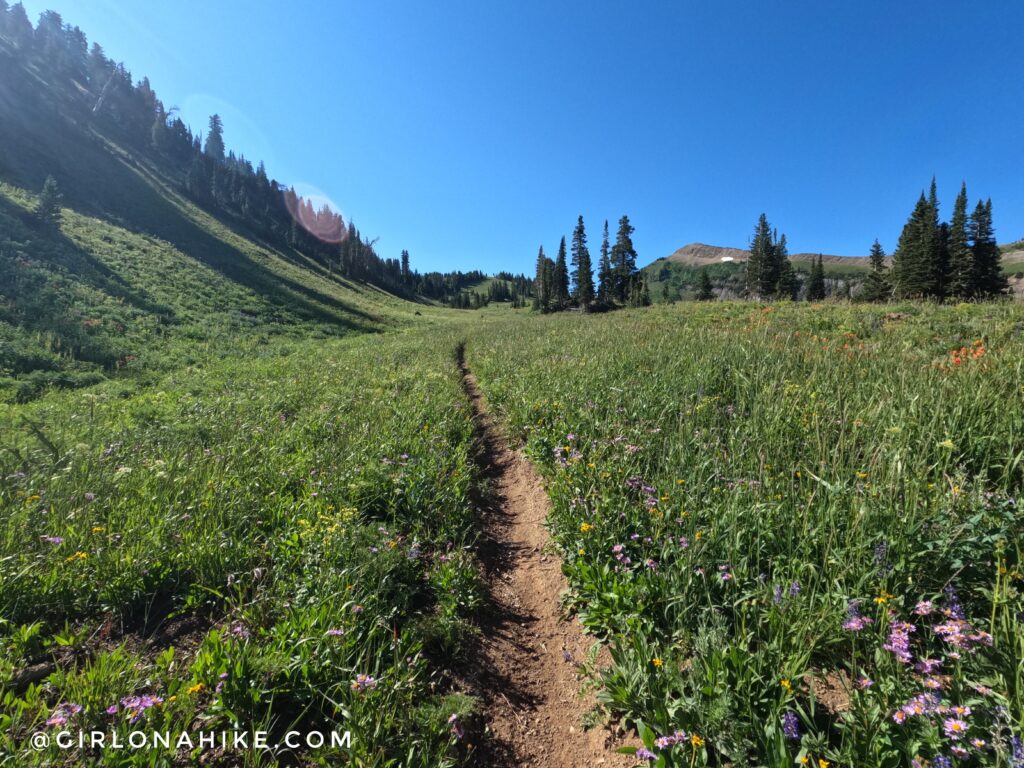 The last mile leading up to the first small pass was gorgeous! Wide open views and even more flowers were abundant.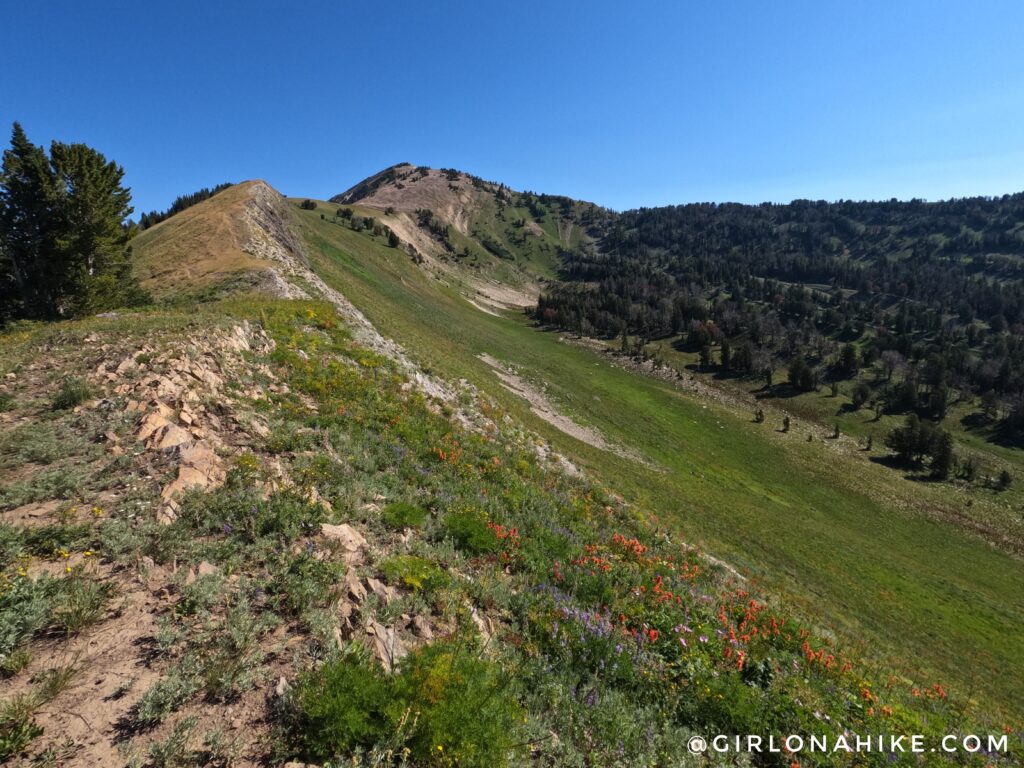 This is at the first small pass, looking North.  You can't quite see Mt.Fitzpatrick.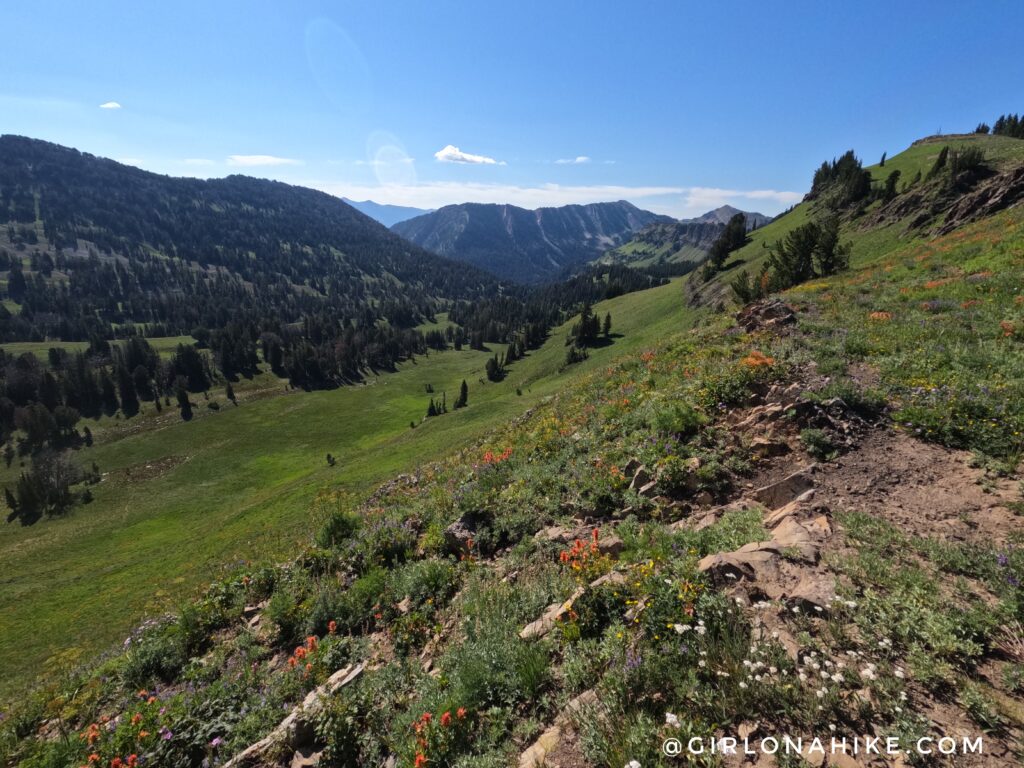 Same place, looking south. Wow!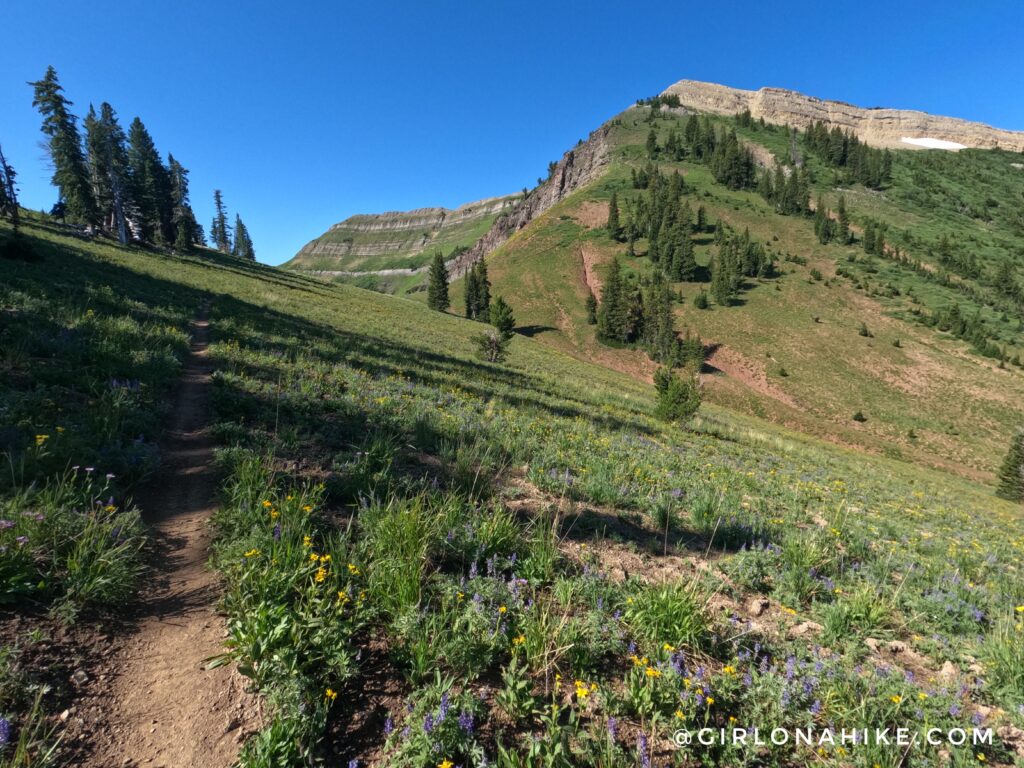 Now, the trail leads you to another pass.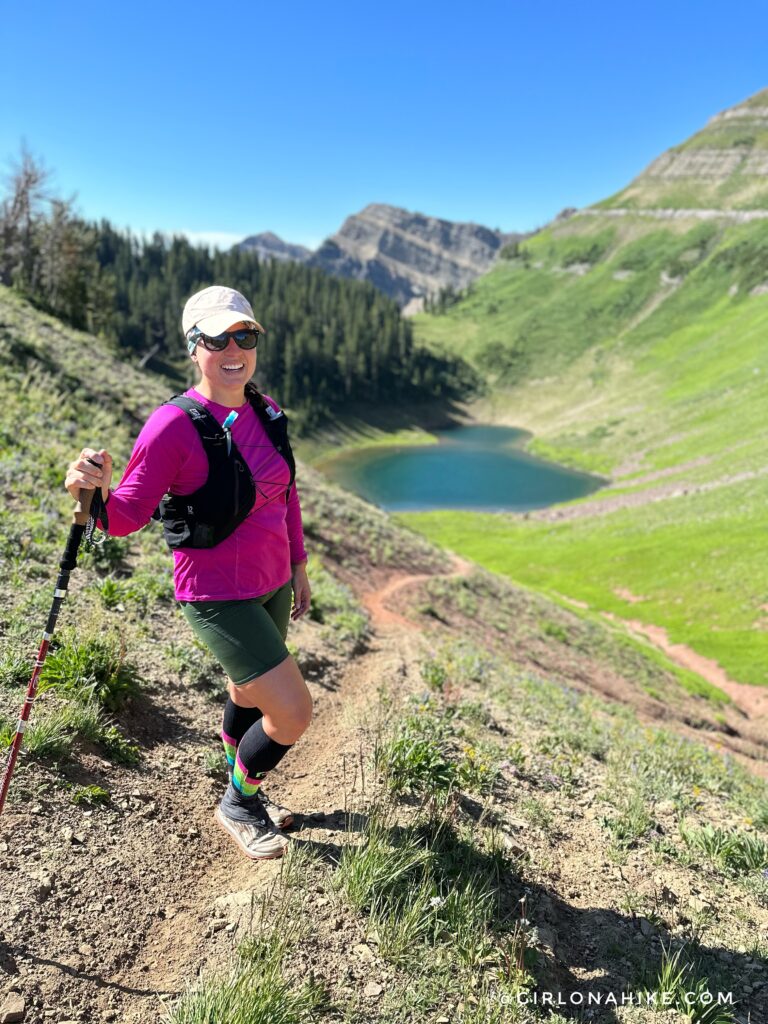 Finally, you get a look at the first unnamed lake.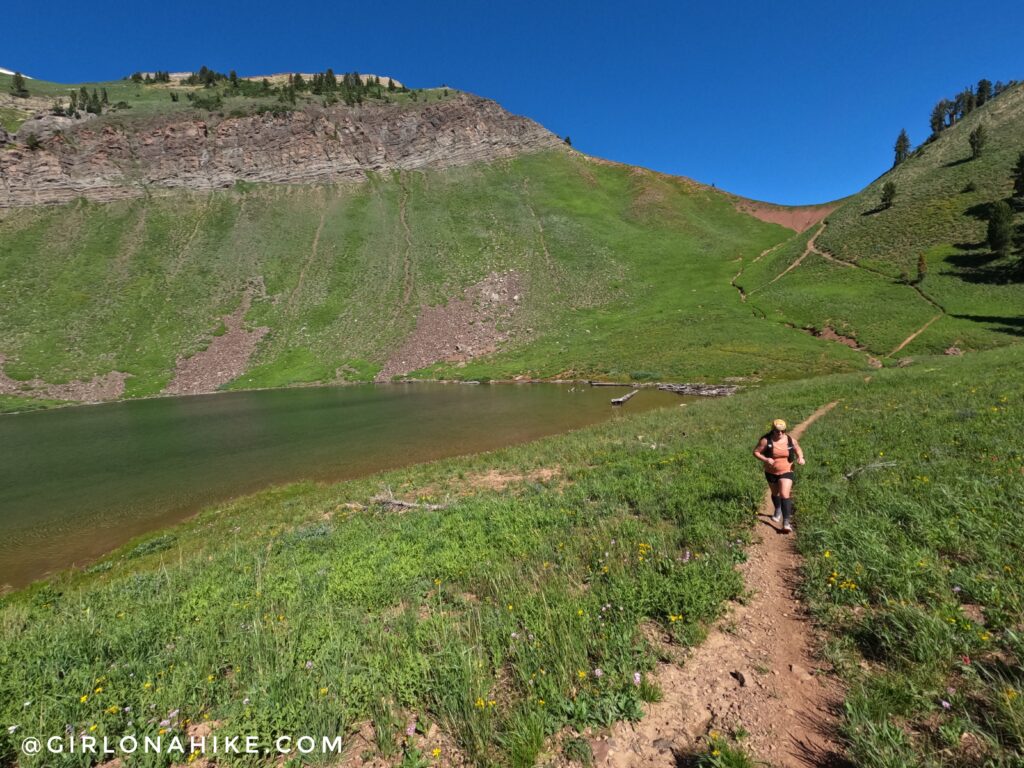 Looking back at that same pass from the South. Now work your way and and over the third pass.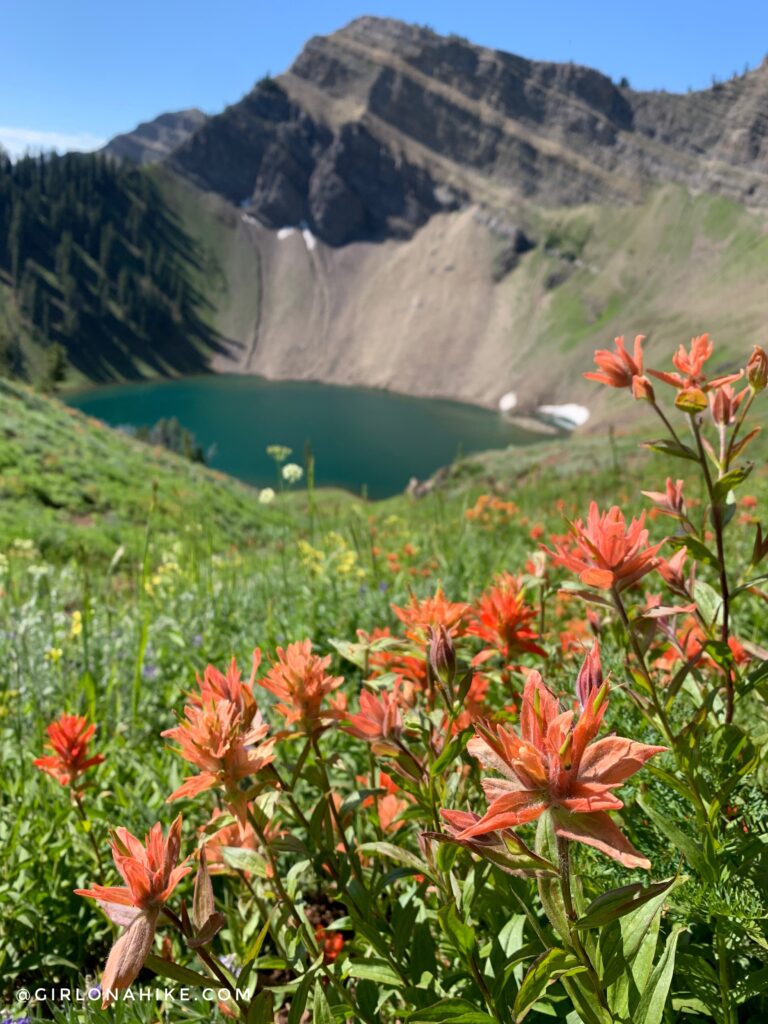 Ahh there it is! Corral Creek Lake. Time to descend steeply to the base of this area.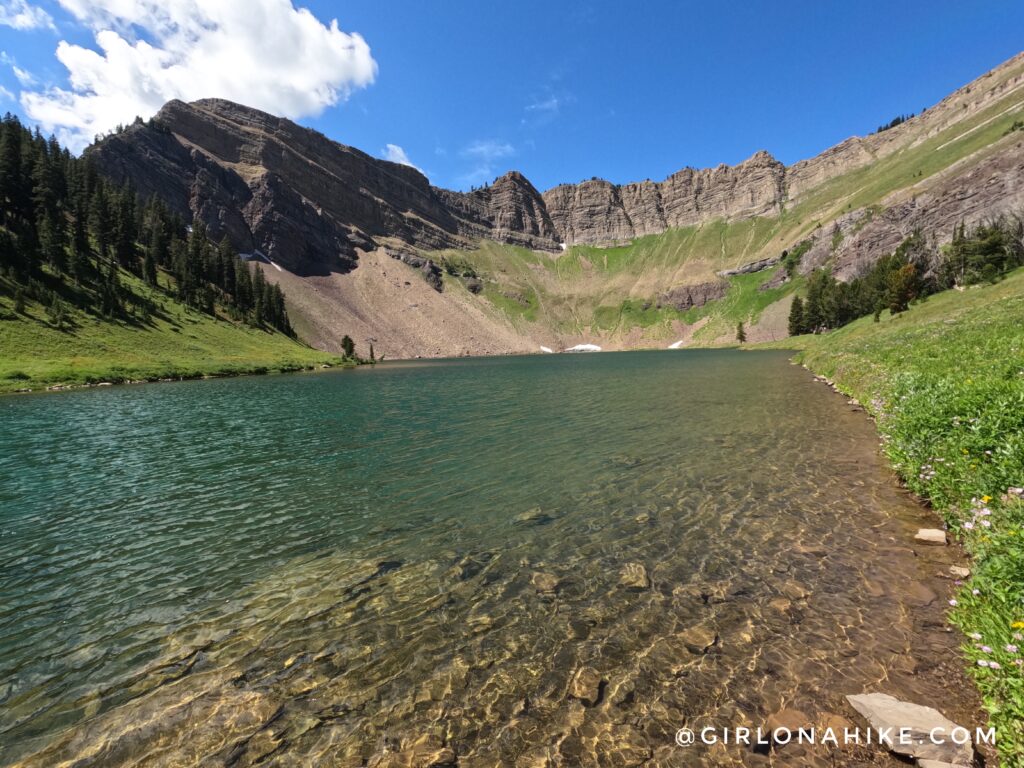 Wow so pretty! This lake has been on my bucket list for years. So glad I could finally make it happen! We really couldn't have asked for a more perfect day – blue skies, 70F degrees, and tons of wildflowers.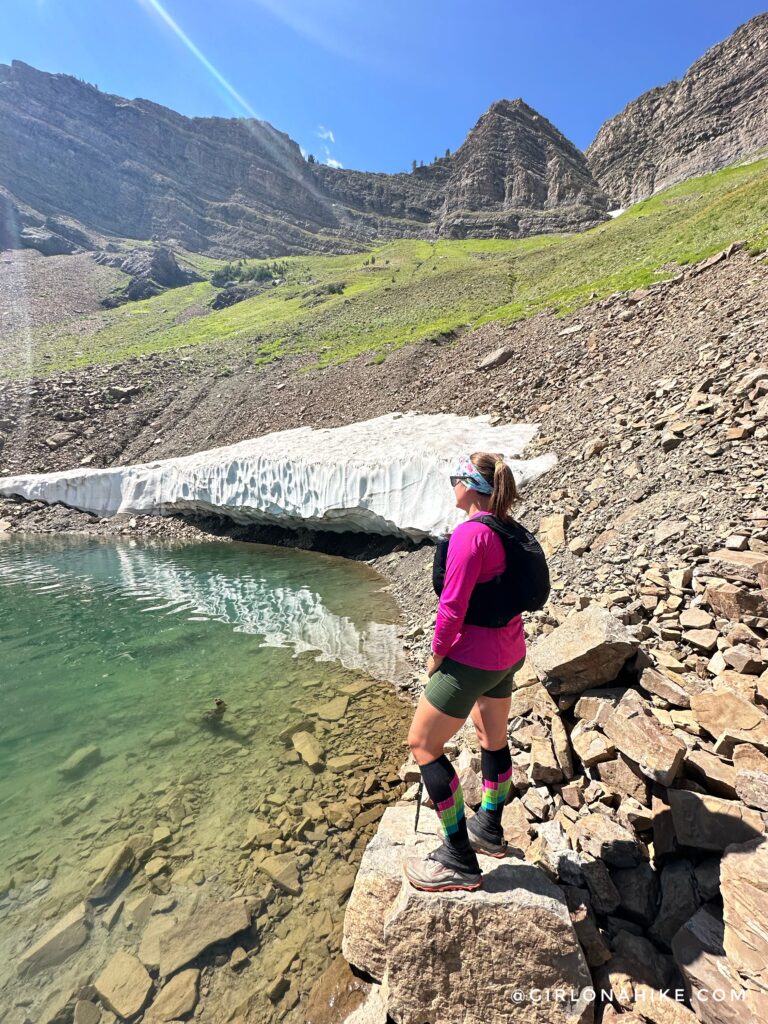 I had to walk over and check out the "glacier". The water at Corral Creek Lake was soo clear!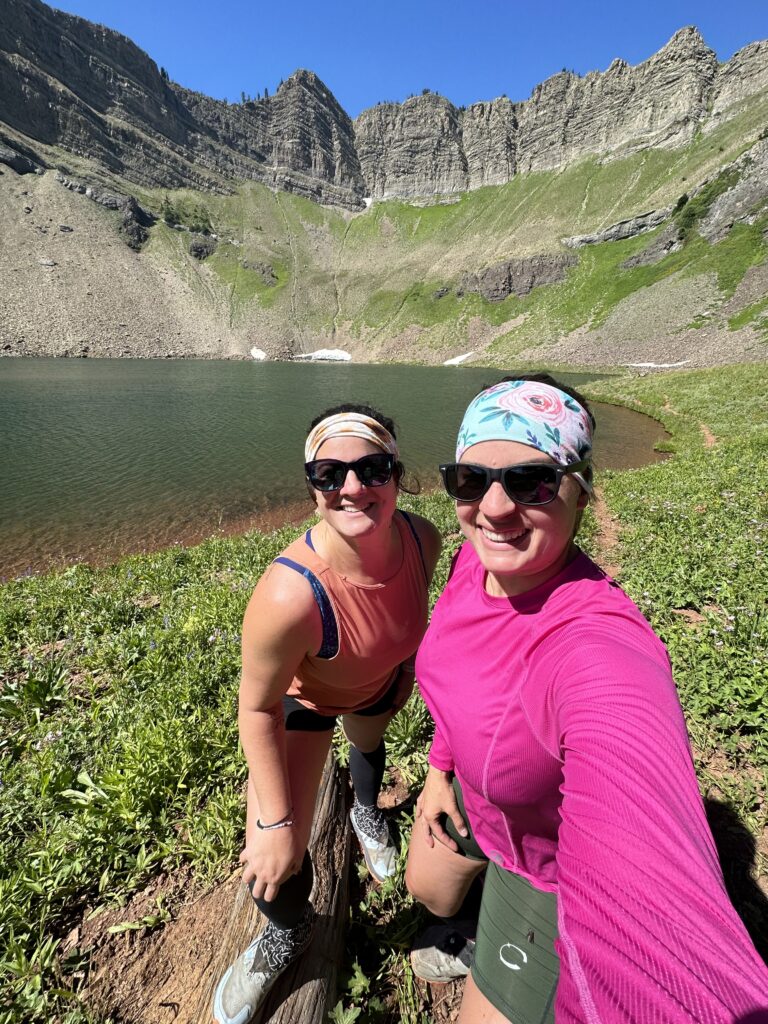 Ahh what a day! Time to head back.
Get 10% off your entire order of headbands here, use the code "HIKE" at checkout!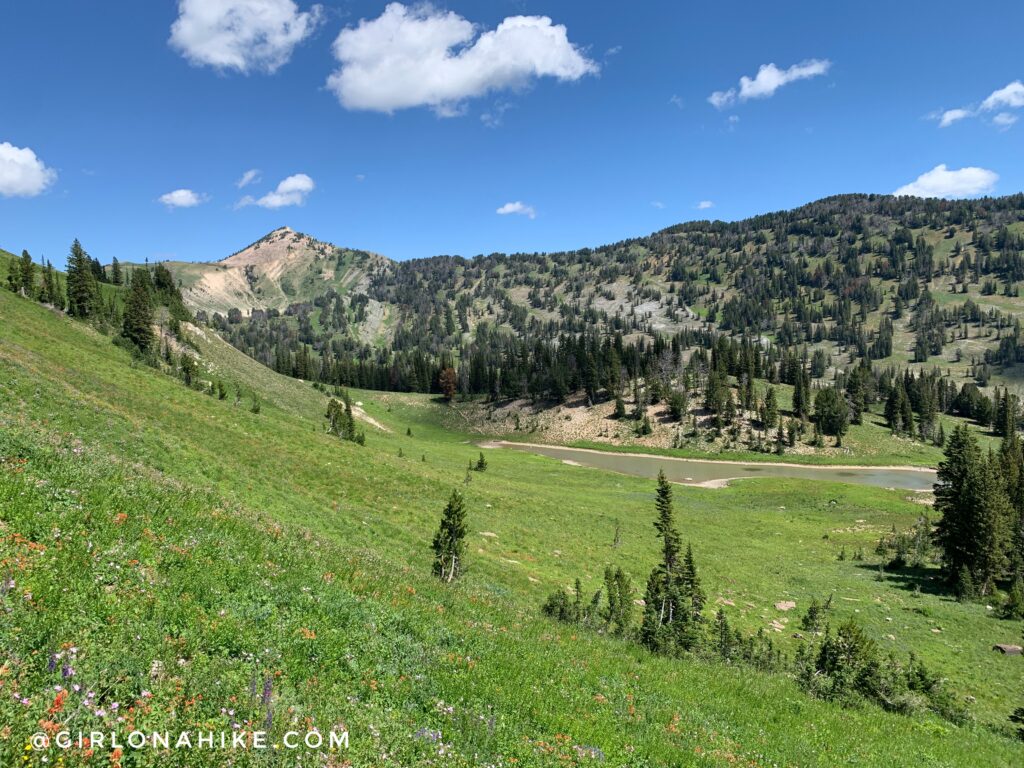 We made a small loop around the two lakes so we could check out this area more (not on my map but its easy to find). Locals recommended it to us at Corral Creek Lake, and we weren't disappointed!
Total time out for the day was around 8 hours.
 Video
Trail Map
My track via Gaia GPS – the best tracking app! Get your app here for a discount.
Recommended Gear
Nearby Hike
Hiking to Wyoming Peak, Wyoming Mountain Range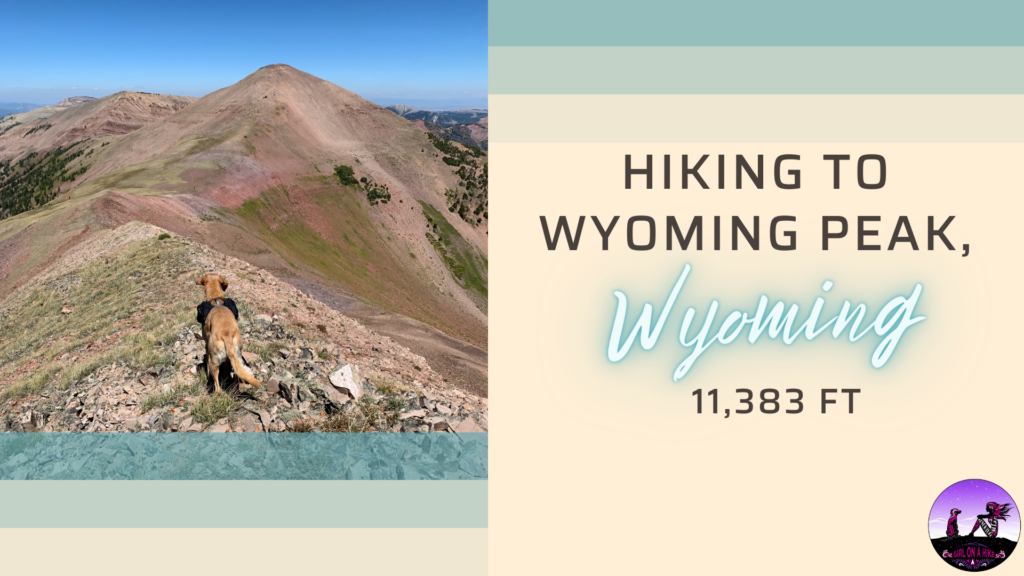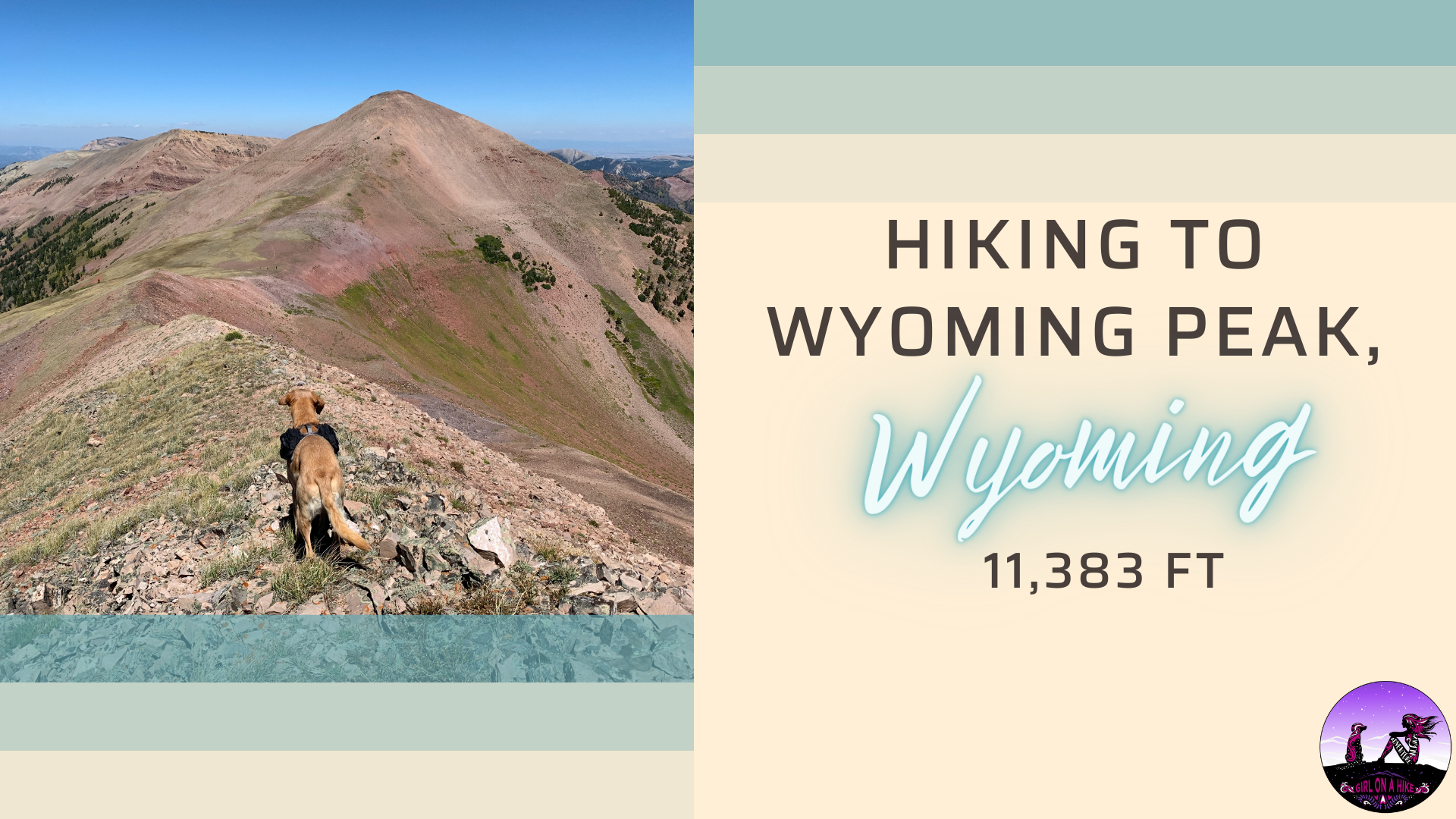 Save me on Pinterest!