Hike to the Paper Airplane at Powder Mountain
Hiking to the paper airplane at Powder Mountain Ski Resort is a fun hike for all ages and the pups on-leash! This super easy trail leads you to a giant metal airplane structure, acting as both a sculpture and obstacle for bikers riding the trails. The trail gradually descends roughly 150ft before reaching this 20 ft long "paper" airplane. The surrounding views of the ski resort and Wasatch Mountains are hard to beat – on a clear day you can see all the way to Mt.Timpanogos to the South, and into Idaho to the North! This trail is only accessible in Summer months.
Directions
From SLC, drive North on I-15 and take exit 324 for HWY 89 North. Drive through Ogden, then turn right on HWY 39 for Ogden Canyon. Turn left for HWY 158 as you exit Ogden Canyon, and head North wrapping around the West side of Pineview Reservoir. At the stop sign, continue straight, and you will drive up a very steep road to the top of Powder Mountain. Turn Right on North Powder Ridge Road, and drive 1.2 miles. Turn right on Horizon Run Road, and park in the dirt parking area on either side of the road.
Here is a driving map.
Trail Info
Distance: 0.7 miles one way
Elevation gain: 150ft descent
Time: 30 minutes – 1 hour RT
Dog friendly? Yes, ON leash
Kid friendly? Yes, all ages!
Fees/Permits? None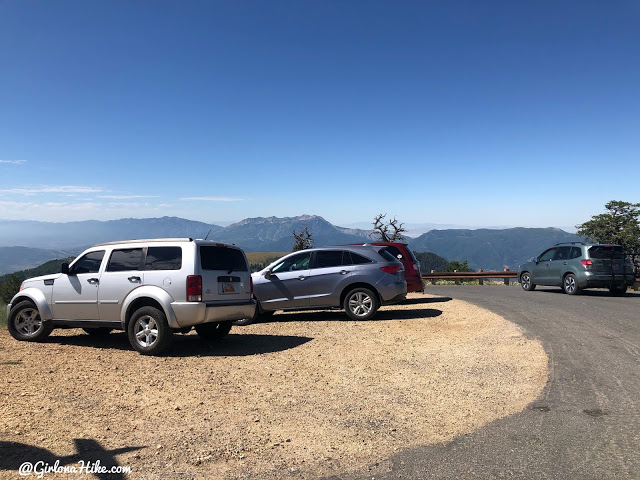 Park on the corner of Horizon Run Rd, and Summit Pass Rd. Parking is available on both sides of the road.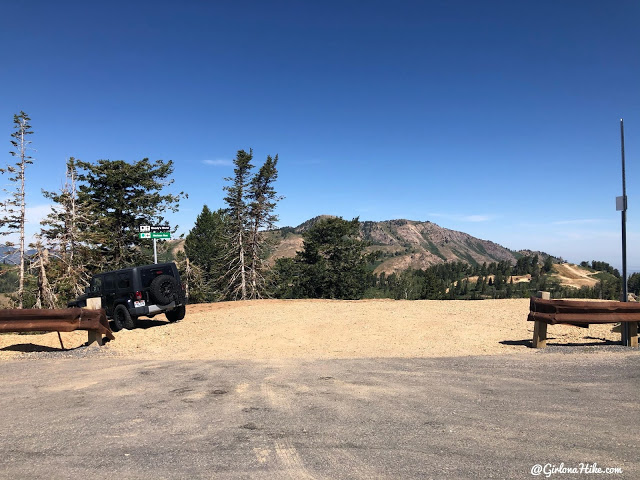 The trail begins on the West side of the road by the ski signs.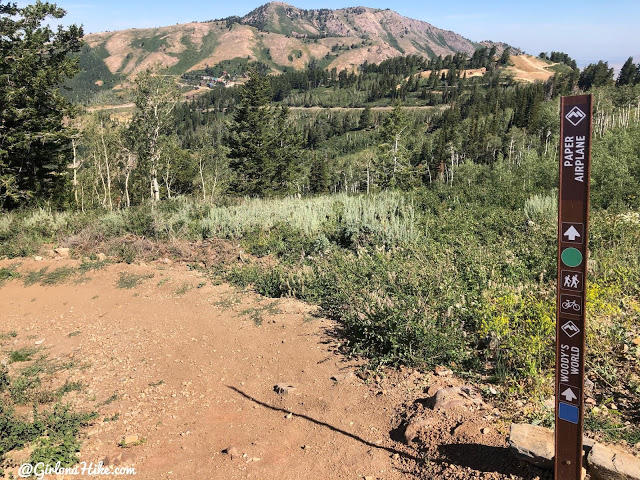 You'll see the brown post for "Paper Airplane" – follow that downhill.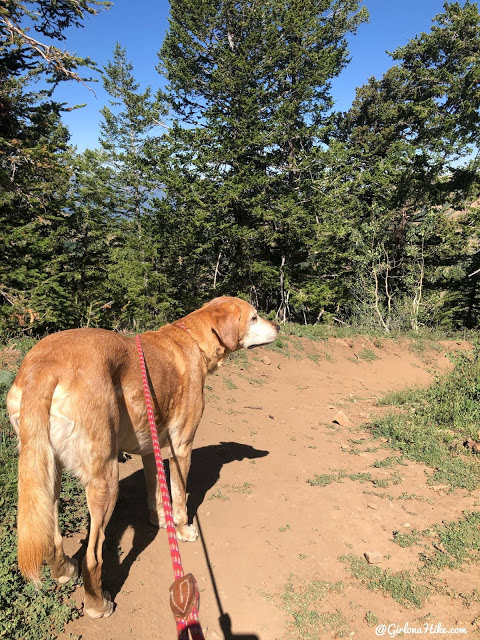 Dogs do have to be on-leash the entire time for this hike. And you'll want to anyway – this a popular ride for mountain bikers flying through as well as popular among kids and families.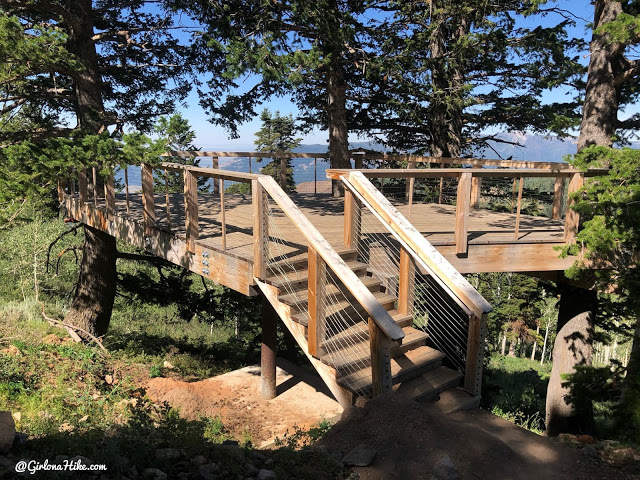 Pass by a really a nice deck and overlook.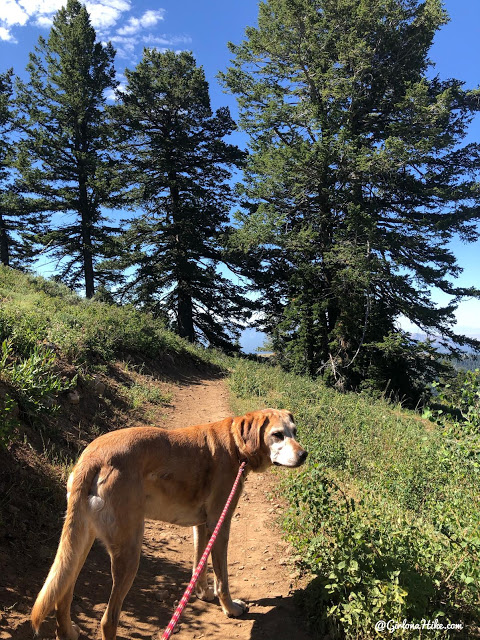 Not happy about being on-leash, but that's just the way it is sometimes, bud! Thankfully we had already done an 11 mile hike prior to this so he ran his energy out on that hike.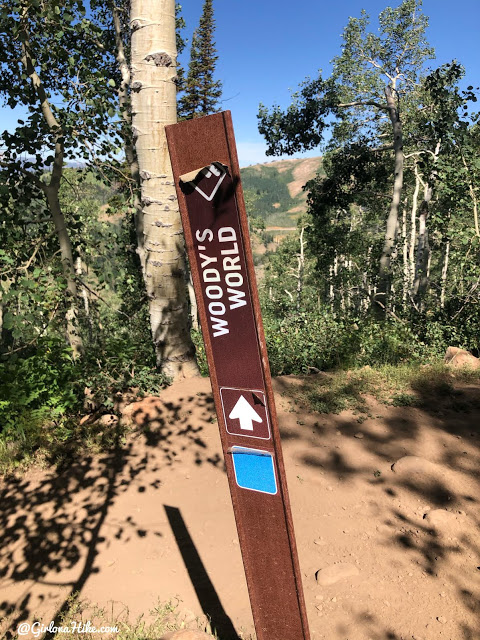 Turn left at Woody's World.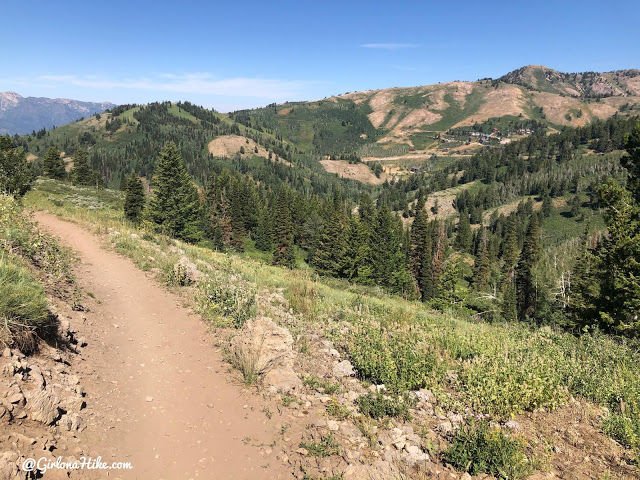 You'll have an amazing view of the Powder Mountain Ski Resort to the West.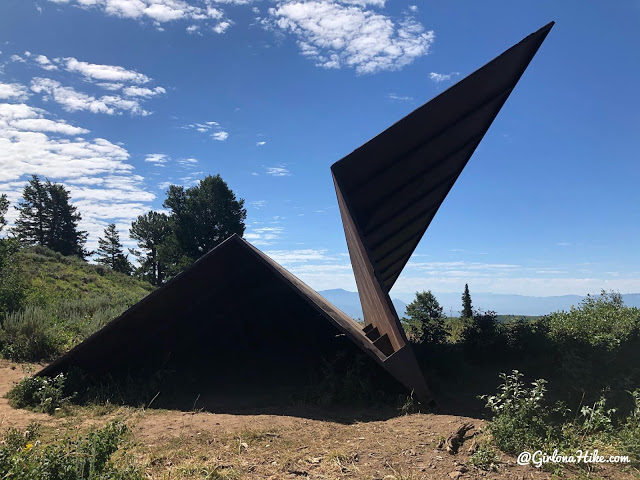 At 0.7 miles, reach the paper airplane at Powder Mountain!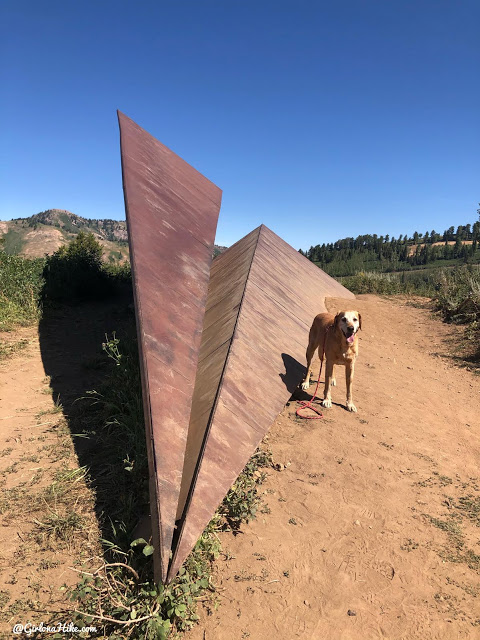 This giant metal art sculpture is actually an "obstacle" for bikers to ride up on the edge of the lower wing. Notice how the dirt is built up on the side?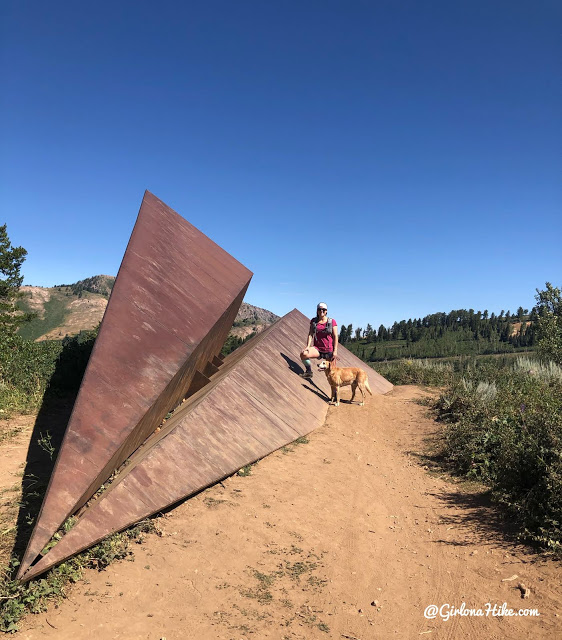 We tried to sit and stand on it, but it was actually VERY hot from the metal. Be careful with kids and dogs' paws touching it.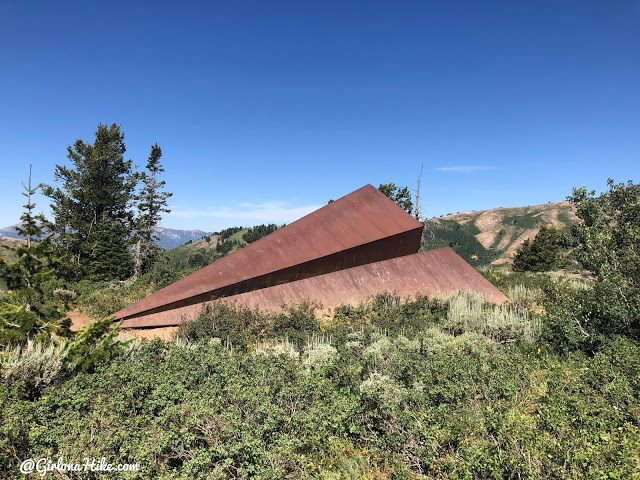 A view of the airplane from a little higher up. So cool! It was much bigger than I thought it would be. This would be a great hike for little kids, families, and/or a "bonus" hike as I like to call it after doing a longer hike. I personally wouldn't drive all the way up here for just this – I recommend combining it with something else in the area. A good idea for hot days is to take the dogs/kids swimming before or after at Pineview Reservoir!
After the hike…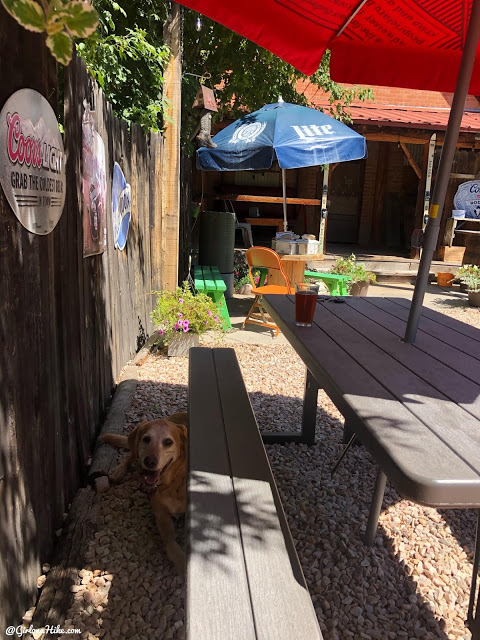 Afterwards we grabbed a burger and beer from the Shooting Star Saloon, so we could sit on their dog-friendly patio!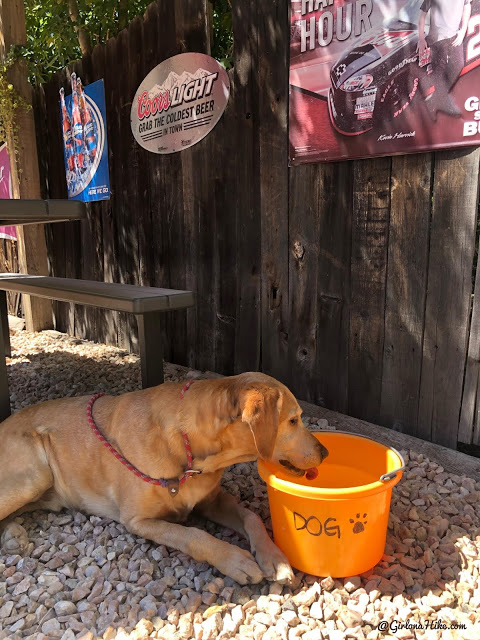 We were the only ones there on a Saturday at noon and a giant bucket of water was provided, as well as shaded spots to sit. Love their burgers!
Trail Map
My track via Gaia GPS – the best tracking app! Get your app here for a discount.
Nearby Hike

Save me on Pinterest!