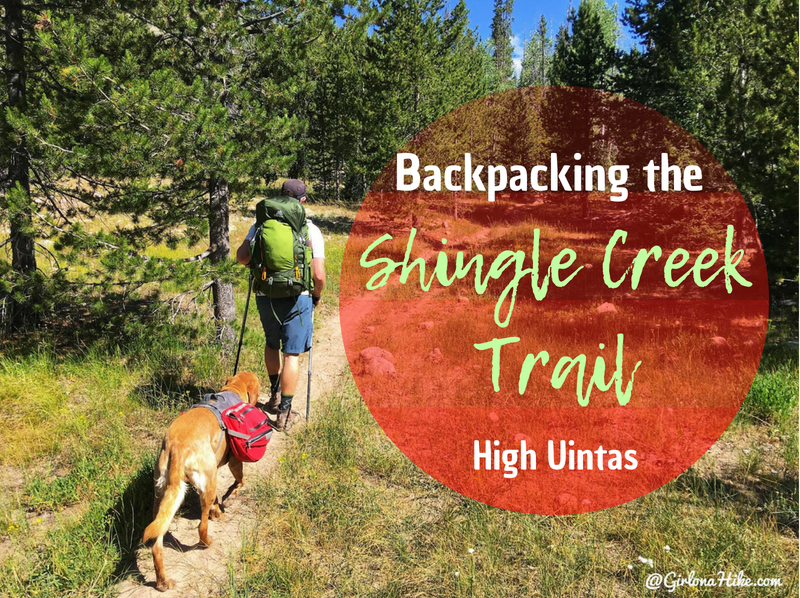 Backpacking the Shingle Creek Trail, Uintas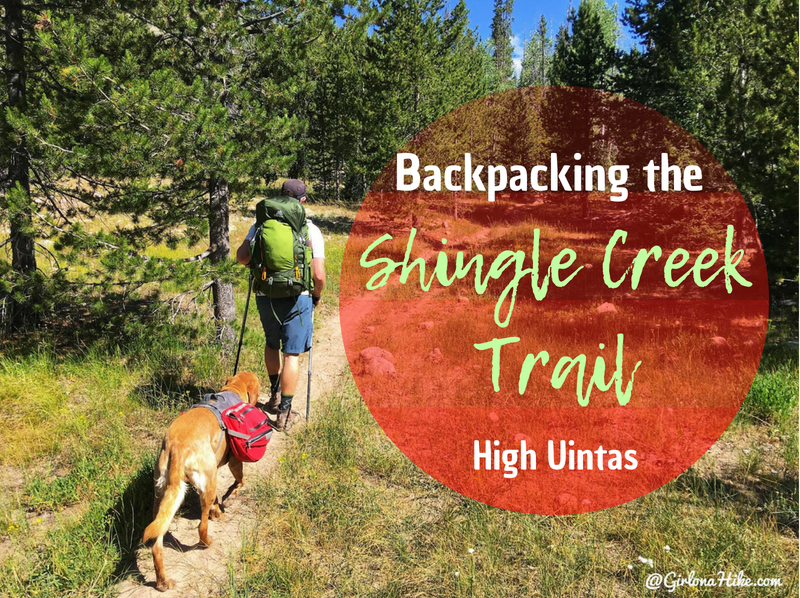 The Shingle Creek Trail in the High Uintas is a popular trail for an "early season" trail for hikers and backpackers to follow when the higher elevations haven't thawed out from winter. I have driven past this trail so many times, yet had never done it – until now! I decided to head up for one night with two friends and our destination was South Erickson Lake. East Shingle Creek Lake is more popular, but a little lower in elevation, and seemed to have more mosquitos so we wanted to keep going.
About
This trail, I found out, is extremely hot in the middle of summer. It was close to 90F when we hiked it. Therefore, I would highly recommend saving this route for a Fall trip. Yes, there is a stream along the way and two lakes to stop at, but generally this trail is exposed making it feel really hot and sweaty. You start hiking at 7,800 ft and end at 10,000 ft so it can be a slower hike if you aren't used to the elevation. If you still really want to this in summer, I suggest to start hiking no later than 6am to beat the heat. Dogs are able to do this trail, but horses and bikes also use this trail so have a leash handy in case you come across either, or near wildlife.
Keep in mind that the Uintas can get cold at night, and they also get the daily afternoon thunderstorm. When backpacking to any part of the Uintas, be prepared for any kind of weather, and especially mosquitoes.
Directions
From Kamas, Utah drive East along the Mirror Lake Highway for 10 miles, and turn left at the brown sign for Shingle Creek TH. It's just past the Shingle Creek Campground. The trail starts at the larger green gate, in the NW corner of the dirt parking lot.
Here's a driving map.
Trail Info
Distance: 6 miles to East Shingle Creek Lake,
7.5 miles to South Erickson Lake
Elevation gain: 2,400 ft to S. Erickson Lake
Time: 1 night backpacking 
Dog friendly? Yes, off leash
Kid friendly? No, due to distance and elevation gain
Fees/Permits?
The Mirror Lake Highway charges a $6 fee for a 3 day pass. It's free if you have an annual Mirror Lake Hwy, American Fork Canyon pass, or annual National Park Pass. No permit is required.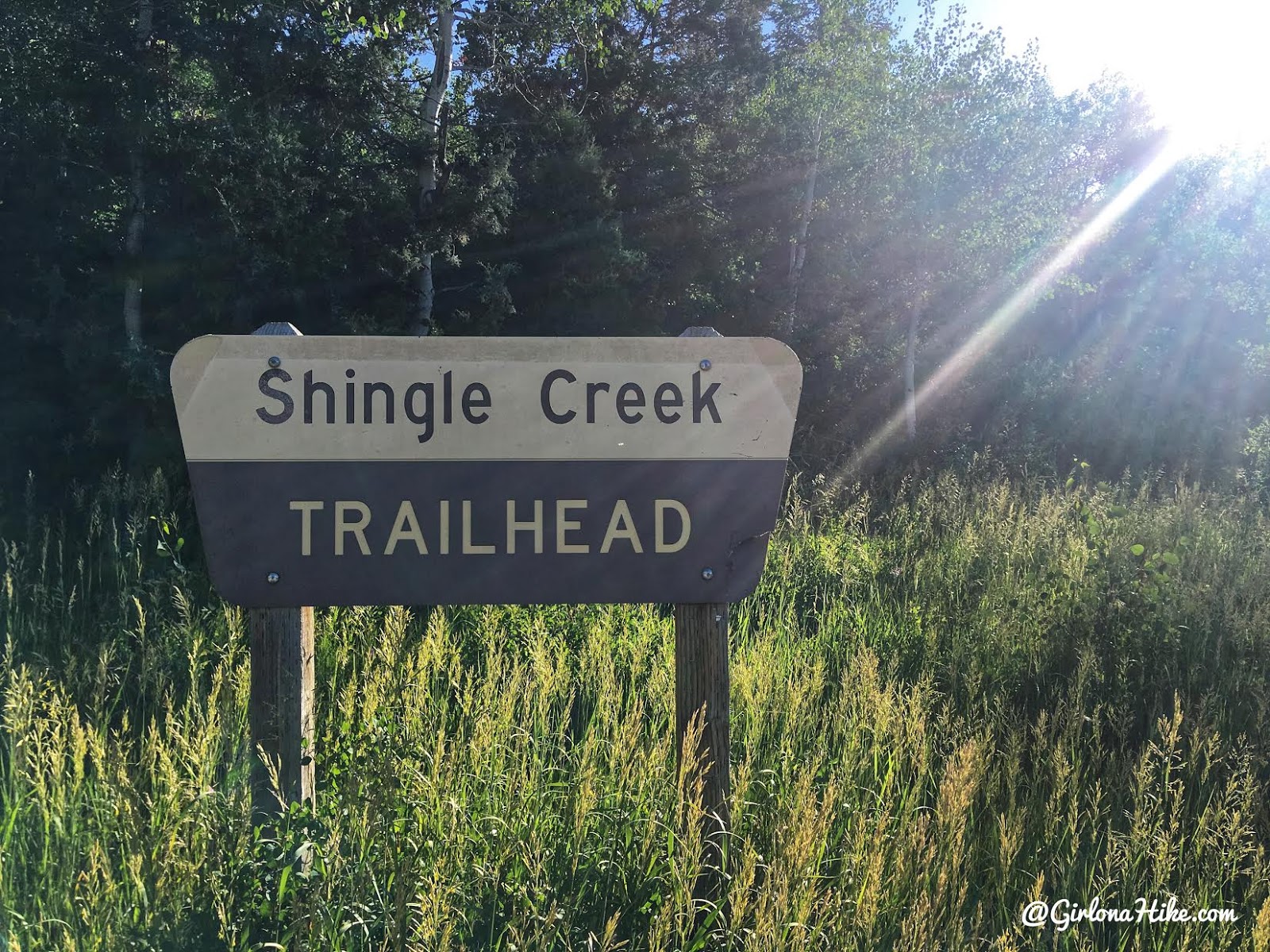 The Shingle Creek TH official sign.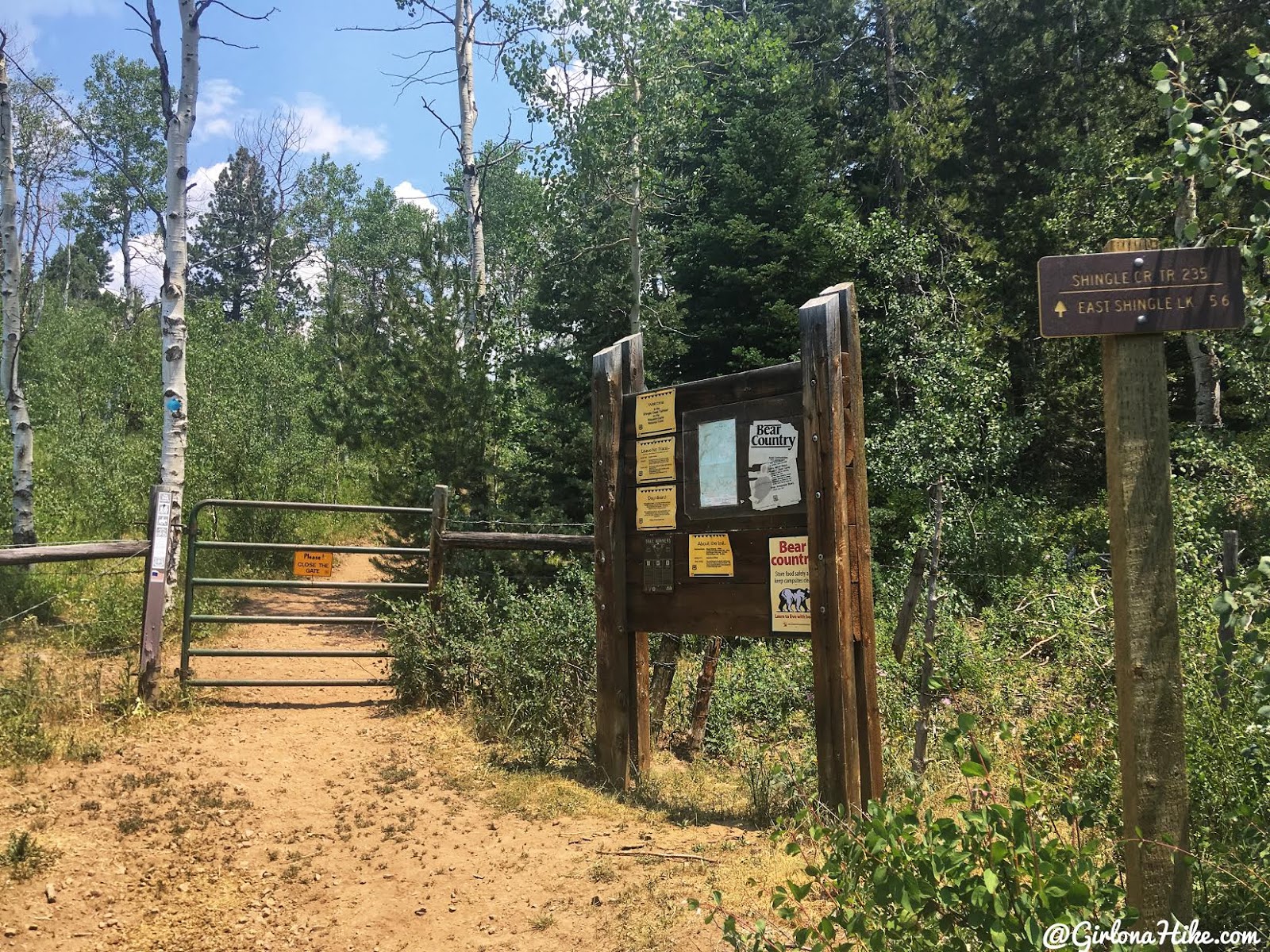 Start from the bigger green gate – there is a small one to the right of this. Both lead the same way, but the small green gate is the "old" trail with lots of downed trees. This one with the brown signs is the correct/new way. Right away you'll hike up a hill, and within 10 minutes of hiking cross the first bridge with a tin silo structure.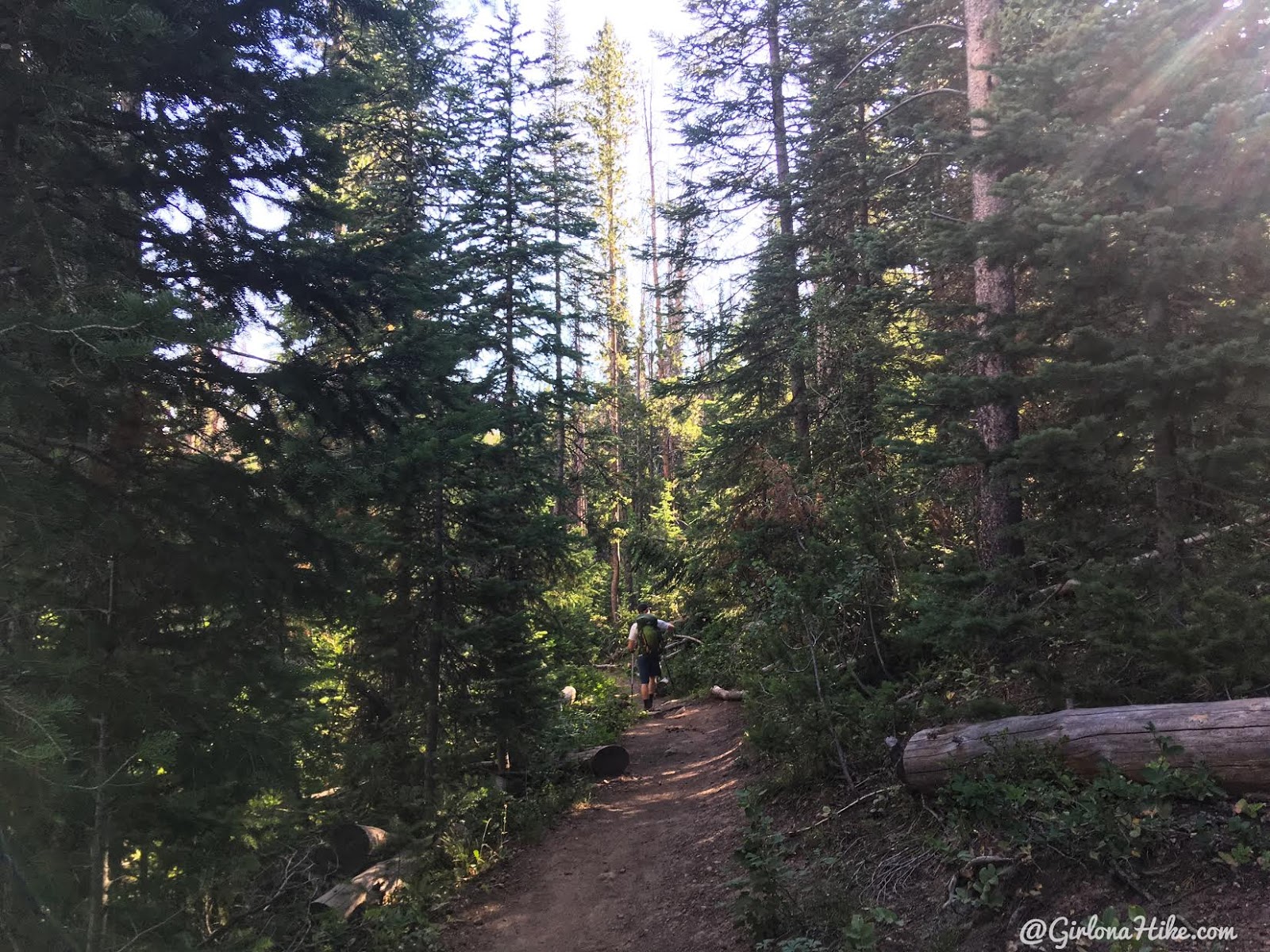 The first 2.5 miles are flat and shaded.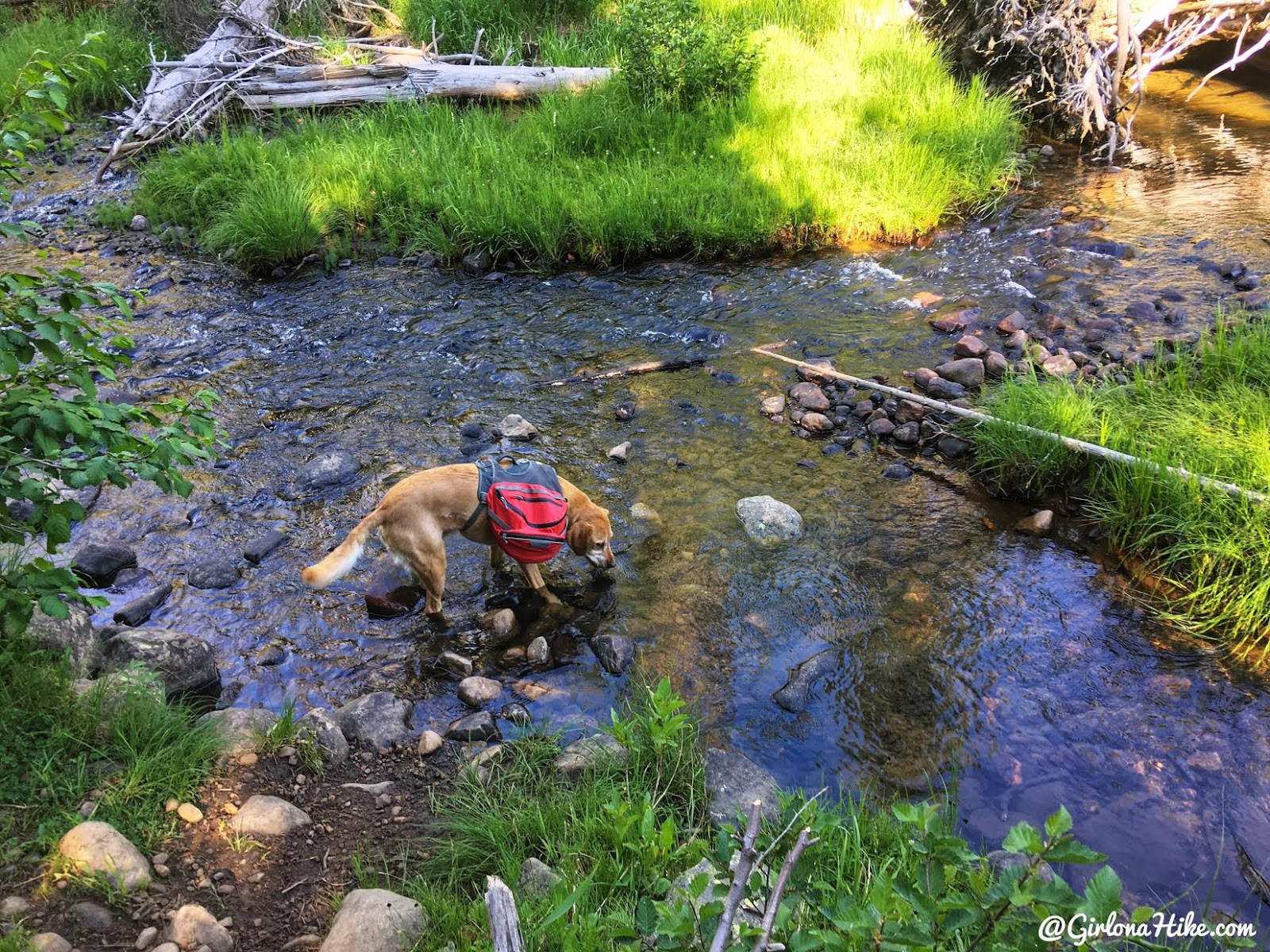 There are a few places for dogs to stop and drink as well. Even though there is a creek most of the way, the trail goes in and out of following it so I recommend carrying a minimum of 2 liters of water. On the way back down because it was so hot I ran out of water the last 2 miles.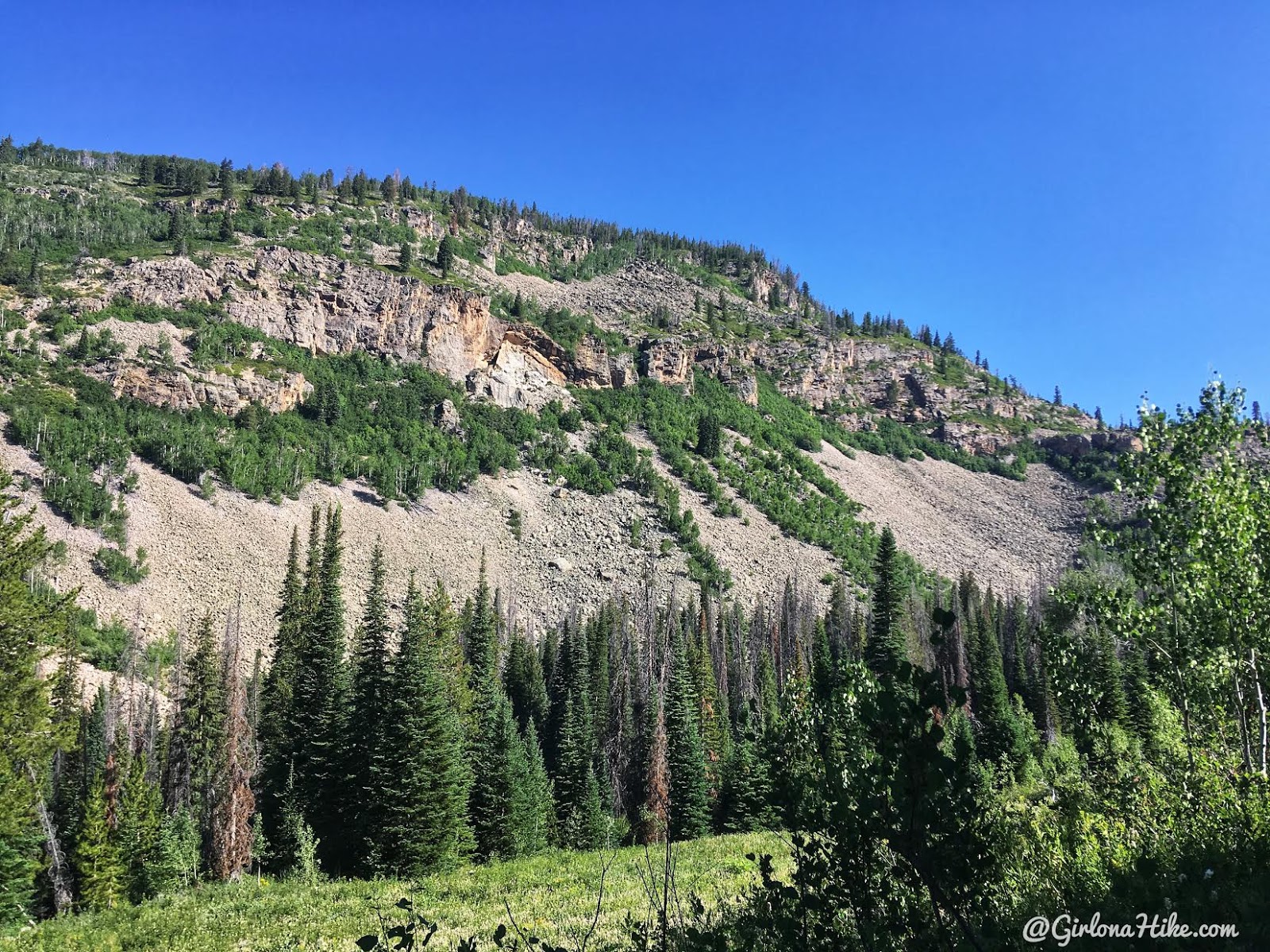 The views start to open up with a nice, rocky area on the West side of the trail.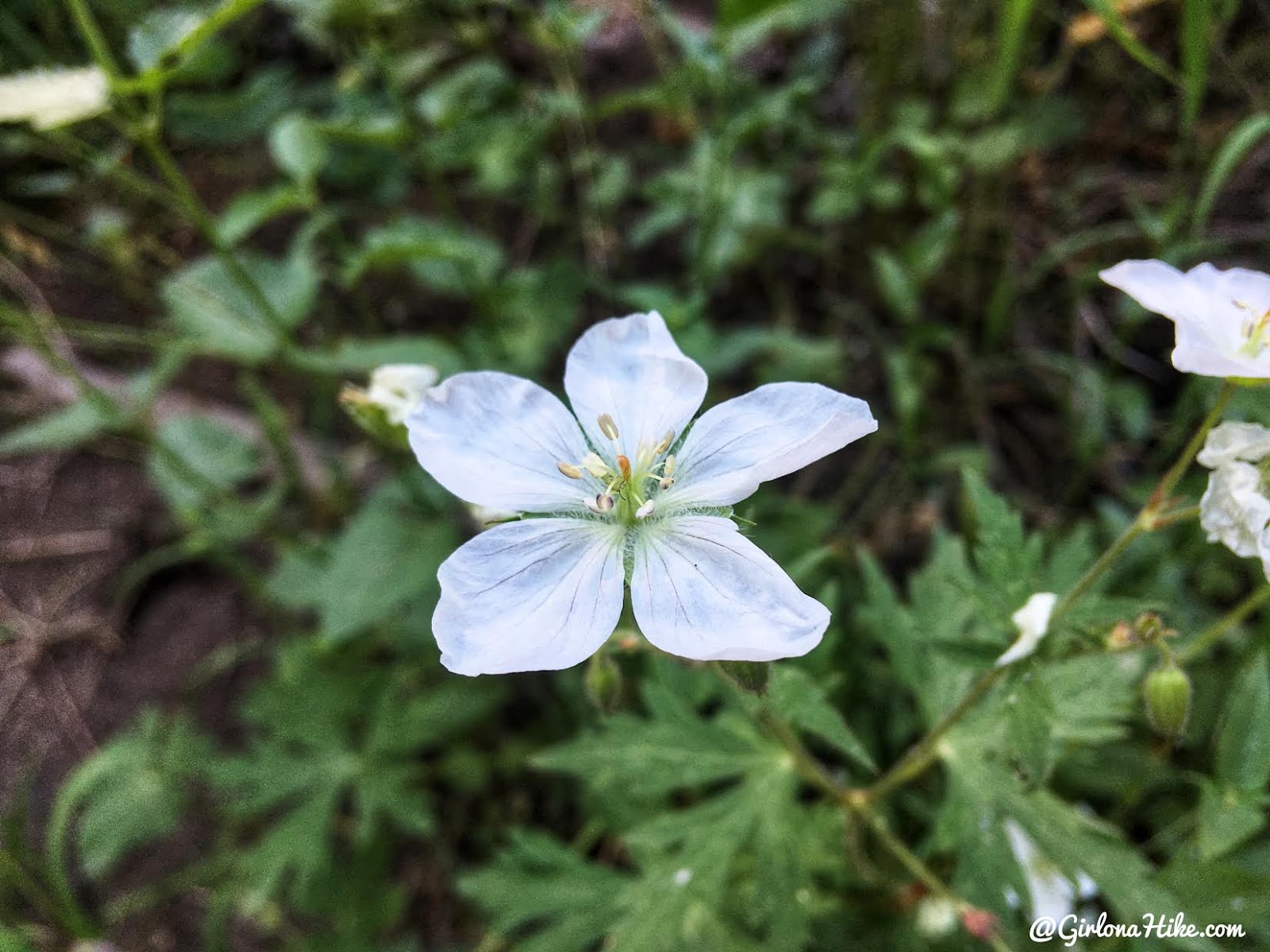 There were SO many flowers! I thought this was my best photo I took of "Piper's Anemone, Windflower".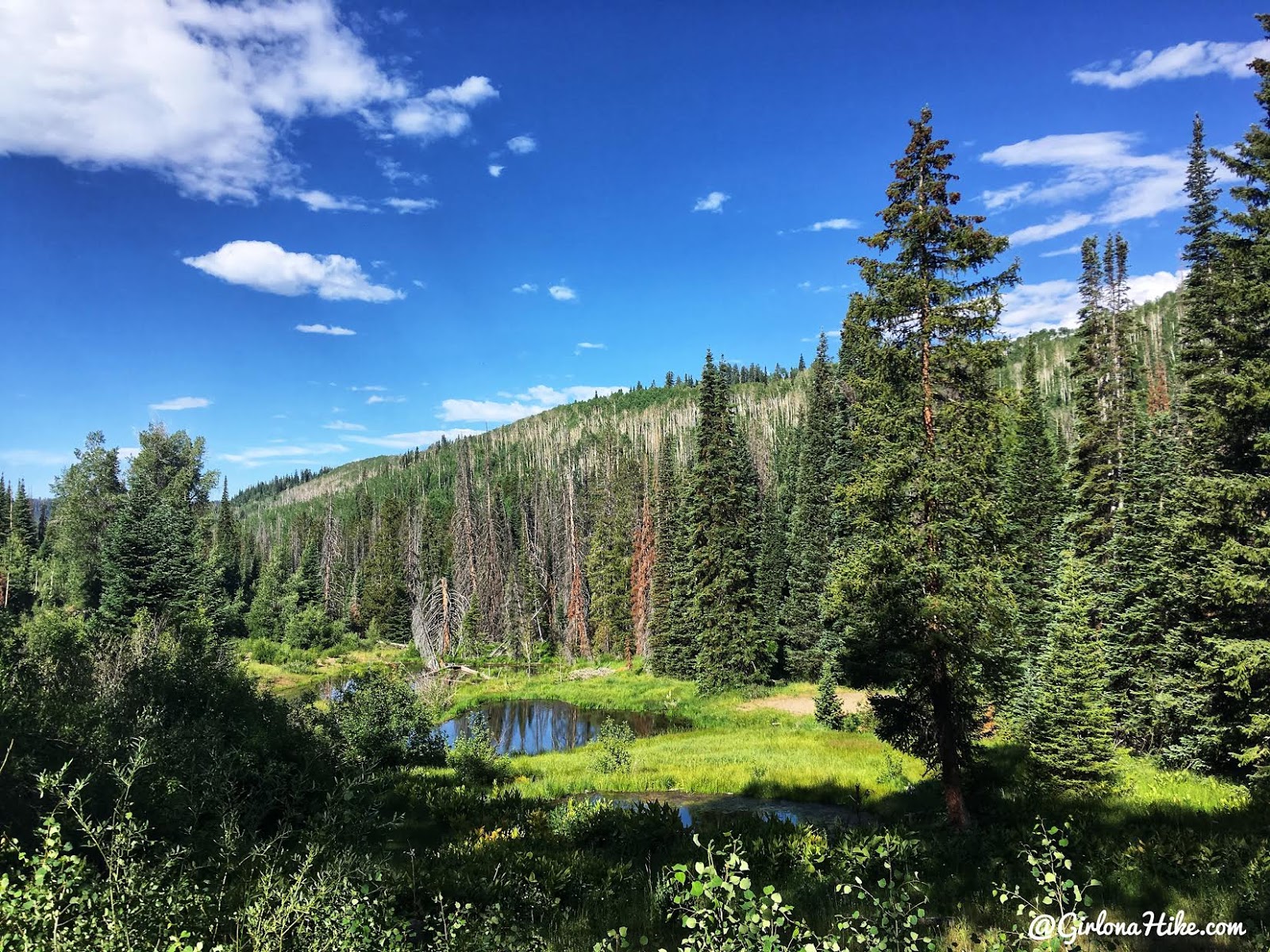 Passing by a nice meadow. There was also a campsite right around the corner if you wanted a shorter trip (though I imagine the bugs are worst here).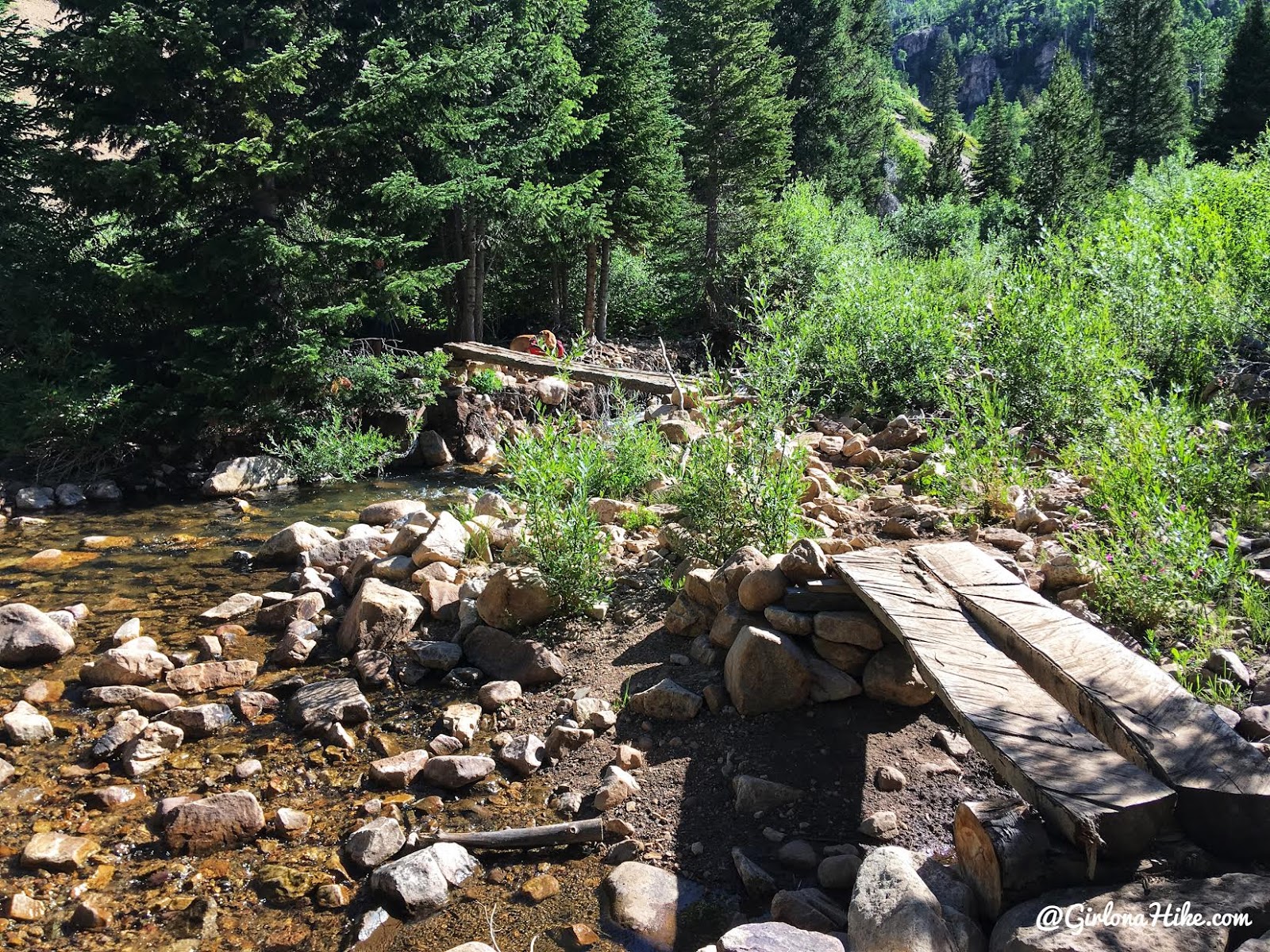 Cross the 2nd bridge at 2.4 miles.
UPDATE 2020: This bridge no longer looks like this – scroll to the bottom to see the updated bridge.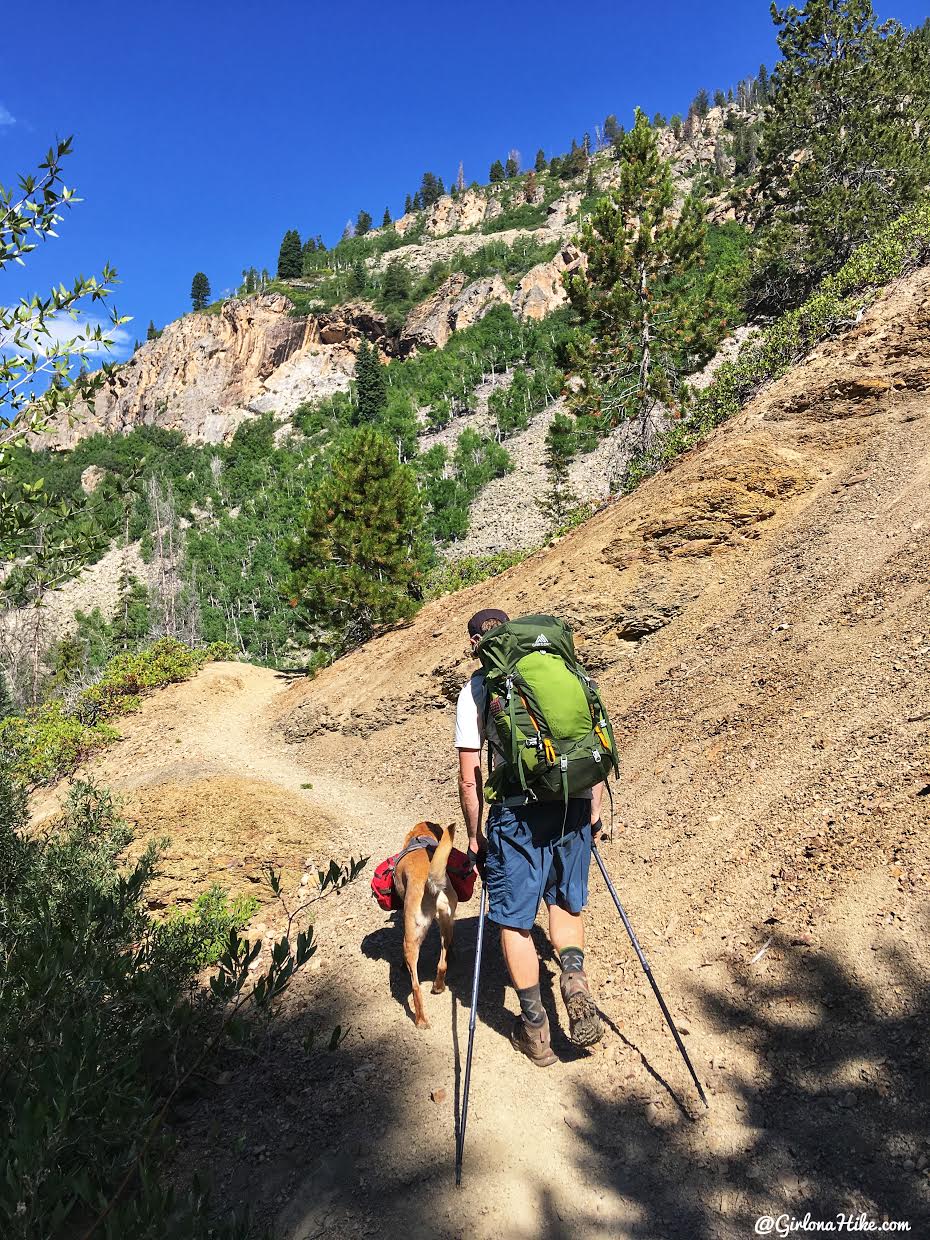 Right after the 2nd bridge is where you'll start to gain elevation, in an open sandy/rocky trail.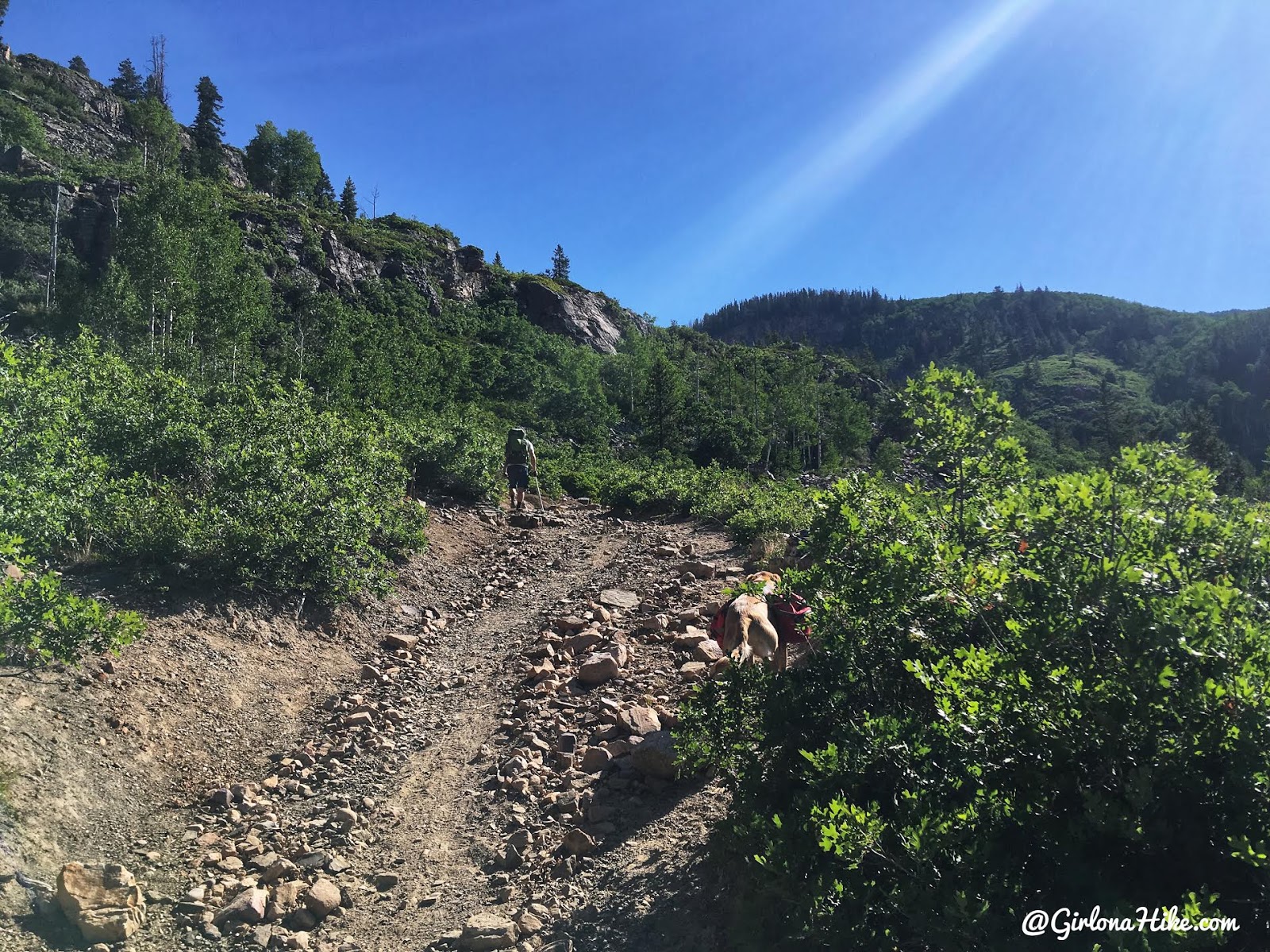 This part was the worst section of trail for me because it was SO HOT! There is zero shade here, plus the uphill is kind of steep. At the top of this section it will level out for about 1/2 mile.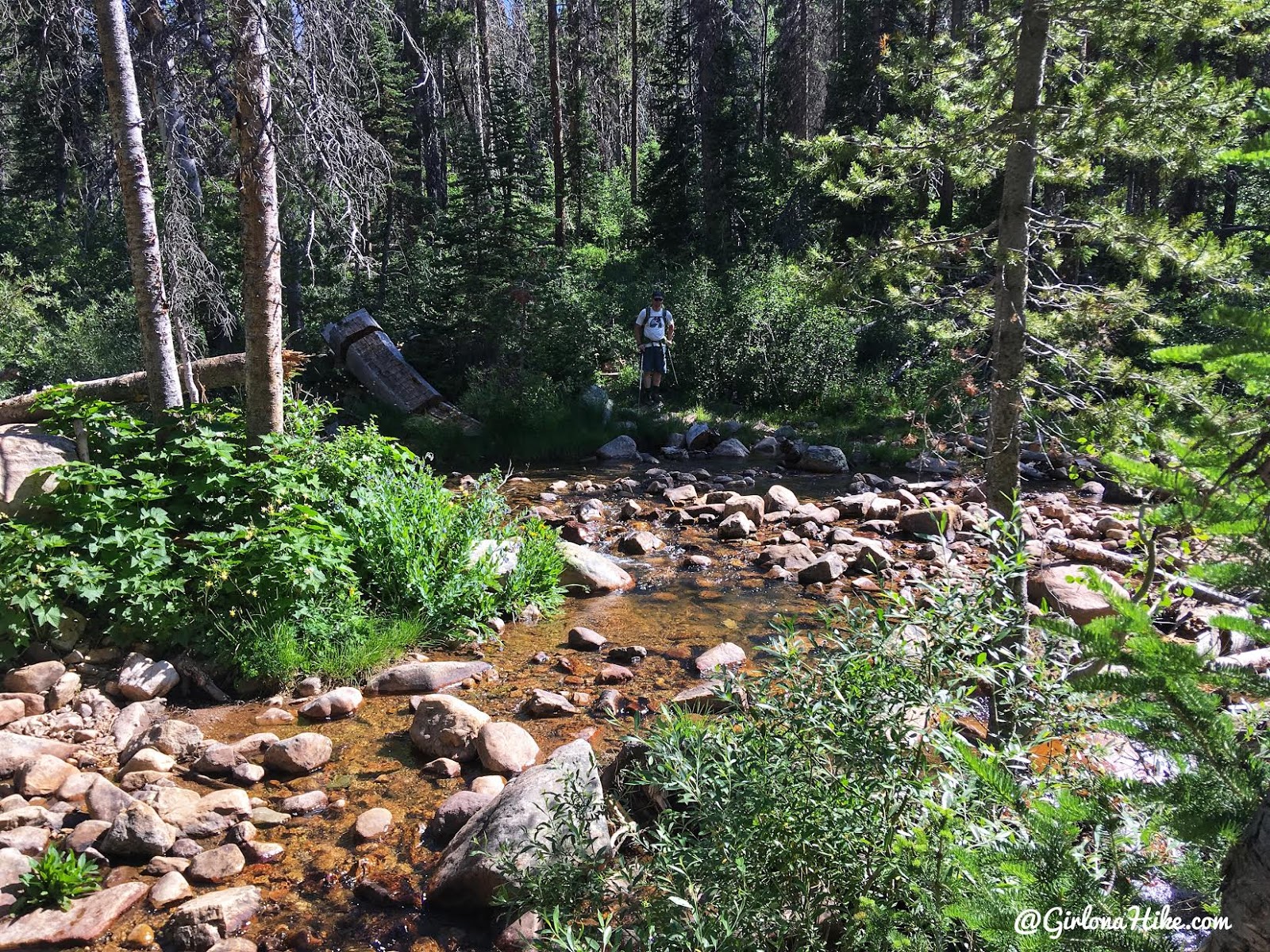 The 3rd bridge at mile 3.4 is no longer here. You can see the remnant of it to the left of Troy, in the shade. There are plenty of rocks and logs to get across dry though.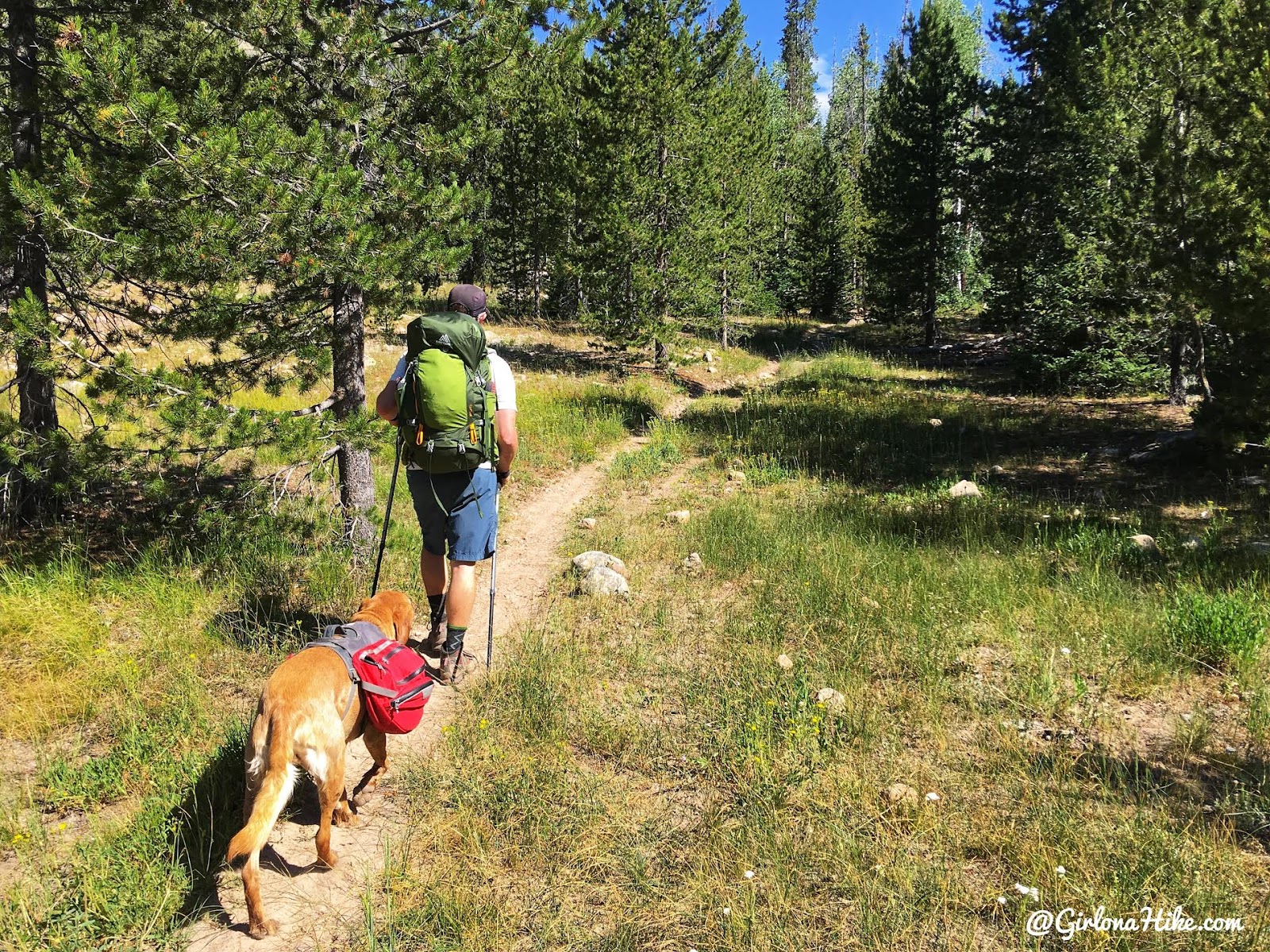 Once again the trail gradually climbs uphill, and it gets even hotter!
Another nice meadow, as we get closer to the first trail split.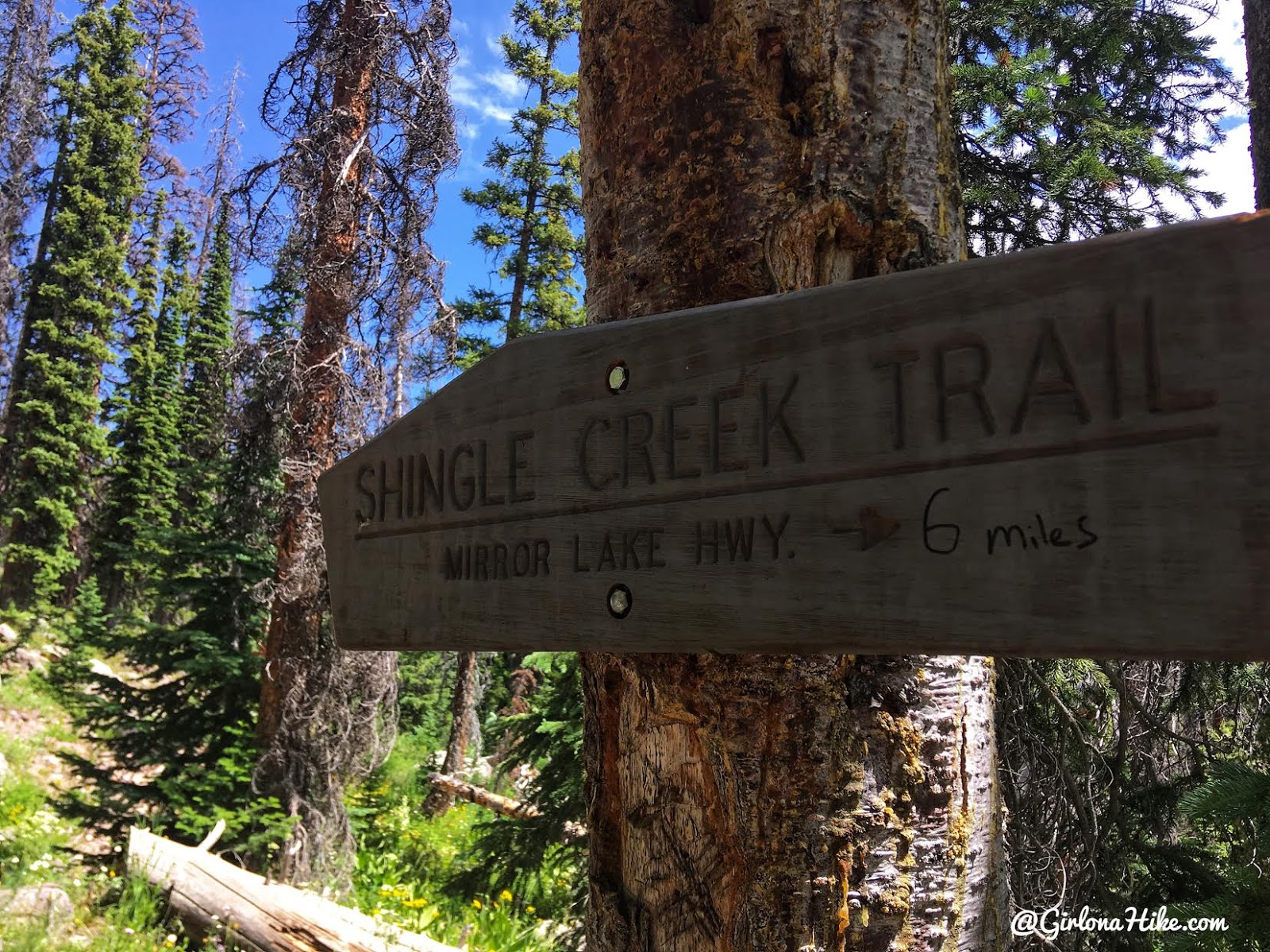 5.9 miles reach the Shingle Creek Trail split – stay right/straight. If you turn back, uphill in a southerly direction, that will take you to the Upper Setting TH parking. Starting from there would make for a much shorter hike in – only 1.5 miles to East Shingle Creek Lake, and 3 miles one way to S. Erickson Lake. However, you do need 4×4 drive to make it up the long dirt road.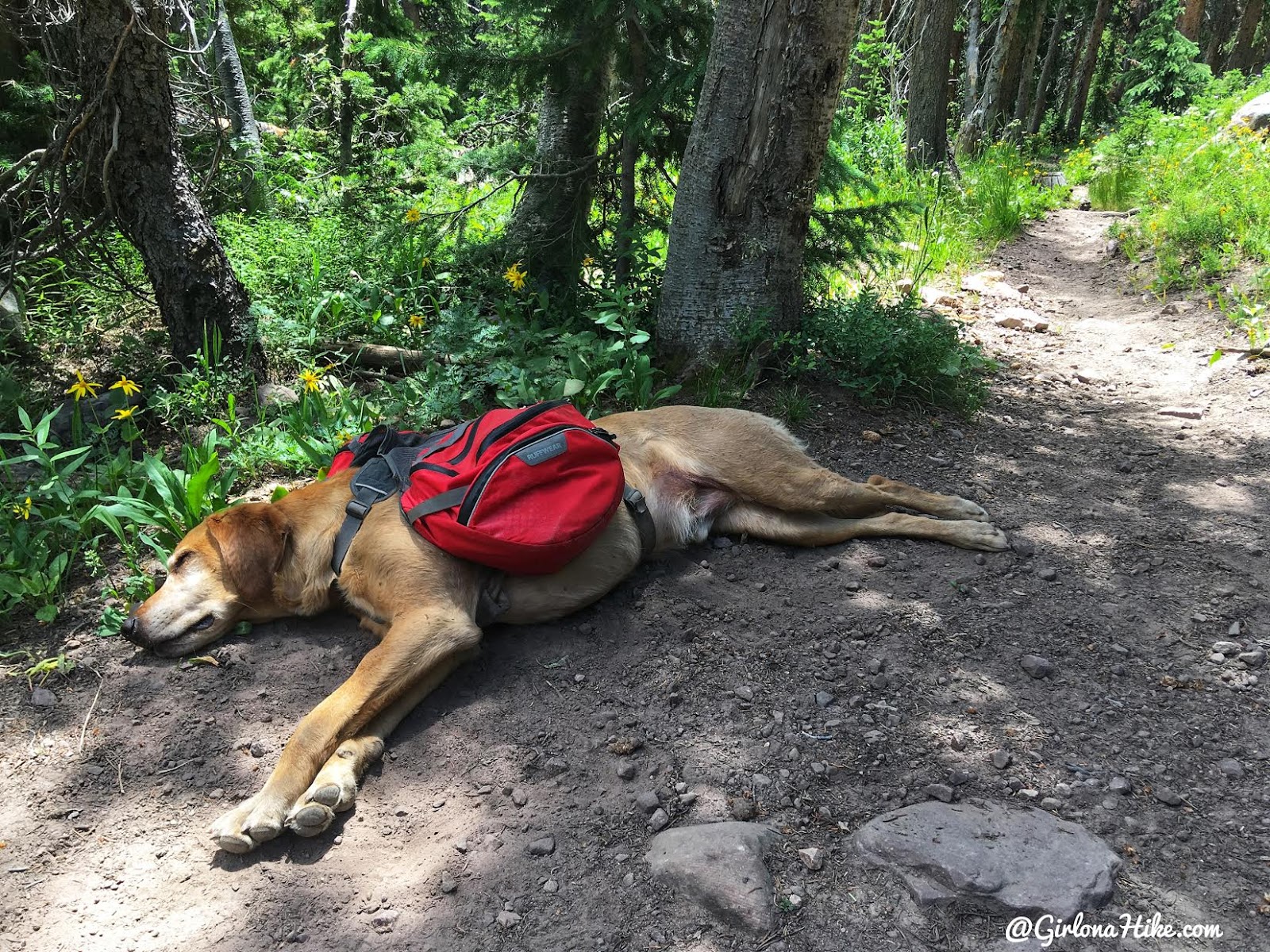 Charlie takes a break in the shade – it was just too hot for him. This is why I recommend waiting to do this hike in the Fall once the temps cool off.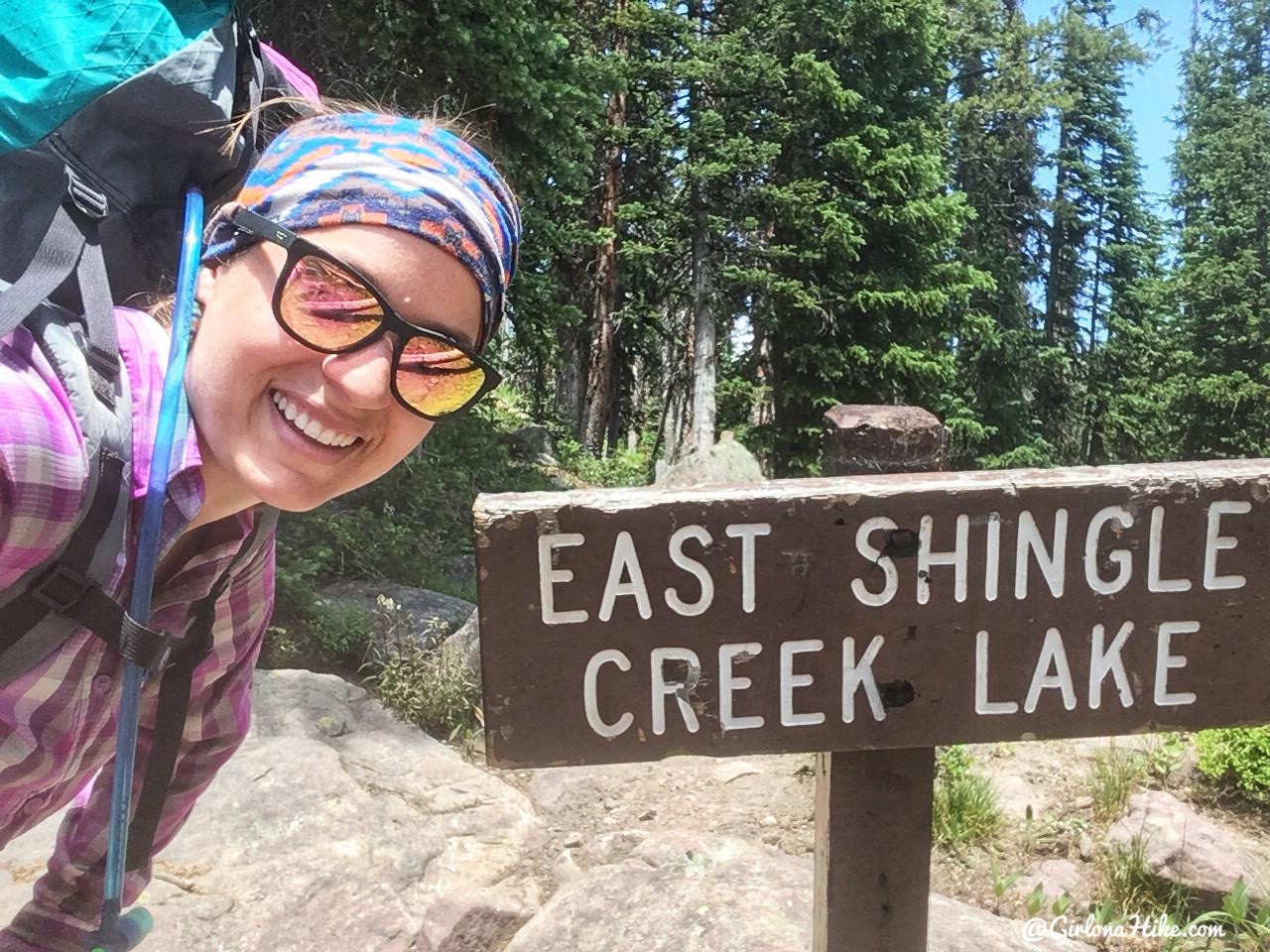 Only .1 miles from the trail split you'll reach East Shingle Creek Lake.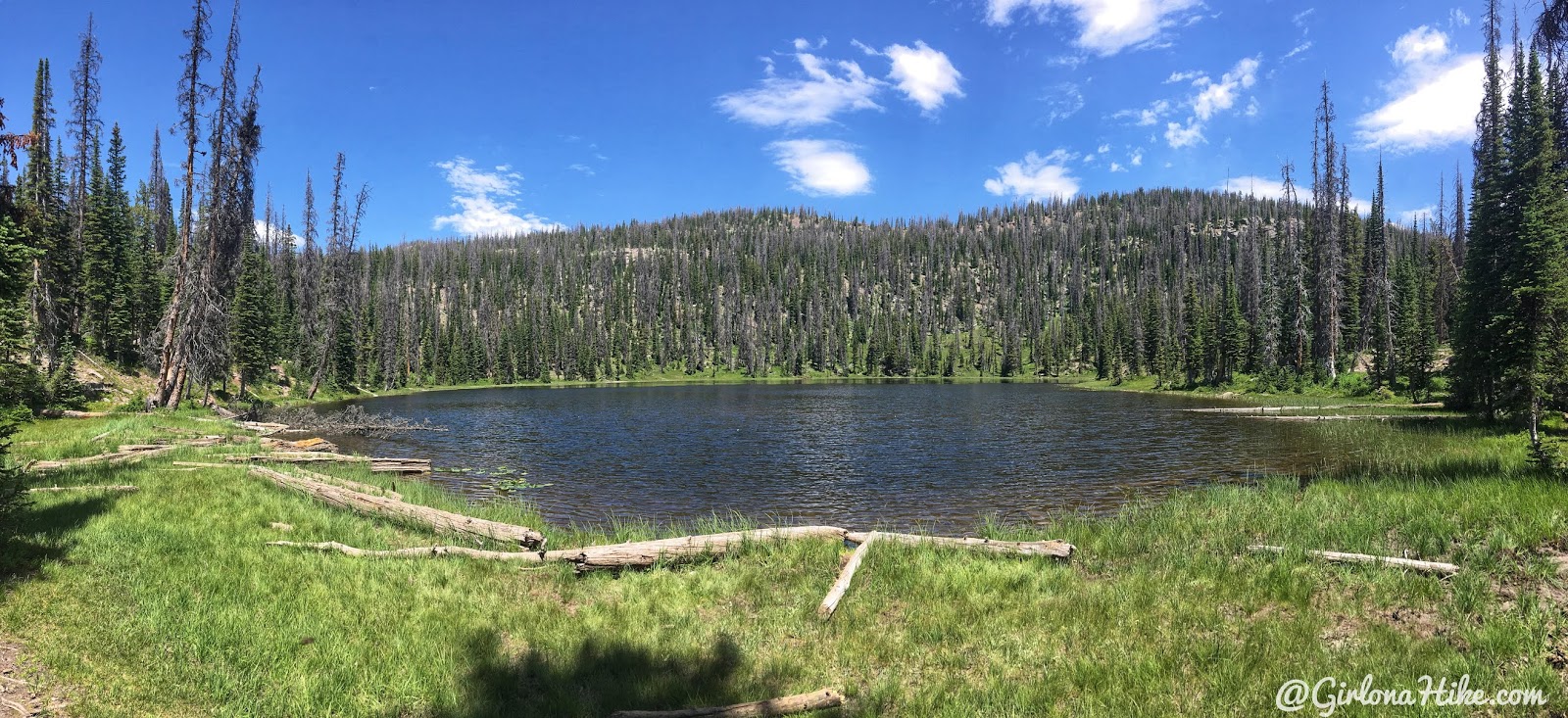 We thought about camping here but it seemed a bit buggy. We figured it we kept going another 1.5 miles to South Erickson Lake the bugs would be better, and would have cooler temps since we would be at 10,000 ft. There were a few nice campsites here though. We could only see one campsite occupied on the other side of the lake.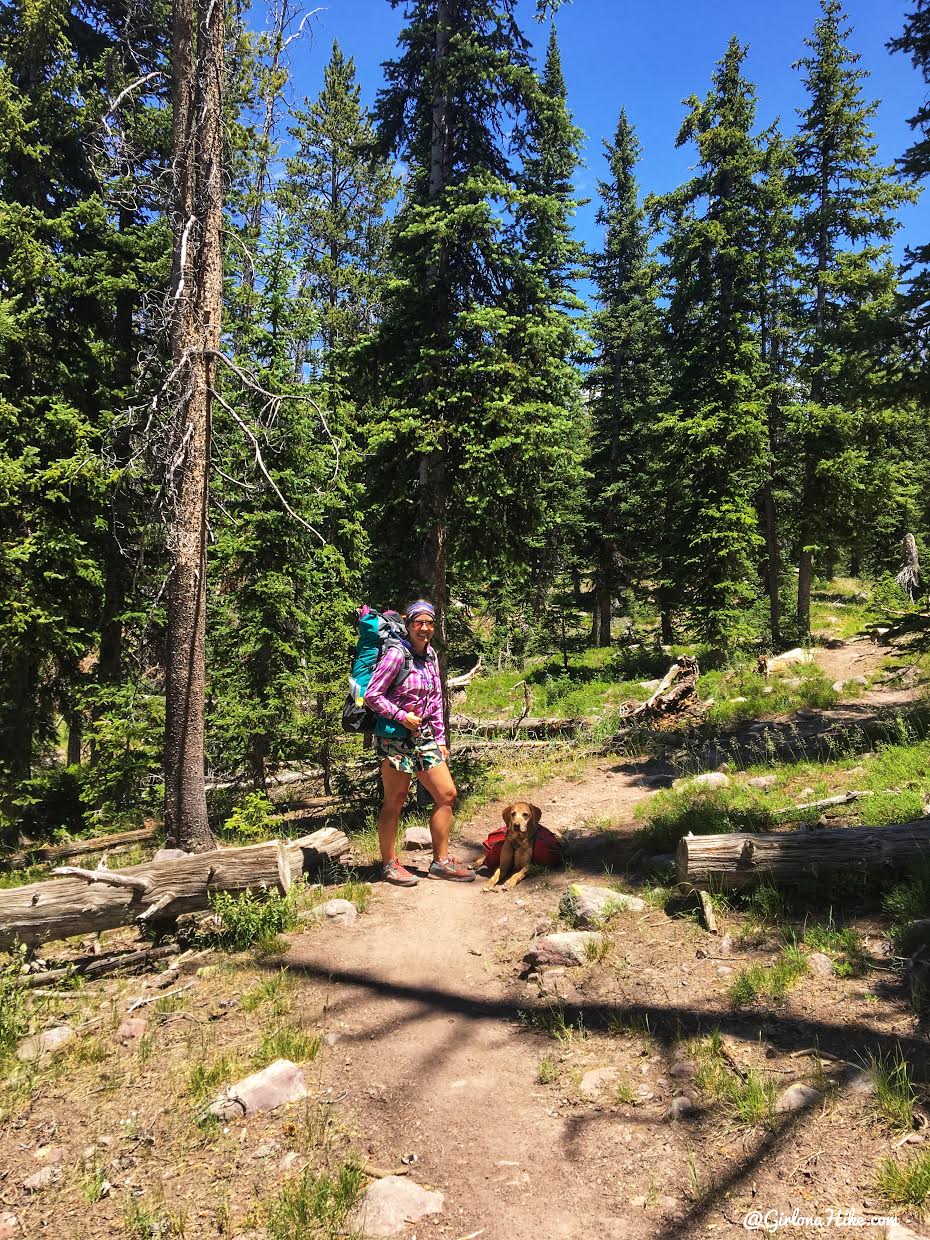 So we kept going. Charlie sought shade wherever possible.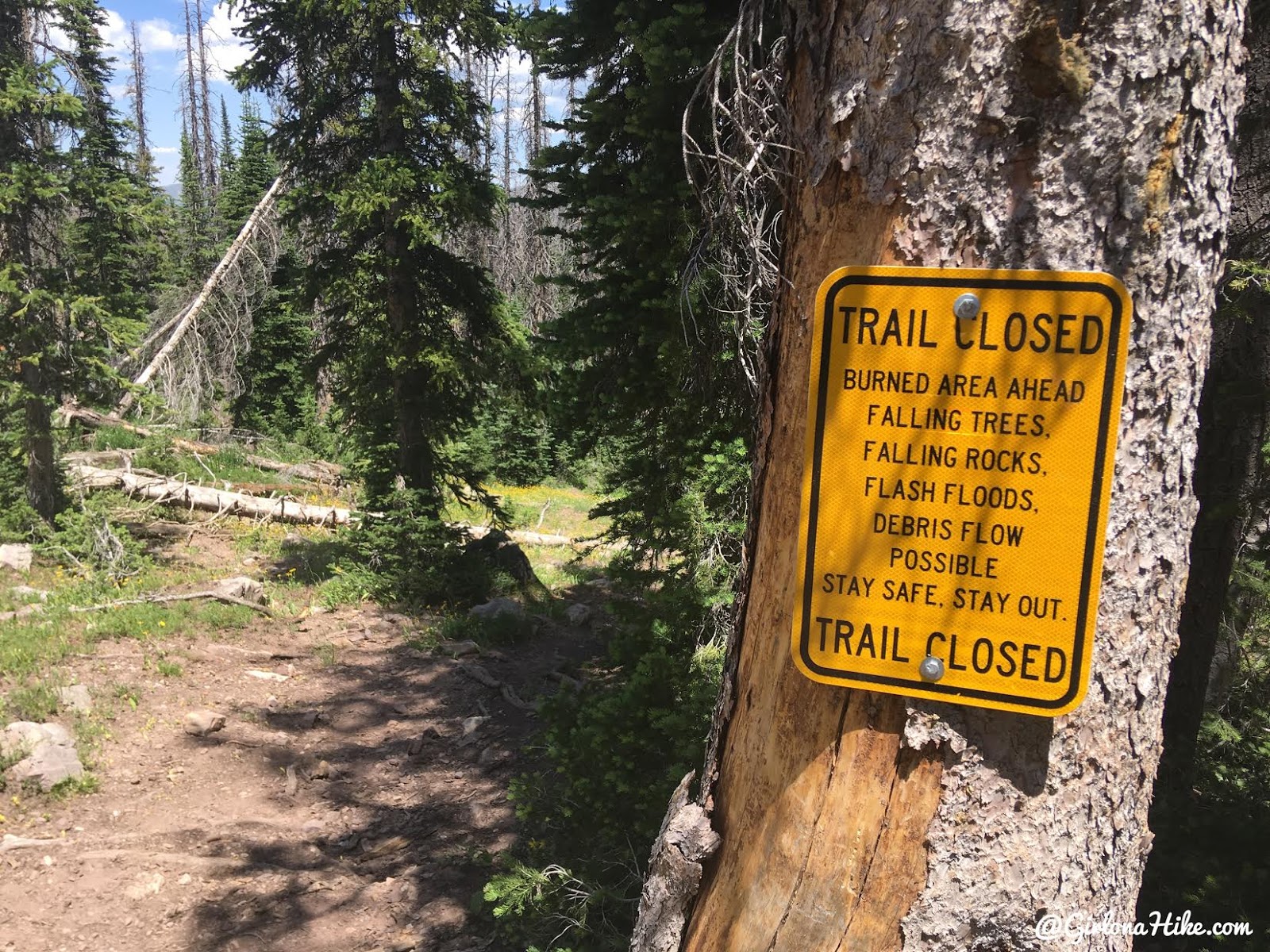 We reached the pass, and as soon as we started downhill again, we saw this sign. I thought it was kind of funny because, don't all trails have the possibility of everything listed? LOL! It didn't prevent us from continuing, and the trail was just fine. Yes a few logs to hike over, but there were logs on the lower part of the trail too.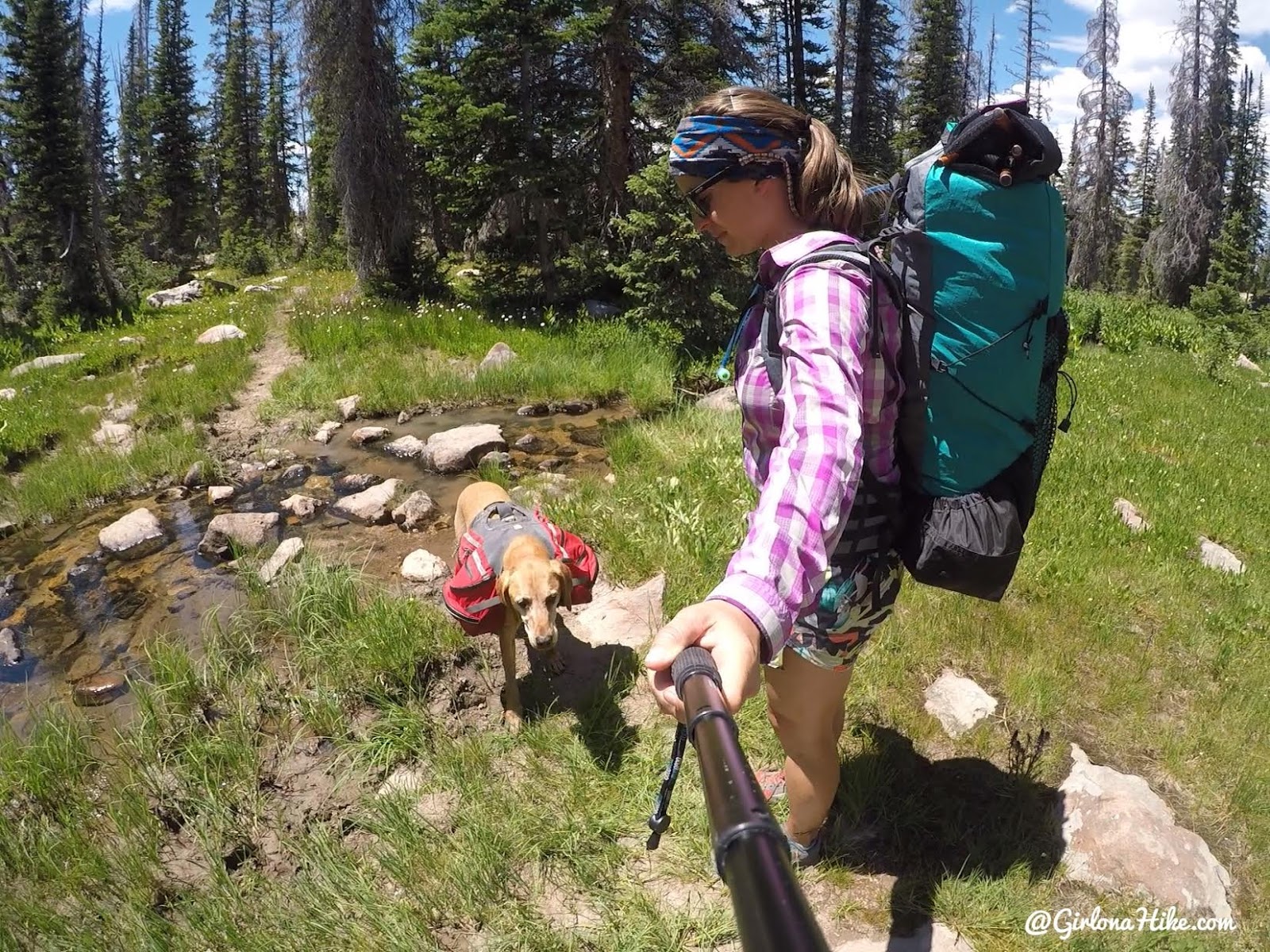 We knew we were finally close when we crossed a small stream.
PS – if you are looking to go ultralight (UL), I highly recommend Waymark Gear Co. for a UL backpack. It weighs only 2 lbs for a 50 liter pack! Get 10% off your entire backpack order, use the code "GIRLONAHIKE" at checkout here!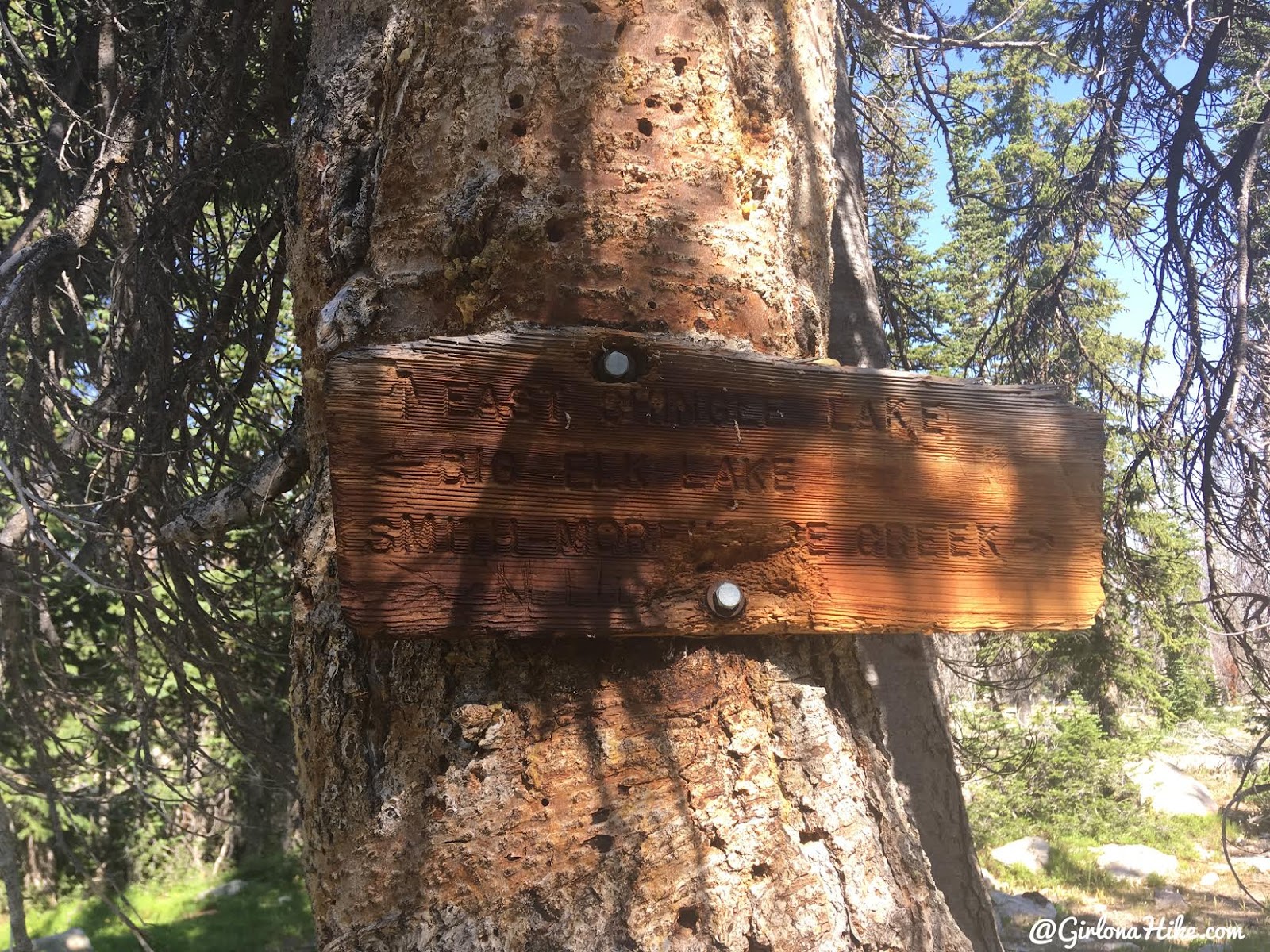 Turn right at the trail split. Left would take you down to Smith & Moorehouse Reservoir. We actually met a group of about 12 people that had hiked up from that route, and they said it was only 5 miles to S. Erickson Lake. So there's a 3rd option for you to reach this area!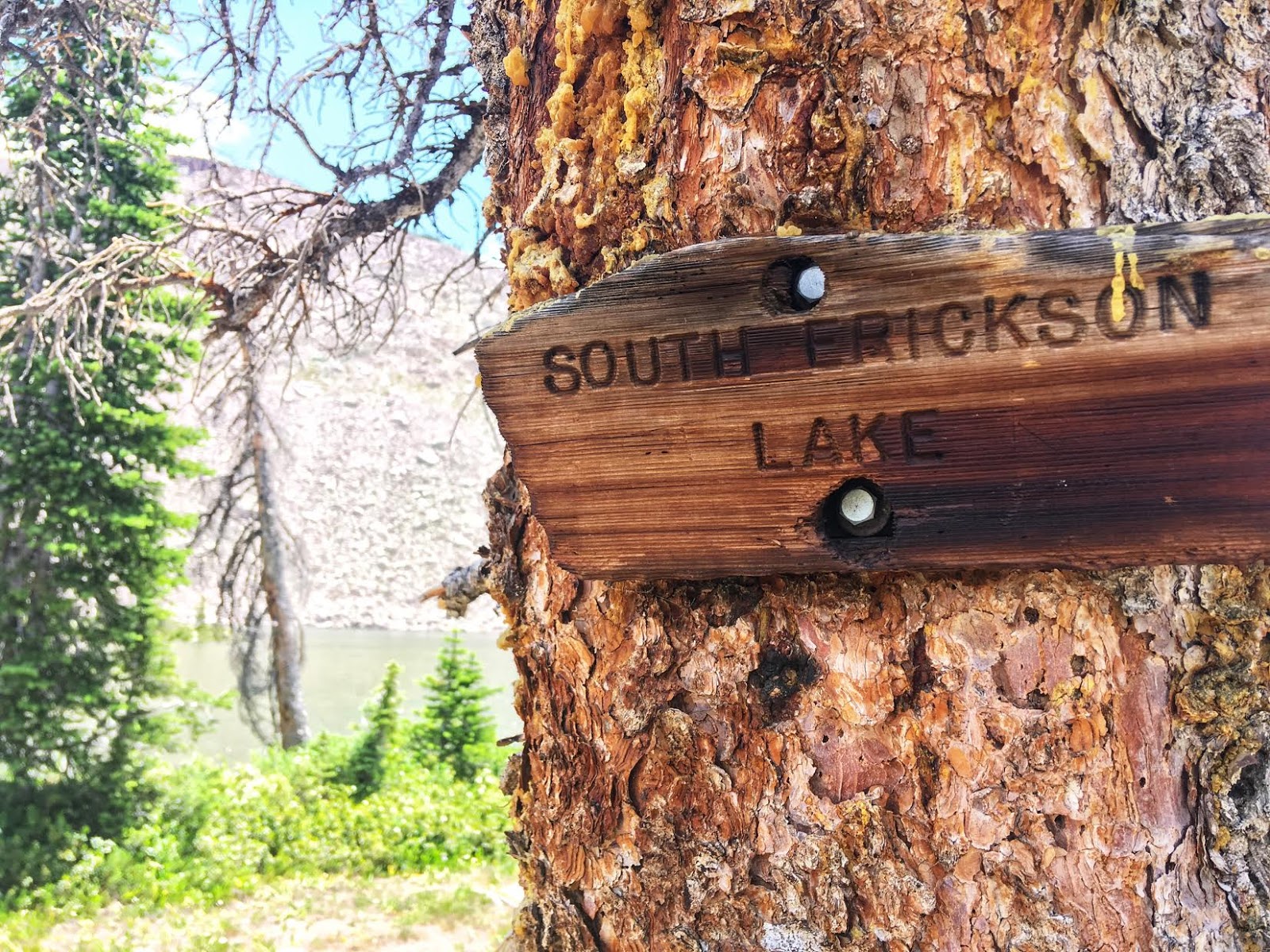 Finally at 7.5 miles we reached our destination.

South Erickson Lake!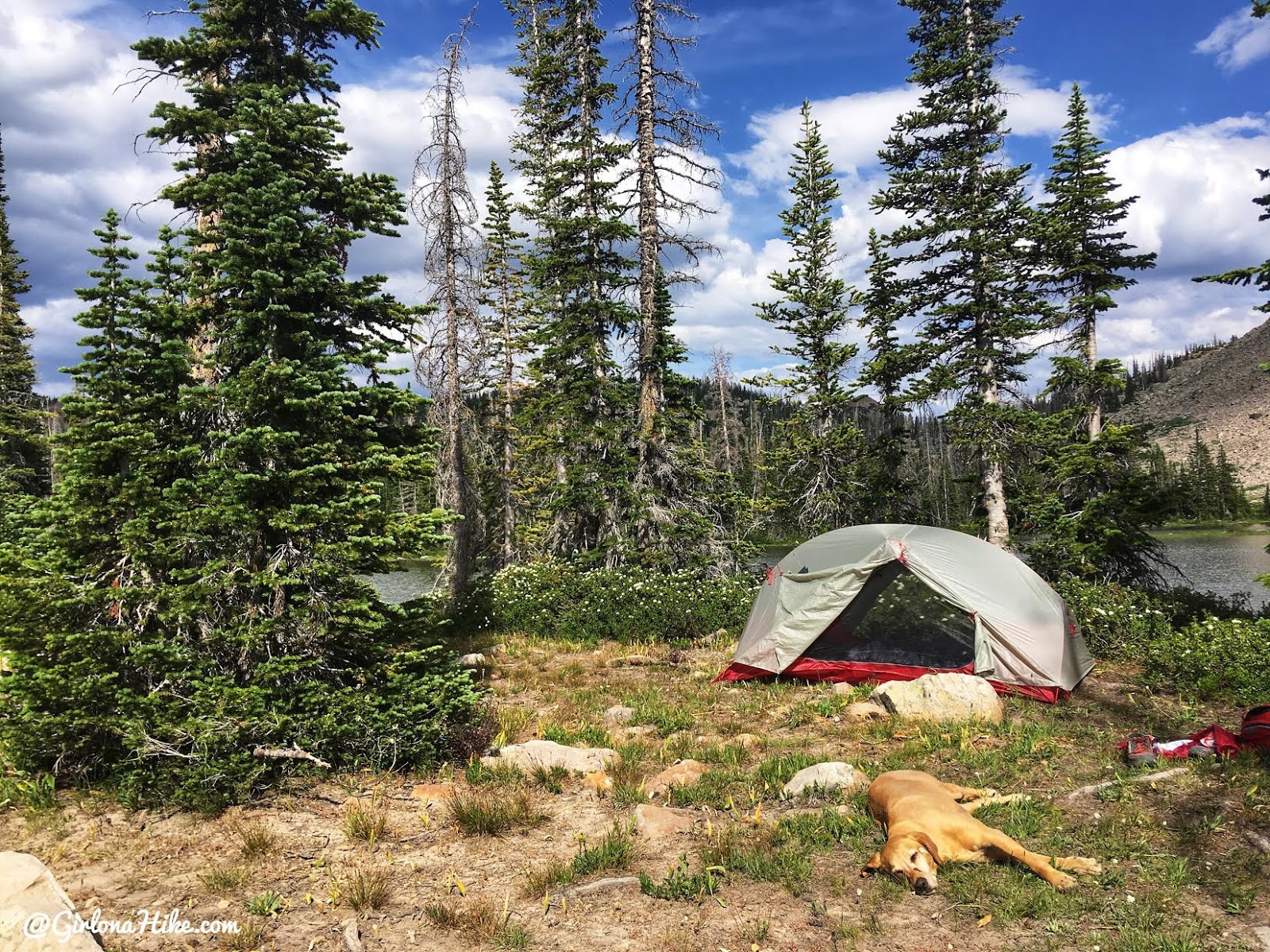 We set up camp, and I got to test out my new tent!
For the past 4-5 years I've been using the Kelty TN2, which weighed close to 5 lbs! Yikes. I had been saving up some REI gift cards, and finally made the upgrade to a 2 lb tent – the MSR Freelite 2! I couldn't believe how light this tent was – and super easy to set up! It will definitely fit two of us plus Charlie. My base weight on my pack for one night is now 22 lbs yahoo!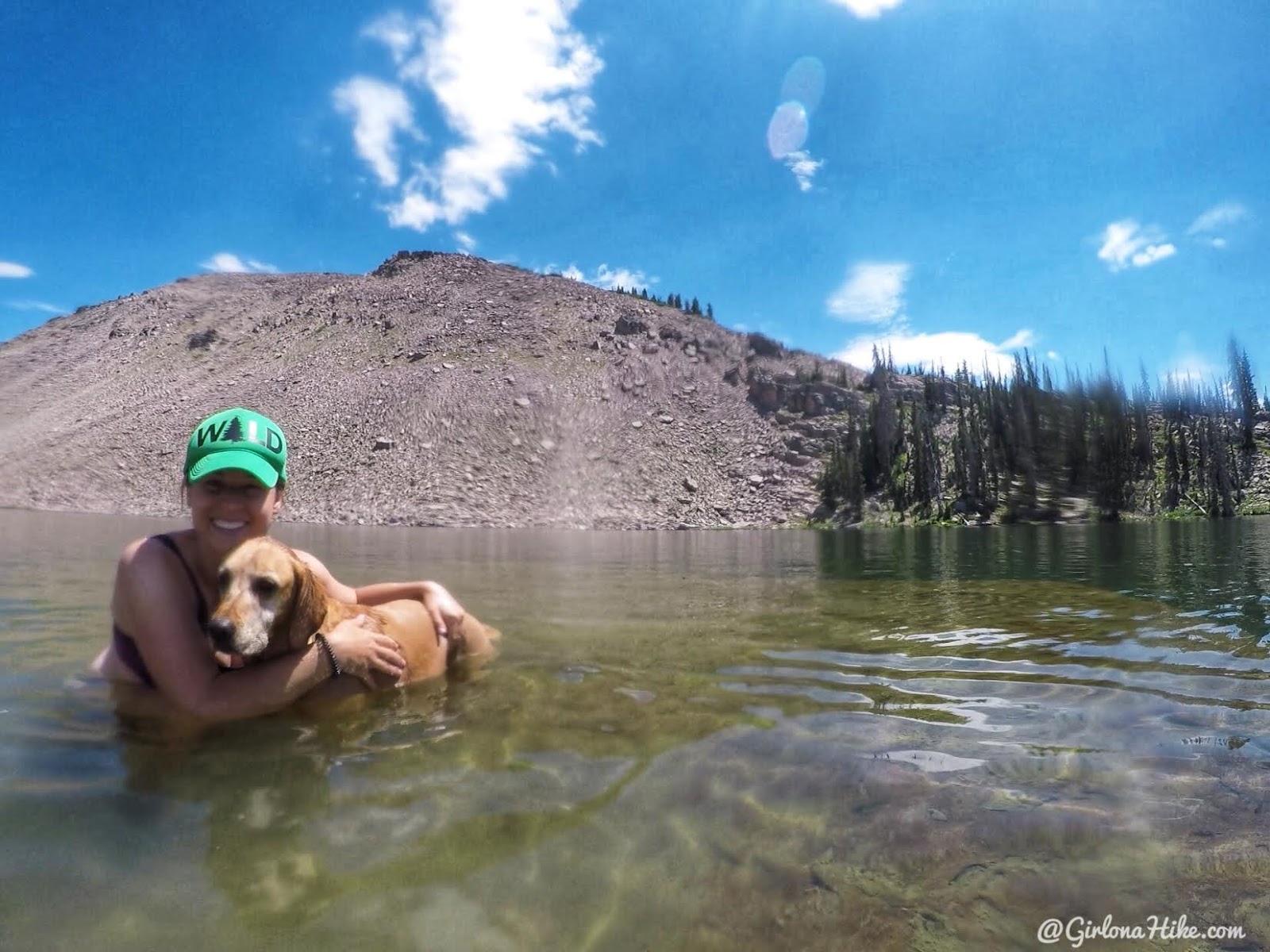 The water was so clear we decided to swim! I'm very nervous around water, but I was able to swim about 15 feet out to a large boulder in the lake that I could sit on. I hate swimming, but this was doable, and the water temp was so refreshing!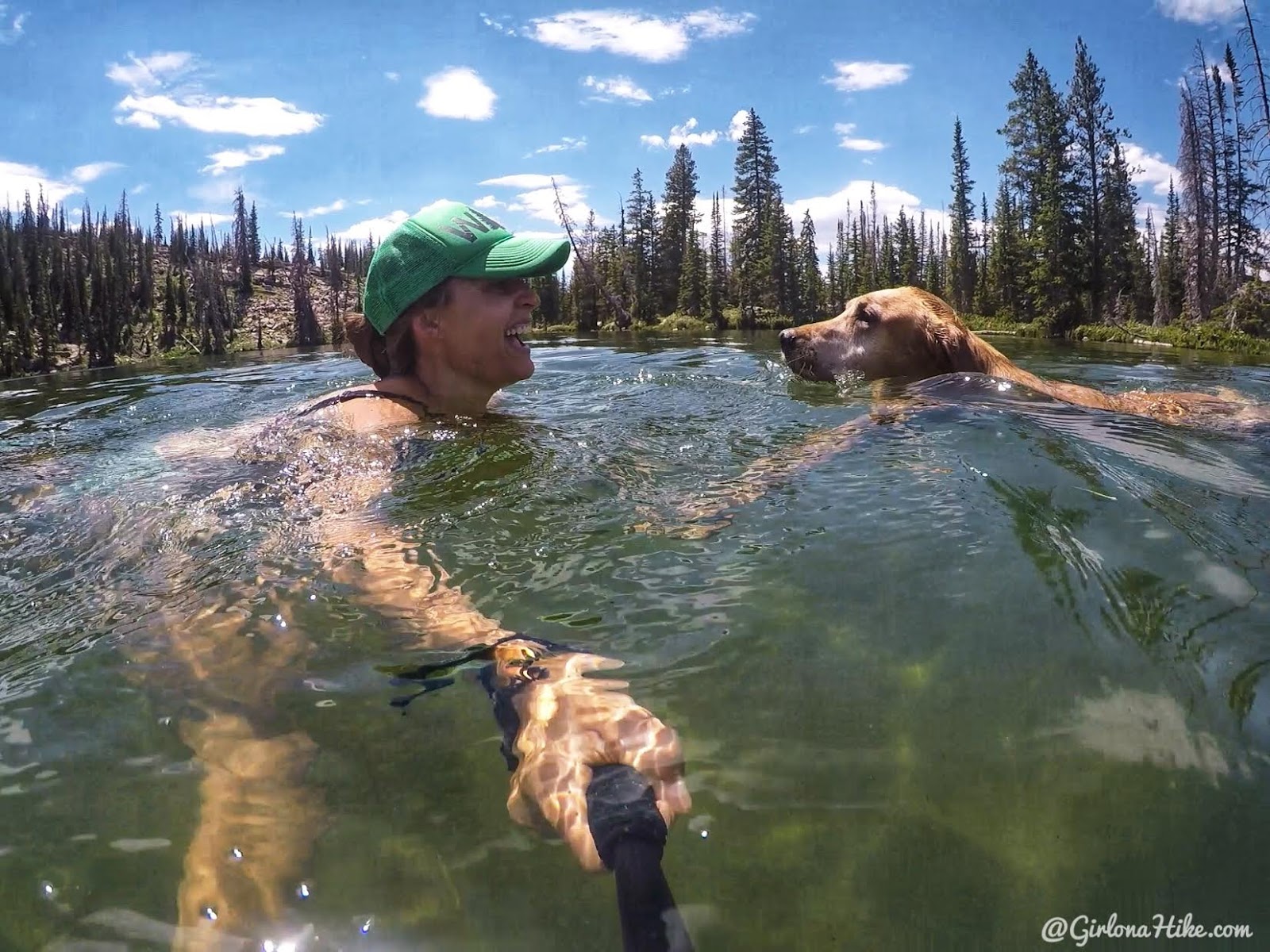 Ok, maybe I did have fun in the water! But, Charlie also makes everything more enjoyable for me.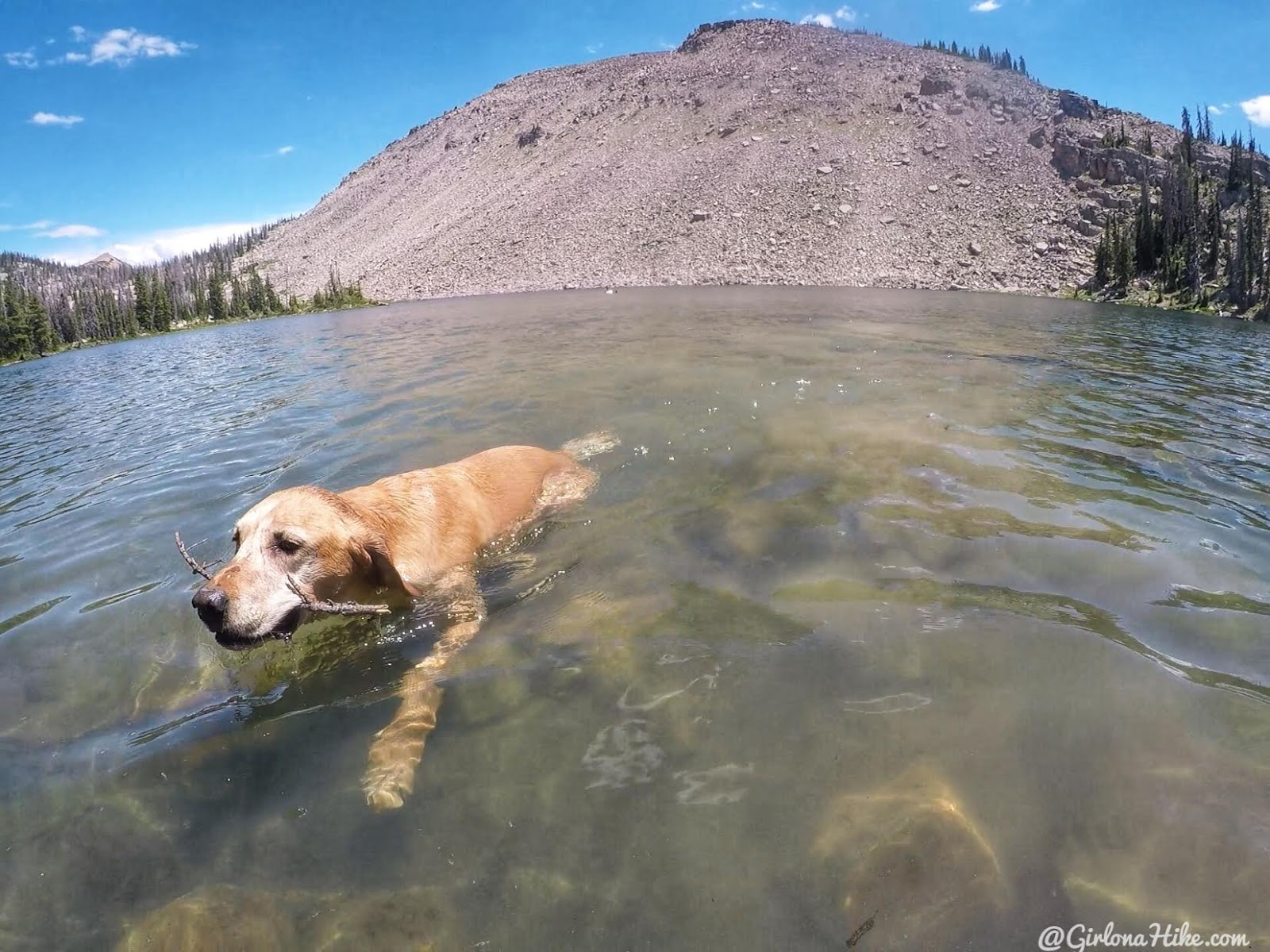 He loved swimming for sticks – his favorite!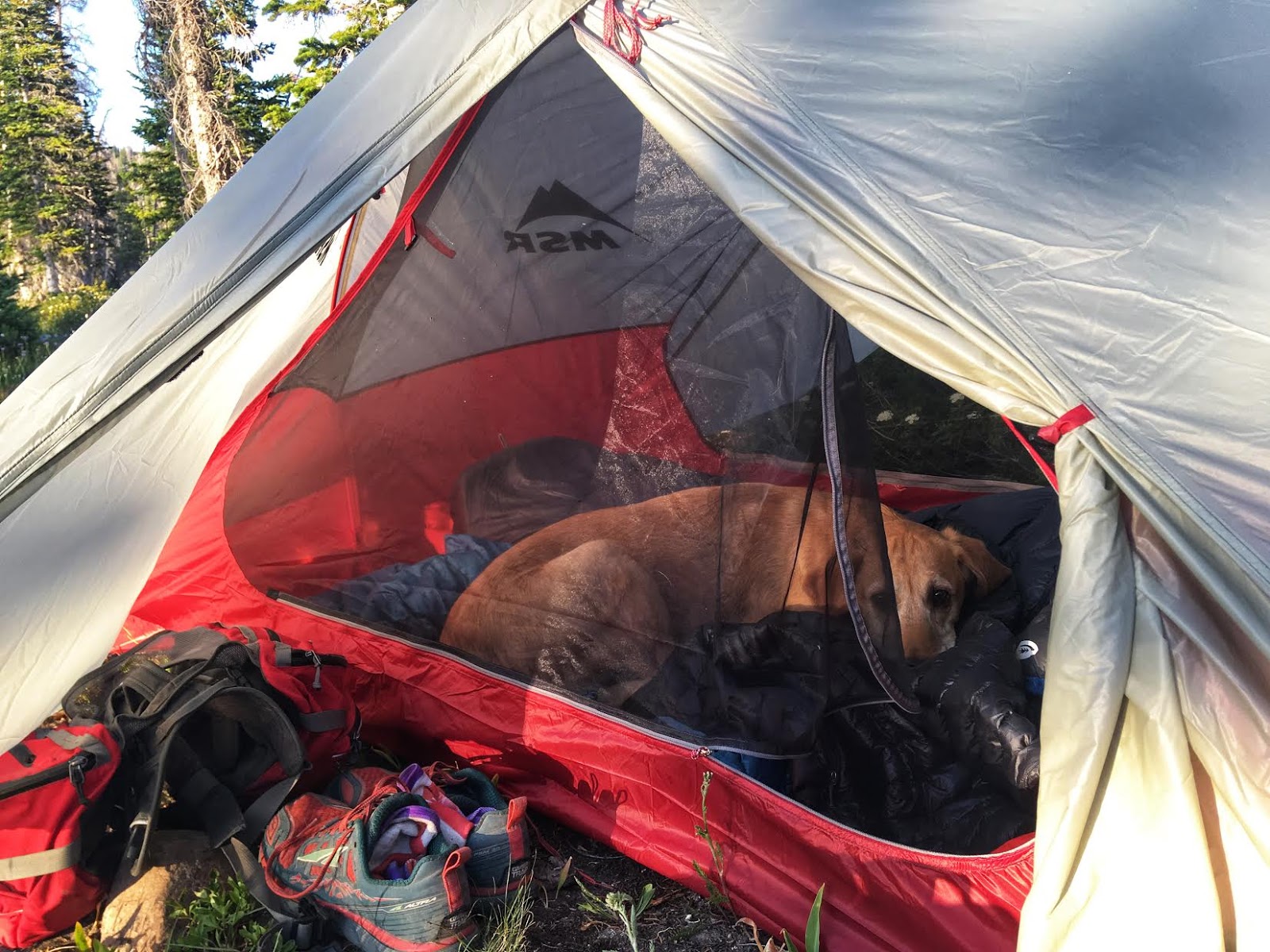 One thing I have been lucky with with Charlie – he will put himself to bed when he's ready haha! He's so cute when he's sleepy.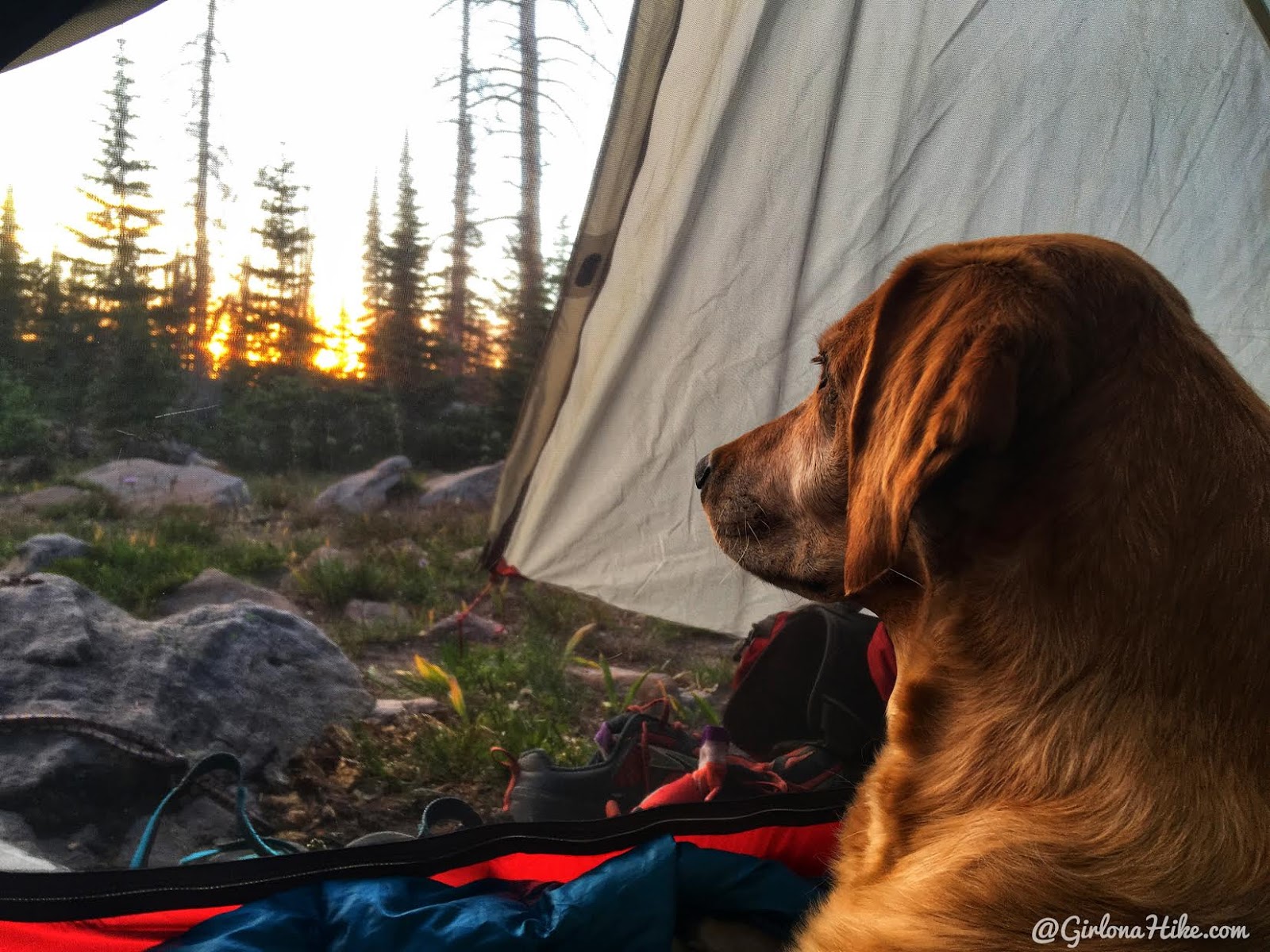 He also enjoys watching the sunset.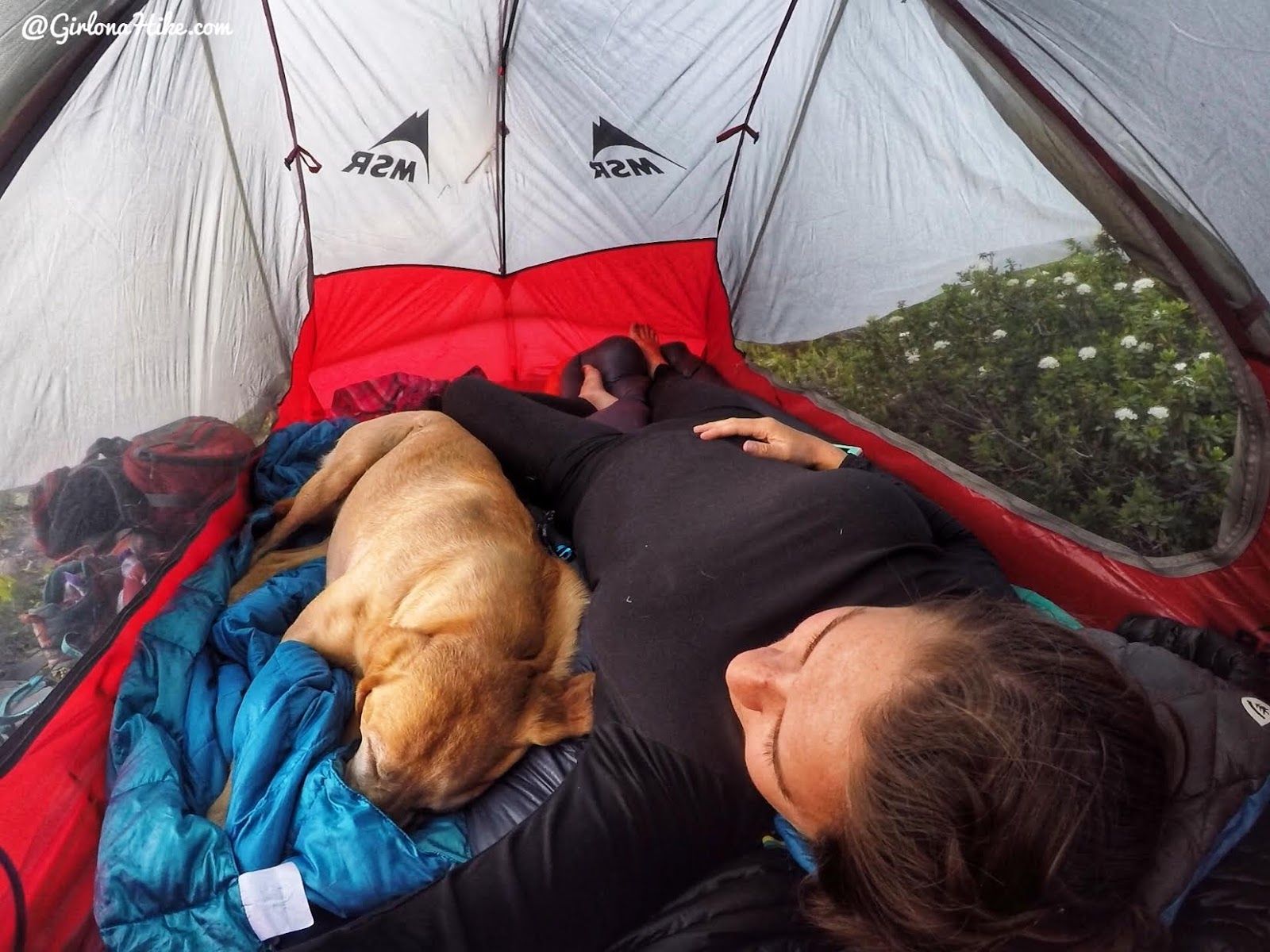 It looks cramped but because it was just the two of us, we spread out.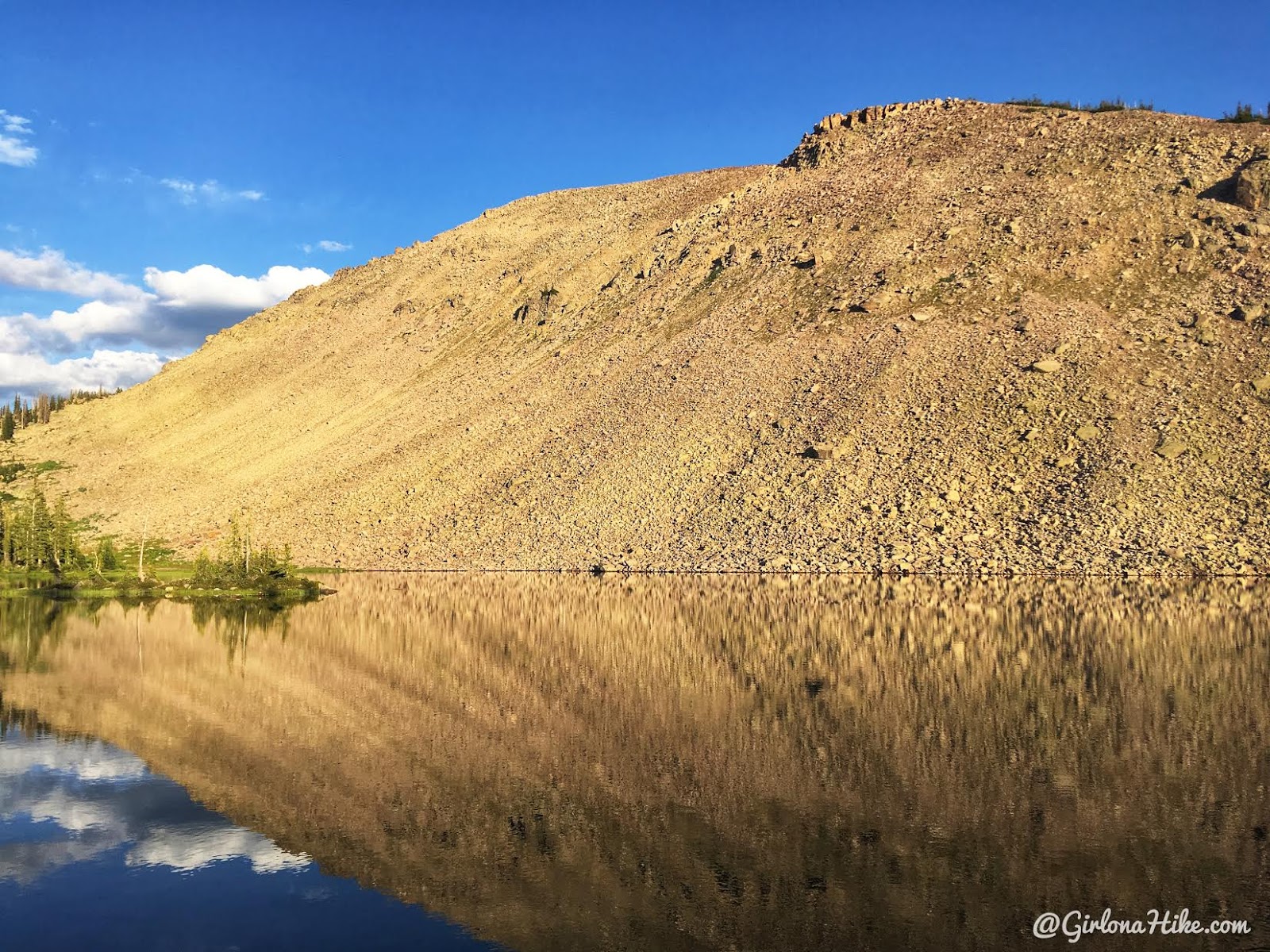 Good night!

I admit – this isn't my photo. The next morning Troy decided to hike up to the summit above the lake. He got this sweet photo – South Erickson Lake to the left, North Erickson Lake in the center. You can also see the sky is a bit smoky from all the wildfires Utah is having this year.
Winter/April 2020
 In winter we like to hike up to the 2nd bridge, 2.8 miles one way (from the winter road parking area).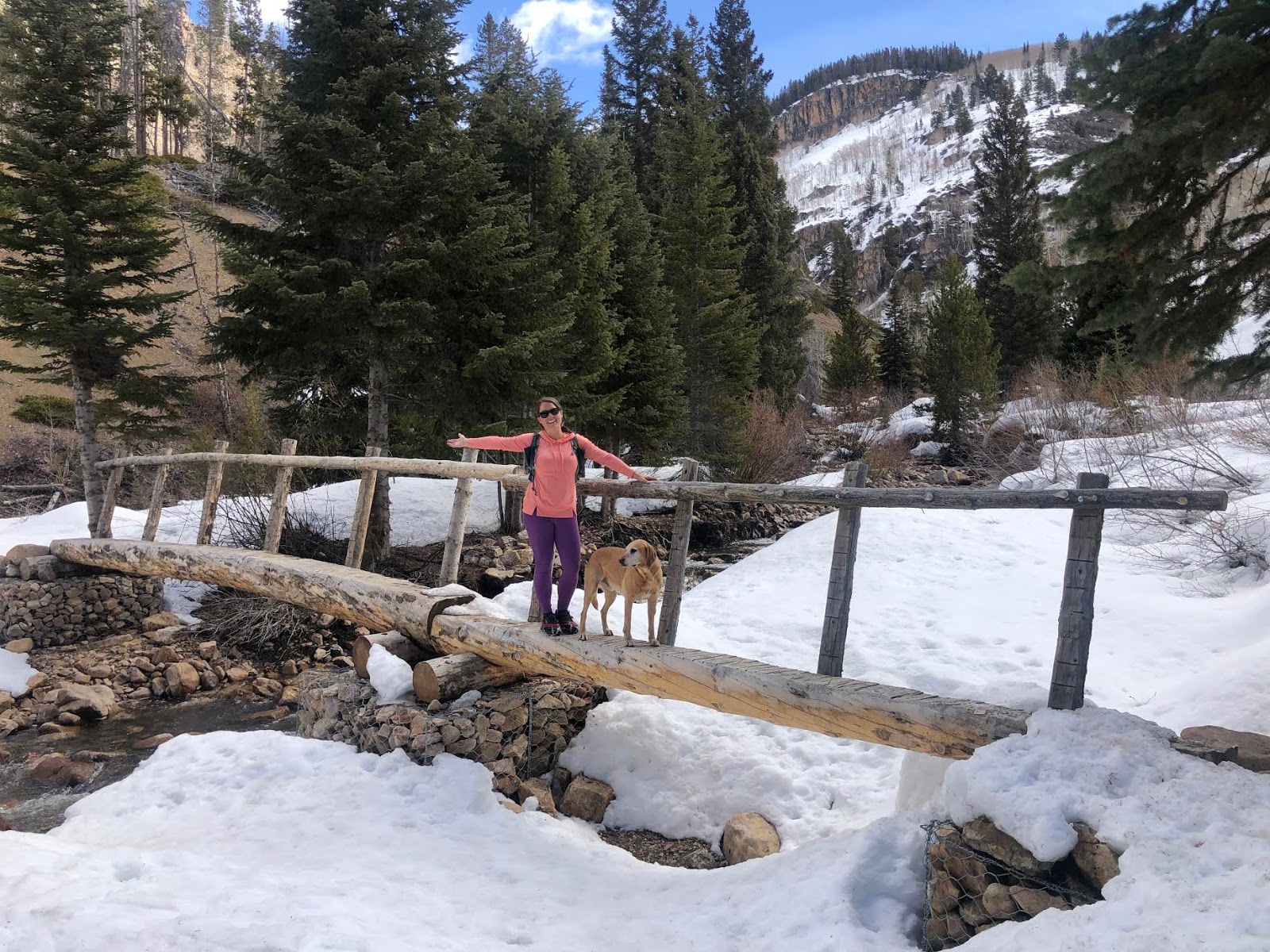 The bridge was way nicer this year – thank you to whoever constructed it!
Trail Map
My track via Gaia GPS – the best tracking app! Get your app here for a discount.
Recommended Gear
Nearby Hike
Backpacking the Yellow Pine Trail, Uintas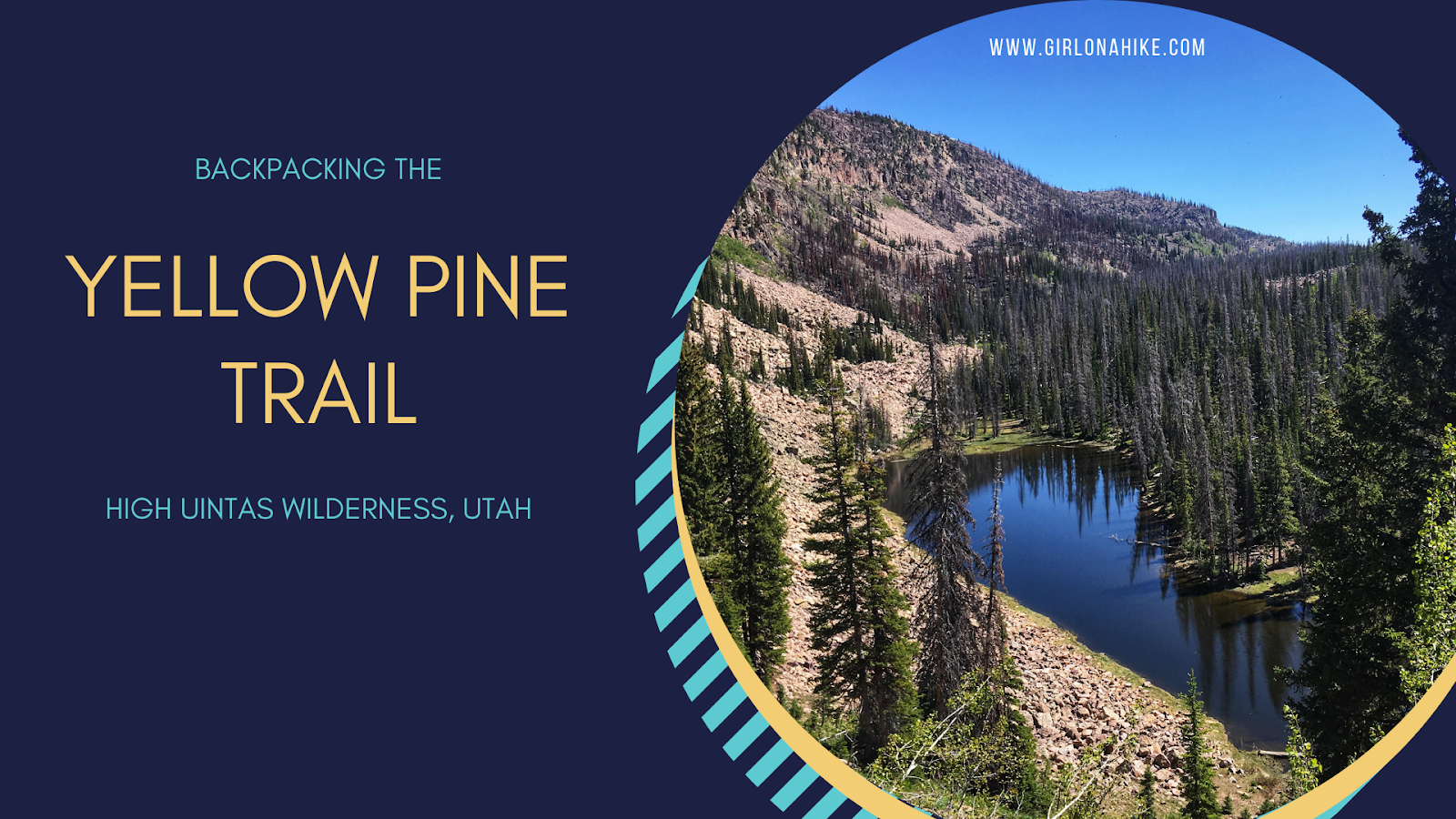 Save me on Pinterest!