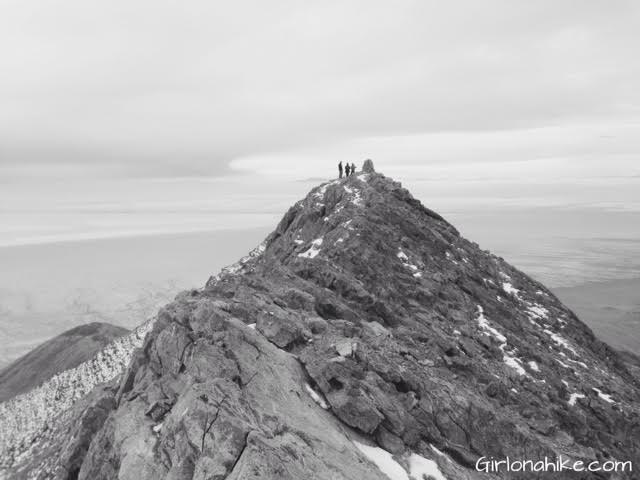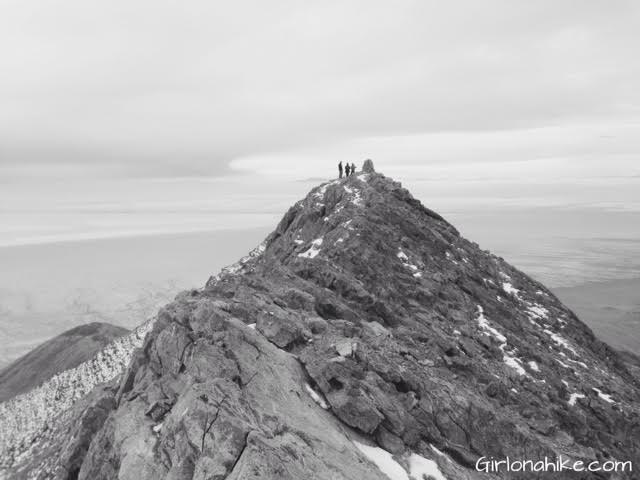 Tetzlaff Peak (6,267 ft) is located in the West Desert in the Silver Mountain Range, northeast of Wendover, UT. It is an obscure peak, meaning that hardly anyone has hiked it because of its location, it can be somewhat hard to get to the TH, and simply because no one has heard of it. It's not the tallest peak in the Silver Mountains (Graham Peak is the tallest) but it's definitely a worthy peak to bag. It's perfect for summiting in the winter months when avalanche danger is high in the Wasatch Mountains, and you are looking to escape hiking in snow. The peaks in the Silver Mountains offer no trail, no shade, and no water, so hiking here in Winter is not as harsh. I highly recommend you don't hike this area in Summer when the temperatures are extremely hot.
Directions
From SLC head west on I-80 towards Wendover. Take exit 4 off I-80 onto Leppy Pass Road. At the first split, veer left, and and the next split, turn Right. You should see the big brown sign for the Silver Islands. At 6.5 miles, turn left onto the old jeep road heading NW. Drive another 1-1.5 miles, and park anywhere you can. You MUST have a 4×4 car to reach this area. Although this area is very dry, if a storm moves through the roads could be washed out. Do not attempt to drive here after a storm or if the weather is forecasting one.
Trail Info
Distance: 4 miles RT (loop)
Elevation gain: 1545 ft
Time: 3-5 hours
Dog friendly? Yes, off leash but be careful of cactus
Kid friendly? No.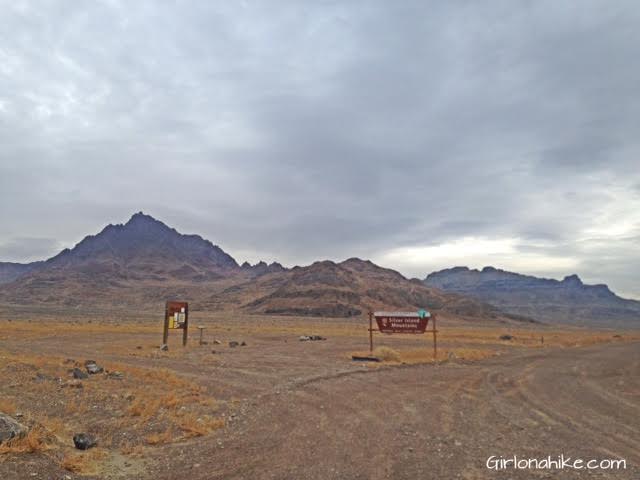 When you are driving to Tetzlaff Peak, you will first drive by this split. Make sure to veer right. To the far left is Volcano Peak, and from here you can't see Tetzlaff yet.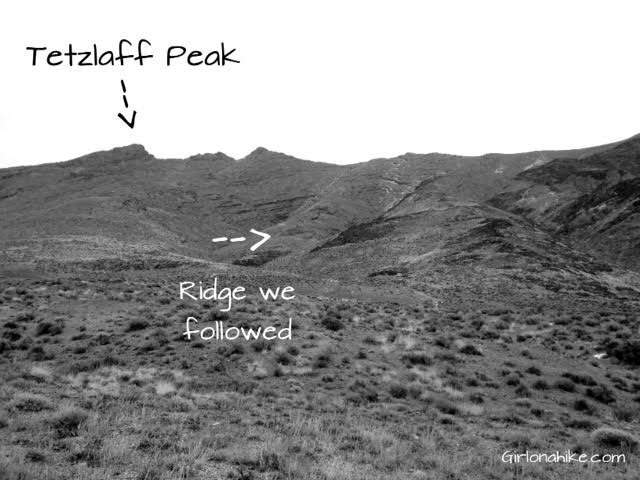 Once you reach the "parking area" (roughly 4,700 ft) you will now have Tetzlaff Peak and the ridge in view. This is where you will want to start hiking. Just pick a ridge that looks good to you. I pointed out the one we took.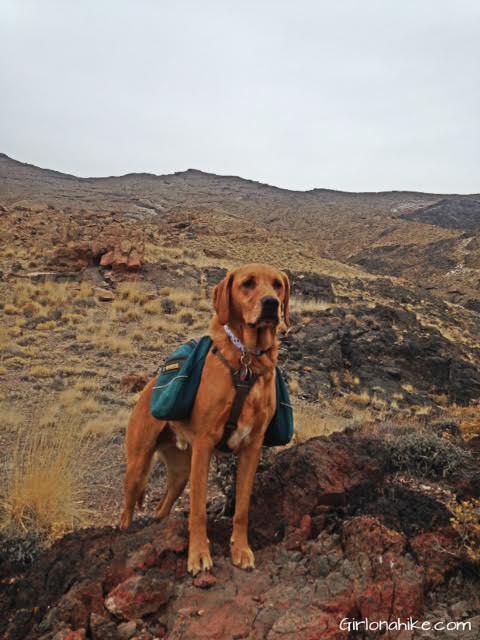 Working our way up, Charlie takes a break to take in the view to the South of us.
A lot of people ask me, "How does your dog do in that terrain? Don't the rocks tear up his paws?" The answer is he does great! He is used to hiking in rough conditions, so has built up his pads to handle it. After a big hike like this or after hiking in rough/wintry terrain I always re-moisturize his paws with Musher's Secret. If your dog doesn't hike frequently and/or has really soft paws, this may not be the best hike for him/her.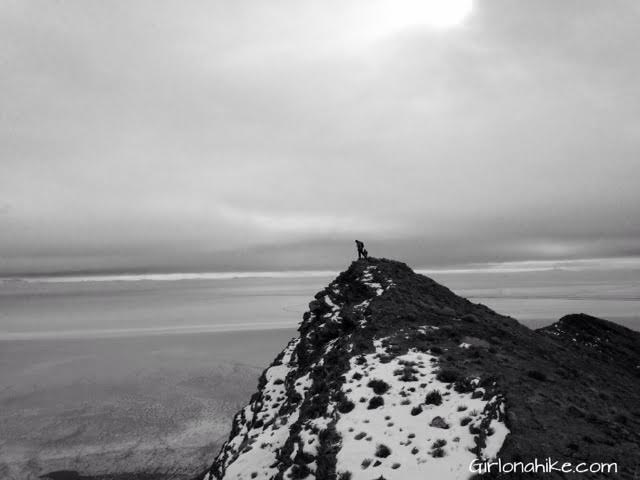 Finally on the ridge! I decided to walk over to this little knob with Charlie to check out the view. This is looking East.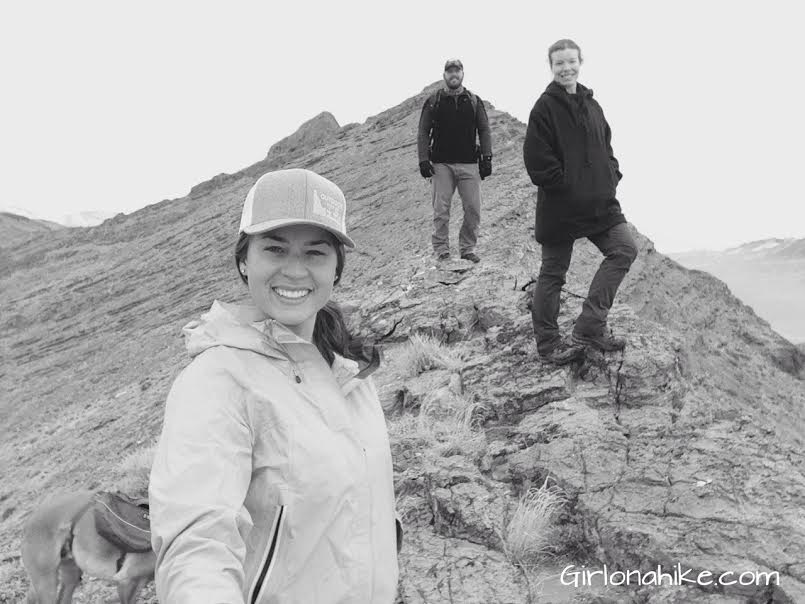 Once on the ridge you'll want to hike North. You can see Tetzlaff sticking out from above my head. In our group for this hike was CJ, Emily, and Dave (not in the photo).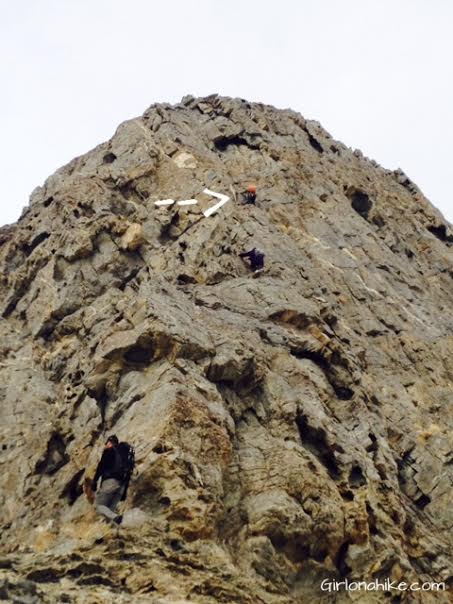 Hike along the ridge, and you'll end up with two options to get to the actual peak. The first option is to climb up this wall, like the CJ, Emily, and Dave did. You can see how big this knob is, as I pointed out Dave with an arrow. Emily is in the middle, and CJ is at the base.
The second option is to walk around the knob, to the right (north), if you don't want to scramble, which is what Charlie and I did. The north side has about 4 inches of snow, but it was easier for us to do. Work your way around the knob to the other side of the ridge, then work your way up to the knob (heading back East).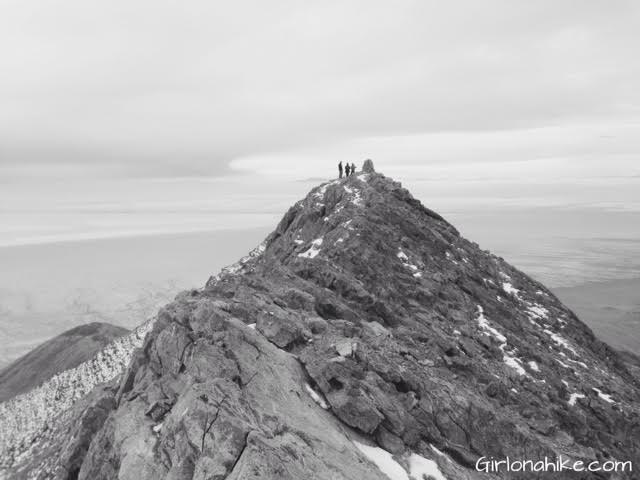 As I hiked up from the other side of the knob, I could see the others had already summited.
 The summit is marked by this large cairn and a jar to sign in on. In the distance is Pilot Peak.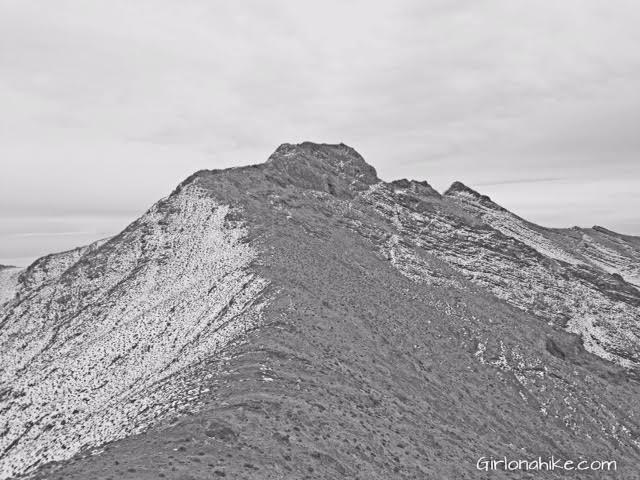 We hiked down the other side of the ridge (North side) down to the small saddle, then over to the next knob. This is looking back from where we summited.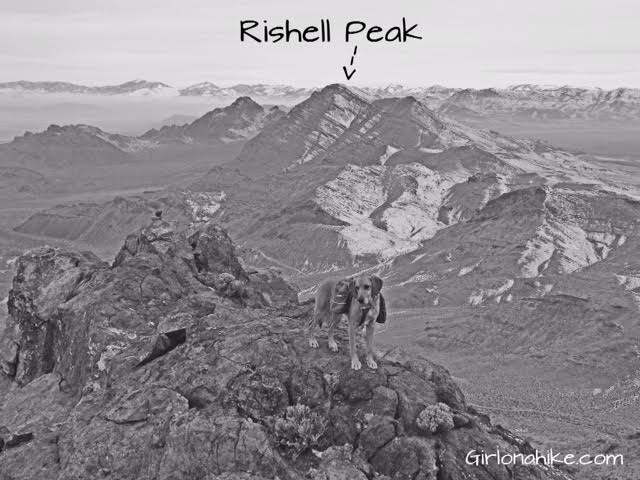 At the next knob we had fun taking more photos and enjoying the view to the South. You can clearly see Rishel Peak, and Volcano Peak behind it to the left.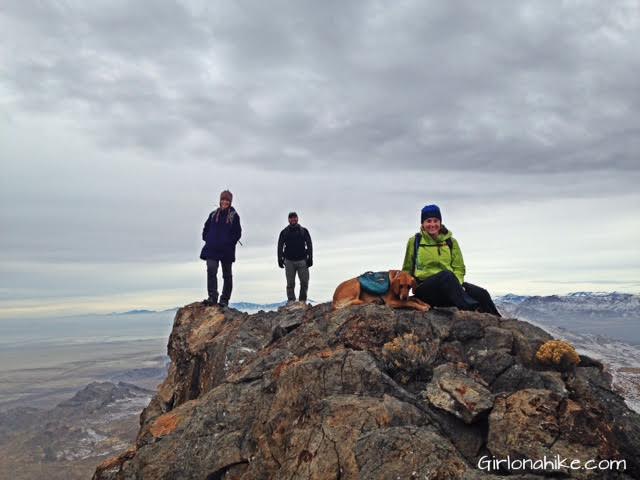 Taking a break.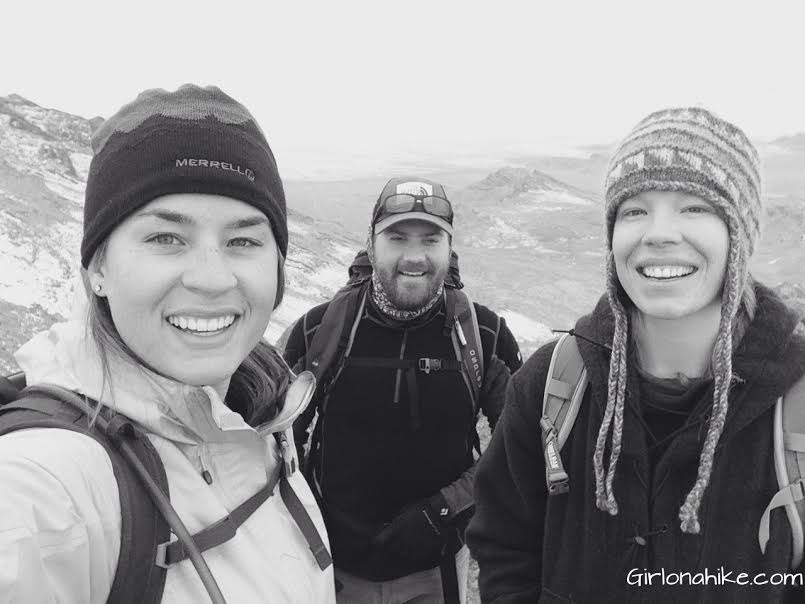 All smiles on the way down…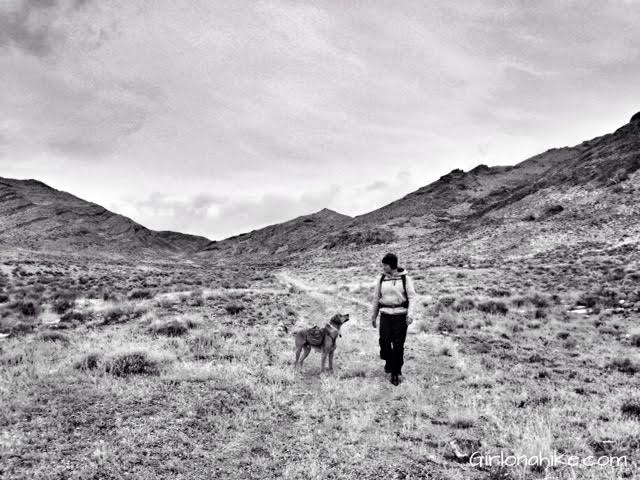 On the way down, we picked a different ridge that looked doable, and made our way back down to the old jeep road, creating a loop (see maps below).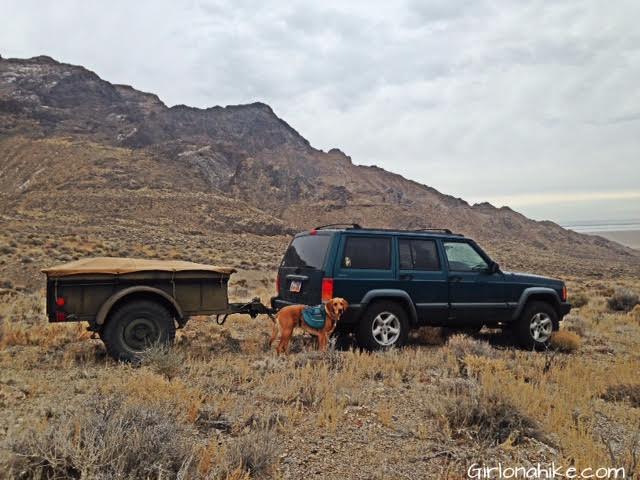 Back to the jeep! Charlie was ready to be done! The trailer was to haul all of our camp gear.
Trail Map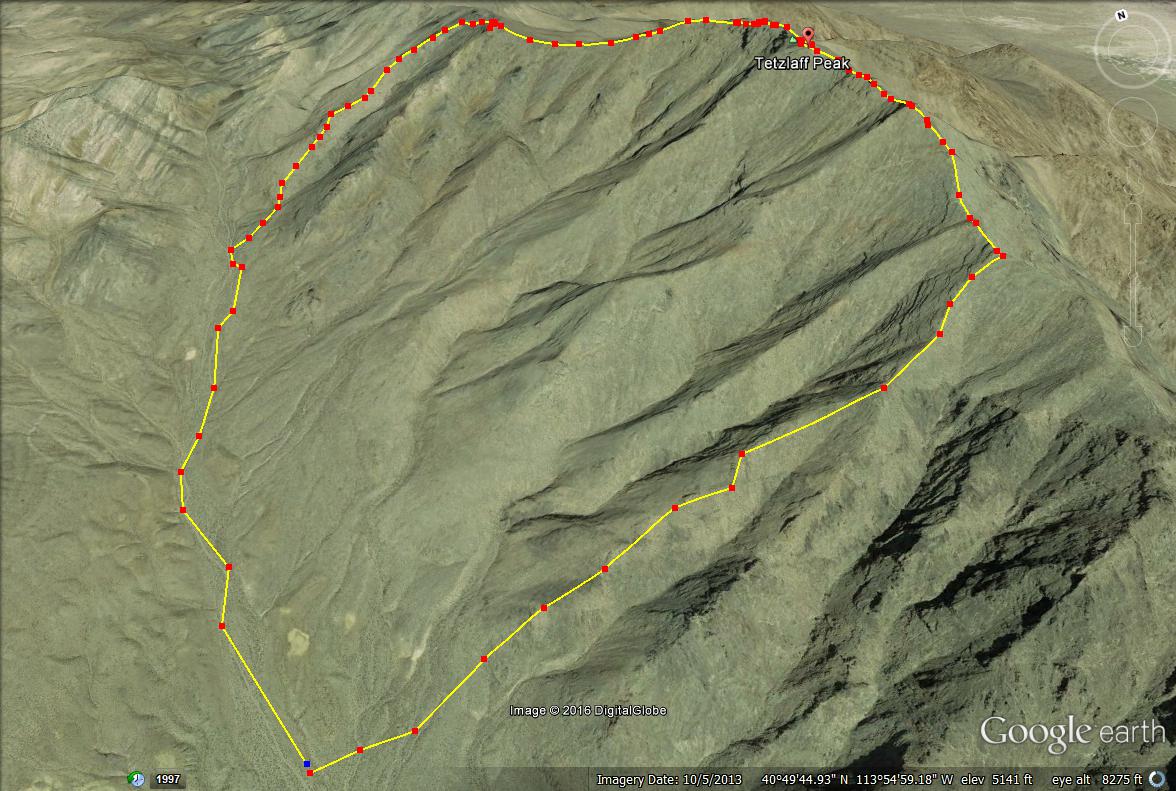 Here is an over view of the route we took, looking North.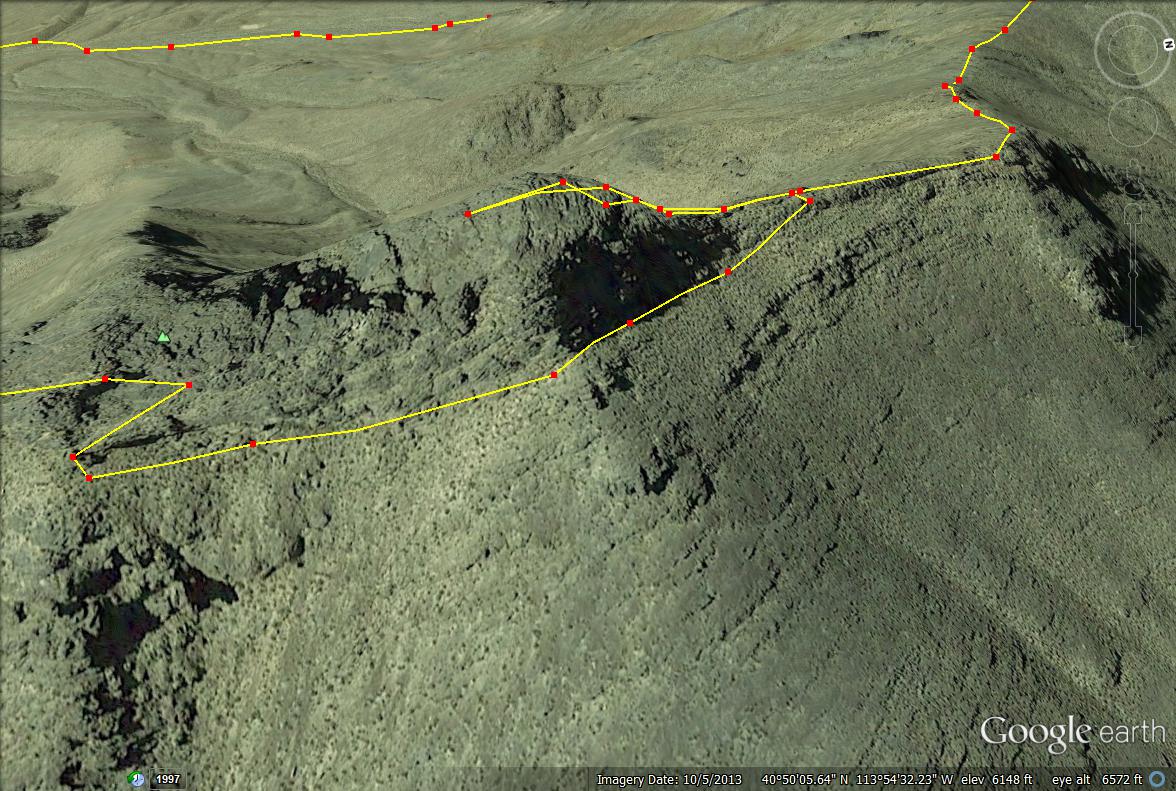 A close up of the peak, and the way I skirted around the base of the knob.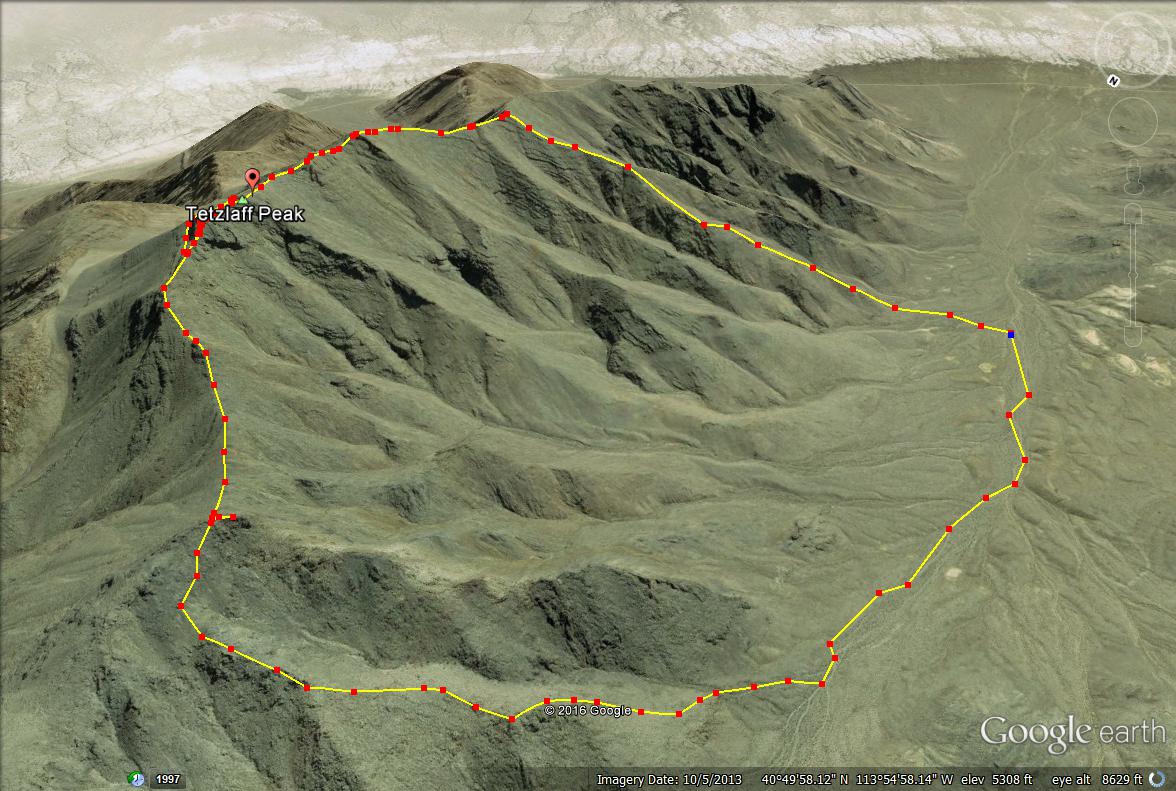 Our route looking East. A nice, big loop!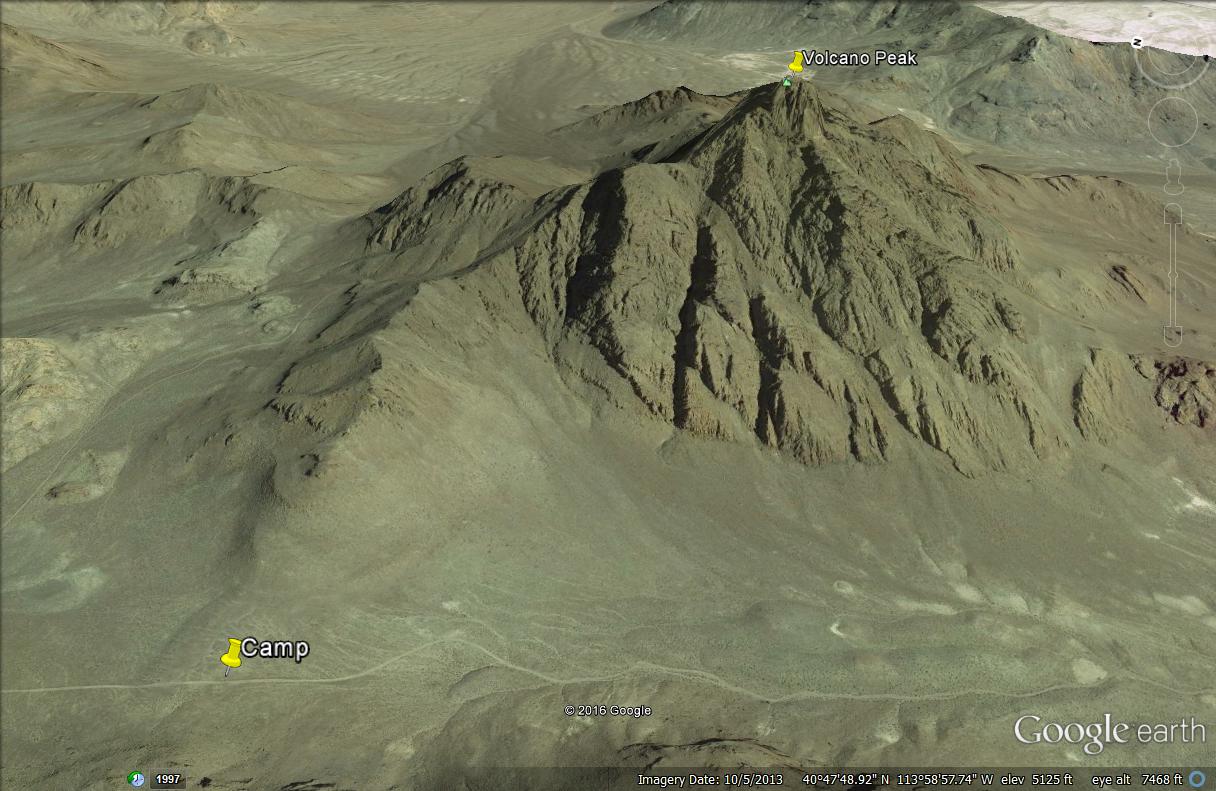 After our hike, we drove over to Volcano Peak Pass and set up camp. The group wanted to hike Volano Peak, but since I had Charlie we hung out at camp and took our own little hike to the small ridge to the South.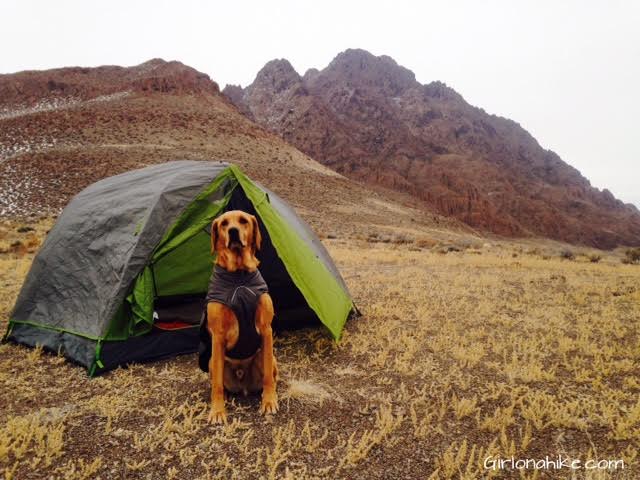 Charlie is ready to camp! He's wearing his Ruffwear Quinzee puffy coat to keep warm. Dogs get cold too after a long hike! This coat is weather-resistant with synthetic insulation which provides warmth in extreme cold or inclement weather. I don't put this one when he hikes, only afterwards to help him warm up or when we camp to keep warm at night.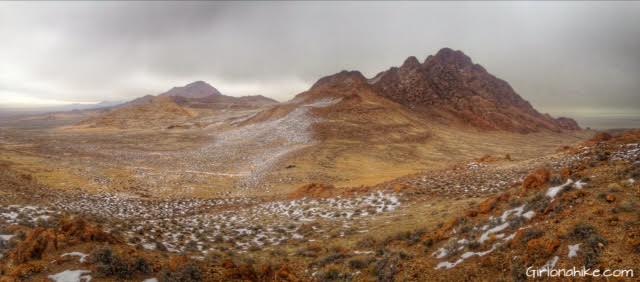 This is the ridge that Charlie and I hiked to, while the others summited Volcano Peak. Can you see the black dot in the pass? That's our car and camp site.
Camping is free on BLM Land, and you can literally pick any spot and pitch a tent. There is no shade nor water in this area, so you must bring your own drinking water. Everything you bring must be packed out. There are no restrooms so bring a trash bag to carry out TP or burn it.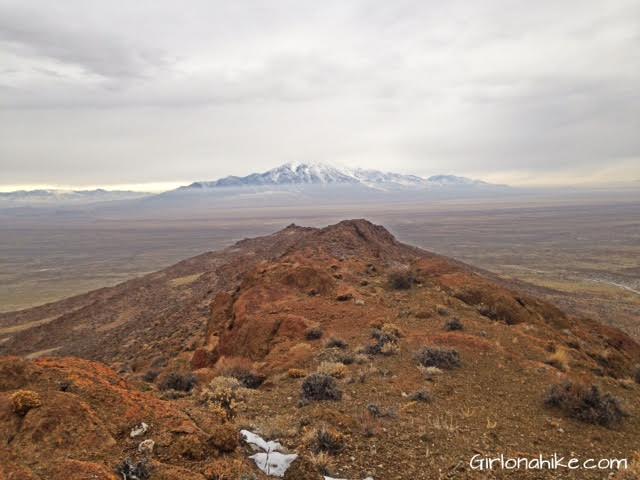 On the ridge looking out to Pilot Peak, our goal for the next day…see my next post tomorrow for what ended up happening!