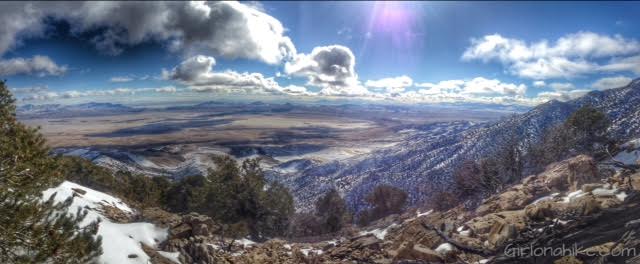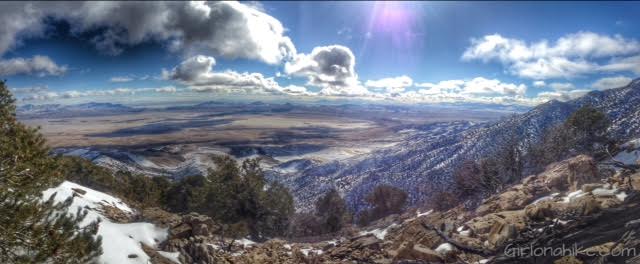 I debated on creating a post for our attempt to Pilot Peak (10,720 ft), mainly because we didn't actually summit. I realized that not every summit will be successful or the most enjoyable, but at least I can share my experience with everyone, and I hope that this can help somewhat guide you and not make the same mistakes we did.
About
Pilot Peak is the high point for the Pilot Range, and is about an hour drive NW of Wendover, UT, but is technically on the Nevada side. It is the 4th most prominent peak in Nevada. In 1846 the Donner Party used Pilot Peak as a landmark for crossing the Salt Lake and desert, which is also apart of the Hastings Cutoff emigrant route. Running out of water, they had to abandon their wagons in order to reach the springs (now called Donner Springs) at the base of the peak. Eventually, they recovered their wagons and stock animals, and continued on the California Trail to the Sierra Nevada mountains.
Because Pilot Peak is in the middle of nowhere and a long drive (3 hours from SLC), you will probably not see people in this area. Be prepared to haul at least 3 liters of water (or more) for this area, as there is very exposed. There are several, large boulder fields to work up. Our group thought that doing this in Winter would be easier, thinking we could just use our microspikes to walk across the top layer, with out post holing. We ended up being very wrong!
Directions
From SLC head west on I-80 to Wendover. Take exit 4. This is your last stop to fill up on gas, water, and snacks. From the exit re-set your odometer. At 1.5 miles (the first road split) head left (NW). At 4.6 miles you will see the big white building. Turn left, just before this building, continuing on the paved road. At 7.8 miles you will cross the first cattle guard and the paved road turns into a dirt road. At 17 miles, you will see the 2nd cattle guard, and a road turning left right before it. Turn here. At 20 miles, turn Right, heading up the small hill, which will then wrap around heading West again. Drive up as far as you can into Miner's Canyon. We could only drive one more mile before we had to turn around because of snow. You MUST have a 4×4 vehicle to drive up the jeep road.
Here are two driving maps: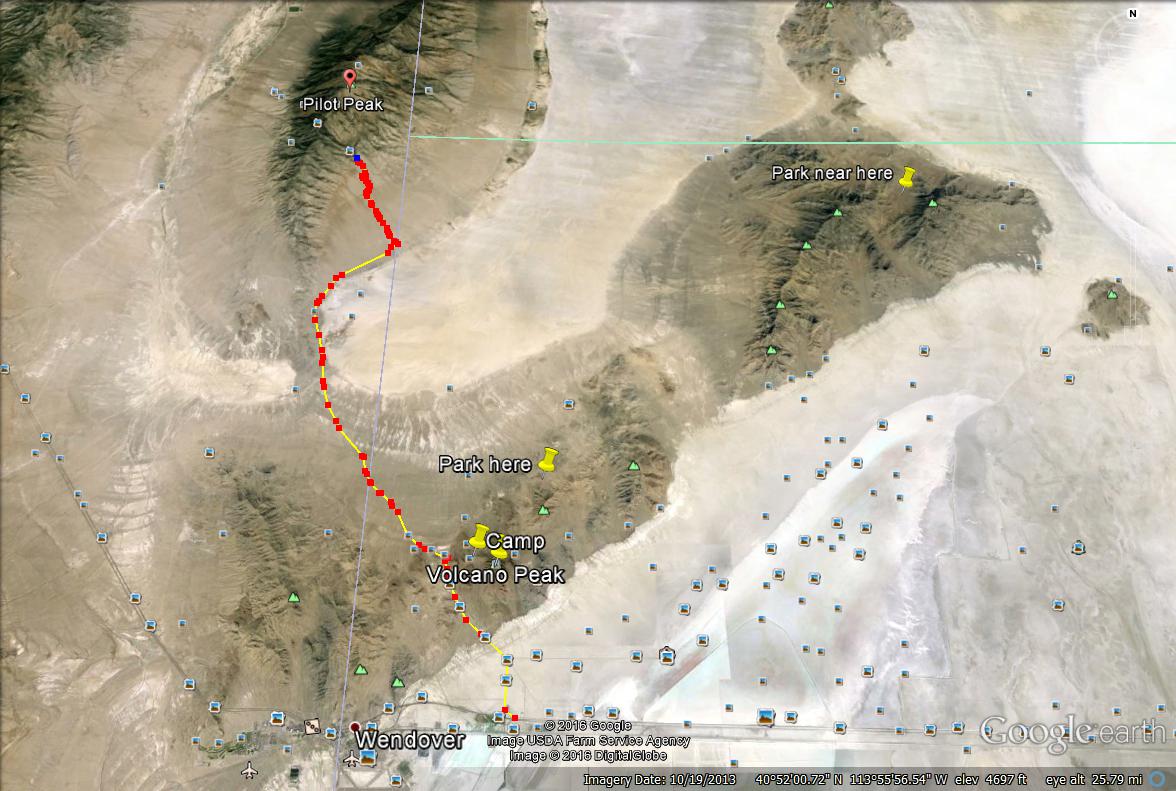 Driving map looking North.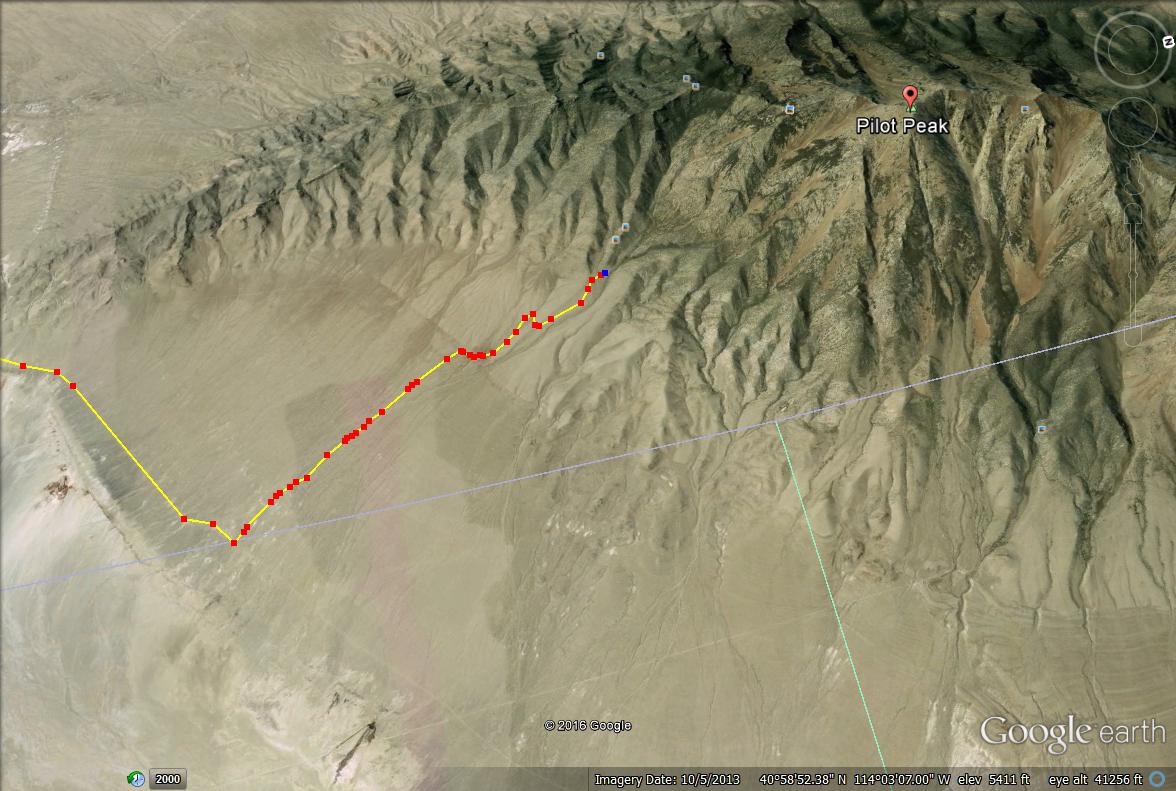 The driving map looking West.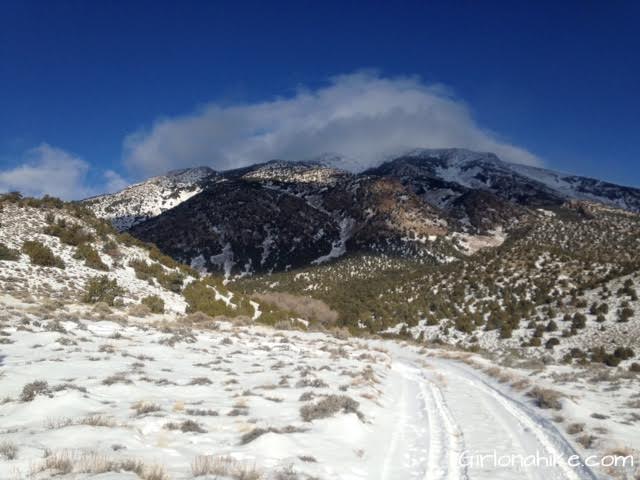 All morning we could see that Pilot Peak was covered by this could. Some of the clouds blew off the ridge, showing blue skies, so we figured that after hiking for an hour or so the top clouds would also blow off. This never happened. We also couldn't drive up as far as we wanted to up Miner's Canyon, adding an additional mile of hiking. As you can see in this photo, the snow was already deeper than we thought from a distance.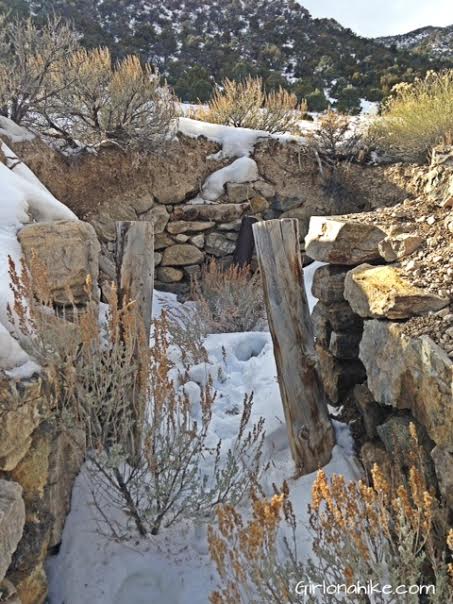 After hiking for about 15 minutes we hiked passed Miner's Spring, where an old structure and wood piping still exists. It's all broken down now, but it was cool to see that this is where someone once lived, as shown by the wood stove chimney by the back of this wall.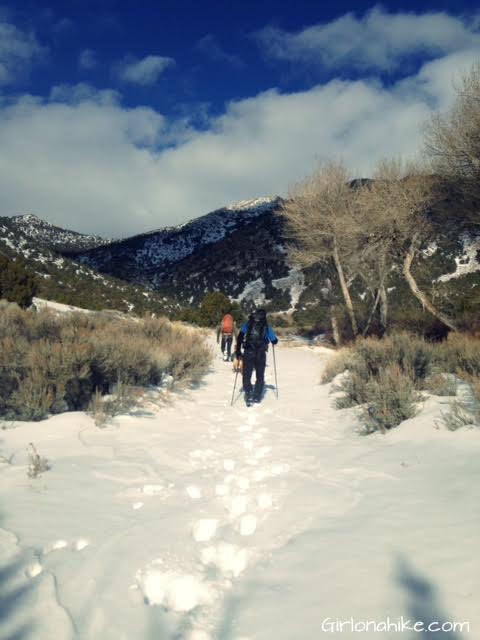 We tried to hike in a line so we could follow each others foot prints, since the snow at this point was already a good 4 inches.
 At some point along the old road, we cut up to the first boulder field to our right. Our thought was to try and get out of that dang snow! You can see that as soon as you leave the road, the route was VERY steep.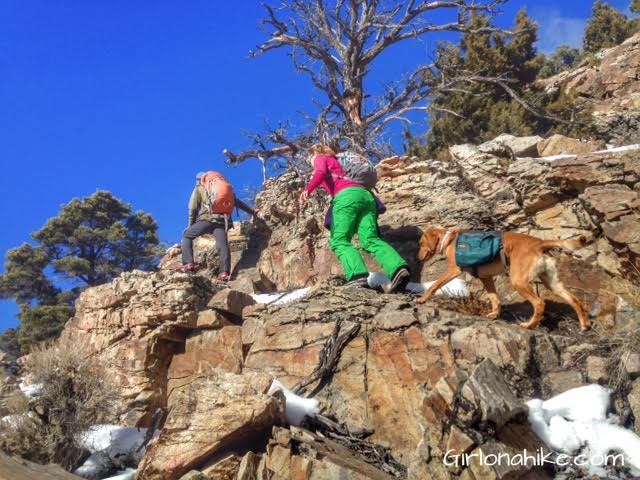 Many times we hiked along small ledges, holding onto trees to help get up.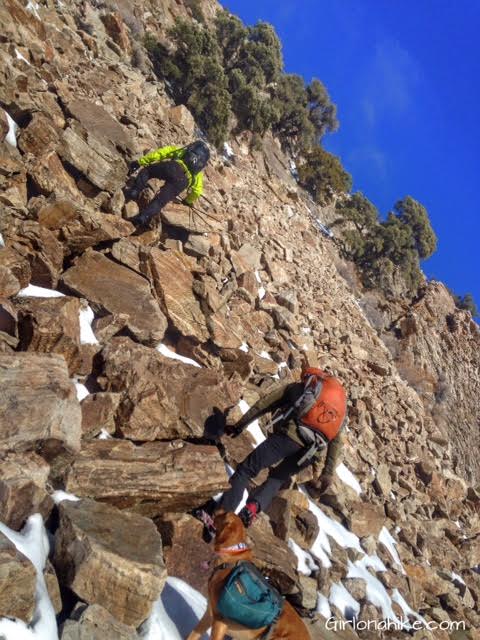 The boulder fields got even steeper. Yes, I tilted my camera a little bit, but not much. It really was that STEEP! Climbing up this loose steep rock with unsteady boulders made for a hiking challenge.
One of the biggest mistakes I think we made was starting to hike at 10:30am. After one asthma attack and a little crying, several rest breaks, soaking hiking boots, falling through snow and rock, we got to a small ridge after about 2-3 hours. Keep in mind that by this point, we had only hiked 1.5 miles!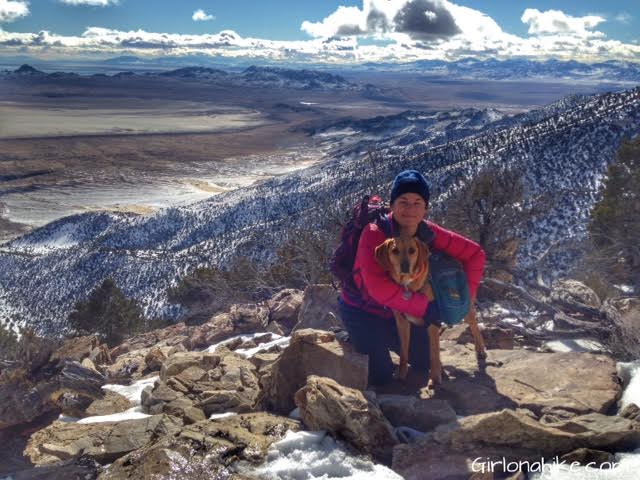 The clouds that loomed above Pilot Peak were still there, and we knew that timing wise and how far we still had to go we wouldn't make it. Looking at the topo map, we could see that we still had another 3,000 ft to gain! For me, there was no way. Plus I didn't want to keep hiking in wet socks, and Charlie was done too. Three of us decided to turn around and head back to the car, and one decided to try and push further. After he got back to the car he told us he hit waist deep snow, and turned around after another hour of pushing ahead.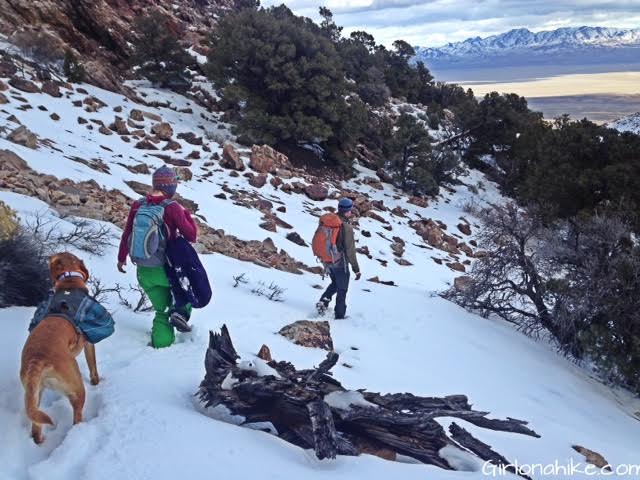 Working our way down was much easier of course, but we still had to take caution with the snowy boulder fields. Cutting through this can be very dangerous because you never know when you'll post hole, and possibly twist an ankle or hurt your shins.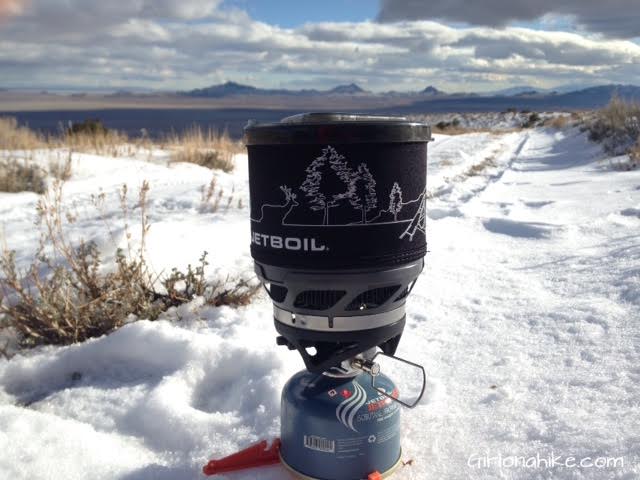 After another 1.5 hours of hiking downhill, we finally reached the jeep. My first goal was to warm up by making hot chocolate for all of us in my new MiniMo JetBoil.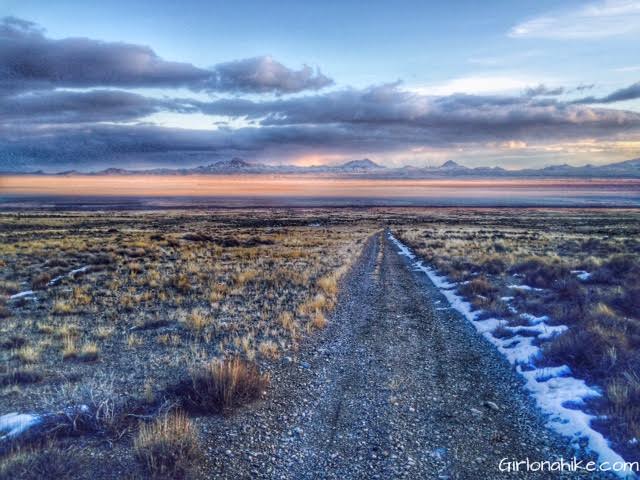 The drive out, looking across to the Silver Island Mountains with Tetzlaff Peak (left peak), Rishel Peak (middle peak, above the end of the road), and Volanco Peak (far right peak) in the distance.
My Track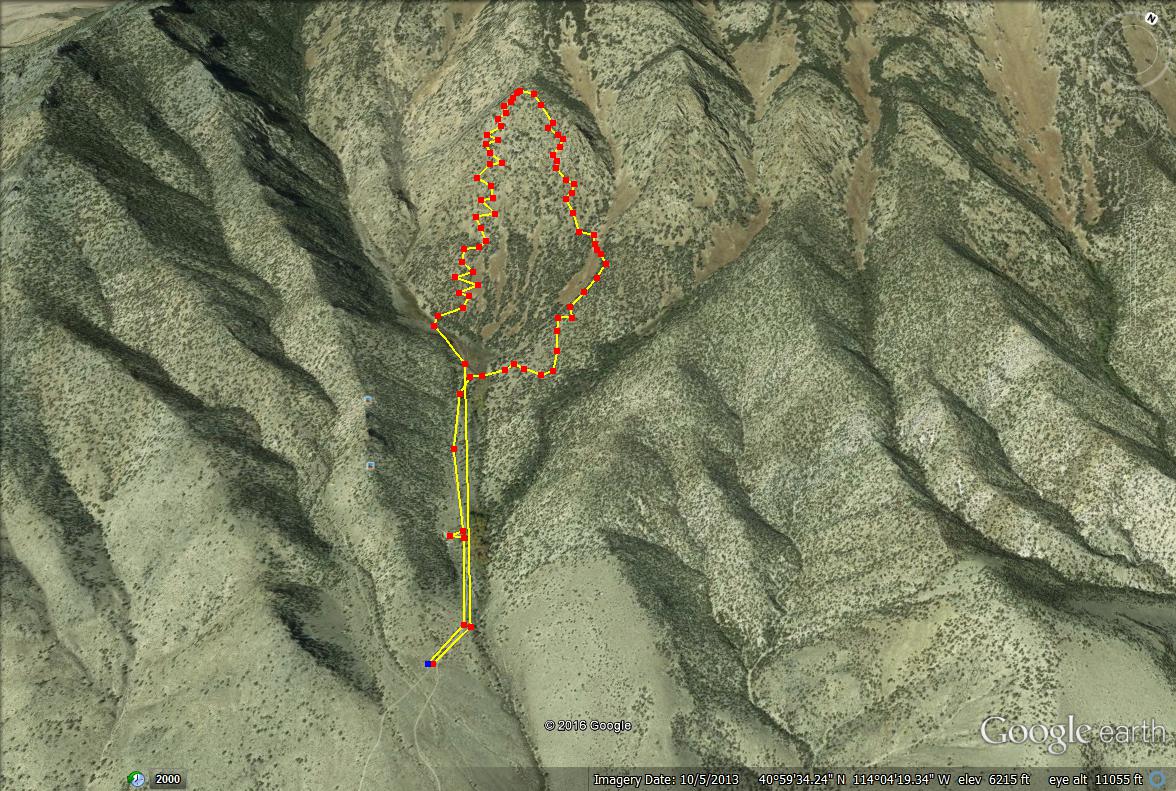 Here is a close up of our route.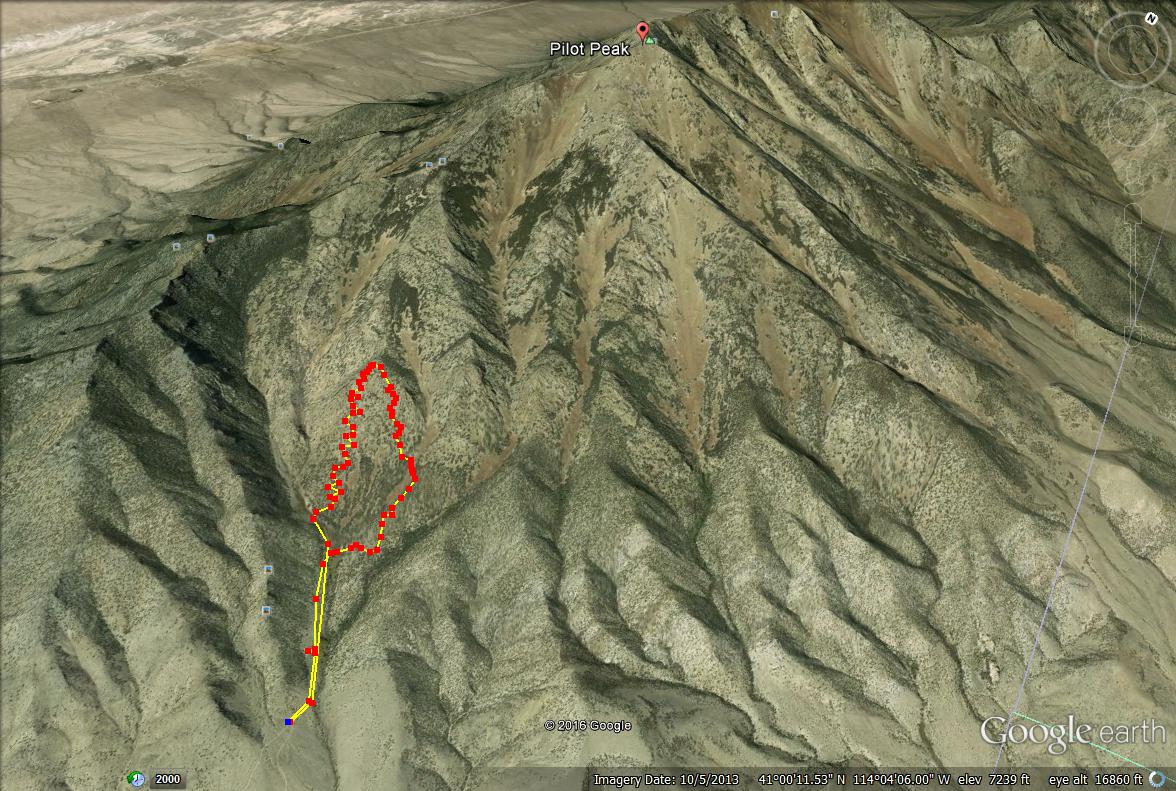 Here is an overview of what we did in comparison to how much further we had to hike. I'm still in shock about how long it took us just to achieve getting to our turnaround.
Here's what I learned from attempting Pilot Peak:
Don't try summiting in Winter
Don't take a dog
Bring PLENTY of water
Carry an extra pair of socks
Drive up as far as you can on the jeep road, then aim for the ridge, not the boulder fields.
Start hiking EARLY
Plan on a full day
This is a VERY challenging hike, and should only be attempted by those with a strong hiking background.