Spotted Wolf Canyon is located off I-70 at the Northern end of the San Rafael Swell, which makes up about 1/4 of Utah. "The Swell" as us Utahns call it, is what most people think of when they think of Utah. The arid area, with little vegetation is often very scenic, with mesas, cliffs, buttes, springs, and many canyons; these are sometimes wide or can be very narrow such as Little Wild Horse Canyon. Most of the swell is owned by the BLM and encompasses 2,000 square miles! This is great for 3 main reasons in my opinion: 1) the land is protected and will not be built on 2) dogs are allowed off leash 3) you can camp almost anywhere, for free!
About
I-70 cuts through the middle of the Swell, separating it into Northern & Southern sections. Most roads are passable in good conditions in a small car, however, to get to the really cool areas that most people don't often travel to require a 4X4 car or an ATV. These roads are leftovers from the mining days in the 1800s.
This is rugged country with few facilities in the interior of the Swell. Be sure to bring plenty of water for you and if you bring dogs. You should have a map (as there is no cell service to check your maps app), and you'll want to fill up on gas in the towns such as Price, Green River, Castle Dale, or Hanksville, UT. Keep in mind that this area is prone to flash floods, especially in slot canyons and washes. Don't park in a wash, and always check the weather before you head out.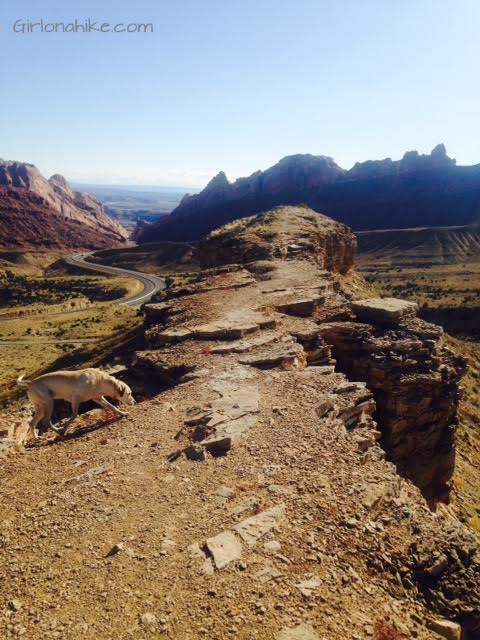 Walking out to the overlook. The trail is very narrow, with sheer drops off on both sides. Watch where you step.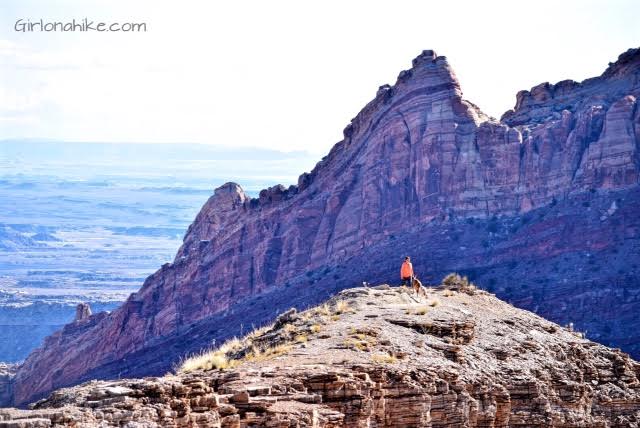 The Spotted Wolf Overlook does have restrooms. There are a few other trails in this area, but we just wanted to get the dogs out for a quick walk and to enjoy our surroundings. See next post for our destination, Goblin Valley State Park & Little Wild Horse slot canyon.