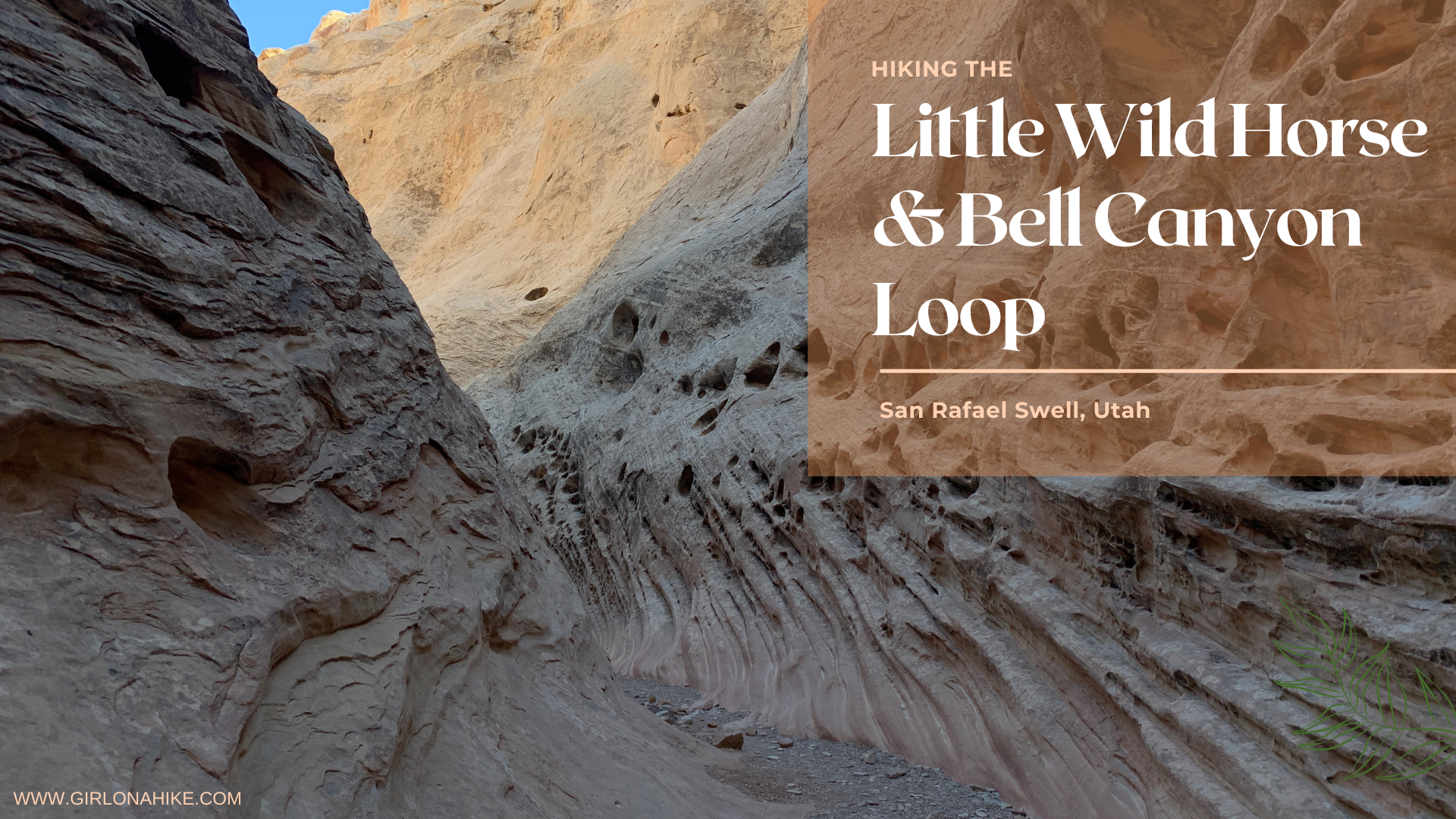 Hiking the Little Wild Horse & Bell Canyon Loop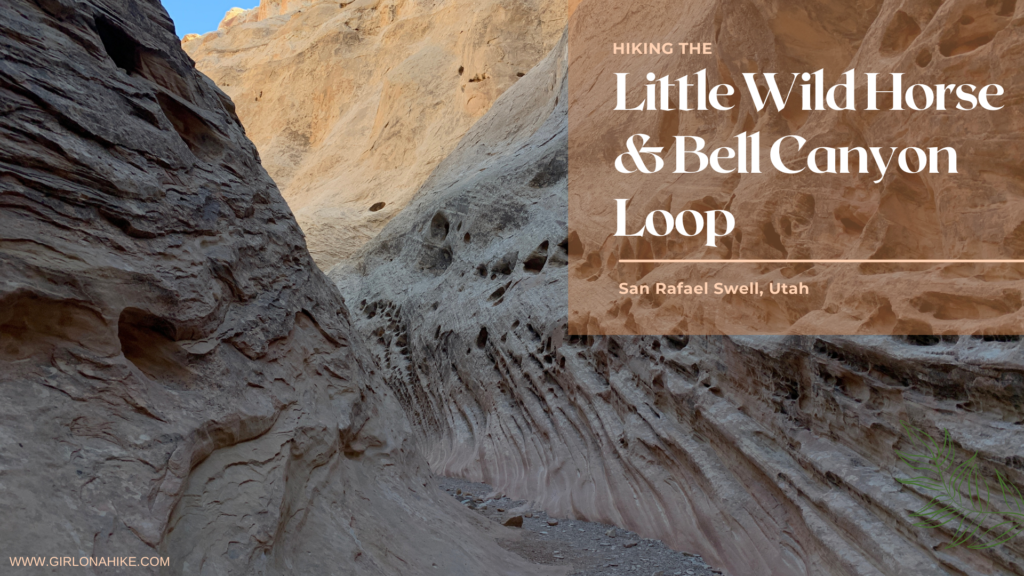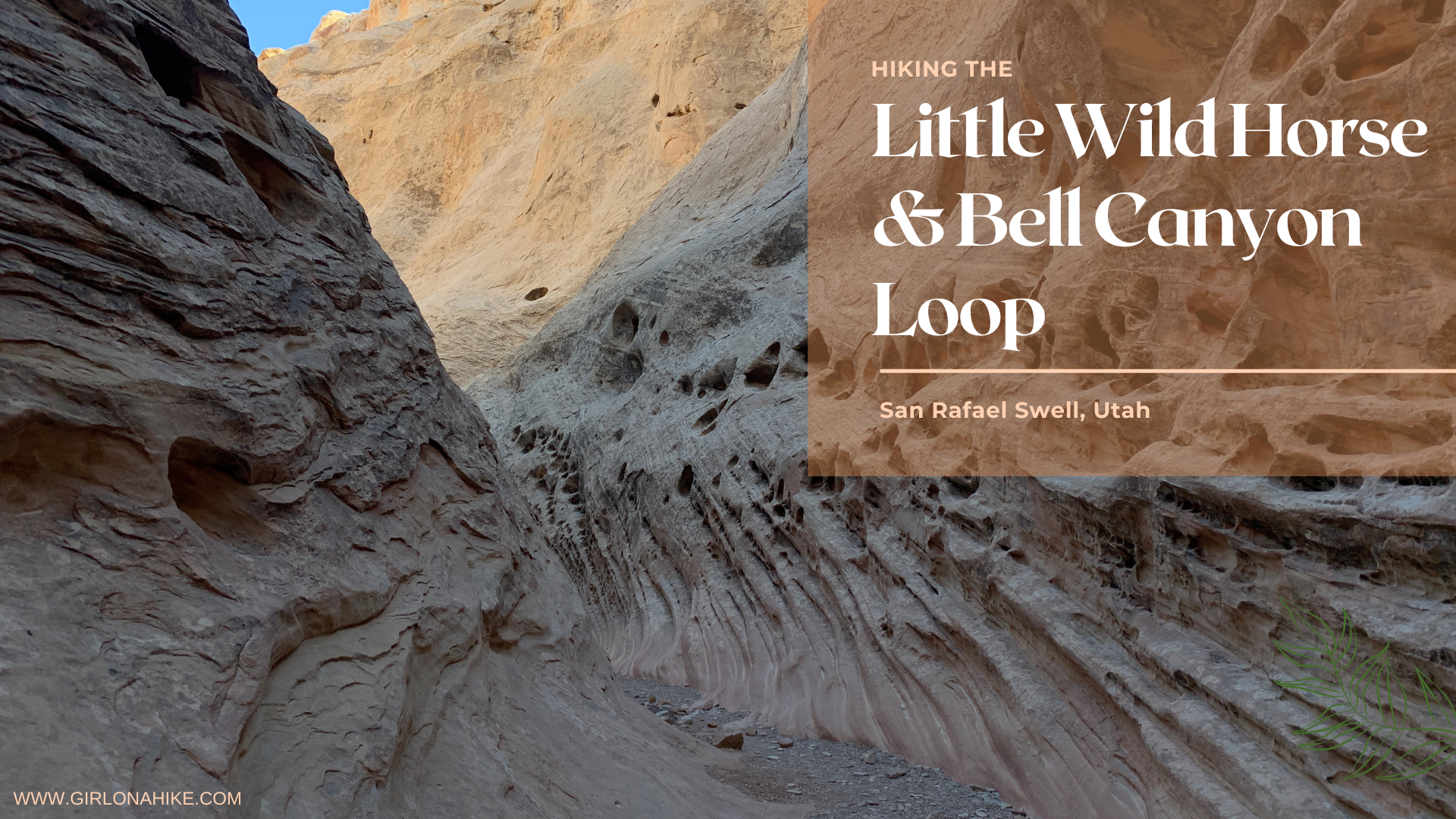 Hiking the Little Wild Horse & Bell Canyon Loop is easy to navigate, the trail is well marked, it's usually free of standing water, the canyon walls are just wide enough for you to fit through, you can drive to the trail head in a small, compact car (most slot canyon entrances require a 4X4 car to get to the TH), you can hike this within a few hours, and it's like a fun maze for kids and dogs.
About
Most people just hike in as far as they want up Little Wild Horse, then return they way they came. However, you can make this hike longer by completing it as a loop with Bell Canyon, which is what we did. There are a few obstacles, but you don't need any special gear. The best time to hike this is in Spring and late Fall when the temperatures stay below 70F for day time highs.
Most people that visit here combine their visit with Goblin Valley State Park, since it is only about 5 miles away. There is plenty of areas to camp for free, since this is on BLM land, or you can make a reservation at the Goblin Valley SP Campground. If you can hike here on a weekday, you will see maybe 2-3 other cars. Come on a weekend though, and everything will be packed.
**Warning: You do not want to enter this canyon if rain is in the forecast. Slot Canyons are prone to flash floods, and can be highly dangerous**
Directions
Head south on I-15 towards Spanish Fork, UT. Take exit 257 towards Price, UT and drive through Spanish Fork Canyon, Price, and Wellington until you reach I-70. Head West on I-70 towards Salina. Drive for 8 miles then take exit 149 for Goblin Valley. Follow the signs for another 36 miles. Just after the Goblin Valley SP sign, turn right onto the next road, with the sign pointing to Little Wild Horse and Muddy Creek. Drive 5.3 miles, and just after the 3rd "dip", the TH will be on your right with a large parking lot and restroom.
Trail Info
Distance: 8.1 miles for the full loop
Elevation gain: 760ft, descent is roughly the same
Time: 4-6 hours
Dog friendly? Yes, off leash
Kid friendly? Yes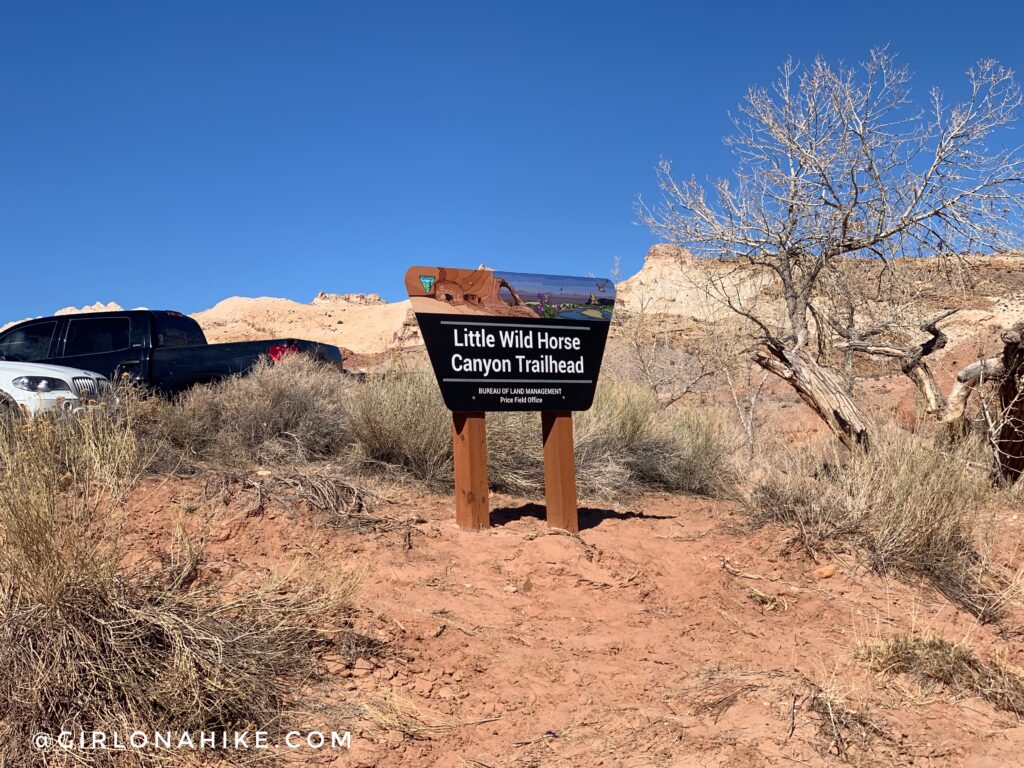 Little Wild Horse trailhead. There is one restroom.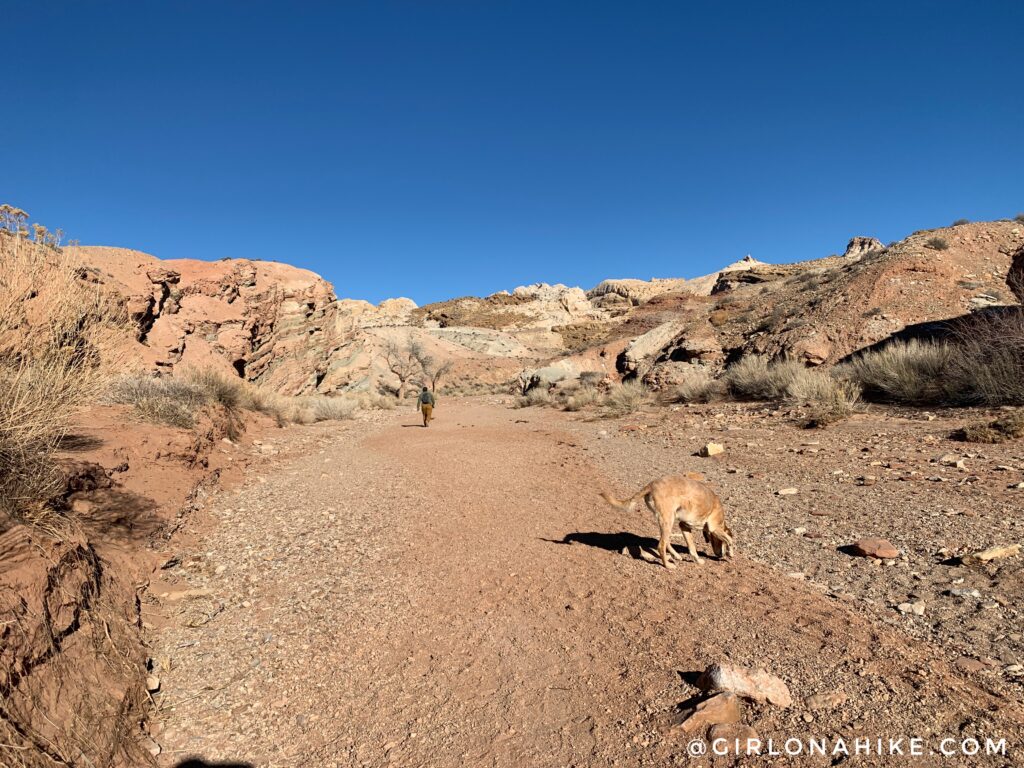 You will immediately drop down to the dry wash.
When you get to this spot, look for the small sign and cairn on your left, and head up the rock. You can also hike through the canyon – either way works.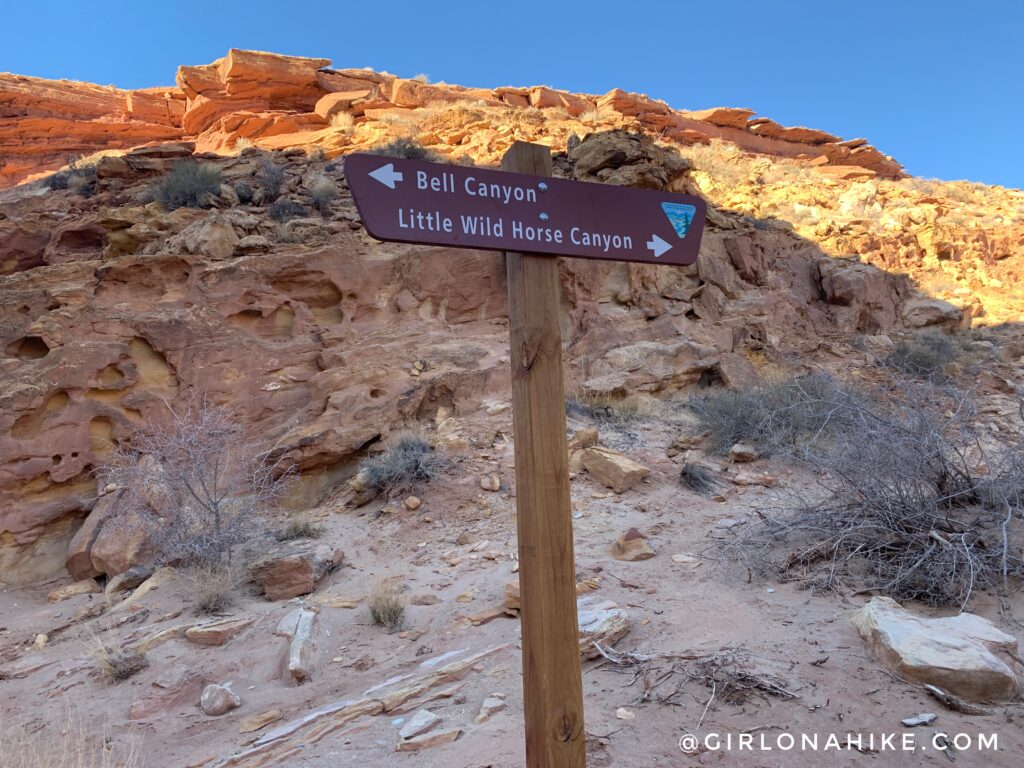 Work your way around the ledge, then drop down. You'll see this sign for Little Wild Horse and Bell Canyon. Go right at the split to do the loop counter-clockwise.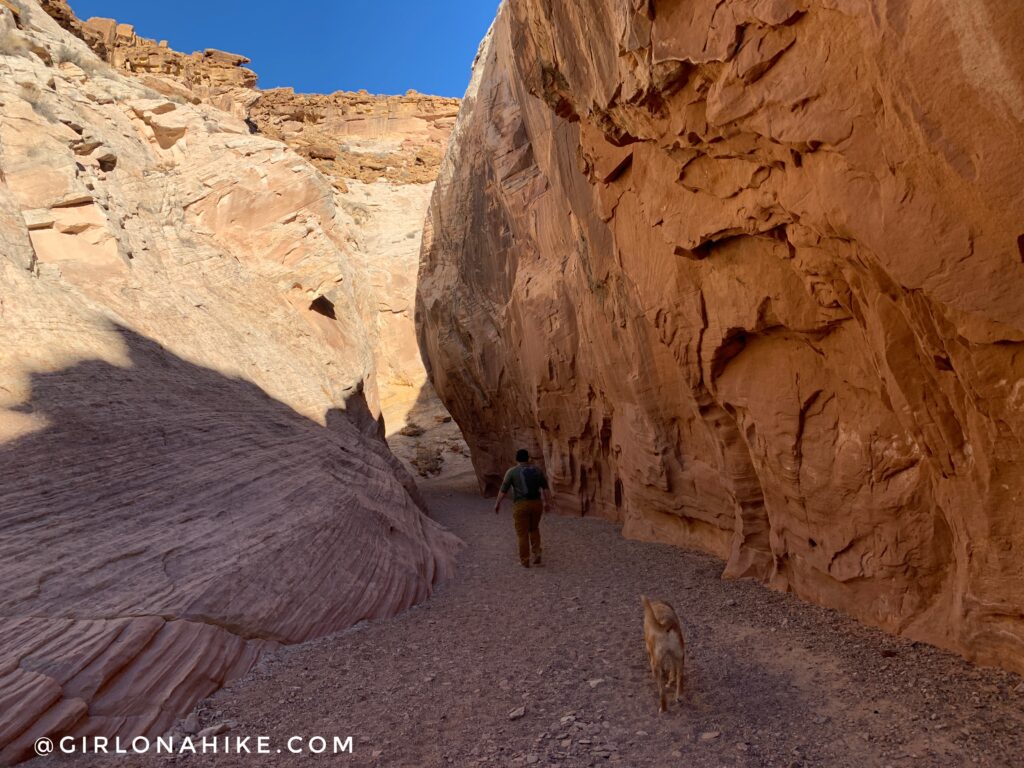 The canyon entrance.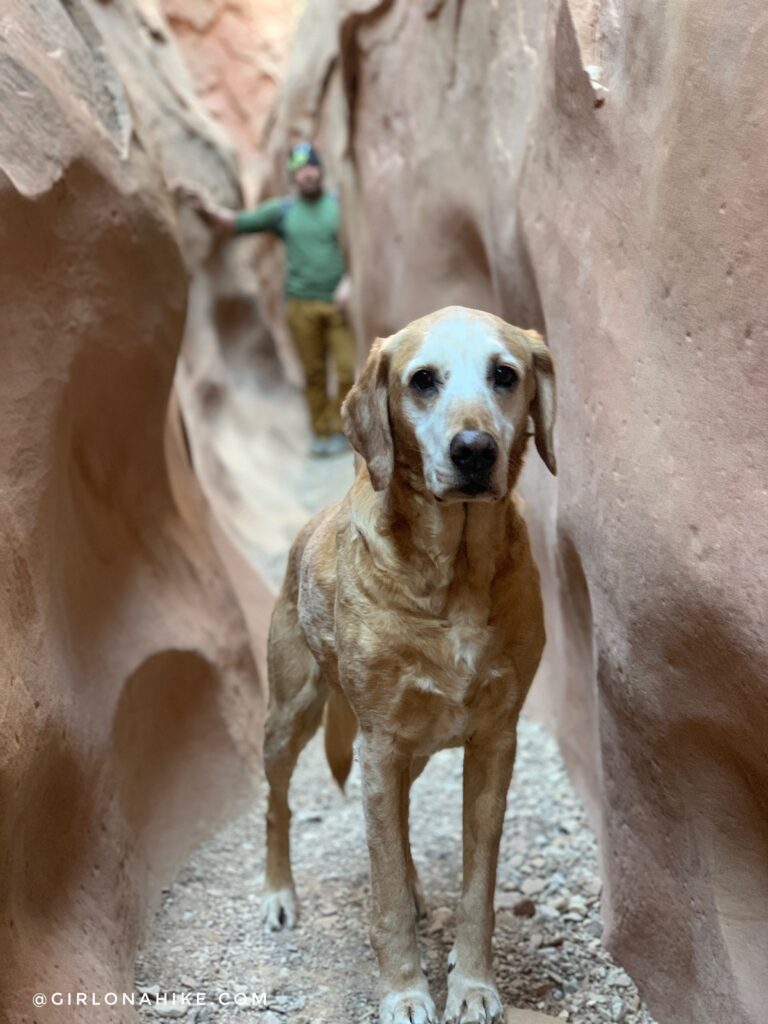 Charlie poses for me in the canyon. Charlie LOVED playing and running in this canyon! I would suggest only bringing dogs that are under 70 lbs., otherwise they won't fit or be able to turn around.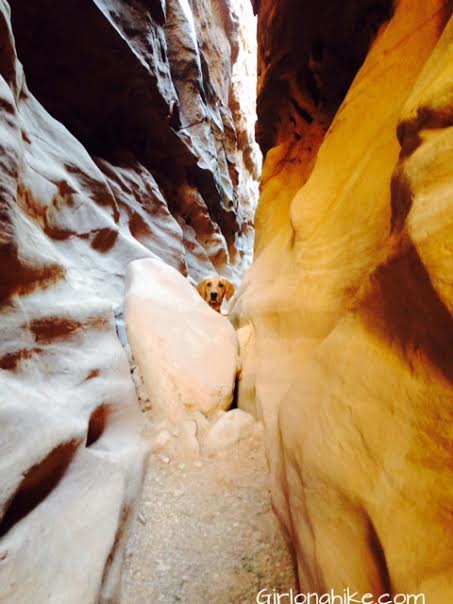 This is my favorite photo from this trip. It's so funny to me how Charlie is poking his head up over this rock. He actually had a little trouble getting over this rock, and needed help. So he sat there and waited for me to come back to him. Notice his face isn't white? This was probably taken in 2014 our first time here – he was just a young pup!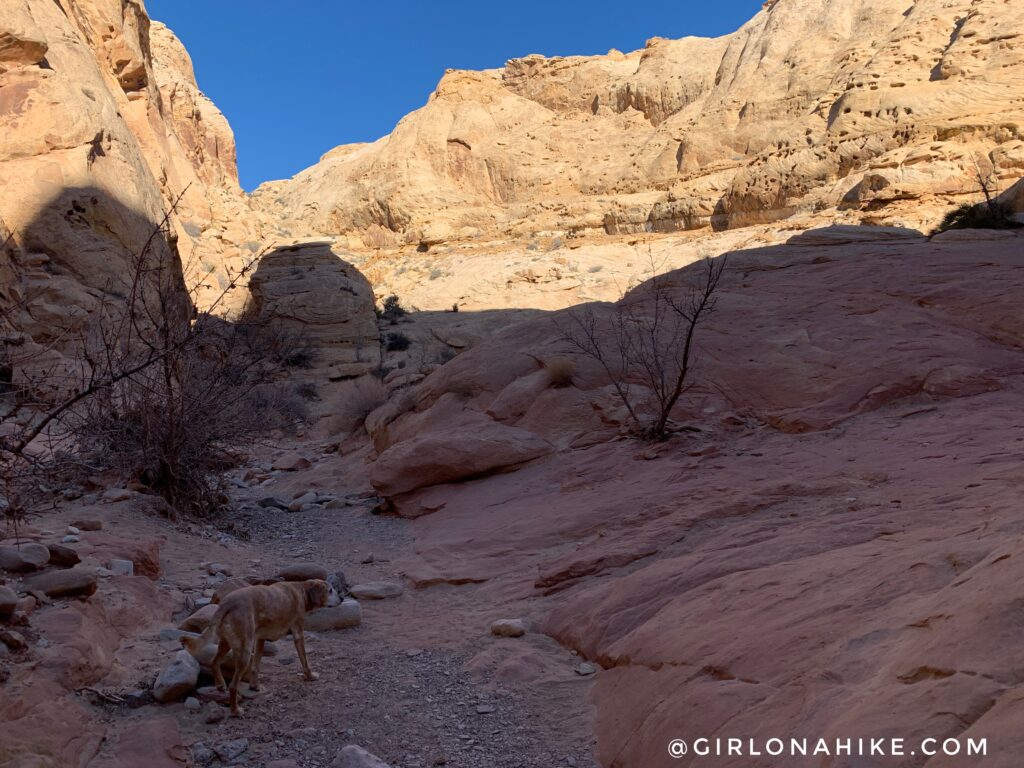 Time to time the canyon opens up more.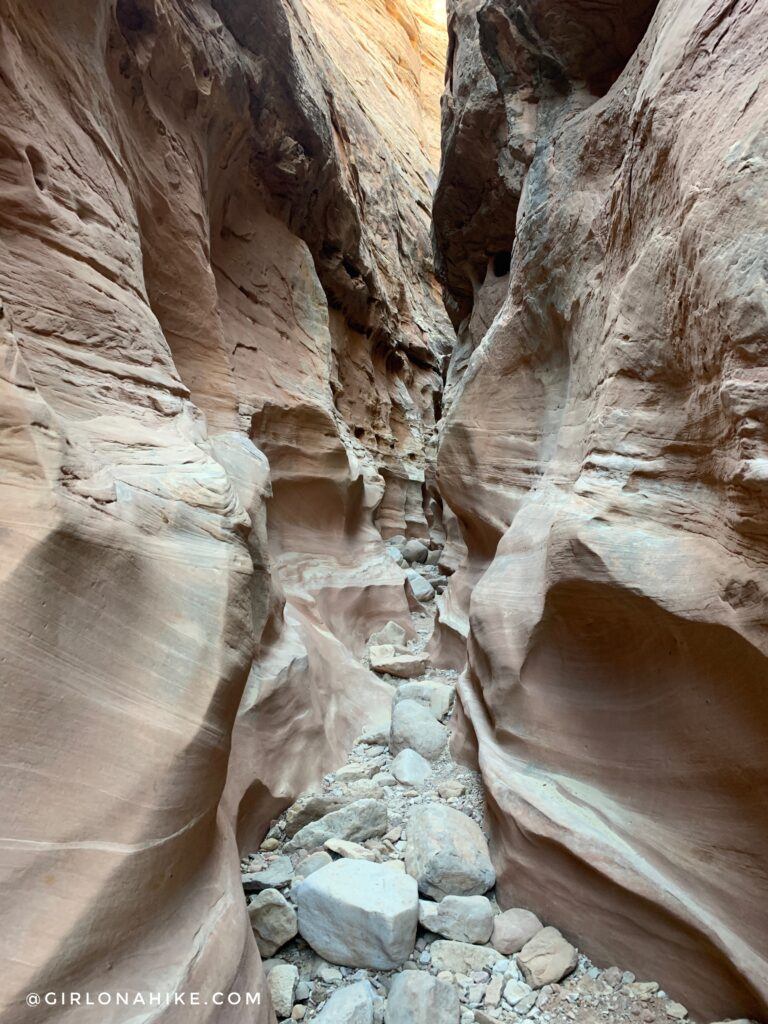 The canyon walls get taller, and even narrower. I suggest not wearing very good clothes in this canyon because they will get scraped up from the walls. Also, don't use a huge pack – a pack of less than 30 liters will fit just fine. Anything over that you'll need to take off, and hand up to someone so you can fit through.
I don't recommend dogs to wear their pack either. The first time I came here in 2014, Charlie had his dog pack on and had trouble getting through the canyon.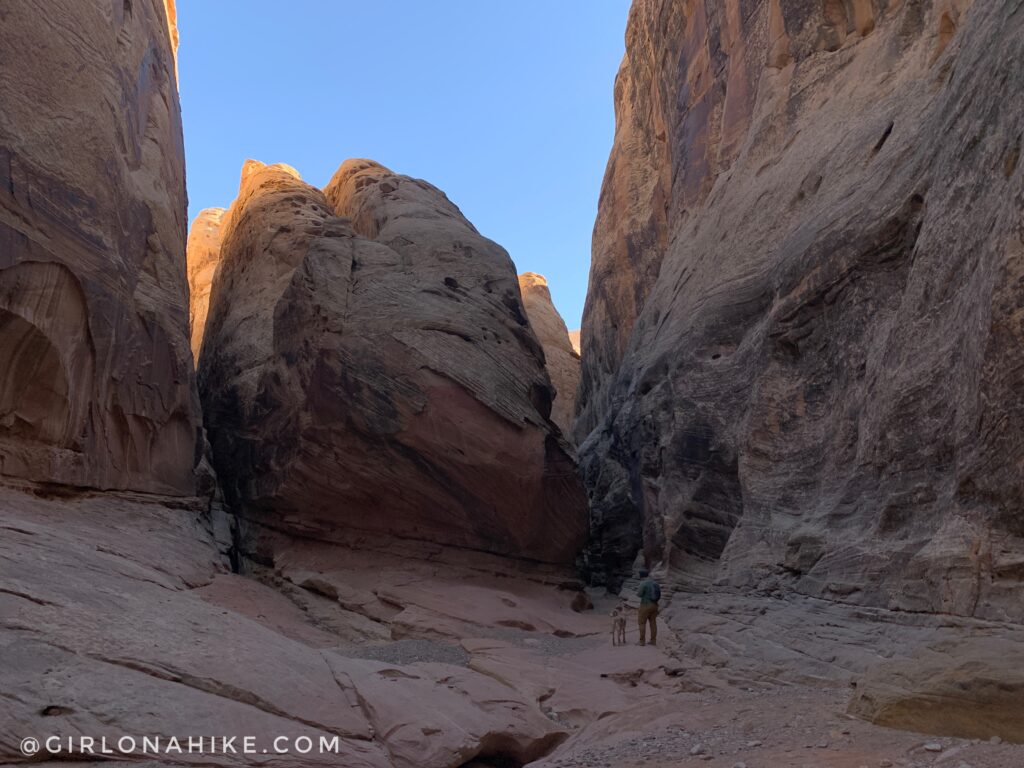 At 1.3 miles there is large opening with a giant boulder. If you are short on time, this is a good turn around point, however, keep going to do the loop.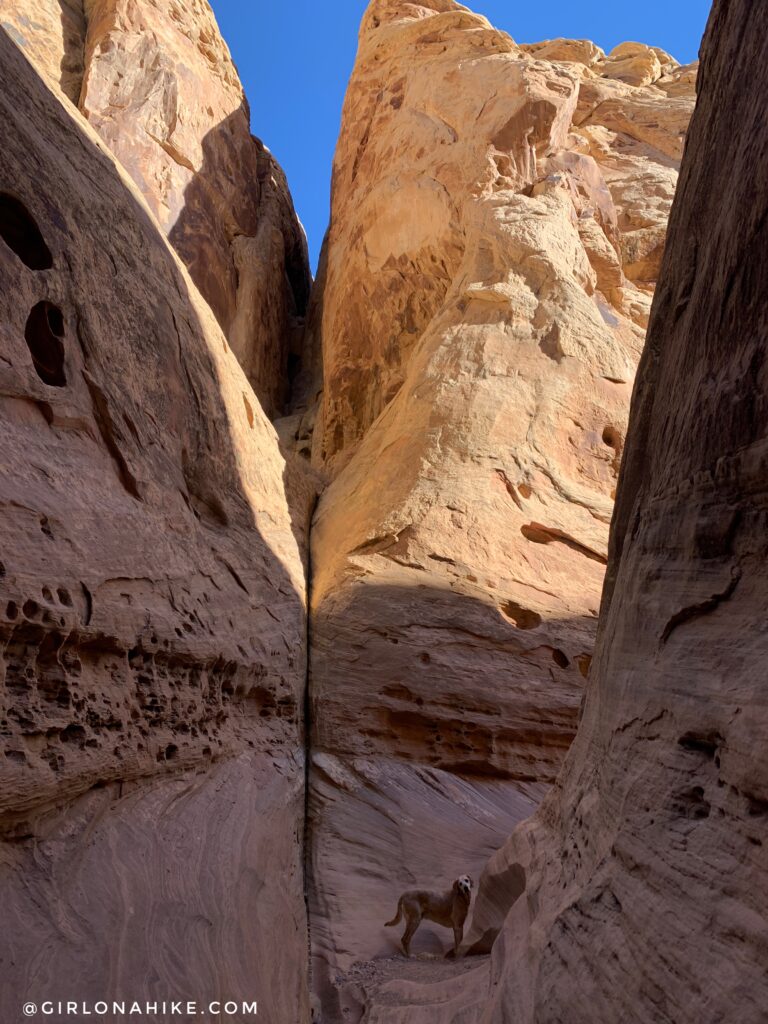 It was cold in the shade! The sunlight only touches the bottom of the canyon for a few minutes or so, and at certain times of year.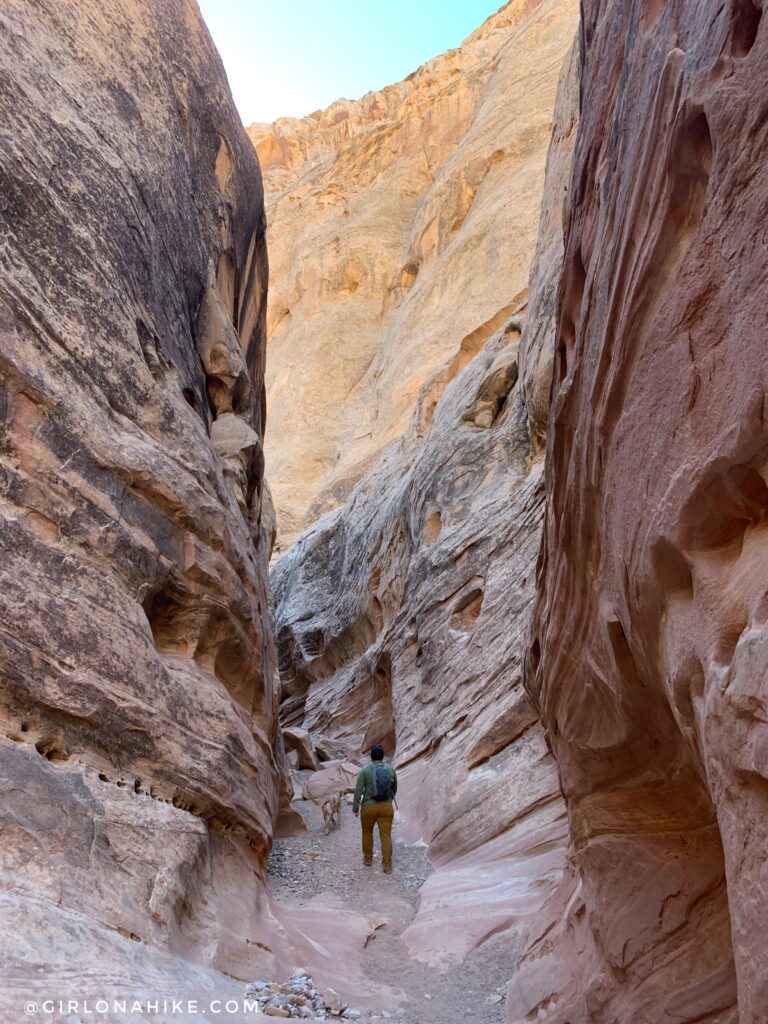 Wow, Little Wild Horse Canyon just keeps getting better!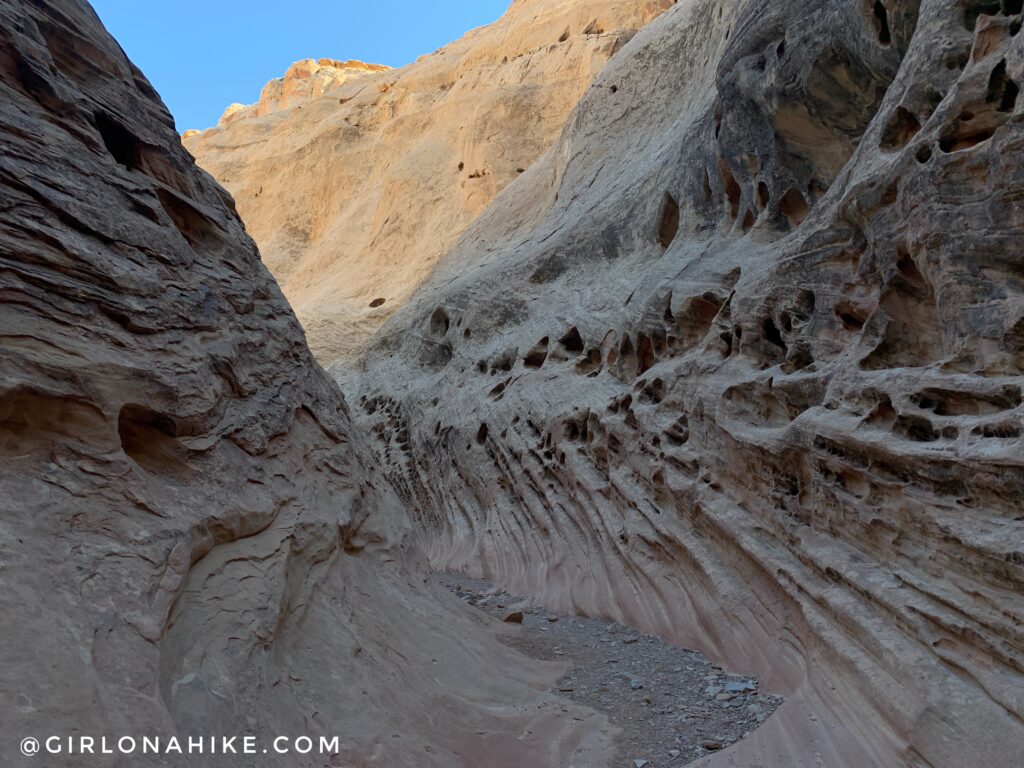 I love the lines and huecos (holes in rock) here.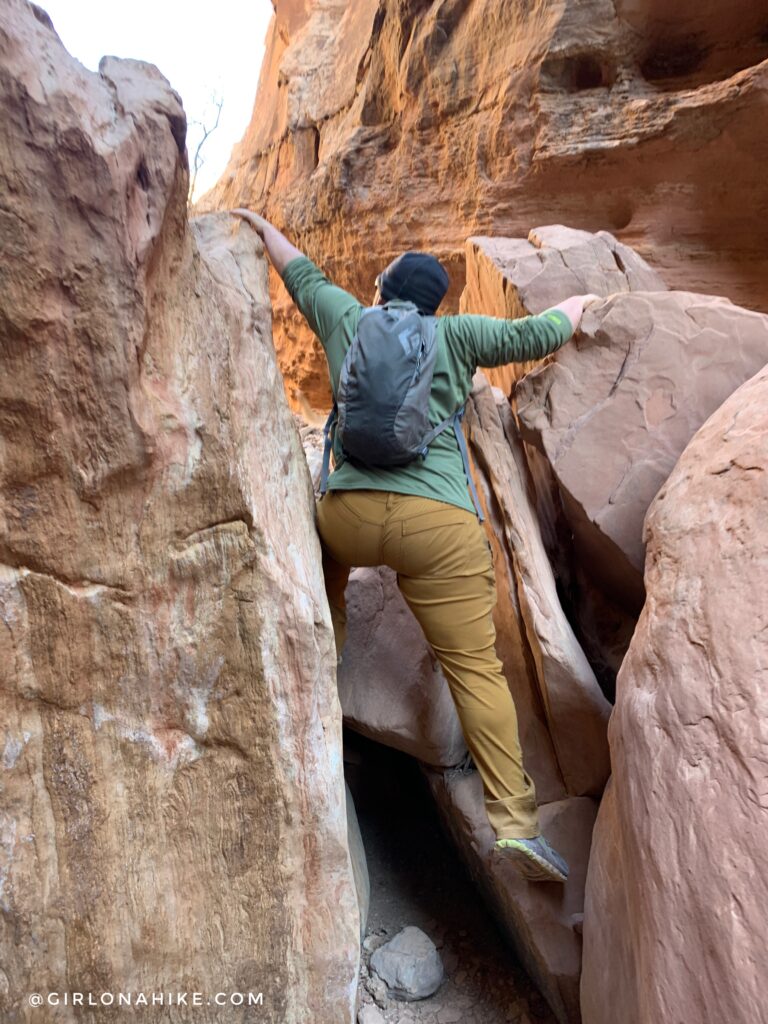 There are several obstacles to climb over, most of them are pretty easy and people won't require help.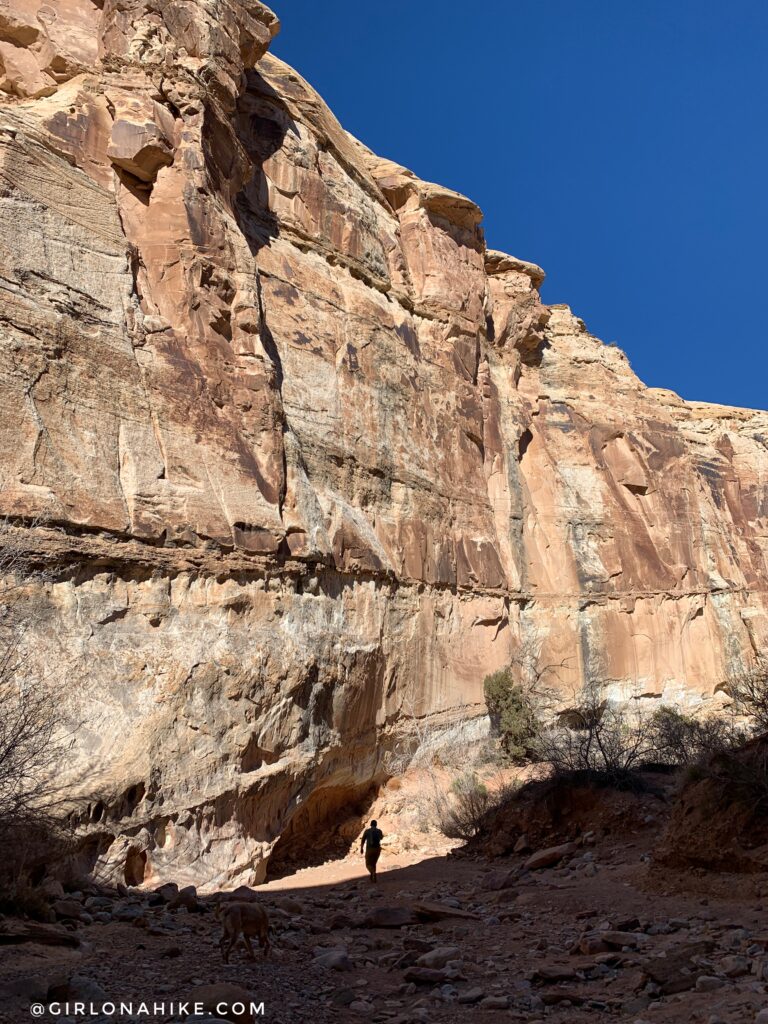 The canyon once again opens again, this time much larger and more open.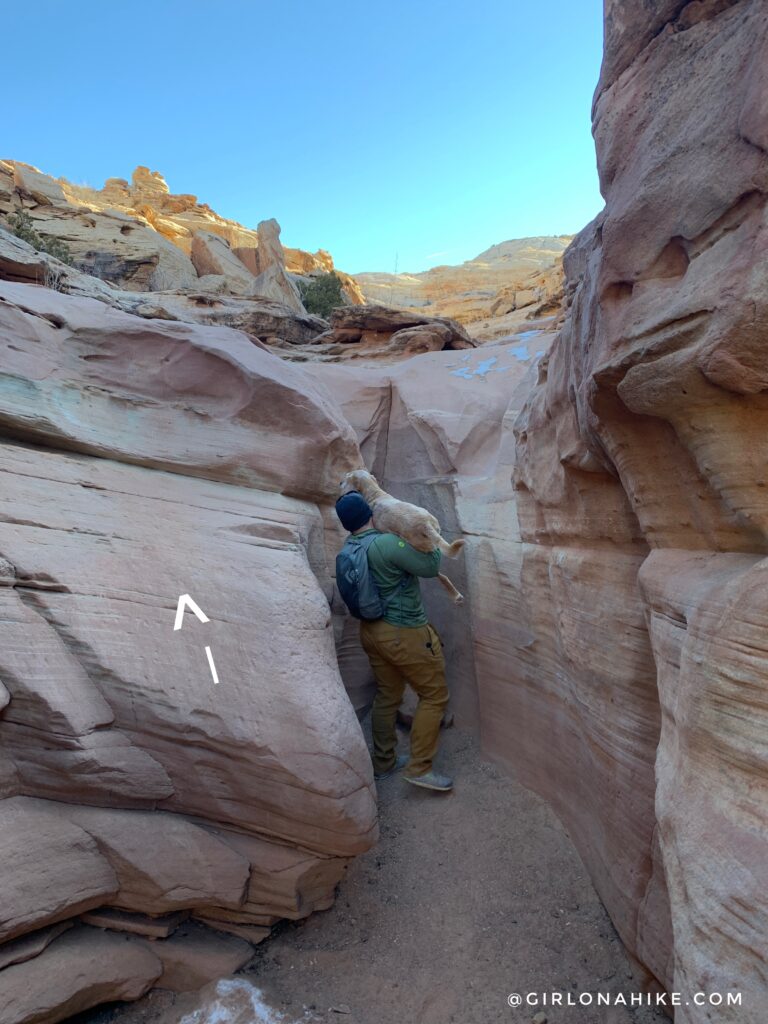 At 2.8 miles we reached the hardest obstacle of the entire loop. Ian thought he could lift Charlie up this, but it was just too tall. Instead, climb up the left side where my arrow is. Dogs will need a boost here.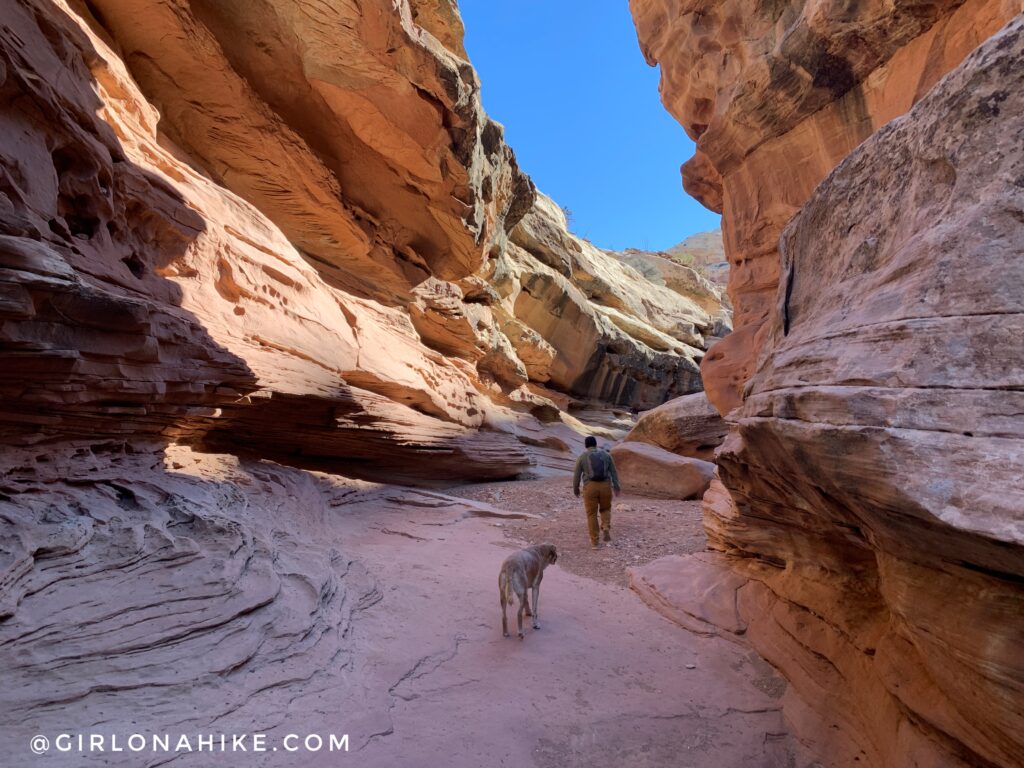 You can see the canyon walls are much shorter now. The trail begins to turn into deeper sand.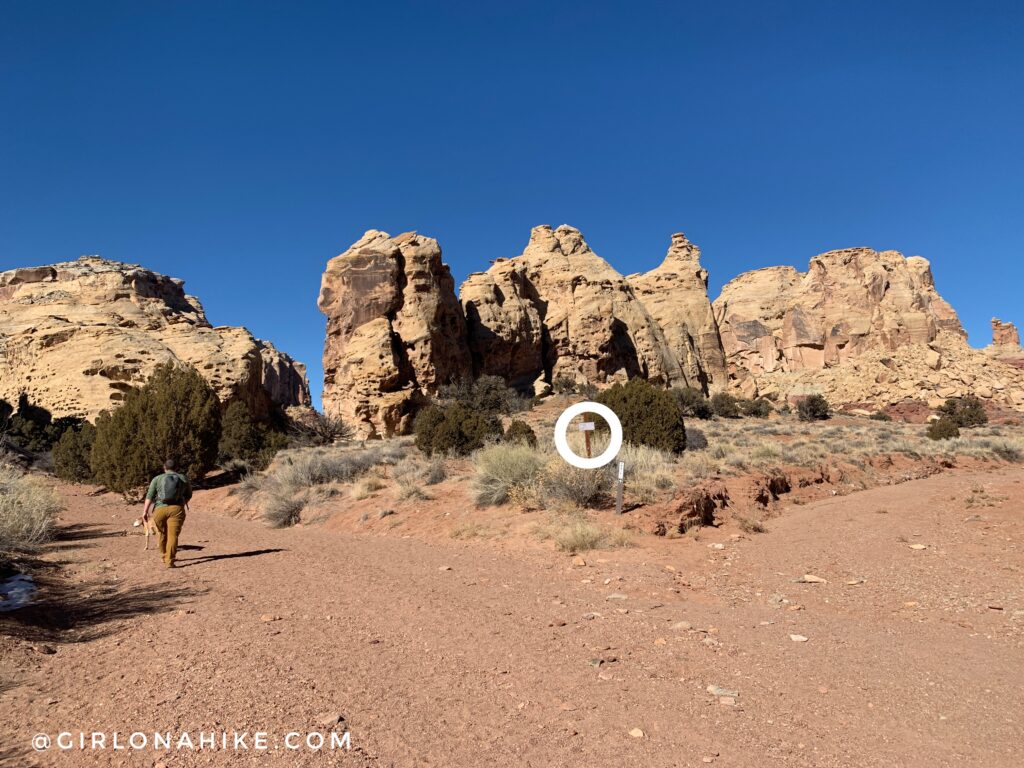 At 3.6 miles turn left at the small sign. Even though we hiked this in February it got really hot the next 2 miles because there was no shade.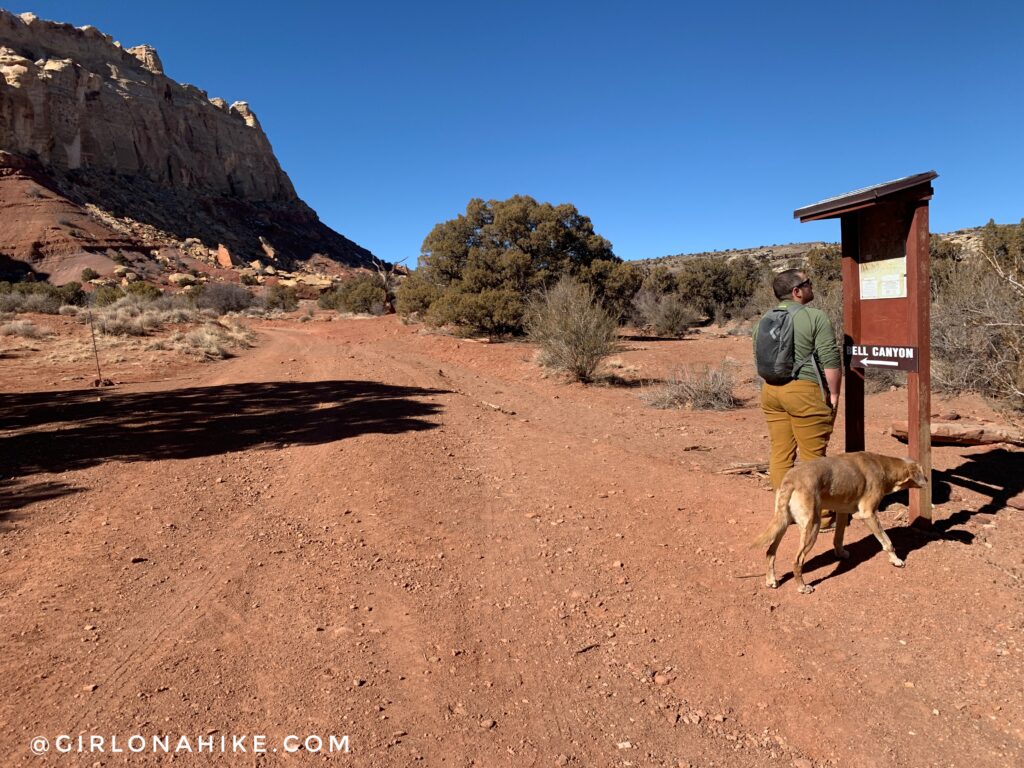 Eventually you will reach the road and a large sign to turn left for Bell Canyon. From here, walk on the road for 1.6 miles until the next sign.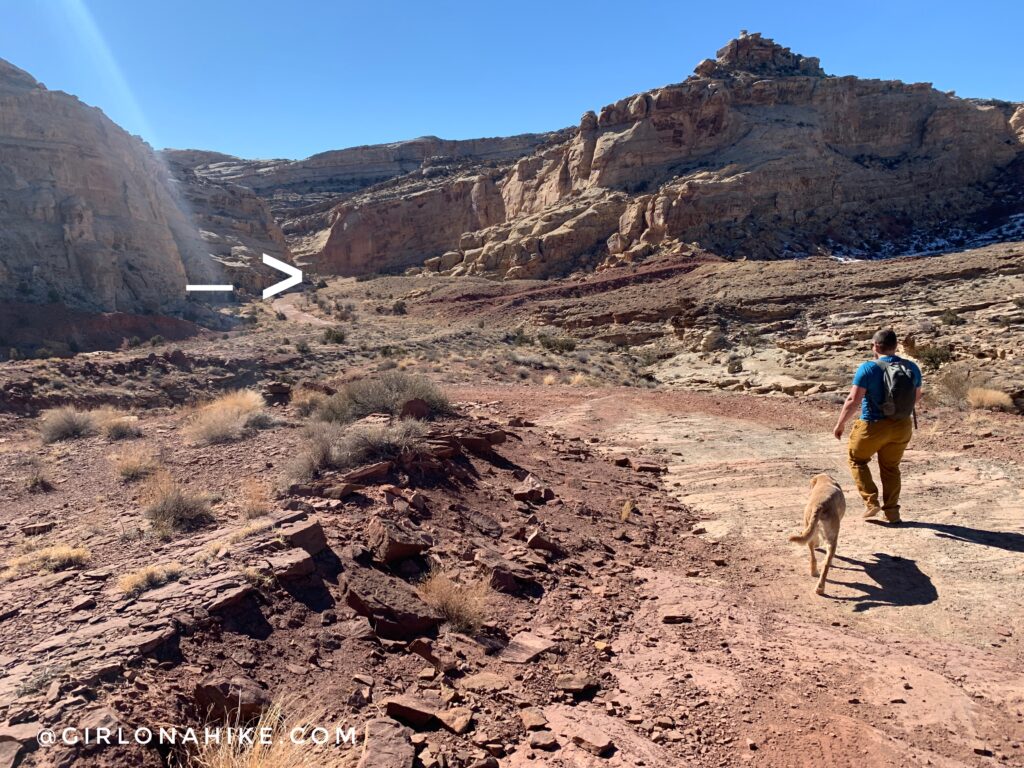 The road turns a corner, and you can now see the Bell Canyon entrance.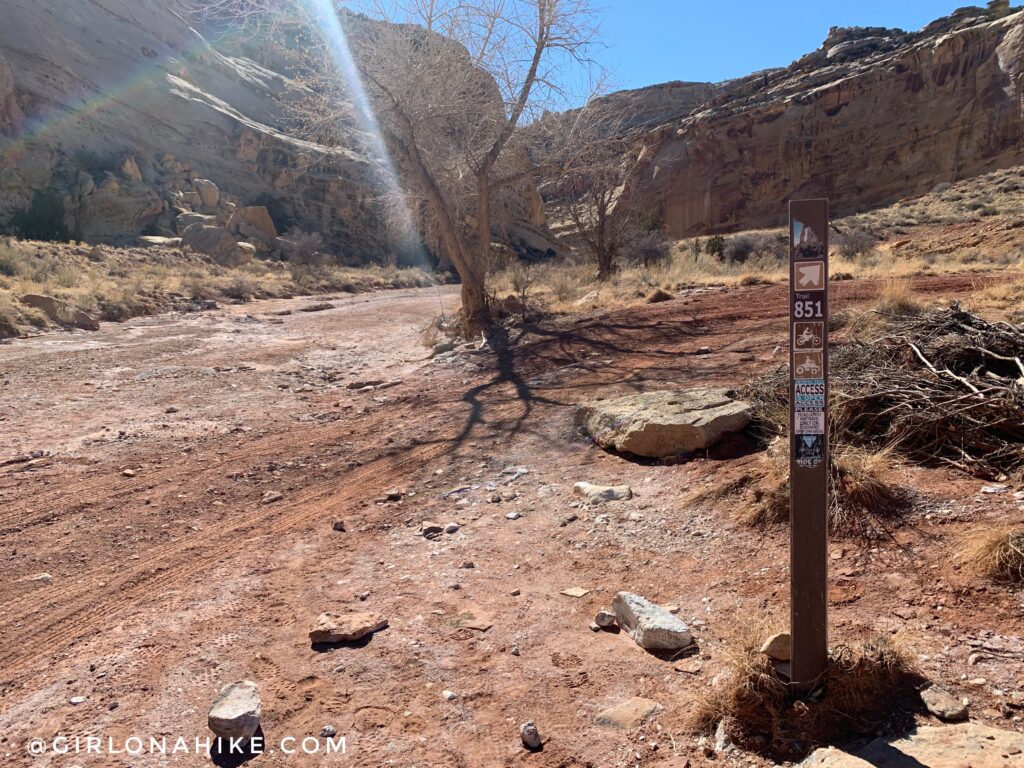 Stay straight at the next sign. Don't keep following the road.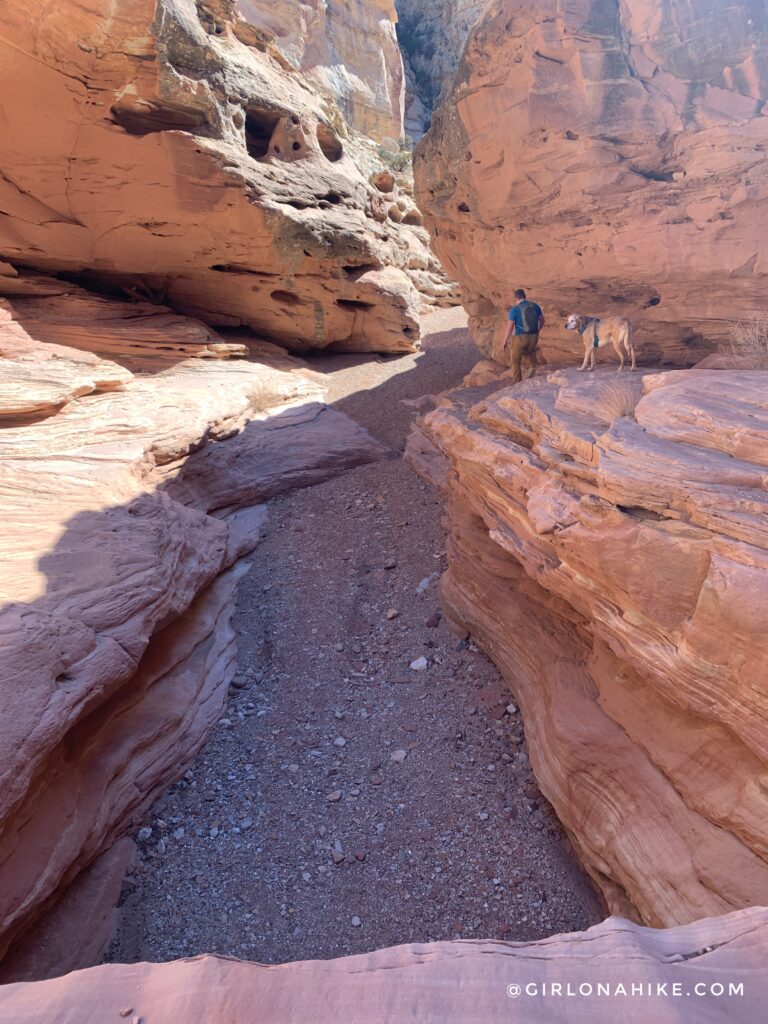 After soon entering Bell Canyon you will come to a large pour off, about 20 ft tall. Stay to the right to get down.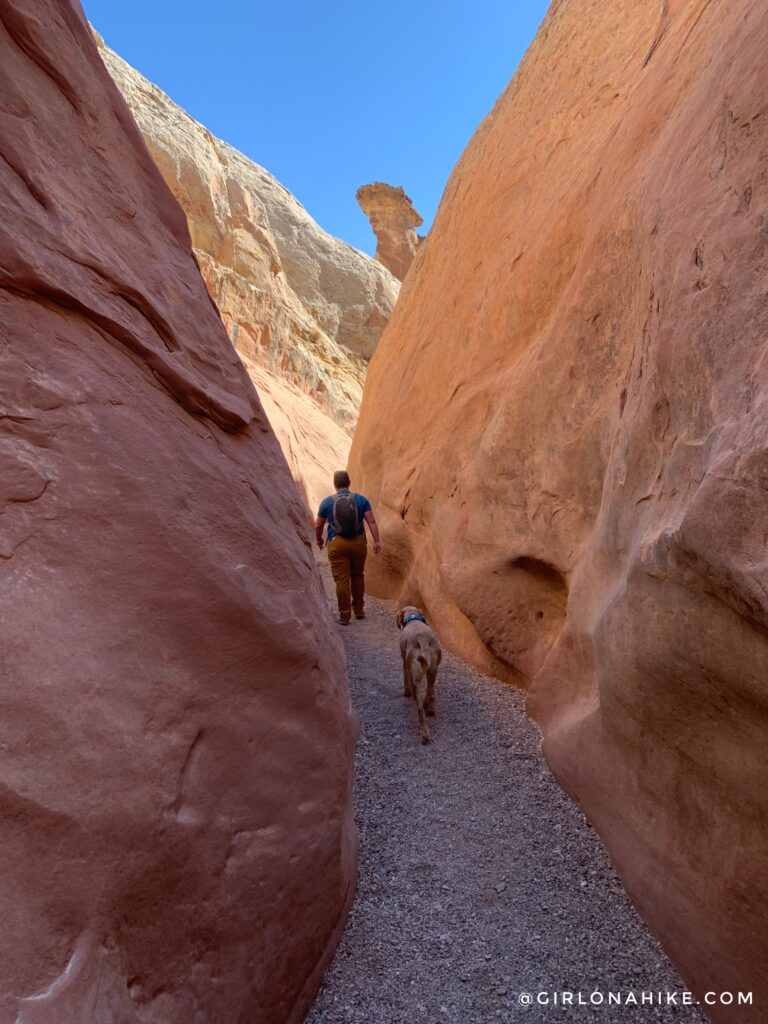 Make your way back to the split and the car.
What a fun day! We love really loved the whole Little Wild Horse & Bell Canyon Loop. It's dog friendly (no ropes/harness needed, and is off leash), fairly flat, and perfect temps in February. We only passed 3 people too! It took us 3.5 hours to complete, but we never really stop for breaks.
Check out my video!
Trail Map
I recommend hiking this loop counter clockwise. It's a lot easier to climb UP some of the obstacles, rather than down.
Recommended Gear
Nearby Hikes
6 BEST Trails in the San Rafael Swell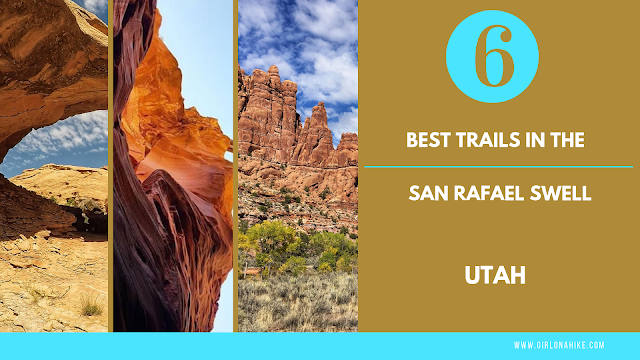 Save me on Pinterest!