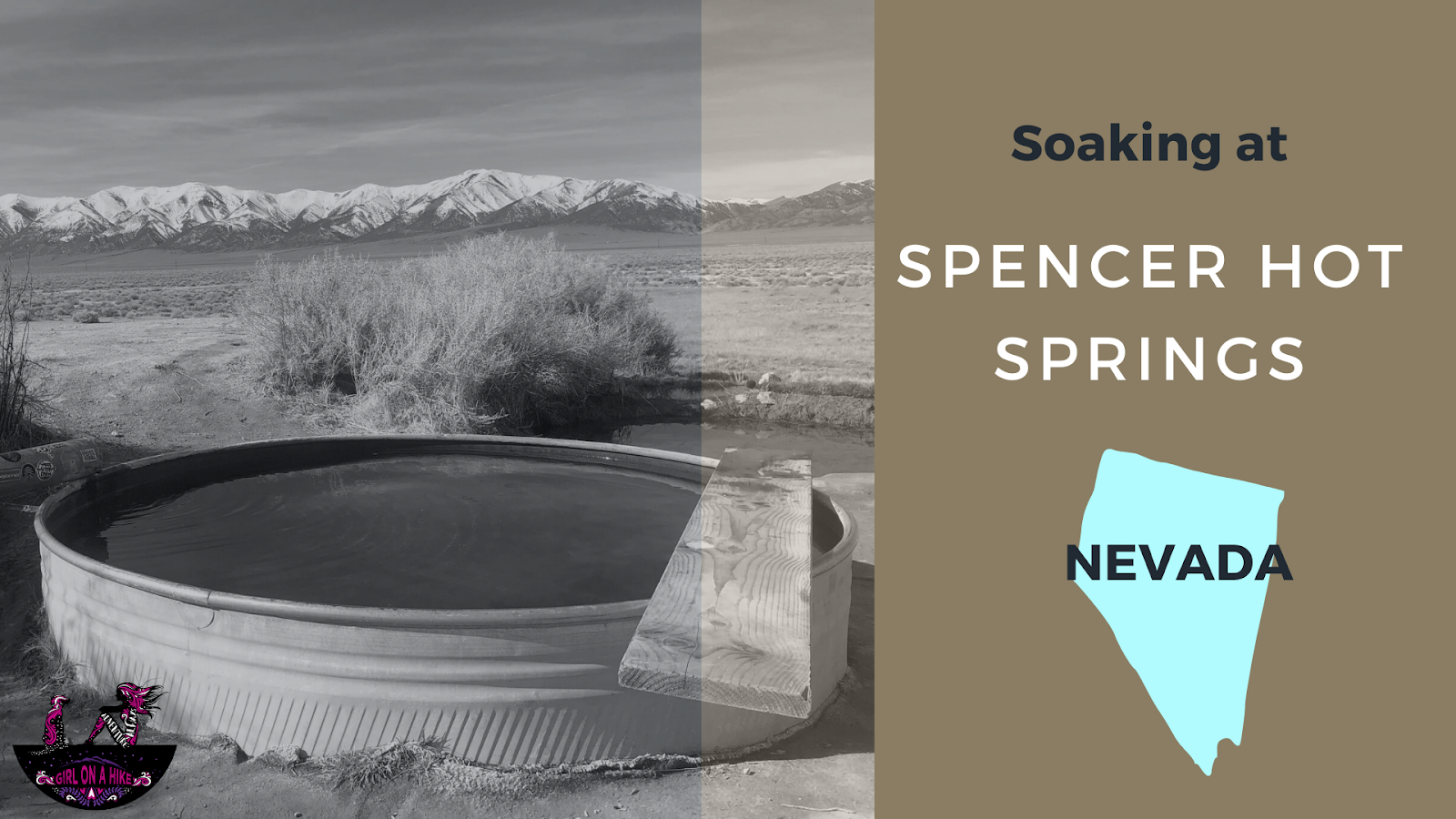 Soaking at Spencer Hot Springs, Nevada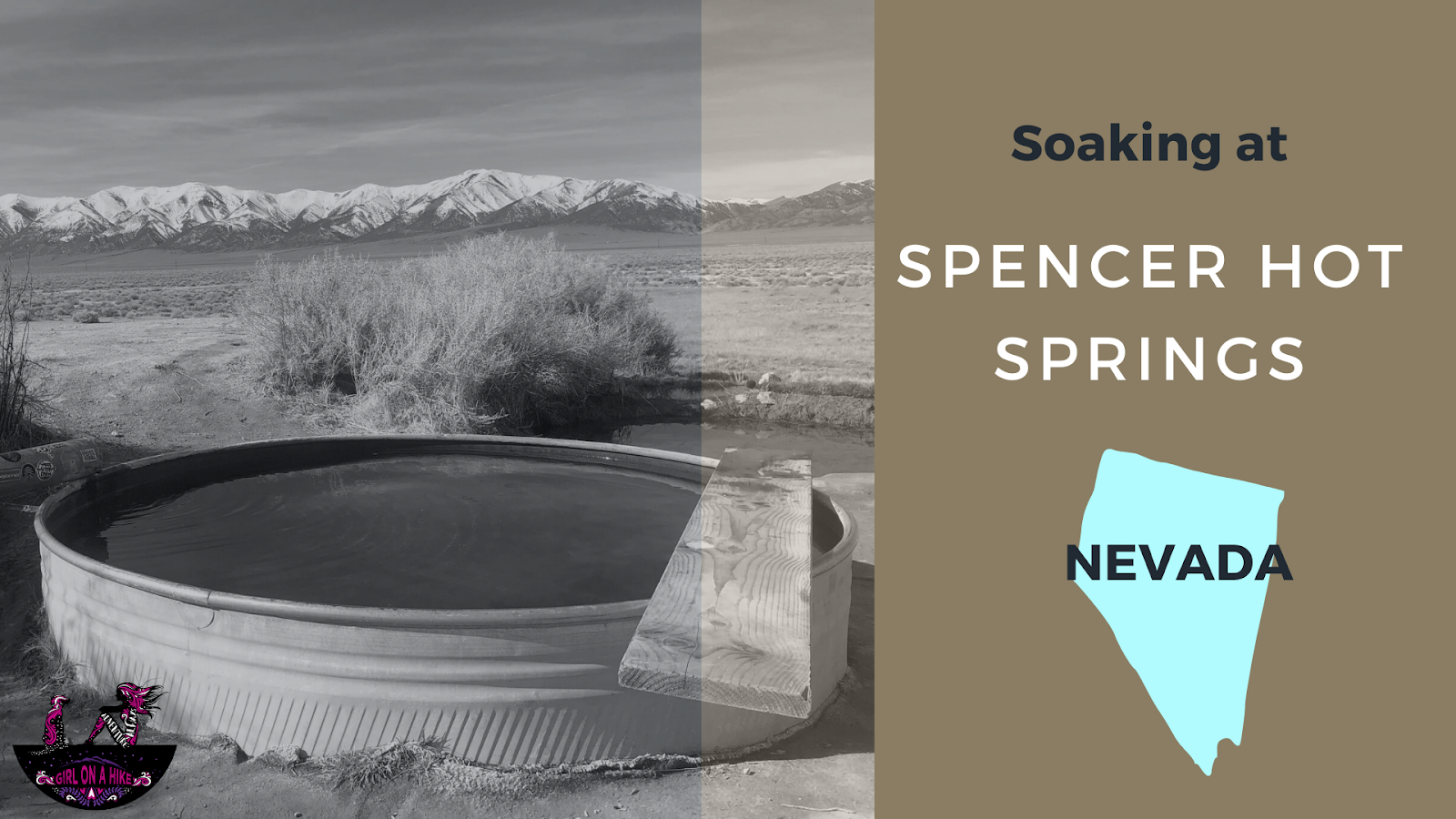 Spencer Hot Springs is located almost directly in the center of Nevada, about an hour west of Eureka, NV. This is one of Nevada's more popular hot springs, and consists of three soaking areas – two tubs and one natural pond. This remote area is dog friendly, has plenty of free camping, clothing is optional (half the people we saw were skinny dipping), and it's free to soak.
My friend and I were desperately needing a little weekend adventure to escape the snow in SLC and we nailed one of the best weekends to go – the high was 50F and to us that felt sooo good with the sun shining, plus there was no snow! We even got a little sunburn on our faces! Night time temps dropped to around 35F so it wasn't bad at all camping in our car. The next day a winter storm would come through, so we made sure to get our soaking in and leave before that arrived. I-80 ended up closing as well, so just be prepared and make sure you drive out there with no sign of snow in the forecast. It would not be fun to get stuck out there in the middle of no where!
Directions
From Ely, NV, head West on HWY 50 for 132 miles. Turn left at the giant billboard for HWY 136, then left again on FR-001. Drive 5.5 miles and search for the hot springs! Here is a driving map. Total drive time from Salt Lake is 6 hours, and from Ely, NV about 2.5 hours. 4×4 is not required. No services (gas, food, water, etc) are around for at least 1 hour of a drive, and I did not have cell service with AT&T but Ashley has Verizon and got minimal service.
Trail Info
No hiking is required
Tips for Soaking at Hot Springs
– The town of Eureka, NV only has one restaurant/bar (The Owl Bar) but we didn't feel comfortable going in (plus everything is closed on Sundays). If you are healthy eater like me, its best to bring your own food/snacks and drinks. There is a gas station, but because it's in a remote area of NV, prices are higher.
– Make sure you fill up on gas in Ely, NV. If you hike here in Winter and get stranded or stuck in snow, you'll want to be prepared with the necessary winter survival gear.
– Bring sunblock, a hat, and sunglasses even in Winter!
– Make sure you have a good, detailed map. Not just a map on your phone in case you run out of power. I highly recommend the Nevada Benchmark Map!
– Because of the slippery surface (and the occasional broken beer bottle glass), wearing good water shoes will protect your feet. I love my Chacos!
– While becoming ill from swimming in hot springs is extremely rare, there is still a possibility that it can happen. A good idea is to always keep your head above the water.
– Again, please take all your trash with you when you leave! There is no trash service, so let's keep this place clean!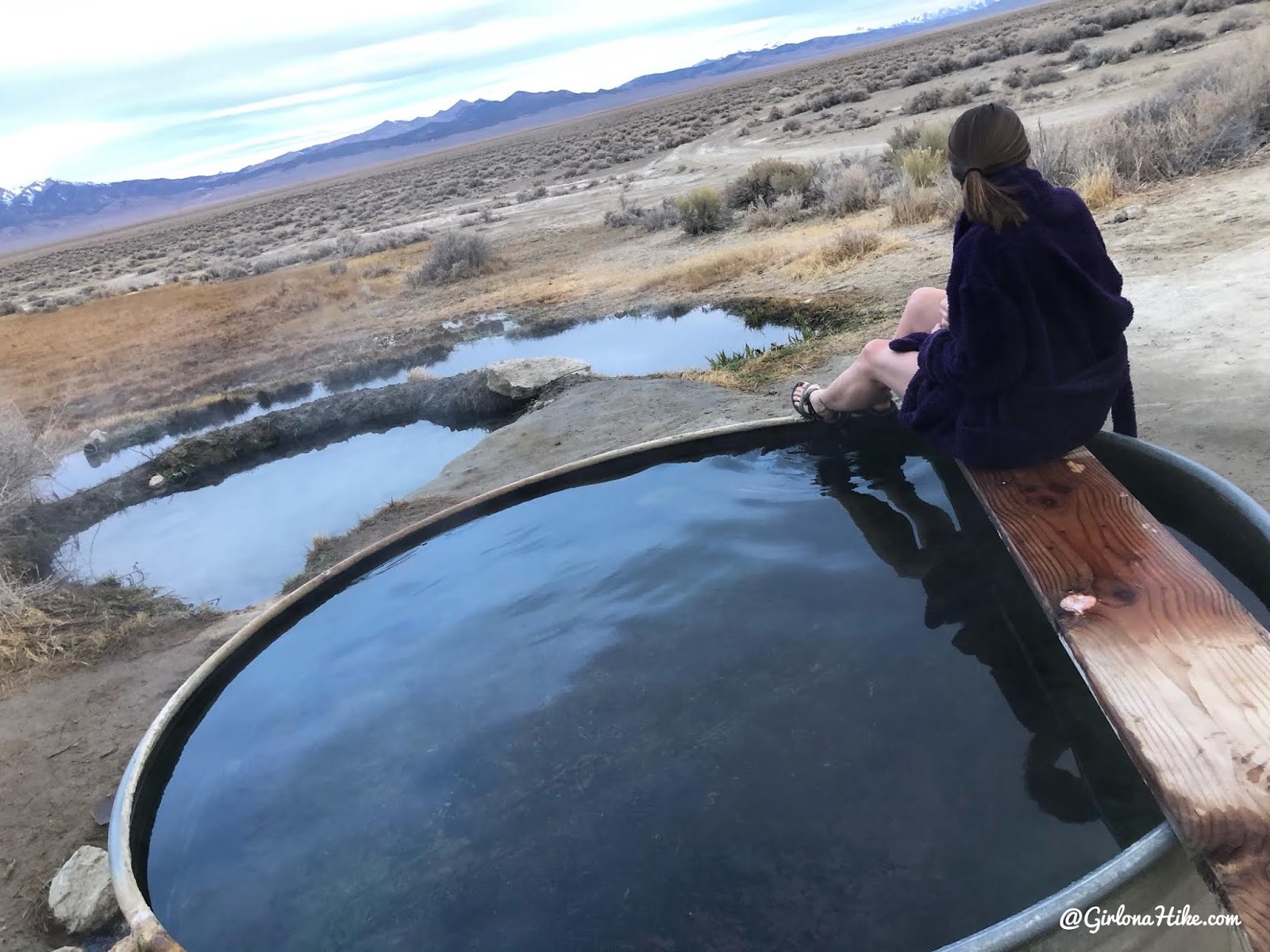 Ready to soak – pool #1. This tub could probably fit 4 people comfortably and the wooden plank was nice to sit on and just dip my toes in this one because it was really hot. It's only about 2 feet deep. If you can sit in the tub, then it's a good spot to set a drink or towel on. The pool is a little slimy so water shoes are recommended for all pools.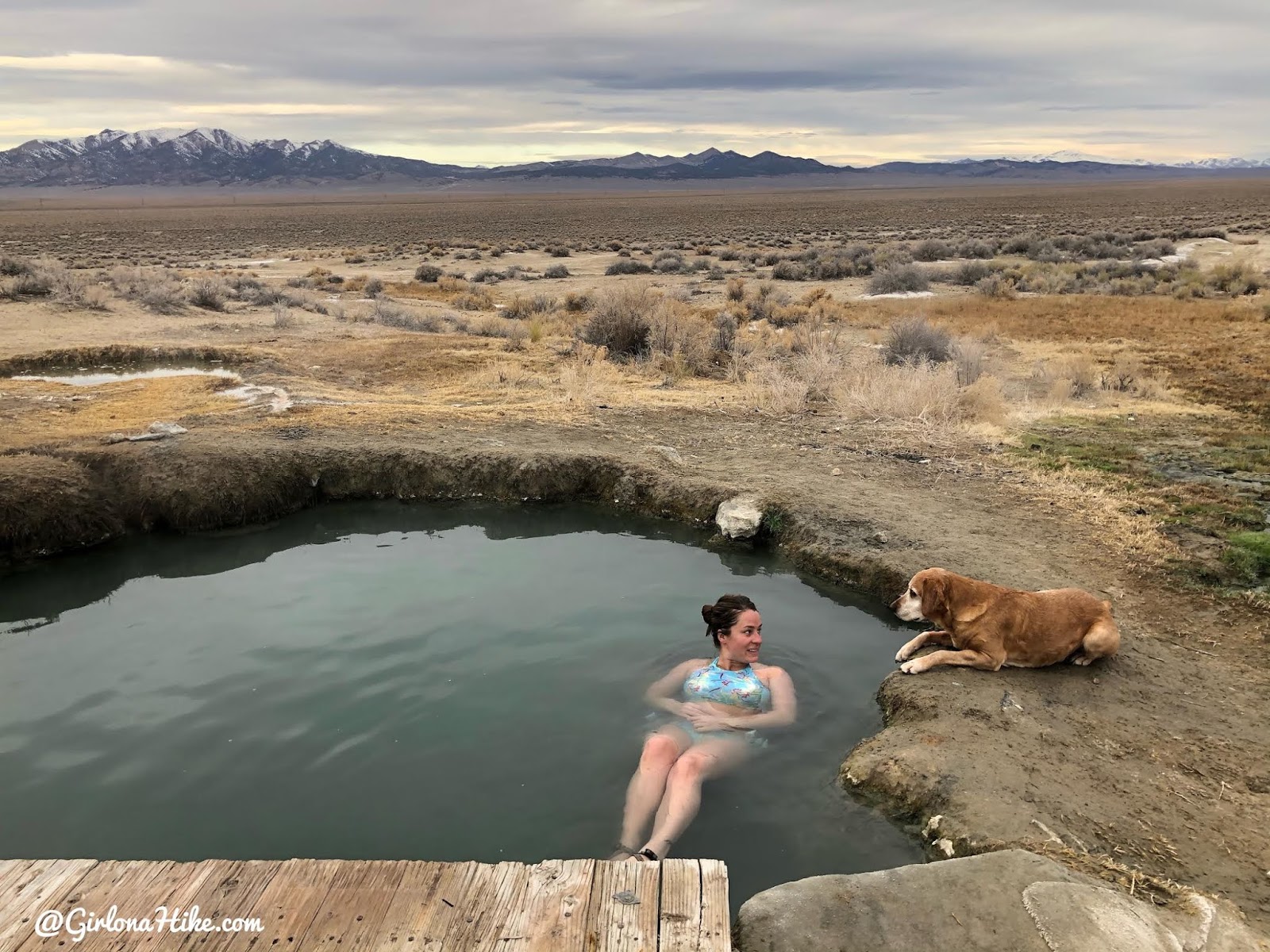 Pool #2 – this one has a dock built back in the 1980s and it perfect for sitting on to cool off, keep your drink nearby, and get great photos. This one is the largest so most people go to this one. The temperature was hot, but doable. It was too hot for Charlie to get in though.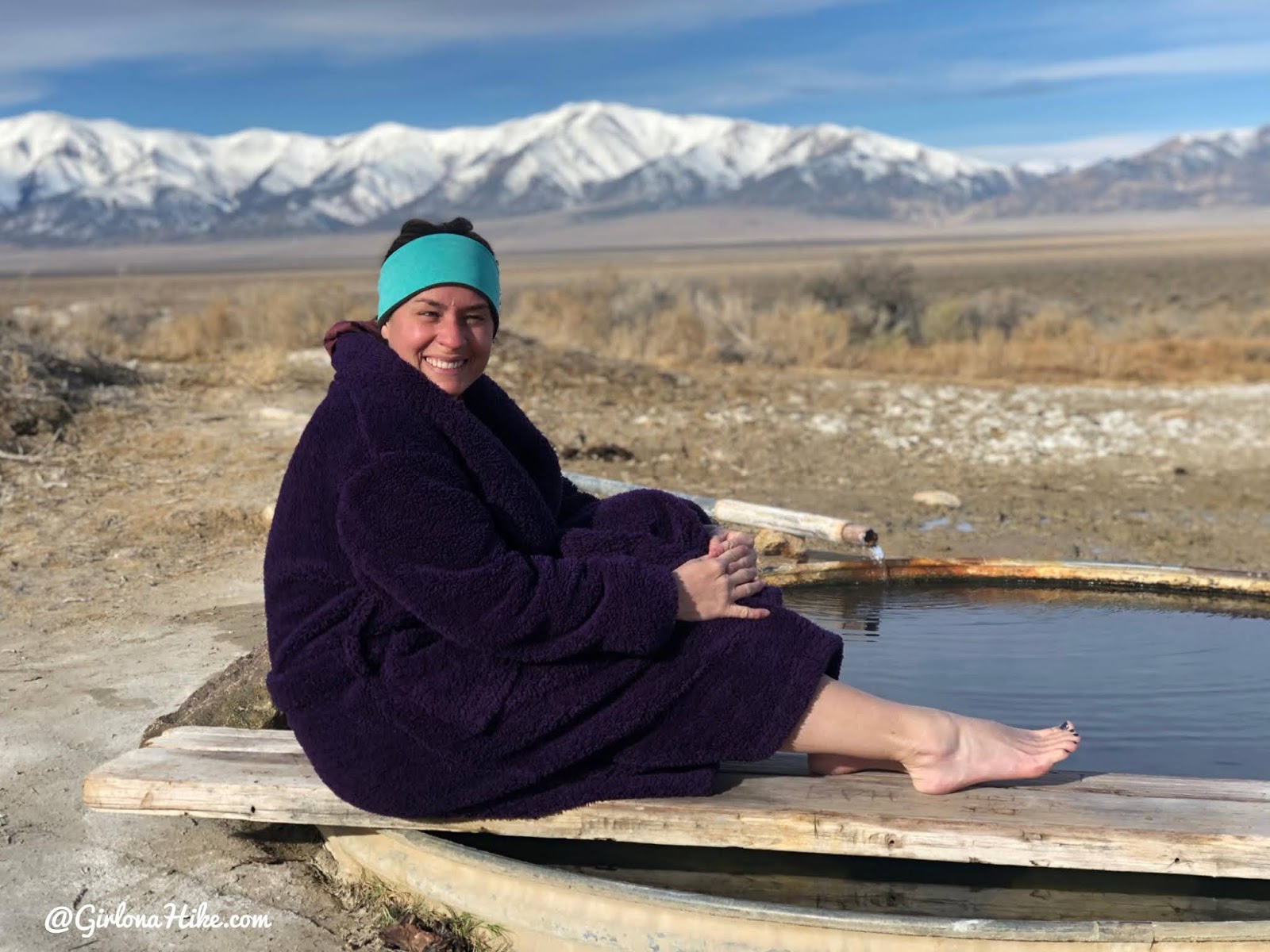 Pool #3 – my favorite. Another tub for only three people, max. There is another wooden plank and is also about 2 feet deep. The bottom was also a little slimy but not bad. This pool had the perfect temperature for me. I highly recommend bringing a robe for hot springs – it makes it so much easier, more comfortable, and warmer walking around to all the different hot springs.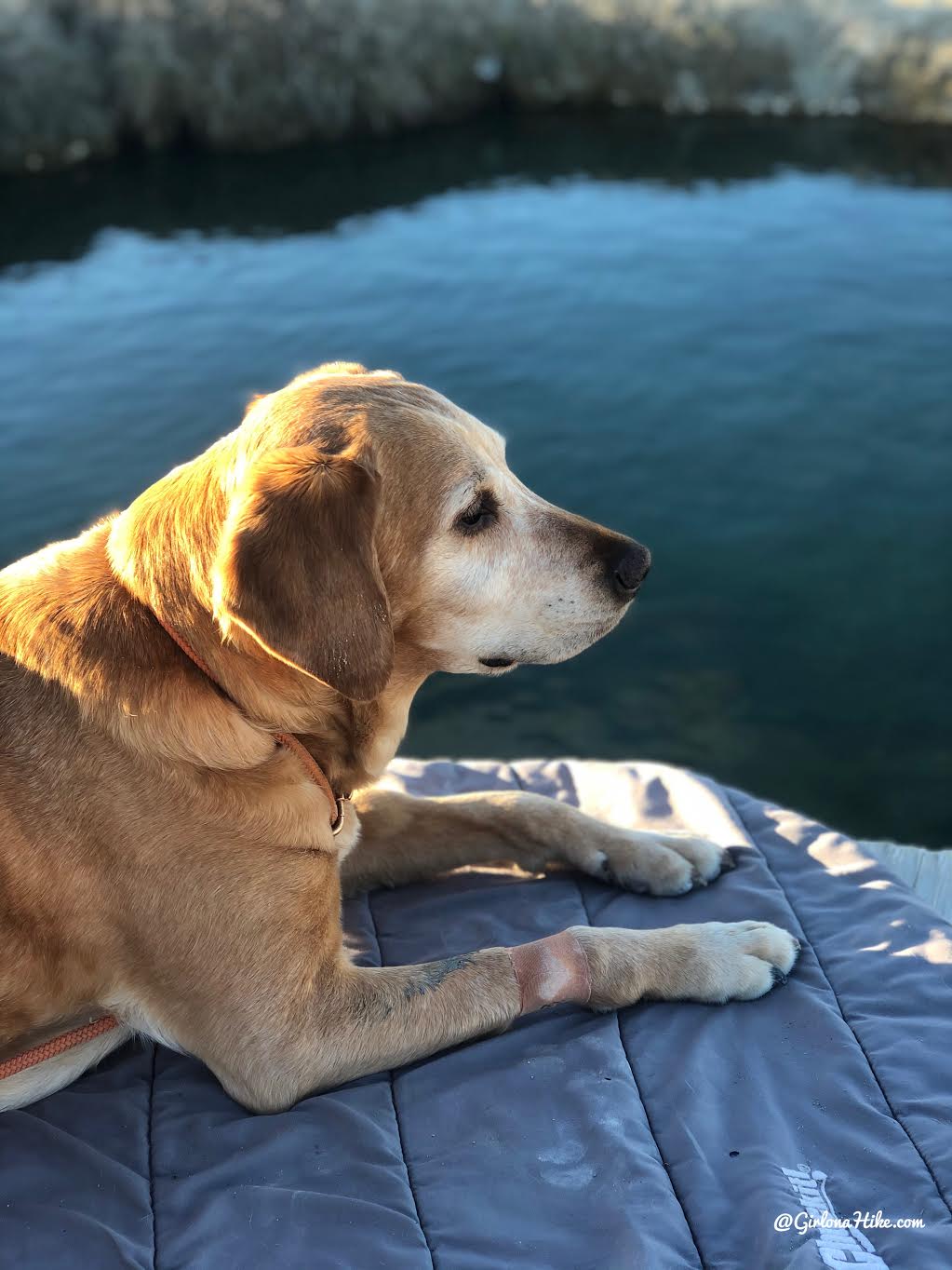 Because I didn't feel comfortable with Charlie getting in any of these pools (he normally loves to soak), I just made him hang out on the deck or nearby with his bed. He loved soaking up the sun and making new friends. Just an FYI for dogs – there is zero shade nor water for them to drink out here. Be prepared for any conditions, and if the water is too hot for you, it is too hot for the doggo too.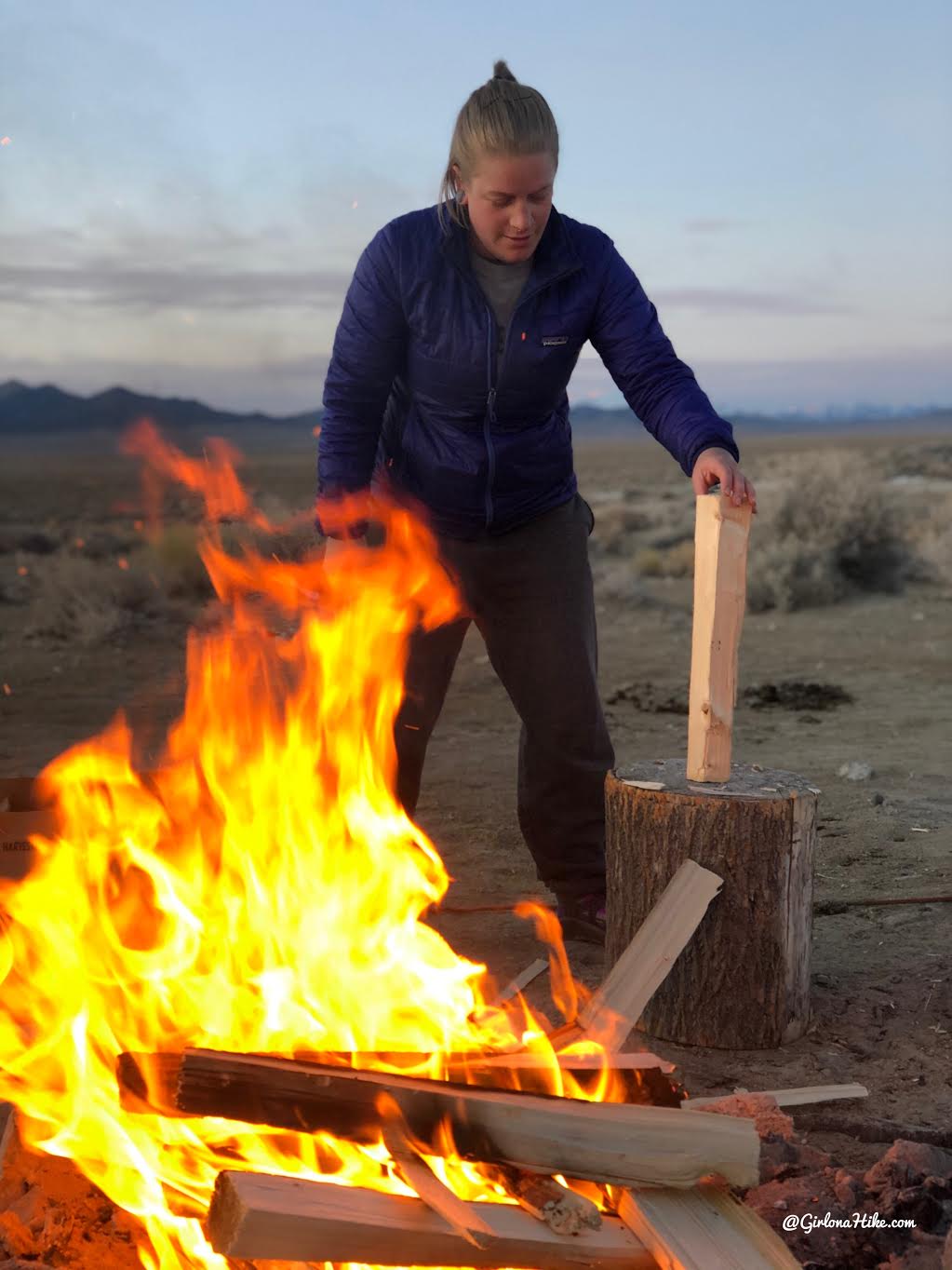 Ashley chops wood as we build our fire.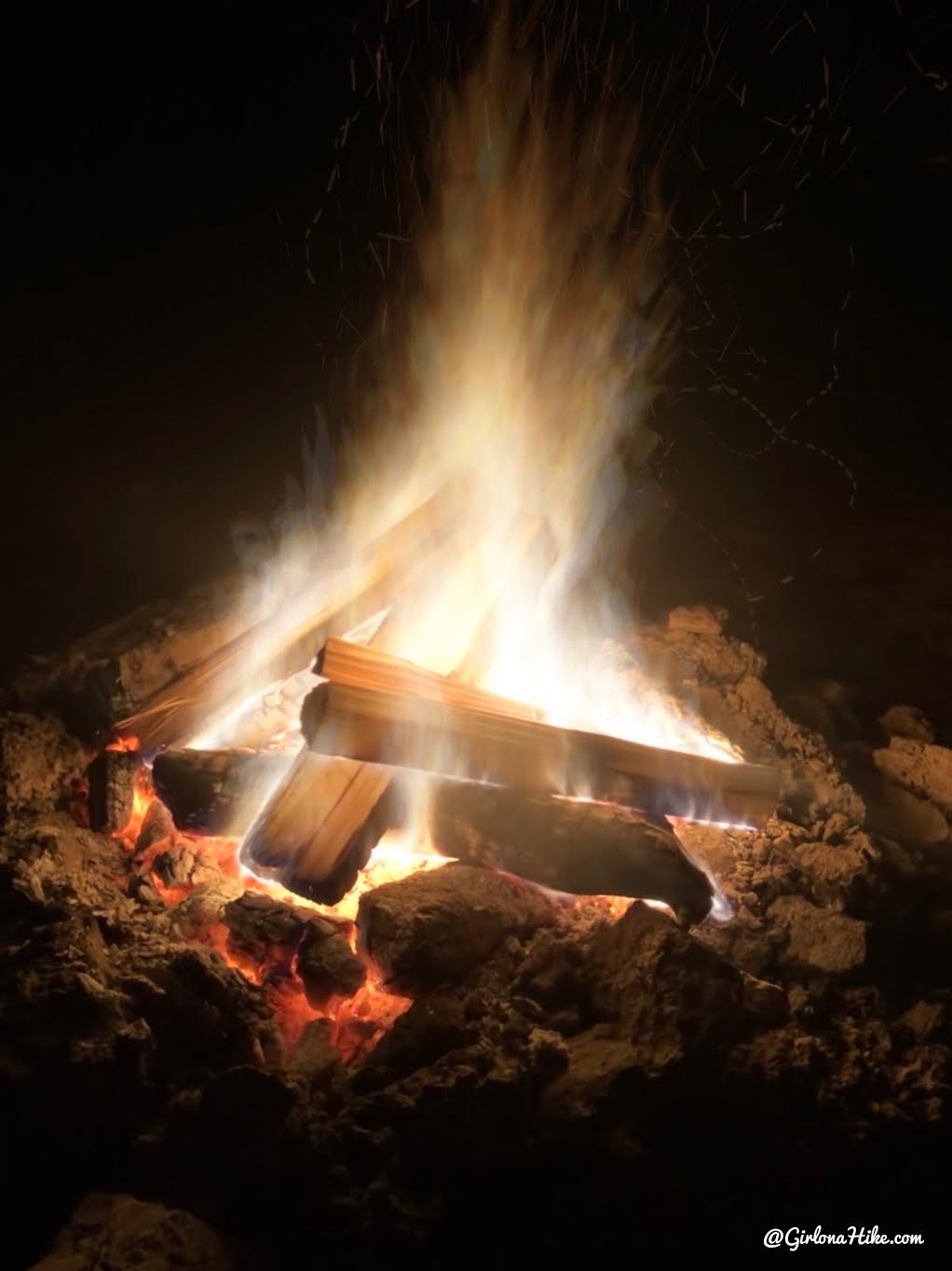 What a fire! We did a good job. As for camping, there's literally camping anywhere you want since it's BLM land. We picked a spot that already had a fire ring. It's free, dog friendly, and has level camp areas! Just remember that this is dispersed camping so you are own your own for everything – water, food, picking up and taking trash with you, etc.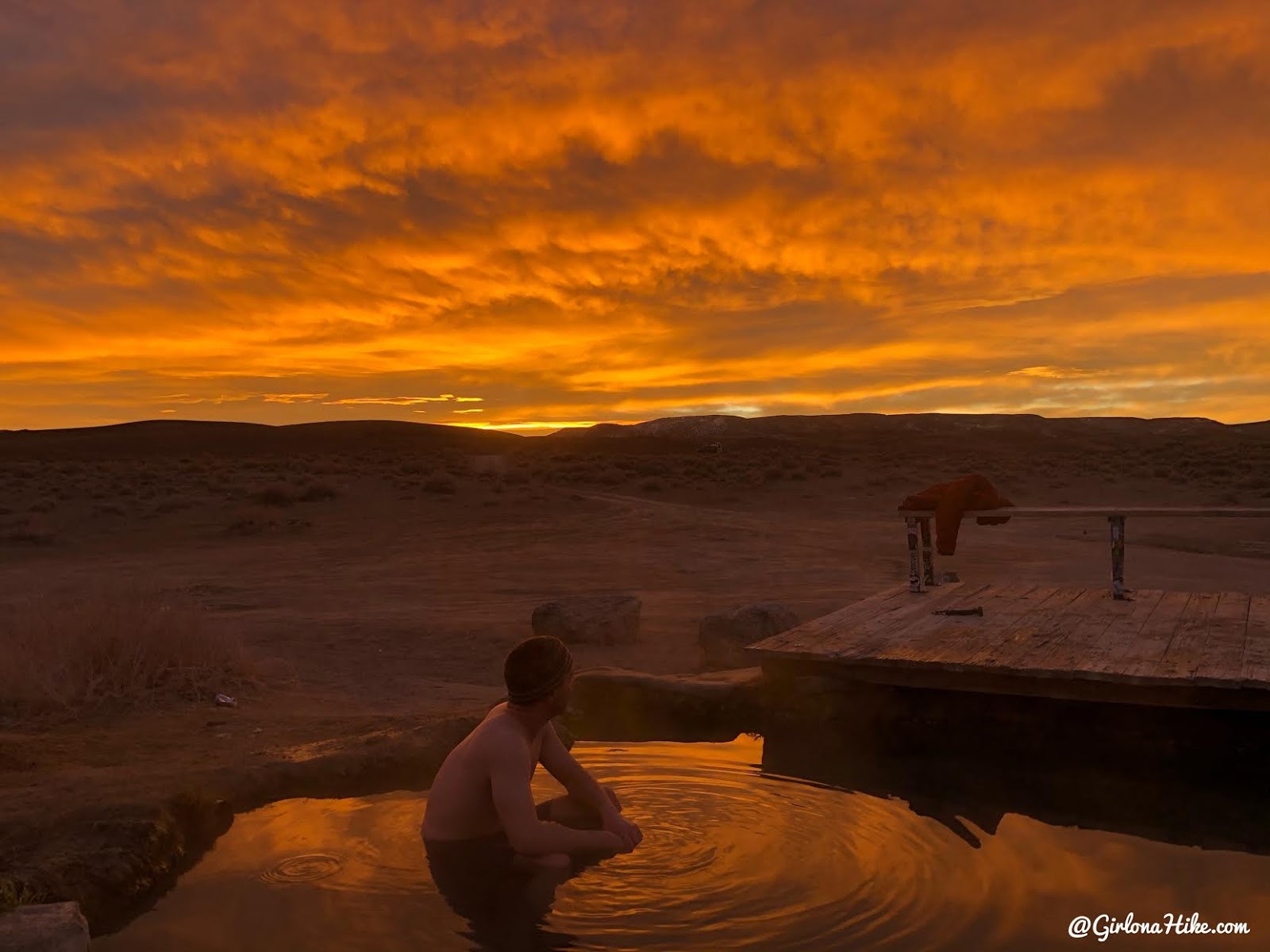 Sunrise was just amazing. The fiery sky was jaw dropping.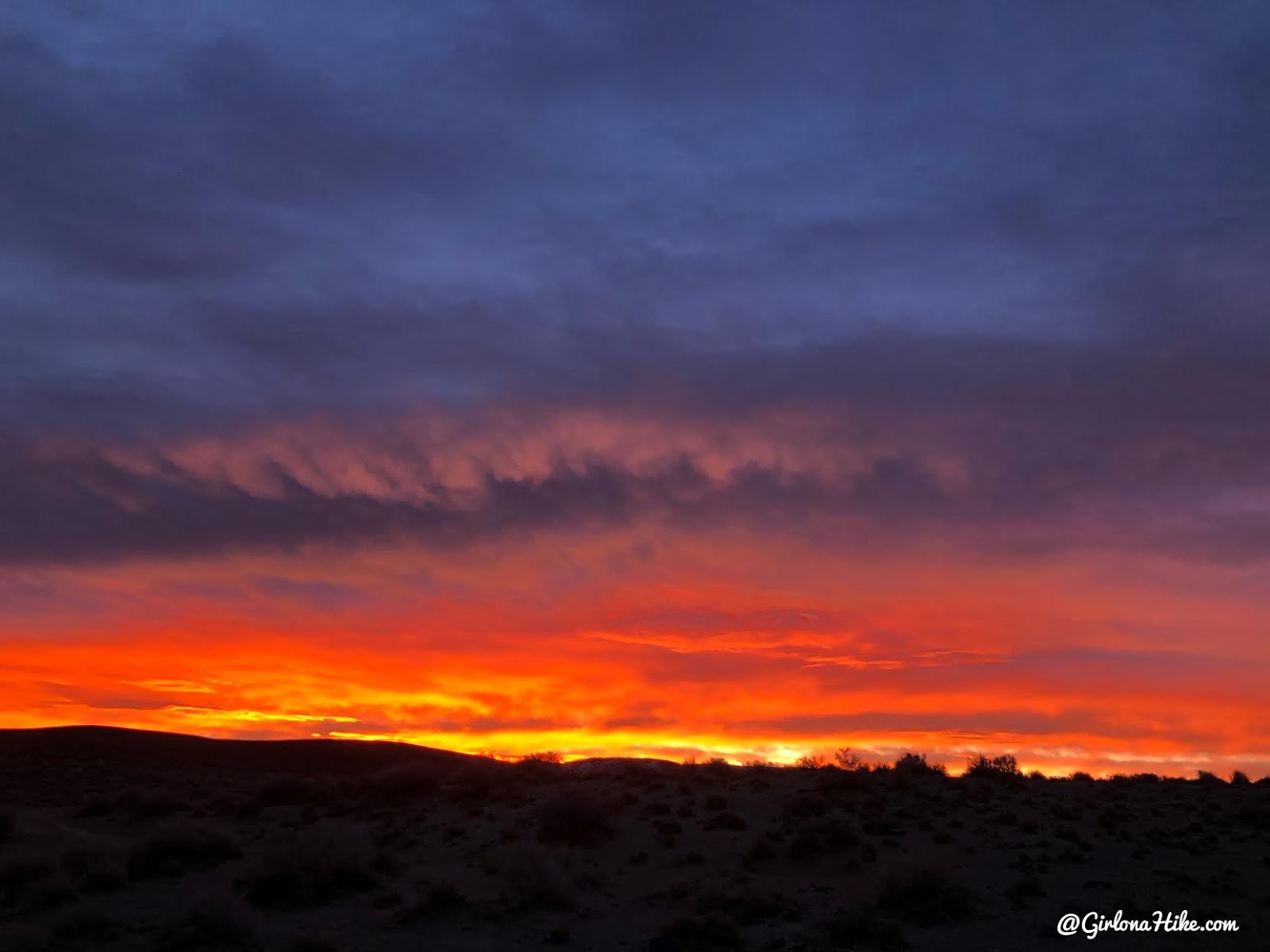 The early bird gets the best sunrise photos! I've never seen a sunrise so red and orange before.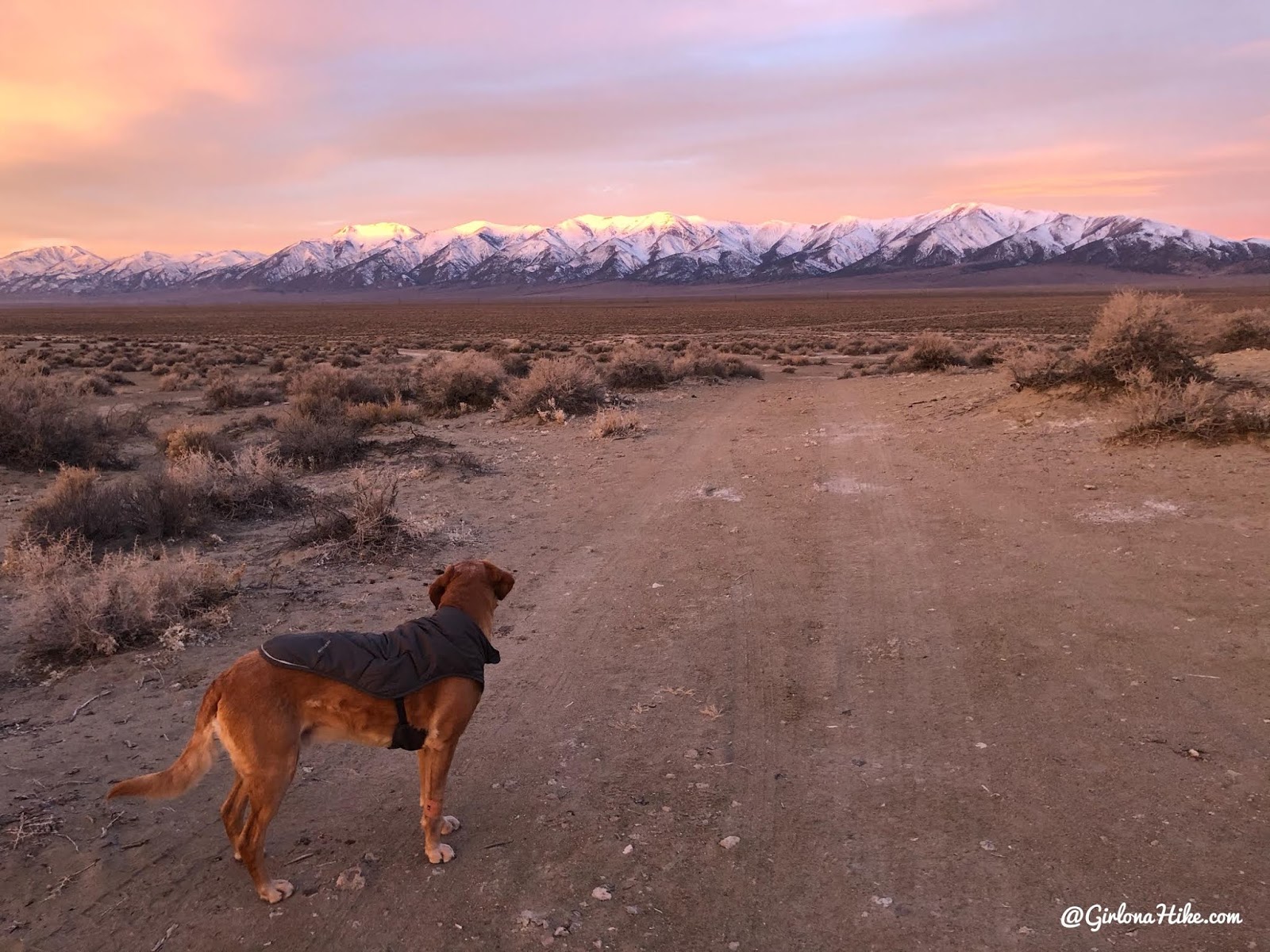 A little walk to get Charlie out. The dirt roads are endless out here.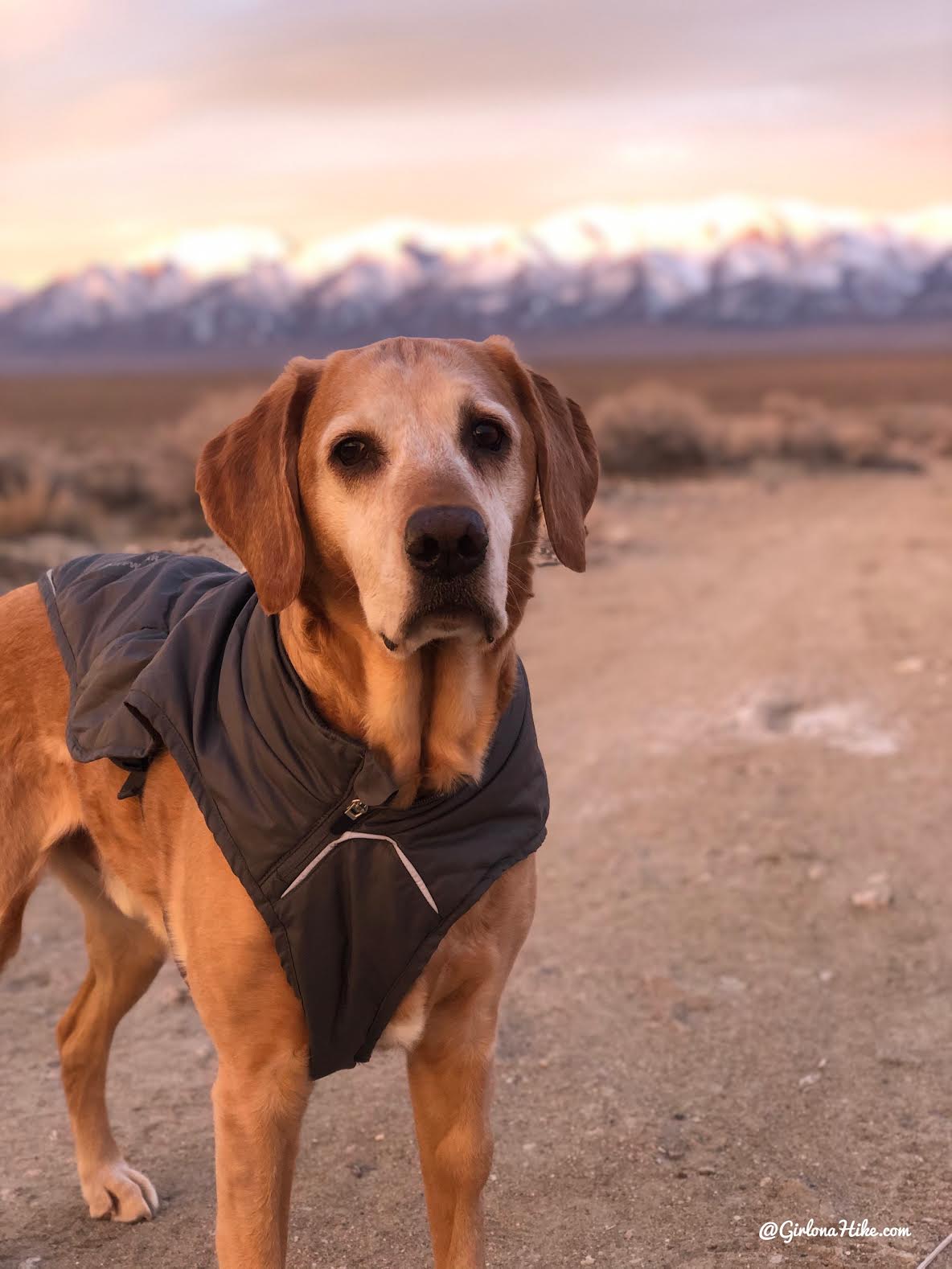 Charlie poses for his mama.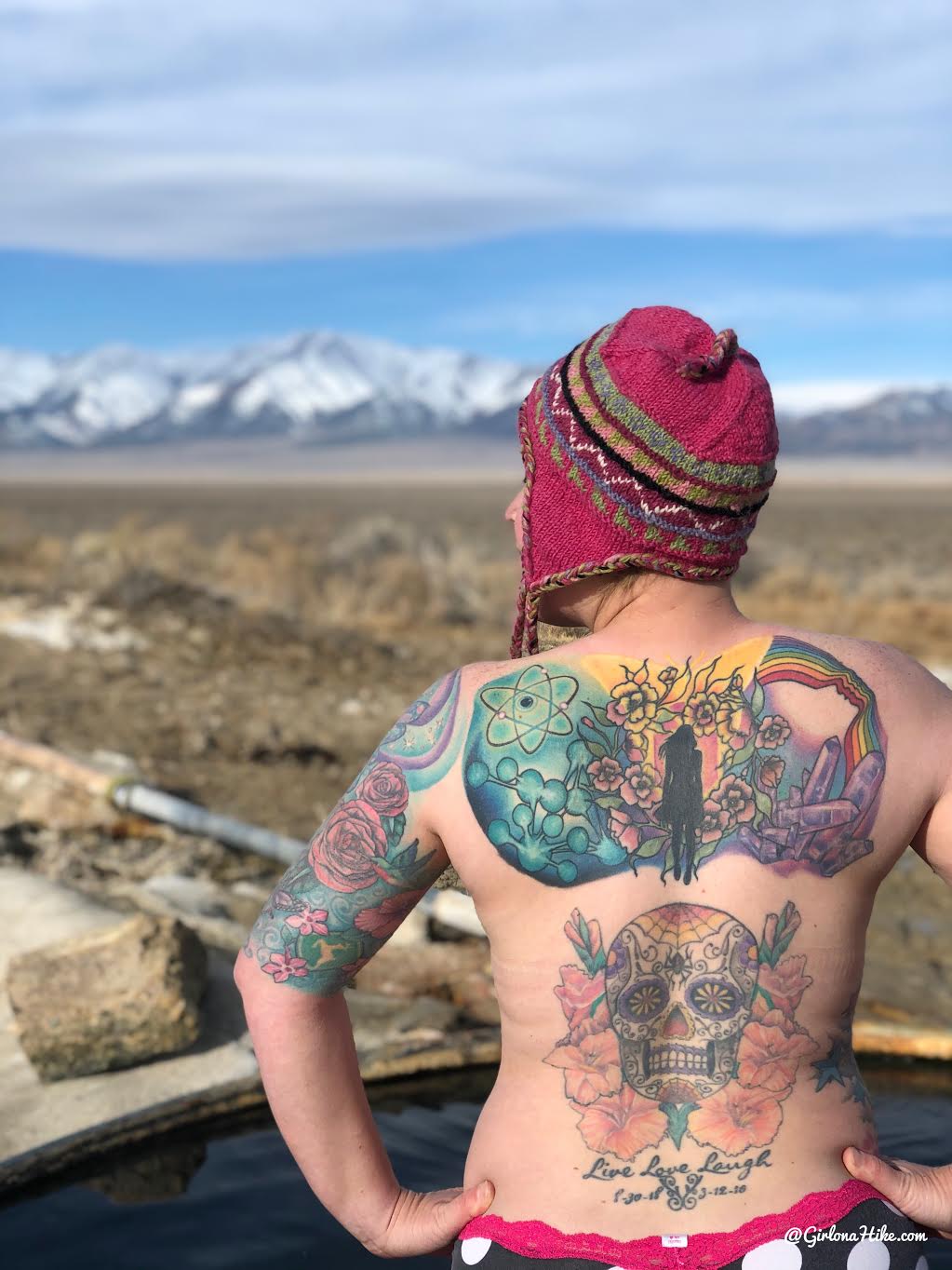 Wowza! Ashley has some bad ass ink we just had to grab a photo of. Not all of them are pictured but hot damn these are amazing works of art!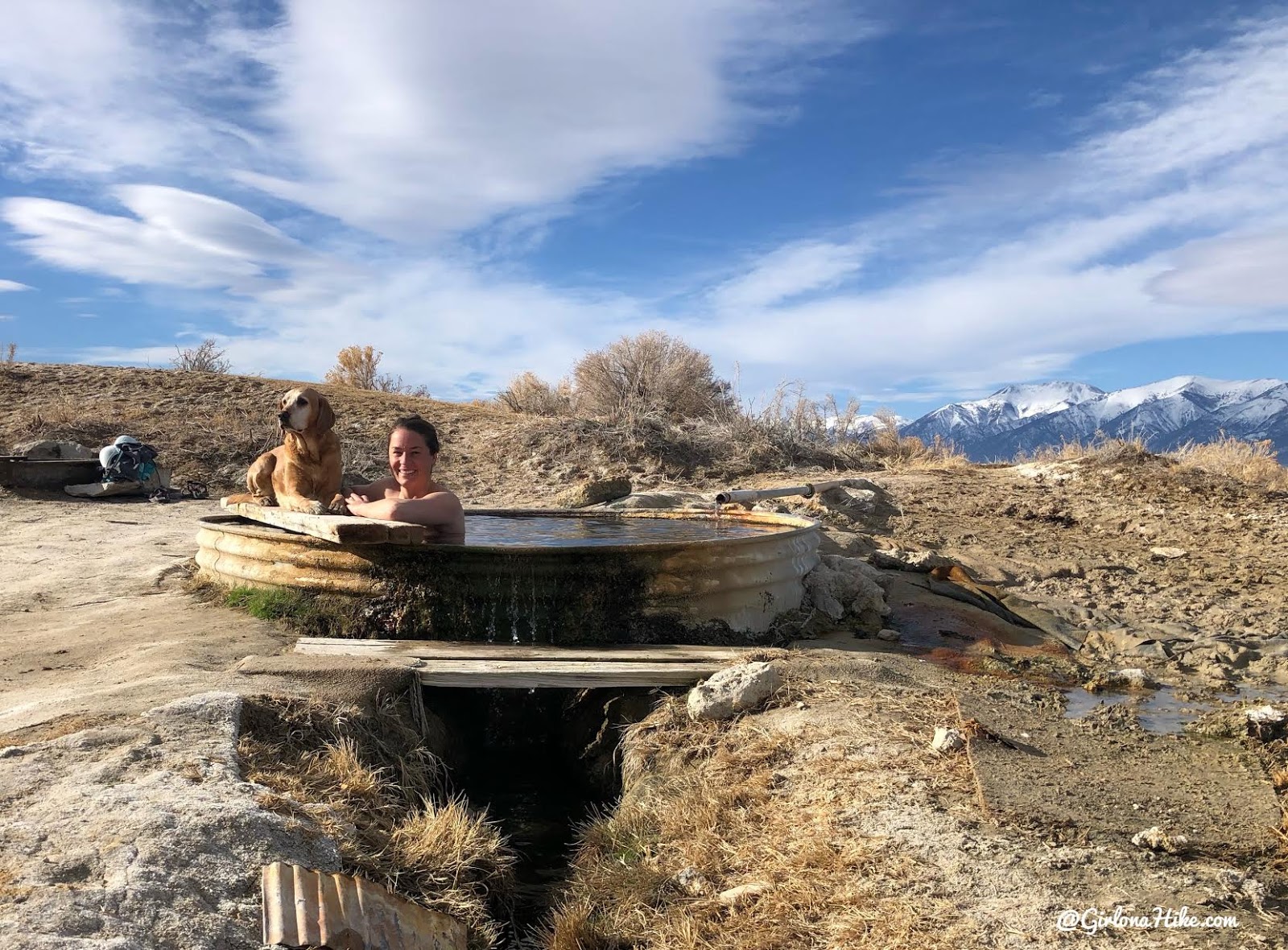 Charlie joins me on the wooden plank to hang out without getting in.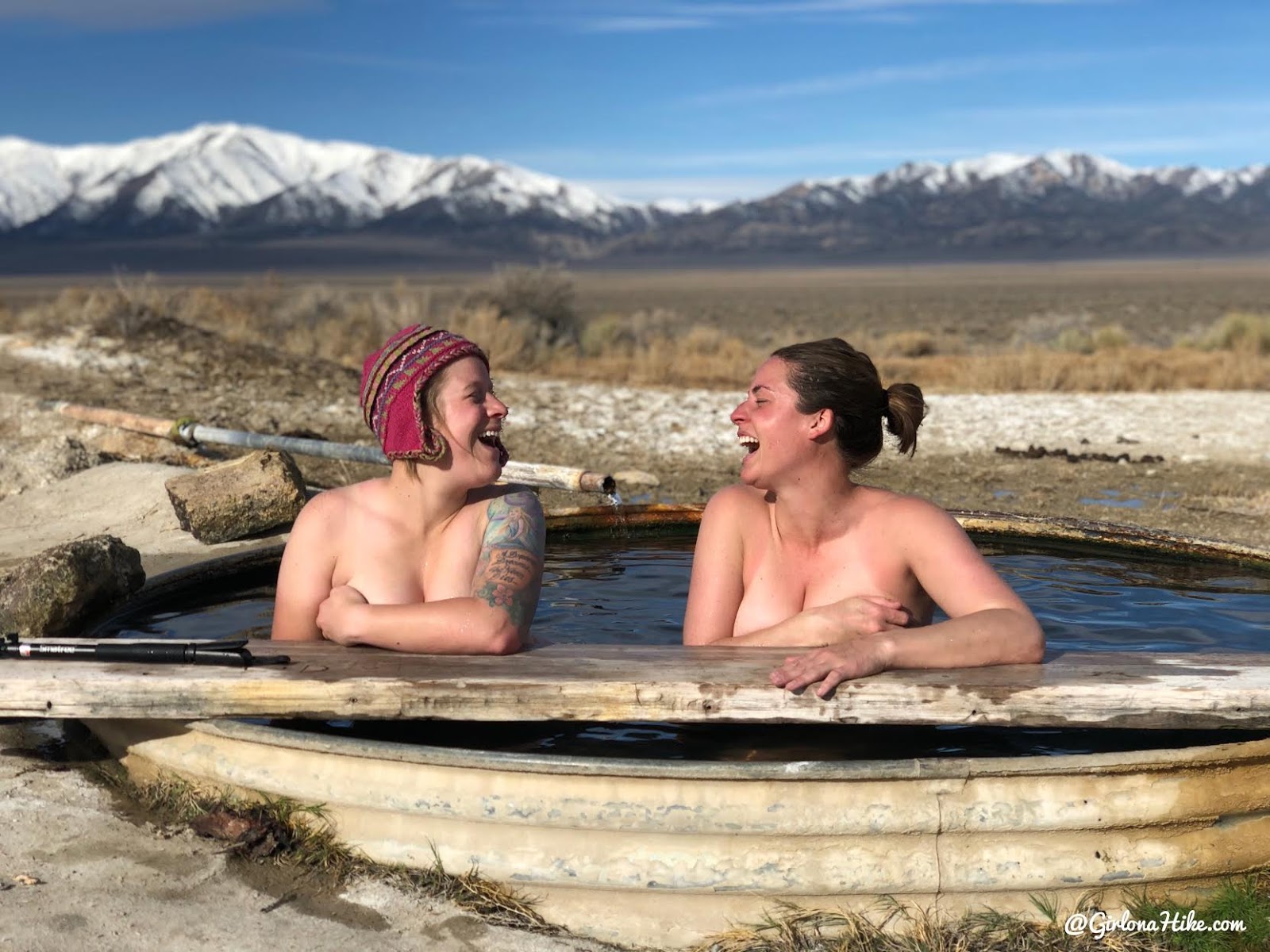 No words – I can't describe how hilarious this photo is and how much this makes me happy!
In the area…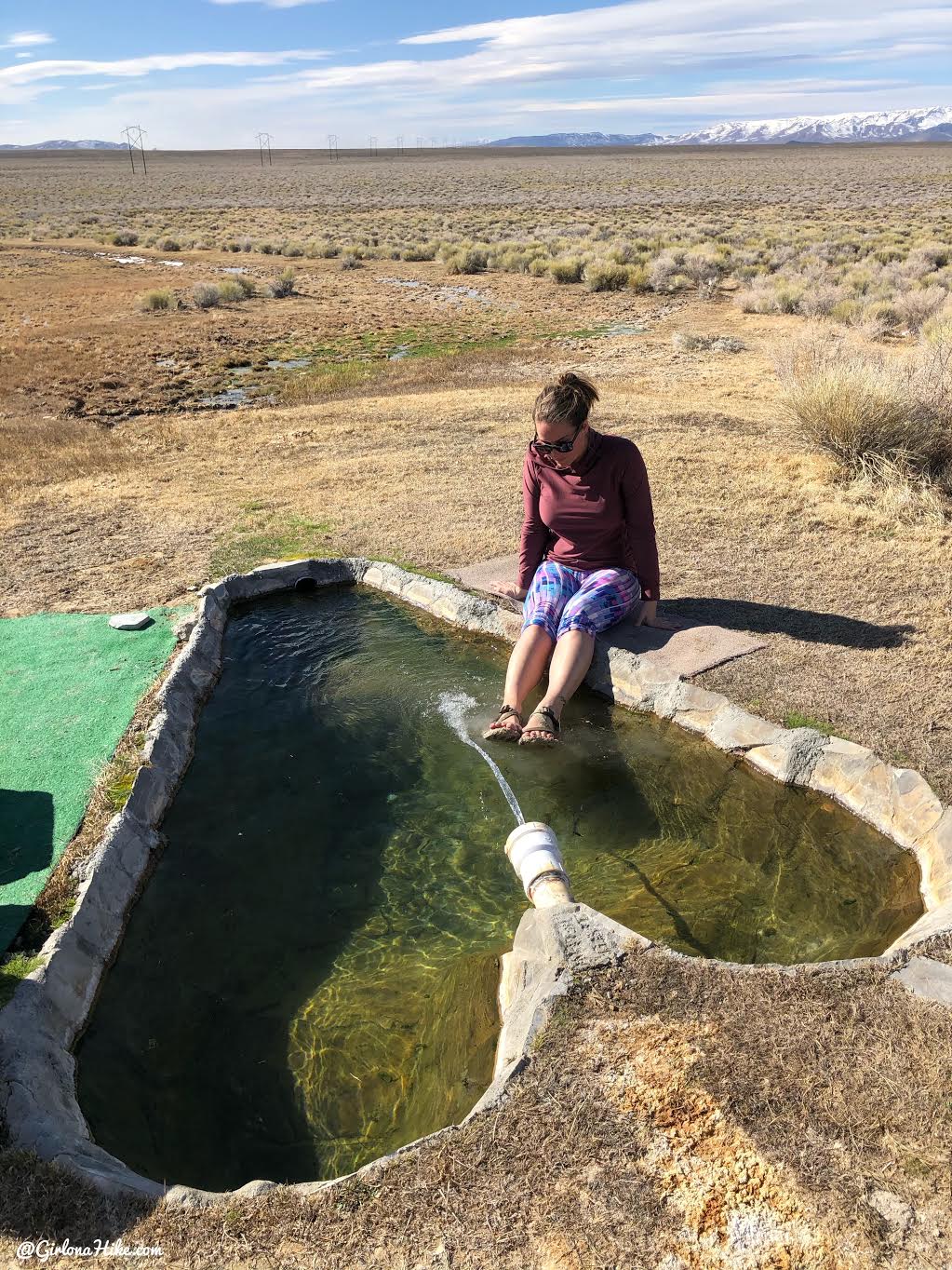 Another hots springs in the area…this one is a little bit more secret. I'll leave it up to your google searching skills to find this spot 😉
Overall we had an amazing time – it was just what I needed. I have been feeling a little down from this long, dark winter with endless snow and I just needed to escape it for a bit for my mental sanity and happiness level. I was really missing the sun! This cured me for a little bit, but now I can't wait to get back and explore more hot springs! Highly recommend this area.
Check out my video!
Recommended Gear
Recommended Hike
12 Mile (Bishop Creek) Hot Springs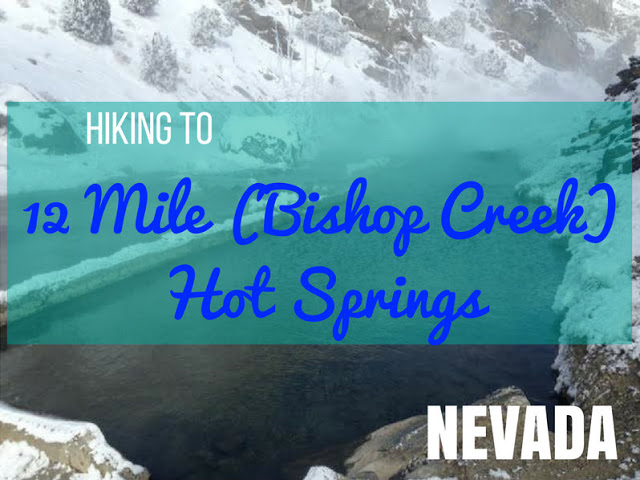 Save me on Pinterest!