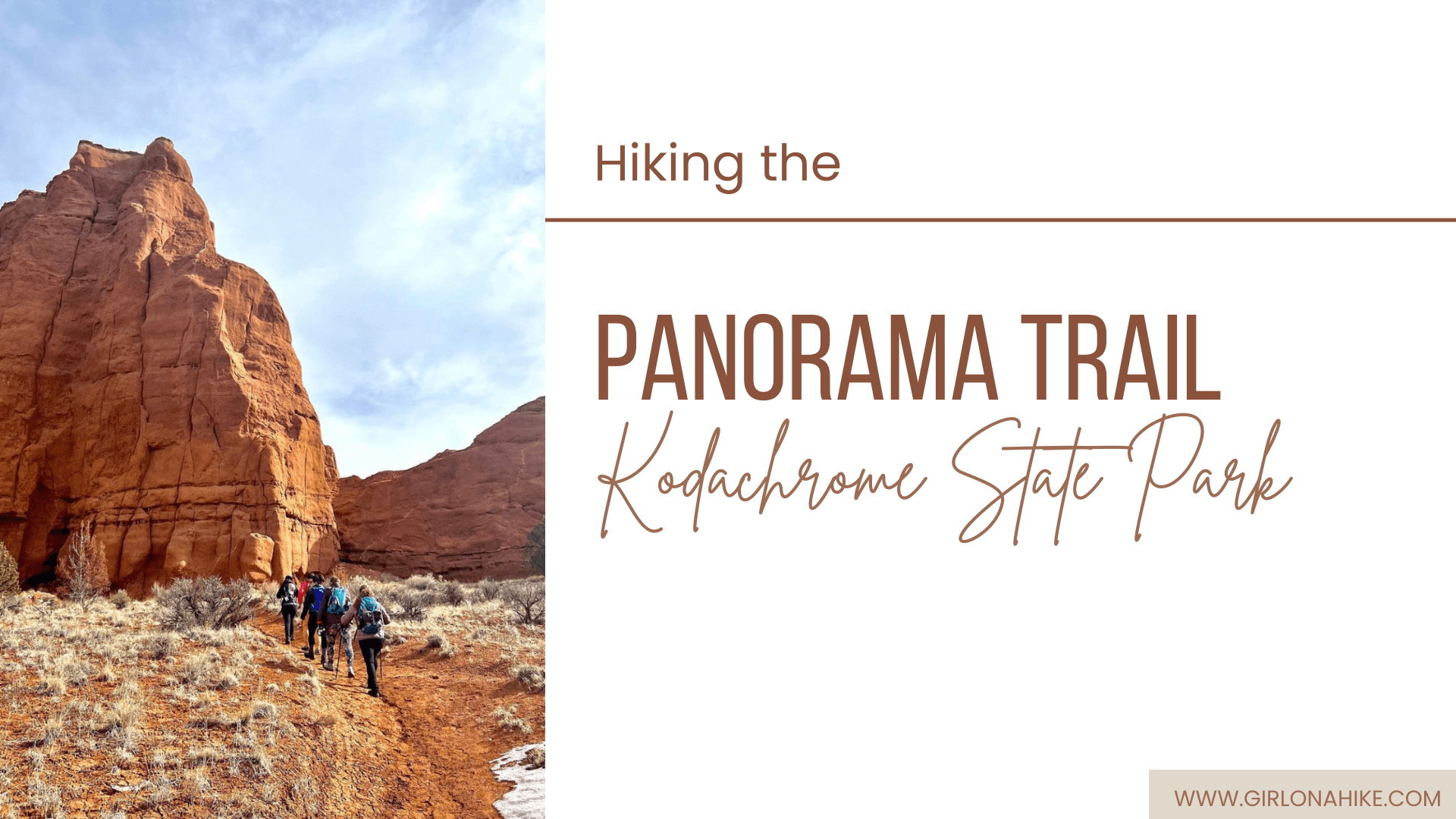 Hiking the Panorama Trail, Kodachrome Basin State Park
Kodachrome Basin State Park is located only 1 hour from Bryce Canyon National Park to the East, only 5 miles down the road from Willis Creek Slot Canyon, and 1 hour West from Escalante, Utah, yet hardly anyone visits this state park. With it's red rock formations and deep blue skies, the photography options are endless. Kodachrome Basin State Park opened in 1963, and National Geographic had the honor of naming it. It is home to 70 monolithic spires, ranging from 6-170 ft tall.
About
Kodachrome offers 12 miles of trails within its boundaries, with the most popular trail being the Panorama Trail, which boasts half of the parks trail system. The 6 mile Panorama Loop offers sights such as the Indian Cave, Cool Cave, Ballerina Spire, and Hat Shop. The trail traverses rolling terrain, and gentle slopes, all through washes and canyons, and as the name suggests, it leads to a beautiful panorama view of the park.
Directions
From the town of Cannonville, UT head south on Kodachrome Basin Rd for 8 miles, until the paved road meets the dirt road, and turn left into the park.
Trail Info
Distance: 6 miles (full loop) or a 3 mile loop (minus the spur trails)
Elevation gain: 250 ft
Time: 3-6 hours
Dog friendly? Yes, on leash
Kid friendly? Yes
FAQs
How much does this state park cost to get in?
Day use fee is $10/car. Check the Kodachrome Basin website for more fees.
Can I bring my dog?
Yes, dogs are allowed on the trails and campground on leash.
What are the park hours?
6am-10pm
Camping info scroll down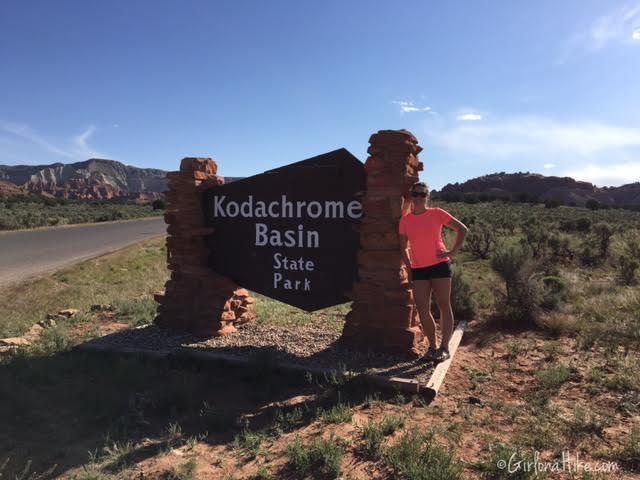 Since my friends and I hiked here on Memorial Day, we got to Kodachrome at 9am so we could beat the crowds. The sun was already beating down on my back, and I knew it was going to get hot quickly.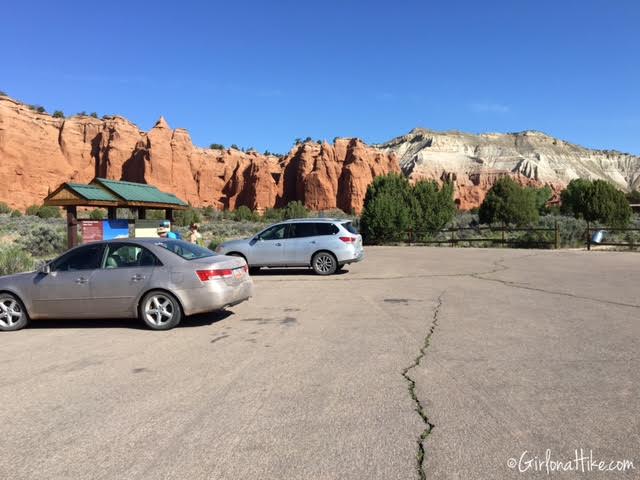 Panorama Trail parking lot…only one other car on this holiday. Seemed a little weird, but we figured it would get crowded soon enough.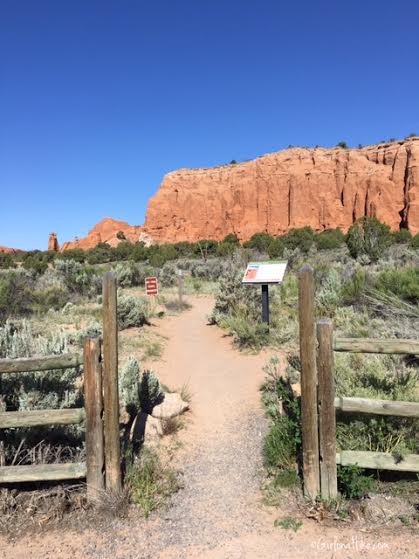 Walk across the road to the official trail, and pass this wood fence.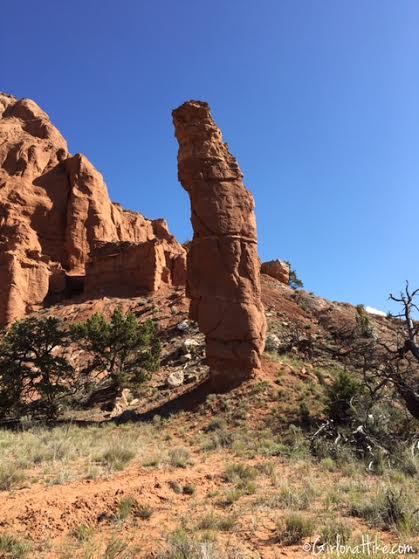 Within 5 minutes we hiked by the first spire we saw. These are the most distinctive features in the park, and are large columns of sedimentary rock that arise from the basin floor. Geologists are unsure of the exact origin, but there are several theories.
1) Evidence in the rock layers within the park indicate this area had earthquakes which created scoured pathways through overlaying rock layers. These base layers hardened, and overtime erosion has exposed the softer layers, revealing "pipes".
2) The are remnants of ancient springs. The springs became choked with sediments, which eventually cemented together and became more erosion-resistant that the surrounding rock. Erosion would have also revealed the "pipes".
3) These pipes were formed from water-saturated pockets buried under layers of other sediments over millions of years. Pressure from the overlaying sediments forced the wet slurry upwards, eventually cementing into hard rock. Erosion stripped away the softer rock layer, again, revealing the pipes.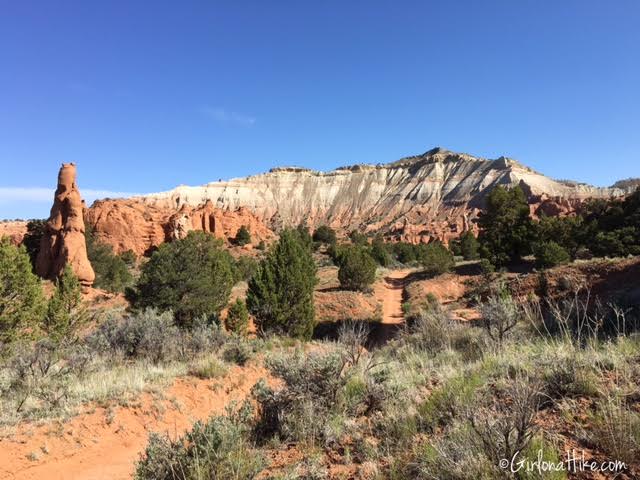 We decided to hike the Panorama Trail in a counter clockwise direction, so we started out hiking towards the white rock mountain.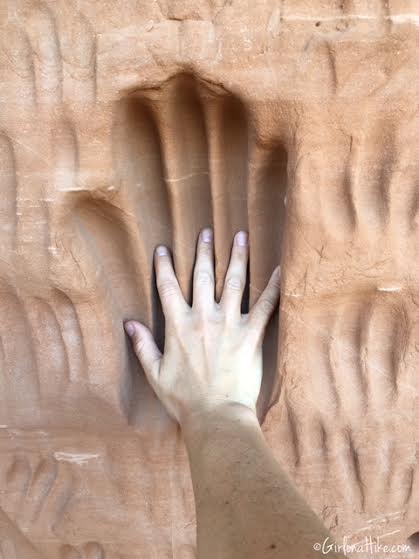 Stopping by "Indian" Cave, looking at the deep grooves into the outside of the cave walls.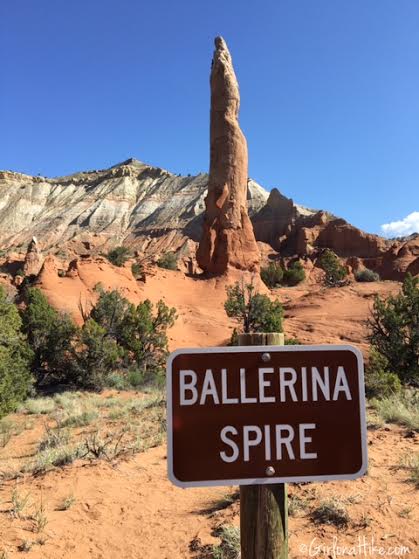 Stopping by Ballerina Spire.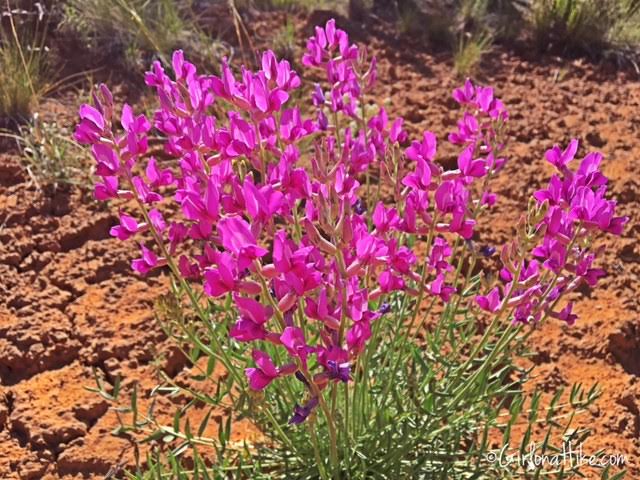 Beautiful desert flowers were still in bloom on Memorial Day.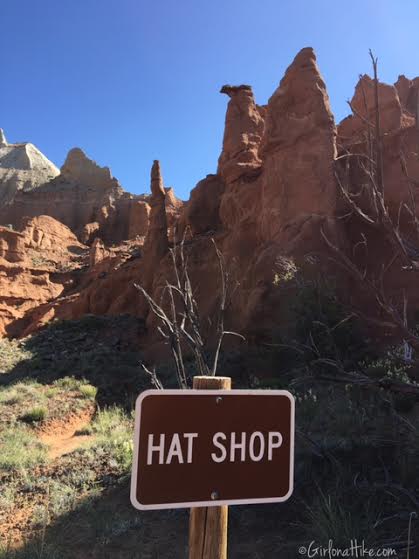 This area is labeled Hat Shop, but I would only see one rock that could resemble a hat. Not impressed with this section and/or name.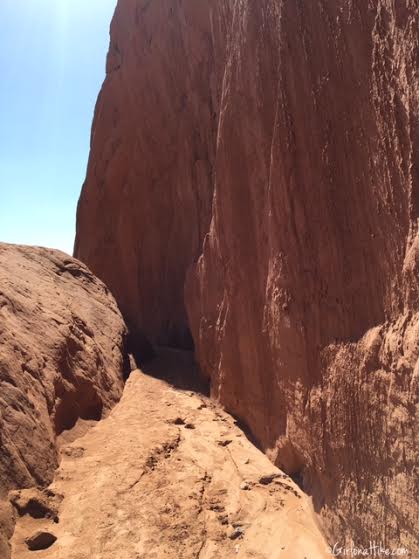 Walking by the "secret passage".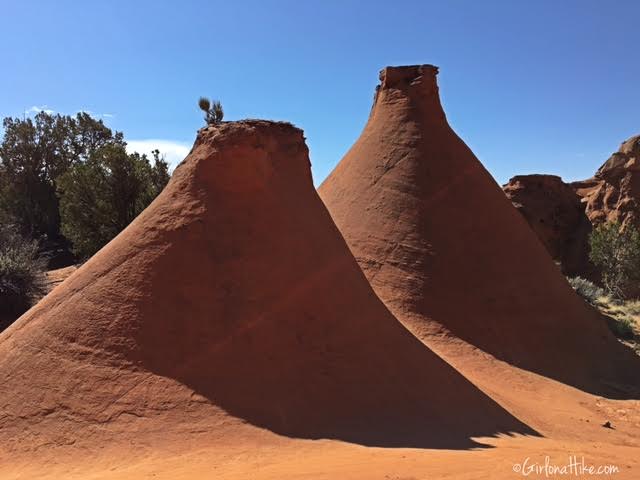 Rock features that resemble large ovens.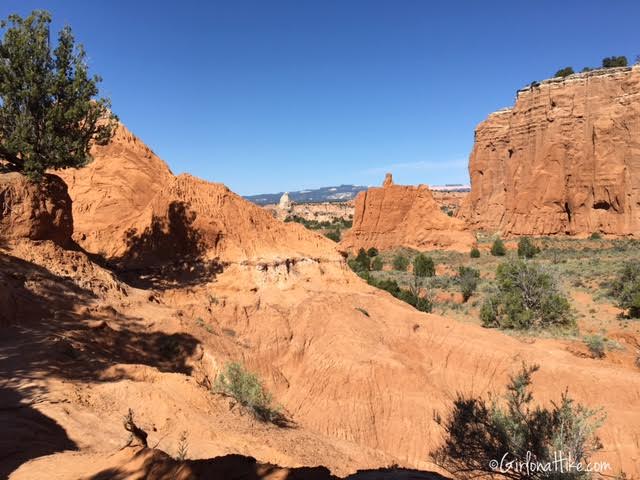 Continuing down the spur trail, towards Cool Cave.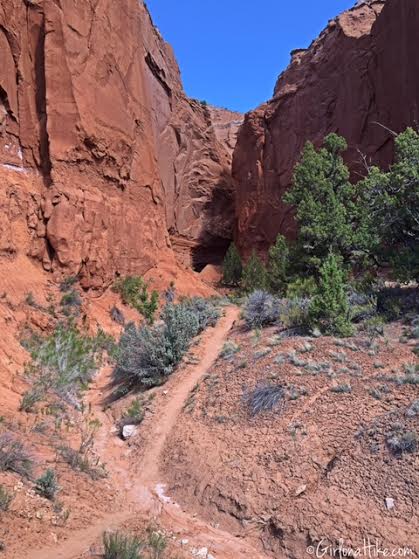 The trail leading into Cool Cave.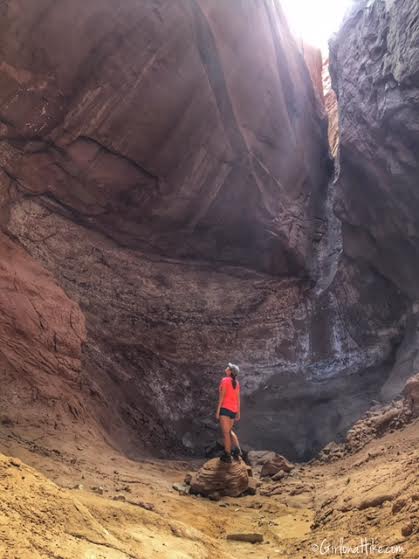 Inside the base of Cool Cave.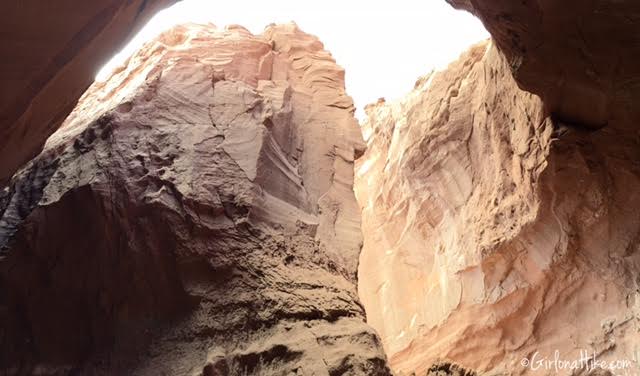 Panorama shot inside Cool Cave.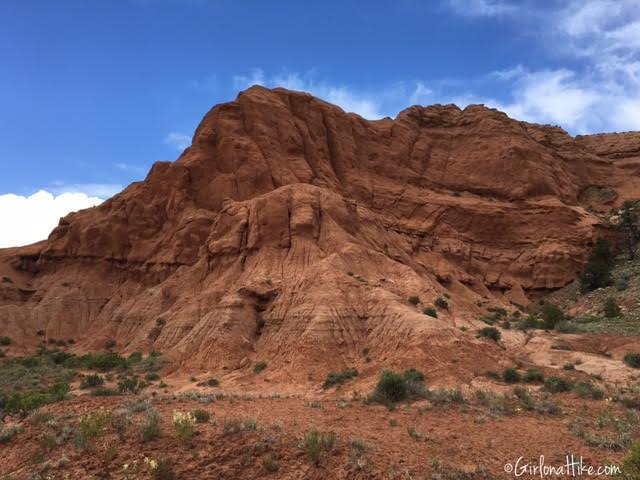 Heading back out onto the main trail.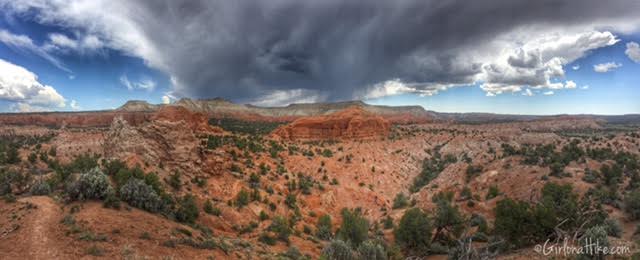 On Panorama Point – the best view of Kodachrome Basin State Park!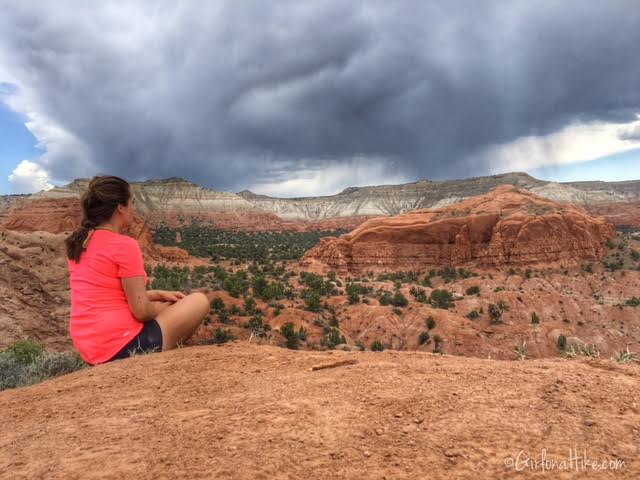 Enjoying Panorama Point as a storm passes us to the North.
We were so afraid this trail would be packed with hikers, yet we didn't see one other hiker the whole 3 hours we were on the trail! It was very odd for a holiday to be this empty, but we were happy with it!
Panorama view looking West. On a clear day you can see Bryce Canyon National Park.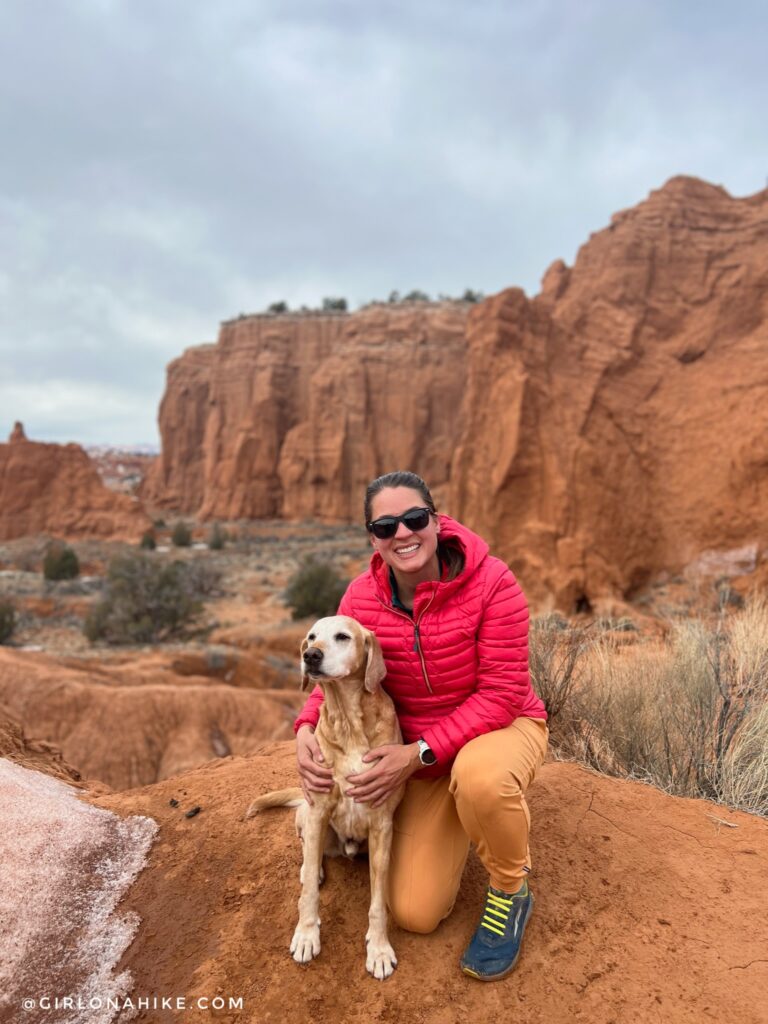 Same trail, February 2023! 6 years after our first visit!
 Camping at Kodachrome
Basin Campground is nestled right at the head of the basin, and offers views of one of the many sand pipes that the park is known for and the surrounded large white hills are within short walking distance from the campground. The Bryce Campground is more primitive, in that there are no hook ups, vault only toilets, and no showers.
Campsites
13 reservable full hook up sites
18 reservable standard sites
2 first come first serve full hook up sites
2 first come first serve standard sites
1 reservable double site
1 reservable A.D.A site
Campground Amenities
Hot showers
flush toilets
fire logs for $5/bundle
dish washing sink
picnic area
fire rings
water pump at each site
RV dump station
Rates
Check the Kodachrome Basin website for current fees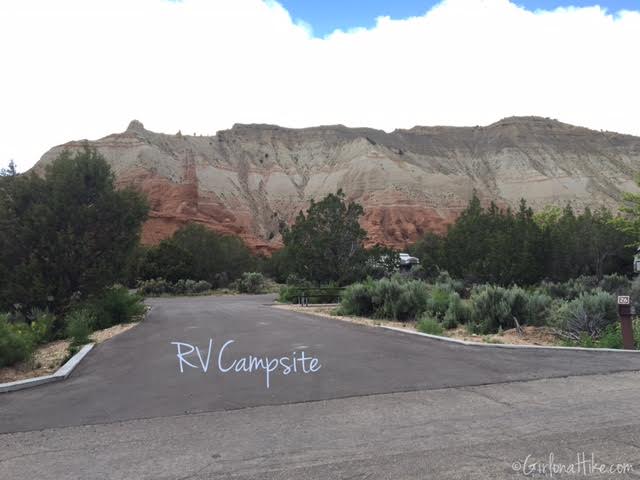 The Basin Campground is fully paved, which is nice for RVs to pull through easily. There are lots of trees for some shade as well.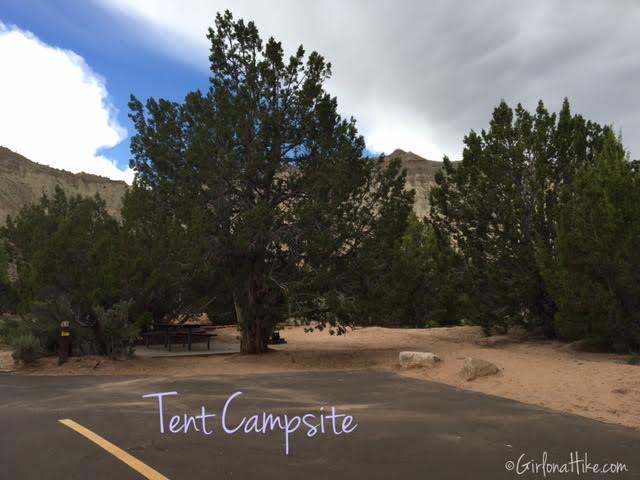 The tent campsites have space for one car to park, and a designated tent space. The restrooms were extremely clean and the showers looked very luxurious for a campground. We didn't camp at Kodachrome, but next time I am in the area I definitely would.
Trail Map

Save me on Pinterest!