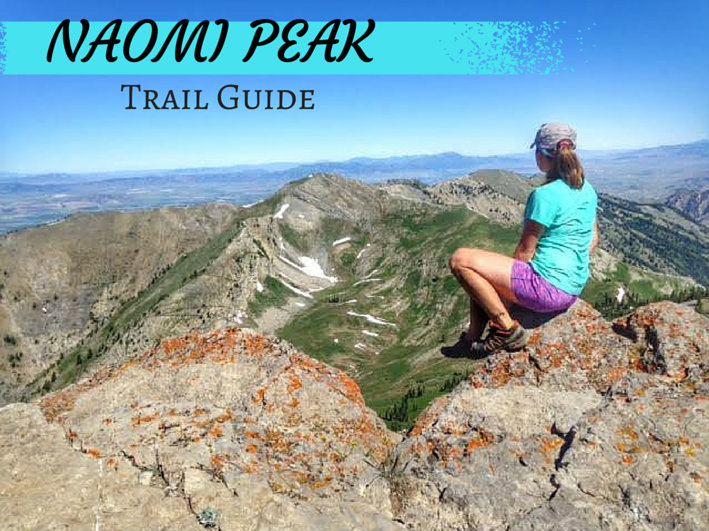 Hiking to Naomi Peak, Logan Canyon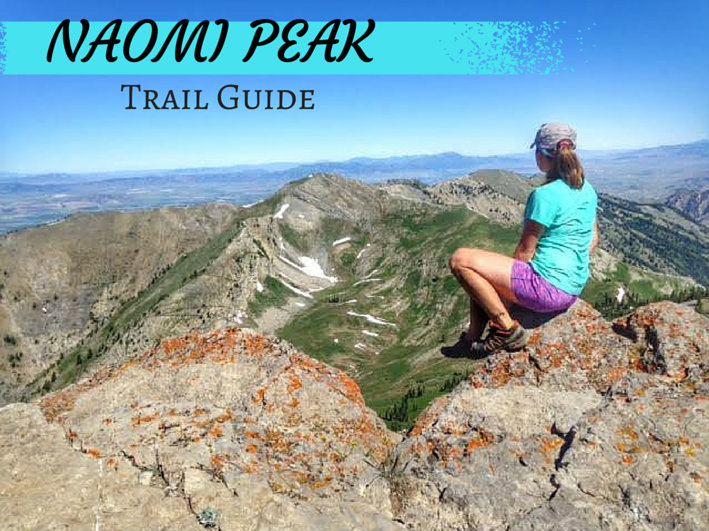 Naomi Peak (9,983 ft) is the highest point in the Bear River Mountains, in Northern Utah. Most people make the summit from the trail starting at Tony Grove Lake, but you can also access the peak from Dry Canyon, which is on the West side of the mountain range. Starting from Tony Grove is on the East side of the mountains, and travels through many wildflowers in early summer, a rock amphitheater, several meadows, and offers breathtaking views of Cache Valley and the surrounding peaks.
Directions
 From SLC head north on I-15, and take exit 362. Stay on HWY 89 for 27 miles until you reach Logan, UT. Turn right onto 400 N, and drive another 22 miles. Look for the brown Tony Grove Lake sign. Drive another 7 miles to the large parking lot. The trail starts at the West end of the parking lot. There is one restroom in the parking lot.
Trail Info
Distance: 6.6 miles RT
Elevation gain: 1,900 ft
Time: 3-6 hours
Dog friendly? Yes, off leash
Kid friendly? No
Fees/Permits? $6/day parking fee. No Permit.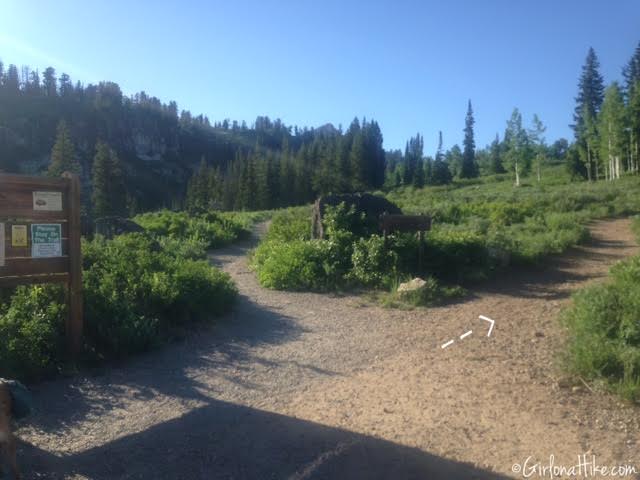 The TH starts on the western side of the parking lot. Turn right for
Naomi Peak.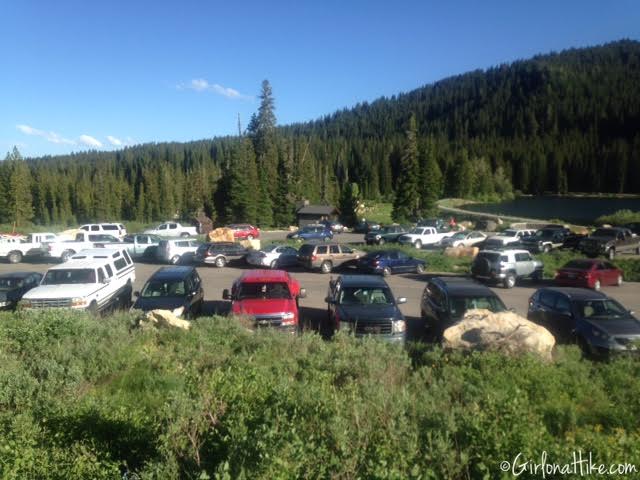 Arrive early to beat the heat and the crowds! This photo was taken when I started Backpacking to White Pine Lake the day before.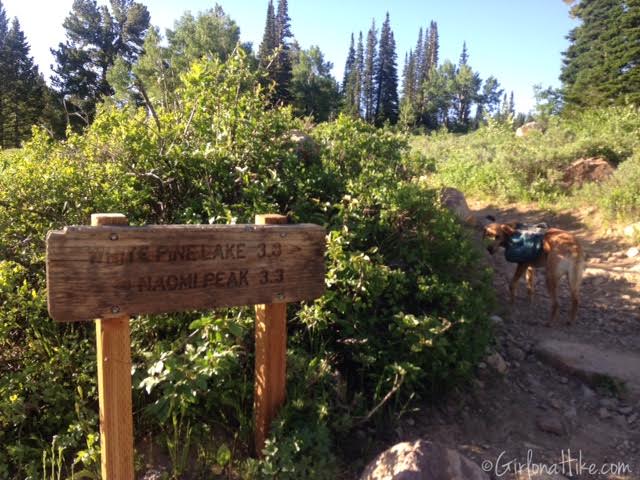 When you reach the 2nd trail split, turn left.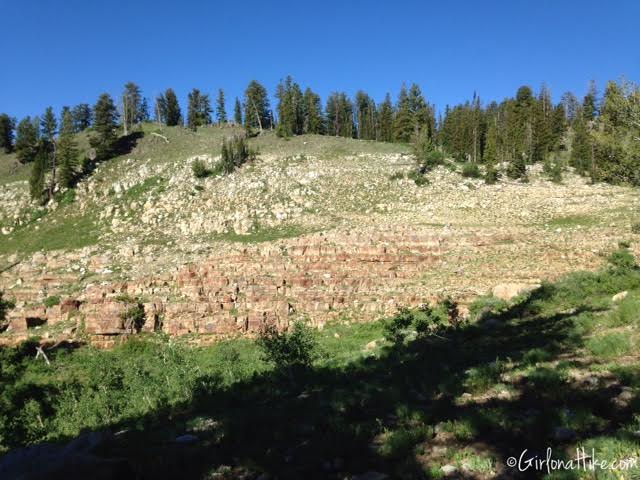 After 15 minutes of hiking pass by the "rock amphitheater" on the left.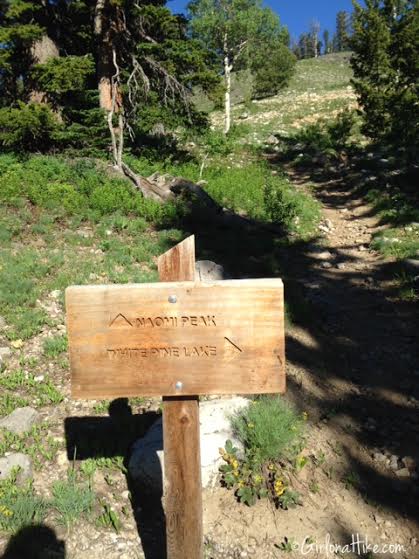 At the 3rd trail split stay straight. If you are coming from White Pine Lake, you could take the optional sneaker route to connect you to this spot. However, since I had backpacked the night before, I had to go back to my car and swap packs for this day hike.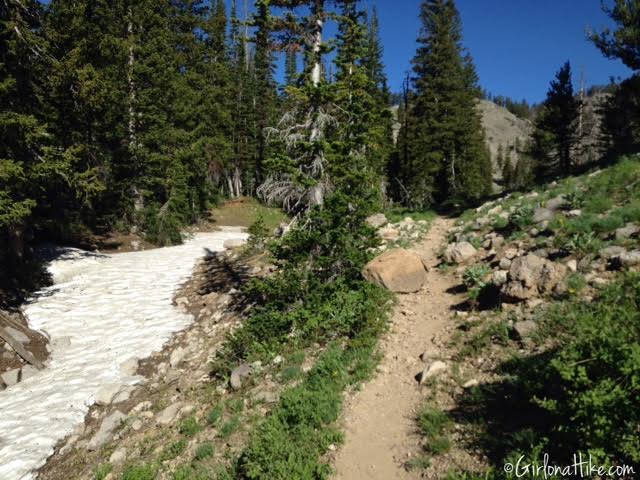 First snow patch! You will cross the first meadow right above this small hill.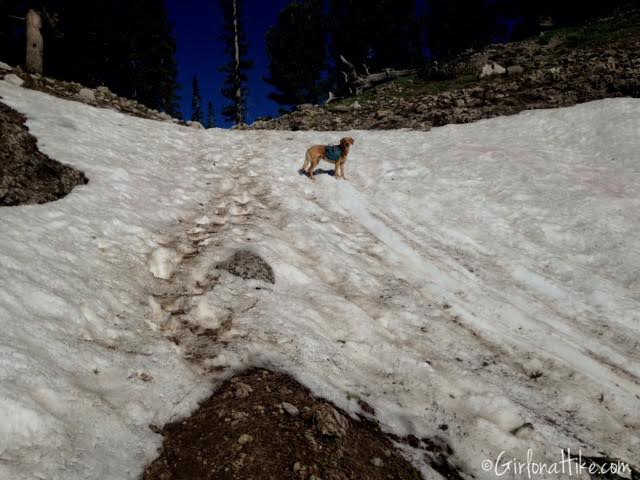 Work your way up some small switchbacks, and eventually you'll reach this small pass.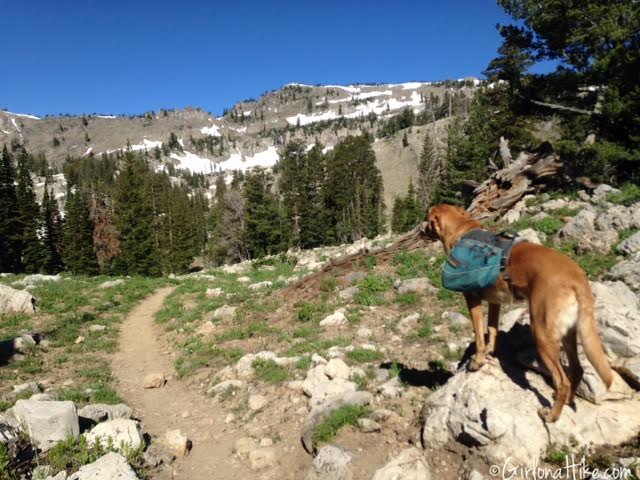 What you see just over that pass is amazing! You still can't see Naomi Peak, but the views are still great. It almost has a feel of the Sierras, only in a smaller scale.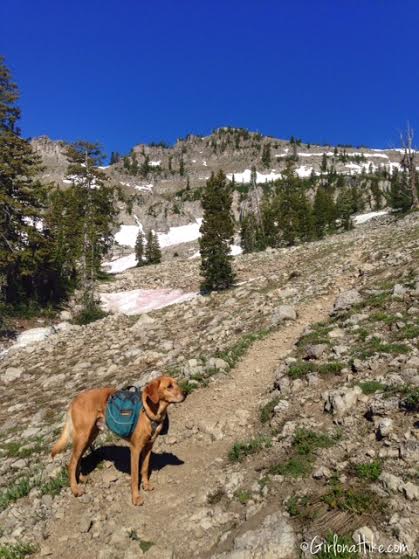 Working our way up the rocky trail. Even though we started hiking at 8:30am, it was warming up quickly.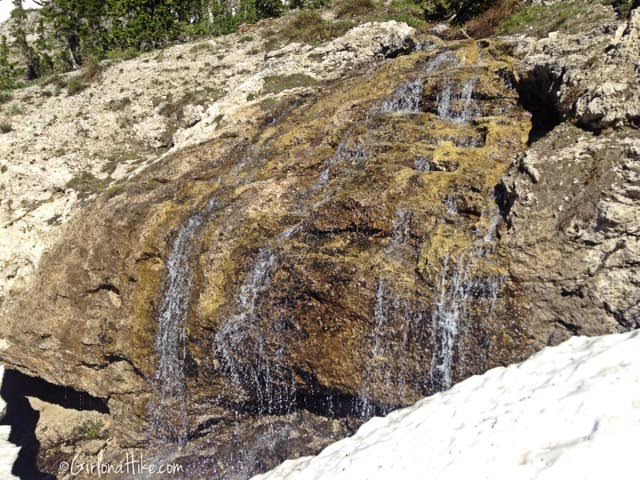 All the snow was melting so quickly that all these little waterfalls appeared. My guess is that they will be gone in a few weeks after the snow is gone.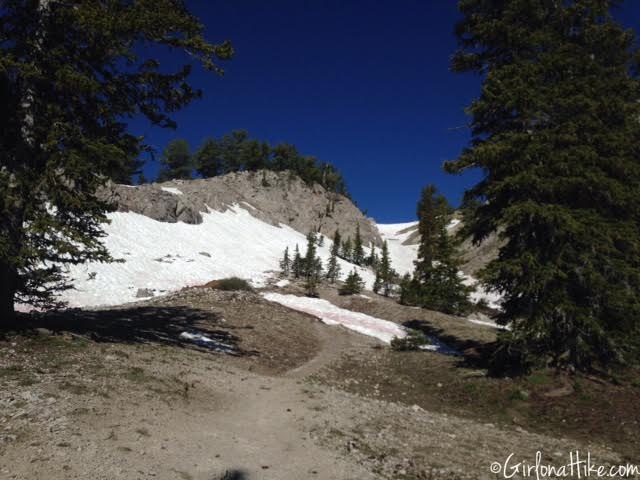 As we hiked higher up in elevation, I seemed to have lost the trail. When I got to this spot, I could actually see a guy in a bright red shirt – this was the only way I knew where to go. I headed straight up that gully.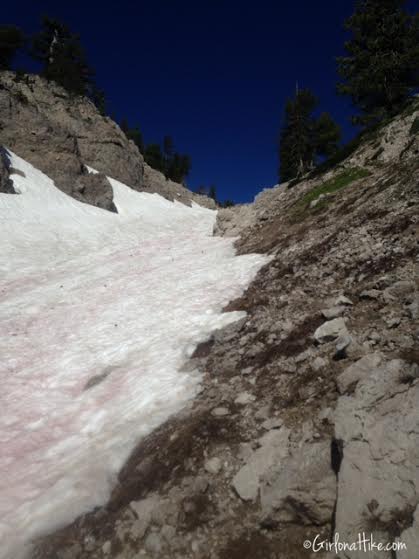 Hiking up this section I hugged the snow/rock line for fear of post holing through. I had no idea how deep or solid this snow was. After I reached the top of this gully, I realized it would have been much easier to just hike up the snow. If you hike with trekking poles, you can use them to test the spot you are going to step on, to see how solid the snow pack is.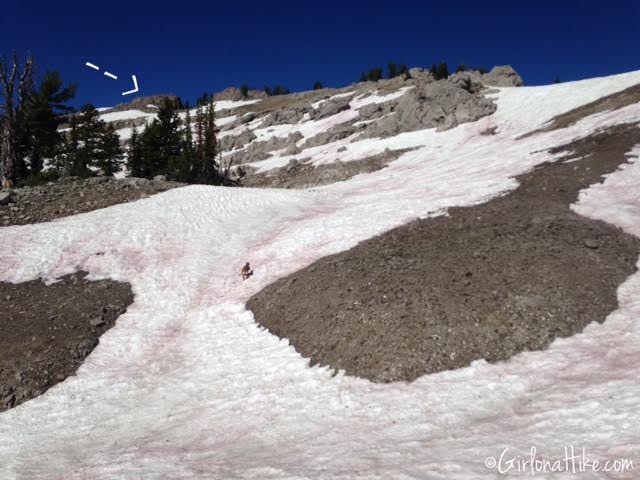 As we reached the top of that gully, I could see where the man in the red shirt was, and I knew where to head. First I headed toward the ridge, and actually found the trail again.
Do you see how the snow has a pink tinge to it? That is called Watermelon Snow, aka pink snow or snow algae. It is a species of green algae containing a red pigment in addition to chlorophyll. Unlike most fresh-water algae, it is cold-loving and thrives in freezing water. Don't let the pink color full you for a watermelon or cotton candy flavored snow – it is harmful in large amounts. Pink Snow is also causing glaciers to melt faster than ever before.

Finally at the ridge, looking back from where we just hiked up. This view is looking East – Naomi Peak is to the far right in this photo. Almost there!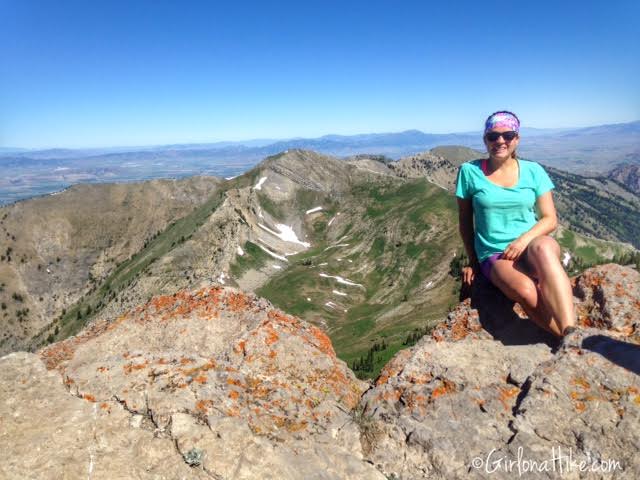 On the summit of Naomi Peak! Cherry Peak is in the distance, and Idaho is the furthest mountains.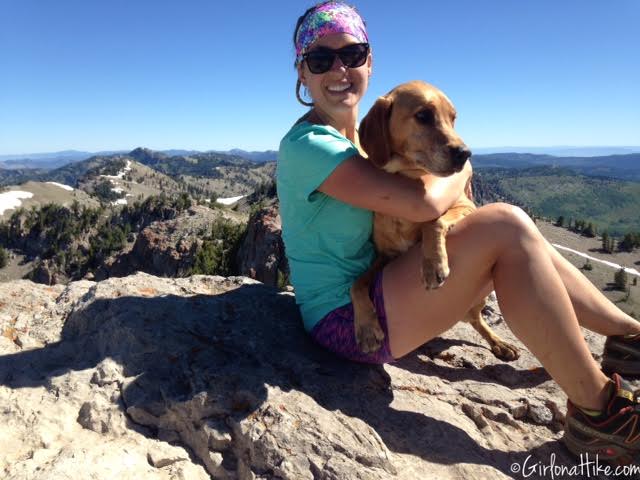 Charlie made it and did great! He loved walking in the snow, and as usual took his small nap on the summit. We hung out at the peak for about half an hour to take photos, snack, and rest. It took me roughly 2 hours to reach the summit.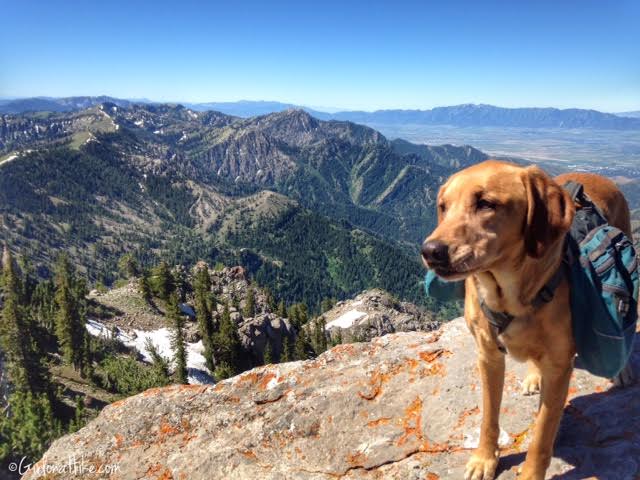 Charlie on Naomi Peak, looking South with Logan and Smithfield, UT in the valley.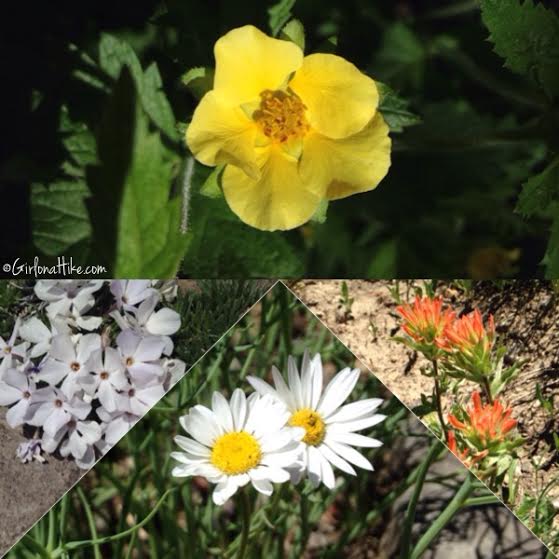 Lots of wildflowers along the way!
Trail Map
My track via Gaia GPS – the best tracking app! Get your app here for a discount.

Save me on Pinterest!