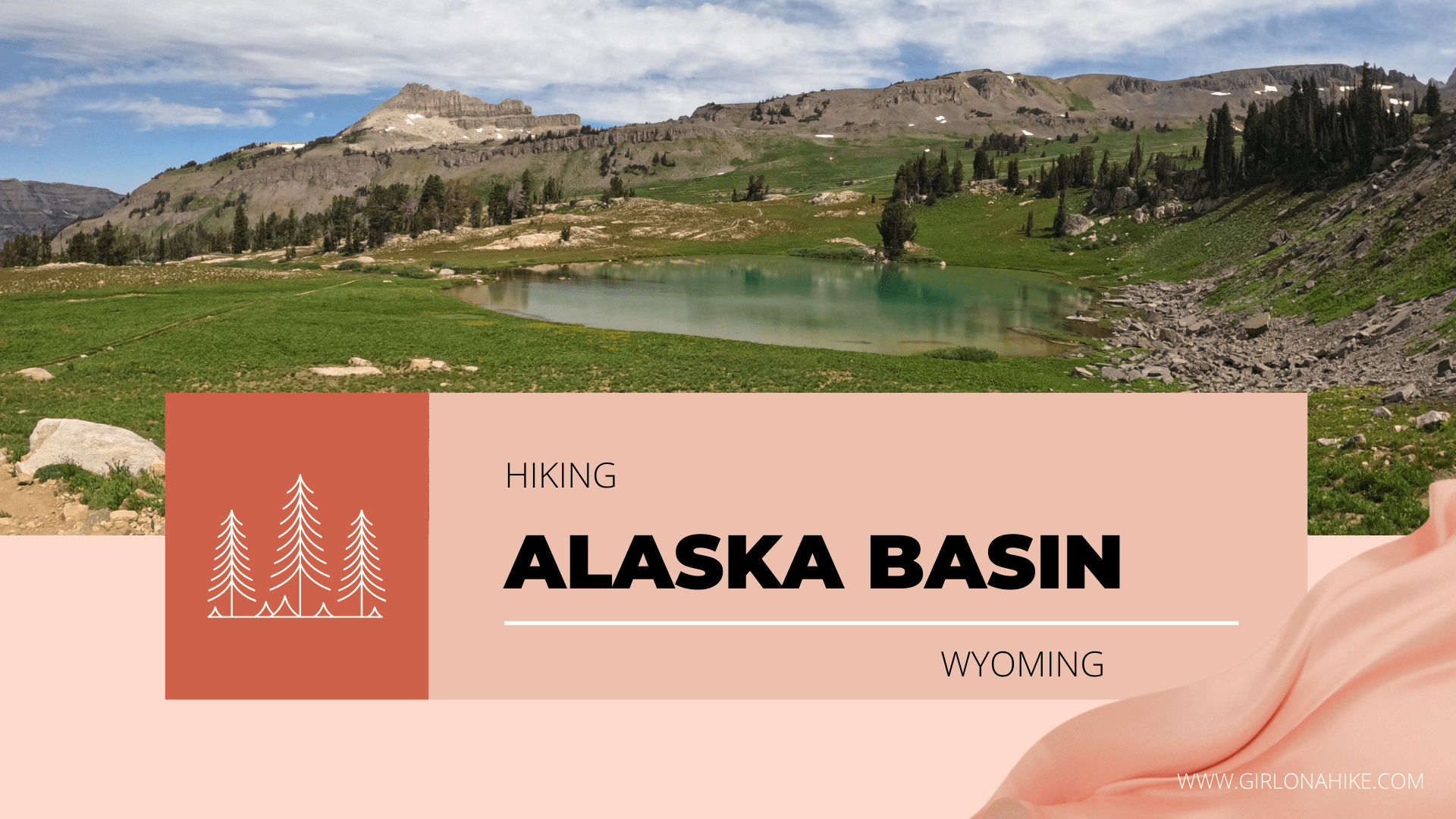 Hiking Alaska Basin in Wyoming is a popular destination for backpackers and runners, as it passes alpine meadows, streams, rocky mountains, and is filled with wildflowers.
About
Alaska Basin is in the Jedidiah Smith Wilderness and is home to the Teton Shelf, a long, narrow plateau with 300-foot cliffs on one side of the trail.
Hiking into this area either requires a few nights backpacking or a long day hike/run, which I chose to do for my marathon training. 22 miles in a day? What a perfect option for my last really long run before the big day. There are several route options too – take this guide as just a starting point and to give you ideas of where you could go in Alaska Basin. The options are endless!
Because this is on the "backside" (West) of Grand Teton National Park, dogs are allowed and its a great area to take them hiking. There's plenty of shade and water. However, because of the abundant wildlife a leash should always be handy.
For my route, I did a semi-loop – up the Teton Shelf (a.k.a Devil's Staircase), up to Buck Mountain Pass, then all the way back out Alaska Basin (check out my map at the end of this post). Because I did this towards the end of July, all the wildflowers were in full bloom and every turn was just amazing.
Directions
It's easiest to type into Google Maps, "Teton Canyon Trail Head" and have it guide you. From SLC it's about a 5-hour drive. The parking lot and overflow areas are huge, and any kind of car can drive down the well-graded dirt road. On weekends the parking areas do fill up by 9am, so get there early!
Trail Info
Distance: 22 miles
Elevation gain: 4,000 ft
Time: 1-2 nights backpacking or 1 full day
Dog friendly? Yes, off leash
Kid friendly? Yes, ages 10+ for backpacking
Fees/Permits? None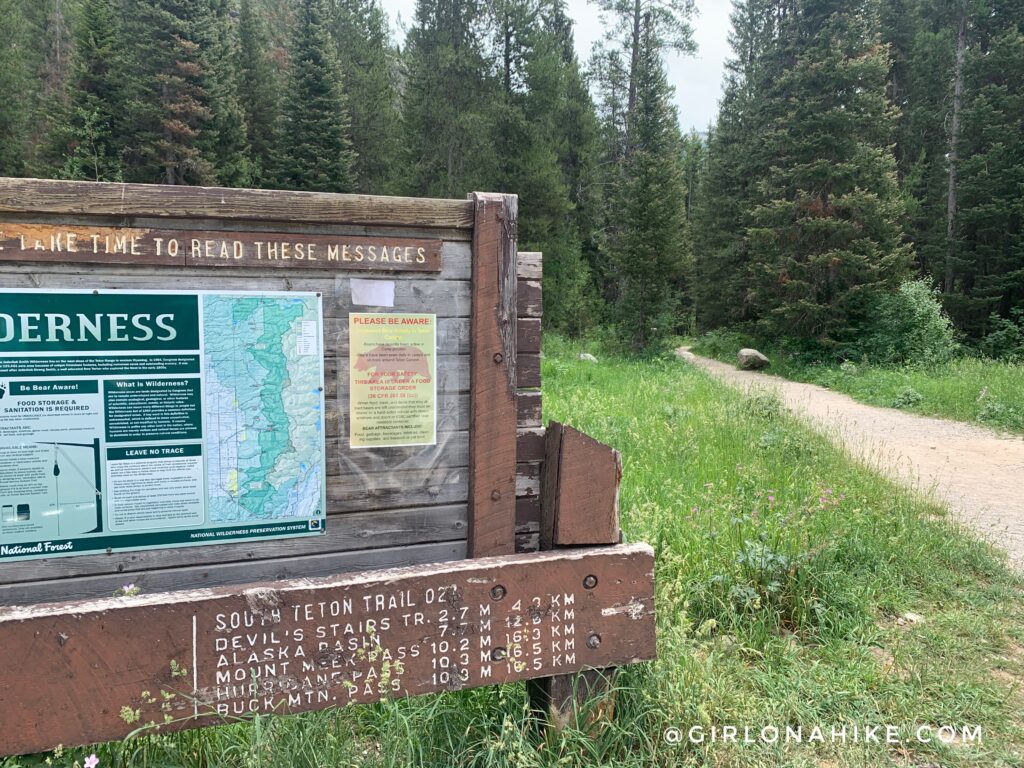 Alaska Basin begins at the Teton Canyon Trailhead, which is the same as Table Mountain. It says Buck Mountain Pass is 10.8 which was pretty accurate – I tracked 11 miles one way.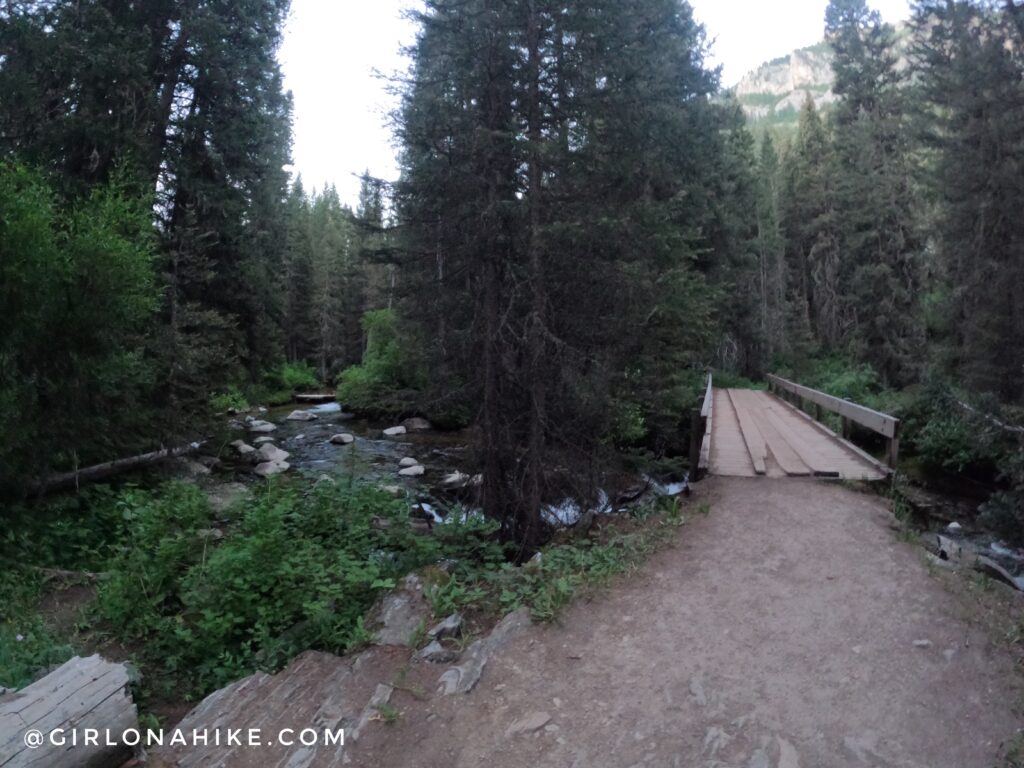 You'll quickly cross a bridge.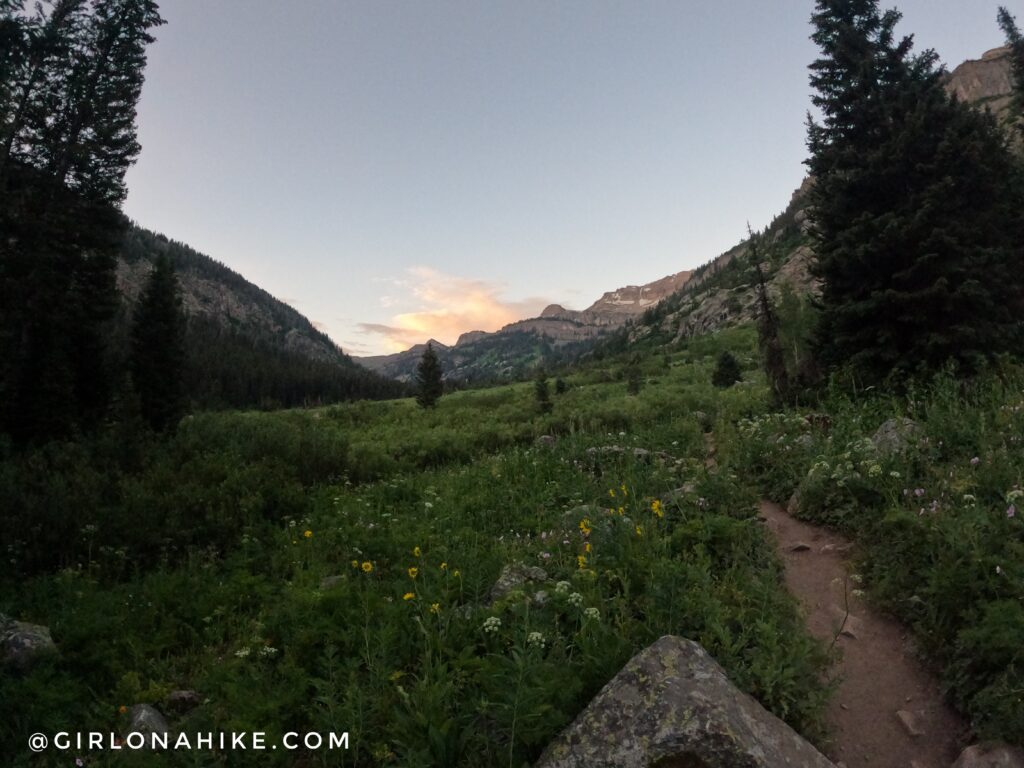 Around mile 2 the views open up and you can finally see where the Devil's Staircase / Teton Shelf is!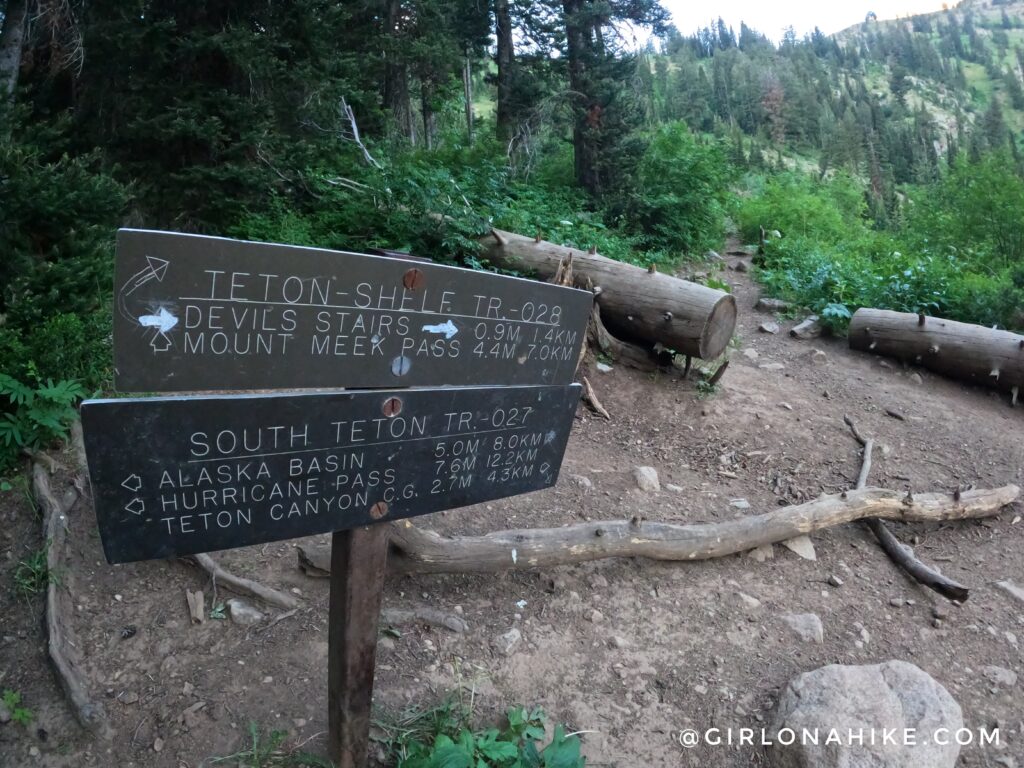 At 2.75 miles you will now see the trail split for Devil's Staircase / Teton Shelf. Turn right here. Now the climbing begins!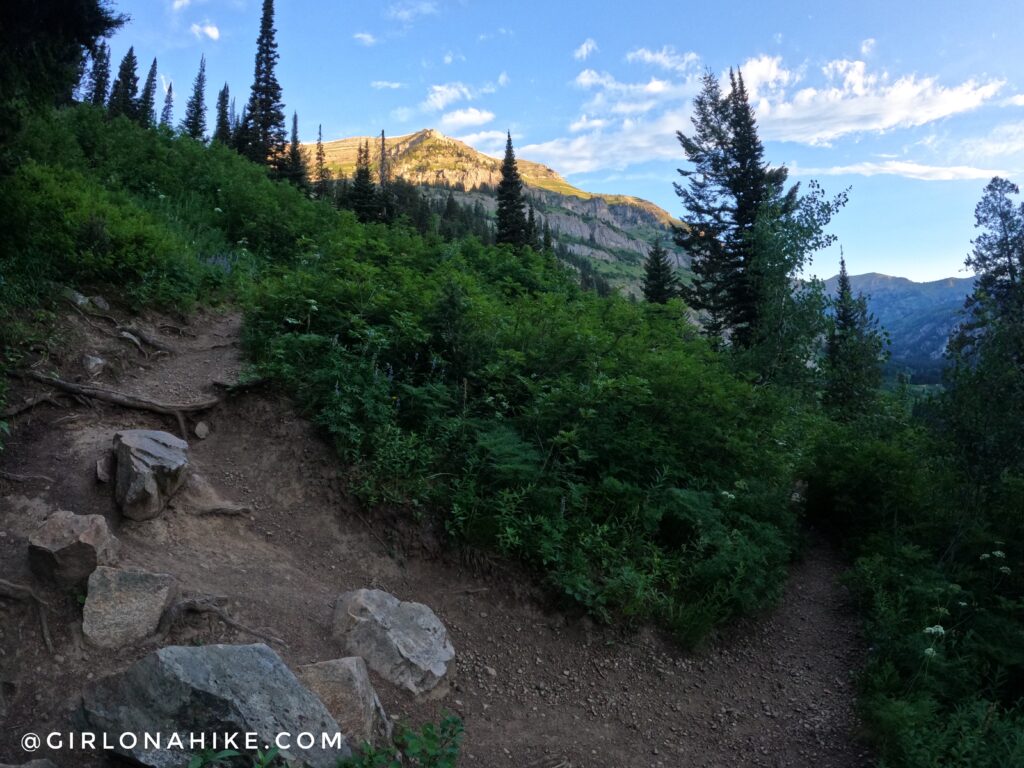 You'll hike up very steeply up a few switchbacks.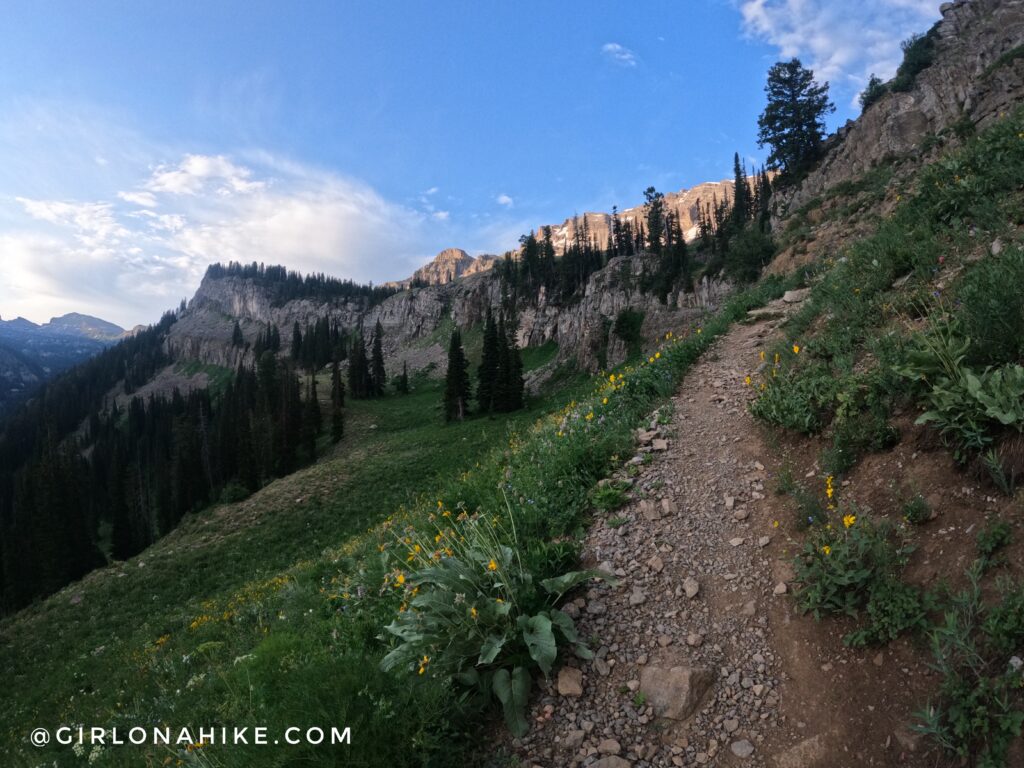 However, the views keep getting better and better!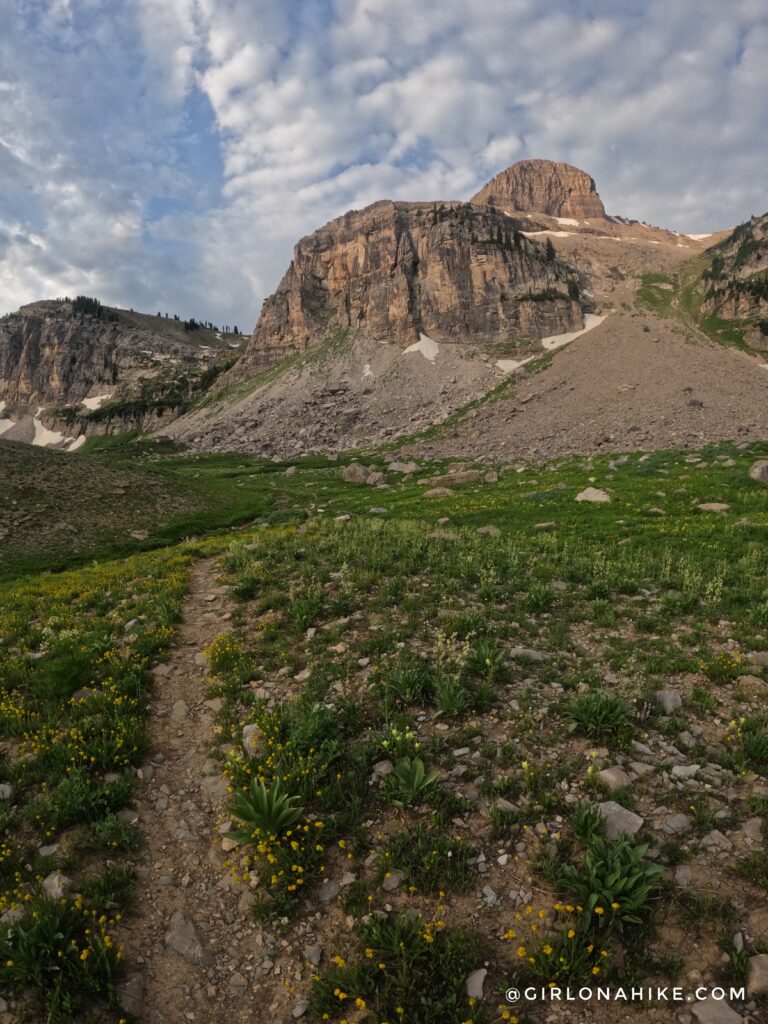 Eventually, you will be on the Teton Shelf, and surprisingly there are a few flat sections – perfect for running. If you want to backpack this section, there aren't many areas to camp near water. It's also exposed to few trees, so I would avoid camping along this section.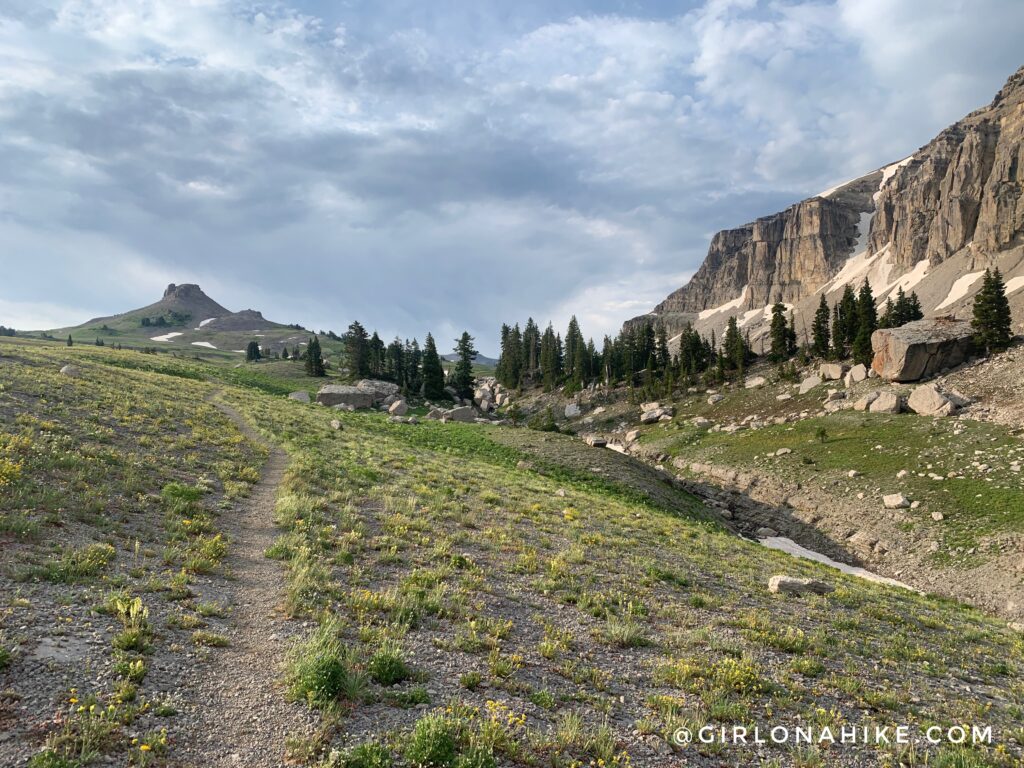 The Teton Shelf gradually gains elevation, but it really doesn't feel like much. This is approaching Meek's Pass, which I decided to skip.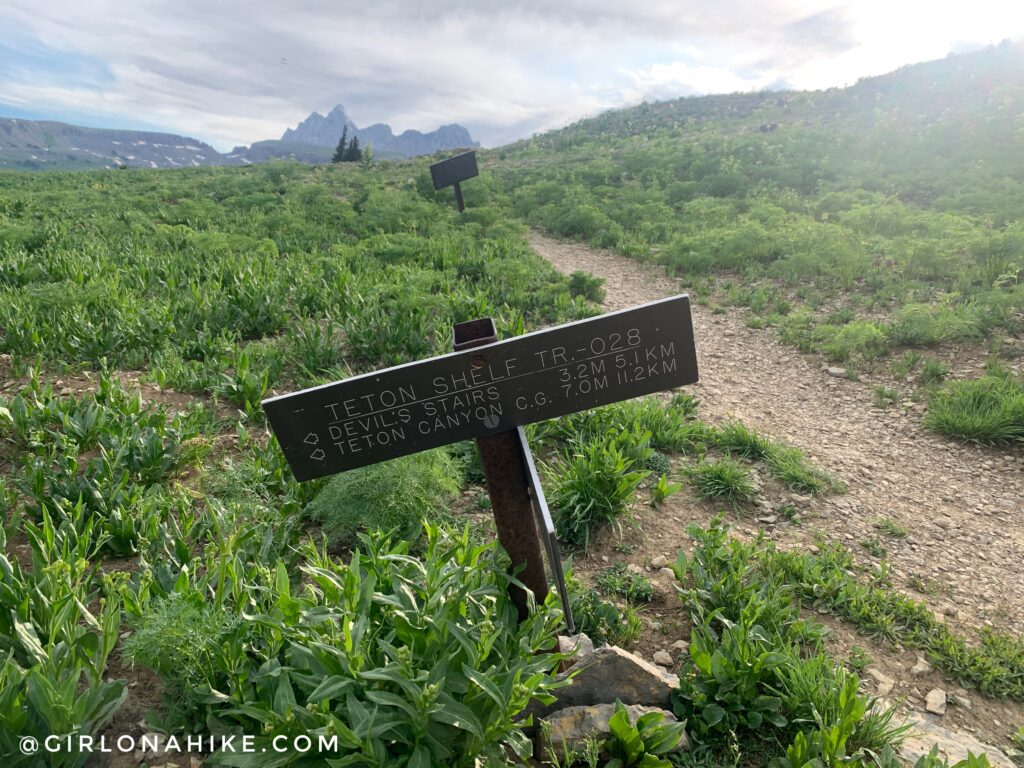 At the next trail split, I turned left, which started to create my loop. Wow, now you can see the Grand Teton too!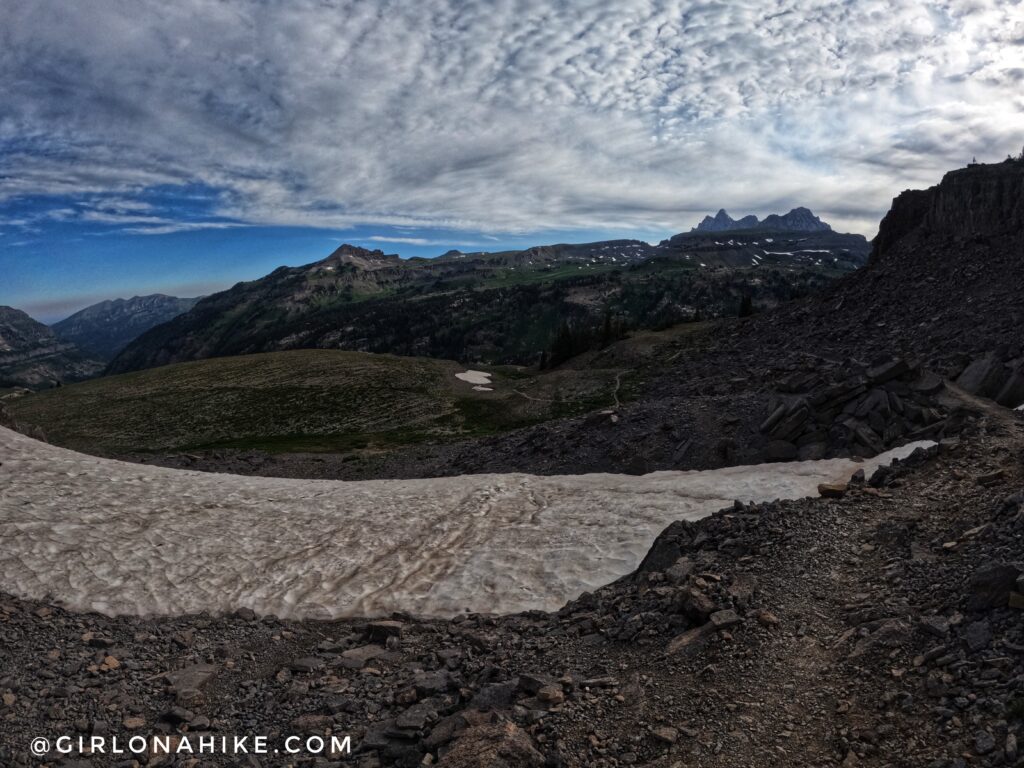 I started to drop in elevation and hiked through this boulder field.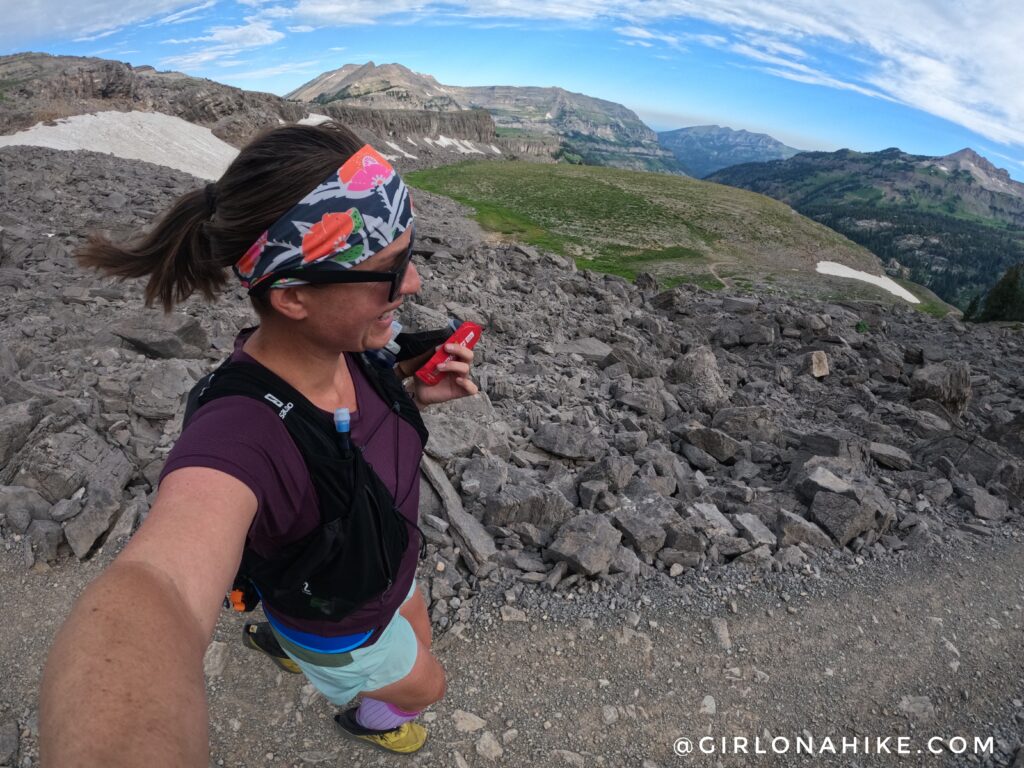 Weeee, running! I really loved this rocky section, but it was flat enough to get a few running steps in.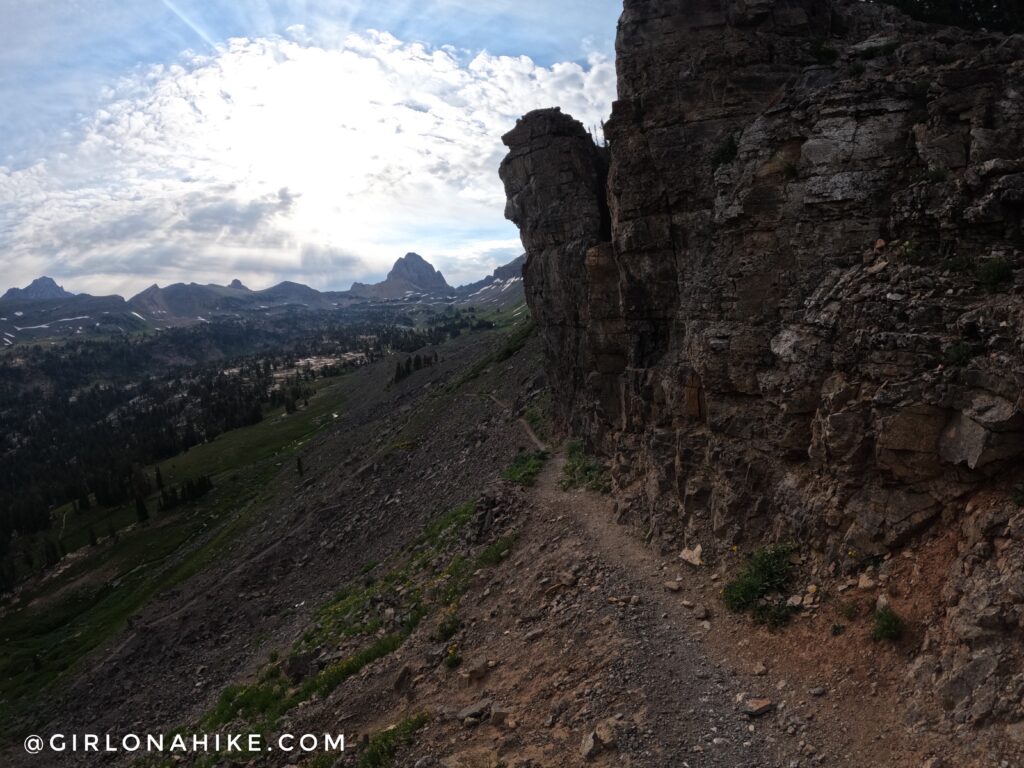 The trail hugged the side of a cliff but only for a short minute before dropping down some switchbacks. The peak in the distance is where I would eventually end up.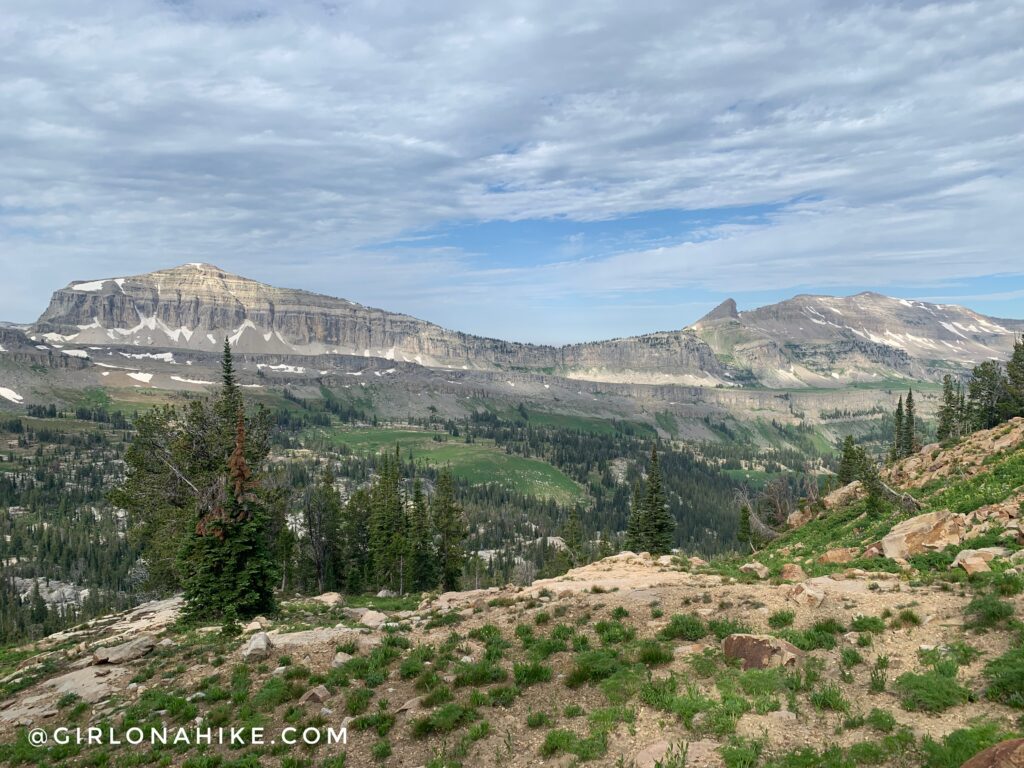 Now it was time to climb back up, and looking West I had an amazing view of the Teton Shelf and everything I had just hiked. So cool!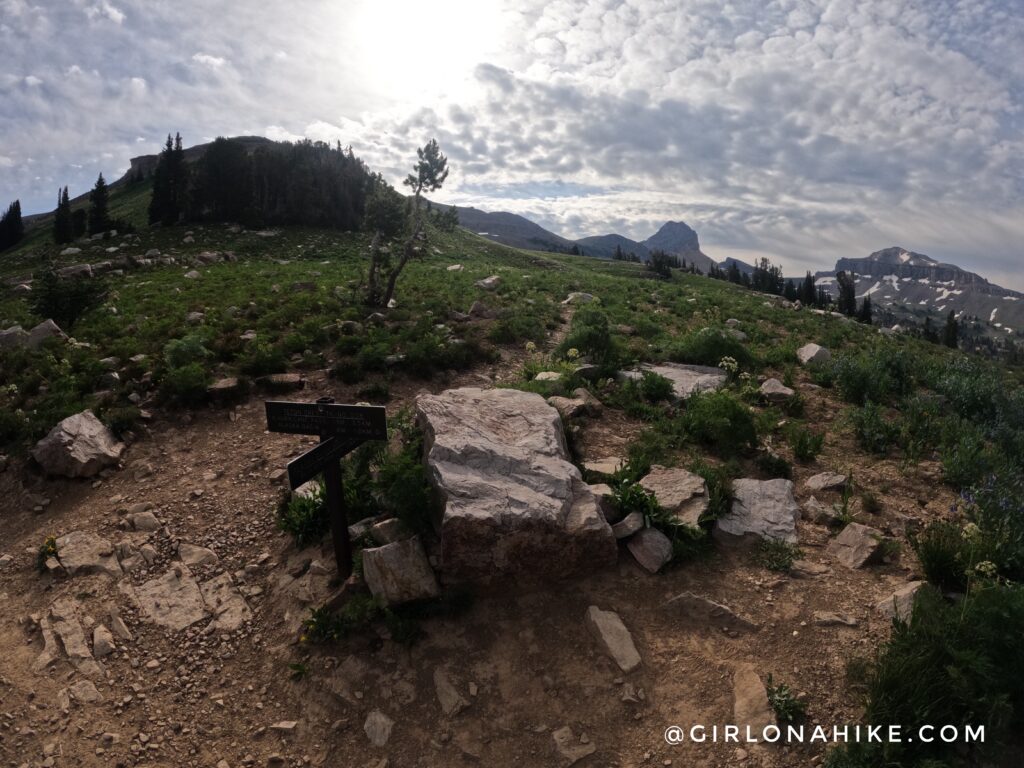 I found my next trail split, and now it was time to head towards Buck Mountain Pass, my turnaround point for the day.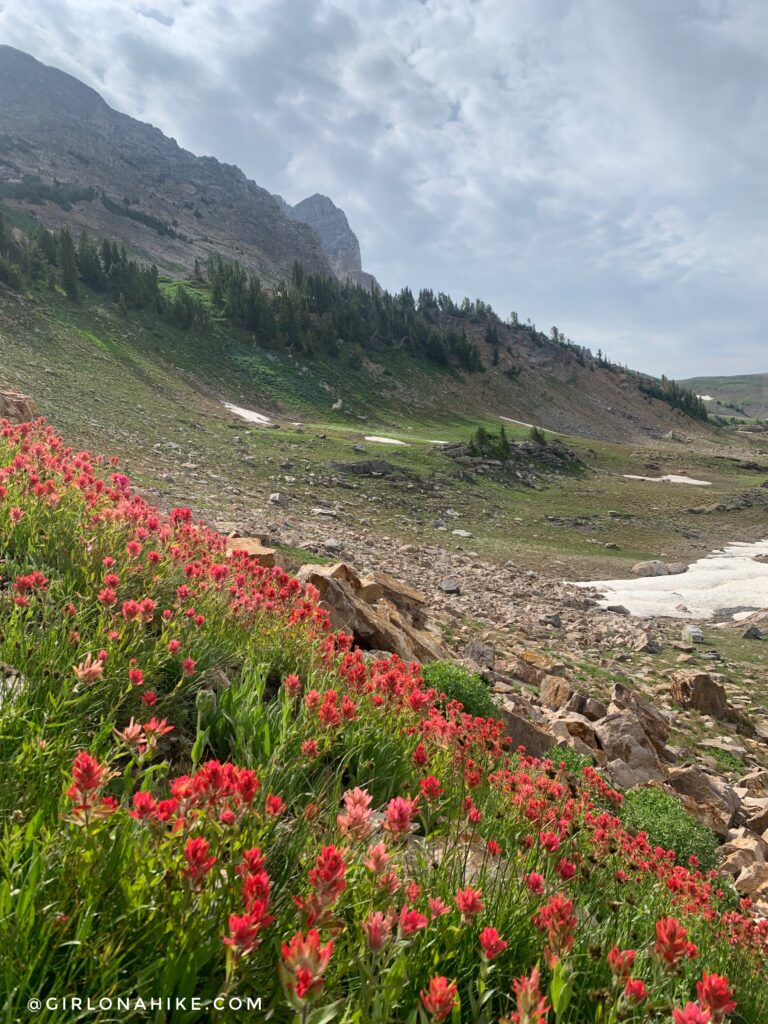 Once I split off is where I found both the most amazing flower fields, but also several snow crossings.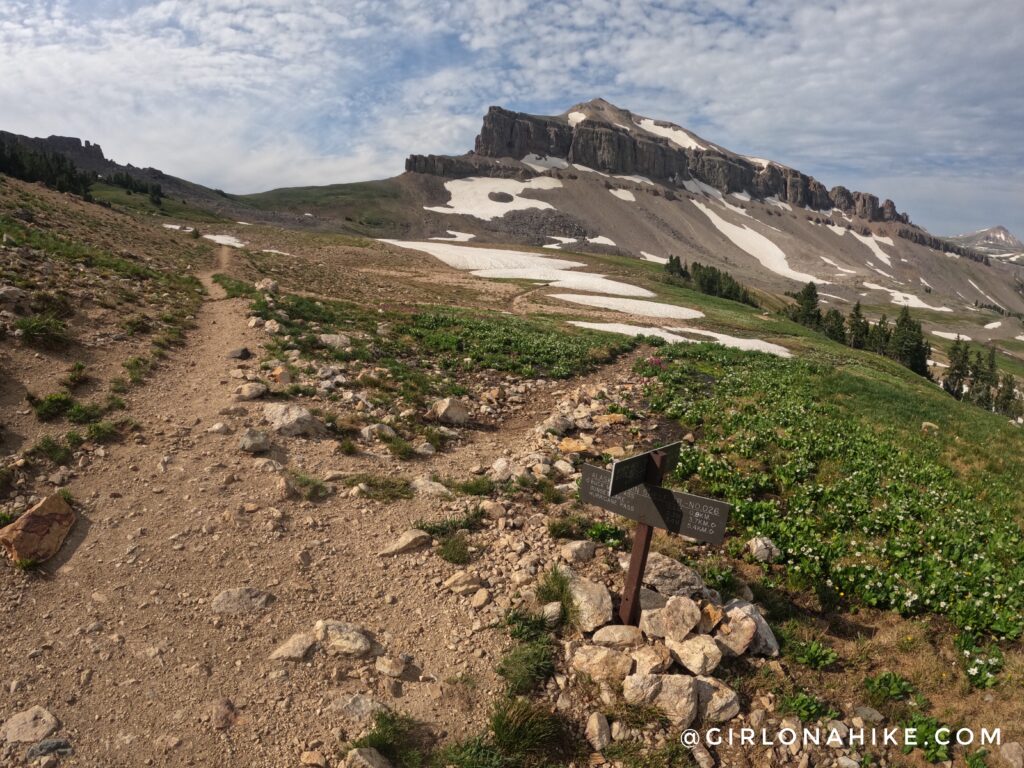 The trail intersects again, however, I wanted to stay straight towards the pass. This is another option for reaching this area though.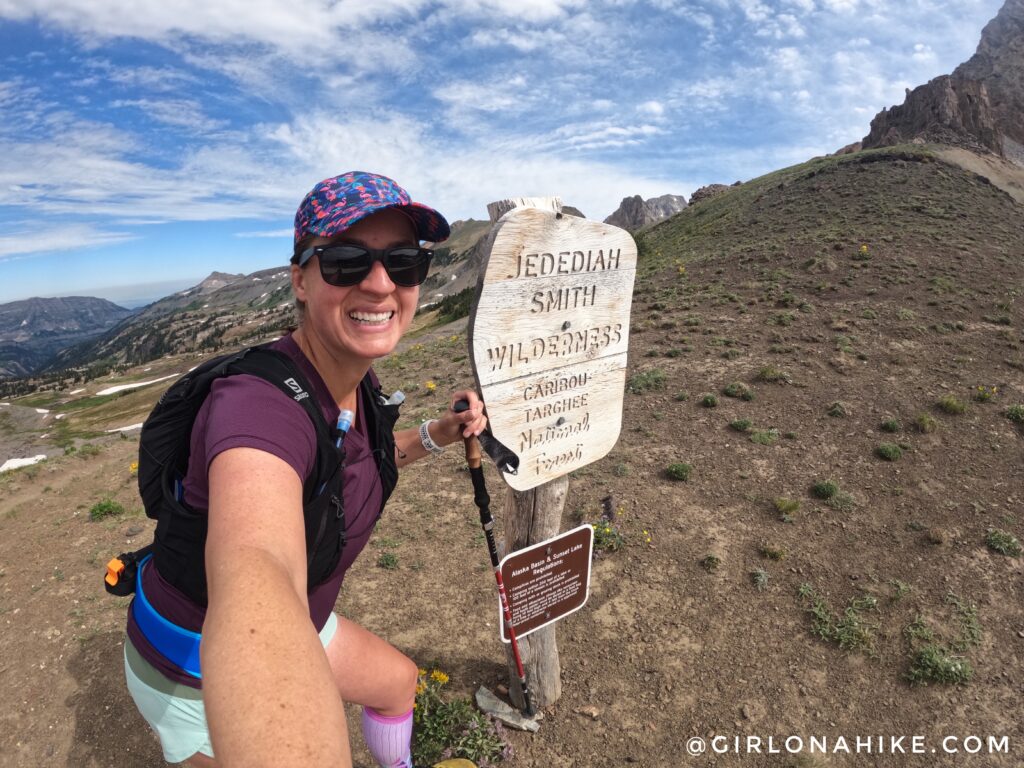 At mile 12 and at the pass whoohoo! Some maps also refer to this as the "Static Peak Divide", however, all signs said Buck Mountain Pass.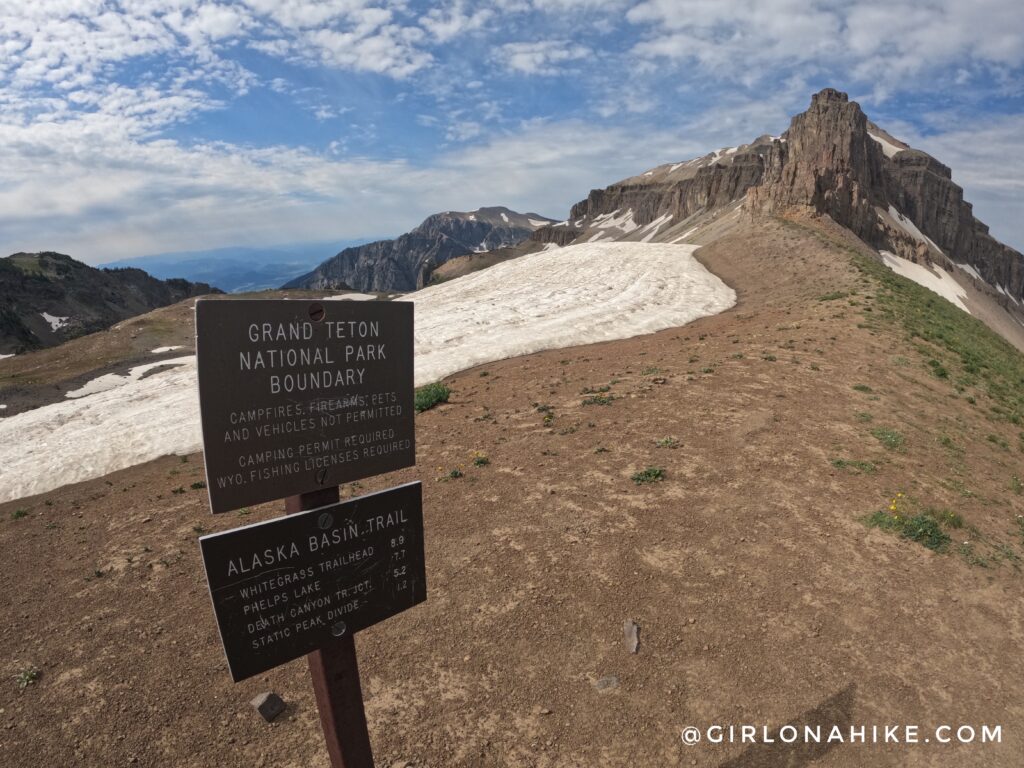 I actually met another hiker here who was doing a point-to-point route – he started at the same place as me, Teton Canyon TH, but was going to end at the Death Canyon TH. He said it would also be about 20 miles. That's one of the great things about this whole area – the route options are endless! Everyone I met on the trail and talked to was all doing different routes. Just a heads up if you hike this with a dog – dogs are NOT allowed to drop into this area since it's a part of Teton National Park. You have to stay on the West side of the Tetons.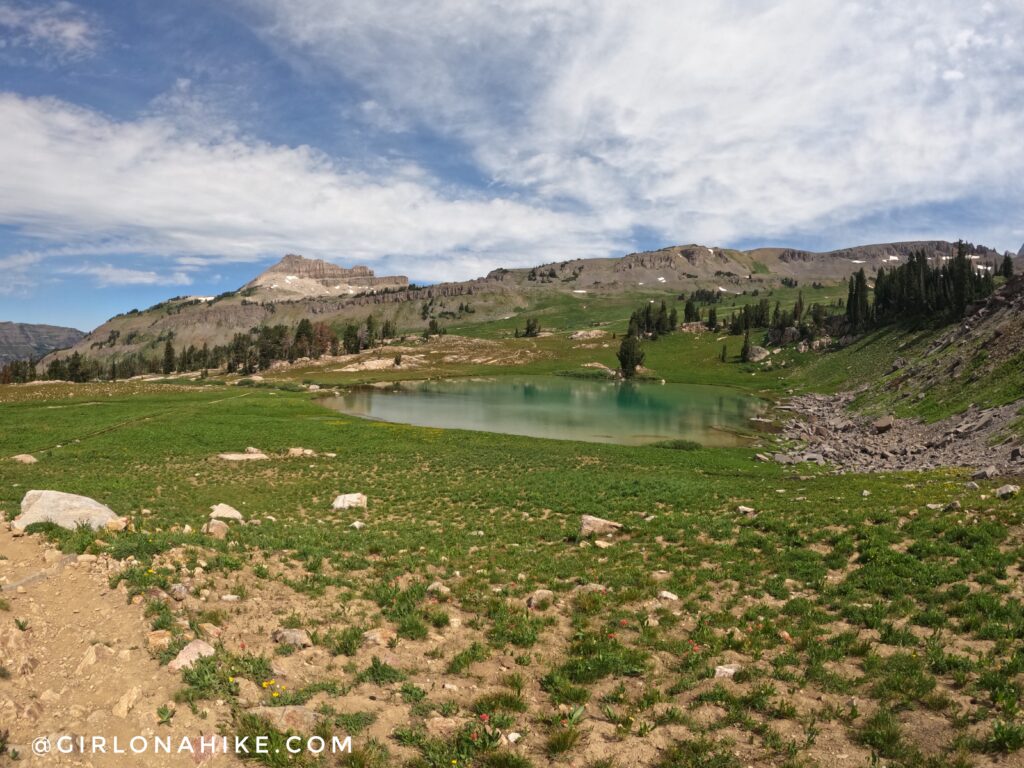 After a quick lunch break at the pass, I turned around and headed for Sunset Lake. It was sooo pretty and clear! There were also some great camping spots in the area.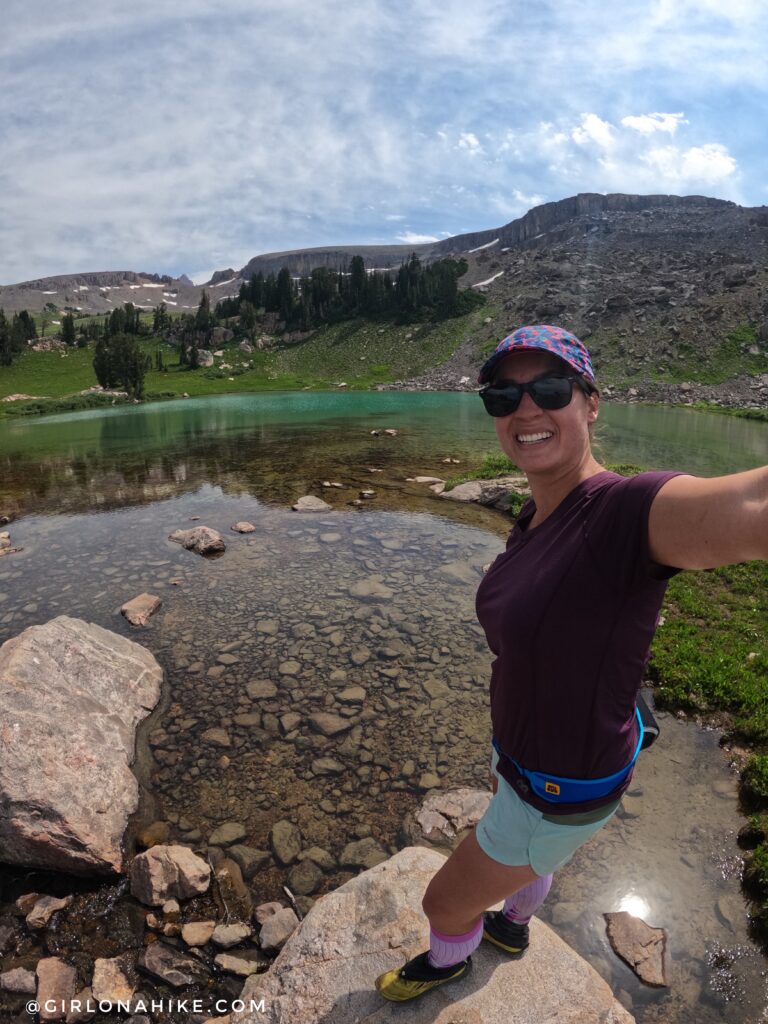 I just can't get over how clear the water was here.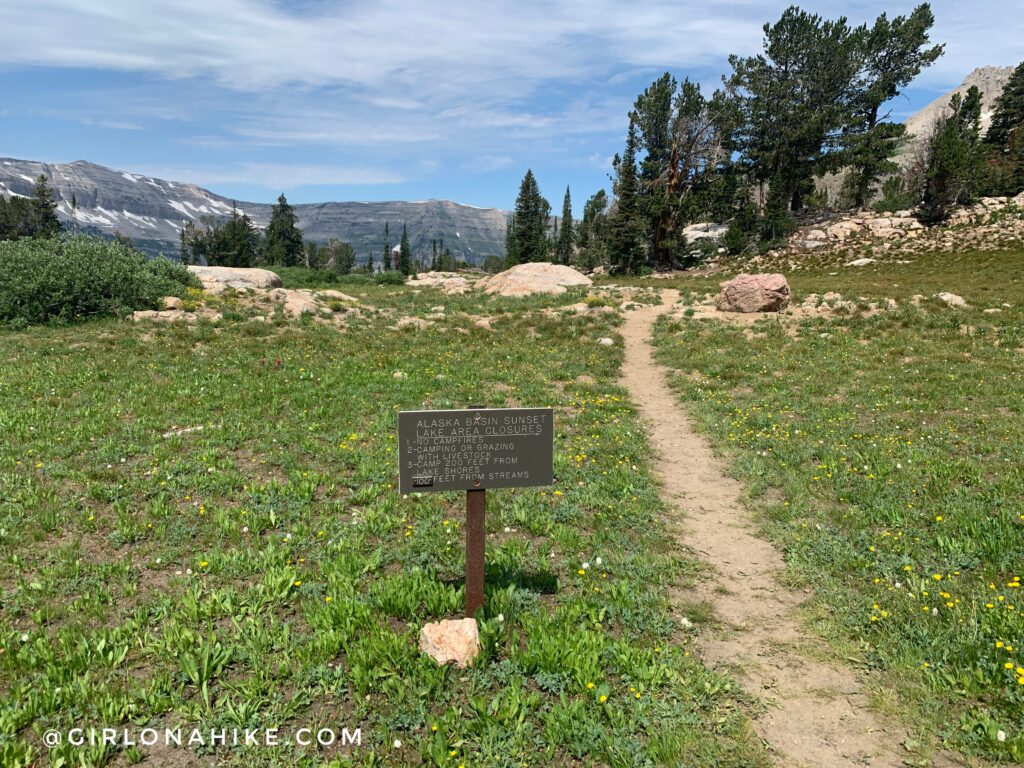 Now it was time to finish making my loop, however, when I turned at the sign the trail faded out. I lost the trail for probably 1/2 mile, but I just kept looking at my Gaia GPS and was able to get back on the main trail. From there, I just took a straight shot out of Alaska Basin back to my car. What a day! For my 22-mile day, it took me just under 8 hours to complete. Marathon day, here I come!
Trail Map
My track via Gaia GPS – the best tracking app! Get your app here for a discount.
Recommended Gear
Nearby Hike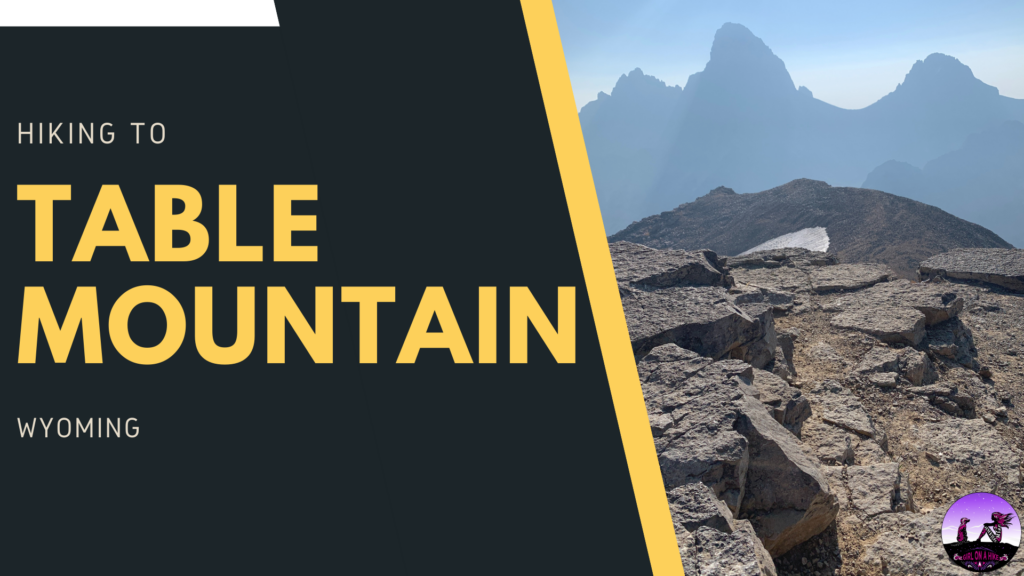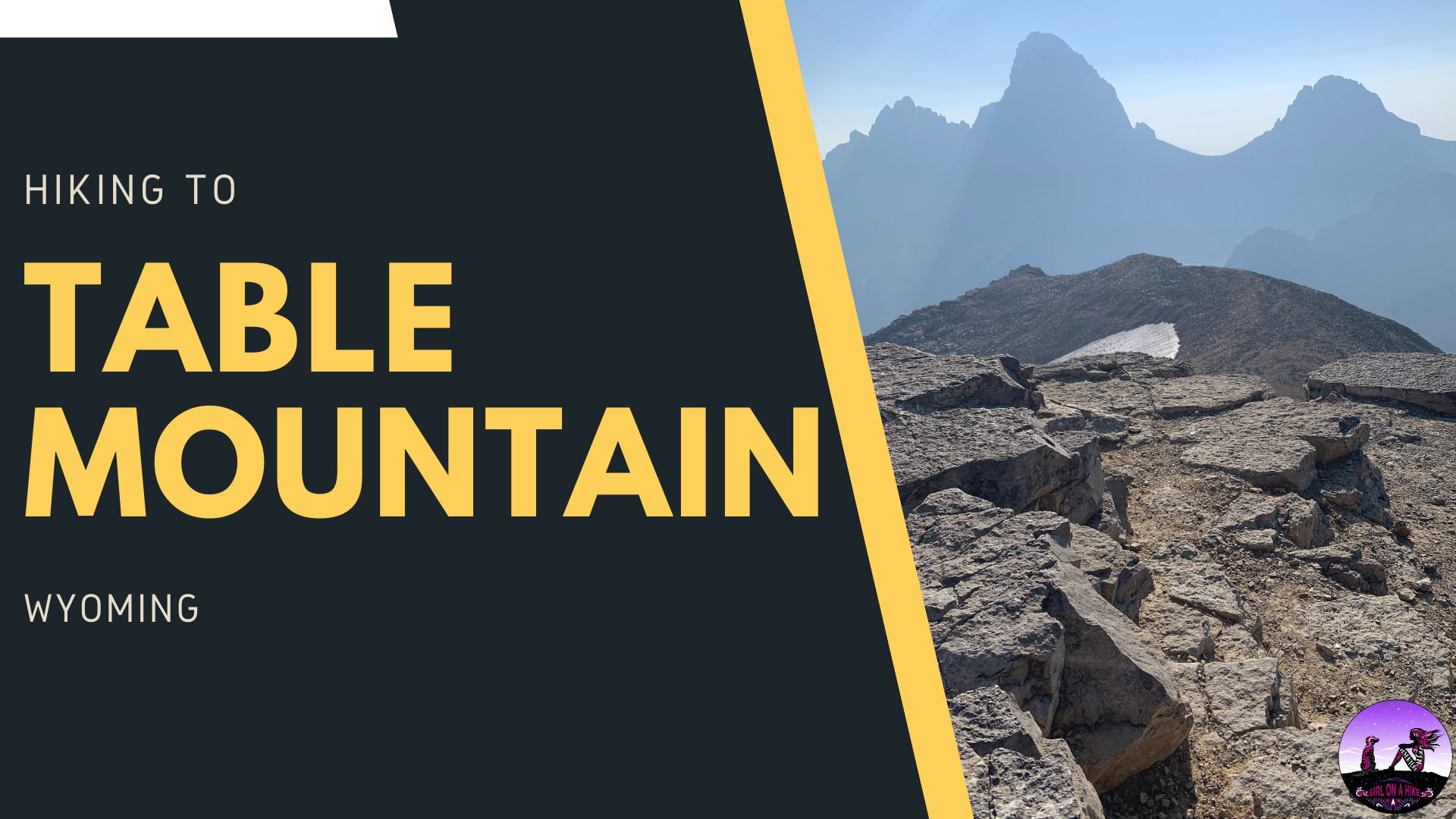 Save me on Pinterest!