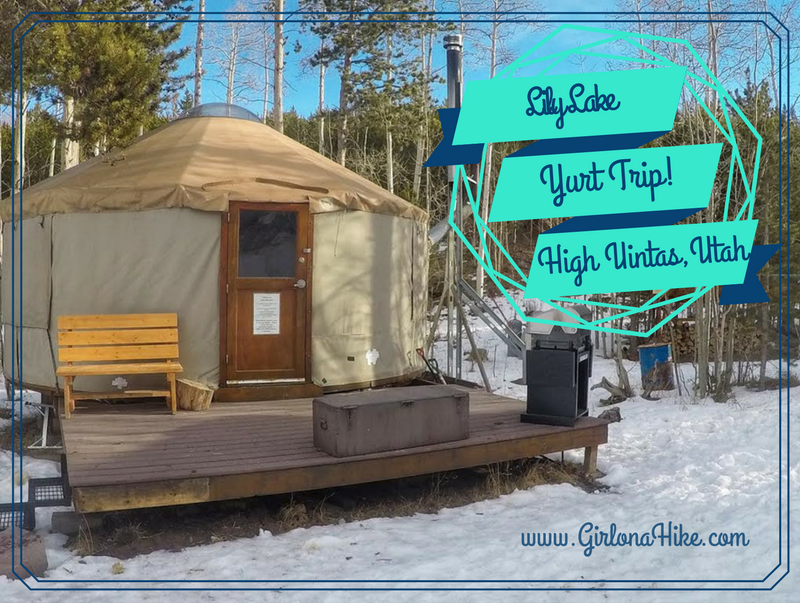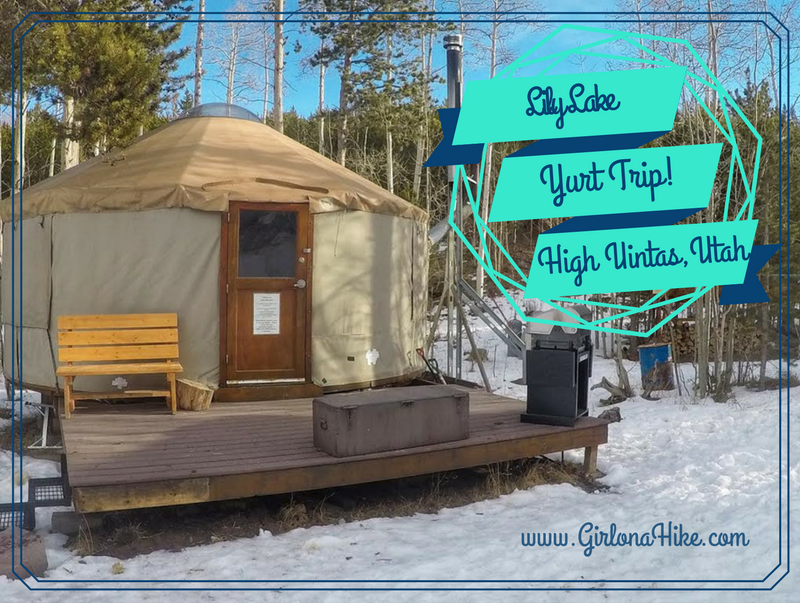 The Lily Lake Yurt sits at 9,000 ft elevation in the High Uintas of Utah and is only accessible during winter months. The Bear River Outdoor Recreation Alliance (BRORA), a non-profit corporation, manages the Lily Lake Yurt plus four other yurts including the Bear Claw Yurt, Ridge Yurt, East Fork Yurt, and Boundary Creek Yurt. Getting to the yurt in Winter typically requires snowshoes or skis and a little route finding. BRORA has done a great job of maintaining the yurts, placing trail signs, and protecting the Bear River area.
Yurts are a great place to spend time camping, hiking, skiing, snowshoeing, and enjoying the back-country. The BRORA Yurts also allow dogs. Reservations usually open up in mid-October and get filled very quickly, so call in late September to find out when they start taking reservations. For rates & reservations, click here. I highly recommend that you stay at least two nights. One night is not enough time to fully enjoy the yurt experience.
Directions
From Evantston, WY, head south on HWY 150 for 30 miles. Turn left on Millcreek Road (FR58), where there is a sign that says the winter gate is closed ahead. It's just past the Bear River Lodge. As soon as you turn left onto that road, you'll immediately see a large parking lot on both sides. Park on the right side of the road where the TH begins.
Here's a driving map.
Since you are accessing the Mirror Lake Highway, you will need a pass. You can use an annual National Park Pass, annual American Fork Pass, or purchase a 3-day pass at the kiosk near the TH. It's $6 for a 3 day pass.
Trail Info
Distance: 3 miles one way
Elevation gain: 540 ft
Time: 1-3 hours to reach the yurt
Dog friendly? Yes, off leash
Kid friendly? Yes!
Fees/Permits? Yes, see below
GPS location of yurt:
40.88177, -110.80861
Altitude: 8,900 ft
FAQs
How can I make a reservation?
Reservations typically open the last monday of October, but call ahead to find out the exact date. On that date you will call the BRORA office to leave a voicemail for the scheduler. They will then return the messages in order received. All you need to leave in the message is your name and phone number – when they call you back you will work out all the details like choosing your yurt, dates, payment, etc. You will get a receipt of your payment and yurt info/maps within a few days, which will be your reservation. A waiver needs to be signed by each person staying in the yurt.
How much does it cost to stay at the yurt?
The yurt cost $75/night and you also need a BRORA membership, which costs $20. For example, we stayed 2 nights plus I had to buy the membership so it was $170.
How many people can stay in the yurt?
You can sleep a max of 8 people, though I don't recommend bringing 8 people. The yurt is small and you want some room to put all of your gear. I feel like 6 is a good amount, especially if you bring dogs.
What does the yurt provide?
The yurt is equipped with bunks, a propane stove (propane is included), kitchen utensils, and plenty of firewood. Day and overnight facilities are provided for groups of 8 or less.
What should I bring?
–  sleeping pad since the bunks are like rocks
-Your own sleeping bag and pillow
–  jetboil & water filter
– toilet paper (a few rolls so you can leave some behind for the next group)
– food & alcohol
– games or cards
– really thick socks, slippers, or down booties for inside the yurt
– firewood is provided but you need fire starter & a lighter
– your own sponge, biodegradable soap, and towel to clean dishes
 – trash bags (everything must be packed out, including dog poop)
– any other entertainment you want!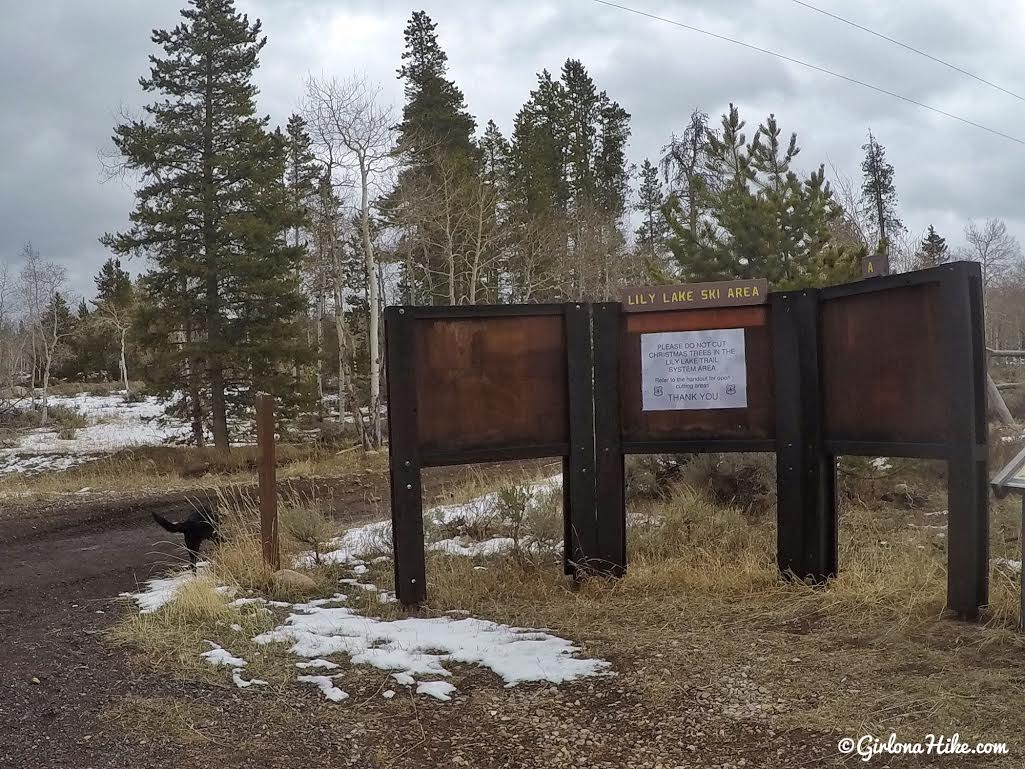 The TH starts in the main parking lot, in the NE corner of the lot.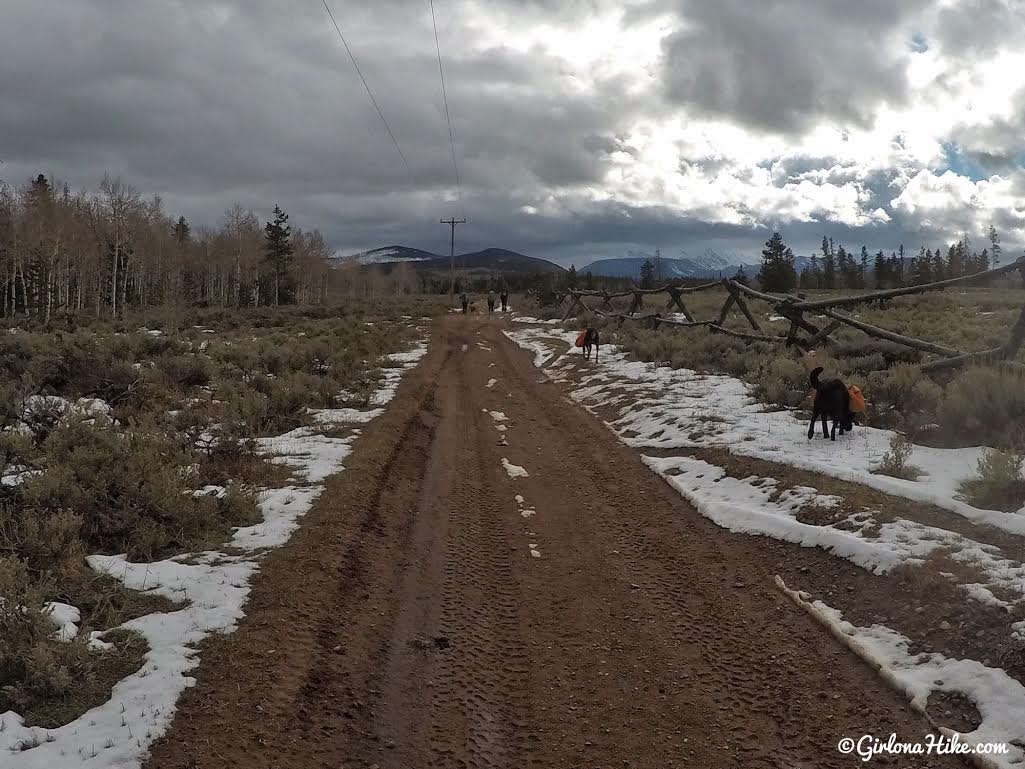 So sad to see there was hardly any snow. Yurts are so fun when you feel snowed in, but that wouldn't be the case this year. This November (2017) has been super dry and unseasonably warm.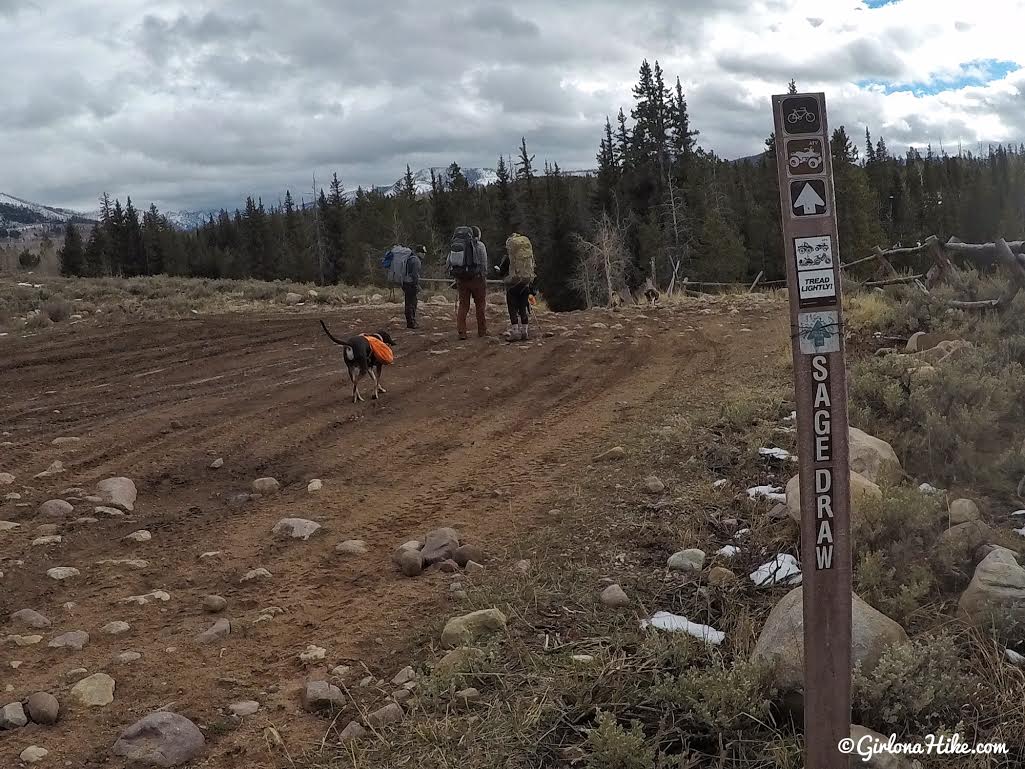 The trail is really well marked – follow the signs for Sage Draw/Lily Lake.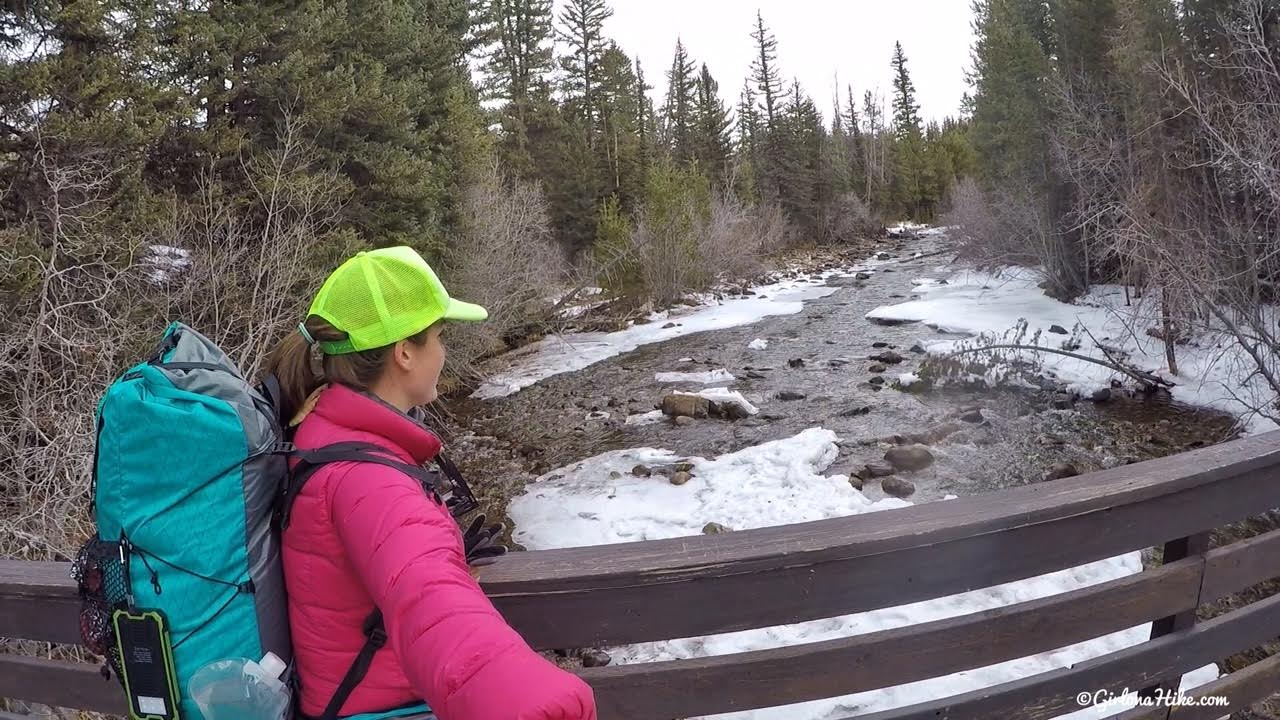 Cross the bridge.
 Turn left at the next major intersection. There is another sign warning dog owners to pack out poop.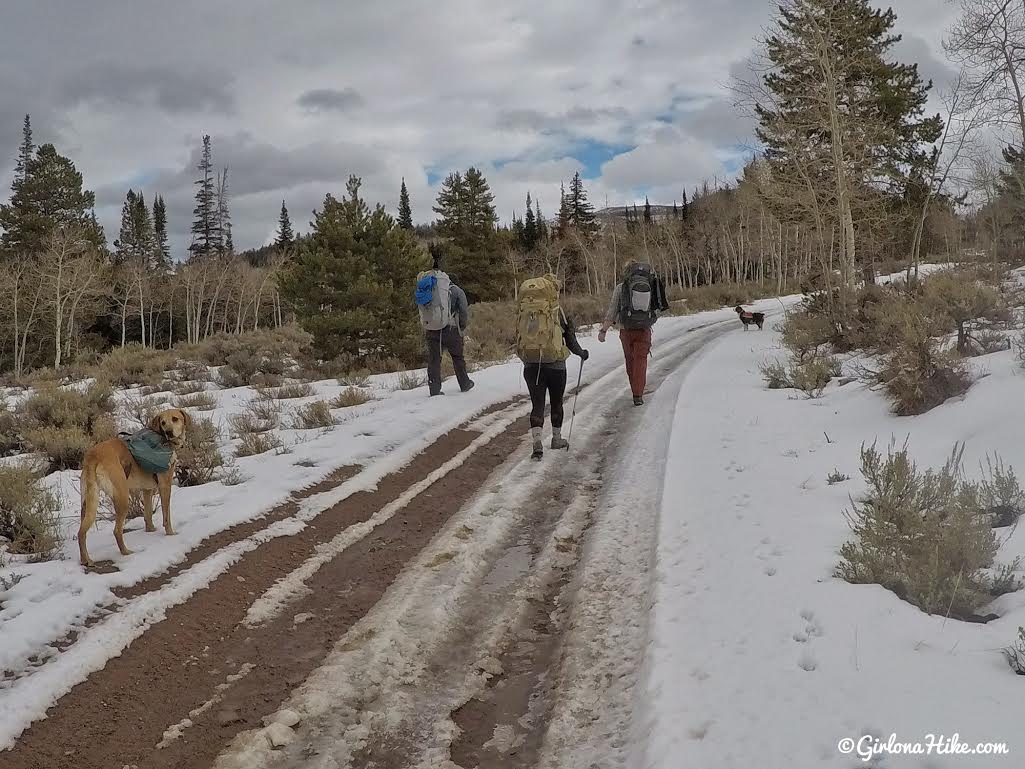 The trail became a mix of mud and snow/ice. We didn't need to use our microspikes the entire hike in.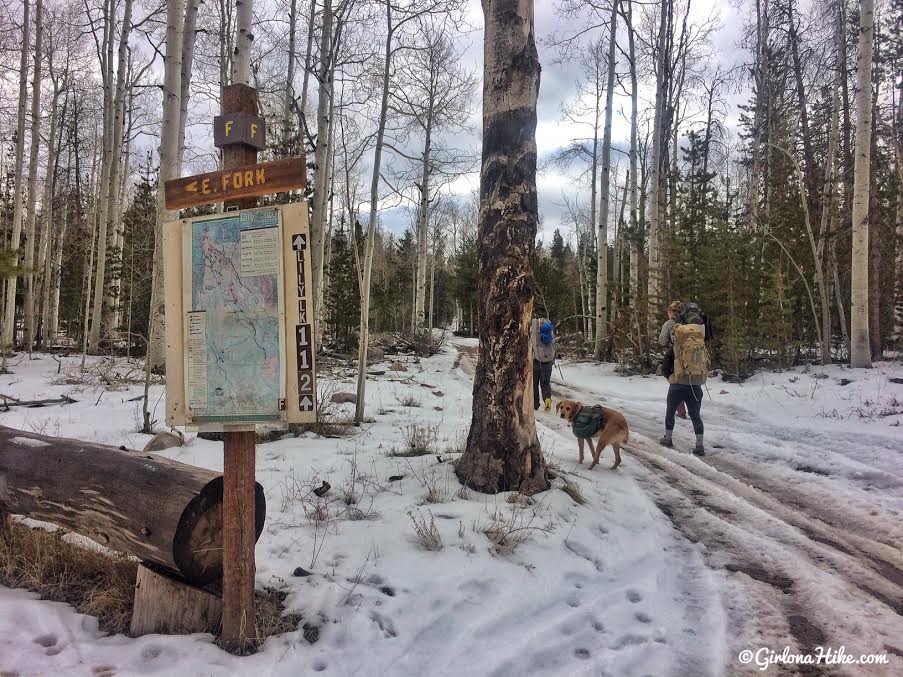 Following more signs for Lily Lake.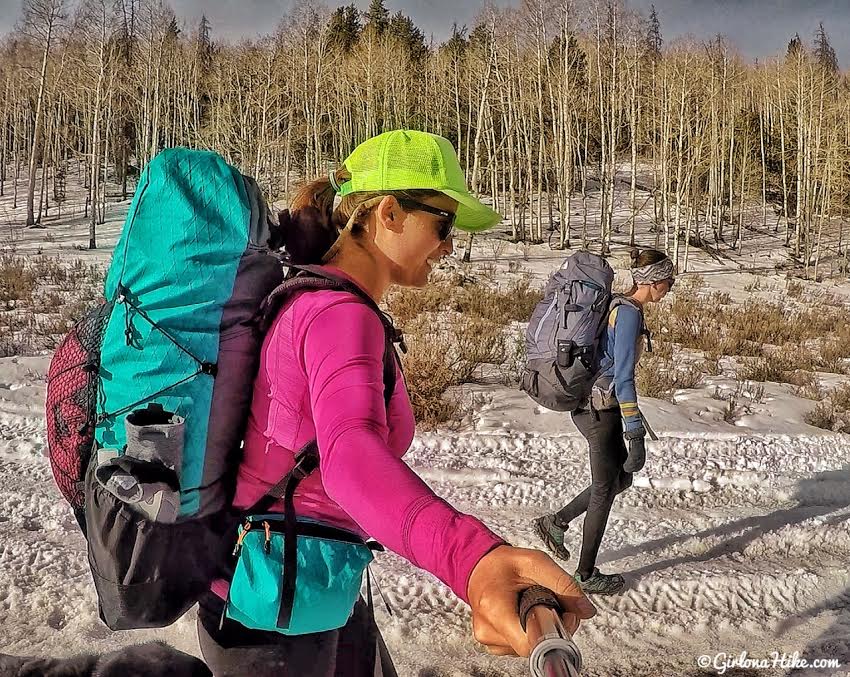 Eventually the trail turns south.
Loving my new WayMark Gear Co. UL pack! At only 2 lbs this pack shaved off 3.4 lbs from my other pack (Osprey Ariel 65). Get 10% off your entire backpack order, use the code "GIRLONAHIKE" at checkout here!
I love how light and comfortable this pack is! Plus you can pick out your own color combos!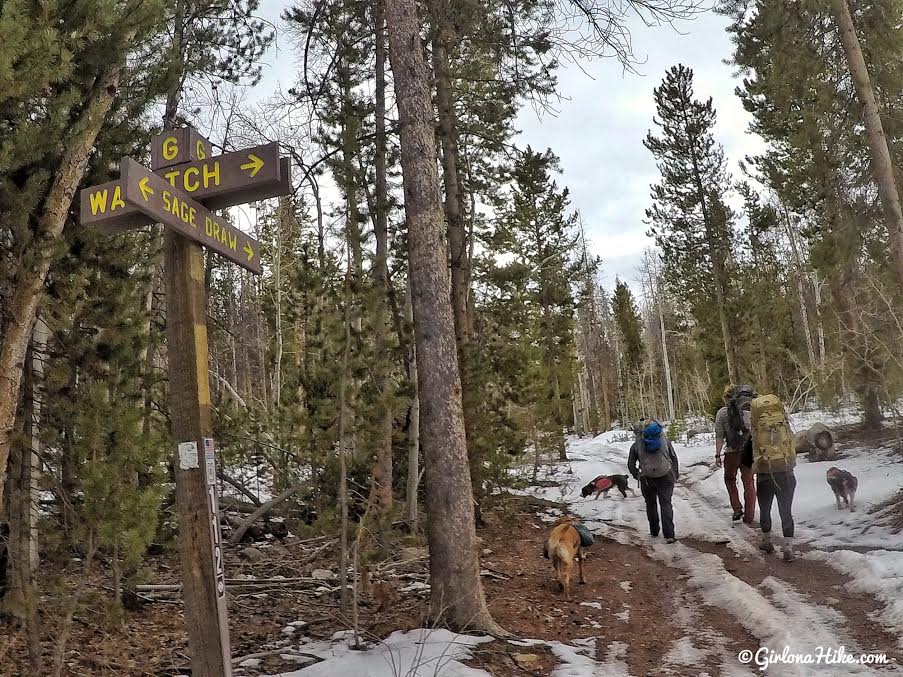 The reason the trail signs are so tall is because there are usually a few feet of snow. Not this year 🙁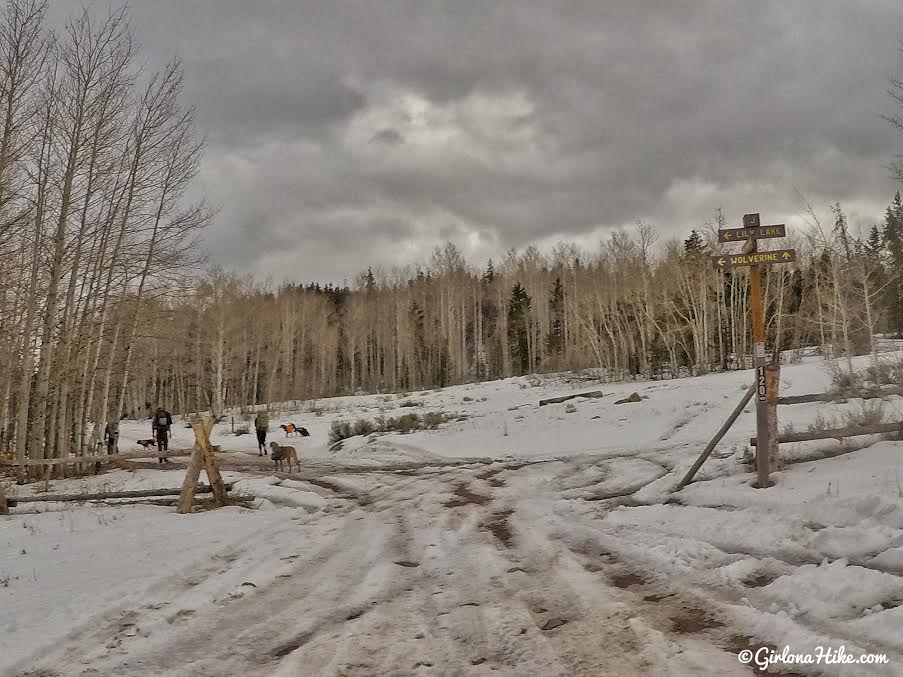 Pass through this wooden gate area.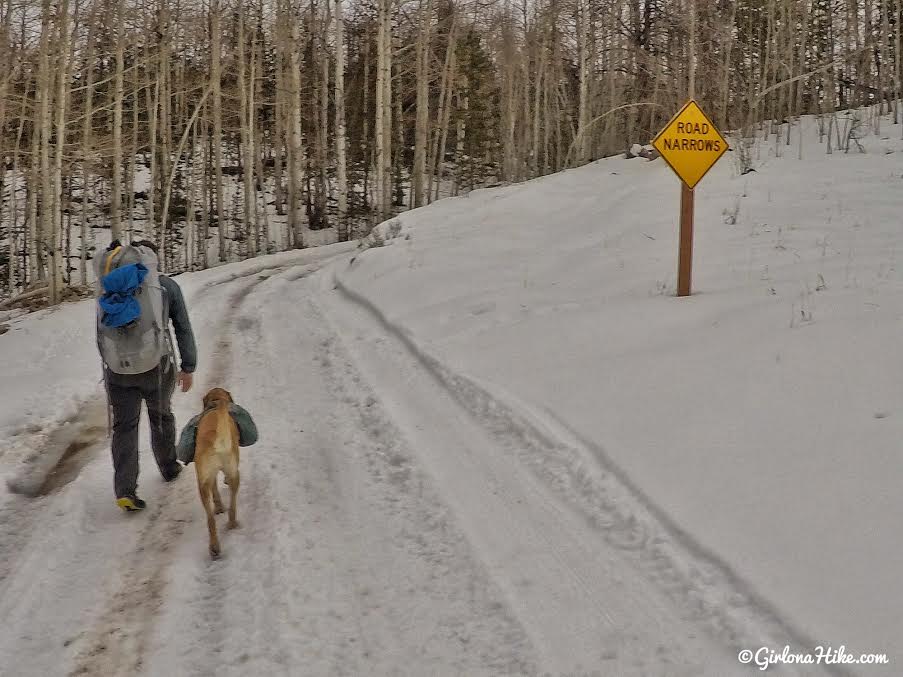 When you see the "Road Narrows" sign you are about 15 minutes away from the yurt. You'll see one more trail split heading left, with a sign for the Lily Lake Yurt.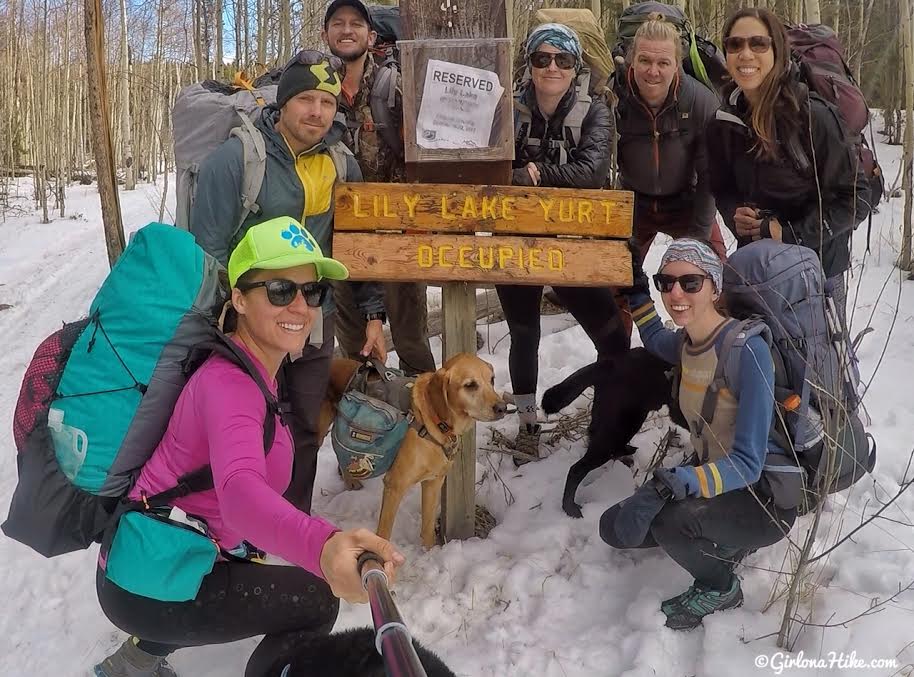 We made it!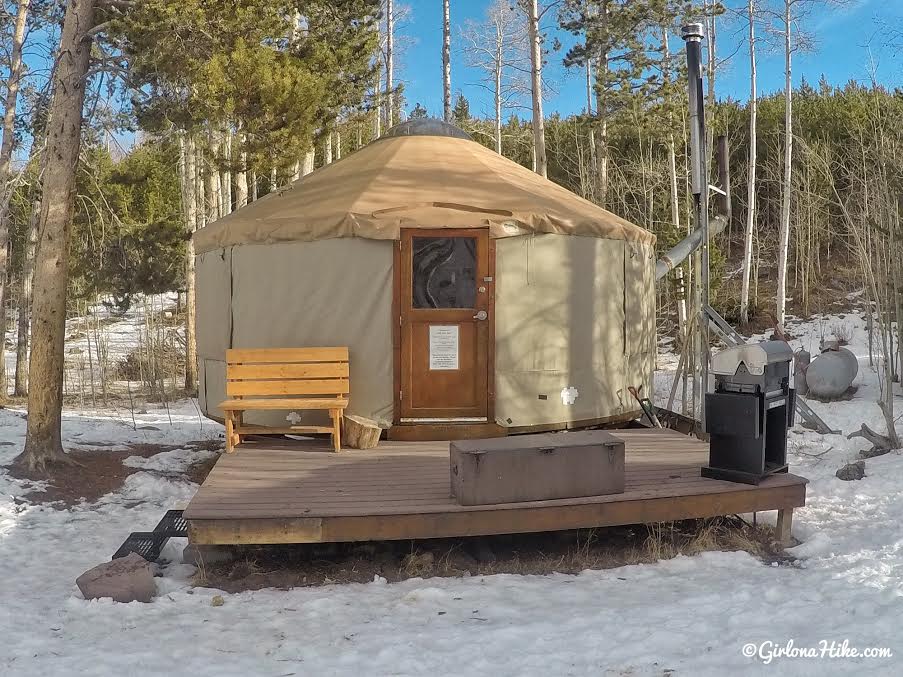 Home for two nights! This is one of the cleanest and nicest yurts I've stayed in. It's on the smaller side yet spacious inside. There was plenty of wood stocked, a huge propane tank, a working BBQ, and that wooden box/seat is your cold food storage area. You can also put the window flaps up to let more light inside the yurt. There's also cleaning stuff and snow shovels. There is a bin to the right of the yurt where you can put your old fire ash in.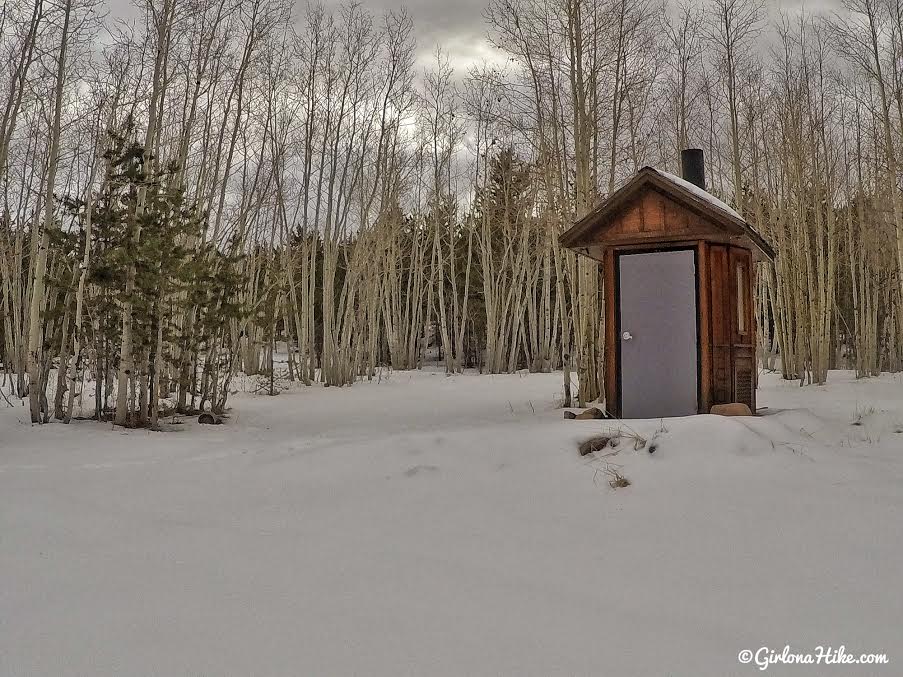 The outhouse, only 20 feet away from the yurt.
Remember to bring your own toilet paper!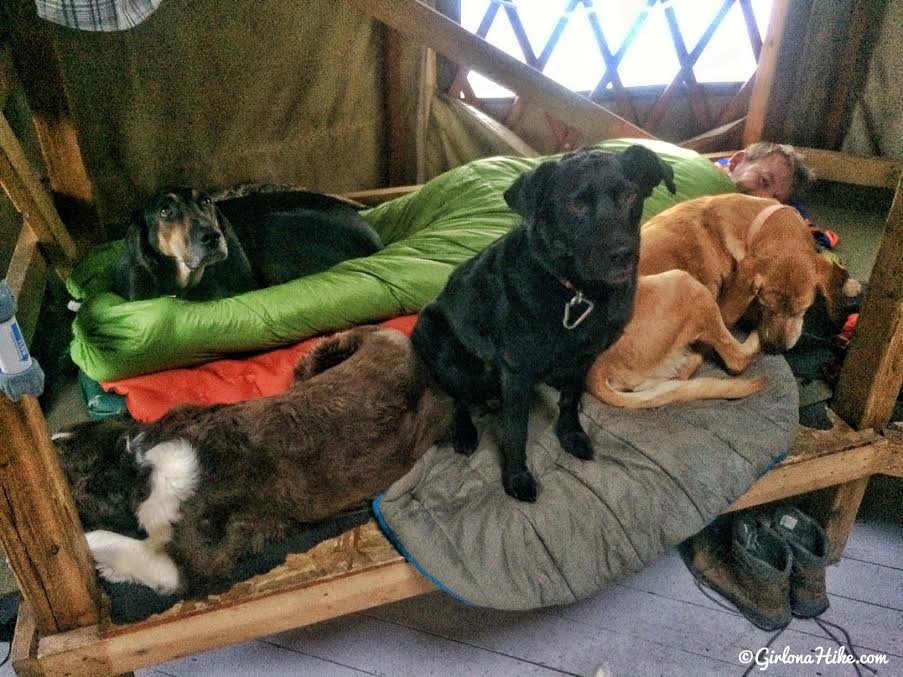 Inside the yurt the dogs get snuggly with Byron.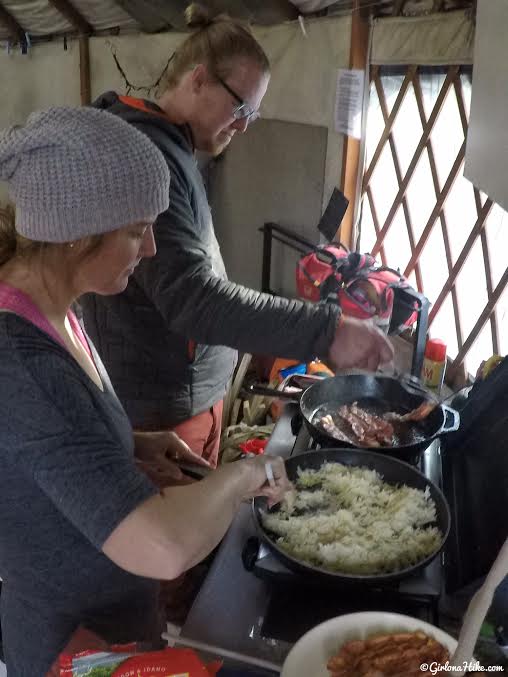 There was no shortage of food this trip! We literally backpacked in two Cost Co pumpkin pies, we ate fajitas one night, a big breakfast the next morning, and grilled chicken and potatoes for the 2nd night. We also had plenty of snacky foods and alcohol. The stove is a regular car camp stove – the propane is already connected to it. There are several pots and pans ready to use. Plan on bringing your own sponge, biodegradable soap, and towel to clean dishes.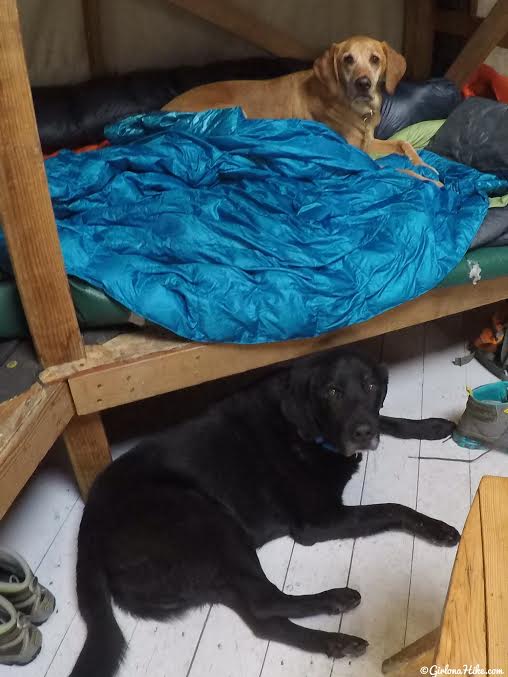 Charlie and Bear have some down time. Bear wasn't a fan of sleeping on the bunks – he prefers a cold floor.
Lily Lake!
Lily Lake is only a 10 minute walk from the yurt. We were surprised with how warm it was that the lake was frozen solid by a few inches. This would be a nice place to camp in summer, if you have a 4×4 car to get you here.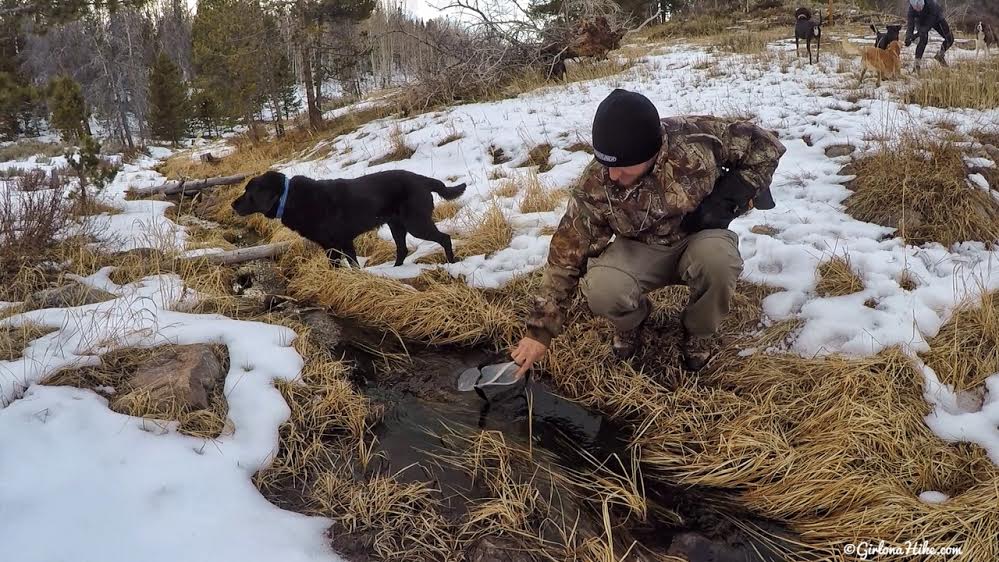 Water is not provided at the yurt, so we brought the water filter and were able to find the stream and the end of the lake and filtered there. If there was more snow, this stream might not be available and in that case you would need to melt snow then filter.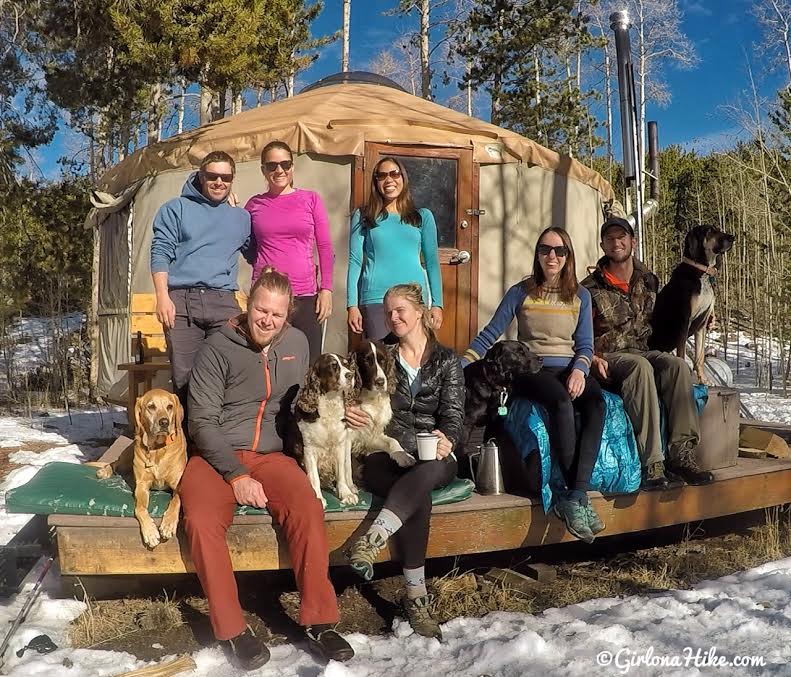 Friends-giving in a yurt with the adventure crew!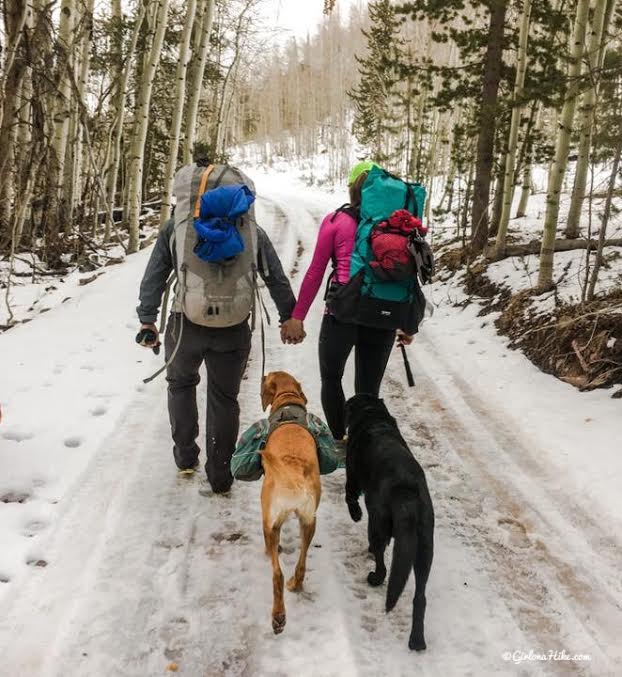 We had a blast!
Trail Map
My track via Gaia GPS – the best tracking app! Get your app here for a discount.
Recommended Gear

Check out our

Limber Flag Yurt Trip

!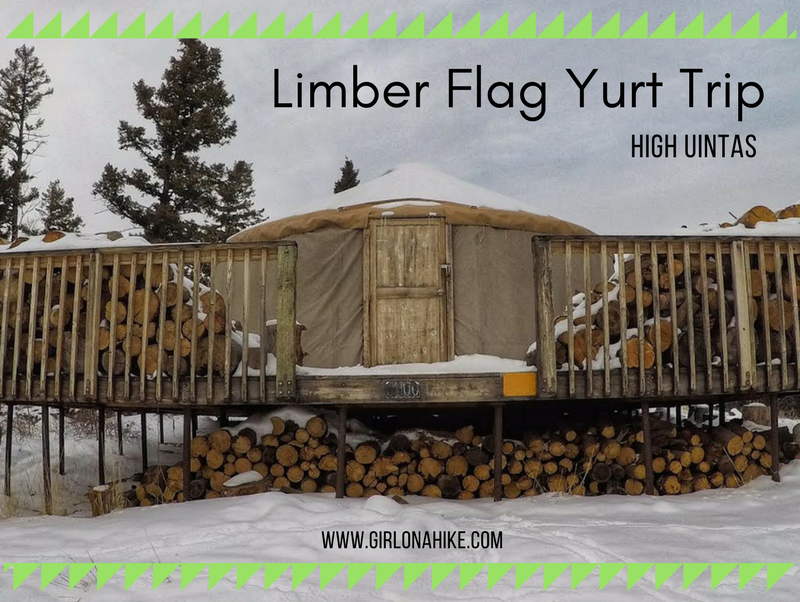 Save me on Pinterest!