Soaking at Maple Grove Hot Springs, Idaho
Maple Grove Hot Springs is located at the Northern end of the Bear River, along the scenic Oneida Narrows Reservoir in South Eastern Idaho. There are three large soaking tubs, plus a larger therapy pool. The tubs are formed from rock and mortar, and every pool offers a great view of the reservoir. This hot springs is not as well known as some of it's neighboring hot springs, so you'll see few people and tourists soaking here. There's no nearby restaurants, so its best to bring your own snacks or picnic lunch and the closest gas station is in Preston, ID. The water at Maple Grove Hot Springs is free flowing, sulphur free, and odor free, so you won't come out smelling like rotten eggs.
Directions
From SLC, head north on I-15 into Idaho and take exit 17 for Deep Creek Road (past Malad, ID). Follow HWY 36 though Weston, Dayton, and Preston, ID. In Preston, head north on what is now HWY 34 (don't take HWY 36 after Preston, we were warned we would need 4×4 drive for this section). You'll see a sign on the right side of the road for Maple Grove Hot Springs, turn and cross the bridge. Take an immediate right again, and you should now be on a dirt road. Drive until you see the hot springs. Small cars can make it along this road, unless there's been a heavy rain or snowstorm (then you'll need 4×4 drive).
Here's a driving map.
There are several ways to get to Maple Grove Hot Springs, but the office suggested we drive along Highway 36 to Highway 34 in Idaho. The reason why they said not to continue to take HWY 36 through Mink Creek, is because the road is not as good for small cars during or after a rainstorm (it gets too muddy).
FAQs
What are the hours and fees?
Maple Grove Hot Springs is open 365 days a year from 10am-10pm! You need to reserve your soak time here.
You can also view their views on that page.
Can I bring my dog?
Dogs are not allowed at the hot springs, but they do have boarding for them which is $25/day.
Is this a good place for kids or families?
Yes, definitely! All children under the age of 3 must wear a swim diaper at all times when in the water, potty trained or not.
Is there camping or lodging?
Yes! You can camp at the hot springs or rent one of the two yurts. They also have a 5th wheel RV and cabin for rent. See their vacation rentals and reserve here.
Can I bring food and drinks in?
Yes! They do allow your own food and drink but do not allow glass, alcohol, or BBQs. You can't eat while sitting in the pools either.
How hot are the pools?
The pools range from 95F to 112F.
 What should I bring?
Swimsuit, towel, water shoes, and water/snacks at a minimum.
Let's Soak!
UPDATE 2019
Maple Grove Hot Springs did a complete renovation and no longer looks like this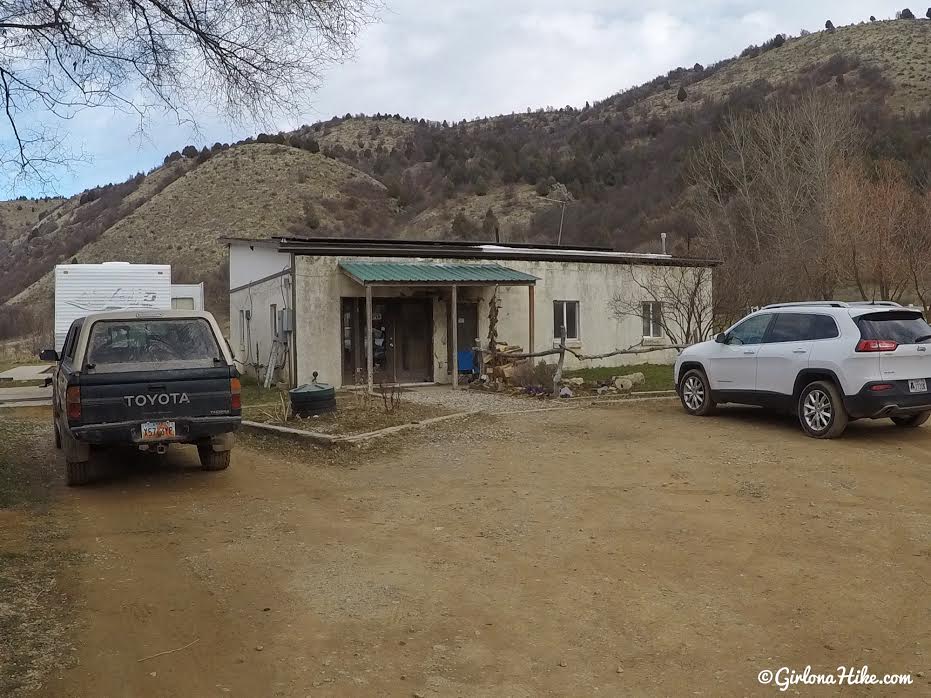 Entrance to the hot springs. It looks run down and old, and it is, even inside. Don't let that stop you from soaking here though.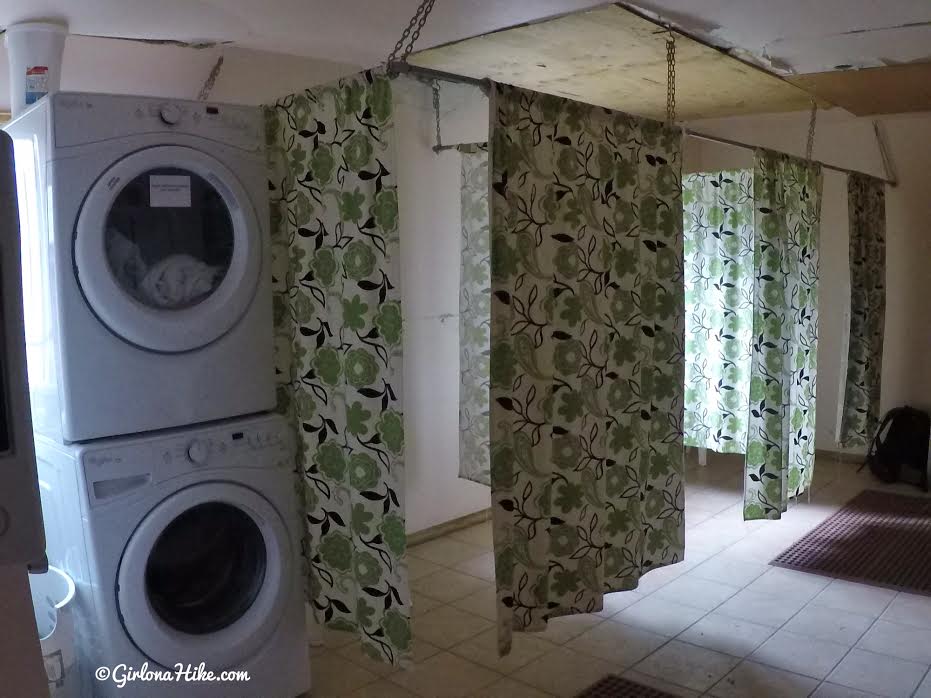 The changing rooms in the womens bathroom (laundry is for staff only). There is only one toilet and one shower as well, plus lockers ($1) for small items.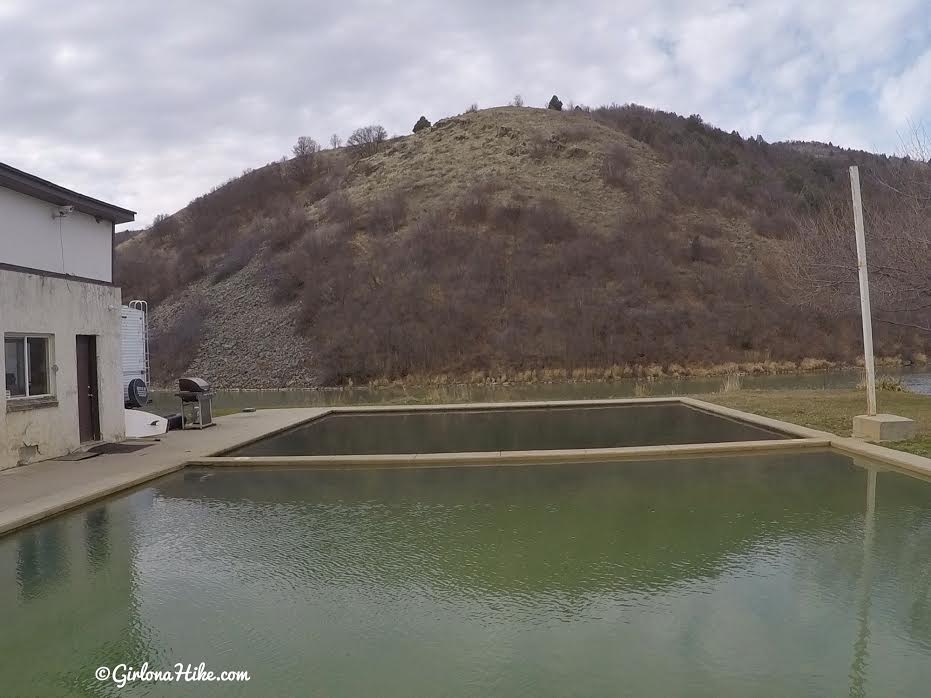 The closer pool is for swimming – the darker pool in the back is the filtering pool so swimming is not allowed.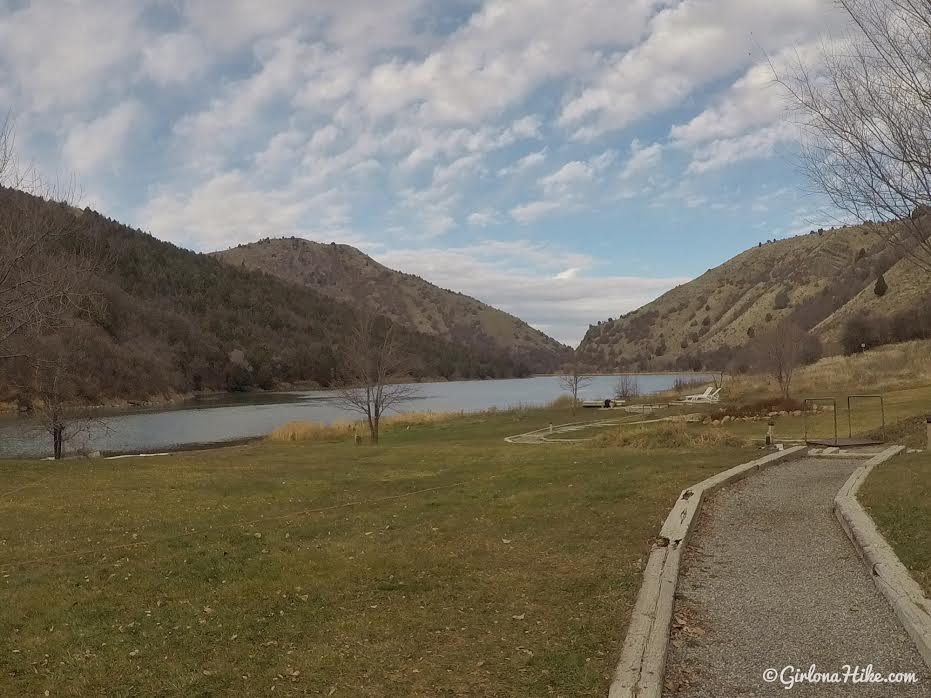 Walking out to the hotter, smaller pools. I love that you have great views of the Oneida Narrows Reservoir – so pretty!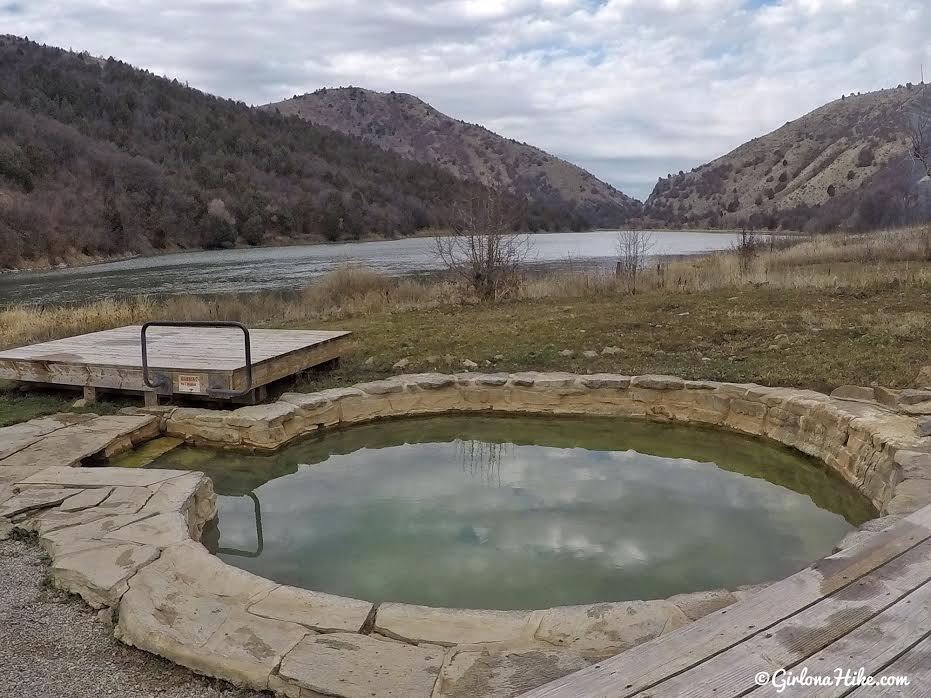 The hottest pool at 112F. The pool is about 15 feet in diameter.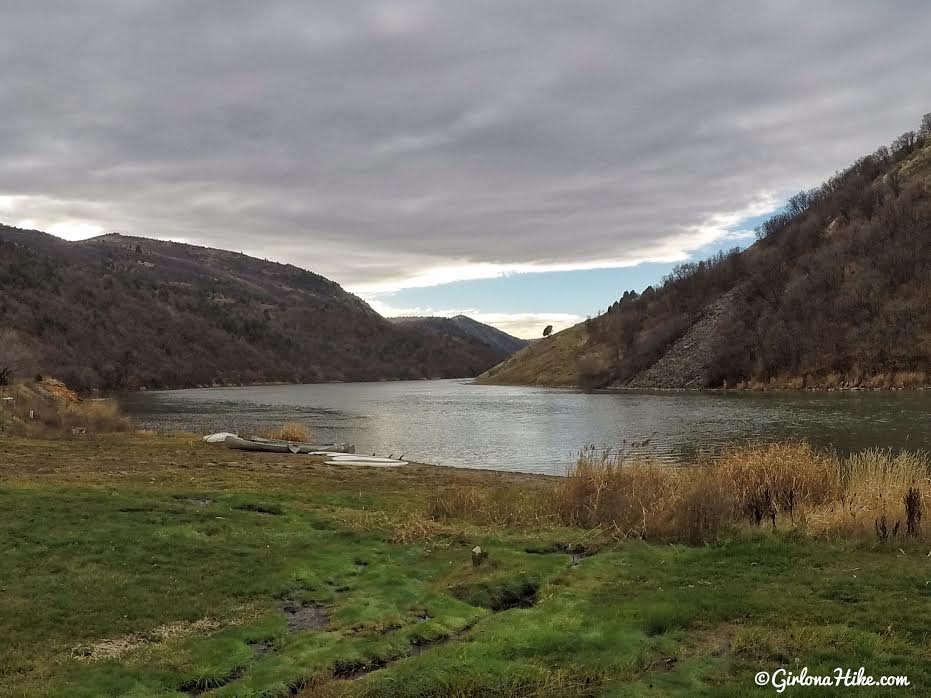 Another view of the Oneida Narrows Reservoir, from the hot pool. If you are brave enough, you can take a dip in the reservoir, then run back to the hot pool.
 Hot springs all to ourselves!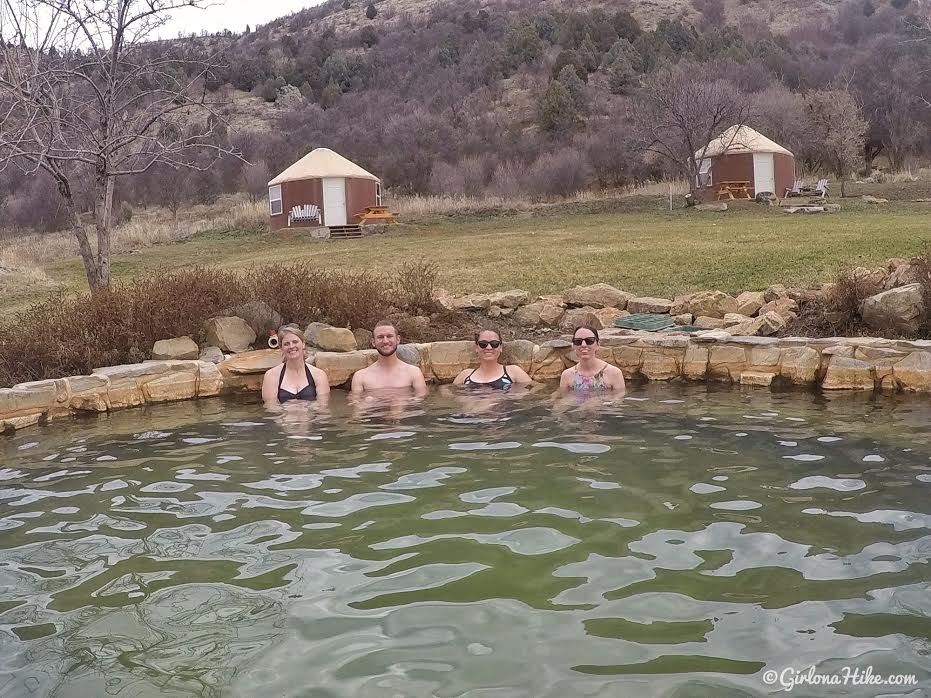 First, coolest pool at 102F. The yurts behind us are the ones you can rent for $80/night.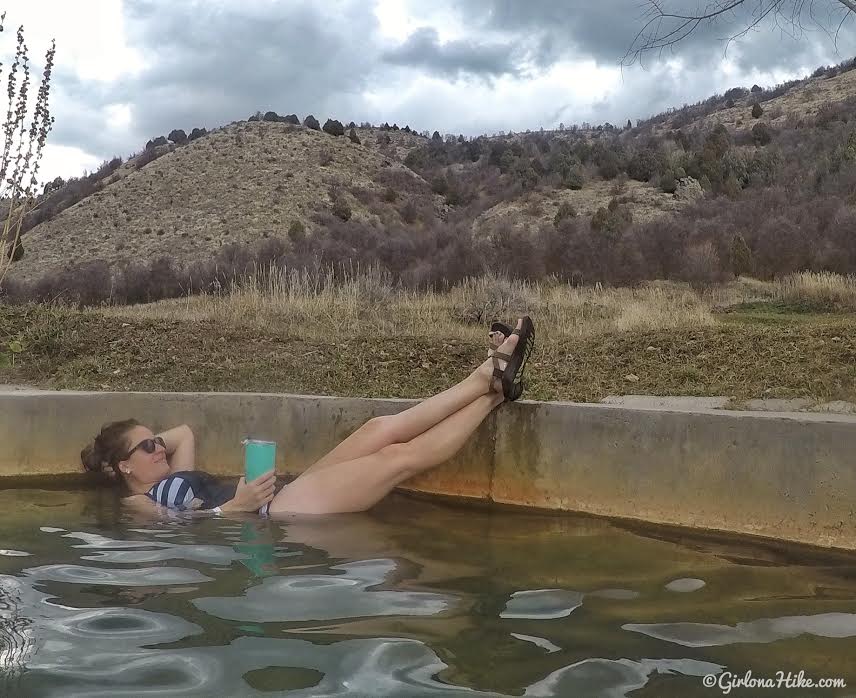 I found the perfect spot! My feet get really hot in hot springs so I found a way to stay warm yet keep my feet cool. I wore my Chacos the entire time, even while swimming. The pools do have a light film that is kind of slippery, so the Chacos helped me feel more stable (plus I hate feeling slimy things on my feet!). My insulated mug was perfect for staying hydrated.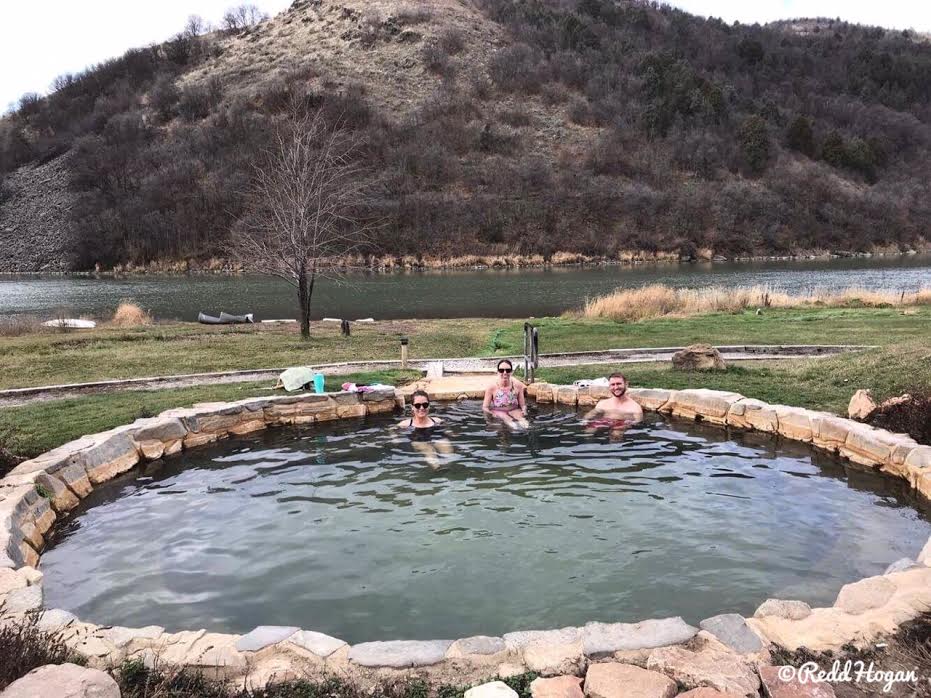 Pool #1 with a view of the reservoir.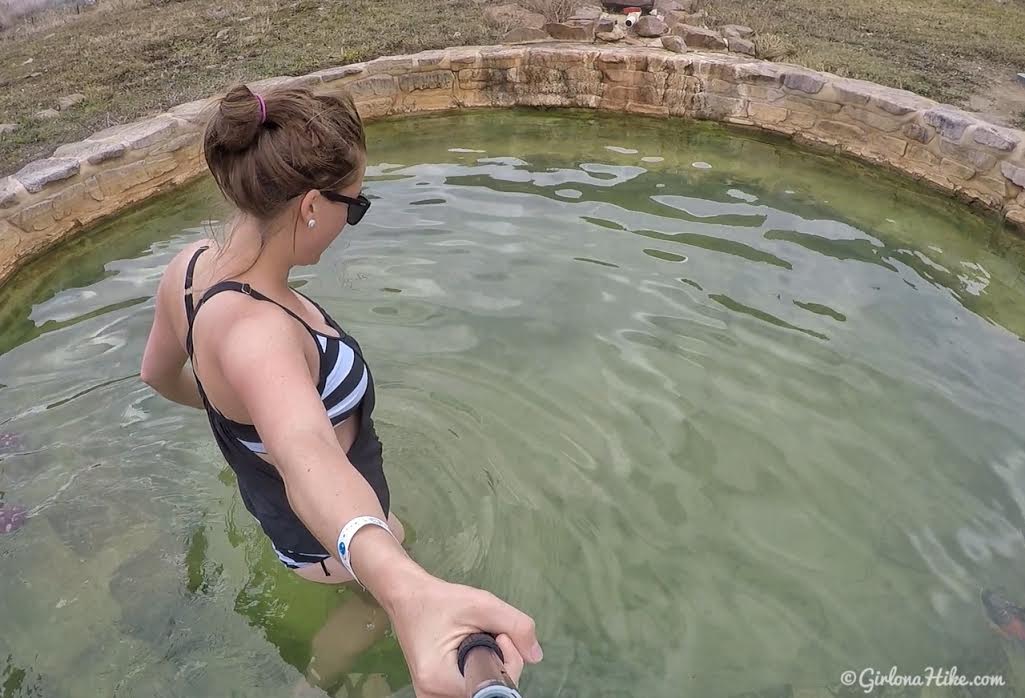 I will definitely come back here! We came on a Sunday around 10:30am and there were only 3 other people soaking. Because it's not as well known as Lava Hot Springs, Maple Grove Hot Springs sees way less traffic and tourists.
Recommended Gear

Save me on Pinterest!