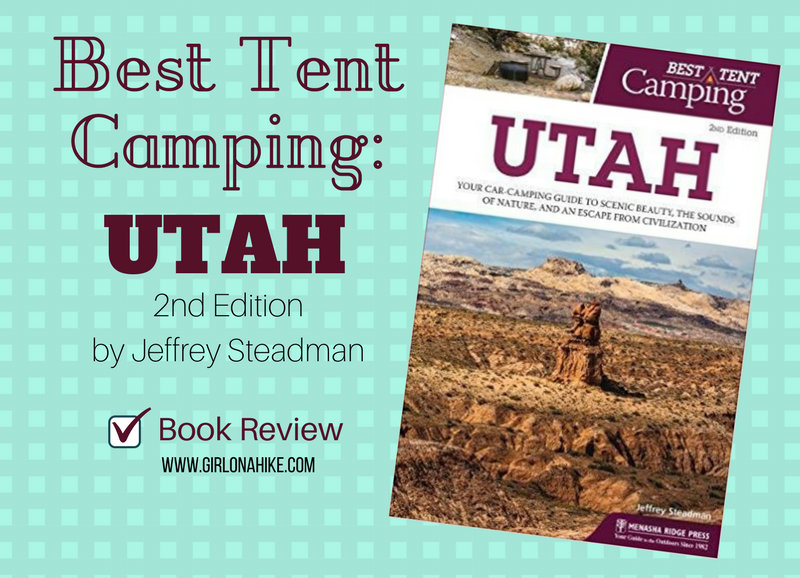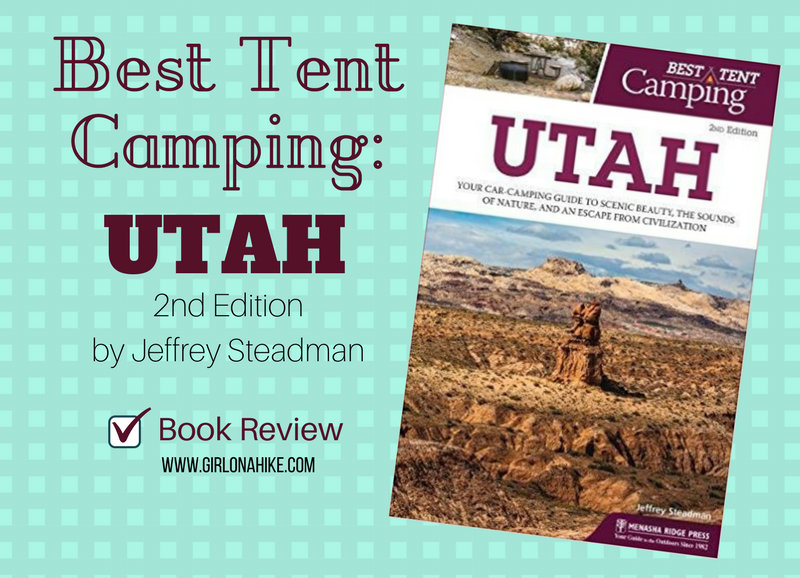 "People often ask me, "What's your favorite campground?" That would be like asking a mother to pick her favorite child: it really depends on the day, my mood, and who's asking." – Jeffrey Steadman
In his new book, Best Tent Camping: Utah (2nd Edition), Jeffrey gives readers an update on our favorite campgrounds including the Hittle Bottom Campground at Arches National Park, the Albion Basin Campground in Little Cottonwood Canyon, and the Tony Grove Lake Campground.
I love that the book is broken up into sections: Northern, Southern, Western, and Eastern Utah. Based on where you are traveling to, you can pick out a campground near where you are adventuring. I also love how Jeffrey chose to categorize campground such as Best for Scenery, Best for Cleanliness, and Family-Friendly. Having options really does narrow it down to what you are looking for in a campground.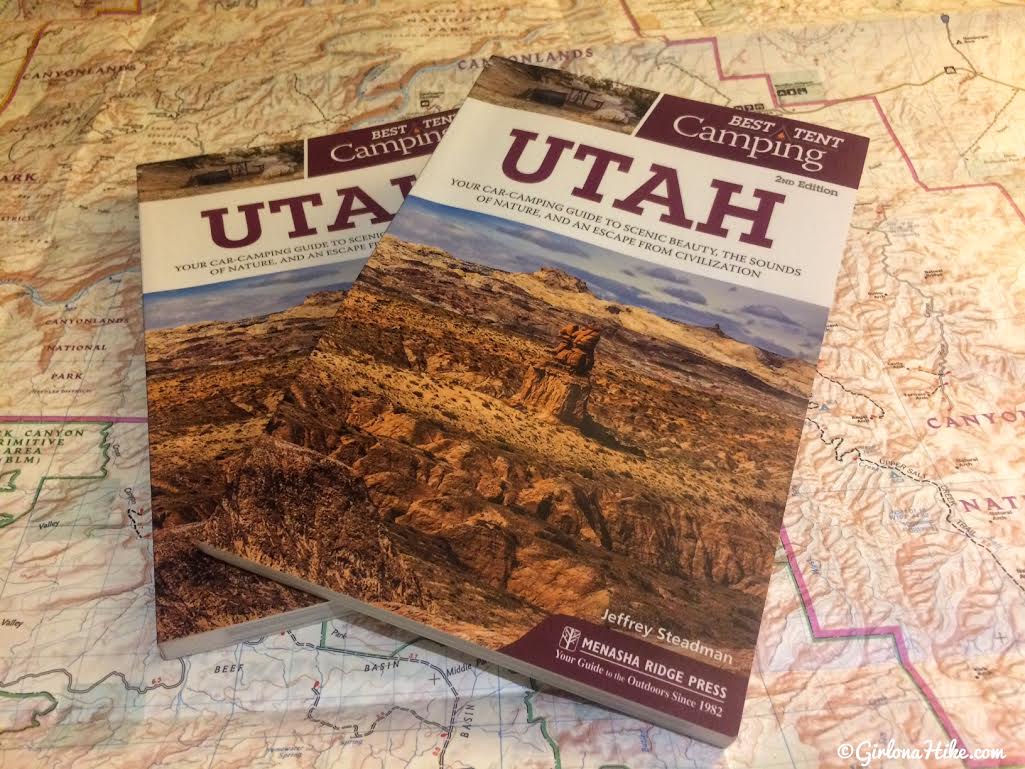 Each campground is broken down by a rating system – 1 – 5 stars, with 5 being the best. Each campground also includes ratings for beauty, site privacy, quiet, spaciousness, security, and cleanliness.
Jeffrey also does a great job of explaining Camping 101 for beginners – weather, clothing, first aid, animal & plant hazards, a camping gear check list, plus tips for being a happy camper!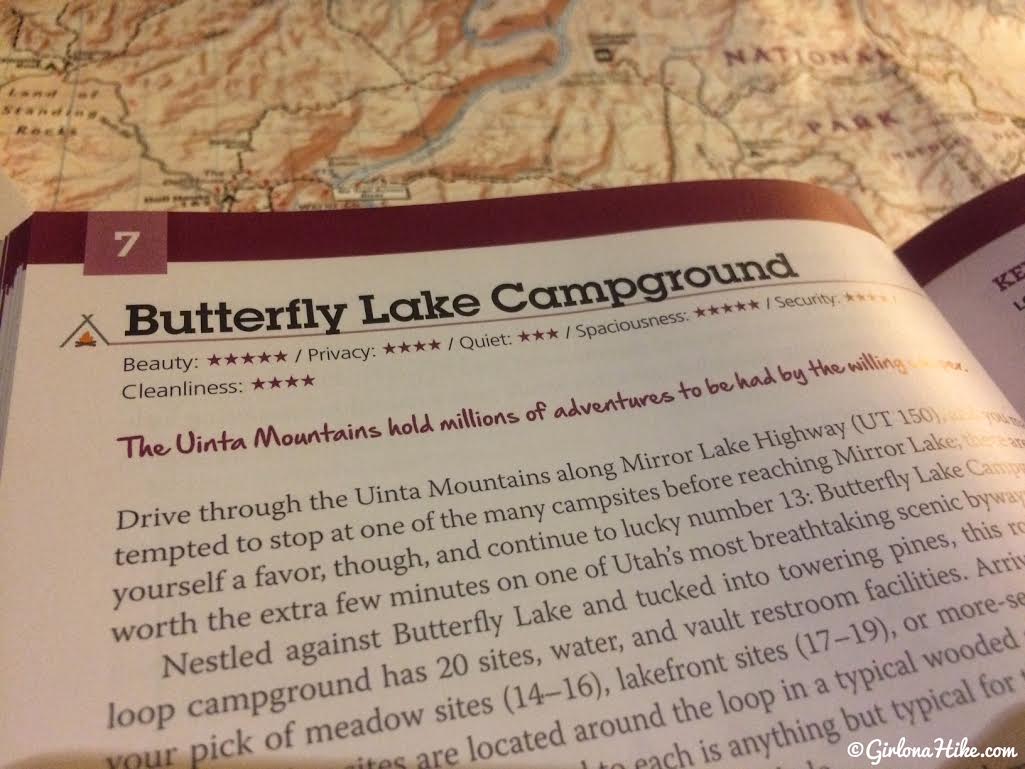 "The Uintas Mountains hold millions of adventures to be had by the willing camper."
I totally agree! No matter if you decide to stay at a developed campground or Backpack to Red Castle Lakes, camping in the Uintas is one of my favorite areas of Utah. Each campground, like the Butterfly Lake Campground shown here, has a detailed description of not only the campsites but the area as well. Jeffrey includes suggestions for nearby trails, or casual strolls for the whole family.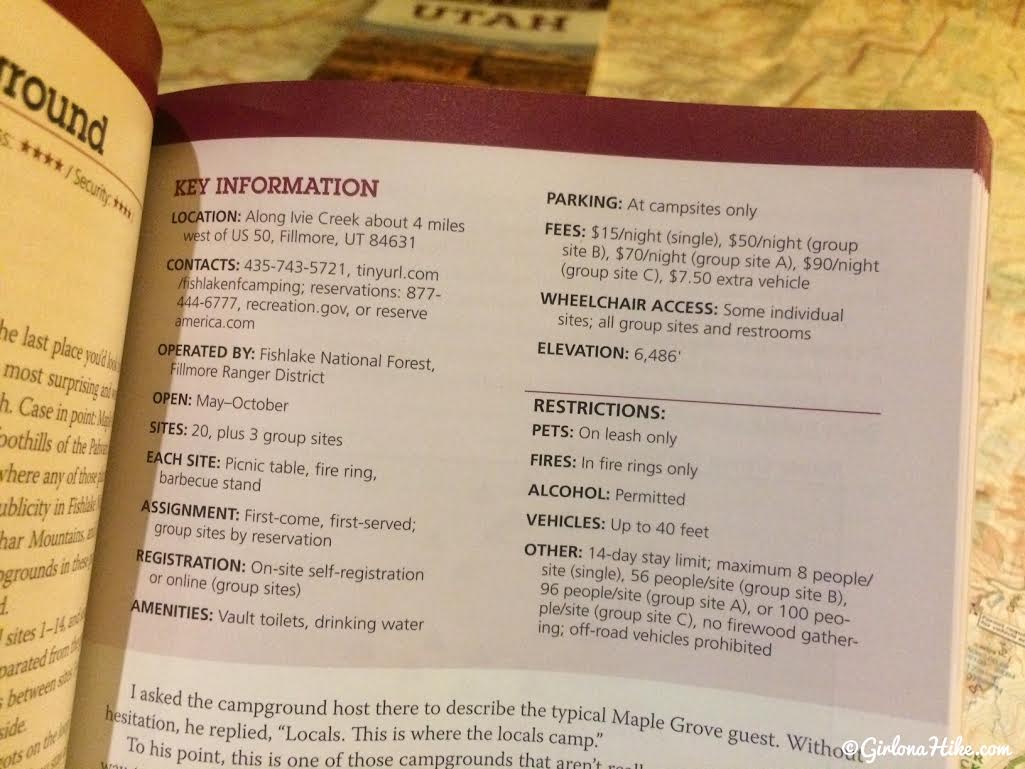 The Key Information is what is the most helpful, especially for dog owners. One of the issues I've stuggled with, especially when I first moved to Utah, was finding pet-friendly places to camp and hike (hence why I started this blog!). For dog owners, you will see that pets are either permitted (off leash), not permitted, or allowed but must stay on a leash.
Other Key Information are camping fees/permits, when the campground is open and who its maintained by, and amenities.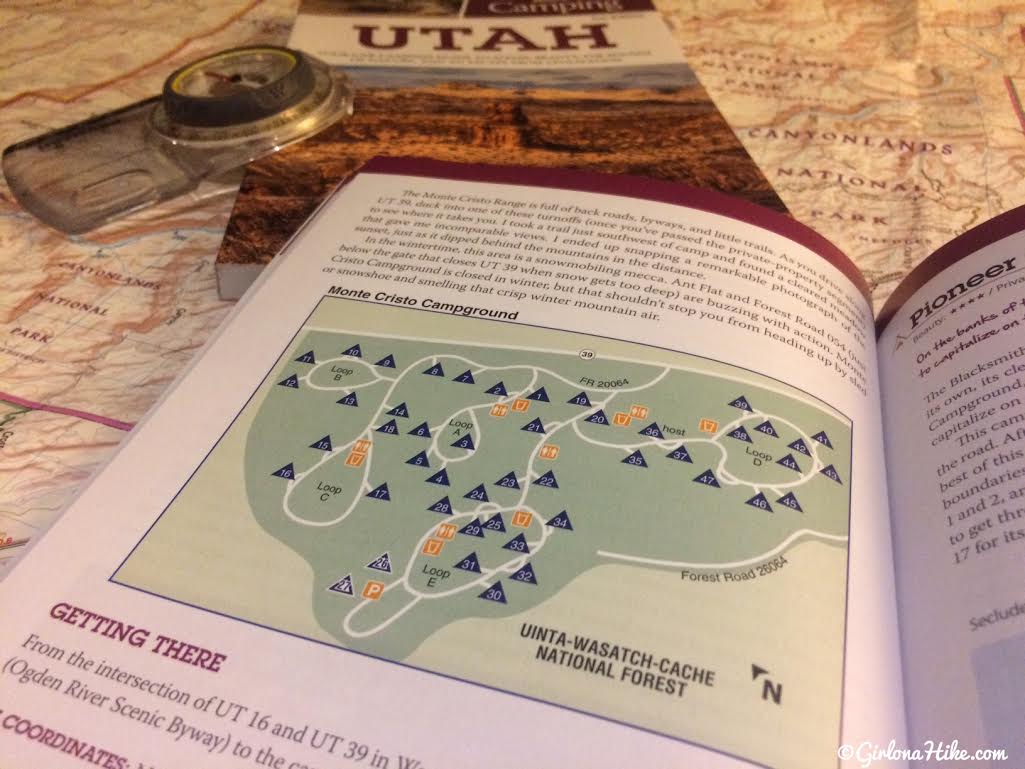 Each Campground has a map – it lays out individual campsites, roads, facilities, and other key elements. Directions are always included, which is helpful for those late-night arrivals. GPS coordinates are also provided in degrees and decimal minutes.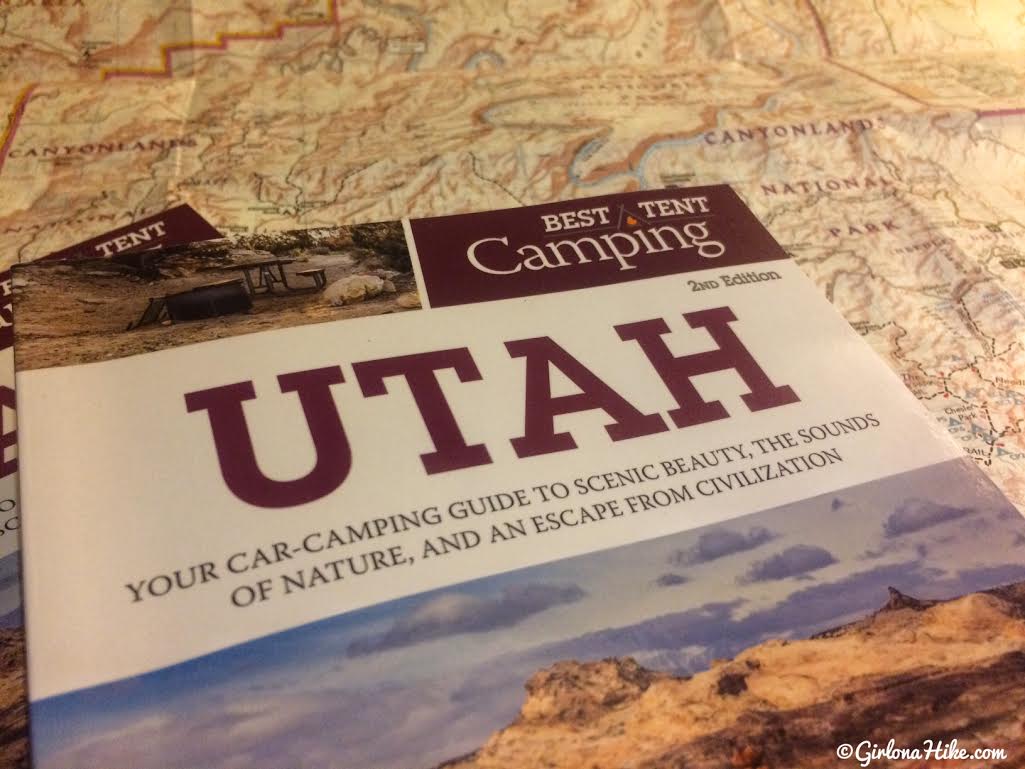 With over 50 Utah campgrounds to chose from, there's a campground for everybody. Get away from the crowds and the noises, and seek out the best scenery, from mountains to red rock views all right from your own tent.
My TOP 10 Picks
Albion Basin CG
Tony Grove

CG
Hittle Bottom CG
Goblin Valley

CG
Natural Bridges

CG
Snow Canyon State Park CG
Red Cliffs CG
Butterfly Lake CG
Moonflower CG
Clear Creek CG
There are campgrounds close to the city like Tanner's Flat or Snow Canyon State Park, and more remote campgrounds such as Clear Creek and Elkhorn. It makes you realize how truly fortunate we are in Utah to have immediate access to the outdoors. So grab your tent, grab a copy of

Best Tent Camping: Utah

, and see you all out there!
Best Tent Camping: Utah is available on Amazon!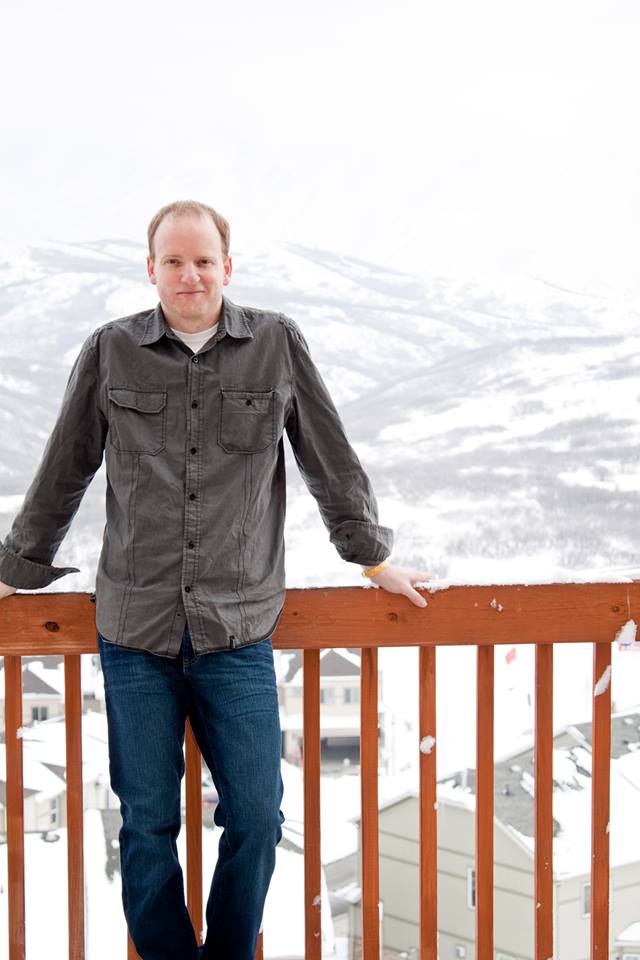 Jeffrey Steadman was born & raised in Utah. As a child, he spent his summers exploring the canyons of the Wasatch Front on family hikes. These days, he explores all that Utah has to offer in every season. He has slpt in snow caves, has been caught in lightning storms at 12,000 ft, and has occasionally been known to catch fish from streams with his bare hands! He loves introducing new campers to the outdoors through youth voluneet programs, classroom instruction and planning amazing camping trips with friends. When he's not in the backcountry, he enjoys cooking, photographry, and spending time with Mountain Jane, a wirehaired pointing griffon who just can't get enough camping. Be sure to follow him on Instagram at @JeffreySteadman.
Also check out…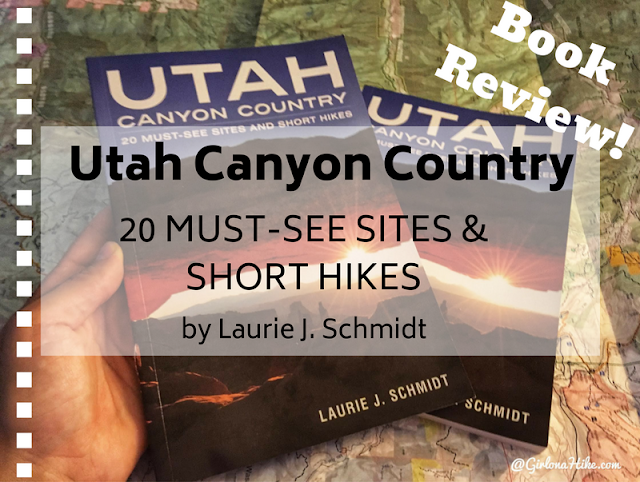 Share this book with a friend!