Hiking the West Rim Trail, Zion National Park
The West Rim Trail is located in Zion National Park (ZNP) and is one of several popular trails for day hikers and backpackers in the area.
About
It offers sweeping 360 views, mainly of Wildcat Canyon and Phantom Valley. This 16 mile long traverse is typically done in one day, but you can also take a more leisurely approach and backpack (with a permit). The first 8 miles stretch across Horse Pasture Plateau, a high alpine elevation (5600-7500 ft) dotted with Ponderosas, sage brush, yucca, as well as remnants from a fire.
After the first long stretch, you finally drop into Telephone Canyon where a slick rock ramp leads you down several switchbacks to the base of the canyon. From there, you can choose to make the short trek to Angels Landing, or continue to canyon bottom to meet the ZNP shuttle. This 16 mile hike will take a full day, and is well worth the effort!
Directions
If you plan to drive yourself to the TH and drop a car, then use this map. Otherwise the shuttle service will take you there, depending on your pick-up location.
Trail Info
Distance: 16 miles point-to-point
Elevation gain: Ascent 1472 ft, Descent 4591 ft
Time:  Including photo stops, lunch, and Angels Landing it took us just under 10 hours to complete.
Dog friendly? No, dogs are not allowed on this trail.
Kid friendly? No.
Fees/Permits? Yes, read below.
FAQs
Do I need a permit?
You do NOT need a permit if you are hiking the West Rim Trail in ONE day.
You DO need permits if you want to backpack overnight. Permits for overnight trips can be obtained here.
When is the best time to visit?
Typically the best months to visit are late Spring and Fall.  Thunderstorms are common during summer months, and Winter is inaccessible to the Lava Point TH because they don't plow the road past a certain point. Weather changes quickly in this area, so pay close attention to weather and be prepared for any change in conditions.
How difficult is it to day hike The West Rim Trail? Is this good for kids?
This depends on your experience, fitness level, pack weight and weather. There are no technical areas, but climbing up and down many small hills are required. You should have a few hiking trips under your belt, and be comfortable carrying a day pack for hours on end. As always, the lighter your pack, the easier your hike will be. More weight = harder hike.
Can I bring my dog?
No, dogs are not allowed on this trail.
What's the elevation gain like?
Generally, you hike downhill, however, there are a handful of ascents as well. Overall descent including Angels Landing was 4,591 ft.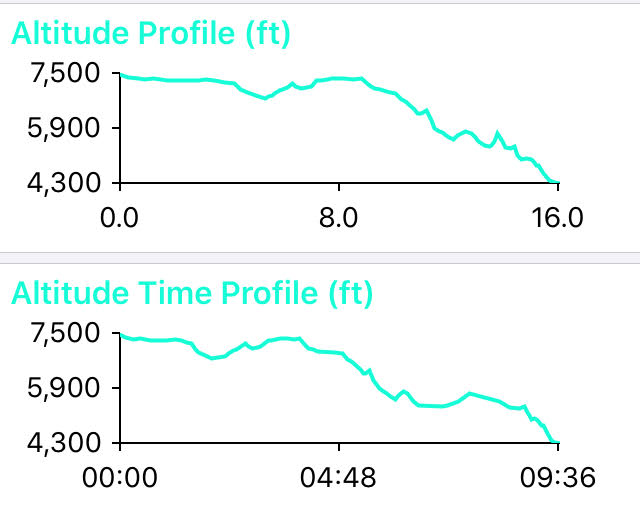 What about water?
There are three potential sources for water, however, in summer or a dry spell it may be empty.
Cabin Spring: located near campsites #1 & #2, near the edge of the canyon rim. It is a seep from the ground that collects in a small pool. It usually flows year-round & is the most reliable source.
Potato Hollow Spring: located near campsites #7 & #8, in the bottom of Potato Hollow. This is also a seep from the ground that pools, but is usually dry by summer. It was flowing while we hiked here in mid-November, however it is not typically reliable.
Sawmill Spring: located near campsite #9, and close to the West Rim TH. This is also a seep from the ground that pools, but is usually dry by summer. Not reliable!
Make sure to carry enough water for the entire hike!
What guidebook or map do you recommend?
I only relied on my Gaia GPS app – I created a route and downloaded the map prior to the hike so I had everything I needed without cell service (this is what I do for all my hikes). However, if you like paper maps, then I would get this one:
What shuttle service do you recommend?
We used Zion Guru – they picked us up at the Zion/Watchman Campground, and dropped us off at the Lava Point TH. You only need a one-way shuttle because when you end your hike you will be able to take the normal ZNP Shuttle back to your car/camp. Check the ZNP Shuttle times (they vary by season), and know the last shuttle, so you can make sure to be done hiking by then.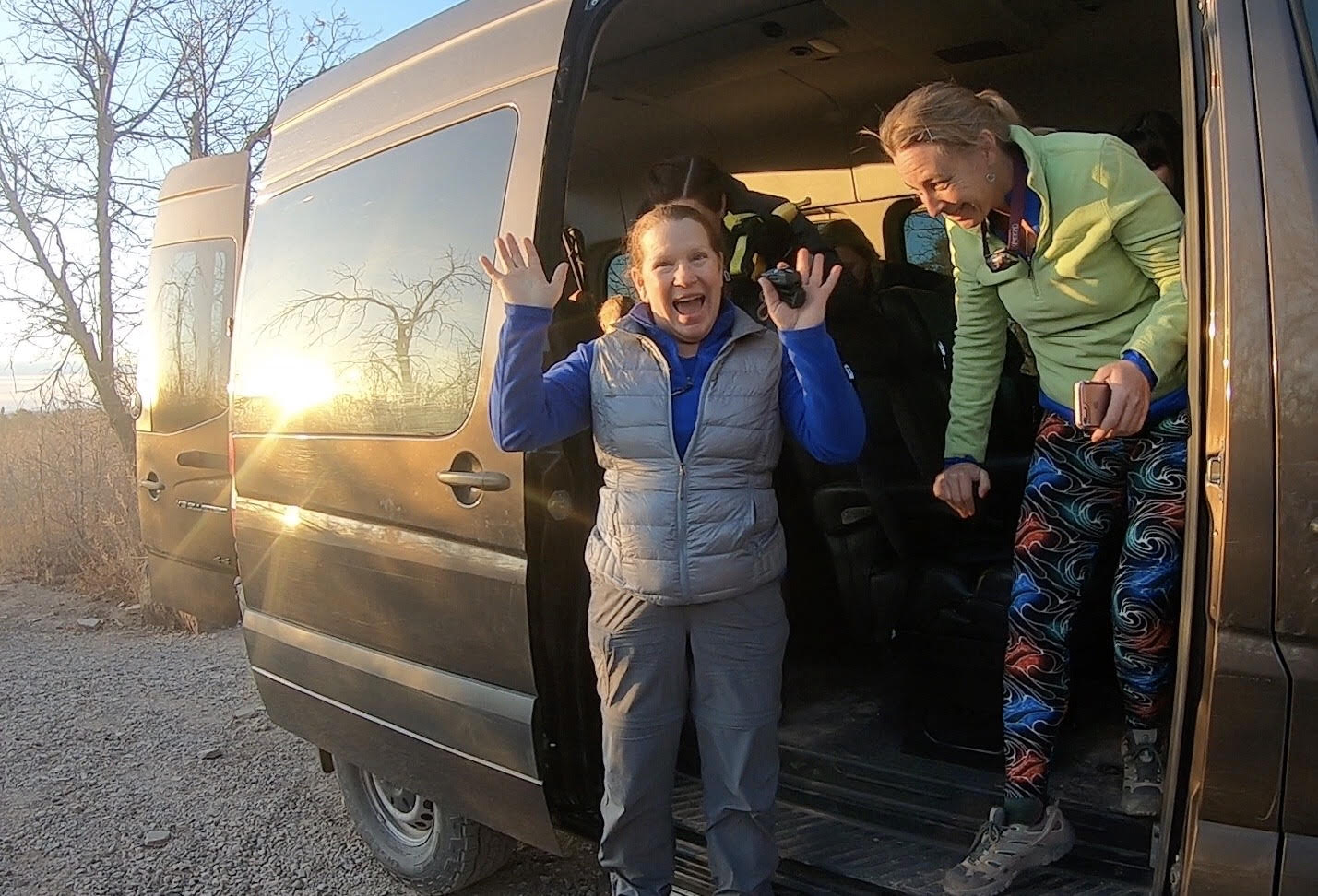 Zion Guru picked us up from the ZNP visitor center, at 6:30am and dropped us off by 7:30am at the Lava Point TH. Denise and Julie were ready to go! We were SO happy we decided to get a shuttle rather than do a car drop. That would have taken a few more hours out of our day, when we were already short with daylight due to daylight savings. Well worth the money! Ask for Chris to be your driver he was great!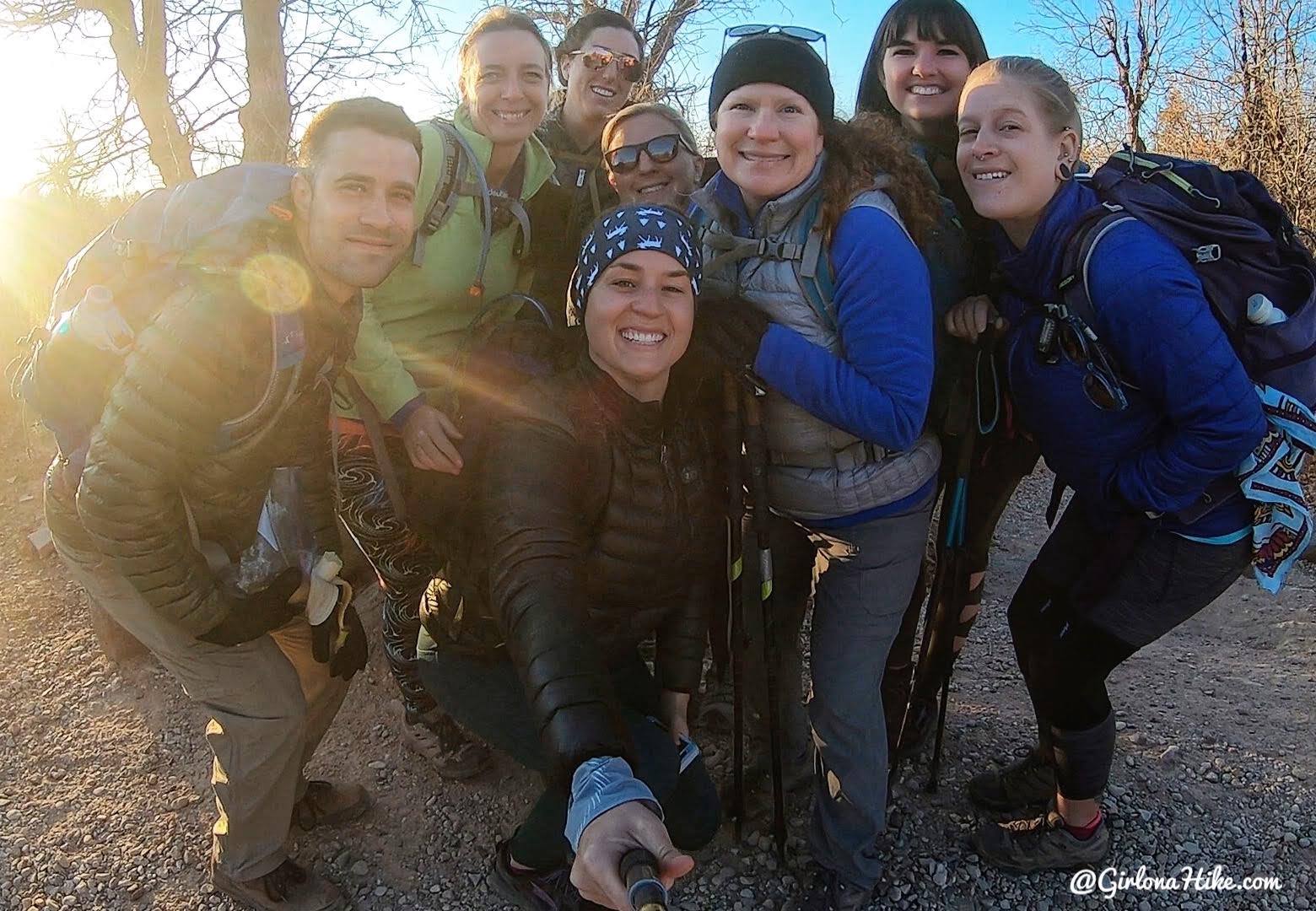 The whole crew is ready to start hiking! It was a chilly start, but we would be taking our layers off quickly.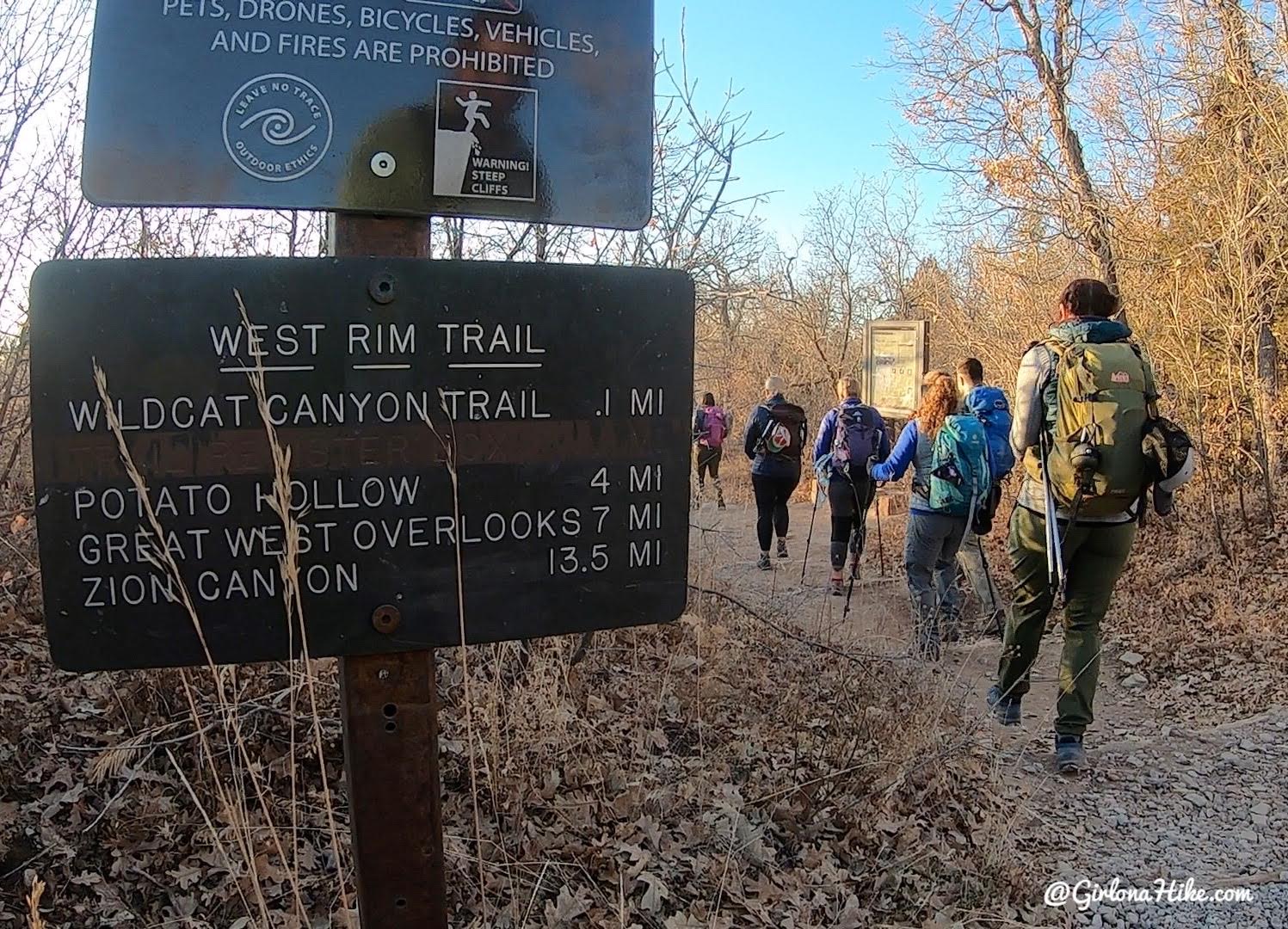 West Rim Trail, here we go!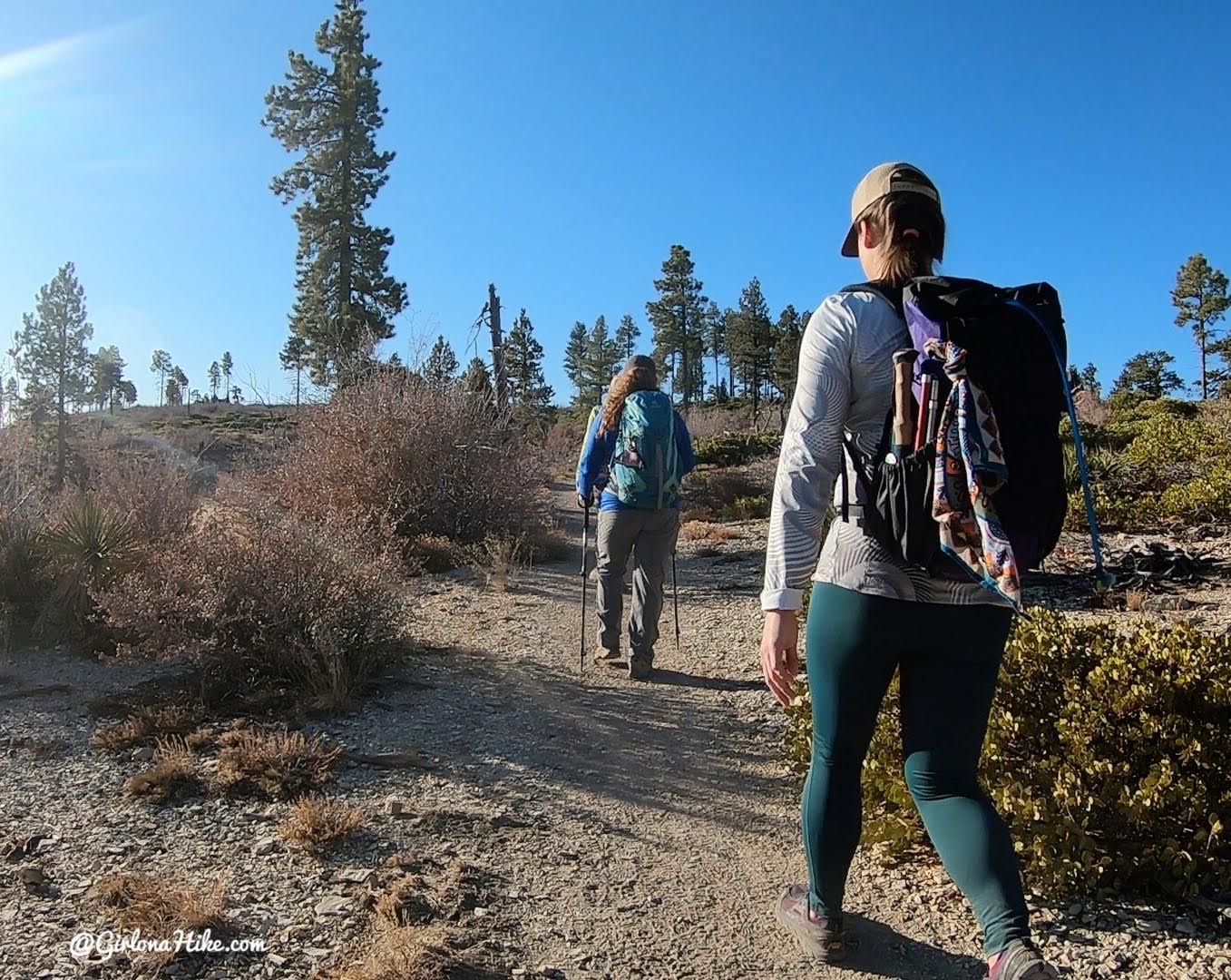 Only a few minutes into hiking and we already took off our jackets. That sun felt so good in November!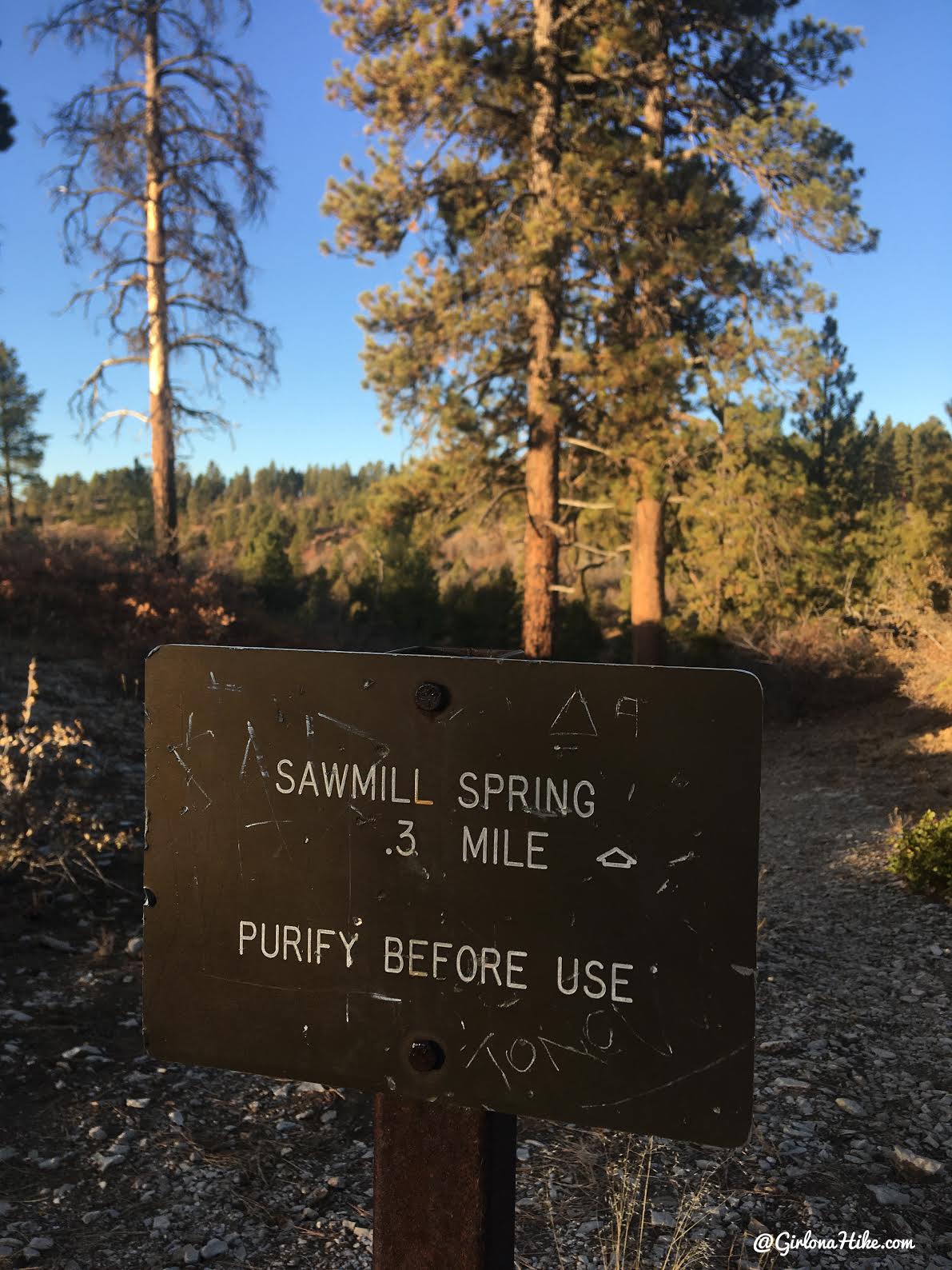 At 0.8 miles, you'll see the trail split for the first campsites and Sawmill Spring. We didn't have time to stop and check out this area.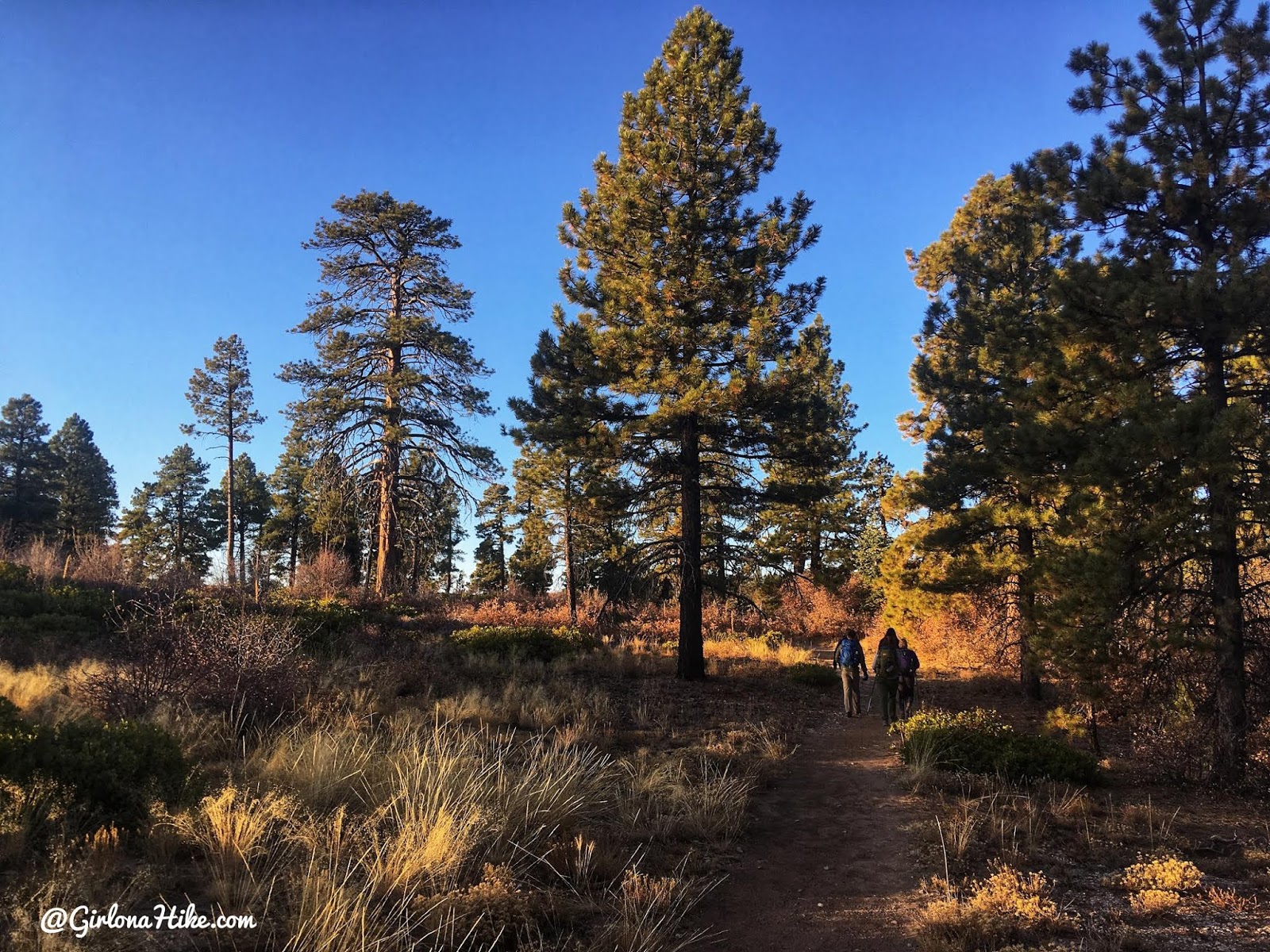 I was surprised at how forested the mesa was, full of Ponderosa trees.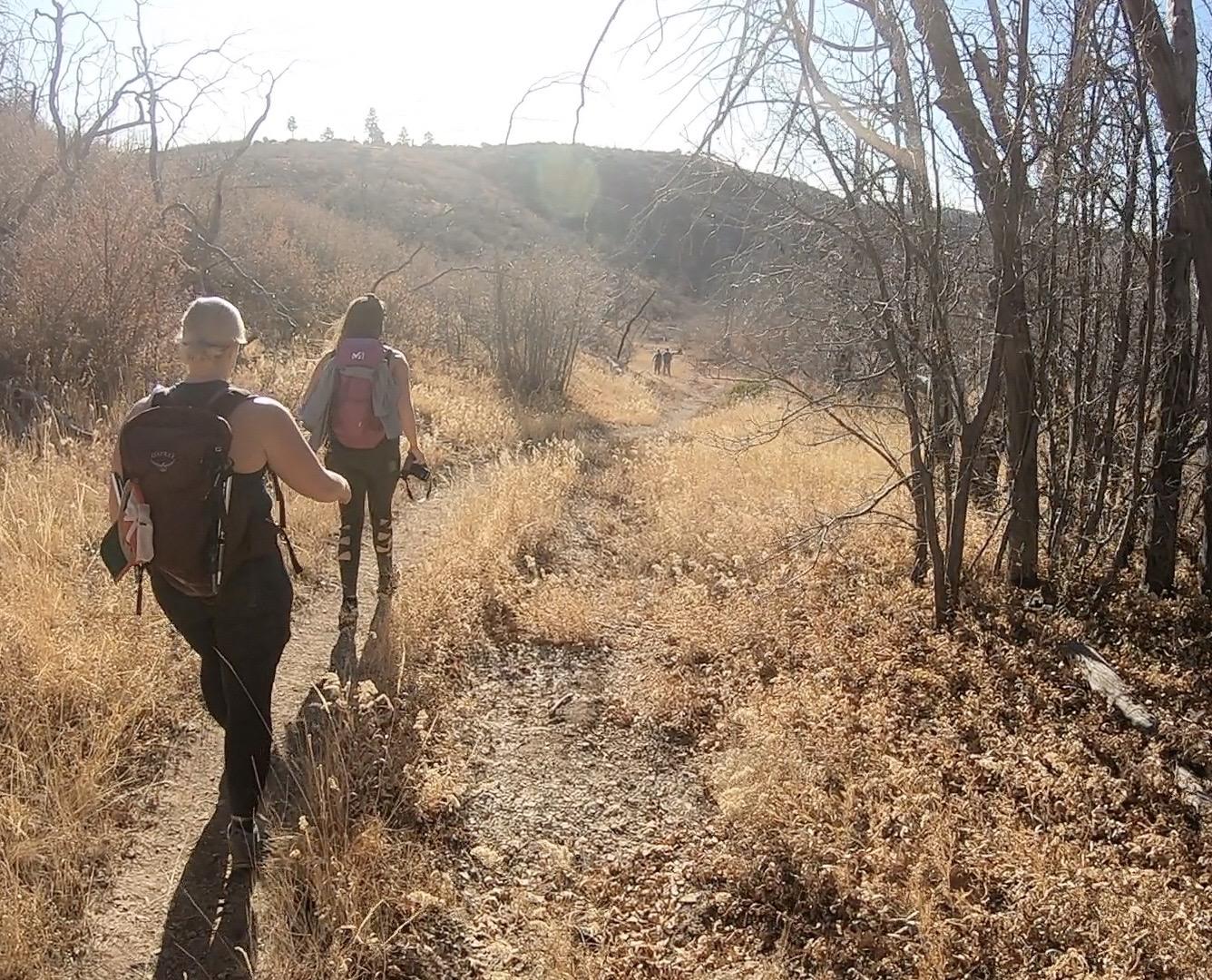 We started to descend into Potato Hollow at mile 4.2, a very boring/dry section of trail. This is when it helps to have people to talk to, to make the boring stuff fly by! I imagine that in Spring this field is green and much prettier.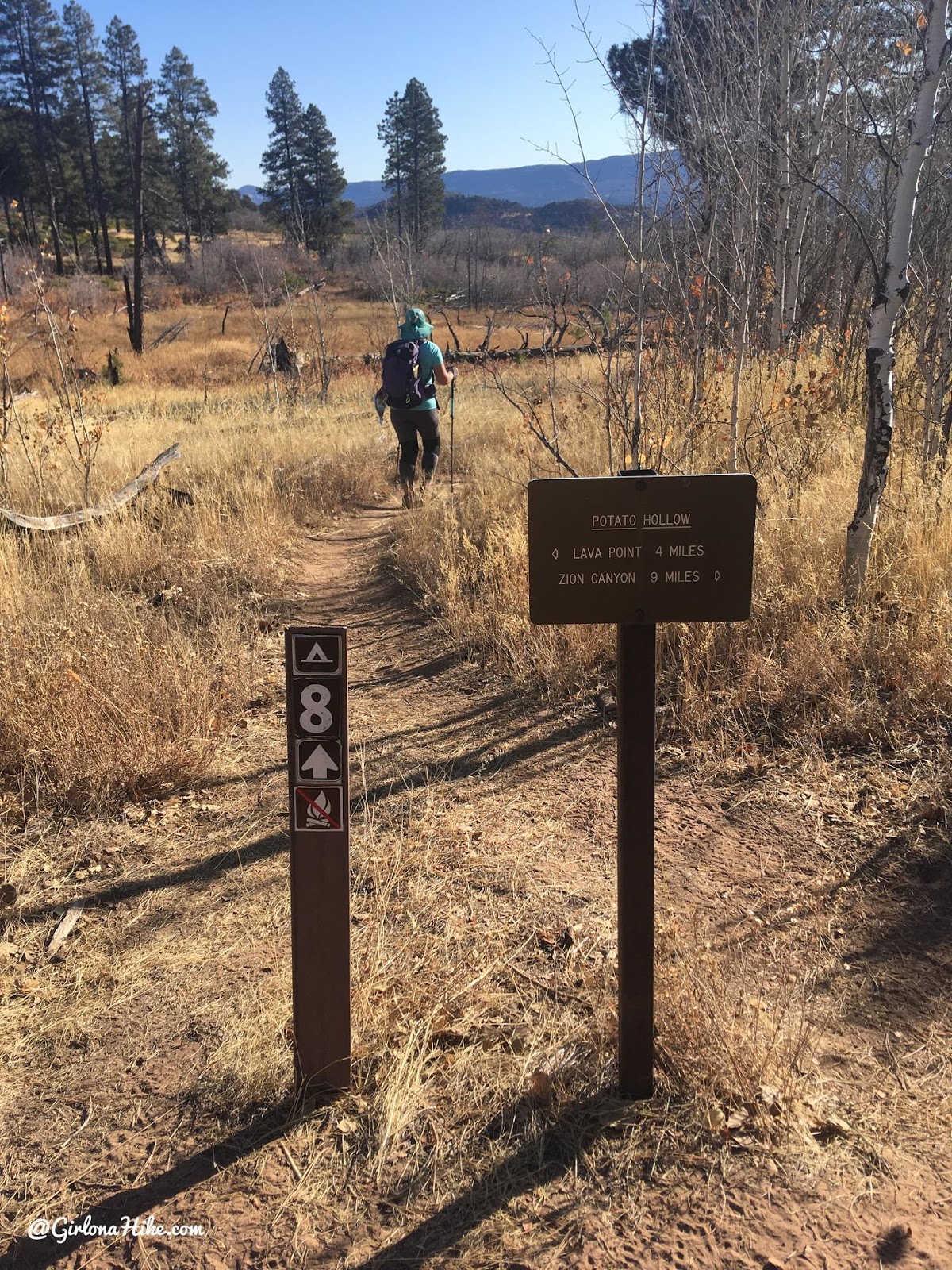 We took our first real break at campsite 8. We had a snack and checked out the spring.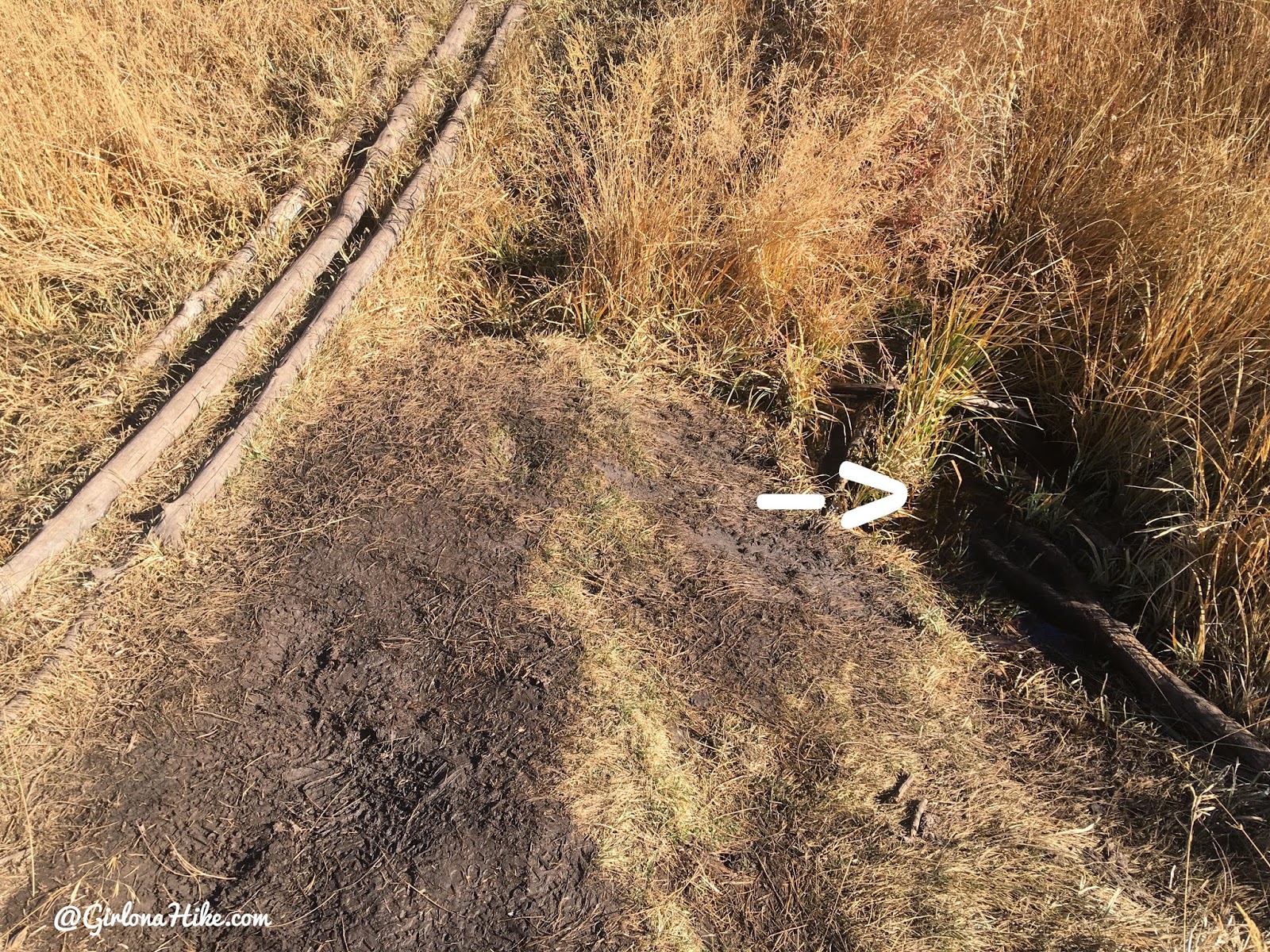 The Potato Hollow Spring – it was flowing really well its just a tiny section to filter from. Normally this spring is dry, so we were surprised to see it flowing.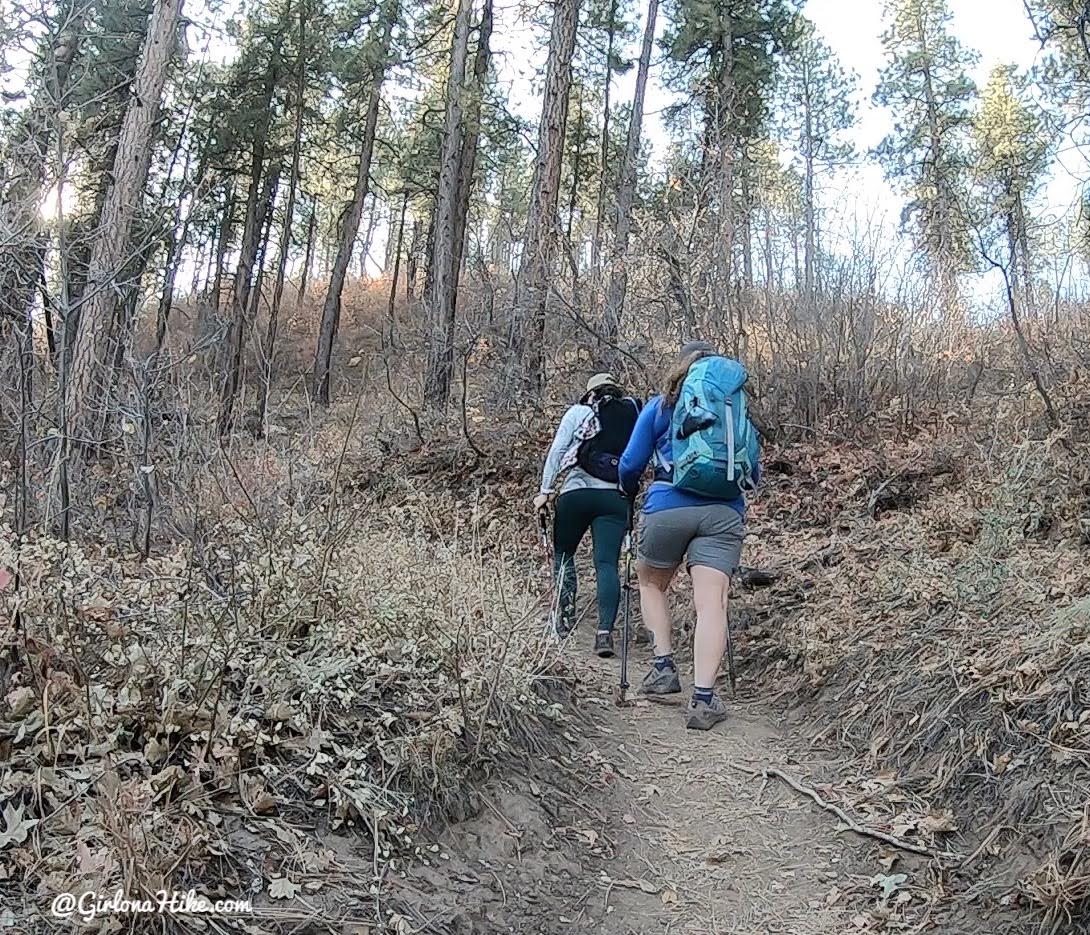 Just after Potato Hollow you'll work up a steep hill. After all that downhill this felt so hard!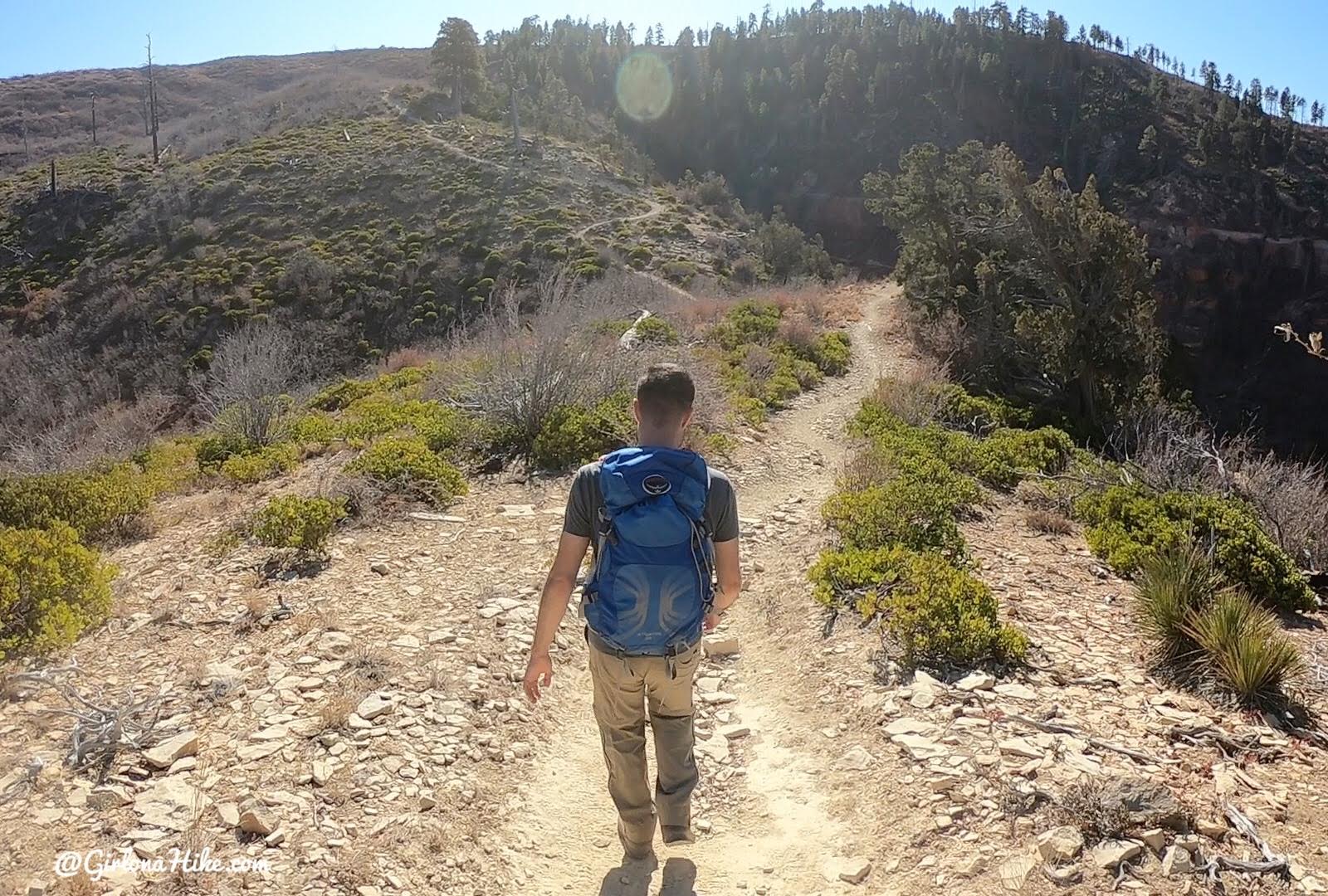 You can see the trail ahead!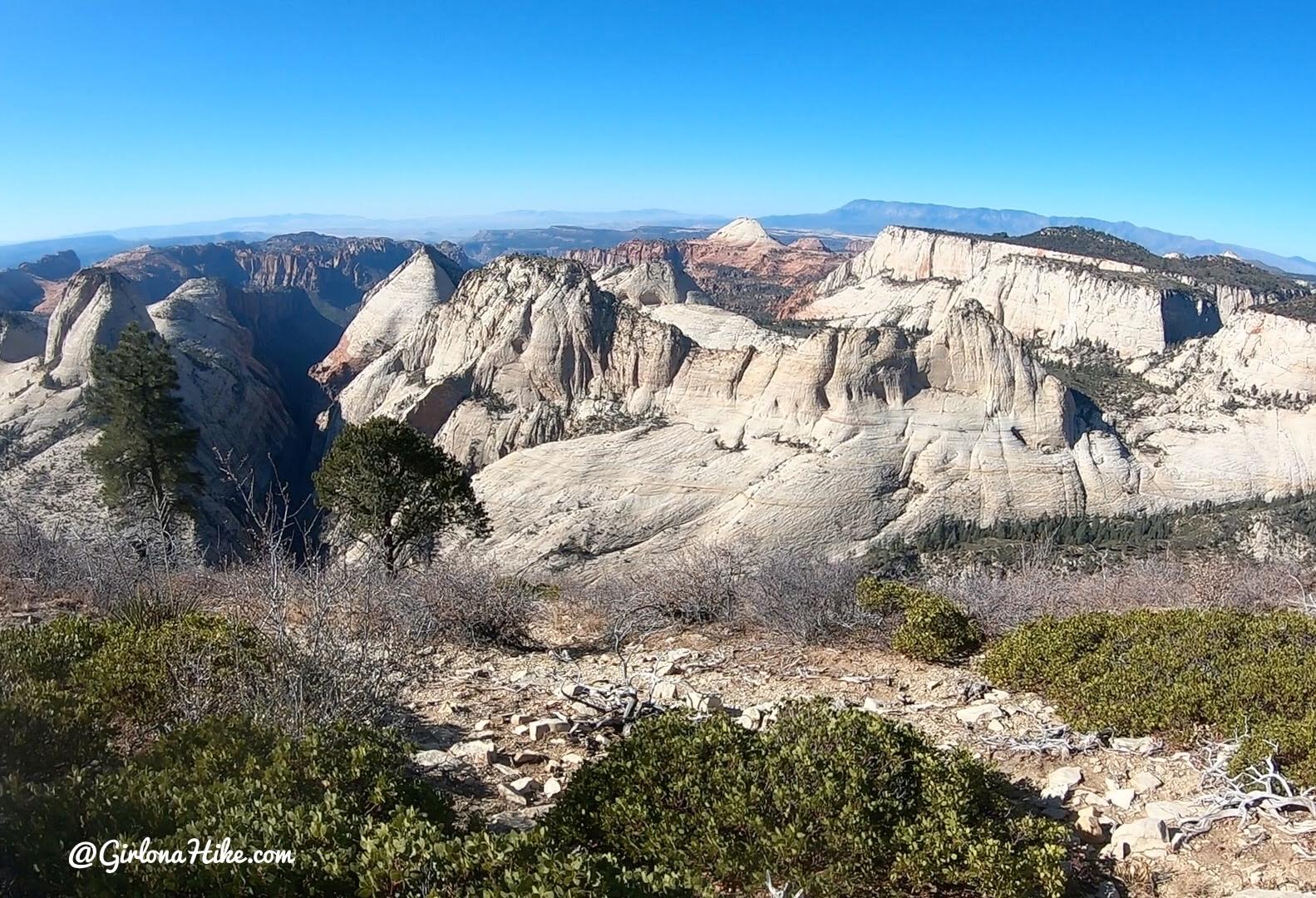 At 6.4 miles reach a cool overlook on your right.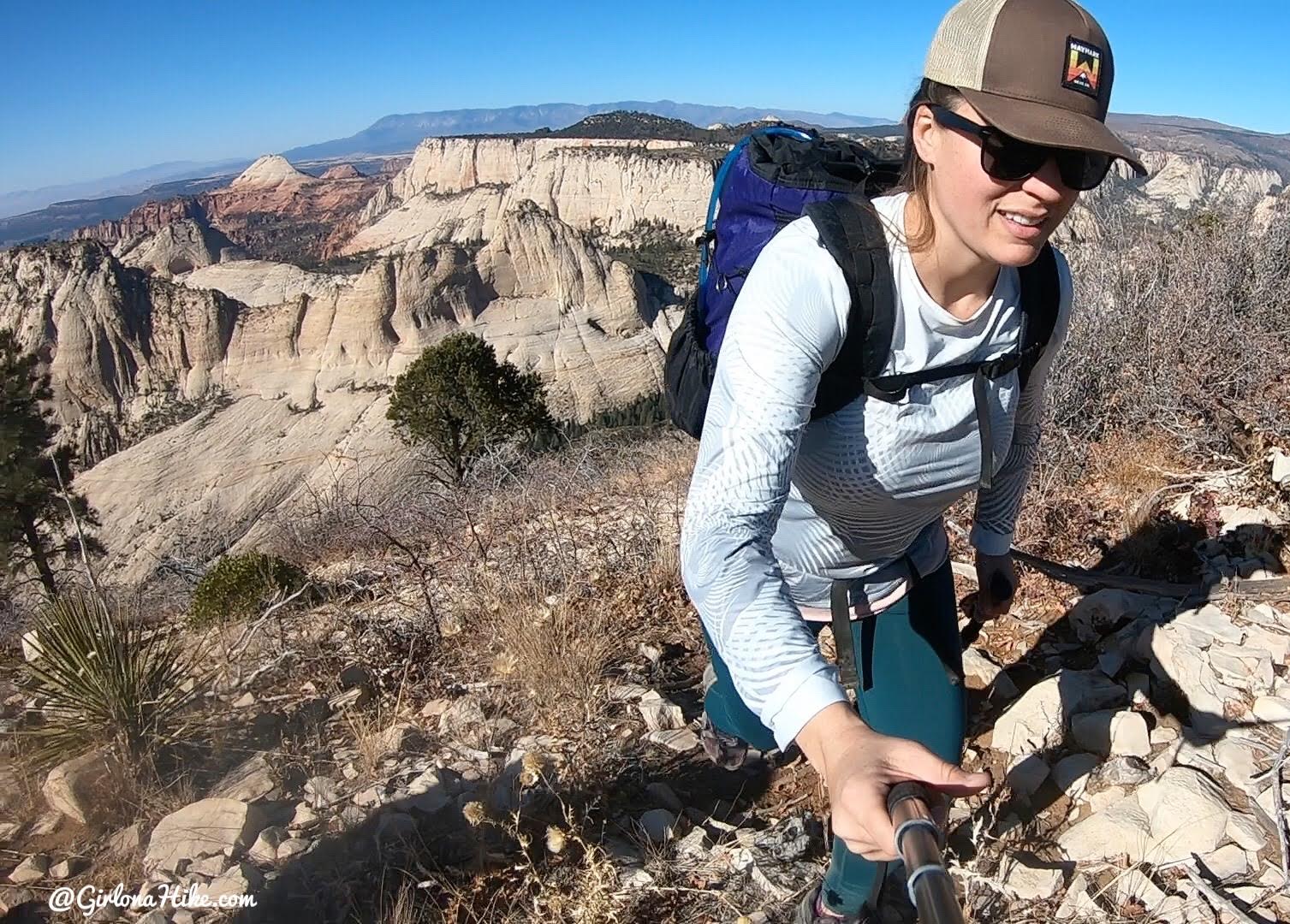 My favorite thing about this spot is that you can clearly see Signal Peak! It's the long dark ridge in the far distance on the south end of the ridge. Super fun to see another peak I've done from this spot.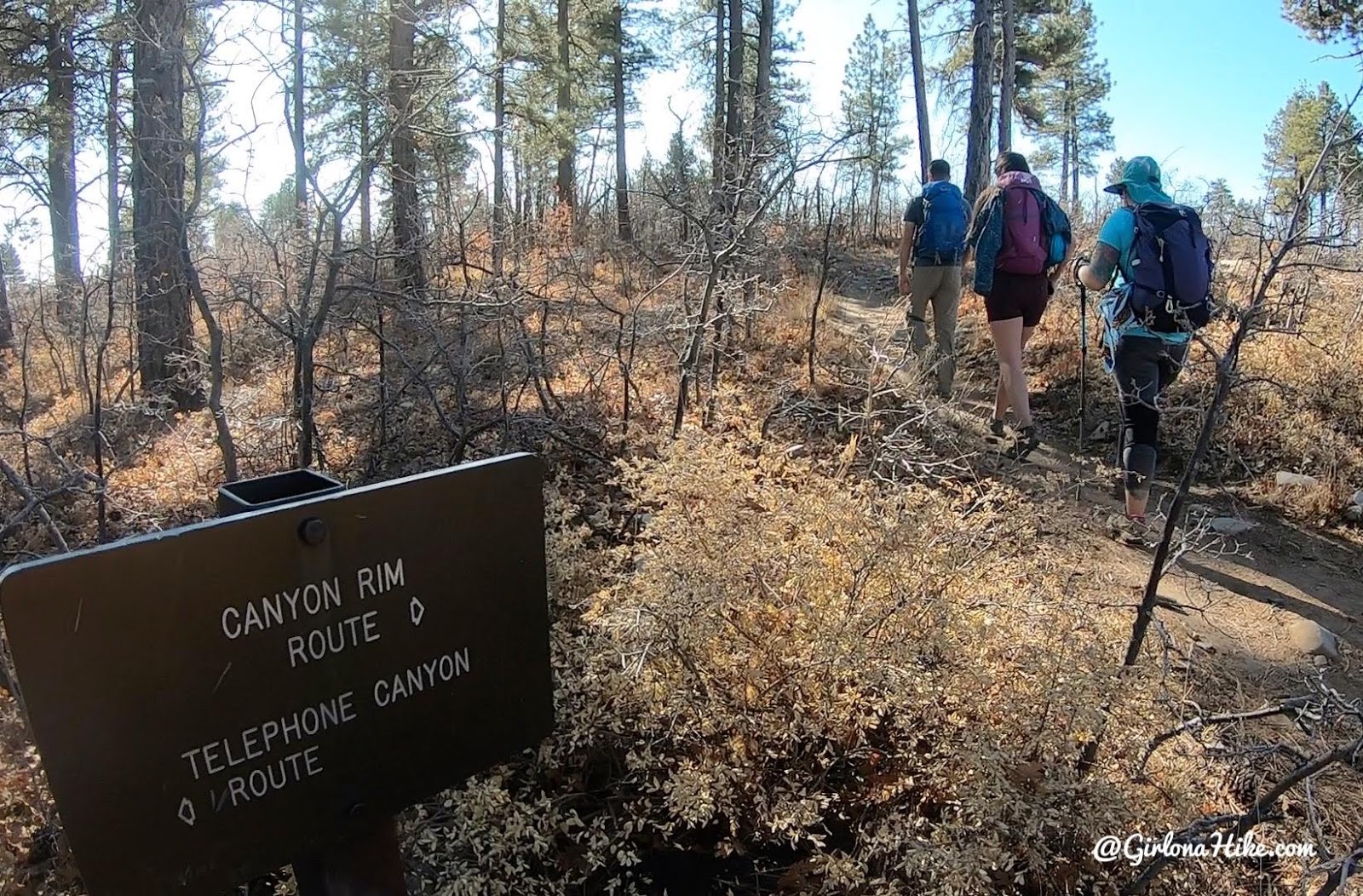 At 7.1 miles, you'll reach the Telephone Canyon/West Rim trail split. We opted for the West Rim Trail because I read that this was the more scenic route.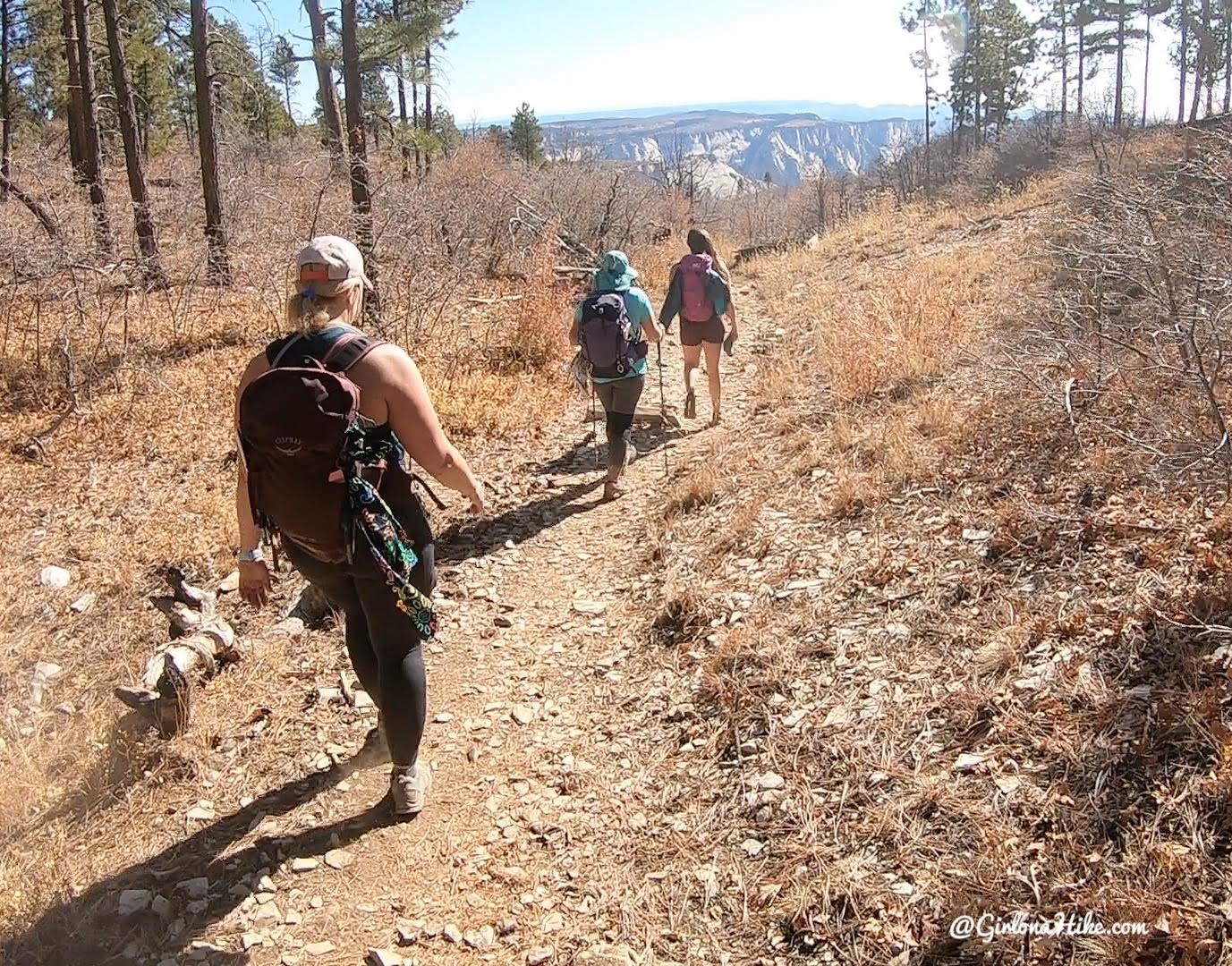 After hiking another flat section, start to work downhill. At this point, you will now have views to the East and South into ZNP. The trail wraps around providing cool views.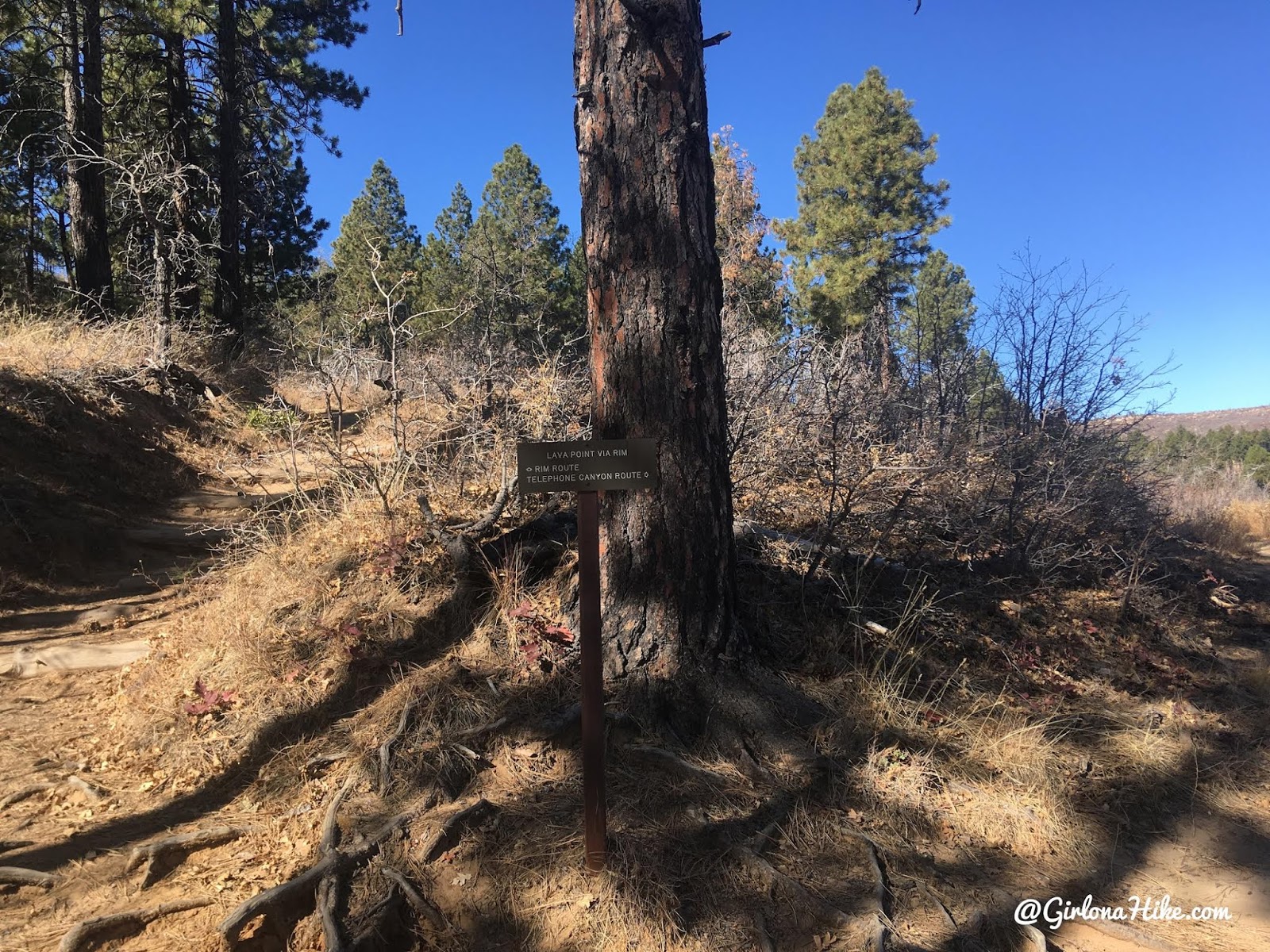 Eventually you will reach the junction for Telephone Canyon again, this time at the bottom of the split. You should be at 10 miles here. This angle is looking back up from where you just hiked down, so you won't initially see this sign unless you turn around.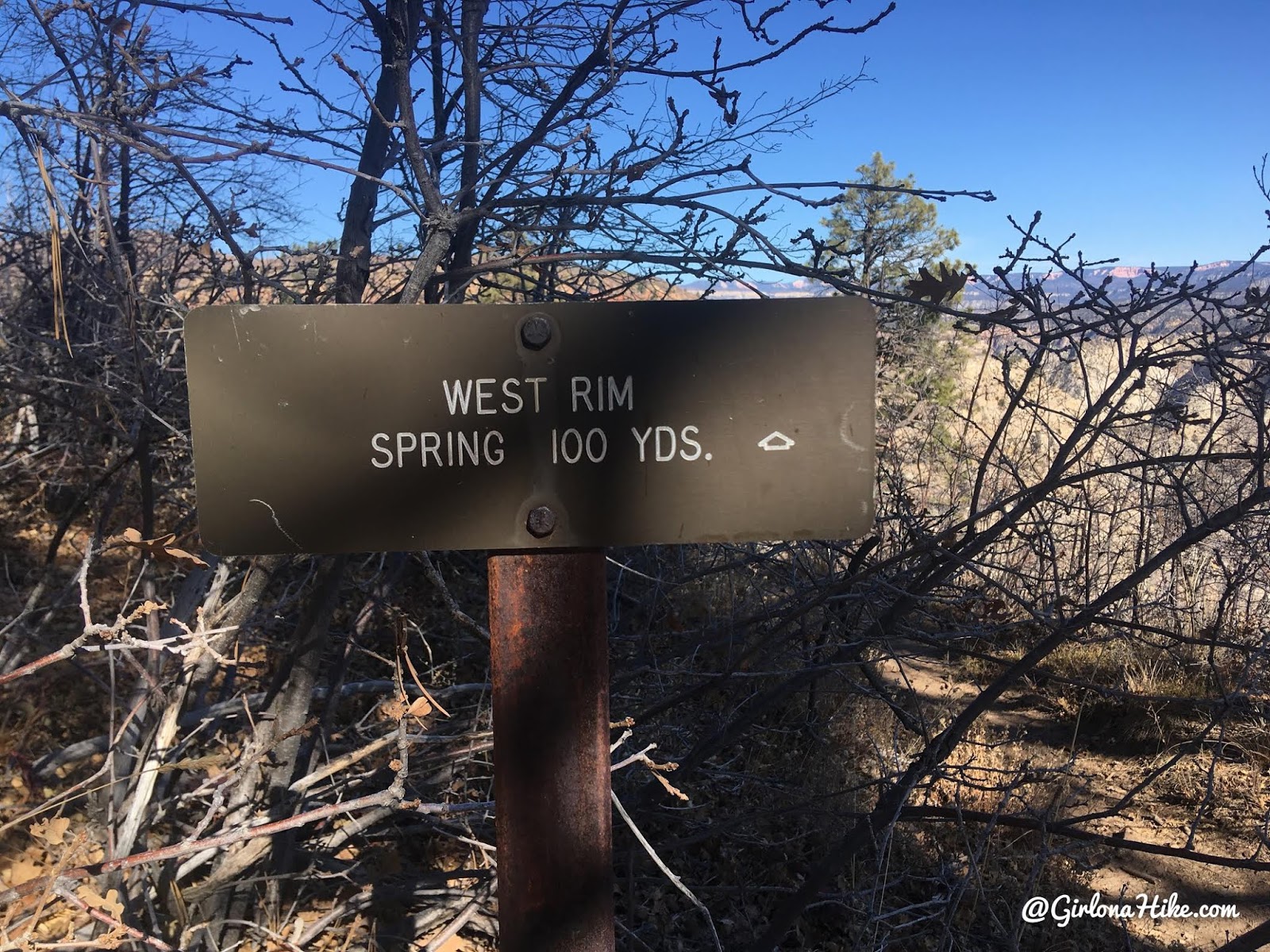 A sign for the last spring. We didn't want to see it because we were starting to worry about time.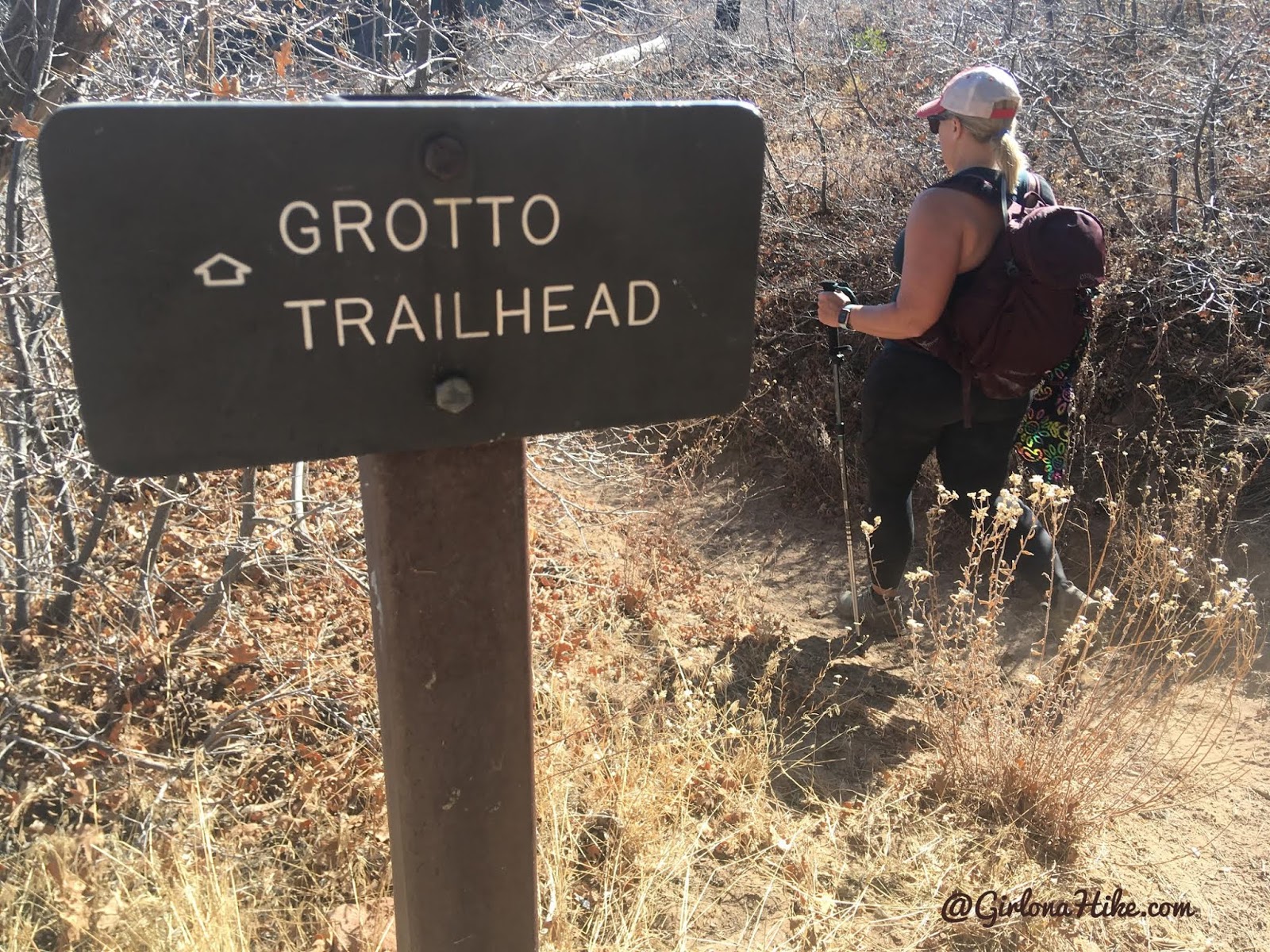 At this same intersection with Telephone Canyon/Spring, you'll see the split for Grotto TH off to the right. This is the one you want to take to reach Angels Landing and the bottom of the canyon to catch your shuttle.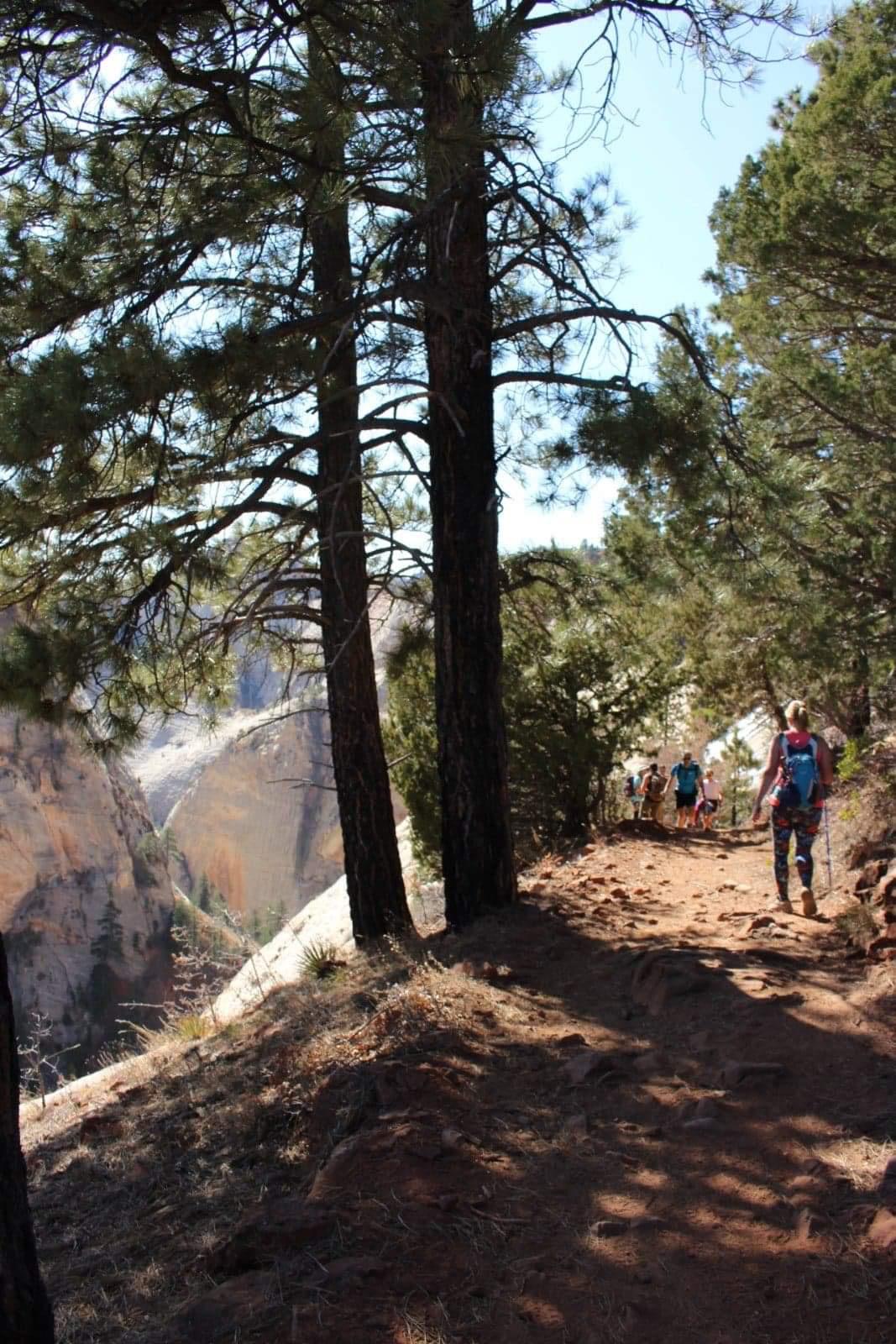 Start descending down again, this time much steeper.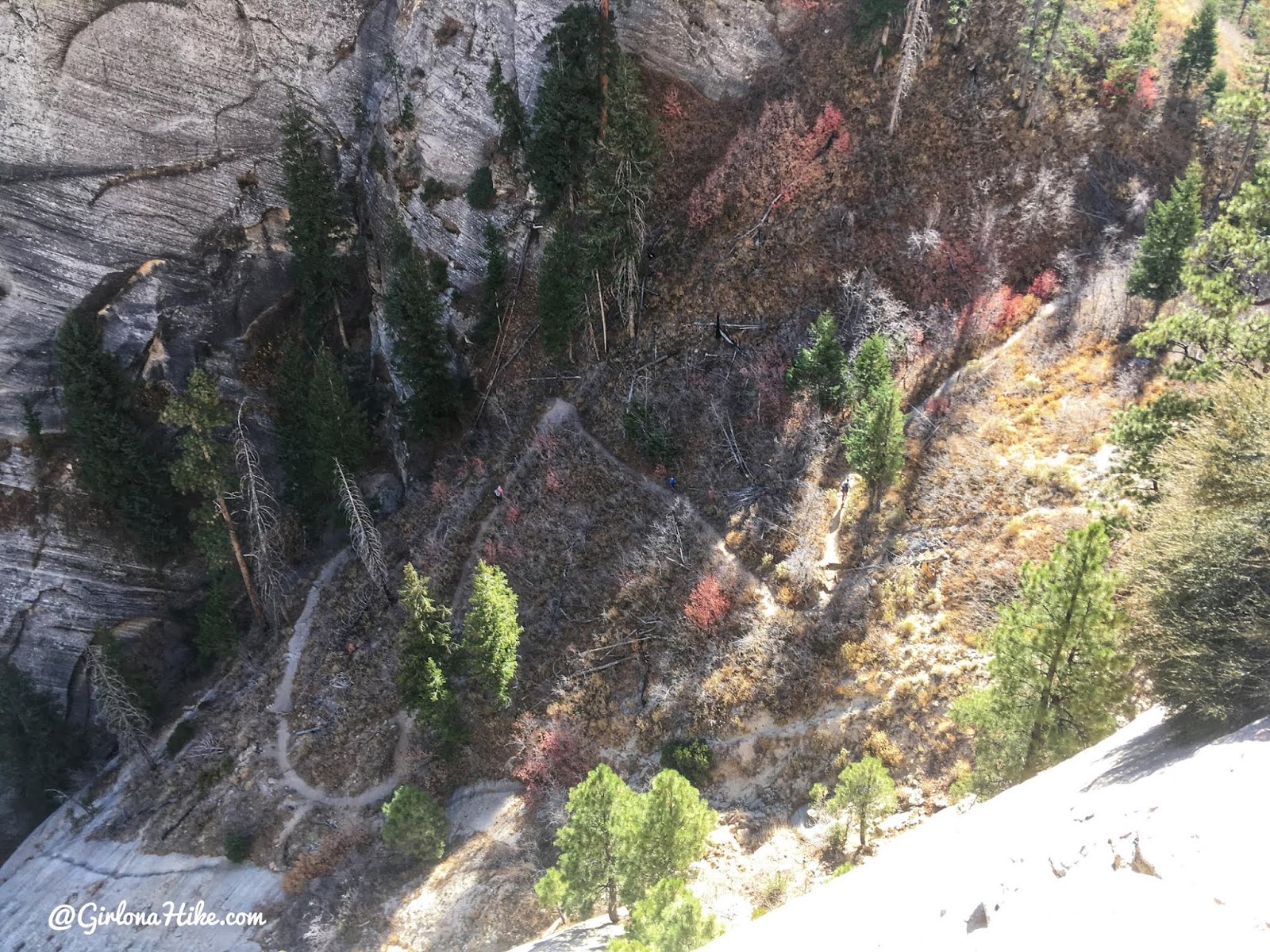 Whoa, that's where we're going! More switchbacks to come.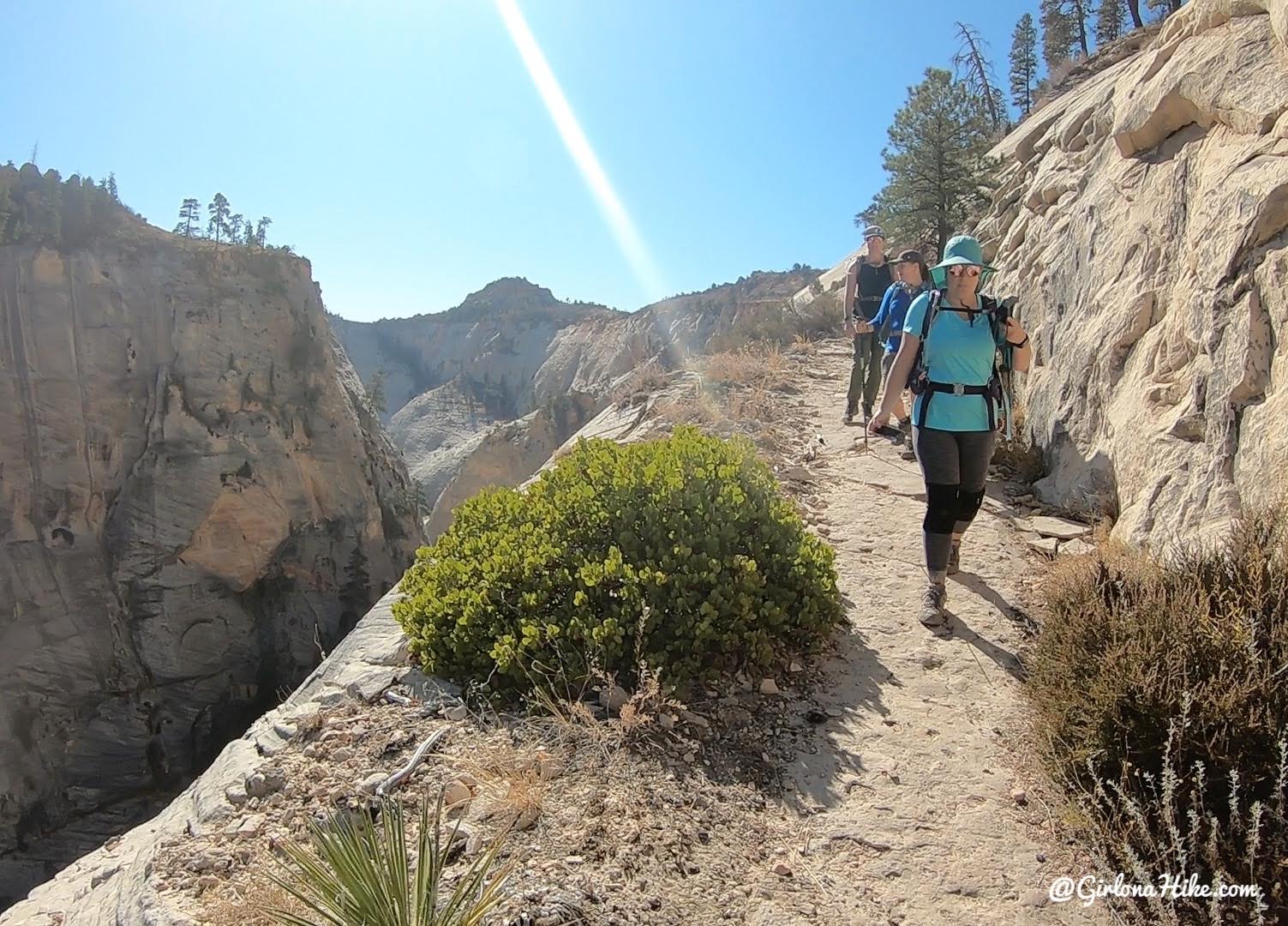 My favorite section of the trail is when dirt turns into slick rock and the trail is like a ramp leading you downhill. My toes really started to hurt here from all the steepness.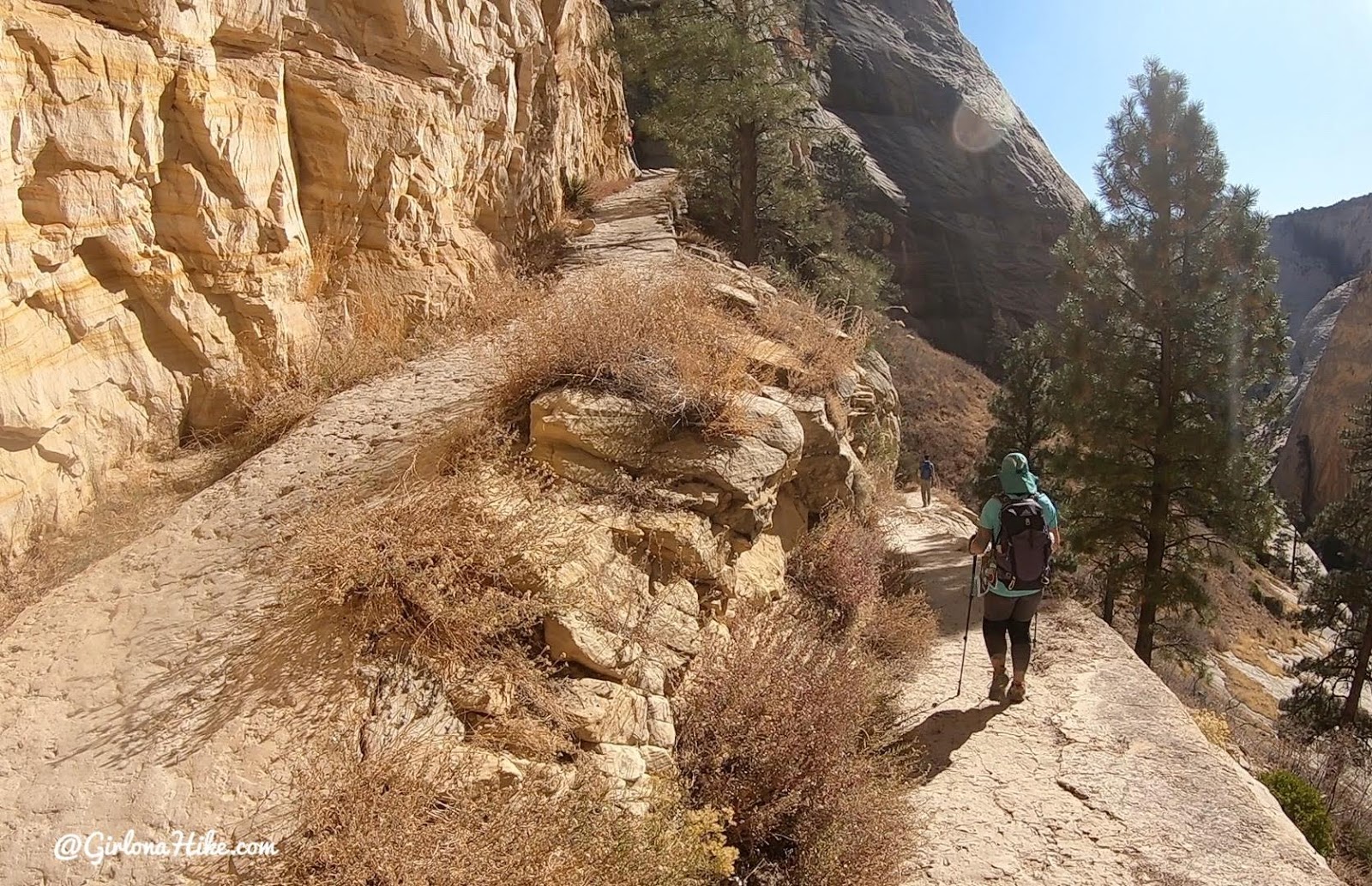 More switchbacks – we descended really quickly over this one mile.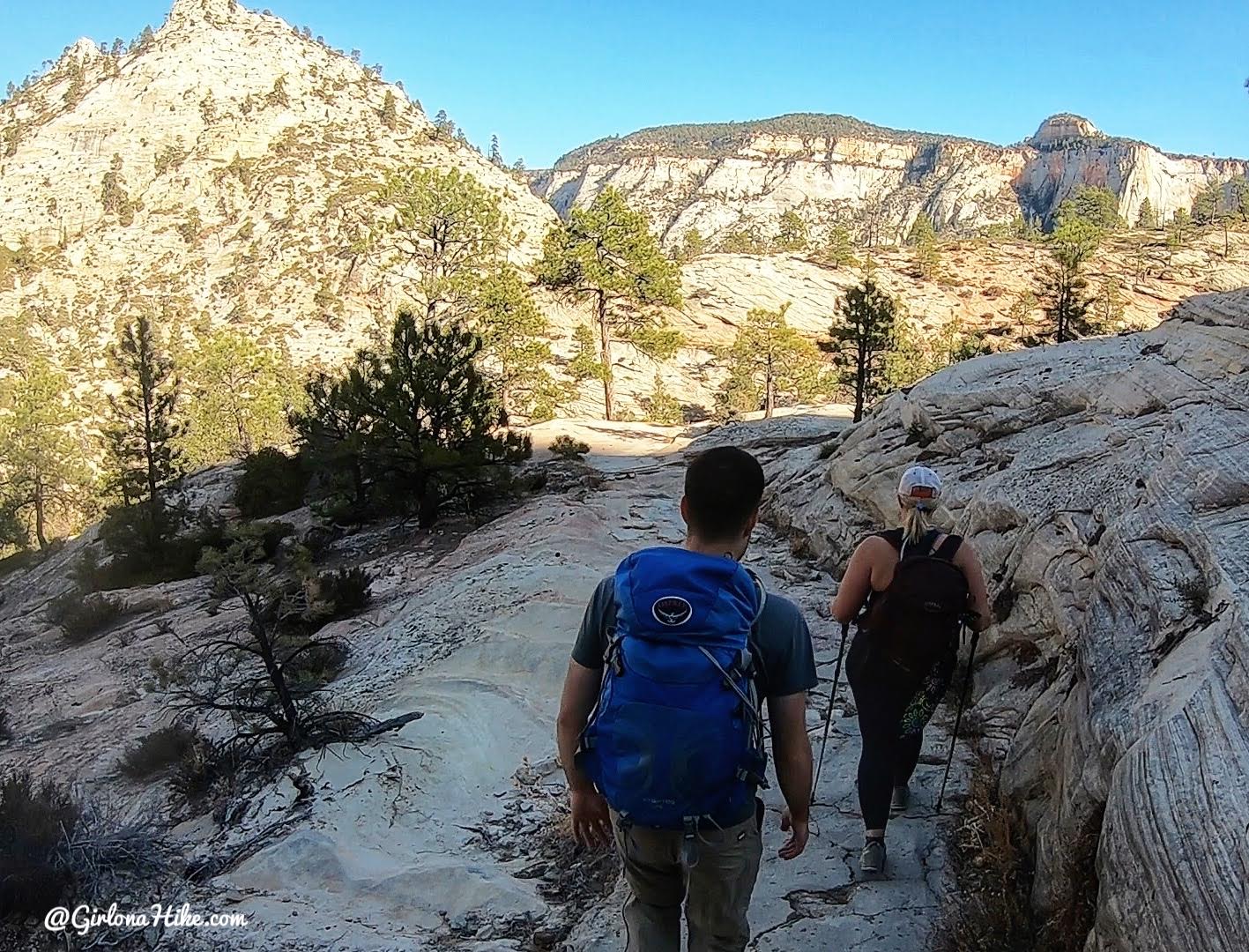 The views really started to open up.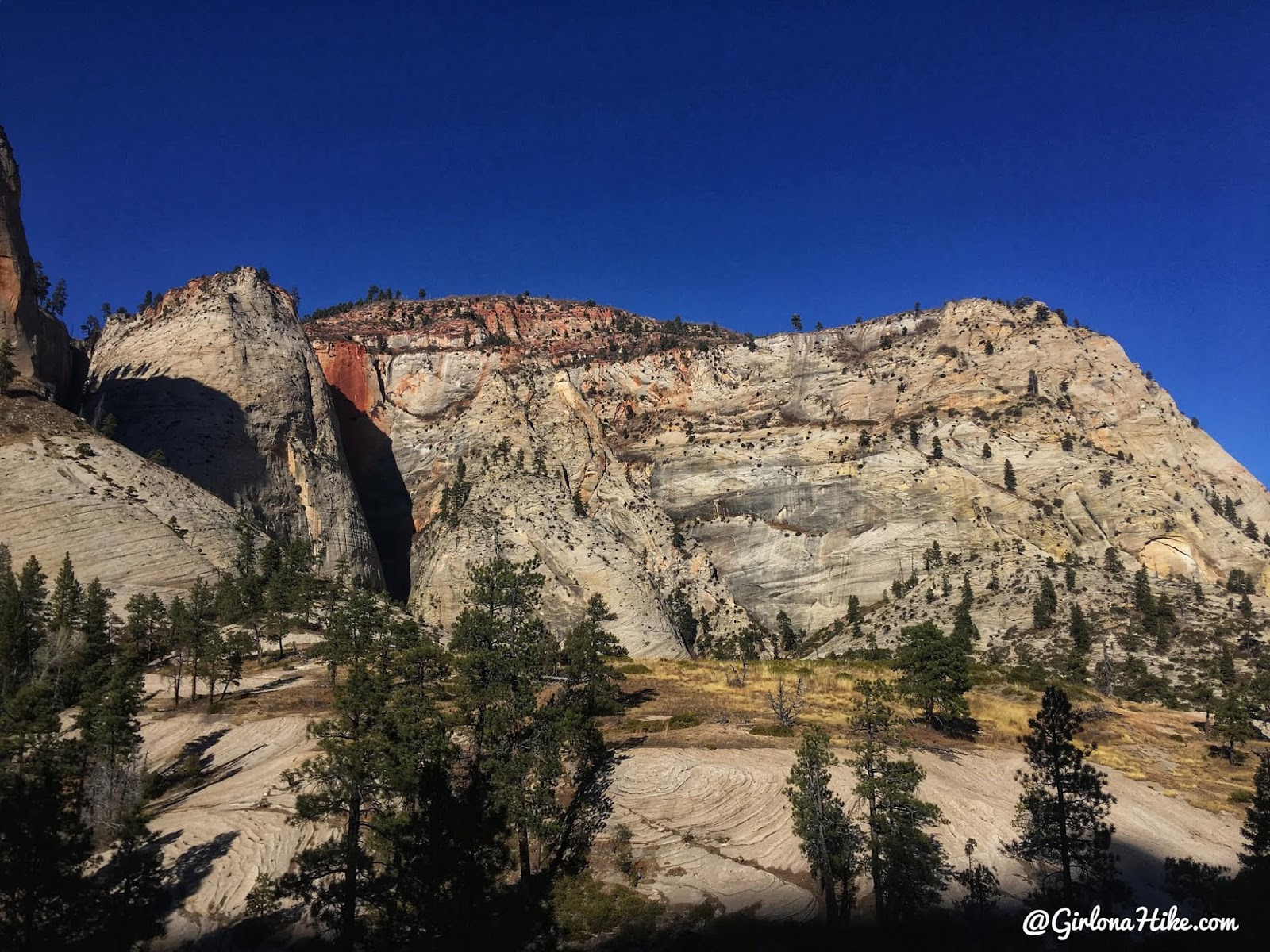 Can't get over those deep blue skies! Hard to believe just a mile ago we were on top of that mesa!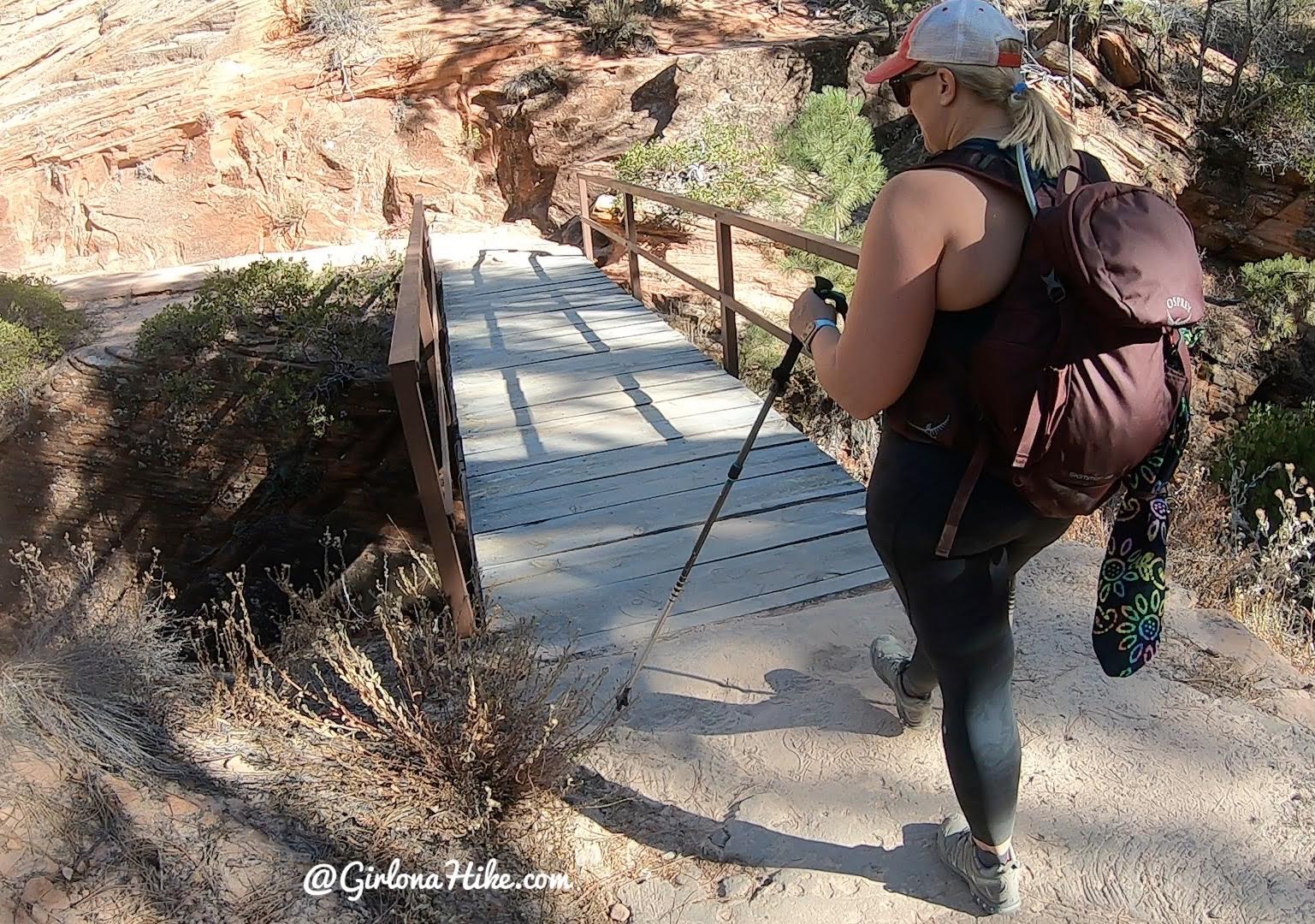 Cross a bridge. There was no water below us, but I could see that in a flash flood it would fill up.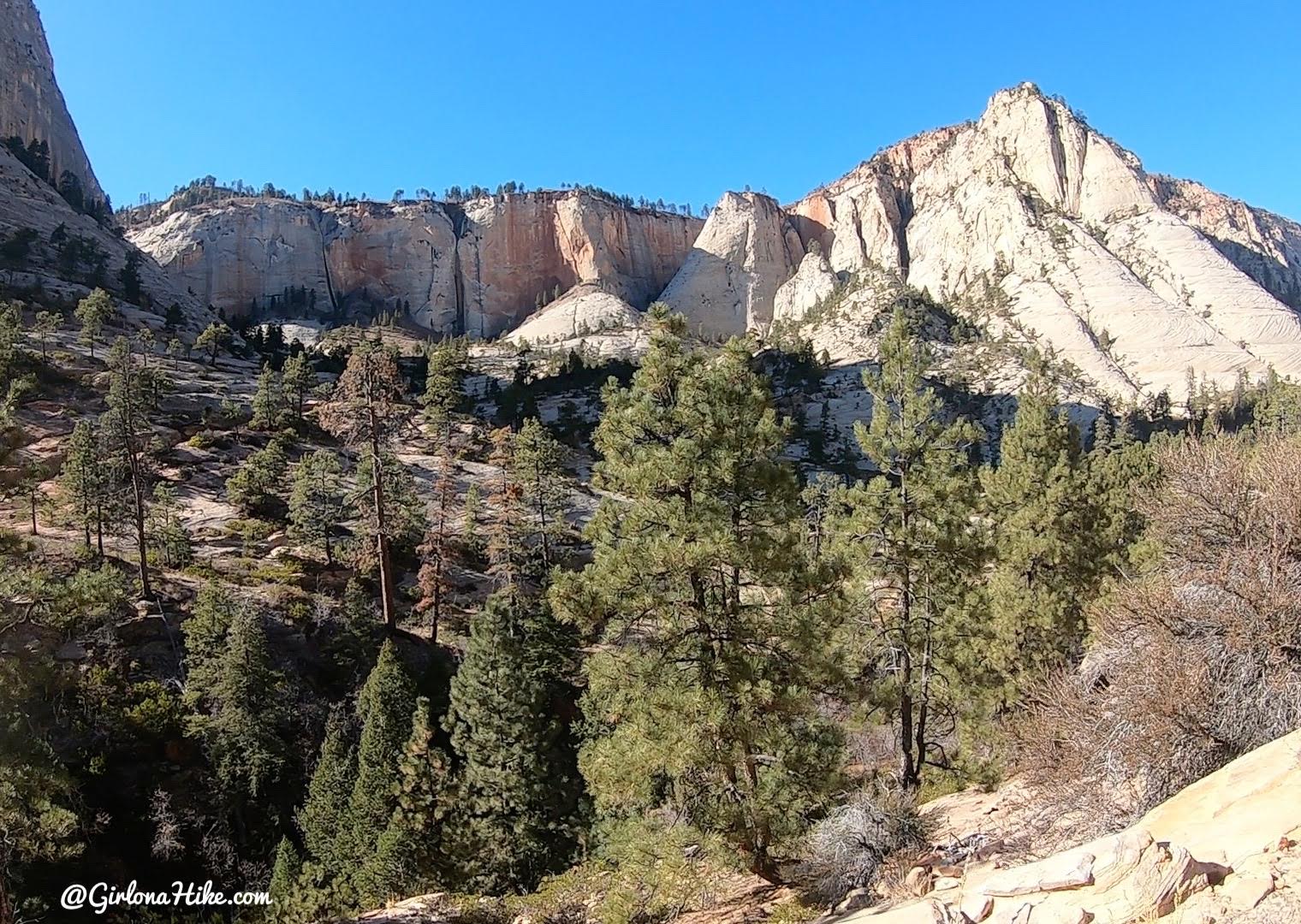 One last look back before we turn a corner.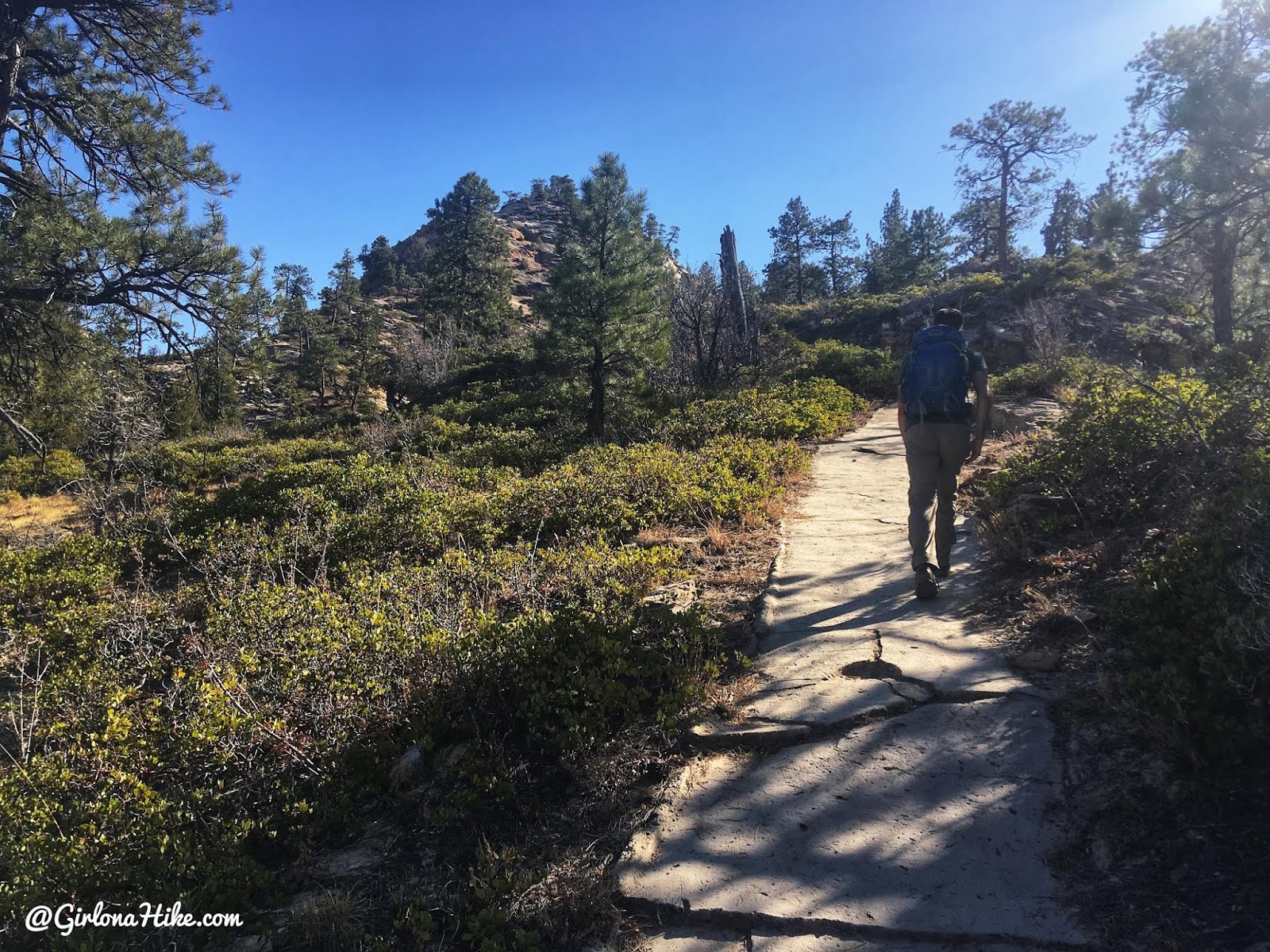 This uphill section felt so tiring! We knew we were getting close to Angels Landing because the trail was paved haha! That's when you know you're close to civilization.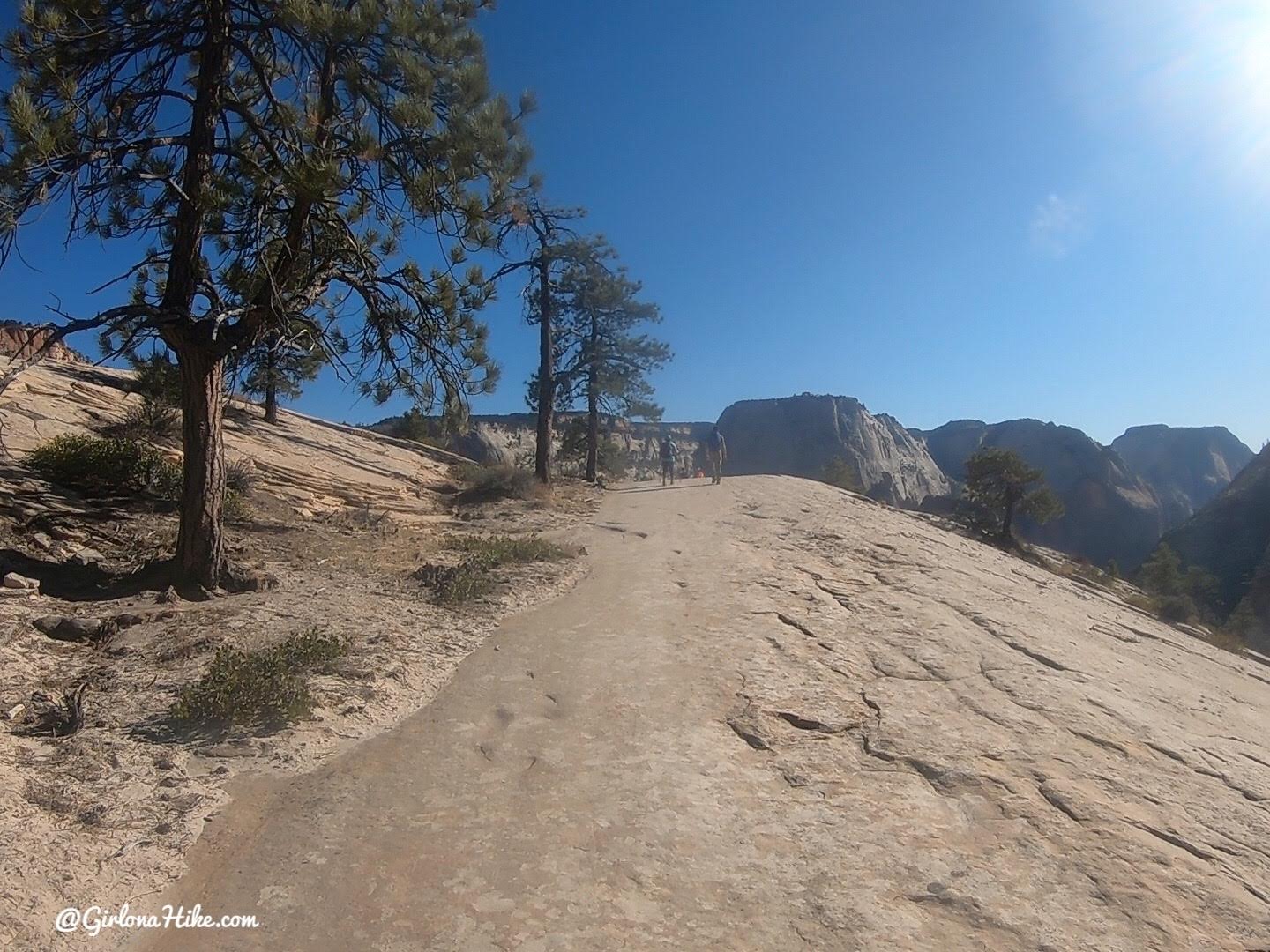 A nice open, slick rock area.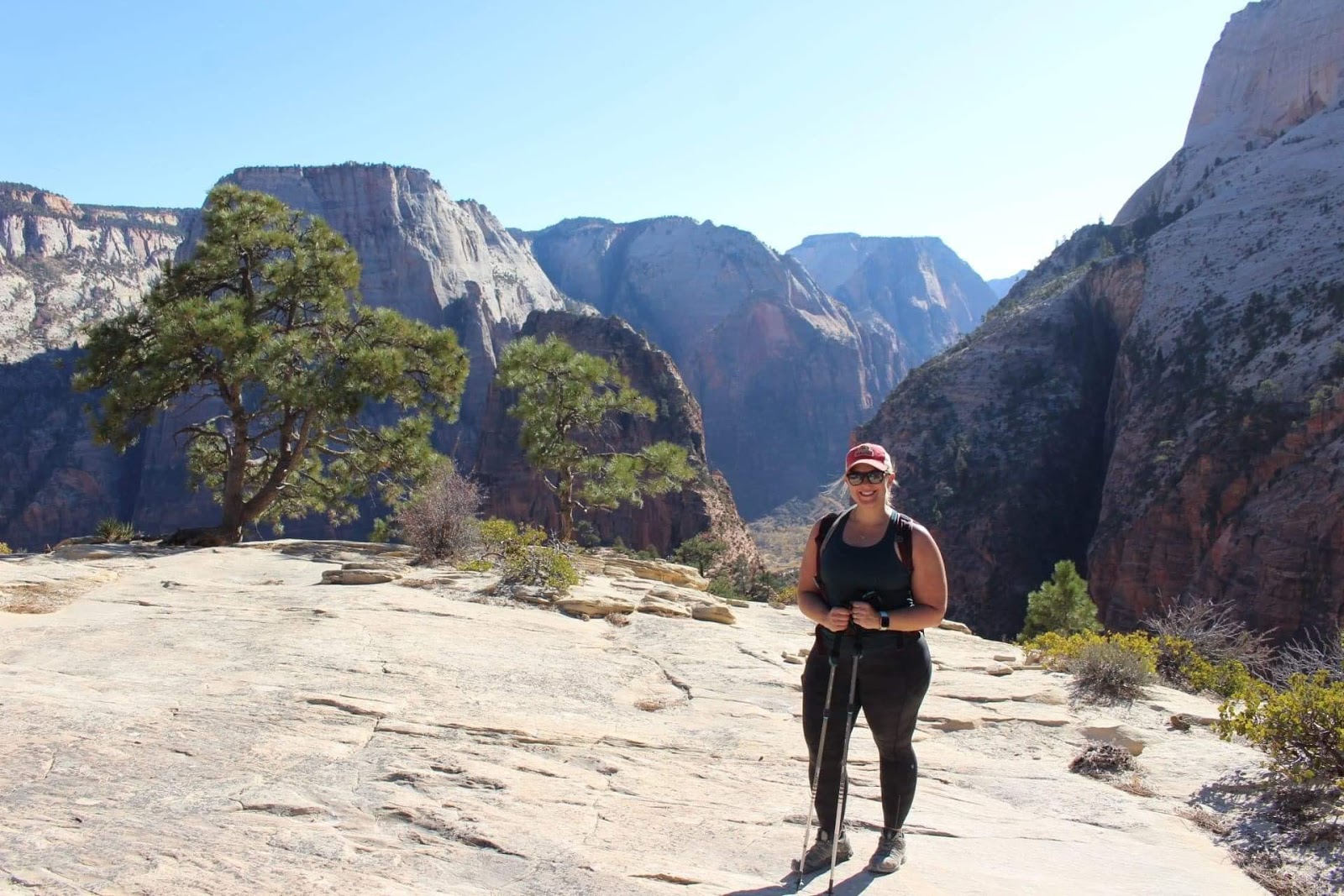 First sight of Angels Landing! Only a little more to the trail split.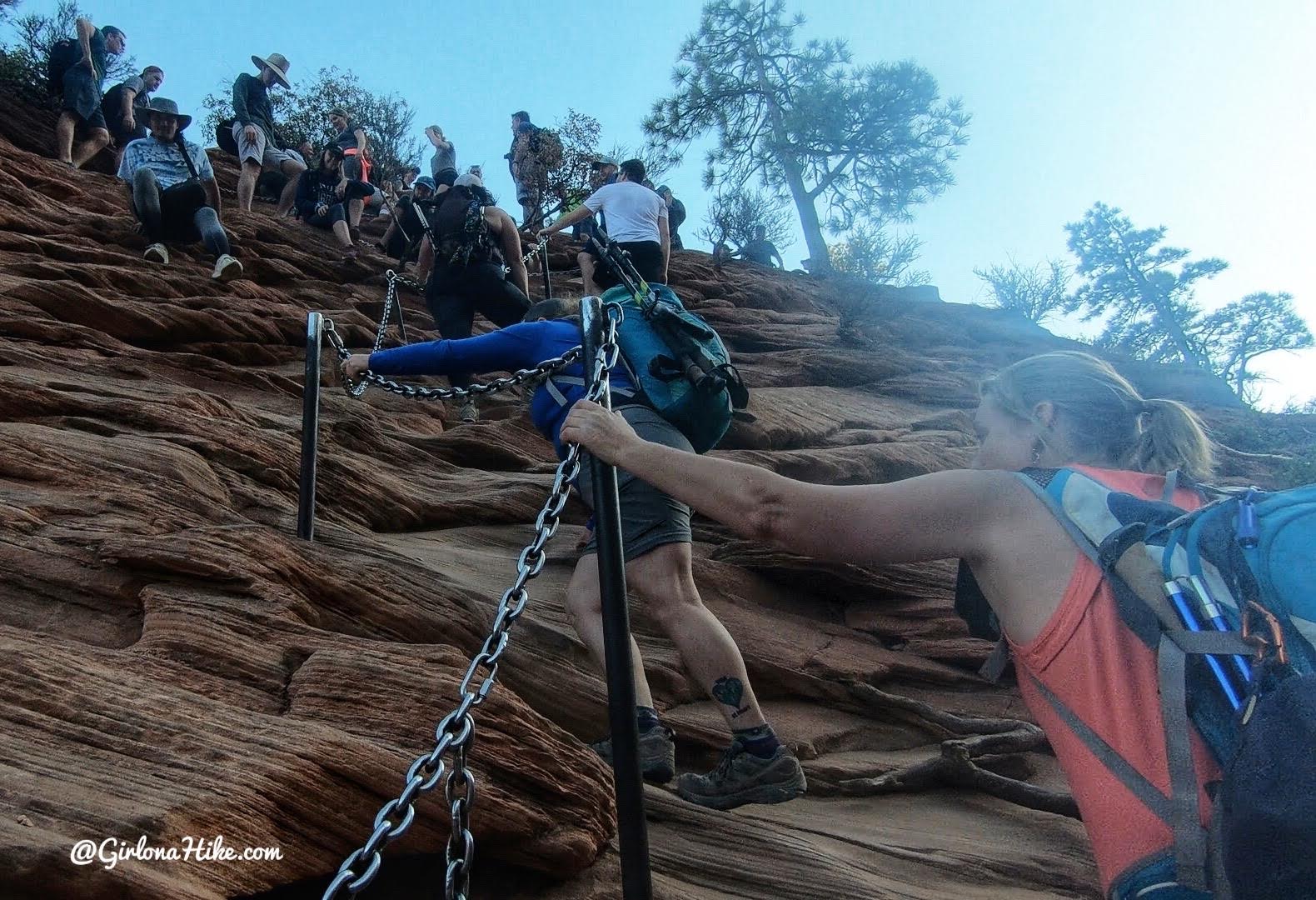 At 13.3 miles we reach Scout's Landing, the trail split for Angels Landing. This is the "what is really looks like" photo along the trail to Angels Landing. People on top of people.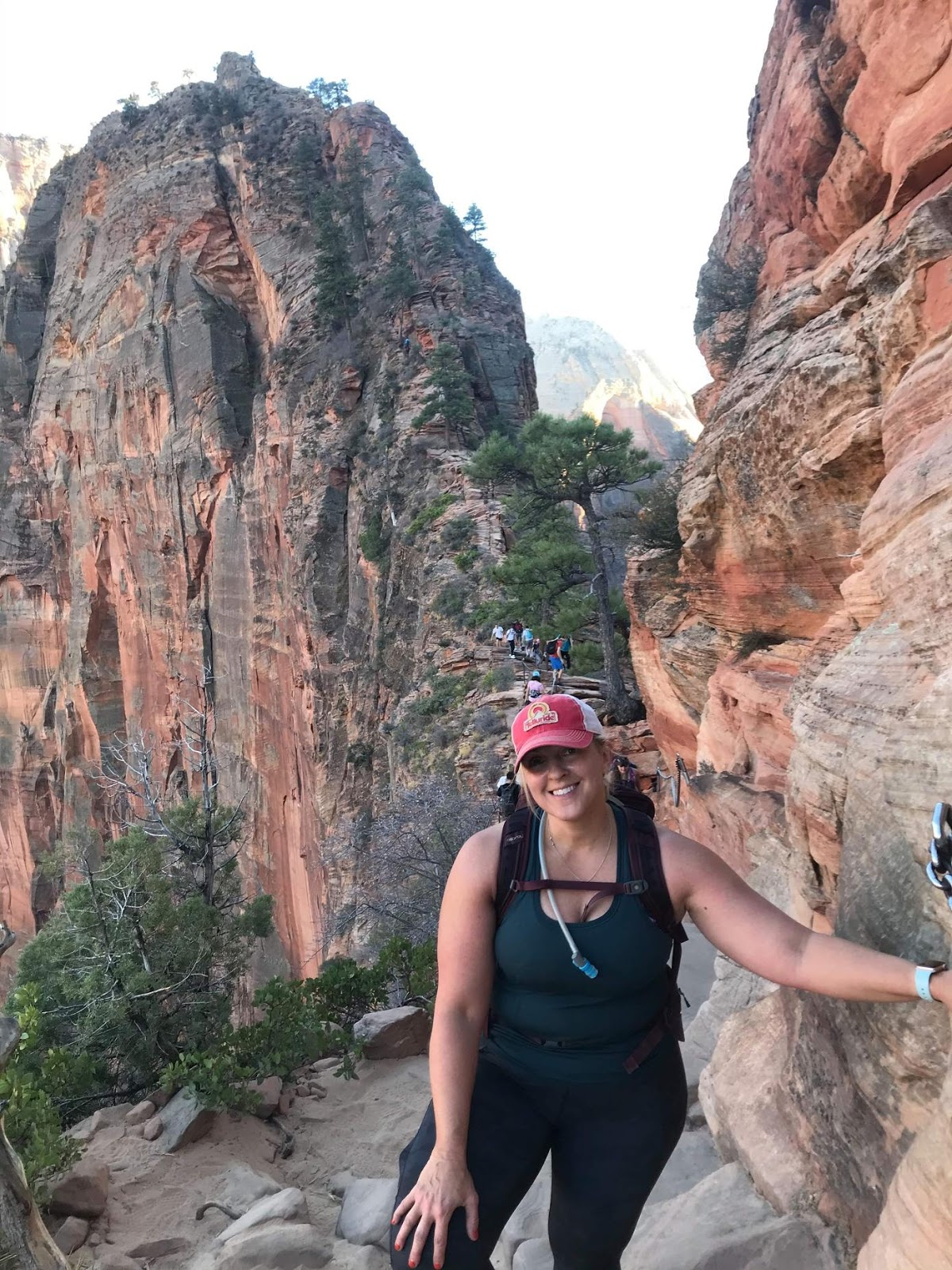 Erin's first time woot woot!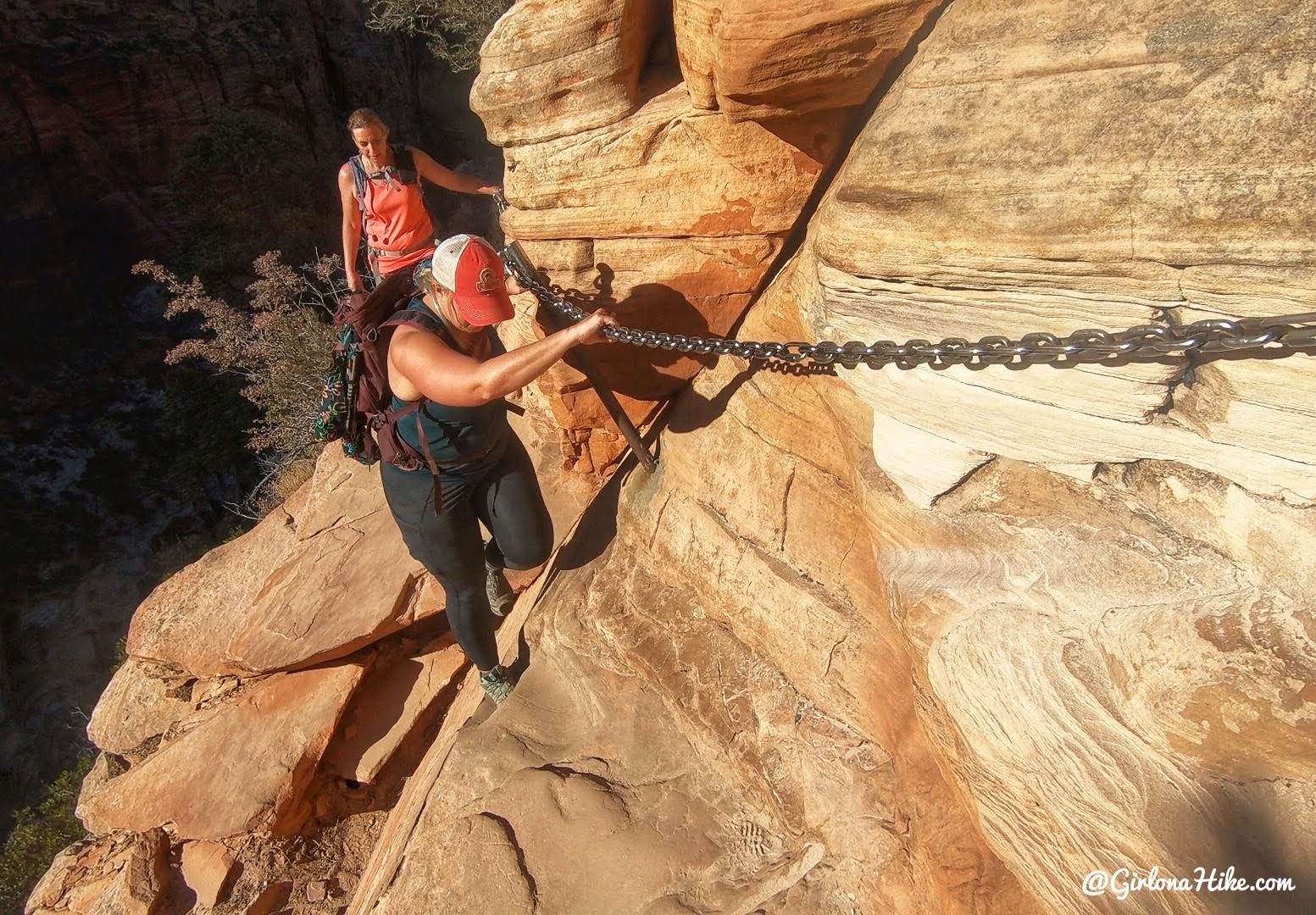 Hanging onto the chains as we hike up.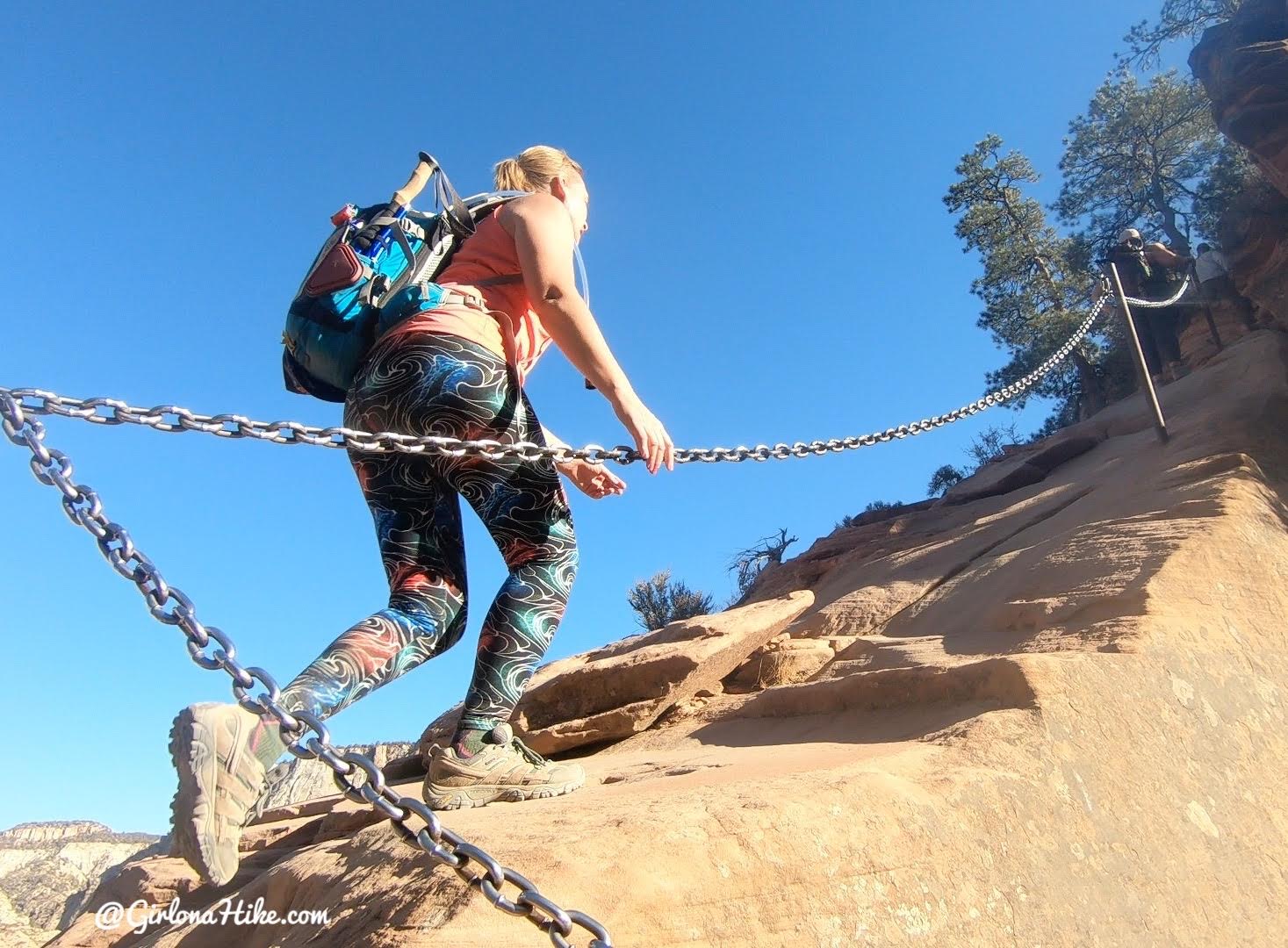 This was also Julie's first time yay!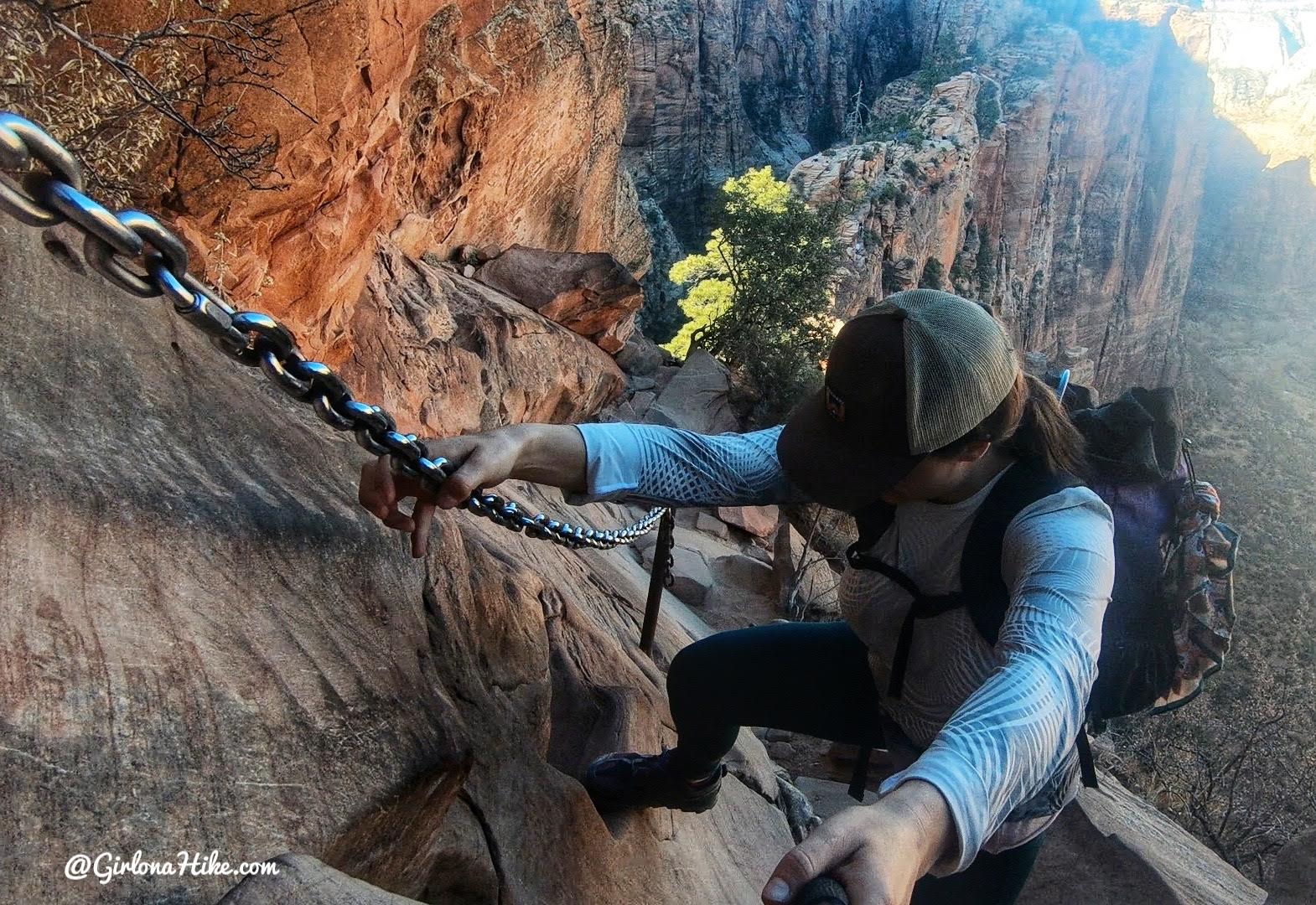 Climbing up some steep sections.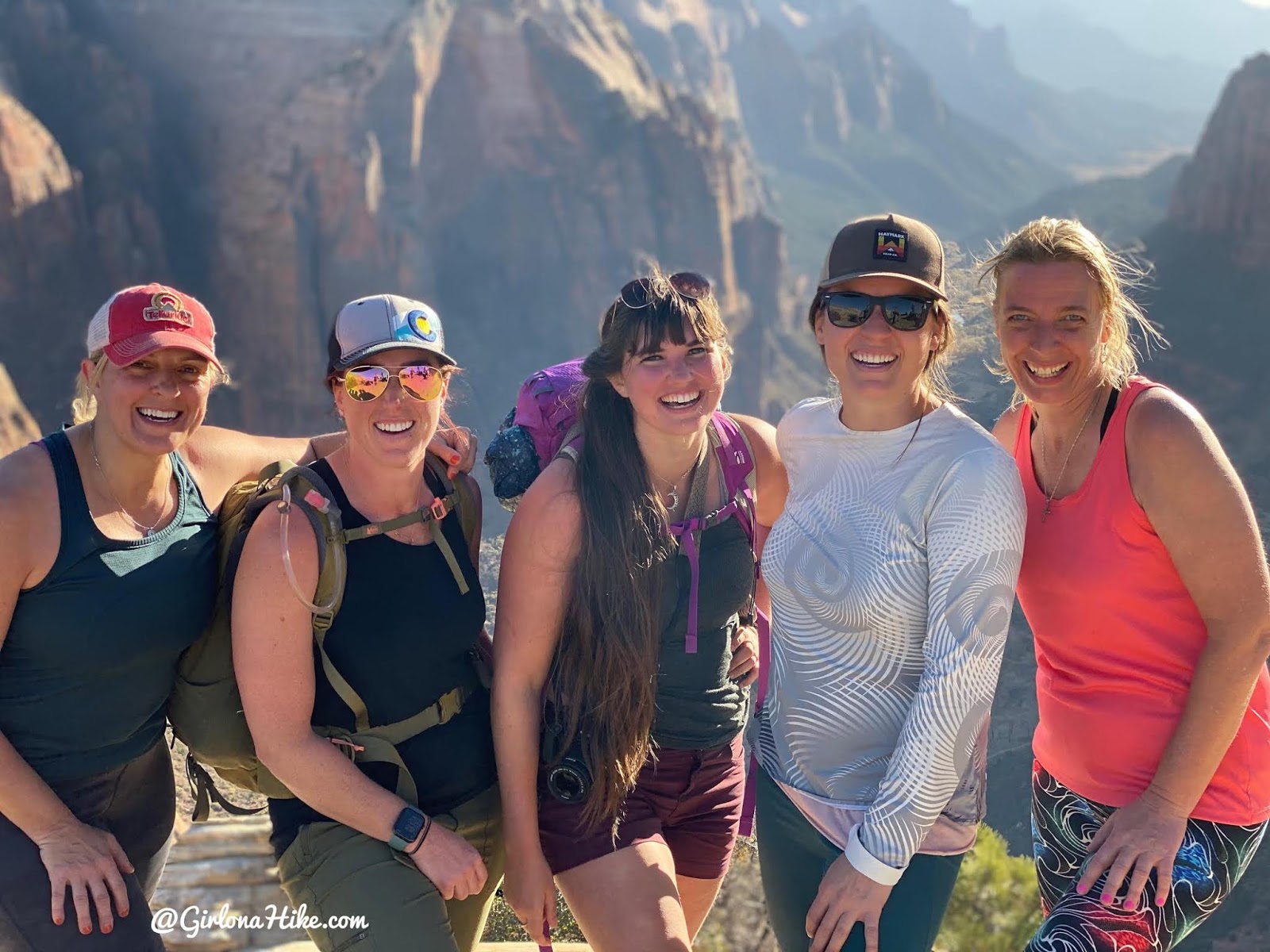 This was my 4th time up here! The very first time I visited ZNP was before I lived in Utah and I was too scared to summit. However, the 2nd time I went back (after moving to Utah years later) I was by myself and I started hiking at 6am so I wouldn't be pressured by people behind me for going to slow and wanted to take my time, and I made it! The 3rd time was with a few friends, and now my 4th time with more friends! So happy to have these pals, and really proud of them for making it their very first time!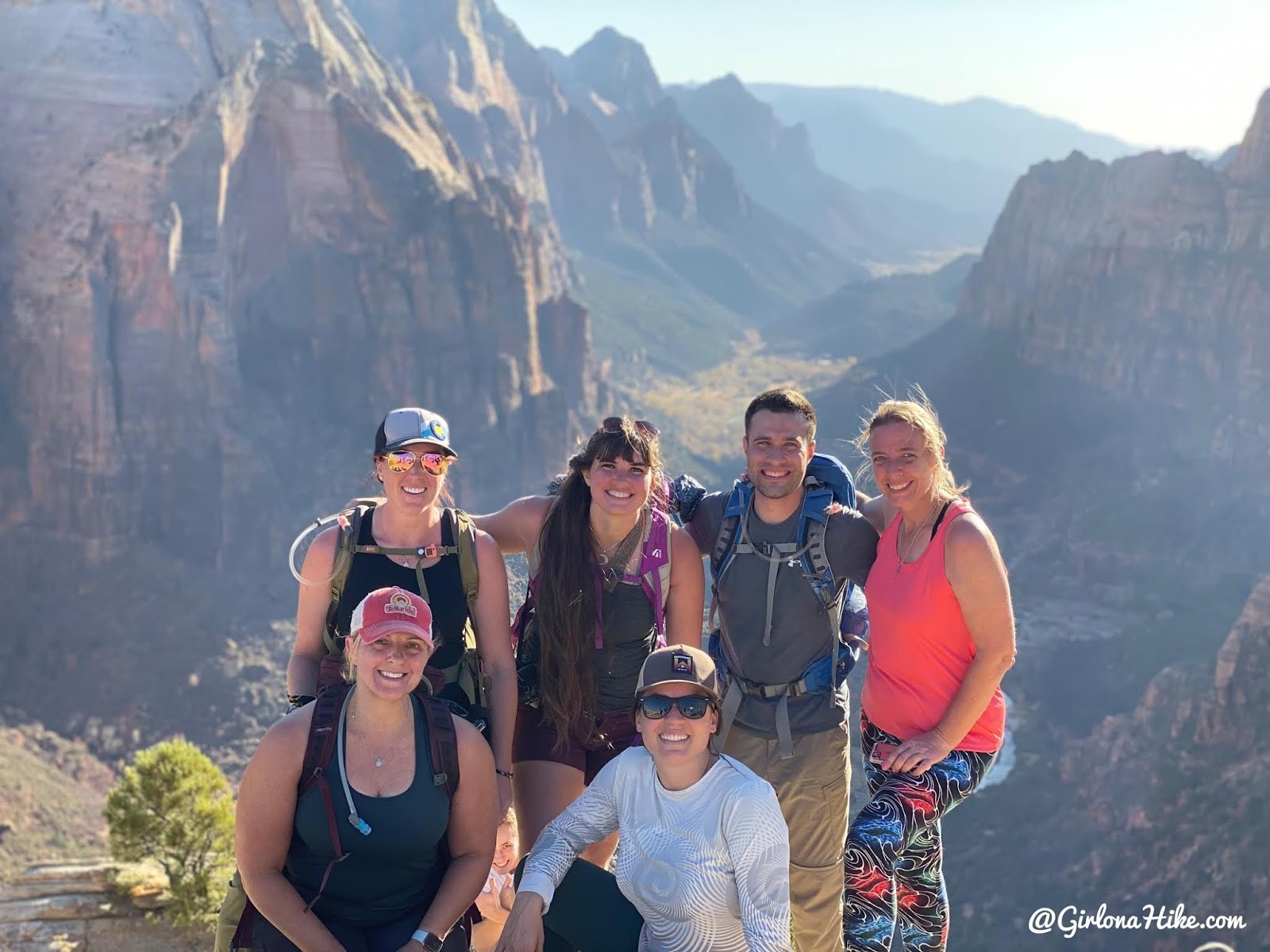 Fun group! What a great day to be up there! Only a few hours later though, Angels Landing had a rock fall the size of a refrigerator – read the article on that here. Can't believe we missed it and glad we got off safely before that happened.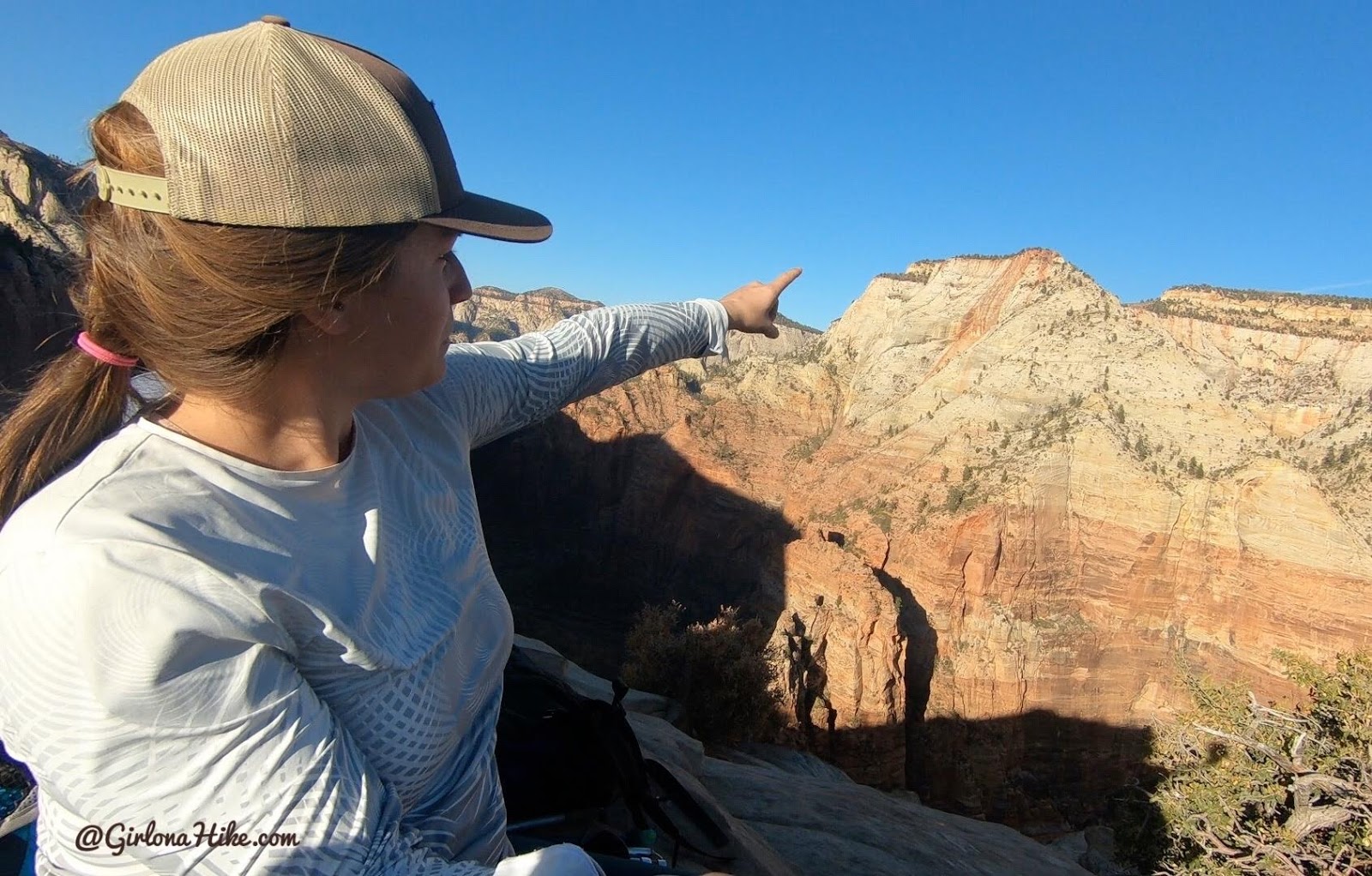 Pointing to Observation Point, our destination for the following day.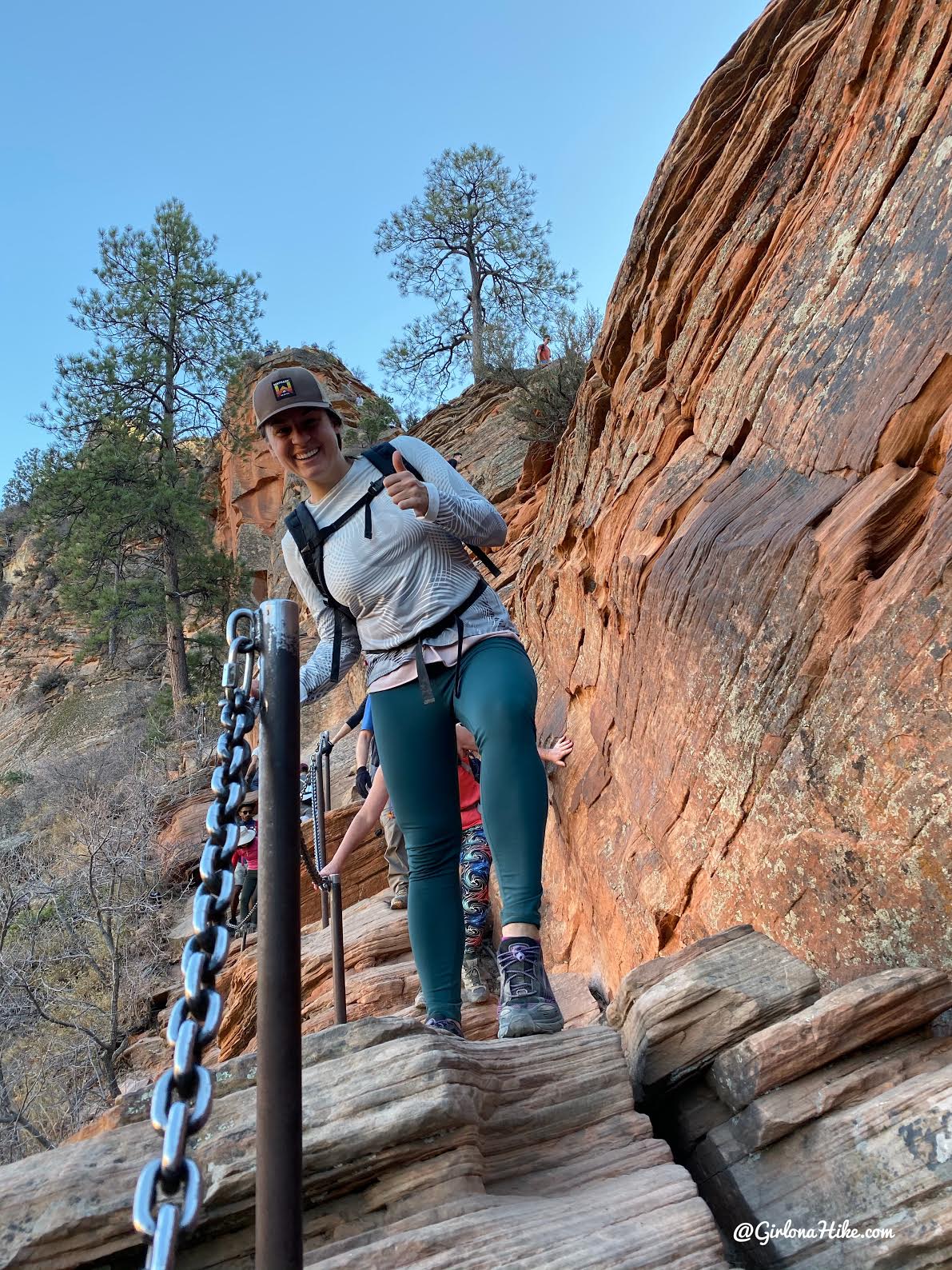 Time to hike down! Love these leggings – super comfortable, they don't slip down, and are affordable!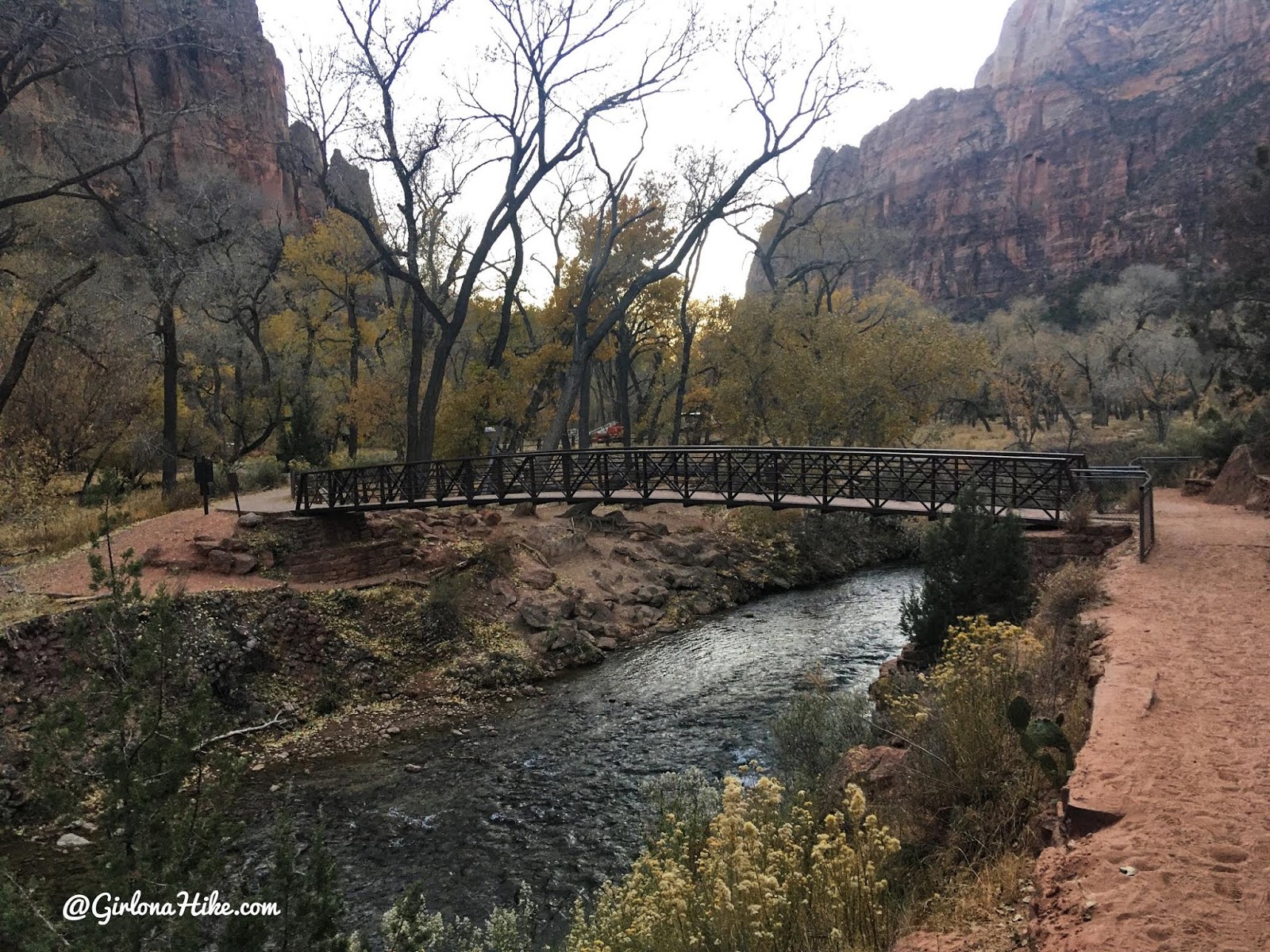 Finally, after 9.5 hours we reached the final bridge crossing and caught a shuttle back to the campground! What a day!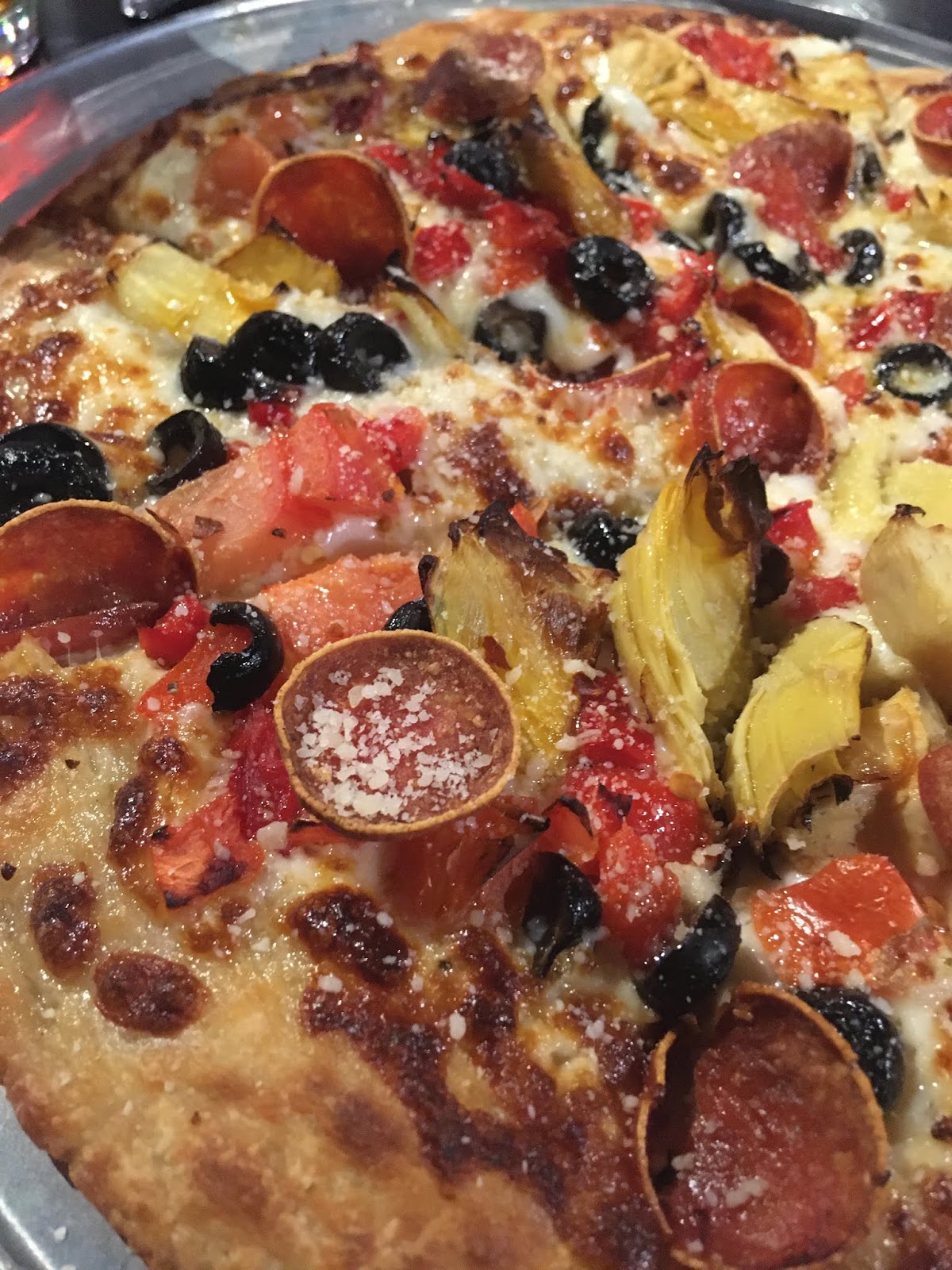 Highly recommend eating at Juniper's in Springdale! Their pizza was sooo good, especially after hiking 16 miles! It's one of the more affordable and casual restaurants in town, so you don't have to worry about smelling or looking like a hiker!
Check out my video!
Trail Map
My track via Gaia GPS – the best tracking app! Get your app here for a discount.
Recommended Gear
Nearby Hike
Hiking The Narrows, Zion National Park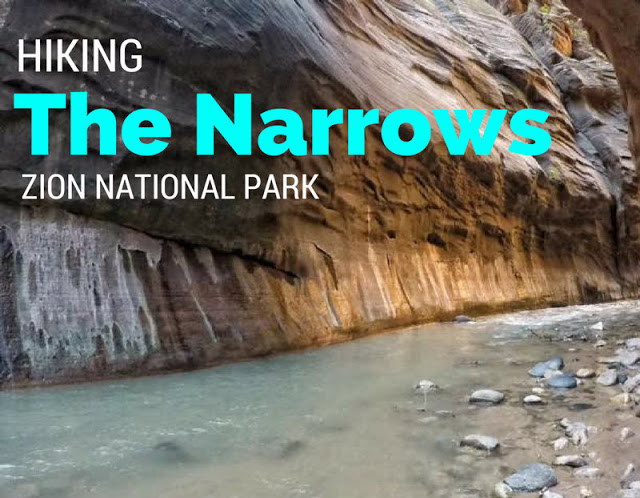 Hiking to Observation Point via East Mesa Trail, Zion National Park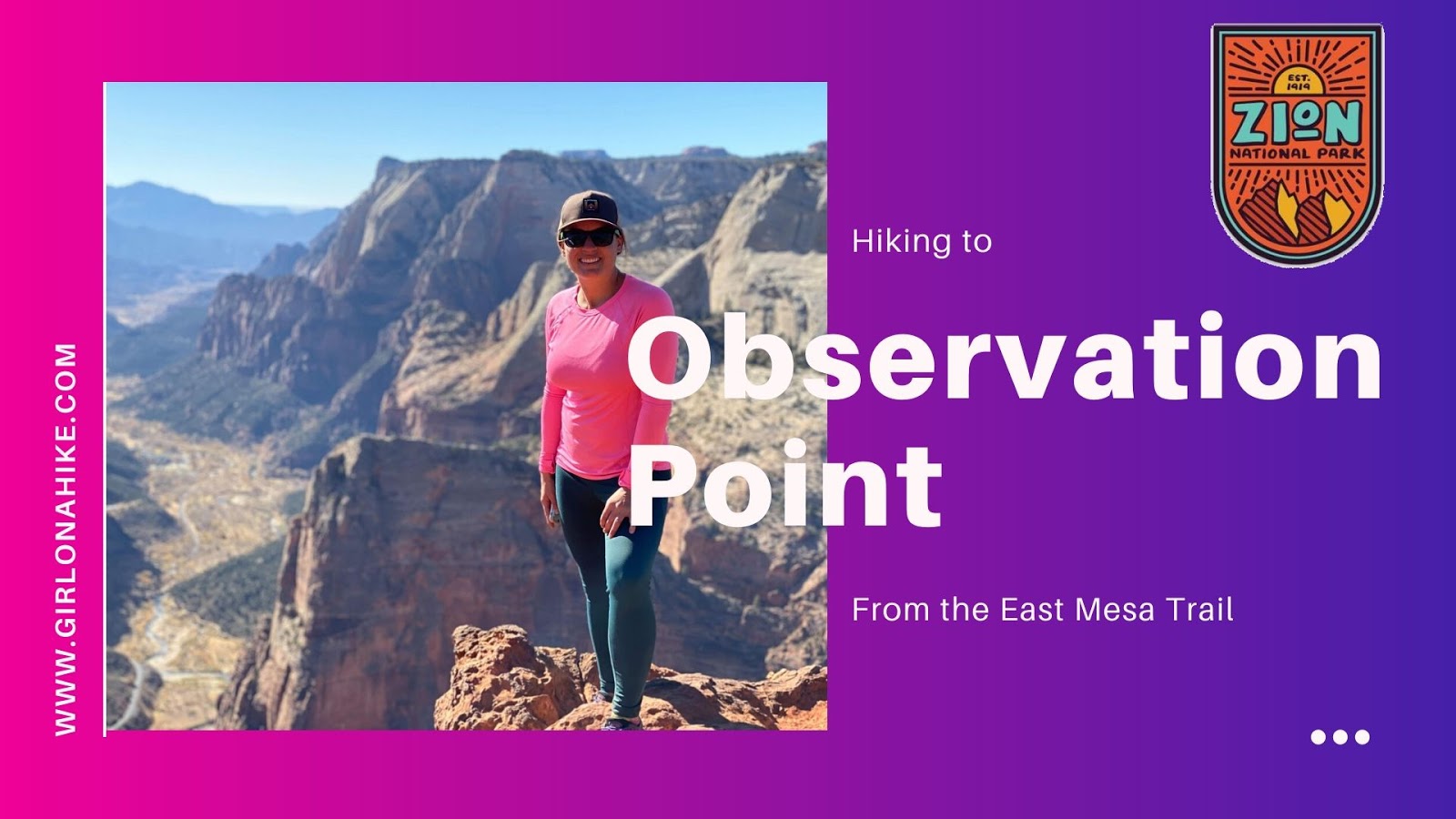 Save me on Pinterest!