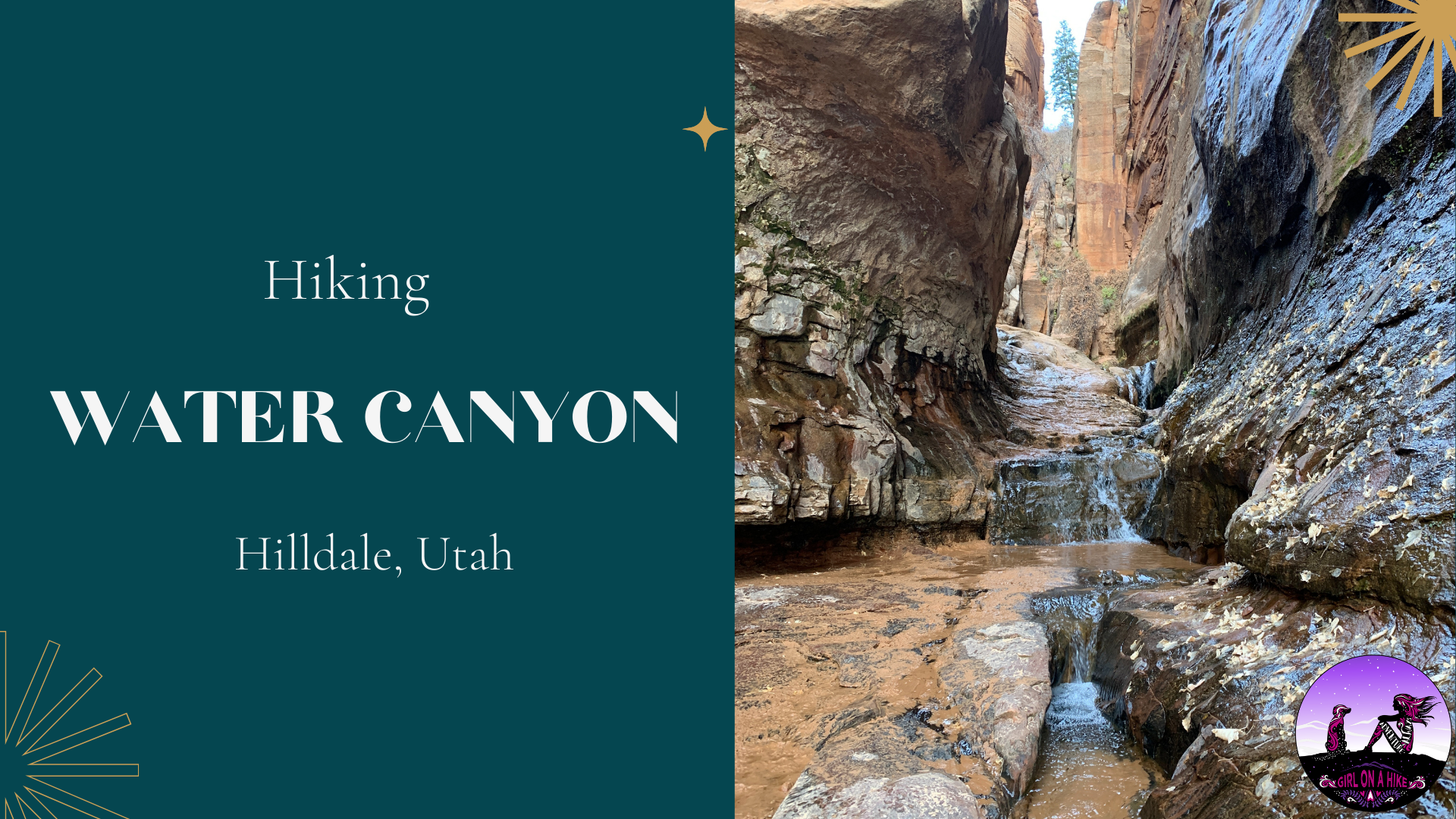 Hiking Water Canyon, Hilldale, Utah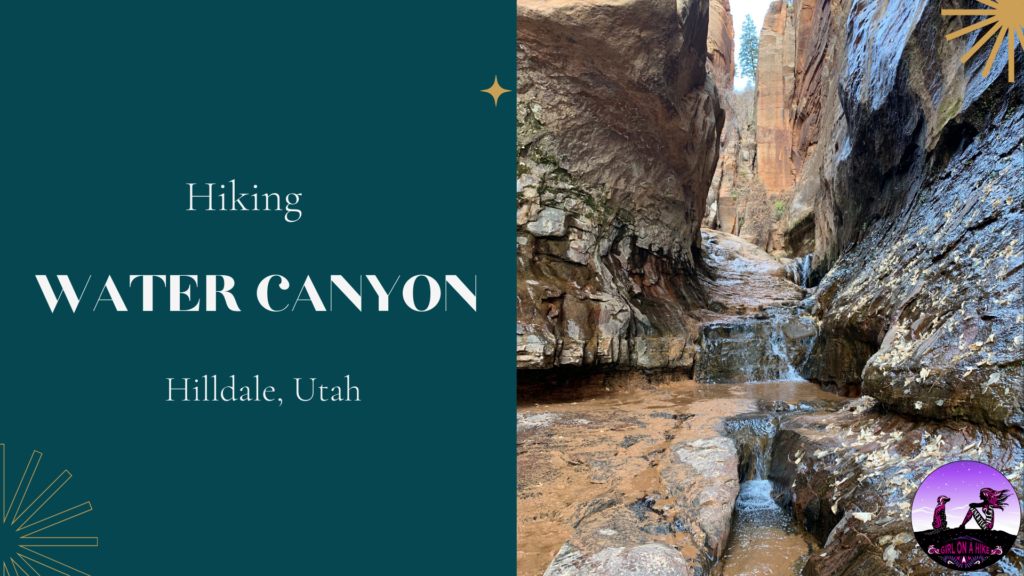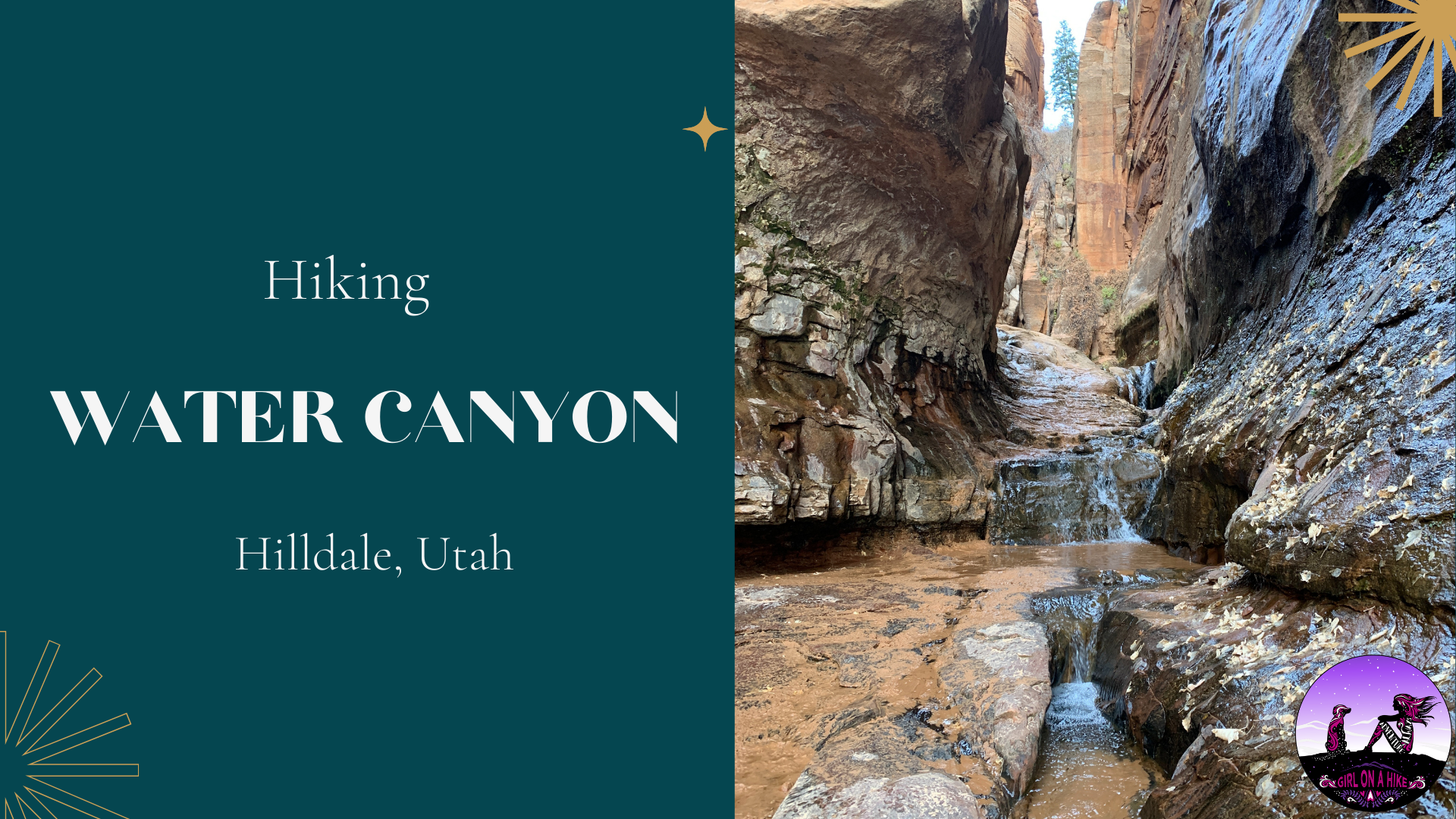 Water Canyon is a perfect desert oasis hike near Hilldale, UT. While this hike looks a lot like Zion National Park, it's dog friendly, perfect for kids, there are zero fees to enter, and you can make the hike as long or short as you want. I highly recommend hiking at least 1.5 miles to the small waterfall and pool area, so the dogs can cool off their paws and kids can explore and splash around.
On this particular day, my friend and I hiked about 3.5 miles one way to the White Domes Overlook. To reach the actual White Domes would be about 5 miles one way, but we didn't have that much time to do a 10 mile hike. The White Domes Overlook ended up being perfect. After hiking past the waterfall area where most people turn around, we kept hiking and climbing up higher along the cliffs to the mesa above Water Canyon.
From there, we hiked until we could see the White Domes across the canyon. Hiking past the waterfall area is NOT recommended for kids or dogs over 50 pounds. There were two sections we literally had to lift the dogs up, and we had to climb up ourselves, and you hike along a very narrow section of rock while the slot canyon drops off to your side. I'm not afraid of heights but that was the sketchiest section.
The stream in Water Canyon flows year round however the best time to hike here is on the shoulder season months – October, November, and March and April. The sand won't burn the dogs paws, its less crowded compared to summer, and temps are much cooler to hike in. While there is water the first 1.5 miles, there isn't any past that point so you'll still need to carry at least 2 liters of water if you go past that point.
Directions
Whether driving to the Water Canyon TH via St.George or Kanab, it is about an hour from each city. Simply type in "Water Canyon Trailhead" to Google Maps and it pops up in Hilldale, Utah. 4×4 is not needed, however after a rain the dirt road becomes impassable.
Trail Info
Distance: 7 miles RT (to White Domes Overlook area)
3 miles RT if going to Waterfall area only
Elevation gain: 1,900 ft
Time: 4-6 hours
Dog friendly? Yes, off leash
Kid friendly? Yes, all ages only to waterfall area. Past that, ages 12+
Fees/Permits? None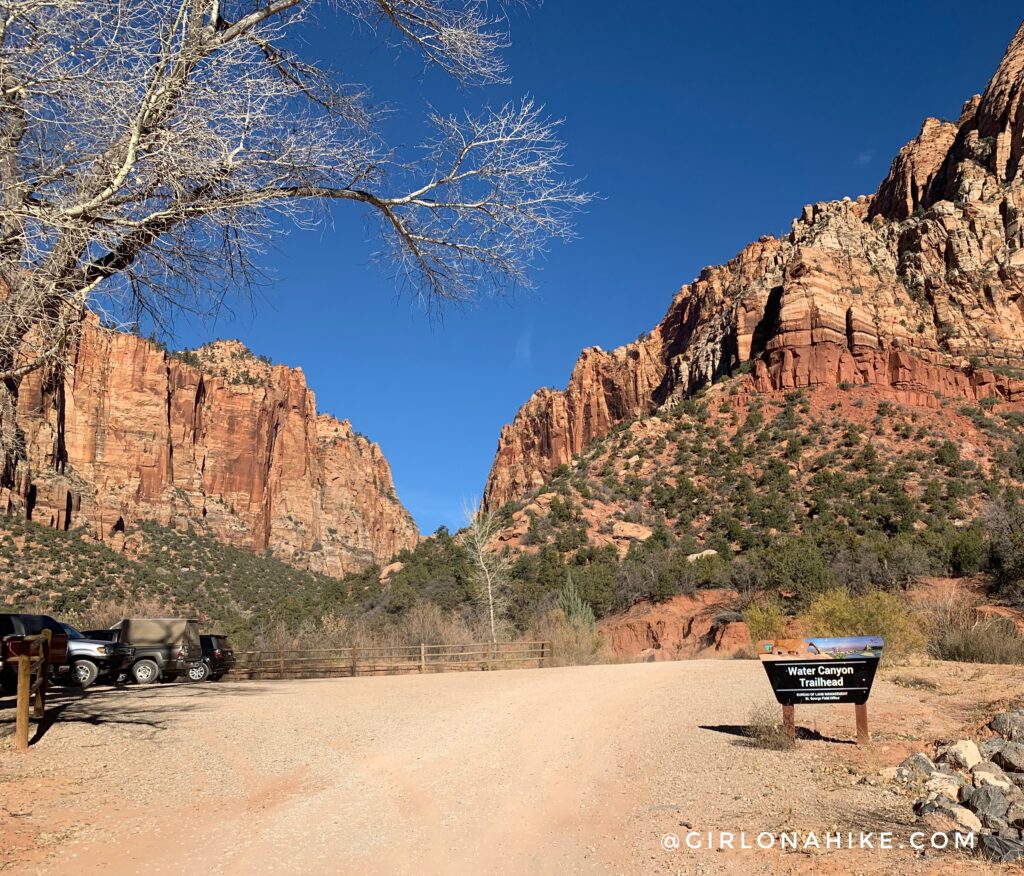 When driving up to the Water Canyon Trailhead, you will see the first parking lot with the official sign. Keep driving if you want to park closer, where there is a port-a-potty and info sign.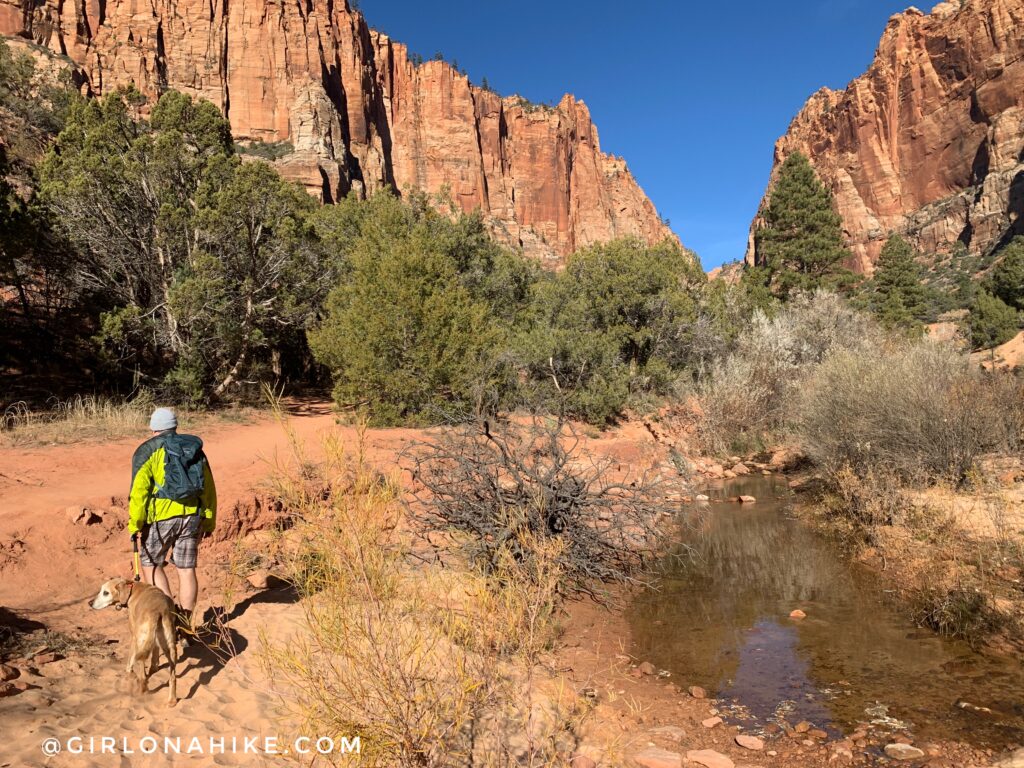 Right away you will see the stream. Perfect time to let the dogs take a drink to start the hike off right.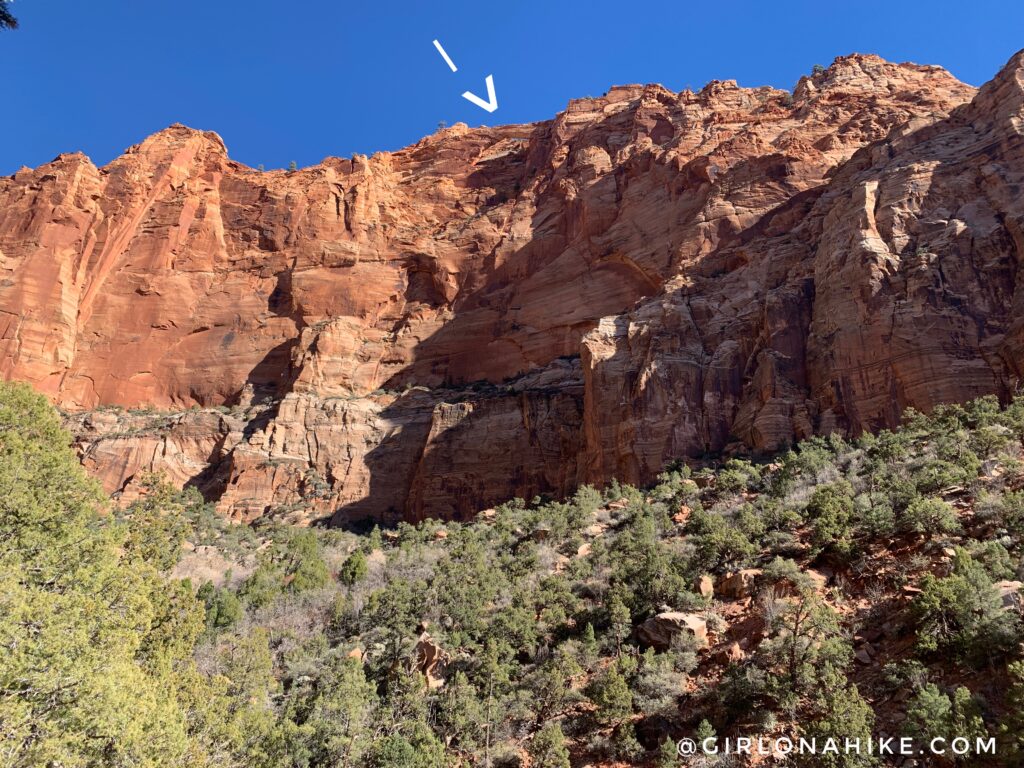 About 1/3 mile in, look up to the right on your right (North), and you will see Eye of Heaven (Water Canyon Arch). If you want a much longer hike, you can hike to the top of it. I don't know exact mileage but my guess is around 8 miles one way. You would continue following this same trail to where I end my hike (read all the way to the end of this point), but keep going past there.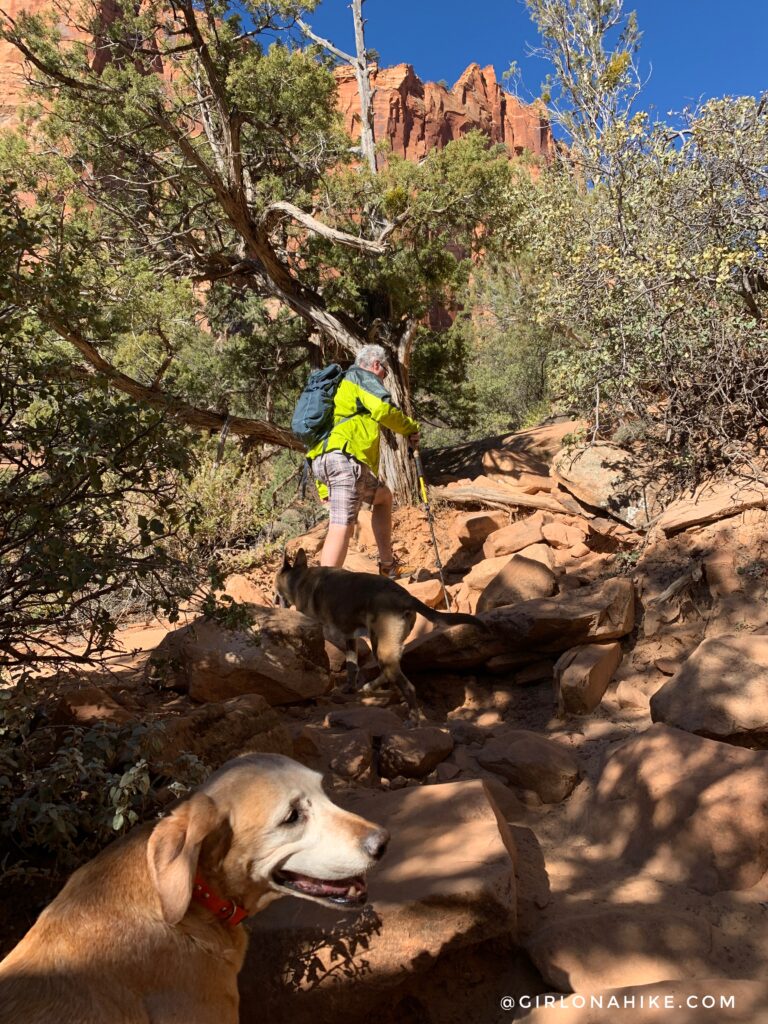 About 1/2 mile in the trail gets rocky and steeper.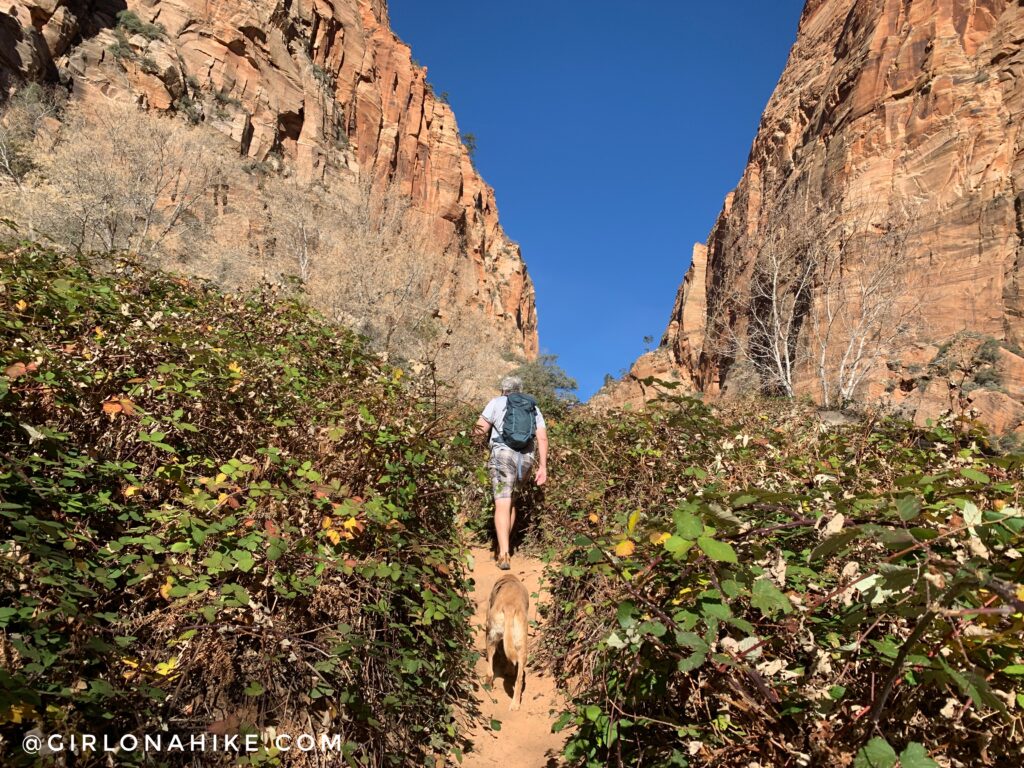 There are a lot of little ups and downs, and there's one section where that is overgrown with these bushes. It looks similar to poison ivy, but these leaves have five leaves, not three, so it's safe. "When in three, leave them be".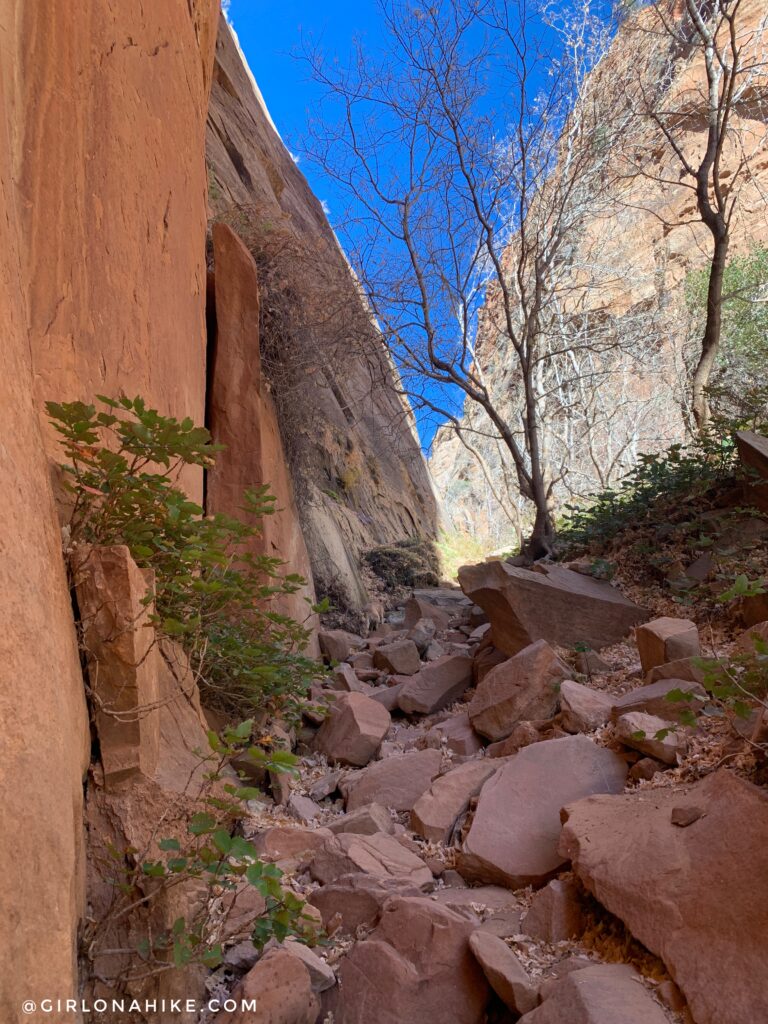 Hike up along the canyon wall, still rocky and steep. But at least its a nice shade break!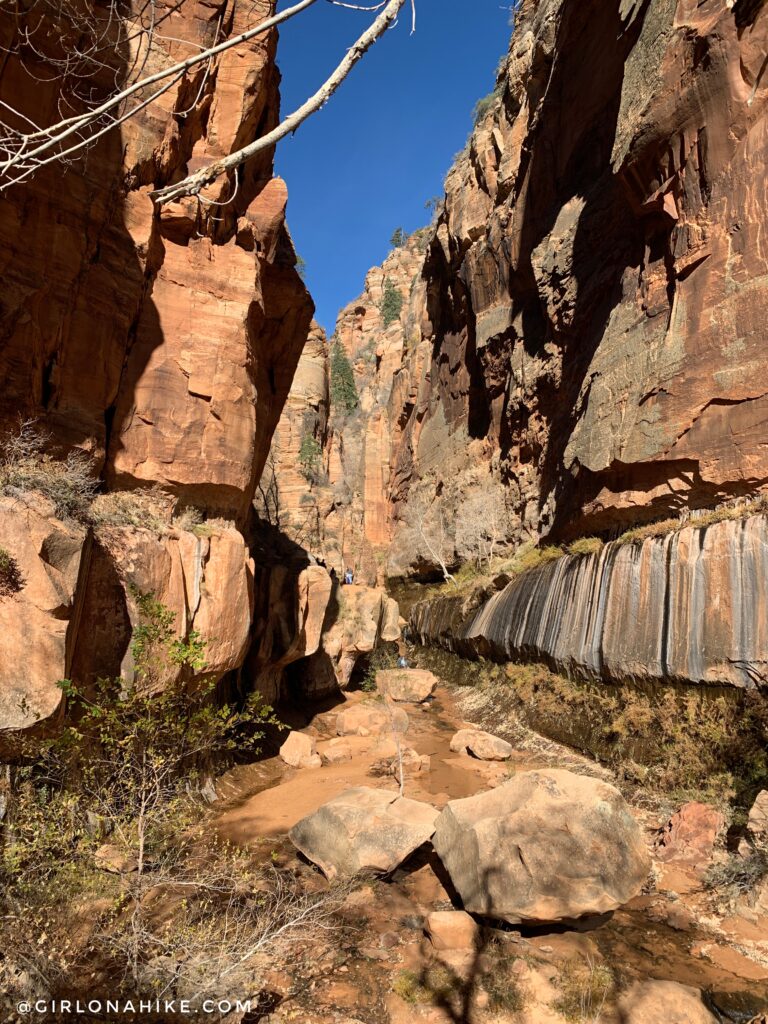 Just after the wall, you will see the first destination – Water Canyon!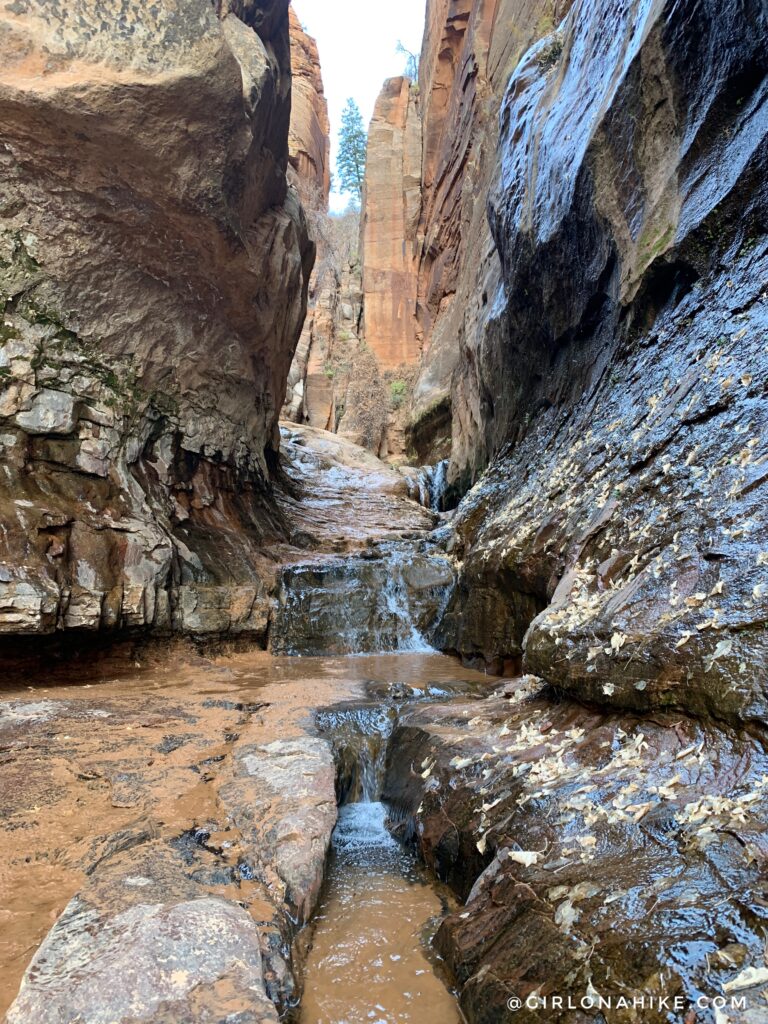 The dogs and I loved exploring this section. I wasn't expecting such a pretty desert oasis – in November! The water level walking around on the sand wasn't deep enough to get into my shoes. However, there are a few pools the water has carved out that Charlie enjoyed taking a dip in. Hike right on up through the waterfall.
If you only want a 3 mile hike, this is your turn around. If you have time to see the White Domes Overlook, continue hiking up.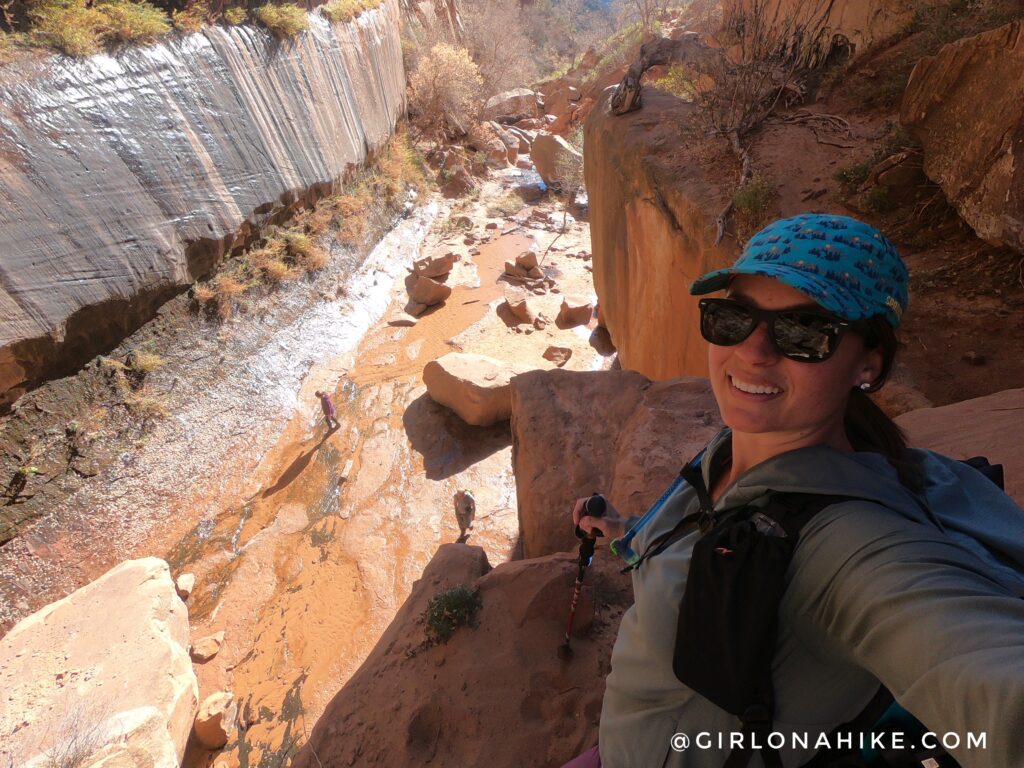 Now the hard part begins – lots of elevation gain. But look how cool everything looks from the top of the waterfall!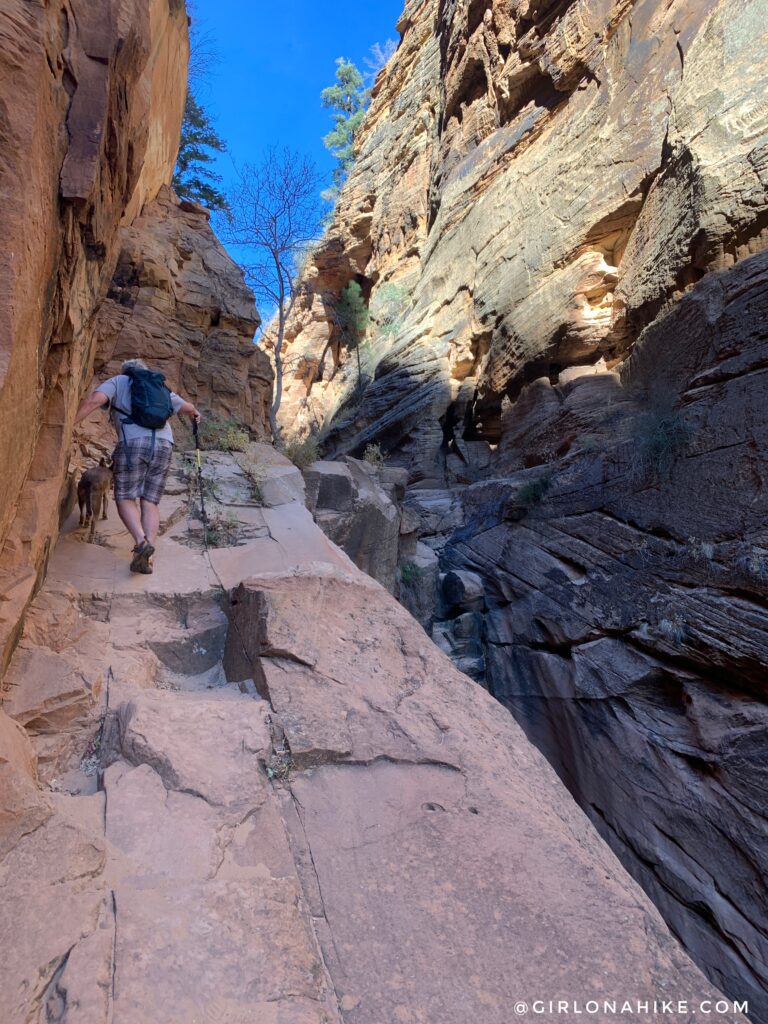 The sketchy part comes quick – this 4 ft wide "trail" is not super steep but the drop off to your right is terrifying. Thankfully it won't lasts for maybe 80 feet.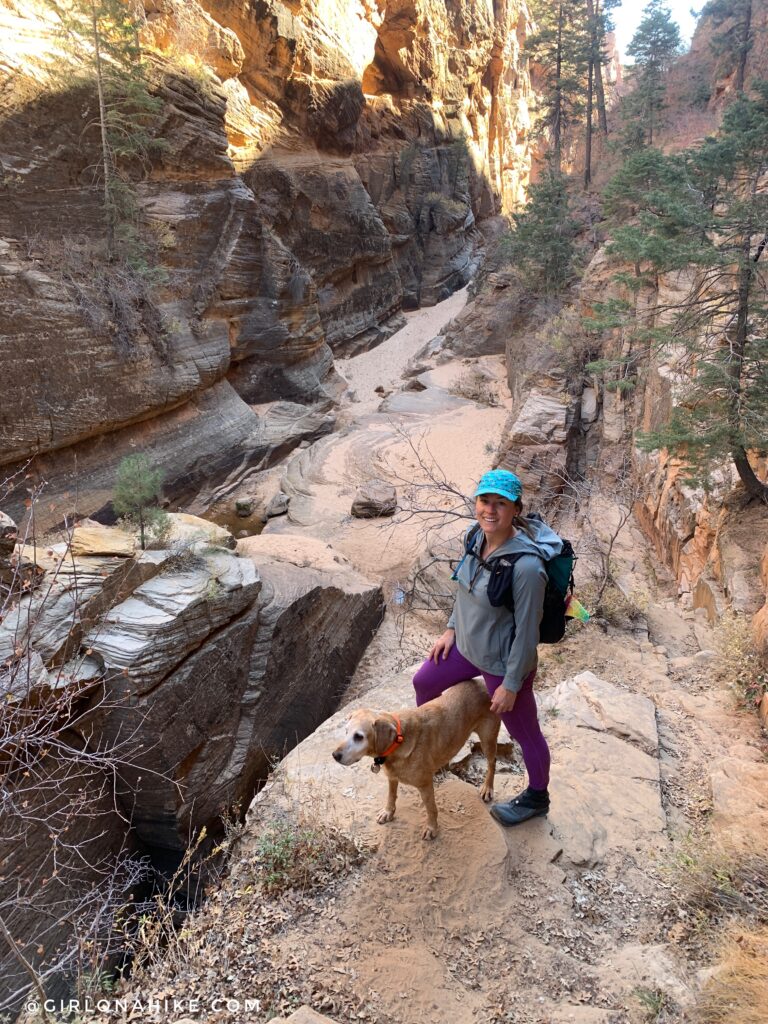 You'll reach a flat section with no slot canyon. You can clearly see the ramp, taking you up higher once again.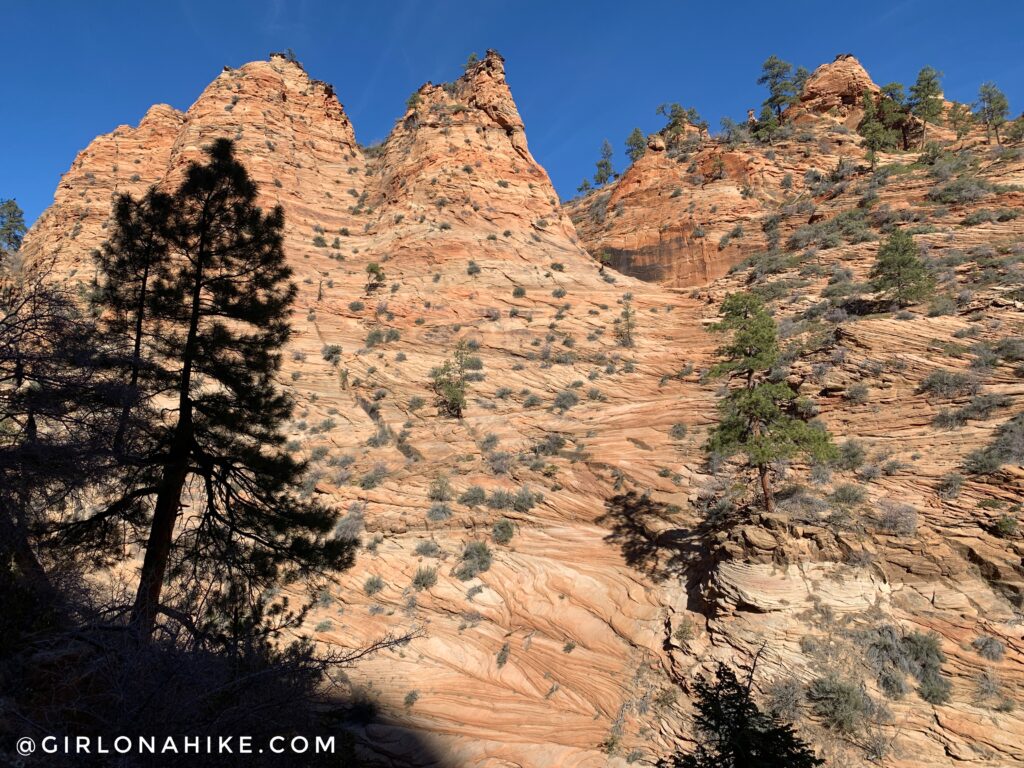 As you start to gain elevation, the views really open up to amazing stripped rock. Now, just keep an eye out for cairns and follow the most well-traveled path for the next 45 min or so.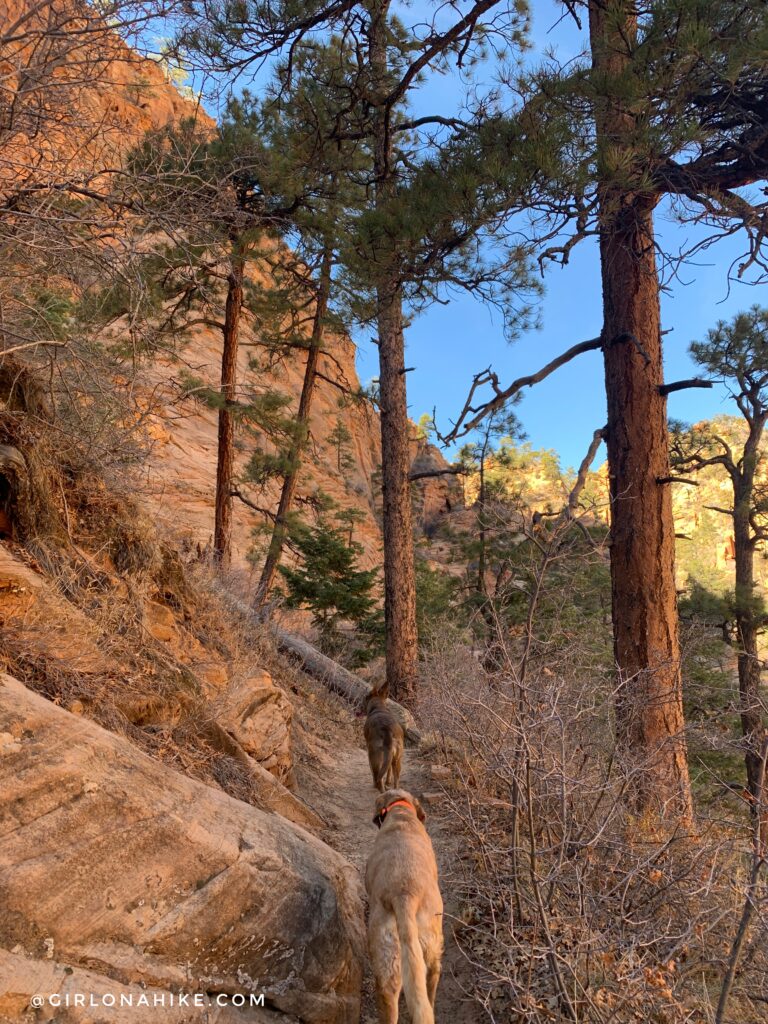 I loved seeing tall Ponderosa trees! It reminded me so much of Zion. Around this same area is where you'll see to climb up a 4 foot wall. Dogs must be lifted up – they can't jump up on their own. Sadly, I wasn't able to get a photo since I had to put everything inside my pack to make sure I didn't lose my gear, while my friend gave me a boost up.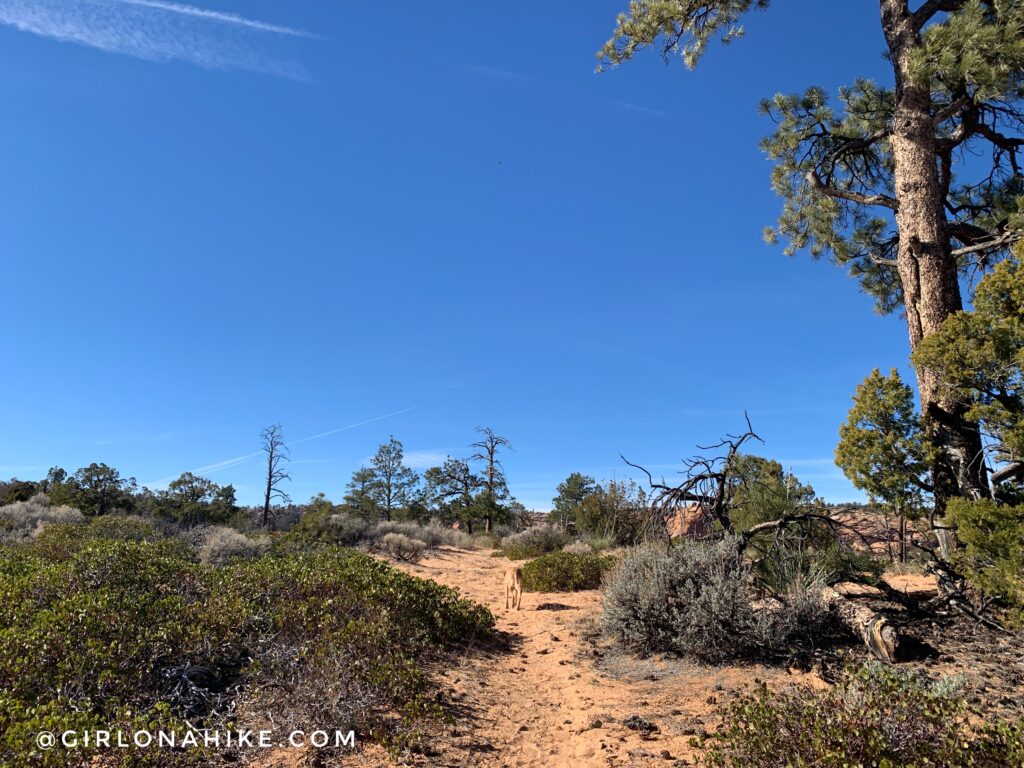 Now on top of the mesa, trails go in every direction. Follow the southerly trail as it wraps around the top. The trail gets really sandy.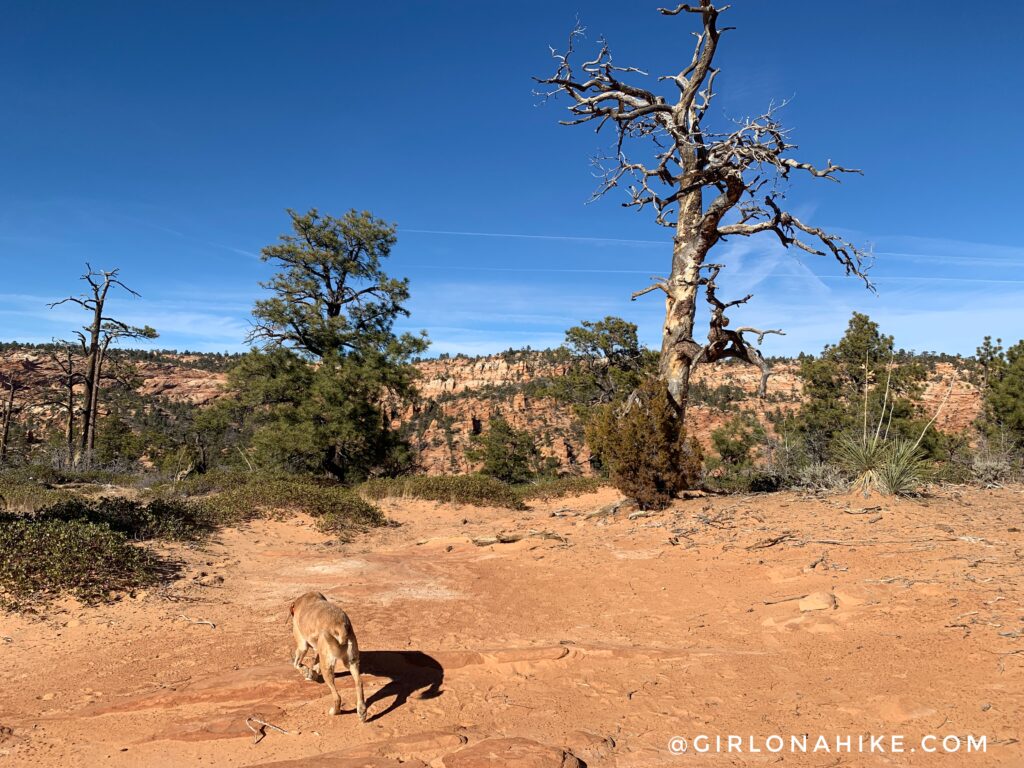 When you see this large, tall, dead tree and wide open flat space, you're almost to the overlook.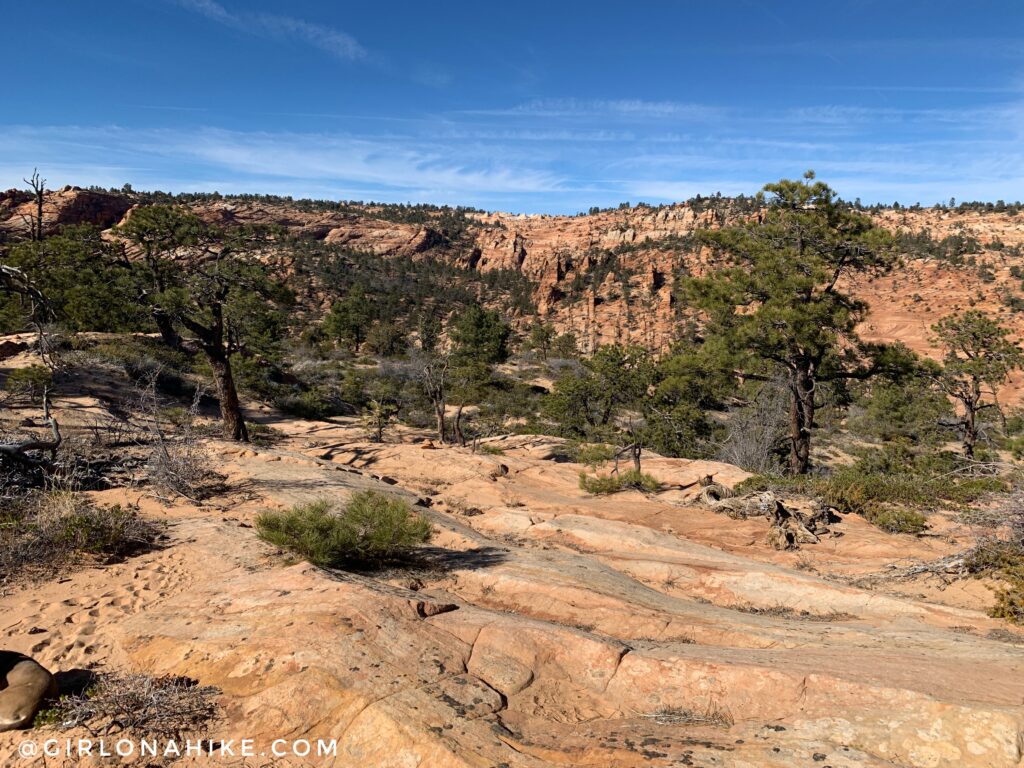 There is no official sign or anything, but when the trail starts to dip down into the next canyon is where to stop, around 3 miles. You can clearly see the White Domes from here. Straight ahead, dead center of my photo. I highly recommend bringing binoculars to view them better. The photo doesn't do it justice, because in real life they do stand out.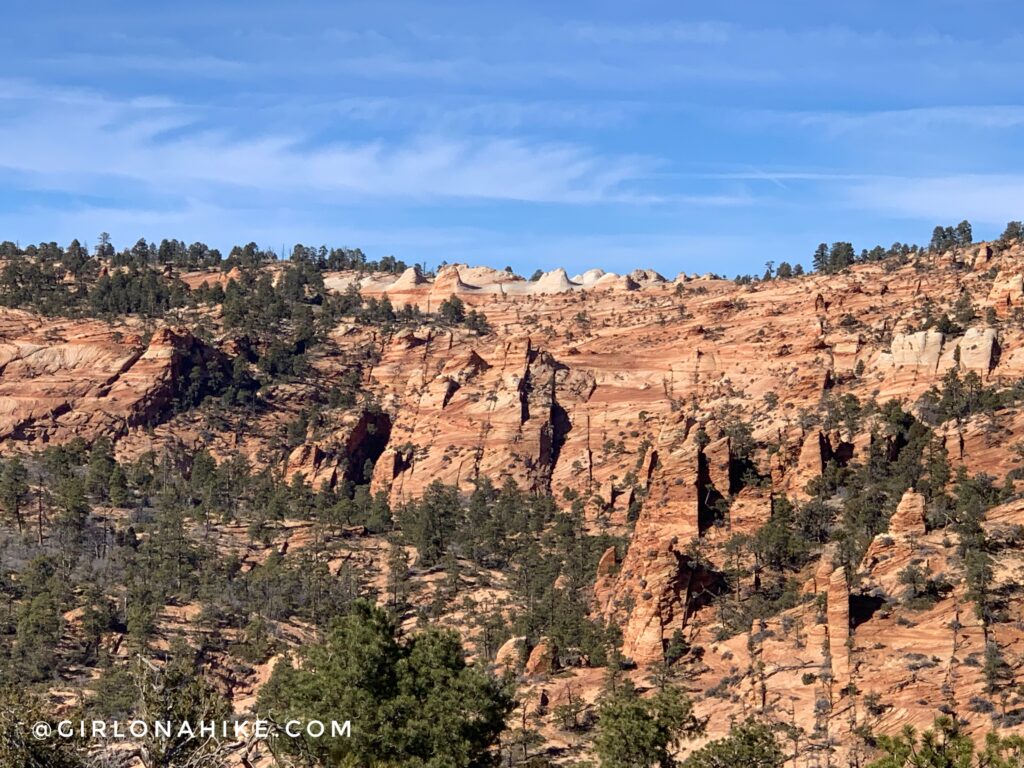 A zoomed in view of the White Domes. Worth the extra 2 miles of hiking to see them close up? You decide!
Check out my video!
Trail Map
My track via Gaia GPS – the best tracking app! Get your app here for a discount.
Recommended Gear
Nearby Hike
The BEST Hikes in St.George, Utah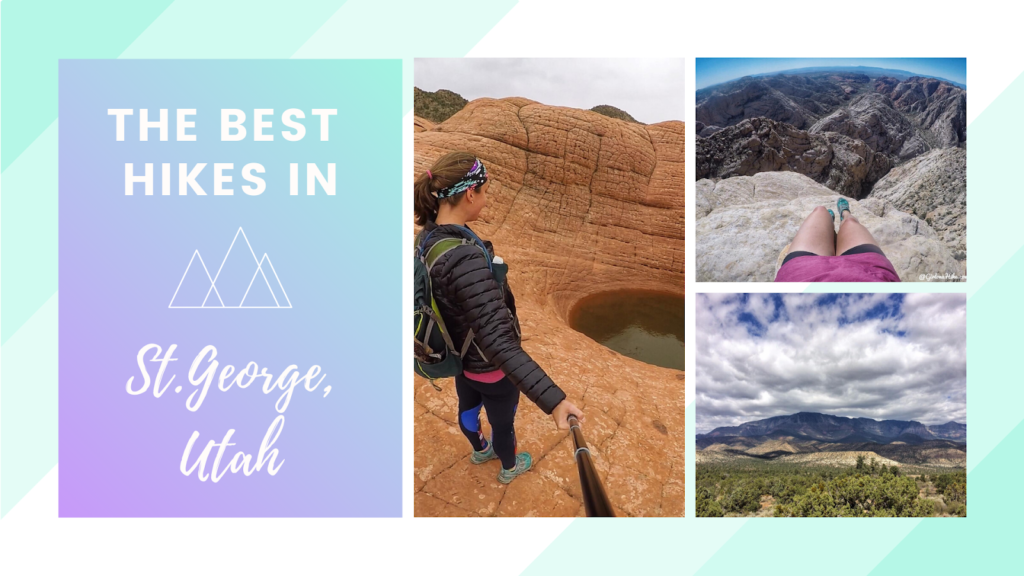 Save me on Pinterest!