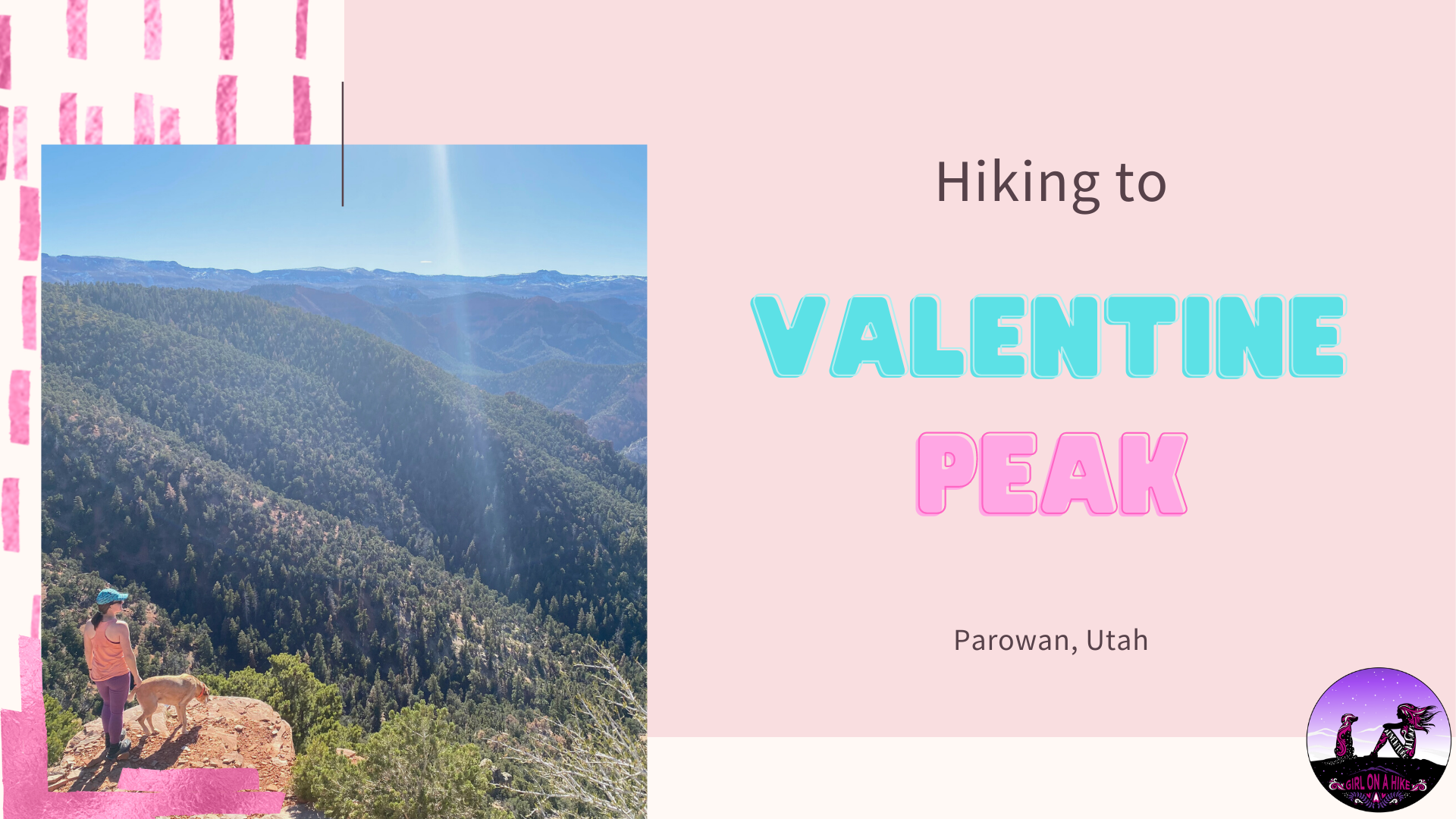 Hiking to Valentine Peak, Parowan, Utah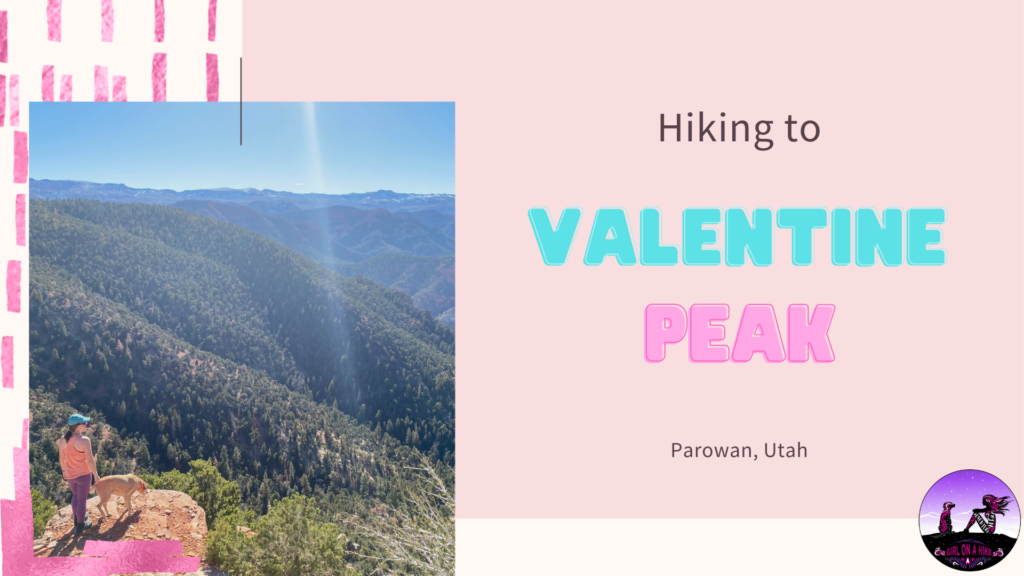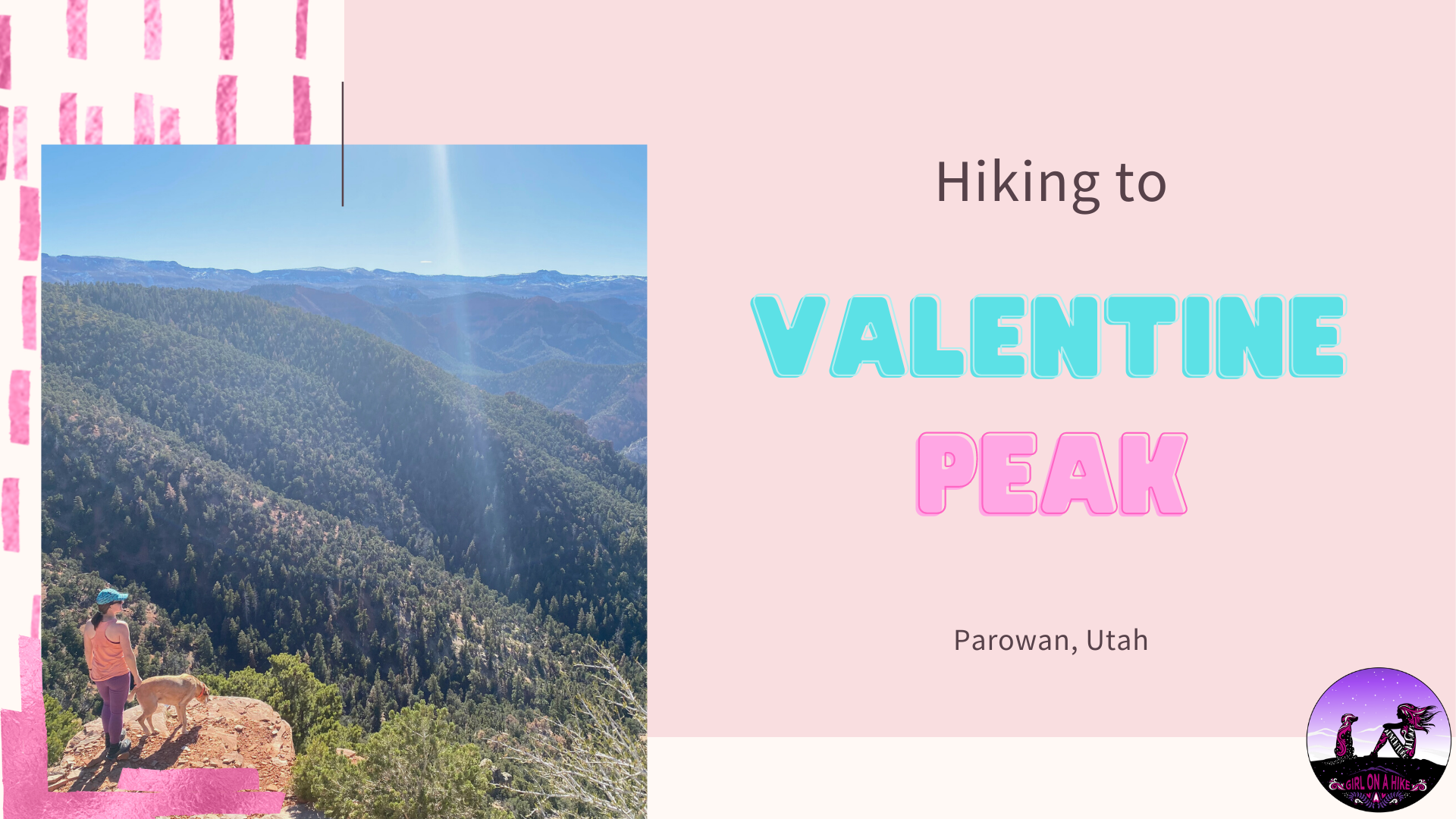 Valentine Peak is located in Parowan, Utah and leads to a 360 degree view of the area, including Brian Head, the Iron County High Point.
This 7 mile hike is on the challenging side with almost 2,000 ft of gain. This trail is dog friendly, however, there are very rocky sections (rough lava rock) that can potentially tear up their paws if they aren't used to hiking on that type of terrain. Dog booties may be needed. Also plan to start early. We hiked this at the end of November, and while it was only 45-50F it felt much warmer and our faces got a little sunburn! Between me and Charlie we drank a total of 2 liters of water. The best time of year to hike this is Winter, when the temperatures are cooler, and Southern Utah is free of snow. In Summer, it would be extremely hot until you start before sunrise.
At the Valentine Peak trail head, there is a brochure that gives a back story on the peak, which reads:
"Hiram Ackley Hendrickson is credited for naming the peak. On Valentine's Day, he observed that one could stand at 500 West and Center Street and watch the sun rise directly over the center of the peak. At first, only Mr. Hendrickson used the name, but others soon caught on, accepting the name and using it in casual conversation. A recommendation was made by Mayor Howard Joseph that the peak be officially named Valentine Peak on February 4, 1959."
Directions
It's easiest to type in "Valentine Peak Trail Head" into Google Maps. It should pop up easily in Parowan, UT. It is located within city limits next to the cemetery, so 4×4 is not needed.
Trail Info
Distance: 7 miles RT
Elevation gain: 1,900 ft
Time: 4-6 hours
Dog friendly? Yes, off leash
Kid friendly? Yes, ages 12+
Fees/Permits? None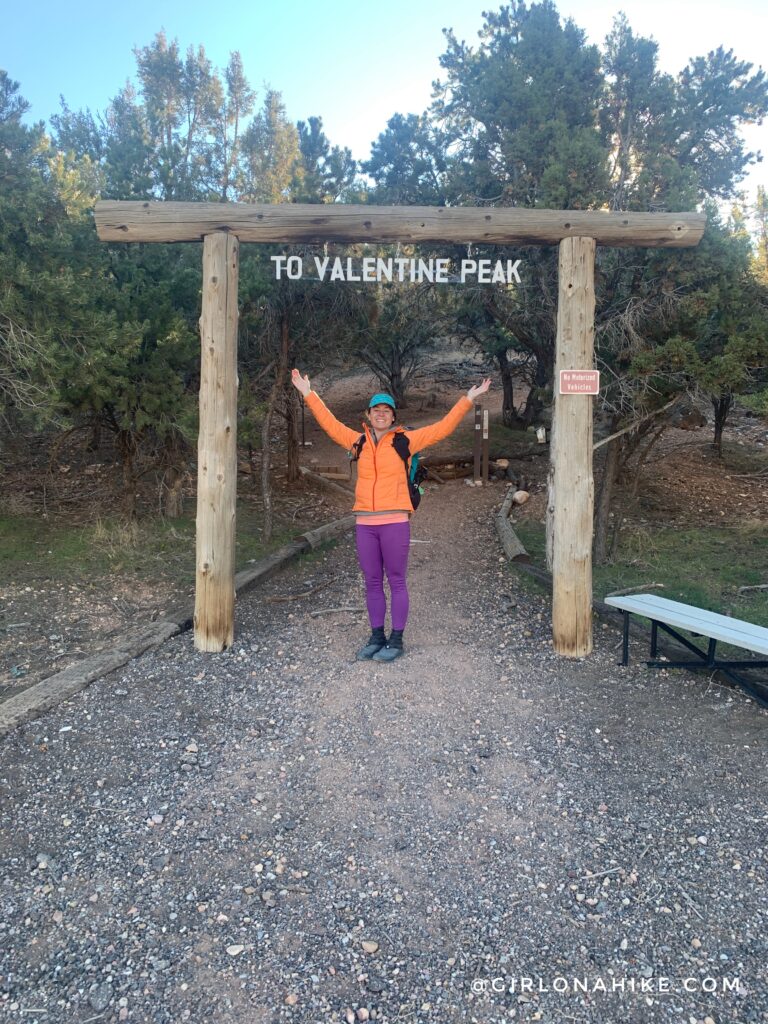 Ready to go! I love the entrance sign for Valentine Peak.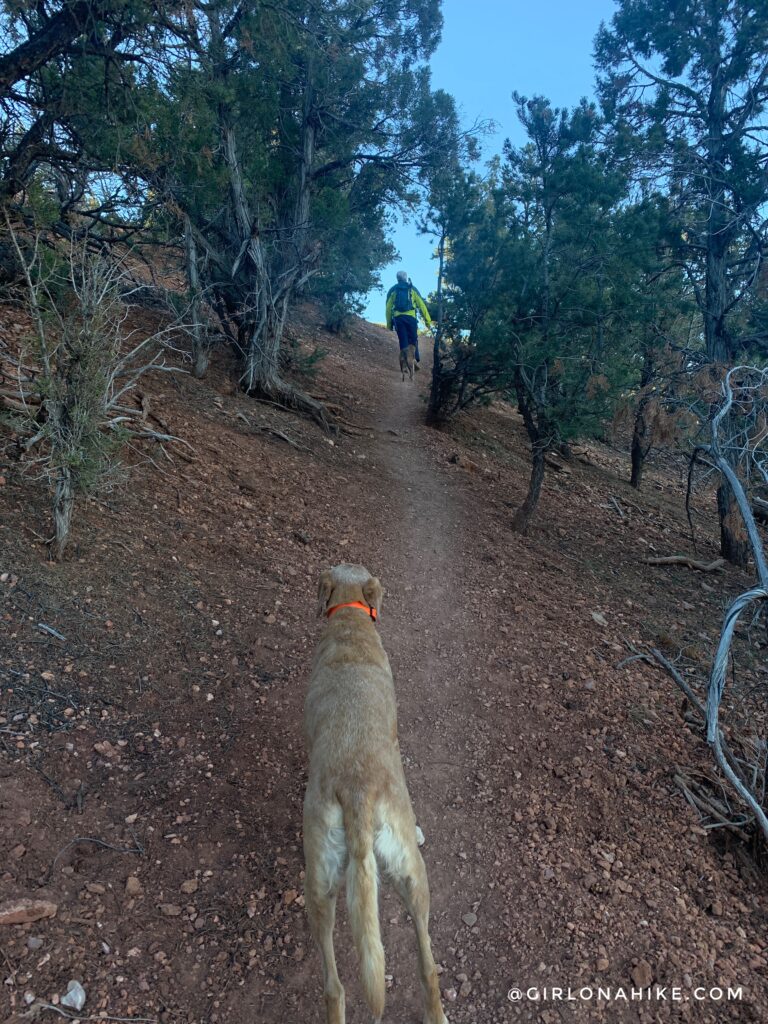 The first 1/2 mile is on the steep side as you work your way up several short switchbacks.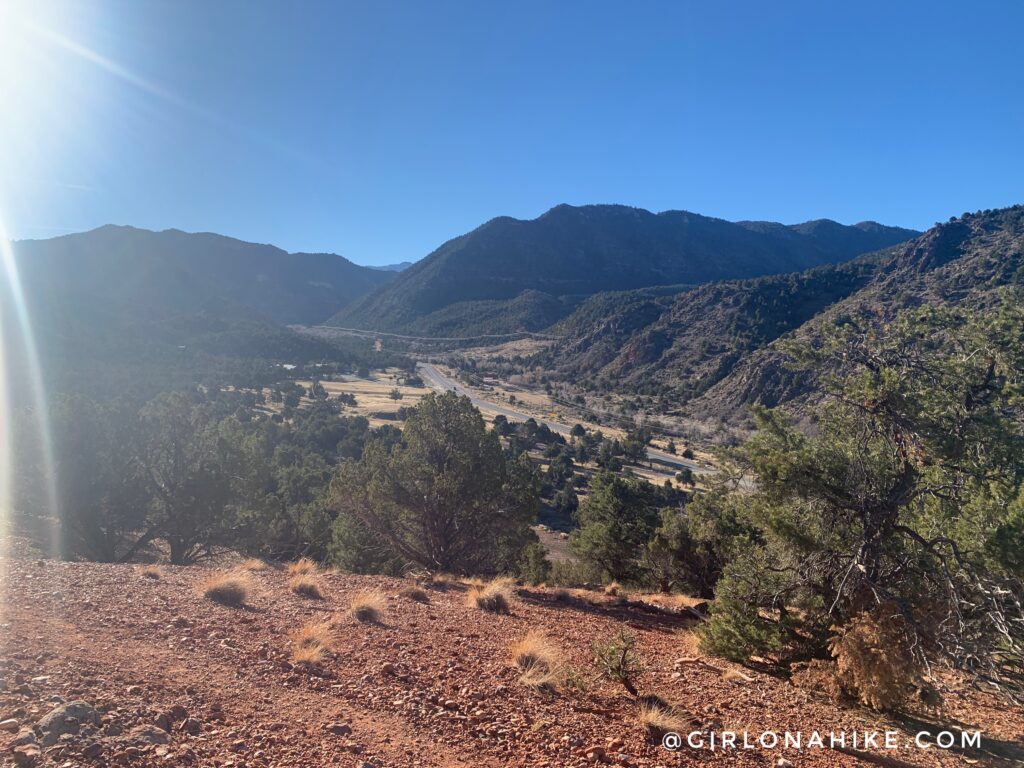 You immediately get really good views. This is looking East into Parowan Canyon, which takes you up to Brian Head.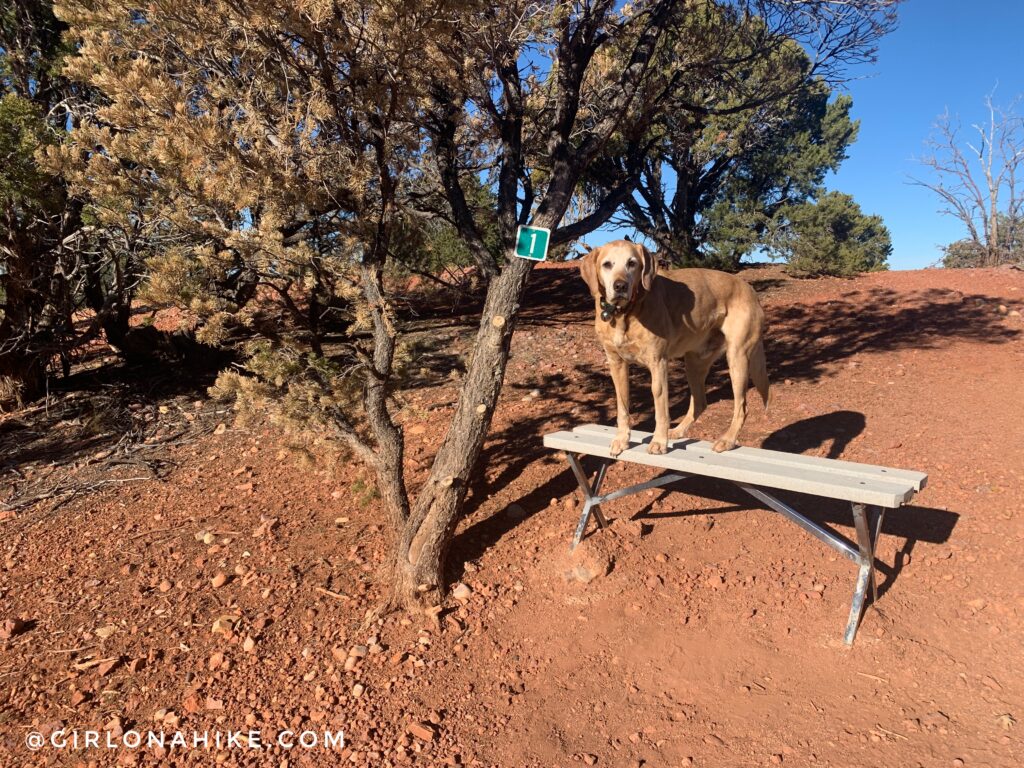 We saw the "1" sign and at first assumed it meant we had already hiked 1 mile. I checked my Gaia GPS and we had only gone 1/3 of a mile! There is a sign further up the trail that says the numbers do NOT reference mileage, they're just for reference for fun. To help you keep track, there are a total of 15 numbers before reaching the peak. I thought 14 would seem more appropriate to go along with the whole Valentine theme! On average they are all about 0.23 miles apart, and typically have a bench or chair.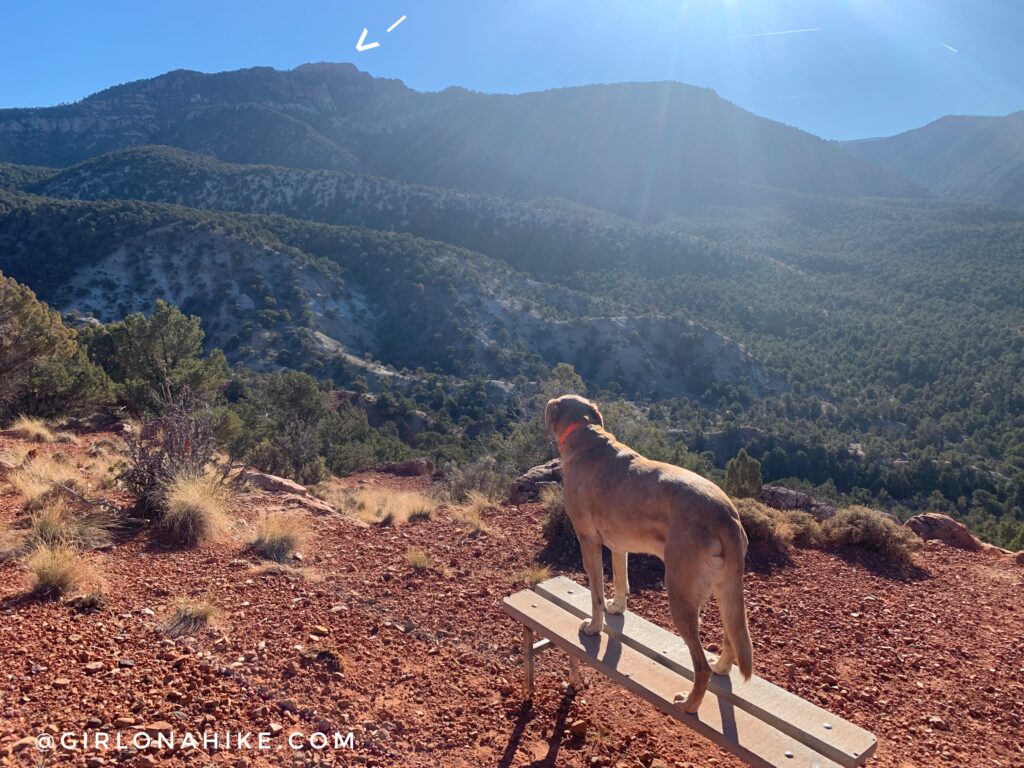 Now we could see our destination! Valentine Peak, here we come.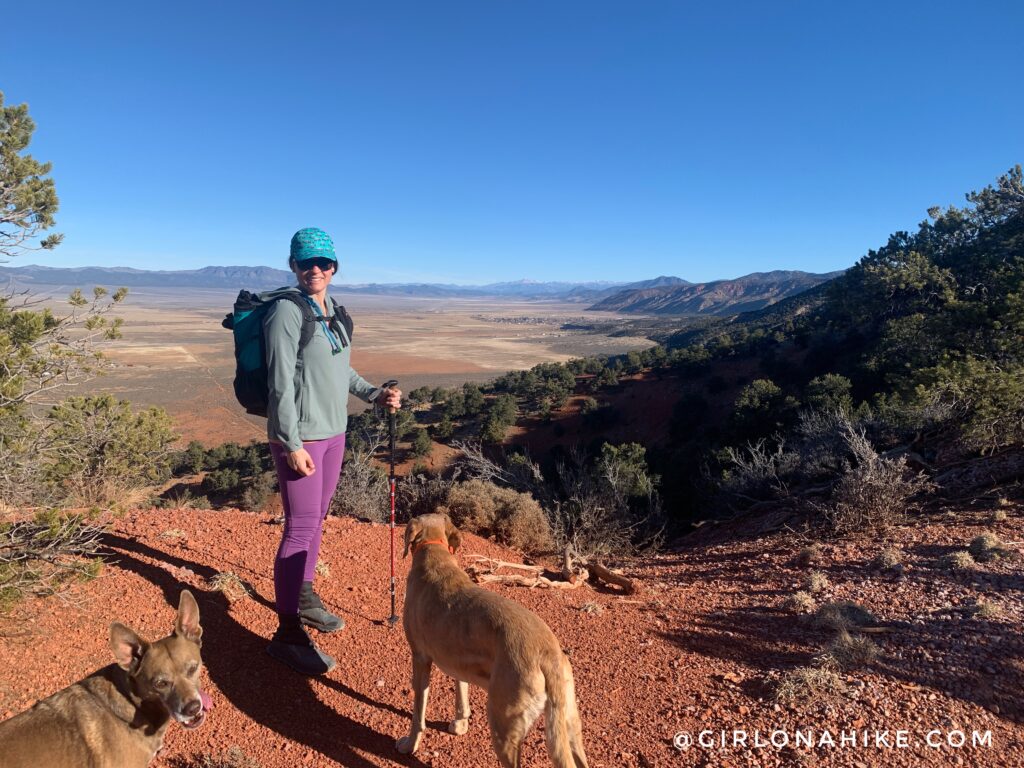 We hiked this on a really clear day so we could see all the way to the Tushar Mountains! This trail has so many great places to stop and take in the view.
PS If you need an ultralight hiking/running hat that has a sweatband built in, check out Get Sprints hats. They're my favorite!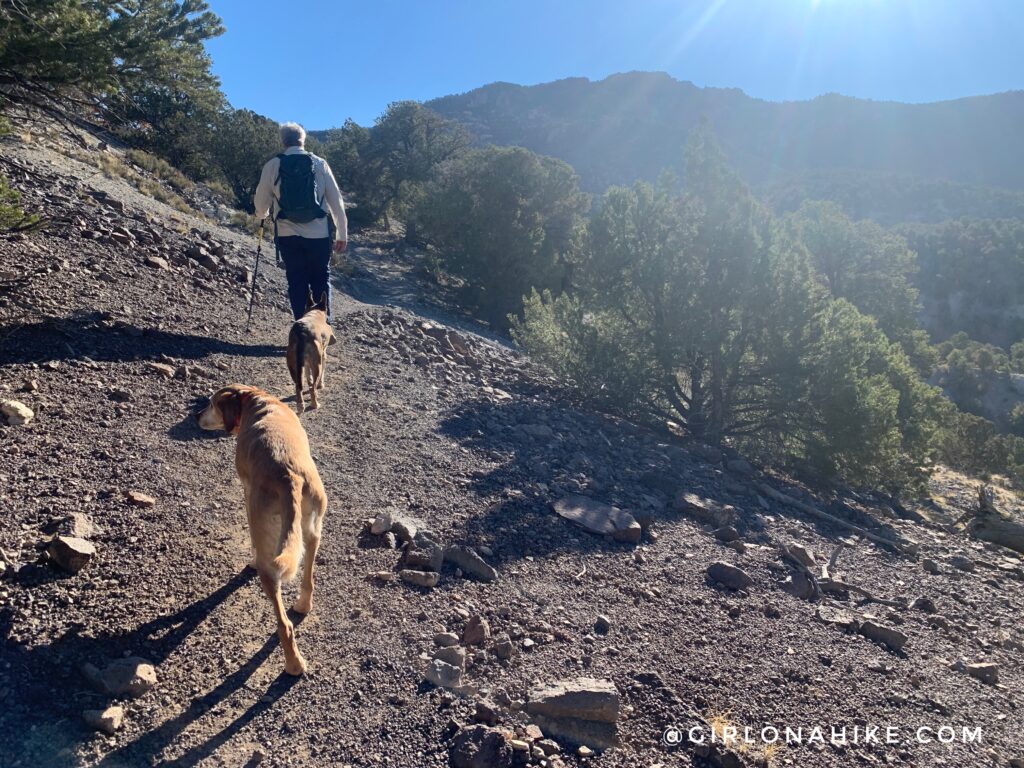 Around sign 5, the trail changed from red rock to lava rock. I was worried that the dogs paws would get torn up from the rough rock, but both Charlie and Mama hike so much that they were fine.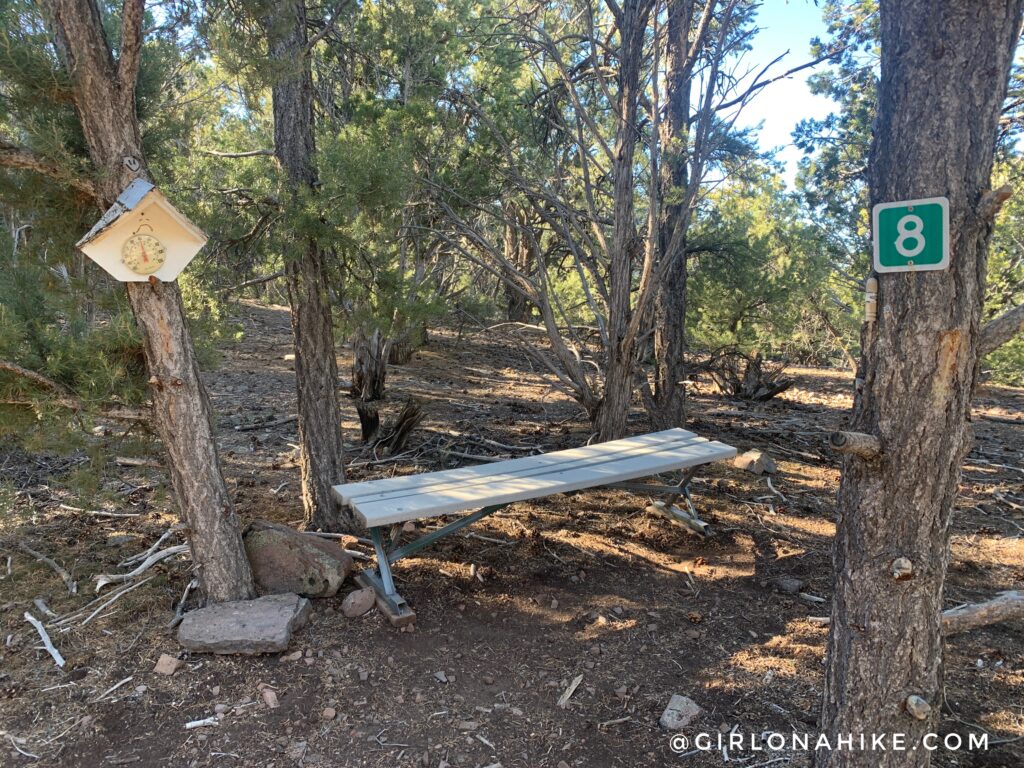 Sign 8. This one was cool because it had a thermometer! Only 40F degrees? It sure felt warmer, especially with all the elevation gain. We're just over half way to Valentine Peak.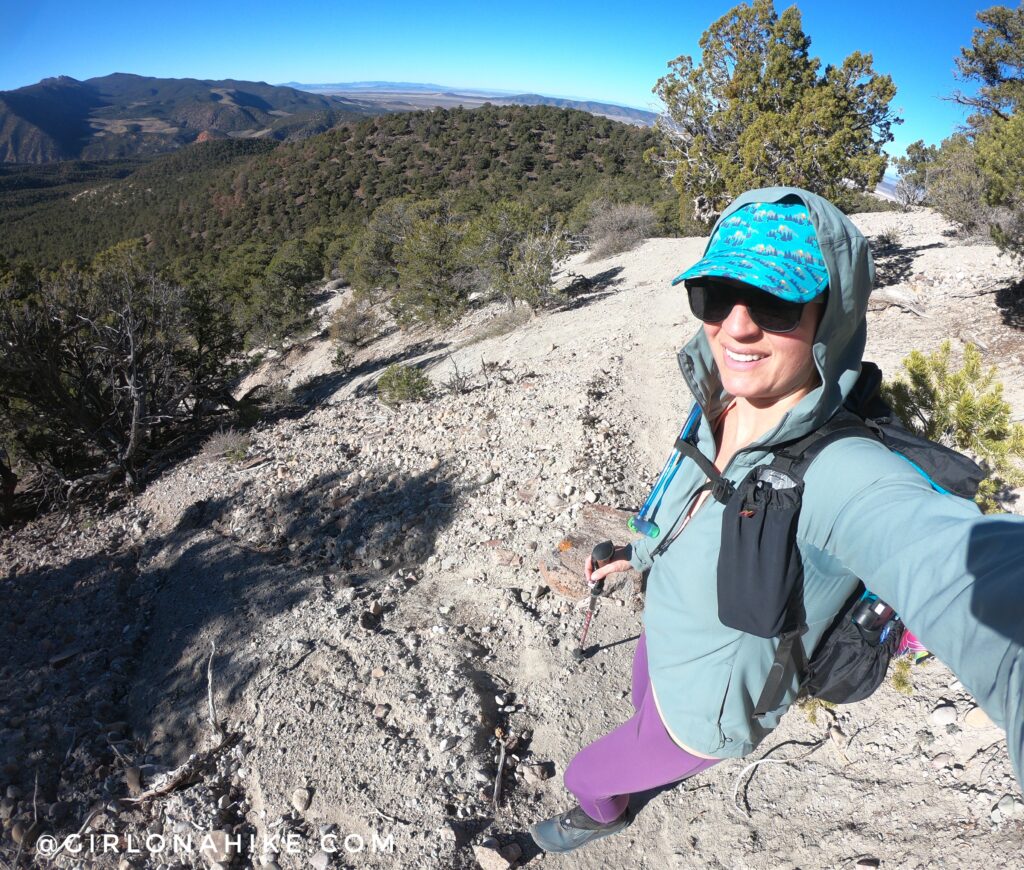 Sooo glad I tossed in my hat for this hike because we were hiking East as the sun rose. In winter I always wear a tank top as a base layer, and then a long sleeve over it. While I was sweating, I didn't strip down to the tank top because I was worried I would get sun burn it felt that warm! You really don't want to do this hike in summer – it would be extremely hot.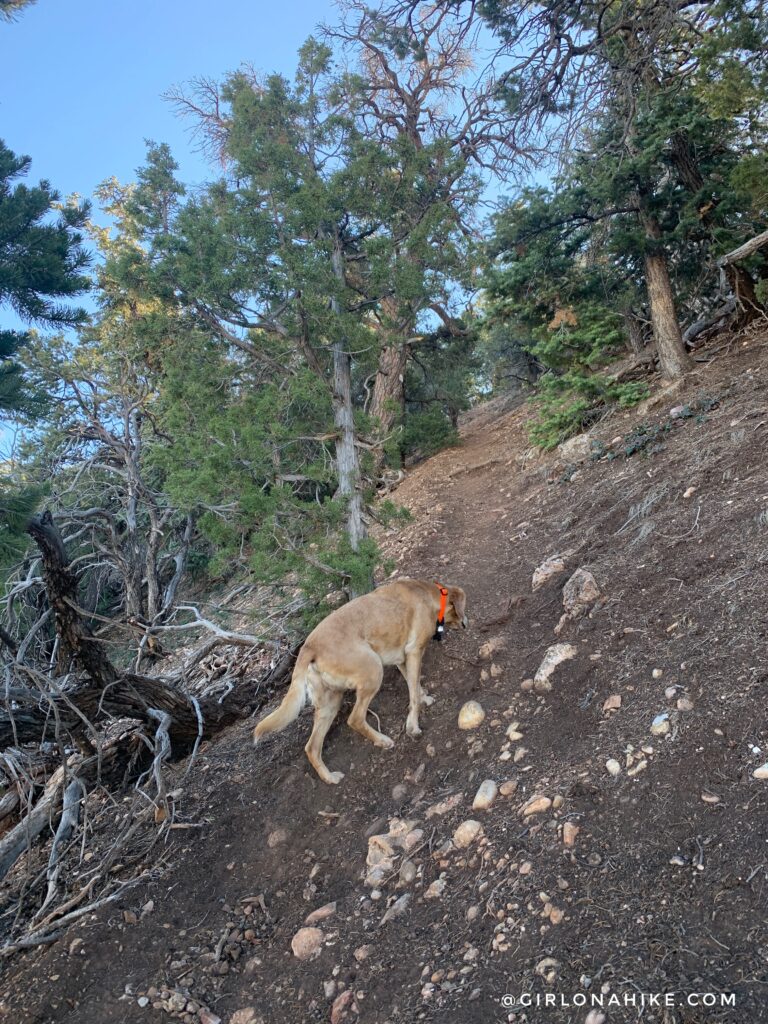 The last 3/4 mile is the steepest. It was so steep I was trying to step sideways uphill to prevent my calves from getting too sore. Charlie powers on.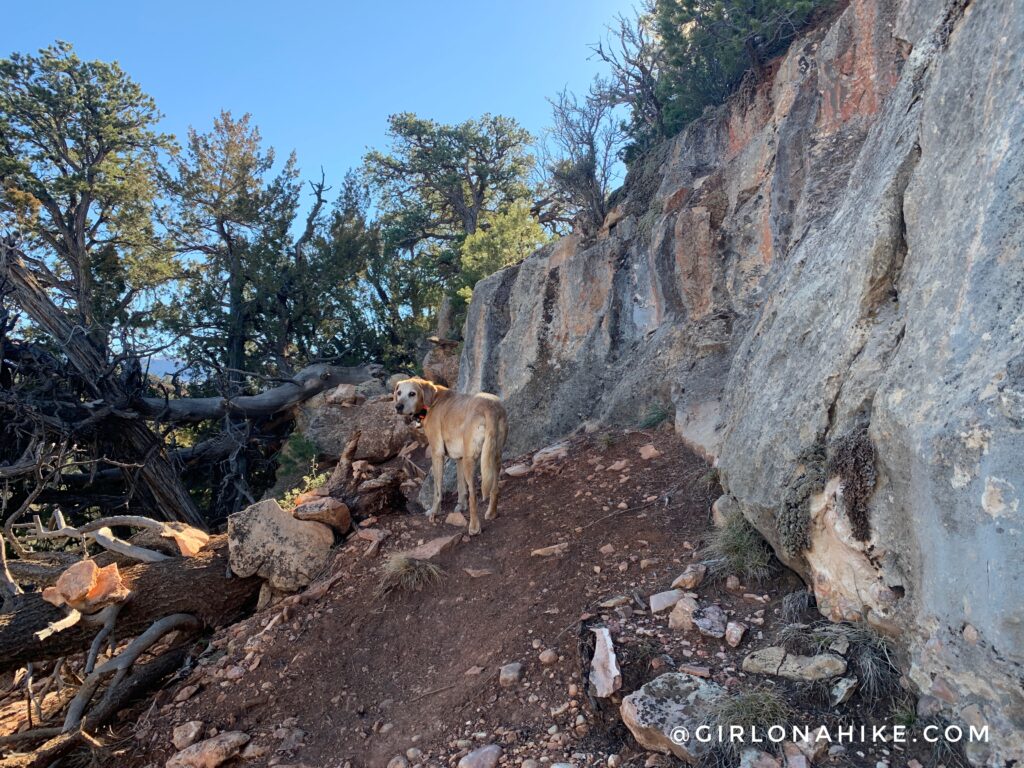 You're close when you reach this limestone wall, about 6 feet high.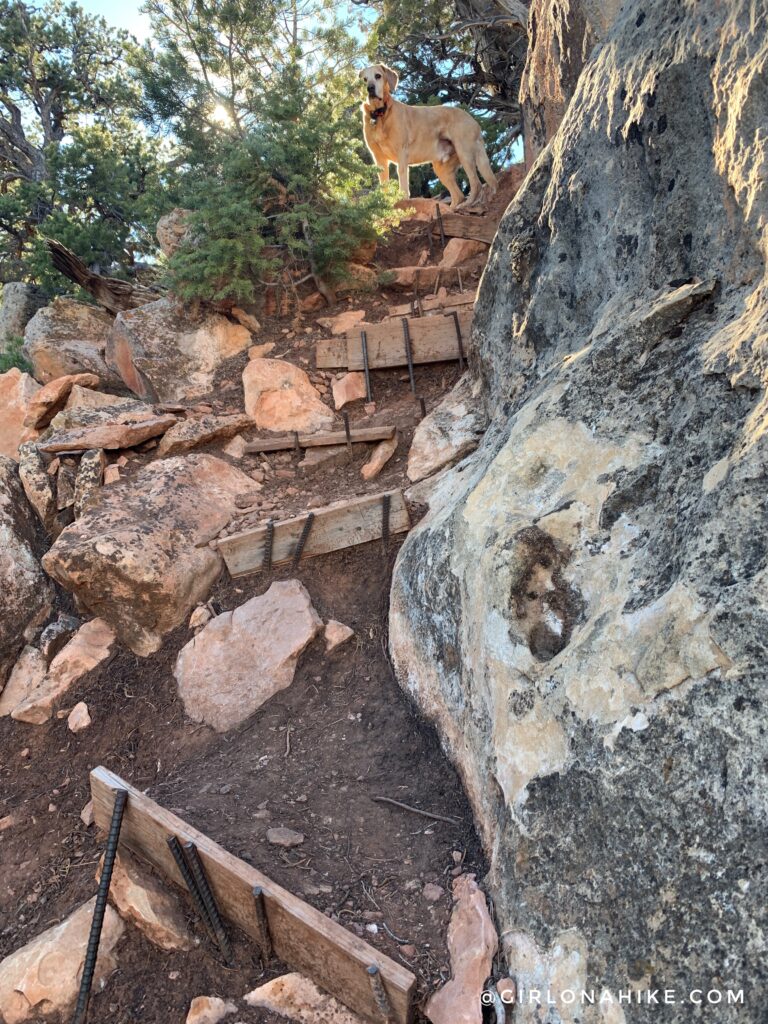 Steep stairs held in place by iron.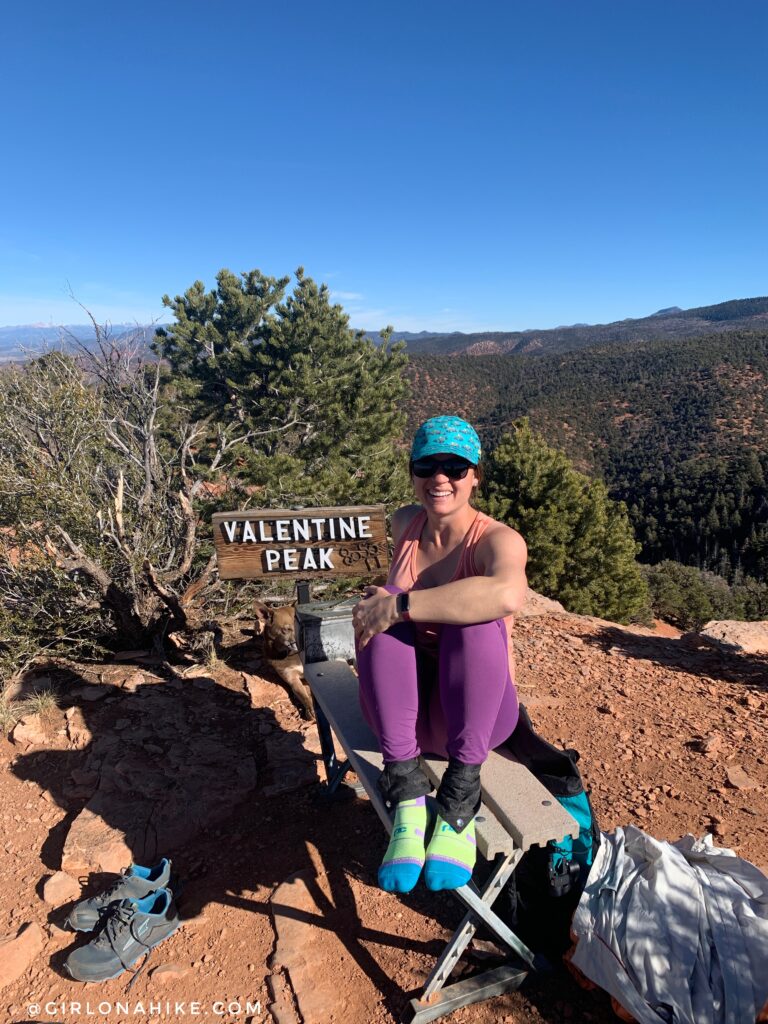 Finally – on the summit of Valentine Peak! I always take my shoes off on summits to let my feet dry out to prevent blisters. Works every time!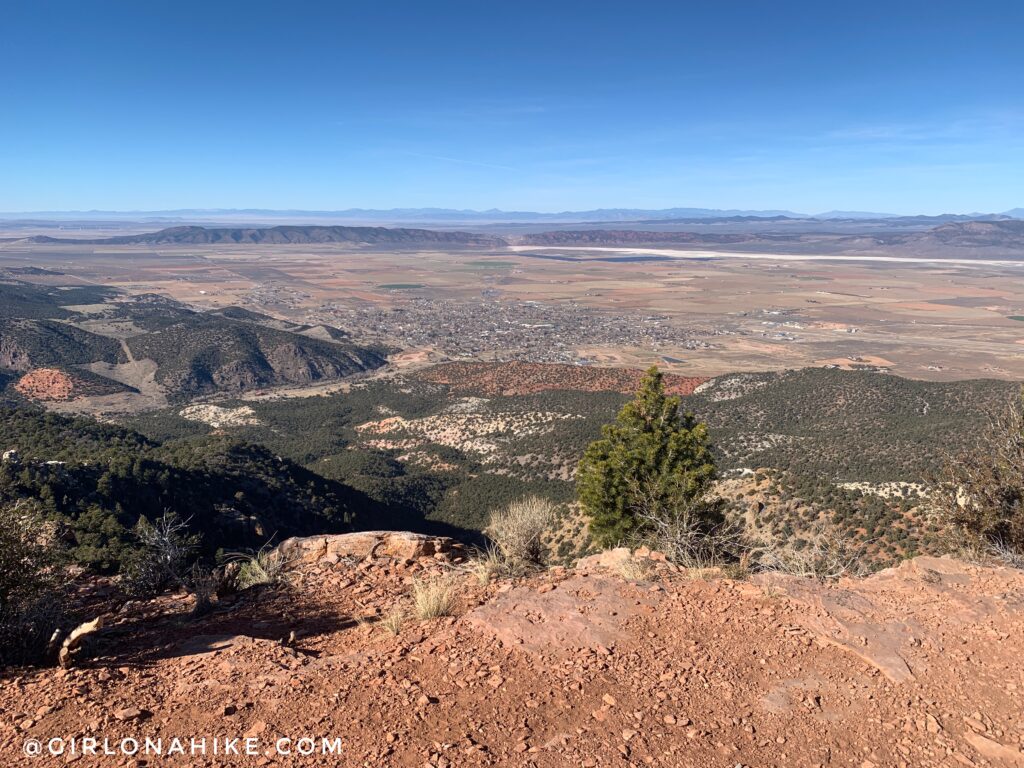 Valentine Peak looking down to Parowan, UT!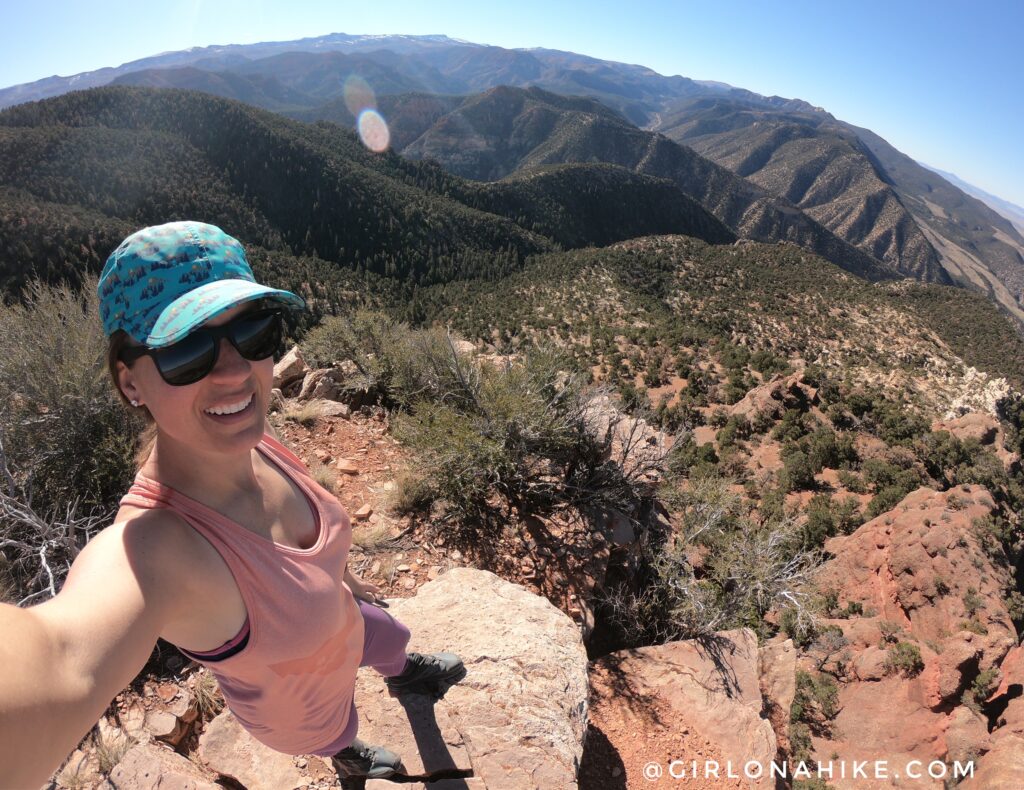 Time to strip down to the tank top and soak up some sun. What an awesome spot!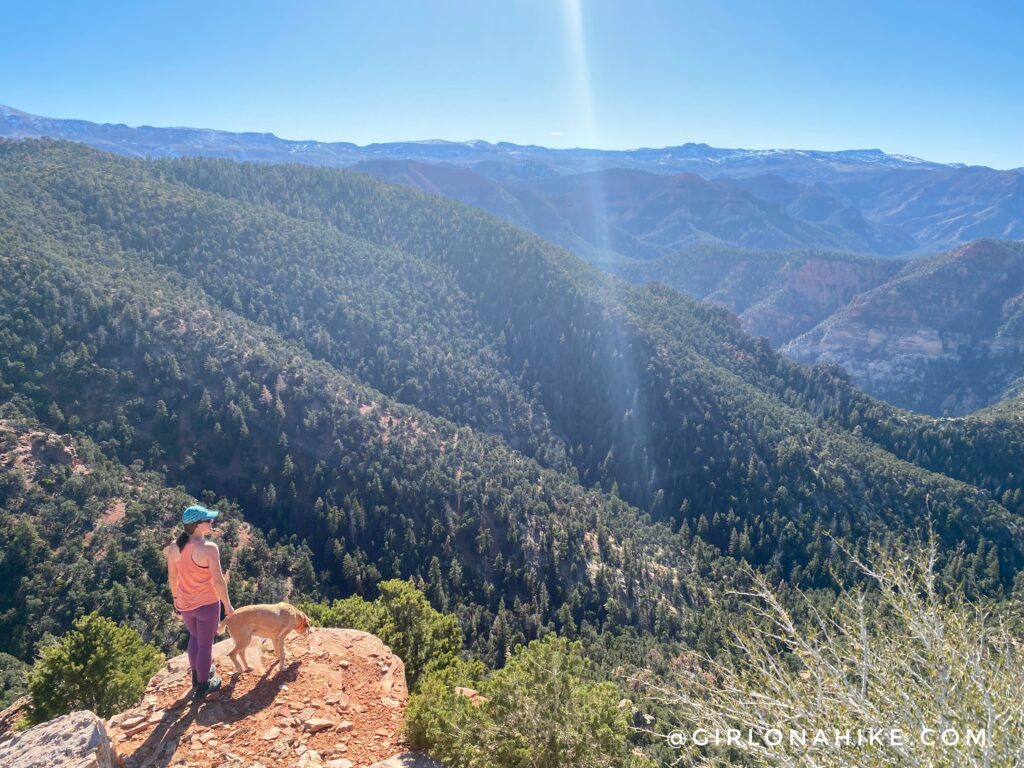 I'm really glad we did this hike – it's definitely one of the cooler hikes right along I-15. I wasn't expecting to have this good of a view from the top.
Trail Map
My track via Gaia GPS – the best tracking app! Get your app here for a discount.
Recommended Gear
Nearby Hike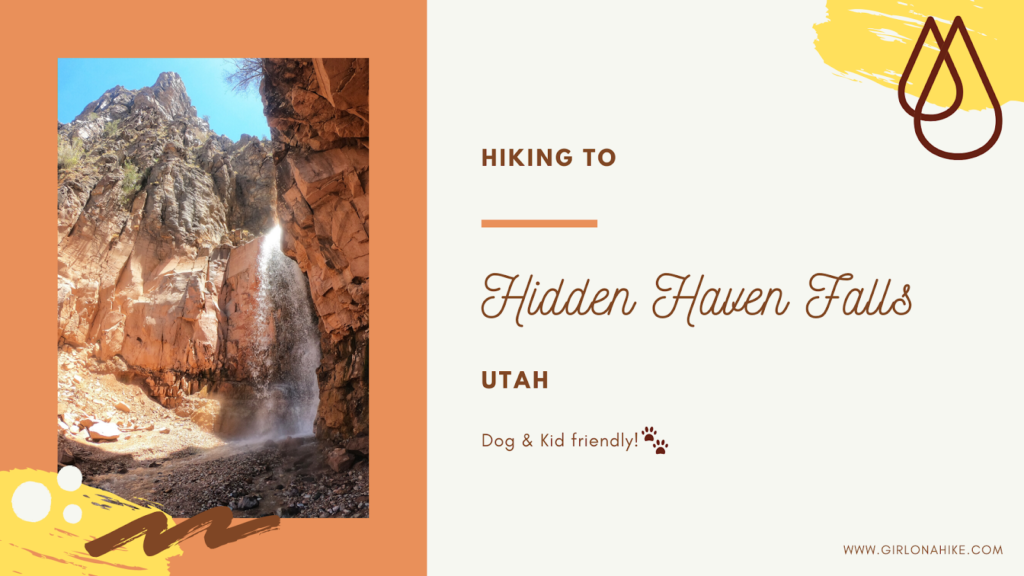 Save me on Pinterest!