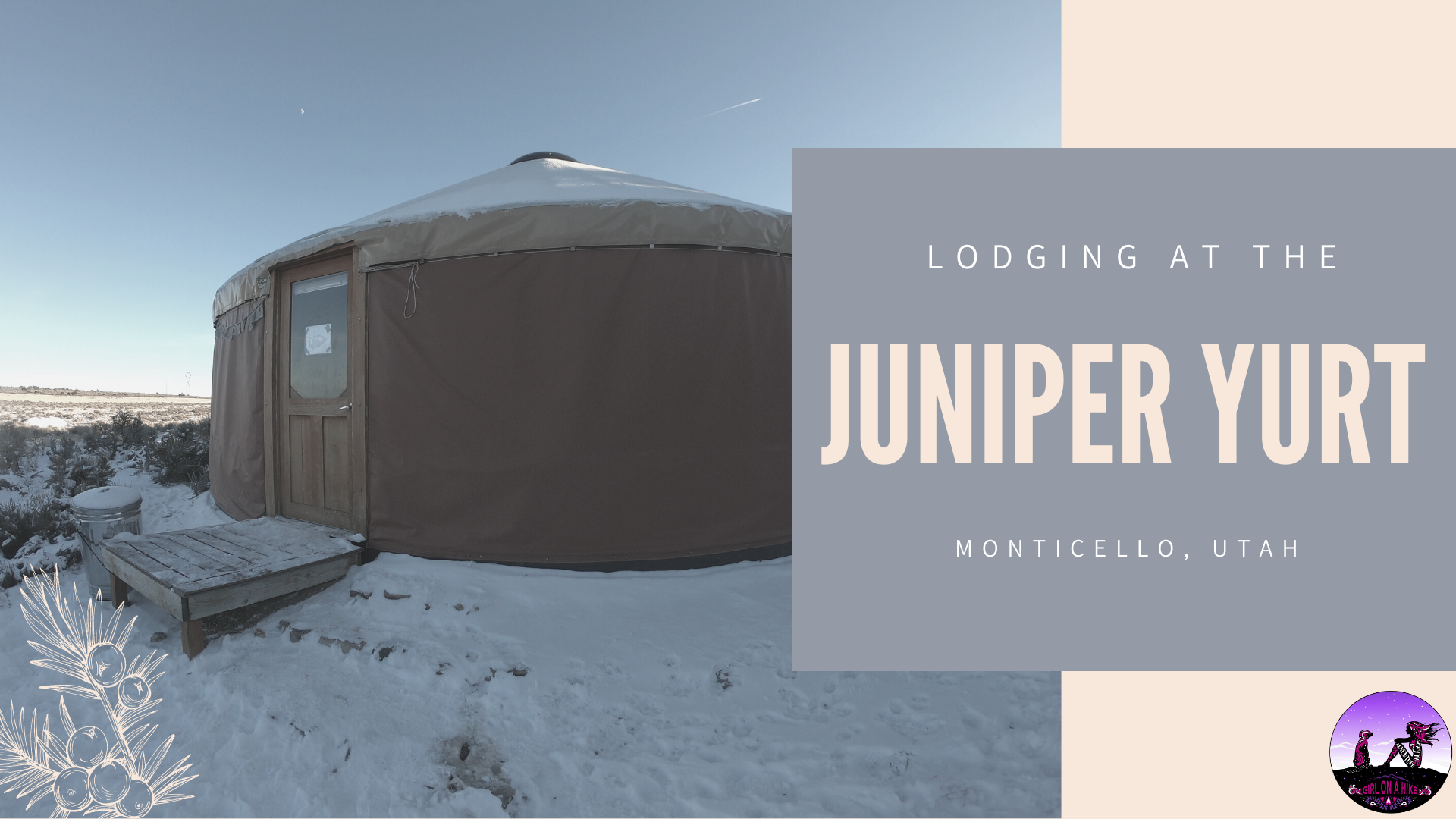 Lodging at the Juniper Yurt, Monticello, Utah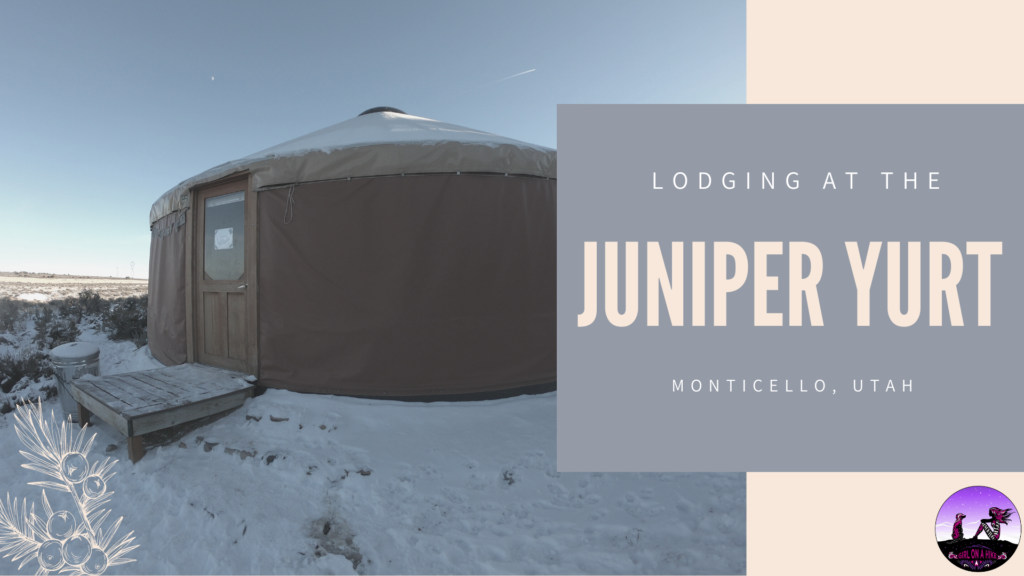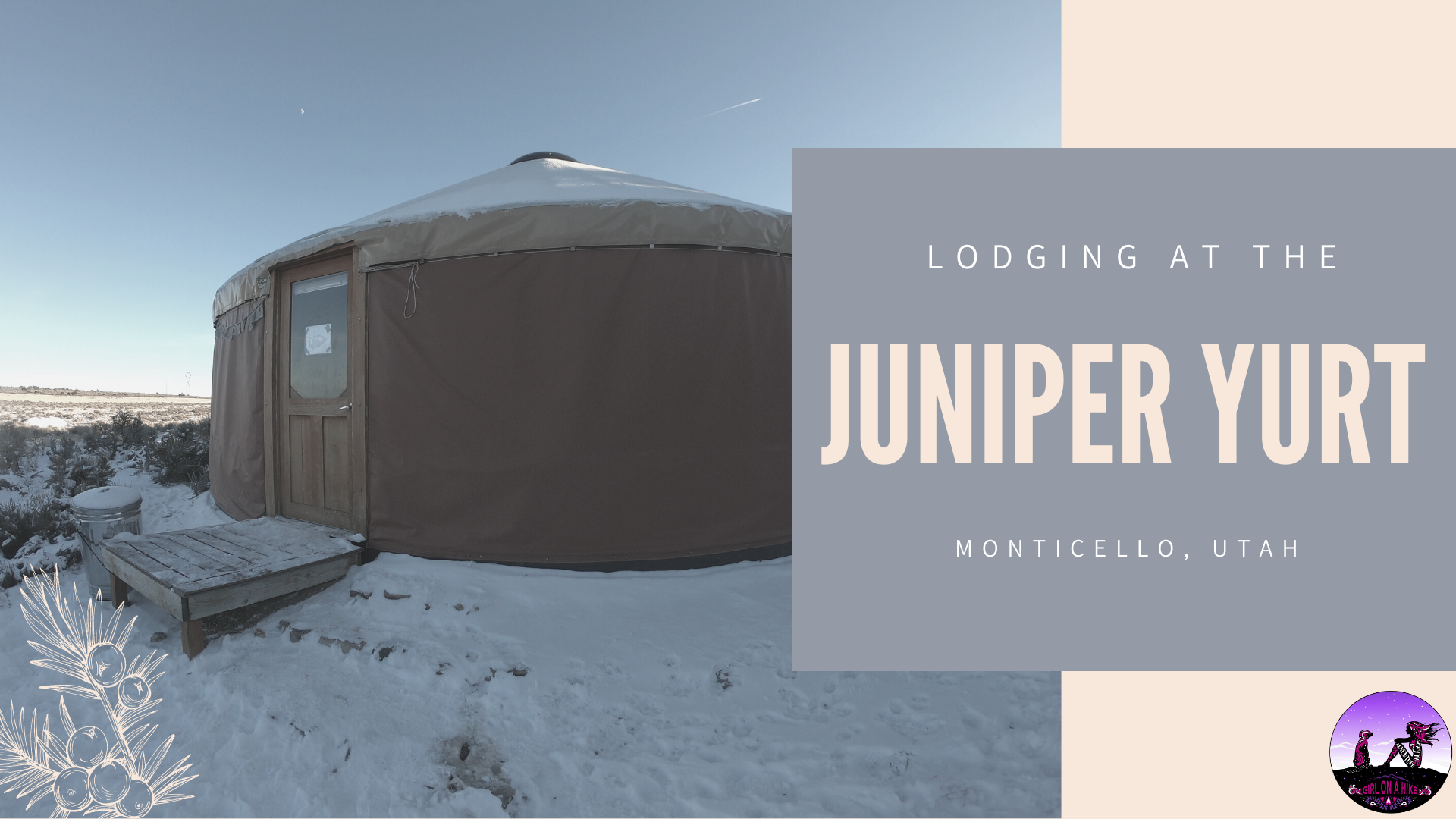 The Juniper Yurt is located near Monticello, Utah and provides central access to many outdoor activities. The main hiking areas include Bears Ears/Cedar Mesa, Canyonlands (both year round), and the Abajo Mountains (summer only). The Juniper Yurt also has premier access to rock climbing, mountain biking, rafting, and more! Need some downtime? Just relax and disconnect for a while and borrow a book from their library to read in the cozy living room. This yurt also provides some the best star-gazing.
This is the largest yurt I have stayed in, at 30 ft diameter! This off-grid yurt comes with all of the comforts of home in a unique desert setting. The yurt is equipped with a queen bed, two double beds, and a comfy couch with two side chairs. Linens are changed between guests, and the kitchen is equipped with a foot-pump sink for washing dishes, basic spices, cooking utensils, and a propane stove and oven so that you can whip up the ultimate gourmet camping meal! In the winter, curl up by the wood-burning stove, or in the warmer months enjoy the outdoor fire pit!
The outdoor shower is located ~20 ft from the yurt and has a solar shower bag to warm up water and rinse off after a long day of exploring (bring your own towel) during summer months. In winter, I recommend bringing baby wipes to clean up. The enclosed pit toilet is also ~20 ft away.
The Juniper Yurt is both kid and dog friendly! Pricing varies by season, with winter being the most popular. The yurt is available year round, and is about 20 minutes from Monticello and 40 minutes from Blanding.
Directions
A few days prior to your stay, the host will email you the yurt address and GPS location. In general, it is about 20 minutes NE of Monticello, Utah.
Trail Info
There is no hiking involved, simply walk up to the yurt.
FAQs
How can I make a reservation?
Reservations can be made on Air B&B here! You can also just search for "Juniper Yurt Retreat". You will get an email with the lockbox code to access the yurt a few days prior to your trip along with the visitors manual.
How much does it cost to stay at the yurt?
Pricing varies by season. In December when we went for our 2 night, 3 day trip it was $270 (which included all the Air B&B fees & taxes). The host generally opens up reservations 2 months out. So if you want a December reservation check in October for the dates you want.
How many people can stay in the yurt?
The host says a max of 4 people can sleep in here. There was 1 single twin bed, and two double beds.
What does the yurt provide?
The Juniper Yurt comes with plenty of firewood for the wood stove. If you want an outside fire you need to bring your own. There is a big propane heater, however, you also need to refill the propane tank in town if you plan to use it. All kitchen supplies are provided as well.
Is there water access?
The Juniper Yurt has 5 gallon jugs, however, if it runs out you will need to refill it yourself. We refilled at the grocery store in Blanding, UT since they have the filtered water station and it was only 0.39 cents per gallon. You can also try one of the gas stations for unfiltered water using their hose.
What should I bring?
I always just wear my Crocs with thick socks. Slippers work too.
Games, alcohol/food, your own entertainment
Power banks and cords
Extra blankets if you sleep cold
Watch my video for the full tour!

Recommended Gear

Save me on Pinterest!